Original Link: http://www.anandtech.com/show/7180/apple-macbook-air-11-2013-review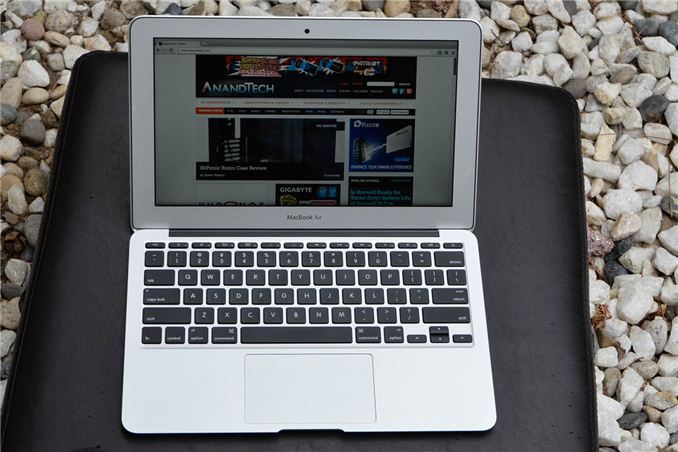 When Apple launched the second generation MacBook Air in late 2010, I was definitely more interested in the 11" model. It was nearly as small as the iPad, but as a full notebook it was considerably more useful. At 2.3lbs, it wasn't even that much heavier and the $999 pricetag made it the least expensive mobile computer in Apple's lineup. It wasn't really perfect: the base SKU with a 1.4GHz Core 2 Duo ULV CPU and 2GB of memory seemed painfully inadequate at the time, the 5 hour battery life wasn't great (the 13" Air was rated at a much better 7 hours), and $999, though cheap by Apple notebook standards, was a lot to justify spending on roughly year-old specs. Needless to say, I bought one. (Jarred's thoughts at the time: "It has an Apple logo on it, so of course you bought one!") And then I returned it. It was just unbearably slow
The base 2011 model having only 2GB RAM was basically laughable, and the standard 64GB SSD got a whole lot more indefensible as time went on, but the experience was significantly improved by the switch to modern microarchitectures in the newer 11" Airs. But even so, the 13", with its higher screen resolution, 16:10 aspect ratio, and larger battery, seemed to be the way to go, especially after the price dropped to $1199.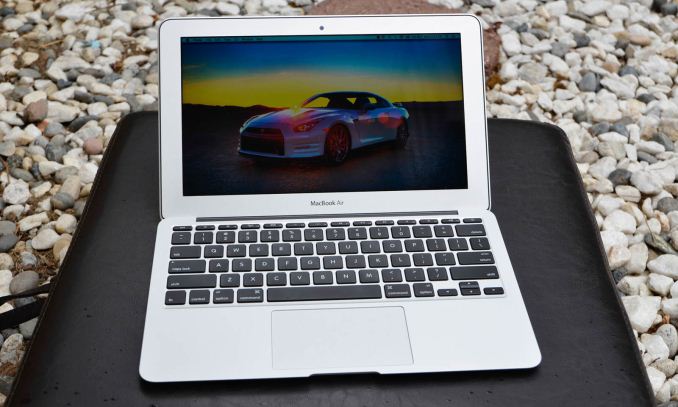 For 2013, the entry level 11" and 13" SKUs have the same basic specs: 1.3GHz Haswell ULT processor, 4GB LPDDR3, and a 128GB SSD. The price difference has dropped to $100, with the 13" falling to $1099—making it feel like a way better deal, considering the extra battery life (12 hours versus 9 for the 11") and larger, higher resolution display. And honestly, the 13" is not only a more usable primary computing solution, but also a better computer overall, so I'll just get that part out of the way first. I will say though, it's far easier to recommend an Air 11" now that the base model has the 4GB/128GB combo I'd consider the minimum for any ultraportable computer. It took a few years, but it finally became possible to recommend the base 11"er without any caveats. Where the 11" Air becomes really interesting though is when you stop thinking about it in terms of its larger sibling, but in terms of the iPad.
2013 MacBook Air Lineup
11.6-inch
11.6-inch (high-end)
13.3-inch
13.3-inch (high-end)
Dimensions

H: 0.11-0.68" (0.3-1.7cm)
W: 11.8" (30cm)
D: 7.56" (19.2cm)

H: 0.11-0.68" (0.3-1.7cm)
W: 12.8" (32.5cm)
D: 8.94" (22.7cm)

Weight
2.38 lbs (1.08kg)
2.96 lbs (1.35kg)
CPU
1.3GHz dual-core Core i5-4250U
GPU
Intel HD 5000
RAM
4GB LPDDR3-1600
SSD
128GB PCIe SSD
256GB PCIe SSD
128GB PCIe SSD
256GB PCIe SSD
Display Resolution
1366 x 768
1440 x 900
Ports
Thunderbolt, 2x USB 3.0, headphone jack
Thunderbolt, 2x USB 3.0, SD card slot, headphone jack
Networking
2x2:2 802.11ac
Battery
38 Wh
54 Wh
Price
$999
$1199
$1099
$1299
Not only is the Air 11" dimensionally similar to the iPad, but now with Haswell it has roughly equal battery life too. And given that there's just a $200 price difference between the 128GB iPad and the 128GB Air 11"—$100 if you factor in the cost of an iPad keyboard—it's really something to think about. Sure, the iPad has a better display and is touch capable, but this is a real computer. It's just as easy for me to carry the Air 11" as it is for me to carry the iPad, it even fits into the iPad pocket in my backpack.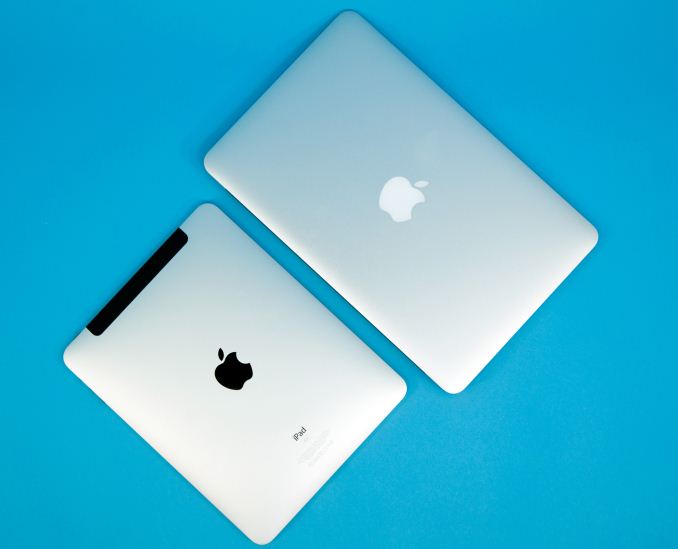 The images Anand took for the first 2010 Air review keep coming back to me—the size difference really isn't that much. The current iPad is thinner and lighter than the first gen that we had back then, but not by much, and the footprint hasn't changed at all. Other than the extra 2.3" in width and few hundred grams in weight (it's just under a pound heavier), the two are pretty similar. The depths are within a quarter inch of each other and the average thickness of the wedge-shaped Air is essentially the same as the constant thickness of the iPad. So this form factor with this battery life and these specs—does that make the 11" Air compelling enough to justify buying instead of the 13" or another PC notebook in this class?
Hardware
We're really familiar with this generation of MacBook Air. This is now the fourth generation using this chassis (C2D, SNB, IVB, now Haswell) and in that time, not much has changed. The Air family added Thunderbolt and backlit keyboards in 2011 and moved to MagSafe 2, USB 3.0, and HD webcams last year, but other than that, this is externally essentially the same computer it was back in 2010. This year, the Air gets a second microphone hole in the left side. For reasons unknown, the listed weight for the Air 11" changed from 2.3lbs to 2.38lbs between 2010 and 2011, but has stayed constant at the latter in the generations since.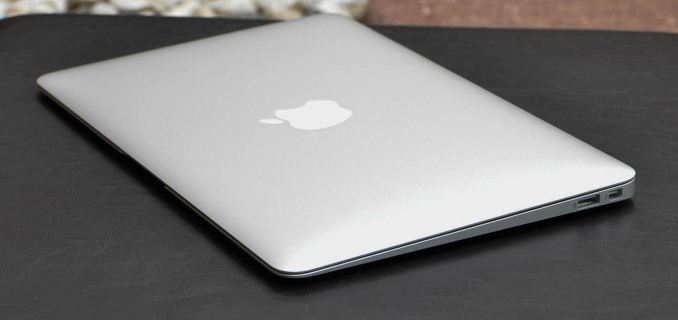 The chassis is still phenomenally thin and very well put together, with a pleasing simplicity and extremely compact dimensions all around. The keyboard and trackpad are still the best on the market, and it's awesome to note the uniformity of Apple's keyboard from the 11" Air through the rest of their larger notebooks and the wireless keyboard that ships with the iMac. I don't understand how nobody else has figured out how to make a buttonless trackpad as good as Apple's at any point over the last five years. Over the last few years, I've been tempted to buy a Mac more than a few times just because of how good the input devices are. It's legitimately an advantage that Apple holds for their entire notebook lineup, one that is very critical in a smaller notebook like this one. There's not much in the way of port selection, but that's actually not too big of a deal. Perhaps after years of living with ultramobile systems, I've learned to make do with just two USB ports and a video out, but it's honestly good enough for this class of notebook.
There's a lot new on the inside though. In addition to Haswell ULT, Apple has pushed the envelope and gone for PCIe SSDs and 802.11ac. Considering the other innovations Apple has brought to the mobile computing space over the years, it's probably not that surprising that they were the first to get ac and PCIe storage into Ultrabooks. Sony has since also started shipping a set of similar systems with PCIe SSDs in their VAIO Pro Ultrabook line, and I'd be very surprised if many of the other high-end Ultrabooks set to launch later in the year don't have at least one of those two things.
Anand has covered the different Haswell ULT parts used in the Airs pretty in-depth so I'm not going to go into too much detail here. The base model Air 11" that we're looking at today has the i5-4250U, a 1.3GHz part with max turbos of 2.6/2.3GHz (1C/2C) and Intel's HD 5000 onboard graphics with a max GPU clock of 1GHz. The i7-4650U is a $150 option and bumps base clock to 1.7GHz, turbo to 3.3/2.9GHz (1C/2C), and GPU max to 1.1GHz. I typically don't go in for Apple's upgrade pricing, but this is actually pretty reasonable given the performance increases involved. I think I'd be more tempted to go for the upgraded CPU in a 13", simply because I'd want to eke every drop of battery I could get from the smaller notebook. The battery has been upsized, now to 38Wh from the previous 35. It's still a fair ways behind the 13" in terms of battery capacity though; the 54Wh battery in the larger unit represents a 42% increase in size that more than offsets the display-related power consumption delta.
Honestly, for me, this is by far the most important part of the review. With there being not much in the way of performance upgrades or new features compared to previous generation Airs, the battery life improvement is basically at the heart of what makes the new Air attractive. Obviously, this isn't exclusive to just Apple—any Haswell ULT Ultrabook with 40-50Wh of battery capacity should get you 8-10 hours of battery life.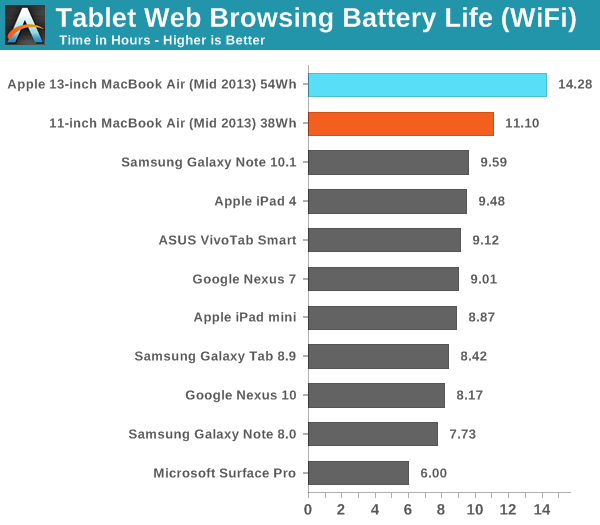 But it's honestly amazing to use a fully fledged notebook that can battle Atom and ARM for battery life. The image from Anand's 13" Air review showing an estimated 16 hours of battery life was awesome, even if the OS X battery runtime estimate tends to be wildly optimistic in the early part of a battery cycle. The 11" isn't quite that far, but it still has better battery life than my iPad. Granted, my 3rd-generation iPad now has a year of wear on the battery, but still—it's longer lasting than my iPad was when new, and it's also longer lasting than the 4th gen iPad. And not just by a little, it's a pretty significant step up. That's a really important corner to turn for the notebook market, double digit battery life without having to resort to an extended or secondary battery like some business notebooks have offered in the past.
As Anand covered in his recent Haswell ULT battery life article, Intel still needs to work on the power efficiency of the Haswell video decode engine, since ARM-based SoCs still hold a sizable advantage there. But other than that caveat, the overall power consumption of Haswell is an absolute game changer. I've never even thought to take the power cord with me anywhere in the month that I've had it. Want to take the Air for a weekend away and not plug it in once, iPad style? Depending on how much of your usage can get pushed to a smartphone, that's a legitimate and realistic possibility.
The 11" Air, by virtue of its smaller display, is slightly more efficient than its larger sibling, but the 42% advantage in battery capacity pushes the 13" Air's battery life into the insane range. Being able to rely on nearly 10 hours of battery life or more in most normal use cases is just ridiculous. The 11" is a bit less phenomenal, but anything that can claim better battery life than the iPad, even with a smaller battery, is doing just fine.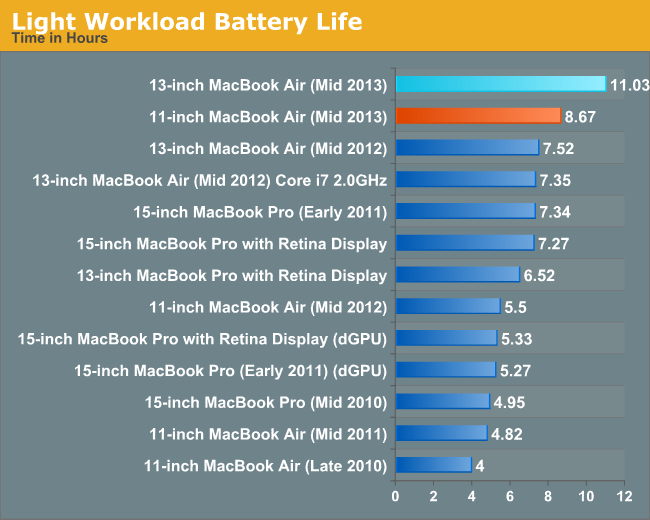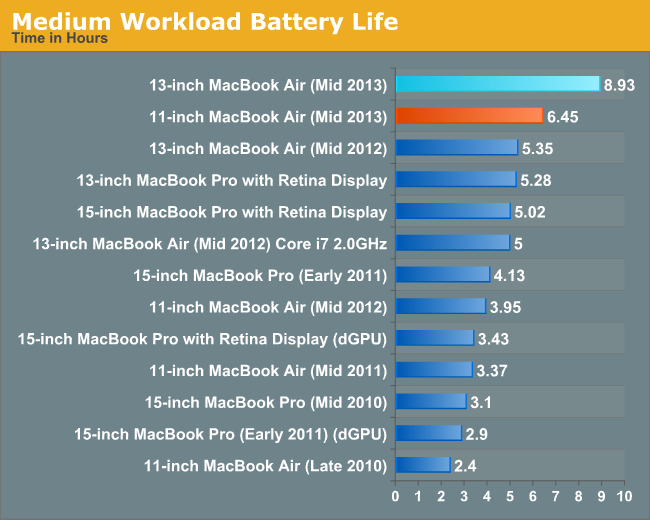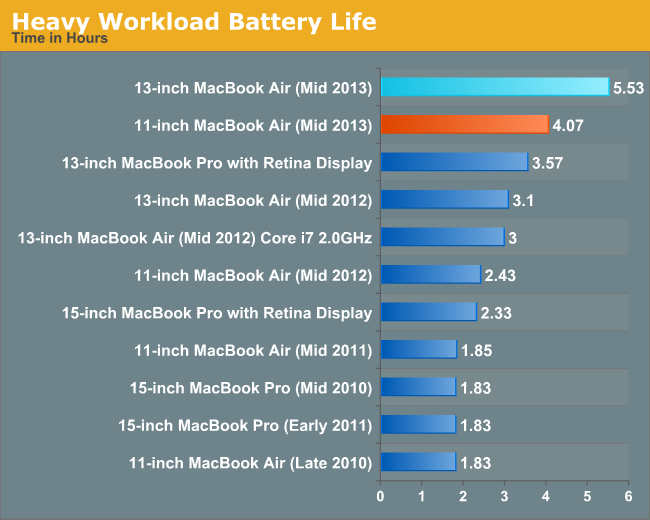 At 8.5 hours dead on in our usual Mac light browsing test, the 2013 11" is three hours ahead of the 2012. That's 54.5%. It's nuts, the end. That advantage holds basically through the rest of our more strenuous battery life tests. The previous 11" really had an issue with battery life—the real-world 5 hours of runtime just didn't cut it given the sacrifices made for mobility; it made much more sense to get a 13". Now, with 8+ hours of runtime, it's easier to ignore. The jump from 5.5 to 7.5 hours of battery life makes a pretty significant difference in how the system gets used, but I'm less sure about the difference between 8.5 and 11. Once you're already in that 8-10 hour battery life range, adding two or three hours on top of that is a lot less valuable than it would be in a situation where you're adding that amount to get to that range. This isn't to say that more battery life isn't always better, just that at some point it becomes something that is nice to have rather than something that changes the essence of the system, almost like the difference between an i5 and an i7 CPU.
The performance story is a bit interesting. There are two sets of 15W Haswell ULT parts, some with HD 4400 (GT2) and others with HD 5000 (GT3) onboard graphics. The GT3 parts, in order to hit the same TDP, run lower clock speeds. Apple chose to go for GT3 across the board. This isn't the first time that Apple has made the decision to sacrifice CPU performance for the sake of GPU, but this was probably a pretty easy choice for them compared to 2010, when they skipped Arrandale on the 13" MacBook Pro and Airs for Penryn-era Core 2 Duo and Nvidia's G 320M. That particular IGP was pretty fast, so much so that the substantially improved HD 3000 that came with the Sandy Bridge mobile parts was actually a bit of a downgrade on them.
The CPU tradeoff here is substantially less than it has been in the past, so this is a bit of a no-brainer. The i5-4250U in the base 2013 MacBook Air is clocked at a low 1.3GHz but has the same 2.6/2.3GHz (single core/dual core) turbo clocks as the 1.6GHz i5-4200U with GT2 graphics. The clock speed difference is even less at the high end: the optional i7-4650U is clocked at 1.7GHz and turbos to 3.3/2.9GHz while the fastest GT2 ULT part, the i7-4500U, runs 1.8/3.0/2.7GHz. The hit you take on base clock is pretty easy to justify for the more powerful GPU.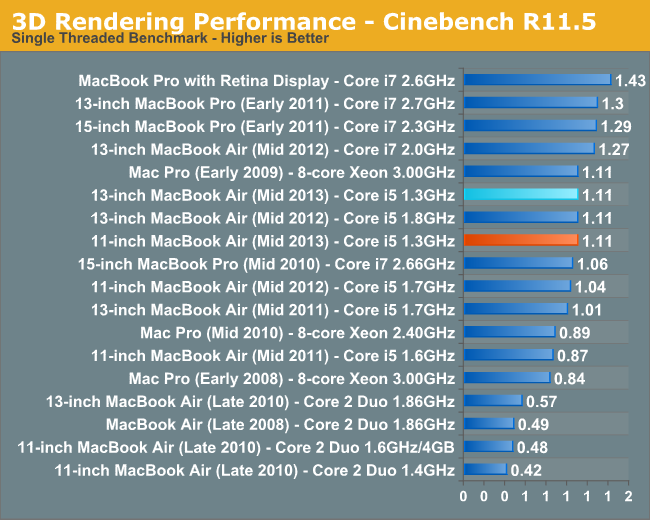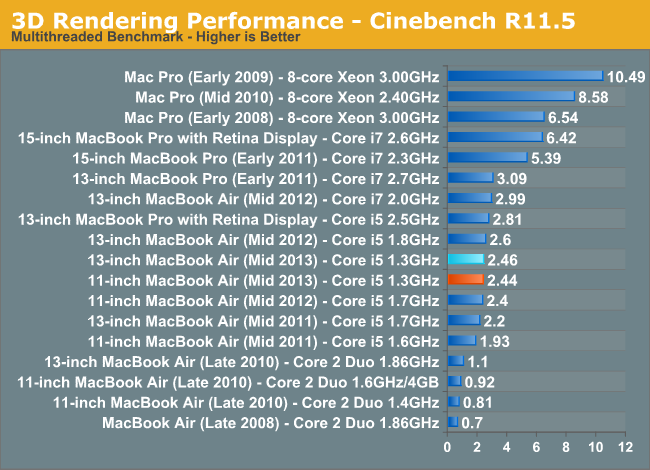 With that said, the raw performance isn't really that great. The 13" Air that Anand reviewed was slower than its immediate predecessor, which used a 1.8GHz i5-3427U. The base 11" last year used an i5-3317U (1.7GHz) and that's actually not a whole lot faster than the 11" Air I have here. The results are basically all within margin of error for the tests, so I'm content to call it basically even with last year's model. The Air isn't slow, but it can certainly get pokey at times. This is no different than any Ultrabook-class machine, but worth noting. Turbo and the very fast SSD keep things going smoothly in normal day-to-day tasks, but anything substantially more intensive than a browser and iTunes is going to be outside the comfort zone of a system like this.
Considering the power efficiency though, getting similar performance to the old model even with 30% slower base clocks is a decent bargain, particularly when accounting for the increase in GPU and storage performance. I'm not going to go too far into those, since Anand did a really deep dive in his 13" Air review. It's worth noting that while his Air had a Samsung SSD, the supplier lottery churned out a SanDisk SSD in my unit. The switch to PCIe SSDs really does make itself felt in day to day use, particularly in sleep/wake situations, as well as when launching particularly large applications (that then crawl their way through the power-sipping i5 ULT). I honestly didn't expect that, given how accustomed I've become to the responsiveness of fast SSDs in general, but it's pretty important to the MacBook Air simply in terms of keeping the system feeling quick to the touch.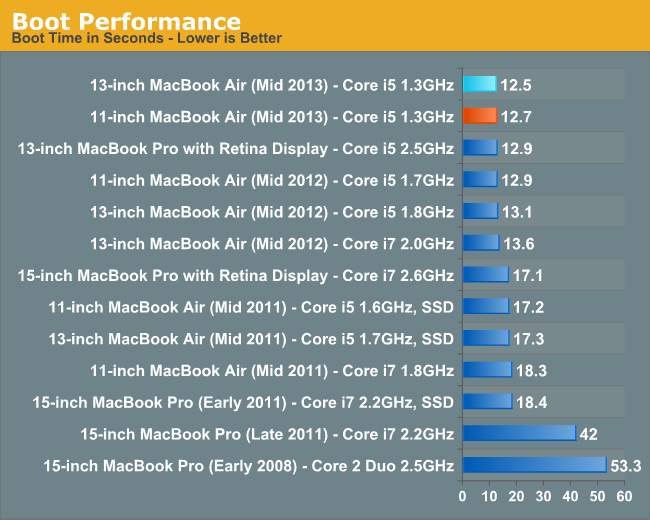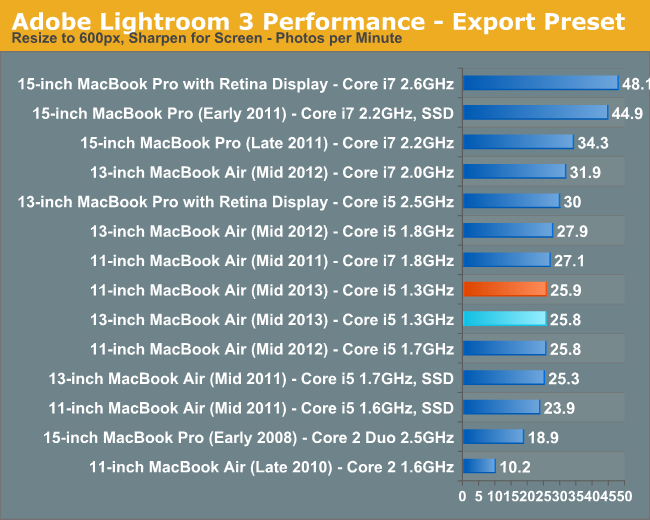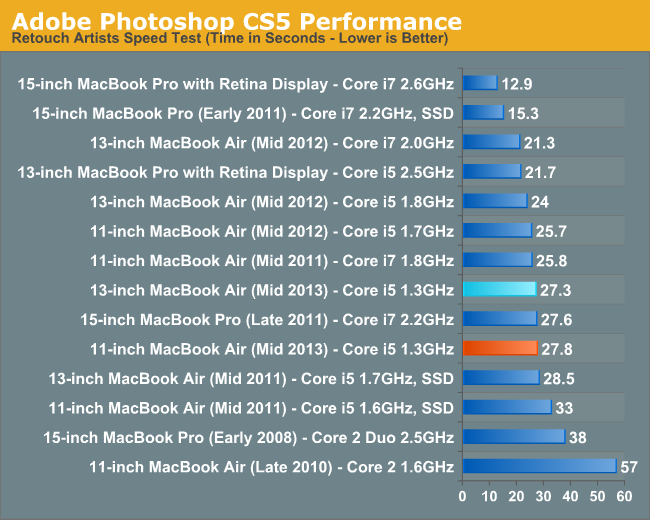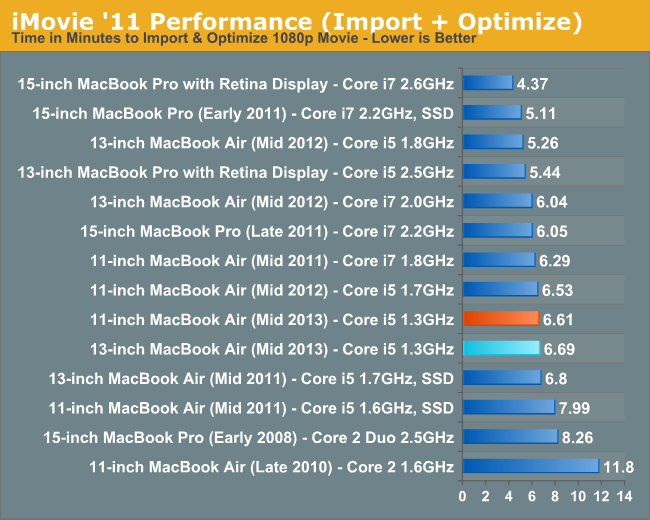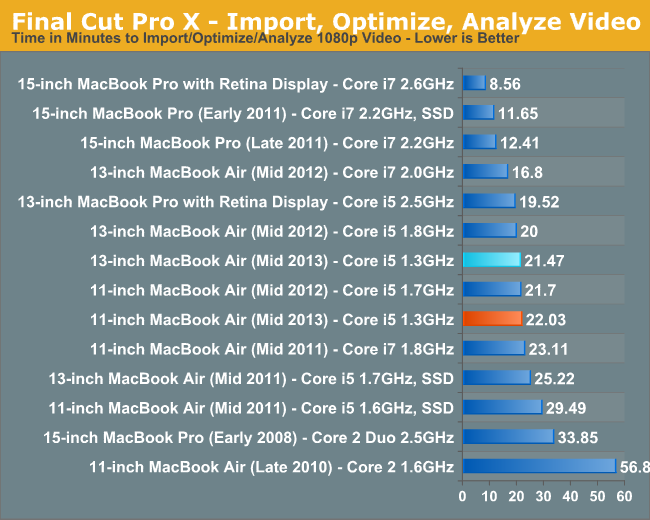 The 11.6" Samsung display panel in my Air evaluation unit is actually the same one I had on my last MacBook Air, though the one before that had an LG panel. This is all based on the panel supply lottery, and while it's been alleged that the Samsung is a superior quality panel in terms of contrast and viewing angles, I honestly can't say there's too much of a difference overall between the two. I've never had them side-by-side, and color calibration can certainly skew visual perception significantly, so let's just say that your mileage may vary. If you don't like the panel you get, take it back and try another one—Apple Stores seem to cater to discerning customers (or they have with me).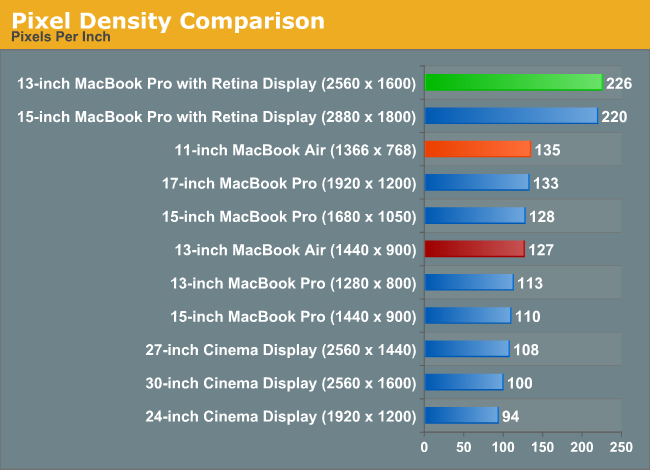 Obviously, given our familiarity with the Air 11", there's nothing surprising here with the 2013 edition. It's roughly the same as the last few we've had, beyond standard panel to panel variations. Contrast ratio and color reproduction are pretty decent, as they were before, and viewing angles are solid by the standards of TN panels. This is still the best 11.6" TN panel I think I've come across, but it's been eclipsed many times over by the 1080p IPS 11.6" panels that are shipping in basically any higher-end 11.6" Ultrabook these days.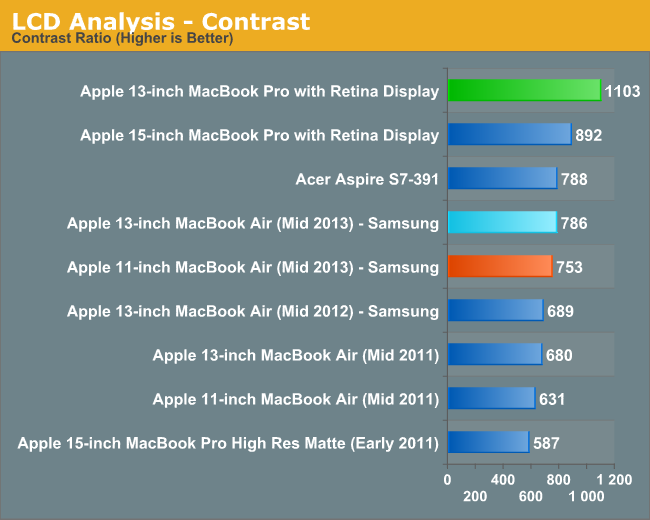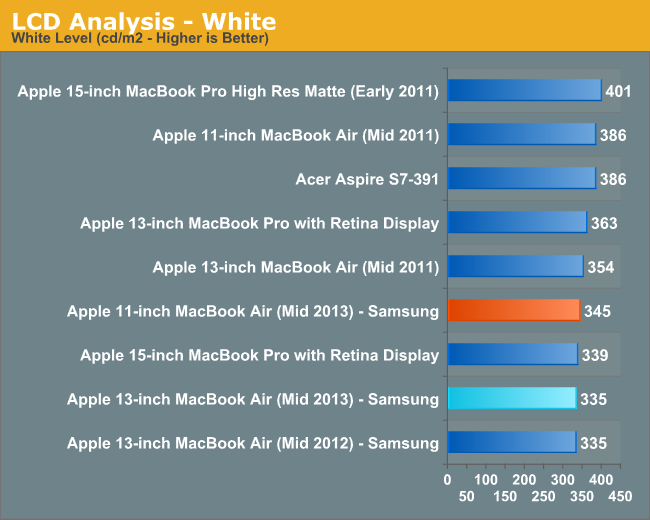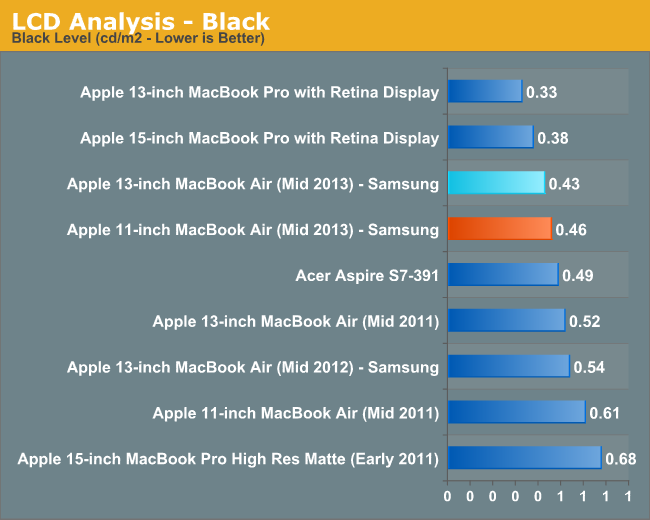 This is probably the biggest issue that I have with the 11" Air. The 11.6" 1366x768 TN panel was industry standard when the first Air 11" hit the market, and the panel quality was actually pretty decent. The display size, pixel density, and aspect ratio each specifically aren't bad on their own, but the combination results in a pretty unsatisfying viewing experience in this day and age. I've never liked the 1366x768 resolution for notebook displays, regardless of panel size; the lack of vertical pixels just kills it for me. Even 1280x800 in the 13" MacBook Pro (non-Retina) is better. I don't mind 16:9 as an aspect ratio, even at this size, but I just want more pixels. That's really the biggest part of what makes the 13" so much more usable, the 1440x900 display in that also won't blow you away in terms of dot pitch or even visually when compared to the Retina MacBook Pro or a modern Ultrabook, but it offers a much more pleasant experience than this 11.6" panel.
Since the last time the iPad versus MacBook Air 11" comparison was brought up, both products have improved and evolved tremendously, the iPad more so than the Air. It's easy to dismiss even making the connection (because who here actually cross-shops a high-end ARM tablet with a mid-range ultraportable, raise of hands please) but I think there are enough shared attributes to make a discussion worthwhile, especially considering the similarity in terms of form factor and now battery life. If I was looking for an extremely compact, thin, light, and long-lasting companion device to bring on a trip, they're both completely valid answers. But which would I actually take?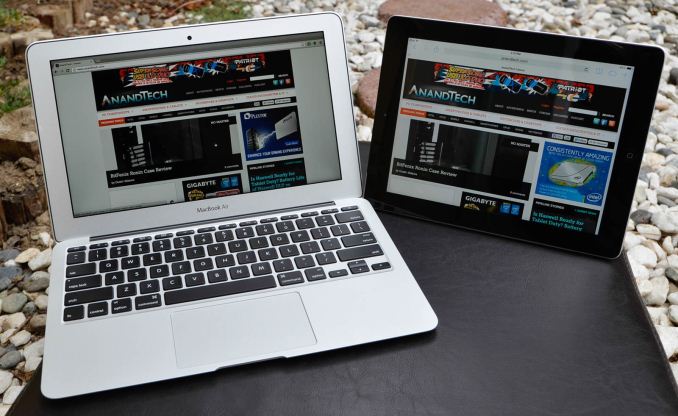 The short answer would almost always be the Air, for a variety of reasons, but I'll get there. This basically goes back to the tablet versus notebook conversation for various usecases. The iPad is awesome as a travel device, as are most tablets in general, and you can see evidence of this in any airport terminal. Especially after the screen upgrade last year, the iPad is hands down one of the best content consumption devices on the market. It's also my absolute favorite digital platform for reading. I'll actually save lengthy articles, like some AnandTech reviews and other long-form content from other websites I enjoy, to read on my iPad. Between the sharpness of text on the Retina display and the physical closeness you have with the words, it's about the closest you can get to a paper reading experience on an LCD. (This also holds true for any high-DPI tablet, including the Nexus 7.2, Nexus 10, Surface Pro, and others). Also, the ability to use a tablet with only one hand, not needing a platform of some kind, and general versatility of physical handling adds a convenience factor that's hard to get from a notebook.
But when the tablet doesn't have an inherent advantage in terms of size or battery life, it's a lot harder to justify skipping the sheer versatility and power you get out of a real notebook computer, even a small one, for reasons that amount to the tablet being easier to use while standing up. The notebook is basically better at everything other than reading, and there's far more computing horsepower at your disposal. You have far more control over everything that happens—media, browsing, documents, you name it. And there's a real, physical keyboard, so in terms of productivity, there's just not a conversation. To some degree, that's always been something that held tablets back for me and I suspect the other editors on staff. Admittedly, our usecases typically involve a lot of writing and email, neither of which is easy at all without a hardware keyboard, so we're probably not the right target demographic to judge tablets by.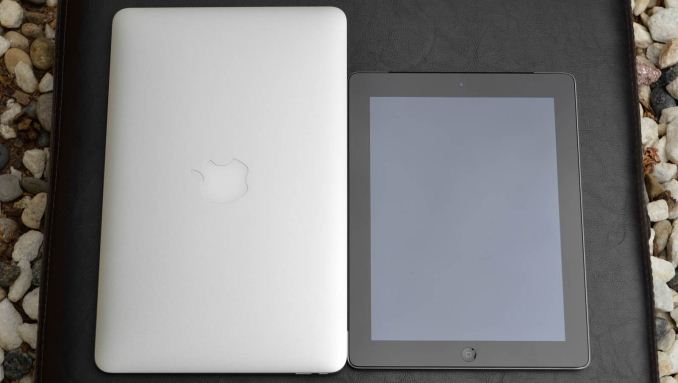 The capabilities of a Core i5-based ultraportable are so far beyond that of an iPad or Nexus 10 though, which is part of what makes this on the surface a somewhat odd comparison to be making. Obviously the tablets are cheaper, though it's worth pointing out that a 128GB iPad (WiFi) is only $200 less than a 128GB Air 11", and as noted earlier the iPad keyboards typically run $100. I don't know why anyone would need that much storage on an iPad, maybe if you had a ton of 1080p video content that you really needed to carry with you everywhere. The 16 and 32GB iPads, at $499 and 599, are obviously far more accessible and probably more sensible investments.
I'm not trying to recommend that people buy the Air over the iPad, just that it's possible to do so with very little compromise. It wasn't really something you could do until now simply because of battery life, but with Haswell ULT boasting similar or better power efficiency than high-end ARM SoCs in light everyday CPU-driven workloads, it's certainly something to think about. I think the best of both worlds situation is yet to come, possibly with something that looks like a thinner, Haswell-based Surface Pro with Windows 8.1 and significantly better battery life than we've seen out of Ivy Bridge tablets in the last year.
I come away from the 11" Air with mixed feelings. The modern silicon and generally better specced 2013 model has turned the 11" Air into a far more well rounded notebook than it has been in the past, at least in base $999 form. Unfortunately, the rest of the picture isn't as rosy. The chassis and especially the display are starting to show their age, even more so than in the 13" Air, and anyone looking for any kind of performance gain over the previous generation is out of luck. The battery life is awesome, it really changes the way you approach the system, and I still love this form factor, but it's hard to look at this and not compare it to an Ultrabook with a far better display for the same price.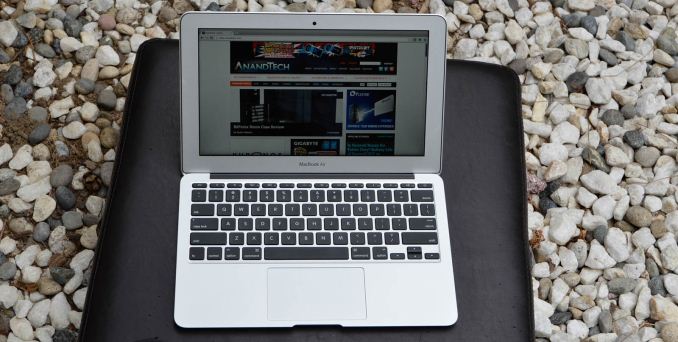 I know Anand has long said that Macs and PCs don't get cross shopped that often, but recently I've been asked for notebook advice by a lot of people who are completely platform agnostic. With the emphasis on web apps, there's not much holding a normal consumer to one platform or the other unless they have a specific reason (gaming, media creation, familiarity) to ignore one of them. So when you look at something like Sony's VAIO Pro 11, with a 1080p IPS 11.6" capacitive multitouch display, roughly similar specs (1.6GHz i5-4200U, 4GB, 128GB PCIe SSD), a half-pound lighter body (1.92lbs) with similar dimensions, and roughly the same price point—$1049 street price at the time of writing—it makes you think.
Sure, you lose some of the niceties you get with the new Air—802.11ac, Thunderbolt, the best touchpad in the world (you can't find another laptop in the world with that combination of things at any price, at least until the next generation of MacBook Pros come out this fall)—and Windows 8 notebooks have never been able to match the battery life of Apple's notebook line. Sony claims 7 hours of runtime on the 34Wh battery, though it's worth noting there's an optional slice battery that adds an extra 35.2Wh of capacity at the cost of a 0.6 lb weight gain. The real question though, how much of the added features would be worth sacrificing for that display upgrade?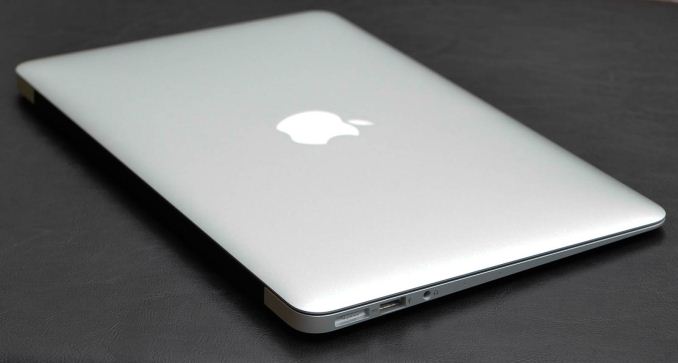 On a more global scale, I feel like this is the end of the line for the current MacBook Air chassis. It's been around for a handful of years now, and I honestly can't see Apple keeping it around for another go-around. Particularly given how much smaller the Haswell ULT package is and how much less populated the 2013 Air PCB is relative to its predecessors, a sleeker redesign for Broadwell seems inevitable. I'd love to see them get this closer to or even under under the two pound mark without sacrificing the aluminum chassis, because that would really push the boundaries of mobility. I'd like smaller bezels around the LCD as well, though that is more dictated by the size of the keyboard and trackpad than anything else.
Also, it's clear that something has to give with regards to the displays. I'm not sure when it'll happen, but it'd be very odd for Apple to continue iterating a thoroughly modern, bleeding edge computer without changing the five year old display panel at some point. Considering all that Apple has done over the years to push notebook displays, it'd be very out of character for them to not address this issue within the next couple of years, particularly as the internal silicon gets so much more power efficient.
Given where this generation of Apple portables has gone, I think the upcoming MacBook Pros will be very interesting. Apple has really prioritized battery life, and the whispers of no dedicated graphics in either MBP makes things very interesting (if a bit concerning from a performance standpoint). If the 54Wh battery in the Air 13" gets to 11 hours of battery runtime without too much trouble, just imagine what the 74Wh battery in the rMBP13 or the 95Wh battery in the rMBP15 can do with Haswell's power efficiency, particularly if the updated MBP13 gets a single chip 28W Haswell ULT part with Iris graphics. I get chills just thinking about it.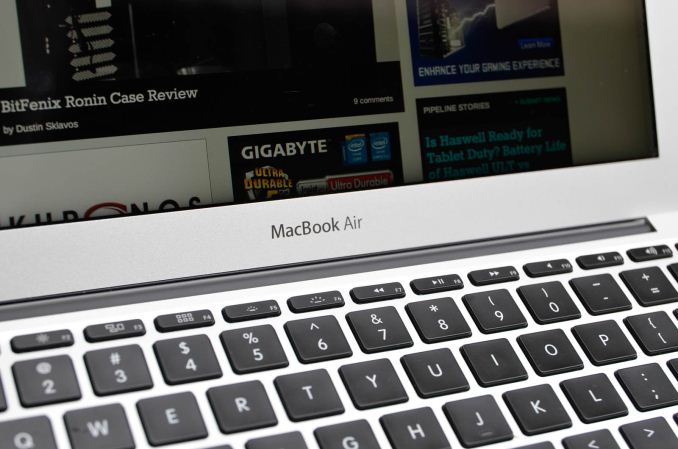 But in terms of the 11" Air, the main point of comparison that needs to be addressed is the 13" Air. I know I covered this in the intro, but it's worth revisiting. The 13" is without question the better computer, and if you're looking to replace a laptop, it's definitely the way to go. I like the 11" Air as a tablet replacement—I'd rather carry this than my iPad on almost every day of the week (unless I need the built-in LTE). It's almost impossible to use as a primary system though, the way you can with the larger Air. The difference-maker relative to the 13" Air isn't the weight, since that's still quite light at 2.96lbs, but the footprint. While the 11" Air is small enough to fit basically anywhere an iPad can be carried, the 13" is much closer to the size of a real notebook. The fact that I'd be making minimal compromises to carry a real notebook versus the iPad is startling, and if you need the most mobile productivity machine you can get, it's hard to top this. As we start to see more Haswell-based ultraportables and tablets, particularly when the Haswell ULX (Y-series) parts hit, this might change, but for now I feel pretty comfortable saying that.