Original Link: http://www.anandtech.com/show/7124/corsair-carbide-air-540-case-review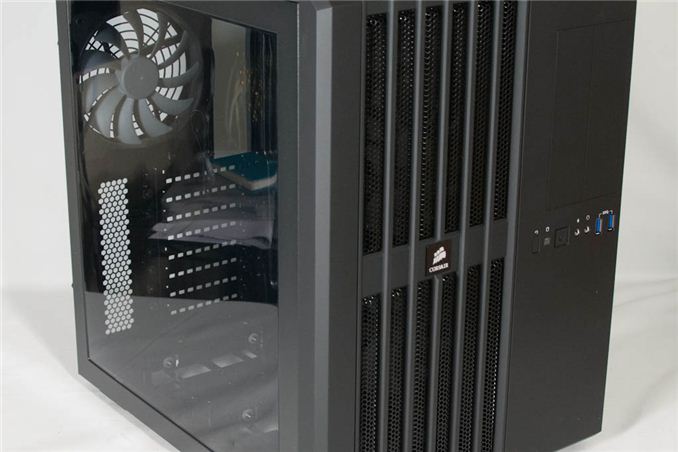 One of the joys of being based out of the bay area is getting to actually visit the headquarters of some of these vendors. I've had one on one time with Antec, NVIDIA, Logitech, and my last visit to Corsair's headquarters in Fremont got me a good look at the early prototyping stages of both the Obsidian 900D and the Carbide Air 540. Corsair's designers were pretty enthusiastic about where they were going with what became the Air 540, and with good reason. Now that I've had a chance to handle the final product, I feel like I'm looking at the next BitFenix Prodigy.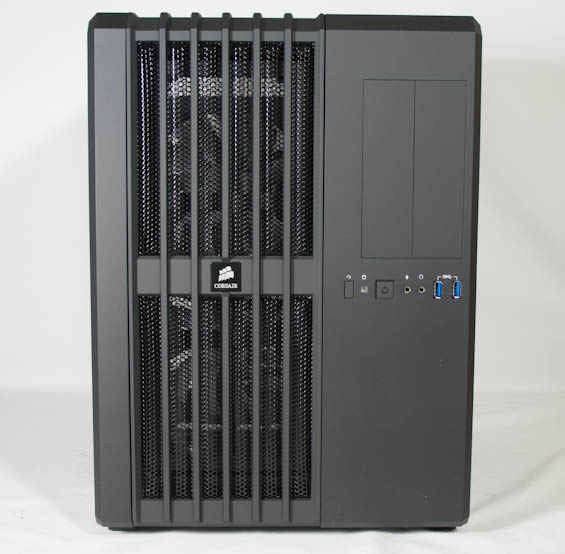 Outside of Lian Li's eclectic lineup, cube style ATX cases are rare as hen's teeth and seeing one from Corsair is especially unusual. The one-off Graphite 600T notwithstanding, Corsair has tended to produce fairly conservative, extremely refined case designs. But the dual-chambered Carbide Air 540 is a radical departure and a much needed one. It's not a perfect design and there's plenty of room for improvement, but there are very good reasons I chose the Air 540 for my upcoming custom liquid cooling loop review.
Corsair Carbide Air 540 Specifications
Motherboard Form Factor
Mini-ITX, Micro-ATX, ATX, E-ATX
Drive Bays
External
2x 5.25"
Internal
2x 3.5", 4x 2.5"
Cooling
Front
2x 140mm intake fan (supports 3x 120mm)
Rear
1x 140mm exhaust fan (supports 120mm)
Top
2x 140mm/120mm fan mounts
Side
-
Bottom
-
Expansion Slots
8
I/O Port
2x USB 3.0, 1x Headphone, 1x Mic
Power Supply Size
ATX
Clearances
HSF
170mm
PSU
200mm
GPU
320mm
Dimensions
16.33" x 13.07" x 18.03"
415mm x 332mm x 458mm
Special Features
USB 3.0 via internal header
Almost completely toolless assembly
Unique dual-chambered design
Supports 360mm radiator in front and 280mm radiator in top
Price
$139
I'm going to address a minor elephant in the room before getting into the nitty gritty of the Carbide Air 540: a cube-shaped enclosure is arguably less space efficient than a typical tower. As someone who lives in an apartment smaller than he needs, I can tell you that floor space is always at a premium, and the Air 540 does have a pretty large footprint. It's not as tall as a conventional case, it's a bit wider, and when running it probably looks like a good place for a cat to sleep.
Of course, on the flipside, by breaking out of the ATX standard, Corsair's designers were suddenly free to start rethinking about how everything can come together to truly maximize performance and efficiency. The Carbide Air 540 is in many ways operating on the same principles SilverStone's Temjin TJ08-E, Raven RV-04, and Fortress FT-04 are: as direct a path for air as humanly possible. Yet while SilverStone's designs moved the power supply and 5.25" bays to the top of the enclosure, Corsair made the enclosure wider and created a separate chamber for all the parts that didn't need direct, active cooling.
In and Around the Corsair Carbide Air 540
I was enthusiastic about what became the Carbide AIr 540 from the prototyping stages, but I was at least a little curious as to how Corsair was going to handle the ID. With most of their other cases, their designs were fairly simple and clean, but this is something different. It's asymmetrical, not just internally, but externally. I think they really hit it out of the park, though; the Air 540 looks almost like a baby server.
Looking at the front of the Carbide Air 540, the dual-chambered design is pretty evident: on the left hand side, behind the front mesh vent, is the main system chamber that houses the motherboard, CPU, and expansion cards. It's sized exactly large enough to fit an ATX motherboard and radiators in the top and front. On the right side are the two 5.25" drive bays, positioned above the I/O and power and reset buttons. That row of I/O lines up beautifully with the Corsair logo in the front mesh.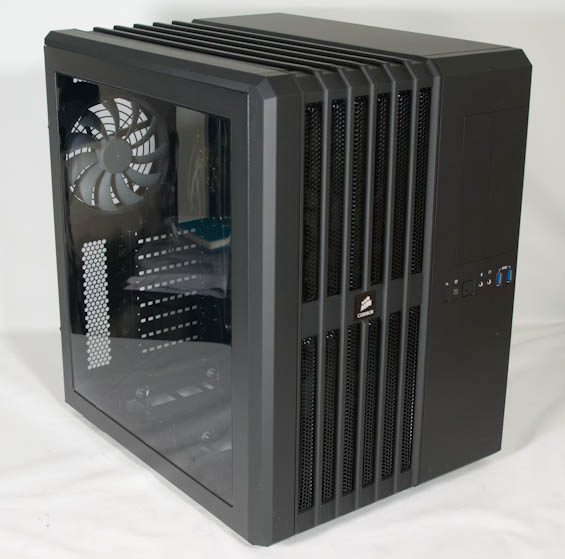 Roll the Air 540 on to it's front, and the line of mesh venting continues along the top of the enclosure. Note too that the mesh vents are actually very easy to remove: the top mesh is secured with two thumbscrews on the back, and once you slide it off, you can lift and remove the front mesh. That front mesh also has places for you to secure it with screws if you're so inclined, but if the 540 is assembled correctly, everything stays firmly in place.
Since there aren't any unsightly drive bays in the primary chamber (just the two sleds on the bottom), Corsair has windowed the left side panel almost completely. However you feel about windows on cases, I think it's hard not to feel like it makes sense with the 540. Meanwhile, the right side panel has ventilation above the power supply bay, but that's it. It's worth noting that both side panels are hinged and held in place with thumbscrews.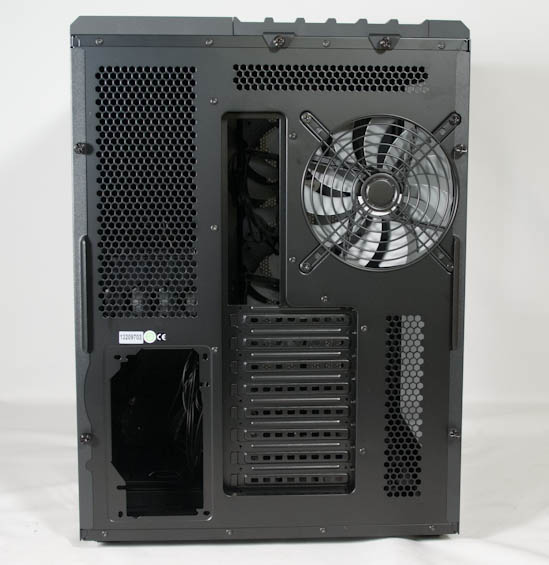 The back of the 540 gives you a much clearer idea of how everything is laid out internally. Behind the primary chamber is the power supply bay, and then above that are the 2.5" drive cages. Corsair is using the same cages they used in the Obsidian 350D, and while I don't care for the plastic that much, they definitely get the job done. Corsair's still a step ahead of the competition here; toolless 2.5" drive cages or sleds are still uncommon. Note the middling clearance of the 140mm exhaust fan; in experimenting with the 540 I found that some 140mm fans wouldn't even actually fit (or at least not easily), and I don't believe you could realistically install a 140mm radiator back here.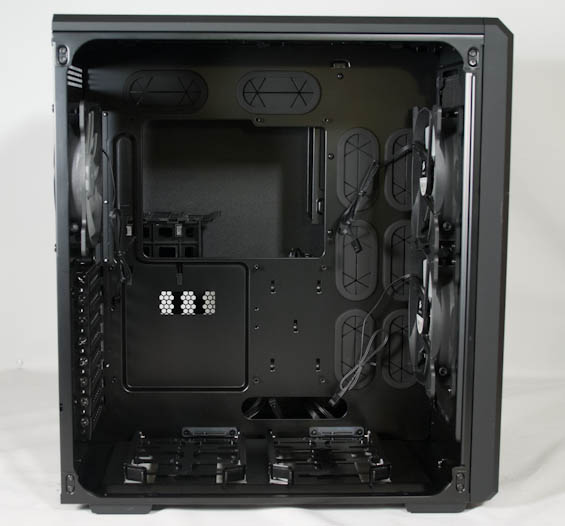 The primary interior chamber of the 540 doesn't actually include much in the way of surprises. This is as basic as it gets: fans, motherboard mount, routing holes, and the two drive sleds at the bottom. That's it. It's still exciting, though: Corsair has taken all of the heat-generating components of a PC and almost completely separated them from the rest by placing them in a chamber with virtually unobstructed airflow.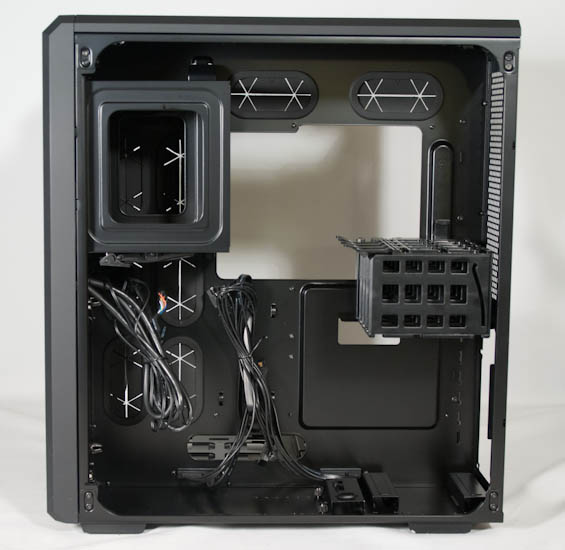 If anything, the rear chamber is almost a little disappointing. There's a tremendous amount of negative space back here which is good for hiding cabling, but I feel like we could've had a smarter, cleaner assembly of drive cages. This is always the unsightly side of an enclosure, yet there's definitely room for improvement here. Worth mentioning, though, is that this is the first case I've tested that had an essentially toolless power supply mount.
There's something ultimately very fresh about the Corsair Carbide Air 540's design. We're walking a road less travelled here, so I'm more inclined to give Corsair the benefit of the doubt and some leeway on some of their design choices because I know they were largely building their template from scratch. This is unlike anything else in their line, let alone most manufacturers' lines.
Assembling the Corsair Carbide Air 540
As it turns out, despite being a very unorthodox case design, the Corsair Carbide Air 540 is also ridiculously easy to build a system in. I never expect a Corsair case to be difficult, but as I've repeated over and over already, this isn't a typical Corsair case. Amusingly, outside of a larger footprint that makes the Air 540 more unwieldy to manipulate, it's actually in many ways even easier to build in than a garden variety ATX case.
For starters, installing the motherboard is a breeze. Corsair includes a mounting/alignment post for the center motherboard mount, and the standoffs for a standard ATX case all come preinstalled. The screws for the case are even sorted into separate baggies for each specific purpose. I'm not sure Corsair could've made mounting the motherboard any easier. Wiring in the motherboard headers is also simple; there are plenty of routing holes around the tray and they're all placed logically. And because the case is designed with enough headroom for radiators in the top and front, your hands never feel crunched. It's spacious but doesn't feel like an inefficient use of space.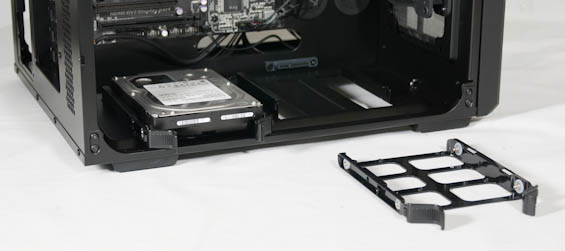 Installing drives wasn't without its hiccups, but was still pretty simple. I was pleasantly surprised to see that the 3.5" drive trays in the bottom of the primary chamber actually have SATA backplanes behind them; you don't have to wire up the drives installed in these trays, just the planes themselves. And the trays themselves are toolless and exactly flexible enough to wrap around and secure 3.5" drives.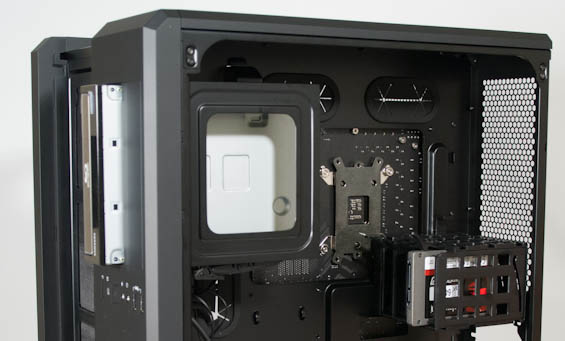 In the rear chamber, the toolless 2.5" drive cage looks a little chintzy but definitely gets the job done. Drives installed feel secure, but you're really going to want 9.5mm drives instead of slimmer ones as these cages seem to have been designed specifically for those exact dimensions. My only complaint as far as drive installation goes has to do with the 5.25" bays. Because of their orientation it's nigh impossible to screw them into place. The bay shields easily pop in and out and they're secure when in place, but you're relying on Corsair's toolless mechanism to keep the 5.25" drive secure. I found with our blu-ray drive that the drive itself would lock into place and couldn't be pushed too far into the Air 540, but was relatively easy to push back out of the case from behind. If you're using a hotswap bay that may require you to pull a drive out, there's a chance you'll have to push it back into the case and back into place.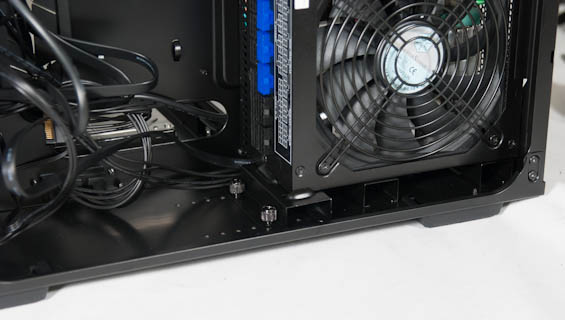 What really surprised me is that Corsair created an essentially toolless power supply installation. There's a bracket mounted to the bottom fo the 540 that will hold the back corner of the power supply in place; you install the drive between the 2.5" drive cage and the risers in the bottom of the enclosure, then place the bracket and thumbscrew it in. There's still a little bit of wiggle, but it's remarkably secure. If you don't want to go toolless, there are still holes in the rear of the chassis for you to manually screw in the power supply.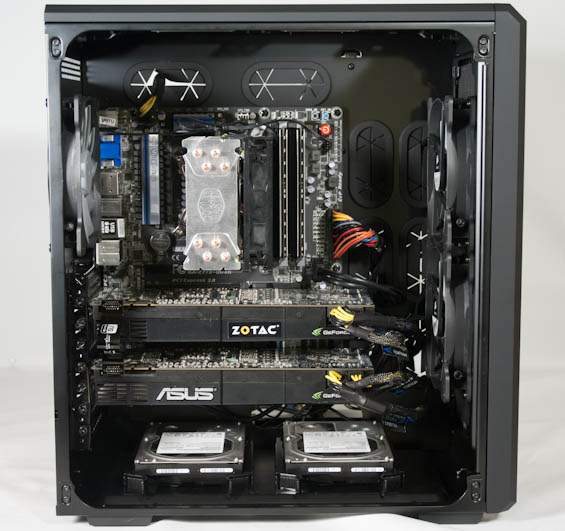 Expansion cards, on the other hand, went in pretty easily, and wiring up the whole case proved to be simple as well. There's a copious amount of space in the Air 540 between the 5.25" drive bays and the power supply that allows you to stash cabling without too much fuss. Corsair even intelligently oriented the 5.25" bays and the 2.5" cages; you won't have to twist power leads to bridge between the two. It's a small touch but an appreciated one. Note that the three 140mm fans included all use three-pin connectors and Corsair does not include molex adapters for them.
I feel like the only thing that could really keep someone from doing a speedy assembly of the Carbide Air 540 is just the slightly alien design itself. Corsair has done everything they can to make it as simple as possible, and while I'm not sold on the mounting system for the 5.25" drive bays, it at least gets the job done. I'm as happy with the case's ease of assembly as I am with its aesthetics: it's not just a good-looking case, it's an easy to use one as well.
Testing Methodology
For testing full ATX cases, we use the following standardized testbed in stock and overclocked configurations to get a feel for how well the case handles heat and noise.
Each case is tested in a stock configuration and an overclocked configuration that generates substantially more heat (and thus may produce more noise). The system is powered on and left idle for fifteen minutes, the thermal and acoustic results recorded, and then stressed by running seven threads in Prime95 (in-place large FFTs) on the CPU and OC Scanner (maximum load) on the GPU. At the end of fiteen minutes, thermal and acoustic results are recorded. This is done for the stock settings and for the overclock, and if the enclosure has a fan controller, these tests are repeated for each setting. Ambient temperature is also measured after the fifteen idle minutes but before the stress test and used to calculate the final reported results.
For the "full fat" testbed, the GTX 560 Ti is swapped out for a pair of GTX 580s, and three hard disks are added to fill out the case.
Thank You!
Before moving on, we'd like to thank the following vendors for providing us with the hardware used in our testbed.
Noise and Thermal Testing
It's reasonable to expect the Corsair Carbide Air 540 to provide excellent thermal results, and you'll see it definitely delivers. Where we do make a sacrifice is in acoustics; Corsair is using three very powerful 140mm fans, and while they're not especially noisy, they're not silent either.
What I think Corsair does have a lot of with the Air 540 is play. Similar to the much larger Obsidian 900D, the Air 540 really seems like a case that demands some experimentation. I couldn't resist experimenting with the case a bit and tried to see if I could match stock performance with a stack of silent aftermarket fans. With three 120mm be quiet! fans in the front as intakes and three 140mm ones in the top and back as exhausts, all running at 7V, I was able to get idle noise down to sub-30dB and load temperatures only increased about 3C. This is anecdotal and by no means conclusive, but something to keep in mind.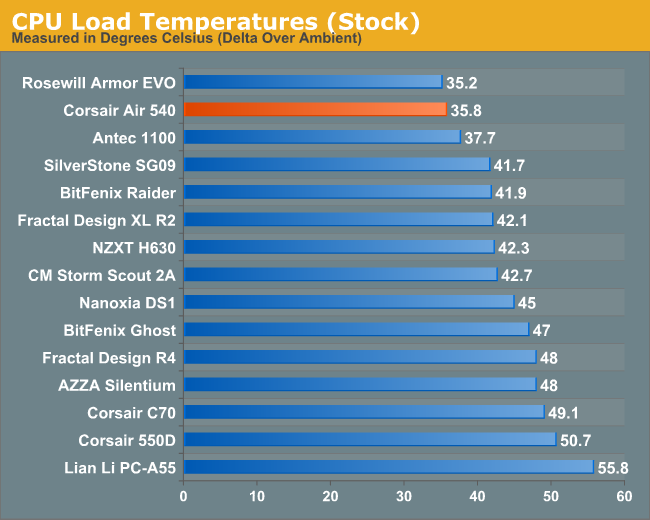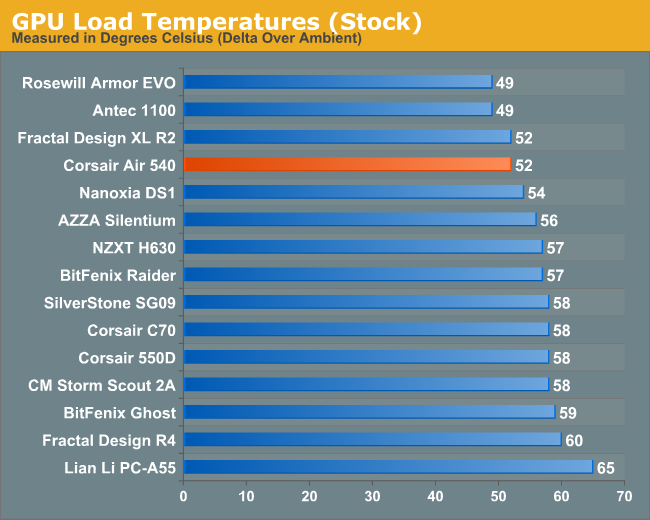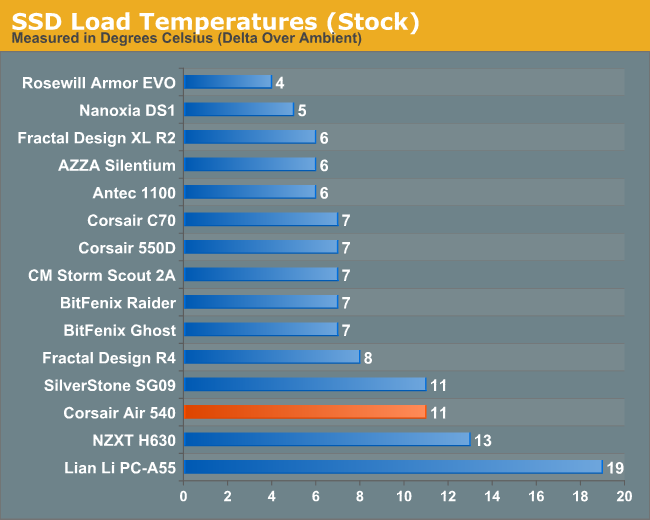 Stock thermal performance is pretty excellent, with only the powerful Rosewill Armor EVO really competing. But the Armor EVO has build quality issues that the Air 540 doesn't share.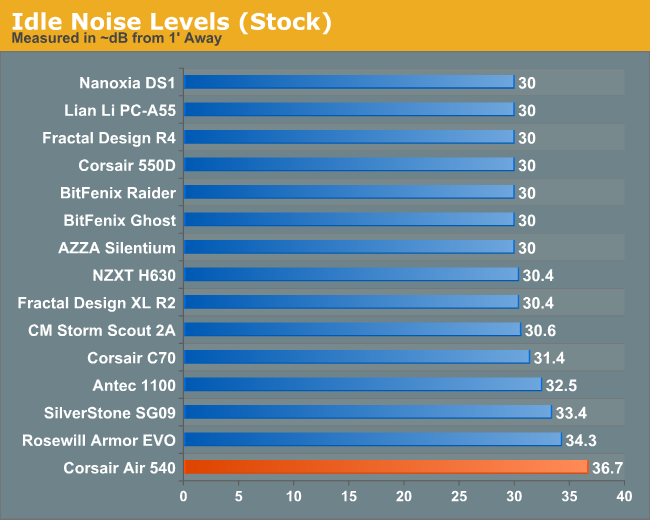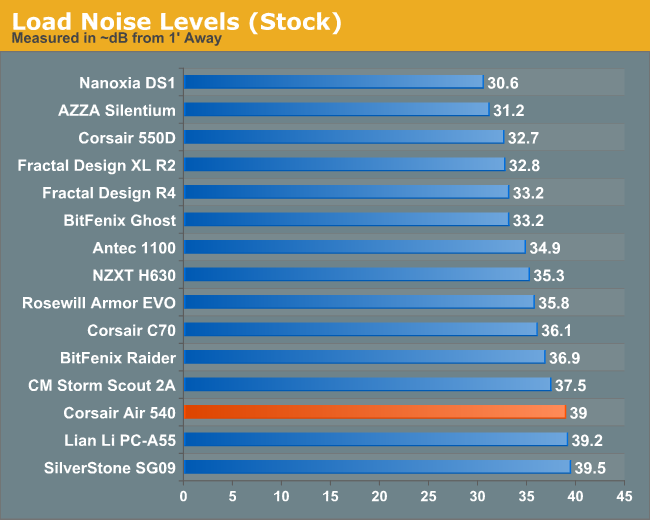 The Air 540 is also, unsurprisingly, louder than most of the competition. Our stock testing configuration is actually the worst scenario for the Air 540; this is swatting a fly with a Buick. The stock cooling of the 540 wasn't designed to handle this light a workload.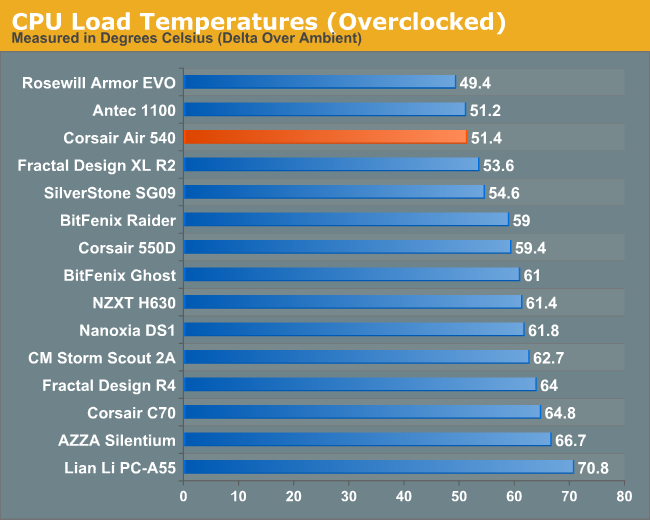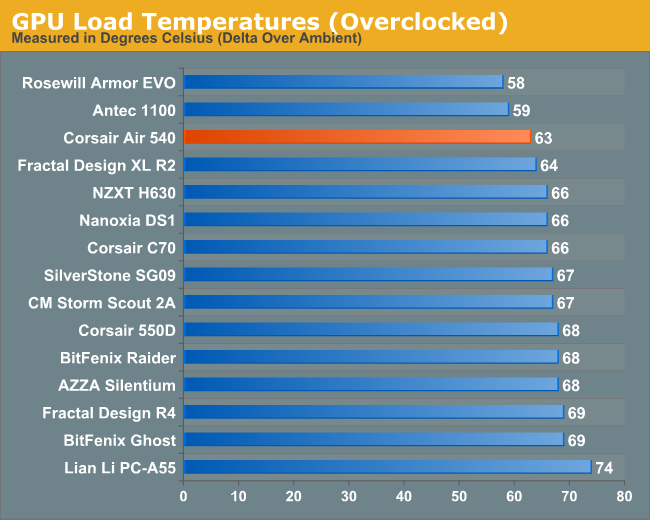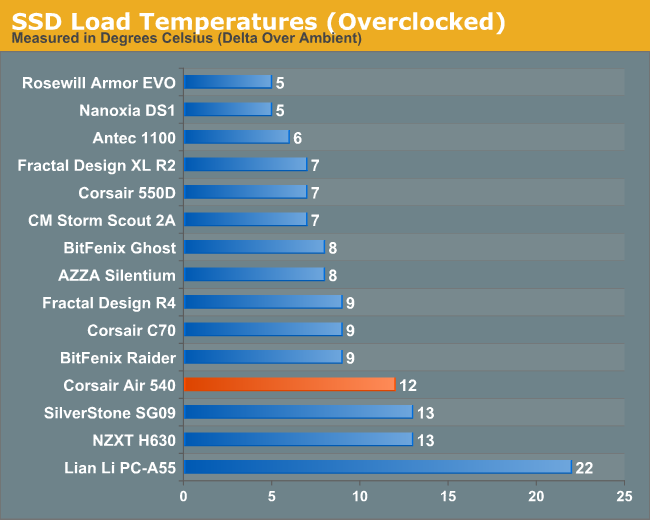 Switch to our overclocked system configuration and the Corsair Carbide Air 540 continues to be extremely competitive and near the top of all of the charts.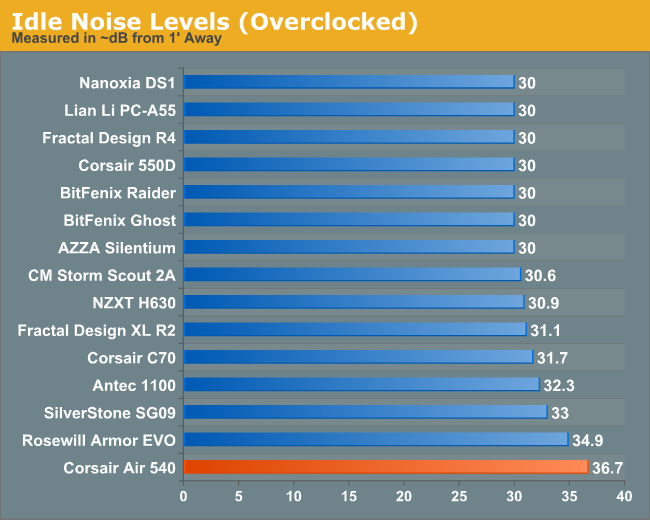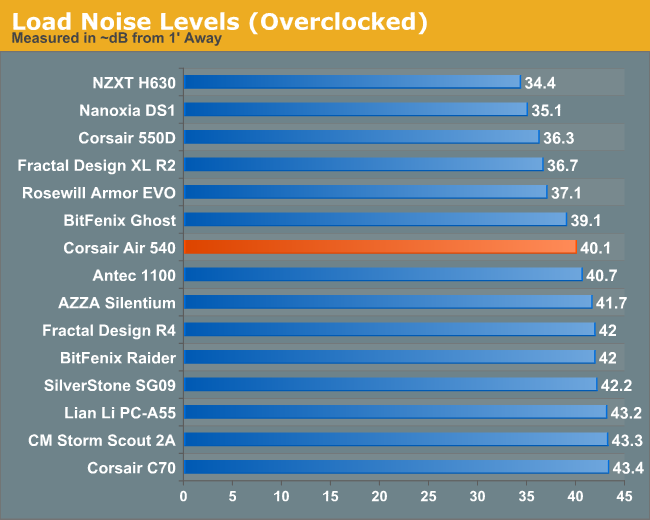 Now that we're dealing with an overclocked system, suddenly the Air 540's noise levels aren't as bad as they used to be. Idle noise is still unpleasant, but at least the character of it continues to be a low, hollow whoosh that's far less irritating than the sound of several smaller fans.
Before getting into full fat testing, it's important to point out that while other cases are tested with three 3.5" drives, the Air 540 only technically supports two. While I could theoretically have installed a third in the second 5.25" drive bay, I didn't feel like it would have any relevant impact on the case's overall performance. The 3.5" drives sit at the bottom of the primary chamber and receive modest airflow, but they don't impede airflow in any way the way they would in a traditional ATX enclosure.
While you could argue the Air 540 isn't operating on a completely level playing field, I don't personally think adding the third drive into the second 5.25" bay would have any tangible impact on the case's performance.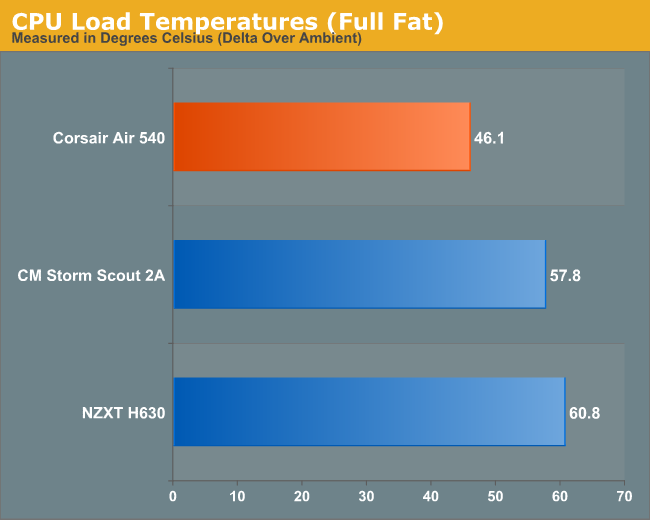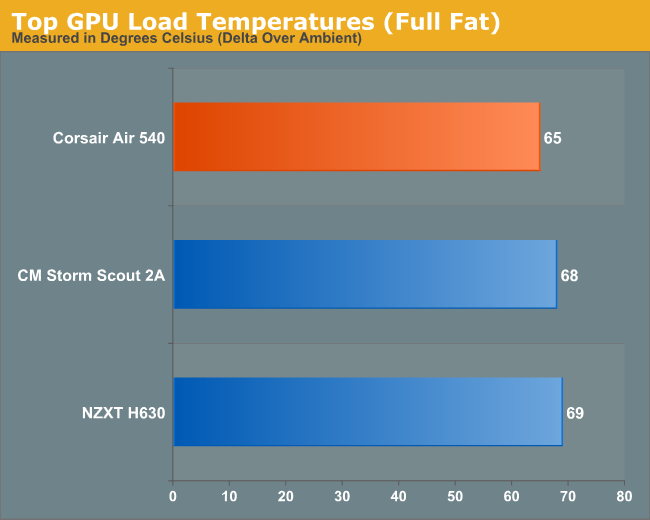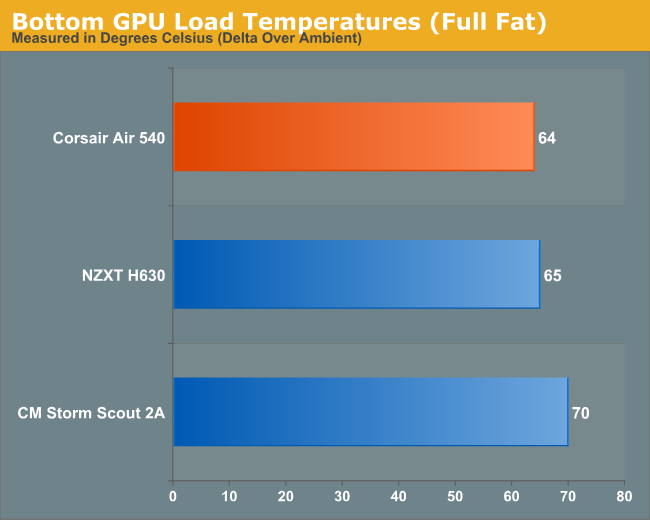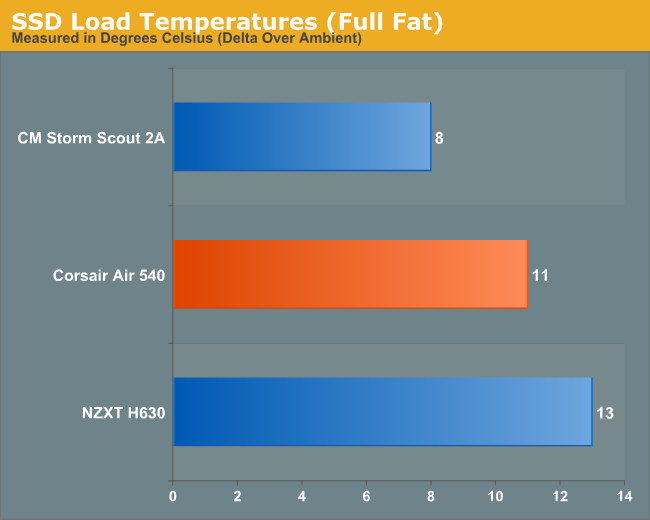 The drives aren't running especially cool, but they're nowhere close to hitting spec either. In exchange, you get absolutely stellar cooling performance in the primary chamber on all of your major heat-generating components.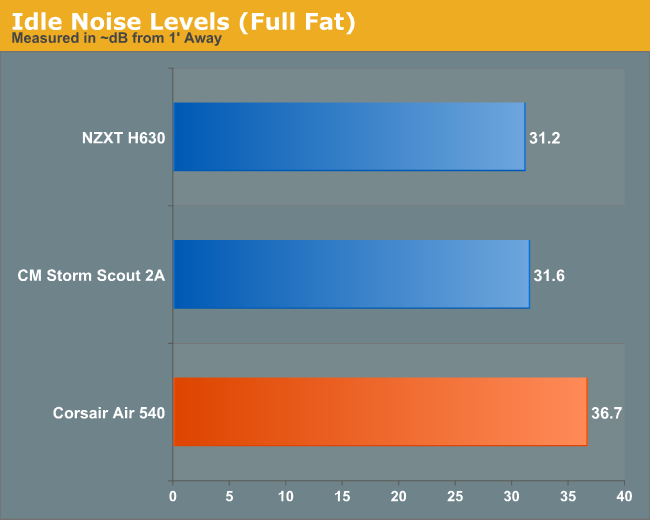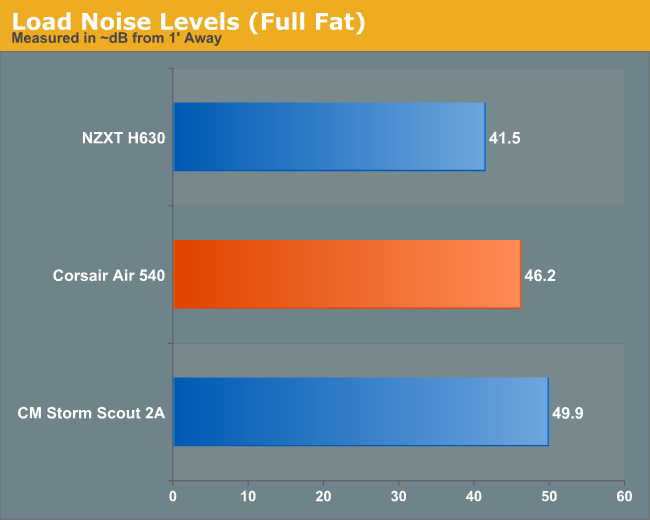 The NZXT H630 is able to provide better noise suppression, but it sacrifices thermal performance to get there. Our full fat testbed is an absolute beating, though, and so far the only case I've seen get halfway decent noise levels under load has been the SilverStone Raven RV-04.
Conclusion: You Know if You Want It
After testing the Corsair Carbide Air 540, I'm increasingly convinced it's 2013's BitFenix Prodigy. The review of the Prodigy was one of our most popular case reviews, and it drew a lot of attention for its potential as the foundation of powerful, unorthodox builds. While the Carbide Air 540 doesn't share the Prodigy's smaller form factor, it also doesn't share the Prodigy's weaknesses. What's common between the two is the way they, at the risk of sounding incredibly art school pretentious, open up possibilities for the end user. These aren't cases that merely serve a purpose, they're cases that create a purpose.
Corsair hit a lot of the right notes with the Carbide Air 540. For the first time they've produced a case that has excellent air cooling performance. This was pretty much the last issue I was having with their hardware, and it's largely been resolved here. Ease of assembly continues in that same great Corsair tradition, and I think this is actually one of the most aesthetically pleasing cases I've ever tested. The square footprint makes it a little more difficult to find a place for the 540, but I'd argue that it belongs in a shelf above or below, say, a multifunction laser printer. A system built in the Air 540 doesn't look like a tower, it looks like a computer.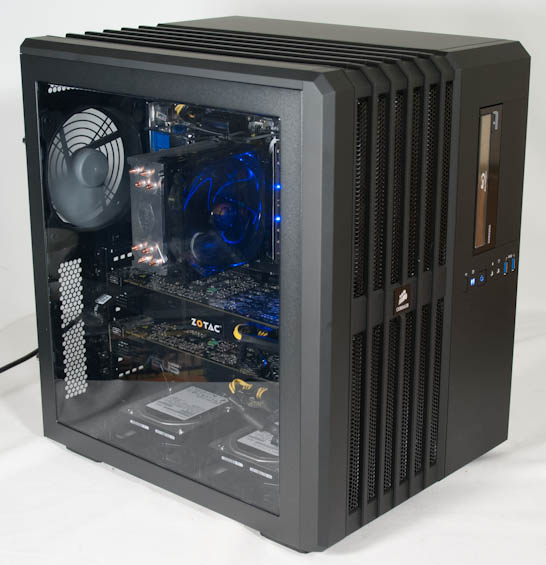 Despite the fantastic thermal performance, excellent ease of assembly, and beautiful aesthetic, though, the Air 540 isn't a homerun. Lacking any fan control, Corsair is using three case fans that are efficient but noisy nonetheless. It's impressive that the sound floor of the case remained consistent among our three testbeds, but that sound floor was very high in the first place. This isn't an unresolvable problem; the performance potential is obviously present, but you'll have to buy aftermarket hardware to get the Air 540 where you want it to be. At the risk of nitpicking, I'm also not particularly sold on the mounting system for the 5.25" drives, and I do feel like the drive and power supply chamber has room for improvement and optimization. Corsair could get this case a little thinner if they really wanted to, and I worry that the case is such an unorthodox design that they may not iterate on it. I desperately want them to.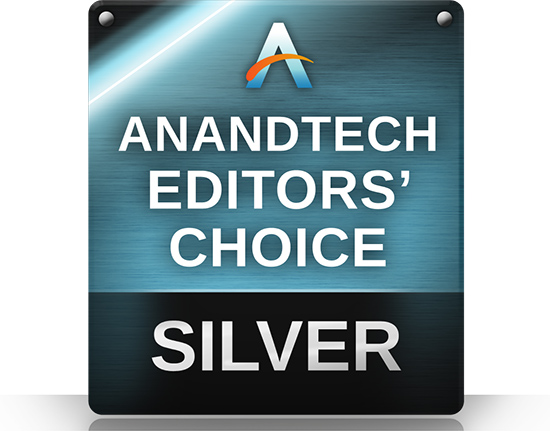 Everything else about the Corsair Carbide Air 540 is pretty right, though. The $139 price tag feels appropriate for such an unusual but solidly performing case, and builders who like to experiment will undoubtedly have a field day with it. I've elected to use it for my upcoming custom liquid cooling loop article and expect it will continue to perform well there. This isn't a perfect design, but Corsair strayed off the beaten path and came up with a frankly outstanding enclosure. I'd say that merits at least a Silver Editor's Choice Award.