Original Link: http://www.anandtech.com/show/7098/haswell-and-gk110-in-the-wild-digitalstorm-virtue-system-review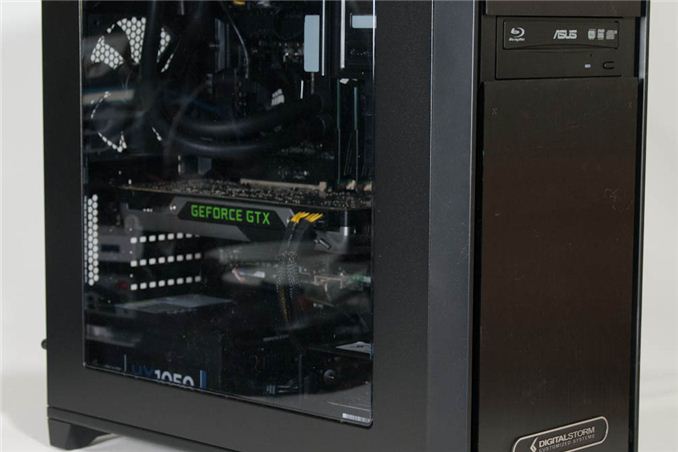 Introducing the DigitalStorm Virtue
One of the biggest benefits of doing system reviews from boutiques like DigitalStorm is the chance to see what talented builders do with brand new hardware once it's released into the wild. Single consumers/enthusiasts get used to and understand the range of performance typically available in overclocking retail kit, but boutiques have to contend with overall performance potential of a range of products on a larger scale. Whether or not you get a decent overclock on your i7-4770K isn't a huge deal; you bought the chip, you're good to go. But for a boutique it becomes a more serious issue, defining their advertising and ultimately helping us all paint a fairly broad picture of what we can expect or at least hope for from new kit.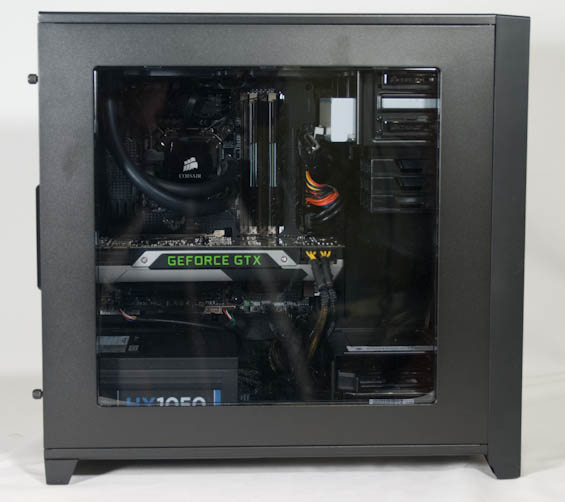 If you're like me, you were probably incredibly underwhelmed by initial reviews of Haswell. Ivy Bridge proved to be a decent overclocker, but Intel's miserly switch from fluxless solder to thermal paste as a thermal interface material in their chip packaging put a hard limit on what we could really do with it, and they're continuing that aggavating trend with Haswell. One of the most frustrating results is a flattening of the overclocked performance curve from Sandy Bridge to Ivy Bridge, and thankfully we can at least test and see today if Haswell does anything to change things.
With the recent refresh of our benchmarking suite (I carry over notebook benchmarking to the desktop and then add a surround test), I realized we had a perfect opportunity to test just how much progress we've made from one generation to the next. One of the perks of working in the industry is access to high end kit; my personal desktop workstation isn't just fun to have, it also serves as an extremely useful reference platform that I can now pit DigitalStorm's attractive new micro-ATX mid-tower, the Virtue, against.
DigitalStorm Virtue Specifications
Chassis
Corsair Obsidian 350D
Processor
Intel Core i7-4770K
(4x3.5GHz, Turbo to 3.9GHz, Overclocked to 4.4GHz, 22nm, 8MB L3, 84W)
Motherboard
ASUS Gryphon Z87
Memory
2x8GB A-Data DDR3-1600 (maximum 4x8GB)
Graphics
eVGA NVIDIA GeForce GTX 780 3GB GDDR5
(2304 CUDA Cores, 862MHz/901MHz/6GHz core/boost/RAM, 384-bit memory bus)
Hard Drive(s)
Corsair Neutron GTX 120GB SATA 6Gbps SSD

Western Digital Caviar Black 1TB SATA 6Gbps SSD
Optical Drive(s)
ASUS BC-12B1ST BD-ROM/DVD+-RW
Power Supply
Corsair HX1050 80 Plus Silver PSU
Networking
Intel I217-V Gigabit Ethernet
Audio
Realtek ALC892
Speaker, line-in, mic, and surround jacks
Front Side
Power button
Reset button
2x USB 3.0
Mic and headphone jacks
Optical drive
Top Side
-
Back Side
4x USB 2.0
DVI
HDMI
Optical out
4x USB 3.0
Gigabit ethernet
Mic, line-in, headphone, and surround jacks
2x DVI (GTX 780)
1x HDMI (GTX 780)
1x DisplayPort (GTX 780)
Operating System
Windows 8 64-bit
Extras
80 Plus Gold PSU
240mm Corsair H100i CPU Cooler
Warranty
3-year limited parts and labor, lifetime customer support
Pricing
Starts at $1,403
Review system configured at $2,563
DigitalStorm has four configurations for the Virtue, starting at $1,403. The entry level offers a basic quad core Haswell with no overclocking and a GeForce GTX 650 Ti Boost; it's adequate for gaming, but informed consumers will want the second level model featuring an i5-4670K and GeForce GTX 770 for $1,735. Worth mentioning, though, is that DigitalStorm offers a 120GB Corsair Neutron GTX SSD and 1TB HDD minimum, across the board, in all configurations of the Virtue. The highest end model bumps the SSD capacity up to 240GB and the GPU to a GeForce GTX Titan.
There isn't too much to say about the Virtue as we have it, though. DigitalStorm was able to eke out a healthy 4.4GHz overclock on the i7-4770K, but the overclock range they offer is just 4GHz to 4.4GHz, which is underwhelming to say the least. That's not their fault, though; iBuyPower only goes up to about 4.2GHz, ~4.5GHz if you're using one of their signature custom liquid cooling systems. CyberPowerPC offers roughly the same "20% overclock" which works out, again, to about 4.2GHz. DigitalStorm's overclocking options are also essentially in line with AVADirect and other boutiques; Haswell just doesn't have a whole lot of headroom. Meanwhile, DigitalStorm does offer performance tuning on their graphics cards, but the GTX 780 in our review unit is left at stock.
Representing the best and brightest of the last generation is my own custom workstation which will be referred to in charts as the "Reference PC." This is, in my humble opinion, about as good as it can get before you switch over to a custom cooling loop.
Reference PC Specifications
Chassis
Nanoxia Deep Silence 1
Processor
Intel Core i7-3770K
(4x3.5GHz, Turbo to 3.9GHz, Overclocked to 4.6GHz, 22nm, 8MB L3, 77W)
Motherboard
Gigabyte GA-Z77X-UD5H
Memory
4x8GB Crucial Ballistix Sport Extreme Low Profile DDR3L-1600
Graphics
NVIDIA GeForce GTX 680 2GB GDDR5 modified with Arctic Cooling Accelero Hybrid
(1536 CUDA Cores, 1264MHz/6.6GHz core/RAM, 256-bit memory bus)
Hard Drive(s)
Plextor PX-M5S 256GB SATA 6Gbps SSD

Samsung SSD 840 500GB SATA 6Gbps SSD
Power Supply
Rosewill Capstone 750W 80 Plus Gold PSU
Audio
Realtek ALC899
Operating System
Windows 8 Professional 64-bit
Extras
Case modified with Noctua fans
CPU cooled by Swiftech H220
GPU cooled by Arctic Cooling Accelero Hybrid
When you get to the benchmarks, you'll see this is really about as fast as a last generation, single-GPU configuration with a mainstream CPU was going to get. 4.6GHz is healthy for Ivy Bridge, and the Arctic Cooling Accelero Hybrid allowed the GeForce GTX 680 to not only settle on a high boost clock, but maintain it consistently throughout prolonged gaming sessions. This is with the stock GTX 680 BIOS; a modified BIOS with higher voltage might have been able to push the silicon further, but I've heard exactly enough about modified BIOSes burning out GK104 to not tempt fate
System and Gaming Performance
The two subjects we want to examine with the DigitalStorm Virtue and its 4.4GHz Intel Core i7-4770K are whether or not the overclocking plateau really has stayed level over the past two or three generations of Intel CPUs, and just how close GK104 can really get to GK110. Remember that the GeForce GTX 770 actually ships with memory clocks higher than most GTX 680s could attain, and memory bandwidth was frequently the bottleneck with GK104.
An important comparison to keep in mind: the 4.6GHz Intel Core i7-3770K is only clocked about 5% faster than the new 4.4GHz i7-4770K. Haswell tends to be roughly 10% faster clock per clock than Ivy, so with some dirty math it would take about a 4.8GHz i7-3770K to make up the performance gap.
As for the overclocked GTX 680 against the GTX 780, that's a bit trickier. The 780 is working with almost 50% more memory bandwidth, and with some extremely dirty math, about 20% more shader power. That's before you try to calculate the GTX 780's boost clocks, which are much jumpier than the GTX 680's. Even missing an entire SMX cluster, GK110 is still a bear compared to the more svelte GK104.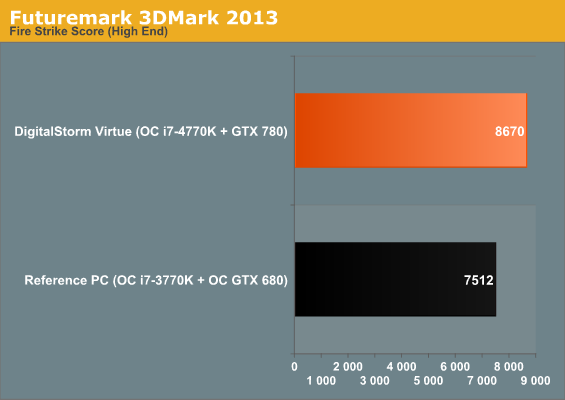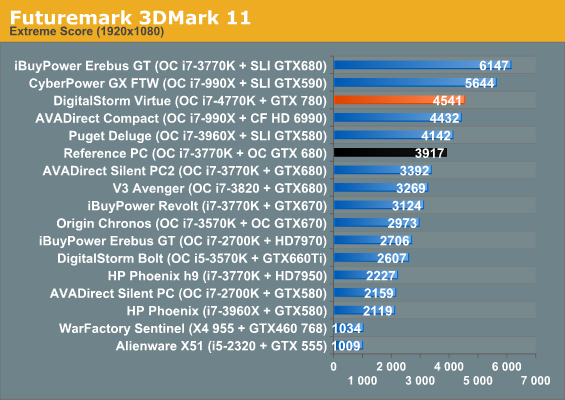 The 3DMarks pretty much tell the story. In both 3DMarks, a stock 780 is still ~15% faster than a heavily overclocked GTX 680.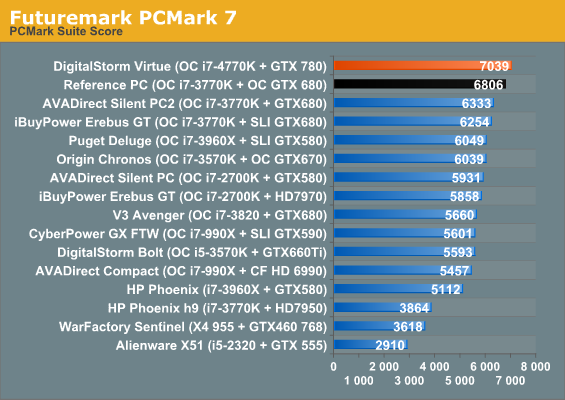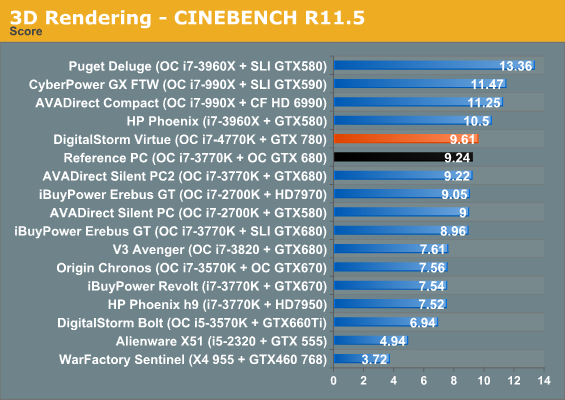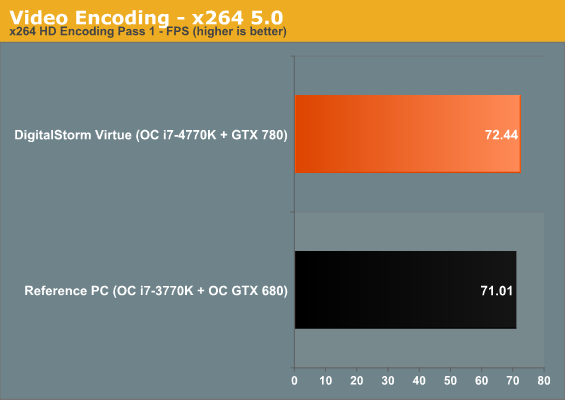 While PCMark7 tends to simply favor newer, faster SSDs, the difference between Haswell and Ivy gets a lot uglier when we isolate CPU performance. Consensus is that we've lost a bit of overclocking headroom with Haswell, making the comparison between a 4.6GHz Ivy and 4.4GHz Haswell a reasonably fair one. Cinebench is just 5% faster on Haswell, the first pass of the x264 benchmark is a dismal 2% faster on Haswell, and the second pass is at least a slightly healthier 7%.
Also note the improvement from Sandy to Ivy in Cinebench, though: our fastest Ivy is just 2% faster than our fastest Sandy. That Sandy was also running at 4.6GHz. Ivy at least brought a fat reduction in power consumption and TDP from Sandy despite the mediocre IPC improvement, but Haswell actually increased power consumption.
The math gets even uglier when we compare Sandy to Haswell. A 4.4GHz i7-4770K is only 6% faster than a 4.6GHz i7-2700K. That means that in two subsequent generations, the performance ceiling has barely moved. Anand is keen to point out that Intel's ability to eke out ~10% additional IPC on the same 22nm process node with a new architecture is impressive, and that may be true from a technical perspective, but Intel has offered enthusiasts virtually nothing new for two generations running. So whether or not the technical achievement is notable, end users are still left holding the bag. At this point, if you're hankering for more performance on the CPU, your best bet is actually to either go for an i7-3930K or wait for Ivy Bridge-E and hope Intel doesn't bone us with thermal paste instead of fluxless solder again. The only real selling point of Haswell, as far as I'm concerned, is access to the Z87 chipset.
Thankfully, while the jump in price from the NVIDIA GeForce GTX 680 to the GTX 780 isn't a particularly happy one, at least that dial moved pretty substantially. We tested every game at our Enthusiast settings (essentially maxed out and topping out at 4xMSAA), at 1920x1080 and then at 5760x1080.
GTX 680
1080p
GTX 780
1080p
% Perf.
Increase
GTX 680
Surround
GTX 780
Surround
% Perf.
Increase
BioShock Infinite
83.1
91.6
10.2%
32.5
37.1
14.2%
Elder Scrolls V: Skyrim
93.4
104.1
11.5%
72.1
75.7
5%
GRID 2
87.3
109.2
25.1%
39.4
49.2
24.9%
Metro: Last Light
36.7
40.7
10.9%
13.7
15.7
14.6%
Sleeping Dogs
90
101.2
12.4%
StarCraft II: Heart of the Swarm
73.5
86.2
17.3%
Tomb Raider
64.3
72.5
12.8%
31.8
36.5
14.8%
So how do we interpret these results? First, excluding the outlying Skyrim surround results, even a diehard overclocked GTX 680 user can expect to net at least 10% more power from the GTX 780. Bumping up to 5760x1080 actually even lets the GTX 780 start to stretch its legs; while the 680 seems to be limited either by memory capacity or memory bandwidth, the 780's 384-bit memory bus and extra 1GB of GDDR5 do a solid job of picking up the slack.
Remember, too, that this is all before you overclock the 780. The consensus right now seems to be that the 780 has a very healthy amount of overclocking headroom, more than the 680 did, so if you're willing to sacrifice some power consumption and noise, you can theoretically push the 780 to Titan levels and even a bit beyond. At that point, it will pull away substantially from the 680 and by extension, the 770. I'm planning to do a custom liquid cooling review in the near future to get a grasp of just how far we can reasonably push a pair of GTX 780s, and given that I regularly see boost clocks of about 1GHz on them with just air cooling and no overclocking, I'm pretty optimistic.
Build Quality
It's not entirely fair to DigitalStorm not to mention the generally excellent job they've done with the build quality of the Virtue. One of the ways a boutique can distinguish itself is in its component selection, and the stock component choices of the Virtue line are solid across the board.
Starting with the chassis selection, I'm actually a pretty big fan of the Corsair Obsidian 350D and I'm happy to see it being employed in a high performance system. Interestingly, DigitalStorm is also using Corsair's H100i to cool the CPU, but they're not employing Corsair Link software to control fan speed despite the system being wired to use it. Instead, the fans on the H100i (oriented beneath the radiator to pull in air from the top of the enclosure and then cycle it out of the rear exhaust) run at a fixed fan speed. I personally find variable fan speed to be distracting; I'd just as soon the whole system run silent all the time, end of discussion. DigitalStorm's choice here works for me.
The 350D also does an excellent job of showing off NVIDIA's reference cooler for the GeForce GTX 780, complete with the subtly glowing "GeForce GTX" logo. That's plugged into an ASUS Z87 Gryphon motherboard, and the system drive is a healthy 120GB Corsair Neutron GTX featuring an LAMD controller. Given all the Corsair kit in the Virtue, though, I'm actually surprised the memory is A-Data.
Where I'd be tempted to shake down DigitalStorm is in using a single stable voltage for overclocking the i7-4770K, but without more experience with Haswell and the quirks of its VRM I can't say if that's worth caring about or not. With the first generation chips (Nehalem, Clarksfield, Gulftown), this was a huge issue, but Sandy and Ivy were less problematic and it looks like Haswell is even less so. I do want to point out that DigitalStorm has traditionally been more aggressive about their CPU voltages than I'd like, but the i7-4770K's 1.28V is actually pretty common and totally reasonable.
Noise and Heat
Demonstrating a healthy amount of balance in their design, the Virtue isn't especially silent but is generally a touch quieter than enthusiast gaming desktops tend to be. Idle noise is around ~33dB, and since the CPU and chassis fans run at a fixed speed, the GeForce GTX 780 is really the only component that spins up or down. Unfortunately, while the 350D is an excellent case for liquid cooling, it does suffer slightly from Corsair's perpetual issues with middling air cooling performance.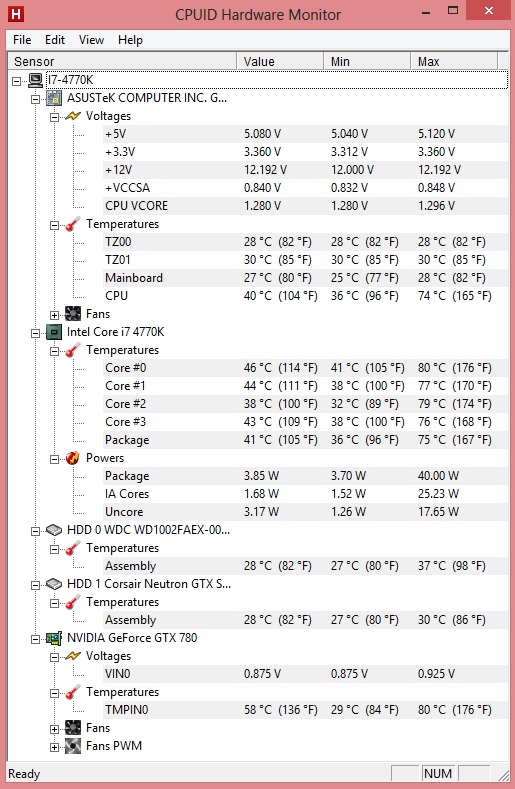 Thermals on the GTX 780 are pretty par for the course, but it can jack noise levels up a couple of dB under sustained load. Meanwhile, the i7-4770K is really about where it needs to be. A more adventurous user might be able to eke a little more performance out of it with a little more juice, but I'd hesitate to push the H100i that much harder, especially without bumping the fan speeds up to a potentially uncomfortable volume.
Power Consumption
So how much power does a modern high end gaming system pull from the wall? The last couple of generations from Intel, NVIDIA, and AMD (Bulldozer/Piledriver notwithstanding) have all done an admirable job of continually reducing idle and load power consumption alike, so the DigitalStorm Virtue stands to benefit from those advances.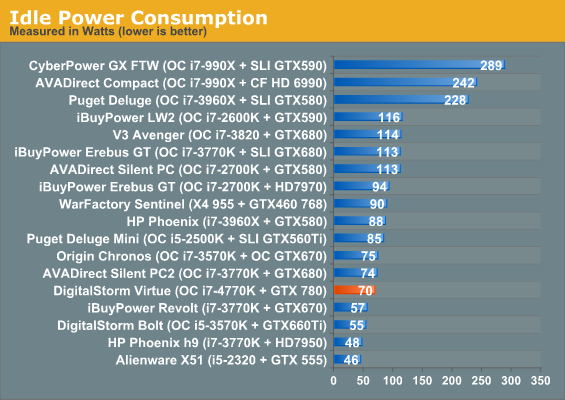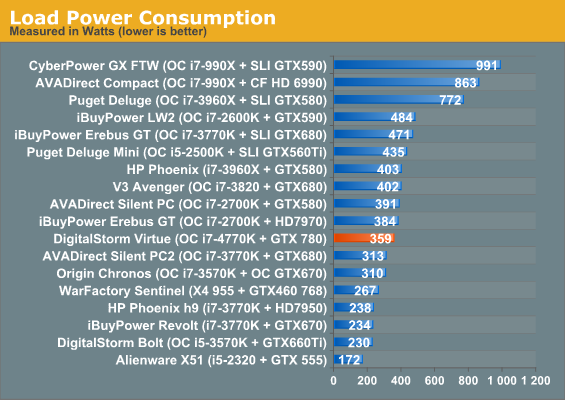 And it does. While neither one is abnormally spectacular, they're both totally reasonable. I'm not convinced DigitalStorm couldn't shave 10W or so off the idle power, but load power is where it ought to be.
Conclusions
What we're evaluating here are really three different products. The DigitalStorm Virtue gives us an opportunity to test both Haswell and the GTX 780 in the wild, as well as a chance to see what a good Corsair Obsidian 350D build might look like.
First, Haswell. I may be unusually, possibly needlessly harsh on Haswell, but I can't help but be incredibly unimpressed. IPC has gone up generation by generation, so why is overclocking performance essentially flatlining? The Core i7-4770K basically needs to hit the same speeds Ivy could eventually hit to really justify itself. Intel didn't architect Haswell for the high end, they architected it for the low. This is an architecture that's supposed to be in ultrabooks, not in ultra-powerful desktops. We felt shafted with Ivy Bridge, but Haswell was our great white hope, and I think that's why the i7-4770K is as disappointing as it is. Ivy wasn't a big jump in performance, but it wasn't supposed to be, and Haswell was. Hopefully when I build out the custom liquid cooling loop review and take more of the heat out of the equation, the architecture can stretch its legs a bit.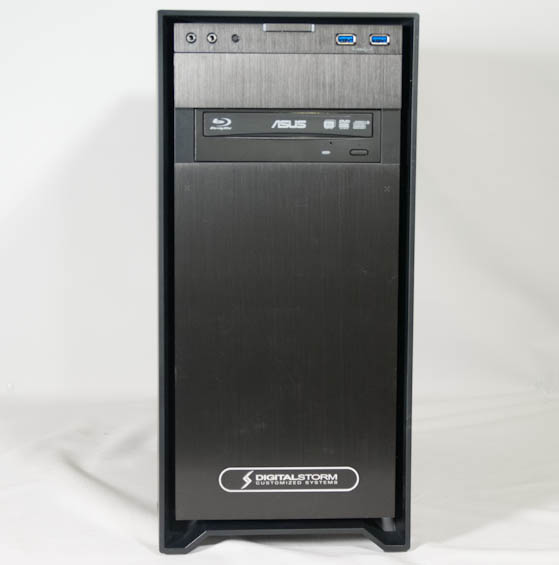 Second, the NVIDIA GeForce GTX 780. Not much to say here that hasn't already been said in Ryan's review. Extremely high end kit has always had a little bit of a problem justifying the expense, but the GTX 780 is a pretty weird beast. Even on its best day the less expensive GTX 770 will still have a hard time catching up to the 780, and with a little bit of TLC you can basically get a GTX Titan or better for two-thirds the price. 33% off is an awesome discount, but it's still 33% off a cool Cleveland.
Finally, the DigitalStorm Virtue itself is actually a pretty solid deal. The build we were sent is their Level 3 build, with only the crazy GeForce Titan model ahead of it. This exact system can be built on NewEgg for only maybe $200-$300 less at absolute most, so the pricing is definitely fair for what you get. But $2,563 is still an awful lot of bank, and I'm more of the opinion that gamers looking for a better deal would benefit from the Level 2 configuration. It means downgrading a few components, but the i5-4670K isn't a serious hit for gamers and going down to 8GB of DDR3-1600 isn't relevant for the majority of users. The cruelest cut is dropping from the monstrous GTX 780 to the GTX 770, but the 770 is still an incredibly capable card, and you're saving around $800 in the process. While I enjoyed my time with the Level 3 model, I'm far more willing to give the more balanced Level 2 model the recommendation. If you're looking for a gaming desktop, the DigitalStorm Virtue is a solid value for the money.