Original Link: http://www.anandtech.com/show/7096/performance-retrospective-amds-radeon-hd-7970m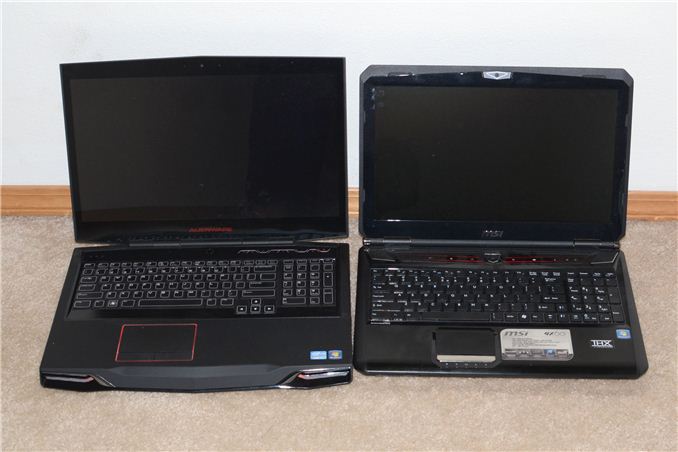 Performance Retrospective: AMD's Radeon HD 7970M
Dustin recently posted our first review of a notebook equipped with NVIDIA's latest mobile tour de force, the GeForce GTX 780M. With a theoretical computational performance increase of 30% relative to GTX 680M and 39% more memory bandwidth, the GTX 780M should be stomping all over the competition from AMD. What's more, the Radeon HD 8970M doesn't really help matters, as the only change from the 7970M is a Boost clock that's 50MHz (6%) higher. Except, either due to our particular MSI GT70 sample being a lemon and having CPU throttling issues (or it may be a design problem that affects all of MSI's current GTX 780M notebooks—we're not entirely sure), the 7970M really isn't that far off the GTX 780M performance. But there's more to the story than just pure performance.
I've had an MSI GX60 notebook for a while now, along with an Alienware M17x R4. Both are equipped with AMD's previously top-performance HD 7970M, and as I just mentioned the 8970M doesn't look to radically alter the amount of performance you'll get out of AMD's mobile GPUs. Both of the notebooks come with Enduro Technology enabled, allowing you to switch between the integrated graphics and discrete graphics on the fly. If all goes as planned, not only do you get seamless switching between GPUs, but you don't lose any performance. There's only one problem with Enduro to date, really; in a word: drivers.
My first look at the latest Enduro drivers came nine months ago with the Clevo P170EM—and it's worth noting that at the time 7970M had already been selling for several months. We're now talking about hardware that has been on the market for over a year, which ought to be more than enough time to get all the kinks worked out. Since the initial "Enduro 5.5" release in September 2012, we have seen quite a few driver updates. Some have fared better than others, and I've tried my best to test them all. I'm not going to try to dig through all of the old driver results here, as most were tested with our now-deprecated gaming suite. The latest updates from AMD (13.3 Beta3, 13.5 Beta3, and now 13.6 Beta) have mostly felt the same, with a few performance tweaks aimed at recent releases.
With our gaming suite now fully updated, I felt it was time to pull out the 7970M and specifically look at a couple items. First, there's naturally the question of how 7970M/8970M compare to NVIDIA's 680M/780M hardware—using the M17x R4 with a GTX 680M and MSI's GT70 Dragon for the 780M. Second, we want to see how performance changes when looking at a 7970M paired with an A10 Trinity APU and an i7 Ivy Bridge CPU. Thanks to the M17x R4, we also wanted to see how much—if at all—Enduro is affecting performance in games. Finally, just to put the HD 7970M with A10 APU performance in perspective, I'm including performance results from AMD's Trinity using the integrated HD 7660G as a reference point. The 7970M offers up something like four times the performance potential of the 7660G, so in cases where we see significantly less performance scaling from the dGPU we're likely running into CPU related bottlenecks.
Incidentally, I'm only looking at gaming results here—the MSI GX60 arrived with a flaky Win7 install, and I eventually updated it to Win8 but in the process lost the ability to control LCD brightness and a few other items, so battery testing is out. Then there's the storage subsystems, with the GX60 using RAID 0 64GB SSDs for the OS and a 750GB HDD for mass storage while the Alienware M17x shipped with only a 750GB HDD, making PCMark discussions largely meaningless. There have also been a few other minor concerns, with the short summary being that it's not really fair to try to compare performance across a wide suite of benchmarks. Besides, most of what we're interested in with this sort of hardware is gaming/graphics performance.
If you want to see additional scores, you can look at Mobile Bench, or let me know what other tests you would like to see and I can try to accommodate such requests. With that out of the way, here's the quick summary of the two "new" test systems—the other systems included in the charts are the already mentioned MSI GT70 Dragon and the M17x R4 with GTX 680M. Also, in case you missed reading the MSI GT70 Dragon review, the performance was far lower than expected due to CPU throttling issues. We will see about updating the information with a future review, but for now let's just say going into this that the GTX 780M is being held back by our test laptop. Pay attention to how that thermally handicapped system stacks up against some of the other notebook here, though, as it will give a good idea of when games/settings are hitting the CPU cores harder than others.
Test Notebook Specifications
Notebook
MSI GX60
Alienware M17x R4
Processor
AMD A10-4600M
(Quad-core 2.3-3.2GHz, 2MB L2, 28nm, 35W)
Intel Core i7-3720QM
(Quad-core 3.6-3.6GHz, 6MB L3, 22nm, 45W)
Chipset
A60M
HM77
Memory
8GB (2x4GB) DDR3-1600 (11-11-11-28)
6GB (1x4GB + 1x2GB) DDR3-1600 (11-11-11-28)
Graphics
AMD HD 7660G iGPU
(384 cores, 686MHz)

AMD HD 7970M dGPU
(1280 cores, 850/4800MHz Core/RAM)
Intel HD 4000 iGPU
(16EUs, 1250MHz)

AMD HD 7970M dGPU
(1280 cores, 850/4800MHz Core/RAM)
Storage
2x64GB SSDs in RAID 0 (C:)
750GB WDC WD7500BPKT-22PK4 HDD (D:)
750GB WDC WD7500BPKT-75PK4T0 HDD (C:)
Optical Drive
Blu-ray Combo (TSSTCorp SN-406AB)
DVDRW (PLDS DL-8A4SH)
Battery/Power
8-cell, 12.6V, 86Wh
180W Max AC Adapter
9-cell, 12.6V, 93Wh
240W Max AC Adapter
Operating System
Windows 8 64-bit
Windows 7 Home Premium 64-bit
Price
Discontinued; $1300 MSRP
~$1100 Online (without SSD RAID)
Discontinued
~$2025 Online (i7-3740QM)
You'll note that the Alienware M17x R4 is no longer available from Dell, but you can still find a few resellers that carry it. The GX60 we received is also being phased out, to be replaced by a new GX60 with a Richland A10-5750M APU and HD 8970M dGPU. The M17x also came with 6GB RAM, but it's still able to run in dual-channel mode (at a very slight performance penalty). Since we're not testing anything that hits the storage or memory all that hard—and all games are installed to the 750GB HDD on each laptop—we're mostly going to be looking at CPU and GPU performance as it applies to games.
We'll have three results for the HD 7970M to look at in the graphs: HD 7970M in Enduro mode with the A10-4600M, Enduro mode with the i7-3720QM, and in discrete-only mode on the i7-3720QM. The latter option requires a reboot to enable/disable Enduro, and we also saw a few anomalies with Enduro rendering on the Alienware system. It's possible that this is a problem specific to the M17x R4, and the problem didn't manifest in Skyrim with earlier drivers, but as of the latest 13.5 and 13.6 beta drivers I experienced severe flickering in both Skyrim and StarCraft II on the M17x. Disabling Enduro cleared up the problem, but I created a video of the problems if you're interested.
And with that out of the way, let's hit the benchmarks.
Value/Medium 1366x768 Gaming Performance
We'll start off with our "Value" settings, which consist of 1366x768 resolution and roughly Medium detail settings in the tested titles. This represents the sort of settings you'd be likely to use on an iGPU like the HD 7660G or Intel's HD 4000 (maybe—HD 4600 is possibly a better bet) to get a reasonable >30 FPS out of most titles. Several of the games we're using now are quite demanding, however, so iGPUs may not be able to provide an acceptable experience unless you really turn down the details and resolution. Here's what performance looks like: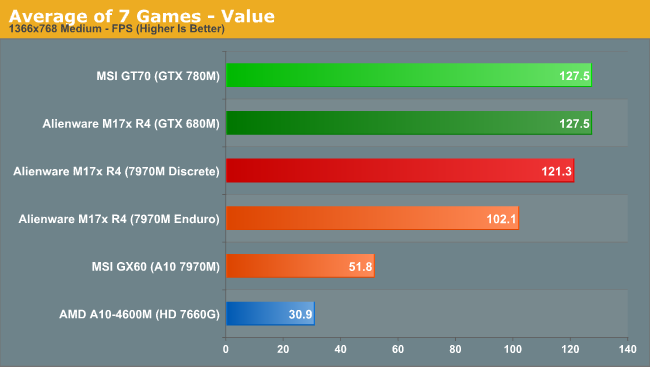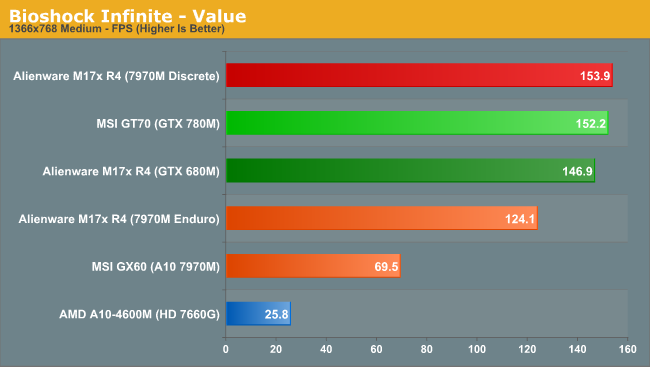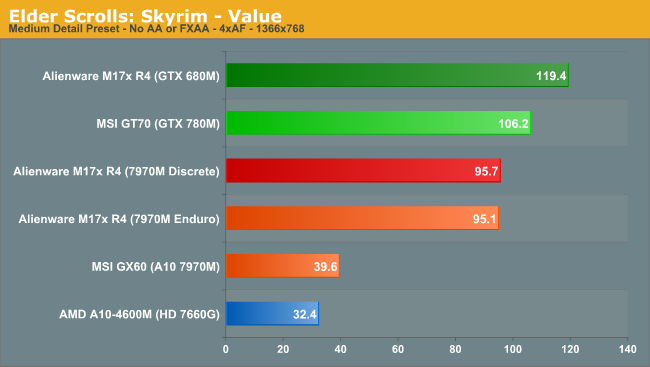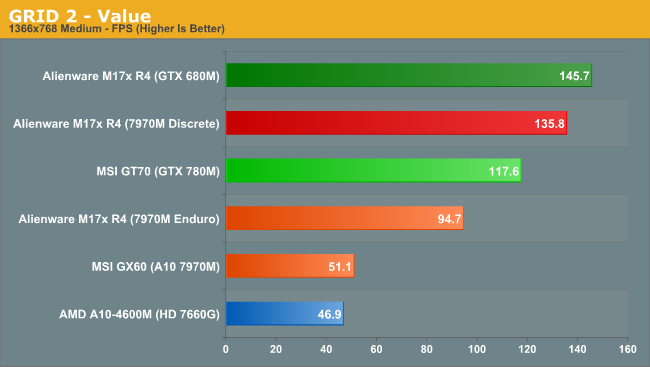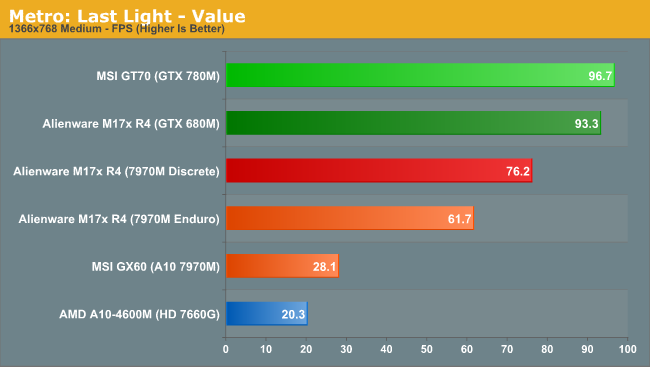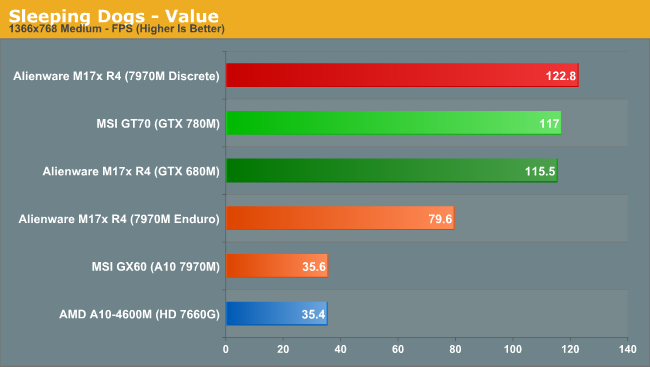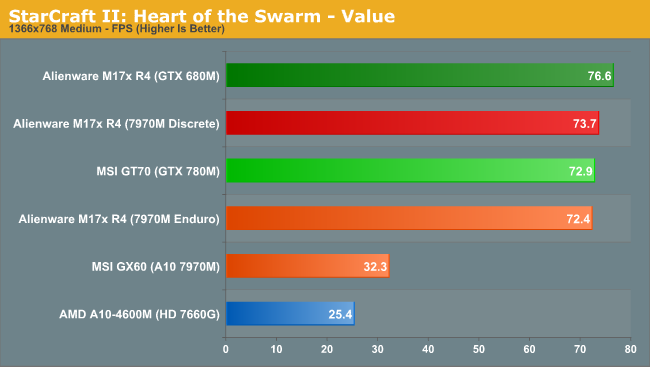 When the HD 7970M first hit notebooks over a year ago, the performance potential seemed lacking compared to the actual hardware. Based on the desktop Pitcairn core, HD 7970M should provide roughly the same performance as the desktop HD 7870 (it's clocked 15% lower than 7870 on the core, though, so it's closer to the HD 7850 and GTX 660). The reality is that where the HD 7850 typically competes well against NVIDIA's desktop GTX 660, on laptops the GTX 680M often blasted the HD 7970M at launch. Many pointed to Enduro as a primary culprit, and while the situation has improved over the past 12 months, even now we can still see a periodic performance deficit from Enduro.
Going over the specifics, on the M17x R4 the discrete mode 7970M ends up being 24% faster in Bioshock, tied in Skyrim, 43% faster in GRID 2, 24% faster in Metro, 54% faster in Sleeping Dogs, tied in StarCraft II, and tied in Tomb Raider. The deficit largely exists in situations where you're getting >60 FPS, e.g. at lower detail settings and a lower resolution, but that's obviously not the only factor as Tomb Raider basically elicits no penalty and yet runs at over 180 FPS. While I don't have the ability to do comparable testing with NVIDIA's Optimus, I know at one point there were instances where Optimus was slower, but those issues have largely been fixed as far as I can tell. On AMD's Enduro, that's clearly not the case with the latest beta drivers.
Incidentally, the bandwidth used to shuttle frames over to the system RAM for display by the iGPU shouldn't be a limiting factor. Consider as an extreme example a simple graphics benchmark like 3DMark03, where the Wings of Fury test can easily hit >500 FPS at 1366x768. That works out to roughly 2GBps of bandwidth over the PCIe bus, but an x16 slot offers far more bandwidth than that so 2GBps to transfer fames to system RAM shouldn't present a problem. With the resolutions and frame rates we're looking at here (a maximum of 1366x768 at <200 FPS), transferring the frames to system RAM uses just 840MBps, so that shouldn't be a bottleneck.
Moving on to the Intel i7 vs. AMD A10 match up, things are actually worse. We can't disable Enduro on the GX60, so we'll just compare Enduro scores for the GX60 and M17x. The Intel platform in this case comes out 79% faster in Bioshock, 140% faster in Skyrim, 85% faster in GRID 2, 120% faster in Metro, 124% faster in Sleeping Dogs, 124% faster in StarCraft II, and 76% faster in Tomb Raider. On average, that works out to a margin of victory of 97%—basically twice as fast. Also of note is that on the GX60, the 7970M is only outperforming the integrated 7660G by 67% on average, so clearly there are other bottlenecks coming into play.
Figuring it was possible the single fan cooling setup in the GX60 is preventing the APU from hitting higher Turbo Core speeds, I logged the various clock speeds using HWiNFO64 and ran through the Bioshock Infinite and Skyrim (extended duration) benchmarks. Maximum CPU clocks reported throughout testing were at a steady 2.7GHz; the APU definitely didn't hit maximum Turbo Core, but that's only for single-threaded workloads and the 2.7GHz clock is for two or more threads; regardless, it's not running at the base 2.3GHz, so Turbo or throttling isn't the problem. Similarly, APU temperatures remained below 70C throughout testing, so cooling isn't limiting performance either. Richland is supposed to be better about hitting its maximum turbo speeds, so potentially that alone could enable it to be 10-15% faster in games like Skyrim and StarCraft II, but the 2-thread turbo speed of Richland is probably similar to Trinity so the gain could prove to be less than 5%. GPU utilization of the HD 7970M during these tests was also rather low at around 35-55%, which isn't all that uncommon at lower detail settings when the GPU isn't being pushed hard. Whatever the cause, the fact is that at medium detail settings in most games, the A10-4600M (possibly in combination with Enduro) appears to be a bottleneck on the HD 7970M's performance.
Wrapping up our look at the Value/Medium settings, if we compare NVIDIA vs. AMD there's not a lot to say. At these settings, the 680M, 7970M, and 780M are basically taking a siesta. On average, the 680M ends up 5% faster than the best 7970M result and the 780M is tied with the 680M. Looking at individual game results there's a bit more variation, however. Against the 680M, the 7970M (discrete mode) is generally quite close, with AMD getting minor victories in Bioshock and Sleeping Dogs; minor losses in GRID 2, StarCraft II, and Tomb Raider; and larger 20-25% losses in Skyrim and Metro. The GTX 780M numbers aren't too meaningful, thanks to the test system issues, but Tomb Raider immediately stands out as a game that does't appear to hit the CPU much at all.The 780M is actually slower than the 680M in some of the tests, but it does pull off a 21% lead over the 7970M in Tomb Raider—a game that tends to be very GPU intensive and very light on the CPU.
Mainstream/High 1600x900 Gaming Performance
Moving up to our "Mainstream" gaming tests (high detail, no 4xAA, 1600x900 resolution), there's a lot more demanded of the GPU this time around, so CPU and platform limitations aren't likely to be as large of a factor. Integrated graphics solutions (outside of perhaps Intel's Iris Pro Graphics) are also going to prove insufficient for our test suite in nearly all of these games. Let's look at round two of the 7970M performance.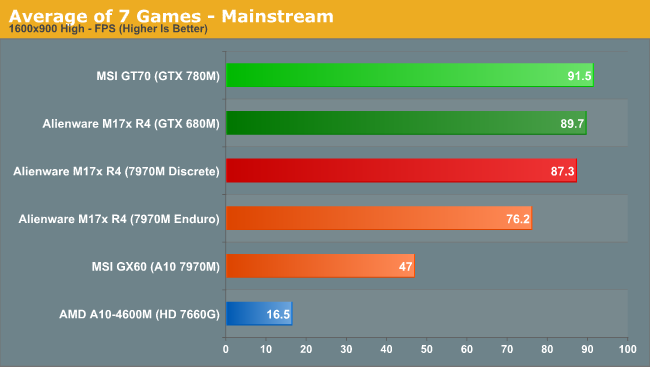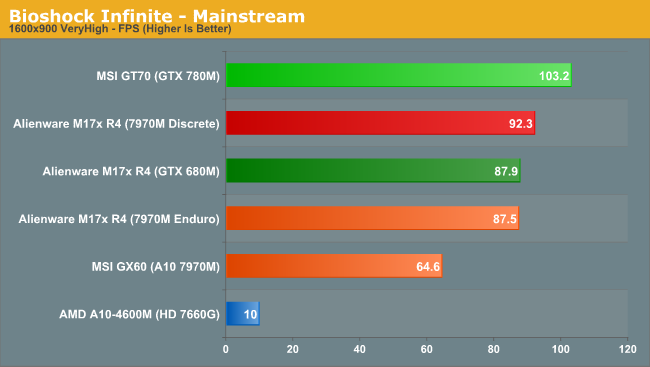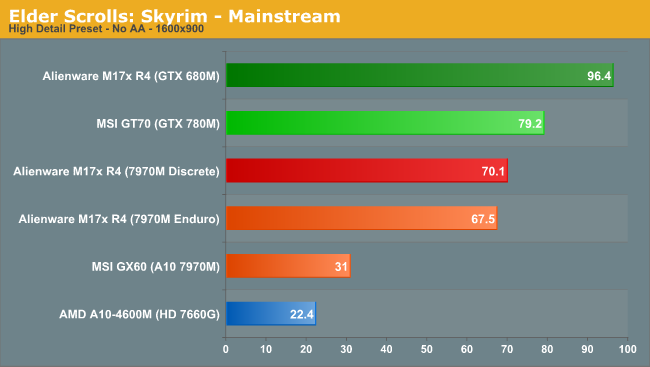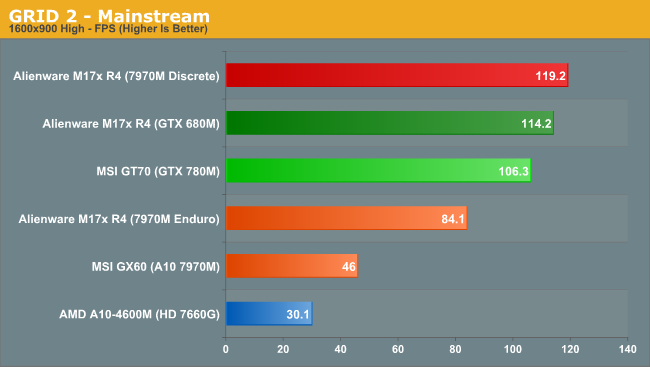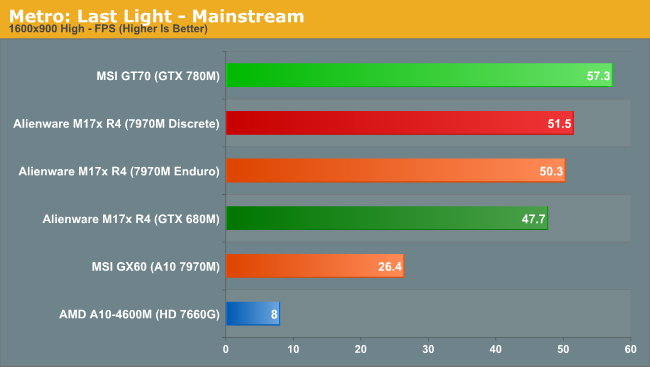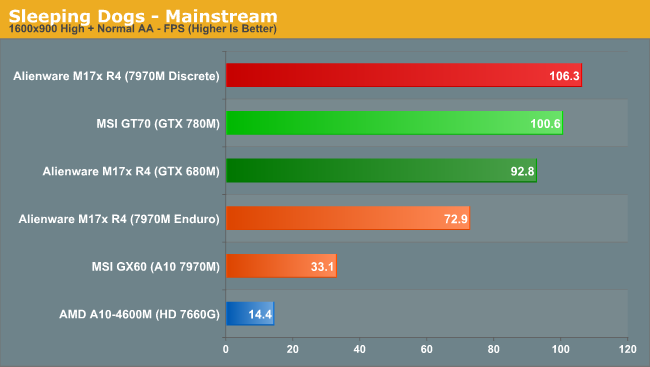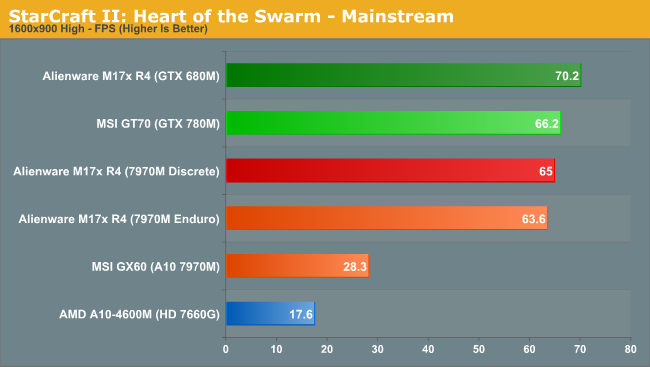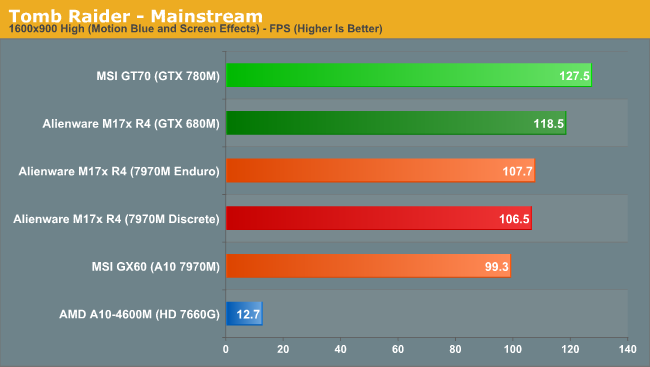 Despite the increase in graphics complexity, at least on the Alienware M17x R4 the use of Enduro is still bringing a performance penalty in some titles. On average, switching to discrete mode improves performance by 14%, slightly less than we saw with our Value settings; however, the individual games show varying amounts of separation. Bioshock is now nearly the same, with only a 5% performance increase, and in fact most of the games show less than a 5% increase by using discrete mode (though again it's worth mentioning the rendering errors on DX9 titles with the 13.6 beta drivers). The two titles that show a significant performance increase by using discrete mode are GRID 2 (42%) and Sleeping Dogs (46%); interestingly, Tomb Raider is actually slightly faster with Enduro at these settings, though the 1% difference is within the margin of error.
The Intel Enduro vs. AMD Enduro results are much closer this round, though Intel still holds a commanding lead. No longer is the Core i7 offering twice the frame rates in most games; at 900p High it's "only" 62% faster on average—but that's mostly due to the closer performance in two of the seven games. Skyrim, Sleeping Dogs, and StarCraft II are still the big losers, with more than twice the performance on Intel's CPU, but GRID 2 and Metro are nearly as bad at 83% and 91% performance improvements, respectively. In fact, of those five titles, Skyrim and Sleeping Dogs flirt with the 30FPS "playable" boundary, and Metro and StarCraft II actually fall below 30FPS. Getting to the last two games, Bioshock isn't too bad, showing a mere 35% performance increase, and Tomb Raider is the one exception where platform doesn't make much of a difference. Tomb Raider has proven to be almost wholly dependent on GPU performance, and the advantage for the Intel platform is an insignificant 8%. At our Mainstream presets, the 7970M also proves much faster than the 7660G, as it should; this time, it's nearly three times as fast.
Finally, the NVIDIA vs. 7970M matchup continues to be quite close on average. The GTX 680M leads by 3% overall, with the only significant lead coming in Skyrim (38%); the 680M also claims smaller (<10%) leads in StarCraft II and Tomb Raider (that last one being an AMD title). Meanwhile, the 7970M holds small leads in Bioshock, GRID 2, Metro: Last Light (an NVIDIA title, so turnabout is fair play), and Sleeping Dogs. The 780M continues to be hamstrung by CPU throttling in the GT70, and we hope to have a new test notebook shortly to see what the 780M can really do when it's allowed to stretch its legs. For now, the lead over the 7970M is 5% on average, with a smaller lead in Skyrim and only two small losses (GRID 2 and Sleeping Dogs).
Enthusiast/Ultra 1920x1080 Gaming Performance
Last up on our gaming tests is our punishing "Enthusiast" setting (typically maximum detail, 4xAA or SSAA, 1920x1080 resolution). So far all of the high-end mobile GPUs have proven capable of running our gaming suite at more than playable frame rates, but here we're likely to see a few cases where you'll need to turn down the settings to stay about 30FPS. Super-Sampling AA (used in Metro and Sleeping Dogs—but not Tomb Raider as we enable TressFX instead) would be the first option I'd turn off, or 4xAA in the other games; you can try FXAA in a pinch if the jaggies bother you too much. The jump between "High" and "Very High/Ultra/Ultimate/Extreme" is also relatively small in terms of image quality, so that would be the other option for improving performance to hit playable frame rates. With that out of the way, here are our final benchmarks.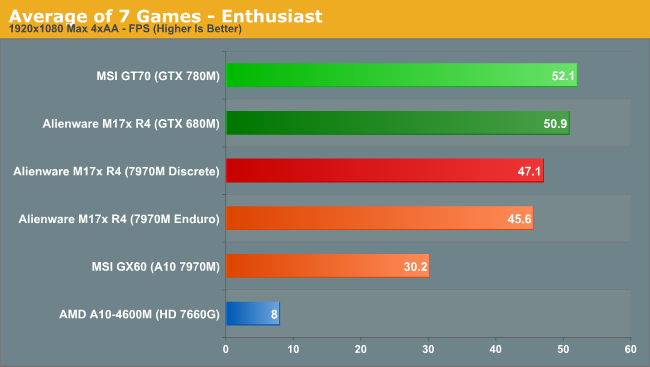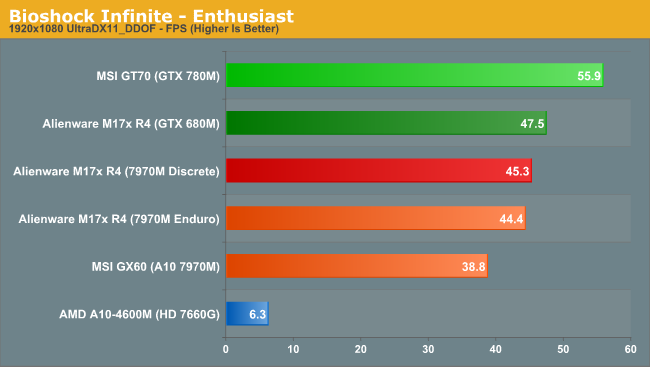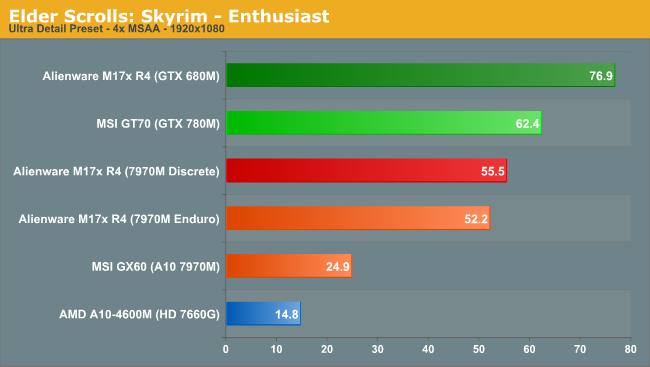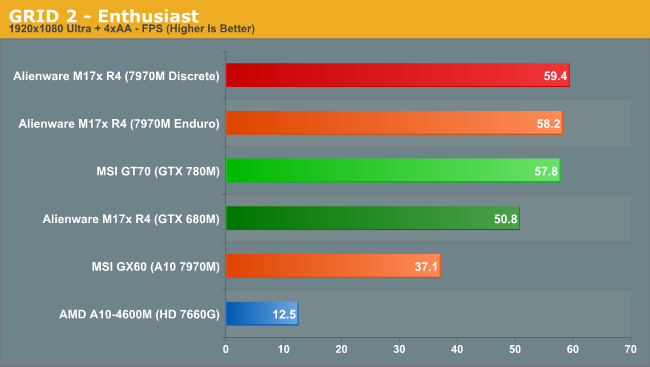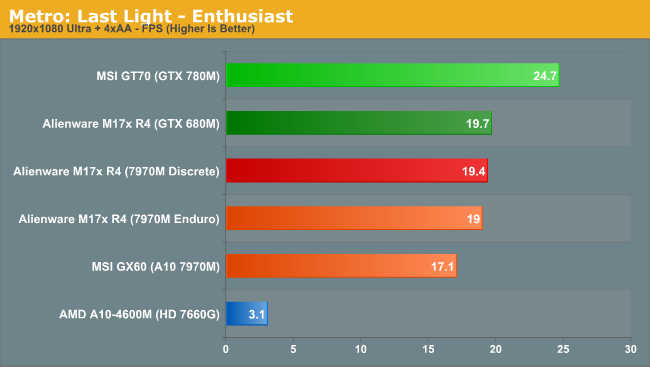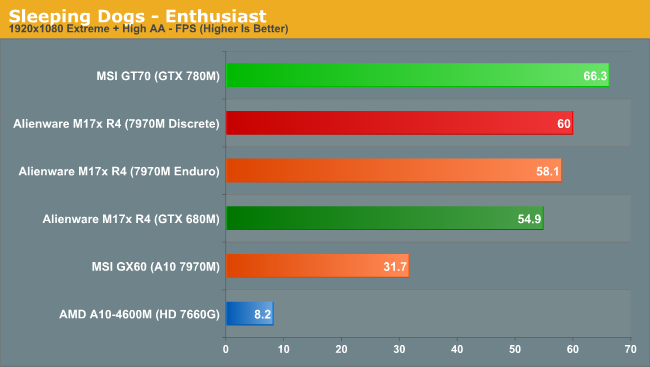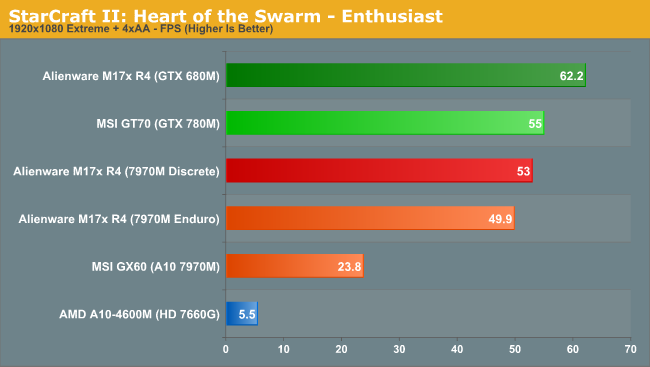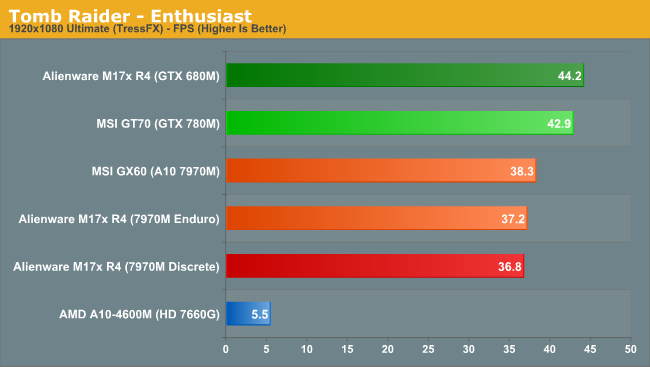 Finally at the Enthusiast level, Enduro on the M17x no longer seems to cause much of a performance penalty. Using discrete mode is still 3% faster on average, but the largest margin of victory is only 6% (in Skyrim and StarCraft II, interestingly, which are the only DX9 games in our current list). Considering most people forking over $2000+ for a high-end gaming notebook are going to be using the GPU more rather than less, it's good to see that where it matters most in terms of performance is where the Enduro question actually matters least. If you're not planning on running on battery power much, I'd probably leave the M17x R4 in discrete-only mode and plan on a reboot if you need to go mobile, as in general I've found the drivers to be less finicky that way, but your mileage may vary.
Intel Enduro vs. AMD Enduro results get closer one again, with the lead now down to 51% on average. As you can probably guess, the real average lead isn't nearly so great with the exception of a few games that tend to hit the CPU harder. StarCraft II and Skyrim continue to run over twice as fast on Intel's CPU with the 7970M, and GRID 2 and Sleeping Dogs are 57% and 83% faster, respectively. Bioshock is only 14% faster this round, which is close enough that you probably don't need to lose any sleep over the numbers, and Metro likewise is only 11% faster on Intel. Tomb Raider even goes one step further and runs 3% faster on the GX60. That said, out of the seven titles, the AMD platform doesn't provide smooth frame rates in Skyrim or StarCraft II and barely gets by in Sleeping Dogs; Metro: Last Light ends up being so punishing that none of the notebooks we've tested actually break 30FPS average on our Enthusiast settings.
And for those keeping score, the 7970M in the GX60 now outpaces the HD 7660G by nearly 300%. We noted in the introduction that on paper, the 7970M has over four times the performance potential of the 7660G: it has 4.13X the compute performance (1280 shaders at 850MHz compared to 384 shaders at 686MHz) with a dedicated 153.6GB/s of memory bandwidth compared to a shared 25.6GB/s (so at least six times as much bandwidth). On Trinity, we only realize a 3.8x performance increase, but if we compare the discrete M17x 7970M result to 7660G it ends up 5.9X faster, which is just what we'd expect. iGPUs have improved substantially in the last couple of years, but we're still a long ways away from completely replacing the need for discrete GPUs.
Wrapping up, the NVIDIA vs. 7970M matchup shows that even more than a year after launch, the top mobile GPUs remain evenly matched. The GTX 680M leads by 8% overall, with a large win in Skyrim (39%) and smaller leads in StarCraft II (17%) and Tomb Raider (15%), while the 7970M leads by 14% in GRID 2 and 9% in Sleeping Dogs. The 780M enjoys its largest margin of victory as well, to the tune of 11% faster than 7970M on average. GRID 2 continues to favor AMD just slightly, but everywhere else the 780M beats the 7970M. Thermal throttling is still clearly a problem on the GT70 notebook, and we'll have to wait for an updated system before we can really say how 780M performs.
Closing Thoughts: Driver Woes and Looking to the Future
I've been accused over the past year or more of being overly harsh on AMD's mobile graphics drivers, but even now it should hopefully be obvious why we still have concerns. Enduro has improved tremendously since its initial release in early 2012, but AMD isn't out of the woods just yet. The good news is that starting with the 2013 driver releases, there has been a working Enduro driver available with every desktop driver update. That definitely wasn't the case in 2012 and earlier, and that's what will allow AMD to at least fix the driver issues for their user base in the future. There's still more to the driver story, unfortunately.
As I pointed out, the latest three beta drivers from AMD (13.3, 13.5, and 13.6) have all had DX9 rendering issues on the Alienware M17x R4 when in Enduro mode. I didn't recall seeing issues with an earlier Enduro 9.01 beta driver, so this is something that likely broke with the 13.x releases. I've specifically called out StarCraft II and Skyrim as showing the problem, but it's also present in 3DMark03 and in fact 3DMark05 and 3DMark06 are now having problems for me as well. I spot-checked a few other DX9 games, and this appears to be something that isn't working (at least on the M17x R4) across the entire spectrum of DX9 titles. You'd think that in 2013 the number of new DX9-only titles would be relatively limited, but all of the Mass Effect series, Valve's Source engine games, and all of Blizzard's titles to date fall into this category, along with a variety of console ports. (That last one will hopefully cease to be an issue when we get the next generation of consoles with DX11.1 era hardware.)
I'm not sure of the precise reason for DX9 causing problems, but AMD last year had to give me a special custom driver with DX9 DLLs that had to be installed in safe mode in order to properly run DX9 titles. Then there was the 12.11 beta Enduro driver…which once again somehow missed getting the DX9 hotfix DLLs included. Even now there are still issues I guess, and it's hard not to be concerned when something that was fixed at one point keeps getting broken. Whether it's a question of manpower, management, or money, the simple fact is that the Enduro drivers need to get to the point where every new release—including the beta drivers!—will at least run DX9 games without rendering problems. (I suppose it's also possible that the DX9 problem is specific to the M17x R4—I know everything works fine on the GX60, but I don't have any other Intel + Enduro notebooks around to test. If you happen to have a Clevo notebook with 7970M, let me know how it's doing!)
You might think about reverting to an earlier driver, but even that isn't without problems. Installing a new AMD driver on top of an existing driver usually works, but I've had more than a few instances where OpenCL ended up broken in the process. Going the other way (e.g. installing an older driver on top of a newer driver) in my experience almost never works properly. The solution is that you need to first uninstall all AMD drivers, reboot, run a utility like AMD's Catalyst Uninstall Utility or Driver Fusion (the free version is sufficient) and/or manually delete some files and registry keys, reboot again, install the new driver (and reboot a third time), and if everything goes well you're now running properly on the older driver. Perhaps that doesn't sound too bad, but even with an SSD-based system installing AMD's drivers (or uninstalling them) typically takes 5-10 minutes, so the whole process of reverting to a new driver requires around 30 minutes or as much as 60+ on an HDD. [Yes, I am bitter about the number of times I've done this in the past few months, thank you very much!] What AMD needs is an option to do a "clean install" that takes care of all of the above for you, preferably without more than a single reboot.
One last point on the drivers and then I'll move on. There was a time (last year) when AMD stated that their goal was to get the Enduro drivers working for all Dynamic Switchable Graphics and Enduro platforms. DSG is what AMD called Enduro before it was Enduro, more or less, so mostly that applies to pre-Ivy Bridge and pre-Trinity laptops. Their current drivers page states, "Please note, that the AMD Catalyst Mobility driver package can only be installed on specific AMD Enduro platforms, that are second generation AMD A-series APU, or third generation Intel Core family based." At some point you have to cut your losses and move on; unfortunately, any owners of Llano or Sandy Bridge laptops with AMD switchable graphics are basically stuck with old drivers or trying to get hacked/modded drivers like those from LeshCatLabs to work.
Okay, I'm done beating on AMD's driver team. Let me beat up on AMD's CPU performance and MSI for a moment. Given these results, the GX60 notebook we used for testing at best appears to be severely over-equipped in the GPU realm. It seems MSI could have gotten pretty much similar results by going with a 7870M instead of the 7970M, at least in less strenuous GPU workloads. However, let's return again to the subject of bottlenecks.
Ian has done some testing of gaming performance on the desktop with a large selection of CPUs and a few GPUs, but there's a lot more going on in the laptop realm that can muddy the waters. On paper, I don't think a Trinity APU running at 2.4-2.7GHz is too slow for gaming, especially when we're looking at 1080p and a 7970M (aka desktop 7870). Sure, the A10-5800K is clocked 50% higher than the A10-4600M, but even the older Llano-based A6-3650 tends to provide a reasonable gaming experience and that's only clocked at 2.6GHz. The only place where Ian's testing sees a similar 2X increase over the A6-3650 is in triple-GPU configurations, where there's a lot more going on than with a single GPU.
If we just look at the numbers in Sleeping Dogs, A6-3650 hits 49.2FPS with two 7970 GPUs, which appears to be where the CPU bottleneck becomes the limit. A single 7970M at 1080p can hit 60FPS (in the M17x), so why then is the 7970M with A10-4600M, which has a 2.3-3.2GHz range but usually runs at 2.7GHz during game benchmarking, sitting down at 31.7FPS? Or if you want another point of reference, look at Anand's CPU results with Skyrim—a 2.66GHz Core i7-920 still manages 182.1FPS at 1680x1050 medium detail; the GX60 even at 1366x768 Medium still couldn't get above 40FPS!
I can't point to the CPU as the sole bottleneck, and monitoring the CPU clock speeds indicates there's something else holding back the GX60. I don't know if it's drivers and Enduro again, something with the mobile AMD platform, or if there's something MSI failed to get right that's limiting performance. I did update to the latest MSI BIOS at one point and saw 3-5% performance increases in most of the gaming benchmarks, but we're still way off of where I would expect performance to be. It will be interesting to see if the Richland-based GX60 can manage to do better.
The good news is that when everything works with the HD 7970M (with or without Enduro—though the latter only appears to be an option on the M17x R4, and I'm not sure if Alienware will be keeping the switching option with their new Alienware 17 or not), it's still a potent mobile gaming GPU. NVIDIA's GTX 680M is more or less on equal footing these days, the 8970M will improve performance around 5%, and even NVIDIA's latest GTX 780M isn't so far ahead to be untouchable—especially when we factor in pricing. Take AVADirect's Clevo P170SM offering for instance; the new 8970M is a $91 upgrade over the GTX 770M (which should be around 20% slower than GTX 680M), while the new GTX 780M adds another $222. If you need the last 10-25% performance increase (or if you simply prefer NVIDIA's drivers), GTX 780M is the better buy, but you'll pay for the privilege.
As for pricing of the MSI GX60, yes, it costs a lot less than an Intel notebook with 7970M/8970M, but it's also severely underperforming in far too many games. MSI's own GE40 (in hand for review as we speak) generally bests the GX60 in gaming benchmarks, and it's priced at $1200 with quad-core Haswell and GTX 760M. (Not to spoil the review, but the 1600x900 LCD is unfortunately not a high quality LCD, sadly.) The MSI GE60 increases the GPU to the GTX 765M and adds what should hopefully be a better quality 15.6" 1080p display for the same $1200 asking price. Or if you want to give Intel's Iris Pro a shot, the ASUS G750JW-DB71 has an i7-4700HQ and GTX 765M for $1400. If you're after a gaming notebook that can run any game you might throw at it, unfortunately the Trinity-based GX60 just falls short in my testing.
And on that note, we should have a true battle royal pitting the GTX 780M in a Clevo chassis against the 8970M in the near future. Dustin also has the new GX60 with Richland APU in hand, so hopefully his results are better than the earlier GX60. We're probably still a year or more away from getting Titan levels of performance in a single notebook GPU, but rest assured that time will come. With the new consoles targeting GPU performance that's already below the level of the 7970M, gaming on a notebook is already reasonably easy to achieve if a bit expensive. Give us another process shrink or two and even the next generation of qHD and above laptop LCD resolutions won't be out of reach.