Original Link: http://www.anandtech.com/show/7076/msi-gt70-dragon-edition-notebook-review-haswell-and-the-gtx-780m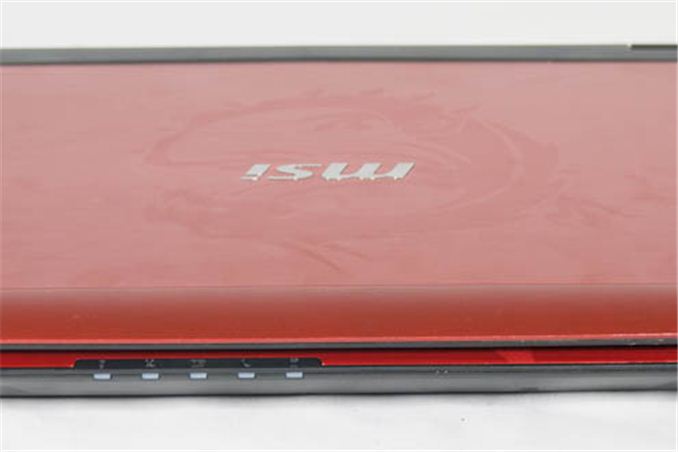 Introducing the MSI GT70 Dragon Edition
You'll forgive me if deja vu is striking. This is the third time we've had a chance to test this chassis from MSI (the first being the iBuyPower Valkyrie CZ-17 and the second being the CyberPower FangBook). Each time there's been an incremental hardware update, but this is also the first time we've seen this notebook directly from MSI and more than that, this flagship edition brings a tremendous amount of hardware to bear. The GT70 Dragon Edition may have the same basic chassis, but MSI has secret sauce hiding under the hood.
While it may seem like there's not much left to say about this chassis that hasn't already been addressed in those previous reviews, as it turns out, there are both some new wrinkles that materialize with this ultra high end build and some old wrinkles that are finally making themselves apparent.
First, this review isn't just about the MSI GT70. Under the hood we also have the benefit of testing Intel's shiny new Core i7-4700MQ based off of the new Haswell microarchitecture. We're also getting to check out NVIDIA's brand new GeForce GTX 780M, the first full GK104 part available in a notebook. The 680M was no slouch, but with the 780M we're getting all of the shader clusters, a healthy boost in clocks, and NVIDIA's Boost 2.0 technology.
CyberPowerPC FangBook Specifications
Processor
Intel Core i7-4700MQ
(4x2.4GHz + HTT, Turbo to 3.4GHz, 22nm, 6MB L3, 47W)
Chipset
Intel HM87
Memory
4x8GB A-Data DDR3-1600 (Maximum 32GB)
Graphics
NVIDIA GeForce GTX 780M 4GB GDDR5
(1536 CUDA cores, 771MHz/797/5GHz core/boost/memory clocks, 256-bit memory bus)

Intel HD 4600 Graphics
(20 EUs, up to 1.15GHz)
Display
17.3" LED Matte 16:9 1080p
Chi Mei N173HGE-L11
Hard Drive(s)
3x SanDisk X100 128GB mSATA 6Gbps SSD in RAID 0

Western Digital Scorpio Blue 1TB 5400-RPM SATA 6Gbps HDD
Optical Drive
TSSTCorp SN-506BB Blu-ray writer
Networking
Killer Networks e2200 PCIe Gigabit Ethernet
Killer Wireless-N 1202 dual-band 2x2 802.11a/b/g/n
Bluetooth 4.0
Audio
Realtek ALC892 HD audio (Sound Blaster Cinema)
2.1 speakers
Mic, headphone, line-in, and line-out jacks
Battery
9-cell, 87Wh
Front Side
-
Right Side
2x USB 2.0
Optical drive
Left Side
Vent
3x USB 3.0
SD card reader
Mic, headphone, line-in, and line-out jacks
Back Side
Kensington lock
AC adapter
Ethernet
D-SUB
Mini-DisplayPort
HDMI
Vent
Operating System
Windows 8 64-bit
Dimensions
16.9" x 11.3" x 2.2"
429.3mm x 287mm x 55.9mm
Weight
8.6 lbs
3.9kg
Extras
Webcam
USB 3.0
Card reader
SoundBlaster Cinema audio
Killer Networks wireless and wired networking
Configurable backlit keyboard
3x mSATA SSD Striped RAID
Warranty
2-year parts and labor
Pricing
$2,699
Starting from the top, the new Dragon Edition (searchable as Dragon Edition 2) features an Intel Core i7-4700MQ socketed quad-core CPU. More informed readers will note that Haswell chips don't feature higher clocks than their outgoing Ivy Bridge counterparts, so all CPU performance improvements are purely architectural. The i7-4700MQ, outside of its GPU, is on paper identical to the outgoing i7-3630QM: 2.4GHz nominal clock speed, with turbo bins of up to 3.2GHz on three or four cores, 3.3GHz on two cores, and 3.4GHz on just one core. As a flagship notebook it's a bit surprising that MSI opted for the entry-level Haswell quad, but you'll see CPU performance isn't really the limiting factor here.
Attached to the i7-4700MQ is 32GB of DDR3-1600, more than most users are going to ever need but appreciated nonetheless. The shiny new HM87 chipset brings much needed 6Gbps support across all of the SATA ports, and MSI takes advantage of this by configuring three SanDisk X100 SandForce-based mSATA SSDs in RAID 0. While this is extremely fast and capable of being much, much faster than just using a single SSD, there's no subjective difference. The biggest change a user can make is just jumping to a good SSD in the first place, and I've always been skeptical of SSDs in striped RAID for consumer use.
Of course, the other big news is the NVIDIA GeForce GTX 780M, and despite being based on the same silicon as the GeForce GTX 680M, NVIDIA brings to bear a very healthy performance boost. Everything is up but the TDP: from the 680M's 1344 CUDA cores we're up to GK104's full 1536, GPU clocks are up from the nominal 720MHz to a bare minimum 771MHz, and memory speed is up from 3.6GHz to a fantastic 5GHz. Boost clocks on the 780M ensure that it's constantly performing as fast as it can, and in testing I saw it spending a substantial amount of time over 900MHz, essentially biting the heels of a desktop GTX 680's stock clock. On top of that, GK104 tends to be memory bandwidth limited, so the nearly 50% faster memory clocks should go a long way towards improving performance further.
Finally, MSI has gone with Killer Networking across the board. While I'm iffy on the need for Killer wired networking, Jarred has personally tested their wireless and found it to be a substantial upgrade over conventional Centrino wireless networking. Dual-band support also gets the Dragon Edition a pat on the head.
System Performance
The new benchmark suite has left us in a bit of disarray, but thankfully we did have the CyberPowerPC Fangbook in recently. The Fangbook sports an Ivy Bridge CPU with exactly the same clocks as the i7-4700MQ powering the MSI GT70 Dragon Edition, and that gives us an excellent baseline for comparison.
I'd also like to personally thank NVIDIA for furnishing us with an Alienware M17x R4 equipped with a GTX 680M at the eleventh hour so we can get proper comparative results. Unfortunately, as you'll see the 780M in the GT70 Dragon Edition gets hamstrung by the CPU (more on this later) when tested playing games that hit the GPU and the CPU especially hard.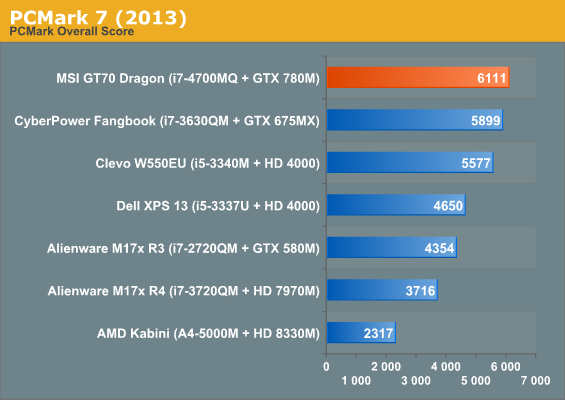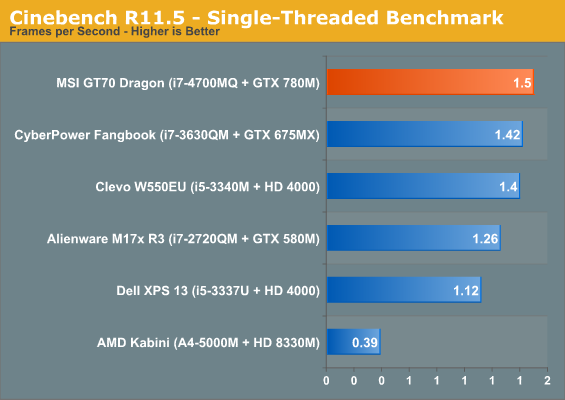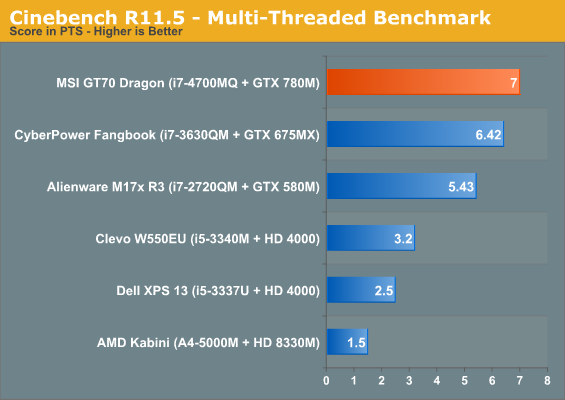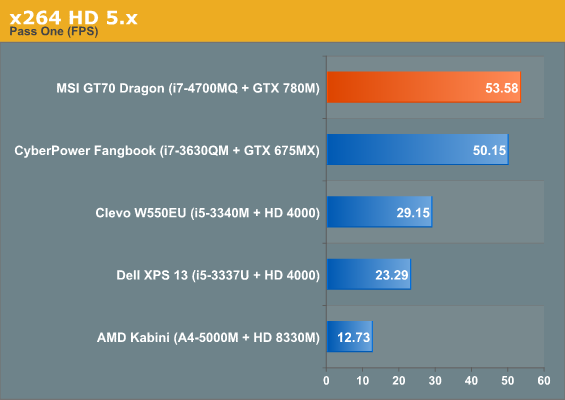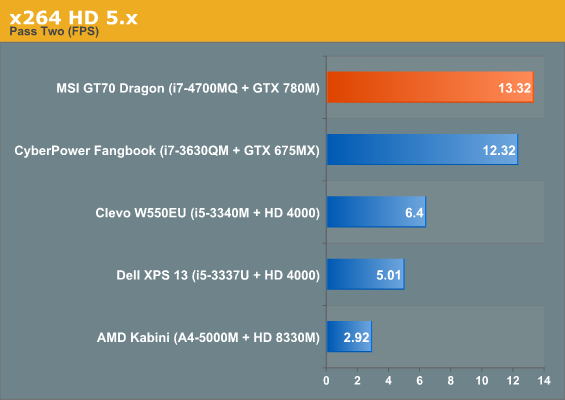 Haswell is certainly faster clock for clock, but obviously owners of Ivy Bridge-based notebooks shouldn't be chucking their old kit. Under most circumstances, the i7-4700MQ is less than 10% faster than the i7-3630QM.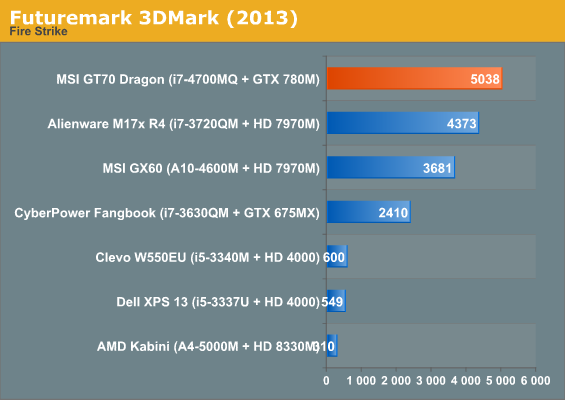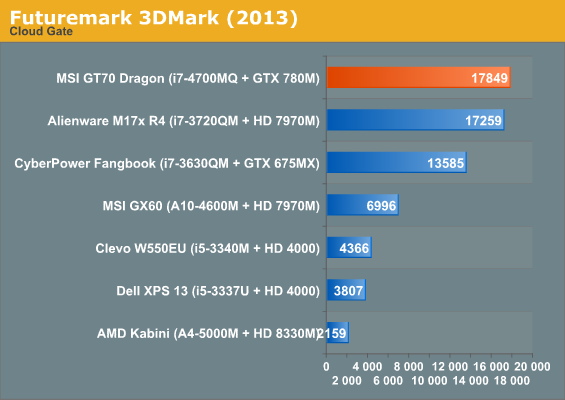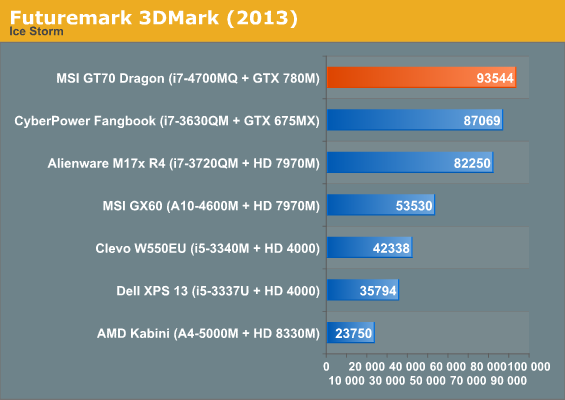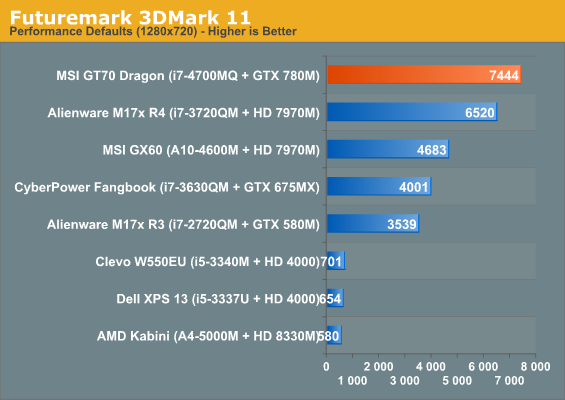 Pop on over to the 3DMarks and the 780M looks good, but unusually, not quite as good as it ought to. It has a commanding lead over the GTX 580M, and it should, but on Cloud Gate and Ice Storm it should also be blowing right past the 7970M. You'll get a better idea of what I'm talking about on the next page, when we look at actual gaming performance.
Gaming Performance
I had been hoping the MSI GT70 Dragon Edition would be an able demonstration of the performance of Intel's Haswell and NVIDIA's GeForce GTX 780M. While we can isolate the CPU performance easily enough, isolating GPU performance is much trickier. NVIDIA is using boost clocks on the GTX 780M, which means it's able to turbo up depending on thermal and power headroom, and there's actually a healthy enough variation in clocks that different chassis will be able to produce different levels of performance.
There's also the cooling system of the MSI GT70 Dragon Edition, which either doesn't have or just barely has the capacity to handle a combined 150W of heat.
Entry-level gaming results are in Bench, but suffice to say the GTX 780M is more than adequate for those settings, and so for the review I'm going to stick to Mainstream and Enthusiast level benchmarks.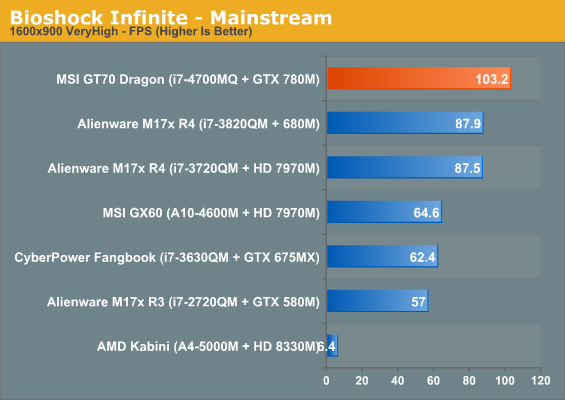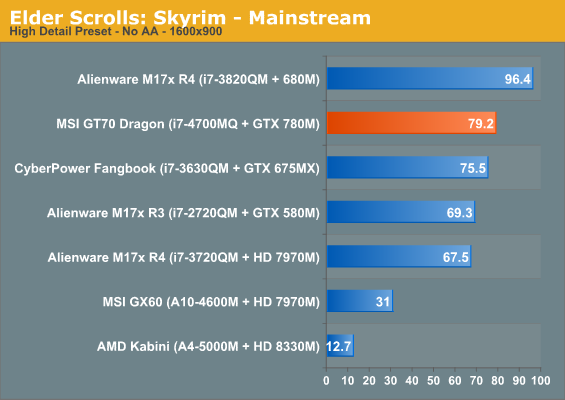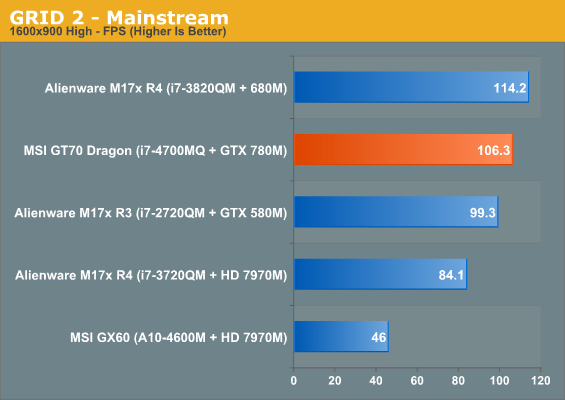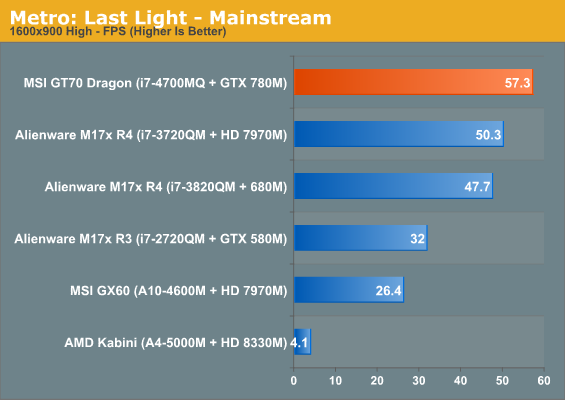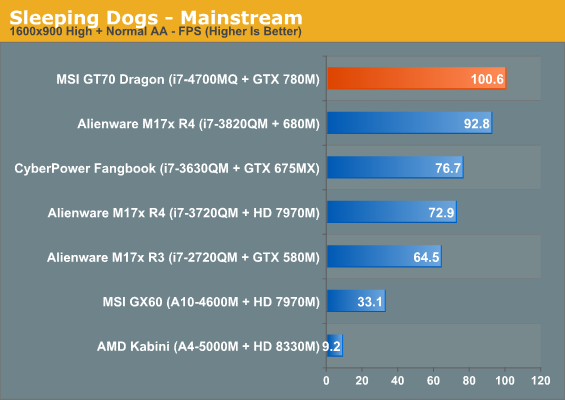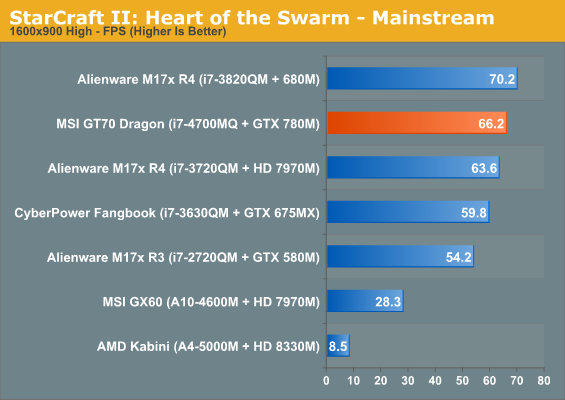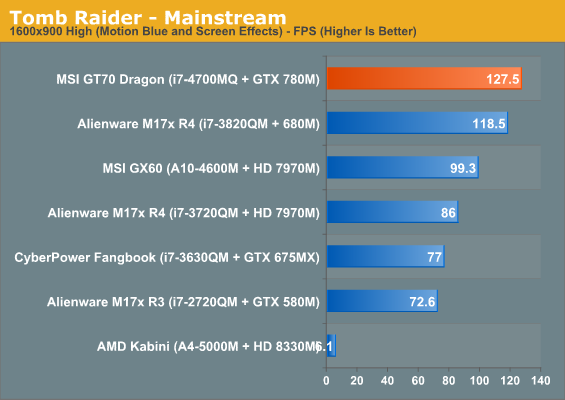 In situations where the CPU is not a limiting factor, the 780M is able to boast a healthy lead on the 680M. But you'll notice that the GT70 Dragon is actually underperforming in certain cases; the CPU is getting throttled due to heat. The superior cooling system of the Alienware M17x is able to dissipate far more heat than the GT70's is.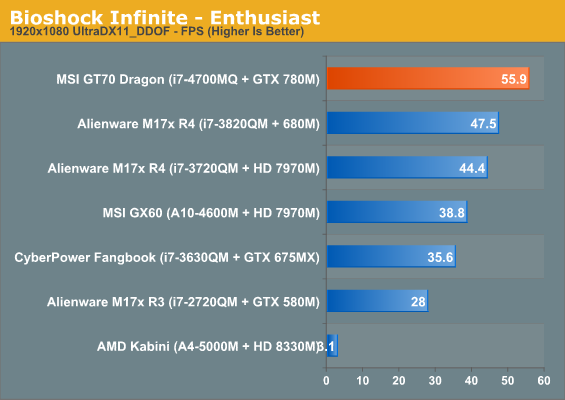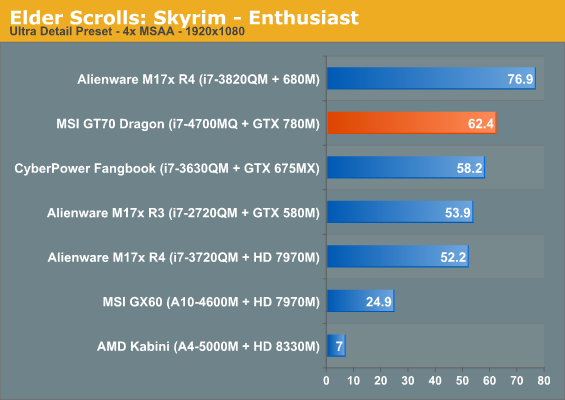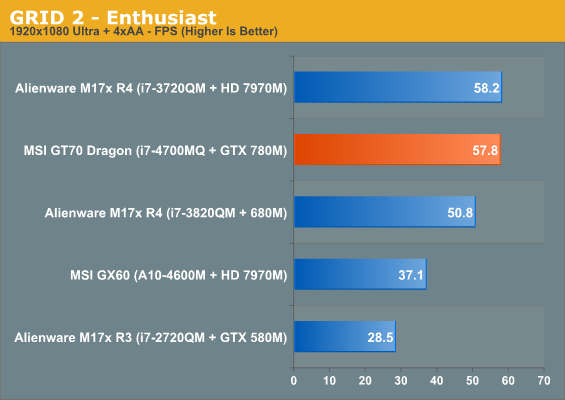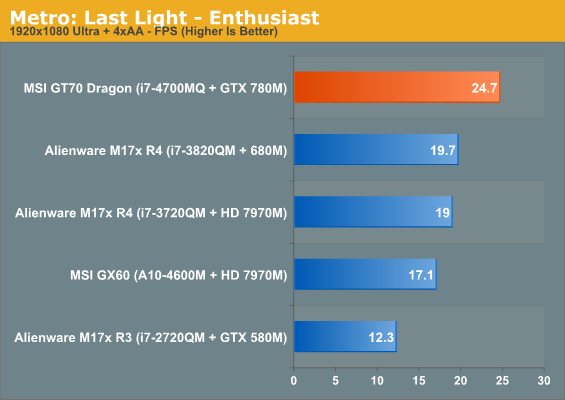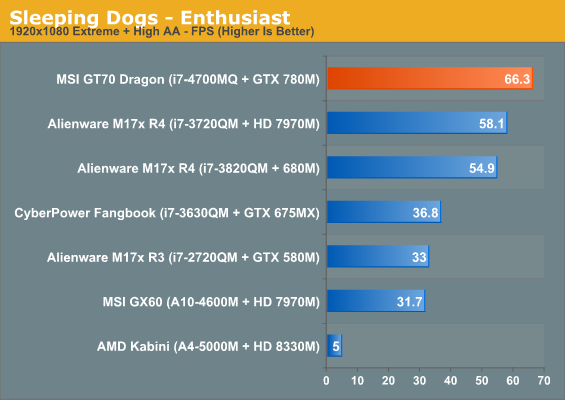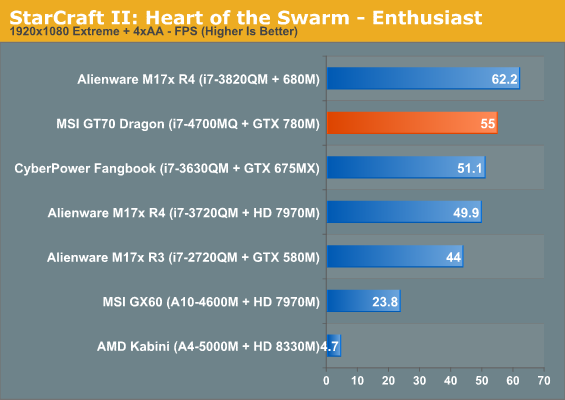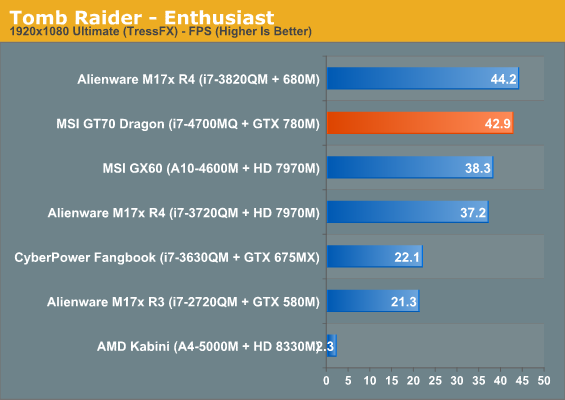 Situations that stress the GPU more exclusively can result in healthy gains over the 680M, but overall stress on the CPU stemming from processor-intensive games like Skyrim and StarCraft II, as well as the hit from TressFX in Tomb Raider, effectively keeps the 780M from really stretching its legs.
Remember that on paper, at stock clocks, the 780M has at least 22% more shader power than the 680M and 39% more memory bandwidth. That means that, bare minimum, the 780M should be roughly 15%-20% faster than its predecessor. We're getting that in the traditionally GPU intensive Sleeping Dogs and Metro: Last Light, and most of it in BioShock: Infinite. But other games see lower gains, or are even slower on the GT70 Dragon Edition despite it having directly superior hardware.
Build Quality, Heat, and Noise
So the MSI GT70 Dragon Edition was supposed to be our flagship Haswell and NVIDIA GeForce GTX 780M review. On purely CPU-centric tasks, it didn't disappoint, but whenever the GTX 780M was invoked it started having serious problems. So what happened? Monitoring GPU clocks during testing didn't reveal any issues; in fact, most of the time the 780M was running in the neighborhood of 920MHz. Realistically, it should be pulverizing the outgoing 680M at those speeds.
For comparison's sake, this is what the internal design of the Alienware M17x R4 looks like: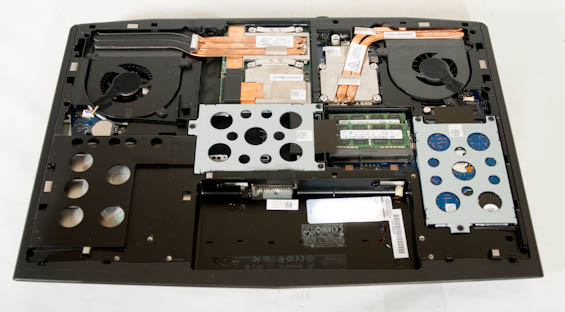 Now here's the internal design of the MSI GT70 Dragon Edition, and hopefully that should give you all the information you need.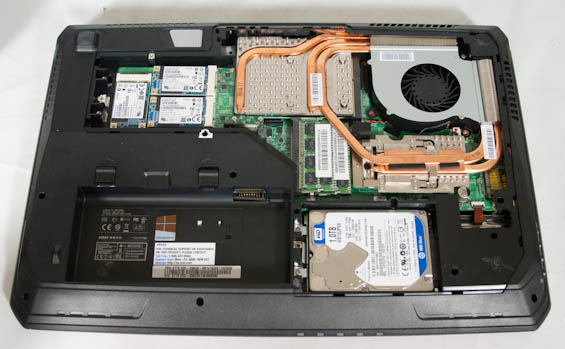 At this point, the problem is pretty evident: MSI is trying to cool both a high performance mobile CPU and a high performance mobile GPU with a single fan. The cooling system has one fan with a pair of heatsinks around it: cool air comes in through the back of the GT70 and through the GPU's heatsink array, and then the hot air pulled off of that is used to cool the CPU's heatsink array behind the GT70's exhaust.
The result is that a few runs of games and some stress testing pops up with a HWMonitor screen that looks like this: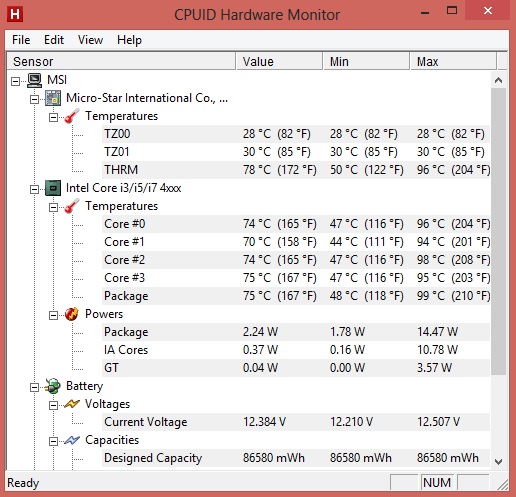 The CPU is throttling. Noise levels remain reasonable during gaming, but that's because the CPU is essentially cooking itself. And keep in mind that the GPU is getting cooled first, so the GTX 780M's boost has a healthy amount of headroom to play with. Now, MSI does have a "feature" that can be employed to mitigate thermal issues.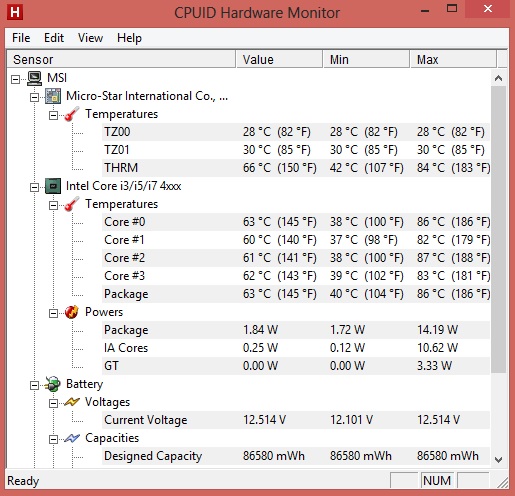 All you have to do to get these thermals is push a touch-sensitive button above the keyboard that toggles the system fan to maximum. Of course, in the process the noise levels wind up being obnoxious and well over 50dB, and performance improves minimally. The fact remains: the MSI GT70 Dragon Edition's thermal design simply isn't enough. I've heard stories of this chassis having thermal issues in earlier models, but at least now I can decisively pin it down.
For a flagship gaming notebook, this is basically inexcusable, and you're really paying for the trio of SSDs in RAID 0 more than anything else. For the same money you can get an Alienware 17 with a GTX 780M. While we haven't tested it yet, it's due in for review soon, and I can tell you that the cooling system is still designed with separate dedicated fans and heatsinks for the CPU and GPU.
Battery Life
Even if it's enjoying NVIDIA's Optimus, the MSI GT70 Dragon Edition is still a gaming notebook with a 47W quad-core processor at its heart along with a 17.3" 1080p display. That means that battery life is going to be better than the old days of the battery being a glorified UPS, but still nowhere near competitive with smaller and sleeker notebooks.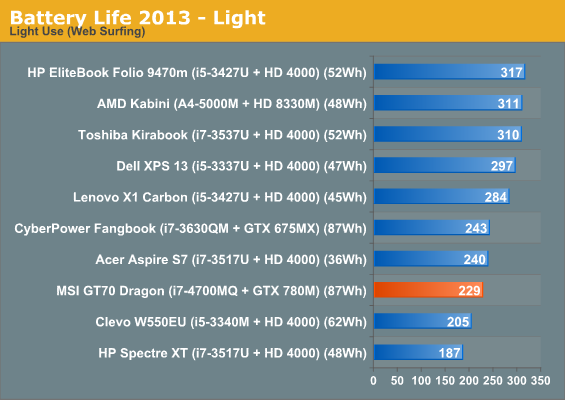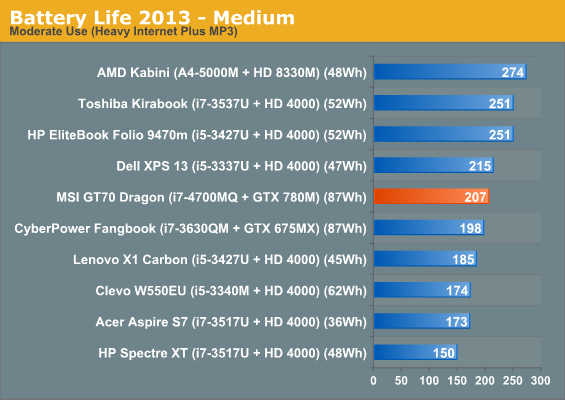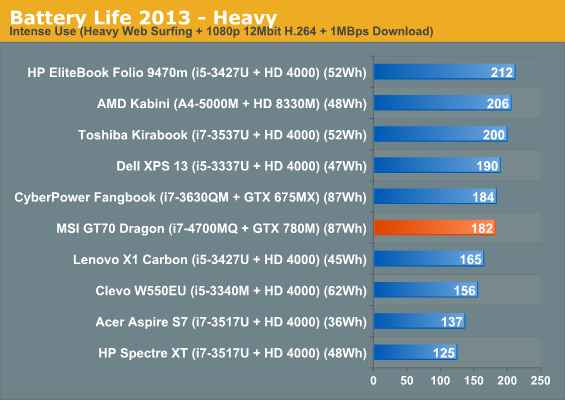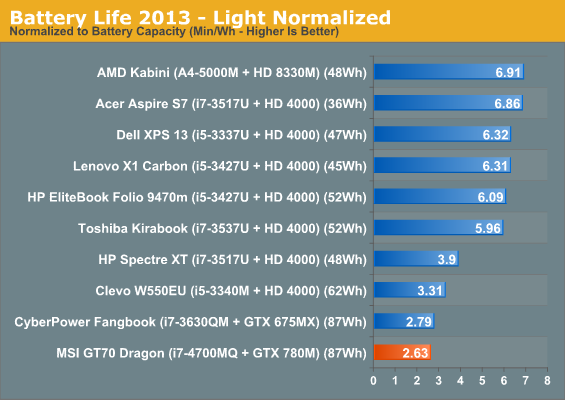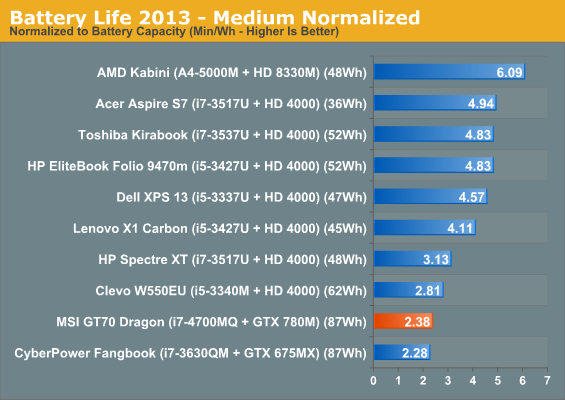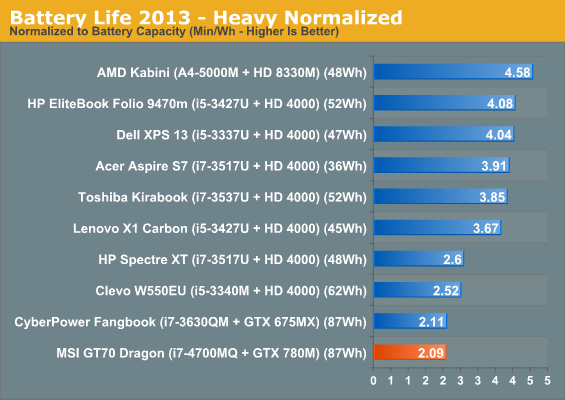 Haswell is doing wonders on the ultrabook side, but for any kind of performance system, it's basically a wash. The i7-4700MQ isn't offering any better battery life than the outgoing i7-3630QM. There shouldn't be any major surprises here; Haswell has been more or less a bust for desktop enthusiasts. Notebooks like these just don't see the benefits of what Haswell was geared for, and at most just enjoy slightly better IPC.
Conclusion: Green Dragon
Each time I've tested this chassis from MSI I've been a little less enamored with it. Finding a good gaming notebook isn't a trivial thing and there's a lot of room for innovation and improvement in this market segment, but it seems like only Alienware, Razer, and maybe ASUS are actually trying (although Toshiba's next-gen Qosmio is a pretty attractive alternative as well). This is basically the third generation of this chassis from MSI and improvements are incremental to non-existent.
To be sure, there are nice features in the MSI GT70 Dragon Edition. I like the red aluminum shell, and despite an awful layout for western consumers, the keyboard still has some of the best action you can find in a gaming portable. Killer wired and wireless networking is much appreciated, and there's at least a little bit of appeal in a notebook that has three mSATA ports. Finally, though it's the same 1080p panel we've tested three times now, it's still a perfectly good one.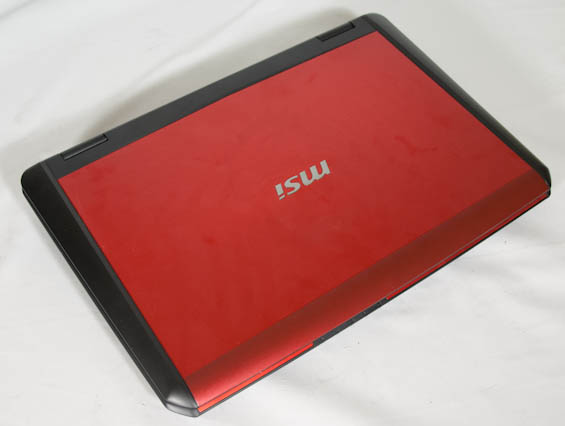 Unfortunately MSI seems to have juggled the wrong design decisions with the GT70 Dragon Edition to court western consumers. The number one line item isn't performance or industrial design, it's always "features." You wind up with a gaudy shell instead of a clean design. Instead of fixing the cooling system or at least tweaking the fan profile, they simply add a toggle above the keyboard to set the fan to maximum. This is not a feature, this is deliberately sabotaging your own product to add another bullet point in your marketing material.
The keyboard could be amazing, but MSI opted to save a few bucks by just using the same bezel and key layout for every region; that's why you have a slash key next to the spacebar. And instead of using a sensible layout of document navigation keys about the keypad, they included the borderline useless Scroll Lock and Pause/Break keys. Which one do you use more? So why would Home and End be Fn combinations? It's a small thing but an incredible nuisance that again sabotages a potentially good product. The GT70 could at least have potentially my favorite keyboard, but there's no thought to it and no understanding of how westerners even type.
Here's a gaming notebook that has a mountain of bullet point features: backlit SteelSeries keyboard, Killer networking, 1080p display, fan toggle, "Super RAID 2" (just three mSATA SSDs in RAID 0), Sound Blaster Cinema...but the cooling system is a bust. It fails at the single job it's supposed to do best. I cannot in good conscience recommend the GT70 Dragon Edition until MSI fixes the keyboard layout, enlarges the touchpad, or at least, heaven forbid, produces a system that doesn't thermally throttle. In an ultrabook, throttling is a problem but can be forgivable. In a high performance system? Inexcusable.