Original Link: http://www.anandtech.com/show/6963/benq-xl2720t-gaming-monitor-reviewed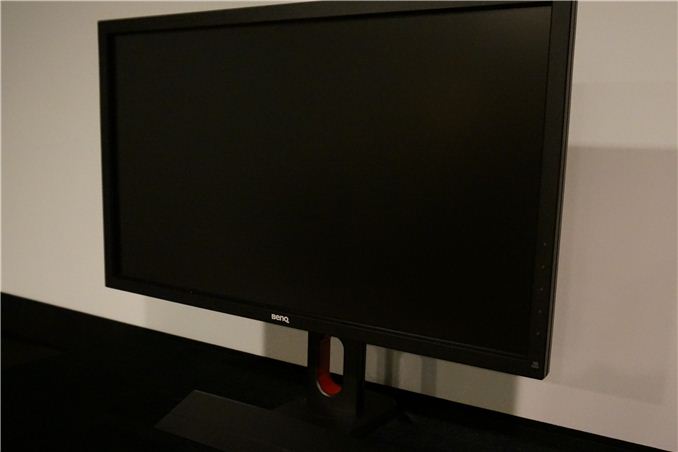 On the very first monitor review I did for AnandTech, I skipped over the input lag tests. I didn't have a CRT I could use for a reference, and as someone that isn't a hard-core gamer themselves, I wasn't certain how much overlooking them would really be missed. Well, I was wrong, and I heard about it as soon as it was published. Since that initial mistake I've added two CRT monitors to the testing stable and tried to find the ideal way to test lag, which I'm still in search of.
To serve the large, and vocal, community of hard core gamers, there are plenty of monitors out there that directly target them. One such display is the BenQ XL2720T, a 120 Hz LCD that's also used in many sponsored gaming tournaments. Beyond its gaming pedigree, I was interested to see if it also performed well as a general purpose display, or if it really is just designed for a small subset of the market.
Probably the key feature on the XL2720T is its 120 Hz refresh rate, which as usual means that it is a TN-panel. The other key feature on it is a quick select switch that it includes to let you switch between monitor presets with a single button press. For their gaming target, BenQ sees you utilizing this to have different presets for different games, and they even provide some specific profiles for popular games that you can load and use for these. Another use would be to use one for daytime settings, one for nighttime, and one for gaming. The quick access to switch modes makes it easy to do so, and providing "optimized" settings for games might be a very beneficial use.
The included stand for the XL2720T is very well done, with a full range of ergonomic adjustments and you can assemble the whole thing without a single tool. I'd use a screwdriver at the end to make sure it is really tight and secure, but the overall stand design is great. One feature I'd still like to see from a monitor company is inputs that either rotate or are angled at 45 degrees to make it easier to hook up cables than to have to reach underneath. Thankfully since it pivots to vertical, it is still easy to hook up the BenQ XL2720T to your computer or video game system. It has a pair of HDMI ports, so it is well equipped for both PC and console gaming.
One disappointment is that the USB ports are still just USB 2.0 and not 3.0 as most new, higher end monitors have now. Another disappointment in the monitor design is the touch sensitive buttons that control the on-screen display.
As with the Dell U3014 that I just reviewed, I find the touch screen buttons to be less responsive than actual buttons, and wish companies would go back to standard buttons. It doesn't look quite as nice but it is far more functional. This is somewhat alleviated by the S Switch that BenQ includes. Though mostly used to switch between three preset modes, you can also use the wheel to control the OSD, and here it does a great job. The OSD has been redesigned from previous BenQ displays so it is much better to use, with all selections going Up and Down, without any Side-to-Side inputs. This combination is one of the better interfaces that I've used; I just wish controlling it without the S Switch worked as well.
As mentioned, the on screen display from BenQ has been totally redone from the last display that I used. Previously you would move Left to Right to select a category, Up and Down to select a function to adjust, and then Left to Right to adjust it, all with just two buttons to move all four directions. The OSD now resembles the ones that Dell has, where all selections and inputs are Up and Down, making it very easy to adjust the display. It also lets you see all the levels of sub-menus on the screen at once, which makes it easy to see what you are working on and not get lost in the menu system. BenQ has moved from having one of the worst menu systems for user controls to having one of the best that I've used. Bravo for that!
On the exterior and the on screen display, BenQ has gotten most everything right with the XL2720T. Sure I would change a couple little things, but they manage to get the overall user experience with the monitor as correct as anyone else has right now, and that's much different than I said about their displays two years ago. I wish every monitor vendor would take this feedback and improve their products as much as BenQ did in these areas.
BenQ XL2720T
Video Inputs
2xHDMI, 1xDisplayPort, 1xDVI-DL, 1x D-sub
Panel Type
TN
Pixel Pitch
0.311mm
Colors
16.7 million
Brightness
300 cd/m2
Contrast Ratio
1000:1
Response Time
1ms GTG
Viewable Size
27"
Resolution
1920x1080
Viewing Angle (H/V)
170/160
Backlight
LED
Power Consumption (operation)
27W
Power Consumption (standby)
<0.5W
Screen Treatment
Anti-Glare
Height Adjustable
Yes (140mm)
Tilt
Yes (-5/20 Degrees)
Pivot
Yes
Swivel
Yes (45/45 Degrees)
VESA Wall Mounting
Yes (100mm)
Dimensions w/ Base (WxHxD)
21.5" x 25.3" x 10.8"
Weight
16.5 lbs.
Additional Features
USB 2.0 Hub (3 port), S Switch, Headphone Jack
Limited Warranty
1 year
Accessories
Power cable, USB Cable, D-Sub Cable, DVI-D Cable, Protective Cover
Price
$482 (on 5/17/2013)
With TN panels you are of course subject to the problem of poor viewing angles in comparison to other monitor technologies. The problem also accentuates itself on larger displays like the XL2720T, where the viewing angle is larger for your vision, and so the edges start to have color shifts even when you are directly centered on the screen. Even with regular content on the screen, I can notice shifts in contrast and color at the edges of the screen in general use, which I find distracting. I didn't notice it vertically as much, but the angle isn't nearly as large as with the horizontal position.
I also found the overall look of the XL2720T to be a bit worse than with other displays I have had in recently. Perhaps it's the anti-glare coating, but everything looks slightly fuzzy, even the simple black text in this document that I'm typing right now. With the lower resolution I'd expect to see more sharp angles and pixels, but everything looks a bit too smoothed out because of this issue. I have to say that for general use, I can't imagine living without an IPS monitor at this point.
The BenQ has a lot of preset modes available for calibration, but the best data was obtained with the sRGB mode. Standard was a bit better for grayscale, but color accuracy was better in sRGB making it the overall best choice. Surprisingly, Photo mode was far and away the worst preset on the BenQ when it comes to accuracy, even more than the FPS modes are. Perhaps they meant to call it "Galaxy S3 Photo Mode", but I'd usually expect a mode for viewing photos to be accurate. So just don't use it, unless you want a really vivid Instagram filter applied to all your photos on your PC.
The uncalibrated grayscale performance for the BenQ is decent though not outstanding. The average dE2000 is just below 3.0, which is the visible threshold. As you look at the RGB balance you can see there is a distinct blue-green tint to the grayscale, which you can easily see on screen as well. The gamma comes out just above 2.0, well off our 2.2 target, and it isn't linear at all which will lead to images that are a little dark in the shadows and too washed out in the highlights. The contrast ratio of 706:1 is on the low side, but the gamma issue really leads to a bit of a washed out image.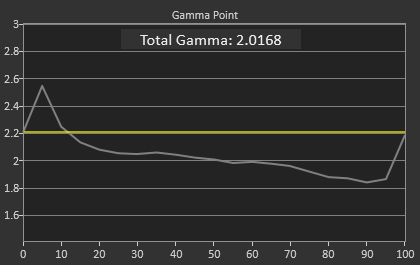 The color points are much better, with a dE2000 of 2.1 and most luminances are pretty close to correct, with all the colors having a dE2000 below 3. The worst issue is the 100% saturation, 100% luminance white that throws the average off a bit, and that will be noticeable as that's your background white in most applications. Overall you get good numbers for a preset mode.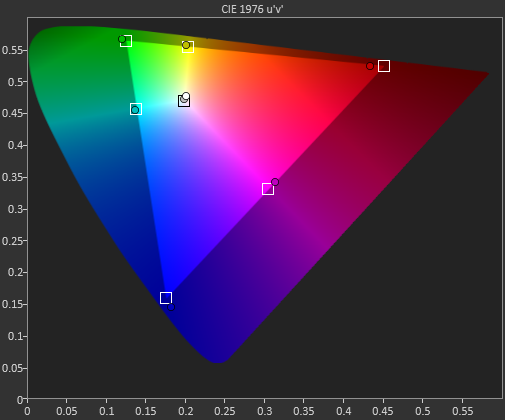 The colorchecker tests look good overall with the exception of two orange shades that are well off their target. Every other color has a color error that is practically invisible, as long as it isn't right next to a correct sample. The biggest issue is that the luminance levels are too high across the board, and luminance is the most noticeable error in color.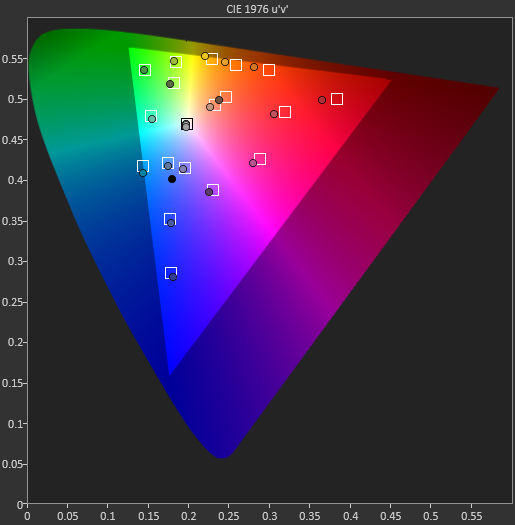 Our saturations data is also very good, showing very uniform errors across the spectrum, and no really large spikes to be heavily concerned with. Overall for a pre-calibrated mode, the sRGB does a good job on the BenQ XL2720T.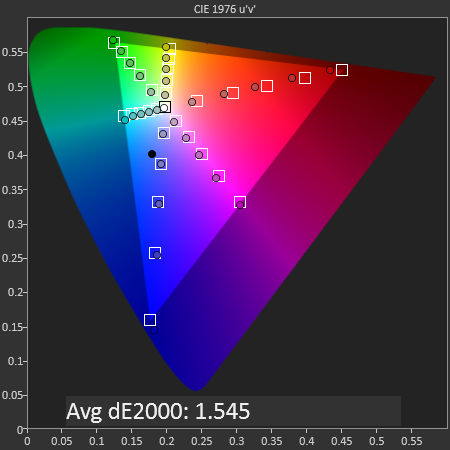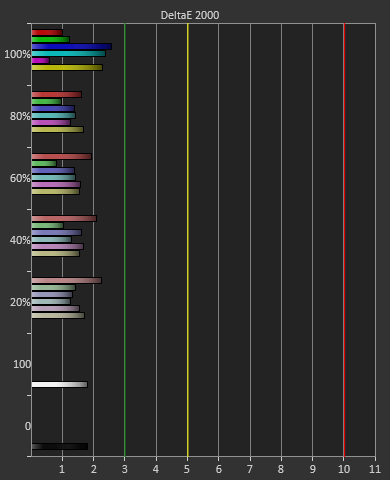 Looking at the gamut, we see just below 71% of the AdobeRGB gamut, which is what sRGB should measure out at.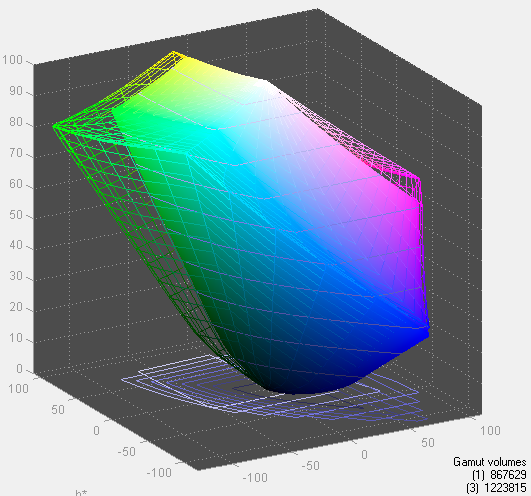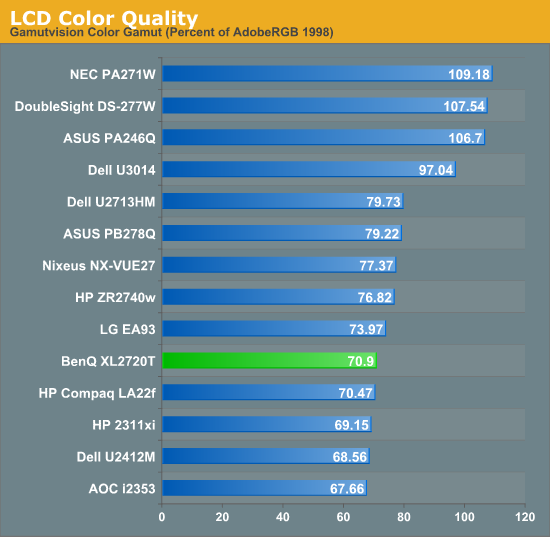 I calibrate every monitor using CalMAN V5 with an i1Pro spectrometer and a SpectraCal C6 colorimeter. Our first calibration target is for 200 nits of light output, the sRGB color gamut, and a power gamma of 2.2. For the calibration I used the Standard mode on the monitor, as that allowed access to the User Color Temperature control, which let me set 100% white correctly without using the video card LUT.
Using this setup, our grayscale really comes into line on the BenQ. Our average error is really non-existent, other than at 0 which we can't fix, and I can't exclude from this chart or I would. The color tint has been totally eliminated, and the gamma is almost spot-on. Our contrast ratio has risen to 820:1, a 16% increase in what is often the most important element of an image overall. As far as grayscale goes, this is essentially perfect.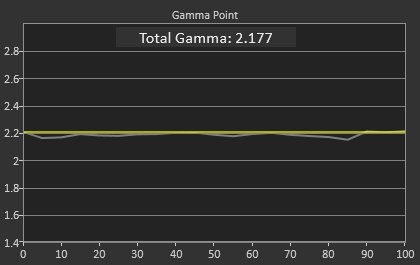 On the color side we see some improvement, but this is mostly due to the improvement in the grayscale. SpectraCal is going to improve CalMAN to remove White from the Gamut dE2000 number, to provide a more accurate data point on how much color error was improved in the future. The red primary is a little under-saturated and green is a little low in luminance, both errors that calibration can't correct. The color gamut is good, but not excellent.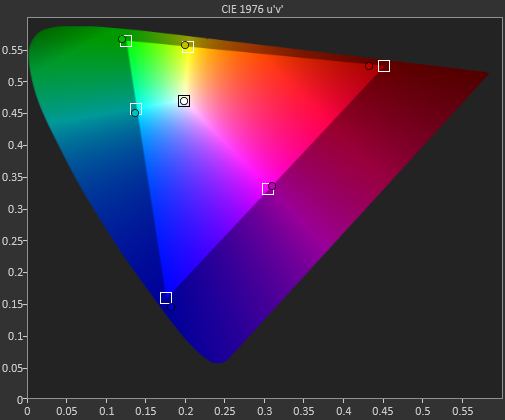 The Colorchecker data is better, but also not perfect here. The formerly high luminance has now been fixed, and luminance is nearly perfect. Those orange-yellow shades continue to cause issues however, with errors close to 3, and the same goes for a shade of blue that lies on the edge of the sRGB gamut. The numbers are much better than before but not as good as some other displays, especially on those orange-yellow colors.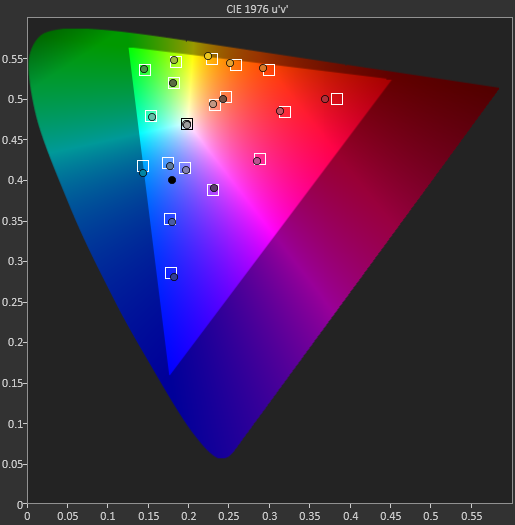 After calibration the saturations are almost worse at 100%, but better below that. Some people disagree on if it is better to have 100% saturation fixed or the values below that have a lower error, but overall the values are better than they were before calibration.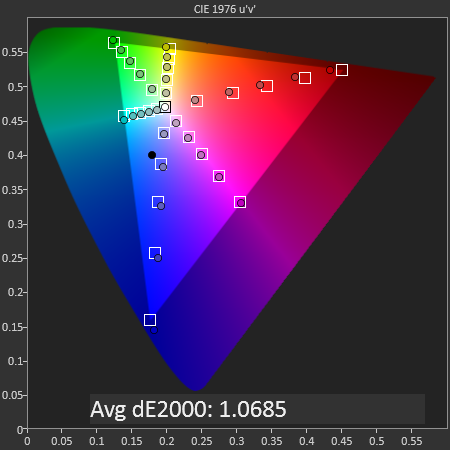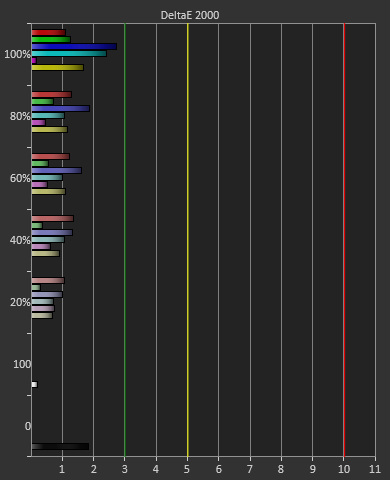 Post calibration, the BenQ is certainly better than it was before it. It is virtually perfect in the grayscale, but the gamut doesn't improve that much as the issues it has are ones that calibration can't fix, as calibration can't add luminance or saturation that isn't there to begin with. I was happy to see how much the BenQ improved, and you can do much better than the preset sRGB mode.
Our second calibration target is designed for print work, with a light output of 80 nits instead of 200 nits, and the sRGB gamma curve instead of the 2.2 Power Curve.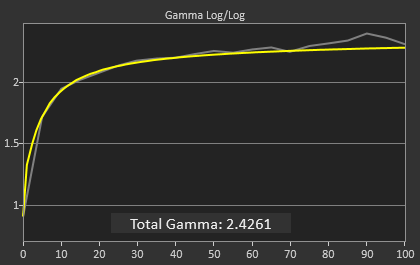 The grayscale continues to be excellent, even better than with the first calibration but you wouldn't be able to tell even if they were side-by-side. There is a bit of a spike in the gamma that keeps it from being perfect, but even that spike doesn't cause the dE2000 to rise at all. The biggest problem is that the contrast ratio has fallen down to 488:1 from the prior 820:1 level. Possibly the LED backlight doesn't dim enough for the darkest settings, or the maximum light output was still too high and the LUTs had to be heavily lowered, either of which will cause a loss of contrast ratio. That issue aside, the grayscale calibration is very good.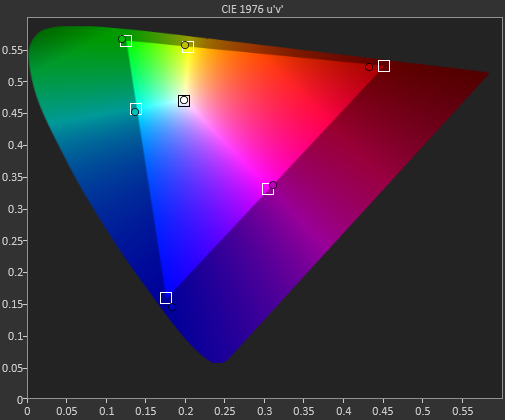 Color gamut is almost identical to at 200 nits. Too low of luminance in green, too little saturation in red, otherwise pretty good.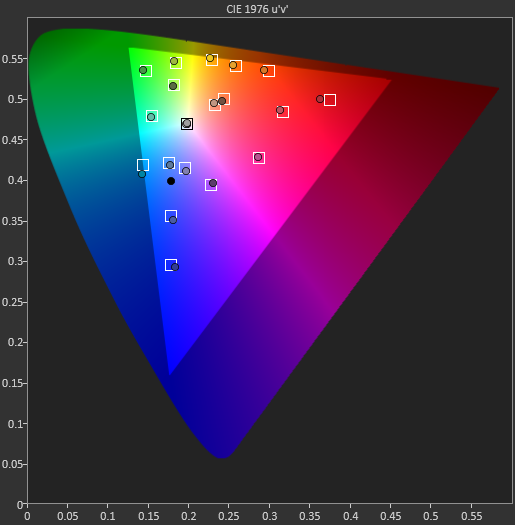 The colorchecker data here really surprises me. The yellow-orange shades that have been causing us such issues are no longer a problem. Now that shade of blue that lies on the edge of the sRGB target is causing the issue. I imagine the blue issue is related to the lack of green luminance, which affects cyan shades because of that. At lower light output levels, the error level in blue readings can be higher, since their light output is low to begin with, and if the green component is low in luminance, that can cause a much larger drop in the light output, leading to a larger error. Looking at the DeltaL chart for this measurement shows that it is quite low in luminance, which is almost certainly causing most of that color error. As to why orange-yellow shades improved so much, I have absolutely no idea.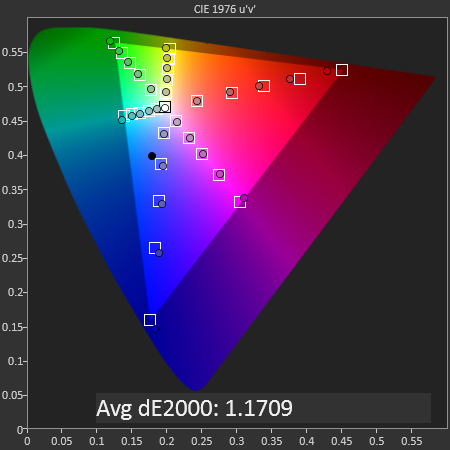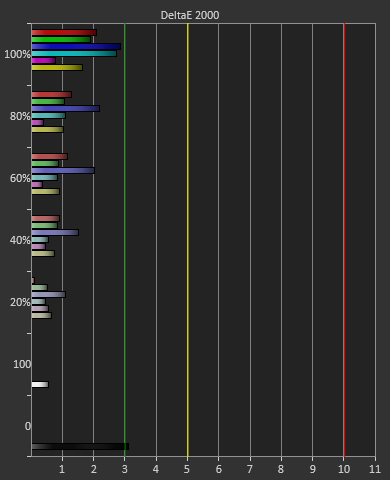 Saturations are much like they are on the last calibration, with 100% having the largest error and the numbers falling from there. 100% numbers are harder to correct since those saturations might be lacking luminance or saturation, which can't be corrected. If a saturation below 100% is lacking saturation, we can increase that to compensate, which will reduce error, but that can't be done with the 100% values.
Overall the sRGB target calibration is also very good, with a couple issues that came up. The biggest concern to me is that the contrast ratio drops so much, which will lead to a flatter, more washed-out image in appearance, but I didn't see a way to correct it in several more calibration attempts.
Looking at the white uniformity of the BenQ XL2720T, we see a large drop-off in the upper left, and another drop on the right side that isn't quite as drastic. I like to see everything stay within 5% of the center value ideally, which means 180-220 nits if the center is at 200 nits, but this one measurement drops down to 167 nits and is clearly darker. The right side only drops down to 172 nits, but that is still fairly low. Most of the display stays within that 5% threshold, but on the edges it has an issue.
With the black uniformity, we see some bright corners on the left side, and the surrounding numbers are much lower than they are, and with an all-black screen it is quite easy to tell the difference. The center actually has the highest black level of anywhere other than that one bright corner.
The contrast uniformity on the display varies by a lot. The center comes in at 795:1 (not quite the 820:1 we measured earlier, but the black reading changing by as little as 0.001 nits can influence this highly), but the rest of the monitor swings from as low as 754:1 to as high as 946:1. With contrast ratio higher is going to be better, but looking at the chart really shows that the overall uniformity of the white and black levels on the BenQ isn't ideal.
The grayscale uniformity shows this as well. The center is still quite good, coming in at a dE2000 of 0.92. The reason for the higher value here than on the calibration page is that uniformity testing uses 0%, 20%, 40%, 60%, 80%, and 100% values, not 0-100% in 5% increments. Since the 0% value is the highest, it has added weight here, but doing uniformity testing with all 21 values would be unreasonably time consuming to do. We see that the dE2000 rises up to 3.46 in that hot-spot on the left side of the screen, and has a few other areas above 2.0 as well. Most of the screen is still good, and as I said these numbers might be lower if I measured 21 points per location, but that's still a large difference on the display.
With the colorchecker uniformity, we see the same issues, only worse. Since the colorchecker starts with a higher error than the grayscale, we see that many points on the screen have managed to rise above 3.0, which is considered not visible to the human eye when in motion. We also see that corners are measuring really well, while the center of the screen is further off. This is a bit strange, but overall the uniformity isn't as strong as with other displays.
BenQ says that the maximum light output of the XL2720T is 300 nits, but the most I could record is 252 nits while not totally crushing whites. It might be possible to set the contrast to 100 and record a higher number, but with that setting the top white shades, from around 230 until 255, all blend into a single shade. No one would ever use a display this way, so it's a bit impractical for me to measure them this way. The lowest white level I could get was 93 nits, which helps to explain the contrast ratio issue on the sRGB test. If we are targeting 80 nits, and the lowest level the display can natively do is 93 nits, then the video card LUT has to be lowered to bring that brightness down. Anytime you lower the peak of the LUT, you then start losing contrast range, which is why we try to get the monitor set as close as possible before calibration, or use DDC to have it automatically do it correctly.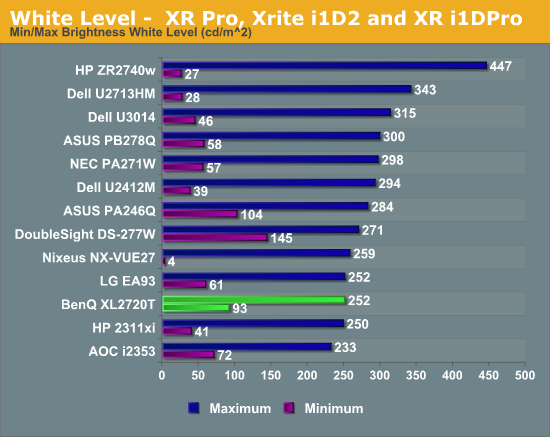 The black level was fine on the XL2720T, though not exceptional as TN isn't known for being great at blocking out light. It isn't a bad number, but black level is really all about contrast ratio and on its own doesn't mean much unless we also know the white value.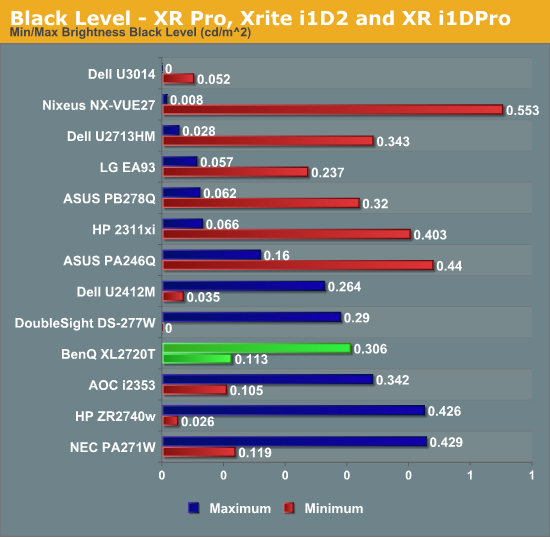 The contrast ratio on the BenQ comes out at right around 820:1 at maximum or minimum light level. The lower number we saw on the sRGB calibration was due to targeting a light output level below what the monitor can do natively. If you aren't trying to go below the 95 nits light level that I saw on the white testing, you will get a contrast ratio right around 820:1 from the XL2720T.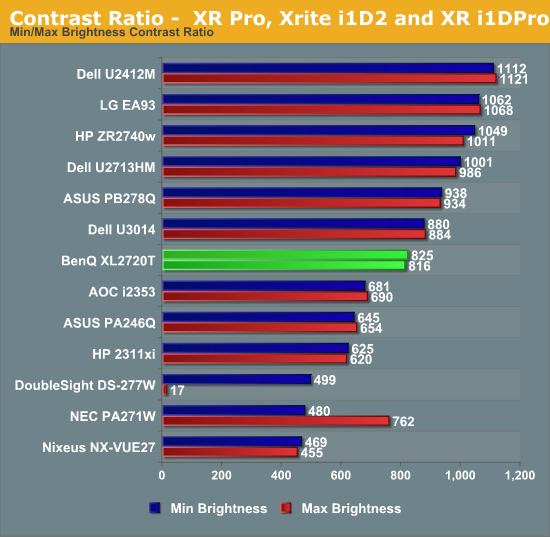 The BenQ XL2720T also does well on power usage, consuming very little at maximum or minimum backlight levels. Other than the Acer touchscreen model, the BenQ is the most efficient monitor for which I have calculated the Candelas per Watt number, which takes into account screen size, power use, and light output to normalize the data. I have a feeling the BenQ benefits by having a lower resolution 27" panel than most of the 27" monitors I've tested, but with the small number of data points I have so far that is all conjecture at the moment. Whatever the cause of it, the power use of the BenQ is very low.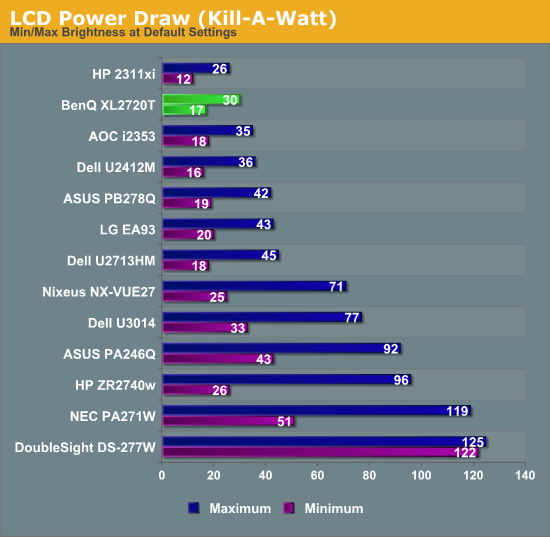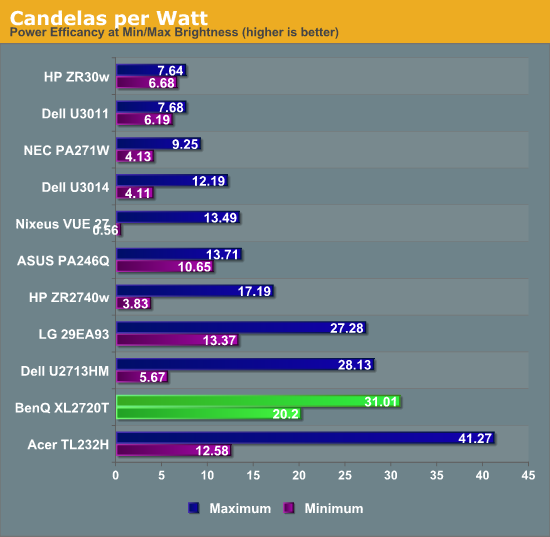 Designed for gaming use, the BenQ puts a lot of weight into its 120 Hz refresh rate. If you haven't used a 120 Hz display before, you really need to do it in person to see the extra fluidity that it offers in comparison to 60 Hz. It isn't something that can be captured in video, since it would be seen on a 60 Hz display, but in person it's impossible to miss. Simple things like a mouse cursor or dragging a window are much more fluid. Playing games, animations and movement are much more fluid than with 60 Hz, and the change is almost instant to notice. Even myself, who is a casual gamer at best, can notice the difference that it makes in fluidity.
The downsides here are that all 120 Hz monitors seem to currently be limited to 1080p resolution, though some people are overdriving their import 27" IPS LCDs to do 120 Hz as well. Moving to 120 Hz at a higher resolution would also require a much more expensive graphics card, so I can understand the focus on 1080p because of that, but it also makes the monitor not as nice for general work as a higher resolution display is now.
As far as the gaming modes and the quick keys, what these modes are really doing is radically altering the gamma, going from the 2.2 that we might generally want to something closer to 1.4 in my measurements. This brings out things that might be hidden in the shadows, but in doing so it also destroys all the shadow detail and leads to a very washed out, flat looking image that isn't attractive at all. It might offer you a bit of a performance advantage by seeing more things and not missing someone that is hidden away, but it isn't nearly as enjoyable to look at in normal use. Perhaps if I was playing in a competitive game against someone I would utilize them, but for solo play I'm almost certain to go back to the calibrated settings, as I far and away prefer the higher contrast ratios and visual pop that it offers.
Update: Lightboost
As many people pointed out in the comments, you can use Lightboost, and some trickery, to get the XL2720T to display at 120 Hz with a strobing backlight. Working much more like a CRT, where you have black frames between objects and not object permenance on the screen, this should provide for better motion resolution and a more CRT-like feel. After I was made aware of this (it's not in the documentation with the monitor, or mentioned by BenQ, or really officially supported) and hooked the XL2720T back up and tested it in this mode.
One thing this does do it lock out all the picture controls except color and brightness. You also take a significant hit to light output in this mode. Motion does look smoother, that I can say for sure. However the extra flickering that this backlight causes also gives me a bit of a headache. I went away from CRTs to LCDs a decade ago because the flicker caused more eye-strain for me, and with the BenQ it seems to bring that feeling back. Games were smoother than before, with a noticeable difference in motion resolution, but it wasn't perfect. Losing all adjustments and the light output is a downside as well.
I also ran the numbers on the display with Lightboost enabled. As all of the controls except for Contrast are really locked off from you, then you need to rely on a video card LUT to calibrate and get anything remotely close to accurate. I also found the maximum contrast level I could drive was 48 without having severe clipping of whites. At this setting your maximum light output is 129 cd/m2. With the contrast at maximum I got 140 cd/m2 but also severe highlight clipping and color distortions.
Lightboost also causes a severe blue-shift in the image. I mean an extreme shift in the image. If you've read our display reviews, you'll know that 6503K is the ideal color temperature (CCT). Lower than that is reddish and higher is bluish. Sometimes we see a display come in around 10,000-12,000K, but that's very high. With Lightboost enabled, the BenQ has an average CCT of 36,025K. It is very, very blue. Here's a table with the data for the BenQ with Lightboost enabled, and after calibration with Lightboost on.
| | | |
| --- | --- | --- |
| | Lightboost Default | Lightboost Calibrated |
| Average CCT | 36025K | 6541K |
| Grayscale dE2000 | 19.8149 | 0.9748 |
| Contrast Ratio | 779:1 | 718:1 |
| Peak Light Output | 129.1 cd/m2 | 103.6 cd/m2 |
| Gamma (2.2 target) | 1.29 | 2.15 |
| Color Points dE2000 | 10.6246 | 1.5229 |
| Gretag Macbeth dE2000 | 16.7849 | 1.7451 |
So if you calibrate it, you can get a decent image with Lightboost enabled, but you also have to trade your contrast ratio and peak light output for it. It has to reduce Blue all through the video cart LUT to remove that horrible color cast on the image, and doing that drops the light output. At the default settings, the color tint is extreme and while you might be OK with it for gaming, for any daily use even those unconcerned with a calibration might find it to be way too blue for their liking. Post calibration it looks fine, though. All of the Pre- and Post-calibration charts are in the gallery below.
I wish they would make this a normal choice to use the monitor in, and not hidden away and requiring research and work. If motion resolution is the most important aspect to you, then you'll want to at least test out Lightboost mode on the XL2720T. Just know it does entail a few trade-offs as well.
For lag testing, I've settled on using the Leo Bodnar lag tester for reviews. Talking to other reviewers with it, our data indicates consistent results with everything except plasma TVs at this point, and that's not an issue for PC monitors. It means I can only test 1080p60 over HDMI or DVI inputs, but that is similar to the limitations that SMTT introduced. It also lets me measure across the screen at three points and provide different data that I can then average to an overall lag number. The BenQ measures out at 22.1 ms of lag using the Leo Bodnar test. Using the FPS mode or the regular mode led to the exact same scores, so that didn't influence it at all. I didn't notice any perceptible lag in use, but that number is higher than I expected it to be.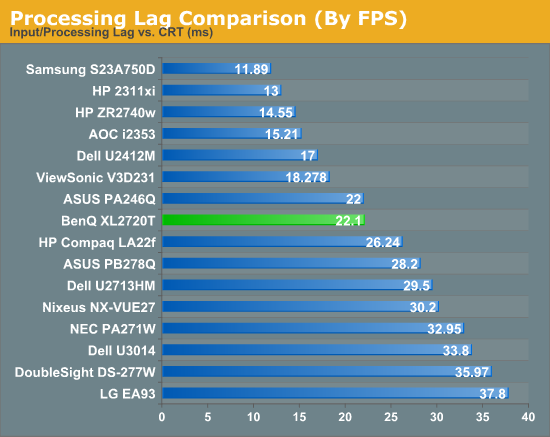 Looking back at the data, the BenQ XL2720T actually scores pretty well. The pre-calibration numbers are decent, and post calibration they come out far better, though not as good as some recent IPS panels. The design is nice and ergonomic, and the OSD has been radically improved to be one of the best on the market. It also has the quick access buttons to change modes which could appeal to many if you want to easily switch between settings for gaming and work, or even different settings for a console.
However, when it comes down to my subjective impressions, I'm just not a huge fan of the BenQ XL2720T. The 1080p TN panel just has a washed out, slightly soft look to it. After spending years with IPS displays most of the time, going back to TN was much harder than I expected it to be. The only other 120 Hz display I reviewed previously, the S23A750D from Samsung, had a really bad ergonomic design, a poor OSD, and a really glossy finish, but it also had a screen that I enjoyed looking at more than I do the BenQ. I don't think TN panels should really get up to 27" as the color and contrast shifts are easy to see at that point, and are distracting.
From a gamer point of view, I can somewhat see the value in having a 120 Hz display, but at the cost of $480, I am really not sure. The LG 29EA93 I reviewed previously lists for $600 right now, which is only $120 more than the BenQ. It offers an IPS panel instead of TN, higher resolution, a wider field of view, internal calibration with an optional meter, and lower measured input lag. I find the wider field-of-view to be a bigger advantage than the higher refresh rate for gaming, and the LG is much easier to look at on a day-to-day basis.
It is entirely possible I'm just not in touch enough with the hardcore gamer to see the benefits of the BenQ, but to me those benefits don't outweigh the negatives that are offered up by using a lower resolution, TN panel in the display. If it was more affordable, perhaps in the $350-400 range, I can see recommending it more easily. As it is, I'd be far more likely to say make the jump up to the LG monitor, or drop back down to the 24" model that comes in at $90 less but still has the same resolution and won't have as many TN related issues since the viewing angle will be smaller.
It's unfortunate that BenQ seems to get so much right aside from the TN panel itself, but hopefully they can either find an IPS panel that can work at 120 Hz in the future, or perhaps switch to a glossy finish next time if it helps to improve the overall look of the display. As it is now, I looked forward to finishing this review so I could get back to my IPS display, and I can't really recommend the XL2720T based on my experience with it.