Original Link: http://www.anandtech.com/show/6944/silverstone-sugo-sg08-miniitx-case-review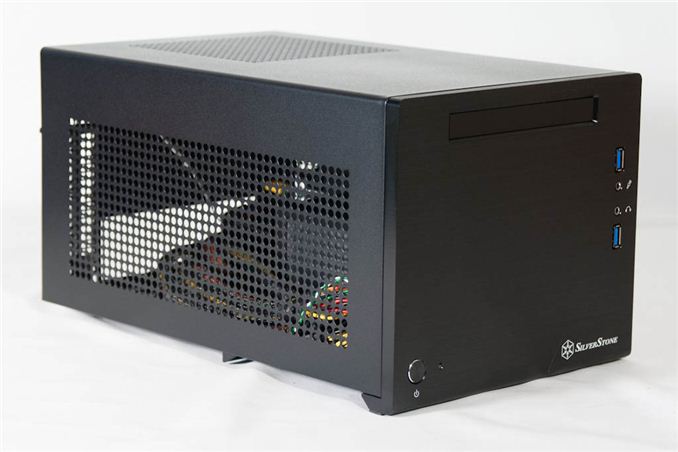 Introducing the SilverStone Sugo SG08
We've been looking at a lot of smaller enclosures lately, but some of you have pointed out, and probably correctly, that these Micro-ATX towers still aren't particularly small. They're smaller than the full ATX and super ATX monsters we've reviewed and certainly you could fit about thirty of them inside Corsair's gargantuan Obsidian 900D, but what if you want to go smaller? The BitFenix Prodigy is a popular option, but it's also on the large side for a Mini-ITX build.
As it turns out, SilverStone takes their small form factor designs pretty seriously. The Sugo SG09 we reviewed is a Micro-ATX case with roughly the same volume as the Prodigy, but how small can we go without sacrificing too much performance? The Sugo SG05 was a good start, but for those of you looking for a little more horsepower, the enclosure we have on tap today may be the way to go.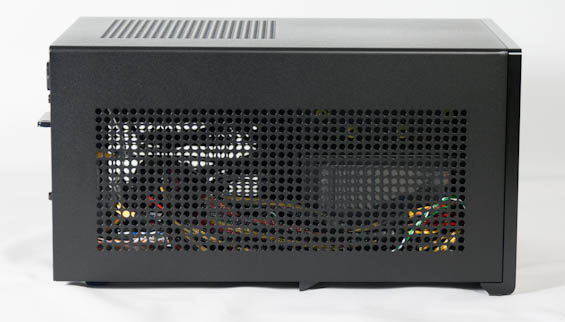 The SilverStone Sugo SG08 is deeper than the SG05, but it also has superior performance potential. Those of you who've been paying attention may notice the top-mounted fan as being similar to Thermaltake's design in the Armor A30, but SilverStone is opting for an intake here instead. Since liquid cooling and tower coolers aren't really an option in the SG08, SilverStone has to take slightly more drastic measures, resulting in a very different design from the more basic SG05. If you have performance Mini-ITX on the brain, the SG08 could be promising indeed.
SilverStone Sugo SG08 Specifications
Motherboard Form Factor
Mini-ITX
Drive Bays
External
1x Slimline ODD
Internal
2x 2.5", 1x 3.5"
Cooling
Front
-
Rear
-
Top
180mm intake fan
Side
-
Bottom
-
Expansion Slots
2
I/O Port
2x USB 3.0, 1x Headphone, 1x Mic
Power Supply Size
SFX
Clearances
HSF
117mm
PSU
N/A
GPU
12" / 305mm
Dimensions
8.8" x 13.9" x 7.5"
222mm x 351mm x 190mm
Weight
13.23 lbs / 6 kg
Special Features
USB 3.0
Dual-speed 180mm intake fan
Adjustable fan duct for GPU
600W 80 Plus Bronze PSU included
Price
$199
I'll admit I was a little taken aback by the price tag on the Sugo SG08, but try to keep in mind that you're getting a solid 600-watt power supply specially designed for the enclosure with it. I won't say it's impossible for you to run into the limits of this PSU in an enclosure like the SG08, just keep in mind that you'd have to overclock the absolute daylights out of your CPU and put in an AMD Radeon HD 7990 just to get close.
When you get to an enclosure this small, though, you're definitely going to be making some sacrifices. Storage space is at a premium, but more enterprising users may opt to use an adapter to turn the 3.5" bay into a dual 2.5" bay, giving you space for four 2.5" drives. The slimline optical bay might have been a bigger deal in years past, but the larger PC industry has been gradually migrating to these drives, and a slimline DVD burner can be had for around $20 now. Honestly the worst thing about this bay could very well just be the freakishly tiny screws.
In and Around the SilverStone Sugo SG08
If you review computer hardware for long enough, your relationship with aluminum becomes a fairly complicated one. Review cases and you start learning all kinds of crazy things about building materials, eventually developing your own preferences. I'm pleased to say that this is one thing SilverStone continues to do very, very right.
There isn't anything especially outlandish about using a brushed aluminum fascia with an SECC steel chassis and shroud, but SilverStone opts to use thick material in the construction of the Sugo SG08. The front fascia is 10mm aluminum while the external shroud is exactly the right thickness of steel to be flexible enough during reassembly without being chintzy or overly fiddly. SilverStone's aesthetic with the SG08 is tame and effective, with a completely flat, unventilated front followed by a veritable mountain of ventilation on the top and sides. Interestingly, there's virtually no ventilation on the rear of the case; I suspect this is a deliberate choice to channel air as directly down to the CPU as possible.
Instead of thumbscrews, the SG08 has three standard screws that hold the single piece shroud in place. Remove that, and you're left looking at one of SilverStone's classic puzzle boxes.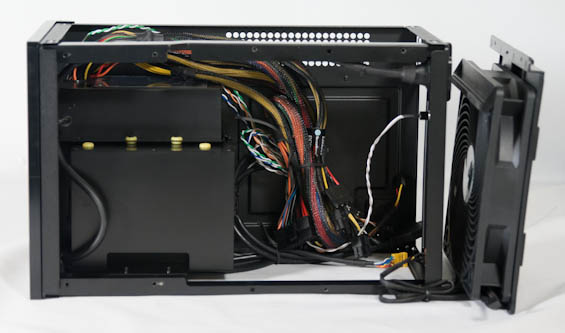 While the interior of the SG08 is fairly intimidating at first, there's always a logic to SilverStone's designs. Like a good sandwich, a "stacking order" must be adhered to. At the top of the case are the intake fan bracket and the slimline optical drive tray. Remove those and you have access to the motherboard tray itself and the storage drive cage. Remove the drive cage and you're left with the preinstalled power supply. It should come as no surprise that interior real estate is at an absolute premium, yet what's perplexing is that SilverStone opted to install the reset button on the back of the case. Leaving it in the front where it typically resides, even recessed, would've been much more ideal, as you now have front panel headers crossing essentially the entirety of the interior.
There aren't really a lot of surprises when it comes to the Sugo SG08. I like the aesthetic overall; it's simple but effective and won't look out of place. It's easy to be intimidated by the internal layout and you can tell almost immediately that closing up is going to be a pain, but when you get down to an enclosure this size, a lot of sacrifices are going to be made. Could the design of the SG08 be simpler? Probably, but how much so I'm not really certain.
Assembling the SilverStone Sugo SG08
As I mentioned on the previous page, assembling a Mini-ITX build is almost never going to be easy. SilverStone doesn't really do "entry level" or "novice" cases, either; their cases aren't overly complicated and they do make sense, but if you're new to building computers they're more challenging than most. The Sugo SG08 doesn't buck this trend. Thankfully, it's about as painless as you could hope for, with only a couple of minor hiccups along the way.
Like most SilverStone cases (and most Mini-ITX cases), assembly of the Sugo SG08 must be done in steps. Nothing in the SG08 is toolless; that's to be expected. After removing the shroud you'll need to unscrew the fan bracket and the slimline optical drive tray. Note that even the shield for the optical drive bay is screwed into place. At this point you'll also want to unscrew the storage drive cage, and you can get started actually putting the SG08 together.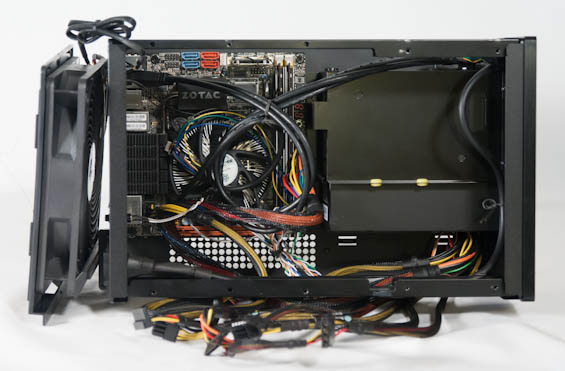 Since there's pretty much only one motherboard form factor going into the SG08, the motherboard standoffs are already installed in the tray. There's exactly enough clearance for you to tilt the motherboard gingerly into the SG08 without getting ticked off about things being in the way, and connecting the case headers isn't too difficult. With the power supply already installed, it also makes sense to wire up the power cables at this juncture before crowding the interior further.
Unfortunately I'm not as sold on the drive cages and expansion slot covers. Slimline optical drives require these epically fiddly, tiny screws, and I feel like better allowances could've been made to getting an optical drive installed securely. I have bad nerves and my hands aren't super steady, so installing a slimline DVD burner required an epic amount of patience and skill. It's one of the few times I've been really happy to be intensely nearsighted; removing my glasses allowed me to see things much more precisely.

As for the storage drive cage, there are rubber vibration dampening rings for the 3.5" drive, but 2.5" drives are only screwed in on one side. The way the other side of the drive just sits on a lip in the tray makes me nervous. SSDs will be a non-issue, but mechanical drives could potentially be more problematic. I feel like the supporting lips of the tray could've been positioned in such a way for you to screw in the sides of the drive and then one of the bottom mounts, which would allow for much more security.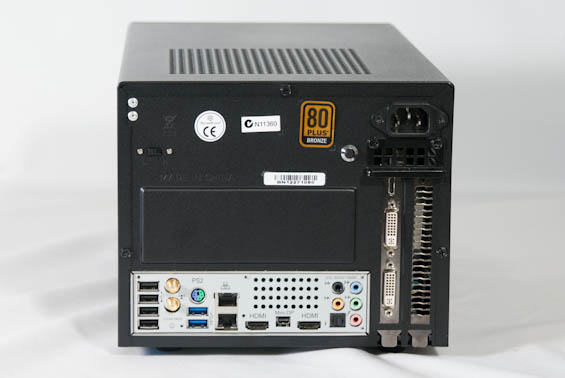 The expansion slots are fine if you're going to fill them both up, but with just the shields in place, they're more problematic. There's a small piece used to cover them held in place by two screws, and that piece has pegs that fit into the screwholes for the slots themselves. The thing is, this solution isn't that secure. With an expansion card being held in place by both the pegs and the expansion slot on the motherboard, it's not really a problem, but if it's just the shields, the situation is a lot more hairy. I've accidentally knocked them out by just tilting the case. I don't think it's a dealbreaker, it's just something to keep in mind.
Getting everything wired and closed up is about as difficult as you'd expect, and there's nothing that can really be done. Make sure the mess of cables inside the case doesn't get into the fan blades on the CPU cooler, though the top intake fan is actually capable of moving so much air you may not even need to plug that cooler in. Thank heaven for small mercies, though: the shroud is actually comparatively easy to replace.
Honestly I was surprised by aspects of the Sugo SG08's design. SilverStone kit is usually pretty well designed, and most of the SG08 is no different, but the loose 2.5" drive seating and the loose expansion slot shields struck me as being odd oversights that could've and should've been corrected. This is an otherwise excellent design given its size, and it surely wouldn't have taken too much to fix these two minor problems.
Testing Methodology
For testing Mini-ITX and Micro-ATX cases, we use the following standardized testbed in a stock configuration as well as with add-on graphics cards to get a feel for how well the case handles heat and noise. As we've retired our Micro-ATX board from the testbed, Micro-ATX enclosures will be using the Mini-ITX testbed.
Each case is tested with just the Core i3's integrated graphics as well as with a discrete graphics card. The system is powered on and left idle for fifteen minutes, the thermal and acoustic results recorded, and then stressed by running four threads in Prime95 (in-place large FFTs) on the CPU, and OC Scanner (maximum load) is run when the dedicated GPU is installed. At the end of fiteen minutes, thermal and acoustic results are recorded. If the enclosure has a fan controller, these tests are repeated for each setting. Ambient temperature is also measured after the fifteen idle minutes but before the stress test and used to calculate the final reported results.
We try to maintain an ambient testing temperature of between 22C and 24C. Non-thermal test results aren't going to be directly comparable to the finest decimal point, but should be roughly comparable and give a broader idea of how the enclosure performs.
Thank You!
Before moving on, we'd like to thank the following vendors for providing us with the hardware used in our testbed.
Noise and Thermal Testing
I've mentioned before that when testing cases, I usually have a decent idea of how things are going to work out. That's a little less obvious with the SilverStone Sugo SG08. I think it's reasonable to expect that the CPU is going to run unbelievably cool with the 180mm fan bearing down on it, but the GPU has no active airflow outside of its own cooler. Smaller enclosures oftentimes also use the actual bulk of the video card to cordon off individual cooling regions, and that may very well happen here.
The Sugo SG08 was tested with the fan at both its low and high settings, and I don't think I'm spoiling anything when I say the high setting is largely unnecessary.
Ambient temperatures during testing hovered around 23C.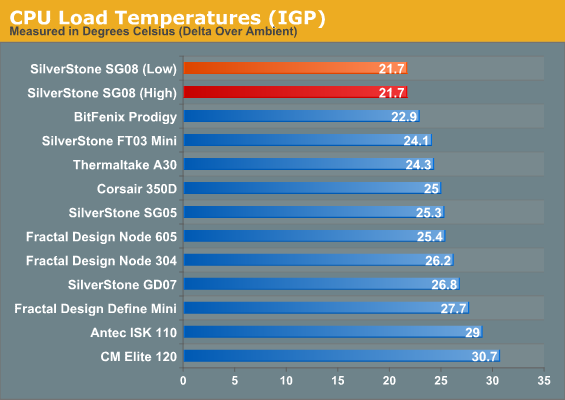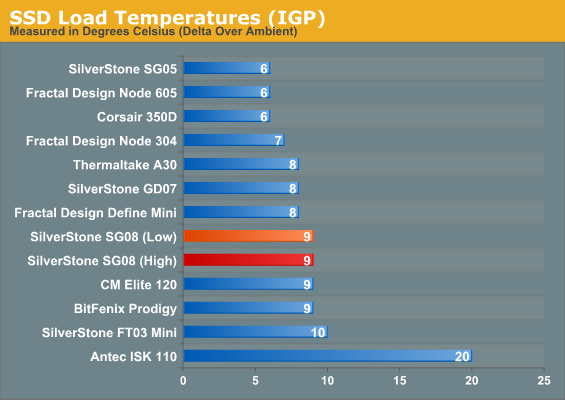 Exactly like I said, the CPU thermals are pretty tough to beat. This was never going to be an issue with the SG08. It's worth noting that a small pocket of heat can build around the drive cage, though; there's no active airflow in that region either, just ventilation. For the most part I doubt that could ever become a serious issue; external hard drives are basically sold shipping in heat coffins and still work reasonably well.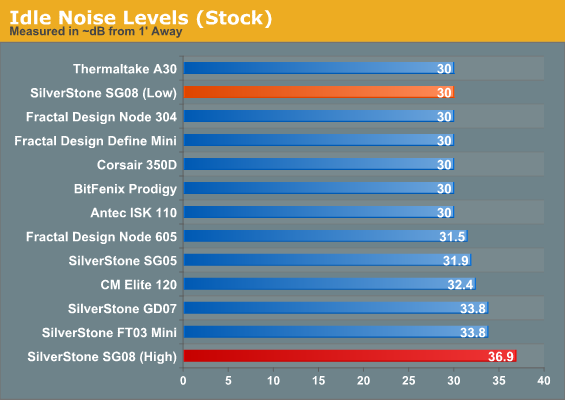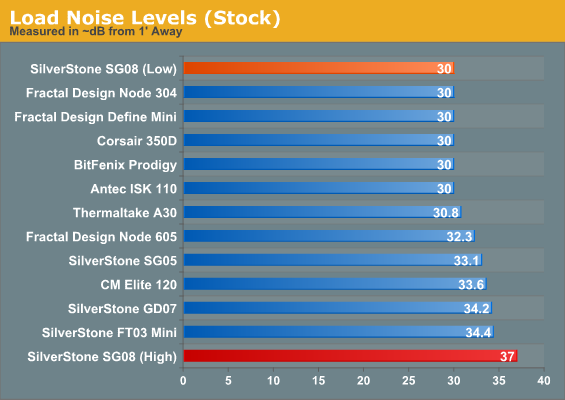 Like I said, basically no reason to run the SG08's fan at high speed, at least in our stock configuration. At low, the SG08 isn't inaudible, but it's very pleasantly quiet.
Adding a low power GeForce to the equation does actually change things a little bit, though.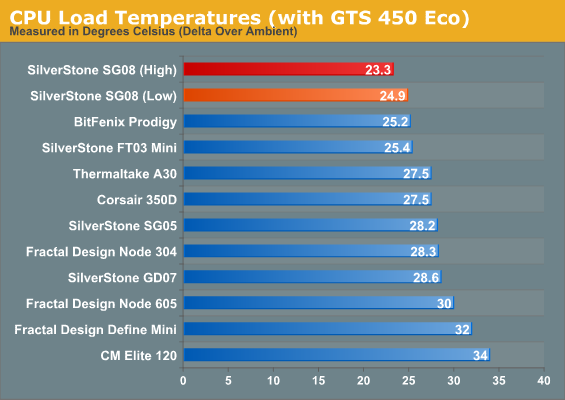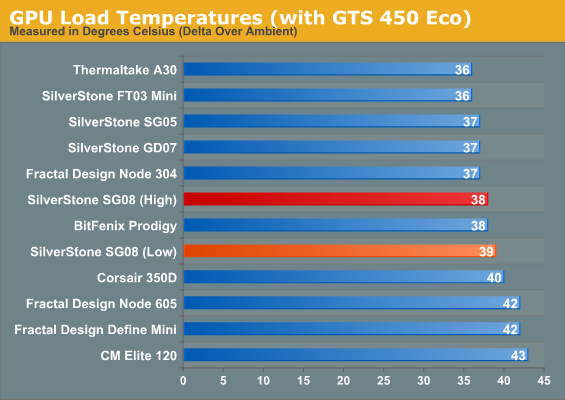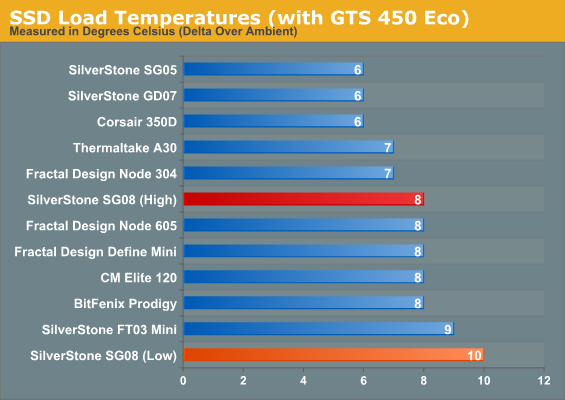 Low fan speed means sacrificing roughly a degree or two for much quieter acoustics, so that's not really a big deal. We do start to see at least a little separation in our results, and the extra heat generated from the video card starts to leak back into that storage pocket.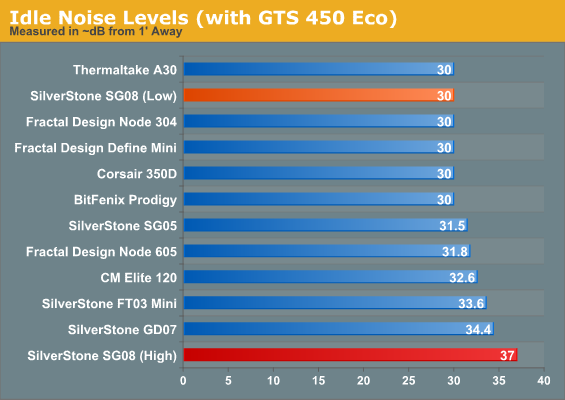 Our normally quiet GTS 450 Eco makes its presence a bit more readily known. Noise levels are still low, but one of the sacrifices made with the SG08 is that there's virtually nothing between you and the cooling fan on the graphics card.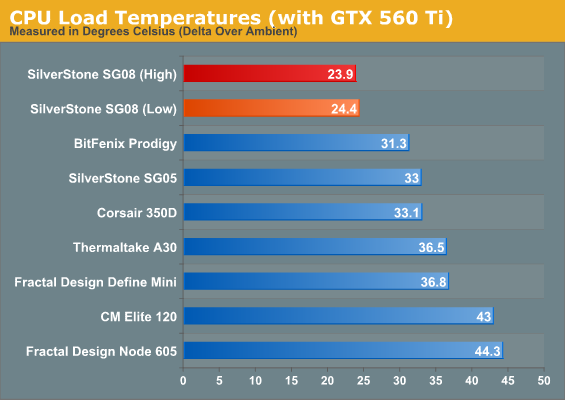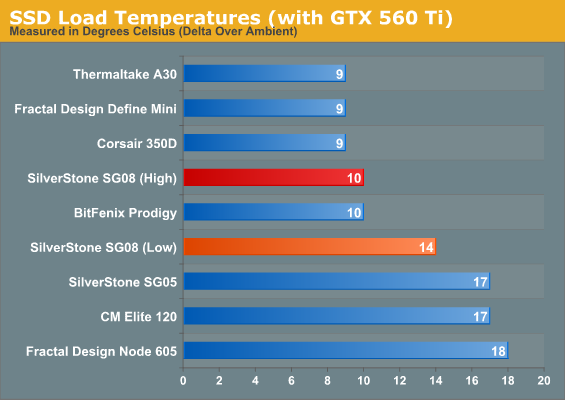 At this point I'm actually kind of amused by the cooling system in the SG08. Virtually nothing doing on the GPU side, leading to some high but still workable temperatures, while the CPU still runs a beefy seven degrees cooler than our previous reigning champion, the BitFenix Prodigy.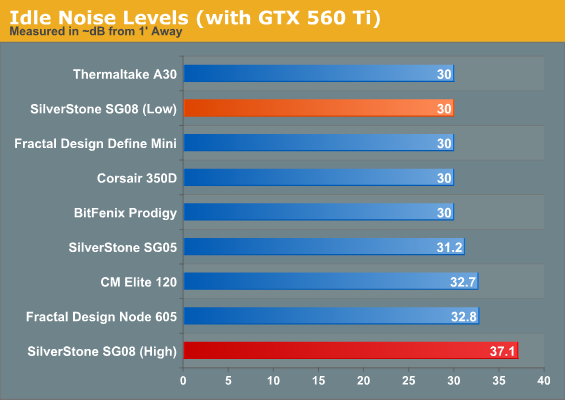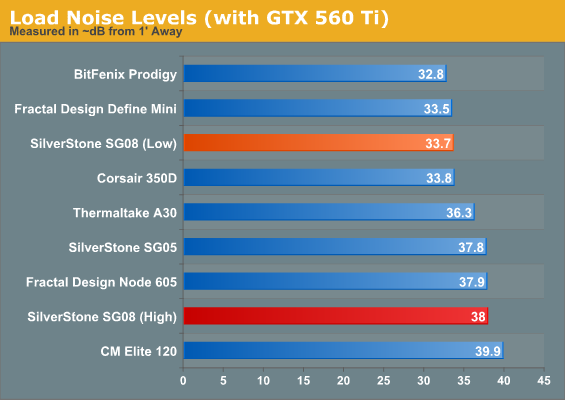 Despite the high GPU temperatures, the SG08 is still one of the quietest Mini-ITX cases when the fan is set to low. That low setting seems to be just plain ideal, even oddly producing slightly better temperatures on the graphics card.
Conclusion: An Imperfect Gem
My experience reviewing the SilverStone Sugo SG08 was a mostly positive one. Mini-ITX cases are never little vacations like Corsair enclosures often are, but SilverStone does enough right with the Sugo SG08 that it's fairly easy to get your head past the usual difficulties.
Build quality and aesthetics on the Sugo SG08 are mostly unimpeachable, as is typical for the company. It's easy to gripe about the ventilation around the case, but there's really no other, better way for SilverStone to handle it. You're dealing with a small, specialized design. Including a power supply was really the only way to go, and SilverStone included one with leads that were exactly long enough for their intended purpose. Not only that, but the PSU is a 600W, 80 Plus Bronze certified small form factor unit, so you're likely to be limited by your hardware selections long before power becomes an issue.
Thermal performance and acoustics are actually surprisingly good, too. SilverStone takes a kind of brute force approach to cooling the CPU, but it's an effective one. I think the SG08's true calling may very well be as a small form factor enthusiast workstation where CPU performance is paramount, because there's an almost comical amount of thermal headroom there. It was easy enough to suggest overclocking would be a non-issue in the BitFenix Prodigy, so what does that make a case that runs the CPU a full seven degrees cooler than the next best competition?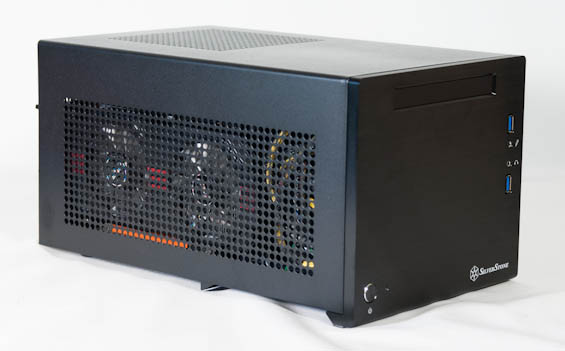 Where things get a little more murky are in some of the design decisions on the SG08, and unfortunately the price as well. The 2.5" drive bays need to be more secure, and I know for a fact that SilverStone has developed better ways of mounting a slimline optical drive than what's on display here. That the reset button is on the back of the case is almost inexplicable and creates an additional cabling inconvenience in an already cramped space, and they needed to do a better job of securing the expansion slot covers. These are minor issues but when you're dealing with a case this small, they do stack up.
As for the price tag, that's a horse of a different color. While I don't think $199 is necessarily unreasonable for a case like the SG08, I do feel like it's too high. The smaller Sugo SG05 is available for $130 (sometimes cheaper) and while you do make a few sacrifices, I still think it's an excellent and more affordable alternative. The perfect price for the SG08 is probably closer to $150 or $160, and if a sale brings it down to around there it's much easier to recommend.
If you're looking to build a small form factor machine, your options are pretty myriad. The BitFenix Prodigy is always a popular choice, and cheap, too, but remember that it doesn't include a power supply and that will bump the price up. I think for most users the Sugo SG05 is probably going to be a perfectly reasonable choice, but if you do need something with a little more oomph and you don't mind the price tag, the SG08 will probably serve you well.