Original Link: http://www.anandtech.com/show/6917/corsair-obsidian-350d-case-review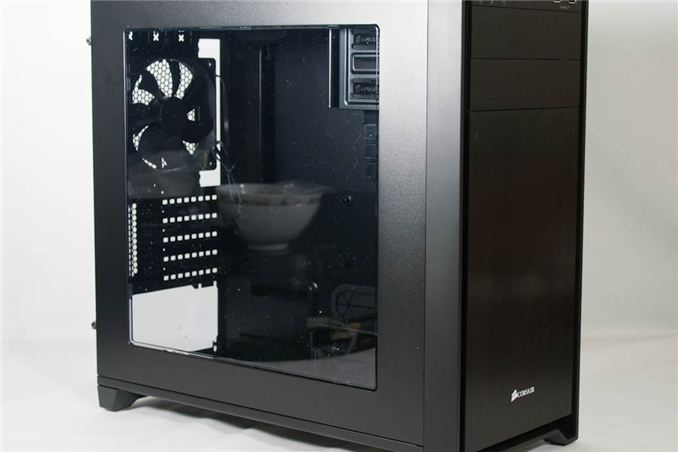 Introducing the Corsair Obsidian 350D
It seems like just yesterday we were talking about Corsair's gargantuan Obsidian 900D, a behemoth designed with the single goal of housing as much computer as you can possibly imagine. The Obsidian 900D supersized the already successful 800D (along with its price tag), and judging from the comments left on the review it's exactly what a lot of the watercooling enthusiasts were waiting for.
What you may not be aware of is the fact that the 900D ran...a little late. I had one of the early review units, and it had actually been sitting in my living room for some time before the new embargo date hit and gave me a deadline. That's part of the reason why we're seeing another case from Corsair as quickly as we are; had the 900D been on time this still would've seemed like a pretty quick turnaround time. Proving someone over there has a sense of humor, though, Corsair is following up their largest case with their smallest.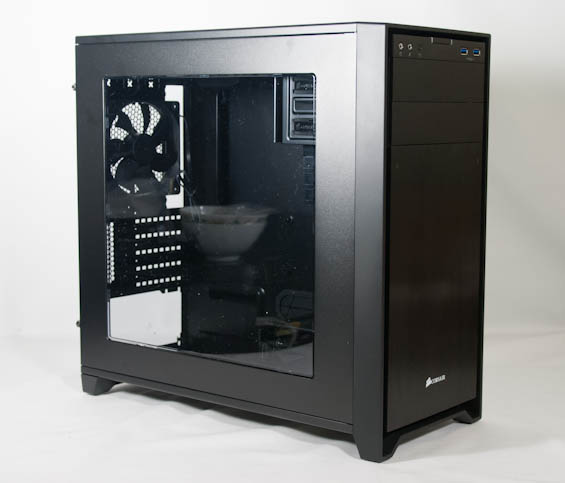 I'm actually a little disappointed that the campaign around the 350D was basically subsumed by the 900D, because of the two cases I think the micro-ATX 350D is actually the more interesting one. With the 900D, the sky is really the limit as to what you can put in it (or more accurately, your wallet is the limit). The 350D, on the other hand, is a case for people who thrive on limitations. That's not to say the case has limitations, per se, but when you're confined to the micro-ATX standard you start having to make creative decisions. As you'll see, Corsair made a few of their own that make the 350D a particularly interesting specimen in what's often one of the most diverse enclosure categories.
Corsair Obsidian 350D Specifications
Motherboard Form Factor
Mini-ITX, Micro-ATX
Drive Bays
External
2x 5.25"
Internal
3x 2.5", 2x 3.5"
Cooling
Front
1x 140mm intake fan (supports 2x 120mm/140mm)
Rear
1x 120mm exhaust fan
Top
2x 120mm/140mm fan mount
Side
-
Bottom
-
Expansion Slots
5
I/O Port
2x USB 3.0, 1x Headphone, 1x Mic
Power Supply Size
ATX
Clearances
HSF
160mm
PSU
200mm
GPU
300mm
Dimensions
17.3" x 8.3" x 17.7"
440mm x 210mm x 450mm
Weight
13.3 lbs. / 6.1 kg
Special Features
USB 3.0 via internal header
Removable drive cages
Removable filters on intakes and bottom
Supports 280mm radiators
Price
$99/$109 (without window/with window) MSRP
What needs to be considered in evaluating the Corsair Obsidian 350D is that this case is pretty clearly designed capitalize on liquid cooling. While my experiences with Corsair's closed loop coolers have been inconsistent, everyone benefits from them having a 280mm cooler like the H110 in their lineup. The existence of a 280mm cooler in Corsair's portfolio doesn't necessarily demand they include a place to mount it in all subsequent case designs, but it makes a convincing argument.
The reviewer's guide makes a big deal about using the 350D for water cooling, both with Corsair's products and with custom loops. There are five total fan mounts, and all of them support radiators: the top of the case features two 120mm/140mm mounts, the front of the case features another pair of 120mm/140mm mounts (and the 3.5" drive cage is removable), and then the rear of the case features a 120mm fan mount. What does surprise me is that Corsair opted not to include an additional fan mount beneath the drive cage, in the bottom of the case. It feels like a missed opportunity.
In and Around the Corsair Obsidian 350D
It wasn't that long ago at all that I reviewed Fractal Design's Define Mini; part of that was due to a personal interest in the enclosure, and part of it was due to Corsair's impending launch of the Obsidian 350D. What struck me about the 350D when I unboxed it, though, was how much lighter it was. The Define Mini is designed for silence first, so acoustic padding and thicker steel panels and construction take their toll on its weight and overall mass, but the 350D is so light it feels like it's just this side of flimsy. I will say this: the 350D is a looker.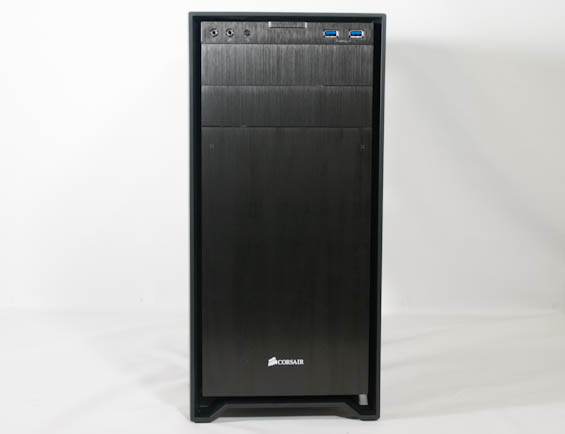 Corsair's styling with the Obsidian series carries over from the 900D to the fun size 350D, and it's all class. The fascia of the 350D is a combination of brushed aluminum and plastic, all black, and very attractive. There are just two 5.25" bays (thankfully), and Corsair's engineers hide the front ventilation around an extruded panel. That means no unsightly fans or grills, but a healthy amount of airflow. That panel also flips forward, allowing you to remove and clean the filter. Above the 5.25" bays is the power button, a pair of USB 3.0 ports, the audio jacks, and a recessed reset button. On either side of the power button are white LEDs.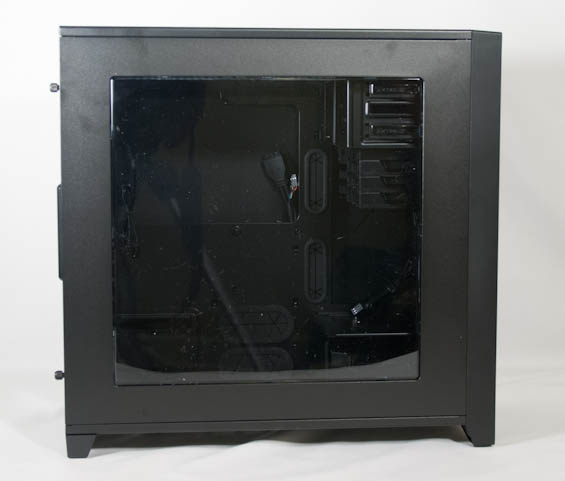 Depending on which version of the 350D you get, the left side panel may be either almost entirely an acrylic window or a completely solid panel like the right side one. The window itself is absolutely huge; again, no stylization apart from just being big enough to show you the entire interior of the case. If users are going to ask to see inside the case, why not let them see the whole thing? As for the rest of the 350D's exterior, the top sports the pair of 120mm/140mm fan mounts with an ever so slightly unsightly grill while the back is almost business as usual. Corsair did make one extremely smart choice: five expansion slots instead of four allows for boards like Gigabyte's micro-ATX lineup to be used in dual-GPU configurations.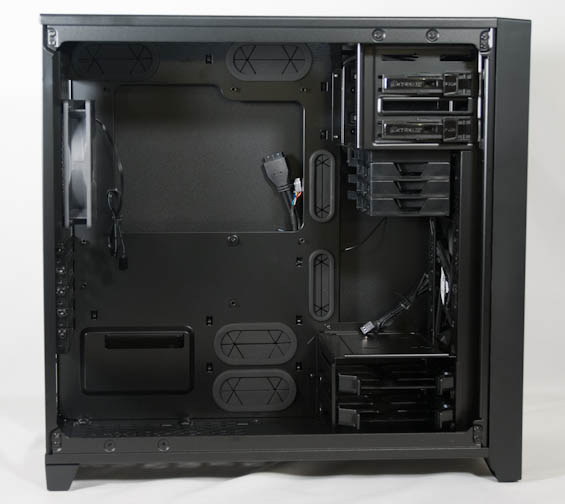 I knew it was going to be an easy review when I removed the thumbscrews from the side panels and they hinged open. It's the kind of thing that reminds me of why I like working with Corsair cases as much as I do; while the 900D was difficult to work with by virtue of its sheer mass, the 350D exhibits all the earmarks of Corsair's attention to ease of use. That means hinged panels, a mounting stud in the center of the motherboard tray, built-in motherboard standoffs, and smartly arranged cable routing holes.
Where the interior of the 350D gets really interesting to me is the fact that all of the drive bays are toolless. Corsair created a custom, stackable plastic cage specifically for 2.5" drives and while it looks a little chintzy, it works beautifully. Also pay attention to the cable routing holes near the power supply bay; instead of one large opening, Corsair actually bisects the opening, allowing you to organize which leads go where. If you're using a modular power supply, leads from the top row of connectors can neatly go through the top opening, while leads from the bottom row of connectors can route through the bottom. It's not a major feature and it's not going to headline anything, but it speaks of an attention to detail.
It's unprofessional to fawn over a product, but the more time I spent manipulating the 350D for photography, the more interested I became in actually testing it. There are plenty of good micro-ATX cases out there, and each serves its own purpose, but the 350D is the first one I've seen that really aggressively courts the liquid cooling enthusiast. Better still, it's coming from Corsair, which means that usability is going to be a non-issue. I like how the 350D looks, and I like how it comes apart and back together. This is a smart design, and while superficially similar to standard ATX, it's nuanced in all the right ways.
Assembling the Corsair Obsidian 350D
I'm going to point out that the Corsair Obsidian 350D arrived in my hot little hands less than 24 hours before this review went up. Midnight oil was burned, a housecat was shamefully ignored, a Blue Moon was consumed, and had this enclosure come from any other vendor this review might not be up right now. This will be the 75th case I've reviewed, and I've gotten pretty quick at putting these bad boys together, but that depends heavily on the case itself not having any unusual quirks or hiccups. While the 350D's instruction manual isn't particularly instructional, assembly turned out to be as painless as I've come to expect.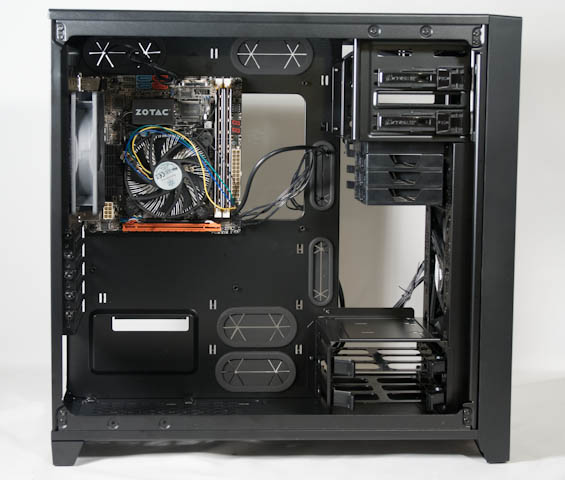 This is the easiest time I've had installing an I/O shield for the motherboard, and then the motherboard itself was tremendously easy to install simply because Corsair included an alignment stud in the center of the motherboard tray. In the case of the mini-ITX board being used for testing, that meant popping that stud into the top right corner of the board, lining it up with the I/O shield, and then just screwing it in. The case's cables and headers are all long enough to easily connect to the motherboard without leaving too much excess.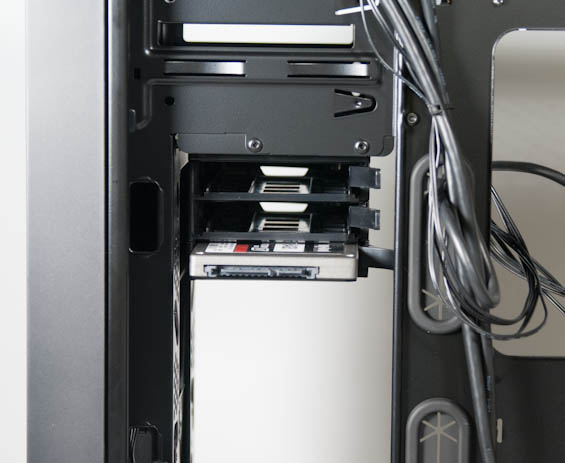 Installing the drives was just as painless. The shields for the 5.25" drive bays pop out by squeezing two wedges inside the bay, and the toolless mechanism used to secure the optical drive does its job well. What I appreciated was attention finally being paid to making 2.5" drive installation toolless. I've seen strides from other vendors towards making this more common, and while the 2.5" plastic segmented drive cage Corsair uses looks a little clunky, it works extremely well. 2.5" drives are inserted from behind the motherboard tray and a plastic wedge holds them in place. It's a surprisingly secure design. 3.5" drives use the same old plastic trays Corsair's been using for a while and if anything, these probably need a minor update. They get the job done, but they're at least a little flimsy.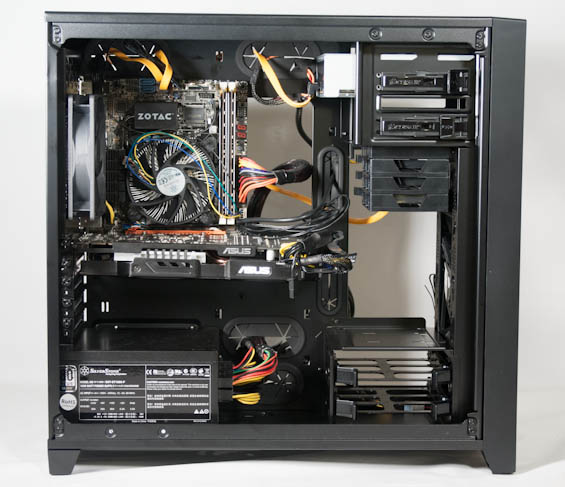 I could go on about how easy it was to install the power supply and graphics card and wire everything, but the reality is that everything went swimmingly. The pair of routing holes for the power supply cables worked as well as I'd expected, and Corsair has ultimately made a case somehow even easier to build a system in. I might gripe a little about the slightly cramped quarters behind the motherboard tray, but the hinged side panel goes a long way towards alleviating any frustration that might cause. Honestly, the only hiccup I ran into was that the front intake fan uses a 3-pin connector but the testbed motherboard can't support it, and Corsair didn't include any allowances for that. I wound up having to use a molex adapter, and I do think it would've been prudent of Corsair to include one. Some boards only include headers for a CPU fan and a system fan.
Worth noting is that the space above the motherboard tray is copious, but if you opt to install a 280mm radiator, it will intrude upon the top 5.25" drive bay. This is unfortunately a sacrifice made in allowing for this compatibility in a case as small as the 350D is. The 350D is about two inches taller than the competing Fractal Design Define Mini (owing to the fifth expansion slot and the radiator headroom), but it's also two inches shallower, and it offers amenities the Define Mini lacks.
Testing Methodology
For testing Mini-ITX and Micro-ATX cases, we use the following standardized testbed in a stock configuration as well as with add-on graphics cards to get a feel for how well the case handles heat and noise. As we've retired our Micro-ATX board from the testbed, Micro-ATX enclosures will be using the Mini-ITX testbed.
Each case is tested with just the Core i3's integrated graphics as well as with a discrete graphics card. The system is powered on and left idle for fifteen minutes, the thermal and acoustic results recorded, and then stressed by running four threads in Prime95 (in-place large FFTs) on the CPU, and OC Scanner (maximum load) is run when the dedicated GPU is installed. At the end of fiteen minutes, thermal and acoustic results are recorded. If the enclosure has a fan controller, these tests are repeated for each setting. Ambient temperature is also measured after the fifteen idle minutes but before the stress test and used to calculate the final reported results.
We try to maintain an ambient testing temperature of between 22C and 24C. Non-thermal test results aren't going to be directly comparable to the finest decimal point, but should be roughly comparable and give a broader idea of how the enclosure performs.
Thank You!
Before moving on, we'd like to thank the following vendors for providing us with the hardware used in our testbed.
Noise and Thermal Testing
If the noise and thermal testing bordered on being academic for the Fractal Design Define Mini, it's even more out of place with the Corsair Obsidian 350D. The Define Mini lends itself well to liquid cooling, but the 350D was outright designed for it, and that substantially reduces the importance of air cooling performance. As a result, our conventional testing isn't just beneath the 350D's pay grade, it's not even at the same place of business.
With all that said, though, there are still a few things to learn here. Remember that the 350D starts at $99, making it an affordable enough starting point for the end user who just wants a classy, easy-to-build chassis.
Ambient temperature during testing was around 22C.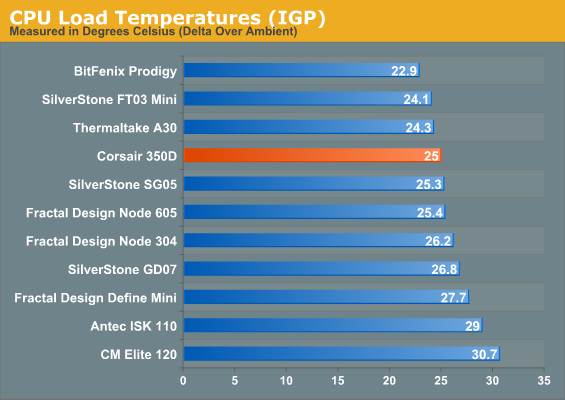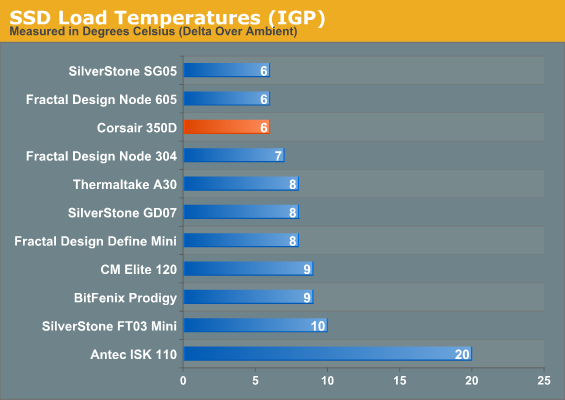 Thermally the Obsidian 350D puts in a fairly healthy performance. Competitive without being spectacular, it mostly suffers from being an offshoot of the basic ATX case design. Air cooling thermals have never been Corsair's strong suit, but they've always been workable, and the 350D continues that trend.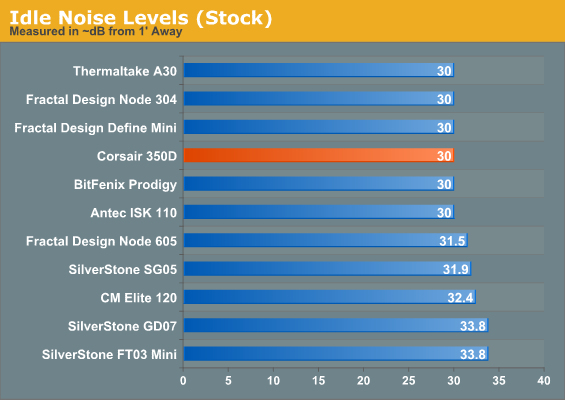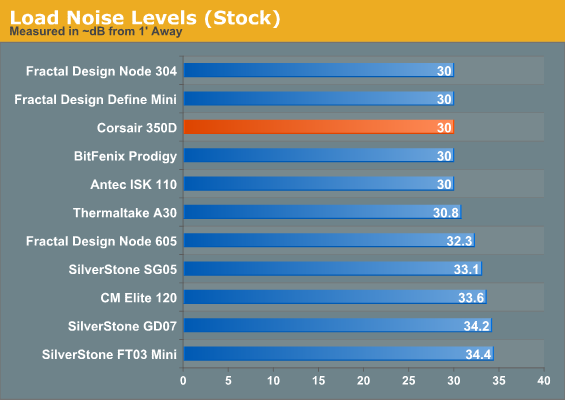 Because the 350D is able to keep thermals reasonably low, noise stays low as well. The vanilla testbed is nowhere near stressful enough to really work the 350D.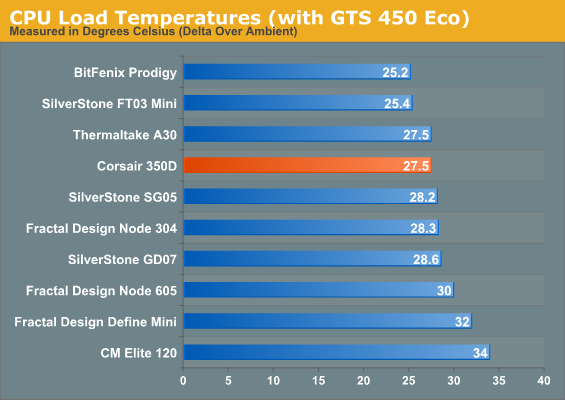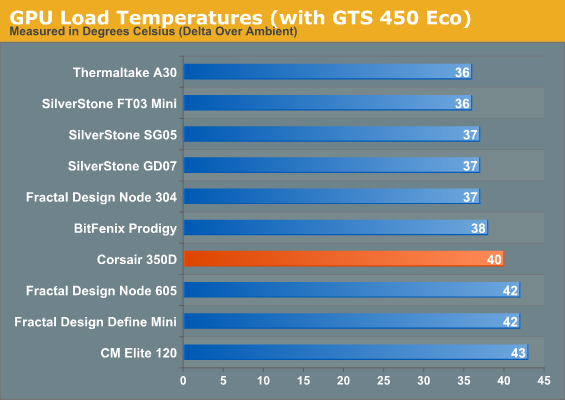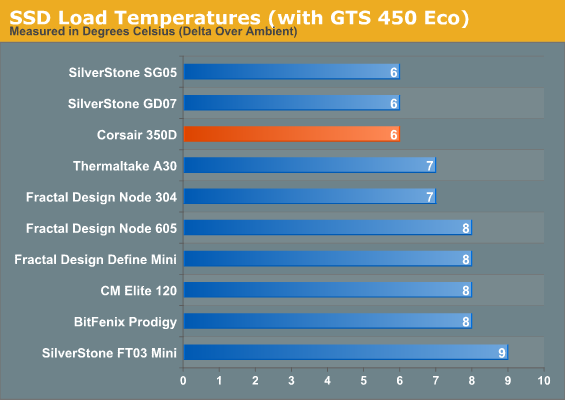 When you add even a modest dedicated graphics card, Corsair starts playing that old familiar song. The plastic "cage" used for the SSD doesn't seem to be particularly detrimental to its temperatures, but even the direct airflow from the front fan onto the GTS 450 Eco isn't really adequate. CPU thermals remain solid, though.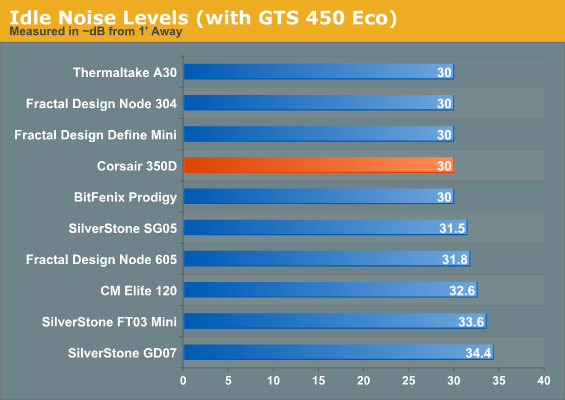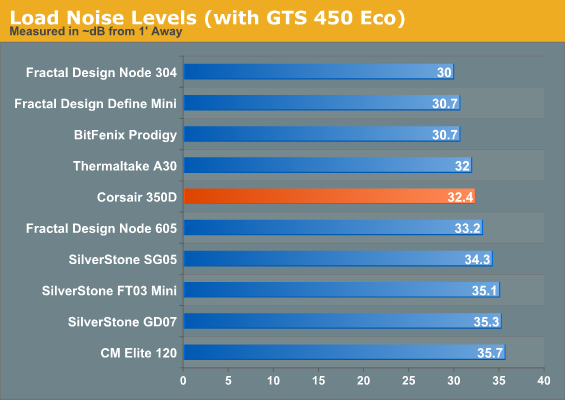 Idle noise continues to be a non-issue. Load noise isn't terrible, but it's not very impressive, either. While Fractal Design's case has a lot of acoustic padding and is built with heavy steel to help insulate noise, the 350D has no such allowances, and noise becomes entirely dependent on the efficiency of the cooling system.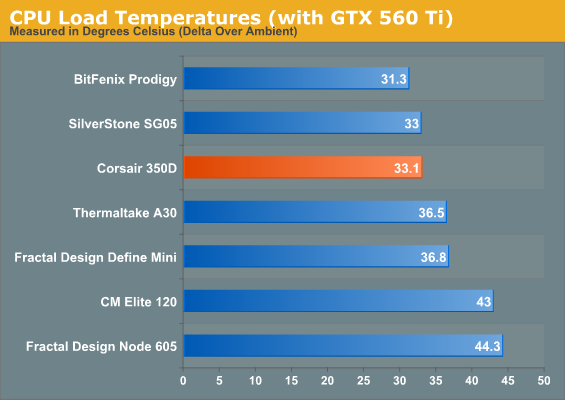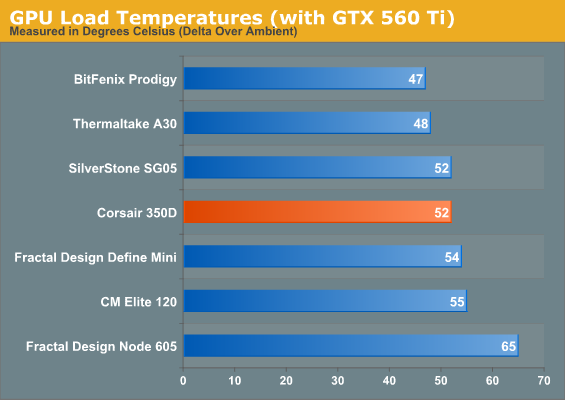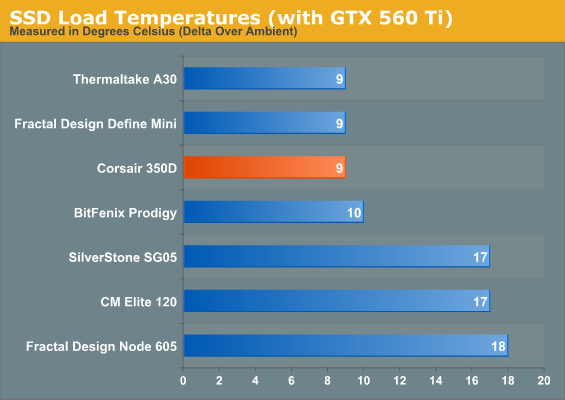 Adding a more robust video card only reinforces what we've already learned. CPU cooling performance is above average, but GPU cooling performance continues to be middling. These cards are using open air coolers that will tax the case's cooling system, and the middling stock cooling (one 140mm intake and one 120mm exhaust in their typical ATX locations) doesn't do the 350D any favors.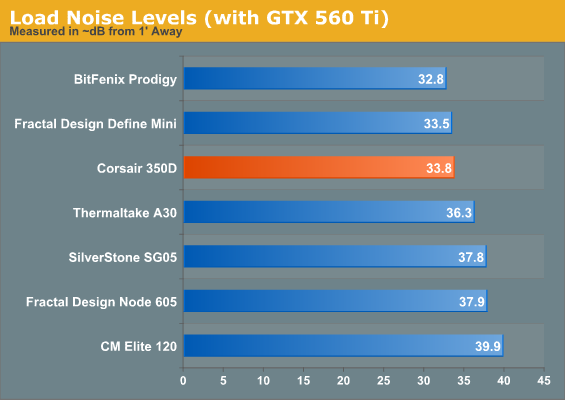 Noise levels are reasonable. The cooler on our GTX 560 Ti can be pretty rough on any enclosure (and is outright hostile when the 560 is overclocked), but at least the 350D isn't getting overwhelmed.
Conclusion: Might Be What You Were Waiting For
I have to speak candidly: I haven't been particularly impressed with the last couple of releases from Corsair. Their initial enclosure offerings started out fairly strong; the 800D is a good halo product, the 700D made it more accessible, and the Graphite 600T continues to be an attractive and unique enclosure. There was a very clear chain of progress as Corsair gradually began fleshing out less and less expensive enclosures in their lineup, right up until it seemed like they jumped the shark with the Vengeance C70. The C70 isn't a bad case, but it didn't address what had increasingly been the major failing of Corsair's enclosures: thermal performance. Corsair's cases were never terrible at air cooling, but they were consistently getting co-opted for more forgiving liquid cooling.
After the C70 we had the Carbide 200R, which proved (to me, at least) that you could build a Corsair enclosure too cheaply. I know a lot of people really liked the Obsidian 900D and I can't hold court against it, but it wasn't what I wanted to see from Corsair. It wasn't what I was asking for, and it wasn't really progress for them, just the natural extension of what we already knew they were good at.
I may be heavily biased towards the Obsidian 350D, though. I like small cases, and I really like small cases with big ambitions. The 350D is yet further evidence that Corsair can produce a halfway decent liquid cooling case, but it also demonstrates more of a willingness to innovate than many of the previous enclosures have. A good liquid cooling micro-ATX enclosure is a lot dicier a proposition; you can gamble with a Xigmatek or one of the five million Lian Li models out there, but the 350D feels singularly purpose driven.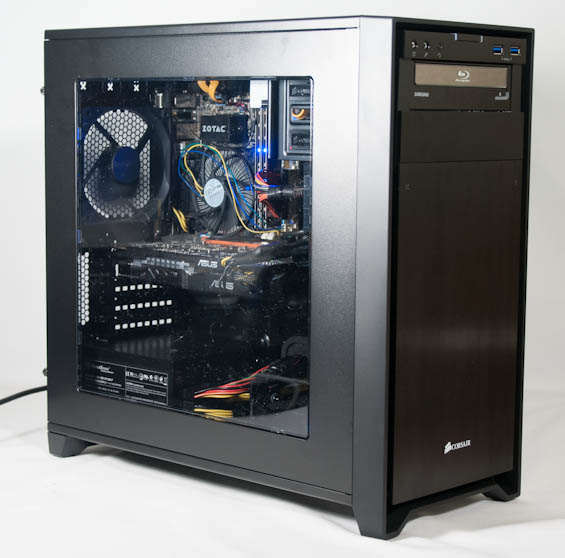 There are some really daring decisions inside the 350D if you're willing to look for them. Including not just the mounts but the headroom for a 280mm radiator in a micro-ATX case is gutsy. Deprecating 5.25" drive bays is par for the course for a micro-ATX enclosure, but look at how Corsair deprecated the 3.5" drive bays. The 2.5" and 3.5" cages are removable, but in many ways it seems clear to me that Corsair doesn't intend for that bottom cage to stay there, and the fact that it only holds two drives further cements that notion. Meanwhile the 2.5" cage is an oddly stackable design, where individual trays can be added or removed as needed. It's also toolless, which pays due to the fact that 2.5" drives and especially SSDs are increasingly the direction things are moving in. This year is seeing the release of terabyte SSDs from multiple different vendors, all in that 2.5" form factor.

Ultimately I think the 350D is like a breath of life from a company that seemed like it was slowly becoming conservative and resting on its laurels. Corsair already fleshed out their case line; they're at the stage where they need to innovate (oh I do hate that buzzword) and while you can argue that the 900D fell along those lines, many of their other recent releases did not. But the Obsidian 350D is in many ways a case that I personally wanted. As I mentioned before, micro-ATX cases have an unusual tendency toward some kind of specialization, and Corsair gave us one that had at least some aspirations towards being a strong liquid cooling enclosure, something genuinely rarefied up until this point.
The price is right, the build quality is there, and the ease of assembly is there. Corsair was able to bring the Obsidian aesthetic and increasingly its philosophy down to a new price point, and while stock cooling is only slightly less underwhelming than the 900D's was, everything else lines up pretty well. No one else is going to give you a micro-ATX case with a 280mm radiator mount, let alone one as well built and easy to use as this one is, and Corsair's not gouging you for it, either. I'd say that makes it Bronze Editor's Choice award material.