Original Link: http://www.anandtech.com/show/6916/cooler-master-seidon-240m-and-12-more-coolers-the-retest-and-megaroundup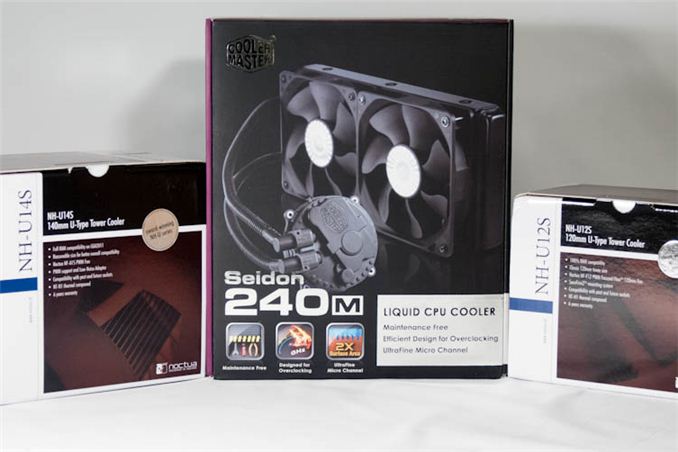 Cooler Testing Revisited
Until recently we haven't been very aggressive in testing CPU cooling methods. I'd been busy with notebooks, desktops, cases, and peripherals, but good and consistent writers are hard to come by in this industry, and eventually I couldn't say no. Tentatively, I gave it the old college try, starting with two radiator fan roundups and then doing multiple liquid cooling roundups. Interestingly, it was when more conventional air cooling popped up on my radar that things got complicated.
The cooling testbed was and is solid. We use a 200mm BitFenix Spectre Pro that's throttled to 5V as an intake, and that's in the front of a BitFenix Shinobi XL enclosure, a case which is almost perfect for our needs. The low speed on the Spectre Pro allows for intake of cool air without negatively affecting noise testing, and for closed loop liquid cooling, this is fine. Where things get more dicey is when you introduce an air cooler into the testbed, because as a couple of you rightfully pointed out, without an exhaust fan to direct air, air coolers suffer tremendously performance wise. To be certain I took our original testbed, added a 140mm Noctua fan with a low noise adaptor, and mounted it to the rear exhaust of the Shinobi XL. Even with a minimally powered exhaust fan, the differences in performance were pronounced. Since this is the situation air coolers will typically find themselves in, I'm now using that exhaust fan for testing air coolers. Closed loop coolers continue to do without.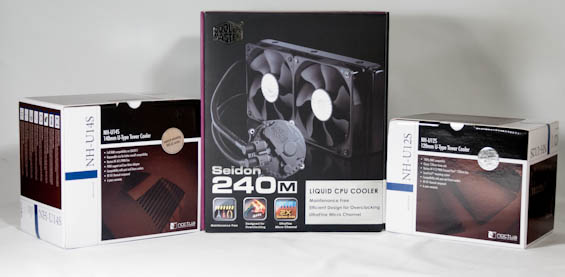 There was one other wrinkle with the existing testbed: our motherboard just wasn't especially stable, and if it crashed, it was difficult to get it to post again. Recently, this became easy to remedy: the micro-ATX board I was originally using for case testing was retired in favor of a full ATX board. Switching over to the Gigabyte GA-Z68MX-UD2H-B3 meant having a more reliable and more fearsome overclock on the Intel Core i7-2700K. Now the chip runs hotter, the socket lines up correctly with the hole in the case's motherboard tray, and it's more stable overall.
Of course all of these changes mean one important thing: a lot of coolers needed to be retested under these more stressful (but also sometimes more ideal) conditions. To be sure, the previous roundups are still useful for comparing products in their individual categories, but now liquid coolers aren't the juggernauts they used to be. Out of the coolers we've already tested, I selected ten to be revisited: five air coolers and five closed loop liquid coolers.
Coinciding with these revisions is our evaluation of Cooler Master's Seidon 240M closed loop cooler along with two new tower coolers from Noctua, the NH-U12S and NH-U14S, both of which were designed to create clearance for memory modules with tall heatsinks. The Seidon 240M is noteworthy because it's not directly sourced from Asetek or CoolIT Systems as many of these products are, and uses a proprietary waterblock design that theoretically improves overall cooling performance.
The Cooler Master Seidon 240M
It's easy to mistake the Cooler Master Seidon 240M as another Asetek design; apparently Asetek thought it was close enough that it was worth suing Cooler Master over. How that suit pans out remains to be seen, but the Seidon 240M definitely has enough distinctive characteristics to make it worth evaluating on its own.
Cooler Master may not have been doing well in our recent radiator fan roundups, but the two fans they've included for the Seidon 240M's 240mm radiator appear to be the same breed as the fan they use on the widely loved (and rightfully so) Hyper 212 Evo air cooler. Unfortunately, while the waterblock is copper and of Cooler Master's own design, the radiator uses aluminum fins much like competing units from Asetek and CoolIT, and you'll see later that this does have a tangible negative impact on performance.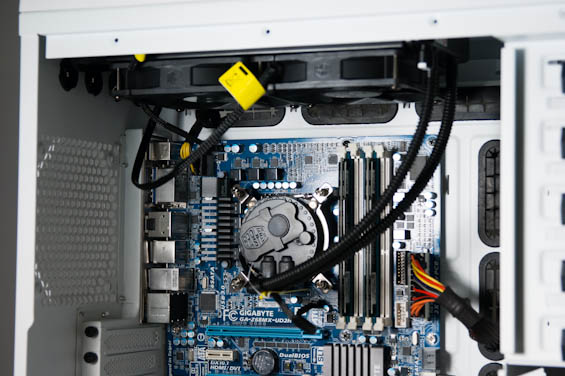 Where Cooler Master beats just about everyone else, though, is in their mounting system. The mount for the waterblock is freakishly simple and secure; there are a pair of brackets that get screwed on to the waterblock (one for AMD and one for Intel), along with an adjustable backplate that comes out of the box ready for LGA 1155/1156. Four screws come up through the mounting holes in the motherboard, and then bolts attach to those. The brackets attached to the waterblock then screw into those bolts. It's actually a very simple design and nowhere near as finicky as Asetek's, CoolIT's, or even Swiftech's.
As for fan control, Cooler Master is a step ahead of Corsair's H90 and H110 coolers: the pump uses a standard 3-pin connector and can be connected to any motherboard fan header, while there's a splitter for the two PWM fans included to use the single CPU fan PWM header on the motherboard. No proprietary software, just clean use of the motherboard's integrated fan control. I honestly prefer this approach to Corsair's Corsair Link software and NZXT's Kraken Control, but your mileage may vary.
The Noctua NH-U12S and NH-U14S
Noctua shipped us a shiny new pair of recently launched coolers designed specifically to be used in systems that have RAM with tall heatsinks. They're both pretty interesting beasts in their own rights, particularly because they're just...not the exceptionally beefy high performance air coolers we've come to expect. Or at least they don't look it.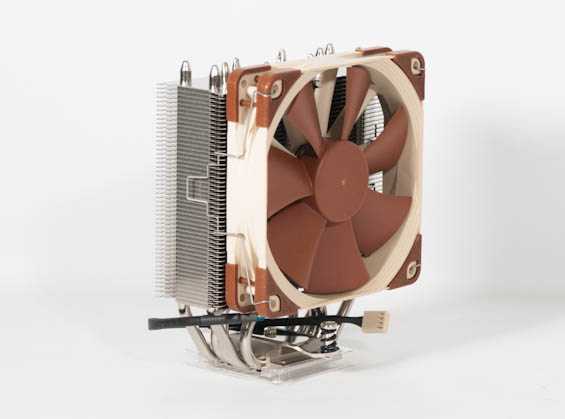 The smaller of the two is the deceptively plain-looking NH-U12S, which sports one of Noctua's standard 120mm PWM-driven fans. Noctua includes clips that allow you to attach a second 120mm fan, but in testing the benefits were negligible at best, offering a substantial increase in noise for 2C better performance at most. Note that these coolers aren't yet available on NewEgg, but are clearly meant to replace older versions that use Noctua's older mounting scheme. The NH-U12S has an MSRP of ~$65, so despite its small stature we're still not in the realm of entry level.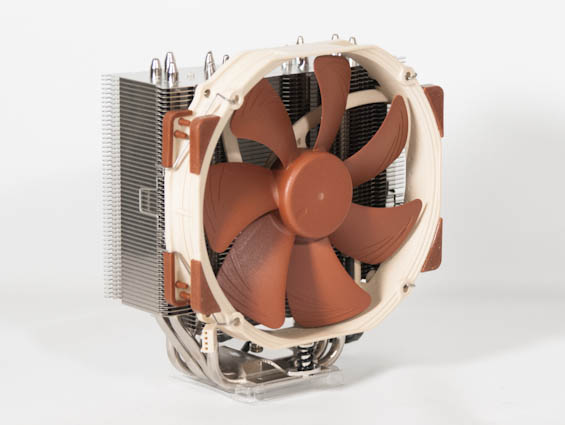 This monster is the NH-U14S, which uses Noctua's special NF-A15 PWM fan. This is a 150mm fan designed to occupy the same space as a 140mm fan, but uses 120mm fan mounting. Given that it's a larger fan that can be mounted in smaller spaces, it's interesting enough unto itself, but here Noctua pairs it with a heatsink designed to take advantage of its unusual profile. This one also accepts a second fan, but like its smaller sibling, sees no real benefit from it. MSRP is a more punishing ~$75, and unlike the NH-U12S, the NH-U14S can and will intrude on the top PCI Express slot.
Both coolers come with Noctua's new "SecuFirm 2" mounting kits for both Intel and AMD, and the packages on the whole are of excellent quality. The clipped on fans are both secure and easy to remove and replace, and the backplate is easy to mount. In both packages, Noctua includes a healthy amount of extras: a PWM splitter for adding a second fan, clips for adding a second fan, ultra low noise in-line adapters, and their own thermal material. The instructions are also detailed and full color.
Noctua products are, facing facts, fairly premium stuff. They have premium prices, but thankfully they feel high quality. Everything about the presentation is top notch. The high class presentation seems to be common with some European companies; Swiftech's package for the H220 is extremely smart, with the cooler already assembled, fans already attached, and pretty much ready to be mounted. Likewise, all of the be quiet! gear I've tested has come with a healthy amount of accessories for the cat to steal.
Spec Tables
Today we're looking at six closed loop liquid coolers from NZXT, Corsair, Swiftech, and now Cooler Master. Representing Asetek are the Kraken X40 and X60 from NZXT as their packages are ultimately more feature rich than Corsair's curiously barebones implementations of the 140mm and 280mm Asetek coolers in the H90 and H110. Corsair's H80i and H100i are both popular models, so they fill in on 120mm and 240mm duty. As the best performing 240mm cooler I've tested, owing at least partially to the copper and brass radiator, the Swiftech H220 demanded to be retested. This time we're using a retail kit as well, instead of the preproduction press model we tested with before. And finally there's Cooler Master's Seidon 240M, which we discussed earlier.
| | | | |
| --- | --- | --- | --- |
| | Corsair H80i | Corsair H100i | Swiftech H220 |
| Type | 120mm | 240mm | 240mm |
| Dimensions (in mm) | 120x152x38 | 120x275x27 | 127x269x29 |
| Fans (Supported) | 2 (2) | 2 (4) | 2 (4) |
| OEM | CoolIT | CoolIT | N/A |
| MSRP (NewEgg) | $109 ($89) | $119 ($105) | $139 ($139) |
| | | | |
| --- | --- | --- | --- |
| | NZXT Kraken X40 | NZXT Kraken X60 | Cooler Master Seidon 240M |
| Type | 140mm | 280mm | 240mm |
| Dimensions (in mm) | 138.4x172.5x27 | 138.4x312.5x27 | 120x273x27 |
| Fans (Supported) | 1 (2) | 2 (4) | 2 (4) |
| OEM | Asetek | Asetek | N/A |
| MSRP (NewEgg) | $99 ($99) | $139 ($136) | $99 ($109) |
The competition is interesting. Corsair's H80i, at least for now, doesn't have to directly compete with anything on our charts except similarly priced air coolers. At 240mm, though, we have the H100i and Seidon 240M squaring off against each other, while the Swiftech H220 is more expensive owing to its higher quality radiator and vastly more powerful pump. Meanwhile the Kraken X60 is the definition of niche, though 280mm radiator mounts are becoming increasingly common in modern cases.
For the Kraken X40, I decided to try something different during testing. The X40 performed pretty poorly in our last roundup against competing 120mm kits, and I wondered if NZXT and Corsair hadn't hamstrung themselves by only including one fan. To even the odds, I swiped a fan from the X60 and attached it to the X40 in a push-pull configuration, and you'll see it made a huge difference.
Meanwhile, for air coolers, I elected to drop all of the DeepCool coolers as well as the Noctua NH-L9i. The Intel stock cooler also wasn't tested. I actually used the Noctua NH-L12 with just the 92mm fan as an upper heat bound; this is a notably more powerful solution than Intel's stock cooler, but it still had trouble keeping our overclocked i7-2700K under 100C.
| | | | | |
| --- | --- | --- | --- | --- |
| | Noctua NH-D14 | Noctua NH-L12 | Noctua NH-U12S | Noctua NH-U14S |
| Dimensions (in mm) | 158x126x120 | 93x128x150 | 158x125x71 | 165x150x78 |
| Fans (Supported) | 1x 140mm & 1x 120mm (3) | 1x 120mm & 1x 90mm (2) | 1x 120mm (2) | 1x 150mm (2) |
| Weight | 1240g | 680g | 755g | 935g |
| Rated Noise in dB(A) | 13.2~19.8 | 13.1~22.4 | Up to 22.4 | Up to 24.6 |
| Price at NewEgg | $81 | $69 | $65 | $75 |
| | | | |
| --- | --- | --- | --- |
| | SilverStone Heligon HE01 | be quiet! Dark Rock Pro 2 | CM Hyper 212 EVO |
| Dimensions (in mm) | 140x119x160 | 147x138x166 | 120x80x159 |
| Fans (Supported) | 140mm (3) | 1x 120mm & 1x 135mm (2) | 120mm (2) |
| Weight | 926g (w/o fan) | 1250g | 580g |
| Rated Noise in dB(A) | 18~41 | 13.5~26.4 | 9~36 |
| Price at NewEgg | $75 | $99 | $33 |
The two new Noctua coolers were included, but they don't have listings on NewEgg for pricing as of this posting. They're expected to be available soon. What will be interesting will be seeing how the addition of even a low-powered exhaust fan affects this group of coolers.
Testing Methodology
If you've been keeping up with our case reviews, our testing methodology for the fans here is going to seem relatively similar in some ways. Our test system may seem a bit unusual in more than a few ways, but stick with me and I'll explain why I put it together and tested it the way I did.
The processor, with its healthy voltage boost and overclock, throws a pretty substantial amount of heat at our cooling system. Testing with an i7-2700K at stock speeds would defeat the purpose; Intel's own stock cooler can handle that, we want to "separate the men from the boys" so to speak.
I needed a case that could produce adequate airflow, handle all of the different cooling systems without much trouble, and did not include any sound dampening features. You might be surprised at just how difficult that was to find, but BitFenix came to the rescue and sent over a Shinobi XL. BitFenix's enclosure didn't get the best review when I tested it, but it's actually ideal for this testbed. I removed every case fan but the front intake, which I ran at 5V to prevent it from affecting acoustics while still providing adequate airflow. For air coolers, I added a Noctua 140mm rear exhaust fan and used the ultra low noise adaptor to ensure it didn't affect acoustics in any meaningful way. This is in line with the usage cases air coolers are designed for, and should be representative of the kind of airflow most users will have from their exhaust fan.
Since a dedicated GPU wasn't needed, one wasn't used. This prevents a graphics card from generating additional heat or noise or deflecting airflow.
Thermal and acoustic test cycles were done the same way as our case reviews. First, the system is left powered and idle for fifteen minutes. At this point the sound level is tested, room ambient temperature is recorded, and idle temperatures are recorded. Then eight threads of small FFTs in Prime95 are run for fifteen minutes, and load temperatures are recorded.
Each cooler was tested using its available presets; where presets weren't available, I tested using Gigabyte's standard motherboard PWM control as well as at 100%.
Thank You!
Before moving on, we'd like to thank the following vendors for providing us with the hardware used in our roundup.
Primary Test Results
Given that I tested thirteen coolers total, and all of them with at least two different data sets, there's a lot of ground to cover. I don't want to produce too many oversized tables, so I'll break down all of the test results into two categories: closed loop coolers, and air coolers. I'm also breaking down performance by load temperature, idle noise, and load noise.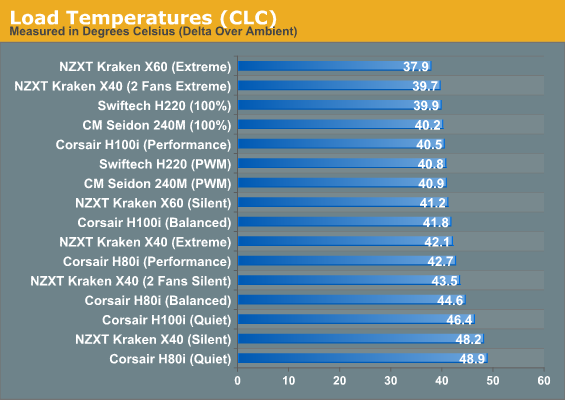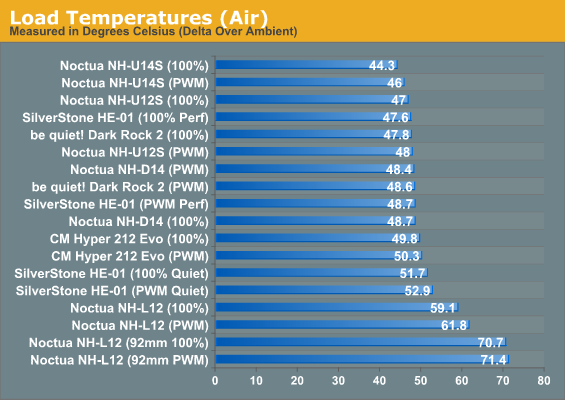 There's a lot of data to digest here. First, it looks like the very best air cooling has to offer is only really hugging the bottom of what closed loop cooling can do, but that's a bit deceptive. The breaking point is actually when you go beyond a 120mm radiator, and even then it's not certain: Noctua's new NH-U14S, at its fastest, is a better performer than Corsair's H100i at its quietest setting.
What's missing from the above chart is the noise the closed loop coolers have to generate in order to beat the air coolers; the only exceptionally loud air cooler is the underperforming SilverStone HE-01, as you'll see below.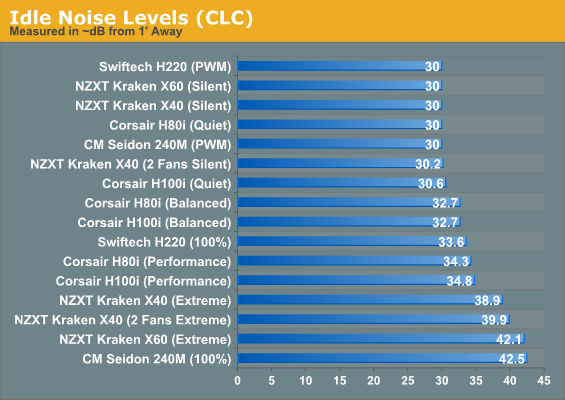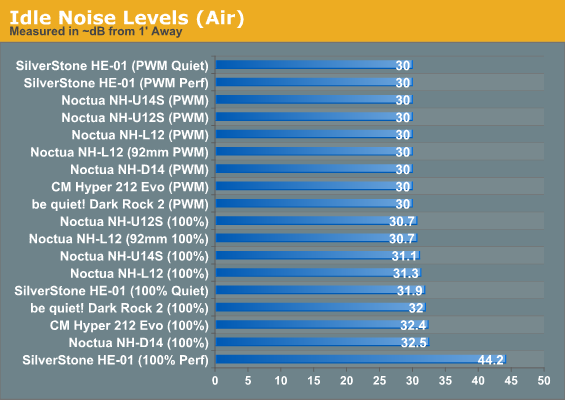 As you can see, the average idle noise on the air coolers is way, way lower than the closed loop units. That suggests that liquid cooling isn't in and of itself a plainly superior solution outside of Swiftech's H220 and the 280mm NZXT Kraken X60. It gets better, though.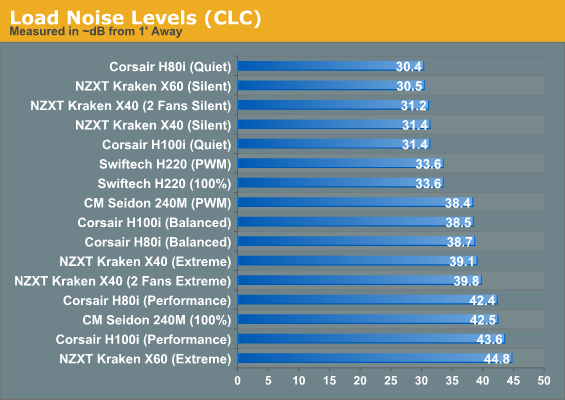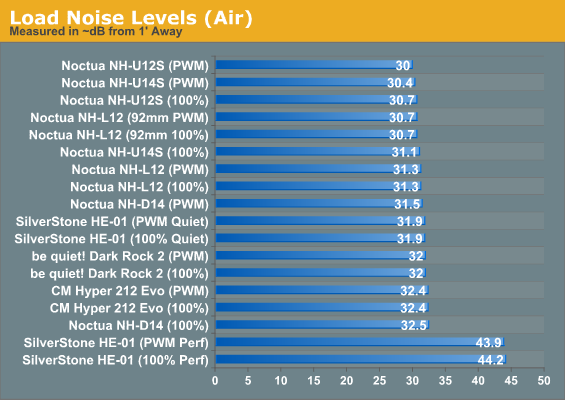 Almost all of the air coolers are relatively silent under load, while the closed loop coolers produce a tremendous amount of racket if they're not configured for silent running.
If you're like our own Dr. Ian Cutress and interested only with getting as much cooling performance as you can out of your cooler, then the NZXT Kraken X60 continues to be the best option. However, note that the Swiftech H220 was able to produce thermals just one or two degrees warmer while running 10dB quieter. This is why some stores are having trouble keeping the H220 in stock: it's the best 240mm unit by a longshot, and it's even competitive with the beefier 280mm Kraken X60.
Also note that the two new Noctua coolers are meeting or beating their old standard, the NH-D14, and they're doing it while being quieter. The NH-D14 looks frankly overengineered compared to the NH-U12S.
Finally, Cooler Master's Hyper 212 Evo continues to be a tremendous value, offering reasonably competitive thermals and noise for an air cooler at a fraction of the cost.
Silent Running Performance
There was a tremendous amount of data on the previous page; we need to make it easier and condense it into more readily useful information. So we'll start by culling all of the test results where the coolers had to run at higher than 34dB, leaving us with a healthy cross-section of quieter cooling solutions.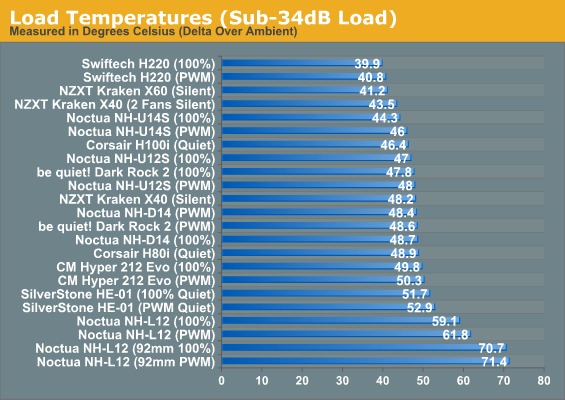 This is where Swiftech makes their move. The H220 offers essentially the best low noise performance out of all of the coolers we've tested. Unfortunately, load noise takes the Cooler Master Seidon 240M out of the equation at any level; even with PWM enabled, the 240M went up to 38dB.
You'll also notice that while the top four positions are held by closed loop coolers, air cooling essentially makes its comeback here as a quieter solution overall. The air coolers we've tested are all, outside of SilverStone's HE-01, designed to be silent, so this isn't a surprise. The surprise is more that closed loop coolers running at quiet settings are having a much harder time competing.
Culling all of our data down to the lowest noise settings is even more interesting. Swiftech's H220 continues to do well, but the Seidon 240M sort of cheats: this may be its quietest, but it's still running at 38dB, 5dB higher than the more expensive H220. The NZXT Kraken X40 turns out to do much better in a push-pull configuration, though, and its noise level is just 31.2dB, 2dB quieter than the H220 in exchange for running about 2-3C warmer. The second fan turns the Kraken X40 into a dark horse contender and brings it into the overall conversation; adding the second fan doesn't actually increase load noise at the Kraken's silent setting, but it does bring thermals down by a healthy 5C.
Absolute Performance
We've taken a look at the coolers at their lowest settings, now let's see how things turn around when we run them at the highest settings available. This is the point where the closed loop coolers are going to more aggressively dominate the quieter air coolers.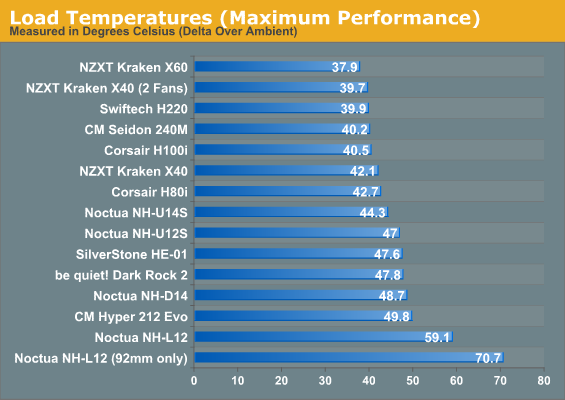 Sure enough, it's actually an even split. At full bore, the liquid coolers are at the top of the list while the air coolers, engineered primarily for silence, are at the bottom. The noise levels are much more telling.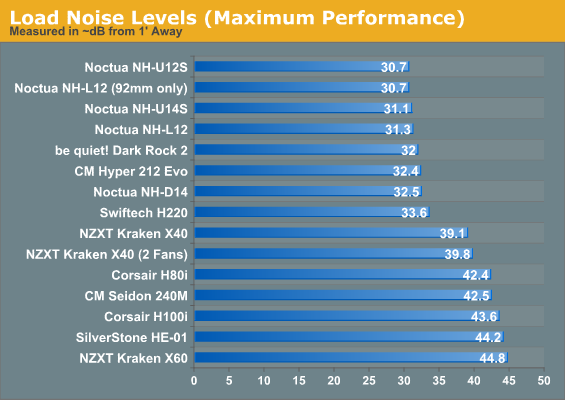 Outside of the inefficient SilverStone HE-01, the air coolers are quietest under load. Again, though, the Swiftech H220 is worth mentioning. While its absolute thermal performance left something to be desired compared to the smaller and theoretically inferior NZXT Kraken X40, the Kraken X40 has to run its fans a lot harder to hit those thermals.
Conclusions: It Always Depends on Your Needs
Before I get into specific recommendations, it's worth taking a few moments to talk about the three new coolers that were tested today: the Cooler Master Seidon 240M, the Noctua NH-U12S, and the Noctua NH-U14S.
First, while the Swiftech H220 may be the best 240mm closed loop cooler available, it also commands a healthy premium over the competition. This leaves Corsair's H100i and the Cooler Master Seidon 240M competing against each other, and this one's really a no brainer in favor of Cooler Master. The Seidon 240M sometimes lists for cheaper than the H100i, and while you don't get the software functionality or extra fan headers of the H100i, the 240M is slightly more efficient overall, and its mounting system is head and shoulders above the H100i. If you're in the market for a 240mm cooler and the Swiftech is too rich for your blood, then you're going to want the Seidon 240M.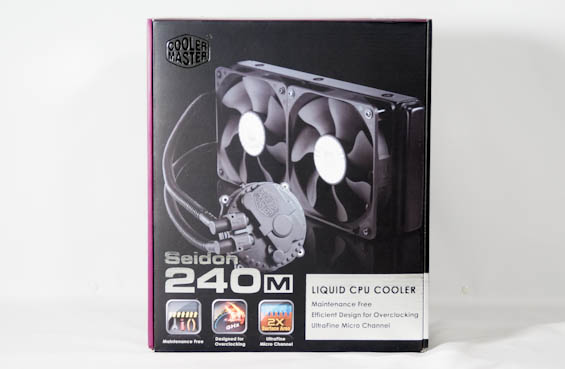 What surprised me was just how well the two new Noctua coolers performed. The NH-U12S is basically at least as good as the stalwart NH-D14, but it's smaller and it's cheaper. Meanwhile, the big brother NH-U14S puts in a solid performance of its own, but losing that top PCI Express port for just a couple more degrees of performance is a major drag. These are both excellent air coolers in their own right, but if you're looking to spend premium cash on an air cooler, I'd go with the NH-U12S and then probably tack a second NF-F12 PWM fan on to the order.
I was happy to evaluate three new products and have all of them perform well. Asetek's probably none too happy that Cooler Master made a better 240mm cooler than they do (let alone CoolIT's mediocre entry), while Noctua's newer, simpler cooler designs seem to be more effective than the older, bulkier ones. Though it's not a head turner, as the least expensive cooler on the charts, the Cooler Master Hyper 212 Evo continues to perform admirably and justifies the Bronze Editors' Choice award it earned in the last roundup.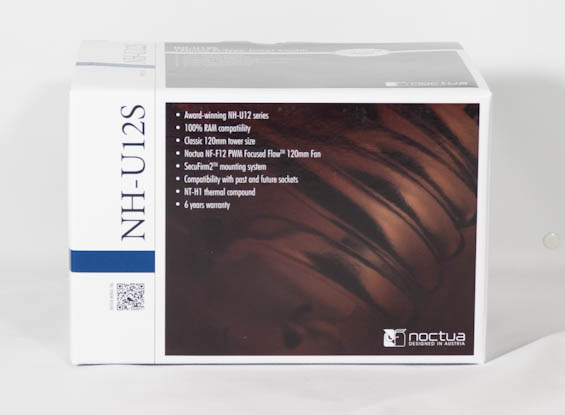 So what do you buy for what market? If you're on a budget, then your decision has been made for you: the Hyper 212 Evo is the best bargain out there. As for the rest of the coolers, you essentially need to consider your options. Outside of the NZXT Kraken X40 or Corsair H90 with a second fan, closed loop coolers under the 240mm mark just don't impress. The H80i was better than the H55 and H60, but that doesn't mean much when Noctua's solutions are competitive at around the same price. You have to run the H80i full bore for it to break away from the NH-U12S or NH-U14S, and that's a tough sell when either cooler can do the same job more quietly.
When you go north of $100, you're really looking at getting an H90 or Kraken X40 and buying a second fan,

buying a Seidon 240M, or going for the Swiftech H220. The comparably priced 280mm Kraken X60 is able to break away from Swiftech's H220, but it has to run its fans a lot faster to get there, and you'll have a much harder time finding a case compatible with it than you will the H220. At ~$110, I'd probably opt for the Seidon 240M over having to beef up one of the 140mm solutions, but at ~$140, the Swiftech H220 is really where the buck stops.
It bears mentioning that in my last review, the H220 had issues with pump noise and harmonic resonance in the testbed. Using the retail kit, I experienced no such issues during testing. With my chief concerns largely taken care of in the retail model, I'm now totally comfortable giving the Swiftech H220 a Bronze Editor's Choice award. It's heavy, it's powerful, it's copper, and it's as good as you're going to get before you go full custom (which, hilariously, you can also do with it.) The same award also goes to Noctua's NH-U12S, which at $65 is as good a bargain as you're going to get from Noctua, and screams quality while offering solid performance.