Original Link: http://www.anandtech.com/show/6893/samsung-galaxy-note-80-review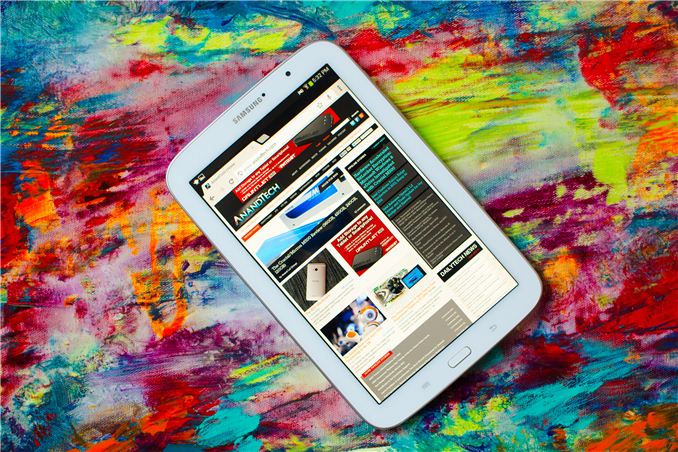 For the past couple of years Samsung, and many other Google partners, have been on the hunt to improve productivity on Android - particularly on tablets. We've seen hardware solutions (ASUS' Transformer line) as well as software solutions (Samsung's multi-window support) emerge. No one has really perfected the productivity story for Android tablets. I'm not entirely sure that long term even Google sees Android as the productivity platform of choice (perhaps Chrome OS will assume that role?), but there's no shortage of attempts to solve this problem.
While ASUS was at the forefront of addressing the productivity issue for a while with its Transformer tablets, Samsung has since picked up the torch with its Galaxy Note family of devices. What started as a giant smartphone has now evolved to encompass an entire lineup of tablets as well. The productivity aspect of the Note line is really tied to the integrated active digitizer and stylus (S Pen) that comes with the devices. There are software and other features that complete the picture (e.g. IR blaster), but it all stems from the S Pen. Last year Samsung introduced the Galaxy Note 10.1, its first 10-inch tablet with an integrated S Pen. This year, Samsung expanded the line with an 8-inch model, the aptly named Galaxy Note 8.0.
Design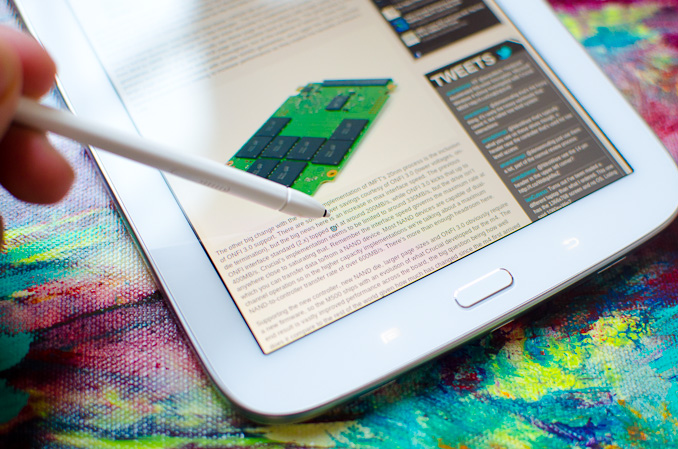 There's a whole lot of excitement around sub-8" tablet form factors. It turns out that people like carrying their tablets with them, and smaller tablets make for better travel companions. There's a lot of debate over what everyone settles on as the ideal form factor for tablets (and smartphones, notebooks, desktops), but for now we're still in a period of wait and see.
There's more clarity today than there was a few years ago however. The scene is still foggy, but some elements are coming into focus.
The 10-inch tablet market is on a crash course headed straight for the entry level ultraportable notebook market. Microsoft's Surface Pro is a very early hint at that convergence. Long term I wouldn't be surprised if we see the "traditional" 10-inch tablet market go away and be replaced by some form of a convergence device (read: tablet with a real keyboard solution). The 11-inch notebook market would be collateral damage in this scenario. Potentially hilarious outcome: if Apple or Microsoft actually make this happen, I wonder how Intel's success will be graded on its Ultrabook campaign.
The smaller-than-10-inch category seems strong, at least for the somewhat near future. The success of the Nexus 7 and iPad mini proved that this form factor had life. Previous attempts failed because neither the software nor the hardware was ready. Some of Samsung's first small tablets suffered from these problems.
Only a few short years later, the world is already very different. Android has matured into a real tablet OS, many of its UI performance concerns have been addressed and the hardware is much faster. While earlier attempts at building small Android tablets failed, the ingredients are ripe this time around.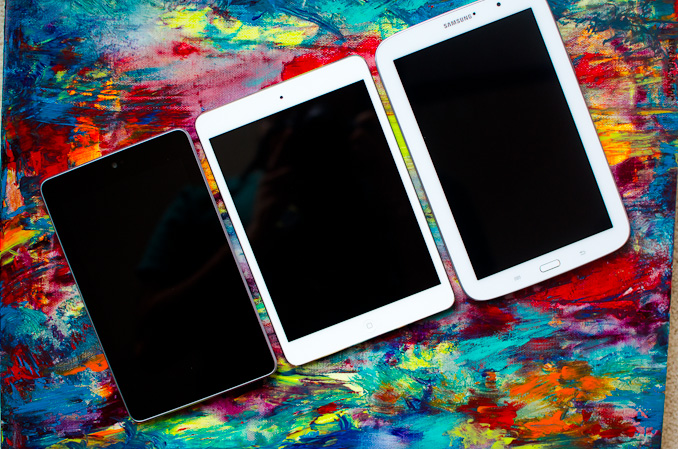 From left to right: Nexus 7, iPad mini, Galaxy Note 8.0
Eight inches is an interesting choice for a Galaxy Note. Compared to the Nexus 7 or iPad mini, the Note 8.0 feels a bit larger. The dimensions on paper don't look significantly bigger, but you are talking about a thicker, taller and slightly wider device than an iPad mini. The Note 8.0 doesn't feel too big, just bigger.
The 8 is a bit too large to wield comfortably in a single hand, but it's light enough where I really don't mind carrying it around. For a tablet I'm only going to use at home in a single sitting location, I might want something larger. For something I'm going to carry around with me a lot, I want something more like the Galaxy Note 8.0, iPad mini or Nexus 7.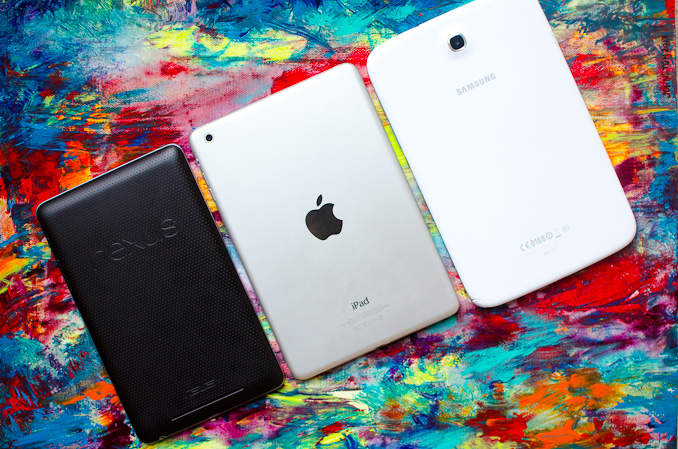 From left to right: Nexus 7, iPad mini, Galaxy Note 8.0
Samsung loves its plastic enclosures, and the Note 8.0 isn't an exception to the rule. Glossy white dominates the device. I don't want to dwell too much on Samsung's materials choice here other than to say it's an obvious cost and weight savings play. Whether it matters or how much it matters really depends on how you are with your belongings.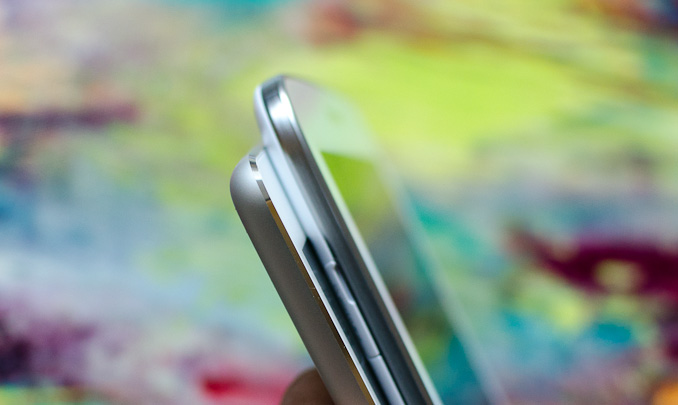 Metal (bottom) vs. Plastic (top)
If you're the type of person to value, polish and take care of the things you own, the Note 8's construction doesn't convey luxury. If you want something you're not going to feel bad about tossing about like you would your keys or a bag, maybe a plastic tablet is less of a problem.
Upon its introduction, Apple made a big deal about the iPad mini having significantly more usable display area than the Nexus 7. The same complaints can't be levied against the Galaxy Note 8.0, which features a display with 96% of the surface area of the iPad mini:
The iPad mini's display is wider, while the Note 8's is taller - a difference forced by having similar diagonal screen sizes (7.9" vs 8.0") but vastly different aspect ratios (4:3 vs 16:10). In the 8-inch form factor, 16:10 works very well. Get too large and it becomes a bit awkward for portrait use in my opinion (see: Surface RT/Pro, although those are 16:9) but it's not an issue on the Note 8.0. Whether or not you prefer 16:10 or 4:3 really depends on what type of content you're viewing on the device. The former is perfect for video playback, while the latter is nicer for reading text.
The button layout on the front is the same as the Galaxy S 3 or Galaxy Note 2. There's a physical home button flanked on either side by menu and back buttons. Both the physical and capacitive buttons serve double duty on the Note 8.0. Double tap the home button to bring up S Voice, Samsung's answer to Siri, and long press on the home button to bring up the Android task switcher.
A long press on the menu button launches Google Now, while a long press on the back button brings up Samsung's app launcher.
The app launcher is something Samsung has been toying with since the original Galaxy Tab. Back then the UI customization was horribly slow, but on the Note 8.0 it's nice and quick thanks to advancements in Android as well as having far better hardware these days.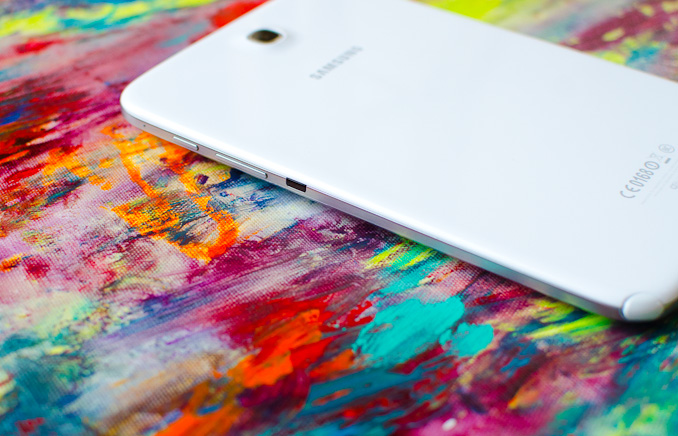 In portrait mode, along the left side of the device you'll find a microSD card slot with removable plastic cover. On the opposite side are the usual culprits: power/lock and a volume rocker. Also along the right side of the device is an IR emitter, customary on all members of the Note family (as well as the Galaxy S 4).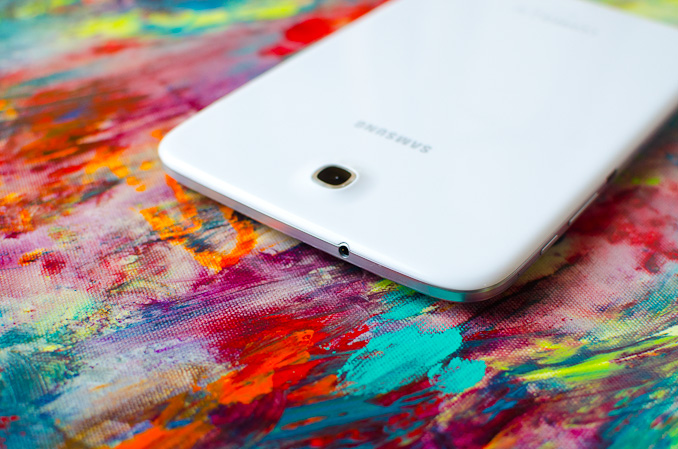 There's a single microphone on the Note 8.0, located just north of the power/lock switch. Along the top of the device is an 1/8" jack for headphones/mic, and on the bottom there's a single USB 2.0 port.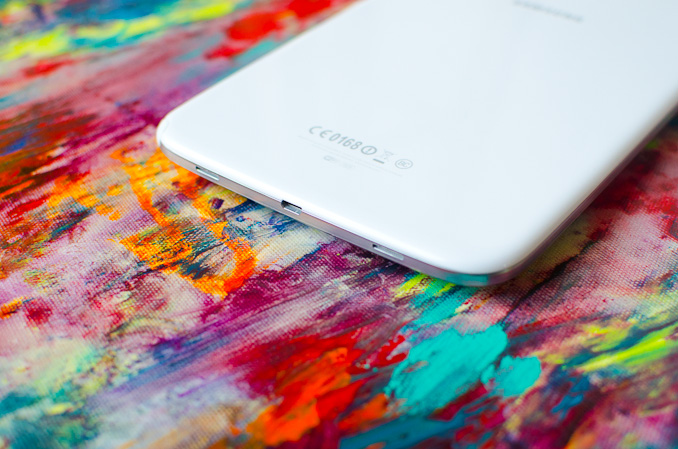 Internally, the Galaxy Note 8.0 is distinctly last generation hardware - similar to what Apple did with the iPad mini. Samsung uses its own Exynos 4 Quad SoC, which features four ARM Cortex A9 cores running at up to 1.6GHz with ARM's Mali-400MP4 GPU. The SoC is paired with 2GB of memory.
On the silicon front, the Note 8.0 outclasses the iPad mini in nearly every category. Faster CPU cores and 4x the memory capacity are really necessary to support Samsung's multitasking focus for the tablet. The GPU is the only area where Apple potentially maintains an advantage. Interestingly enough, both the Exynos 4 Quad and Apple A5r2 SoCs are built at Samsung's foundry on its 32nm HK+MG process. How's that for coopetition.
Like the iPad mini, the Note 8.0 comes with 16GB of NAND on-board. Unlike the mini however, and sort of a trademark for Samsung devices these days, the Note 8.0 comes with a microSD card slot for additional storage. If that wasn't enough, Samsung partnered with Dropbox to give Note 8.0 owners 50GB of free Dropbox storage for 2 years.
iPad mini vs Galaxy Note 8.0
Apple iPad mini
Samsung Galaxy Note 8.0
Samsung Galaxy Tab 8.9
Dimensions
200 x 134.7 x 7.2mm
210.8 x 135.6 x 7.95mm
230.9 x 157.8 x 8.6mm
Display
7.85-inch 1024 x 768 IPS
8.0-inch 1280 x 800 PLS
8.9-inch 1280 x 800 PLS
Weight
308g (WiFi)
338g (WiFi)
453g
Processor
1GHz Apple A5 (2 x Cortex A9, PowerVR SGX543MP2)

1.6GHz Samsung Exynos 4412 (4 x Cortex A9, Mali 400MP4)

1GHz NVIDIA Tegra 2 (2 x Cortex A9, GeForce UL)

Connectivity
WiFi , Optional 4G LTE
WiFi , Optional 3G/4G LTE
WiFi , Optional 3G
Memory
512MB
2GB
1GB
Storage
16GB—64GB
16GB/32GB + microSD
16GB
Battery
16.3Wh
~17Wh
22.6Wh
Starting Price
$329
$399
$469
The Note 8.0 will be available in both WiFi-only and 3G/4G LTE versions. Samsung sent in the WiFi-only version for review, which is available in the US starting today at $399 for a 16GB model. The Galaxy Note 8.0 also comes with a $25 Google Play Store credit.
The Display
The Note 8.0 holds a slight pixel density advantage over the iPad mini (189 ppi vs. 163 ppi). Just like the earliest Android tablets that held a similar pixel density advantage (~13%), the improvement is noticeable. At the price point and device size however, the Note 8.0 remains under-specced. Just as the iPad mini would benefit from a Retina class display, the Galaxy Note 8.0 could use a 1080p panel as well. Given we're seeing flagship ~5" Android smartphones ship with 1080p displays, a flagship 8" tablet should meet the same criteria.
Unfortunately one of the hallmarks of TouchWiz is that all icons and widgets are considerably larger than they are under iOS, which results in a lot of wasted space on the 8-inch 1280 x 800 display. Despite having a larger display, higher resolution and higher pixel density, I feel more cramped on the Galaxy Note 8.0 than I do on the iPad mini. I understand this is a conscious design decision by Samsung and I can definitely see larger icons, fonts and touch targets resonating very well with certain demographics, but at the same time I believe the design decision flies in the face of what Samsung is hoping to accomplish with the Note family.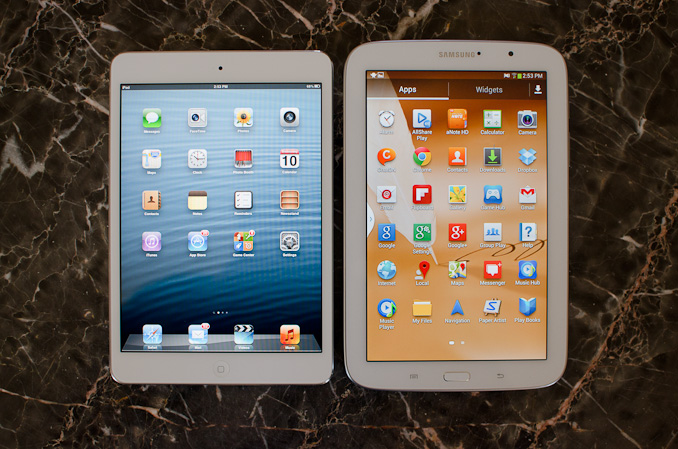 The Note 8.0 can get very bright, but black levels suffer as a result. Overall contrast ratio is a bit better than the iPad mini, but I'd prefer better black levels to absurdly high white levels. The latter can help improve readability outdoors, but even cranked all the way up you'll have issues in direct sunlight.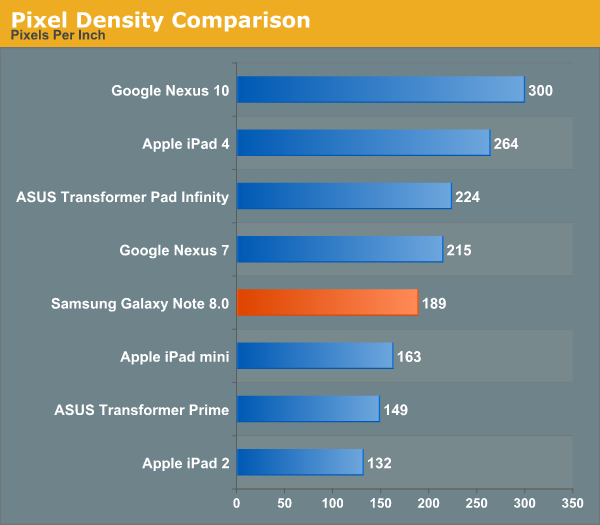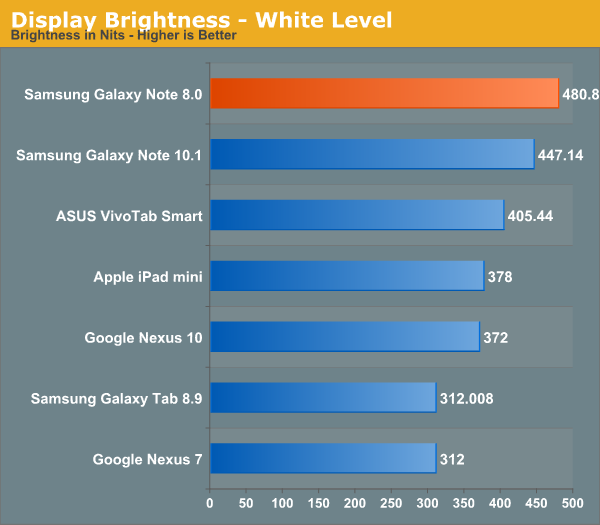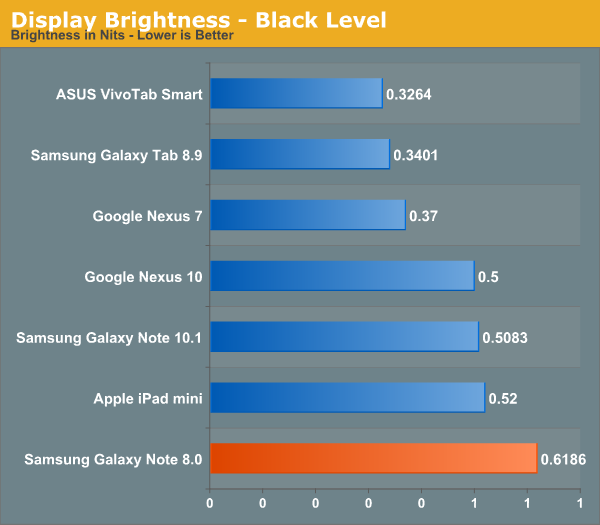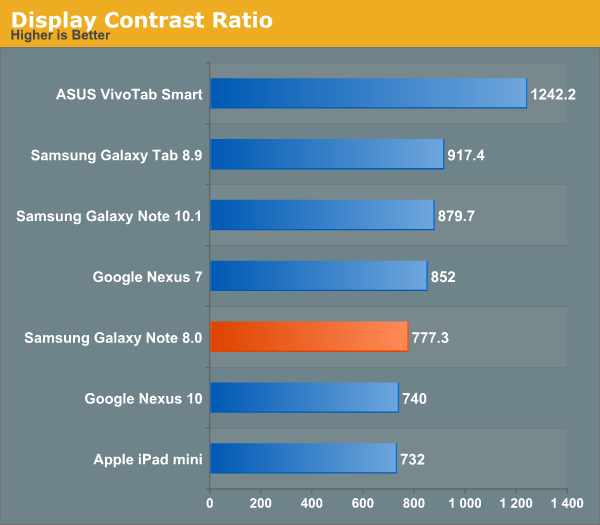 The Galaxy Note 8.0 uses a standard LED backlit LCD display instead of the AMOLED based panels common in Samsung's smartphones. The departure is a welcome change in my opinion as the Note 8's avoids Samsung's AMOLED color calibration tendencies. In fact, the Galaxy Note 8.0's display performed very similarly to the iPad mini in our color accuracy tests: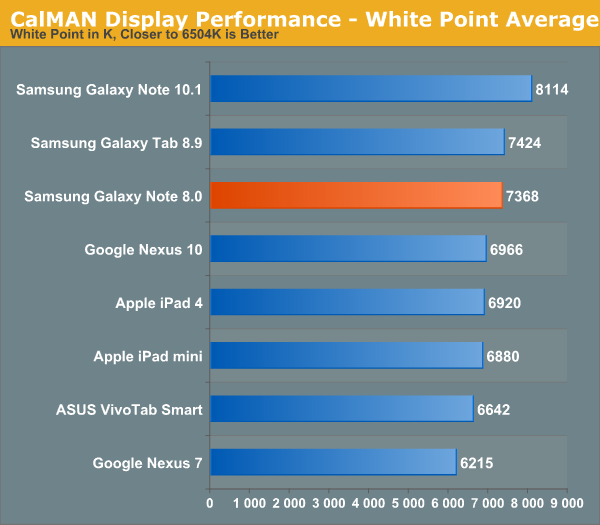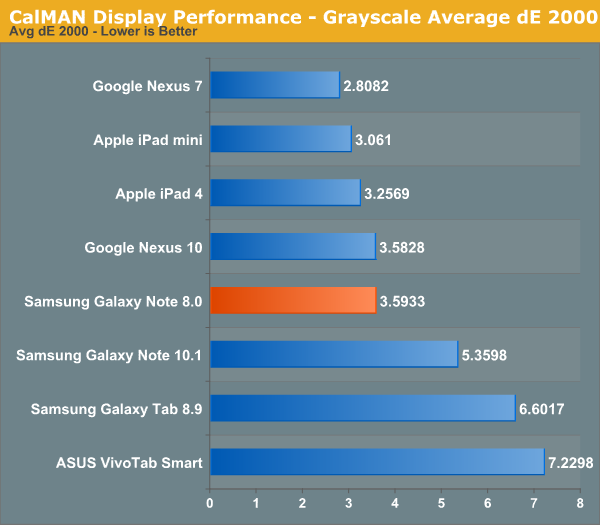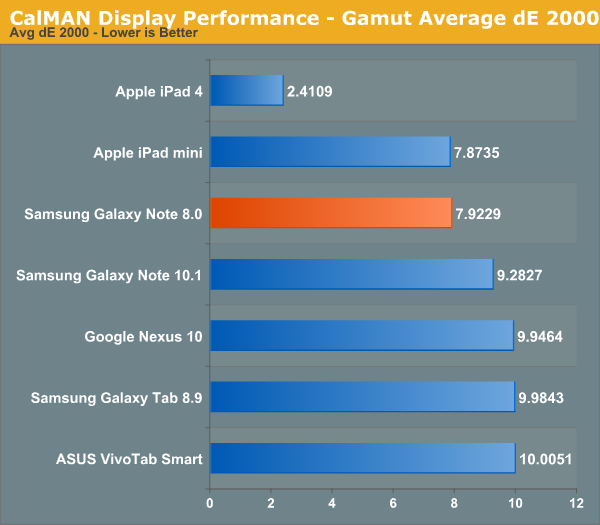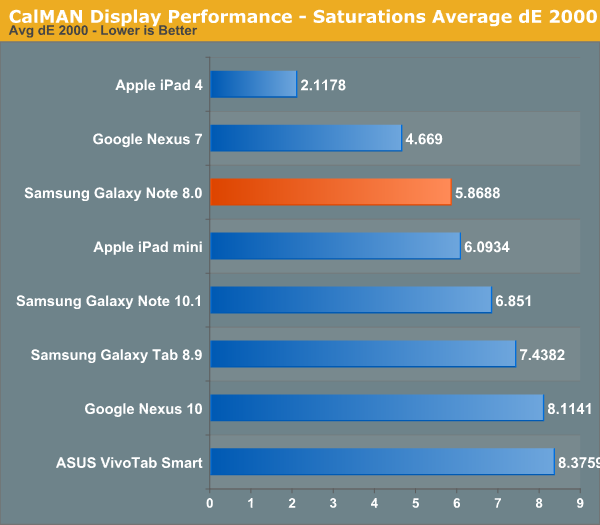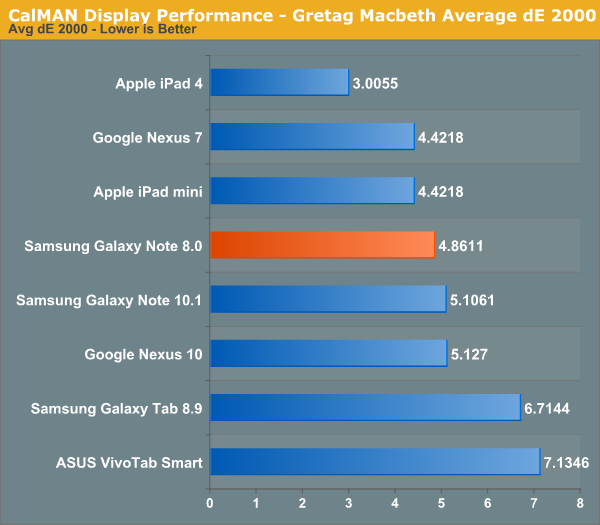 The mini doesn't feature as accurate of a display as the bigger Retina iPads, which gives the Note 8 a lower target to shoot for, but its performance is admirable nonetheless.
Samsung does offer a couple of display presets on the Note 8, similar to what it does on other platforms. Choosing between Dynamic, Standard and Movie modes plays around with white points and color balance a bit. The standard setting is pretty good out of the box, although movie mode does move the white point closer to 6500K and improved color accuracy by a little bit.



The Note 8's software build also ships with support for a reader mode that further warms up the white point in an attempt to make reading text easier on your eyes. In an attempt to bring as much of the PC experience as possible to Android tablets, Samsung bombards you with customization options - including the ability to select which applications use reader mode when it's enabled. You can't enable reader mode for all apps, but 3rd party apps are supported.
TouchWiz Customizations & UI Performance
The Galaxy Note 8.0 ships with Android 4.1.2 by default, but layered with Samsung's usual array of visual and functional customizations on top of it.
At its Galaxy S 4 launch event last month in NYC, Samsung announced a litany of new platform features for its new flagship phone. Using the Galaxy Note 8.0 after that announcement feels a lot like I'm getting a "lite" treatment unfortunately. That's a major downside to launching overlapping products, unless there's a unified feature front you're bound to disappoint someone. I should add that it's not that I feel like I'm missing any of those features announced for the SGS4, but it feels wrong not to have everything on a platform that just came out.
All is not lost on the Note 8.0 however. Smart Stay, Samsung's feature that keeps the display on if it detects you looking at it, is alive and well on the tablet. Air View gestures exist, but they are triggered by the stylus and not by hovering your finger over the display.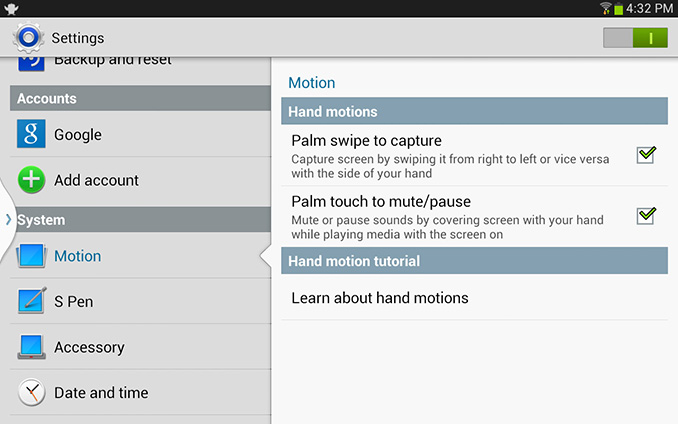 Samsung cooked up a few odd but potentially useful palm gestures to interact with the OS. These aren't new to the platform, but they bear repeating for users new to Samsung's Android customizations. Using your palm to touch the screen will pause video you're playing. Using the side of your hand to swipe across the screen will grab a screenshot. I should add that both of these gestures are meant to be carried out softly; you're not meant to abuse the Galaxy Note 8.0 to bend to your will.
Gestures and unique features aside, Samsung's Android customizations are also paired with a very distinct visual and audible style. Large icons and text, bold colors and bubbly friendliness are everywhere. I get what Samsung is trying to do here, it's all supposed to be very accessible and not intimidating. Both Apple and Samsung are using the current mobile revolution to repeat the evolution of the PC industry, but without the mistakes.
Unlike Samsung's earlier attempts to skin Android on its tablets, the experience on the Note 8.0 is usually very smooth. This is in part due to Android 4.1.2 and partly because Exynos 4 Quad is a lot faster than Tegra 2 was back in the days of the first Galaxy Tabs. Some actions aren't as responsive as I'd like (e.g. bringing up the task switcher has some initial hesitation), and you'll occasionally see dropped frames when switching back to the home screen but overall the experience is pretty good.
The S Pen
Tucket inside the lower right corner of the Galaxy Note 8.0 is the device's flagship feature: the S Pen. Samsung integrates a Wacom digitizer layer into its capacitive touchscreen stack, which enables the use of the pressure sensitive S Pen.
Although these devices exist in vastly different price brackets, I feel it's necessary to mention that the responsiveness of the S Pen isn't anywhere near as good as the stylus that ships with Microsoft's Surface Pro. I mention that because while I do believe the Surface Pro can be a good stand in for creative professionals on the road, I'm not sure the Galaxy Note 8.0 can serve in a similar nature. The display is obviously smaller, palm rejection doesn't work as well and the active digitizer is laggier on the Note 8.0 compared to the Surface Pro.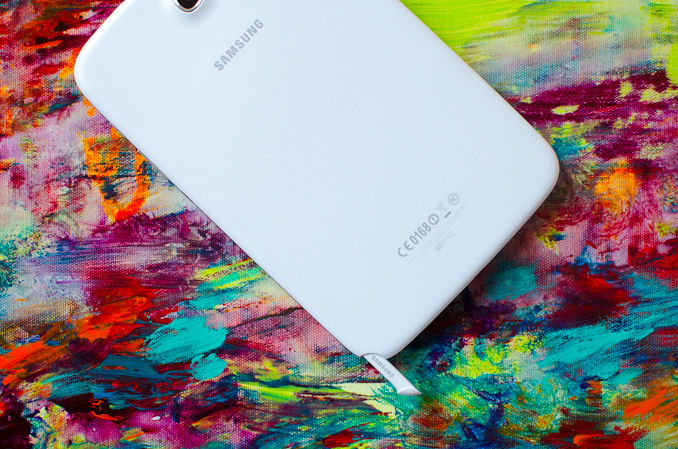 That being said, in a pinch, and especially for those who aren't used to drawing on giant Wacom tablets - the Note 8.0's S Pen does have its good moments.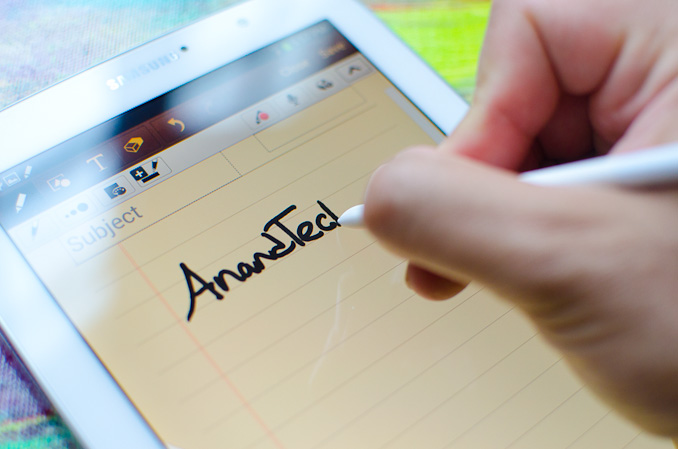 I hadn't written off the S Pen completely, but I had come to terms with the fact that I have little use for it until I was driving away from my house to go try out the Note 8's camera. I got a call from an engineer at Micron to talk about a new SSD, the M500. I was in the car in my driveway when I got the call, contemplating whether or not to run upstairs to my computer so I could take notes during our conversation. I was trying to understand some issues that came up in my testing of the M500 and the discussion was bound to get technical. I looked over into the passenger seat and realized I had two tablets with me - surely one of them could serve as a notepad. With one hand holding the phone to my head, I had one free hand to take notes. Ah-ha! This was a situation crafted perfectly for the S Pen.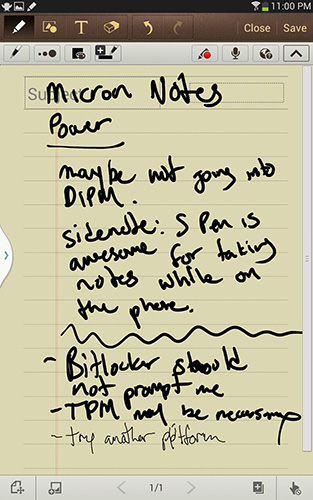 I grabbed the Galaxy Note 8.0, pulled out the S Pen, and went about taking notes. I propped up the tablet between my leg and the steering wheel (note the car was stopped, I'm not advocating driving and taking notes on a tablet). The experience was surprisingly decent. The Galaxy Note 8.0 approximated a pad of paper while the S Pen approximated a pen. It worked. I was pleasantly surprised.
The experience wasn't perfect. My handwriting is remarkably worse on a tablet compared to a pen and paper. I didn't get to play with different pen sizes while I was on the phone, but going to something smaller definitely helps with fitting more text on a single screen. I don't know that I'd want to pen tons of notes on the Galaxy Note 8.0, but in a pinch it really proved to be a wonderful stand in. My preference for large amount of note taking would still be a laptop with a keyboard, but as a replacement for jotting down quick notes while on the go, the S Pen isn't bad at all.
After having this little usage model epiphany, the rest of the S Pen's features made more sense to me. I couldn't understand why Samsung made such a big deal about the S Pen being able to activate the capacitive menu and back buttons before, now I could. In the situation I just described, I needed the S Pen to navigate everything on the tablet. It made sense.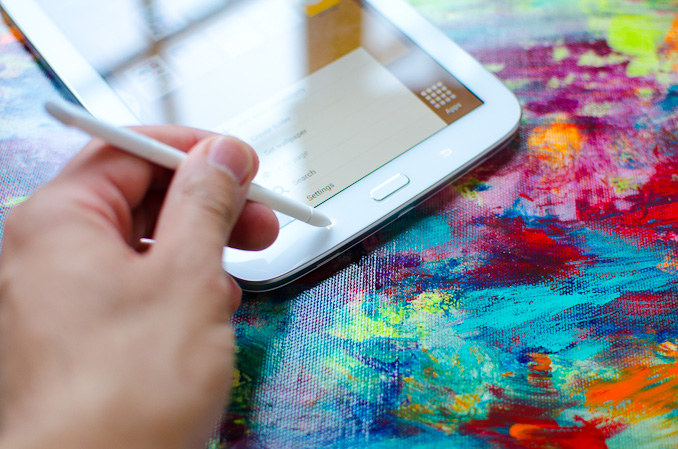 There's the obvious question of how often I'd see myself using the S Pen functionality on the Galaxy Note 8.0. The reality is that I'm rarely in the situation I found myself in on that day. I'm usually at a desk or if I'm traveling I'm on my smartphone or notebook. If you are the type of user who is always looking for a pen to jot something down, and don't mind carrying a small tablet with you, I suspect you're the very target for the Galaxy Note 8.0. If you're not, there are a number of other options - many of which are more affordable.
The other big S Pen feature that I can understand the appeal of is the ability to grab a screenshot or snippet of anything, quickly annotate it, and share the resulting file. If my job entailed finding things on the web or in email, grabbing them and offering short commentary on them I could see this feature being more useful. On second thought, I wonder if that might be a quicker way for me to do my job instead of penning these really long posts. Joking aside, this is just one of those situations where you'll immediately know whether or not the Galaxy Note 8.0's S Pen functionality is something you'd use.
The S Pen is also useful for highlighting/copying text, just tap and hold the pen over a word to bring up the text selection tool.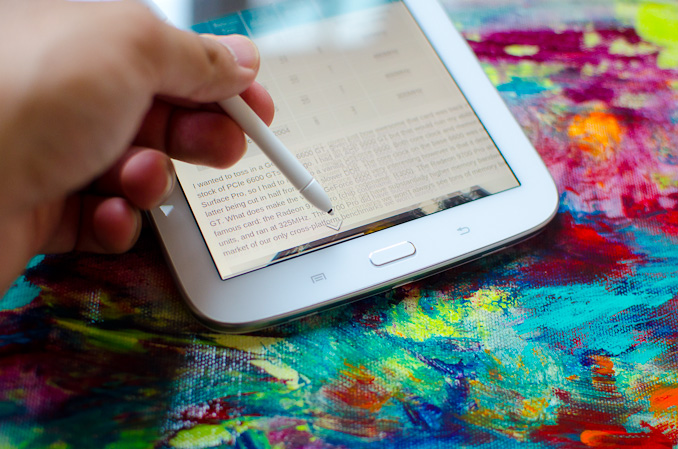 There are a ton of other little S Pen features included in the Note 8, such as the ability to scroll by hovering the pen over the display at the top or bottom of a page/list. As with many of Samsung's TouchWiz features, I don't see broad appeal for every last one. Samsung's strategy appears to be to try and fill its products with as many niche features as possible with the hopes of different subsets of the tools being useful for a broad market.
Multi Window Support
I first played with Samsung's multi window support with the Galaxy Note 10.1. The idea behind it is simple, and honestly it's something Google should have done the minute Microsoft demonstrated multi-window support on Windows 8. For a predefined list of apps (18 altogether), you can run any combination of two of them on the screen at the same time. The two applications can split the screen vertically or horizontally, and you can control how much of the screen is dedicated to each app. On the Note 10.1 you could launch all multi-window apps in cascade or split screen modes, while only the latter is available on the Note 8.0.
A big change since the original Note 10.1 implementation is the fact that there's no delay when switching focus between the two apps. Just tap on whichever side of the screen you want to interact with and you're off, there's no hesitation or delay.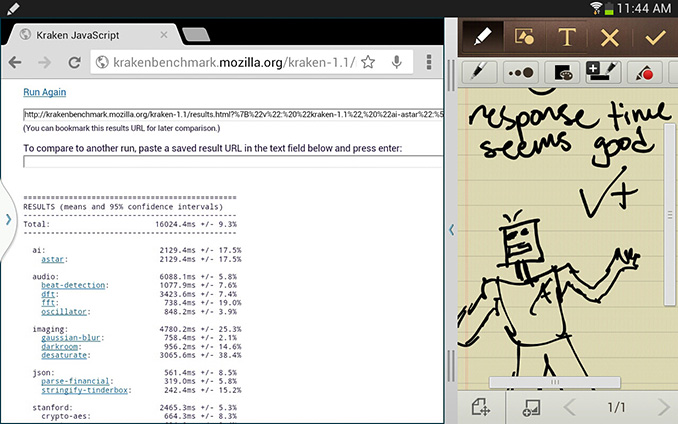 Here's where having four cores actually can make a difference. Regardless of which application you're actively using, both apps running in multi-window mode continue to animate and work. Thanks to the quad-core Cortex A9 SoC and having a full 2GB of RAM, the perceivable performance impact from running in multi-window mode is limited. To quantify my seat of the pants feel I fired up Browser.apk and Chrome, ran them side by side and had each one run an instance of Kraken. I compared the results to each browser running Kraken alone:
Samsun Galaxy Note 8.0 Multi-Window Performance - Kraken Benchmark
Chrome
Browser
Single Tasking
13357.1 ms
15075.8 ms
Multi Window (Both Apps Running Simultaneously)
14452.2 ms
16125.4 ms
Note that Kraken is a fairly well threaded benchmark, but scaling beyond 2 cores still provides limited benefit - making it an excellent benchmark to showcase exactly what I'm talking about here since most Android applications don't do a great job of showing huge performance gains beyond 2 cores.
This isn't to say that there's no degradation of performance when running in multi-window mode, just that it's acceptable.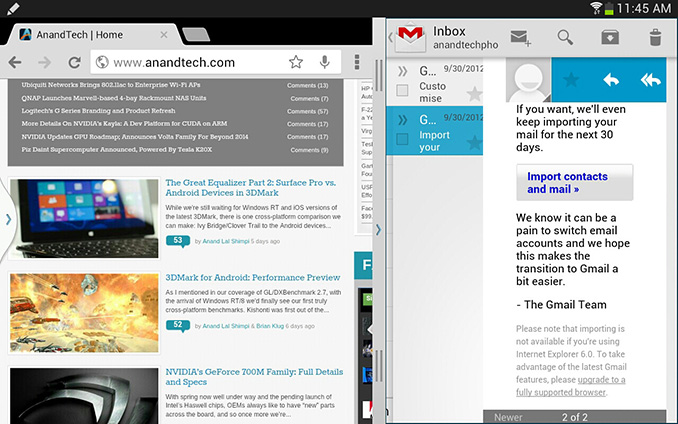 The bigger problem in multi-window mode is a simple lack of real estate. As I mentioned earlier, given the size of the TouchWiz UI elements and 1280 x 800 display resolution of the Galaxy Note 8.0 there isn't a ton of excess space. Some combinations of apps work well (e.g. browser + video player in portrait mode, browser + talk, etc...) while others aren't as nice as you'd expect (e.g. browser + gmail in portrait mode).
Samsung's multi-window does have some intelligence to it. If you're running two apps, switch away and then switch back to either of the apps you'll return to the two-window layout just the way you left it. You can also maximize one of the windows, swap positions or close whenever you interact with either window for the first time.
You can debate about the usefulness of Samsung's other features, but it's obvious that Google needs a real multi-window solution for Android. I don't know that Samsung has it perfect, but it's a decent attempt.
Watch On & Awesome Note HD
One of the flagship features of the Galaxy Note 8.0 is its IR emitter and accompanying Watch On software. You can use the two to control your TV and/or cable box as a lightweight universal remote (you only get basic channel/volume control and the ability to navigate menus/inputs). Watch On is Samsung's new content aggregation portal, allowing you to rent and buy content for use on your device from Samsung's own service or Blockbuster (no Netflix support yet). If you have a supported 2013 model Samsung TV you're apparently able to wirelessly stream video content from your TV to your tablet and vice versa. I didn't have a compatible TV on hand to test this out unfortunately.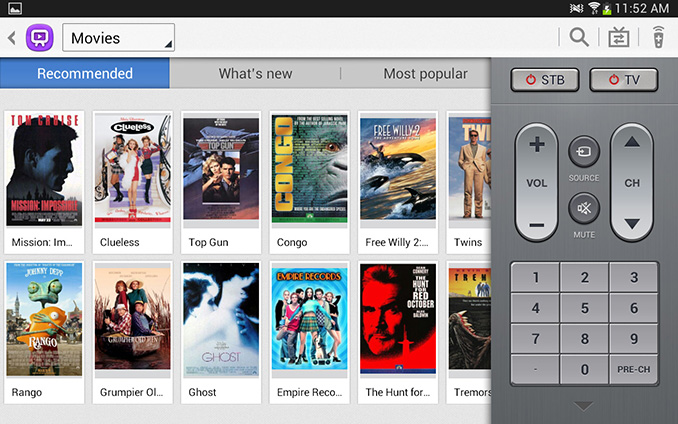 I'm happy to see IR integration on modern smartphones and tablets, but I do wish someone would take the next step and really pursue true Home Theater integration. I'm talking about the ability to control more than just a TV + set top box. The ability to create macros, drive other IR blasters/repeaters, etc... I want to see someone turn their tablet/smartphone platform into a real Harmony competitor.
Samsung also secured the rights to the Android version of Awesome Note HD, which ships preloaded on the Galaxy Note 8.0. Awesome Note is a very powerful integrated organizer that gained popularity on iOS. The Android version is exclusive to the Galaxy Note 8.0.
Camera
Although it's sometimes used as one, I still don't believe the majority of the population uses a tablet as their primary imaging device. That doesn't however mean that it can't be used as as a camera. In fact, I do see an increasing number of situations where tablets are being used as cameras in a pinch. Particularly on the productivity side of things where you may need to take a photo of something you're studying on site (e.g. insurance adjuster taking photos of a claim). All of this is a long winded way of saying that tablet camera performance matters. It doesn't perhaps matter as much as it would in a smartphone, but it still matters.
The Galaxy Note 8.0 comes with a fairly standard two camera setup. Around back there's a raised bump to accommodate a 5MP camera module (2560x1920) with F2.7 lens. Up front there's a 1.3MP sensor (1280x960) and F2.8 lens. Neither camera has a flash of any sort.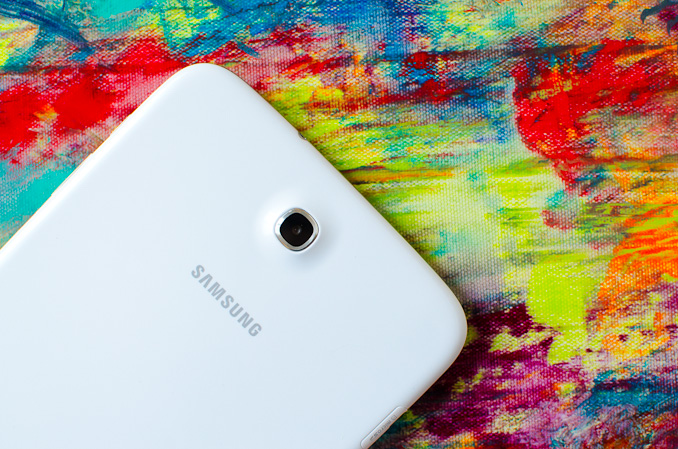 The Note 8.0's size actually doesn't make it ridiculous to take photos with. The camera UI is fairly standard for Samsung and includes a fairly typical set of customization options (ISO, exposure adjustment, JPEG compression, etc...). Shot to shot latency is about on par with the iPad mini, but considerably slower than the latest and greatest smartphones like the HTC One.
Camera preview is relatively smooth but clearly not anywhere near full resolution, as a result photos tend to look pretty bad during framing but can come out surprisingly decent once captured.
Samsung integrates optional voice recognition with its camera app. You can say smile, cheese, capture or shoot to activate the shutter. The process works surprisingly well but it does add additional latency to shooting since the voice recognition isn't instant. Oddly enough some words worked better than others for me, although accuracy improved the closer my face was to the tablet.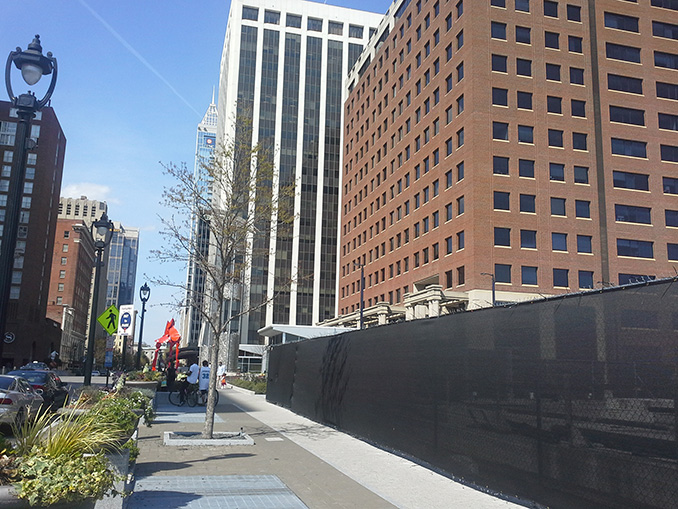 Image quality outdoors was surprisingly decent. Both the Galaxy Note 8.0 and iPad mini did relatively well on camera duty. Samsung's auto white balance could definitely use some work, and in lower light scenarios the iPad mini seems to resolve details better than the Note 8.0.
Outdoor 1
Indoor
Outdoor Nature
Macro
Outdoor Low Light
Apple iPad mini
Samsung Galaxy Note 8.0
Low light performance is horrible on both tablets. In well lit scenarios, the Note 8.0 is a competent shooter though the iPad mini seems to do better overall. I was personally surprised by how well these tablets performed at macro shots. Again, I wouldn't use either as a primary shooter, but if your job requires embedding photos in emails and all you're carrying is one of these tablets you can make it work (assuming there's plenty of light around).
Video recording performance was also surprisingly decent on the Galaxy Note 8.0:
WiFi, GPS
The Galaxy Note 8.0 will be available in both cellular and WiFi only versions, the latter being what we get in the US for now and what I'm reviewing. Broadcom's ever popular BCM4334 handles all WiFi duties. The Note 8.0 supports 2.4GHz 802.11b/g and 2.4GHz/5GHz 802.11n.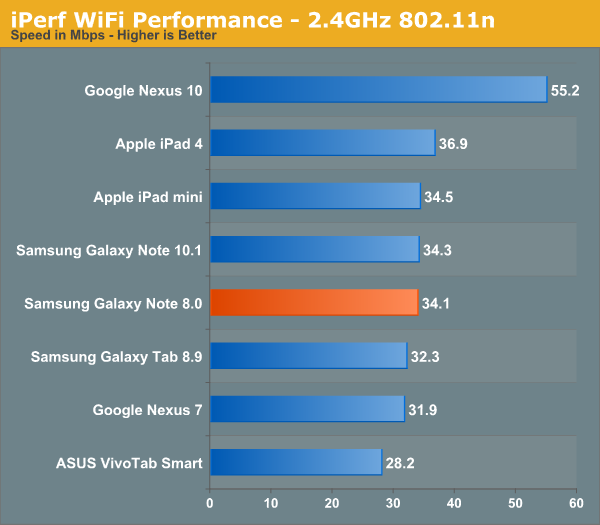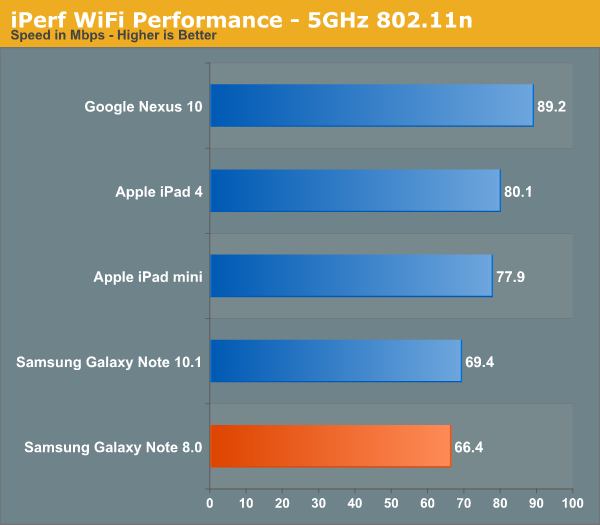 WiFi performance was on par with similar tablets.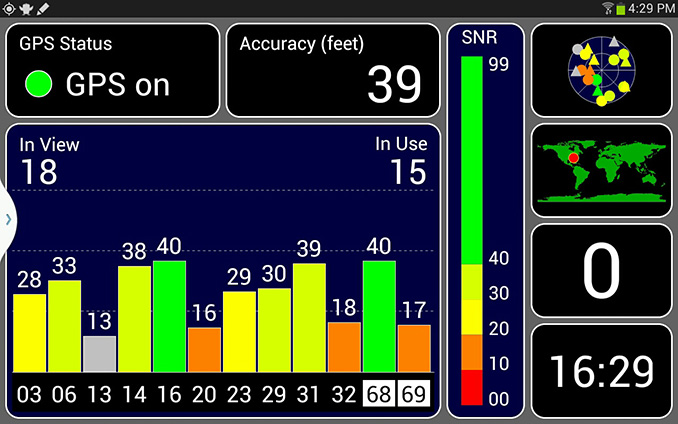 I had no issues with acquiring GPS lock outdoors or in cars. Indoor performance was understandably worse.
Battery Life
The Galaxy Note 8.0 features an integrated (non-removable) 4600mAh battery. Assuming 3.7V chemistry we're looking at 17Wh, a 4.4% increase over the iPad mini. The display is higher resolution and the CPU cores run at a 60% higher frequency than they do in the iPad mini (not to mention that there are twice as many cores). Although the GPU is slower, ARM's Mali 400 doesn't appear to be as power efficient as PowerVR's SGX 543MP2. To make a long story short, the Galaxy Note 8.0 might have a slightly larger battery than the iPad mini, but the platform itself should consume (potentially significantly) more power.
To quantify (we love numbers), we once again turn to our own battery life tests. We'll start with our 2013 web browsing battery life test, first introduced in the iPhone 5 review:
We regularly load web pages at a fixed interval until the battery dies (all displays are calibrated to 200 nits as always). The differences between this test and our previous one boil down to the amount of network activity and CPU load.
On the network side, we've done a lot more to prevent aggressive browser caching of our web pages. Some caching is important otherwise you end up with a baseband/WiFi test, but it's clear what we had previously wasn't working. Brian made sure that despite the increased network load, the baseband/WiFi still have the opportunity to enter their idle states during the course of the benchmark.
We also increased CPU workload along two vectors: we decreased pause time between web page loads and we shifted to full desktop web pages, some of which are very js heavy. The end result is a CPU usage profile that mimics constant, heavy usage beyond just web browsing. Everything you do on your device ends up causing CPU usage peaks - opening applications, navigating around the OS and of course using apps themselves. Our 5th generation web browsing battery life test should map well to more types of mobile usage, not just idle content consumption of data from web pages.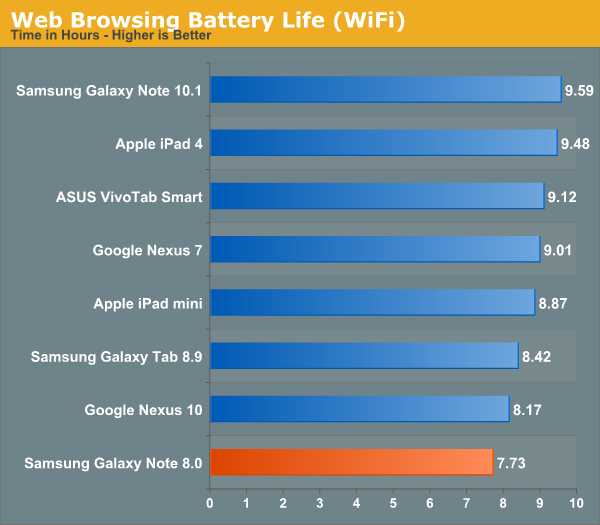 The Galaxy Note 8.0 delivers about 13% lower battery life than the iPad mini in our test. The drop isn't tremendous, but it's just beyond the point of being noticeable.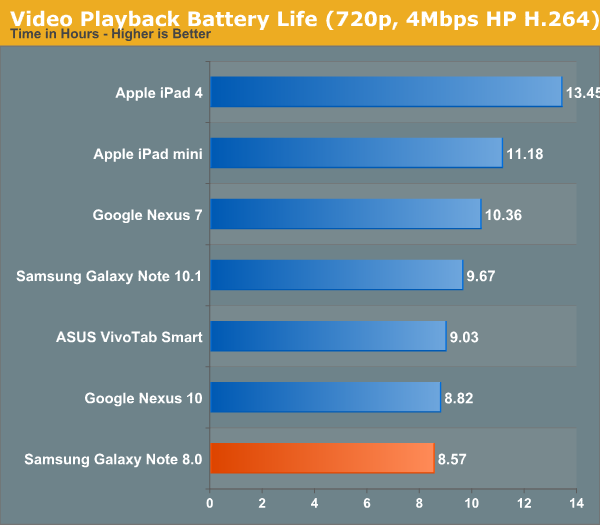 Video playback is much worse. The Note 8.0 shaves off 23% from the iPad mini's battery life on a single charge. Apple has traditionally done a great job of implementing low power video decode, it seems like Samsung needs to do some work here as even the larger Note 10.1 suffers.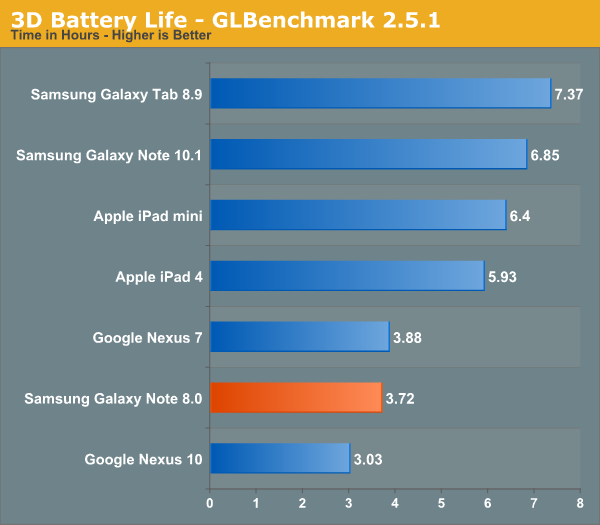 Finally, for the true worst case scenario, we have our GLBenchmark 3D battery life results.
3D battery life is one area where the old Galaxy Tab 8.9 actually leads everything else, the reason being that its hardware is so slow it's simply incapable of drawing all that much power compared to newer, faster tablets. Here we get a good feel for the lower bound in the Note 8.0's battery life - a bit under 4 hours. The 8 ends up with ~ 40% less time on a single charge compared to the iPad mini.
The Note 10.1 does a lot better here simply due to its larger battery (offset by a larger display, but benefitting from a lower power SoC).
Charge Time
Samsung bundles a fairly standard 5V/2A USB charger with the Note 8.0. The Note 8.0 takes a hair under 4 hours to charge from empty to full (no current draw at the wall). This is comparable to the iPad mini.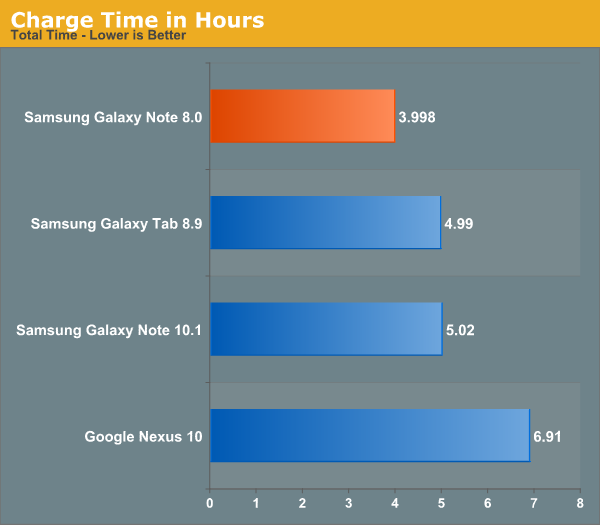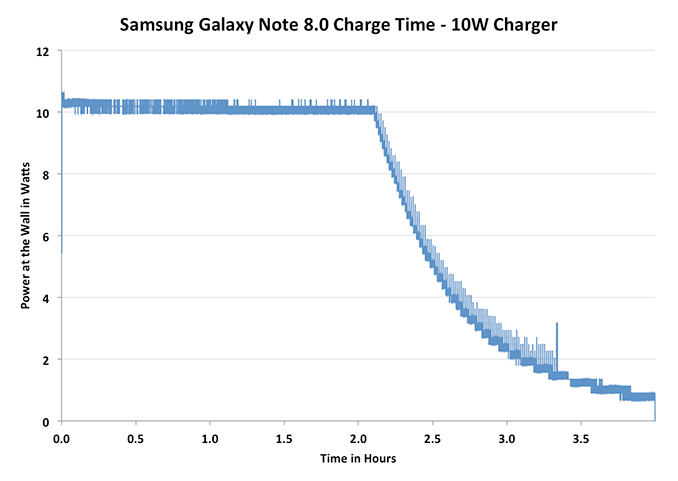 Performance: Upgrading from a Galaxy Tab 8.9
It's important to remember that users actually upgrade devices and aren't in a constant state of comparing only the absolute latest to the absolute latest. Stepping into the real world for a moment, I dusted off the first sub-10" tablet that ever excited me: Samsung's Galaxy Tab 8.9.
Built around NVIDIA's Tegra 2 and driving an 8.9-inch 1280 x 800 display, the Galaxy Tab 8.9 was in many ways a not too distant relative of the Note 8.0. Many of the UI customizations we see today on the Note 8.0 can be seen in a much earlier form on the Galaxy Tab 8.9. The app drawer existed back then (although it was seriously slow to appear/animate) and the tablet eventually got the ability to display multiple apps at the same time: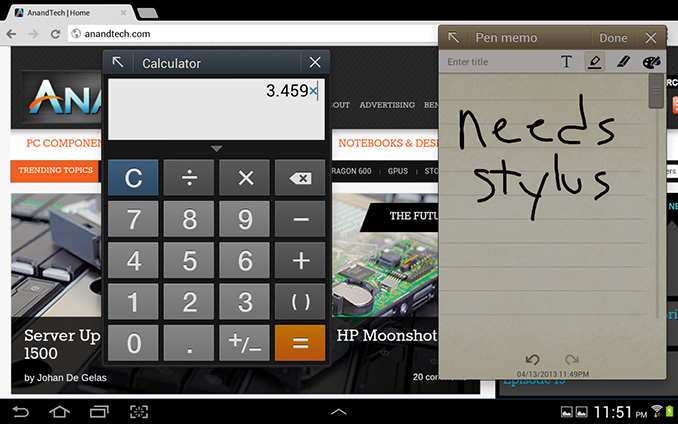 Multitasking on the old Galaxy Tab 8.9
There was even an early note taking app although the old Galaxy Tab 8.9 lacked a stylus.
From a performance standpoint, it's sort of insane to think of how far we've come in such a short period of time. Remember, the Galaxy Tab 8.9 came out less than 2 years ago. Back then, shipping 40nm LP hardware from TSMC was common place - we've gone through a full process node transition since. Building SoCs at 28/32nm not only gave manufacturers the ability to integrate more features (more cores, bigger GPUs), but at higher frequencies as well.
CPU Performance
The Galaxy Note 8.0 features Samsung's own Exynos 4 Quad (4412) SoC. The SoC features four ARM Cortex A9 cores running at up to 1.6GHz (1.4GHz max in the Note 10.1) fed by a 1MB L2 cache and a dual-channel LPDDR2/3 memory controller. ARM's Cortex A9 isn't exactly top shelf these days, but compared to what's in the iPad mini (2 x A9s running at 1GHz) the Note 8.0 has a substantial frequency advantage. The same is true if we look at the Note 8.0 compared to the old Galaxy Tab 8.9. The advantage there is even greater as Tegra 2 lacked NEON support and only had a single channel memory interface.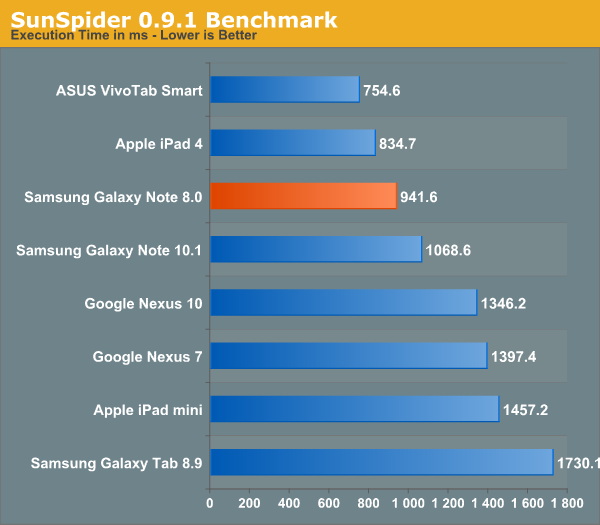 The Note 8.0 a bit faster than the Note 10.1 thanks to its higher max CPU frequency (1.6GHz vs. 1.4GHz). The comparison to the Galaxy Tab 8.9 is like night and day, the Note 8.0 is considerably quicker. The iPad mini comparison is also skewed significantly in favor of the Note 8.0. Using Apple's A5r2, the iPad mini still has a standard Cortex A9 based SoC with a much lower operating frequency than what's used in the Note. This chart alone is good reason for why Apple needs to move the mini to an A6 based design sooner rather than later.
The Note 8.0's CPU performance remains very competitive here despite being based on a fairly old CPU architecture at this point. The 8 is much faster than the iPad mini, tangibly quicker than the Nexus 7 (dual-channel memory interface, higher max CPU clocks) and in this case even faster than the iPad 4 thanks to the performance of Chrome on Android.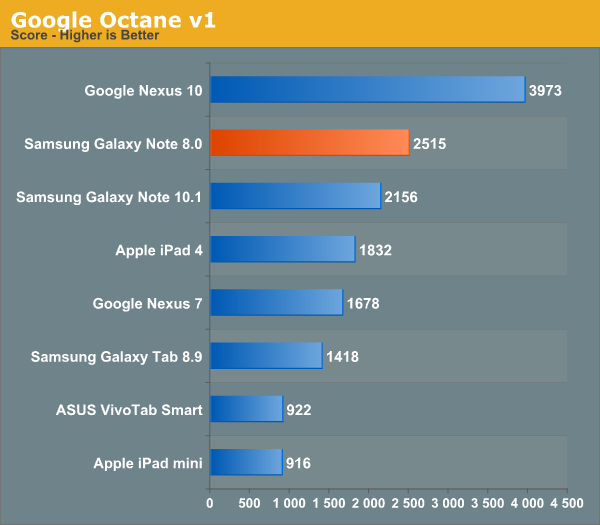 Our final CPU/js test echoes what we've seen elsewhere. Samsung knows how to build performance competitive hardware. The improvement over the old Galaxy Tab 8.9 remains significant.
GPU Performance
The GPU side of Samsung's Exynos 4 Quad is also powered by ARM, in this case we're talking about the Mali 400MP4. ARM's Mali 400 is also getting older, but when it arrived on the scene its performance was pretty respectable. To evaluate its performance, we turn to our recently expanded list of Android 3D benchmarks starting with 3DMark.
3DMark - Ice Storm
3DMark for Android features the Ice Storm benchmark and uses OpenGL ES 2.0. Ice Storm is divided into two graphics tests and a physics test. The first graphics test is geometry heavy while the second test is more pixel shader intensive. The physics test, as you might guess, is CPU bound and multithreaded. The overall score takes into account both graphics and physics tests. The benchmark is rendered to an offscreen buffer at 720p/1080p and then scaled up to the native resolution of the device being tested. This is a very similar approach we've seen by game developers to avoid rendering at native resolution on some of the ultra high resolution tablets. The beauty of 3DMark's approach here is the fact that all results are comparable, regardless of a device's native resolution. The downside is we don't get a good idea of how some of the ultra high resolution tablets would behave with these workloads running at their native (> 1080p) resolutions.
For these benchmarks we stuck with the default presets (720p, normal quality). I'm reporting the overall and physics scores here: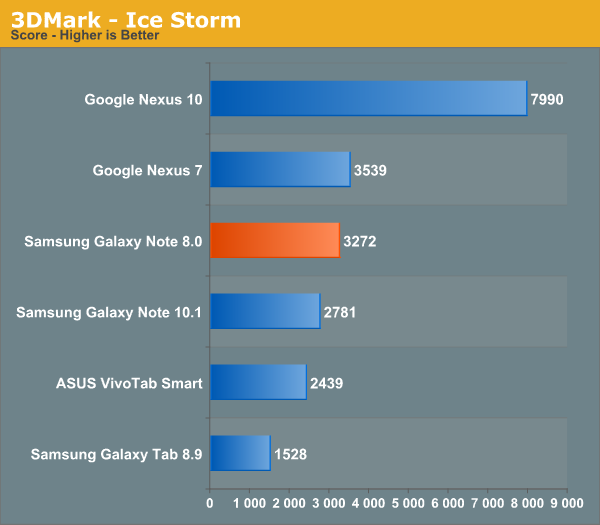 I tossed the physics test in here because it serves as an interesting multithreaded CPU benchmark. The results are largely unrealistic (a pair of Cortex A15s should almost always be quicker than four Cortex A9s at a lower frequency in most real world Android apps), but it does highlight the combination of core count and clock speed upgrades that we've seen over the past 2 years in the mobile tablet space.
Basemark X
Basemark X is a new addition to our mobile GPU benchmark suite. There are no low level tests here, just some game simulation tests run at both onscreen (device resolution) and offscreen (1080p, no vsync) settings. The scene complexity is far closer to GLBenchmark 2.7 than the new 3DMark Ice Storm benchmark, so frame rates are pretty low: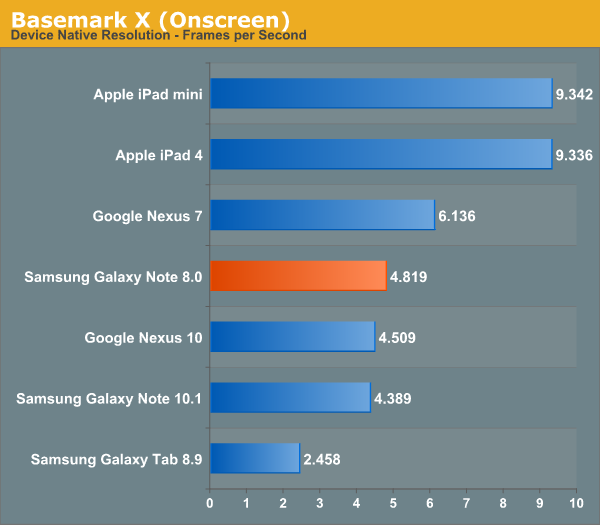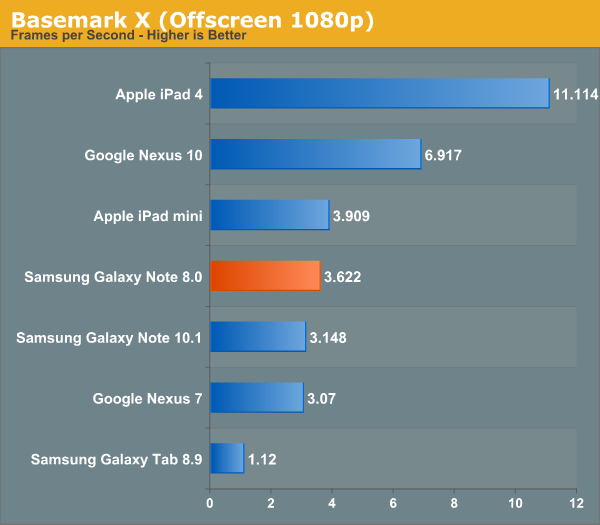 Basemark puts the Galaxy Note 8.0 behind the iPad mini in GPU performance and roughly 2 - 3x the performance of the Galaxy Tab 8.9.
GLBenchmark 2.7
GLBenchmark 2.7 gives us some low level results to look at. We'll start with peak theoretical fill rate and triangle throughput tests: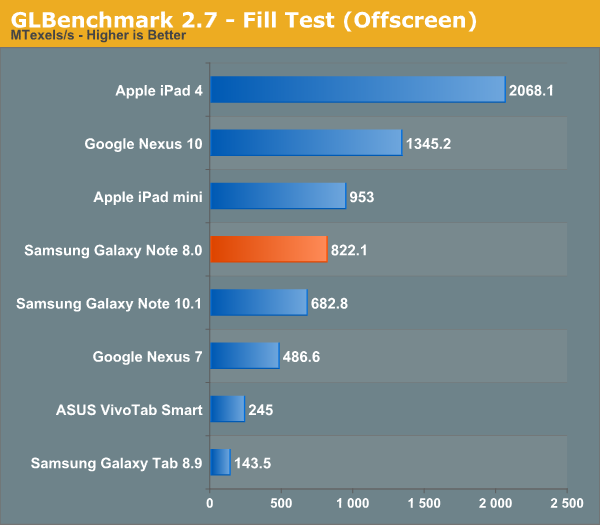 The Mali 400MP4 in the Galaxy Note 8.0 is capable of delivering similar fill rate to the PowerVR SGX 543MP2 in Apple's iPad mini, but the latter still holds an appreciable performance advantage. The gap between the 8.0 and 10.1 Galaxy Note models boils down to clock speeds. Compared to the old Galaxy Tab 8.9, the Note 8.0 puts its spiritual predecessor to shame.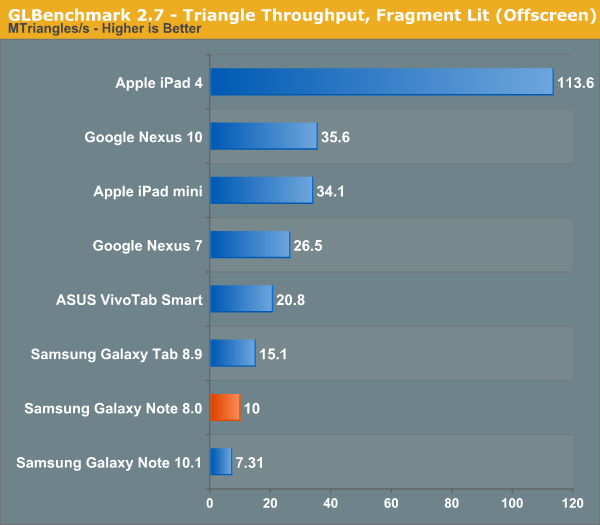 Can anyone say regression? ARM's Mali 400MP4 was never very strong from a triangle throughput standpoint, technically the Galaxy Tab 8.9 is quicker here (although you'll pretty much never see it surface in an actual game). The two GLBenchmark 2.7 test scenes follow: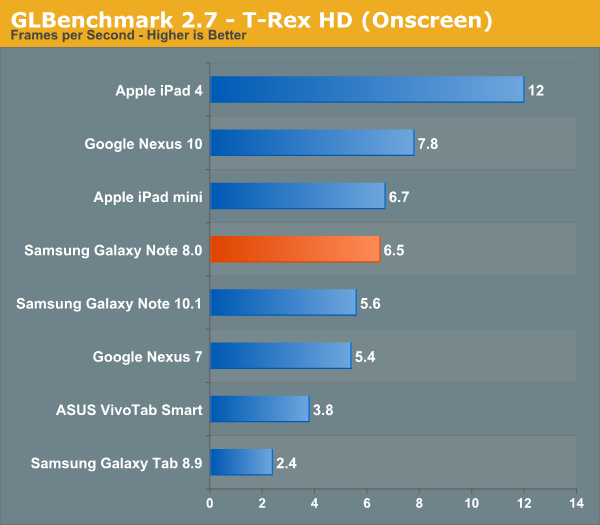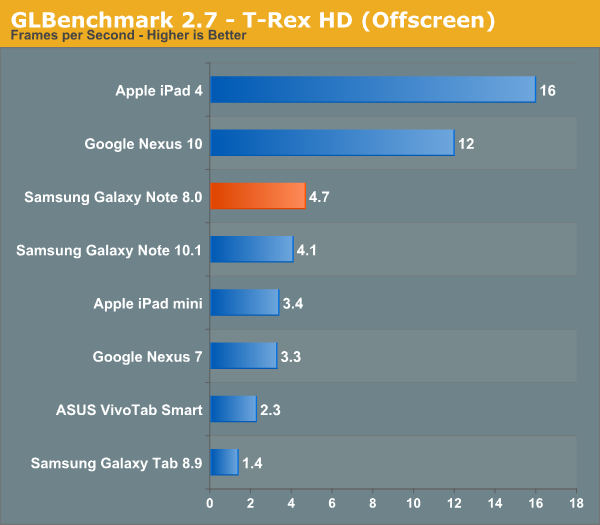 GLBench puts the Note 8's overall performance just slightly behind that of the iPad mini, and ahead of the mini if you compare identical workloads (offscreen 1080p). Obviously the GPU included here isn't anywhere near powerful enough to run the T-Rex HD workload at reasonable performance levels, but I wouldn't expect that to really hamper gaming performance for at least another two years.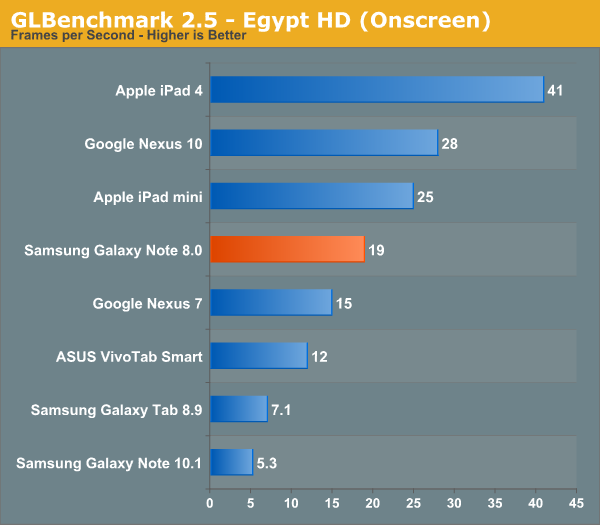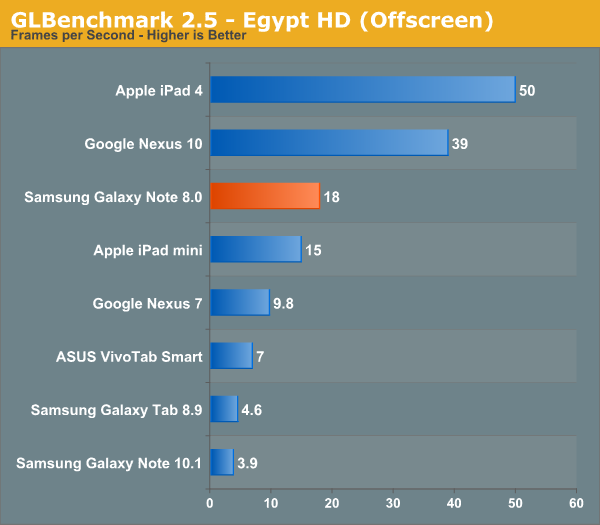 Egypt HD gives us a better look at what performance will look like in the near term. Once again, at native device resolution the iPad mini does better than the Note 8.0 but with the same workload/resolution their roles reverse. What we usually see, regardless of capabilities, is good real world performance by pretty much anything on the market. Most game developers seem to treat modern tablets like game consoles and attempt to deliver a good experience across the lowest common denominator rather than targeting the absolute high end.
NAND Performance
Given one of my obsessions over the past 5 years, focusing on NAND performance in modern smartphones and tablets is an obvious fit. For these tests we turn to Androbench, using a modified version of the default performance settings. By upping the read/write buffer to 100MB we get more repeatable results, which is always nice to have. Just as in our PC SSD reviews, we focus on large block sequential read/write performance as well as small file random access. For Windows 8 tablets, we use Crystal Disk Mark as a rough comparison point. Note that we are looking at peak performance here and not sustained write speeds. I don't even want to know how slow these things will get if exposed to prolonged random writes. I've toyed with worst case performance on modern iOS and Android mobile devices and it's not pretty. For now, just try not to fill these things up.
The Galaxy Note 8.0's peak sequential performance is ok, the Nexus 10 does far better. Random IO performance however is great (for an ARM based tablet). The latter is very important for IO heavy multitasking workloads, which could be why we're seeing a mild focus on it here. Random write performance is still lower than I'd like to see (realistically we need to be about an order of magnitude better than where we are for real IO intensive multitasking), but the Note 8.0 at least ends up near the top of these charts.
If you look at the Note 10.1's performance you'll notice a big difference in random IO performance. It's entirely possible that Samsung is using a better controller/firmware combination in the Note 8.0, or it could be that my review sample happened to source a better eMMC solution. NAND based storage is typically treated like a commodity by most OEMs, so I wouldn't be too surprised to see wide variation in performance depending on how well you do in the eMMC lottery.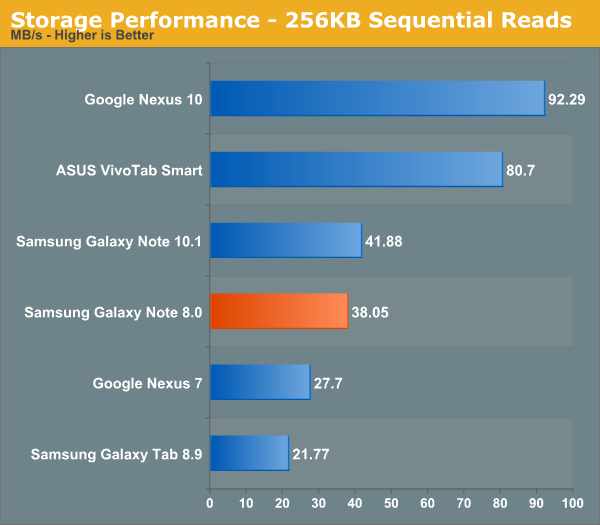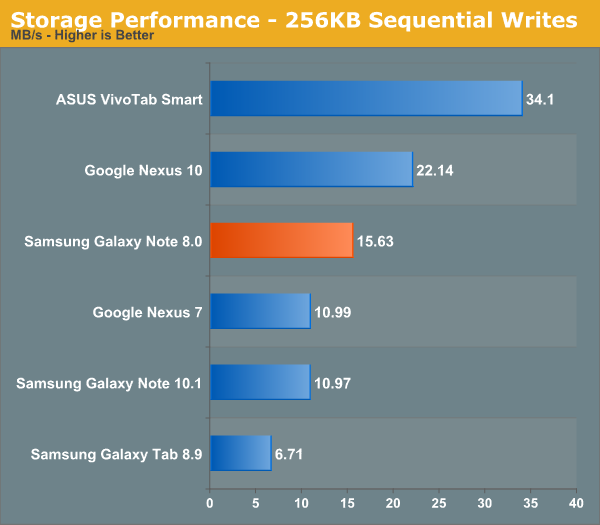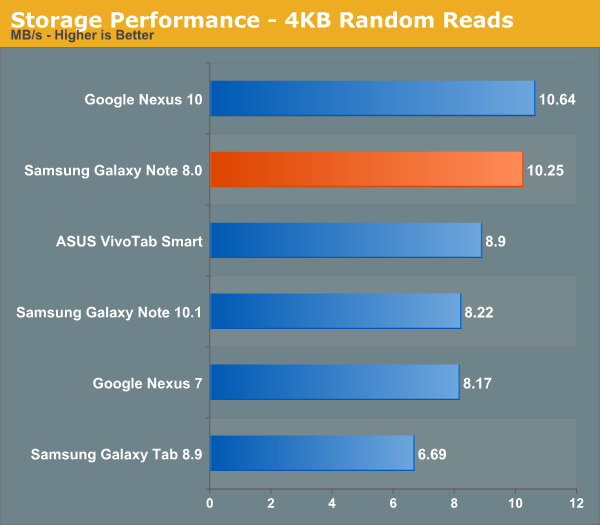 Final Words
Samsung's strategy in the mobile market appears to be success through catering to a sea of niches. I've also heard it referred to as having a device at every inch. In this sense, Samsung is the antitheses of Apple where simplicity in product lines is paramount. I'd argue that the right approach is likely a mix of the two. Samsung may have too many products, while Apple may offer too few.
The good news is, if you're very specific in your needs there's likely a product made almost perfectly for you.
When the Galaxy Note 10.1 launched, I felt the tablet had potential but was largely held back by unpolished/unfinished software. Since its launch, Samsung addressed many of initial complaints about things like multi-window app compatibility and window focus lag. The result is a far more usable platform that still doesn't feel native, but doesn't feel hacked together either. The Galaxy Note 8.0 benefits from showing up after the software updates, meaning it looks a lot more polished out of the gate.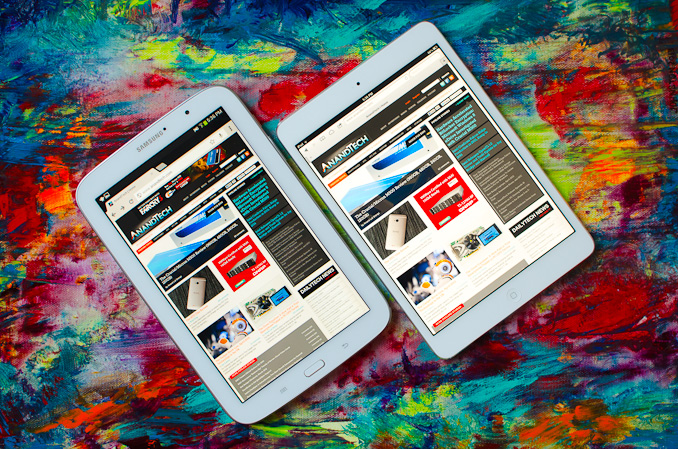 Indeed it's tough to find fault with the Galaxy Note 8.0. It's a good size, has a good display and offers a little more than your standard Android tablet. The inclusion of the S Pen, IR blaster and multi-window features aren't enough to justify the price premium over a Nexus 7 for me personally, but I can see how they would convince others. If you want a one-handed note taking assistant on the go and/or constantly find yourself wishing you could read email and browse the web on your tablet, then the Galaxy Note 8.0 is without equal in the Android or iOS space. The S Pen experience on the Note isn't perfect, it's definitely not as natural as writing on real paper with an actual pen, but at this price point it's surprisingly decent. You can definitely get a better pen experience on Microsoft's Surface Pro, particularly when it comes to drawing, but at more than 2x the cost.
Where the Note 8.0 falls short is primarily in its battery life. In general you're looking at anywhere from 10 - 40% less time on a single charge compared to the iPad mini, despite having a slightly larger battery. Power efficiency is just as important as outright performance, and this is something the folks at Samsung's SoC division have yet to master. It's not immediately obvious how much of a role the panel plays in all of this, but looking at our GLBenchmark battery life results it's clear that the SoC has a significant impact.
Is the Galaxy Note 8.0 worth buying? If you're upgrading from an older Galaxy Tab 8.9, the Note 8.0 is worlds better in pretty much every way. It's faster, lasts longer on a single charge, can do more and ships with a newer version of Android. Ultimately what will sell you on this tablet vs. the Nexus 7 (or iPad mini if you're cross shopping) is the S Pen and Samsung's Android customizations. If you're sold on the former, then the Note 8.0 is a good fit for you. If you're not however, then depending on your needs the Nexus 7 (or waiting for this year's model), iPad mini and Nexus 10 are all great alternatives.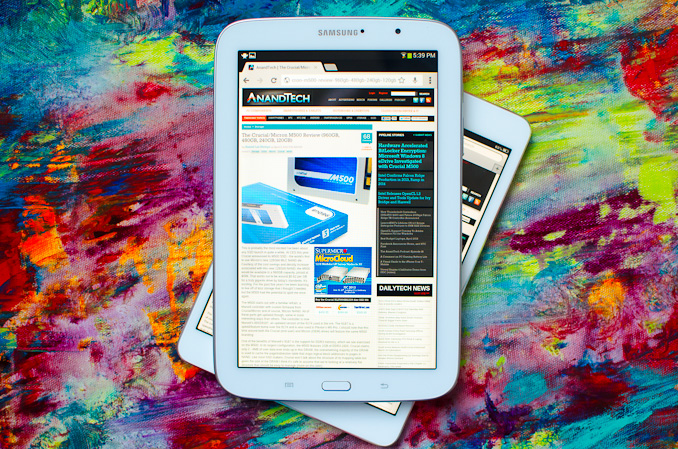 What could turn the Note 8.0 from a solid niche contender to a formidable competitor is rather simple. With a higher resolution display (and accompanying tweaks to make TouchWiz a little more subtle in its screen presence) and a faster SoC, the Note 8.0 could really play up the productivity angle. Without a doubt the next generation of this platform will incorporate some sort of Cortex A15 based SoC, which should make it even better for multitasking. Couple that with an awesome panel and tightened up UI and Samsung could have a broad winner on its hands.