Original Link: http://www.anandtech.com/show/6889/intel-confirms-falcon-ridge-production-in-2013-ramp-in-2014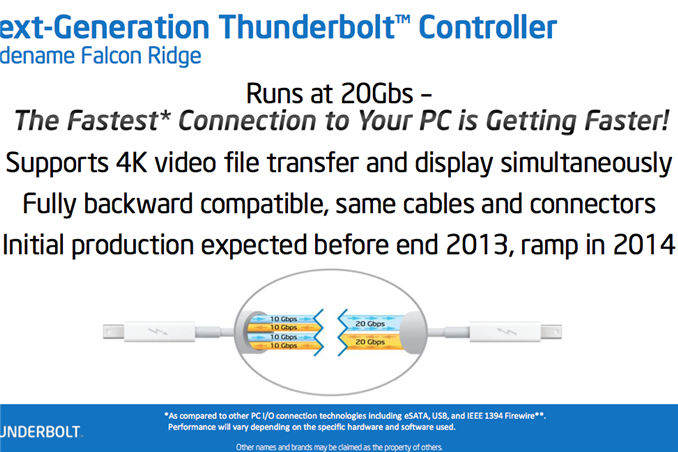 Yesterday Intel announced its updated Redwood Ridge Thunderbolt controllers (adding 4K/DP1.2 support, lower power operation and slightly lower BOM cost) as well as next year's Falcon Ridge family of Thunderbolt controllers. I assumed that Falcon Ridge would ship alongside Broadwell in late 2014 but I just got word that the new Thunderbolt controllers will begin production by the end of this year and ramp volume through 2014. I don't have more specific dates than that, but it's still good news.
All Intel is saying about Falcon Ridge is the spec includes a speed bump to 20Gbps per lane up from the current controllers with 10Gbps per lane. Intel's own presentation refers to a single channel/two lane Falcon Ridge controller, delivering no additional bandwidth above existing TB implementations (although there may be practical advantages since you can't easily aggregate all TB channels today). I would assume that we'd see even higher bandwidth implementations but Intel isn't talking about any of that today.