Original Link: http://www.anandtech.com/show/6852/hp-elitebook-folio-9470m-ultrabook-review-ultrabooks-in-enterprise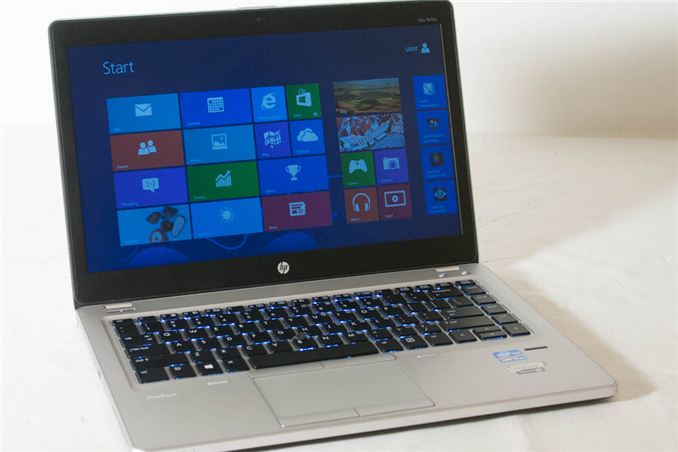 Introducing the HP EliteBook Folio 9470m
Something funny happened when a lot of us weren't really paying attention last year: Intel's nascent "ultrabook" specification and definition quietly expanded and, in the process, sort of redefined what a notebook was. In their own circular way, Intel created a brand and changed the way notebooks were built (with ULV Ivy Bridge leading the way); I'm sure it's no coincidence that this trademarked product name has only squeezed AMD further. Ultrabooks that were 14" and larger weren't as rigidly confined by the definition as ones below that threshold, but they're still smaller creatures than the notebooks of old.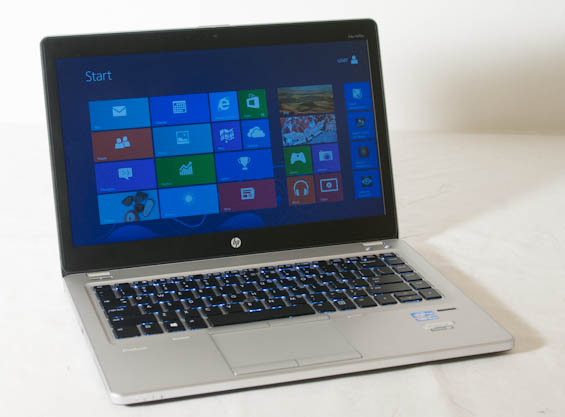 If you haven't been paying attention, thin is in. That's great for the consumer space, where certain enterprise level accoutrements aren't as important, but in enterprise, there are features that are more heavily demanded. It goes beyond the basic mil-spec testing: users want true docking stations and longer battery life. And IT departments demand user serviceability. When you're trying to develop a thin chassis, finding some way to include these features can complicate things. HP seems to think they've gotten the balance right with their EliteBook Folio 9470m.
HP EliteBook Folio 9470m Specifications
Processor
Intel Core i5-3427U
(2x1.8GHz + HTT, Turbo to 2.8GHz, 22nm, 3MB L3, 17W)
Chipset
Intel QM77
Memory
1x4GB Hynix DDR3-1600
Graphics
Intel HD 4000 Graphics
(16 EUs, up to 1.15GHz)
Display
14" LED Matte 16:9 1366x768
AU Optronics AUO253C
Hard Drive(s)
180GB Intel 520 SATA 6Gbps SSD
Optical Drive
-
Networking
Intel Centrino Advanced-N 6235 802.11a/b/g/n
Bluetooth 4.0
Intel 82579LM Gigabit Ethernet
Audio
IDT 92HD91BXX HD Audio
Stereo speakers
Single combination mic/headphone jack
Battery
Long Life 4-Cell, 14.8V, 52Wh (integrated)
Front Side
-
Right Side
2x USB 3.0
DisplayPort
SD/MMC Reader
VGA
Docking port
Ethernet
Left Side
AC adaptor
Vent
USB 3.0 charging port
Mic/headphone combo jack
SmartCard reader
Back Side
-
Operating System
Windows 8 Pro 64-bit
Dimensions
13.3" x 9.09" x 0.75"
338mm x 231mm x 18.9mm
Weight
3.6 lbs
1.63kg
Extras
Webcam
SSD
mSATA slot
Bluetooth
Backlit keyboard
SmartCard reader
Fingerprint reader
Optional 60Wh slice battery
Optional docking station
Optional WWAN
Warranty
3-year limited
Pricing
Starts at $1,349
As configured: $1,349
Despite the overall larger chassis, HP has opted to stick with ULV Ivy Bridge with the Intel Core i5-3427U. The 3427U is similar to the newer 3337U, but has an extra 100MHz on the turbo clocks and another 50MHz on the GPU. This enterprise class notebook makes a very interesting counterpoint to Dell's own XPS 13, reviewed here recently; Dell's XPS notebooks are essentially designed to bridge the gap between consumer and enterprise laptops.
The Folio 9470m sports two user-accessible DIMM ports, but HP only populates one with a paltry 4GB of DDR3-1600, typical of the traditional enterprise tax. Thankfully there's a 180GB Intel SSD standard, as well as room to add an mSATA SSD later. There's also a WWAN slot included, the battery is removable, and HP continues to include a SmartCard reader.
Of course, things being what they are, HP only includes a 1366x768 TN panel display in the basic model of the 9470m and I don't have to tell you that it's spectacularly crappy, even by bad notebook display standards. It's hard to believe in 2013 that I can have 1280x720 on my 4" smartphone, but HP can't somehow do better than that in a stock notebook configuration. Thankfully the 9470m can be ordered with a 1600x900 panel, but that's still a far cry from the 1080p IPS goodness being found on many consumer notebooks.
In and Around the HP EliteBook Folio 9470m
If you've kept up with my reviews of HP's EliteBook line you're not going to find any surprises here with the Folio 9470m. The current styling has been working out fairly well for HP and still feels like it stands head and shoulders above what Dell is doing with their notebooks. Outside of the XPS line I feel like Dell's aesthetics on virtually all of their lines, consumer and enterprise alike, have gone almost completely off the rails. The current generation Inspirons look like Speak-and-Spells, while Precision notebooks look like cheap knock-offs of ThinkPads from ten years ago. Placed in that company, the EliteBook line looks positively futuristic.
With all that said, though, the current design motif of HP's EliteBooks is beginning to wear out its welcome. The machined aluminum lid and body is coupled with black plastic on the keyboard and display bezel. The bottom of the body is comprised of what feels like black carbon fiber, though it could just as well be well-treated plastic. Either way, the machine as a whole feels very sturdy, but I do feel like it's time to move on.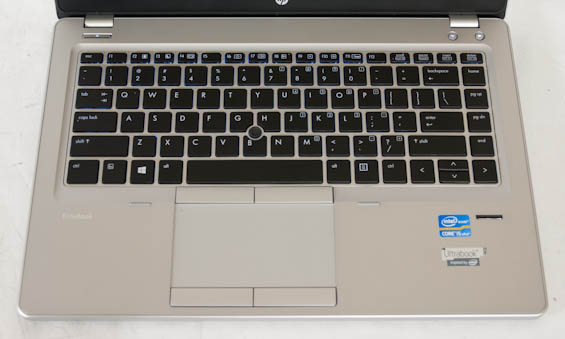 I continue to be pleased with how HP has been handling the backlit keyboard and especially the smooth glass surface of the touchpad; HP's keyboard layout is traditional, comfortable, and easy to use. Key depth is good, flex is minimal. There's a trackpoint in the center of the keyboard, traditional for enterprise notebooks, and the touchpad is large and roomy. Ironically, the recessed touchpad was more desirable in the Windows 7 era; with Windows 8, edge gestures are harder to perform. Truthfully, though, I'm kind of done with chiclet keyboards. They work fine for the most part, but I'd like to see at least enterprise systems go back to traditional keyboards.
HP really takes care of the enterprise customer with the 9470m, though, and they do that in four ways: continuing to employ SmartCard readers, offering a side-mounting docking bay (the notebook is too thin to use the bottom-mounting ones, so HP is transitioning to these), offering a bottom-mounting slice battery, and making the ultrabook totally user serviceable (complete with replaceable battery).
Opening up the 9470m is a bit of a chore as you have to unscrew and remove the panels in a specific order, but you can see that overall it's a pretty smart and efficient layout. Everything you'd be able to replace in a traditional notebook, short of the CPU, can be replaced in the 9470m without too much hassle. Honestly this is one of those things I wish I'd see a little more frequently in consumer notebooks; only enthusiast-class units are really this user friendly anymore.

I also had a chance to try out the slice battery and dock. The dock feels just a touch loose, but it only blocks the VGA and ethernet ports on the notebook (which it replaces), and in exchange brings a tremendous amount of flexibility, including four USB 3.0 ports and an additional DisplayPort. I also like how the bottom of the dock allows you to mount it to the wall if you're so inclined.
The slice battery, on the other hand, can be a lot more fiddly. Once it's locked in, it's locked in, but getting the notches to line up and securely tilt in was abnormally frustrating. I was able to, and I suspect with practice it wouldn't be an issue, but the difficulty is nonetheless worth mentioning. The 60Wh slice battery does add at least a pound of heft to the 9470m; this was already a pretty light notebook so that's not a huge deal, but it's very noticeable.
System Performance
At this point in Ivy Bridge's life, performance is a fairly known quantity. I'm kind of curious to tease out the differences between the newer (and very similar) Intel Core i5-3337U with the older i5-3427U, and thankfully I can do exactly that. HP's EliteBook Folio 9470m should be ever so slightly faster than the Dell XPS 13 due to its higher turbo clock, but we'll see how that works out.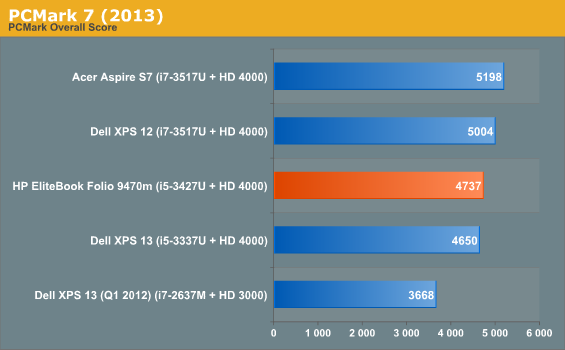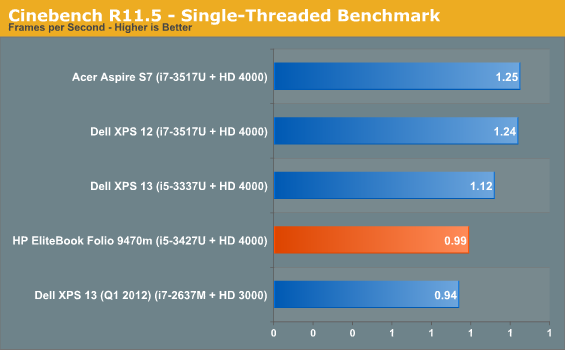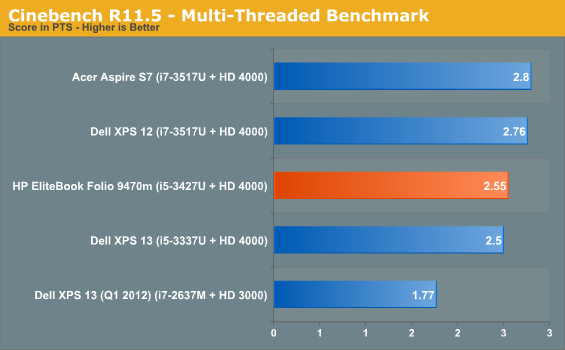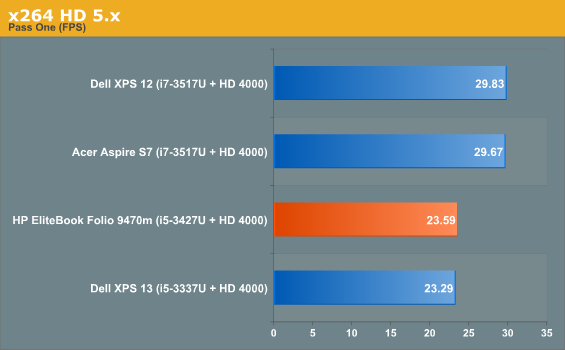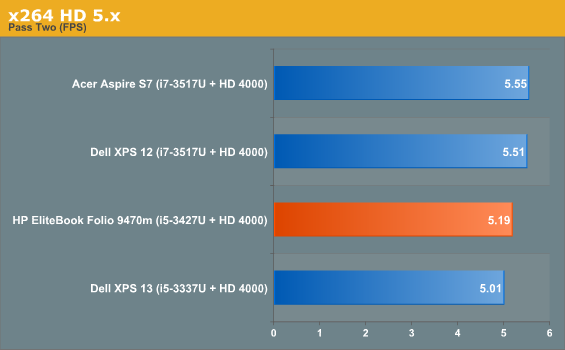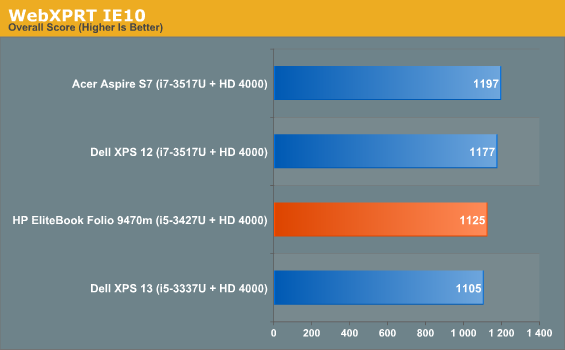 As a general rule, the 9470m's i5-3427U is ever-so-slightly faster than the XPS 13's i5-3337U. It's consistent (excepting the Cinebench single-threaded performance), but it's there. That said, it's still pretty negligible, and again I would find it difficult to recommend upgrading to an i7.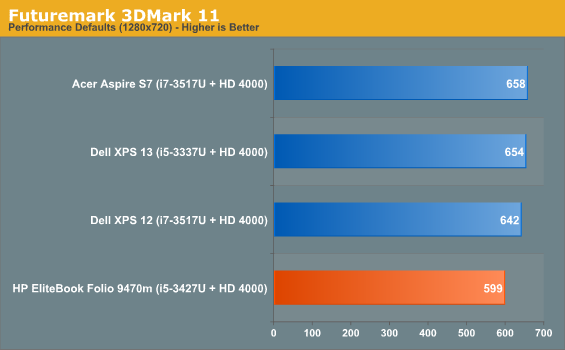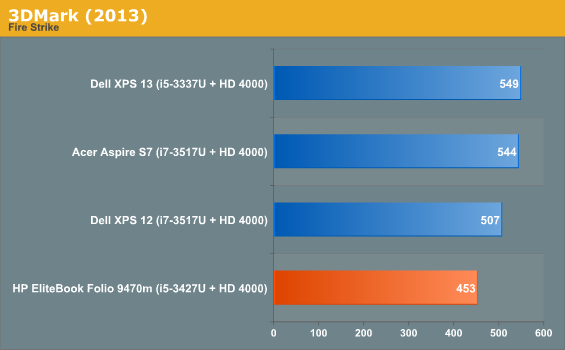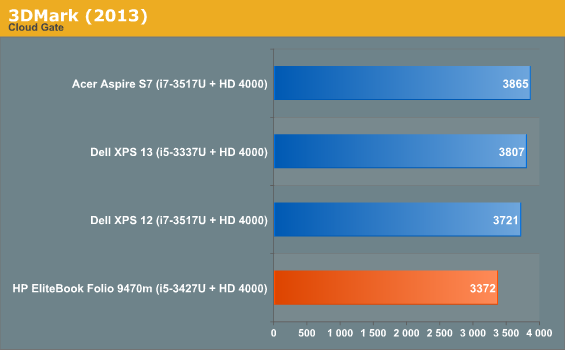 Interestingly but unsurprisingly, the Folio's missing second memory channel (due to only one of the DIMM slots being populated) has a consistent effect on the HD 4000 IGP's performance, taking about 10% of its performance off of the table. For enterprise users, the HD 4000's performance shouldn't be a big deal, but if you're interested in getting a little extra zazz out of it, install a second DIMM.
Display Quality
There are crappy, low resolution TN panel displays, and then there are panels that suck out loud. Jarred and I have been over this a million times, but sometimes you get a display that's bad even by bad standards. That's the stock display in the HP EliteBook Folio 9470m, and if you're interested in this notebook I sincerely urge you to consider buying a unit with the 1600x900 panel, which cannot possibly be as bad as the stock panel.
Don't believe me? See for yourself: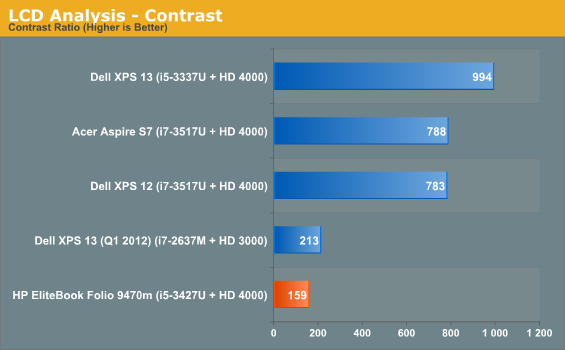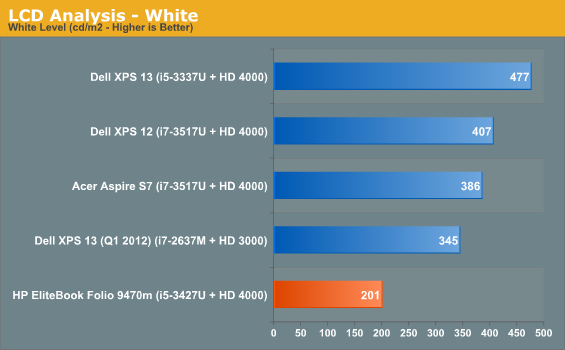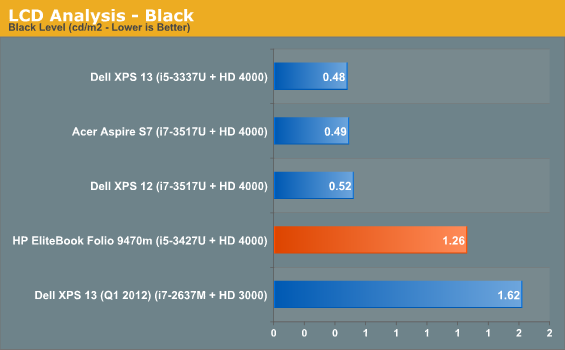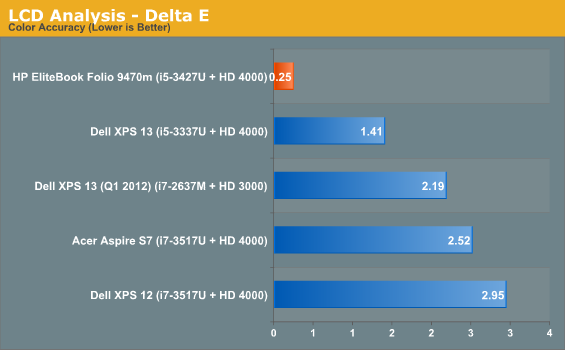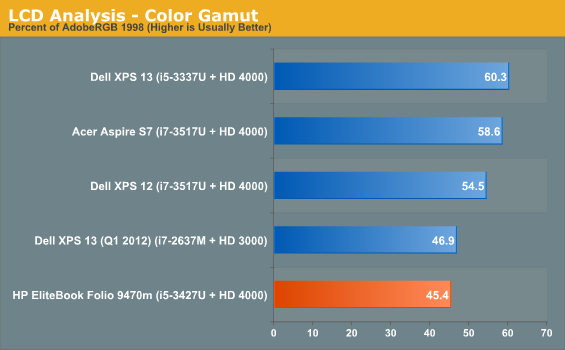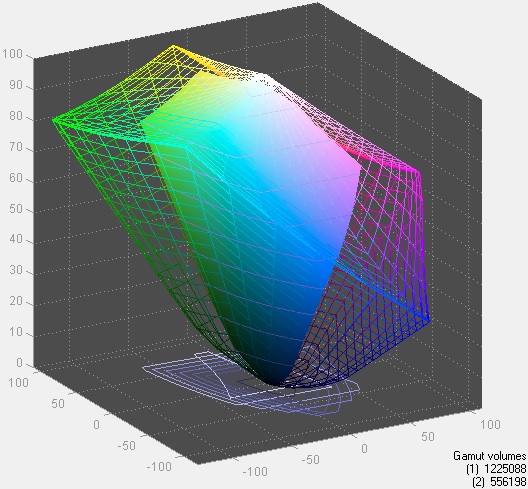 This is without a doubt one of the worst panels I've ever tested, and it's a testament to how obnoxiously cheap vendors behind the Windows PC market really are. It's difficult for me to be professional when I'm looking at a notebook that has a panel I would've judged poor even when I started writing reviews at AnandTech, before tablets with crisp IPS panels started proliferating in the marketplace. There's no excuse at all for this panel to even see the light of day except in a $300 budget junker, let alone in a notebook you're paying north of $1,300 for.
We bumped up our battery testing to start panel brightness at 200 nits instead of 100 nits; that means this notebook's battery life was tested with the backlight at its highest level. This is an ugly, ugly panel, and in 2013 there's simply no excuse for it. I've personally told reps at HP and other vendors that this isn't going to fly anymore, I know Jarred has as well, and Anand's even told manufacturers that this kind of penny-pinching will allow the burgeoning convertible tablet market to subsume the notebook market at large.
Battery Life
Speaking of battery testing, I was able to test the Folio 9470m with both its substantial 52Wh stock battery and its 60Wh extended slice battery. If ultrabooks can be relied upon for anything, it's producing excellent battery life, and that turned out to be true here despite the screen running effectively at maximum brightness.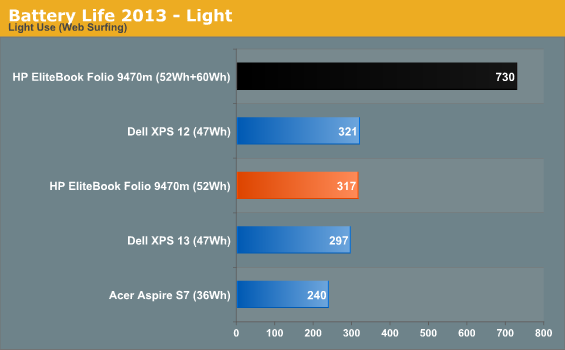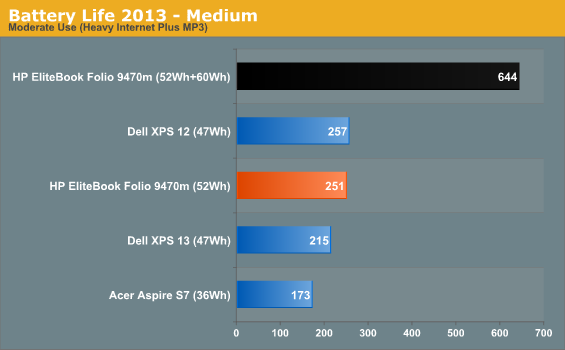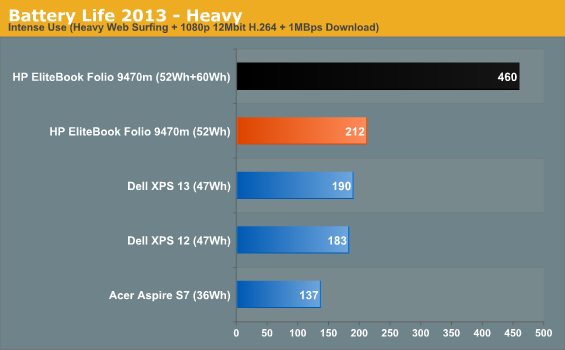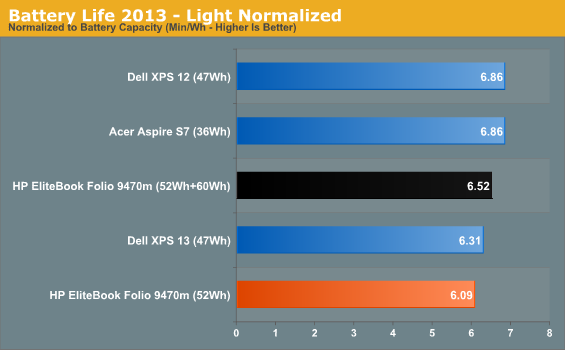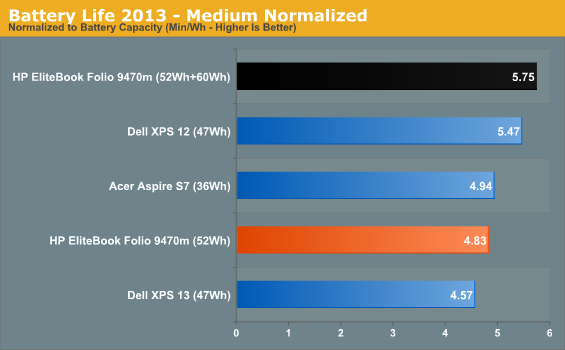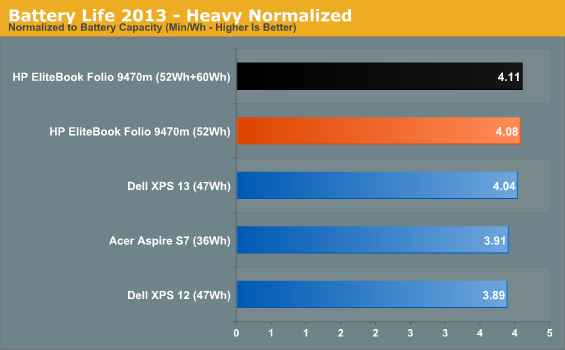 As it turns out, the slice battery not only more than doubles the 9470m's already healthy battery running time, it actually improves the system's efficiency somewhat. For basic use, the 9470m can give you a healthy five hours at least. Add the slice battery, and suddenly you're good for roughly the whole day.
Heat and Noise
Battery life is good, but heat and noise are a bit less desirable.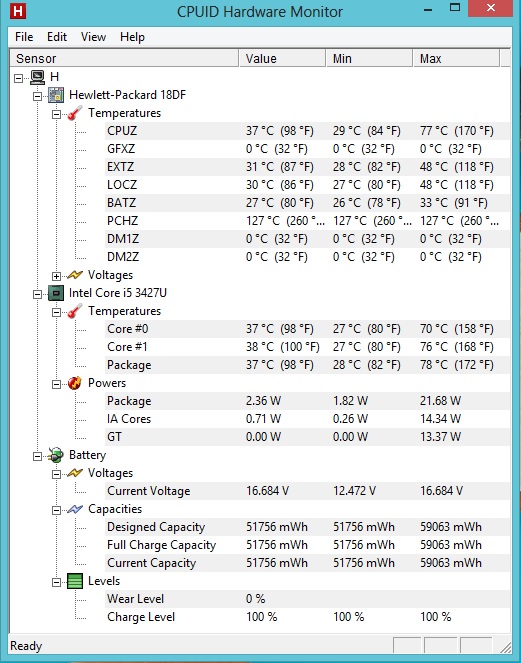 The Folio 9470m's thermals are actually very good, but HP has clearly tuned the system to favor temperatures over acoustics. The result is that while it's impressively cool under load (sub-80C in an ultrabook is excellent), the fan spins up and produces a high-pitched whine. Under the circumstances I honestly favor tuning for silence over thermals; the XPS 13 proves that you can let the processor run a little toasty without that heat transferring too directly to the end user, and I'd prefer the 9470m took that tack.
That in mind, though, the cooling system is handled almost entirely through the side of the notebook as opposed to the bottom, which is greatly appreciated as it allows the 9470m to actually be used as a laptop.
Conclusion: This Just Isn't Okay Anymore
Whenever I ask a vendor what the resolution of the notebook they're releasing is, the reply of "1366x768" is always tinged with either sheepishness or defiance. I'm reasonably certain that somewhere in the bowels of the HPs and Dells of the world there's a product designer who just knows that some bean counter is going to hamstring his or her beautiful design with a dismally low quality display just to save a few bucks per unit. The race to the bottom was good for democratizing technology, but that time has passed, and Apple's success should be ringing a clear indicator to these vendors: people want quality, and they're willing to pay for it. You won't ever be able to compete with Apple at their price points (as the first generation of Android tablets proved), but if you can deliver something comparable with a good display at a lower price (not hard given how much Apple inflates their prices), people will go for it.
How is this relevant to enterprise? Because despite the fact that the MacBook Pro offers virtually no allowances for business class use, it's still gaining a foothold. People are taking hits to serviceability and ease of administration solely to get a better product, and when you look at a unit like the HP EliteBook Folio 9470m, it's not too difficult to see how such a thing might happen.

The price tag for the 9470m isn't that bad for an enterprise notebook. $1,349 should get you more than 4GB of RAM, but HP did at least spring for a high quality SSD in the Intel 520. You get vPro, you get near-total user serviceability, you get a Smart Card reader, you get USB 3.0, you get docking capability, you get a fingerprint reader...really you get a heck of a lot from HP's EliteBook. As far as value goes, in the enterprise the 9470m really isn't that bad, and the potential for twelve hours of battery life is nothing to sneeze at.
It's probably not fair then that the EliteBook Folio 9470m is essentially becoming a whipping boy for problems pervasive within the industry, but despite some fantastic advances forward when it comes to the internal design and bringing useful enterprise features to the market, it's also indicative of a lackadaisical attitude possessed by both HP and by the industry at large. This chassis design is attractive, but I'm less and less enamored with it in this form factor. Like the dire panel it comes with standard, I feel like the chiclet keyboard's time has really passed.
If you can get the Folio 9470m with the 900p panel, the unit will undoubtedly be vastly improved from a productivity standpoint. Unfortunately HP's enterprise site leaves an awful lot to be desired as far as even finding that model, and it skirts the real point here: aren't we done compromising?