Original Link: http://www.anandtech.com/show/6851/the-htc-one-a-remarkable-device-anands-mini-review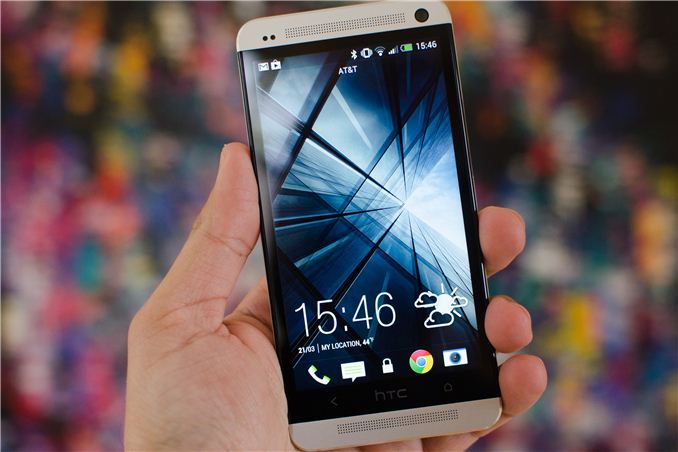 For the past week and a half our own Brian Klug has been hard at work on his review of HTC's new flagship smartphone, the One. These things take time and Brian's review, at least what I've seen of it, is nothing short of the reference piece we've come to expect from him.
In the same period of time I've been playing around with a retail HTC One and felt compelled to share my thoughts on the device. It's rare that I'm so moved by a device to chime in outside of the official review, but the One is a definite exception. By no means is this a full review, and I defer to Brian for the complete story on the One - something we should be getting here in the not too distant future.
I'm not a financial analyst, but HTC hasn't been doing all that well over the past few quarters. There's a general feeling that the aptly named One is HTC's last chance at survival. Good product doesn't always translate into market dominance, but it's a necessary component when you're an underdog. Luckily for HTC, the One is great.
Design
Over the past two years HTC has really come into its own as far as design is concerned. The difference between the HTC One X and the plethora of flagships that came before it was remarkable. Moving to the One, the difference is just as striking.
I don't seem to mind plastic phones as much as everyone else, but the One is in an appreciably different league compared to its peers. It's the type of device that you just want to look at and touch. Given how much you do end up looking at and touching your smartphone, HTC's efforts here seem well placed.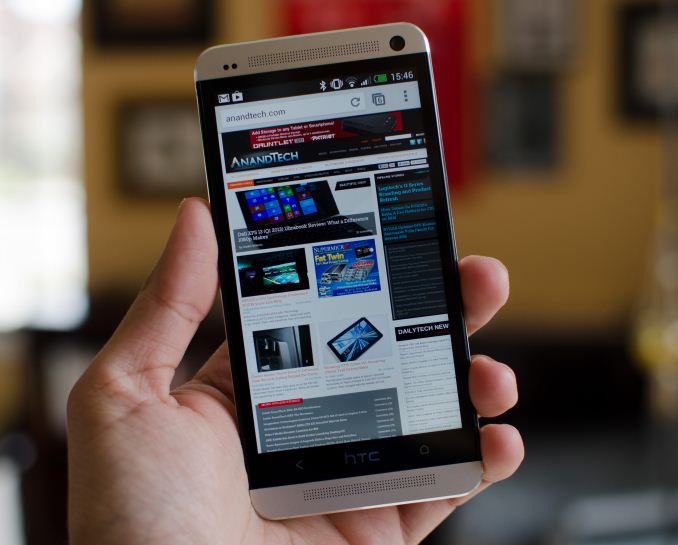 The One looks and feels great. The proportions are a little awkward in my hands, but I fully concede that's going to vary from person to person. Despite the heavy use of aluminum, I don't feel overly worried about scratching/damaging the finish.
The challenge with any smartphone is to build something that looks distinct in a sea of black rectangles on a wall in a store. With the One (and arguably the One X before it), HTC does a good job of balancing the need to be seen with the need to be subtle. Elegant is the right word here.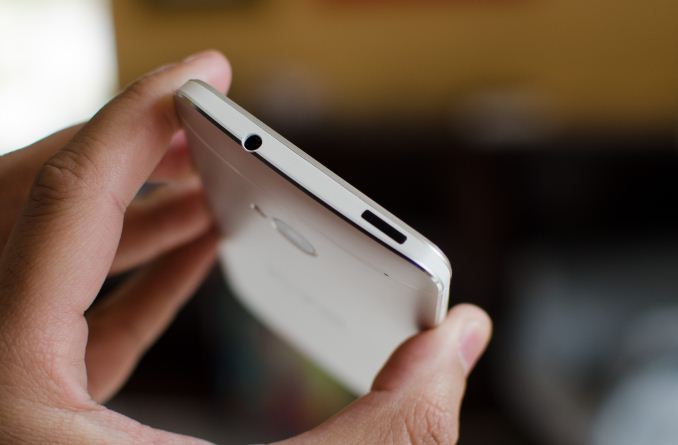 While I'm sure there will be comparisons to the iPhone, the fact of the matter is that the design cycle on these smartphones falls somewhere in the 12 - 24 month range. With something as sophisticated as the One, you're looking at the longer end of that spectrum. For what it's worth, if I had to estimate I'd say design work on the One probably started before the iPhone 4S came out.
Smartphone Spec Comparison
Apple iPhone 5
HTC One
Samsung Galaxy S 3
Samsung Galaxy S 4
SoC
Apple A6 1.3GHz
Snapdragon 600 1.7GHz
Snapdragon S4 1.5GHz
Exynos 5 Octa (1.6/1.2GHz) or Snapdragon 600 1.9GHz
DRAM/NAND/Expansion
1GB LPDDR2, 16/32/64GB NAND
2GB LPDDR2, 32/64GB NAND
2GB LPDDR2, 16/32GB NAND, microSD
2GB LPDDR3, 16/32/64GB NAND, microSD
Display
4.0-inch 1136 x 640 LCD
4.7-inch SLCD3 1080p, 468 ppi
4.8-inch Super AMOLED 720p, 306 ppi
5-inch Super AMOLED 1080p, 441 ppi
Network
2G / 3G / 4G LTE Cat 3
2G / 3G / 4G LTE Cat 3
2G / 3G / 4G LTE Cat 3
2G / 3G / 4G LTE Cat 3 (depending on region)
Dimensions
123.8mm x 58.6mm x 7.6mm
137.4mm x 68.2mm x 4mm - 9.3mm
136.6mm x 70.6mm 8.6mm
136.6mm x 69.8mm x 7.9mm
Weight
112g
143g
133g
130g
Rear Camera
8MP
4MP w/ 2µm pixels
8MP
13MP
Front Camera
1.2MP
2.1MP
1.9MP
2MP
Battery
Internal 5.45 Wh
Internal 8.74 Wh
Removable 7.98 Wh
Removable 9.88 Wh
OS
iOS 6.1.2
Android 4.1.2
Android 4.1.2
Android 4.2.2
Connectivity
802.11a/b/g/n, BT 4.0, USB 2.0, GPS/GNSS
802.11ac/a/b/g/n + BT 4.0, USB2.0, GPS/GNSS, IR LED, MHL, DLNA, NFC
802.11a/b/g/n, BT 4.0, USB 2.0, NFC, GPS/GNSS, MHL
802.11a/b/g/n/ac (HT80) + BT 4.0, USB 2.0 NFC, GPS/GNSS, IR LED, MHL 2.0
The Camera
If the One's industrial design and materials choices make it nice to own, it's the camera that makes the One a must have. In fact, that's how it all started for me. I popped my test sim into the One and started carrying it around with my iPhone 5 as I went about the user experience part of my review process. I quickly found myself only taking photos using the One, and using the 5 for everything else. After a few days, the 5 was pretty much only used to check iMessages and answer calls to that number - with the One being used for everything else.
I remember talking to Brian after he first learned about what HTC decided to do with the One's camera system. I believe he said something like "this is exactly what they should be building". In the three years I've worked with Brian I don't think I've ever heard him say that about any smartphone OEM's decision with any component/subsystem. The strong endorsement was enough to pique my interest in the One.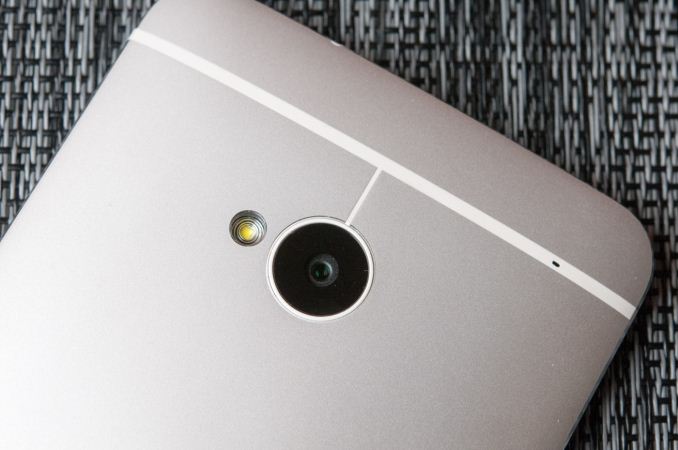 Brian will go into great detail about the One's camera in his review, and what I'll provide here is no where near doing it justice but I'll do my best.
At a high level, HTC's strategy with the One is to boldly bow out of the megapixel race and instead integrate a lower resolution rear facing camera sensor with larger pixels. Each pixel in the One's 4MP rear facing camera sensor is over 2x larger than those in the iPhone 5, and even larger than those in the Galaxy S 4. Larger pixels help ensure a better signal to noise ratio, which in turn can really improve low light performance when paired with a suitable lens.
The downsides are obvious. Very well lit scenarios can suffer compared to a higher resolution sensor, and the bigger issue for HTC is that 4MP doesn't sound as good to the uninformed consumer compared to the Galaxy S 4's 13MP rear camera. HTC tried to get around the latter problem by calling its larger pixels Ultrapixels, but then it's up to point of sale training to ensure that the benefits are adequately conveyed. Call me cynical but I don't have a bunch of faith there.
The F2.0 lens ensures a bunch of light can hit the sensor, and the result is easily the best low light performance I've ever seen in any Android or iOS smartphone. I took this shot during Jen-Hsun's GTC 2013 keynote earlier this week: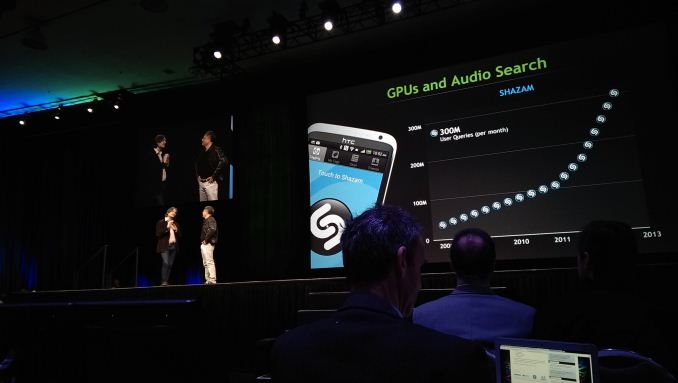 The One seems to want to drive ISO as high as possible to increase brightness, so for this particular shot I manually set ISO down to 100, but otherwise everything else was left to defaults.
The Auto ISO algorithm doesn't always drive itself super high however, the shot below is outside of Terminal 2 at the RDU airport at 11:29PM: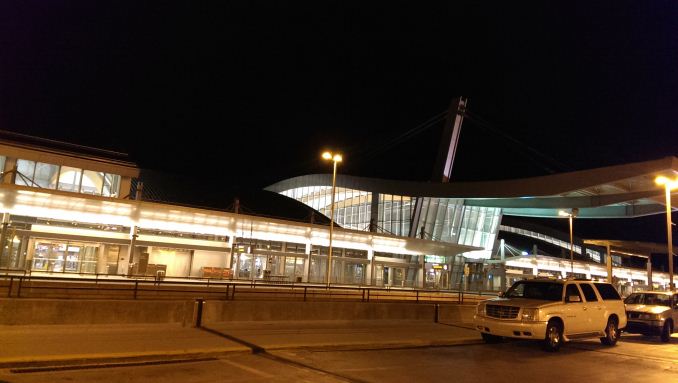 For this shot I didn't touch anything and the result was a surprisingly low-noise shot.
It's not just night shots where the One's camera excels, but also in the more common poorly lit indoor scenarios where I come away very impressed: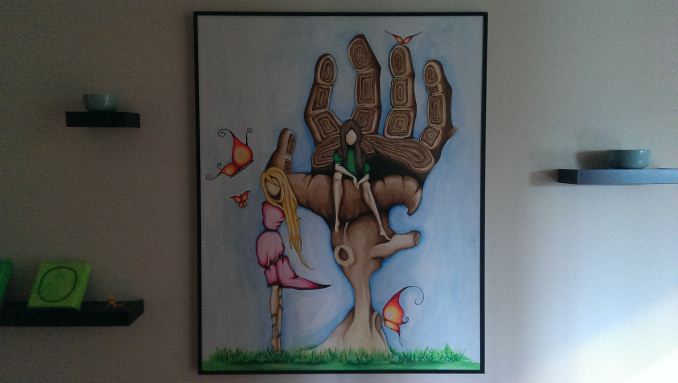 HTC One
In well lit outdoor scenes the One's camera does a reasonable job (although HTC seems to have an issue with noise in these well lit scenes from whatever processing they seem to be doing):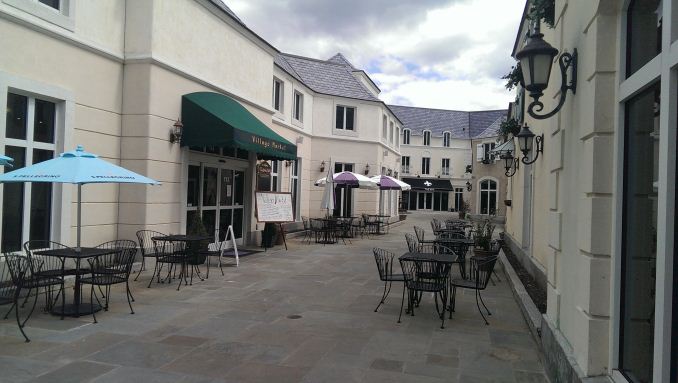 Integrating a good sensor and camera system is just part of what the One does really well here. The feature that I've found resonates the best among normal smartphone users is the highlights reel.
Sense 5.0 will automatically assemble 30 second highlights videos based on photos and video you've taken throughout your day. The One automatically adds filters, background music and stitches everything together; all you have to do is use the camera to take photos and video, everything else happens automatically.
The highlights reel below is one that was automatically generated based on my photos and videos from opening day at GTC 2013:
Although highlights reels are automatically generated, you can also generate highlights of individual albums. I created an album of photos I had taken over the past couple of trips (as well as some shots I took at home) and the One created this video:
Each highlights reel is shared as standard MP4 (baseline profile, ~3Mbps 720p H.264), so compatibility isn't a concern.
You can manually choose from multiple themes (filters/music combinations, 6 total), but there's unfortunately no way to add your own background music yet (I suspect this is coming in the next major update).
The highlights reel is easily the most emotionally engaging feature the One has to offer, even ranking above aesthetics and build quality in my opinion. It's the type of feature that really seems to resonate with everyone I show it to. The killer aspect in all of this is the fact that the One will put together highlights reels automatically, with no user intervention.
I can see the background music and filters getting boring after a while, and that's why it's very important for HTC to quickly enable end users to supply their own audio tracks (as well as quickly - and regularly - expand the collection of filters offered).
The downside to the One's highlights reel autonomy is the feature remains relatively buried, almost hidden in the gallery app rather than front and center like Blinkfeed. The highlights reel is easy to demonstrate to someone else, it's just not as obvious of a feature when you pick up the phone for the first time.
I haven't touched on Zoe, the ability to simultaneously shoot stills and record a short video - both at full res. Zoe is a difficult feature to really explain without demonstrating it, but it does wonders in the creation of highlights reels. Zoe is a great way of dealing with the problem of what to do when your subject is in motion - do you hope for a good still or just capture a video? Zoe interestingly enough does both. It'll capture a 1080p30 video, as well as 20 full resolution (4MP) stills at the same time.
I've mostly been using Zoe as a way to make my highlights reels more interesting, but the best use case I've seen was actually by a friend of mine who used it to capture the actions of some street performers in Europe. In one Zoe he had performers spinning on their heads, which typically would make for a good video or an emotionless (but potentially cool) still. Zoe delivered both.
The One, like Nokia's Lumia 920, features optical image stabilization (OIS), which is designed to help both in shooting video as well as improving low light performance. In practice, I'm not super impressed with the OIS implementation on the One. It seems to need a bit of tuning, but I'll leave it to Brian to explain exactly what's going on.
Shot to shot latency on the One is amazing. Video quality is solid as well.
The One has the physical beauty to get you interested, but the camera prowess to keep you engaged.
Android/Sense
The One ships with Sense 5.0, and I have to say that the latest version of Sense is really the first custom Android skin that I don't mind. I'm not sold on Blinkfeed, the default homescreen that allows you to aggregate content from multiple web sources as well as Twitter and Facebook, but thankfully you can easily change that default to something more traditionally Android.
With Sense 5.0 HTC dramatically reduced the presence of widgets on the default home screen. Other than the Blinkfeed screen, there's only a single home screen by default and the only widget on that screen is a Google search box. You can obviously add all of the widgets you want, but this is a noticeable departure from HTC's strategy in the past. To be honest, it's a lot cleaner.
Sense 5.0 isn't intrusive, and the work HTC has done in the gallery app sort of make the customizations worth it (more on this later). Even the default pre-load of apps is very sensible.
Thanks to the underlying use of Android 4.1.2 combined with the fast Snapdragon 600 SoC, UI frame rate is incredibly smooth. Some interactions are still not perfect (e.g. zooming in Google Maps) but the overall experience is very polished and very fast.
Performance & Battery Life
The One is the first Snapdragon 600 based smartphone that I've used regularly. For those who aren't familiar with Qualcomm's latest branding change, Snapdragon 600 refers to a quad-core Krait 300 based SoC with Adreno 320 graphics (APQ8064T). The SoC still uses the same 28nm LP process as the previous quad-core flagship (APQ8064), but clocks are a bit higher (1.7GHz in the One, 1.9GHz in the Galaxy S 4).
GPU clocks appear unchanged, which is contrary to what I was told at the launch of Krait 300 but it's entirely possible that we'll see implementation with higher GPU clocks.
Performance, as I mentioned before, is very good. Even the speed of the NAND HTC used in the device is among the best I've seen in Android devices. We're still not yet at the point where I believe smartphone SoC performance is good enough, but at least we won't see a huge jump in SoC performance (at similar power) until the move to 20nm in mid to late 2014.
The impact of all of this on battery life, as always, depends on your usage model. I've been using the international One on AT&T, and 3G battery life is comparable to the iPhone 5 on the same network (non-LTE) at identical brightness levels. I have yet to see what the difference will be like with LTE enabled.
Obviously with four cores and a larger, higher resolution display, the One definitely has the ability to draw more power than the iPhone 5. Keep the cores more active and/or drive the display at very high brightness levels and you'll see worse battery life. For the past couple of years I've been talking about the increase in dynamic range when it comes to smartphone battery life, the One is no different in this regard. Brian will have a full rundown of battery life data on the One in his review.
Other Frills: Of Big Screens and Usability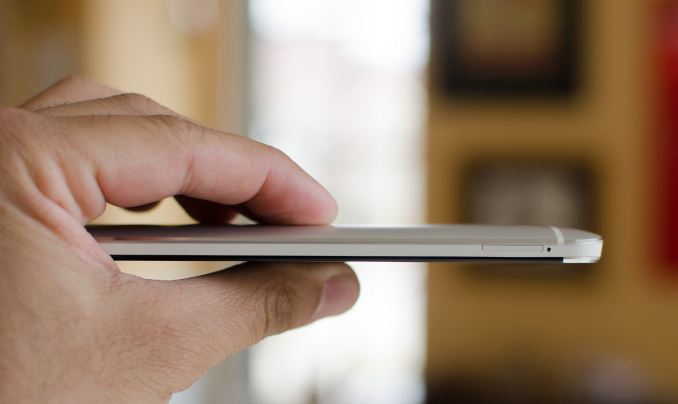 For me, the iPhone 5's display is a little too small, and the One is probably a little too big. I think I agree with Brian here in that the ideal display size is somewhere around 4.3". That being said, I find both devices (the 5 and the One) to be comfortably usable. The 5 is better for one handed use, while the One is better for actually consuming web content. In pocket, the One is thin enough to not be a problem.
Although it's probably a bit overkill, I am pleased with the move to 1080p across all of the high end Android smartphones. The One's display looks excellent and lacks the oversaturated colors of the alternative AMOLED displays.
The One also features stereo speakers that get impressively loud (louder than any other smartphone I've used, by a considerable margin). I keep my phone on silent all the time but when showing others highlights reels, the One's loud stereo speakers definitely come in handy.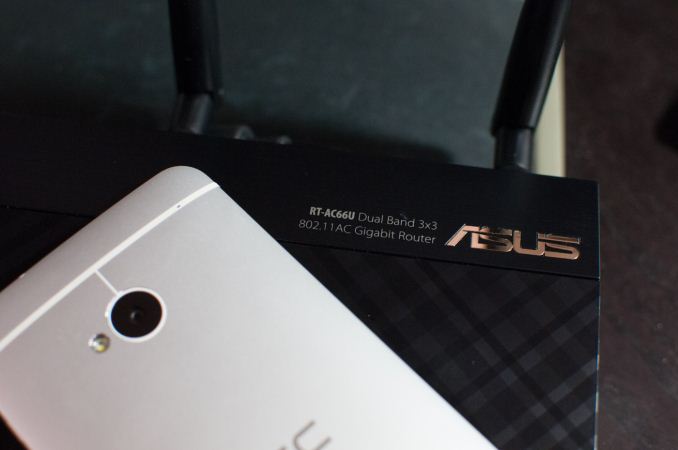 The final element of the One that I'm really happy about is the integration of 802.11ac support. The One is good for WiFi speeds of up to 275Mbps (that's actually tested, not theoretical).
Final Words and the Galaxy S 4 Comparison
The One is without a doubt the best Android smartphone I've ever used. HTC's build quality and materials choices have been steadily improving over the past couple of years and I honestly don't know a more fitting name for its latest flagship other than the One - it's the one to get. Even iPhone users looking for something different might be tempted by the One.
For me it's the camera performance and the highlights reel that really seal the deal. The fact that the One is an excellent looking device built out of top notch materials is just icing on the cake.
The rest of the spec list is equally fitting. I'm glad to see 802.11ac make the list. The great speakers and display are both useful and impressive.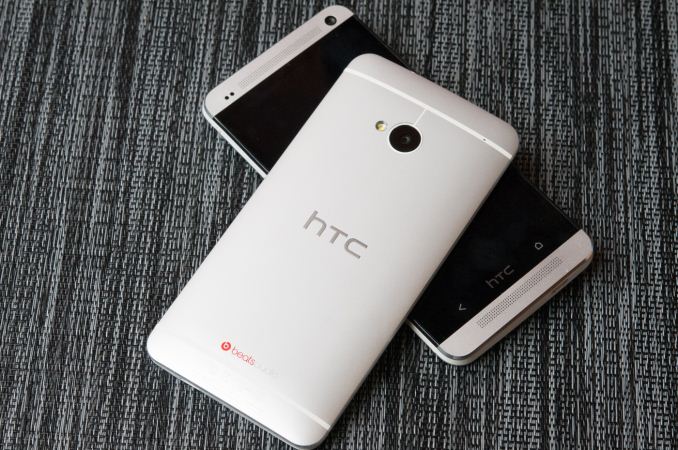 Sense took a real step towards subtlety with 5.0, and it's finally at a point where I don't really mind the customizations. My preference is still for vanilla Android, but the latest iteration of Sense is far closer than it has ever been. The real trick is ensuring timely updates with major Android releases. If you're an infrequent smartphone upgrader, the Nexus line is still the best option there.
Despite how well the One does in the build quality, looks and camera departments, HTC has an uphill battle ahead of itself. Samsung is clearly the dominating incumbent in the Android space, and it has the luxury of an order of magnitude higher quarterly revenues to support its smartphone business. If there ever was a David v Goliath race in the smartphone space, it would be between HTC and Samsung.
Zoe and the highlights reel are great features that need marketing to demonstrate and spread their word. The litany of new camera and interaction features that accompany the Galaxy S 4 will likely translate very well to cleverly crafted TV ads. I'd argue that HTC's camera features (great low light performance, highlights reel) are more useful to me personally, but Samsung's features (touchless scrolling, dual camera, smart pause) are easier sells to the mainstream smartphone market. Similarly, design and materials choices are obvious advantages for the One, but it's easier to market a thinner and lighter phone.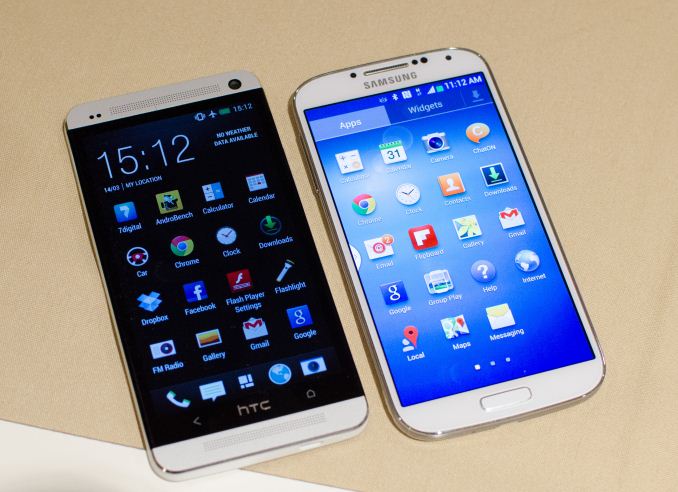 Ultimately, HTC appears to have built a great phone for enthusiasts and one that can be marketed, with some effort, to the mainstream. Samsung, by comparison, seems to have its targets set squarely at the mainstream and it has the features and the marketing budget to really capture the attention of that audience. You can argue about the merits of features like the ability to automatically pause video based on whether or not you're looking at it - personally I'd take better camera performance - but that's a much easier feature to explain in a TV commercial than why larger pixels matter.
The One is expected to be widely available beginning next month.