Original Link: http://www.anandtech.com/show/6849/dell-xps-13-q1-2013-ultrabook-review-what-a-difference-ips-makes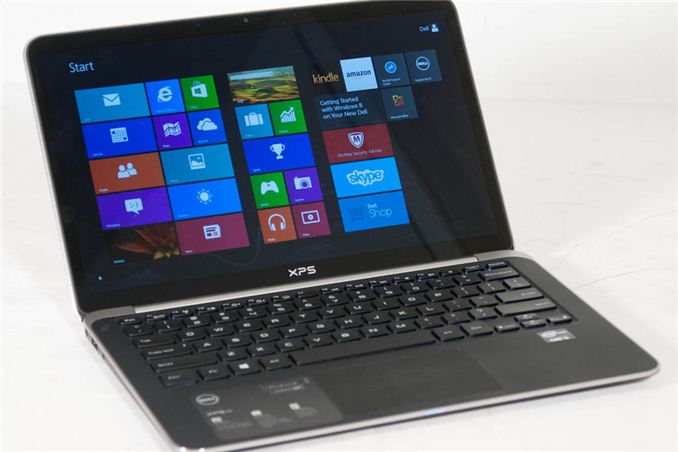 Re-introducing the Dell XPS 13
Around this time last year, we had a chance to take a look at Dell's first ultrabook, the XPS 13. This was an ultrabook I was for the most part fond of, but one that was clearly suffering from being first generation ultrabook hardware. Ultra low-voltage Sandy Bridge chips were perfectly serviceable, but they could still generate a tremendous amount of heat in a chassis the size of the XPS 13. That meant noise and heat were both serious issues. Compounding that was a routine, run-of-the-mill, utterly dismal 1366x768 TN panel display.
Dell gave me the opportunity to retest the XPS 13, though, specifically the current generation model. I was looking forward to the 1080p display, optimistic about Ivy Bridge, and utterly skeptical about the rest of the chassis. Don't get me wrong, the XPS 13 is a beautiful ultrabook and I appreciate that Dell went their own way with the design rather than producing another silver sliver, but there are what I consider to be flaws in the design that needed to be addressed. Hopefully they will be in the future, but in the meantime a lot has apparently happened under the hood.
Dell XPS 13 (Q1 2013) Specifications
Processor
Intel Core i5-3337U
(2x1.8GHz + HTT, Turbo to 2.7GHz, 22nm, 3MB L3, 17W)
Chipset
Intel QS77
Memory
2x4GB integrated DDR3L-1600
Graphics
Intel HD 4000 Graphics
(16 EUs, up to 1.1GHz)
Display
13.3" LED Glossy 16:9 1080p IPS
CMN1345
Hard Drive(s)
256GB Samsung mSATA PM830 6Gbps SSD
Optical Drive
-
Networking
Intel Centrino Advanced-N 6235 802.11a/b/g/n
Bluetooth 3.0
Audio
Realtek ALC275 HD Audio
Stereo speakers
Single combination mic/headphone jack
Battery
6-Cell, 11.1V, 47Wh (integrated)
Front Side
-
Right Side
Battery test button
USB 3.0
Mini-DisplayPort
Left Side
AC adaptor
USB 3.0
Mic/headphone combo jack
Back Side
-
Operating System
Windows 8 64-bit
Dimensions
12.4" x 0.24-0.71" x 8.1" (WxHxD)
316mm x 6-18mm x 205mm
Weight
2.99 lbs
1.36kg
Extras
Webcam
SSD
Bluetooth
Ambient light sensor
Backlit keyboard
1080p IPS display
Warranty
1-year limited
Pricing
Starts at $999
As configured: $1,399
In the intervening period between the first XPS 13 review and this one, a couple of things have been changed, but most updates have been fairly incremental. For my thoughts on the chassis design itself, you'll want to check my prior review, as for better and worse, absolutely nothing has changed there. If you were part of the way sold on the XPS 13 before, though, the refinement that's gone on under the hood may yet change your mind.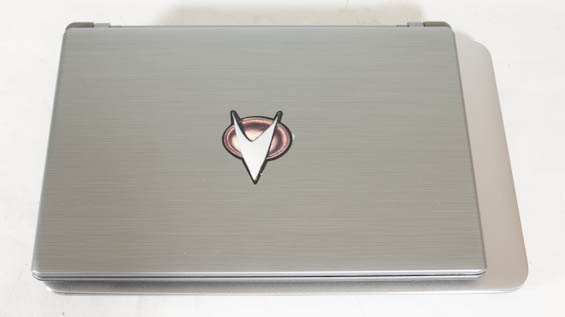 Footprint compared to the 11.6" Acer Aspire V5-171.
Dell advertises the XPS 13 as being a 13.3" notebook that has a similar footprint to an 11.6" one. "Similar" is a nice way of saying "we're fudging the numbers," though; comparison reveals that the XPS 13's footprint, while svelte for a 13.3" notebook, is more in line with a 12.1" chassis. That's still excellent, though, as it means more desktop real estate (even before getting to the panel quality) in a smaller area.
As far as the CPU goes, the jump from Sandy Bridge to Ivy for ultrabooks has been a phenomenally positive one. The more hands on time I get with it, the more I'm convinced that the all-star mobile CPU for this generation of notebooks is the Intel Core i5 ULV. ULV i3 is tremendously crippled by the lack of turbo core, while ULV i7 offers virtually nothing but an extra 1MB of L3 cache and slightly higher clocks; the i5-3337U here is essentially the sweet spot. The nominal clock of 1.8GHz and turbo core of 2.5GHz on both cores and 2.7GHz on a single makes the CPU a very capable performer, and the HD 4000 graphics (with a top turbo of 1.1GHz) have proven to be largely acceptable for casual gaming.
In the meantime, Dell bumped up the RAM to 8GB, bumped the RAM speed up to 1.6GHz, and then opted for DDR3L instead of standard voltage DDR3. The wireless card has gotten an incremental update to the Centrino 6235, and the single USB 2.0 port has been replaced by a 3.0 port. Still missing is an integrated card reader. The Samsung mSATA PM830 was an excellent SSD before, so there's no real reason to replace it.
The biggest upgrade to the XPS 13 is the 1080p display, which I'm fairly convinced is either an IPS panel or Samsung's SuperPLS; it exhibits none of the viewing angle anomalies of *VA, and it doesn't wash out the way TN does. Meanwhile Dell's store page for the XPS 13 remains fairly mum about the panel type itself outside of espousing how fantastic it is, which is actually strange given that consumer awareness of IPS and alternate panels is increasing.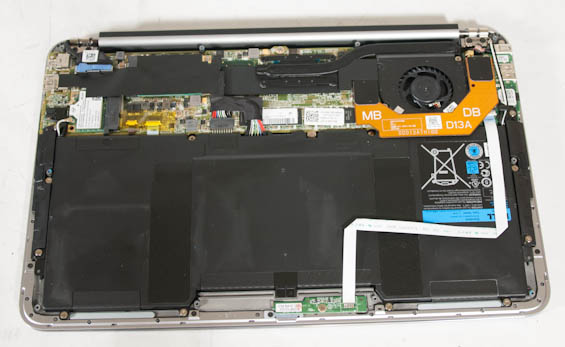 As a sidenote, I was able to actually remove the bottom casing of this XPS 13. To get inside the XPS 13, you'll need a T-5 Torx screwdriver. It should surprise no one that the RAM is soldered to the board; there's also a black sticker layer that sits between the mSATA SSD and the inside of the bottom panel. It's good to know that you can replace the mSATA drive and wireless card, though, should you need to/desire to.
System Performance
Jarred has been heavily revising our notebook/ultrabook benchmarking suite for 2013, essentially lining up our tests with the convergence between tablets and notebooks and allowing for more direct comparison (as discussed here). This is a good thing moving forward, but unfortunately means that good comparison points between notebooks are presently a bit few and far between. I've included information on the 2012 model where possible, though, so you can see how the generational difference has impacted the XPS 13.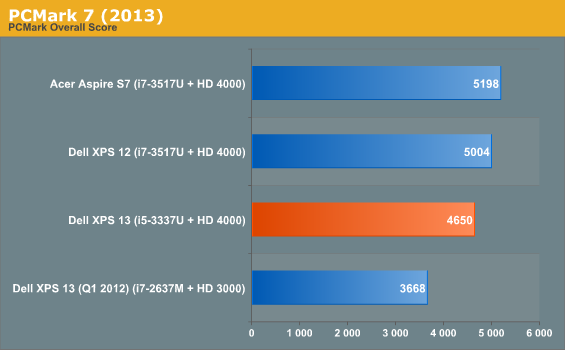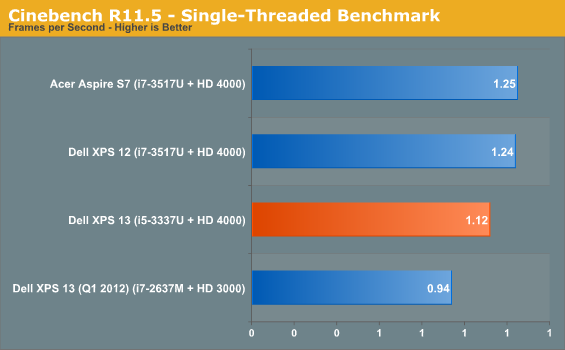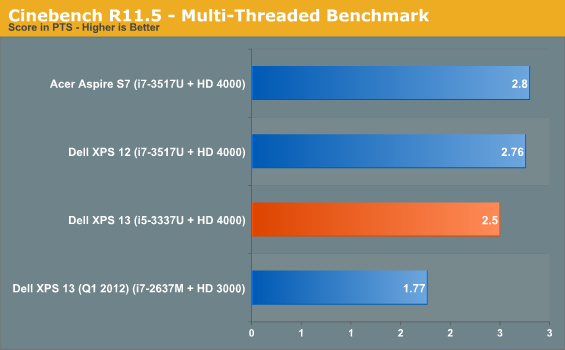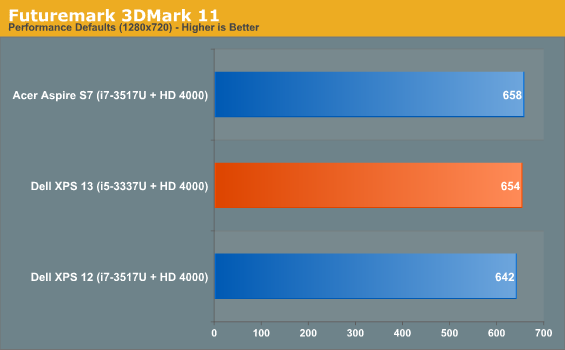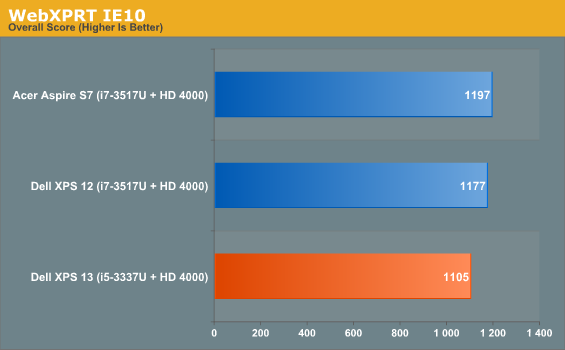 Despite operating at roughly the same clocks, the Ivy Bridge i5-3337U runs absolutely roughshod on last generation's high end i7-2637M. Additionally, the HD 4000 in the i5-3337U is DirectX 11 capable where the HD 3000 was not, allowing us to run 3DMark11.
What's also interesting and helpful is to note the difference between the current high end ULV part, the i7-3517U and the i5-3337U. Or, more accurately, the lack thereof. The XPS 13 can be upgraded to an i7-3537U (another 100MHz clock jump), but as you can see it's an exceedingly incremental improvement and not worth spending money for.
Display Quality
Where the current generation XPS 13 makes a clean break with its predecessor is the stunning 1080p display. The Dell XPS 12 also features a 1080p IPS display, but due to the 12.5" panel (as opposed to the 13.3" in the XPS 13), pixel density is increased. The XPS 12 Duo does make an interesting counterpoint to the XPS 13 due to its inclusion of a convertible touchscreen display.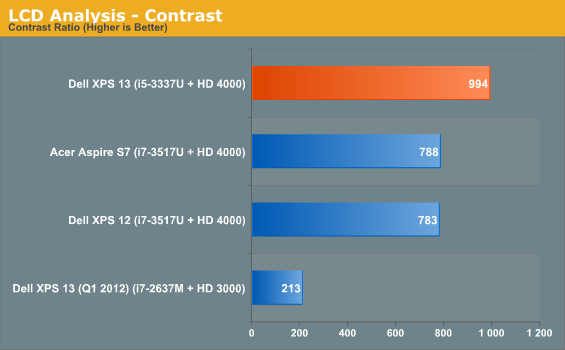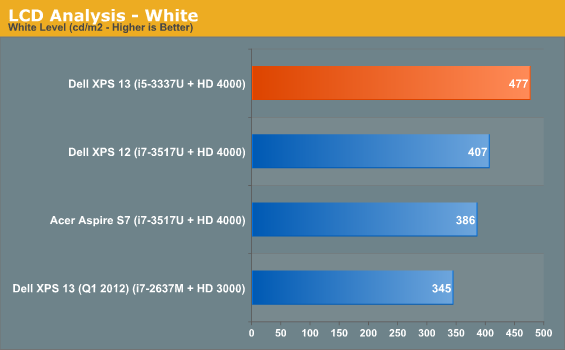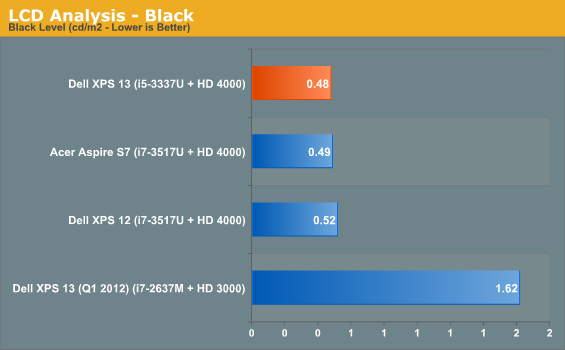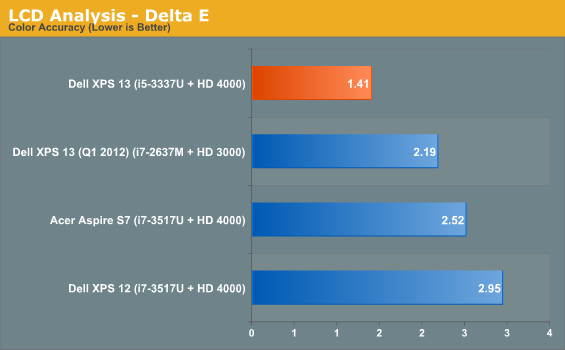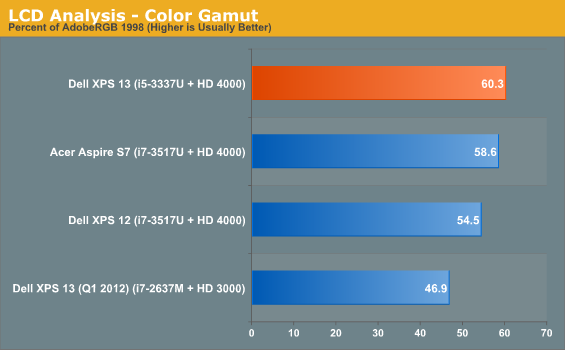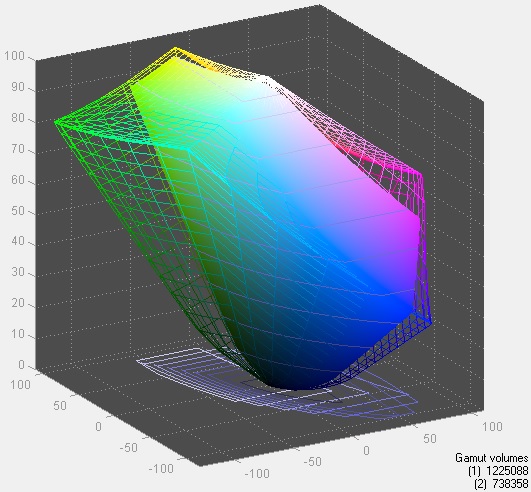 Despite the greater pixel density, though, the XPS 13's display blows away the XPS 12's in every metric, to say nothing of the way it levels the 2012 XPS 13's panel. Dell advertises the panel's brightness as being 350 nits, but we measured an almost searingly bright 477 nits.
Where the XPS 13 can become frustrating, though, is its use of adaptive brightness. The display is often much dimmer than ideal, and while adaptive brightness can be useful on a smartphone, on a notebook that feature's value is much more questionable. The XPS 13's brightness can shift semi-frequently, and I never found it to be where I actually wanted it. Thankfully, it can be disabled in the Display settings under the Windows Power Manager.
Noise and Heat
Thermally, the newer XPS 13 peaks at essentially the same temperatures as the last generation model. You can see that below in the HWMonitor results, but that doesn't really tell the whole story.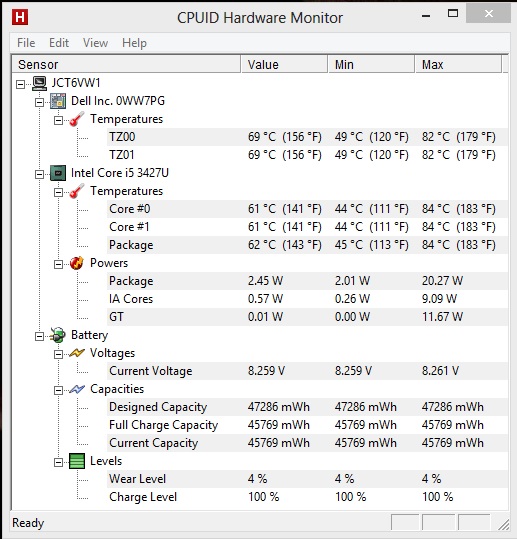 These thermals are pretty much par for the course for an ultrabook, but the difference lies in the way the XPS 13 actually handles the heat. Peak load noise is far lower than the first generation and nowhere near as high pitched; in fact, this is actually one of the quietest ultrabooks I've tested, and it has to be pushed pretty hard just to get the fan noise really going. I still take issue with the ventilation being on the bottom (as all it really takes is a comforter to clog up the vent and suffocate the system), though.
I suspect Dell has tuned the fan's behavior somewhat with the new XPS 13, but I suspect there's a combination of factors that lead to this model being much less obnoxious. Ivy Bridge is better suited to ultrabooks than Sandy Bridge ever was, Dell switched from DDR3 to DDR3L (which can easily shave a couple of degrees off the internal temperatures), and we're on QS77 instead of QS67 which means there's no external USB 3.0 chip. Little things can add up over time, and we're left with a frostier, quieter notebook than we had before.
Battery Life
Our 2013 battery tests are more punishing on the system, and results wind up being lower than they used to be. We no longer measure how long a system can idle, and brightness is up to 200 nits from 100 during testing, which can and will have a huge impact on battery life.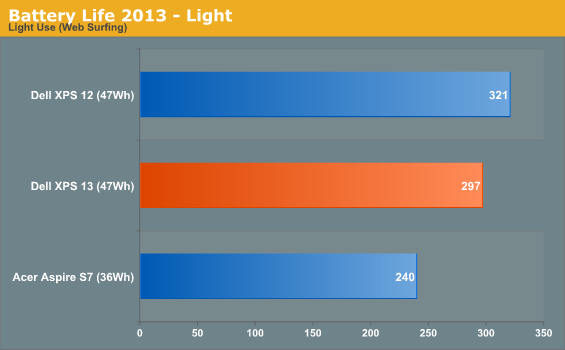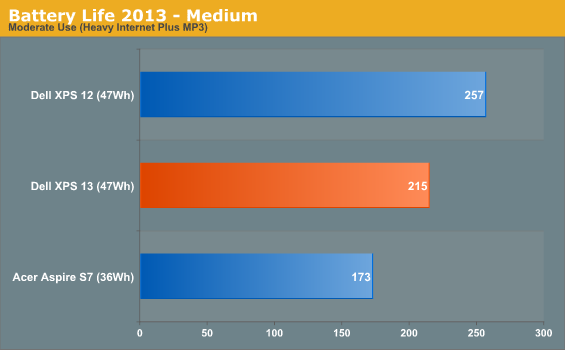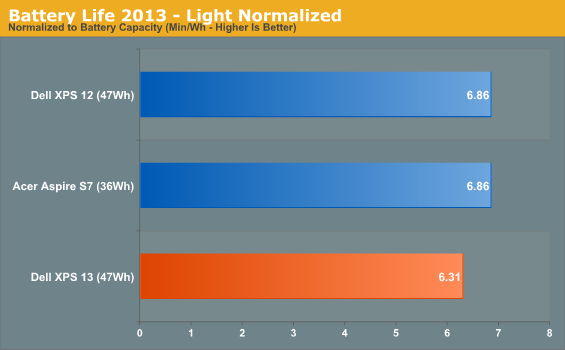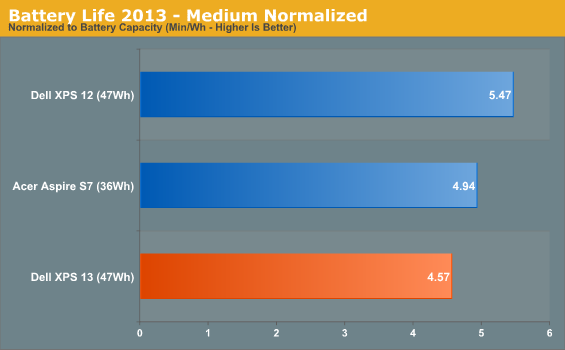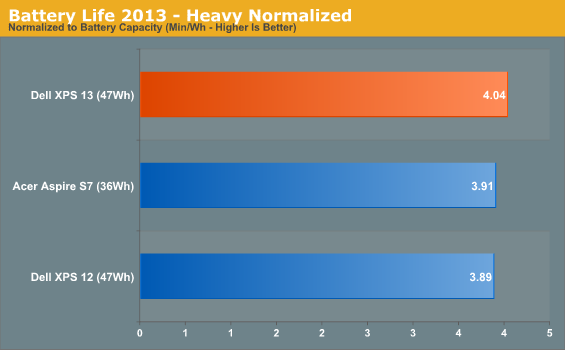 Running time under light usage for the new XPS 13 is solid if not exceptional, but when the notebook is pushed, it starts to show a more efficient performance than the others. The XPS 12 and XPS 13 are using the same battery, but the 12 has a slightly faster processor and smaller display, accounting for at least some of the difference.
Conclusion: Generations Change
I don't think I'm out of line for being disappointed that the fundamental flaws of the Dell XPS 13's chassis design that I cited a year ago haven't really changed. Maybe I'm the only person that uses Intel's Quick Sync, but I've found it to be a tremendously useful tool in the field as a videographer just for making it easy to hand off YouTube ready clips to anyone who wants them, and the lack of an SD card reader in the XPS 13 is aggravating. Personally I'd rather have that than the battery meter on the right side, but maybe that's just me.
The bottom vent continues to be an awful idea that's still regularly implemented in ultrabooks and notebooks. A system this light should be pretty portable and usable wherever, and a bottom vent really flies in the face of that. The bumped feet on the bottom of the notebook just aren't enough to keep that vent clear on any soft surface.
Finally, the clickpad's performance under Windows 8 leaves an awful lot to be desired. Gestures that were easy to perform even on the budget Acer Aspire V5-171 are difficult to do consistently on the XPS 13's pad
Obviously what I'm trying to get at is that the XPS 13's chassis still needs work, almost every bit as much as it did in 2012, and we're not in the business of handing out awards for companies that stand still. The XPS 13 is an attractive ultrabook and certainly distinctive compared to the competition, but there's a lot of room for improvement that was essentially ignored in the refresh. The best we can hope for is that Dell will revisit the XPS 13 again soon and fix the existing problems.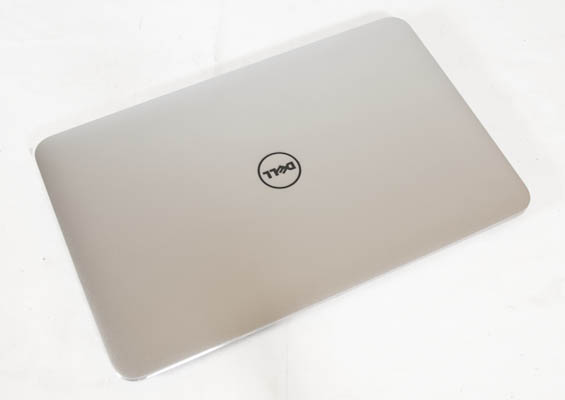 Of course, for all my griping, Dell still did an awful lot right with the newer XPS 13. They benefit handily from the improvements Intel made with their 7 series chipsets, but especially with the improvements from Ivy Bridge. The primary benefit of Ivy Bridge in both notebooks and on desktops hasn't been raising the performance ceiling, but lifting the floor. At the top, in the quad cores, you get a minor bump in IPC and clocks, but the HD 4000 is less relevant. Down here in the ultrabook/notebook sector, though, both IPC and clock bumps see larger improvements, and HD 4000 throws a haymaker at Sandy Bridge's HD 3000.
Hardware historically has a proof of concept generation that precedes the generation where that concept's potential is essentially fulfilled, and that's evident here with the two XPS 13s. Sandy Bridge fulfilled the promise of quad core CPUs in notebooks where Clarksfield merely proved it could be done affordably, and Ivy Bridge fulfills the promise of powerful CPUs in ultrabooks where Sandy Bridge merely proved it could at least be done.
Dell can't really take credit for Intel's achievements here, but they do themselves a major solid in offering a 1080p IPS display in the XPS 13. High quality displays are vital to the continued survival of notebooks as a collective species, but especially to ultrabooks, whose market can be encroached upon by the x86 tablets that will undoubtedly share shelf space with them. The ASUS Eee Pad's keyboard dock was far ahead of its time and dockable tablets are proving to be very popular. When I see a notebook come through that uses a ULV processor from Intel, has no dedicated graphics, and employs a crappy display, that's a notebook that could be very easily eaten alive by a convertible tablet.
The changes under the hood coupled with the pristine display give Dell's current generation XPS 13 a fighting chance in the ultrabook market. The crappy 720p display of old is only available on the entry-level $999 XPS 13; starting at $1,299, they all have the 1080p one. Our $1,399 model is solid, but the sweet spot in Dell's lineup is actually the $1,299 version, featuring the i7-3537U, 8GB of DDR3L, and the 128GB SSD. This model is price competitive (if not better) on NewEgg with everything but the entry level ASUS Zenbook Prime, but Dell smartly includes 8GB of DDR3 instead of the more common 4GB, an important distinction when you can't upgrade the system memory.
We're not at Editor's Choice level yet (the chassis design needs to be fixed for that), but at least the Dell XPS 13 is now far, far easier to recommend.