Original Link: http://www.anandtech.com/show/6841/cooler-master-storm-scout-ii-advanced-case-review-falling-behind-the-curve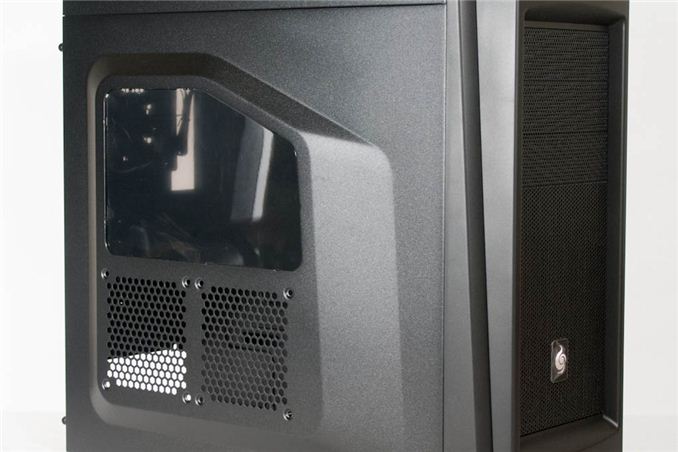 Introducing the Cooler Master Storm Scout II Advanced
Cooler Master has been fairly gung ho on the PR side about their Storm Scout II Advanced. While we missed the opportunity to review its predecessor, the Storm Scout II, we aim to rectify that omission by putting this new semi-portable ATX chassis through its paces. Cooler Master has a long history of strong enthusiast offerings (with their HAF line being particularly well loved), but does the Storm Scout II Advanced inherit that legacy of greatness or are they falling behind the curve?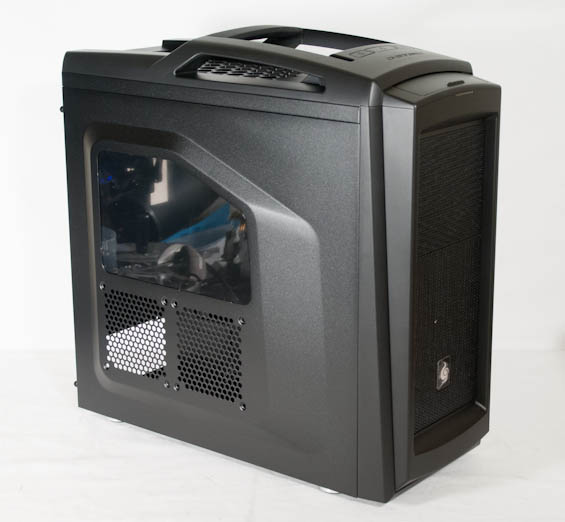 Unlike the HAF series, the Storm Scout II Advanced benefits from a cleaner design with rounded angles and smooth lines. There are a trio of handles on the top of the case to make moving it between LAN parties (or really, just moving it in general) easier on the end user, and Cooler Master includes a fairly traditional positive pressure cooling system, with two red LED fans (LEDs can be toggled off) in the front of the chassis and a single exhaust fan in the rear. As has become de rigeur, it features support for a 240mm radiator in the top, but its primary function is to be a sleek, semi-portable gaming case.
Cooler Master Storm Scout II Advanced Specifications
Motherboard Form Factor
Mini-ITX, Micro-ATX, ATX
Drive Bays
External
3x 5.25"
Internal
7x 3.5", 2x 3.5"-to-dual-2.5" trays
Cooling
Front
2x 120mm red LED intake fan
Rear
1x 120mm exhaust fan
Top
2x 120mm fan mount
Side
2x 120mm fan mount
Bottom
1x 120mm fan mount
Expansion Slots
7
I/O Port
2x USB 2.0, 2x USB 3.0, 1x Headphone, 1x Mic
Power Supply Size
ATX
Clearances
HSF
162mm
PSU
160mm with bottom fan / 220mm without
GPU
287mm with drive cage / 399mm without
Dimensions
9.1" x 20.2" x 20.5"
230mm x 513mm x 517.5mm
Weight
18.87 lbs. / 8.56 kg
Special Features
USB 3.0 via internal header
LED toggle
Removable drive cage panel
Side window
Toolless drive installation
Handles
Price
$109
The Storm Scout II Advanced isn't particularly light, but it's well built, using a combination of SECC steel and plastic. This is a case that really is designed to be moved, though components are going to add close to another ten pounds to its weight. Where I think things take a little bit of a turn is in the cooling system design; simply put, we've seen this before. A lot. And the lack of any 140mm support of any kind is crippling to the case's cooling potential at a time when many manufacturers are making the shift to larger fans.
In and Around the Cooler Master Storm Scout II Advanced
Like most of you, I'm not a big fan of the "gamer" aesthetic. While I have the benefit of being able to rotate my build between cases as awesome new ones come out, my history is pretty self-explanatory: Antec P182, Corsair Graphite 600T, SilverStone FT02, Nanoxia Deep Silence 1. Clean lines, clean builds. But the gamer styling can be done with some elegance and class; NZXT has been working their way towards it, and I think Cooler Master has it right with the Storm Scount II Advanced.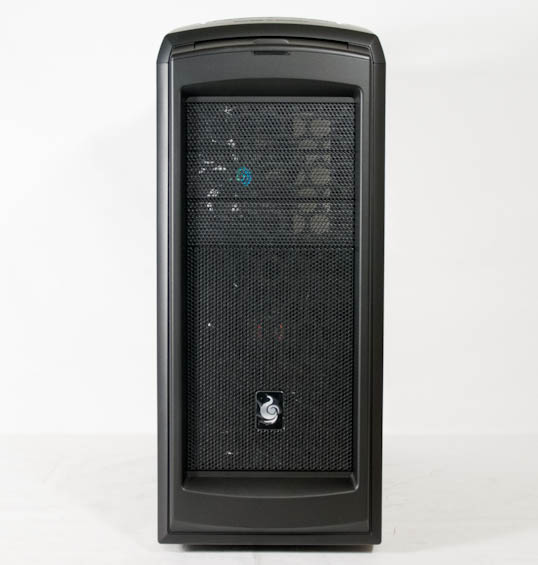 The front of the chassis is all clean lines and curves, and it has kind of a nice shroud around the ventilation and 5.25" drive bays. There's a single combination power/IDE LED at the top, and the two red LED fans are hidden behind the front vents. I think the fans are actually a nice accent, but if they're too much for you, there's a button to toggle the lights on and off on the top of the case. When we do get up there, we find the port cluster hidden by a door, the trio of power, reset, and LED buttons, and three handles. The top vent is also removable, and it snaps on and off (as opposed to traditionally spring-loaded mechanisms).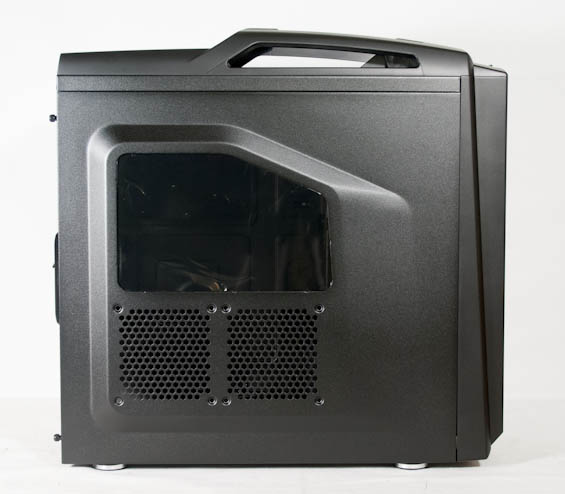 Both side panels are extruded as is becoming common, with the left side panel sporting a window and a pair of side-by-side 120mm fan mounts, while the right side panel is solid. The back of the Storm Scout II Advanced is also pretty basic (do we even need the radiator hose routing holes anymore?), although I'm always fond of the extra horizontal eighth expansion slot for routing cables or installing USB backplates.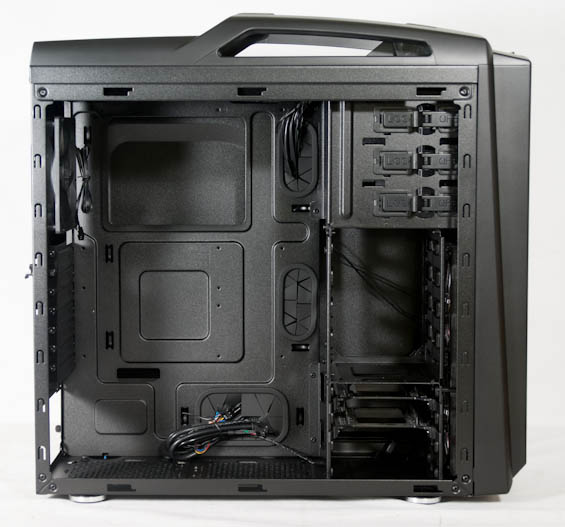 Those panels are held into place with four thumbscrews per tradition, and again we're dealing with notched panels. When they're removed, the interior of the Storm Scout II Advanced reveals few surprises. There's a removable cage panel inside to allow for extended length graphics cards, and Cooler Master includes the usual rubber-lined routing holes in the motherboard tray. They also have toolless mechanisms for the 5.25" drive bays, and two adapter trays to allow you to fit a pair of 2.5" drives into a 3.5" drive bay. There's copious space behind the motherboard tray for routing cables as well.
Honestly if I have a major problem with the Storm Scout II Advanced's internal design, it's that it's...been done. I've said this before, but sometimes things become tradition out of habit. The current bog standard ATX case layout is not a good one, and I have scores of data to prove that assertion. This is something that often benefits greatly from innovation, whether it's culling 5.25" drive bays, rotating the motherboard...any number of things. Cooler Master should be keenly aware of this; their Cosmos II is a beast, but a frosty one, and their HAF xB is a testament to thinking outside of the box. In comparison to a lot of the smarter, more esoteric designs in their lineup, it's hard not to feel a little underwhelmed by the Storm Scout II Advanced.
Assembling the Cooler Master Storm Scout II Advanced
The one nice thing about a standard case design is familiarity. Since Cooler Master didn't mess with the program with the Storm Scout II Advanced, the whole case is easy enough to assemble. With that said, though, the relentlessly conservative design also means giving up on some minor conveniences that often come with modern case designs.
For starters, no allowances are made towards making the motherboard easier to install. It's still the same routine; install nine motherboard standoffs with a socket wrench, snap in the I/O shield, install the motherboard. The cabling that comes with the Storm Scout II Advanced is at least routed neatly, though, and it's not too difficult to get the wiring started and all the headers into place. Keep in mind that this is a basic ATX case, though; a standard ATX motherboard will fill out the tray.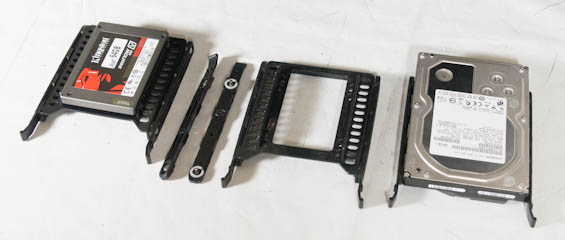 5.25" drives benefit from a very secure and easy to use toolless locking mechanism, though you'll have to snap off the front panel first to get the bay shields out. Cooler Master is also using snap-on rails for the 3.5" drives instead of trays; these rails are reminiscent of the ones Antec uses in the Eleven Hundred, and while they don't grip quite as well, they do get the job done and are easy enough to install. Finally, though 2.5" drive installation isn't toolless, the adapter trays they include are at least smartly designed, able to hold two drives apiece. When drives do snap into the case, they're all pretty secure.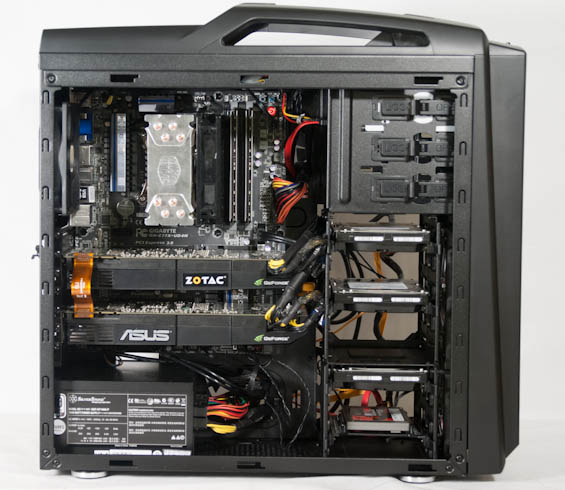 Expansion cards will typically need to go in after the drives themselves are wired, but there are no surprises with either expansion cards or with the power supply. The routing holes surrounding the motherboard tray can certainly get crowded in a hurry, though, and cabling can start to get difficult. This is pretty normal when a full fat system is installed into a case. What's worth noting, though, is that the fans included all use 3-pin headers and there are no molex adapters included for them. While this is a non-issue with the new testbed I've been using, the old board didn't have the free headers to handle these fans. By the same token, if the board you're using can't support three fans in addition to the CPU fan, you'll want to buy adapters separately.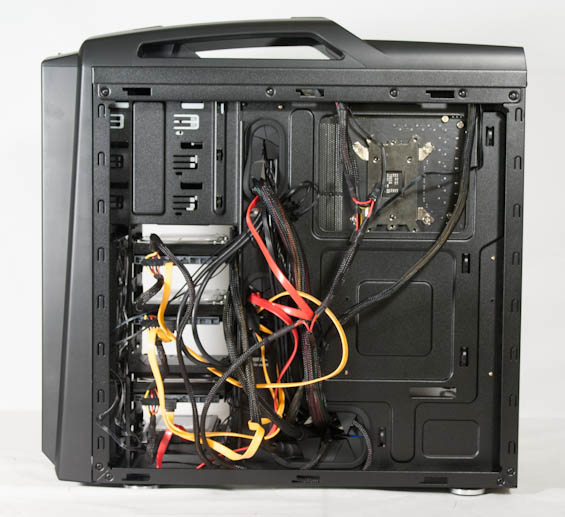 Ultimately there aren't really any surprises when it comes to installing a system into the Cooler Master Storm Scout II Advanced and wiring it up. Everything goes where it ought to go, and things get crowded but not overwhelmingly so. My behind-the-motherboard-tray cabling job is a disaster (same as it ever was), but while Cooler Master uses notched side panels, the extrusion in the panel behind the motherboard tray goes a long way towards relieving any congestion there. Like I said, there are no surprises: pleasant or unpleasant.
Testing Methodology
For testing full ATX cases, we use the following standardized testbed in stock and overclocked configurations to get a feel for how well the case handles heat and noise.
Each case is tested in a stock configuration and an overclocked configuration that generates substantially more heat (and thus may produce more noise). The system is powered on and left idle for fifteen minutes, the thermal and acoustic results recorded, and then stressed by running seven threads in Prime95 (in-place large FFTs) on the CPU and OC Scanner (maximum load) on the GPU. At the end of fiteen minutes, thermal and acoustic results are recorded. This is done for the stock settings and for the overclock, and if the enclosure has a fan controller, these tests are repeated for each setting. Ambient temperature is also measured after the fifteen idle minutes but before the stress test and used to calculate the final reported results.
For the "full fat" testbed, the GTX 560 Ti is swapped out for a pair of GTX 580s, and three hard disks are added to fill out the case.
Thank You!
Before moving on, we'd like to thank the following vendors for providing us with the hardware used in our testbed.
Noise and Thermal Testing
Part of the problem with going with a bog standard ATX cooling design is that you effectively hamstring your performance out of the gate. It's only through experimentation that a product can hit the high highs and the low lows, but Cooler Master may have played it too safe with the Storm Scout II Advanced. It goes without saying that it will produce adequate performance with our stock testbed, but when things get hairy in the overclocked and full fat beds, it's liable to have a much harder time competing.
Ambient temperature hovered around 22C for most of testing. Note that all competing test results on the chart are from our previous testbed; margin of error in load thermal results remains at around 1C, but idle thermals on the CPU are reported much more frequently on the new motherboard, and as a result, idle temperatures will appear lower.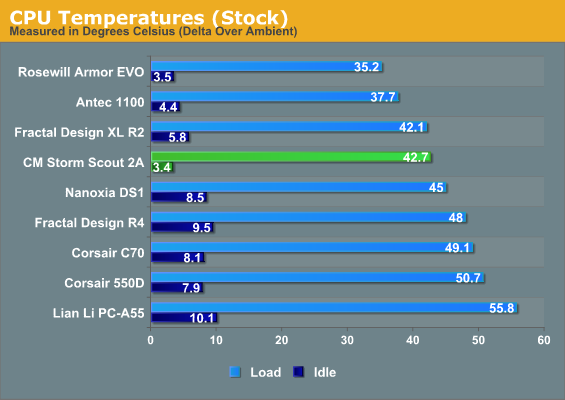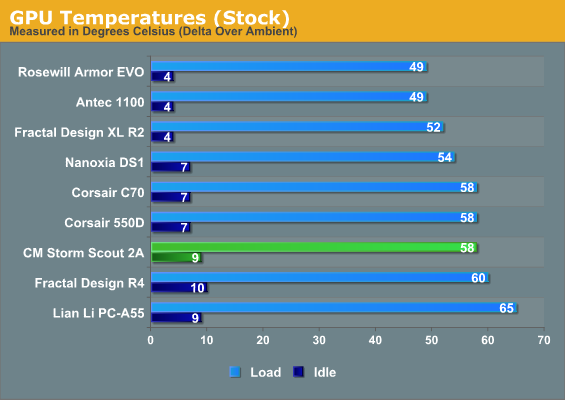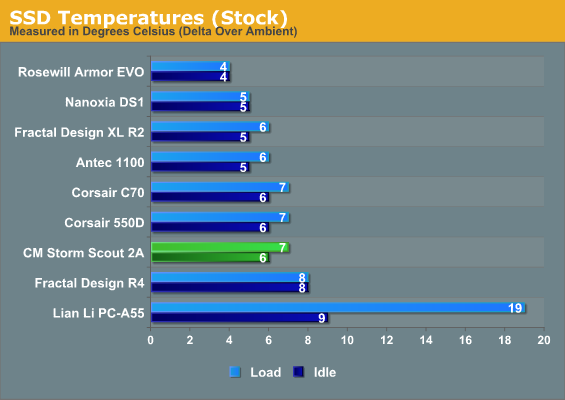 Even in our stock configuration, the Storm Scout II Advanced doesn't excite. CPU performance is competitive but not exceptional, while GPU performance is comparatively poor. This doesn't bode well for more taxing workloads.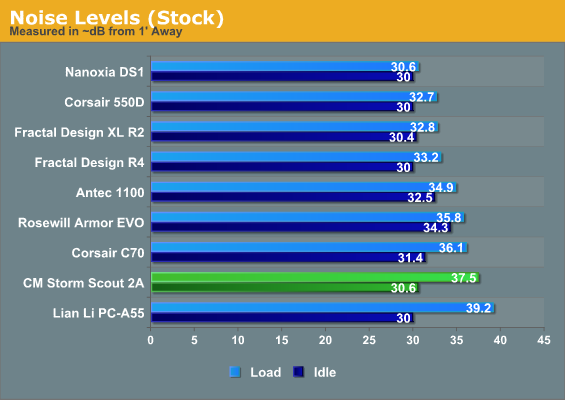 Unfortunately, the Storm Scout II Advanced has a hard time keeping the noise down, too. It's hard to pin the issue on a specific cause, but I suspect the conservative cooling design may be slightly exacerbated by mediocre fan choices. Despite the two 120mm intake fans, the GPU is clearly having a hard time staying cool and is responsible for a lot of the load noise as a result.
Things don't improve when we overclock the CPU and graphics card.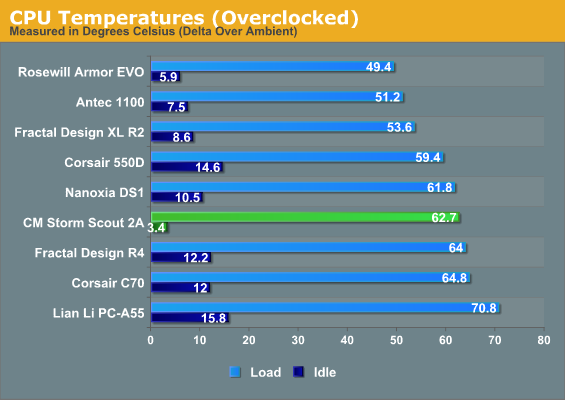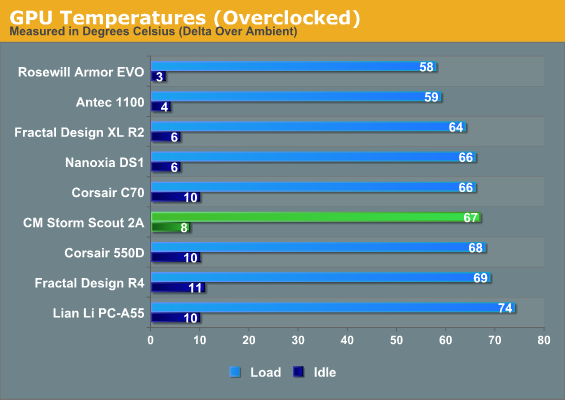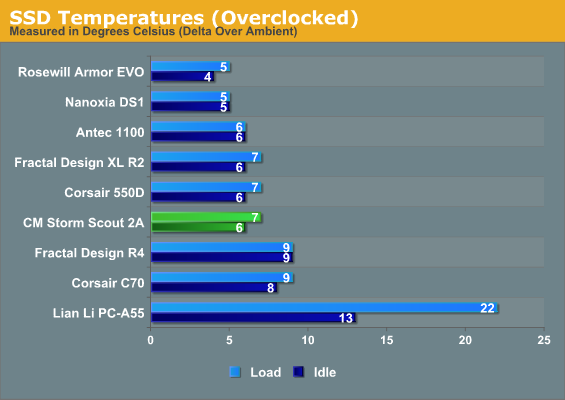 Thermal results and the Storm Scout II Advanced's comparative standing don't really change too much; the CPU thermals get a little less competitive, but the overclock on the graphics card starts to overwhelm some of the competition as well.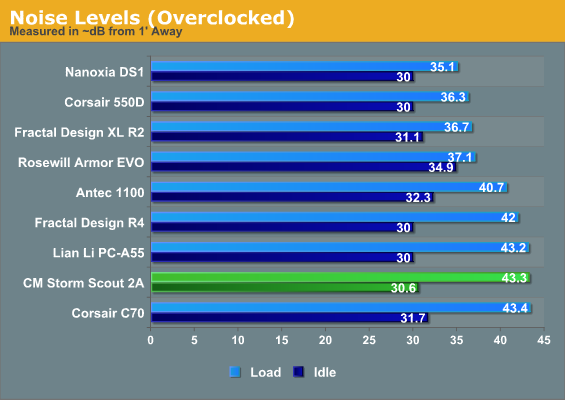 The mediocre thermals really aren't helped by aggravatingly high noise levels, either. This is not a case suitable for overclocking, at least not unless you're planning on adding additional intake fans to the side panel.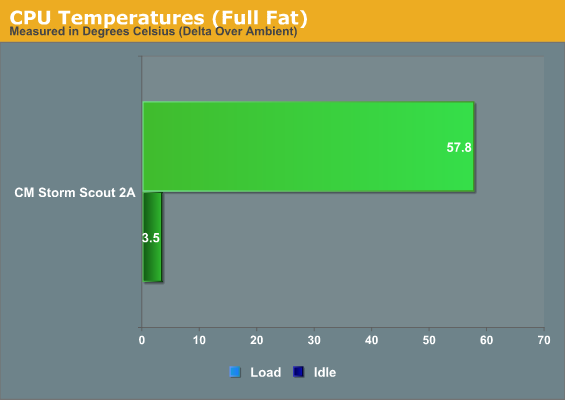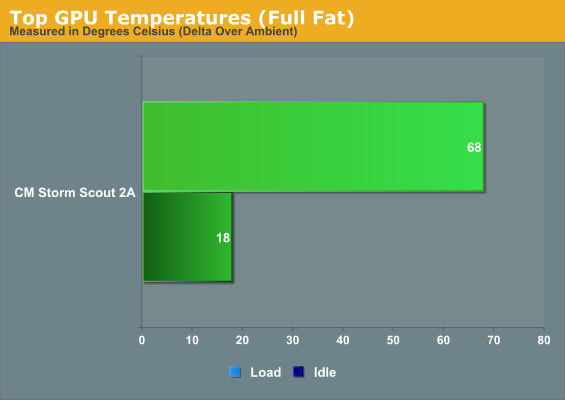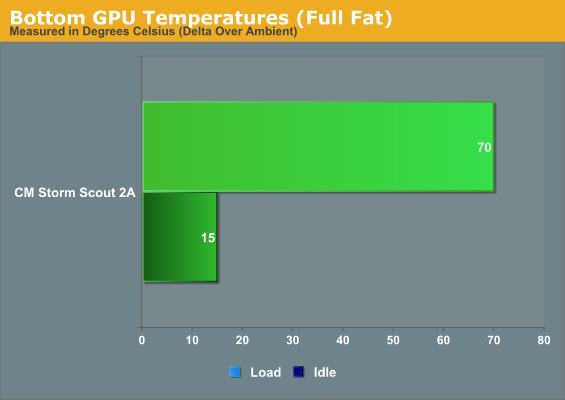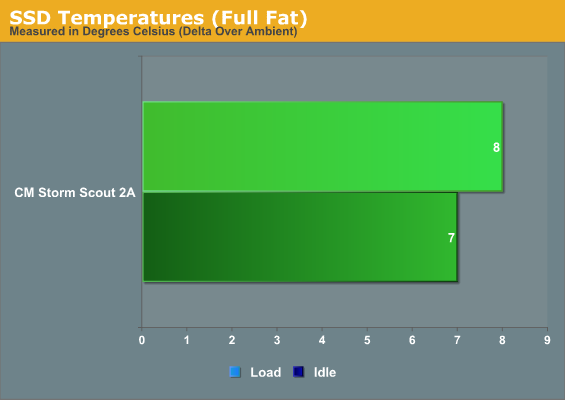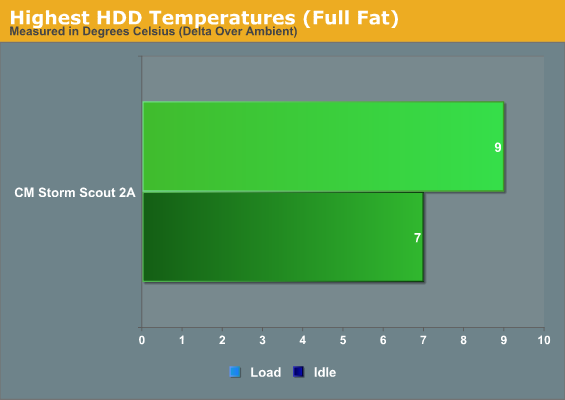 Without proper results to compare to, it may be difficult to get a feel for how the Storm Scout II Advanced is performing. Basically what's happening, though, is that the two GTX 580s have a target temperature where the fans will spin more and more aggressively to keep them there, and they're hitting that temperature: roughly 92-94C.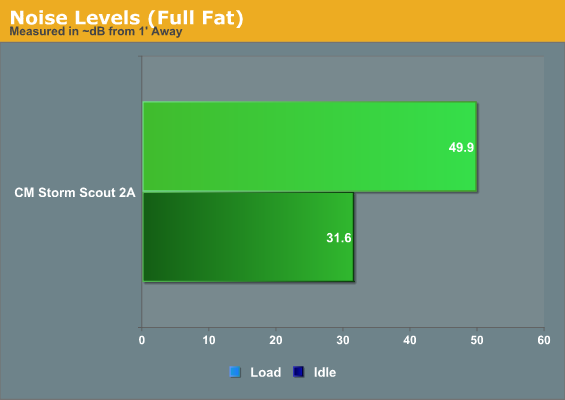 Load noise is awfully unpleasant, too: the Storm Scout II Advanced is nipping just under 50dB, which is frankly unacceptable.
Conclusion: Too Conservative By Half
I know for a fact that Cooler Master has good cases in their repertoire, and they offer them at all price points. I actually quite like Cooler Master's hardware; the sheer amount of hit and miss in their line is something I chalk up largely to the breadth and depth of products they offer. That's why I'm so disappointed in the Storm Scout II Advanced.
First, the good. Cooler Master pursues the "gamer" aesthetic with their Storm line of hardware, but with the Scout II Advanced, that aesthetic is at least smartly tempered. The case is full of attractive curves and angles, and there's a smart uniformity to it that stands in stark contrast to the more ungainly and gaudy case designs out there. A gamer looking for something with a little flash to bring to a LAN party probably wouldn't be too poorly served by the Scout II Advanced, and it certainly wouldn't look out of place. If vendors are going to persist in selling gaming-targeted cases, they should take some cues from what Cooler Master has done here.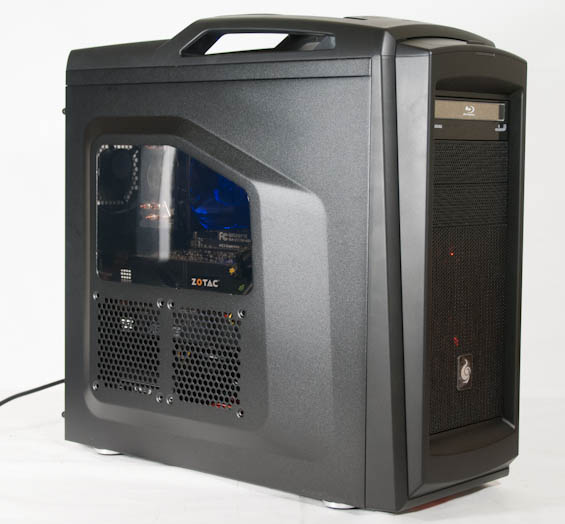 Where things essentially collapse with the Storm Scout II Advanced is the conservative internal design, the conservative cooling, and the lack of any real advances in the field. The price tag of this case is irrelevant; at $109 it's obviously too high, but the case would really have to be unprofitably inexpensive to merit a recommendation over a competing enclosure. The problem is that there are no 140mm fans or fan mounts to improve cooling (and reduce noise in the process), there's no acoustic padding, there's no fan control, and there are very few allowances towards ease of assembly beyond the basics. Case technology has been advancing, but the only thing identifying the Storm Scout II Advanced as a modern enclosure is the inclusion of internal USB 3.0.
Unfortunately, it's kind of a damning criticism. If you like the way the Storm Scout II Advanced looks, and you're not going to tax its cooling too hard, there's really nothing stopping me from recommending it to you. But the problem is that no matter what your needs are, invariably there's a case either at the same price tag that does almost everything better, or there's a much cheaper case that may still be competitive. At the price, Antec's Eleven Hundred is superior in nearly every way. Duck under $99 (which the Storm Scout II Advanced likely will due to sales) and it still has to contend with Antec's GX700, to say nothing of the host of hungry competitors from Corsair and BitFenix.
If the Cooler Master Storm Scout II Advanced were to receive a report card, it would be all C's. That would be fine to pass all of the classes, but there are plenty of A and B students willing to work harder for your dollar. Unless there's something particularly compelling about it to you (like the handle, or the look), there are better deals to be found elsewhere.