Original Link: http://www.anandtech.com/show/6798/rosewill-line-m-case-review-wherefore-art-thou-microatx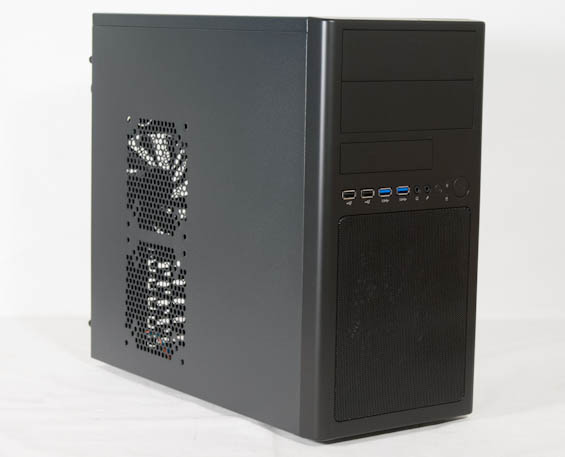 Introducing the Rosewill Line-M
Vendors are always very quick to send us their biggest, best, and brightest. Rosewill's own top-selling Blackhawk Ultra has been with us for a little while, but while we rework our testbed for high end cases, we thought it might be worth looking at one of the workhorses in Rosewill's stable. Looking at enthusiast kit is fun, but it's interesting to see what's floating around in the budget sector, too, as many of us are often on the hook to build and maintain desktops for family and friends. With that in mind, we requested the micro-ATX Rosewill Line M.
While the Line M is worth checking out in its own right as a compact, $55 case with USB 3.0 connectivity, it also highlights a disparity in the current industry: Micro-ATX motherboards are still incredibly common, but case designs are stratifying within two extremes. Full ATX and larger cases are going stronger than ever, but the smaller case designs have largely been usurped by Mini-ITX. There's still a place in the world for a good Micro-ATX client, though, and we think the Line-M might just help deliver it.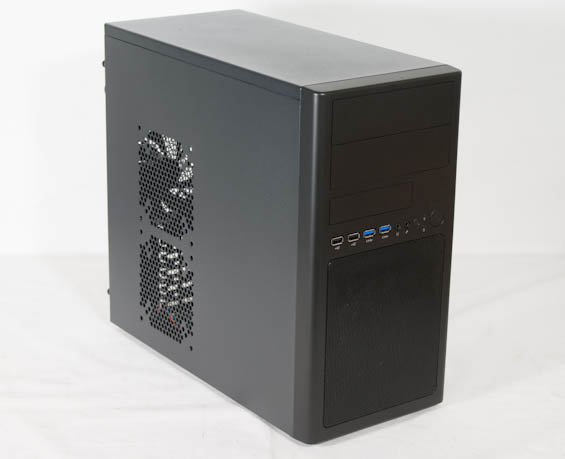 It's only fitting that just as I'd tweaked the case testbed to handle Micro-ATX and ATX cases with a single bed, Micro-ATX cases started to vanish from the market. That's a shame, because I'm not really convinced there isn't a place for Micro-ATX in the current market. It's true that for many builds even Mini-ITX will be adequate, but that form factor precludes multi-GPU or ever adding any expansion cards (I have a personal, persisting need for FireWire.) I'm a prime candidate for Micro-ATX, but there just aren't very many compelling cases out there in the form factor.
That's part of why I wanted to check out the Line-M. This is pretty clearly a workhorse enclosure, but as a long time proponent of some of Cooler Master's Elite chassis I have a continuing interest in good budget enclosures. The Line-M was kind of quietly tucked away in Rosewill's suite at CES 2013, but I felt like its older style ATX design might still have plenty to recommend it. As it turns out, I was right.
Rosewill Line-M Specifications
Motherboard Form Factor
Mini-ITX, Micro-ATX
Drive Bays
External
2x 5.25", 1x 3.5"
Internal
1x 2.5", 2x 3.5"
Cooling
Front
1x 120mm blue LED intake fan
Rear
1x 120mm exhaust fan
Top
-
Side
2x 120mm/92mm fan mount
Bottom
-
Expansion Slots
5
I/O Port
2x USB 3.0, 2x USB 2.0, 1x Headphone, 1x Mic
Power Supply Size
ATX
Clearances
HSF
160mm
PSU
160mm
GPU
300mm
Dimensions
7.29" x 14.37" x 15.74"
185mm x 365mm x 400mm
Weight
8.82 lbs / 4 kg
Special Features
USB 3.0 via internal header
Price
$55
You can see from the spec table that the Rosewill Line-M is pretty spare. This is most definitely, most definitely a budget enclosure. Construction is fairly thin SECC steel with a plastic fascia and the whole thing is as barebones as it gets. But realistically, basic users aren't going to need more than what Rosewill has on offer here, and they at least made an allowance for an SSD mount.
In and Around the Rosewill Line-M
Working with the Rosewill Line-M made me feel downright nostalgic. It doesn't suffer from the same kind of poor build quality (and comically optimistic price tag) of the Moneual Sonamu G100 I reviewed some time ago, but I couldn't help but want the Line-M in beige, if you catch my drift.
The front of the Line-M is all business. It's a black plastic fascia and features two external 5.25" bays and a single 3.5" bay for the inevitable card reader. Beneath the drive bays are the I/O cluster and power and reset buttons, and then below them is a large vent for the 120mm blue LED intake fan. A blue LED fan is kind of an oddball choice for a case like this that seems destined to be hanging out under desks in home offices, and it does stick out some.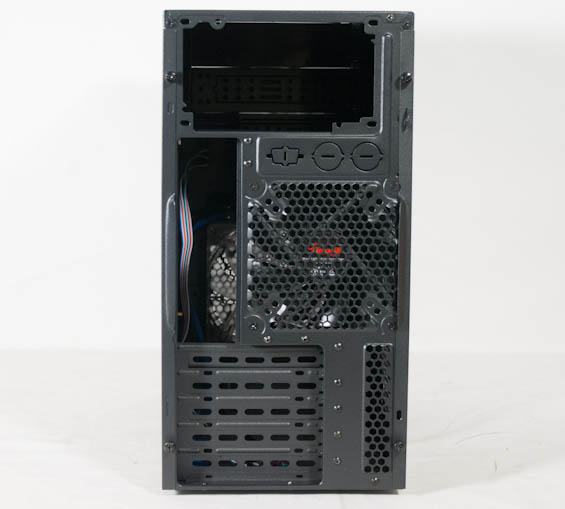 When you check out the top, sides, and back, there are the subtle hints of a more modern case design (if the USB 3.0 ports didn't give it away). The left side panel features two vents with 92mm/120mm fan mounts, and the back of the case sports a fifth expansion slot for users who somehow deign to install a multi-GPU configuration in the Line-M. The irony there is that I'm reasonably certain the case is actually perfectly adequate for it.
The side panels are held in place by thumbscrews, and while I hate notched panels, they're at least expected in a case this inexpensive. That there's a loop in the back for a padlock is an indicator of where this case is supposed to go, but that loop also helps line up the side panel and makes it easier to slide on without bending the notches. Get those panels off, though, and you'll see there's no space at all behind the motherboard tray.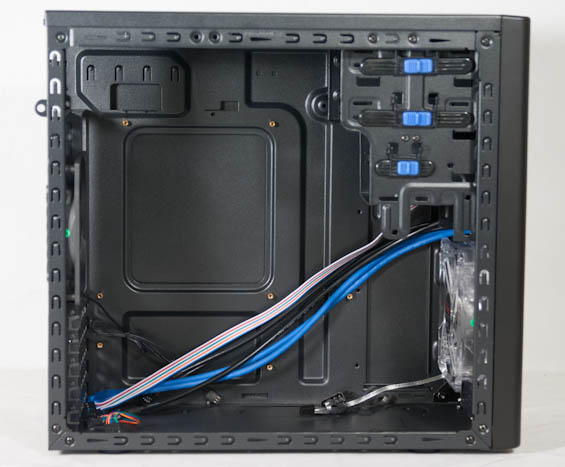 As for the interior itself, Rosewill's design is very minimal but also uses space very efficiently. I think it's important to remember (and you'll see what I mean later) that there are good reasons to mount the power supply to the top of the case instead of the bottom. Currently the biggest albatross hanging around the neck of case design is the 5.25" bay, but lining up the power supply behind the 5.25" bays at least winds up using space efficiently and lowers the motherboard so the case's intake has a more direct line to the CPU cooler.
Undoubtedly the whole of the Rosewill Line-M is going to look downright archaic. I've been watching the technology of case design continue to advance since I began reviewing cases here, and seeing a build that doesn't include a lot of modern designs is kind of curious. With that in mind, though, I still feel like Rosewill's overall design is a very efficient one in terms of space and apropos to what the case is intended for. But why the blue LED fan?
Assembling the Rosewill Line-M
Provided you're at least prepared for it, assembling a system inside the Rosewill Line-M can actually be a fairly simple experience. Since it's such a small case and such a direct design, assembly is actually pretty self-explanatory. What you want to do is make sure you assemble things in the right order.
The first thing to go in is the motherboard, and Rosewill demonstrates why I'm starting to seriously bristle when manufacturers don't make some kind of allowance for motherboard installation. Despite being an inexpensive case, the Line-M comes with the motherboard stand-offs pre-installed. Snapping in the I/O shield was easy enough, but you'll have to tilt the board into the case if you're using a full-sized Micro-ATX board, as the drive cage overhangs the tray just a little. This also unfortunately makes one of the screws very difficult to install.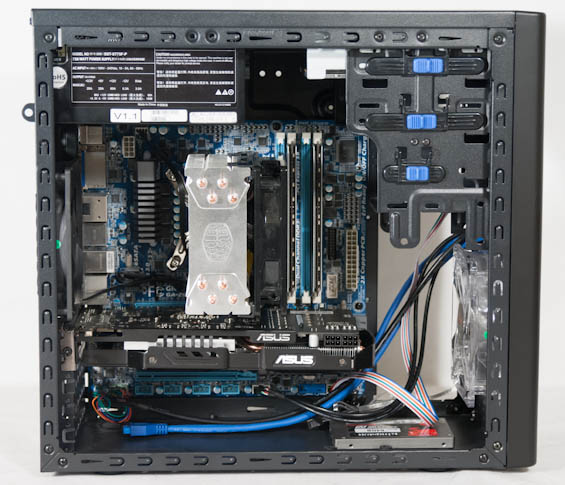 Next you'll want to install the optical drive and the storage drives, as they're most liable to get buried under cables. The 5.25" bays employ a toolless clamp on the left side that's actually very effective, but you need to snap the front fascia off first. From there, just take the shield off and slide the optical drive in. The single 2.5" drive mounting point is just that, and not a bay. In the bottom floor of the case are four holes for screws to bottom-mount the drive. It's not ideal but it does get the job done.
Expansion cards go in next, and the power supply goes in last. There are no expansion slot covers; the slots themselves have perforated metal that pops out, which is common with cases in this price bracket. Despite the fact that this is a budget case, it does benefit tremendously from a modular power supply. Modular power supplies aren't hard to get anymore; Corsair sells one for $50 that would be well-suited to the Line-M, but I must stress that you really are limited to 160mm of PSU depth unless you eschew using the 5.25" bays entirely.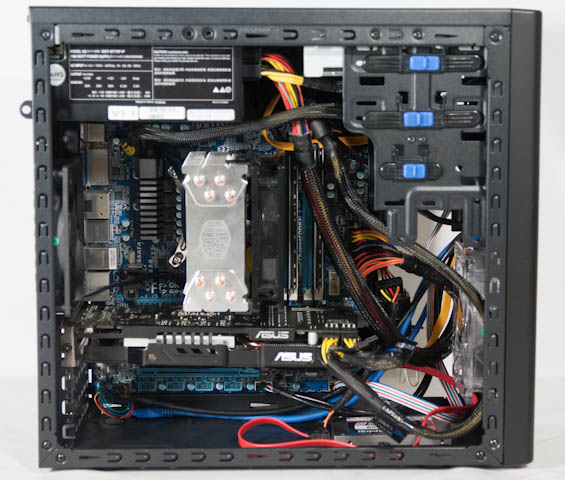 Cabling the Line-M is the most complicated part, due primarily to the limited space, lack of space behind the motherboard tray, and open fan blades of the front intake fan. I was able to do a messy job but nonetheless keep everything out of harm's way when assembling our testbed; there's really no way to not do a messy job with this case, though, so keep that in mind. Small cases are rarely clean.
The Rosewill Line-M actually isn't too difficult to assemble, and as far as servicing it goes, the worst part will probably be navigating the cable spaghetti (something a modular power supply helps mitigate tremendously.) I think I would've preferred some means of mounting the SSD up near the rest of the drives, though, as stretching the single SATA power lead down to the bottom of the case seems to needlessly complicate things.
Testing Methodology
For testing Micro-ATX and full ATX cases, we use the following standardized testbed in stock and overclocked configurations to get a feel for how well the case handles heat and noise.
Each case is tested in a stock configuration and an overclocked configuration that generates substantially more heat (and thus may produce more noise). The system is powered on and left idle for fifteen minutes, the thermal and acoustic results recorded, and then stressed by running seven threads in Prime95 (in-place large FFTs) on the CPU and OC Scanner (maximum load) on the GPU. At the end of fiteen minutes, thermal and acoustic results are recorded. This is done for the stock settings and for the overclock, and if the enclosure has a fan controller, these tests are repeated for each setting. Ambient temperature is also measured after the fifteen idle minutes but before the stress test and used to calculate the final reported results.
Thank You!
Before moving on, we'd like to thank the following vendors for providing us with the hardware used in our testbed.
Noise and Thermal Testing
When I moved onto testing the Rosewill Line-M, I actually had a funny feeling it would turn out to be a pretty solid performer. Noise levels were entirely at the mercy of Rosewill's fan choices (and those fan choices are pretty lackluster, admittedly), but the way airflow moves through the enclosure is very direct and neat. You don't need a lot of fans to get good cooling, you just need a couple of them, smartly placed.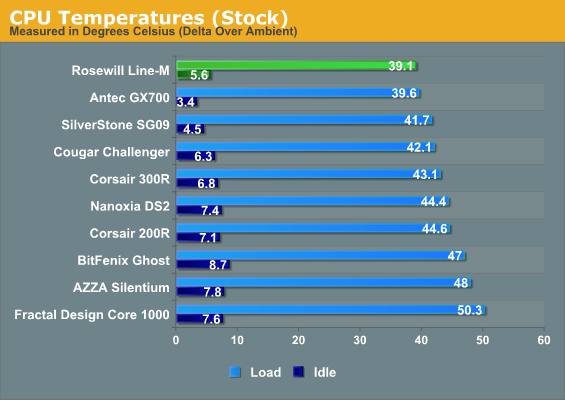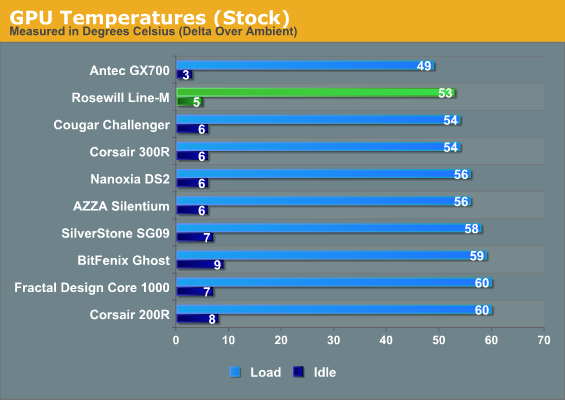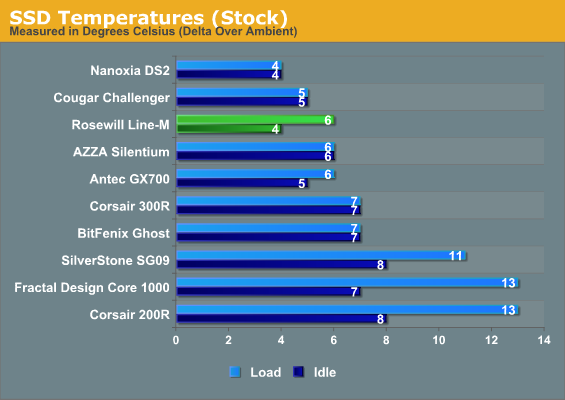 All you really need are two well-placed 120mm fans and you have a solid performer. The Line-M produces excellent thermal results in our stock testing, although the SSD does absorb at least a little bit of heat from the bottom of the chassis.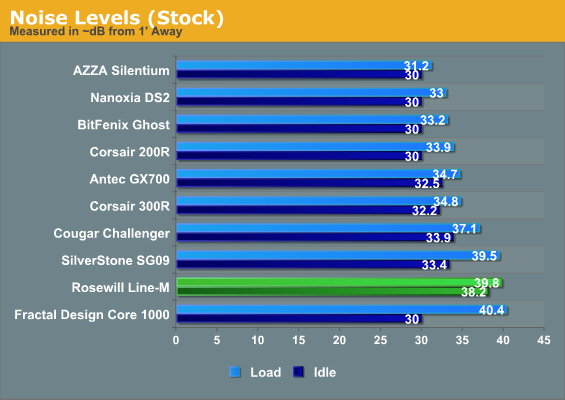 Unfortunately, you really pay in a major way in noise. To Rosewill's credit, the character of the Line-M's noise isn't actually too bad, mostly a low-pitched hum. The problem is that the two fans included are both conventional 3-pin, voltage-controlled fans. If you use a motherboard with good fan control you can probably mitigate this, but running at full bore they definitely make themselves known.
With such solid thermal results for our stock testbed, I was eager to see if the Line-M would still be able to hold up when placed under the stress of our overclocked system.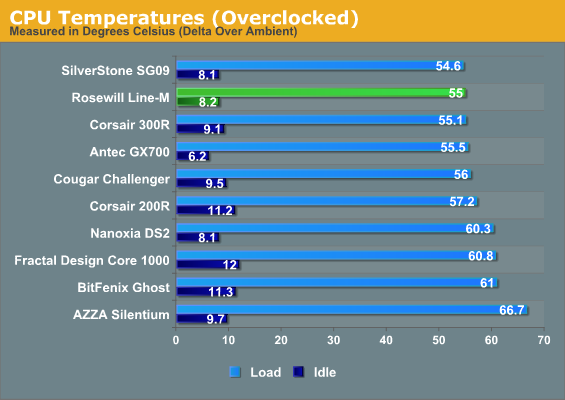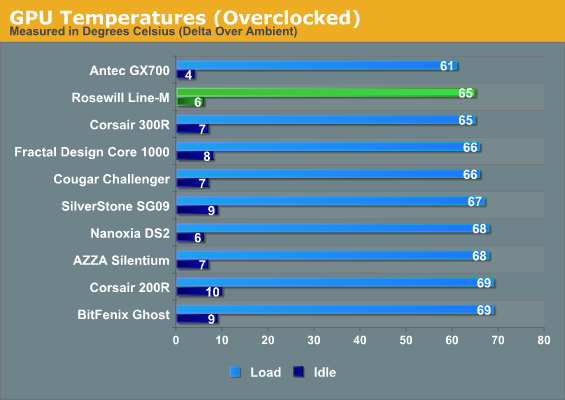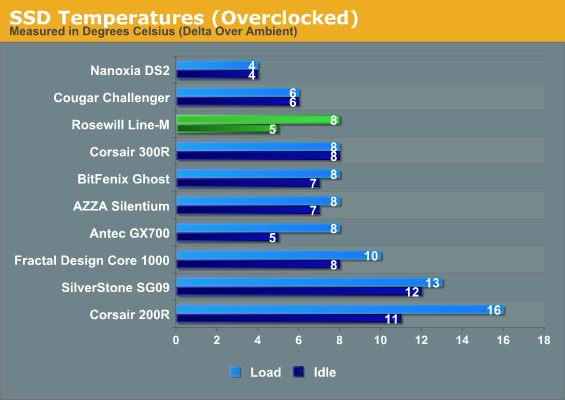 Once again, the Rosewill Line-M is able to produce very competitive performance. Enthusiasts looking to build an overclocked machine on the cheap may actually want to eyeball this case if only because its stock cooling configuration is so efficient.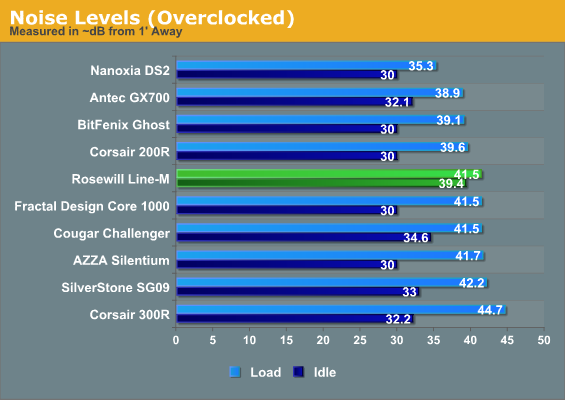 While idle noise is still pretty bad, load noise is actually mitigated somewhat by the case's excellent airflow. Even with a decent mess of cabling around that front fan, air flows smoothly and freely through the Line-M.
Conclusion: The Line-M Almost Hits Its Mark
My instincts when I saw the Line-M hiding in Rosewill's suite during CES 2013 turned out to be pretty much on the money. Rosewill has produced a budget case that is exceedingly effective at cooling hardware, producing competitive if not superior thermal performance even with some heady overclocking going on under the hood. This is by no means a perfect enclosure, but it's definitely a strong one and worthy of your attention.
Part of the reason why the Line-M is so effective is the simple and smart cooling design. The conventional ATX cooling design is honestly pretty awful, and even most case designers will agree. Bottom-front intake to top-rear exhaust is inefficient design, and you really do need to create a pretty strong updraft to get the air to move the way it needs to. Silverstone advertises natural convection as being one of the reasons why its rotated motherboard cases are as effective as they are, but it barely comes into play; the reason those cases are so good at cooling hardware is because there's nothing between the intakes and the hardware. Air just moves in a straight shot through the tower cooler and blower and out of the top of the case. Rosewill's Line-M doesn't have to rely on convection either; cool air comes in through the front and has almost a straight shot through the coolers.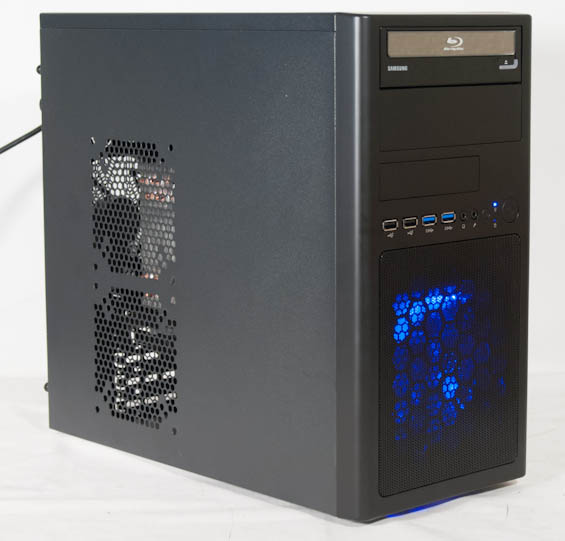 Where I think Rosewill starts to miss the mark is that the Line-M is too conservative in some ways. Silverstone's excellent Temjin TJ08-E featured a vent in the top of the case and allowed you to flip the power supply so that you didn't run the risk of pushing hot air through the PSU's components. I would've liked to have seen better cable management features in the Line-M as well, although that would undoubtedly add to the size of the case. I'm also perplexed by the use of an LED fan in the front. It sticks out like a sore thumb when the rest of the case is really quite staid.
Finally, while I don't think $55 is too much to ask for the Line-M, I do think it's not as competitive as it ought to be. I'd like to see this about ten dollars cheaper to be honest, and hopefully NewEgg's regular sales will drive it down to the price range it probably needs to be in. For the price, the Line-M is within range of Antec's more ostentatious but also more flexible GX700, though Antec's case is also much larger. Performance is comparable between the two, though, and the GX700 can do its job more quietly than the Line-M can.
When all is said and done, though, I do think the Line-M is a very strong choice for a budget build. For bottom-line enthusiasts it offers compelling thermal performance, while for office builds it has the potential to be a basic, reliable enclosure with the minimum needed trimmings. The Line-M could stand to lose the LED illumination in the front fan and does ask for a motherboard with some kind of fan control to spin down the fans when the system is idle. Despite these qualms, though, it's a pretty solid offering at $55, and if it shows up on sale for south of $50 it's going to be tough to beat.