Original Link: http://www.anandtech.com/show/6764/fractal-design-define-xl-r2-case-review-maybe-we-can-have-it-all


Introducing the Fractal Design Define XL R2
Amusingly and appropriately enough, the wave of silence-oriented enclosures that have been popping up recently haven't really drawn attention to themselves as a trend. Yet all of a sudden, we have results from a couple of solid contenders from Nanoxia and a few less expensive (and more readily available) also-rans. For a little while, this was a wave that Fractal Design was riding high, but the Define R4 wound up being a little underwhelming. As it turns out, they might just have something better lying in wait.
We never had a chance to play with the original Fractal Design Define XL, so it's tough to draw a direct comparison there. Yet one look at Fractal Design's page for the original tells you that while the Define R4 didn't change much from the R3, the Define XL R2 is a major shift. The original XL didn't support E-ATX; it was more just a conventional Define with a separate drive compartment. This R2, on the other hand, really is a giant Define R4. As it turns out, that bump in size and modest increase in cooling capacity may very well have been all the Define R4 needed.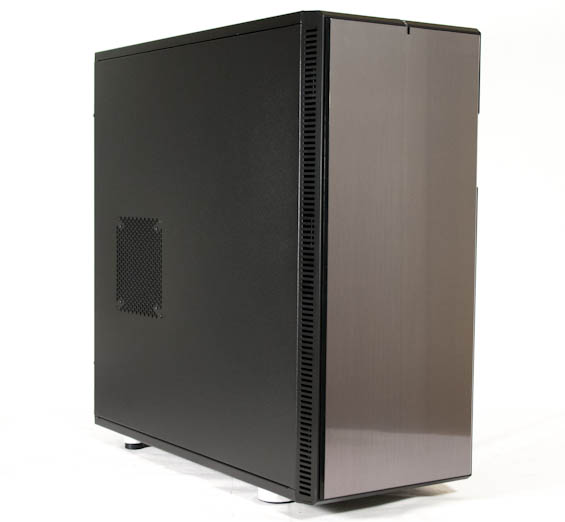 There are two dead horses I need to bludgeon before we progress any further with this review. First, the quiet chassis to beat are the Deep Silence 1 and 2 from Nanoxia; availability notwithstanding, those two offer the best value and best balance of performance and acoustics. In the XL R2's price bracket, the Deep Silence 1 is basically the bar. Keep in mind, though, that the DS1 is a smaller case than the XL R2, so if you need the extra space, Fractal Design may just win by default.
The other thing to keep in mind is that designing a quiet chassis is basically one of the hardest things a vendor can do. What you're essentially trying to do is get the system inside the case to a noise level low enough that the sound dampening material can do the rest of the job. High end enthusiast cases tend to be very quiet because of their copious high power, low noise airflow. What we want is a case that can get below that already low noise floor. The problem is that doing so means closing off a lot of ventilation; capturing sound means capturing air, and reduced airflow means reduced thermal performance.
Fractal Design Define XL R2 Specifications
Motherboard Form Factor
Mini-ITX, Micro-ATX, ATX, E-ATX, XL-ATX
Drive Bays
External
4x 5.25"
Internal
8x 2.5"/3.5"
Cooling
Front
1x 140mm intake fan (mount supports 120mm; second 120/140mm fan mount below)
Rear
1x 140mm exhaust fan (mount supports 120mm)
Top
2x 120mm/140mm fan mount
Side
1x 120mm/140mm fan mount
Bottom
1x 140mm intake fan (mount supports 120mm)
Expansion Slots
9
I/O Port
2x USB 3.0, 2x USB 2.0, 1x Headphone, 1x Mic
Power Supply Size
ATX
Clearances
HSF
170mm
PSU
190mm
GPU
330mm
Dimensions
9.13" x 22.01" x 22.04"
232mm x 559mm x 560mm
Weight
36.16 lbs / 16.4 kg
Special Features
Removable fan filter
USB 3.0 via internal header
Three step fan controller supports three fans
Acoustic padding on the interior and side panels
Modular, rotatable drive cages
Price
MSRP $129
Consider that the two Deep Silence cases are already pretty heavy and well built in their own right, then add another ten pounds and three inches. The Define XL R2 is made almost entirely of steel with really the bare minimum of plastic used in its construction, and you definitely feel it. This is a big case, but Fractal Design was able to hit a very aggressive price point with it. The last generation Define XL cost a full $40 more.
In and Around the Fractal Design Define XL R2
If you're familiar with Fractal Design's aesthetic for the Define series, the Define XL R2 isn't going to bring any surprises. Fractal Design continues to offer their cases in black and gunmetal finishes, and I continue to be pleased with the gunmetal; it's a gray that doesn't clash with computer hardware, but keeps the box from looking too bland. We're really in an age where we've replaced the beige box with the black box.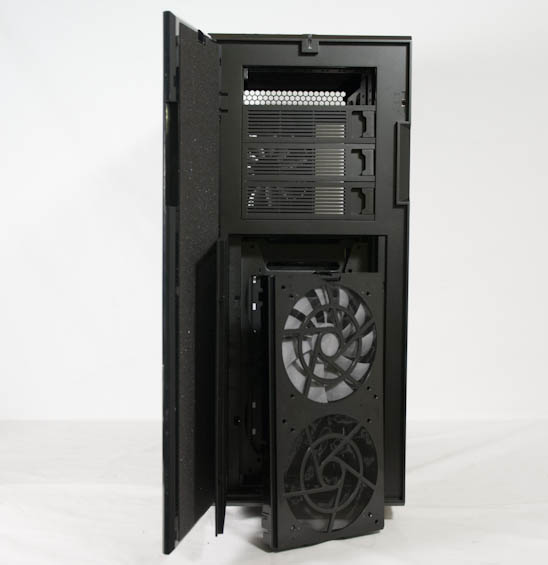 The front of the XL R2 features a padded door which opens to the left and conceals four 5.25" drive bays with ventilated snap-in/snap-out shields. The entire front fascia is ventilated on the sides just like the other Define cases, allowing plenty of cool air to enter the case without letting noise escape. Next to the drive bays is a three-step switch for the fan controller; you can run fans connected to the controller at 5V, 7V, and 12V. Below the bays are two intake fan mounts; Fractal Design includes a 140mm fan in one, but you have to add your own fan to the second. These fans are hidden behind a fan filter and are easily removed and replaced.
When we move to the top of the XL R2, we find the power button and reset button along with the I/O all placed on the front edge of the case. The remainder of the external shell of the XL R2 is flat, matte black, though there are 120mm/140mm fan mounts on the top and side of the case (two on the top, one on the side panel). In true Fractal Design fashion, these mounts are blocked off with removable acoustic padding.
Someone at Fractal Design must have been paying attention to my recent complaining (I'd like to think they were though it probably isn't true), because the side panels are hinged instead of notched. Per usual, two thumbscrews hold them into place, but they're very easy to put on and take off.
The interior of the Define XL R2 is nothing new; this is very much just a larger Define R4. The two drive cages are both modular, and can be removed or rotated to suit your airflow needs. Alternatively, you can mount a single cage where the bottom intake fan is and install a radiator in the front of the enclosure. Fractal Design continues to employ their tried and true white steel drive sleds, and I'm not complaining. I've seen enough vendors nail every other part of the design and then screw these up fantastically that I appreciate when someone has them down about as good as they'll get.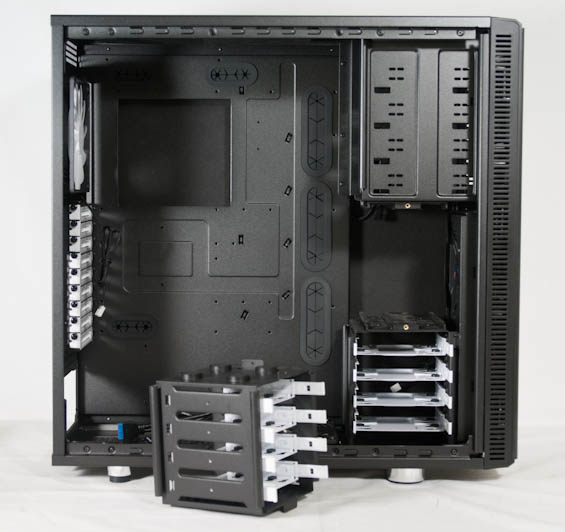 The remainder of the XL R2's interior isn't bad by any stretch of the imagination, but it's still a hair behind the times. We do get a 140mm intake fan on the bottom of the case and the case itself stands up high enough that only the shaggiest of carpet will block it off, and Fractal Design actually includes additional clearance above the motherboard tray expressly for mounting 240mm/280mm slim radiators. Where they fall behind is the lack of an extruded channel around the tray for cable management (as well as helping the case slim down a touch) and no preinstalled motherboard standoffs or alignment studs.
It's tough to complain too much, though. This is effectively the same ATX interior cooling design Nanoxia and everyone else enjoys, it's just bigger. I do think it's unusual that Fractal Design opted to go for a bottom intake instead of using that third fan in the open front mount, but "unusual" doesn't necessarily mean "bad." As I mentioned, the XL R2 does actually stand far enough off of the ground to make this intake a useful one. A bottom intake's noise can be easily muffled by its direction and proximity to the ground.
Assembling the Fractal Design Define XL R2
Appropriate to its only slightly dated internal design, the Fractal Design Define XL R2 is also a little more difficult to assemble than other modern cases. While the biggest problem is its weight (a complaint that can't really be fairly levied when other, heavier cases get recommendations), I did find a couple of hangups while putting the XL R2 together.
I'm at the point with case reviews where if the enclosure doesn't make some kind of allowance towards making installing the motherboard easier, I'm liable to dock the manufacturer points. That assumes any kind of utterly worthless, arbitrary point system, but you get the idea. Either pre-extruded standoffs, pre-installed standoffs, or at least an aligning stud in the center of the motherboard tray...any of these would've been appreciated. The XL R2 includes none of these conveniences, so you're stuck screwing in standoffs one at a time.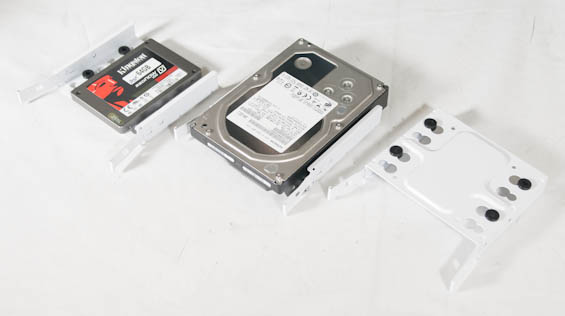 Installing drives into the drive trays continues to be easy, and the middle cage is easily removed by undoing two thumbscrews. 3.5" drives are bottom mounted to the trays on rubber grommets using special screws, while 2.5" drives use standard screws and fit neatly between the rubber mounts. Unfortunately, installing a full size hard drive into the top slot of the cage will result in it scraping against the bottoms of the plastic pegs that allow for the rotatable cage mounts. I actually snapped one out trying to install a 3.5" hard drive in, so you've been warned. The pegs are easy to replace, though. 5.25" drives are installed using special thumbscrews included with the case; it's not "toolless" but it's close enough, and certainly very secure.
Getting expansion cards into the XL R2 is easy enough, but installing the power supply was an absolute nightmare. Fractal Design uses two rubber standoffs to support the backside of the PSU, but these standoffs are basically taped to the bottom of the case and they're pretty easy to remove accidentally. You'll likely do so, too, when you try installing the power supply and discover there's nothing supporting the front of it. Trying to line up our testbed PSU was abnormally frustrating, partially because the back of the case has some acoustic padding to dampen any vibration from the power supply fan. That means you're applying pressure to the back of the power supply while simultaneously trying to lift up the front of it (but behind the back of the case) and trying to actually screw it in. It's needlessly difficult; a better design choice would've been to include some kind of lip to support the front of the power supply.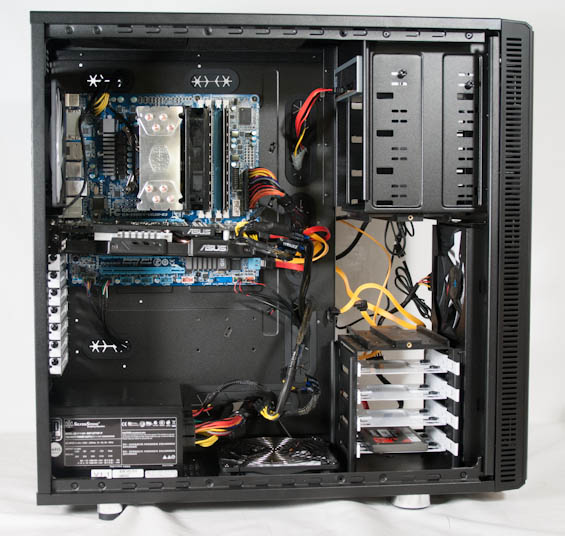 Thankfully, wiring up the XL R2 is easy enough, and it's not hard to produce a cleanly wired interior. There's a healthy amount of space behind the motherboard tray, and the hinged side panels make it easy to close up. Fractal Design also smartly avoids accidentally blocking the AUX 12V routing hole with guides/supports for the side panel; this is a mistake I've seen a lot of designers make.
The Fractal Design Define XL R2 isn't ultimately that difficult to assemble, but it's more trouble than it really needs to be. Really they're just missing two major conveniences: a lip to support the power supply (and make it easier to install), and either pre-installed motherboard standoffs or an aligning post. There's a solid design here that just needs to incorporate some of the advances in design technology some of Fractal Design's peers have produced. Just like the blocked off fan mounts have become increasingly common due largely to Fractal Design's cases, they should consider employing additions like NZXT's card reader and asymmetrical drive cages, or Corsair's extruded cable channel.
Testing Methodology
For testing Micro-ATX and full ATX cases, we use the following standardized testbed in stock and overclocked configurations to get a feel for how well the case handles heat and noise.
Each case is tested in a stock configuration and an overclocked configuration that generates substantially more heat (and thus may produce more noise). The system is powered on and left idle for fifteen minutes, the thermal and acoustic results recorded, and then stressed by running seven threads in Prime95 (in-place large FFTs) on the CPU and OC Scanner (maximum load) on the GPU. At the end of fiteen minutes, thermal and acoustic results are recorded. This is done for the stock settings and for the overclock, and if the enclosure has a fan controller, these tests are repeated for each setting. Ambient temperature is also measured after the fifteen idle minutes but before the stress test and used to calculate the final reported results.
Thank You!
Before moving on, we'd like to thank the following vendors for providing us with the hardware used in our testbed.
Noise and Thermal Testing
I went into testing the Fractal Design Define XL R2 feeling a little skeptical. The Define R4 wasn't a bad case by any stretch of the imagination, but it was an underwhelming one, and it was pretty swiftly eclipsed by Nanoxia's Deep Silence case designs. That in mind, I didn't think the XL R2 would be a poor case, but it needed to be more than an also-ran and it needed to clear the same hurdle every other quiet case must: it had to provide good thermal performance.
Per usual testing procedures, the XL R2 was tested with the middle drive cage removed, and tested at each fan setting available. Ambient temperature during testing was ~22C.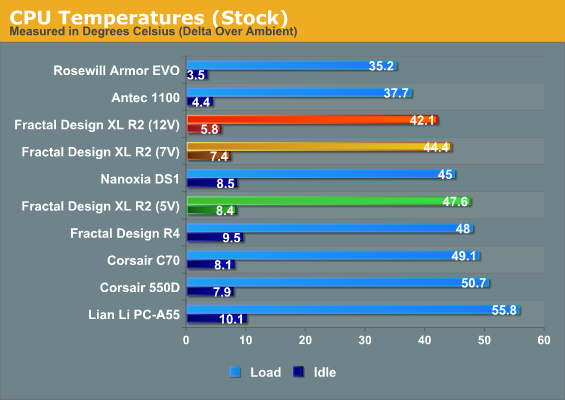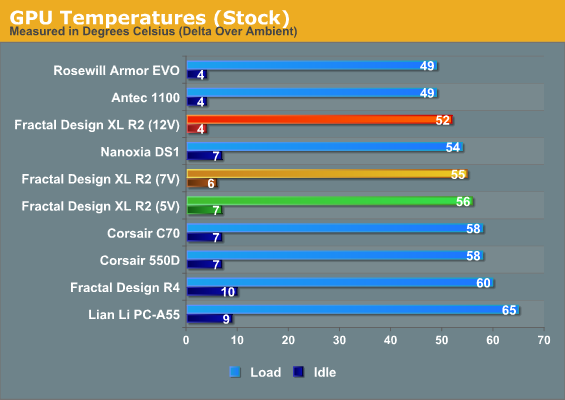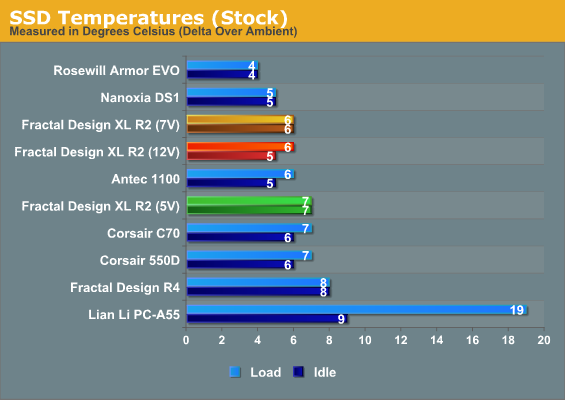 Stock thermals weren't stellar, but they were remarkably competitive. The XL R2 defeats the R4 and is capable of meeting or beating Nanoxia's Deep Silence 1.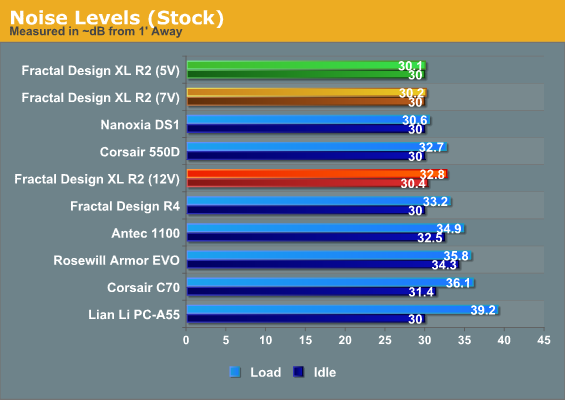 Noise levels are also nearly perfect. The XL R2 is a quiet case and, at least in our stock configuration, is able to pull good thermal performance out of low acoustics.
So far, so good. The XL R2 isn't mind-blowing but it's definitely competitive. As it turns out, though, there's a lot more fight left in the XL R2 than would first appear.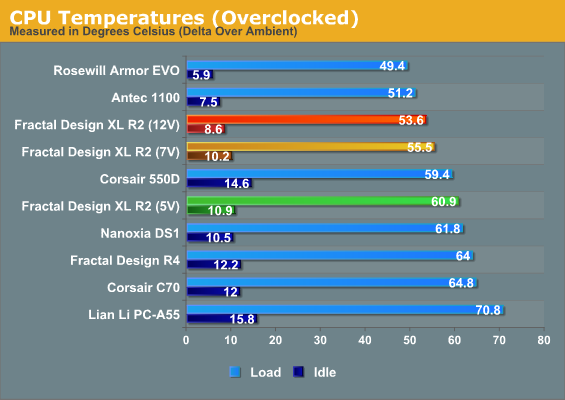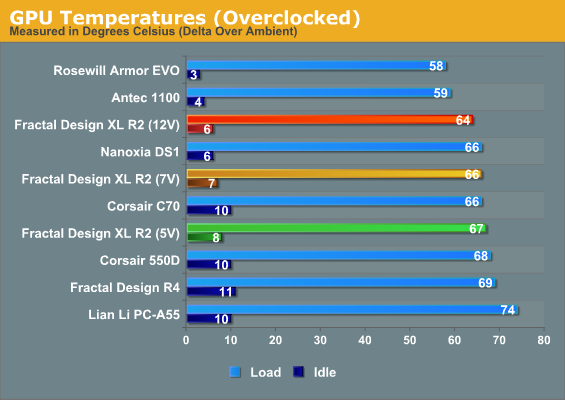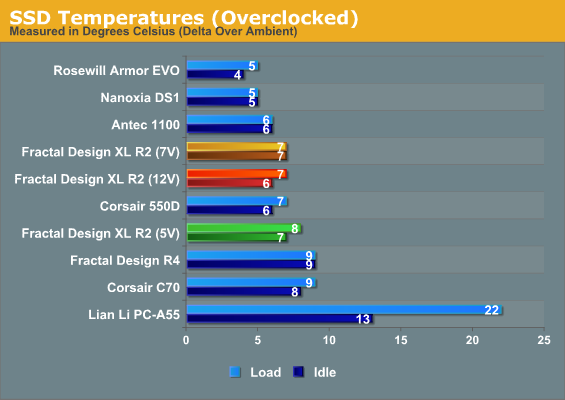 The overclocked testbed usually buries quiet cases, but the XL R2 holds its own. At worst, it's competitive with Nanoxia's formerly class-leading Deep Silence 1. At best, it eclipses it soundly.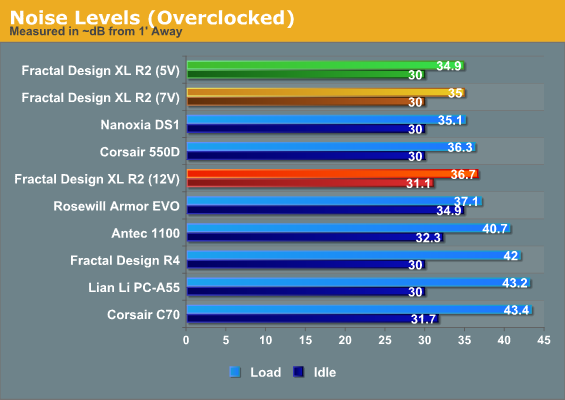 Speaking of sound, the XL R2 is also capable of running at roughly the same sound levels as Nanoxia's case while performing at least as well, if not better. It's true that Fractal Design's case does benefit from a larger footprint, but this is still a pleasant surprise to see.
Conclusion: Almost Everything You Need
My title for this review stems from the feeling that I've finally tested an enthusiast-class quiet case that is capable of producing excellent acoustics and performance competitive with cases that don't share its acoustic allowances. The Fractal Design Define XL R2 is a beastly piece of engineering, but it's also a very pleasant surprise. If you eyeball large enthusiast cases but wish they had at least some padding to keep the noise down, Fractal Design may actually have you covered.
Fractal Design continues to carve out an aesthetic that's unique to them without being ostentatious. This is the look that got them attention on American shores in the first place and had you, the readership, clamoring for a review of the Define R3. Sometimes a look just works; Fractal Design had no real reason to redesign here, so they didn't. Meanwhile, though the interior design is a little dated, it's still functional and it gets the job done. This is conservative, but the thermals and acoustics really are among the best in class.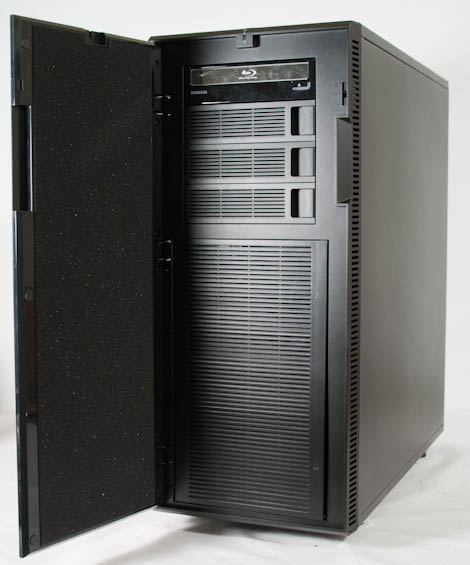 Yet for how fantastically the XL R2 performs, this isn't a clean sweep. While I would definitely argue that the $129 price tag is competitive at worst, and the XL R2 is ultimately a slightly better performer than Nanoxia's Deep Silence 1, by its very nature, the XL R2 does not eclipse Nanoxia's offering. The DS1 is cheaper and smaller, and the result is that the XL R2 winds up serving an ever so slightly different user base. Fractal Design needs to take some of the lessons learned by the XL R2's design as well as some of the lessons learned by their competitors and drill down to a basic Define R5.
There's also the fact that the XL R2 can be, at times, needlessly difficult to assemble. Fractal Design misses minor conveniences that are fast becoming standard in the market, and I think they could stand to add another fan controller though it's not strictly necessary. These are kinks that can be ironed out in another revision but they do merit mentioning. Despite my gripes about the motherboard and power supply installation, though, I have to at least thank them for using hinged panels instead of notched ones. Doing so makes the case much, much friendlier to end users who like to tinker.
Of course, for the reasonable $129 price tag, it gets a bit easier to put up with the Fractal Design Define XL R2's quirks. Truth be told, as far as acoustics in an enthusiast-grade case go, you're really going to have a rough time beating what Fractal Design has accomplished here. Other cases will cool better, sure, but the XL R2 still cools well, and it's able to snuff out a lot of noise in the process. The price is right, the performance is there, and it's exceptionally easy to recommend the XL R2 for a power user that still wants a quiet system. I think the design could use one more revision to bring it completely up to date with the state of the competition, but until we see an XL R3, the Fractal Design Define XL R2 is going to be as good as it gets.