Original Link: http://www.anandtech.com/show/6750/dell-xps-12-review-a-jack-of-all-trades-flipscreen-ultrabook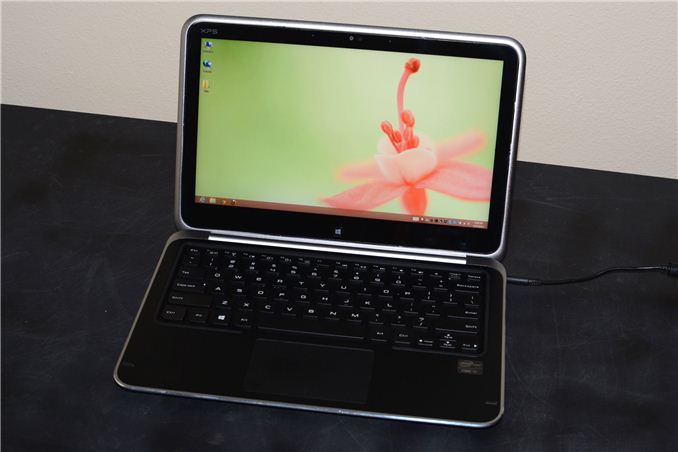 Dell XPS 12: Everything to Everyone?
When dell first launched their XPS brand—prior to acquiring Alienware—the XPS acronym stood for Xtreme Performance System. (Back then, it was considered really cool to use the letter X, so Extreme becomes Xtreme and we get an X rather than an E—though I suppose we're not really any better about this in 2013.) The XPS line was Dell's highest performance line, but over time it started to lose its luster. In 2005, Dell tried to reassert XPS dominance over companies like Alienware and Falcon Northwest, but when they later purchased Alienware the need for the XPS brand became questionable. We had Studio XPS for a bit, then XPS totally disappeared (around 2009), but now it's back with a new role.
No longer is XPS the top performance consumer brand, as that task falls to Alienware; instead, XPS is a premium consumer line, generally offering better build quality and materials than the Inspiron line and with configurations that straddle the fence between high-end and budget offerings. Some businesses may also opt for XPS systems, as they tend to look a little nicer than the typical business laptops and they should offer similar reliability. Or at least, that's the theory of it. The reality is that we've seen some good XPS offerings since the relaunch, but we've also seen some disappointing units with mediocre displays and very little other than appearance to set them apart from the Inspiron line.
Thankfully, that's not the case with the XPS 12 Duo. Build quality has been generally good of late with the XPS laptops we've reviewed, and while there were certainly flaws I found a lot to like in the initial XPS 15 and 15z. The more recent XPS 15 was a different matter, as the combination of a 35W quad-core processor with a GT 640M GPU proved to be more than the cooling could handle, and rampant throttling was the result. I thought Dell would eventually address the problem with a BIOS update, but that never came and so the "detailed first look" ended up as the final review. [Whoops! Let me wipe the egg off my face….] Temperatures were also a concern with the XPS 13 when we reviewed that Ultrabook, so you can bet we'll be investigating that area with the XPS 12 Duo. But first, let's start with the specifications rundown.
Dell XPS 12 Duo Specifications
Processor
Intel i7-3517U
(Dual-core 1.90-3.00GHz, 4MB L3, 22nm, 17W)
Chipset
HM76
Memory
8GB (2x4GB) DDR3-1333 (9-9-9-24-1T)
Note: RAM is soldered onto motherboard
Graphics
Intel HD 4000
(16 EUs, up to 1150MHz)
Display
12.5" Glossy 16:9 1080p (1920x1080)
(LG LP125WF1)
Storage
256GB Micron C400 mSATA
Optical Drive
N/A
Networking
802.11n WiFi (Intel Advanced-N 6235)
(Dual-band 2x2:2 300Mbps capable)
Bluetooth 4.0 (Intel)
Audio
Realtek ALC275
Stereo Speakers
Headphone/Microphone combo jack
Battery/Power
6-cell, 8.3V, ~5690mAh, ~47Wh
65W Max AC Adapter
Front Side
N/A
Left Side
Volume Rocker Buttons
Power Button
Headphone/Microphone Jack
Screen Orientation Lock Button
Right Side
1 x USB 3.0 (Powered when Sleeping)
1 x USB 3.0
Mini-DisplayPort
AC Power Connection
Back Side
N/A
(Exhaust vent located on bottom)
Operating System
Windows 8 64-bit
Dimensions
12.48" x 8.46" x 0.59-0.79" (WxDxH)
(317mm x 215mm x 15-20mm)
Weight
3.35 lbs (1.52kg)
Extras
HD Webcam
80-Key Backlit Keyboard
Warranty
1-year limited warranty standard
3-year available ($199 upgrade for "Good" service)
Price
$1199 Base Model (Core i5, 4GB, 128GB SSD)
$1699 Tested (Core i7, 8GB, 256GB SSD)
As is so often the case with review units, we have the top-end model of the XPS 12 Duo in house for review. That means we get an i7-3517U processor, 8GB RAM (4GB soldered onto the motherboard), and a 256GB SSD. As mentioned already, Dell is also using a 12.5" 1080p IPS display, which is one of the standout items of the spec sheet. Overall, the specs match up pretty well against the Acer S7; the major differences are the battery capacity (Dell has 34% more battery capacity), I/O ports (Dell doesn't have any sort of flash memory reader), and the dimensions. Not surprisingly, the XPS 12 Duo is closer to the maximum dimensions Intel allows with a sub-14" Ultrabook, but the hybrid tablet aspect and other elements could very well make up for the increased thickness.
The base model of the XPS 12 Duo starts at $1200 and comes with an i5-3317U, 4GB RAM, and a 128GB SSD. Pricing is usually a major factor when people are shopping for a new laptop, and $1200 is likely a lot higher than most will be willing to pay. That's going to be a problem, and we would expect a system carrying a price like this to basically get every element right, which is unfortunately not the case. The various upgrades that are available only make the situation worse. For $200 more, Dell will sell you an i7-3517U with 8GB RAM, $1500 will get you the i5-3317U with 8GB RAM and a 256GB SSD, or you can get the whole enchilada (like our review system) for "only" $1700. Yikes!
I'm not sure why companies insist on trying to milk their customers like this, but frankly there's no point in even offering a 4GB model at this stage; we're talking about $27 for 2x2GB compared to $45 for 2x4GB at retail, and with a starting price well north of $1000 we expect 8GB standard. Dell also looks to be charging roughly $250 for the 256GB SSD upgrade; granted, compact SSDs are more expensive than 2.5" models, but a new 256GB mSATA SSD will generally cost less than $300 and a 128GB model is under $150, so we'd like the upgrade cost to be closer to $100. And rounding out the pricing the CPU upgrade is also a premium charge, since Intel quotes $225 for the i5 compared to $346 for the i7 (and there's no way Dell is paying anywhere near those prices).
As much as there is to like with the XPS 12 Duo, I find myself at the same conclusion I came to with the Acer S7: this is a good Ultrabook, but who is going to pay Apple prices (or even higher than Apple prices) for Dell hardware? Apple has built a premium brand name over the years and their user base is willing to support their prices, but there simply aren't any Apple compatible laptops (unless you want to try and make your own Hackintosh/HackBook). In the Windows world, alternatives are a dime a dozen, so you can't get away with the same premiums even if you're making premium hardware. My gut feeling is that the XPS 12, like the S7, is priced about $200 too high on the base model, and about $400 too high for the top configuration we're reviewing. But if we just ignore pricing for a bit, how does the XPS 12 fare in day-to-day use?
Subjective Evaluation: Pulling the Old Switcheroo
It's pretty clear that the raison d'être for the XPS 12 is to be a convergence laptop and tablet hybrid. This is accomplished via the flipscreen, allowing the device to switch from being a regular laptop into tablet mode. There are other devices that do something similar, as I discussed in a blog last month, but right now to my knowledge Dell is the only company that's trying to go with a flipscreen. Sliders, tablets with a detachable keyboard, twist hinges, and even foldable laptops are out there, and they all go after the same problem: how to make a device that's both a laptop and a tablet work well. I'm going to tackle the subjective evaluation in two parts, first as a laptop and second as a tablet, but first let's cover some of the core design elements.
One of my biggest concerns when I first saw images of the XPS 12 was the durability of the flipscreen. Since the whole display section has to be free to pivot, I was worried the frame would feel flimsy and might wear out sooner rather than later. While I can't say how well the hinge and pivot points will hold up long term, I can say that they actually feel quite solid in practice—the frame is reasonably thick and made of metal and inspires confidence that it will last for a while. The flipping action also works nicely, with strong magnets that lock the display into place in either orientation. The build quality for the rest of the XPS 12 is also good, and I like the carbon fiber covers on the bottom and the back of the LCD. Overall, the XPS 12 is definitely a step up from Dell's other consumer branded laptops.
One drawback of the flipscreen is that the screen portion of the XPS 12 is quite a bit thicker than on most Ultrabooks. Part of that might be necessary additional thickness to accommodate the touchscreen, but in order to make the flipscreen work I think Dell added an extra two or three millimeters to the display portion of the chassis to make it more durable. As a point of reference, I measured the display on the Acer S7 at around 4mm compared to roughly 7.5mm on the XPS 12. For an Ultrabook, that's a pretty significant difference, but since the XPS 12 is still reasonably thin I won't belabor the point. Just know in advance that it's going to be thicker than some of the competing options.
One other point to bring up before getting into the laptop/tablet specifics is that the WiFi stack on the XPS 12 (an Intel 6235 with Bluetooth) is for some reason quite flaky, relatively speaking. Every couple of days, I would suddenly find that the XPS 12 was off the network. When I checked the WiFi control panel, I could see the appropriate networks, but trying to join any of them would result in an error. The fix was to simply disable and then re-enable WiFi via the keyboard shortcut, but I'm not used to seeing this sort of problem with Intel WiFi controllers. Updating drivers didn't help here, so perhaps I just received a slightly flaky unit in this regard.
The XPS 12 as a Laptop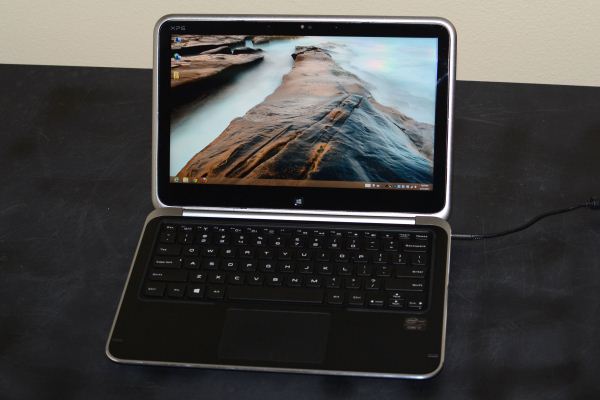 While the XPS 12 is a hybrid device, it's still primarily a laptop I think, so I'll start here. Other than the above comments about the build quality, the most important elements for a good laptop experience are going to come from the keyboard, touchpad, and display. Dell gets two out of three with the XPS 12, with the touchpad being the part that misses the boat. I understand that the touchscreen partially obviates the need for a touchpad, but when I'm typing I still find it more natural to reach down to the touchpad rather than up to the display. YMMV, naturally, but let me give the full scoop.
The hardware for the touchpad apparently comes from Cypress, which isn't one of the more well-known touchpad brands. In order of quality, I still rate Synaptics at the top, with Alps and ElanTech coming in roughly tied for seconds. From there, it's a moderate drop down to the Cypress touchpad in the XPS 12, with the only other touchpad brand that I can recall using that's worse than Cypress being Sentelic. I don't know if the problem is with the core hardware (e.g. the integrated circuits and finger sensing technology) or if it's the drivers—probably a bit of both. Whatever the cause, I've had numerous clicks, drags, multitouch swipes, etc. simply fail to register on the touchpad. Sometimes the touchpad will stop working entirely, and oddly enough the only way to get it to start again is to touch the screen. Even when it does work, it's not as precise as I would like—using two fingers to scroll through a web page for example can be rather choppy when you swipe and the let the scrolling "coast". Perhaps Dell can fix the issues with an updated driver, but I had enough trouble that I'm guessing that won't be the case.
The good news is that the touchscreen works far better than the touchpad, so if you can make the mental switch to using the screen you might forget about the touchpad issues. Scrolling, coasting, pinch to zoom, swiping, etc. all worked well for me on the touchscreen, and while you will have to deal with some fingerprints over time it worked about as well as dedicated tablets that I've played with…mostly—I'll get to the exceptions in the tablet portion below.
The keyboard is one of the better Ultrabook keyboard offerings, possibly even besting the ASUS UX31A keyboard in terms of overall feel (though I understand that's a highly subjective statement, so take it for what it's worth). Key travel is decent, the layout is good, and there's no crazy missing row of function keys like on the Acer S7. The keyboard also comes with backlighting, a must for any modern laptop in my book, and other than that I really don't have much to say on the keyboard. It works well for me, and I've typed a fair amount of text on the XPS 12 over the course of this review.
Last up is the screen, and here Dell once again swings for the fences but comes up short. Dell uses a 12.5" 1080p IPS panel, which means great viewing angles and a high resolution for a small display. The problem is that colors just don't look quite right, and when I calibrated the display I found that once again the results were way off. Post calibration, both the blue and red intensity have to be significantly reduced to get decent colors, and even then the result isn't as good as what we usually see. I do have to wonder if Windows 8 might be messing up my testing a bit, as both the Acer S7 and Dell XPS 12 have very similar results, but for now it looks like it's just a case of poor calibration from the factory. It's 2013 now, and while it might cost $1 extra per unit to calibrate the colors (or even $5), it's time to make that effort—particularly on a $1200+ Ultrabook. Actually, even if Dell just took a sampling of ten LCD panels and profiled them and then averaged out their profiles and applied that to all the XPS 12 laptops, the result would be much better than what you currently get—and cost in that case would be negligible.
Overall, as a laptop the XPS 12 works reasonably well, but it's nothing you haven't seen before. Performance is comparable to other Ivy Bridge Ultrabooks, the keyboard and display are better than average, and the touchscreen is something I imagine a certain set of users will really like (and others will probably loathe). Flip the screen over and turn the XPS 12 into a tablet and things take on a decidedly different feel.
The XPS 12 as a Tablet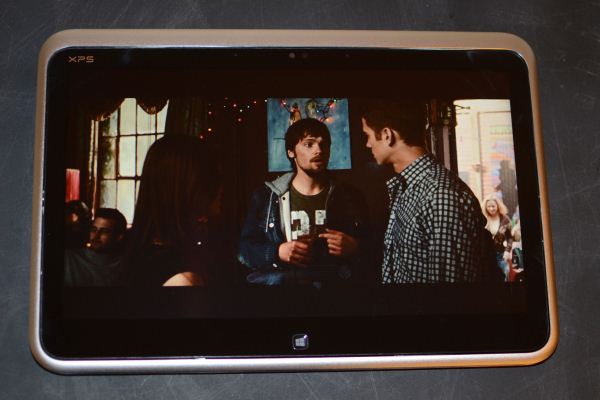 I've been using Android tablets for almost two years now, along with an iPod Touch 4th Gen. By this point, I'm well aware of their benefits as well as limitations. Frankly, there's no way I would ever want to use one of the current tablet devices as my primary work system—even with a keyboard, the experience would be far less than ideal! But as a secondary (or tertiary) device, tablets can be quite useful. I carry my Android tablet with me to some weekly meetings and find it a great tool for pulling up information, or when I'm heading out to some new address the built-in GPS functionality and turn by turn directions are also quite useful. So, that's the short rundown of how I've been using tablets for the past year or two; how does the Dell XPS 12 work when placed into a similar role?
Frankly, it can feel a little bipolar—some things work great, and others have me grumbling and searching for a solution for a while. The new Windows UI and applications are generally good and with a full Core i7 behind them (along with a fast SSD), the experience is very snappy. Even with a Tegra 3 tablet, I find that surfing the web can at times be tedious—some sites that aren't optimized for a mobile device simply take far longer to load than I'm used to on my laptop/desktop; surfing the web on my iPod Touch is something I now actively avoid because it's so slow. With the XPS 12, it's as fast as a typical PC experience and works great.
Here's where I run into my first trouble; my Windows 8 account (initially configured on a desktop) is set to open web pages in IE10 using the classic desktop application rather than the "new experience" fullscreen IE10. Opening up Internet Options shows this setting, but it's grayed out. I eventually managed to change it to opening in the Win8 UI IE10 by resetting the Internet Options to defaults, but you're probably wondering why this even matters. The issue is that when you're browsing the web on a tablet, you switch between portrait and landscape modes, you might want to zoom in/out on an area, etc. All of that functionality is present with the IE10 Win8 UI, but not with desktop IE10. It also doesn't work the way I want if I use an alternate web browser like Chrome or Firefox, since these are just standard Windows desktop applications.
There are bigger fish to fry than the occasional issues with browsing the web, however. One problem isn't really Dell's fault: I am unable to find Windows 8 versions of quite a few applications that I use regularly on my Android tablets. There simply aren't as many applications in the Windows 8 Store right now, and of the applications that are there (on all platforms, really), many are of questionable quality. Given time, I suspect most application developers will begin supporting Windows 8, but for the time being it's a concern.
I think the biggest hurdle for me has to do with the size of the device. Having used several 10" (give or take) tablets, along with a 4" iPod Touch and a few 7" devices, I have to say that 7-10" is the ideal size for most users looking at a tablet. Smartphones can do a lot, but I don't know many people that are really looking for a large (4.5" or greater) smartphone, and for those of us with less than stellar eyesight I think the smaller displays are simply too small for many tasks (reading lots of text). Maybe it's just the old curmudgeon in me, but 7-10" is a good size for a note taking, reference material type of device. 12.5" on the other hand starts to feel too conspicuous. I took the XPS 12 to a meeting where I regularly use a 10" Android device (and many others do as well), and when I pulled it out to read through some of the topics we were discussing, I felt incredibly conspicuous—like everyone in the room suddenly looked over and wondered who had brought the gigantic tablet. Maybe it was all in my head, but those extra couple inches make a big difference. The same goes for the doubling of weight, and at roughly 3.3 pounds the XPS 12 is a moderately heavy Ultrabook, never mind tablet.
Subjective Summary
There's a well known phrase that I used as the subtitle of this review: Jack of All Trades. The corollary to that is "Master of None", and that certainly applies to the XPS 12. It's not the thinnest or best looking Ultrabook out there, it's not anywhere close to being the best tablet I've used, and while the capability of running a variety of Windows applications is good on one hand, it can also get in the way at times (like when you're after a tablet-style fullscreen application). There's no particular area where I would say the XPS 12 is at the top of its class, but that doesn't mean it's a bad device. The real question is what you're looking to do with your next Ultrabook. If you're primarily after a laptop but you occasionally want the convenience of hiding the keyboard and using the device as a tablet, I think Dell is on to something with the XPS 12. If on the other hand you primarily want a tablet but you occasionally want to type and use it as a laptop, a detachable keyboard/dock would seem the better approach.
The XPS 12 ends up being good in many areas, but ultimately the question is if it's good enough—in particular, is it a compelling enough device to justify the price tag? As noted earlier, I think Dell (and Ultrabooks in general) are pushing the limit of what most consumers are willing to spend, and even though the XPS 12 has a lot of good features, at $1200+ it will be a tough sell. At $1000, there's a lot to recommend, and considering you can get a Surface Pro with similar hardware and a type cover for $1130 (which is probably still too high for most!), that needs to be the starting point. (Note that the Surface Pro also comes with a pen, so that's probably a $50 add-on.) The next generation hardware with Haswell should hopefully reduce sizes and allow for better options, which leaves the XPS 12 as an interesting device for some, but one that will likely get replaced in another six months.
We'll hit the performance results quickly on the next couple of pages, but there's not much we haven't seen before. The XPS 12 performs in line with its hardware, which means it's a bit faster than Surface Pro but generally slower than standard voltage mobile processors. As with the Acer S7 (and thanks to Windows 8), it offers exceptionally fast boot and resume times (around 10 seconds or less) and decent performance for most other tasks. It's not a gaming system (or at least, not a system to play games like Far Cry 3), and battery life isn't going to be as good as any ARM-based tablet that you care to name, but performance in other areas is head and shoulders above the same ARM devices.
Dell XPS 12 Laptop Performance Summary
We're taking the same approach to benchmarks that we used with the Acer S7 and Surface Pro reviews—which is to say, we'll use all of our typical laptop benchmarks along with some of the tablet-centric benchmarks to round things out. Performance as you'd expect is basically on par with other Core i7 ULV offerings (e.g. Acer S7), so faster than the Surface Pro, substantially faster than any non-Core products, but worse battery life than ARM offerings. Given the size and weight, this is much more a part of the laptop with a touchscreen crowd as opposed to being a tablet with laptop aspects, so our primary focus will be on how it compares with other laptops. Here's the quick overview of the base components for the various laptops we're including. Note that at present, only the XPS 12, Acer S7, Surface Pro, and Vizio CT15 were tested with Windows 8; the rest were running Windows 7.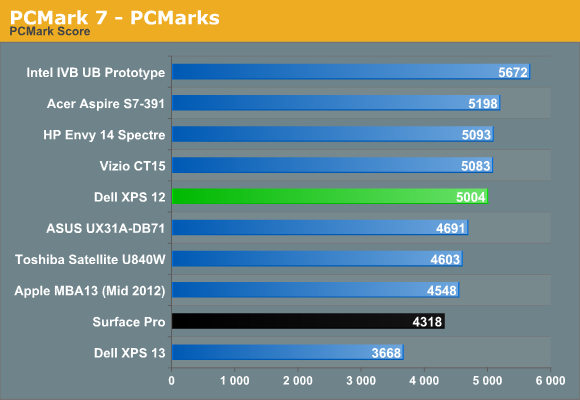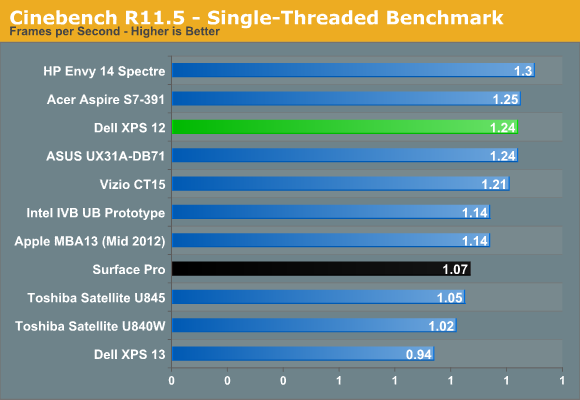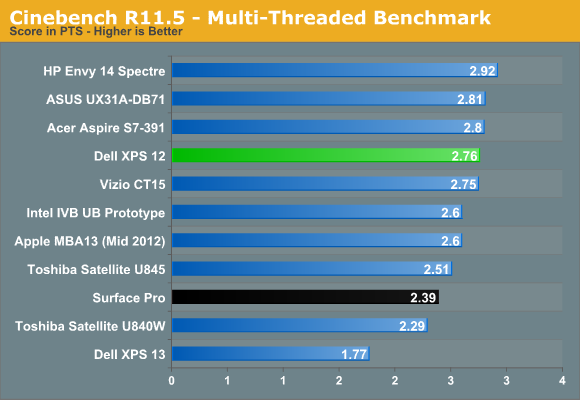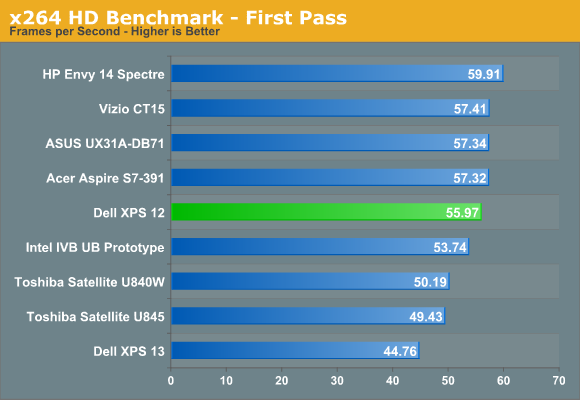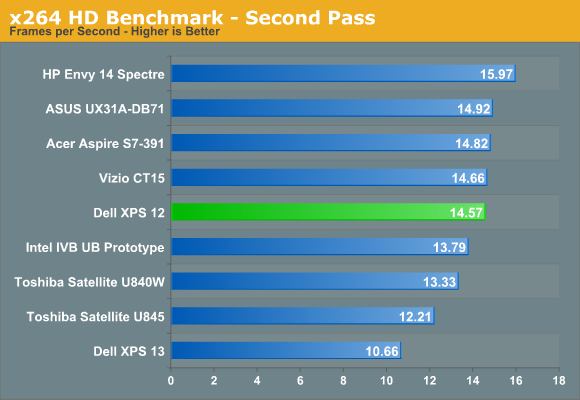 There aren't really any surprises here; the XPS 12 performs right about where we'd expect. Acer's S7 does come in slightly ahead in most benchmarks, which is interesting considering it's thinner and thus cooling the chip (and enabling higher Turbo Boost clocks) should in theory be more difficult, but clearly that's not the case. Whether it's a lack of fine tuning for performance, minor differences in other components, or prioritizing quiet over fast, unless you're really concerned about a difference of a few percent all of the i7-3517U Ultrabooks perform about the same. Actually, that's not quite true, as Windows 7 models seem to hold a slight performance advantage in several tests as well (particularly battery life, which we'll get to in a moment).
Dell XPS 12 Tablet Performance Summary
We have a separate set of benchmarks for tablets, which focus a lot less on outright performance. Needless to say, the gap between Core i7 ULV and typical ARM and Atom tablet SoCs is pretty huge. Our tablet comparisons are going to use different devices, so let's start with another table of the various tablets. You'll note that the CPUs, Graphics, and Storage are all substantially faster on the Core i5/i7 devices. We've also tested the XPS 12 with multiple browsers, just to make things slightly more interesting.
Tablet Configuration Overview
Device
CPU
Graphics
Storage
Battery
Acer Aspire S7-391-9886
Intel i7-3517U
HD4000
2x128GB SSD
35Wh
Acer W510
Intel Atom Z2760
SGX540
64GB eMMC
27Wh
Dell XPS 12
Intel i7-3517U
HD4000
256GB SSD
47Wh
Microsoft Surface Pro
Intel i5-3317U
HD4000
128GB SSD
42Wh
Microsoft Surface RT
NVIDIA Tegra 3
GeForce
64GB eMMC
31.5Wh
Samsung ATIV Smart PC
Intel Atom Z2760
SGX545
64GB eMMC
30Wh
Samsung ATIV Tab
Qualcomm APQ8060A
Adreno 225
64GB eMMC
30Wh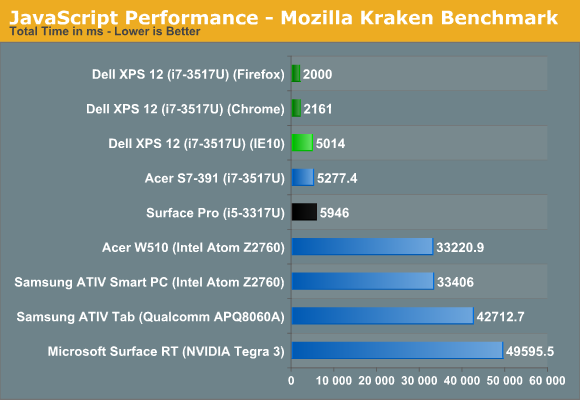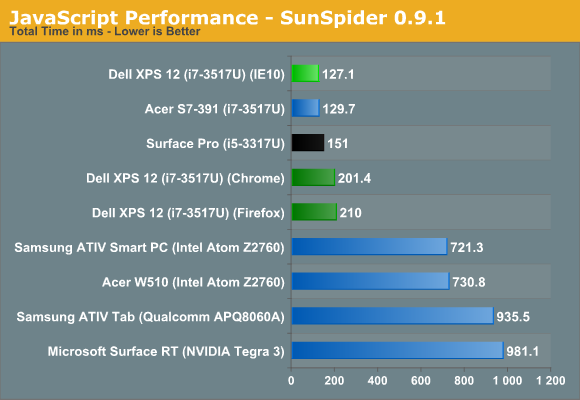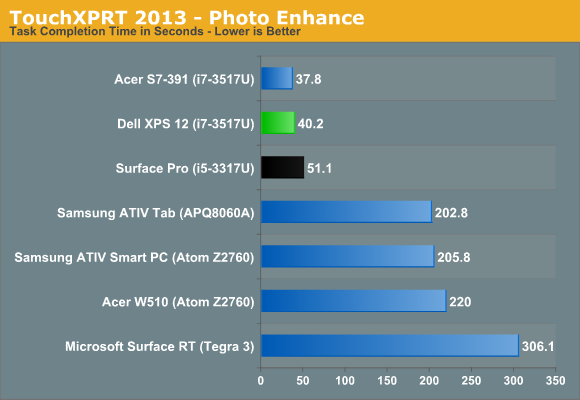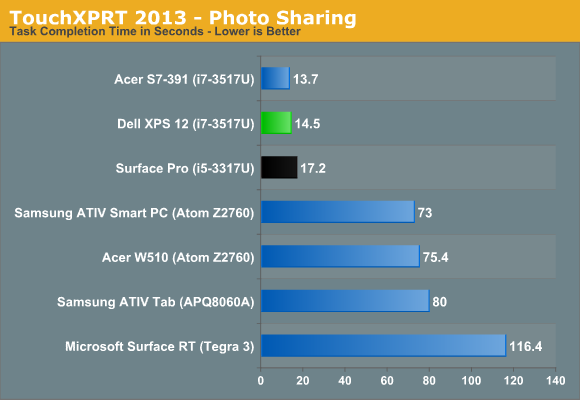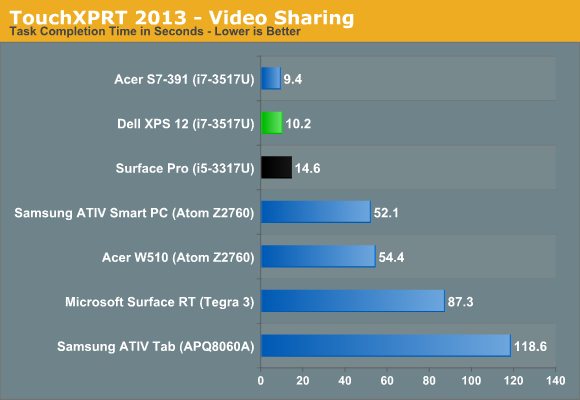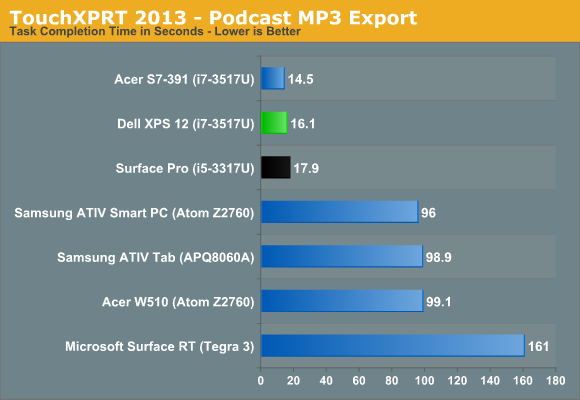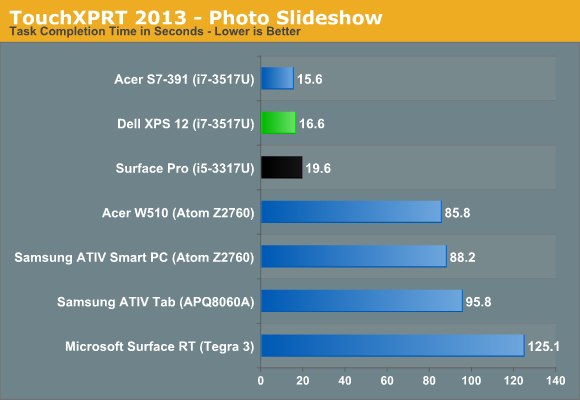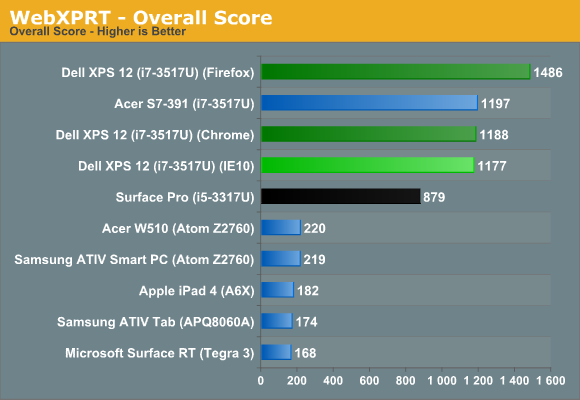 As we've noted in the past, while ARM and Atom can run a light OS like Android fine, and even Windows RT works well, that doesn't mean we have anywhere near the same level of compute available compared to a full Core i5/i7 processor. And it's not just about the performance shown in the above charts; start copying data to or from one of the Intel Core devices and you'll notice a stark contrast compared to tablets with their slow eMMC storage and generally inferior WiFi and USB connections. Which is fine, considering the cost of the Surface Pro is the lowest of the Core offerings we've tested and still tips the scales at $900.
Intel has two paths going forward, and both are going to be quite interesting. On the one hand, Core gets updated with Haswell in the near future, which should lower power requirements and perhaps close the gap in battery life between Core and ARM/Atom. Whether they can actually close it or merely narrow it is the bigger question, but we'll wait and see. On the other side of the equation, Atom will get a significant upgrade at the end of this year (or early 2014), and this will be the first time Intel has really put some effort into improving Atom performance. With a new architecture and a process shrink to 22nm, Intel's codename Merrifield will be their most serious attempt at beating ARM and other SoCs and getting into more smartphones and tablets.
Battery Life Testing
As discussed in the Acer S7 review, we're doing away with our former battery life suite and going with a bit more up-to-date tests. This is only the second laptop we've run through the new suite, so our database is a bit bare, so I'm just going to throw the results into a table. The Light test is our former Internet test, only with the LCD at 200 nits (50% for the XPS 12, or five steps down from maximum). Our Medium test uses the same Internet testing procedure but loads the pages every 12 seconds instead of every 60 seconds, and we add in playback of a bunch of 128Kbps MP3 files in Windows Media Player (with headphones connected and volume set to a "reasonable" level—around 40% in this case). Finally, for our heavy workload we keep the Internet portion of the Medium test but add in looped playback of a 1080p H.264 encoded video and have a constant 1Mbps download running from a local FTP server.
2013 Battery Tests
Battery Test
Acer Aspire S7
Dell XPS 12
2013 Light (Minutes)
240
321
2013 Medium (Minutes)
173
257
2013 Heavy (Minutes)
137
183
Light Normalized (Min/Wh)
6.86
6.83
Medium Normalized (Min/Wh)
4.94
5.47
Heavy Normalized (Min/Wh)
3.91
3.89
Dell's XPS 12 wins on pure battery life compared to the Acer S7, but it's largely thanks to the increased battery capacity. That adds weight as well as thickness, so it's not necessarily a trade everyone will be willing to make. Interestingly, the Medium test is the exception, where even after normalizing for battery capacity the XPS 12 holds an 11% advantage over the S7. It's not clear if this is thanks to some power optimizations or something else. Best case, however, we're still looking at just over five hours of useful battery life between charges, with heavier usage bringing the system to the 3-4 hour range.
When we look at battery life with tablets is where these results are really put into perspective. The Surface Pro manages over five hours of H.264 decoding, but even that pales in comparison to the 10+ hours you can get out of most ARM-based tablets, and the iPad 2,4 makes it to the 15+ hour mark. Screen size and other components clearly play a role (an SSD drawing 0.5W would be a huge penalty compared to drawing 0.1W eMMC), but the entire Microsoft Surface RT device draws around 3W during movie playback at 200 nits compared to nearly 9W for the XPS 12 in our Light scenario and Surface Pro uses around 8W. Intel and their partners need to cut typical power draw in half if they want Haswell devices to be competitive with other SoCs.
Incidentally, at 100 nits and running our older 720p H.264 battery life test, the XPS 12 lasts right about four hours. Turn up the LCD to 200 nits and you can probably knock off another 20 minutes, so just over 3.5 hours of movie playback should be doable.
WiFi Performance
Considering there's no Ethernet port on the XPS 12, WiFi performance becomes even more important for those that are doing any larger file transfers to/from the device. As someone who uses Gigabit Ethernet (and has been using it for roughly a decade), WiFi performance can be painfully slow. Copying the full suite of tests to a laptop over WiFi (around 18GB of data) can take the better part of an hour, and that's when you have a good signal and no other interference. Switch to a 2.4GHz connection and things get even worse. Obviously USB 3.0 transfer rates are substantially faster, and for convenience sake I'd like to see some USB 3.0 to GbE adapters (Dell does sell a USB 2.0 to GbE adapter for $30, though I'm not sure what sort of real-world throughput it provides). I'd also like to see Dell and others move to 3x3:3 antenna configurations, something MacBook Pro has had for several years now.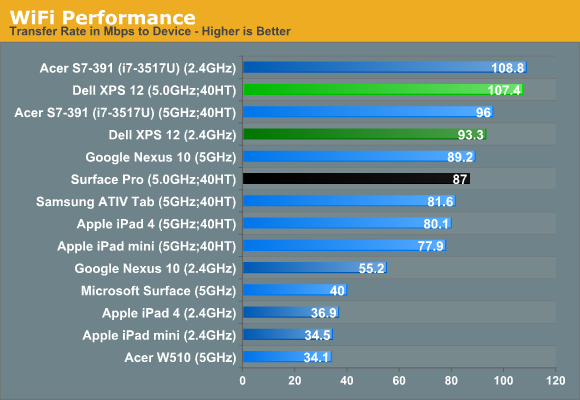 Above is a quick check of WiFi performance compared with some tablets and other laptops. The XPS 12 is about average for a 2x2:2 solution, with slightly better throughput on 5GHz than on 2.4GHz. I've seen some WiFi adapters push closer to 150-200Mbps on a 5GHz 2x2:2 solution (e.g. the Amped Wireless adapter), so I'm not sure why most other WiFi adapters are so slow by comparison. Partly it's probably Intel's drivers, which may favor reliability or neighbor-friendliness over pure speed, but then on the XPS 12 the reliability aspect wasn't all that great either.
Display Testing
I have to throw this out before I get into the display calibration results: I'm no longer confident that our testing procedure works properly for Windows 8 laptops. Everything looks okay, but either these new 1080p IPS displays are trading color quality for viewing angles or else the calibration routines aren't working quite right. I mention this because the XPS 12 has great viewing angles and decent contrast but color accuracy and quality are decidedly average. And that's after calibration—out of the box, Delta E is probably in the double digits. Here are the charts.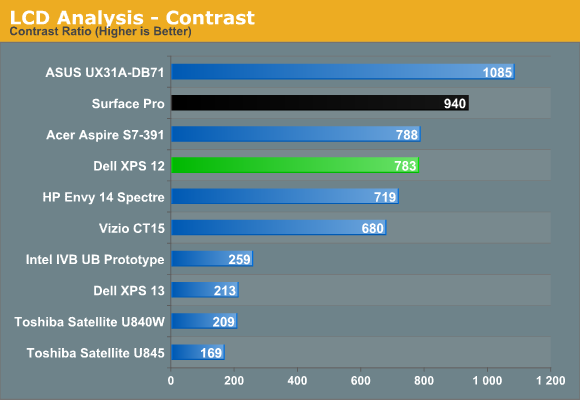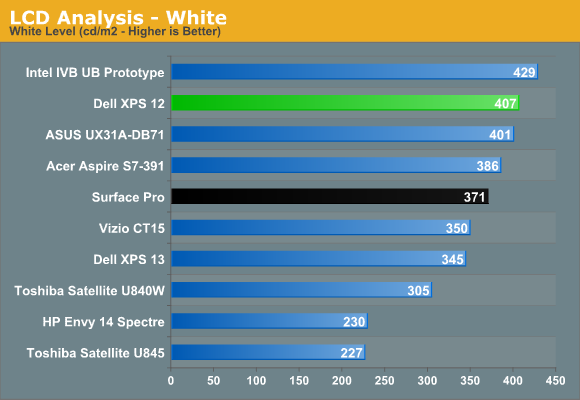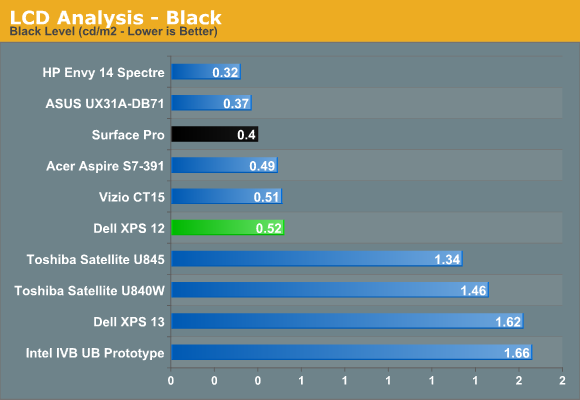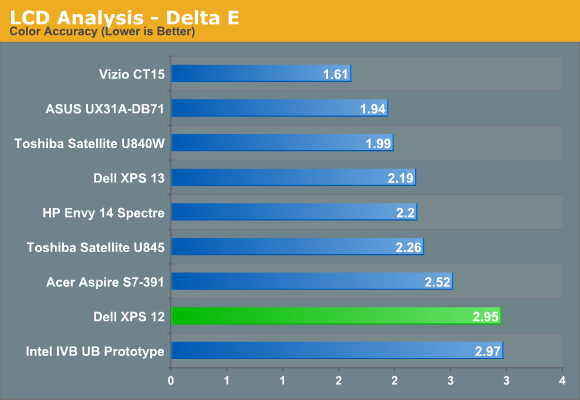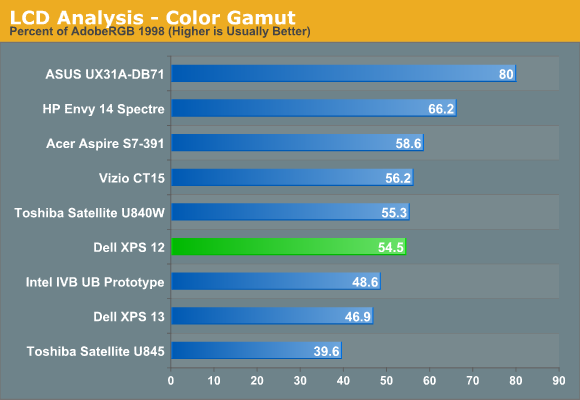 This once again highlights the need for OEMs to take displays seriously; Apple is spending the extra dollar or two (or maybe even five according to some rumors) to calibrate their laptop, tablet, and smartphone displays so that colors are reasonably accurate and color gamut matches the sRGB color space. Virtually everyone else is way off in terms of what colors are supposed to look like. While I can see not spending the extra money on a crappy TN panel in a $400 budget laptop, when we're looking at $1200+ Ultrabooks the costs argument just doesn't hold water. Ideally, every Ultrabook should be factory calibrated to deliver an average Delta E of less than three out of the box. Dell gets there post-calibration but only barely, and maximum brightness with the color profile loaded drops to around 300 nits.
Conclusion: A Deliberate Balancing Act
While the XPS 12 isn't flawless, it's a very interesting laptop nonetheless. To my knowledge, no one else is really trying this flipscreen approach; that's either good news or bad news, depending on why most companies take an alternative route. If they're doing it because making a good flipscreen is too challenging, costly, and/or prone to breakage that would be bad. If on the other hand everyone else is merely playing it safe while Dell strikes out to find new and interesting ways of creating a hybrid laptop, we applaud such efforts. It's tough to determine the precise reasons, but I'm inclined to think it's more of the latter, perhaps with some disagreements on what approach is best thrown in as well.
Personally, I like plenty of aspects of the XPS 12 from the laptop perspective. The keyboard works well, it looks very nice, and if you ever need to use it as a tablet it can do that as well. I've used better pure laptops, but I've also used plenty of laptops and Ultrabooks that are far worse; I could definitely get by using the XPS 12 in place of other laptops. The tablet usage isn't nearly as good, as I find a 12.5" tablet just feels unwieldy in most circumstances, and the fact that my primary tablet apps aren't present (yet) with Windows 8 doesn't help matters. In practice, even when trying to replace my regular tablet usage I found the design far more conducive to using it as a laptop. Still, as an all-in-one mobile device there will be some that like what Dell has created.
What I do like about the XPS 12 as a tablet is the performance: compared to my aging Tegra 3 tablet, the XPS 12 is blazingly fast. Web pages load quicker, the thing cold boots in ten seconds, and given time the apps aspect should improve as well. Still, I personally would rather have an Ivy Bridge tablet with a good keyboard dock (e.g. something like the ASUS Transformer, but with a Core processor) than a hybrid where you always have to carry the keyboard and additional weight around.
We had a chance to see Acer's upcoming 7W IVB tablet at CES, which seems to hit all the right notes but it doesn't actually have a keyboard dock that turns it into a pseudo-laptop. Of the options I've currently seen, the Lenovo Helix is probably closest to what I'm after, but even that might be a bit ahead of its time. Haswell is likely to be the inflection point where Intel's Core processor will really start to find its way into pure tablets—with or without a dock. In the meantime, we have Dell's XPS 12, which has a good display, a good keyboard, good performance, and okay battery life. It's also rather heavy for a tablet (but only half a pound more than the lighter Ultrabooks), so keep that in mind.
There are a few areas where the XPS 12 feels a bit rough. The WiFi stack on my unit has an issue with periodic disconnects, and the Cypress touchpad definitely doesn't work as well as I'd like. For a premium device, missteps like this can definitely mar the experience. Given that this review has been in the works for a while (it's a long story…), the fact that no driver updates have come out to improve the situation is a bit disheartening. On the other hand, the workaround for the WiFi is simple (disable/enable/reconnect) and the touchscreen does shore up the weak touchpad performance, but these are still areas where manufacturers need to pay more attention. The same goes for the display colors; preloading a color profile into the hardware at the factory shouldn't require much effort and it can make a world of difference. And finally, I definitely notice the lack of a flash card reader (SD support alone would be sufficient for most); as it stands, that would be one more item to tote around if I were to use the XPS 12 as my primary laptop.
Then there's the question of pricing. Dell's XPS 12 starts at $1200 and gives you basically the same set of hardware that you'll find in the $999 Surface Pro—though it's really more like $1129 since you'd have to buy the optional keyboard for Surface Pro, and then subtract $50 or so for the pen. $70 less for a lighter device that functions better as a tablet, comes with a pen, but has an inferior keyboard is what you're looking at, not to mention even with the keyboard Surface Pro would weigh about a pound less. That's certainly a viable compromise, and I could recommend either one depending on the intended use. But if you look at something like the Vizio CT14 that's now going for $700 [Update: now $788], again similar specs but no touchscreen, you could buy one of those and a great tablet (e.g. 32GB iPad 4 or 32GB Nexus 10) for the same price. Dell's pricing isn't out of line with what other touchscreen laptops are targeting, particularly those with 1080p IPS displays and some form of hybrid functionality, but it's still a lot more than most non-business users are likely to spend.
Long term, I think we're going to see tablets creep up in terms of performance and features and thus force laptops and hybrids to come down in price. In the meantime, there's still a niche market for hybrids like the XPS 12. Until we can somehow have it all—which isn't always practical when you consider the various elements people would like to have—people are either going to have to give up something and go with a hybrid or they're going to need multiple devices. As convenient as a tablet or a smartphone can be at times, I for one just don't see myself giving up a larger display area and a dedicated keyboard when I need to write. Make the XPS 12 a bit less bulky (closer to 2 pounds and 15mm thick) and give me a calibrated display from the factory, then boost battery life closer to 10 hours and it would have just about everything I could want from an ultraportable/hybrid. We're probably a year or two away from that being feasible, but this is one of many steps in that direction.
With the XPS 12, Dell has made some conscious decisions about what features they're going to include and omit, as well as where to spend money and where to cut corners. The materials and build quality are very good, but a few of the components would benefit from some additional TLC (e.g. please use a Synaptics touchpad and drivers next time, or at least ElanTech or Alps). The dimensions and weight are another area Dell chose to go a bit bigger rather than cut battery capacity or keyboard travel. In the end, the XPS 12 works quite well in most areas, but I'm not convinced $1200+ touchscreen Ultrabooks are going to sell as well as the OEMs might like. Vizio's Ultrabook offerings seem to prove that prices well south of $1000 are possible, and that's what we're likely to recommend.