Original Link: http://www.anandtech.com/show/6707/hp-leaks-their-first-chromebook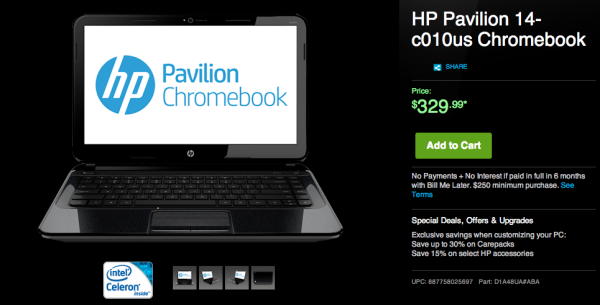 Google's venture into the desktop operating system space has been getting a lot of the right kind of attention lately. Acer's C7 Chromebook has been well received, as has the latest Samsung Chromebook. Google announced that their security competition, Pwnium, would be focused on Chrome OS. And now HP has let slip that they'll be building a Chromebook of their own. Tagged the HP Pavilion Chromebook, the 14-inch screen provides more screen than Chrome OS has seen on a laptop before, but the same 1366x768 resolution limits the value of that real estate. The internals will look familiar; it has the same Intel Celeron 847, and 2GB of RAM, as Acer's C7. The HP model comes with a 16GB solid state drive, in lieu of the Acer's mechanical drive. The 37WHr battery reportedly offers a modest 4 hours and 15 minutes of longevity, similar to the Acer C7. So, once again, not a road warrior, but enough perhaps to serve a lightweight user's needs.
When and how much? The original leak's been pulled, but it looks like the HP Chromebook will premier on February 17th for $329.99. That MSRP puts it above the Acer that it resembles, but for those that like the idea of a larger keyboard and screen the increase could be worth the added cost. We'll be interested to find out how it does.