Original Link: http://www.anandtech.com/show/6695/microsoft-surface-pro-review


There's clearly interest in a device that converges the tablet and notebook. ASUS saw some of the earliest success in this department with its Transformer line of Android tablets. Once the first Windows RT/8 designs started appearing, it became clear that everyone was aiming to deliver something that delivered the best of both worlds. Even listening to Intel's description of Haswell you can get a good idea for where part of the industry is headed: everyone is working towards delivering a platform/device that has the battery life and portability of a tablet, but with the performance and flexibility of a notebook PC. Apple has remained curiously quiet on this front, but I suspect that too will change in good time.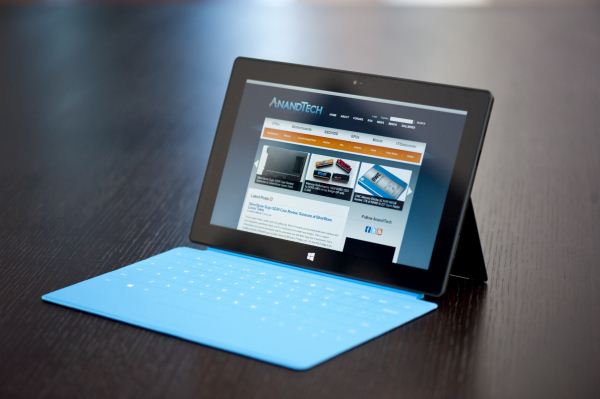 Last year Microsoft unexpectedly threw its hat into the ring with quite possibly the best branding decision since the Xbox. Under the Surface brand, Microsoft would produce two tablets of its own. These Surface devices would be built from the ground up to address this converged tablet/notebook space. The lesser of the two, Surface for Windows RT, would use ARM hardware and serve as a launch vehicle for Windows RT. The big brother in the family, Surface for Windows 8 Pro, would use traditional x86 hardware and come around 3 months later.
Surface RT launched less than four months ago to mixed reviews. I saw potential in the device, but it needed faster hardware and honestly Windows RT needed some sanding around the edges. Today we have the official introduction of Surface Pro. With a higher price, thicker/heavier chassis and lower battery life, could Surface Pro possibly fare any better than Surface RT did last year?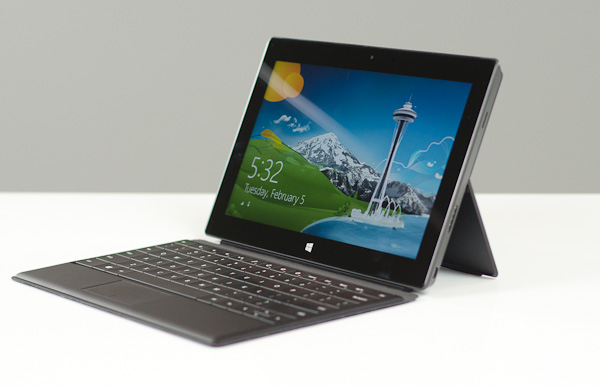 In my opinion? Surprisingly, yes. Let's get to it.
Surface Pro: Heart and Soul
The heart and soul of Microsoft's Surface Pro is a 17W Intel Core i5-3317U (Ivy Bridge) processor. This is a two core/four thread part with Intel's HD 4000 graphics and a 3MB L3 cache. Microsoft told me that it simply used the best hardware available when designing Surface Pro, which likely means that it didn't get early access to any of the 7W SDP Ivy Bridge SKUs (the Intel/Microsoft relationship has seen better days, Intel isn't super happy about the whole Windows RT thing).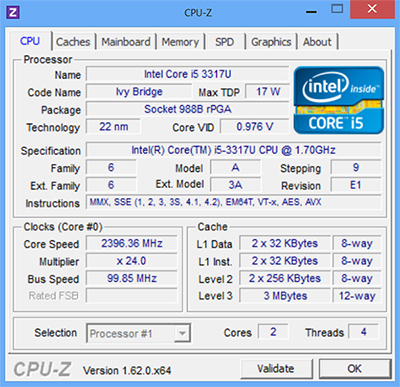 The i5-3317U finds its way into Surface Pro unimpeded. In power saver mode without being plugged into the wall it'll run both cores at 800MHz just like any other Windows notebook, but in balanced mode you'll find the cores will start doing work at a 1.7GHz base clock and turbo all the way up to 2.6GHz (and beyond, for short periods of time). This is the same level of CPU performance you can get in most Ultrabooks, and the exact same hardware that's used in Apple's 11-inch MacBook Air by default. I won't spoil the fun, but it's considerably faster than what you'll get in any ARM based tablet. That includes Google's Nexus 10, Apple's iPad 4, and of course Microsoft's own Surface RT.
The performance advantage doesn't stop at the CPU either. Microsoft integrated 4GB of DDR3-1600 memory (dual-channel, soldered on-board) and a full 64GB or 128GB SATA based SSD into Surface Pro. While Surface RT used a single chip eMMC solution, Surface Pro uses a 6Gbps SSD similar to what you'd find in an Ultrabook, MacBook Air or even some desktops. I'll get to the deltas later in the review, but we're talking a completely different league of performance here.
The usual tablet bells and whistles are all still here: WiFi, Bluetooth 4.0, ambient light sensor, accelerometer, gyroscope, compass, front and rear facing cameras. The only missing checkbox is the lack of any cellular connectivity. Both of Microsoft's tablets remain WiFi-only at this point.
Microsoft Surface Comparison
Surface RT
Surface Pro
Apple iPad 4
Dimensions
10.81 x 6.77 x 0.37"
10.81 x 6.81 x 0.53"
9.50 x 7.31 x 0.37"
Display
10.6-inch 1366 x 768 PLS
10.6-inch 1920 x 1080 PLS
9.7-inch 2048 x 1536 IPS
Weight
1.5 lbs
2.0 lbs
1.44 lbs
Processor
NVIDIA Tegra 3

Core i5-3317U with HD4000 Graphics (17W Ivy Bridge)

Apple A6X

Connectivity
WiFi
WiFi
WiFi , Optional 4G LTE
Memory
2GB
4GB
1GB
Storage
32GB or 64GB
64GB or 128GB
16GB—128GB
Battery
31.5 Wh
42.0 Wh
42.5Wh
Starting Price
$499
$899 or $999
$499
Surface Pro comes with a 10.6-inch capacitive touch screen and it runs Windows 8 Pro, meaning it not only runs everything that Surface RT can run, but it also runs all of your legacy Windows applications. Look around the edge of Surface Pro and you'll find a miniDP output and a USB port. Has the lightbulb gone off yet? Surface Pro has the same underlying hardware as a notebook PC and it has the basic connectivity you need - this is the first tablet that can truly replace your tablet, notebook and desktop if you want. No compromises, no new apps, and no waiting for Flash to die and HTML5 to take over. Surface RT was Microsoft's first attempt at a convergence device, but Surface Pro really is the first tablet that truly attempts to replace a PC and not just augment it.
All of this of course comes at a price. The CPU from Intel alone retails for $225, that's over half the price of a Nexus 10. Surface Pro has Ultrabook insides and it's priced accordingly. The 64GB model retails for $899, while the 128GB model is $999. Compared to similar capacity iPads, you're looking at a $200 premium. Although to really get full use out of Surface Pro you need either the $119 Touch Cover or $129 Type Cover, so adjust those prices accordingly.
Surface Pro Design
When I first saw Surface Pro, the Microsoft rep giving me the demo did a simple test. He stood Surface Pro right next to Surface, with the same start screen, and asked me if I could tell the two apart. The planar dimensions of Surface Pro are identical to Surface RT. Both feature the same sized 10.6-inch display, the same capacitive Windows button and the same 1-inch border around the screen. Looking head on, the only way you can tell the difference between Surface Pro and RT is the former's 1080p display does make text a bit sharper.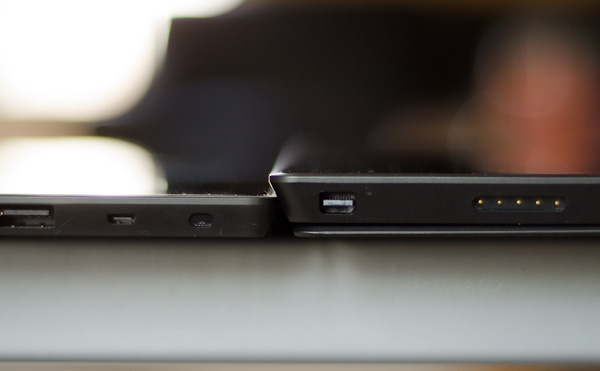 Surface RT (left) vs Surface Pro (right)
Turn the two tablets to the side and the differences quickly become evident. Surface Pro is over 40% thicker than Surface RT (13.7mm vs 9.3mm). While the latter was of a similar thickness to an iPad with Retina Display, Surface Pro is clearly in a different league of dimensions.
The thickness of Surface Pro doesn't really impede its portability, but the weight definitely makes it a lot less pleasant to carry around. Surface RT was already heavier than the competition but it hid its weight well. Surface Pro is just heavy for a tablet. I wasn't originally impressed by the Surface RT form factor, but in switching between the RT and Pro models I immediately wish that Surface Pro came in the RT chassis and Surface RT came in something even thinner and lighter.


Surface Pro (left) vs. iPad 4 (right)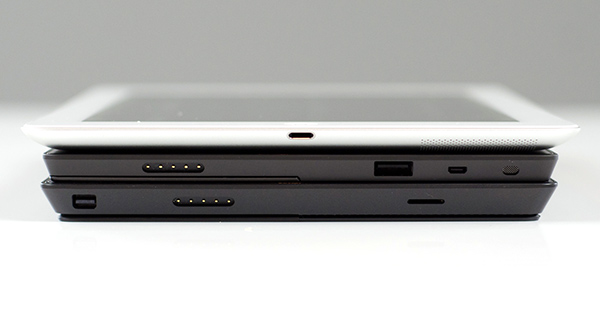 From top to bottom: iPad 4, Surface RT and Surface Pro
Shift the comparison to Ultrabooks however and all of the sudden Surface Pro seems quite light. It's lighter than an 11-inch MacBook Air and Acer's 11.6-inch Aspire S7 (although with optional keyboard cover it is heavier). It's all about perspective. Compared to an iPad, Surface Pro is heavy, but compared to an Ultrabook or MacBook Air it's light. The Pro model embodies the vision Microsoft had for the Surface family: to create a new type of device somewhere between a tablet and a notebook. That's not to say there's not room for improvement in the physical department. Surface Pro will likely go on a diet as it's given more power efficient silicon, but even then you'll always be able to build something thinner and lighter based on slower hardware, or go thicker and heavier with a notebook.
The fit and finish of Surface Pro are just as good as Surface RT. The tablet is built out of the same injection moulded Magnesium process (VaporMg) as Surface RT, however the chassis itself is somewhat simplified. While Surface RT featured three discrete VaporMg components (frame, back and kickstand), Surface Pro is made up of only two (single piece frame+back and kickstand). The result is no different to the end user, but the simplification on the assembly side is likely better for Microsoft.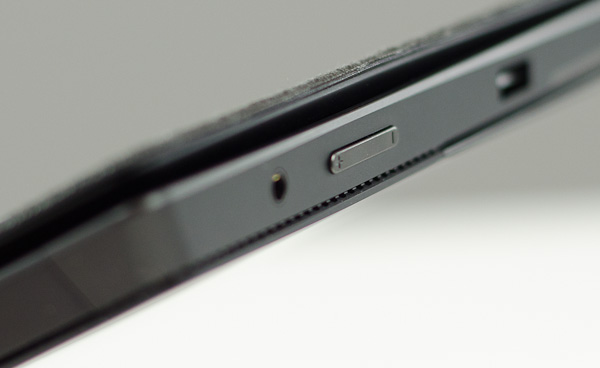 I am fine laying the same praise on Surface Pro's build quality as I did on Surface RT. The unique finish doesn't feel like the aluminum we're used to seeing on iPads, and definitely feels better than the plastic we've seen elsewhere. The VaporMg surface doesn't feel like it would scratch easily, and after a few months with Surface RT I don't see any visible scratches on my unit.
Surface Pro's construction feels more utilitarian and understandably more oriented towards productivity, just like its little brother. I still believe that the Surface lineup is as much about Microsoft showing that it too can build high quality devices as it is about getting into the tablet market. If we compare it to the iPad, Surface Pro feels just as well built, if we compare it to every Windows RT and Windows 8 tablet or notebook on the market today - it's worlds better. Say what you will about Microsoft entering the PC hardware business, but as of today Microsoft builds the best Windows RT and Windows 8 hardware on the market. If I ran a PC OEM I wouldn't be angry at Microsoft, I'd be angry at myself for letting this happen.
Surface Pro retains the integrated kickstand from Surface RT, although the kickstand has been beefed up to accommodate the heavier tablet. Surface Pro's kickstand keeps the device propped up at a fixed angle of 26-degrees away from the vertical axis. The rear facing camera is also angled to compensate (it shoots parallel to the ground with the kickstand opened).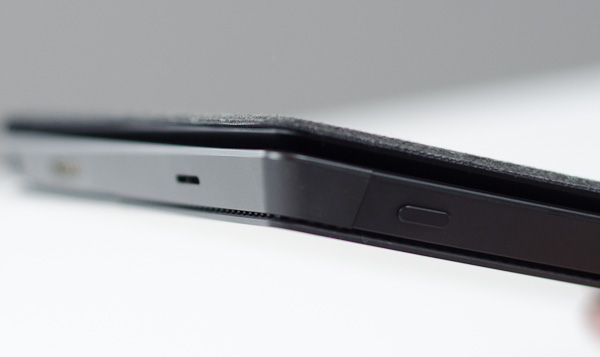 The kickstand is allegedly good for over a million open/close cycles and it still doesn't feel like something that would break. There are only two hinges in the kickstand compared to three for the RT model.
The kickstand on Surface Pro feels different than the kickstand on Suface RT. The Pro kickstand feels lighter and sounds less like metal and more like plastic if you tap on it. Feel around on the underside of the kickstand and you'll notice a coating that seems to dampen sound and perhaps add some structure reinforcement to the design. Microsoft had to thicken the kickstand to support the added weight of the Surface Pro, but the difference is on the order of a fraction of a millimeter.
The tweaked kickstand does have different acoustics than Surface RT's kickstand. While the latter sounded a lot like a thin metal door shutting, the Pro's kickstand is far more muffled. I'd almost say it's preferable.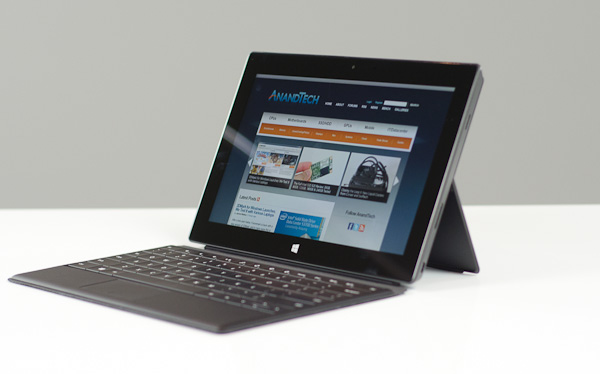 Thankfully the kickstand's functionality hasn't been marginalized in the transition to the Pro. It's still a highly integrated and very important part of the Surface experience. It's simple to flip out and perfect for use on desks. You can make the kickstand work on your lap or chest if you're lying down, but it's not ideal for either unfortunately.
The more I use Surface (Pro and RT) the more I feel that Microsoft needs to pursue something a bit more flexible than the fixed 26-degree kickstand. The biggest issue by far is in-lap use with one of the keyboard covers attached. Depending on your seating position, the 26-degree angle that the kickstand opens at might be too small. Mechanically I don't know the right solution for Microsoft but I do feel like for the kickstand to realize its true potential, it needs to be able to open and hold at multiple angles. It doesn't necessarily need to have support for infinite angles, maybe even a few would work, but I do believe it's necessary going forward.
Touch and Type Covers
Surface Pro features the same magnetic dock connector that Surface RT does. Unlike similar hybrid or convertible designs that came before it, Microsoft didn't make the mistake of requiring a different set of docks for the Pro. All existing Touch and Type covers work perfectly with Surface Pro. Microsoft maintains that we will see other accessories that use this custom dock connector, even from third parties.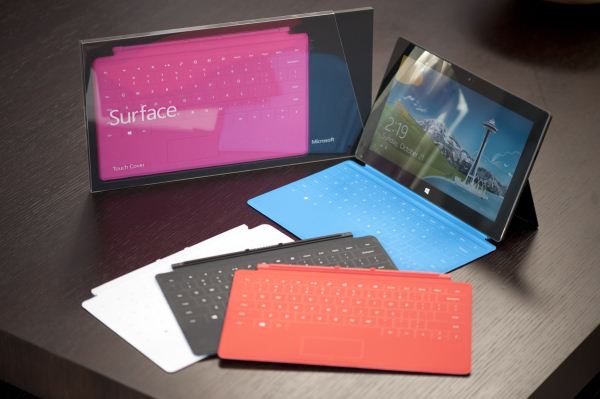 I already shared my thoughts on both covers in our Surface RT review so I won't rehash all of that here. In short, the Touch Cover is probably one of the best tablet display covers I've ever used. It adds a marginal thickness (~3.3mm) to the tablet, but in exchange for the slight inconvenience you get a cover that you never have to remove and a keyboard that, albeit not perfect, is at least better than typing on a glass touchscreen.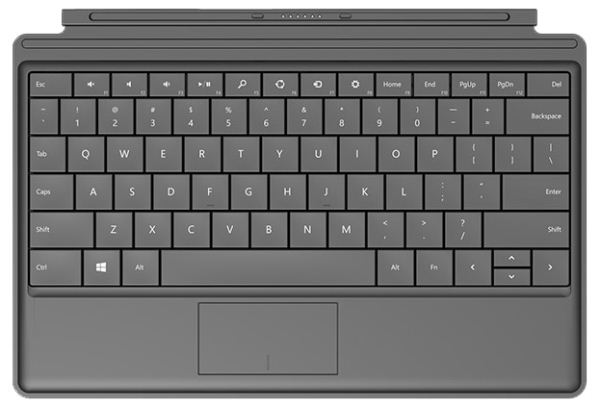 The Type Cover is a bit thicker than the Touch Cover (~5mm) but you get real keys, which does wonders for improving the typing experience.
Both covers feature integrated trackpads, and neither is particularly great. Reaching out and touching the screen is a far better experience than trying to use the integrated trackpad for anything serious. Microsoft also offers a Surface styled wedge mouse, but I feel like having to carry around something else that's not attached to Surface detracts from the whole tablet experience.
The more productivity focused nature of Surface Pro almost makes you want to use the Type Cover exclusively with the tablet though, whereas I felt the Touch Cover was the right pairing for Surface RT. You can obviously use either with Pro. As a writer I'm more likely to gravitate towards the Type Cover given its superior typing experience.
I'm beginning to wonder if there might be a fair amount of manufacturing variance between Touch Covers. If you remember back to my Surface RT review I mentioned that the Type Cover seemed to miss keystrokes. With my Surface Pro review unit Microsoft sent another Type Cover. This one seemed to miss fewer keystrokes than the original Type Cover I tested with. I originally surmised that missed keystrokes with the Type Cover might have been a performance issue, but with a full 17W Ivy Bridge under the hood of Surface Pro I don't think that's the case. Although Microsoft spent a great deal of time focusing on the build quality of Surface, I wonder if the same didn't necessarily apply to the Type Cover.
Although the added thickness of the covers didn't really bother me with Surface RT, I have to admit it did with Surface Pro. It's all about perspective since the Surface Pro + Touch Cover is still thinner than most notebooks, but for a tablet it definitely doesn't help Surface Pro feel any more svelte.
I wouldn't give up either cover and I used Surface Pro with one attached at all times, this is just another plea for a thinner design - something I'm sure we'll get with Surface 2.
This brings me to my next point, which is about the lack of any keyboard bundles with Surface Pro. Microsoft charges a hefty premium for both of its covers. Touch Cover will set you back $119 while Type Cover is $129. While I can logically justify the price tag of Surface Pro, you really need to add $120 - $130 on top of that because it doesn't come with a physical keyboard of any type. Given the more content creation lean of Surface Pro, I'd like to see the $899 or $999 include a Type Cover. I understand that heavily eats into margins of a device that's likely already pushing the limits given that it's really at the forefront of a brand new tooling and manufacturing process for Microsoft, but it really has to be done. Perhaps once economies of scale kick in Microsoft might look into tossing in a free Type Cover.
Earlier I spoke about the issues with the kickstand while using Surface RT in your lap and how many of those same complaints apply to Surface Pro. The same is really true for the keyboard covers. While the kickstand + keyboard cover combination does a great job approximating a notebook when used on a desk, in your lap it's a different story. The combination works, but it's obviously not as rigid as a notebook. And you're pretty much hopeless if you're sitting in a funny position. Whereas you could cross your legs and still use a notebook in your lap, doing so with Surface Pro with kickstand and keyboard cover is far less manageable. And good luck trying to use Surface Pro as a notebook in your lap if both of your legs are crossed. The lack of rigidity in the connection between the keyboard and display combined with the fixed position kickstand can create some awkwardness. It's all workable, but it becomes a lesser experience compared to a notebook. This is the Surface tradeoff.
The Surface Pen
While you don't get a keyboard with Surface Pro, Microsoft does bundle a digital pen with the device. Based on Wacom's technology (presumably Electro-Magnetic Resonance), the SurfacePen supports 1024 levels of pressure sensitivity. The pen itself is passive, all of the power consuming circuitry is contained within the display stack itself. A weak EM field is generated by Surface Pro which enduces a current in the digital pen that then powers its resonance circuit, which in turn impacts the EM field and is used to determine the position and angle of the pen itself. Surface Pro will recognize the pen starting from about an inch above the display. The pen won't work on Surface RT as the requisite Wacom EMR grid and logic don't exist on that tablet.
It's not clear to me whether or not Microsoft is using Wacom's RRFC to enable capacitive touch in addition to digital pen support. Regardless, I didn't notice any impact on touch response when using Surface Pro without the digital pen.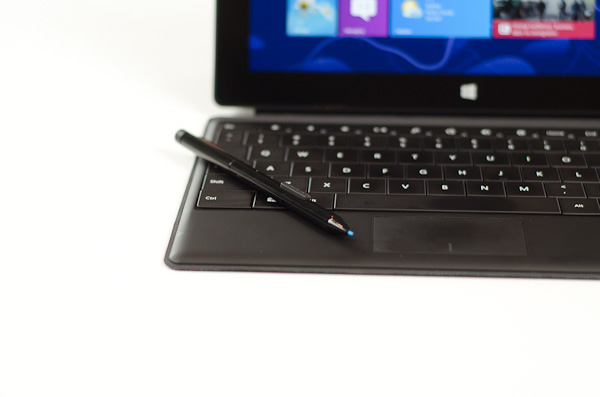 The Surface Pro pen doesn't store anywhere inside the device, but it can be docked to the magnetic power connector as long as you're not charging the tablet. The magnetic dock doesn't charge/power the pen in any way, it just holds it in place. The tablet is a bit awkward to hold with the pen in place, and there's also the problem of where do you store the pen if you're using the tablet while plugged into the wall, but I suppose it's better than nothing.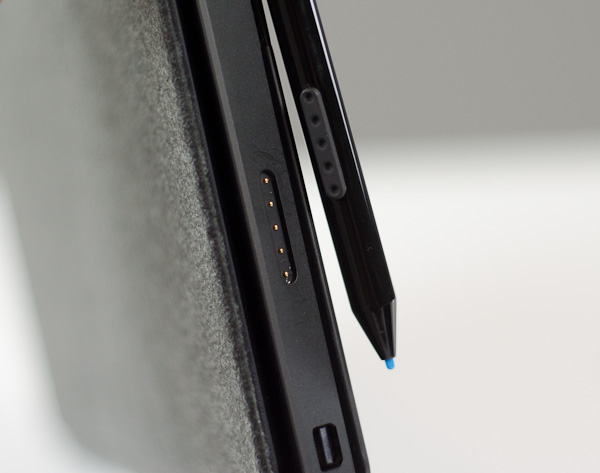 Microsoft does a good job of palm rejection with the pen in use, although I did occasionally have to erase an errant line or two caused by the edge of my hand in a drawing app.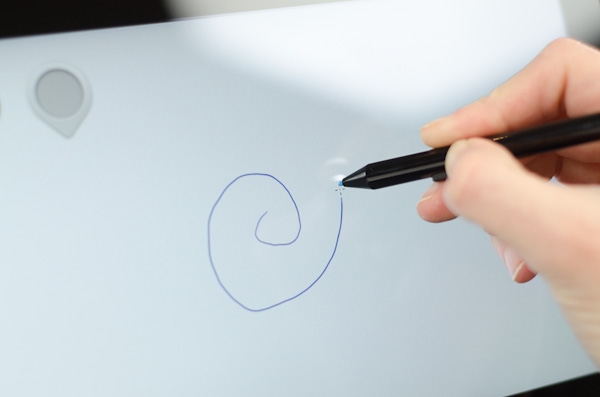 Tracking and responsiveness were both excellent in using the pen. I'm not much of an artist but I did have a good experience sketching with Surface Pro's pen. Creative professionals who are already Wacom users will probably appreciate the inclusion. Surface Pro doesn't really offer the same drawing surface area as some of the larger Wacom tablets, but I can see how it'd be a nice addition for those who don't want to carry around a separate drawing tablet.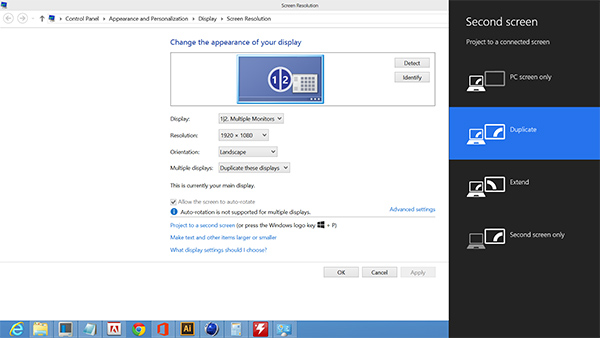 You can configure Surface Pro to work in second screen mode, allowing you to use the entire display as a pen surface while using the integrated miniDP out to drive your display to an external monitor. In this mode Surface Pro approximates a Wacom digital tablet, although without the software customization that you get with those tablets. The biggest issue I had in second screen mode is the lack of a toggle to switch between pen and mouse positioning, Surface Pro operates exclusively in the former.
In pen positioning, every point on the Surface Pro display corresponds to a similar location on your external display. To draw something in the upper right corner you need to move your pen to the upper right corner of the Surface Pro display and draw there. Wacom's own tablets let you switch to mouse mode, allowing you to use the pen as a mouse to place your cursor wherever you want it. Pen mode is something you may or may not be able to get used to, but it's worth pointing out that the inflexibility is a limitation of Surface Pro's pen implementation.
Surface Pro as a Tablet
If you can get over the bulk, Surface Pro is easily the fastest tablet on the market today. Apple has done a great job of making relatively slow hardware feel very fast with iOS, but Surface Pro brute forces its way to the top. Web pages load quicker than on any ARM based tablet and multitasking is just awesome on the device. This is where the power of Intel's Core microarchitecture really comes into play.
Since the introduction of the 3rd generation iPad with Retina Display several folks have pointed out to me that UI frame rate isn't always so smooth on the device. I personally never noticed because I found that most of the competition was even worse, so it always seemed relatively smooth to me. After playing with Surface Pro however and going back to even the 4th gen iPad all of the sudden frame rate stutters are much more noticeable. Playing around with Bing maps on Surface Pro vs. RT is like night and day. Even if you compare scrolling and zoom performance to native iOS maps on the iPad 4, Surface Pro wins out.
Scrolling in web pages, application install time, file copy time, everything is just significantly faster on Surface Pro than on any competing tablet. Oh, and it boots (from full power off) in less than 10 seconds. It's really the combination of the great CPU performance and fast SSD that deliver the responsiveness of the Surface Pro.
We're still lacking good cross-platform performance tests, but there are a few browser based benchmarks that I can use to highlight just how much faster Surface Pro is compared to anything ARM based on the market today: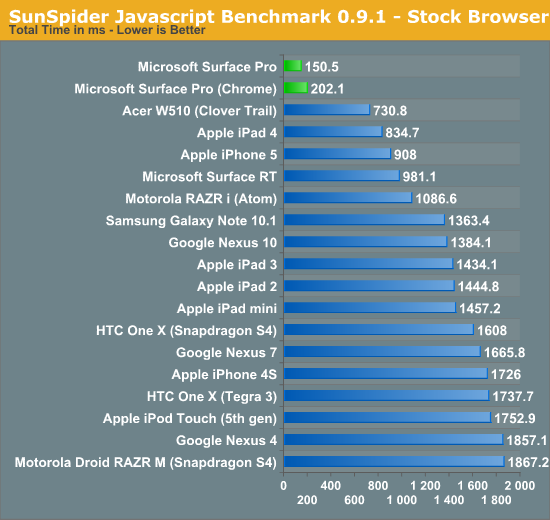 SunSpider is our tried and true quick js benchmark, and here we see huge scaling as we move to Intel's Core i5. Regardless of browser used you're seeing a significant improvement in performance that directly translates to faster web page load times.
Moving on we have Kraken, a seriously heavy javascript benchmark built by Mozilla. Kraken focuses on forward looking applications that are potentially too slow to run in modern browsers today. The result is much longer run times than anything we've seen thus far, and a very CPU heavy benchmark: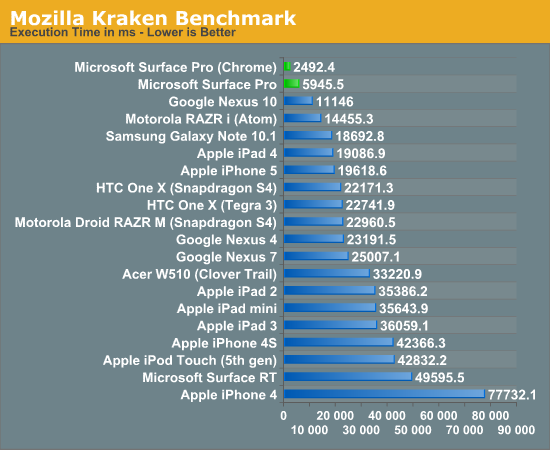 Even when handcuffed by modern IE10 you're looking at almost twice the performance of the Nexus 10. Level the playing field with Chrome as a browser and now Surface Pro completes the test in a bit more than 1/8 of the time of the iPad 4, or 1/4 of the time of the Nexus 10.
Surface Pro manages to deliver almost 5x the performance of the iPad 4 here.
We have one last web-based benchmark: WebXPRT by Principled Technologies (PT). WebXPRT measures performance in four HTML5/js workloads:
Photo Effects: Measures the time to apply effects to a set of six photos. The filters are Sharpen, Emboss, and Glow. WebXPRT applies each filter to two photos. This test uses HTML5 Canvas 2D and JavaScript.

Face Detect: Measures the average time to check for human faces in a photo. WebXPRT runs this test on five photos and uses the average time to calculate the final result. This test uses HTML5 Canvas 2D to get access to photo data. The detection algorithm is implemented in JavaScript.

Stocks Dashboard: Measures the time to calculate financial indicators of a stock based on historical data and display the result in a dashboard. The calculations are done in JavaScript, and the calculated stocks data is displayed using HTML tables and Canvas 2D.

Offline Notes: Measures the time to store notes securely in the browser's HTML5 local storage and display recent entries. This test uses using AES for security.
We're reporting the overall score after all tests have been run: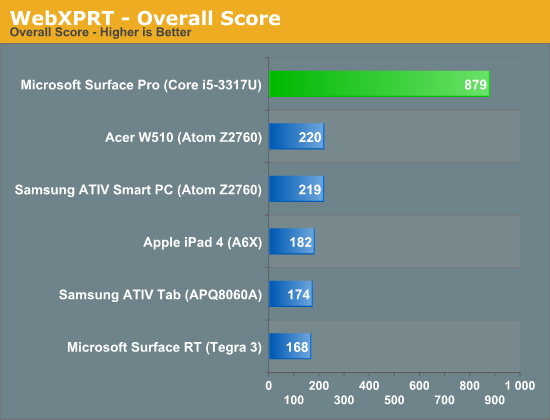 Next up are another set of benchmarks from PT, but unlike the WebXPRT suite these tests don't run in a browser. Once again we're looking at performance in a handful of tasks designed to stress the CPU. Here the performance advantage continues to be quite significant. While Surface RT and the other Windows RT/8 devices still feel a bit sluggish, I have no performance complaints whatsoever about Surface Pro: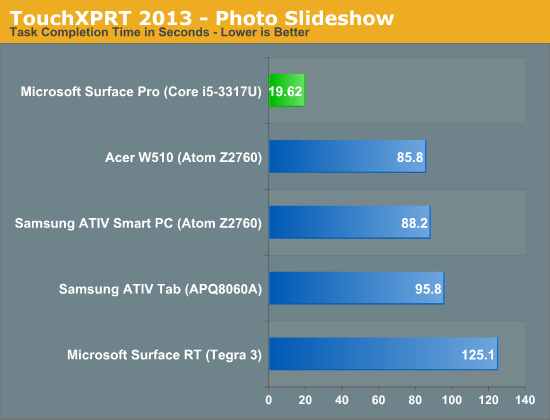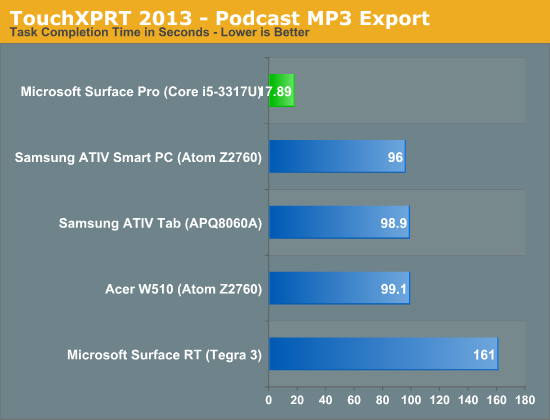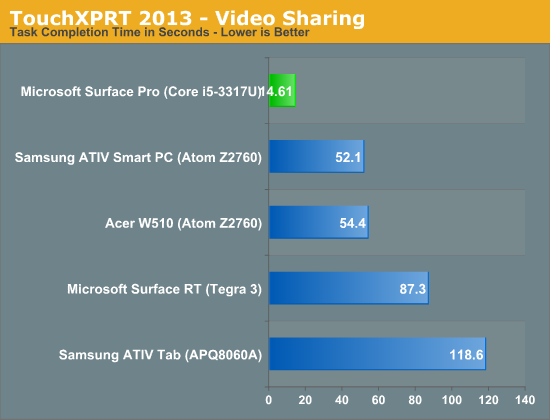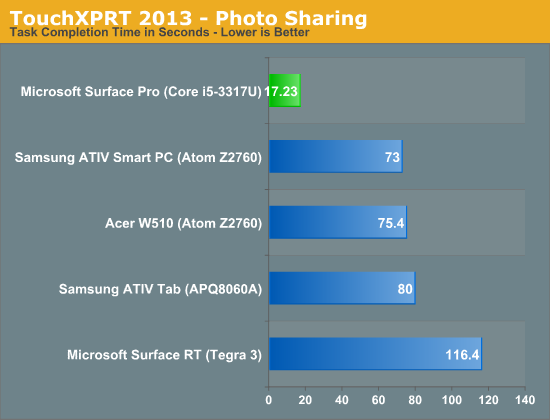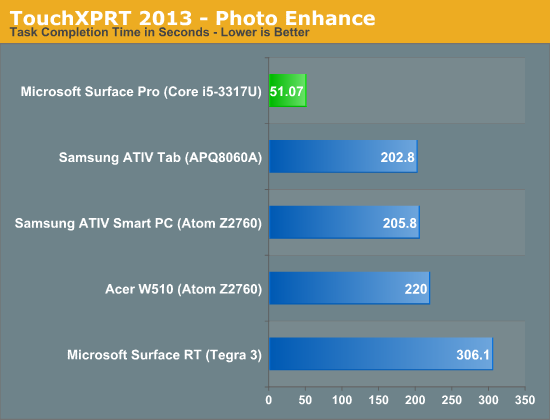 If I had any complaints about using Surface Pro as a tablet outside of weight, they'd be about Windows 8. There are still far too many bugs and quirks in the OS that just don't make sense. I've outlined some of my issues with Windows 8 before. I think the UI works just fine for a tablet, it's just the unfinished touches that need attention. For example, having to gesture in modern IE10 before being able to switch between tabs seems silly.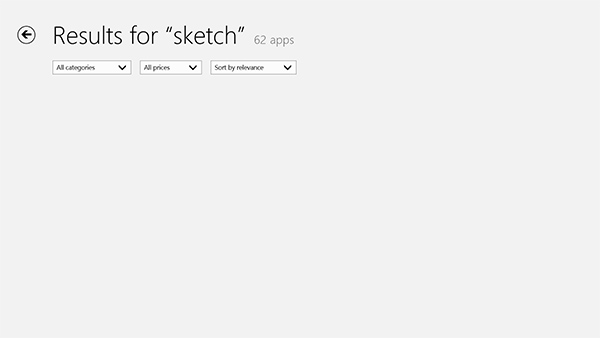 This still happens way too often in the Windows Store, no indication of what's going on just a blank screen
On the bug-front, all too often I'll wake up the system only to have the lock screen upside down. And despite all of the extra performance under the hood, the time from when you hit the power/lock button to when something appears on the screen is just longer than on an iPad or Android tablet. We're not talking several seconds, but it's still noticeably longer.
Surface Pro as a Windows 8 Notebook
If you can deal with tradeoff of having a not-totally-rigid display/keyboard hinge, Surface Pro does approximate a notebook fairly well. The trackpads integrated into the covers don't do a good job, but getting used to the touchscreen for most mousing duties isn't a problem at all. The biggest issue with using Surface Pro as a notebook replacement is that you just can't use it in as many sitting configurations as you'd be able to with a traditional notebook. If you can deal with that however, it's a pretty awesome device.
When it comes to performance and response time, Surface Pro behaves just like an Ultrabook. In our performance tests it ended up a bit behind Acer's 13-inch S7, but I'm guessing that has more to do with Microsoft having a slightly more conservative thermal profile than the larger notebook. You'll notice that in most of these tests, Surface Pro is within striking distance of Apple's 13-inch MacBook Air running Windows.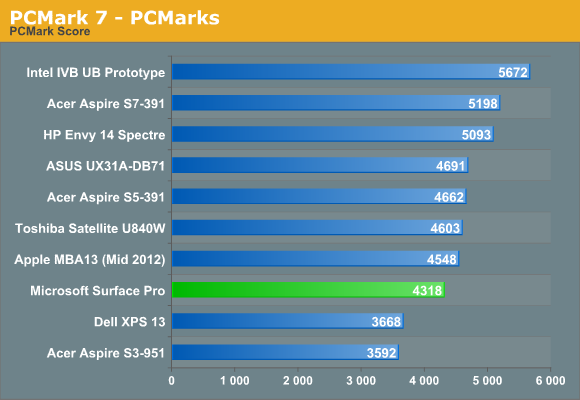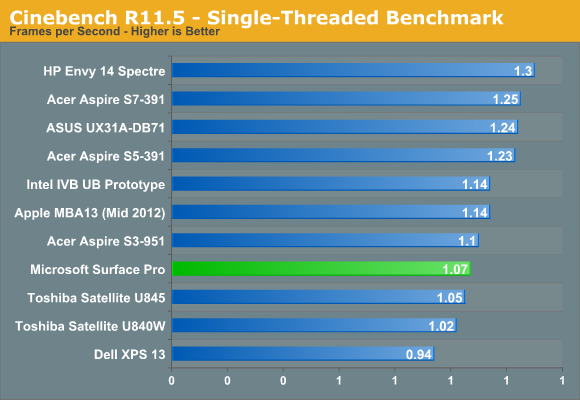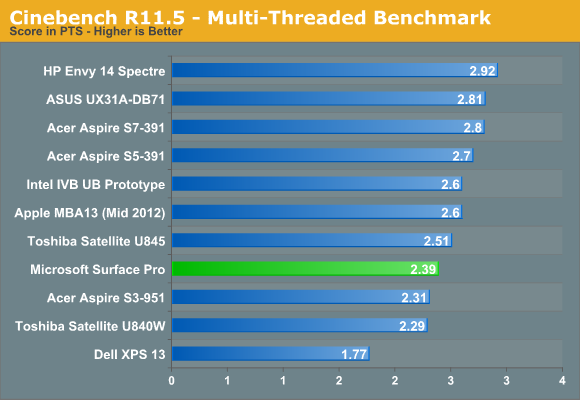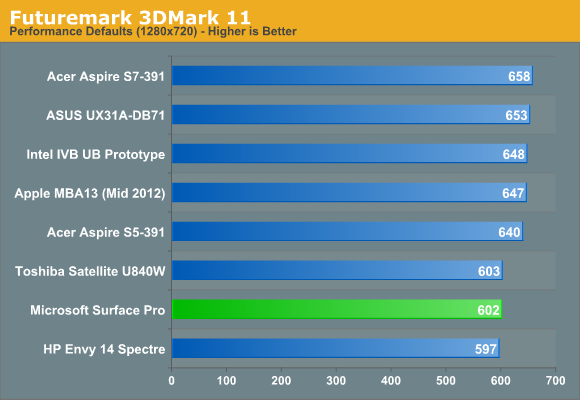 Fans and Thermals
While Surface RT was passively cooled, Surface Pro features two integrated fans to cool the 17W Core i5-3317U. For most light use cases, those two fans will remain spun down and you can't hear them. Do any sort of serious multitasking or start using Surface Pro as a real PC instead of a tablet and you'll quickly hear them spin up. Fan noise is audible but not annoying - it's very similar to the sound you'd hear out of any ultraportable with a couple of tiny fans spinning up.
In landscape mode with the Type Cover attached, Surface Pro draws in cool air from the sides and exhausts it out of the top of the device. Rotate the device into portrait mode and the fans will switch directions, drawing in cool air from the long edge and exhausting it out of the short edges. The fan direction switch is triggered in tandem with display rotation, so as soon as you see your display rotate you'll hear the fans change direction.
The two fans do a good job keeping the CPU cool (I saw typical CPU core temperatures between 50C - 60C), but Surface Pro does get warm. I measured a max surface temperature of 41.8C while running 3DMark 11. That's towards the top of the unit, around where the Core i5 CPU is located. On the edges I measured a max surface temperature of 36.5C. There's no getting around the fact that Surface Pro gets warm, noticeably more so than the 4th generation iPad. It never gets uncomfortably hot however.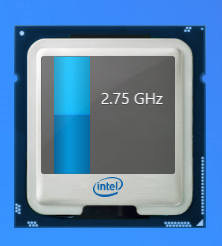 Despite being a tablet, the Core i5-3317U had no issues hitting its max turbo frequency of 2.6GHz. I even saw 2.75GHz for a very short period of time (remember, Intel's Turbo Boost can exceed max TDP until the silicon gets up to temperature).
Storage and USB 3.0
Surface Pro ships with a micro SDXC slot along the edge of the device. Courtesy of Intel's HM77 chipset, you also get a full blown 6Gbps SSD and a single USB 3.0 port - both significant upgrades over Surface RT. In my 128GB review sample, Surface Pro features a Micron C400 SSD. Microsoft is sourcing from multiple SSD vendors and claims to be shipping with optimized firmware, but I don't know what other vendors are in the mix. Update: It looks like the C400 SSD is an mSATA drive, likely similar to the one we reviewed here a while back.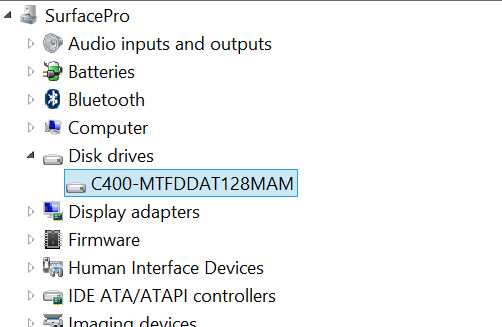 To put this in perspective, the C400 is in the same class of storage device that's used in Apple's MacBook Air. Although some ARM based SoCs feature SATA interfaces, pretty much all of them are paired with eMMC based NAND storage solutions that are horribly slow. The fastest sequential transfer rates I've managed on the 4th generation iPad are typically on the 20 - 30MB/s range, whereas the C400 in the Surface Pro is good for over 400MB/s in reads and just under 200MB/s in writes.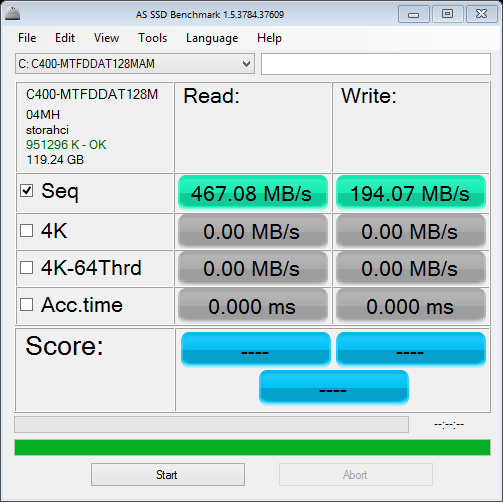 There's been a lot of debate over the amount of free space available on Windows RT/8 tablets fresh out of the box. My 128GB review sample was partitioned down to 110GB with roughly 8GB used for the recovery partition. Of that 110GB, 89.5GB was free space that remained. I don't really view this as false advertising by Microsoft (both Macs and PCs have been sold like this for decades), but you do need to know what you're getting into here. Given the already high price of these systems and the relatively small price differential between a 64GB Surface Pro and a 128GB model, I'd recommend going for the latter. Microsoft claims something like 29GB of free space remains on the 64GB model - enough for some apps and data, but keep in mind like all solid state storage you don't want to completely fill up your drive either (this is also true for ARM based tablets like the iPad).
USB 3.0 is equally as impressive on Surface Pro. Using a simple USB 3.0 to SATA adapter I could easily read and write at around 200MB/s. Compare this to the ~20MB/s you get on most ARM based tablets and it's obvious that this Surface deserves its Pro moniker.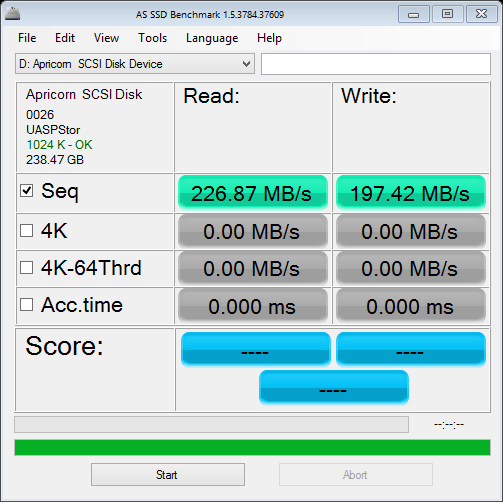 Ultimately Surface Pro's storage subsystem is a big part of what separates it from the current crop of ARM based tablets. While it's possible to run productivity workloads on many tablets these days, there's truly very little that separates what you can do on Surface Pro with what what you can do on a conventional PC.
WiFi Performance
Similar to Surface RT, Surface Pro uses a 2x2 802.11n WiFi controller from Marvell. I believe this is likely the same Marvell Avastar 88W8797 WiFi solution, but connected over USB instead of SDIO.
WiFi performance is appreciably better than on Surface RT, connected to a 5GHz 802.11n network I was able to pull a maximum of 87Mbps compared to 42Mbps on Surface RT. This is competitive with what I've seen on other high-end tablets based on ARM architectures, although lower than what I've gotten out of a MacBook Air.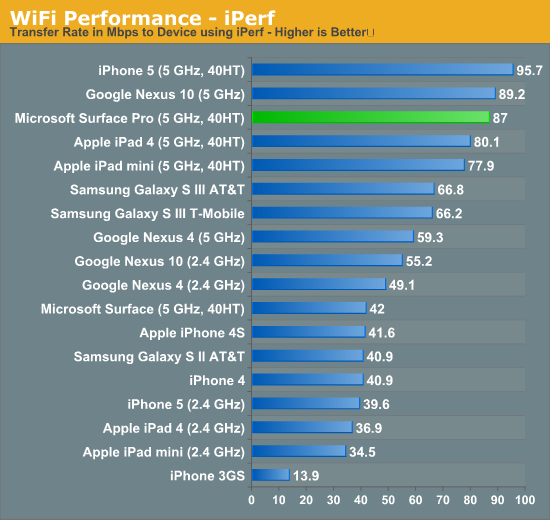 WiFi range is subjectively really good on Surface Pro and a lot better than most ARM based tablets I've played with. I ran an iperf test on an iPad 4 and Surface Pro around 100 feet away from an AP through several walls and saw roughly an order of magnitude better performance out of the Surface Pro (8 - 10Mbps vs. 0.95 Mbps).
While peak WiFi performance out of Surface Pro is similar to a high-end tablet, worst case performance is more like a good notebook. Overall I'm pleased with the wireless stack on Surface Pro.
Display: Awesome if Calibrated
Surface RT used a 10.6-inch 1366 x 768 display, for Surface Pro Microsoft integrated a full 1920 x 1080 panel of the same size. The increase in resolution is appreciable and you definitely notice it when switching between the two Surface models. Pixel density isn't class leading, but it's at least in the right range. On the desktop, Microsoft enables 150% DPI scaling by default which makes everything legible but still a bit odd in applications that don't deal well with fractional DPI scaling. Ideally I would've liked to have seen a clean doubling to avoid this mess.
The higher res display just makes everything sharper in the modern UI, and the 150% DPI scaling in desktop mode makes everything big enough where the higher res isn't a problem there. It's only in those desktop applications that don't properly implement Windows DPI scaling where the higher resolution is a hindrance. I actually ran into this problem using Chrome on the desktop, where my taps wouldn't always map to the right parts of the application (not to mention that Chrome in DPI scaled Windows looks terrible). Thankfully there is always the pen...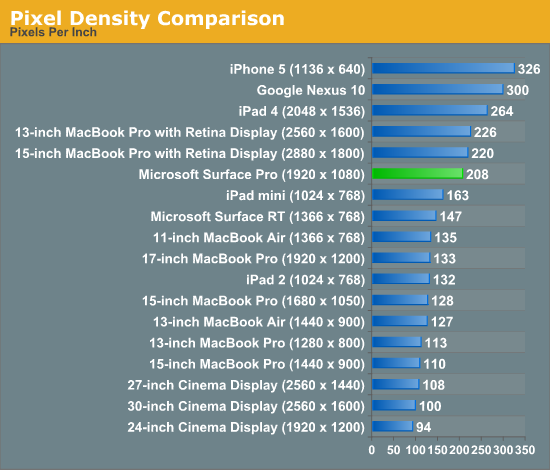 Once again Microsoft doesn't do any substantial color calibration at the factory, but unlike on Surface RT you can run your own Windows display calibration software on Surface Pro to improve color accuracy if you have the right equipment.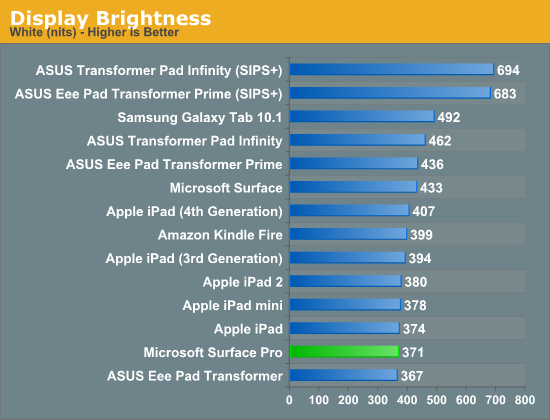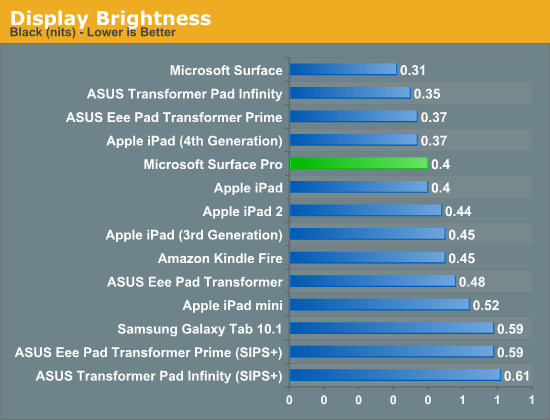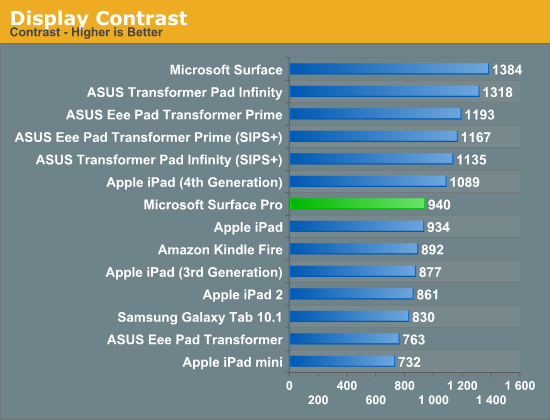 Out of the box my Surface Pro sample had an unusually high white point (~7500K), which negatively impacted its grayscale accuracy. To evaluate color accuracy I turned to our own Chris Heinonen's CalMAN smartphone/tablet workflow. Color accuracy is near identical to Surface RT, which is to say that it's ok compared to PC notebooks from a couple of years ago but still far behind what you get out of the box from Apple.
Given that the majority of users don't do any color calibration on their PCs, this becomes a real problem for consumer perception if your tablet doesn't ship with accurate colors by default.
To see what the panel is capable of I ran it through our standard PC display calibration routine (which I can do since it's running Windows 8 and is effectively a PC). I then re-ran it through our CalMAN smartphone/tablet workflow and ended up with much more pleasing results. While the display still lagged behind the iPad in one of the tests, it bested Apple's Retina Display in the other two color accuracy benchmarks.
We'll start off by looking at the calibrated white point for these tablets. What you're looking for here is a number close to 6500K:

The next three charts look at accuracy represented as a difference between various source colors and what's reproduced on the display. The results are presented as average dE2000, with lower numbers being better.
First up is Grayscale performance, here we're looking at the accuracy of black, white and 19 shades of gray spread in between the two extremes: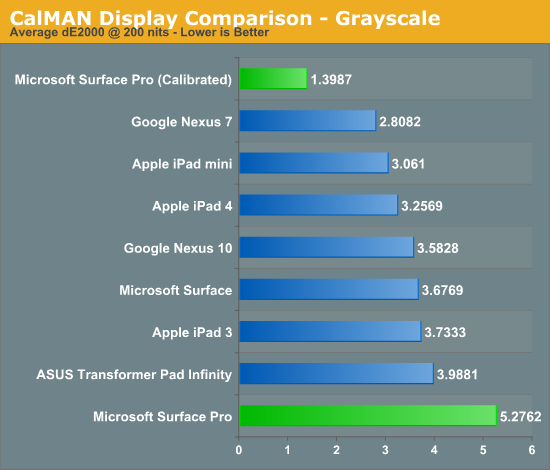 Out of the box grayscale performance is abysmal on Surface Pro. Calibrated accuracy, on the other hand, is just awesome.
First in our color accuracy tests is a saturation sweep. Here we're looking at 20%, 40%, 60%, 80% and 100% saturations of red, blue, green, magenta, yellow and cyan.

Our saturation sweep is the only test where even a calibrated Surface Pro can't match the iPad, it does do a lot better than Surface Pro without any color calibration however. Out of the box Surface Pro is considerably worse than any Apple tablet.
Gamut CIE Chart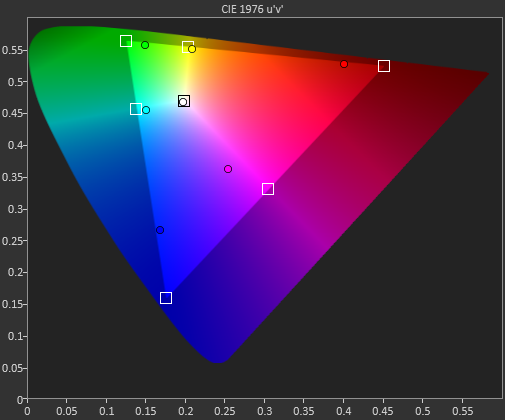 Saturation CIE Chart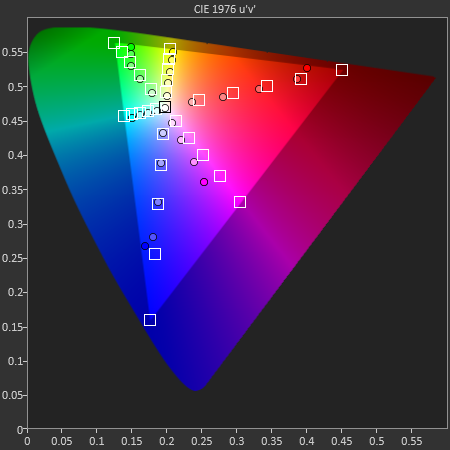 For our final accuracy test we're looking at the difference between a Gretag Macbeth colorchecker chart and the rendered swatches on these displays. Once again, lower numbers are better.

Out of the box Surface Pro and Surface RT are near identical here, and similar to the Nexus 10. With a good suite of calibration tools and supported hardware under Windows 8, Surface Pro has the potential to easily outperform the iPad if given the opportunity.
GMB Color Checker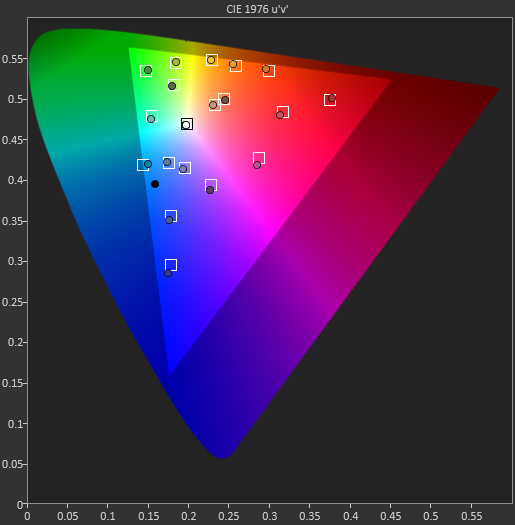 Surface Pro's panel has real potential, it just needs a calibration pass - which is honestly something Microsoft should be doing these days, not the end user.
Mini DisplayPort but No Thunderbolt
Surface RT featured a single video output in the form of a micro HDMI port. Surface Pro adopts a mini DisplayPort output instead, and will have adapters to enable DVI and HDMI support.
The miniDP output immediately activates as soon as you plug a display into it. I sometimes had issues with display resolutions being set sub optimally, but generally speaking the process was as plug and play as you can get.
I did notice some visual tearing on the Surface Pro display when connected to an external HDMI monitor, similar to what I saw with Surface RT but not nearly as bad. I'm beginning to think something is a bit wonky with Windows 8's multi-monitor support. What's interesting is I didn't see the issue on all displays, which is more than I can say for Surface RT. Update: It looks like this is hardware related. Even if the internal and external panels have the same refresh rate, Intel's HD 4000 won't guarantee that the refreshes will happen at the same time - which is why we see tearing. The tearing should only be present in clone mode, not extended desktop (I'll verify this shortly). It seems like Tegra 3 is worse in this regard, which is why the issue was so much more prevalent on Surface RT. I need to check other Ivy Bridge platforms and under OS X to see if the problem is as prevalent there as well.
The only disappointment here is Microsoft opted against integrating Thunderbolt into Surface Pro. I feel like Thunderbolt would've made a ton of sense in a device like Surface Pro, enabling one cable connection to both an external display and high-speed external storage. Given that Thunderbolt adoption remains fairly limited in the PC space I don't think this is a huge loss for most of Microsoft's target customer base, but I do feel like it'd be a good way of future proofing the device. The alternative that Surface Pro offers is the combination of miniDP and USB 3.0, which realistically speaking is probably good enough for most users. From a cost of integration standpoint vs. the number of users who would pay for it, it probably didn't make sense for Microsoft to include Thunderbolt in Surface Pro, but that doesn't change the fact that I wish it was there. It'd be nice for Apple not to be the only company really pushing Thunderbolt.
Camera Quality
Surface Pro, like Surface RT before it, features two integrated 720p cameras with no flash. Admittedly I didn't spend a ton of time taking photos with Surface Pro but imaging quality is just really bad compared to what you'll get out of an iPad 4. The results are borderline ok for use on the web but that's pretty much it, and forget about decent low light performance.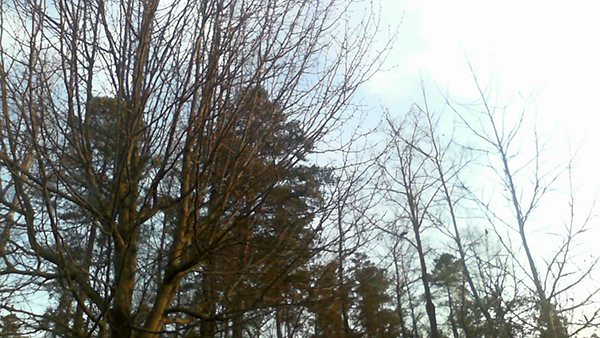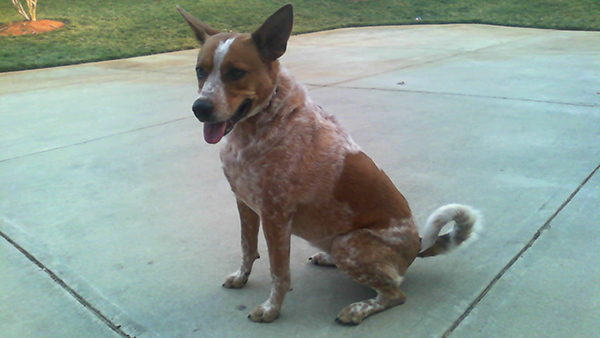 Battery Life: The Downside
Despite having an integrated 42 Wh battery (similar in size to the 3rd and 4th gen iPads with Retina Display), battery life is a real sore spot for Surface Pro. Haswell is really designed to drive platform power down to very low levels, which should help close the gap between ARM/Atom based tablets and Core based tablets. Unfortunately, Haswell for tablets won't hit until the third quarter of this year, which forced Microsoft to use Ivy Bridge.
In our tablet benchmarks, I never saw Surface Pro break the 6 hour mark on a single charge. In most cases I'd expect to see 5 - 6 hours out of Surface Pro in light, tablet usage. Video playback was especially disappointing as Surface Pro managed to use more power here than during our web browsing battery life test. I suspect this might have to do with the relative power efficiency of Ivy Bridge's video decoder. It'll be interesting to see how Haswell does in this department.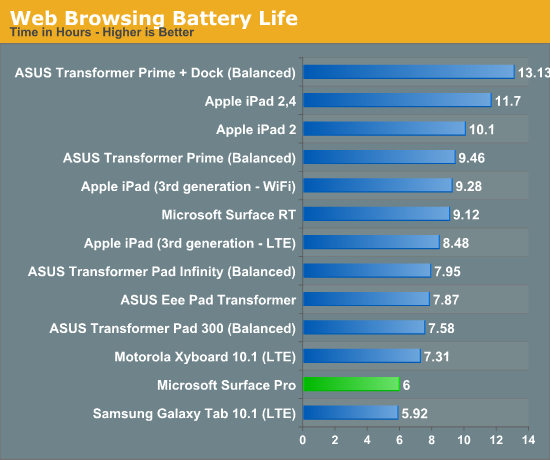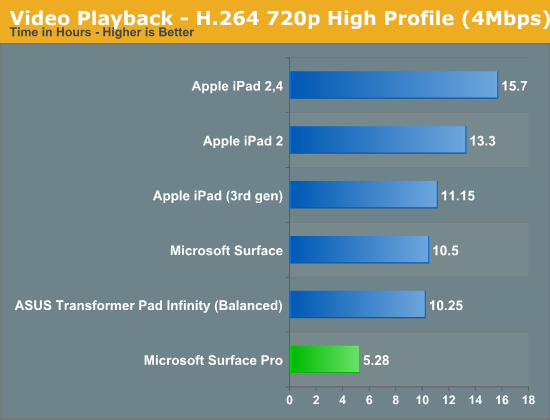 I also put Surface Pro through some of our new notebook battery life tests for 2013, and here it didn't fare too bad. I only have Acer's 13-inch S7 to compare to but Microsoft managed 3.85 hours in our medium workload compared to sub-3 hours for the larger Ultrabook:
Windows 8 Notebook Battery Tests
Battery Test
Acer Aspire S7 (13-inch)
Microsoft Surface Pro
AnandTech 2013 Light
4.00 hours
5.2 hours
AnandTech 2013 Medium
2.88 hours
3.85 hours
This is easily the biggest disappointment with Surface Pro. You just won't get the all day battery life you do with an ARM based tablet out of this design. I expect Microsoft will have a solution to this problem with Haswell, but not until the end of the year.
Charging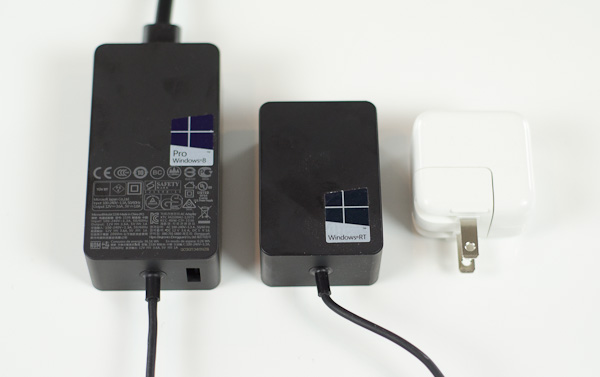 Surface Pro retains the same large, magnetic power connector as Surface RT. In fact, Surface RT's power adapter will still charge Surface Pro. The Pro model does however come with its own 48W adapter. It's a nice looking, but large and still fairly traditional two piece power supply (brick + detachable wall cable). There's no sophisticated cable management other than a tiny hook to help keep the device end of the cable together. One neat feature is the power adapter does feature an integrated USB port for charging your smartphone.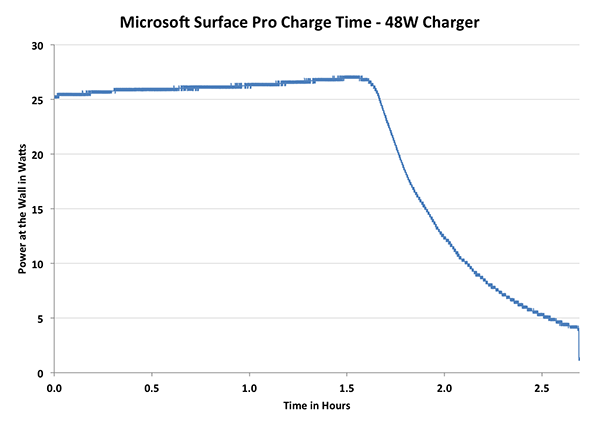 Under max charging load the power supply will draw around 27W at the wall. Microsoft included a 48W unit in order to be able to charge and power the device without slowing down charge time. It took me 2.692 hours to charge Surface Pro from completely empty to 100% with no additional power draw at the wall. The quick charge time is pretty nice and about the only reprieve here when talking about Surface Pro's battery.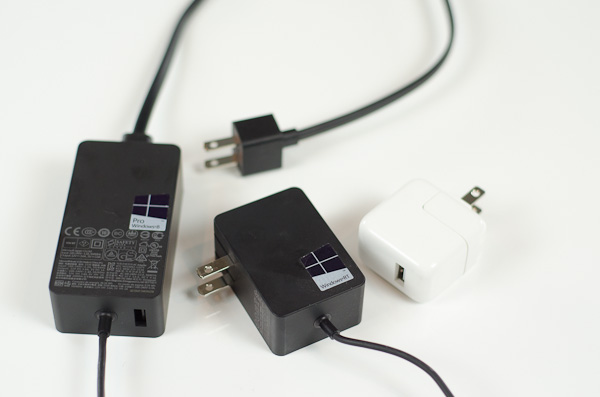 I did notice something odd with the first power supply Microsoft sent me. When charging through my power meter, I picked up some interference in the capacitive touch screen itself resulting in around 10% of my taps not being recognized. Microsoft supplied another power supply that seemed to resolve the issue.
Final Words
Surface Pro is about as well executed as Microsoft could have made it given the currently available hardware. Its performance is outstanding for a tablet - it's truly in a class of its own. If I sit down and use Surface Pro as I would an iPad or Android tablet, it delivers an appreciably quicker user experience. Apple does get fairly close in some cases on far slower hardware, which should concern Microsoft quite a bit should Apple ever choose to go ahead and build a tablet/notebook convergence device of its own. But overall, there's just not a faster tablet on the market. It's really the combination of a very fast CPU and very fast storage that enable such great performance out of Surface Pro.
The beauty of Surface was in its flexibility. The ability to quickly switch between tablet and notebook usage modes, between content consumption and production. Surface Pro really takes that to the next level. It can quickly switch between operating modes just like its predecessor, but it can also double as a full blown notebook or desktop PC. There's tremendous potential in what Microsoft is trying to do here with Surface Pro.
The inclusion of a Wacom powered digital pen is interesting for the creative professionals out there. My only complaint there is the lack of mouse tracking for the pen, it can only be used in pen mode, but if that's something you're ok with then I can see the pen being a good solution to consolidating tablet, notebook and Wacom tablet into a single device for use on the road.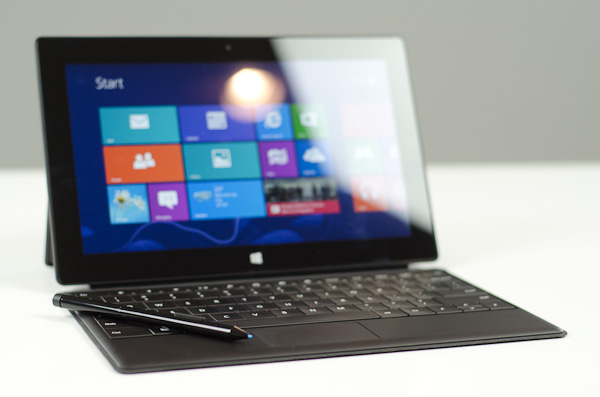 The downsides are obvious. Compared to an iPad or Nexus 10, Surface Pro's battery life is abysmal. Compared to other Ultrabooks it's not too bad, but for Surface to succeed it really needs to do well in both spaces. Haswell is part of the solution to this problem, but we're still talking about waiting until the end of the year before Microsoft can realistically integrate that.
Surface Pro is also considerably thicker and heavier than any popular ARM tablet on the market. Even Surface RT feels like a pleasure to hold after working with Surface Pro for a while. If you're coming from an ARM based tablet, you're not going to be happy with Surface Pro's weight. If however you're coming from the perspective of a notebook user, it's not bad at all. Once again, with lower power hardware I see Microsoft being able to minimize this - but that's a topic for Surface 2 Pro.

My only complaint on the pricing front has to do with the fact that Microsoft won't throw in one of its keyboard covers with the $899/$999 MSRP. I feel strongly that the Type Cover should be bundled with Surface Pro, or perhaps at least offered at a considerable discount.
At the end of the day I found it difficult to recommend Surface RT because I knew faster hardware was less than a year away. Surface Pro is an easier recommendation simply because you don't have to wait for the Windows ecosystem to mature, you can already run all of your existing PC apps on the platform and it's competitive with other Ultrabooks in terms of performance. If you're shopping for an Ultrabook today and want that tablet experience as well, Surface Pro really is the best and only choice on the market. If however you do a lot of typing in your lap and in weird positions, a conventional notebook is better suited for you. The same goes for if you're considering a tablet for reasons like all-day battery life or having something that's super thin and light. Surface Pro is probably the best foot forward towards converging those two usage models, but it's not perfect for everyone yet.
I still believe Microsoft has the right idea here. It just needs some more iterations.