Original Link: http://www.anandtech.com/show/6676/antec-gx700-case-review-just-what-you-can-get-for-5999


Introducing the Antec GX700
Most manufacturers are quicker and happier to show us their medium-to-high end cases, but for a lot of users the case is admittedly a steel box they put their computer into. While I personally advocate spending up a bit and getting a quality case, the enthusiast looking to maximize the distance their dollar can go may not be willing to shell out for something big and fancy. For those users, there are cases like the Antec GX700.
When I saw it on display at CES, I was surprised at the incredibly low $59.99 price tag. Now that I've had it in house for testing and review, I see more of how they got there. This isn't necessarily a good or bad thing, but simply a fact of life when you're buying budget. Still, a case at this price point featuring a pair of 140mm fans, a single 120mm fan, a fan controller, and support for increasingly common 240mm radiators? There has to be a catch, right? As it turns out there are a couple of small ones, but not the ones you'd think.
That's what a review and in depth analysis is for, but the Antec GX700 is interesting if for no other reason than to just see the approach Antec took towards serving this market segment. The GX700 was one of the cases that impressed me at CES this year because of the integrated fan controller, and that's something I think we're going to see more and more of at these low price points in the future. That's a good thing, too, because it simply and cheaply allows end users to decide if they want to skew more towards acoustics or performance instead of having to find some nebulous halfway point to satisfy both.
Antec GX700 Specifications
Motherboard Form Factor
Mini-ITX, Micro-ATX, ATX
Drive Bays
External
3x 5.25"
Internal
5x 2.5"/3.5"
Cooling
Front
2x 120mm fan mount
Rear
1x 120mm exhaust fan
Top
2x 140mm exhaust fan (supports 2x120mm)
Side
1x 120mm fan mount
Bottom
-
Expansion Slots
7
I/O Port
2x USB 3.0, 2x USB 2.0, 1x Headphone, 1x Mic
Power Supply Size
ATX
Clearances
HSF
160mm
PSU
200mm
GPU
290mm
Dimensions
19.7" x 7.9" x 17.7"
500mm x 200mm x 450mm
Weight
13.8 lbs. (6.26 kg)
Special Features
USB 3.0 via internal header
Two-speed, four channel fan controller
Support for 240mm radiators
Price
$59
As you can see, the GX700 has a pretty healthy amount of cooling capacity. Antec continues to lean on negative air pressure cooling designs, but to be fair, that hasn't really set them back. Positive pressure is generally better in terms of keeping dust out of the enclosure, but the Eleven Hundred's stellar performance proves negative pressure can work just as well.
What's mostly impressive is just eyeballing the spec sheet and then seeing the price. The GX700 isn't readily available yet, but if Antec really does hit $59, the other vendors may wind up having to at least take notice.
In and Around the Antec GX700
Antec's design for the GX700 is pretty much coming from the same place as Corsair's Vengeance C70; there's a military-inspired styling to it, and it takes the ostentatious gamer enclosure off in a new direction. Antec uses a baseline two-tone of black and olive green, spicing things up with red for some of the switches. There's also a yellow-black-striped decal for the cover over the fan controller. I'm not a fan and some of you won't be either, but my answer is going to be pretty much the same as it ever was: at $59, assuming the case comes through on performance, who cares?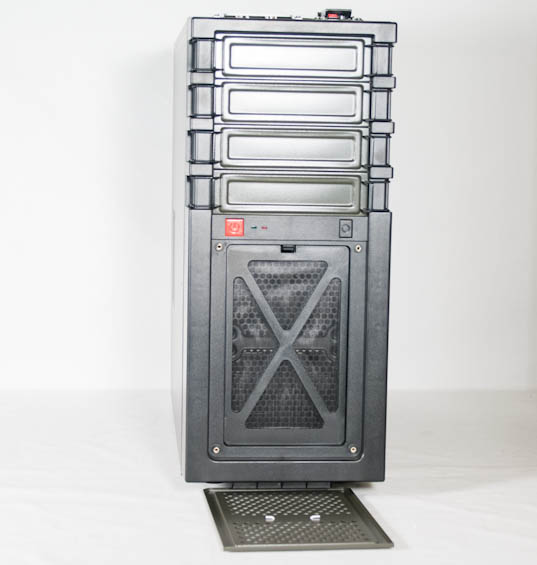 The front of the GX700 is something the rep was pretty proud of. Antec uses clamps to hold solid metal drive bay shields into place, opting for an "ammo case" motif. Beneath the four drive bays (technically three, but more on this later) are the red power button, a recessed black reset button, and a metal grate held into place with four thumbscrews that hides the bottom two fan mounts. The rest of the fascia is black plastic; the price had to come from somewhere.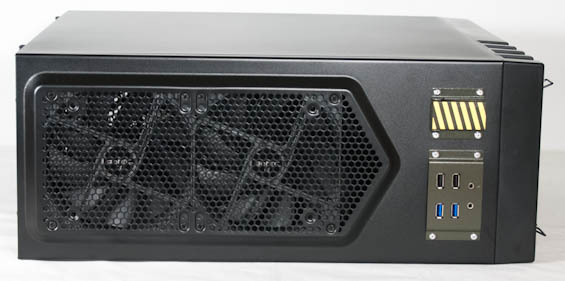 When you move to the top, you can see the fan mounts are slightly extruded. I've seen a couple of cases (Rosewill's Armor Evolution, for one, which has a review due soon) that have taken a similar tack to the top cooling. It's not the most attractive solution, but it does make a feature out of the cooling system, and it actually adds a little bit of headroom for mounting radiators to the top of the case.
The rest of the body of the GX700 is black-painted SECC steel with a plastic flip cover for the expansion slots, and honestly, this is where they cut corners. The plastic and steel they've used for the GX700 is pretty chintzy, and the front fascia isn't held on particularly securely. I've assembled and moved dozens of cases, but when I went to move this one from my work area to testing, the front actually popped off and the case fell, damaging one of the feet and warping the rails for the fan filter so that it won't stay in place. Most users first instinct is going to be to grip from the front and the back, unfortunately.
Thumbscrews hold the side panels into place, and they employ the same notched mounts we're accustomed to on these less expensive cases. When you do get inside the GX700, it's pretty business as usual. The five 2.5"/3.5" drive sleds all use trays, while the 5.25" bays enjoy snap-on clamps. There are cable routing holes throughout the motherboard tray, a healthy cut out for CPU backplates, and smartly, the tray itself is slightly recessed with a cabling channel to the right. This is a good way to cut down on case size while still offering a healthy amount of space for routing cables.
Honestly, the big deal with the GX700 is again that it includes a lot of features at a low price, but note that build quality is a little bit iffy. The steel is easy to dent, and the plastic used throughout the case isn't the greatest. What we have is a weird melange of building materials, none particularly great, but together they do help to hide just how cheaply built the case actually is. We're still not in the realm of a $30 bargain bin bleeder, though, which is good.
Assembling the Antec GX700
Putting the Antec GX700 together was remarkably easy. Someone over there has been paying attention, because for the most part we're approaching a Corsair level ease of use. The GX700 may be low on build quality, but it's fairly high on polish and usability, so as long as you're not planning to start beating on it, there's a lot to like here.
The one thing Antec didn't do was extrude the motherboard standoffs or include a mounting post, so it's business as usual, installing standoffs yourself and then popping the motherboard in. Some users are going to want to take note that unlike many other cases, the expansion slots, I/O cluster, and fan exhaust are on the same level instead of the fan exhaust being out further. This may potentially complicate installing a closed loop cooler, at least to the rear 120mm fan mount, as some horizontal clearance is lost.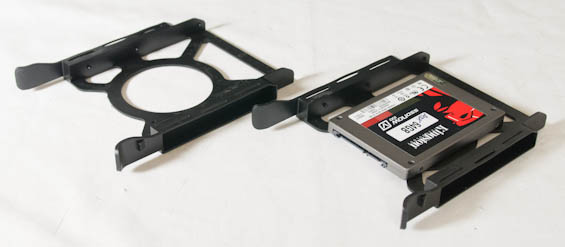 Getting the drives in is easy enough. The GX700 uses snap-on plastic drive trays that aren't really any worse quality than I've seen in more expensive cases (at least, cases that aren't Fractal Design), and the clamps for the 5.25" drive bays are actually remarkably firm. There are quirks, though. The drive trays slide in from the rear of the botherboard tray instead of above like most cases, and the top 5.25" bay isn't actually usable for anything except maybe a card reader. The shields come out by just opening the clamps and popping them out, but take a look at what's hiding behind the top shield:

The cabling for the fan controller and I/O at the top of the case blocks you from installing an optical drive here. Unfortunately this means that any optical drive you do install is going to wind up breaking up the appearance of the case somewhat. It's not a huge deal, but it's something that could've been avoided. Realistically Antec may have been better blocking off this area entirely. We don't need four 5.25" bays anymore anyhow (we really only need two at most these days).
Installing the remaining components is pretty much a cake walk with one more hiccup along the way. To save money, the GX700 doesn't include expansion slot covers, instead opting to use shields punched out of the case's shell. When you see how easily these come out, you'll realize just how thin the steel used for the GX700 actually is, but I had no trouble lining up the GTX 560 Ti we use for testing, or the power supply for that matter.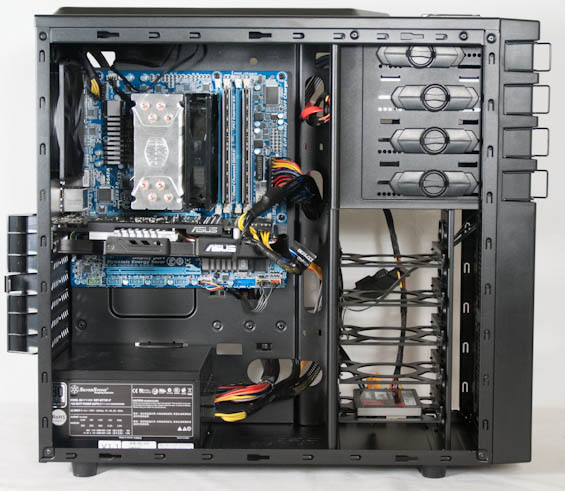 Cabling was also very easy, except the HD audio lead seems to be just an inch too short. I actually wasn't able to plug it in to the HD audio header on the motherboard, and on an ATX board it would probably be roughly two inches shy. This seems like kind of a silly oversight, and I do hope someone over at Antec realizes they shortchanged this and fix it, because the header on our board isn't at all unusual in its placement on the bottom edge of the board.
The GX700 does come together reasonably well despite the odd hiccups. There's a lot I'm willing to forgive in a design that's this cut down, although the HD audio cable being too short kind of leaves a bad taste in my mouth. That's a simple, easy thing to do, and it's surprising that Antec would miss a detail like that. Still, the case lends itself to a very clean installation, and that's always a plus.
Testing Methodology
For testing Micro-ATX and full ATX cases, we use the following standardized testbed in stock and overclocked configurations to get a feel for how well the case handles heat and noise.
Each case is tested in a stock configuration and an overclocked configuration that generates substantially more heat (and thus may produce more noise). The system is powered on and left idle for fifteen minutes, the thermal and acoustic results recorded, and then stressed by running seven threads in Prime95 (in-place large FFTs) on the CPU and OC Scanner (maximum load) on the GPU. At the end of fiteen minutes, thermal and acoustic results are recorded. This is done for the stock settings and for the overclock, and if the enclosure has a fan controller, these tests are repeated for each setting. Ambient temperature is also measured after the fifteen idle minutes but before the stress test and used to calculate the final reported results.
Thank You!
Before moving on, we'd like to thank the following vendors for providing us with the hardware used in our testbed.
Noise and Thermal Testing, Stock
As is customary when reviewing any case with a fan controller, the Antec GX700 was tested with its fan controller at both low and high settings. Note that the control switch actually has a middle setting, but that middle setting turns the fans off entirely. That may not be a bad thing for some users, but for the sake of the testbed's longevity, I opted to test with just the low and high fan settings.
Ambient temperature when testing at stock was low enough that it may have slightly affected fan speed results; it's a remarkably cold winter here in California, and ambient temperatures hovered around 21C.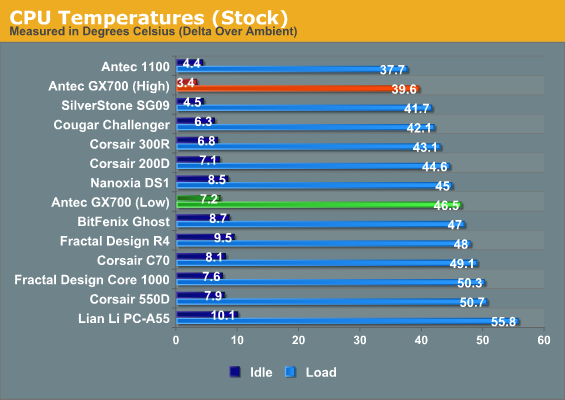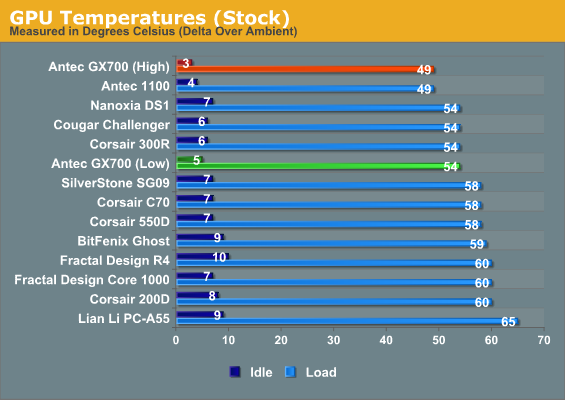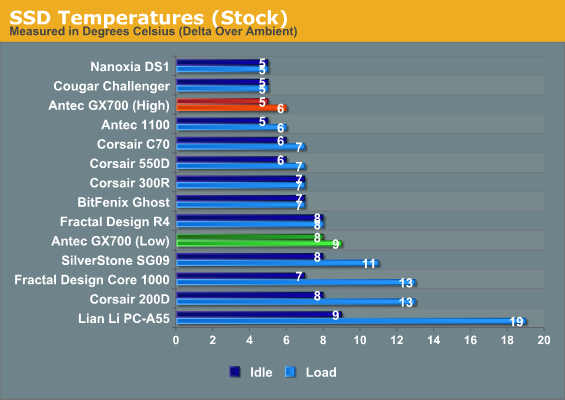 Thermals for the GX700 are competitive at low and frankly pretty awesome at high. At high the GX700 is producing temperatures competitive with Antec's Eleven Hundred, currently one of the best cases we've tested, anda it's doing so at $40 less.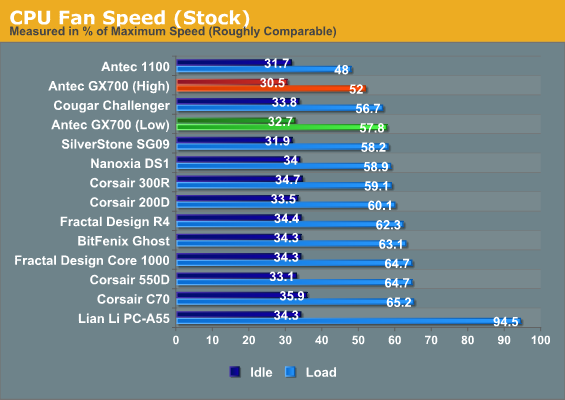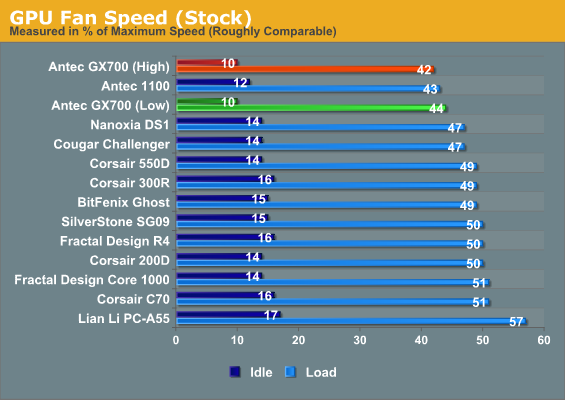 Fan speeds may have been affected by the low ambient temperature during testing, but the GX700 still has some thermal headroom regardless. Our stock configuration just doesn't push it that hard.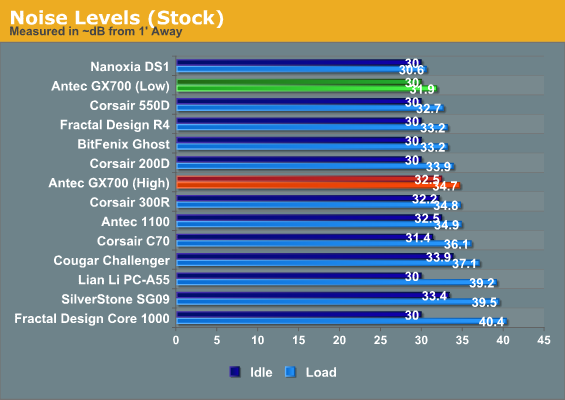 At the low setting, the GX700 is also one of the quietest cases we've tested, while the high setting is still mostly competitive.
What we have with the GX700, at least at stock, is essentially a good balance between acoustics and performance, and the fan controller allows you to prioritize one over the other. It's a good demonstration of what I've often said about cooling in general: a good airflow design and multiple fans running at low speeds can often do a better job than any acoustic padding ever could.
Noise and Thermal Testing, Overclocked
Where I think the Antec GX700 is going to come out being a big winner is where old school enthusiasts will want to see it: the overclocked testbed. Remember that for a long time, overclocking wasn't about pushing the top end higher, it was about pushing the bottom end to the top and saving some coin in the process. Under those circumstances, spending $150 on a case is ridiculous if a $60 case can do the job.
With the GX700, I believe it can.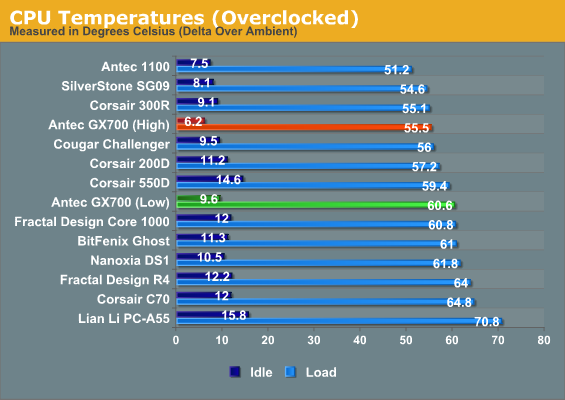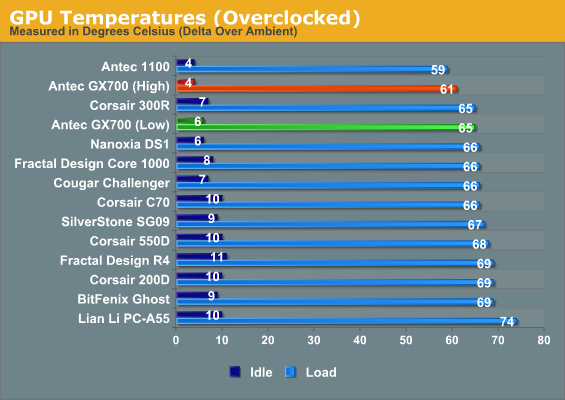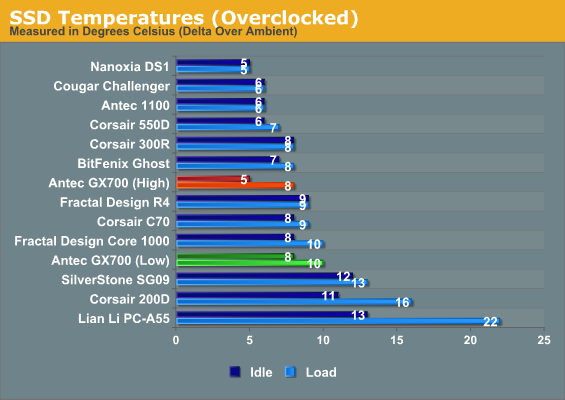 Thermals continue to be very competitive at either fan setting, with the high fan setting allowing the GX700 to hang with some of the best. Only Antec's Eleven Hundred can really do much better.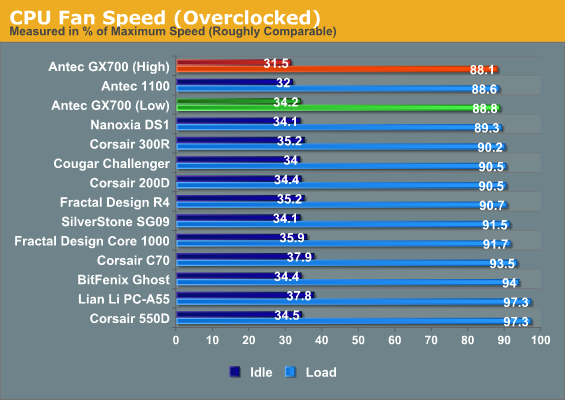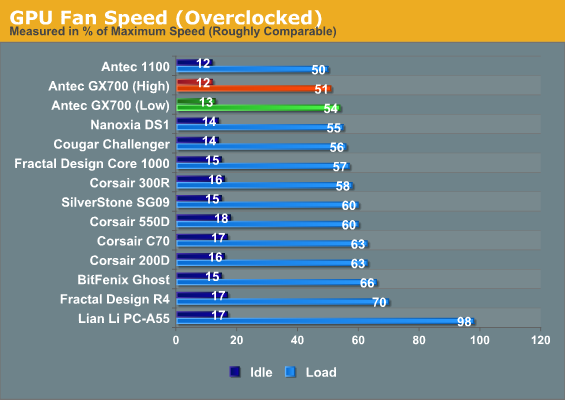 Fan speeds again remain very competitive.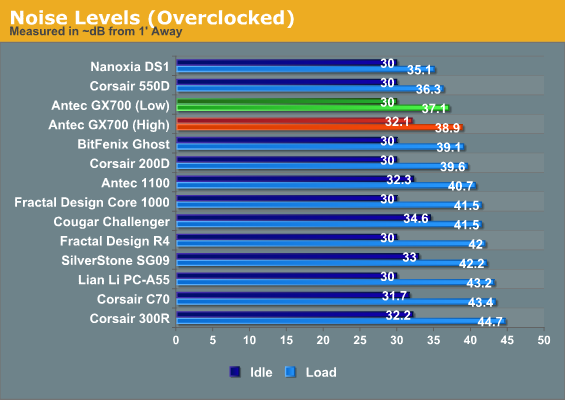 As do noise levels, remarkably. It's only here that the silent cases can pull ahead at all, but Nanoxia's Deep Silence 1 does have to sacrifice some thermal performance to get here, and the Corsair Obsidian 550D runs hot. Note also that both of these cases are at least twice as expensive as the GX700, though they're also better built and more feature rich in their own rights.
Conclusion: May Be Worth the Sacrifices
One sentence needs to really be repeated over and over again (just as it has been in the preceding review): the Antec GX700 is $59.99. Without that, it's tough to put this case into perspective.
The core of the GX700 is pretty much all good news. This is a case that offers excellent thermal performance with middling acoustics, or excellent acoustics with middling thermal performance, and the integrated fan control leaves that up to you. If you're willing to run the fans whole hog it's difficult to find cases that run too much cooler than the GX700 does. On top of the thermals and noise, end users get to enjoy a largely toolless assembly and competitive I/O functionality. At $59.99, that's a pretty easy sell.
Where I think Antec gets hung up, and why I'm not rushing out to give it an Editor's Choice award, is because the construction is in some places just too chintzy. The design, despite how excellent a lot of it is, also needs some work. We simply don't need four 5.25" bays anymore, and the fact that the top one is basically blocked by the internal cables for the I/O cluster means the front of the case gets broken up needlessly. I think they could've just covered up that bay and called it a day, personally. Maybe put the I/O there or alternatively, put the Antec badge there. Something. There's also the confusingly short HD audio cable, the lack of expansion bay slot covers, and the aesthetic is bound to put off at least a few users.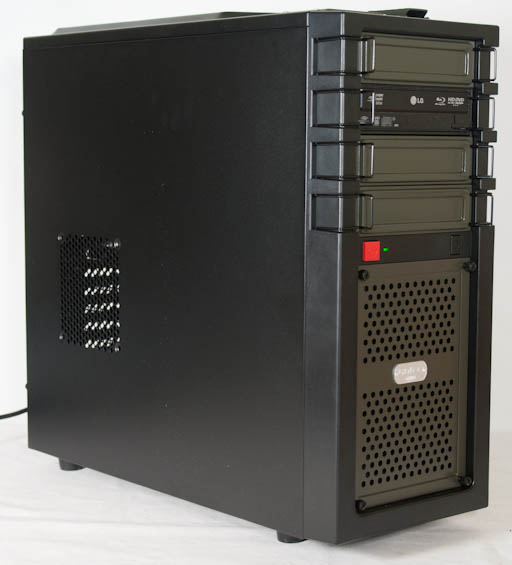 I think Antec did an interesting job of cutting corners to hit their price point, but I feel like they may have invested in the wrong places in some instances. The fan controller is an unqualified win at $59.99, but the metal drive bay shields feel excessive and unnecessary.
A lot of this is pretty subjective, though. At $59.99, you may not care too much about how the case looks or how well it's built, and you're probably going to be willing to overlook some of the GX700's shortcomings. I probably would too. It's very difficult to find a better deal in this price range, so users interested and only interested in pure performance or being able to balance acoustics and performance on their own terms, users who just want bang for the buck, they're the ones that need to be carefully eyeballing the GX700. If you know what you're getting into and you need something good and cheap, Antec's GX700 is the way to go.