Original Link: http://www.anandtech.com/show/6626/ecs-a85f2a-golden-review-all-that-glitters


All the major motherboard manufacturers run different nomenclature when grouping their channel and high end products. ROG, Fatal1ty and Big Bang are to name a few, and each have an associated meaning with the name. Thus when products come along with a suffix such as 'Golden', we expect the best of the best, something that is number one. Gold is for winners, and we will not accept anything less, otherwise it would be Silver, Bronze, or a wooden spoon. The ECS Golden range covers graphics cards and motherboards, the latest of which is the motherboard we are testing today in the FM2/A85X Trinity line up – the ECS A85F2-A Golden.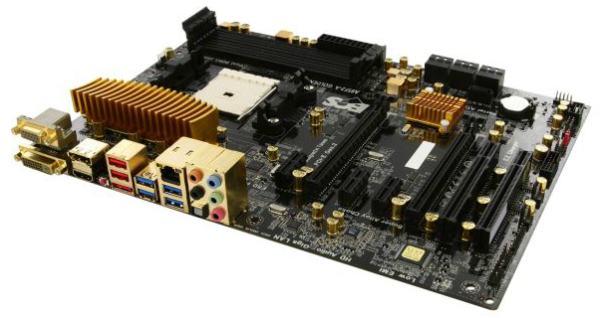 ECS A85F2-A Golden Overview
Visually, I have to say that a golden color scheme on a motherboard works quite well in my option. As something to look at, if paired with the right accessories and hardware, it could be a work of art. Annoyingly, there major thing wrong with the previous statement is that there are no proper accessories that go well with a golden motherboard, except a golden GPU or a copper pipe water cooling setup. Despite this, several case builders and modders have taken up the challenge and produced a works of art in the gold-style theme, and it even takes center stage in ECS' ModMen competition as the center piece of several builds. Gold also has status in certain parts of the world, and motherboards like the ECS A85F2-A Golden fit in that niche better than most.
The A85F2-A Golden currently e-tails for $126, which is at the high end of the FM2 spectrum, compared to ECS A85F2-A Deluxe which is around $89. For such a price, I would not be remiss in asking for a good look (check), a solid system in terms of performance, BIOS and software, and some extras in the box. On the board itself we get seven of the eight SATA 6 Gbps directly, and the final SATA 6 Gbps comes as an eSATA on the rear IO. ECS have decided to use a VIA VT1819S audio codec which performs well, and a standard Realtek NIC. Aside from having all four video outputs on the rear IO, we get a total of six USB 3.0 onboard and three fan headers (though on a board this side I would prefer at least five).
To start, on the release BIOS the motherboard failed to acknowledge a POST with my normal testing memory, a set of G.Skill 2400 C9. As there is no two-digit debug on the motherboard I was unsure as what the problem was, so I changed the CPU and GPU before using several memory kits to test. Eventually the board POSTed with a set of 1600 C9 memory installed – anything higher and no POST at all. As there is no BIOS update utility in the BIOS itself or at boot time, I had to update the BIOS after installing an OS. Before doing so, I noted that CPU-Z detected the 1600 C9 memory as either 1600 C5 (single channel) or 1600 C11 (dual channel). After updating to BIOS 11/14, the system was able to post with 2400 C9 installed. However, it would not accept that speed with XMP enabled, causing not to POST again – I adjusted the memory to 2133 C9 and the board booted. Even with this option, CPU-Z reported 1600 C11 being applied instead. This occurred over all our G.Skill memory kits (2133 C9, 1866 C9). As a result, our testing of the A85F2-A Golden is all done at 1600 C11 due to memory issues (we were sent the latest beta which had the same problems).
Despite the memory issues, the ECS board has a topsy-turvy results list. In terms of performance, the board applied the top turbo multiplier of the A10-5800K CPU (4.2 GHz) in all loading, meaning that in non-memory limiting multi-threaded tests, the ECS board came out as number one. In our Deferred Procedure Call latency test, the board spiked to over 600 microseconds, well above the 200 microsecond 'great' and 500 microseconds 'acceptable' limits, suggesting that there is part of the board that is given a lot higher priority in the call stack (possibly fans and temperature sensors) which could interfere with time-sensitive data recording.
The ECS BIOS has had a mild update for FM2, featuring a nice graphical EZ mode, albeit combined with the 'wall-of-text' advanced mode. As mentioned, there is no update BIOS option from the BIOS still, and fan controls are limited to a single fan header. There is a Windows 8 Fast Boot option, whereas Windows 7 with two GPUs clocked in at 11.50 seconds to POST. The software is also fairly dichotomous, with the overclocking tool eOC getting a face lift, but others such as eDLU and eBLU not connecting properly to ECS servers.
Overall, the ECS A85F2-A is a hard sell. It looks good if you like gold, and runs the processor out of the box at stock fairly fast, but if you want to overclock, put good memory in it or play around with fan settings, the options are fairly limited if they work at all.
ECS A85F2-A Golden Visual Inspection
The A85F2-A Golden itself plants the large AMD socket next to the golden VRM heatsinks, covering ECS 'Hyper Alloy Chokes'. The socket area has access to a single fan header to the top right of the socket which is slightly annoying – the best motherboards offer at least three in the socket area for additional cooling options.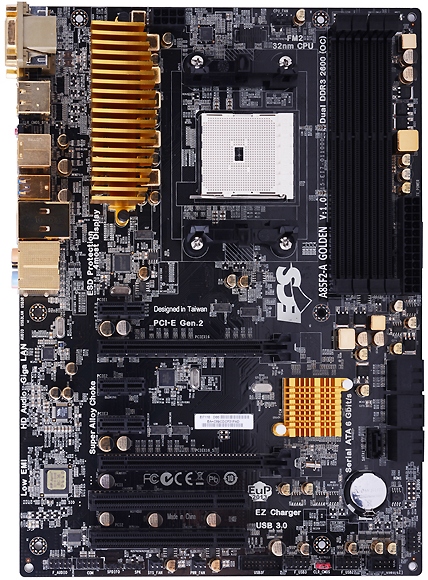 The motherboard is slightly smaller than the ATX standard in the left-to-right dimension, measuring 220mm rather than the usual 244mm. This allows ECS to drop the mounting points on the right hand side and place components like the SATA connectors up against the motherboard edge. We have seen this on other motherboards from other manufacturers as well.
On the right hand side, our memory slots use double side latches despite a general motherboard market drift to single side memory latches. Beside these is the 24-pin ATX power connector, and below we have the SATA ports. The A85X chipset specification gives us a total of eight SATA 6 Gbps ports to use, of which ECS place six here in a normal SATA placement, and one more coming out of the board behind the SATA block. The eighth SATA 6 Gbps port is routed to the rear IO panel as an eSATA 6 Gbps port. Next to the SATA ports is the golden chipset heatsink. Note that there is no power/reset buttons or two-digit debug LED on the motherboard for system debugging – something that frustrated me to no end on the default BIOS and memory compatibility as mentioned above.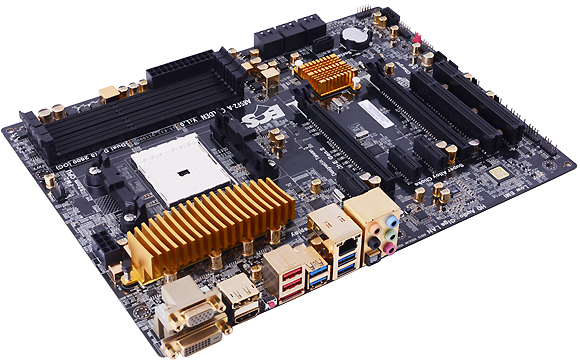 On the bottom of the board we get the front panel audio, a COM header, an SPDIO header, two of the fan headers, a USB 3.0 header, three USB 2.0 headers and a Clear CMOS switch. Above these are the PCIe slots, which give an x1, x16 (x8 in dual mode), x1, x1, x8, PCI, PCI. This allows users with two full length double-slot GPUs to have access to two x1 slots and a PCI slot for other devices as needed.

The rear IO panel is a fairly standard representation of a normal FM2 IO panel – we get all the video outputs (D-Sub, DVI-D, HDMI, DisplayPort), a ClearCMOS button, two USB 2.0, an eSATA 6 Gbps, four USB 3.0, a Realtek 8111E NIC, and audio ports from a VIA VT1819S. Normally I prefer more than two USB 2.0 ports on the back panel for installing Windows 7 via USB, which typically needs one for the USB stick, one for the keyboard and one for the mouse, although the mouse is not strictly necessary.
Board Features
ECS A85F2-A Golden
Price
Link
Size
ATX
CPU Interface
FM2
Chipset
AMD A85X
Memory Slots
Four DDR3 DIMM slots supporting up to 64 GB
Dual Channel, 1066-2600MHz
Video Outputs
D-Sub
DVI-D
HDMI 1.4a
DP 1.2
Onboard LAN
Realtek 8111E
Onboard Audio
VIA VT1819S
Expansion Slots
2 x PCIe 2.0 x16 (x16/- or x8/x8)
3 x PCIe 2.0 x1
2 x PCI
Onboard SATA/RAID
7 x SATA 6 Gbps (Chipset), RAID 0, 1, 5, 10
1 x eSATA 6 Gbps
USB
4 x USB 3.0 (Chipset) [4 back panel]
2 x USB 3.0 (Controller) [2 onboard]
8 x USB 2.0 (Chipset) [2 back panel, 6 onboard]
Onboard
7 x SATA 6 Gbps
1 x USB 3.0 Header
3 x USB 2.0 Headers
3 x Fan Headers
1 x COM Header
1 x ClearCMOS Header
Front Panel Header
Audio Header
Power Connectors
1 x 24-pin ATX Power Connector
1 x 8-pin CPU Power Connector
Fan Headers
1 x CPU (4-pin)
1 x SYS (3-pin)
1 x PWR (3-pin)
IO Panel
2 x USB 2.0
4 x USB 3.0
1 x eSATA 6 Gbps
1 x D-Sub
1 x DVI-D
1 x HDMI
1 x DisplayPort
1 x Realtek NIC
1 x Clear_CMOS Button
1 x SPDIF Optical Output
Audio Jacks
Warranty Period
3 Years
Product Page
Link
On the hardware side, using the VIA VT1819S is something different in the land of FM2 motherboards that we have tested. I am a little disappointed in the lack of fan headers – I would normally expect at least three around the socket and two at other places on the board, with the ability to control the voltage/power to them. The lack of a two digit-debug on motherboards like this can be a frustrating experience when something goes wrong and you are never entirely sure what the problem is.
Whenever a lower-tier manufacturer sends me a board for review, I always know in the back of my mind that resources are not always plentiful. ECS sells ~6-8 million motherboards a year, but most (75%+) are to OEMs and thus their own channel team is actually fairly small. I would not be surprised if the combined BIOS and software teams numbered more than 4 or 5. This unfortunately can have a detrimental affect on the quality of the BIOS and software, which over time may not be updated, and left in limbo / a poor state of user experience. I have to treat each motherboard on the same level when it comes to reviews, with no benefit of the doubt when compared to the competition – if there are flaws that cannot be circumnavigated then the price/warranty/box contents are often the deciding factors.
With ECS' efforts since graphical BIOSes came to the mainstream markets, they have gone through several stages - a basic version followed by a reasonably designed aesthetic edition and on to implementing an easy mode. The new Easy Mode for ECS actually looks like something futuristic: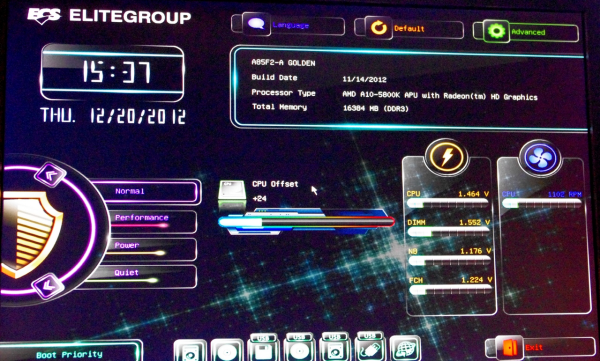 Gone are the white and blues with a touch of green, with the blue backgrounds exchanged for a starry black background similar to that used by ASRock. The front screen as we go onto the BIOS is a great example of how a graphical BIOS can be used – colors, options, and information all being top priority. We are given the Motherboard model name, the BIOS version, the CPU installed, the memory installed, the important voltages, fan speeds, and a funky thing in the middle that says 'CPU Offset', which as far as I can tell relates to the temperature. Aside from this naming issue, we get options to put the machine into several modes – Normal, Performance, Power and Quiet, each using the internal options to adjust features to improve processing power, reduce power usage, or reduce fan speeds. Elsewhere on this screen is also a boot priority list and language selection. At the top right is our button to go into the Advanced Mode.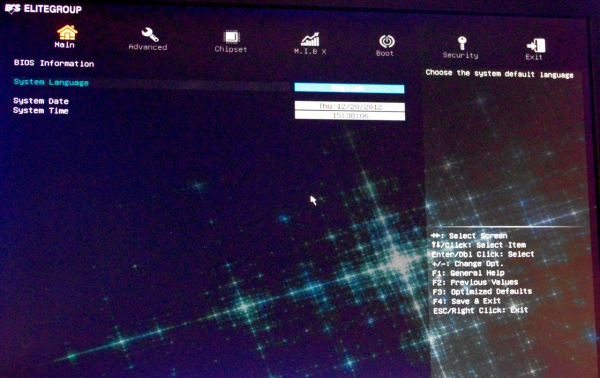 Unfortunately the Advanced mode has taken a step back from the previous ECS BIOSes we have exampled. The icons are dull, and the inverse contrast color scheme can be highly frustrating in low light scenarios. Our front screen in the advanced menus is very bland, despite the fact that, in my view, it should have all the information given in the easy mode as well. All we get here is a language option and the system time and date.
The 'Advanced' tab on the top menu list gives various options related to the controllers on board, such as LAN configuration, CPU Configuration, SATA, USB, Super IO et al. The fan controls are hidden under 'PC Health Status -> Smart Fan Function', and only the CPU Fan is actually adjustable.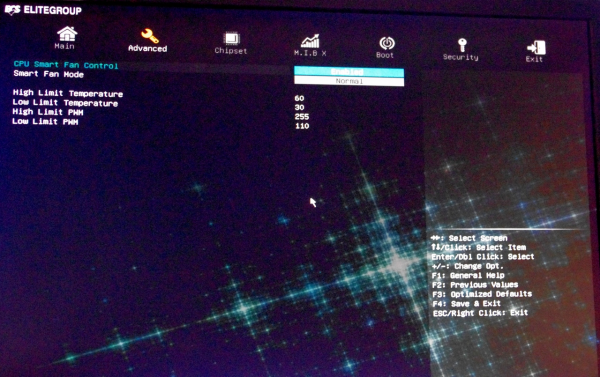 Users can set the top and bottom points of a gradient in terms of speed and power to the fan header. Power to the fan header is given as a number between 0 and 255 (the 'PWM value'), although as we have mentioned previously in reviews, the fan speed of a fan is never directly proportional to the power provided, making this system the easiest way out of the 'we must provide fan controls' situation.
Under the Chipset tab are a few options split between 'North Bridge' and 'South Bridge'. Selecting North Bridge gives the integrated GPU options as well as the ability to enable a Hybrid CrossFireX situation. South Bridge contains audio codec options.
The next tab along is M.I.B X, the ECS BIOS overclocking options. Rather than separate the overclocking options out into various sub menus of relevant categories, or even a single menu with options grouped together, we get a wall of everything: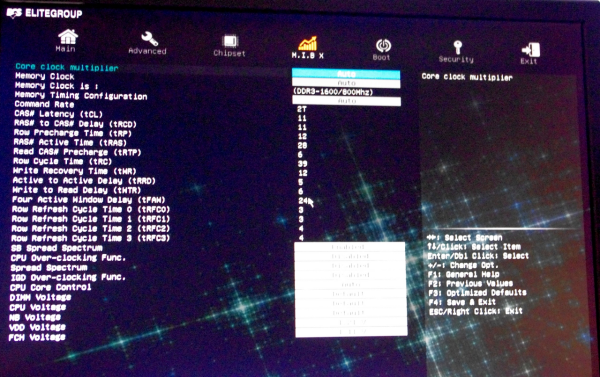 I do not know where to start criticizing this methodology. It smacks in the face of new users by providing a 'wall of everything' where various explanations of options in the top right say exactly the same as the option itself, and for enthusiasts is means a lot of shuffling up and down with no clear visual markers. On top of this, I am also jilted that none of my memory worked properly using these settings - no XMP rated profile worked or even a minor bump in the memory strap. With a few hours work, it could be arranged much nicer to look at and easier to use.
Other options in the BIOS relate to the boot settings and security options. It is good that ECS have a boot override option, and also a quick boot option for Windows 8.
ECS A85F2-A Golden Software
With the BIOS, being a lower tier manufacturer can cause concern for users in terms of aesthetics and usability. For software, it does not matter how high up the manufacturing rostrum you are, some of the top manufacturers have bad software and some of the lower-tier have good software. This is primarily due to the fact that the lower tier manufacturers can often license other software as part of the package, meaning that internally work hours are put to something else. Some manufacturers do both, by shipping in software from Realtek or cFos then giving it a vendor-specific skin. As long as it covers all the bases, has all the features and is easy to use, usually everyone is very happy. Having no software at all (or a few individual programs that do nothing much) does not help anyone.
On our ECS install CD, we get several options. The first installs all the drivers, and the second installs the utilities. As there are many non-ECS utilities, most of which are trail versions, we went along and installed ECS branded software only.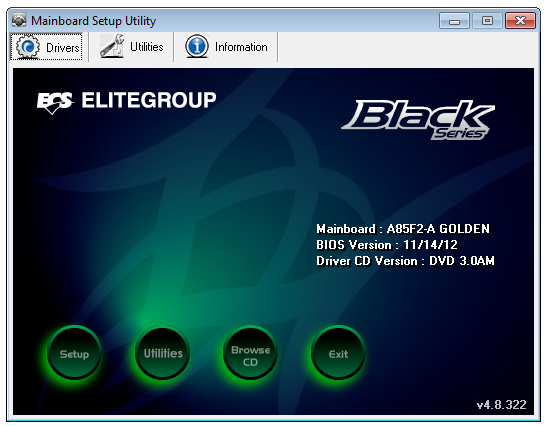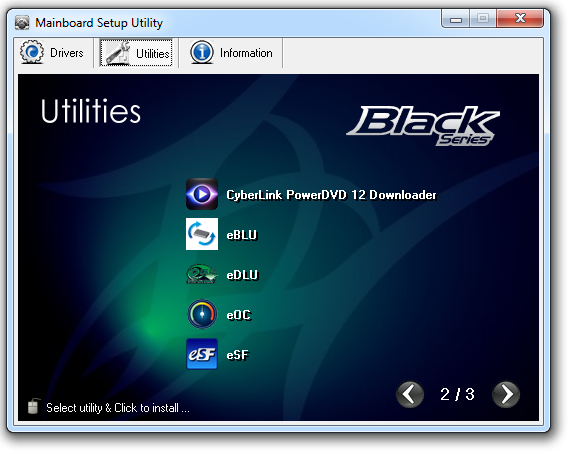 e-Driver Live Update (eDLU)
I am always a big fan of keeping my drivers updated, though in the grand scheme of things most of us will only update drivers if (a) we are told to do so, (b) we hear about some performance benefit from the latest version, or (c) there is an error. On at least one manufacturer's software solution, there is additional software which contacts their servers and keeps all the drivers up to date. eDLU from ECS tries to do something similar, although it is a little simpler. By clicking start, it opens up the ECS webpage of your motherboard and shows the download links to all the drivers for the board. This would be the easy way out of doing a full blown search and destroy type of software, if it worked. As with the last couple of ECS boards I have reviewed, clicking start took me to a blank ECS webpage.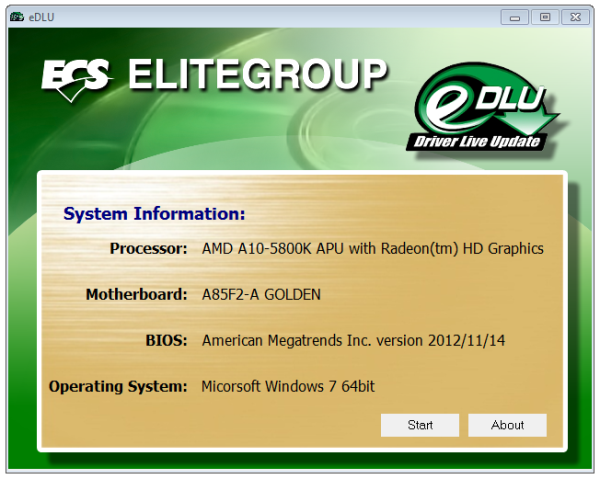 e-BIOS Live Update (eBLU)
Updating the BIOS usually occurs due to new options, new functionality, overclocking capabilities, or compatibility (CPU or memory), and for most enthusiasts I know, we like to do it in the BIOS with a copy on the USB stick. Alas the ECS range does not enable an update via the BIOS itself, and it must be done through the OS or a DOS-bootable USB stick. For users who want to leave it up to the system to update, the eBLU software is designed to check the ECS servers for the latest BIOS online and download accordingly. However when I used it, it could not find the latest 11/14 BIOS. I even updated the eBLU software to the latest version online through the 'Check Update' button in eBLU, but it still could not find it.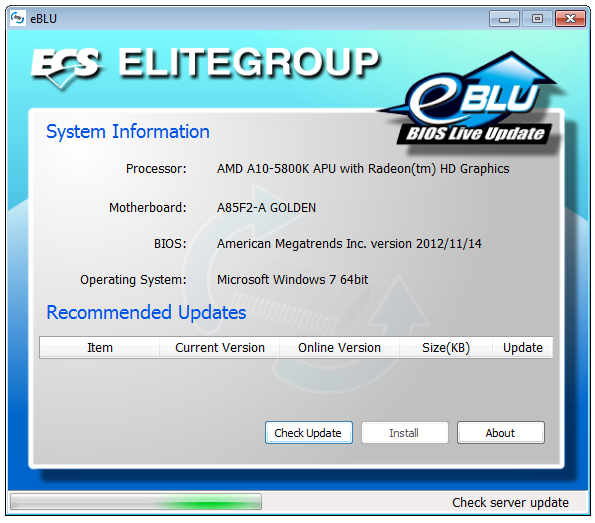 e-Overclocking (eOC)
Over the past couple of years, the software for ECS overclocking has not been through any major change. It still had the same spelling mistake in the options, and the options themselves were limited and restricted. For FM2 though, ECS have provided a small but welcome facelift. Gone are the white-on-green styling to be replaced which black on white/light-blue.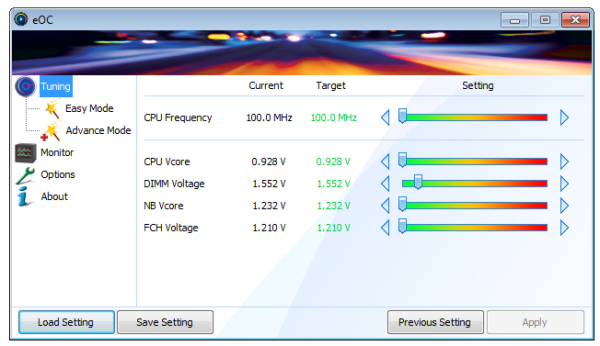 Despite most overclocking of late being mostly multiplier driven, ECS continues to provide only BCLK/FSB levels of adjustment. We do get voltage control in terms of absolute numbers, but we have to deal with sliders rather than anywhere to put numbers in. We also get a monitor tab for details of fan speeds and voltages (again).
e-Smart Fan (eSF)
Over the past few ECS reviews, one of the constant areas of praise has been the fan controls. Not because of their wide ranging functionality or plentiful level of options, but they have always allowed hysteresis – whereby a fan continues to run at a higher speed until the lower speed is reached, thereby cooling the components down quicker. It has always been a feature of the ECS Intel boards, and I was expecting to see it here on AMD. No such luck, unfortunately. We can control the single CPU fan header with a standard two-point fan gradient or by the reset options at the top.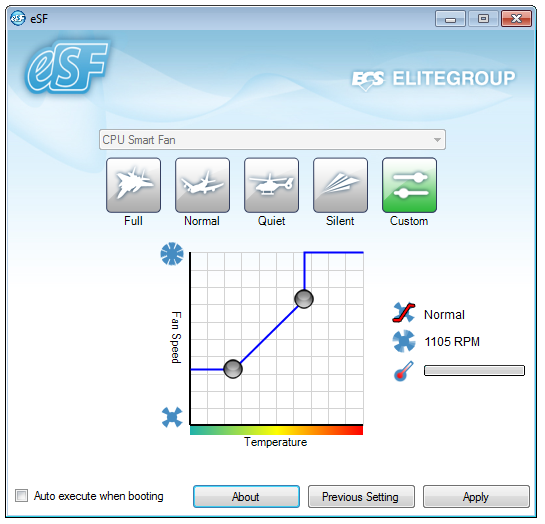 VIA Audio
For completeness, we also installed the standard VIA audio software. Here we get options regarding which device in the system is default, and audio level options.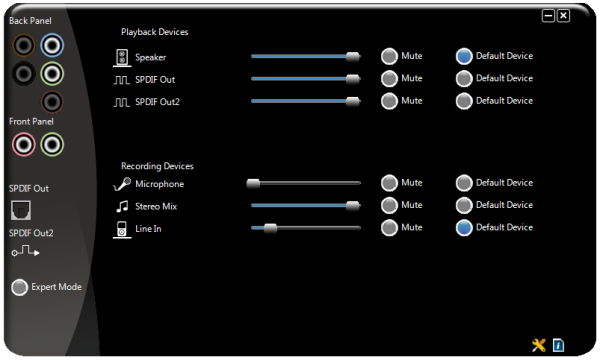 ECS A85F2-A Golden In The Box
So far in our FM2 coverage, as the price of the motherboards has been sub-$150, the boxes tend to be a little light. No-one is willing to parade a board in a ton of extra USB 3.0 so no USB 3.0 brackets are put in place, neither is a drive for WiFi apart from a few select models. Given the fact that ECS shift a large amount of product compared to Zotac, EVGA and to a certain extent Biostar, I would assume that what they can put in box would be an organised procurement of stuff that could go into every box.
What we get is:
Rear IO Panel Shield
User Manual
Driver CD
Seven SATA cables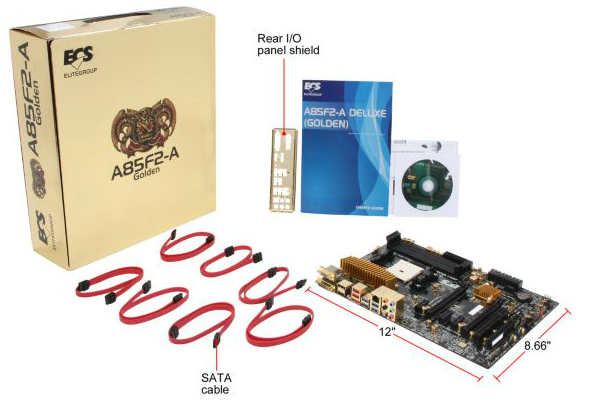 As kind of expected, while ECS does not go beyond a bunch of SATA cables, we get plenty of them. Seven cables covers all the onboard SATA ports which is great if a user wants to go down the storage route.
ECS A85F2-A Golden Overclocking
Experience with ECS A85F2-A Golden
Given the memory issues that have plagued my testing of this motherboard, I was not expecting much in terms of CPU overclocking. There are no automatic overclocking presets, and the OS software deals with BCLK/FSB only, meaning we are to dive straight into the BIOS. Even when using the options there, basic tests that would pass on all other boards fail to pass here. The voltage range itself is a little odd, being from 1.495 V to 1.975 V in 0.020 V increments. Normally for FM2 we start at a 44x multiplier at 1.400 volts and go from there.
Methodology:
Our standard overclocking methodology is as follows. We select the automatic overclock options and test for stability with PovRay and OCCT to simulate high-end workloads. These stability tests aim to catch any immediate causes for memory or CPU errors.
For manual overclocks, based on the information gathered from previous testing, starts off at a nominal voltage and CPU multiplier, and the multiplier is increased until the stability tests are failed. The CPU voltage is increased gradually until the stability tests are passed, and the process repeated until the motherboard reduces the multiplier automatically (due to safety protocol) or the CPU temperature reaches a stupidly high level (100ºC+). Our test bed is not in a case, which should push overclocks higher with fresher (cooler) air.
Manual Overclock:
Using the BIOS, we took a similar approach to overclocking as with the other A85X motherboards tested with this processor. We start at 1.4 volts on the CPU in the BIOS and a CPU multiplier of 44x for all cores. Here are the results: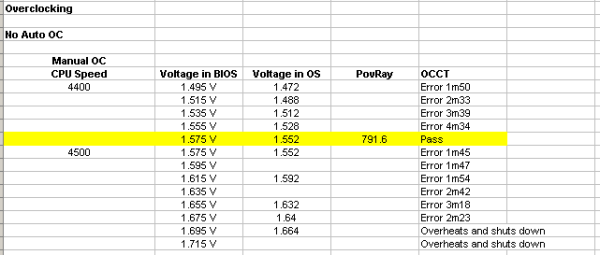 All other settings were left at default apart from CPU Multiplier and CPU Voltage. As shown, performance on the ECS is rather poor, requiring 1.575 V for 4.4 GHz to pass 5 minutes of OCCT. While a five minute test is not a complete and thorough stability test in every sense of the word (is a system that crashes after 50 days at full load 'stable'?), it provides a reference point with out other reviews for comparison and is a mid point for review time limitations.
Many thanks to...
We must thank the following companies for kindly donating hardware for our test bed:
OCZ for donating the 1250W Gold Power Supply and USB testing SSD
Micron for donating our SATA testing SSD
G.Skill for donating our memory kits
ASUS for donating AMD GPUs and some IO Testing kit
ECS for donating NVIDIA GPUs
Test Setup
Power Consumption
Power consumption was tested on the system as a whole with a wall meter connected to the OCZ 1250W power supply, while in a dual 7970 GPU configuration. This power supply is Gold rated, and as I am in the UK on a 230-240 V supply, leads to ~75% efficiency > 50W, and 90%+ efficiency at 250W, which is suitable for both idle and multi-GPU loading. This method of power reading allows us to compare the power management of the UEFI and the board to supply components with power under load, and includes typical PSU losses due to efficiency. These are the real world values that consumers may expect from a typical system (minus the monitor) using this motherboard.
While this method for power measurement may not be ideal, and you feel these numbers are not representative due to the high wattage power supply being used (we use the same PSU to remain consistent over a series of reviews, and the fact that some boards on our test bed get tested with three or four high powered GPUs), the important point to take away is the relationship between the numbers. These boards are all under the same conditions, and thus the differences between them should be easy to spot.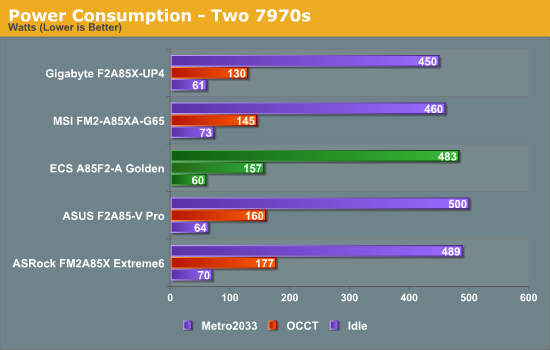 In our setup, the ECS board has the lowest power consumption for idle, and is middle of the pack in both OCCT and dual 7970 loading.
Non-Windows 8 POST Time
Different motherboards have different POST sequences before an operating system is initialized. A lot of this is dependent on the board itself, and POST boot time is determined by the controllers on board (and the sequence of how those extras are organized). As part of our testing, we are now going to look at the POST Boot Time - this is the time from pressing the ON button on the computer to when Windows 7 starts loading. (We discount Windows loading as it is highly variable given Windows specific features.) These results are subject to human error, so please allow +/- 1 second in these results.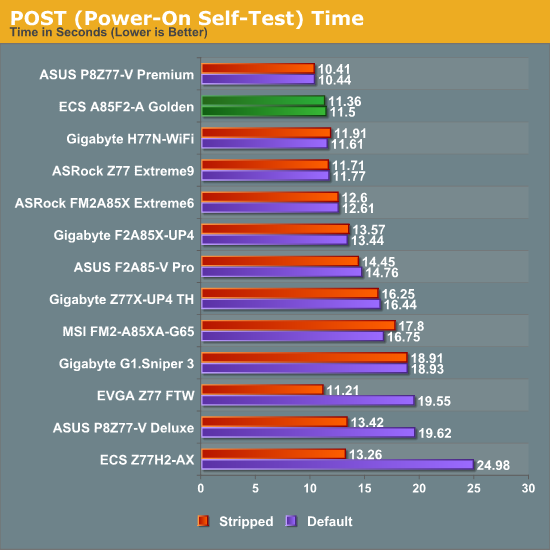 A good result for ECS in POST timing, especially when compared to the previous ECS boards we have tested. The A85F2-A Golden also hits under the 12 second mark.
Rightmark Audio Analyzer 6.2.5
In part due to reader requests, we are pleased to include Rightmark Audio Analyzer results in our benchmark suite. The premise behind Rightmark:AA is to test the input and output of the audio system to determine noise levels, range, harmonic distortion, stereo crosstalk and so forth. Rightmark:AA should indicate how well the sound system is built and isolated from electrical interference (either internally or externally). For this test we connect the Line Out to the Line In using a short six inch 3.5mm to 3.5mm high-quality jack, turn the OS volume to 100%, and run the Rightmark default test suite at 48 kHz, 96 kHz and 192 kHz. We look specifically at the Dynamic Range of the audio codec used on board, as well as the Total Harmonic Distortion + Noise.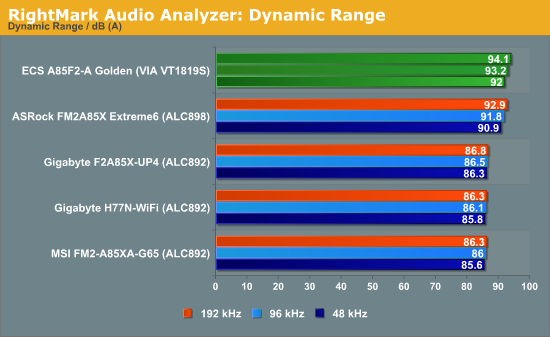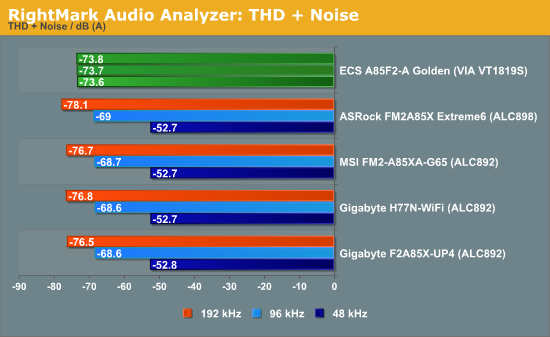 The VIA audio codec was a complete unknown before this review in terms of our RMAA testing, but in terms of dynamic range it seems to beat the Realtek ALC898 hands down. Our THD+N result seems a little strange, however another board recently on my test bed with the Creative Core3D also shows similar behavior.
USB 3.0 Backup
For this benchmark, we run CrystalDiskMark to determine the ideal sequential read and write speeds for the USB port using our 240 GB OCZ Vertex3 SSD with a SATA 6 Gbps to USB 3.0 converter. Then we transfer a set size of files from the SSD to the USB drive using DiskBench, which monitors the time taken to transfer. The files transferred are a 1.52 GB set of 2867 files across 320 folders – 95% of these files are small typical website files, and the rest (90% of the size) are the videos used in the WinRAR test.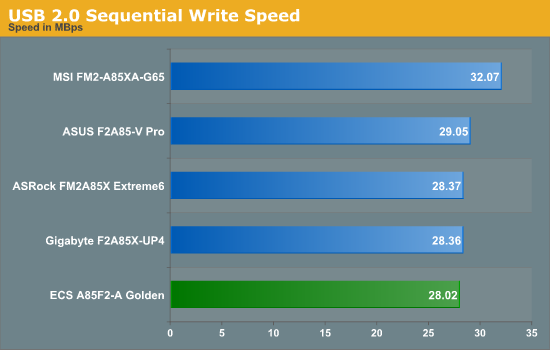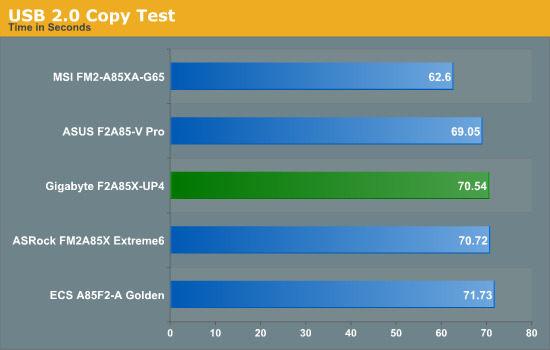 Despite the sequential tests for USB 2.0 being on the low side, our copy test on the ECS performs middle of the pack. Nothing is beating the MSI however.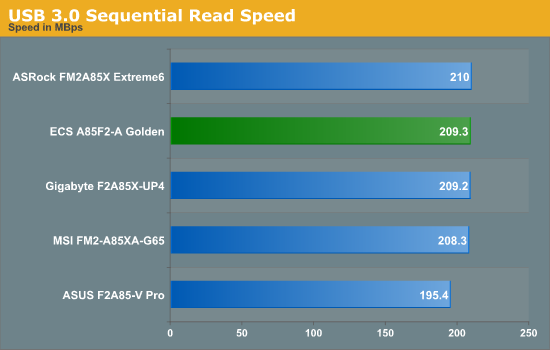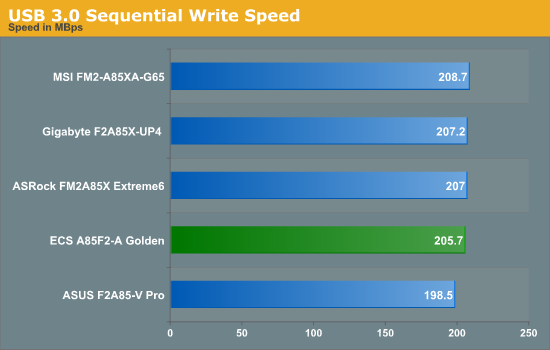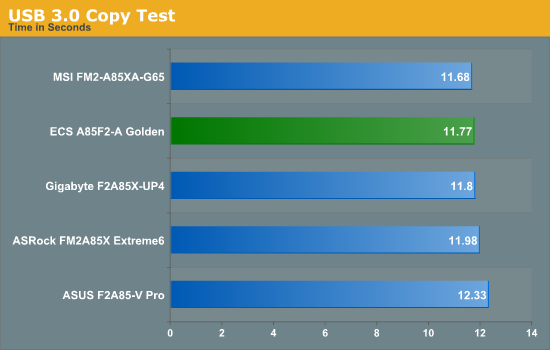 Similarly for our USB 3.0 testing, the ECS A85F2-A Golden performs around the middle, never coming last but never coming first either.
DPC Latency
Deferred Procedure Call latency is a way in which Windows handles interrupt servicing. In order to wait for a processor to acknowledge the request, the system will queue all interrupt requests by priority. Critical interrupts will be handled as soon as possible, whereas lesser priority requests, such as audio, will be further down the line. So if the audio device requires data, it will have to wait until the request is processed before the buffer is filled. If the device drivers of higher priority components in a system are poorly implemented, this can cause delays in request scheduling and process time, resulting in an empty audio buffer – this leads to characteristic audible pauses, pops and clicks. Having a bigger buffer and correctly implemented system drivers obviously helps in this regard. The DPC latency checker measures how much time is processing DPCs from driver invocation – the lower the value will result in better audio transfer at smaller buffer sizes. Results are measured in microseconds and taken as the peak latency while cycling through a series of short HD videos - under 500 microseconds usually gets the green light, but the lower the better.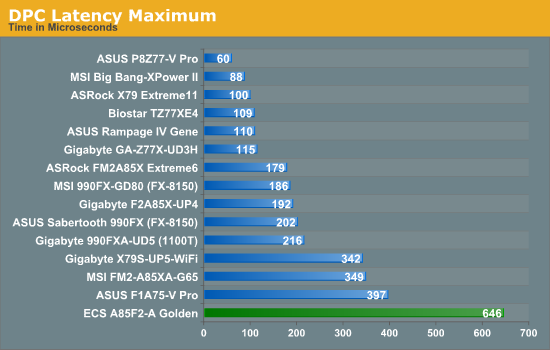 The ECS had a rather large problem with DPC Latency, whereby it would hover around the 200 microsecond mark, before jumping up to 500+ microseconds. Even with all the ECS software disabled, this result continued. A bad DPC Latency test is usually indicative of commands in the DPC queue having higher priority jumping in front of those issued by the program. In the case of time sensitive recording, if this happens regularly, this could be a major issue.
3D Movement Algorithm Test
The algorithms in 3DPM employ both uniform random number generation or normal distribution random number generation, and vary in various amounts of trigonometric operations, conditional statements, generation and rejection, fused operations, etc. The benchmark runs through six algorithms for a specified number of particles and steps, and calculates the speed of each algorithm, then sums them all for a final score. This is an example of a real world situation that a computational scientist may find themselves in, rather than a pure synthetic benchmark. The benchmark is also parallel between particles simulated, and we test the single thread performance as well as the multi-threaded performance.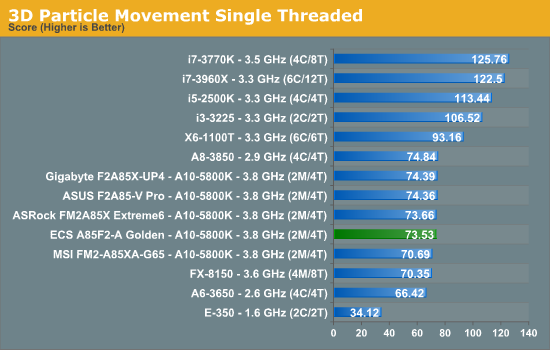 As expected, our ECS board hits the 73.5 mark similar to other FM2A85X boards.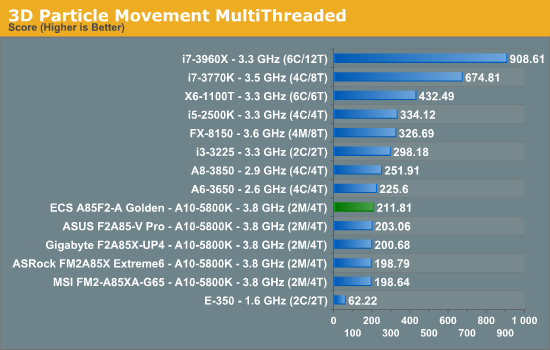 The ECS A85F2-A Golden takes a distinct lead in our multithreaded test due to the turbo mode used on the board. In a crude form of Multicore Acceleration, the ECS board will put the A10-5800K CPU to 4.2 GHz under any load except idle, meaning that any memory-independent benchmark is likely to win out against the other motherboards.
WinRAR x64 3.93 - link
With 64-bit WinRAR, we compress the set of files used in the USB speed tests. WinRAR x64 3.93 attempts to use multithreading when possible, and provides as a good test for when a system has variable threaded load. If a system has multiple speeds to invoke at different loading, the switching between those speeds will determine how well the system will do.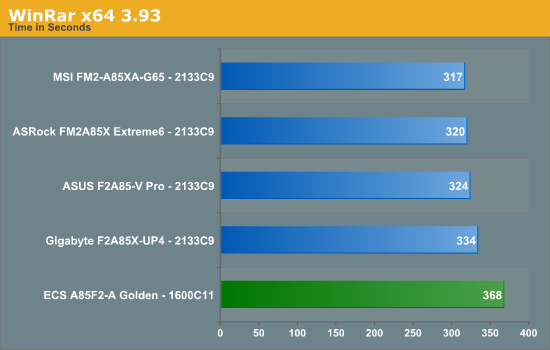 Due to the memory issues experienced with the ECS motherboard, it comes bottom of our WinRAR test.
FastStone Image Viewer 4.2 - link
FastStone Image Viewer is a free piece of software I have been using for quite a few years now. It allows quick viewing of flat images, as well as resizing, changing color depth, adding simple text or simple filters. It also has a bulk image conversion tool, which we use here. The software currently operates only in single-thread mode, which should change in later versions of the software. For this test, we convert a series of 170 files, of various resolutions, dimensions and types (of a total size of 163MB), all to the .gif format of 640x480 dimensions.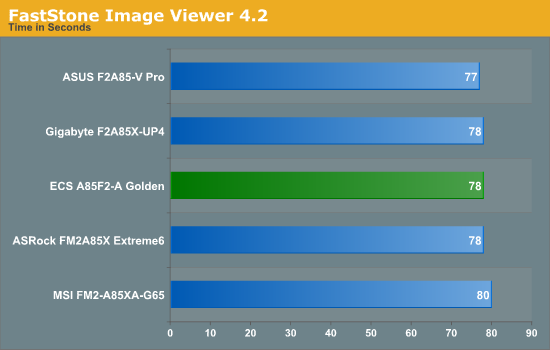 Similar to the 3DPM-ST benchmark, the ECS A85F2-A Golden appears middle of the pack on a single threaded, non-memory related benchmark.
Xilisoft Video Converter
With XVC, users can convert any type of normal video to any compatible format for smartphones, tablets and other devices. By default, it uses all available threads on the system, and in the presence of appropriate graphics cards, can utilize CUDA for NVIDIA GPUs as well as AMD APP for AMD GPUs. For this test, we use a set of 32 HD videos, each lasting 30 seconds, and convert them from 1080p to an iPod H.264 video format using just the CPU. The time taken to convert these videos gives us our result.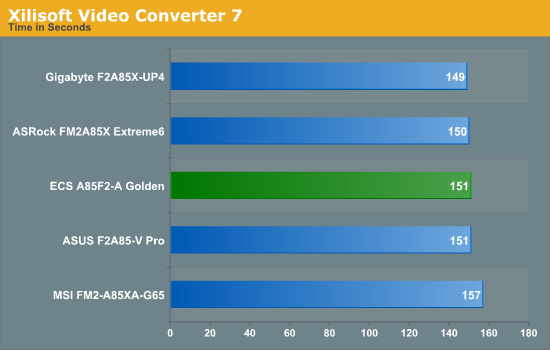 One would assume that a video conversion tool that uses all the threads would crave memory bandwidth, however if the memory can amply feed the CPU, the CPU becomes the limiting factor. The high CPU speed and low memory speed of the ECS setup cancels each other out, and we get an average result in XVC.
x264 HD Benchmark
The x264 HD Benchmark uses a common HD encoding tool to process an HD MPEG2 source at 1280x720 at 3963 Kbps. This test represents a standardized result which can be compared across other reviews, and is dependant on both CPU power and memory speed. The benchmark performs a 2-pass encode, and the results shown are the average of each pass performed four times.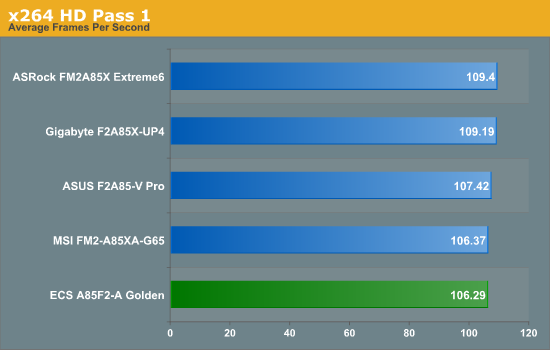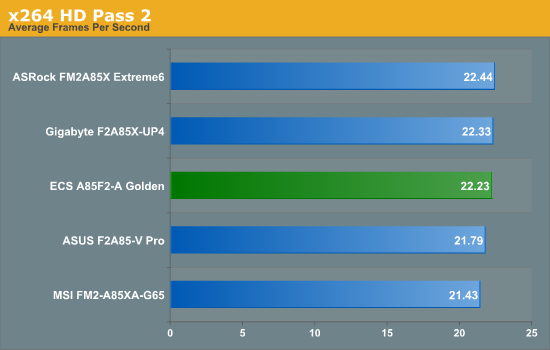 Metro2033
Metro2033 is a DX11 benchmark that challenges every system that tries to run it at any high-end settings. Developed by 4A Games and released in March 2010, we use the inbuilt DirectX 11 Frontline benchmark to test the hardware at 2560x1440 with full graphical settings. Results are given as the average frame rate from 4 runs.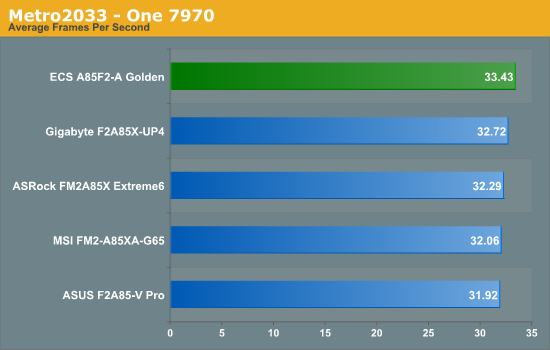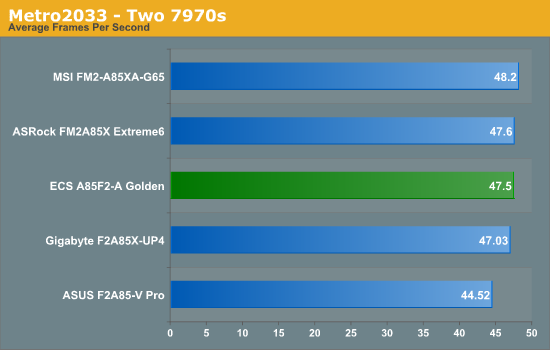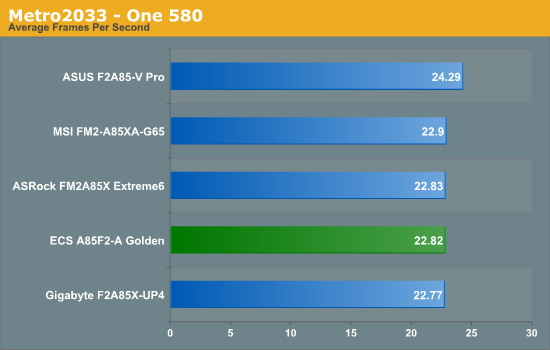 Despite taking a small lead using a single 7970, the ECS is middle of the pack with two 7970s or a single 580.
Dirt 3
Dirt 3 is a rallying video game and the third in the Dirt series of the Colin McRae Rally series, developed and published by Codemasters. Using the in game benchmark, Dirt 3 is run at 2560x1440 with Ultra graphical settings. Results are reported as the average frame rate across four runs.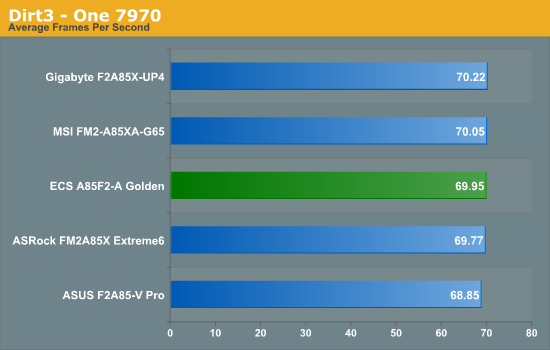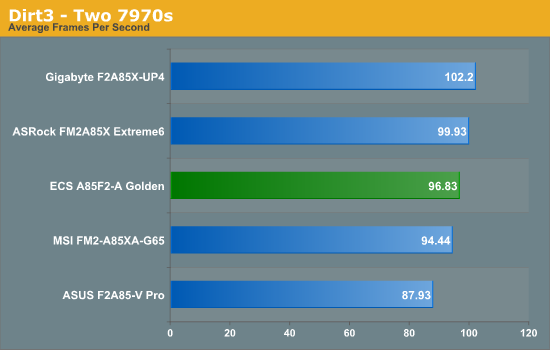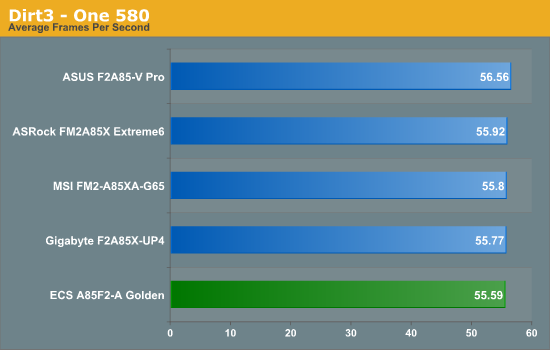 As with Metro2033, the ECS performs middle of the pack again, this time with any 7970 configuration. The 580 result is at the bottom, but within one FPS of the top result.
As part of the research that goes into a review, it is not uncommon to look around the internet to see what people are saying about a product – both end users and other reviewers alike. I noticed a sizeable number of reports relating to the looks (I will be honest, a golden colored motherboard is different to the norm and well worth pointing out) rather than the underlying meat of the product itself, especially when it comes to usability, performance, and actually taking it by the horns for eight seconds.
The ECS A85F-A Golden looks good. I cannot fault the color scheme – it is a nice mix of black and gold which would be a great asset if I were to make or purchase a boutique or one-off build. It also implements a version of MultiCore Enhancement that ensures the top turbo mode is applied under all CPU loading – this pushes the CPU performance of turbo based processors a bit further without stock, and as long as the action is not memory limited, we see better performance than other FM2 boards out of the box. Another positive is the seven SATA cables in the box, helping anyone wanting to build a storage device around the motherboard and platform.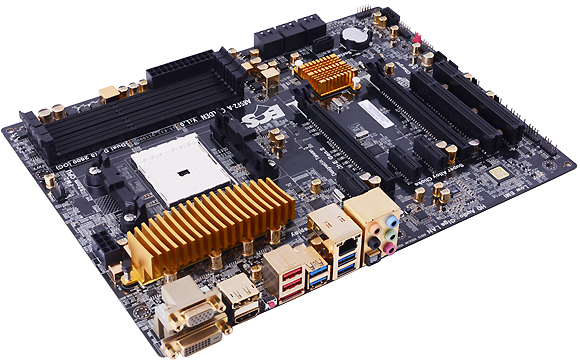 A number of issues are worth pointing out, however. On the initial BIOS, only memory rated 1600 C9 or below would allow the board to POST. After installing an OS and updating the BIOS to the latest 11/14 version (OS had to be installed as there is no updating utility in the BIOS itself, but there is a DOS bootable version), the motherboard did post with any of my kits up to 2133 C9. Despite this, no XMP profile worked, and any memory timing adjustments caused the board to not POST again. The board did boot up at 1600 C11, thus the benchmarks were run at that speed, but as a result some of the memory-dependent results were not as good as they could have been.
The BIOS easy mode is a unique design different to that of anyone else on the motherboard market, but the rest of the BIOS is bland and a little disorganized, especially when it comes to the OC section. Regarding our overclocking tests, the ECS A85F2-A Golden did not push our CPU as far as other FM2 boards. On the software side as well, we need to see a real push from ECS in order to make this area of the motherboard package more likable and user friendly.
Gold is nice, but gold needs to be great. For ~$127 as currently listed, the ECS doesn't match up to the competition with respect to usability, features, and memory capability on our sample. In order to succeed in the channel/end-user markets, ECS need to take their Black Series and Golden range of products and create a whole brand around them, like ASUS have with the ROG, ASRock with the Fatal1ty, Gigabyte with the G1, or even MSI with the Big Bang.