Original Link: http://www.anandtech.com/show/6530/closing-the-loop-contained-liquidcoolers-from-corsair-and-nzxt-compared


Introducing the 2013 Closed-Loop Cooler Line-Up
While closed-loop liquid coolers seem to perform at best comparably to the highest end air coolers, there's a certain appeal in their flexibility, stress on the motherboard, and sometimes even in cost. Prolimatech's industry standard Megahalems starts at $70, and that's before you even put halfway decent fans on it. Meanwhile, closed-loop coolers are getting to the point where you can find them for under $60. One of those is Corsair's H55, just one of the coolers we have in for review today.
Of course, in addition to the H55, Corsair has refreshed their H60, H80, and H100s with the H60 2013 Edition, the H80i, and the H100i. The "i" designates Corsair's Corsair Link technology, software that allows you to control fan speeds from within Windows as well as potentially integrate and monitor other Corsair peripherals. Not to be outdone, NZXT hit us with two coolers based on 140mm fans instead of 120mm: the Kraken X40 and X60. With a 280mm radiator, the Kraken X60 could very well be the best closed-loop cooler available.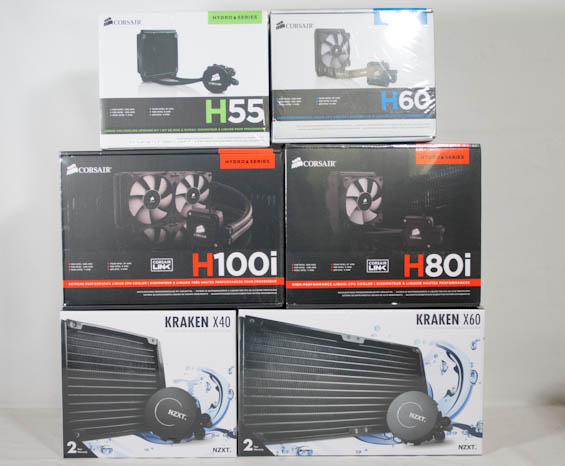 This is all just surface, though. The reality is that these new coolers are almost uniformly indicative of an evolution of this product type as a whole. Corsair's H80i and H100i integrate with their existing Corsair Link software (also supported by their "i" series power supplies), while NZXT's Kraken coolers also include USB headers and their own fan speed control software. This kind of integration alone is a smart differentiation point from air coolers.
They need it, too. What's important to keep in mind is that while there's some special sauce for the waterblocks, software, and fans from the vendors of these units, we're still ultimately looking at systems that are built by either CoolIT Systems or Asetek. You can tell who's responsible for which unit, too, just by the way the waterblock mounts to the motherboard. We may have six coolers in for review (as well as last year's incumbent, the Corsair H80), but there are only two different mounting systems. Everything else is just mounting the radiator and connecting the fans/USB headers.
| | | | | |
| --- | --- | --- | --- | --- |
| | Corsair H80 (2012) | Corsair H55 | Corsair H60 (2013) | Corsair H80i |
| Type | 120mm | 120mm | 120mm | 120mm |
| Dimensions (in mm) | 120x152x38 | 120x152x27 | 120x152x27 | 120x152x38 |
| Fans (Supported) | 2 (2) | 1 (2) | 1 (2) | 2 (2) |
| OEM | CoolIT | Asetek | CoolIT | CoolIT |
| MSRP (NewEgg) | - ($89) | $69 ($59) | $79 ($76) | $109 ($109) |
| | | | |
| --- | --- | --- | --- |
| | Corsair H100i | NZXT Kraken X40 | NZXT Kraken X60 |
| Type | 240mm | 140mm | 280mm |
| Dimensions (in mm) | 120x275x27 | 138.4x172.5x27 | 138.4x312.5x27 |
| Fans (Supported) | 2 (4) | 1 (2) | 2 (4) |
| OEM | CoolIT | Asetek | Asetek |
| MSRP (NewEgg) | $119 ($104) | $99 | $139 |
NZXT's coolers aren't available to mass market just yet, and we just got these review units in not too long ago. 140mm fan support in enclosures is fairly uncommon and dual 140mm even less so, but many of you seem convinced and I do agree that 140mm is really the direction things should be and are going.
At first it seems like there's a pretty brutal premium on NZXT's coolers, but it's not as bad when you look at what they're competing against. The X40 is really facing off with the H80i, which is selling for a pretty hefty $109, while the X60 is doing battle with the H100i. Since the X60 is basically the largest closed-loop cooler you can buy (or at least will be), it makes sense that it would also be the most expensive. Let's hope for NZXT's sake it's also the best performing.
Ease of Installation
As I mentioned in the introduction, despite having six new closed-loop liquid coolers to test, there are only two actual procedures as far as installing the waterblocks; the rest comes from the variations in mounting the fans to the radiators and in turn to the case itself.
NZXT and Corsair both provide detailed, fairly easy to follow instructions for assembly, and they both make the same suggestion that's great for them but potentially impractical for end users: they suggest mounting the fan as an intake in the back of your case, bringing cool outside air directly into the radiator. This is a wonderful idea in theory, but in practice something I've rarely seen implemented. With rare exception, cases are designed to bring cool air in through the bottom and front and exhaust it out of the top and back (where the radiator will go). Assuming you don't have a dedicated video card in your system, this is a great idea, but the instant you start putting components into your case you run the risk of severely mucking up the intended airflow design of the case. For what it's worth, I don't think I've seen any boutique systems in for review that have actually oriented their closed-loop coolers (or even any of their radiators) in this fashion.
As for the installation order, it's going to depend on how roomy your case is: if you're working in cramped quarters, you may want to install the waterblock first and then mount the radiator. If you have room, doing it the other way couldn't hurt. I typically mount the fan to the radiator before installing the radiator itself whenever possible.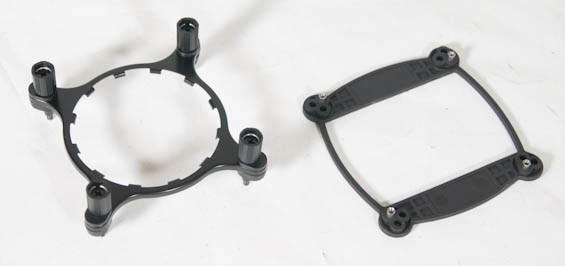 Seen above is the Intel mounting system for the Asetek coolers. They employ a backplate that fits smartly around the socket's backplate, and from there installation is handled in one of two ways: the NZXT way, and the right way. NZXT includes a retention ring that plugs into the bottom of the waterblock to keep the piece on the left in place, but this isn't actually how the Asetek waterblocks are designed to be installed. The piece on the left screws into the mounting backplate, but you keep it loose. From there, you insert the waterblock between the notches, then twist it so the block is held in place by the notches. Then you tighten the screws, and it's held securely and evenly into place. Do not use an electric screwdriver; the plastic holding the mounting posts inside the backplate isn't the most durable, and it's very easy to strip it.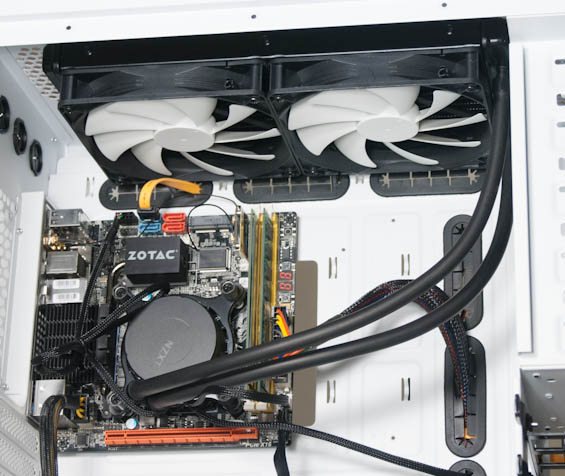 You can see how the block mounts into place in this installation of the NZXT Kraken X60.

Seen above two parts of the mounting system for the CoolIT/Corsair blocks. The piece on the left is a backplate that mounts behind the motherboard, but you have to slide the posts into position and unfortunately you can get an uneven installation due to the backplate potentially pressing against the socket's backplate (and the screws therein). From there, you install retention screws from above the motherboard into the posts. The bracket on the right then goes over the waterblock, and four screw caps then twist onto the retention screws.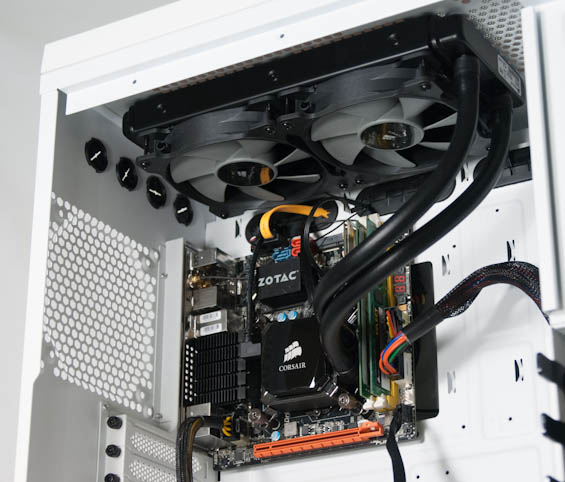 You can get an idea of how it comes together from the image above.
Neither one of these mounting systems are perfect, but I can tell you personally that I do prefer Asetek's solution. The CoolIT one is a bit more prone to an uneven fit, which resulted in my actually doing some retests while testing these systems. Asetek's mount is ultimately simpler, easier to work with, and more likely to evenly press the waterblock against the heatspreader. At least as long as you follow the instructions Corsair/Asetek provide, and not the ones NZXT provides, which include a superfluous retention ring that has the open round piece attach to the waterblock instead of the backplate.
Software
Impressively, this new set of contenders boast both fan control software and even, in the case of Corsair's H80i and H100i, upgradable firmware. The Prolimatech Megahalems and Noctua NH-D14 may be big, beefy air coolers, but they don't include those kinds of goodies (though there's something to be said for not having to futz with hardware). The H80i and H100i along with NZXT's Kraken coolers all plug into one of the spare USB 2.0 headers on your motherboard to interface with the rest of your system, and require drivers and software to be installed for you to take full advantage of them. This may seem like a nuisance at first, but it does allow for pretty detailed and specific control.
Corsair Link
Of the two software solutions on hand, Corsair's Corsair Link software is definitely more mature. I've actually been familiarizing myself with it over the past year, both in my home desktop and in my case testbed, and while it's far from perfect (fan control of third party fans has proven to be a substantial hurdle), there's a lot to recommend it.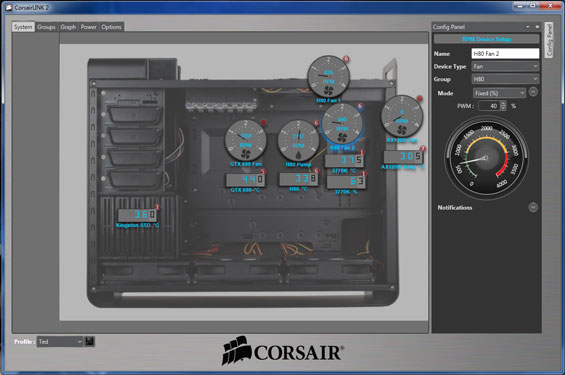 The screenshot above is from my home system, but it's a good indicator of how well Corsair Link can work. Corsair's software can provide basic HWMonitor-level monitoring for system components, while an "i" series PSU like the AX1200i can have its individual rails monitored as well as its fan controlled. Individual fan control options for the H80i and H100i include the three presets I tested with (Quiet, Balanced, and Performance) along with fixed percentage and RPM, or you can even manually set your own cooling curve. You can also use the Corsair Link to configure the LED lighting of the waterblock.
Where you benefit from Corsair Link is really in buying into the whole ecosystem that Corsair is assembling. While the individual Corsair Link box concept never seemed to quite get off the ground, a unified Corsair Link ecosystem that runs at the component level looks to be a more promising route. The H80i and H100i waterblocks both include an additional connector input for other Corsair Link-enabled accessories, making them ideal companions for Corsair's fan controller, LED lighting kit, or especially an "i" series power supply.
Kraken Control
While Corsair Link is pretty robust, Kraken Control still feels very fresh and obviously has some kinks that need to be worked out.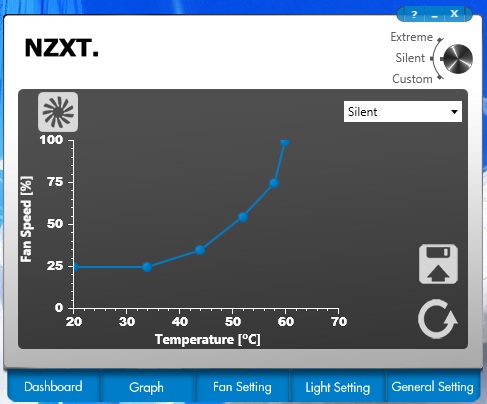 The software is certainly stable and features a programmable fan curve just like Corsair Link, but the fan control is handled entirely by percentage as opposed to also being RPM-configurable. It's also more confusing to work with in some ways, and when the fan is running silently the software actually reports it as being at 0 RPM. Like Corsair Link, NZXT's software lets you control the lighting of the waterblock.
Kraken Control definitely still needs work, but where it scores big is its simplicity. Corsair Link may be robust, but it's also a big program and sometimes it feels a little sluggish. Kraken isn't too much snappier, but it's much simpler to use once you get the hang of it. NZXT doesn't have a whole ecosystem of components to incorporate like Corsair does, and the software is serviceable. The main drawbacks are its relative youth and the open source hardware monitor that has to run separately alongside it, software which really should just be integrated in the first place.
Testing Methodology
If you've been keeping up with our case reviews, our testing methodology for the fans here is going to seem relatively similar in some ways. Our test system may seem a bit unusual in more than a few ways, but stick with me and I'll explain why I put it together and tested it the way I did.
The processor, with its healthy voltage boost and overclock, throws a pretty substantial amount of heat at our cooling system. Testing with an i7-2700K at stock speeds would defeat the purpose; Intel's own stock cooler can handle that, we want to "separate the men from the boys" so to speak.
I needed a case that could produce adequate airflow, handle all of the different cooling systems without much trouble, and did not include any sound dampening features. You might be surprised at just how difficult that was to find, but BitFenix came to the rescue and sent over a Shinobi XL. BitFenix's enclosure didn't get the best review when I tested it, but it's actually ideal for this testbed. I removed every case fan but the front intake, which I ran at 5V to prevent it from affecting acoustics while still providing adequate airflow.
Since a dedicated GPU wasn't needed, one wasn't used. This prevents a graphics card from generating additional heat or noise or deflecting airflow.
Thermal and acoustic test cycles were done the same way as our case reviews. First, the system is left powered and idle for fifteen minutes. At this point the sound level is tested, room ambient temperature is recorded, and idle temperatures are recorded. Then eight threads of small FFTs in Prime95 are run for fifteen minutes, and load temperatures are recorded.
Each cooler was tested using its available presets; the PWM-controlled Corsair H60 had its fan speed metered by the motherboard.
Thank You!
Before moving on, we'd like to thank the following vendors for providing us with the hardware used in our roundup.
Performance Results
Going into testing, it's pretty easy to expect how the coolers should ultimately stack up: Corsair's H55 should be last, followed by the H60, the H80, the H80i, the NZXT Kraken X40, the H100i, and then the NZXT Kraken X60 at the top of the list. The X40 and H80i should compete pretty closely; the X40 has a larger surface, but the H80i has a thicker radiator and a second fan. Corsair's also been happy to advertise that these "2013" radiator fans are based on their successful SP120 radiator fans, which makes sense. We found the Silent SP120 to be pretty solid while the Performance model was at the top of its game if noise was a non-issue.
Keep in mind, though, NZXT's stock radiator fan did surprisingly well in our testing too.
So how did these systems turn out?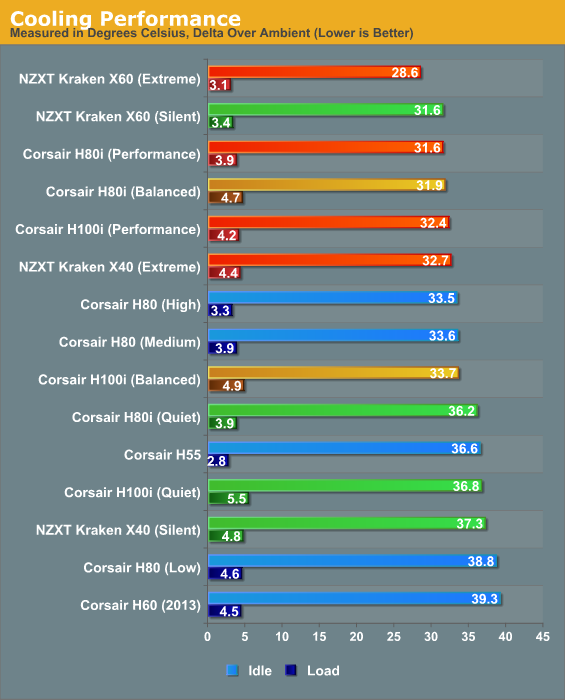 Surprisingly, two early favorites turn out to be major underperformers: the Corsair H100i for some odd reason is consistently worse than the H80i (and I did retest to confirm), while the Kraken X40 needs to run at full bore to produce decent results. Meanwhile, the H55 with its constant fan speed actually manages to best the new H60 (though PWM control may certainly contribute to that).
So where are the big winners? While the H80i is pricy, it does perform notably better than its predecessor, producing better thermals at a lower setting. And the most expensive system of all at least earns its price tag; the NZXT Kraken X60 turns out to be every bit the cooling monster the rep promised it would be, meeting or beating every other cooler at its lowest setting.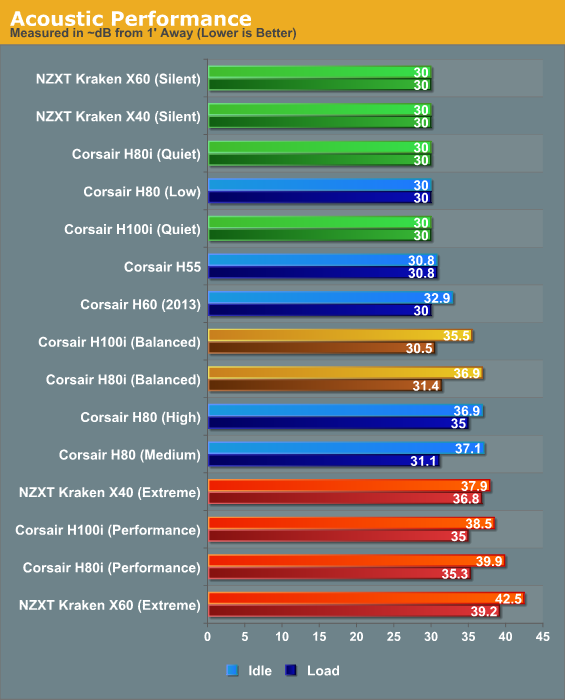 As far as noise is concerned, the X60 is once again at the top of the pack. Note that our sound meter doesn't go below 30dB and the X60 is noticeably louder than the X40, but not by much and not enough to really change the way things turn out.
So how do noise profiles change the standings? The X60 excels in both disciplines and is essentially undefeated, but the Corsair H55 makes a good case for itself. Thermal performance isn't fantastic, but it's quieter than the H60 under load while running cooler. Meanwhile the H80i remains basically the best offering in Corsair's lineup, running slightly cooler and quieter than the single-fan Kraken X40.
Conclusion, Part 1: Corsair
With the results at our disposal, we can now evaluate each cooler on its own merits. The charts can tell us how good the coolers are at their jobs and how quiet they are, but it's also about price and value included in the package. This year's H80 boasts a major improvement over last year's in terms of both the fans used, but also the fan control, which is now a much more convenient software solution.
Corsair H55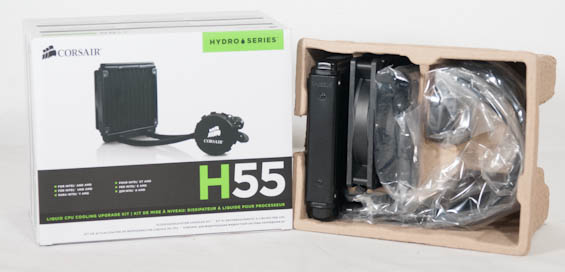 Corsair's budget offering actually turns out to be one of its strongest. The H55 is as no-frills as it gets, but boasts a solidly performing fixed-speed fan and a respectably low price tag. You can have it for just $59, which is extremely competitive for a closed-loop liquid cooler. While no one would really argue that $59 is "cheaping out" on a processor cooler, this is nonetheless a good choice if you're on a tighter budget.
Corsair H60 (2013 Edition)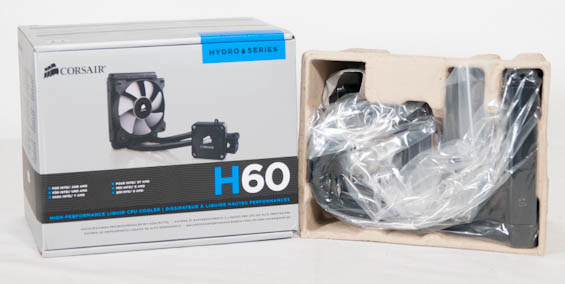 Unfortunately, part of the reason the H55 looks so good is because the H60 performs so poorly. The H60 runs $10 more than the H55 for an arguably better PWM-controlled fan and a somewhat lesser quality waterblock. In this corner of the market, there's really no legitimate reason to spend up on the H60 when the H55 performs as well or better for less.
Corsair H80i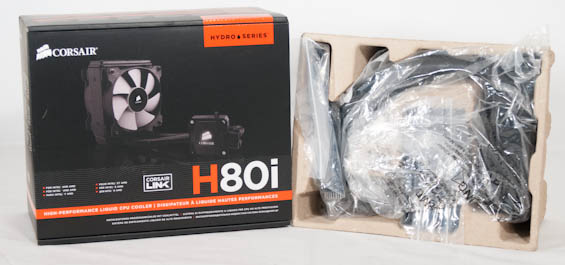 The H80i is the other big winner in Corsair's lineup. While it's not an absolute killer in performance or in price, it does beat NZXT's Kraken X40 while being more compatible with different cases due to use of a thicker 120mm radiator and dual fans as opposed to the thinner 140mm radiator and single fan. You also benefit from the Corsair Link interface and software, which allows you to connect either a fan controller or an "i" series Corsair power supply to the waterblock and control them through the software. Corsair Link is much, much more robust than NZXT's solution, and Corsair has been steadily updating it since it appeared at the beginning of the year.
Corsair H100i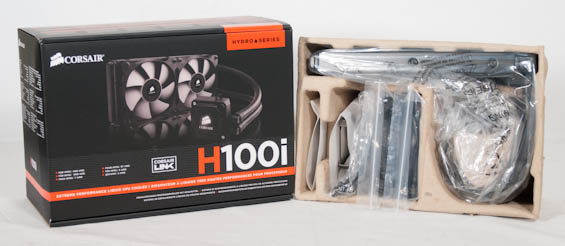 Inexplicably, Corsair's flagship dual-length solution is only able to at most achieve parity with the H80i. You can theoretically produce superior cooling performance by adding yet two more fans to the H100i, but you become increasingly at the mercy of your case's clearance, already an issue just by virtue of going with a dual-length radiator like this one. At the time of this writing, NewEgg is selling the H100i for cheaper than the H80i, so they may know something there as well. Either way, the H100i is a very hard sell when the H80i provides both better value and better compatibility.
Conclusion, Part 2: NZXT
While I'm actually fairly familiar with Asetek cooling systems, this is the first time I've seen anything branded by NZXT. Much as Corsair did when they ventured into cooling, NZXT appears to be making careful steps, and the Kraken X40 and X60 are both distinctive products that have a good fit and finish to them. The Kraken Control software leaves something to be desired, though, with its reliance on an open source program that runs separately in the system tray to handle hardware monitoring duties. It's a minor quibble, but Corsair Link has been around for longer, and the difference really shows.
NZXT Kraken X40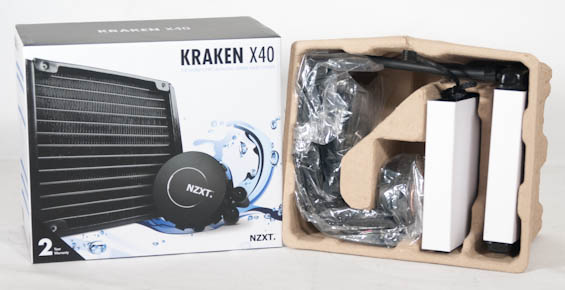 Of the two Kraken solutions, it should be fairly obvious that the X40 is the weaker of the species. Pushed to the hilt it offers competitive performance, but it's awfully loud in the process. The Corsair H80i more or less runs roughshod on it for about $10 more. I suspect users willing to add a second fan to it may get a little more mileage, but NZXT's single stock fan is also actually pretty solid on its own.
NZXT Kraken X60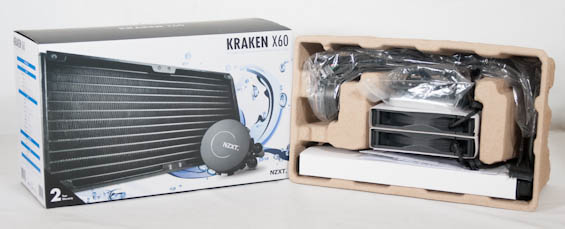 If like John Hammond in Jurassic Park you are prepared to spare no expense, NZXT's Kraken X60 sits squarely at the top of the food chain. Much as larger, more expensive ATX cases are often able to produce both excellent thermals and acoustics, so this most expensive closed-loop cooler is able to do the same. At its "Silent" setting it still produces the best thermals of the systems tested here, and if that's not enough and you're willing to crank up the volume, the "Extreme" setting performs better still. The Kraken Control software may need work, but the X60 is a tough act to follow.
Recommendations
Of the six coolers tested here, I can comfortably recommend three, and happily enough they all fit into pretty simple categories.
Users on a budget who want to "get their feet wet" will undoubtedly be satisfied with the Corsair H55. While it's still pricey compared to fantastic budget air coolers like Cooler Master's Hyper 212 Evo, it's inexpensive for a closed-loop liquid cooler, easy enough to install, and offers fairly competitive performance. On top of that, the fixed-speed stock fan is surprisingly quiet. $59 or less is totally reasonable for this cooler.
Users looking for the best 120mm cooler they can find are going to be best served by Corsair's H80i. The H80i is feature rich while offering compelling performance. The flies in the ointment are the fairly high price tag ($109) and mediocre mounting solution, but you do get Corsair's solid Corsair Link software, a five year warranty, and solid performance all around.
Finally, if you want the best closed-loop liquid cooler you can find, it's going to be tough to beat the NZXT Kraken X60. The price tag and quirky compatibility due to being a 280mm radiator instead of a 240mm make it tough to immediately recommend, and they need to refine their software, but the X60 is capable of producing frankly amazing performance that handily beats the other radiators we tested. Even better, it offers that performance at much lower noise levels. If you can afford it and you can fit it, the NZXT Kraken X60 is the one to beat.