Original Link: http://www.anandtech.com/show/6528/samsung-ativ-tab-review-qualcomms-first-windows-rt-tablet


I remember writing Intel and telling them that, from a tablet perspective, the Windows 8 launch might as well have been a Windows RT launch. By the time October 23rd rolled around, the only Windows tablets we had in for review were ARM based and running Windows RT. I even resorted to borrowing an unfinished Clover Trail tablet just so we'd have something to put Surface RT's performance in perspective at launch.
Clover Trail was late by about a month to the Windows 8 launch. Most of the traditional PC partners were delayed either by Intel or by burdens of their own. As much as we wished Surface RT would've launched with a different SoC, truth be told I don't know that anyone else outside of NVIDIA could've met the aggressive schedule that Microsoft set. Qualcomm and TI were both design partners working on Windows RT devices, but neither of them had solutions available at launch.
Now that we're two months out from launch however, things are starting to change. We've already reviewed one of the first Clover Trail tablets, with another on the way. And just before the holidays last year, this thing showed up: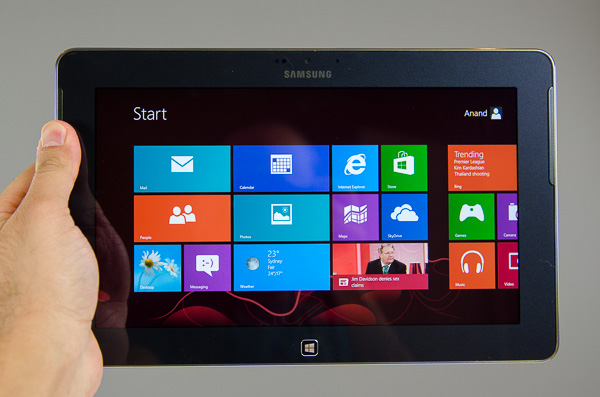 It may look like the Samsung ATIV Smart PC that Vivek is working on, but it's the smaller 10.1-inch ATIV Tab featuring Qualcomm's APQ8060A SoC. Yep, this is the first Windows RT tablet we have in house to use Qualcomm silicon.
In the phone space, Qualcomm's Krait based SoCs have generally been the preferred platform. Using TSMC's 28nm LP process, they've offered better power consumption than NVIDIA's 40nm LPG Tegra 3. The 2 Krait cores housed in the more popular of these SoCs (MSM8960), at least in phones, generally delivered better performance than the NVIDIA alternative as well. But that was in the Android space - would things be any different on a Windows RT tablet? With an inherently more multitasking friendly device and OS, would NVIDIA's quad-core approach trump Qualcomm's pair-of-faster-cores? And what about battery life? Tegra 3 did remarkably well in Surface RT, but how would Qualcomm fare?
Armed with Samsung's ATIV Tab, I tried to find out.
The Tab
As with most of Samsung's tablet designs, the ATIV Tab is a tablet built out of plastic and glass. The design and feel aren't bad, but they're nothing particularly new or exciting. The big benefit of the plastic chassis is of course weight. The ATIV Tab weighs in at 572g compared to 688g for Surface RT, it's around the same weight as the Acer W510 we reviewed a couple of weeks ago. The light weight means carrying it around is quite pleasant. And despite the plastic construction, build quality is solid. I noticed no creaks or unsettling flexibility in the chassis.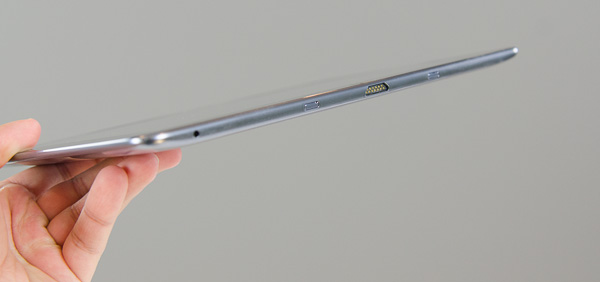 Internally there's a Qualcomm APQ8060A SoC (dual-core Krait running at up to 1.5GHz + Adreno 225, no integrated baseband) paired with 2GB of LPDDR2 memory. It is a bit surprising that Samsung/Qualcomm didn't opt to launch with APQ8064 (quad-core Krait), but I suspect this was a decision made more out of time to market than anything else.

On the storage side there's either a 32GB or 64GB eMMC solution soldered down on the board. Remember that Windows RT comes preinstalled with a full version of Office 2013 Home & Student Edition. After Samsung's preinstalled apps a 32GB ATIV Tab shows up with around 14.1GB of free space.
The ATIV Tab's 10.1-inch 1366 x 768 display makes for a familiarly portable form factor. While the Smart PC's 11.6-inch form factor makes for a better notebook, the ATIV Tab seems to be a better tablet.

Like the Clover Trail version, the ATIV Tab is littered with plastic doors over nearly every port around the perimeter of the device. Along the top the micro HDMI and full USB 2.0 port are behind a door, as is the microSD card slot. The doors do help maintain a smooth edge, but I'm not a fan of them.
Headphone jack, power/lock and volume up/down are also along the top of the tablet. There's no rotation lock button on the ATIV Tab. There's a physical Windows button on the front face of the tablet.

The sides are devoid of any intrusions into the ATIV Tab's design, while the bottom edge features the charge port as well what looks like a dock connector. My review sample didn't come with a dock and Samsung's website doesn't seem to list any keyboard dock accessory for the ATIV Tab, so for now this port goes unused.
There are a pair of reasonably loud (for a tablet) stereo speakers that border the display, while front (1.9MP) and rear (5MP) cameras complete the package for Samsung.
Tablet Specification Comparison
Samsung ATIV Tab
Apple iPad 4
Google Nexus 10
Microsoft Surface RT
Samsung ATIV Smart PC
Dimensions
10.46 x 6.62 x 0.35"
9.5 x 7.31 x 0.37"
10.39 x 6.99 x 0.35"
10.81 x 6.77 x 0.37"
11.97 x 7.46 x 0.39"
Display
10.1-inch 1366 x 768 IPS
9.7-inch 2048 x 1536 IPS
10.1-inch 2560 x 1600 PLS
10.6-inch 1366 x 768 PLS
11.6-inch 1366 x 768 PLS
Weight
1.26 lbs
1.44 lbs (WiFi)
1.33 lbs
1.5 lbs
1.64 lbs
Processor
Qualcomm APQ8060A (2 x 1.5GHz Krait, Adreno 225)

Apple A6X (2 x Swift, PowerVR SGX 554MP4)

Samsung Exynos 5 Dual

NVIDIA Tegra 3

Intel Atom Z2760 (2 x 1.8GHz Atom, PowerVR SGX 545)
Connectivity
WiFi
WiFi , Optional 4G LTE
WiFi
WiFi
WiFi , Optional 4G LTE
Memory
2GB
1GB
2GB
2GB
2GB
Storage
32-64GB
16GB—64GB
16GB or 32GB
32GB or 64GB
64GB
Battery
30.0Wh
42.5Wh
33.75Wh
31.5Wh
30.0Wh
Starting Price
$499?
$499
$399
$499
$599
The more I use other Windows RT/8 tablets, the more I'm realizing that the stability issues I encountered with Acer's W510 are more a function of that tablet and less a general Microsoft problem. Although I did experience a couple of unexpected app crashes, the overall experience with Samsung's ATIV Tab was positive. I didn't see anywhere near the number of cases of strange behavior as I did with the W510. I'm beginning to wonder if Clover Trail's Windows 8 software stack isn't as mature as the Windows RT implementations that I've played with.
Performance
What makes the ATIV Tab most interesting is in its use of Qualcomm's APQ8060A SoC. With a pair of Krait CPU cores running at up to 1.5GHz, we should see tangibly better performance than the 1.3GHz Tegra 3 powered Surface RT.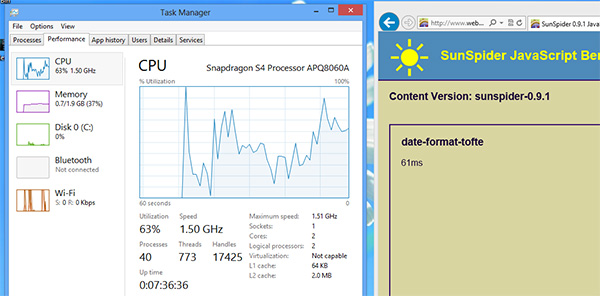 As we make our way into 2013, at least on the Windows side of things, I'll be able to move away from js based performance comparisons between tablets. For now, we start off with some of the latest JavaScript tests we've been using in our mobile reviews. All of these were run in Modern IE10 on the Windows devices.
First up are the RIABench focus tests, these are javascript benchmarks that focus on various compute bound tasks. The Focus Tests are very short, with the entire benchmark completing in under 6 seconds for all of the participants here: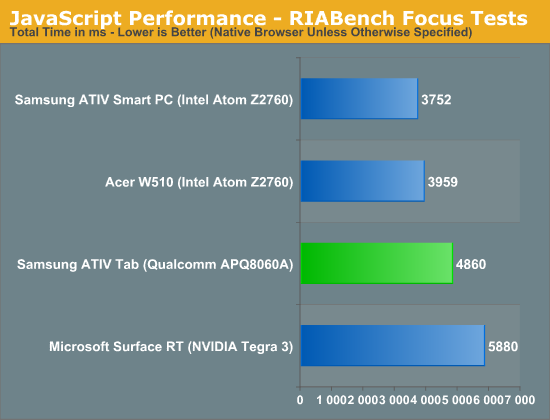 RIABench starts off as a teaser of what's to come: the APQ8060A is around 21% faster than NVIDIA's Tegra 3, but Intel's Atom Z2760 pulls ahead by nearly 30%.
Next up is SunSpider, a short to mid-length JavaScript benchmark that we've used for a while now: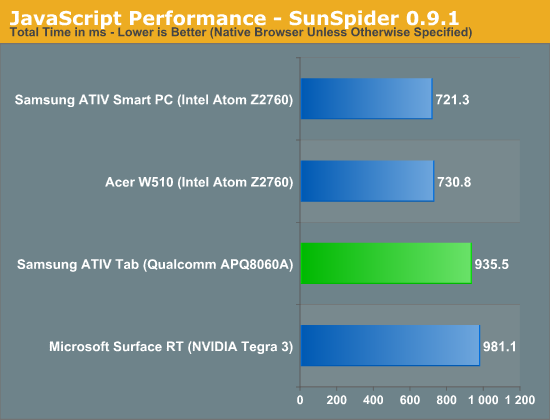 SunSpider shows a fairly close match between Qualcomm and NVIDIA, however once again Clover Trail is able to pull ahead by nearly 30%.
Finally we have Kraken, a seriously heavy javascript benchmark built by Mozilla. Kraken focuses on forward looking applications that are potentially too slow to run in modern browsers today. The result is much longer run times than anything we've seen thus far, and a very CPU heavy benchmark: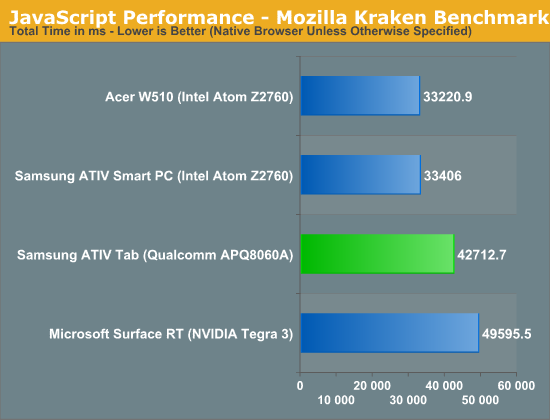 The Kraken results mimic RIABench: Qualcomm holds a 16% advantage over NVIDIA, while Intel manages a 28.5% advantage over Qualcomm.
We have one last web-based benchmark: WebXPRT by Principled Technologies (PT). WebXPRT measures performance in four HTML5/js workloads:
Photo Effects: Measures the time to apply effects to a set of six photos. The filters are Sharpen, Emboss, and Glow. WebXPRT applies each filter to two photos. This test uses HTML5 Canvas 2D and JavaScript.

Face Detect: Measures the average time to check for human faces in a photo. WebXPRT runs this test on five photos and uses the average time to calculate the final result. This test uses HTML5 Canvas 2D to get access to photo data. The detection algorithm is implemented in JavaScript.

Stocks Dashboard: Measures the time to calculate financial indicators of a stock based on historical data and display the result in a dashboard. The calculations are done in JavaScript, and the calculated stocks data is displayed using HTML tables and Canvas 2D.

Offline Notes: Measures the time to store notes securely in the browser's HTML5 local storage and display recent entries. This test uses using AES for security.
We're reporting the overall score after all tests have been run: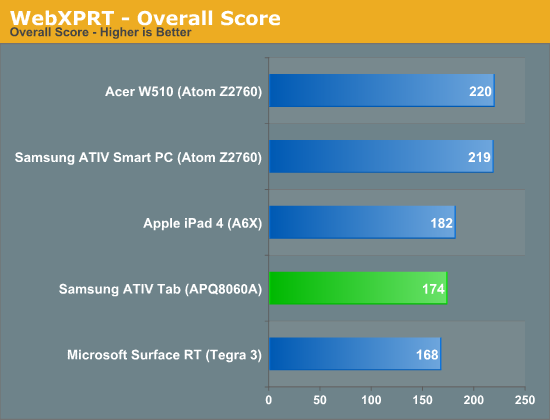 The WebXPRT tests show a narrower gap between Tegra 3 and APQ8060A, however the Intel advantage remains strong at 26%.
Next up are another set of benchmarks from PT, but unlike the WebXPRT suite these tests don't run in a browser. Once again we're looking at performance in a handful of tasks designed to stress the CPU: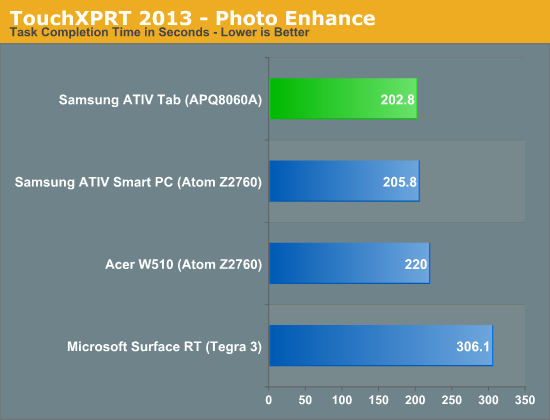 Now things are looking a bit different. Qualcomm is able to manage a slight victory over the Clover Trail equipped ATIV Smart PC. For all intents and purposes, APQ8060A equals the performance of Atom Z2760 in this test.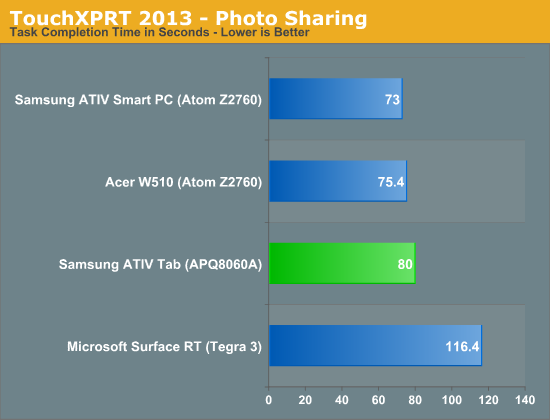 Intel pulls ahead a bit in the Photo Sharing benchmark, but Qualcomm remains quite competitive.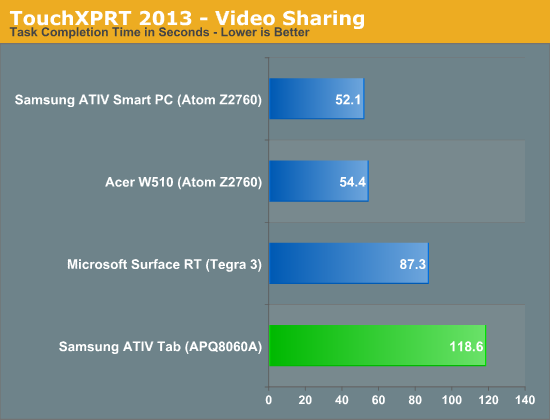 The one blemish on Qualcomm's TouchXPRT 2013 record is its performance in the video transcoding benchmark. Apparently this test sets up two decode streams (one for transcode and one for preview) and one encode stream, while Qualcomm's hardware decoder appears to be optimized for a single stream decode. The result is that both decode streams are interleaved, which increases the benchmark time. Qualcomm argues that for this type of a workload you'd typically setup a single decode stream and use that same stream for transcode and preview rather than setup two streams. Qualcomm was quick to point out that this isn't a Krait CPU limitation but rather a unique pairing of workload and decode hardware that resulted in the performance delta here.
Through the remaining two tests Qualcomm's performance remains close to Intel's: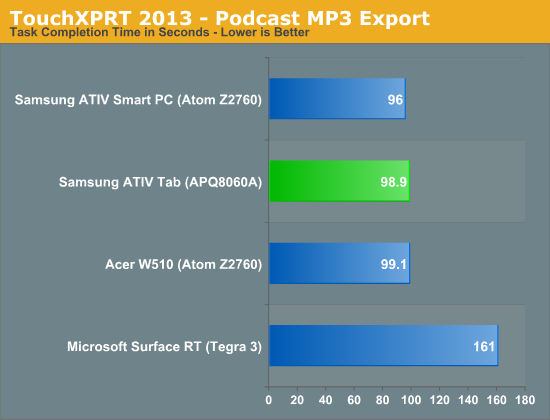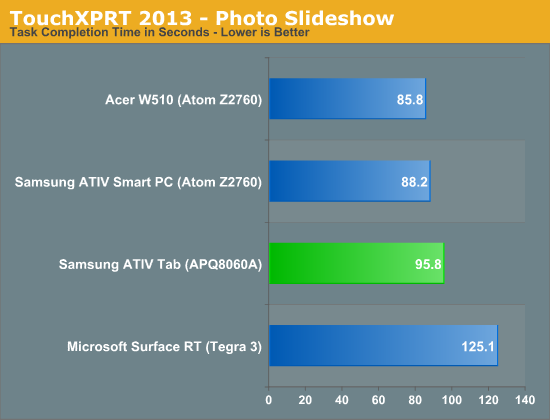 Intel manages an 11% performance advantage here, while Qualcomm's APQ8060A delivers a significant performance margin over Tegra 3.
In practice I'd say my experience with the ATIV Tab mirrored what these results showed. Qualcomm's superior single threaded performance resulted in a snappier desktop experience than what I got with Tegra 3 on Surface RT. In many cases, the ATIV Tab felt just as quick as Acer's Clover Trail based W510 although that wasn't always the case. UI performance in desktop mode was appreciably better than on the W510 however. Modern UI performance remains quick and smooth, as is the case with all Windows RT/8 tablets (Clover Trail does seem to get a slight edge here).
Although we don't yet have reliable 3D benchmarks we can run on Windows RT, from what I've seen it looks like the Adreno 225 hardware/driver implementation in Windows RT results in performance that's between Clover Trail and Tegra 3. Depending on the workload, I've even seen better performance out of APQ8060A/Adreno 225 than Tegra 3. It'll be a little while before we can fully quantify all of this though.
Charging & Battery Life
The ATIV Tab ships with a two piece power adapter that looks a lot like what you'd get with a Samsung notebook. The adapter is rated for 3.33A at 12V, but in practice it'll draw a max of 11.3W while charging (but not powering) the ATIV Tab.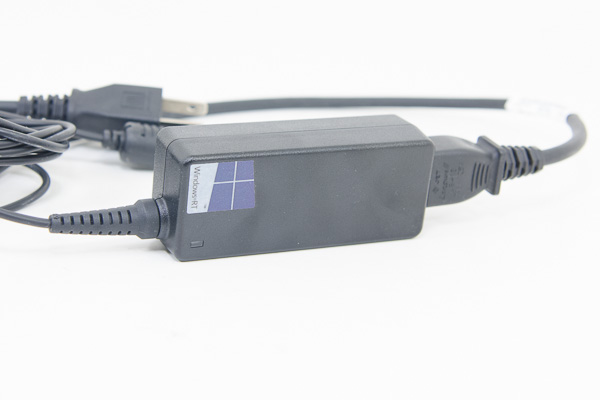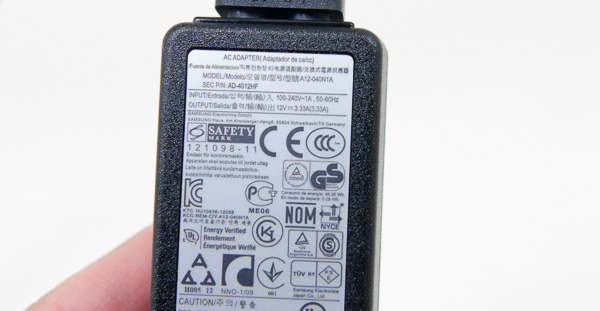 The power supply must be fairly inefficient because even after 2.68 hours of pulling over 10W, the ATIV Tab's 30Wh battery is only 68% charged. After 3.44 hours the battery was at 85% of its fully charged capacity and it's not until 5.25 hours before the ATIV Tab will report being fully charged (after 4.5 hours it only has around 5% left to go).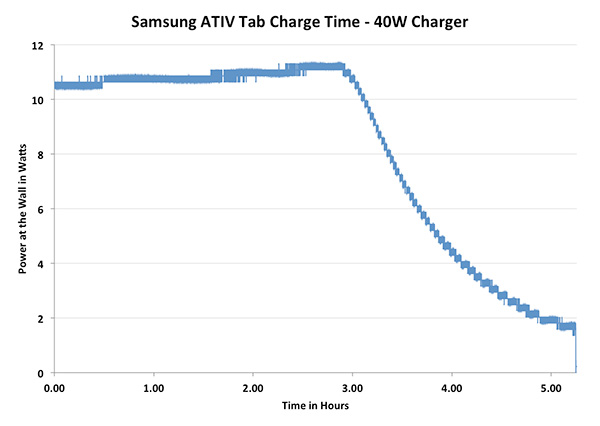 The good news is that using the ATIV Tab while charging it doesn't appear to slow charge times down at all. The ATIV Tab is limited to pulling ~11W from the wall while charging, but if you're using the tablet while charging the power adapter will draw several more watts.
Battery Life
We've started running our new smartphone web browsing battery life test on tablets as well. If you missed its introduction in our iPhone 5 review, here's a bit about the new test:
We regularly load web pages at a fixed interval until the battery dies (all displays are calibrated to 200 nits as always). The differences between this test and our previous one boil down to the amount of network activity and CPU load.
On the network side, we've done a lot more to prevent aggressive browser caching of our web pages. Some caching is important otherwise you end up with a baseband/WiFi test, but it's clear what we had previously wasn't working. Brian made sure that despite the increased network load, the baseband/WiFi still have the opportunity to enter their idle states during the course of the benchmark.
We also increased CPU workload along two vectors: we decreased pause time between web page loads and we shifted to full desktop web pages, some of which are very js heavy. The end result is a CPU usage profile that mimics constant, heavy usage beyond just web browsing. Everything you do on your device ends up causing CPU usage peaks - opening applications, navigating around the OS and of course using apps themselves. Our 5th generation web browsing battery life test should map well to more types of mobile usage, not just idle content consumption of data from web pages.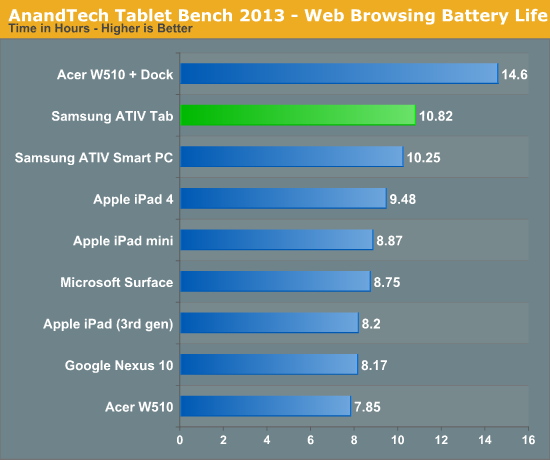 Battery life for the ATIV Tab is amazingly good. With a smaller display but the same sized battery, the Qualcomm powered tablet is able to best Intel's Clover Trail powered ATIV Smart PC. The display discrepancy makes drawing a direct conclusion here difficult, but we'll soon be able to repeat our Clover Trail power experiments with a Krait based tablet to see how close those two SoCs really are when it comes to power consumption.
At 10.82 hours off of a 30Wh battery, the ATIV Tab does better than even the 4th generation iPad.
Our video playback test remains unchanged from previous tablet reviews. Here I'm playing a 4Mbps H.264 High Profile 720p rip I made of the Harry Potter 8 Blu-ray. The full movie plays through and is looped until the battery dies. Once again, the displays are calibrated to 200 nits: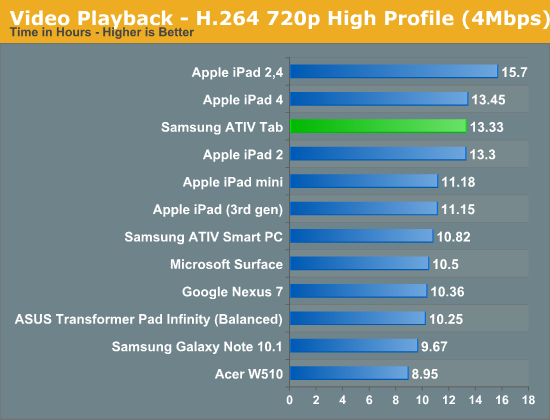 Video decode battery life is outstanding from the ATIV Tab - we finally have a tablet that can equal Apple's iPad in terms of battery life when playing back video. There's a clear advantage here over the Clover Trail based platforms, and obviously compared to the Tegra 3 based Surface RT as well. I believe what we're seeing here are the benefits of TSMC's 28nm LP process delivering extremely low leakage while the SoC is mostly idle. Qualcomm's video decode block seems to do a great job at being very power efficient here.
The Display
Like all Windows RT tablets, the ATIV Tab features a 1366 x 768 display. The 10.1-inch screen has great viewing angles (178-degree) and a reasonable contrast ratio. Max brightness is 424 nits, although the bright display does come at the sacrifice of deep blacks (0.48 nits). I did notice one spot of significant backlight bleed on my review sample.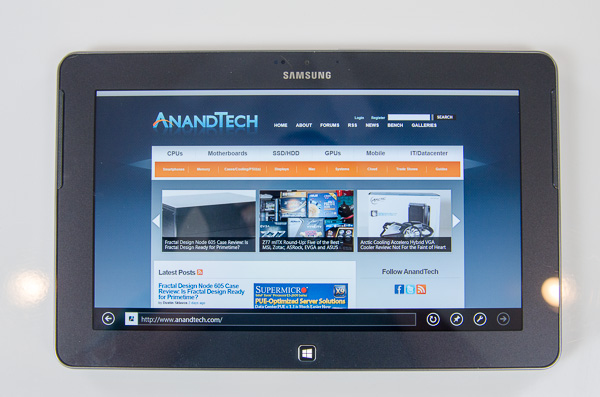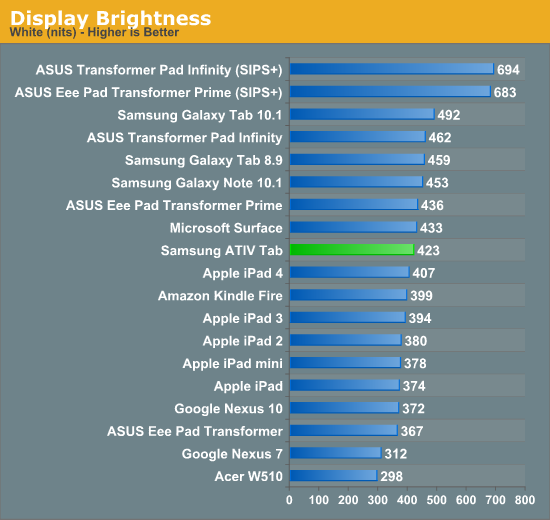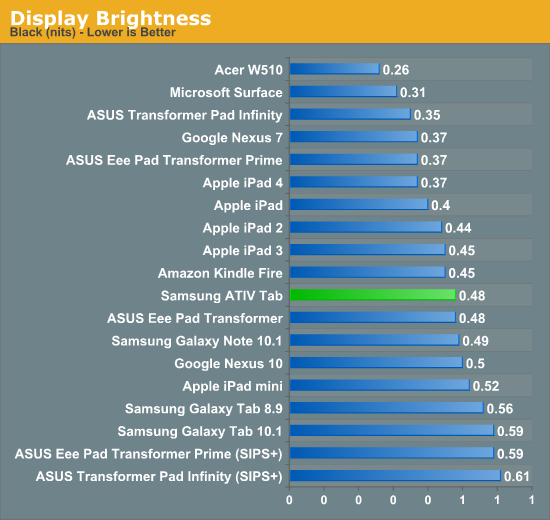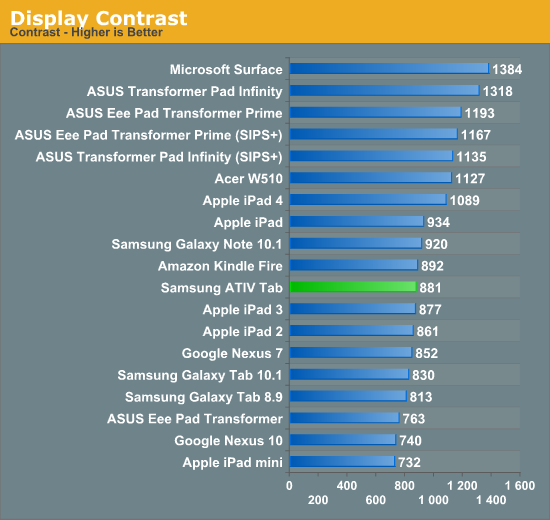 Overall display performance is good compared to most notebook PCs at this price point, but no where near the best tablets we've tested. The big issue, as with most tablets these days, boils down to color accuracy.
Once again I turned to our own Chris Heinonen's CalMAN smartphone/tablet workflow. We'll start off by looking at the calibrated white point for these tablets. What you're looking for here is a number close to 6500K:
The next three charts look at accuracy represented as a difference between various source colors and what's reproduced on the display. The results are presented as average dE2000, with lower numbers being better.
First up is Grayscale performance, here we're looking at the accuracy of black, white and 19 shades of gray spread in between the two extremes: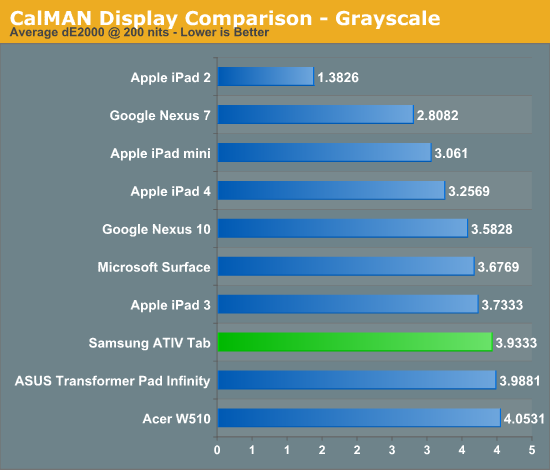 Grayscale accuracy is decent, slightly behind Surface RT and the 3rd generation iPad.
First in our color accuracy tests is a saturation sweep. Here we're looking at 20%, 40%, 60%, 80% and 100% saturations of red, blue, green, magenta, yellow and cyan.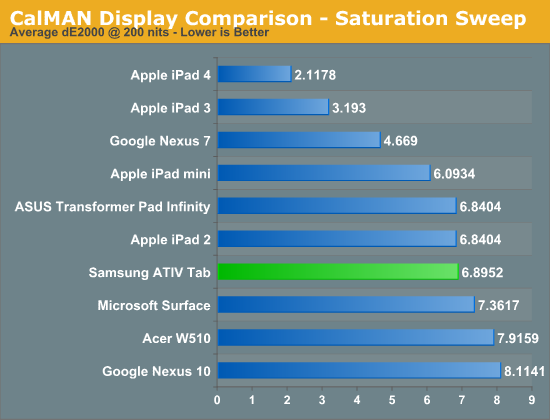 Start getting into colors and we see the same problem of absent color calibration that we've seen elsewhere. The display looks good, but it's not well calibrated at all. Color reproduction performance is similar to Surface, but behind the Retina iPads.
Gamut CIE Chart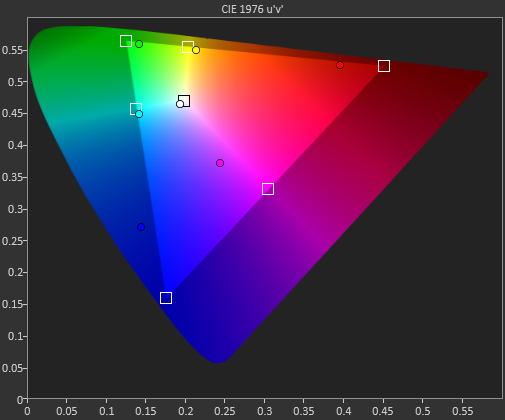 Saturation CIE Chart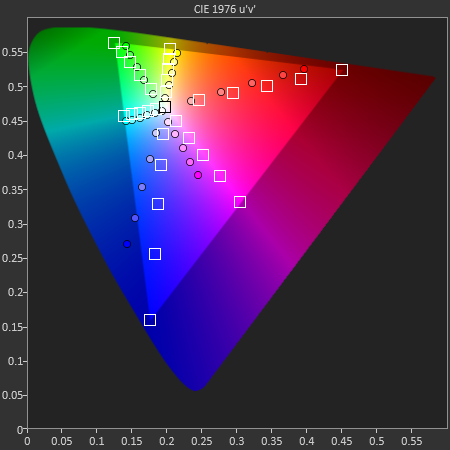 For our final accuracy test we're looking at the difference between a Gretag Macbeth colorchecker chart and the rendered swatches on these displays. Once again, lower numbers are better.

GMB Color Checker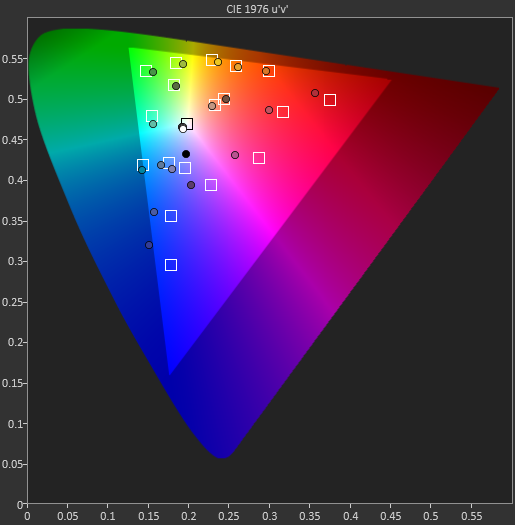 Respectable WiFi Performance
The ATIV Tab uses Qualcomm's own dual-band 802.11n WiFi solution (WCN3660?). The resulting peak performance with 40MHz channels enabled on a 5GHz network is on par with the latest from Apple and in the range of what we got on the Nexus 10 as well.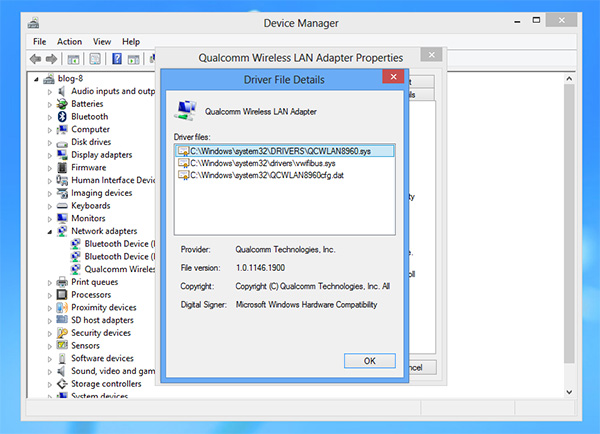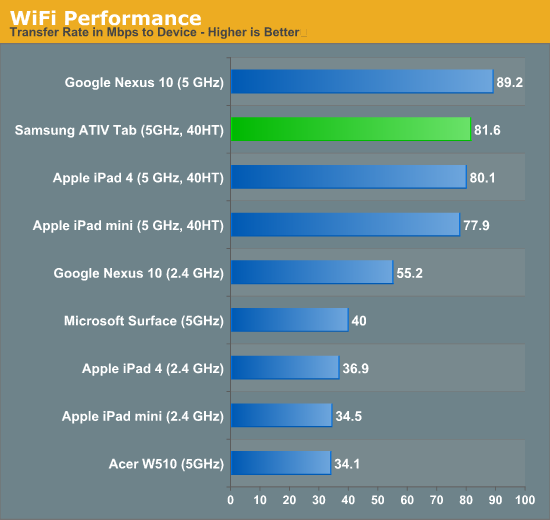 At 81.6Mbps peak, moving files to the ATIV Tab is measurably quicker than on Surface RT or Acer's W510. This is the first Windows RT/8 tablet I've used with competitive WiFi performance.
Camera
The 5MP rear camera shoots images at 2592 x 1944 while the front facing camera shoots at 1280 x 960. In good light, rear camera performance isn't bad for a tablet: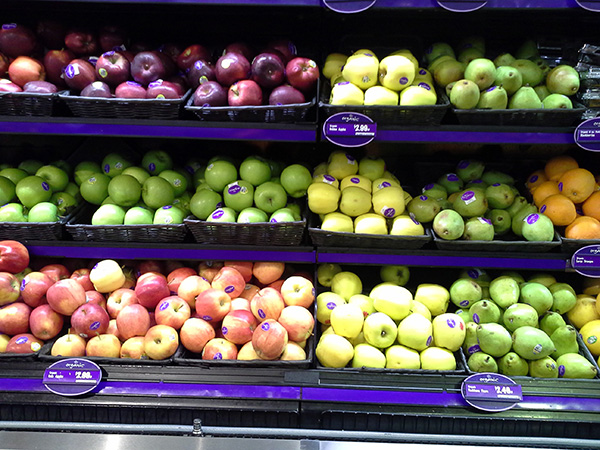 The rear camera is aided by an LED flash which unfortunately can't be manually controlled. Once ambient light drops below a certain level, the flash always fires. Unfortunately the outcome isn't pretty: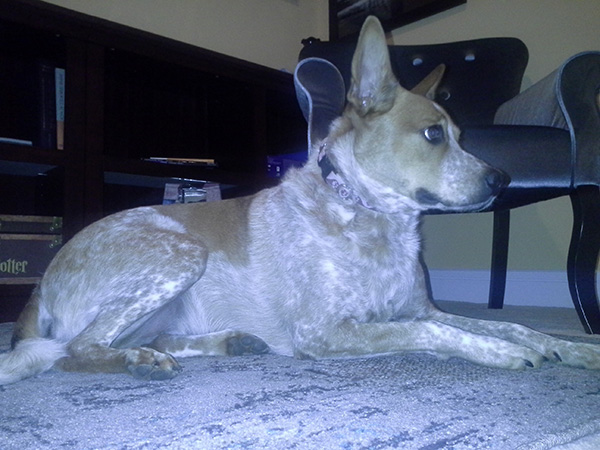 This scene is comfortably lit, but not bright enough to avoid triggering the flash
The rear camera shoots 720p video encoded using AVC main profile (L3.1) at an average bitrate of around 8.6Mbps. Video quality is decent given sufficient lighting but the camera doesn't seem to continually (or at least frequently) adjust exposure, which can result in over/underexposed subjects if your lighting changes dramatically in a scene.
I haven't been particularly impressed by any of the Windows RT/8 camera implementations. Samsung's ATIV Tab isn't horrible but it's not particularly great either.
Final Words
With better battery life than Surface RT and better performance as well, I have to say that in the ARM camp Qualcomm's APQ8060A is definitely the preferred SoC for Windows RT today. Qualcomm's single threaded performance advantage is obvious in interacting with the ATIV Tab, particularly for any work on the desktop (modern UI remains fairly smooth across all platforms). Application performance and web browsing performance are at worst equal to NVIDIA's Tegra 3, but at best are tangibly better. Intel continues to have the overall performance advantage (not to mention backwards compatibility), but at times Qualcomm remains surprisingly competitive in many of our tests.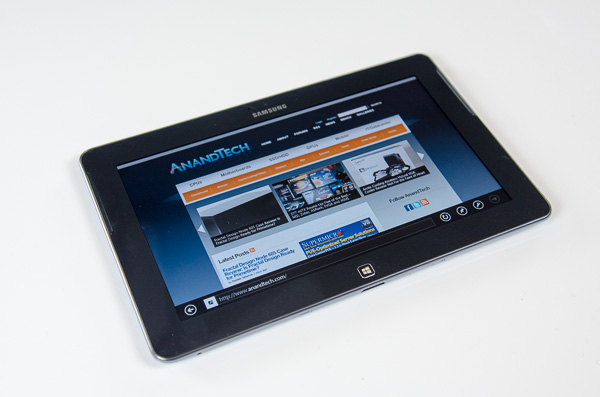 Ultimately even Atom isn't quick enough to fulfill the dream of having a tablet that can really replace a modern notebook, and that's where the Windows RT/8 cookie crumbles for now. I suspect that once we get to the next generation of SoCs we'll see a better story from all of the vendors (22nm Atom, Cortex A15 based Wayne, Krait 200/300 from Qualcomm).
The ATIV Tab itself feels fairly well executed. Its performance is snappy (for Windows RT) and unlike my W510 experience, I didn't encounter much instability during my use of the Tab. Battery life is better than any other Windows RT or 8 tablet we've tested thus far. The Samsung/Qualcomm combination excels in video playback battery life in particular, giving us the first 10-inch tablet capable of lasting as long as a modern iPad in our video playback test. Web browsing battery life is also quite competitive, equaling the Clover Trail based Samsung ATIV Smart PC.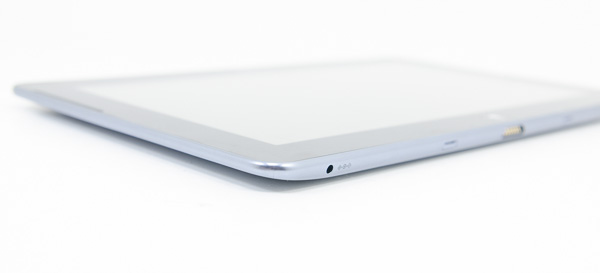 The 10.1-inch form factor and light weight construction make the ATIV Tab a device I wouldn't mind carrying around. Camera quality unfortunately isn't very good overall, particularly in low light situations. Thankfully, unlike most other Windows RT/8 devices we've tested thus far, the ATIV Tab does a great job when it comes to WiFi performance - equaling competitors from Apple and Google. Display quality is competitive with other Windows RT/8 tablets, but it does lag behind the iPad 3/4. If you absolutely need to buy a Windows RT tablet today and value performance more than design/build quality, the ATIV Tab isn't a bad option.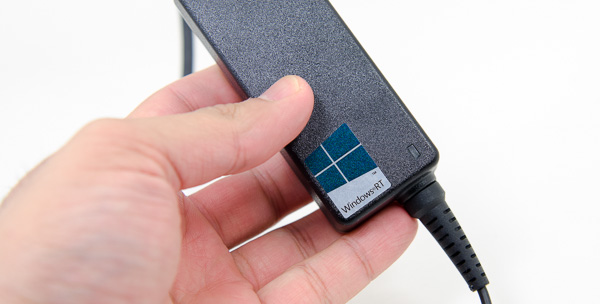 Although I like the ATIV Tab, I still feel like Windows RT/8 and the first generation of tablets need another iteration before they're truly ready for duty. I'd love to see the Surface team's industrial design paired with a faster SoC, a lighter chassis and a more cohesive OS. Windows RT/8 still feel rushed to me (for reasons I've explained before), let's hope that Windows Blue ships on time this year and delivers a more polished and complete experience.