Original Link: http://www.anandtech.com/show/6512/dell-precision-m6700-notebook-review-the-enterprise-split


Introducing the Dell Precision M6700
When you think about it, the enterprise workstation market really only has three key players. You have HP, who produce some excellent mobile workstations but have been stagnating horribly on the desktop side. You have Dell, who produce what are in my opinion the best desktop workstations but seem to be substantially less exciting on the notebook end. And you have Lenovo, who excels in neither discipline but offers a fairly balanced portfolio in exchange. This presents a problem, and it's a problem we're looking at today.
What we really want and need is a single vendor to order notebooks and desktops from and be able to call it a day. While HP's desktops aren't bad, they're overpriced compared to Dell's offerings. Today we have the updated Dell Precision M6700 on hand, a robust notebook featuring a full sRGB IPS panel with user-configurable gamma, a Kepler-based workstation GPU, and Intel's Ivy Bridge quad core processor. But with workstations it's not just about the internals, it's about the design and the experience. Did Dell come up with a worthy competitor to HP's EliteBooks, or did they just come up short?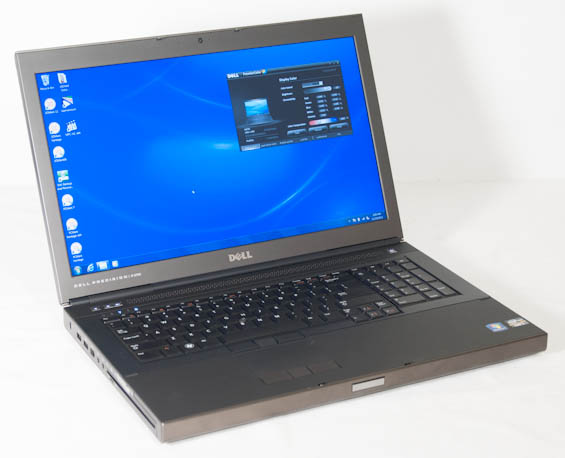 Three years ago, this wasn't the way things were. HP had great desktops and Dell had great notebooks, but the situation seems to have almost completely flipped. The design language on HP's enterprise class notebooks suddenly unified, offering a combination of style, serviceability, usability, and performance that was able to compete with Dell's Precision line as well as Lenovo's sadly declining ThinkPads. As you'll see, though, just as HP's desktop workstation department seems to be coasting, Dell's mobile workstation department is having a hard time playing catch-up.
Dell Precision M6700 Notebook
Processor
Intel Core i7-3920XM
(4x2.9GHz + HTT, 3.8GHz Turbo, 22nm, 8MB L3, 55W)
Chipset
Intel QM77
Memory
4x4GB Kingston DDR3-1866 (expandable to 4x8GB)
Graphics
NVIDIA Quadro K5000M 4GB GDDR5
(1344 CUDA cores, 601MHz/3GHz core/memory, 256-bit memory bus)
Display
17.3" LED Matte 16:9 IPS 1920x1080
LG Philips LP173WF3
Hard Drive(s)
Samsung PM830 128GB mSATA 6Gbps SSD

Seagate Momentus 7200.5 750GB 7200-RPM SATA 3Gbps HDD
Optical Drive
HL-DT-ST Slot-Loading DVD+/-RW GS30N
Networking
Intel 82579LM Gigabit Ethernet
Intel Centrino Advanced-N 6300 802.11a/b/g/n 3x3
Bluetooth 4.0
Audio
IDT 92HD93BXX HD Audio
Stereo speakers
Mic and headphone jacks
Battery
9-Cell, 97Wh
Front Side
Latch
Right Side
Wireless toggle
HDD caddy
2x USB 3.0
DisplayPort
Left Side
Kensington lock
2x USB 2.0
6-pin FireWire
Mic and headphone jacks
SD/MMC card reader
ExpressCard/54 slot
Slot-loading optical drive
Back Side
Vent
Ethernet
VGA
HDMI
eSATA/USB combo port
AC adapter
Operating System
Windows 7 Professional SP1 64-bit
Dimensions
16.41" x 10.65" x 1.3-1.42"
416.7mm x 270.6mm x 33.1-36.1mm
Weight
7.76lbs / 3.52kg
Extras
PremierColor display
Flash reader (SD/Mini SD, MS/Duo/Pro/Pro Duo)
USB 3.0
SIM card slot
Optional WWAN
Fingerprint reader
Backlit keyboard
Trackpoint
Warranty
3-year parts and labor
Pricing
Starts at $1,614
As configured: $4,533
On the hardware side, the Dell Precision M6700 certainly has a lot going for it. While Dell's BIOS doesn't allow for any overclocking, the Intel Core i7-3920XM is still an incredibly fast processor, with a nominal clock speed of 2.9GHz, able to turbo up to 3.6GHz on all four cores, 3.7GHz on two cores, or 3.8GHz on one core. These turbo speeds put it within striking distance of desktop Ivy Bridge CPUs.
The NVIDIA Quadro K5000M is an interesting story in and of itself. While last generation's mobile workstation GPUs continued to be served by die harvesting GF100, the K5000M inherits all the strengths and disadvantages of GK104. Single precision performance should be top flight, but GK104 is more of a gaming chip than a compute chip (similar to GF104/GF114), and so its double precision performance is liable to be below last generation's Quadro 5010M, and we'll see when we get to the workstation benchmarks. For this reason, the 5010M continues to be available. The K5000M is clocked slower than the current top of the line mobile gaming GPU, the GTX 680M, running at just 601MHz on the CUDA cores and 3GHz effective on the GDDR5, with no boost clock.
Internally, Dell also offers an mSATA port at SATA 6Gbps speed as well as two 2.5" drive bays and the ability to remove the optical drive and replace it with a third 2.5" bay, allowing for potentially four storage devices. Also included are a SIM card slot and space for a WWAN card. Externally you have a card reader, USB 2.0 and 3.0, ExpressCard/54, 6-pin FireWire, eSATA, and every modern display connector except DVI.
Rounding out the trimmings, our review unit has Dell's PremierColor IPS display which is touted to offer the full AdobeRGB gamut; this is essentially to compete with HP's own DreamColor display. Unfortunately we did run into some issues with PremierColor and our calibration/measurement software, ColorEyes Display Pro, which we'll discuss later on. But Dell has a healthy number of choices for displays, including a basic 900p display, 1080p, 120Hz 3D Vision Ready 1080p, and the PremierColor IPS panel.
In and Around the Dell Precision M6700
The internal hardware goes a long way, certainly, but the Dell Precision M6700 is unfortunately on the back foot when it comes to shell design. Take a look at our review of the HP EliteBook 8760w then come back here, and you'll see that Dell's aesthetic comes up short in more ways than one. You'll see it's not just about looks, either; HP's design is more functional.
Part of what kills is that the Precison M6700's shell may incorporate magnesium alloy and aluminum alloy, but it feels largely plastic. Dell's site lists the M6700 as having been subjected to Mil-spec 810G testing, but not if it meets that standard, while HP confirms that their current-generation 8770w does. They apparently use aluminum for trim and the back of the lid, but as a whole the notebook just doesn't feel as all around sturdy as its competitor is.
That said, when you do open it, the interior surfaces are flex-free, just uninspiring. The M6700 is two-toned, but the two tones aren't really complimentary. They use a gunmetal gray that's very dark, so that in soft light it's essentially indistinguishable from the black plastic used for the keyboard trim and bottom panel. As a whole, the two tones aren't unattractive, but there's a kind of cheap feeling to the materials, regardless of whether or not they actually are. HP's EliteBook looks and feels sturdy, with the aluminum trim and interior shell.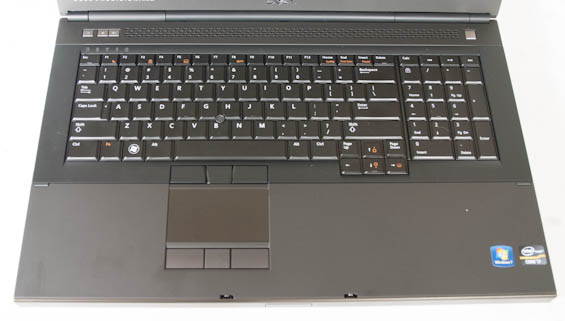 People who lament HP's shift to a chiclet keyboard may be happy at first with the M6700's traditional key style, but Dell's keyboard layout is confused both for them and for the end user. The "Page Up" and "Page Down" keys sandwich the up arrow, while the row normally reserved for document navigation above the number pad is instead a shortcut for the calculator and then media controls, which just plain don't belong on a notebook like this. Those could very easily and should very easily have been Fn+Function Key combinations. Overall the keyboard is plenty usable, but the layout is off-putting. On a less expensive notebook it's something that can be tolerated and adapted to; on a notebook that starts north of $1,600, it's unacceptable. As for the touchpad, it's mostly fine and easy to use, but it's actually on the small side and could stand to be wider. Again, though, Dell's design lacks the pleasant surface treatment of HP's.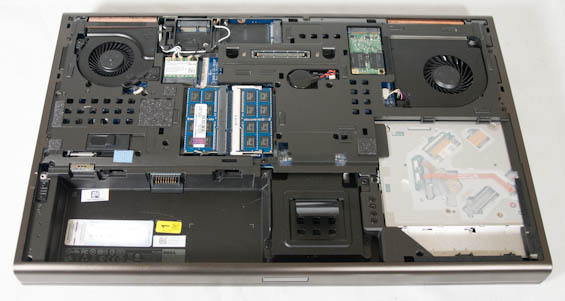 Finally, the M6700 could make up some ground by at least being easy to service, but that turns out not to really be the case. HP's design is as easy as pushing a latch and popping off the bottom panel, but the M6700 was actually a little confusing. There are two screws hidden inside the battery slot that must be removed, and then the panel slides up and off. The interior layout supports three 2.5" drives and an mSATA drive, but what's the point of having one drive caddy slide out of the side of the case if you have to remove an internal screw to unlock it? It's not a horrible interior design and definitely looks reinforced, but the M6700 just feels a little more cobbled together than I'd like.
Application and Futuremark Performance
The Intel Core i7-3920XM CPU that powers our Dell Precision M6700 review unit isn't just the fastest notebook CPU we've tested, it's also potentially as fast as a desktop Ivy Bridge processor. At the same time, the NVIDIA Quadro K5000M is based on the fastest mobile gaming GPU currently available, and the M6700 is also enjoying a Samsung PM830 SSD as its system drive. All told, this should be the fastest notebook we've tested thus far.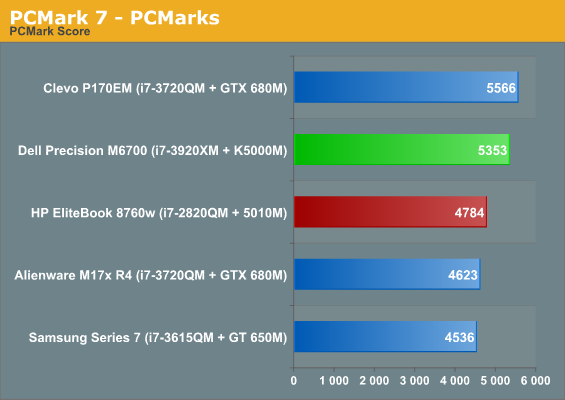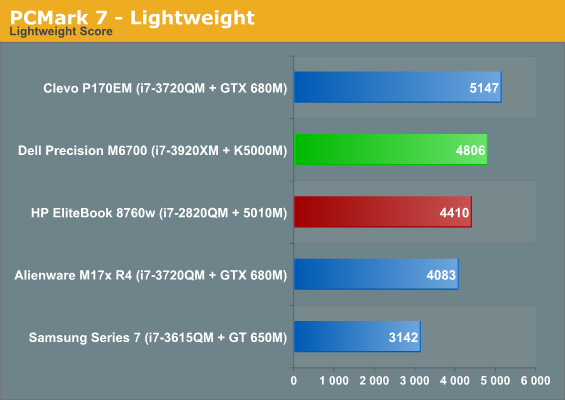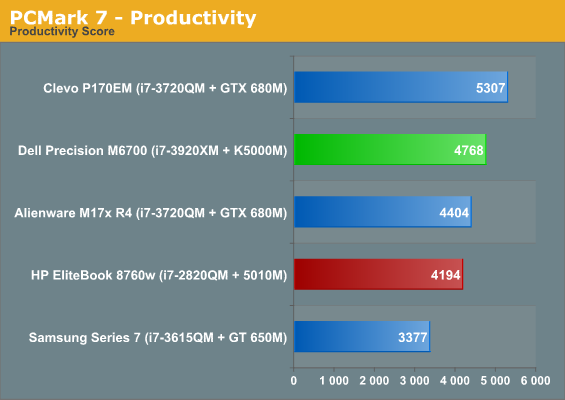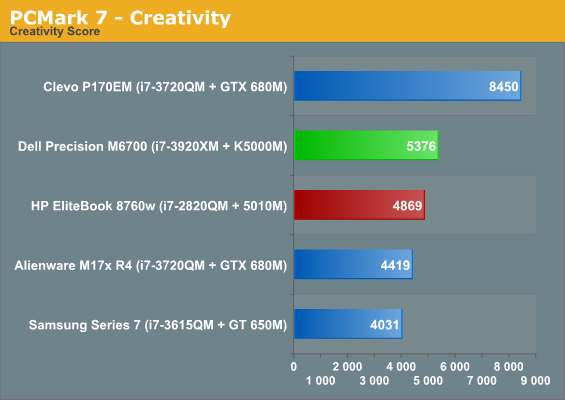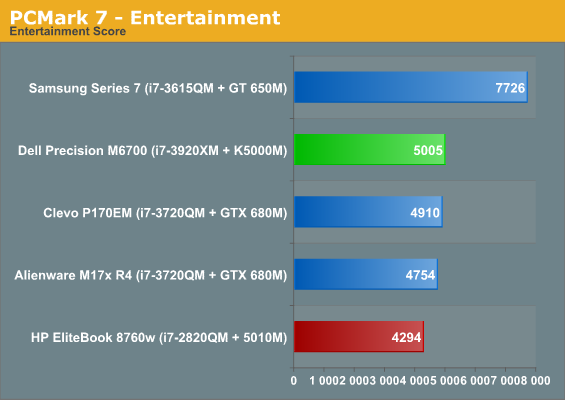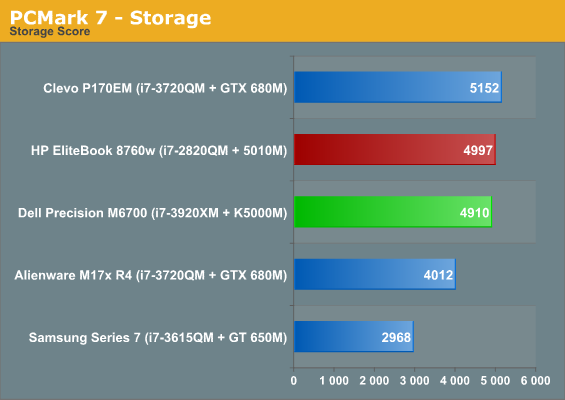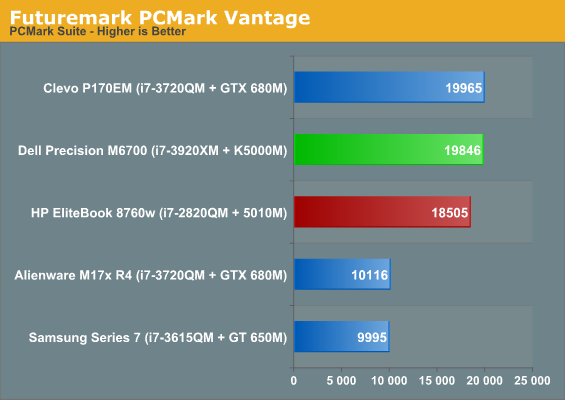 So what happened? It looks like PCMark slightly favors the Crucial m4 SSD the Clevo notebook uses. That's unfortunate, and frustrating, as once again PCMark shows it skews so hard towards the SSD that a system with a substantially more powerful CPU (lack of access to QuickSync notwithstanding), the Dell Precision M6700, is somehow eclipsed by a gaming notebook. But then I've been campaigning to remove PCMark from our testbed for some time now.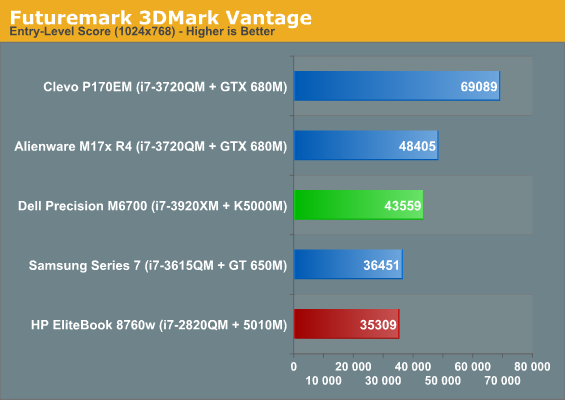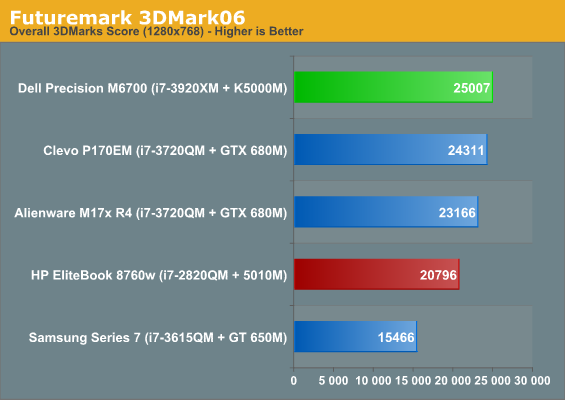 3DMark06 at least reveals the substantial performance of the i7-3920XM.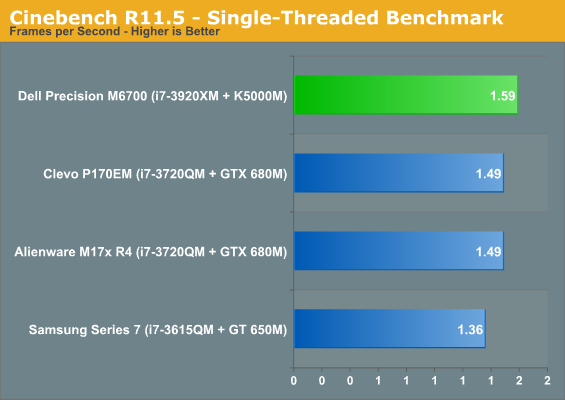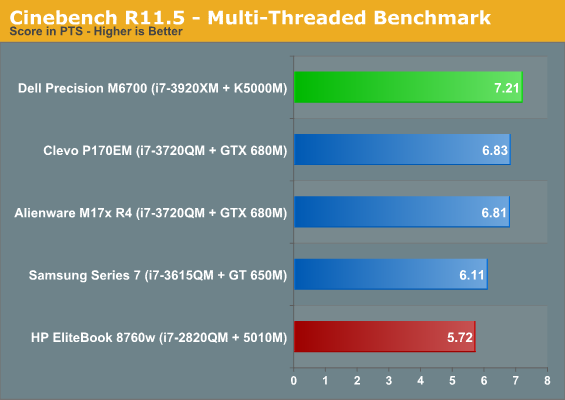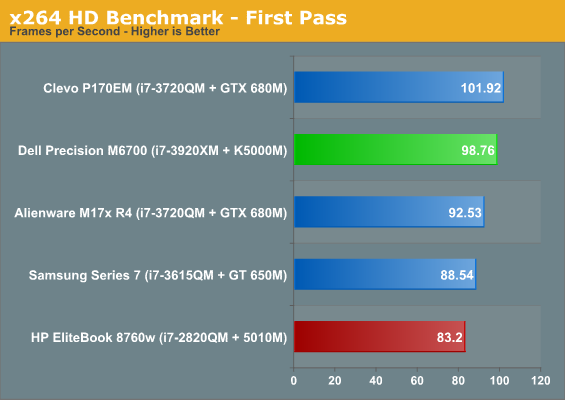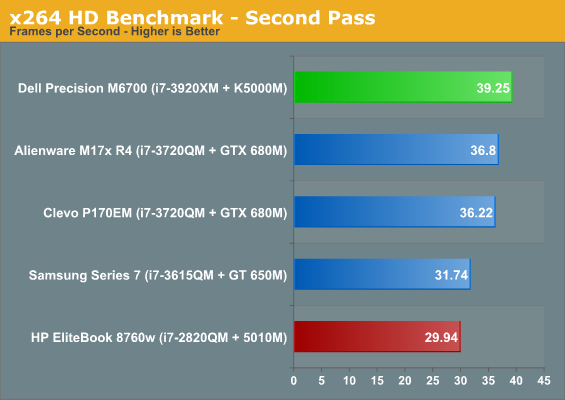 Inexplicably, Clevo's P170EM is able to produce better first pass results in our x264 benchmark, but in all other cases the M6700 is faster. For comparison sake, a stock i7-3770K (the one in the HP h9 Phoenix) is able to produce 100fps in the first x264 pass and 40.51fps in the second; that means that Intel's fastest (well, second-fastest now that the i7-3940XM is available) mobile chip is actually able to nip the heels of their fastest mainstream desktop chip. That also means that the 100MHz bump to the 3940XM is probably enough to get it to 3770K-level performance, which is frankly astonishing.
Workstation Performance
Here's the one place where the Clevo notebook will be unable to keep up: workstation performance. The Dell Precision M6700's i7-3920XM and Quadro K5000M can finally stretch their legs here, as these are the benchmarks the M6700 was really designed for. Since I only have results for a couple of mobile workstations, I'm including the desktop workstations I've reviewed as reference points.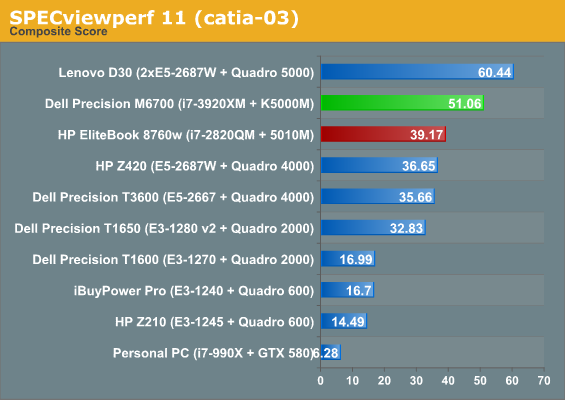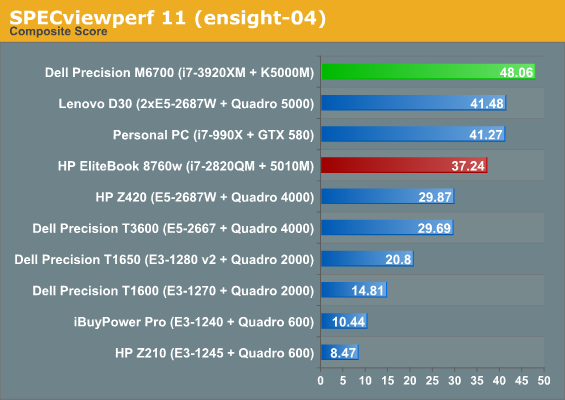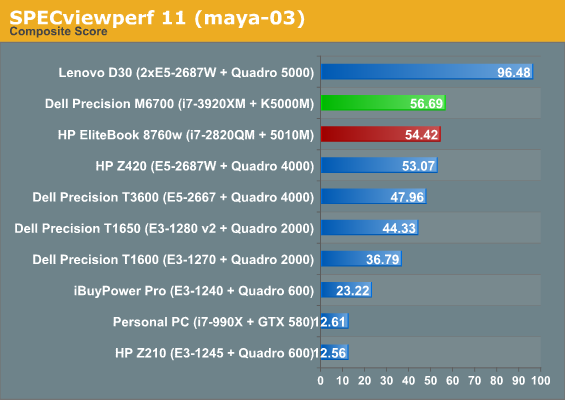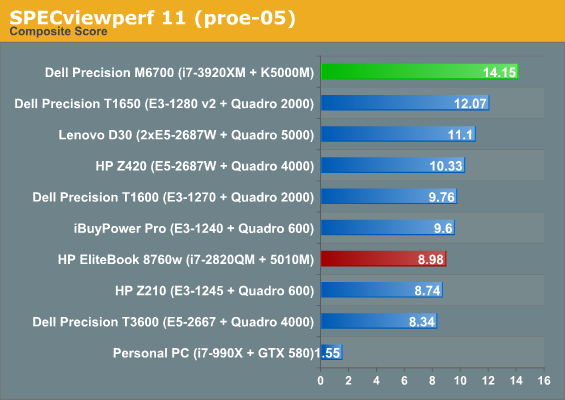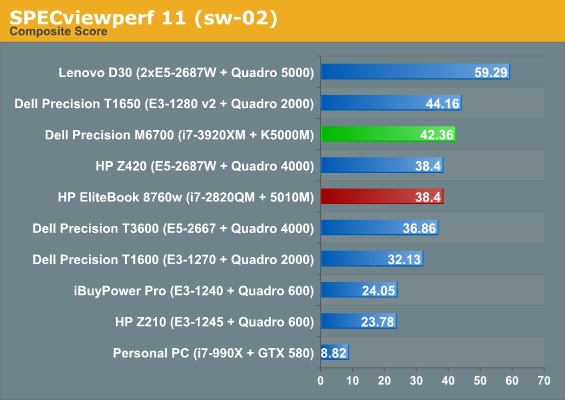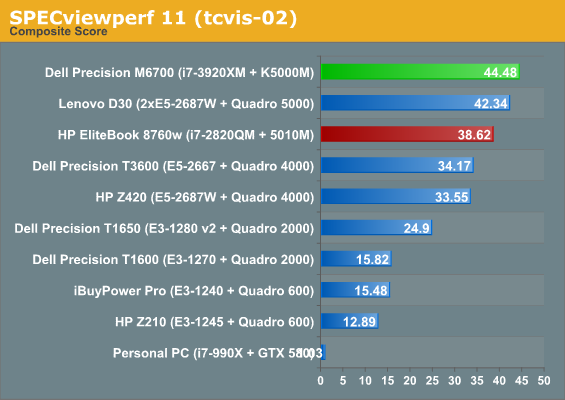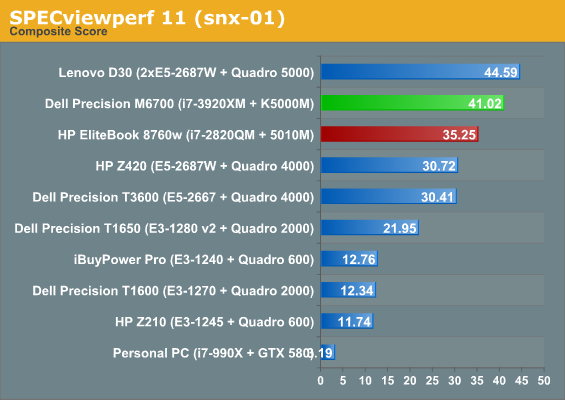 The sheer brute force of the Quadro K5000M, despite its substantially weakened FP64 performance, is enough to get it to score consistently better than the last generation GF100-based Quadro 5010M. Unless you need a high end desktop workstation GPU and a chip with more than four cores, Dell's Precision M6700 is capable of being a very potent workhorse. Remember that a Quadro 5000 desktop card costs almost $2,000 on its own; that puts the M6700's steep workstation price tag into a bit of perspective.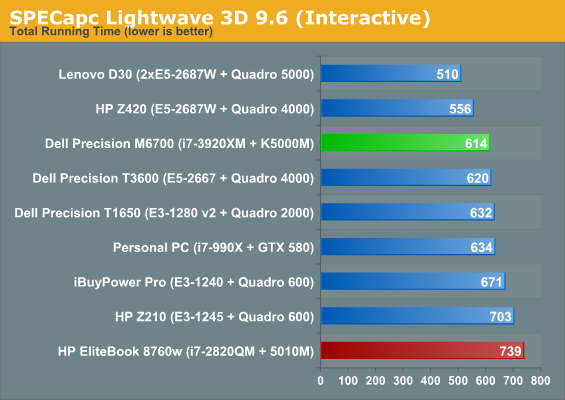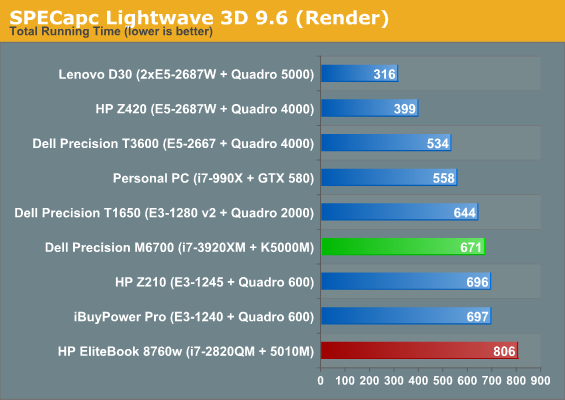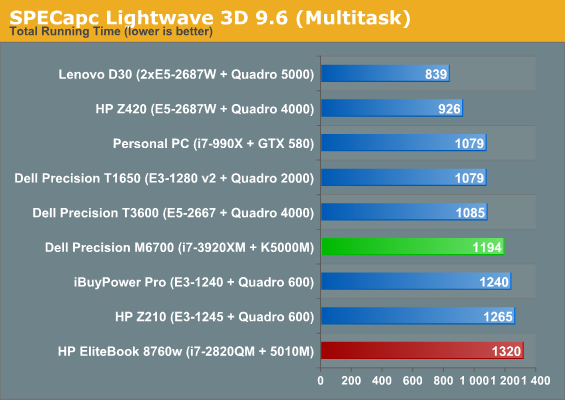 The M6700's CPU unfortunately gets hit harder in SPECapc Lightwave. Faster CPUs with higher core counts are the order of the day here, and though the i7-3920XM may be able to keep pace with a top-of-the-line Ivy Bridge CPU in short bursts, eventually its turbo speed settles down. Switching to a desktop workstation can still shave 33% off of Lightwave's render time, but you'll pay through the nose for it.
Display Quality
For whatever reason, ColorEyes Display Pro just refuses to cooperate with the LG Philips IPS panel Dell uses in their Precision M6700 unless you calibrate at a Gamma of 1.8 instead of 2.2. This produces a fine image, but it visibly loses a lot of the pop, saturation, and gamut of the display's default calibrations. Note that Dell includes PremierColor software that actually allows you to switch between different color gamuts, and it's a welcome feature.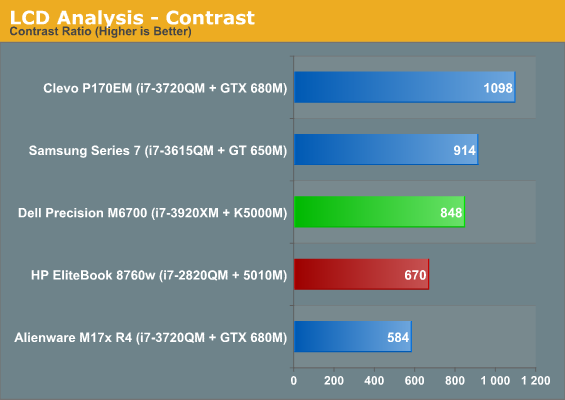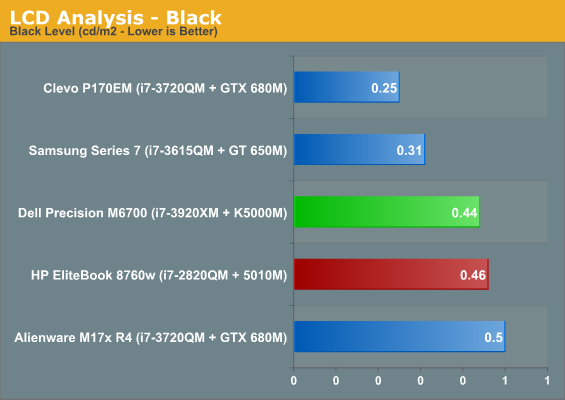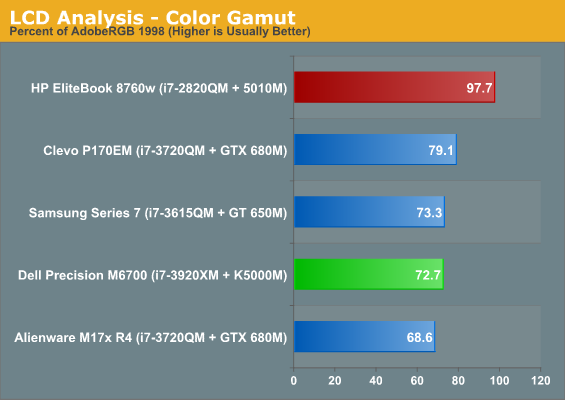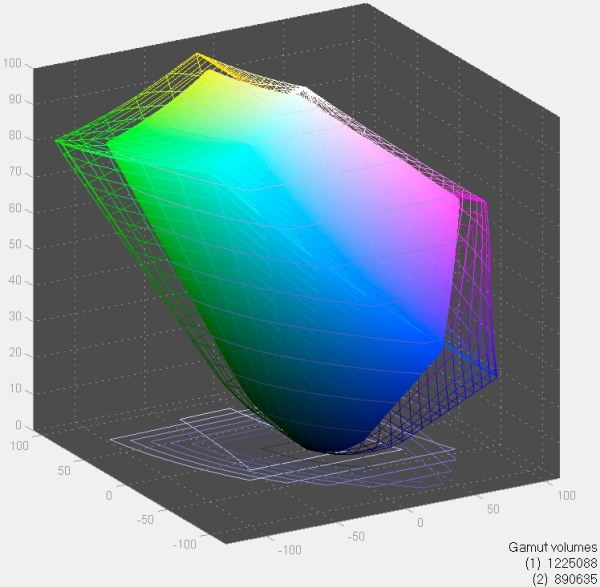 The measurements are generally solid, with the PremierColor display at least offering a solid sRGB color gamut. Unfortunately due to issues with ColorEyes Display Pro I'm unable to confirm whether or not it can truly produce the entire AdobeRGB1998 color gamut like Dell claims it can, but honestly I believe it can.
Frankly it's a beautiful display and anecdotally it's on par with the DreamColor display-equipped EliteBook I currently have in house for testing, maybe even a step up due to Dell's PremierColor software which allows you to not only choose the color gamut you want to work with, but will even detect applications and adjust accordingly.
Battery Life
Where these workstations are still lagging substantially behind their consumer counterparts is in their power management technology. NVIDIA's Optimus has been thriving for years now on consumer GPUs, but Quadro chips still don't benefit from it. AMD just got Enduro working well on their mobile GPUs, but it's not functioning on FirePro chips either. As a result, the Dell Precision M6700 is forced to employ an oversized battery to compensate.
Update: Mea culpa. While Optimus is functional on NVIDIA's mobile Quadro GPUs, the use of a 10-bit IPS panel (along with either a 120Hz panel or touchscreen) precludes it due to bandwidth limitations. As a result, the M6700's battery life is going to be substantially lower with the PremierColor display, but I would actually expect M6700s with a standard TN panel to produce running time closer to the Alienware M17x R4, which has a smaller battery but similar silicon.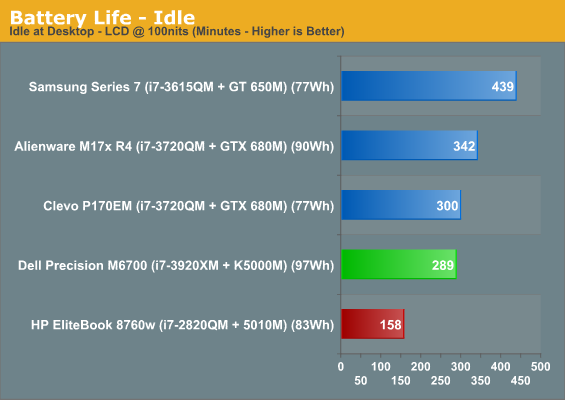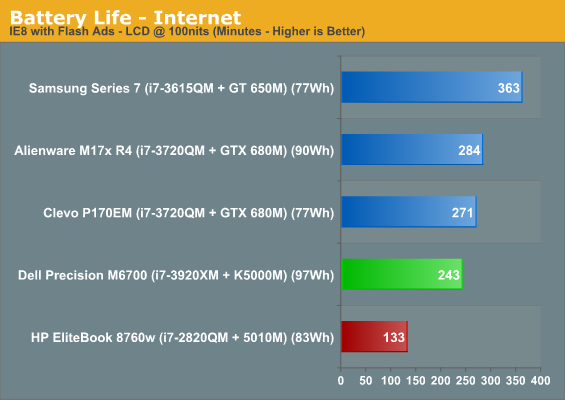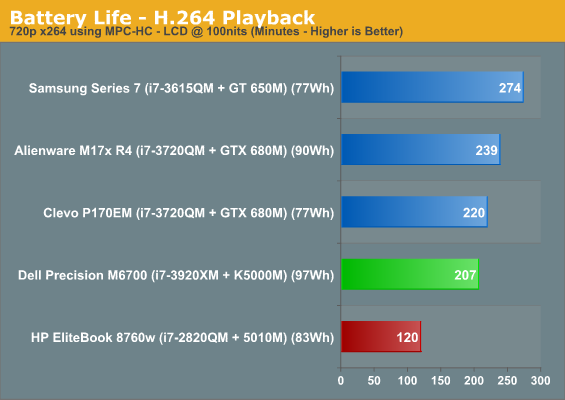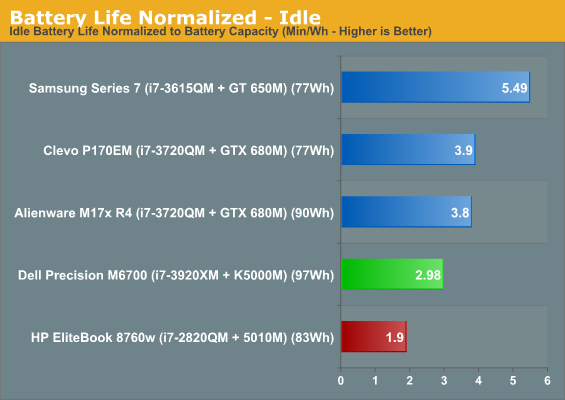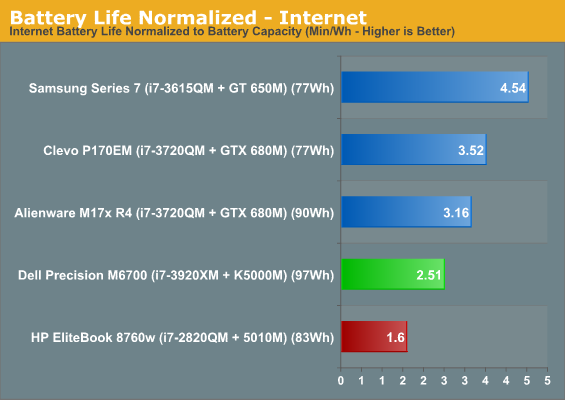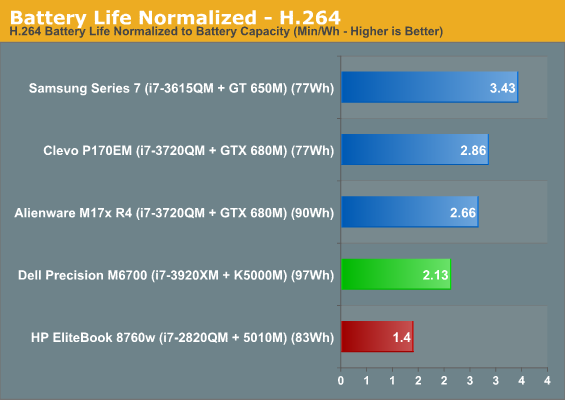 Optimus-enabled notebooks are able to get at least a little more mileage. The M6700's battery life actually isn't that bad given that it's a workstation notebook, owing at least somewhat to both Ivy Bridge's frugal power consumption and Kepler's superior idle power compared to Fermi.
Heat and Noise
Thankfully, the Dell Precision M6700's beefy cooling system keeps the notebook running both reasonably cool and quiet. Keep in mind that we're working with a combined TDP of roughly 155W on the CPU and GPU in this system when you take a look at the thermals below.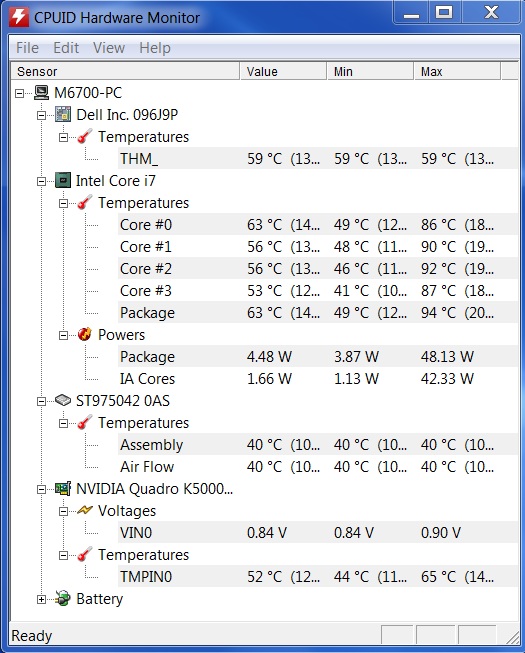 The CPU runs nice and toasty, but the M6700 is actually very effective at keeping the K5000M cool. Noise levels are very good, with the notebook basically inaudible at idle and fan noise being a low, quiet whoosh under load.
Conclusion: Lacking in Progress
As of this writing, the Dell Precision M6700 is the fastest mobile workstation I've yet tested; impressive considering its comparatively modest weight. Dell was actually able to get the M6700 to be slightly lighter than HP's EliteBook 8760w, its chief competitor, but 7.76 lbs. is totally reasonable given the robust performance of the hardware included. The PremierColor display is also among the most beautiful panels I've yet tested in a notebook, and the included software is a rarity among OEM solutions: useful and welcome. So if Dell is able to get all of the function right, why am I reluctant to recommend it?
If you're looking strictly for a more affordable mobile workstation, Dell once again has HP beat, offering the Precision M6700 for roughly a grand less than a comparable system from HP. So much like the desktop workstation space, Dell has the edge on price. The M6700, despite having a stranger internal layout, can be ordered with a full-fledged mSATA drive in the mSATA slot instead of just a cache drive, ultimately allowing you to order it with more storage from the factory than HP's offering.
The problems here are shared by Dell and HP, but Dell remains more on the back foot than HP is. Both are guilty of letting their designs sit idly by and coast on their successes, but Dell's is more notably archaic than HP's. The EliteBook 8770w is a better-looking and better-feeling notebook, with a smarter keyboard layout, a better touchpad, and it's easier to service. Dell has been quicker to update their internals, but they're both guilty of throwing last year's hardware into the ring, and if Dell wants to beat HP at the workstation game they're going to need to be hungrier than this.
And what of the old stalwart, the ThinkPad? Unfortunately a victim of Lenovo's continued mismanagement of the ThinkPad line. What used to be the gold standard unfortunately now doesn't even have a model to compete with the likes of the 8770w and M6700; their top end is a 15.6" unit with the CPU support in place but mediocre, DDR3-based Quadro graphics hardware. This lumps Lenovo in the same pile as Apple; they just didn't show up to this party.
I may be too critical of Dell's Precision M6700. It has the performance, it has the price, it has the expandability, and looks aren't everything. Yet I can't help but be baffled by the substandard aesthetic, the less user-friendly access panel, and bizarre keyboard layout. The chassis HP was using prior to the 8760w and 8770w was a mismatched, miscolored eyesore, definitely a step below what Dell was and is using. But they went back, redesigned it from scratch, and came up with something a lot more pleasing and functional. So why can't Dell get it together?
If you prioritize build quality above all else, HP's EliteBook 8770w is going to be the one you want. If you want the performance and display quality at a lower price, the Dell Precision M6700 is the right call. I just wish Dell would produce enterprise notebooks as smartly designed as their current generation desktops.