Original Link: http://www.anandtech.com/show/6484/hp-elitebook-2710p-ultraportable-review-business-class-but-business-savvy


Introducing the HP EliteBook 2170p
We recently reviewed Acer's Aspire V5-171, a notebook that proves that there's a life (and a market) after netbooks but before ultrabooks. The essential gap that's materialized has been between the fast decaying netbook market (its death spurred on by Intel's Atom coupled with the high price of Brazos), and the expensive ultrabook market. More than that, though the 11.6" form factor is basically as small as a notebook can get while still featuring a full-sized keyboard, it's a gap that's essentially been going underserved for roughly a year now.
Acer wasn't the only one to spy this gap and try to fill it. ASUS has a notebook in stores right now that sports either an Ivy Bridge i3 or a Sandy Bridge i3 and touchscreen for Windows 8, and HP has an offering in their enterprise line that we have on hand for review today: the EliteBook 2170p. These notebooks have all been released with very little fanfare, and that's a shame, because there's definitely a niche for them. But while the Acer offering turned out to be a remarkably good deal for cost-conscious consumers, did HP misstep with their unusually pricey EliteBook 2170p?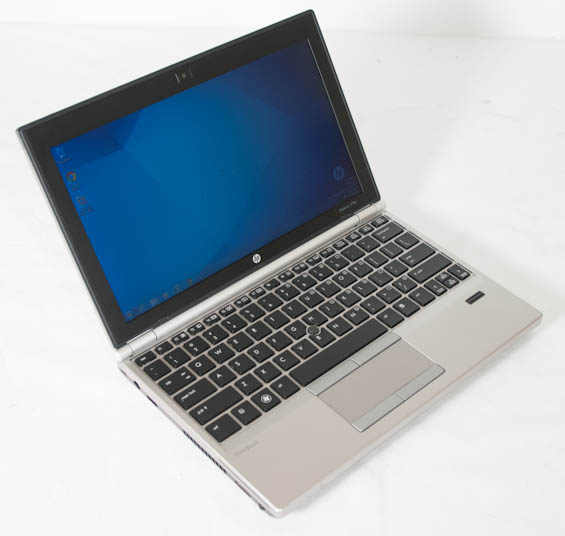 It's tough to really get out of the gate without mentioning what HP is charging for the EliteBook 2170p. Enterprise-class notebooks almost always have a premium attached to them (though HP serves budget businesses with ProBooks and Dell with Vostros), the cheapest the 2170p goes for is $999, and that's for an Ivy Bridge i3. This is business class, but the price tag is still squarely in ultrabook territory. It's entirely possible for HP to make up the gap with a top shelf design, so let's see what we have to work with.
HP EliteBook 2170p Notebook
Processor
Intel Core i7-3667U
(2x2GHz + HTT, 3.2GHz Turbo, 22nm, 4MB L3, 17W)
Chipset
Intel QM77
Memory
1x4GB Elpida DDR3-1600 (expandable to 2x8GB)
Graphics
Intel HD 4000 Graphics
(350-1150MHz, 16 EUs)
Display
11.6" LED Matte 16:9 1366x768
SEC3953
Hard Drive(s)
Toshiba MK-5061GSYN 500GB 7200-RPM SATA 3Gbps HDD
Optical Drive
-
Networking
Intel 82579LM Gigabit Ethernet
Intel Centrino Advanced-N 6205 802.11a/b/g/n 2x2
Audio
Realtek ALC269 HD Audio
Stereo speakers
Combo mic/headphone jack
Battery
4-Cell, 30Wh
Front Side
Speakers
Indicator lights
Right Side
SD/MMC reader
Power switch
USB 3.0
Ethernet
VGA
Left Side
Kensington lock
AC adapter
USB 3.0
Exhaust vent
SmartCard
DisplayPort
Combo headphone/mic jack
Back Side
Battery
Operating System
Windows 7 Professional SP1 64-bit
Dimensions
11.5" x 7.56" x 1.04"
292mm x 192mm x 26.5mm
Weight
2.89 lbs (1.31 kg)
Extras
720p HD webcam
Flash reader (SD/Mini SD, MS/Duo/Pro/Pro Duo)
USB 3.0
SmartCard
Optional WWAN
Fingerprint reader
Backlit keyboard
Warranty
3-year parts and labor
Pricing
Starts at $999
As configured: $2,101
The price tag for our review unit is brutal, but if you're willing to drop down to a Core i5-3317U (and there's very little reason not to), you can shave about a grand off. HP also at least presently is offering a coupon code that chops a respectable 25% off of the purchase price, and from there you can get the EliteBook 2170p in the neighborhood of $700-$800, which is much more reasonable for a business class machine. As with the Acer Aspire V5 I reviewed recently, the ULV Intel Core i7 simply isn't worth it (the dual-core i7s in general frankly haven't been in some time anyhow).
As seems to have become traditional with HP's business-focused notebooks, the 2170p includes only one DIMM, running 4GB in a single slot. Sandy Bridge and Ivy Bridge both have pretty stellar memory controllers in the first place, so the CPU halves of the chips are seldom starved by single-channel operation, but the HD 4000 IGP does get hit a bit harder (which you'll see later on.)
It's not unusual to see a mechanical hard disk standard in an enterprise-class notebook where known reliable technologies are more important, though the lack of any kind of SSD caching does hurt, and the chassis does have at least the real estate for an mSATA SSD (though no port to house it).
Finally, connectivity is pretty stellar, with even SmartCard port on hand for business users, but the battery is a major sore spot. HP offers only a 4-cell, 30Wh battery or 6-cell, 48Wh battery as options. The 4-cell sits flush with the body; unfortunately we didn't have a 6-cell on hand to test with.
In and Around the HP EliteBook 2170p
If you've seen the other current and last generation HP ProBooks and EliteBooks (and we've reviewed a couple), the EliteBook 2170p's shell design isn't going to be new to you. The aesthetic is a beautiful one, with a silver aluminum lid and interior, then matte plastic used for the bezel and the bottom panel. This is a solid, well thought out design, complete with a sturdy hinge and strong backing for the display. The problem with the 2170p, though, is the complication that arises from shrinking HP's enterprise motif down to this form factor.
HP employs the same chiclet keyboard style they use across their business and consumer lines, and as far as chiclet keyboards go, the feel and travel continues to be excellent. There's a bit of flex from the backplate that's unwelcome, but the white LED backlighting is attractive and as a whole this is a very usable keyboard. I'd go so far as to argue that this is why ultrabooks may not be for everybody; thicker ultraportables like this one offer superior key depth and consequently may offer a better typing experience as a whole.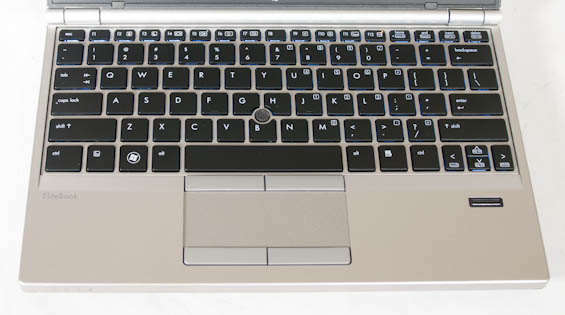 Which is why I'm mystified as to who at HP thought it would be a good idea to change the key layout from their own established conventions. "Fn+Up" and "Fn+Down" still result in "Page Up" and "Page Down," but "Fn+Left" is now "Scroll Lock" and "Fn+Right" is now "Pause." "Home" and "End" get their own keys at the top to the left of "Insert" (destroyer of worlds) and "Delete," but it's almost more confusing to split up the document navigation keys this way. These seem like minor changes, but watch how quickly they blow muscle memory and intuition out of the water. In time you can adjust, but it's still bizarre that HP would do this in the first place.
The touchpad, unfortunately, takes a major hit from the form factor shrink. HP includes a trackpoint and buttons under it, but then the touchpad and another pair of mouse buttons under that. That would be fine if HP tried to grab whatever real estate they could the way Lenovo did with the ThinkPad X100e/X120e, but realistically they probably should've let the trackpoint go and been done with it. As a result, even my spidery fingers wound up having trouble getting any mileage out of the touchpad. Maybe it's Stockholm Syndrome finally setting in, but I almost feel like just switching to a clickpad would've been the best way to maximize the space.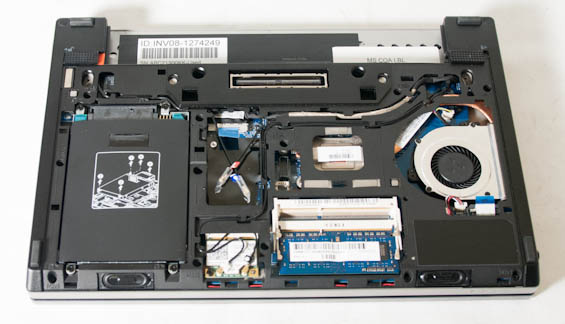 Finally, while the EliteBook 2170p is light, it's also very thick for an ultraportable, at just over an inch, and I'm not convinced HP's internal design is the most efficient. When you're dealing with something like the Acer Aspire V5-171, which is basically a budget ultraportable, you're willing to accept a lot of sacrifices because of the price point. With something pricier and higher quality like the EliteBook 2170p, though, the pressure is on to get things right, and HP's design feels strangely archaic.
It looks like HP sacrificed a lot to get that docking connector in place, including z-height, but it would've been nice to see an mSATA port somewhere in this chassis, or alternatively, for the mini-PCIe slot reserved for the WWAN card to be able to pull double duty for those of us who don't need it. The cooling design is efficient (you'll see later), but as a whole the 2170p just feels like a holdover.
It's strange; the HP EliteBook 2170p and the Acer Aspire V5-171 came in for review at right around the same time. I was optimistic about the EliteBook and skeptical about the Acer, but the more time I spent with each of these notebooks, the more positive I felt about the Acer and the less positive I felt about the 2170p. In terms of feel, the 2170p is by no means a bad design and I may be being needlessly harsh, but it just feels too thick. The awkwardly altered keyboard layout was an unwelcome surprise, and the internals don't seem like the most efficient use of the space available. Though the 2170p is light and sturdy, it nonetheless feels bulky in the hand, and not as portable as I'd like.
Application and Futuremark Performance
While the HP EliteBook 2170p review unit we have does feature Intel's fastest ULV processor in the Core i7-3667U and at least a 7200-RPM mechanical hard disk, you'll see that the single channel memory operation takes a bit of a toll on performance. PCMark 7, in particular, seems very unhappy with the lack of solid state memory anywhere in the chassis.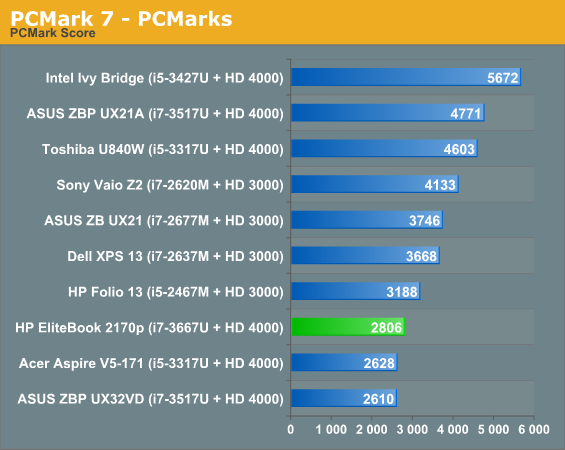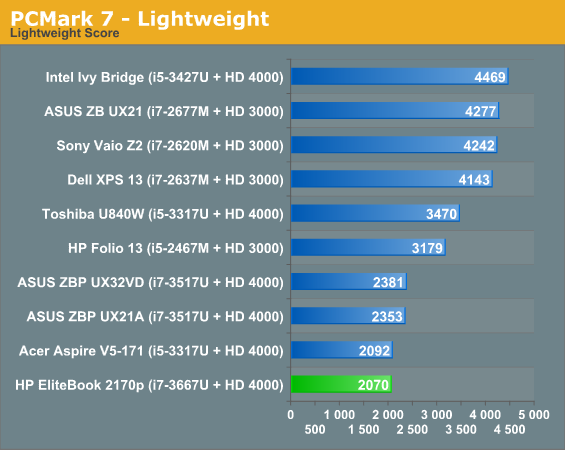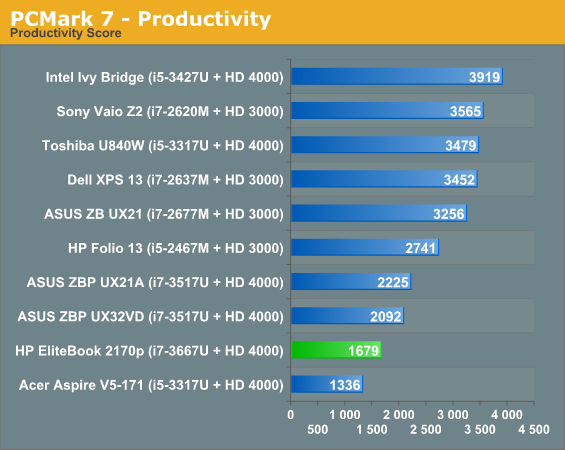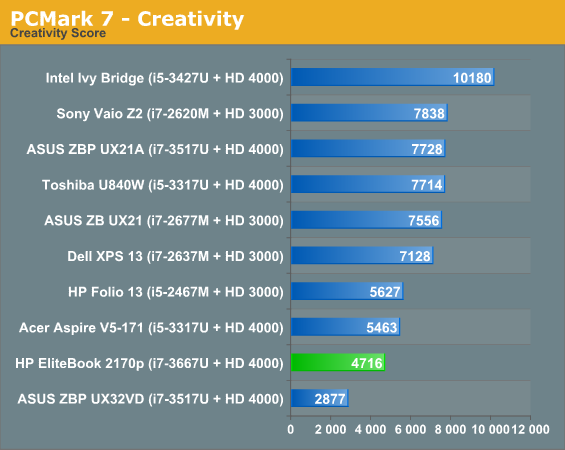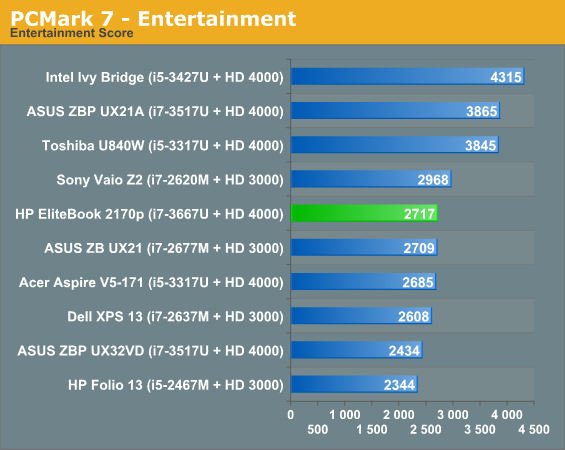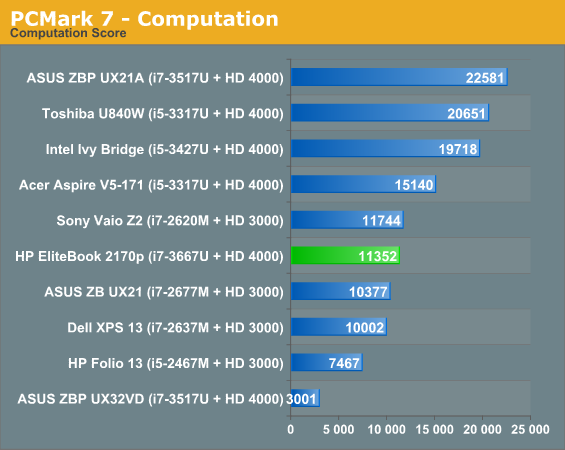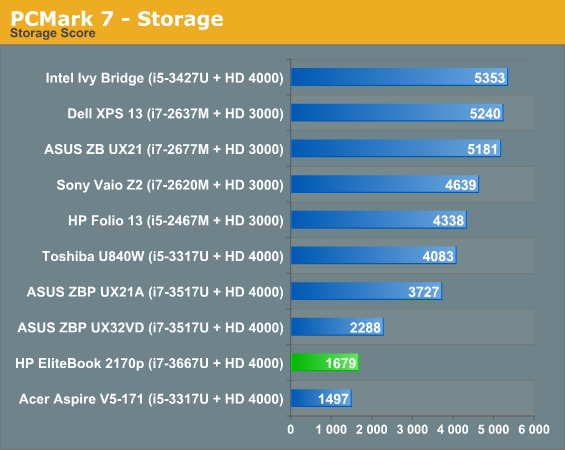 If QuickSync either doesn't kick in or doesn't efficiently kick in, scores in some cases can come out dismally low. I actually updated the drivers for the 2170p's HD 4000 to Intel's most recent as HP's stock drivers didn't give PCMark 7 its QuickSync boost.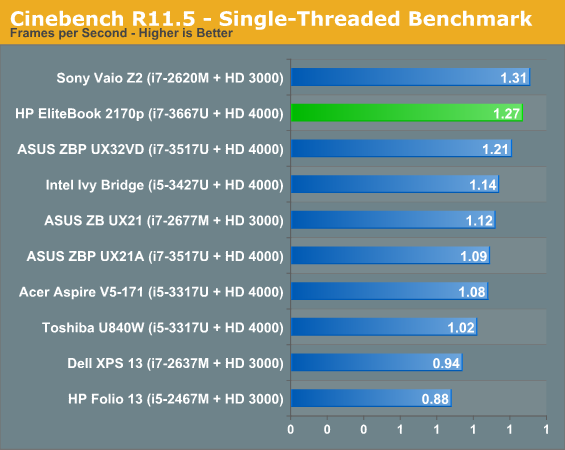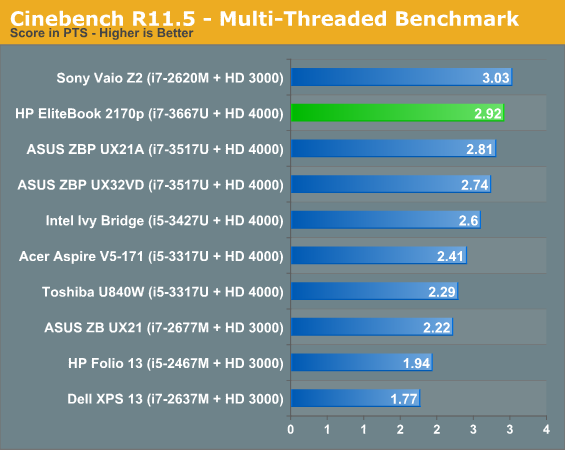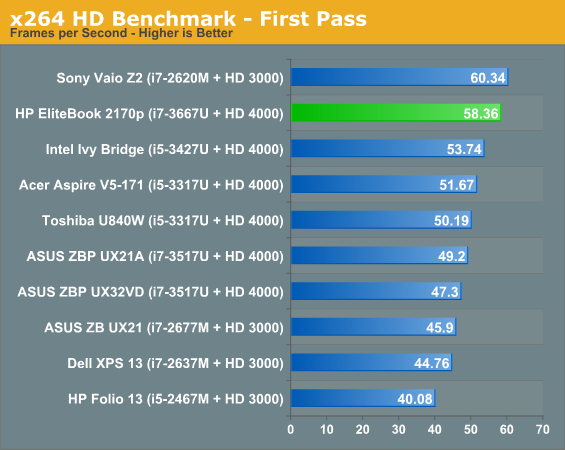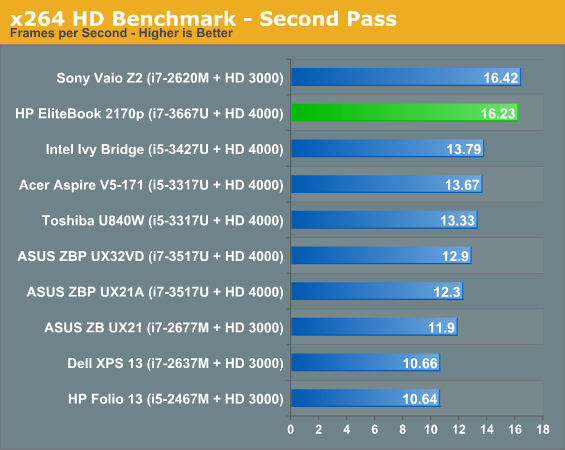 Switch over to CPU-centric workloads, though, and the EliteBook lines up where it's supposed to. The generational jump to Ivy Bridge allows a 17W processor to offer roughly the same performance as last generation's top end 35W. If you need the power it's there, but note that an i5-3317U seems to be able to get the job done very nearly as well. Ivy Bridge in general is a big win for ultraportables, but also pay attention to how the ASUS ZenBooks seem to have a harder time keeping their turbo up while the thicker chassis of the 2170p (and the Acer V5-171) seems to let the i7 run faster for longer.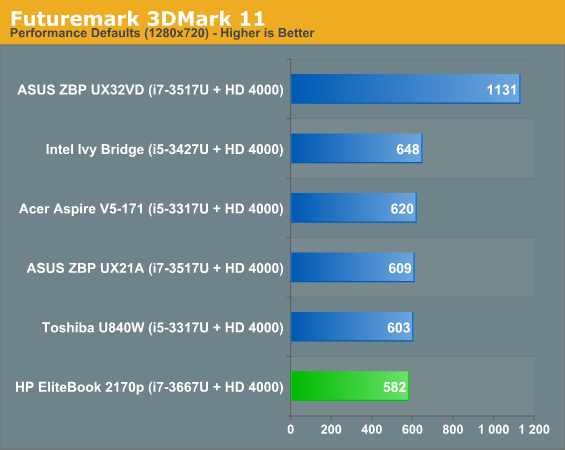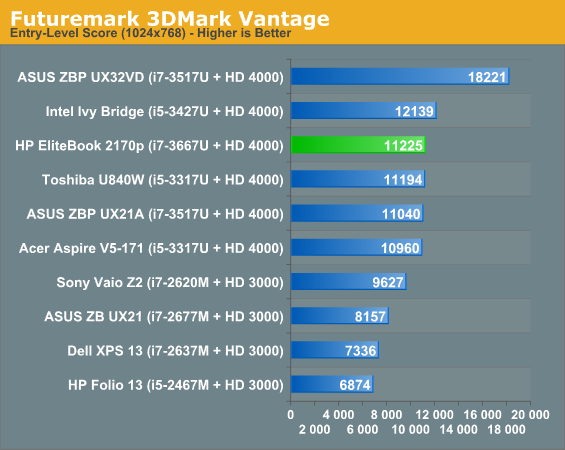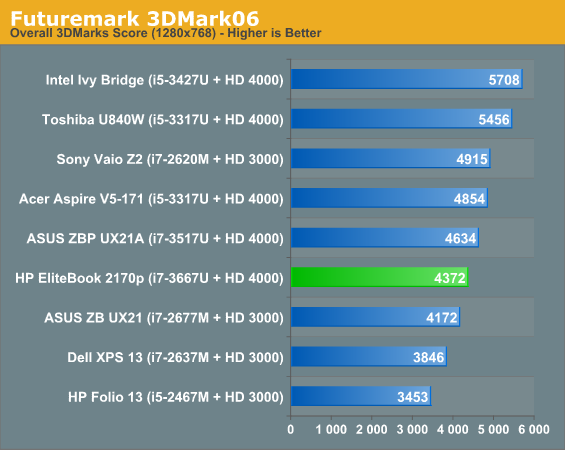 3DMark performance isn't terrible, but there does seem to be at least a minor hit owing to the single-channel operation. HP's Folio 13 ran in single-channel as well and sits at the bottom of each chart. The HD 4000 does remain a remarkably powerful integrated graphics option, though; I've been playing a few games on it and am continually impressed by its performance.
Display Quality
As is customary with these smaller notebooks (and notebooks in general these days), it should come as no surprise that the display on the HP EliteBook 2170p is pretty terrible. HP at least enjoys a matte finish on their display, but at the 11.6" form factor we're actually very close to tablet territory. A higher quality option on the 2170p would at least have been appreciated.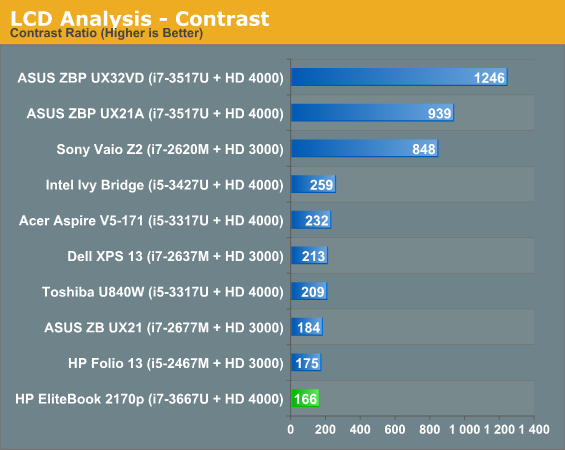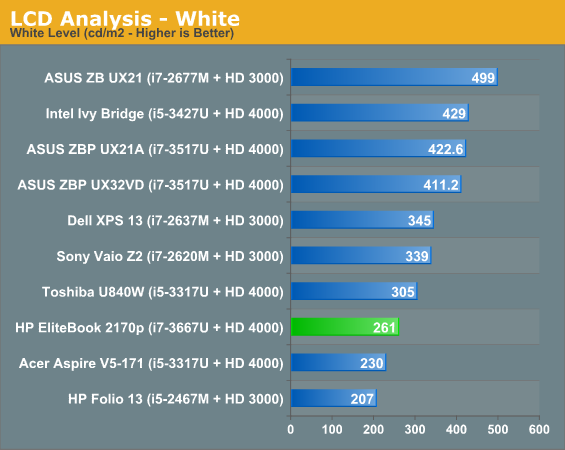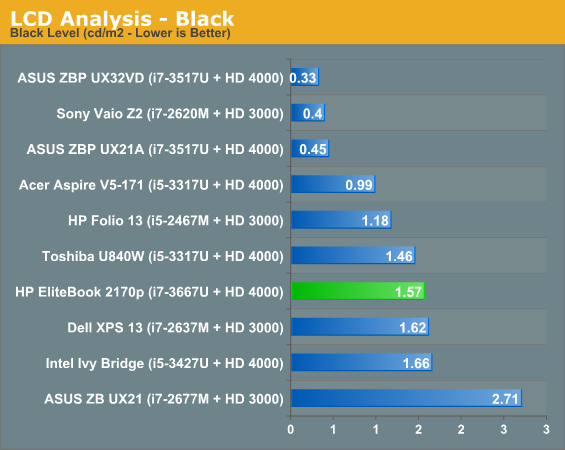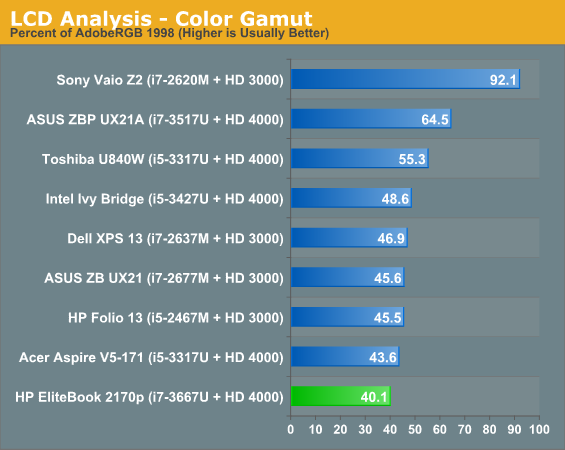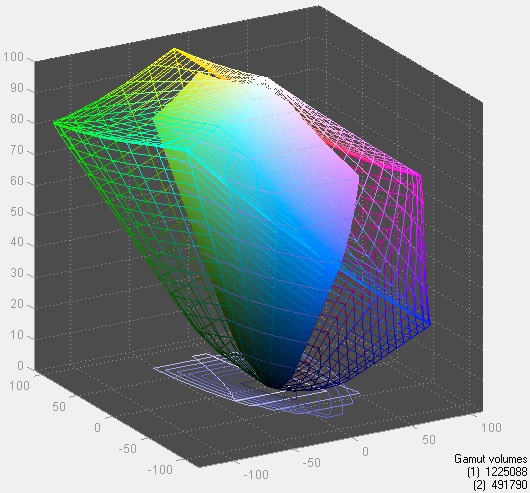 The display on the ASUS ZenBook Prime UX21A is pretty much how a small form factor display should be done. HP's is poor quality by almost any standard, with dismal gamut, accuracy, and contrast. The panel is actually worse than the already poor one from AU Optronics in the Acer Aspire V5-171, albeit not by much.
Battery Life
Unfortunately, while the poor battery life was more excusable on the Acer, the HP EliteBook 2170p suffers badly from its chintzy 4-cell, 30Wh stock battery. HP also offers a 6-cell, 48Wh battery, but you'll see efficiency in the 2170p really could be a lot better.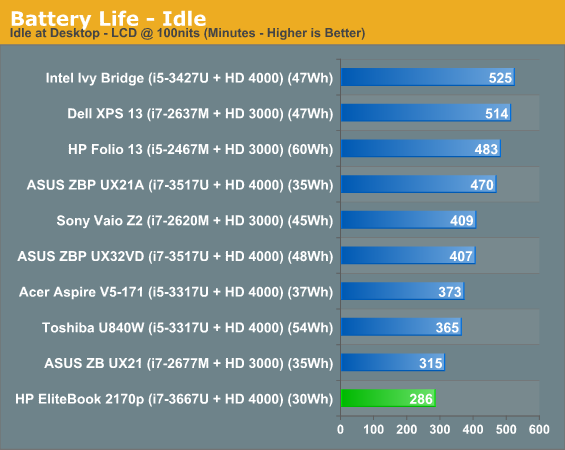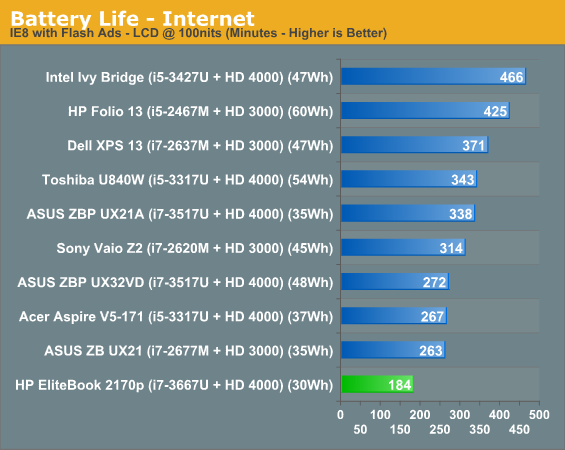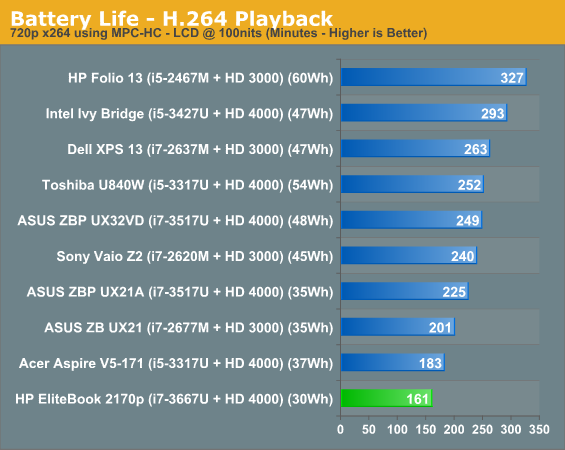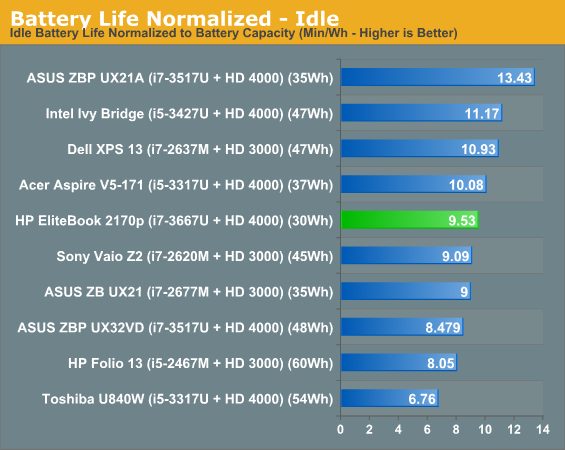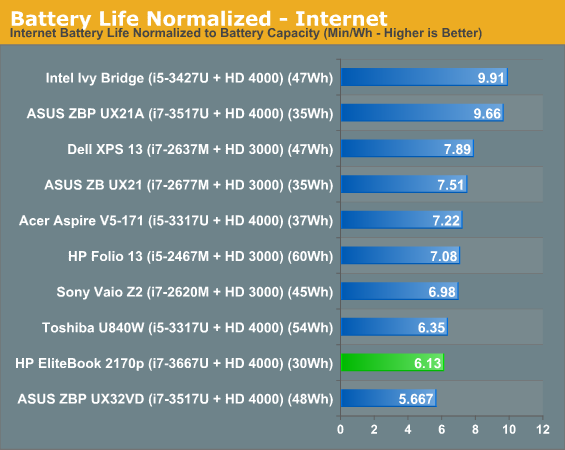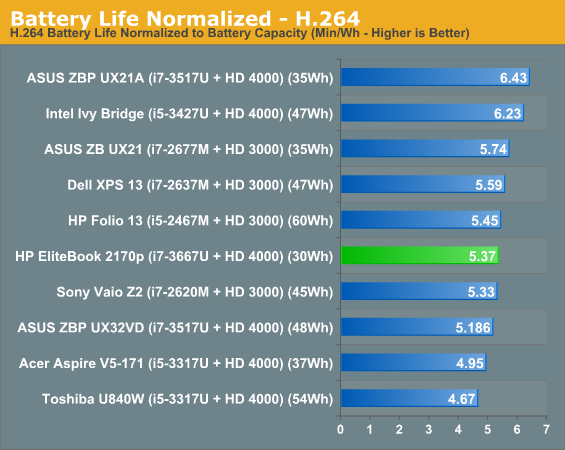 Normalized battery efficiency is very iffy, but raw running time with just the 4-cell battery is unacceptable. For web surfing, you get roughly three hours of productive use at 100 nits. That means you'll need the 6-cell battery if you want to use the 2170p off the mains for any period of time, as it just doesn't have the juice to keep going.
Heat and Noise
Thankfully, the one place where the HP EliteBook 2170p seems to really excel is in heat and noise management. The thick chassis may be a bit unwieldy for an ultraportable, but it does allow the notebook enough real estate to handle its thermals without getting too loud or too hot.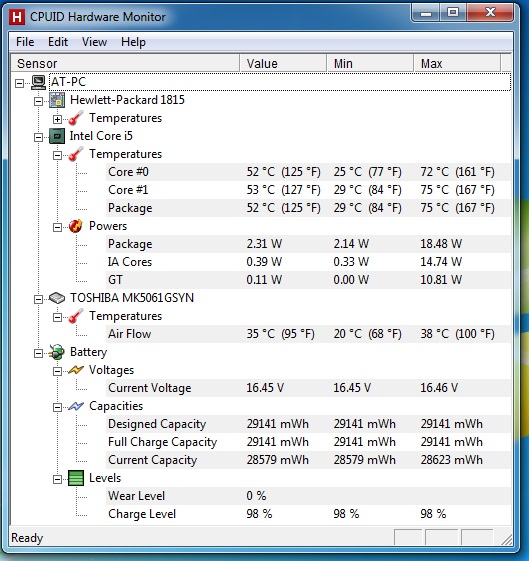 The i7 never goes above 75C on a core, which is frankly just fantastic for any notebook. Fan noise is also minimal, if constant, but it makes me wonder if HP couldn't have possibly tuned the fan to run a bit slower and coax at least a little more juice out of the battery. Like I said, the fan is never particularly audible, but it's obvious they have some thermal headroom to work with.
Conclusion: Mixing the Bag
Expectations are strange things. As reviewers we try to be unbiased, but we aren't really immune to being excited about or nervous about a product coming in for review. Consequently, a promising product that turns out to be nearly everything you hoped for can get a fairly glowing review, but a promising product that falls short of expectations can quickly turn into a diplomatic exercise. The surprisingly decent Acer Aspire V5-171 and the HP EliteBook 2170p are two notebooks in the same form factor and performance profile, but they're addressing two very different markets. One of these is better equipped to compromise than the other.
Where HP's EliteBook 2170p generally excels is in durability and flexibility. HP includes all the ports you could really need in an ultraportable, and they back it up with a reasonably solid chassis. It's not quite as firm as the other notebooks in their EliteBook lineup, but that owes to the smaller form factor and generally lighter body. The keyboard is pleasant to use, and though the surface space is limited, the touchpad at least has a comfortable feel to it. I'll almost never turn down a matte finish on a display, either.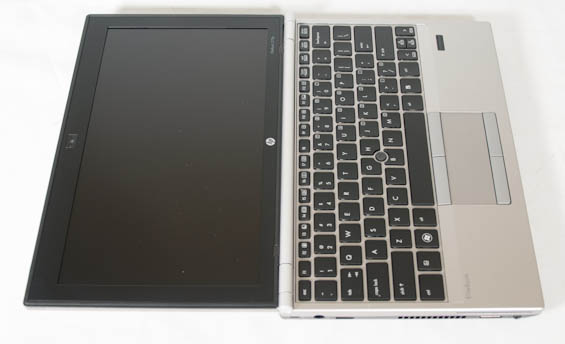 Unfortunately, things go awry when you get down to brass tacks. While HP's support page is actually excellent, featuring a single executable that houses all the drivers for the notebook, performance in practice is less pleasant due to the sluggish mechanical hard drive and lack of at least an SSD cache. Battery life is also stunningly poor with the 4-cell battery. And while I like the aesthetic HP is using for their enterprise notebooks right now, it's utterly ill-suited to an ultraportable like this. This is an ultrabook that's had the fat trimmed off the sides and reattached to the bottom. I'm not talking about weight, either, but actual bulk. The 2170p could and should have been thinner.
I don't think the price tag on the 2170p is that terrible provided the 25% off eCoupon is in place, but I have a hard time really recommending this notebook regardless. That's rough, because HP isn't presently offering a solid alternative to it. The Folio 13 was a pretty solid ultrabook when it was available, but their new Folio is a 14" model and half a pound heavier. What we end up with is the only 11.6" business class notebook that showed up to the party, so if you need something small for business, you're really looking at either the 2170p or going a bit bigger for Dell's XPS 13. The 2170p isn't a bad notebook and the price is reasonable, but a hungry competitor could very easily come in and snatch this market out from under HP if they're not careful.