Original Link: http://www.anandtech.com/show/6478/asrock-fm2a85x-extreme6-review


The answer to the question 'What makes a good motherboard?' can generate an alarming number of responses. When a manufacturer starts with a new chipset, the idealized view is that they partition the market off into segments – system integrators, HTPC, gaming, enthusiast, overclocker, legacy et al, and then try and get a fixed number of SKUs to target each one but encompass several others. This is not always true – design can be driven by sales of particular regions where certain features go down well, for example in the Chinese Internet Café market only one HD video output is needed. Today we look at the ASRock FM2A85X Extreme6, the high-end ASRock solution to Trinity.
ASRock have released eight SKUs for FM2 – three with A85X (Extreme6, Extreme4 and Extreme4-M), four with A75 (Pro4, Pro4-M, DGS, ITX) and one with A55 (DGS). Thankfully each are prefixed with FM2, meaning that differentiation with the FM1 boards is easy. The Extreme6 we are reviewing today is currently for sale for $100, right in the middle of the FM2 range on Newegg ($75-$140). This initially makes it more palatable when going for the high end Trinity processors (such as the A10-5800K used in this review).
ASRock FM2A85X Extreme6 Overview
When reviewing a motherboard, one of the prime concerns is whether the product is 'worth the money'. This can produce two conflicting arguments – are we technically looking for a board that is concise with no excess, or something that offers additional features for free? If it offers additional features, does that mean if we do not want them they will be taken off and we can get it for cheaper? Everyone likes to quote the typical 'three year' PC cycle where people upgrade on a regular basis, so at what level does a user want future proofing? Early adopters of USB 3.0 relied on controllers linked to old chipsets, whereas now we have them built into the chipset which reduces a layer of abstraction and latency. Technically every motherboard can be argued one way or another – if it is not value for money but has features that may not be used, they might be used in the future when technology becomes more mainstream. If we did not have future proofing, then it would take longer for such controller-based additions (Thunderbolt, USB 3.0, and SATA 6 Gbps) to be cheap enough for mainstream products.
Because quite a lot of these extra features are now part of the chipset, a motherboard manufacturer can make a standard product with a lot of features without having to deal with bulk purchasing any major controllers. Concerns on modern motherboard inclusion are often in the power delivery, the fan controllers, PCIe switches, and the controllers for the network interface and audio. The ASRock FM2A85X Extreme6 takes this a stage further, offering an ASMedia ASM1042 for two extra USB 3.0 ports on the rear panel, as well as a two-digit debug LED with power/reset buttons. We get a very typical Realtek ALC898/8111E combination for the audio and network, as this combination is often sold to manufacturers at discount (and why Intel based NIC motherboards can be more expensive).
Like most FM2 motherboards, the FM2A85X Extreme6 gives a full selection of video outputs – D-Sub, DVI-D, HDMI and DisplayPort. The motherboard claims support for up to DDR3-2600+ memory, and the eight SATA ports are split such that seven are available on the board, and one is an eSATA port on the rear IO. To add some cream on the top, we have access to six fan headers on board, though only two are 4-pin.
One of the big features ASRock wants to promote is their X-Boost button. By pressing the X button on a USB keyboard at boot will cause the system to restart and apply a preset overclock to the system. This overclock is akin to the MultiCore Enhancement/Acceleration we see on some vendor Intel Z77 systems, whereby the processor is made to run at the maximum turbo bin no matter what the loading. As always with ASRock products we get access to XFast USB (better speeds under one USB port at a time), XFast LAN (cFos network management software) and XFast RAM (ability to partition memory as a fast cache).
Performance wise, we have already covered high-end Trinity against dual core Ivy Bridge – our main points of comparison here are between our previously tested FM2 board from ASUS and this ASRock FM2A85X Extreme6. Both boards trade blows, with the ASRock coming out ahead on gaming tests but the ASUS performing well in single threaded scenarios. For $100, the FM2A85X Extreme6 hits a better price point in terms of price-performance against the ASUS, at the possible detriment of the underlying design of software. However, as a plug and play motherboard, it performs well.
Visual Inspection
At first glance, two things started to irk me regarding the ASRock FM2A85X Extreme6. Firstly, the amount of components on the top left of the motherboard is insane. There are a lot of resistors and other components which just means that the board takes longer to produce, and statistically there is probably more chance of something going wrong (having fewer components seems to help overclocking as well). The second is the 4-pin molex connector in the middle of the board. If other motherboards with similar designs do not need it, then why is it here to supply power to the PCIe lanes? It is in the worst place possible – ideally we would have this at the bottom of the board at right angles, or preferably with a board with this layout, not at all. Other motherboards, if they need extra power, seem to use either SATA or 6-pin PCIe power connectors on the edge of the motherboard.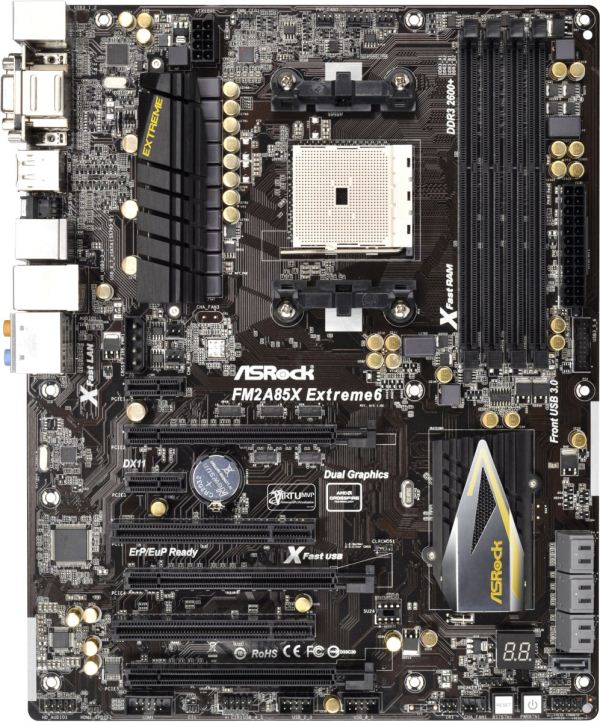 Nevertheless, the socket area itself is very large and free of obstructions. The nearest edge to worry about with large coolers is the power delivery heatsink, which in this board is designed in black and gold with straight edges. The heatsink is a single unit and not connected to the chipset heatsink, but feels sufficient and up to the task. In terms of fan headers, the CPU socket has direct access to five – three above the socket (4-pin, 2x3-pin) and two below the power delivery heatsink (both 3-pin). The final fan header is located at the bottom of the board and is 4-pin.
Along the right hand side of the motherboard we have the 24-pin ATX power connector, a USB 3.0 header (powered by the chipset) and seven SATA 6 Gbps in grey. Next to these is the chipset heatsink which again uses the black and gold color scheme with sharp edges as the power delivery heatsink. The power and reset button combination is on the bottom of the board, with the two-digit LED Debug just above.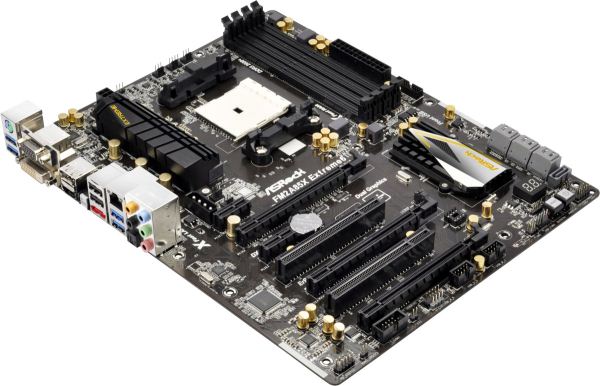 The bottom in comparison to other boards in the range is relatively bare – we have the aforementioned power/reset buttons, two USB 2.0 ports, a fan header, a front panel audio header, a COM port header, and the front panel header. The PCIe layout, like other FM2 boards, allows the use of two GPUs and a PCIe x1 device fairly easily. In comparison to other boards tough, ASRock switches out one of the PCIe x1 slots for a PCI, should any users have PCI sound cards or devices. From top to bottom we have a PCIe x1, x16 (x8 in dual mode), x1, PCI, x8, PCI, x4. This final x4 is powered through the chipset rather than the CPU, and is capable of being used in Crossfire (albeit with a small penalty due to routing through the chipset).

Unlike some other boards, this ASRock FM2A85X Extreme6 uses slightly thinner IO designs in order to fit in a ClearCMOS button. The downside of this is that for the USB 3.0 slots on the left, any large and bulky USB devices may not fit properly if a DVI-D cable is being used at the same time. We have seen this before on other ASRock models. From left to right we have a combination PS/2 port, two USB 3.0, D-Sub, DVI-D, DisplayPort, HDMI, a ClearCMOS button, two USB 2.0, an eSATA 6 Gbps, a Realtek GbE NIC, two more USB 3.0, an optical SPDIF port and audio jacks. In an ideal world, I would have liked to have seen the DVI-D and D-Sub combined into a DVI-I and an appropriate connector included in the box. This would have allowed the IO panel to be more space optimized and extra USB ports added.
Board Features
ASRock FM2A85X Extreme6
Price
Link
Size
ATX
CPU Interface
FM2
Chipset
AMD A85X
Memory Slots
Four DDR3 DIMM slots supporting up to 64 GB
Dual Channel, 1066-2600MHz
Video Outputs
D-Sub
DVI-D
HDMI
DisplayPort
Onboard LAN
Realtek 8111E
Onboard Audio
Realtek ALC898
Expansion Slots
2 x PCIe 2.0 x16 (x16/- or x8/x8)
1 x PCIe 2.0 x4
2 x PCIe 2.0 x1
2 x PCI
Onboard SATA/RAID
7 x SATA 6 Gbps, Supporting RAID 0, 1, 5, 10
1 x eSATA 6 Gbps
USB
4 x USB 3.0 Ports (Chipset) [2 back panel, 2 onboard]
2 x USB 3.0 Ports (ASMedia ASM1042) [2 back panel]
8 x USB 2.0 Ports (Chipset) [2 back panel, 6 onboard]
Onboard
7 x SATA 6 Gbps
1 x USB 3.0 Header
3 x USB 2.0 Headers
6 x Fan Headers
1 x COM Port
Power/Reset Buttons
Debug LED
Power Connectors
1 x 24-pin ATX Power Connector
1 x 8-pin CPU Power Connector
1 x 4-pin Molex PCIe Power Connector
Fan Headers
2 x CPU (4-pin, 3-pin)
3 x CHA (4-pin, 2x 3-pin)
1 x PWR (3-pin)
IO Panel
PS/2 Combination Port
D-Sub
DVI-D
HDMI
DisplayPort
Optical SPDIF Output
2 x USB 2.0
4 x USB 3.0
1 x eSATA 6 Gbps
Realtek GbE
Clear CMOS Switch
Audio Jacks
Warranty Period
3 Years
Product Page
Link
Despite the combination of Realtek NIC and audio, we can take some solace in the fact that the Realtek ALC898 is being used rather than the ALC892 or ALC889. Using gold covered capacitors is more an aesthetic point than anything else, keeping in the black and gold theme. Despite the amount of resistors and visible tracings on board, I still can not get my head around the need for a four-pin molex, especially in the middle of the motherboard. It should also be noted that the BIOS chip is easier to remove on this motherboard than some of its competitors.
ASRock FM2A85X Extreme6 BIOS
In recent chipset iterations, ASRock has pushed more than most other manufacturers in order to get their BIOS to feel more like an interactive bit of software. From the early blue/dark-blue beginnings, we now get audio confirmations of options and a glittery background that twinkles. We also get some higher definition icons, but the only thing missing is a paradigm shift to something completely and fully interactive, rather than a derivative of an old-style BIOS and a re-skinning of off-the-shelf code. My own personal feelings of what a BIOS should be like aside, the ASRock implementation is still better than most on the market.
On booting the board, the user is presented with the option to press 'X' on the motherboard to activate a new feature called 'X-Boost' which ASRock are often promoting on social media. Initially I did not see this option because one of my monitors is too slow to show a screen (or one could argue the ASRock board boots too fast, but my testing gave it 12.61 seconds to finish POST). But this option, when enabled, will cause the system to hard reset, and the CPU is boosted in performance. For the A10-5800K, this meant a boost to the highest turbo multiplier, giving 4200 MHz no matter what the CPU loading (compared to the different turbo speeds depending on workload). This is essentially a version of MultiCore Enhancement/Acceleration for AMD Trinity processors, and every processor should happily perform at this speed. As with our testing methodology, as it is not enabled by default, we did not use it. Surprisingly, X-Boost did not enable the XMP profile of the memory – I initially thought that was because it was an AMD platform, but given that I can happily set an XMP profile manually in the BIOS, it was all a little strange.
Rather than split the action behind an easy and an advanced mode, we get straight into the meat of the BIOS with the 'Main' menu. This menu does part of what I think all BIOSes should do – tell us exactly what we are dealing with in terms of the motherboard, the motherboard BIOS version, the processor, the current speed of the processor, the total memory installed and the speed of that memory. All that is missing is the CPU temperature, some important voltages and perhaps some fan speeds as well. The sole option on this screen is the ability to adjust which page is seen when the BIOS is entered by default – this is of most use to overclockers who will select the OC Tweaker menu.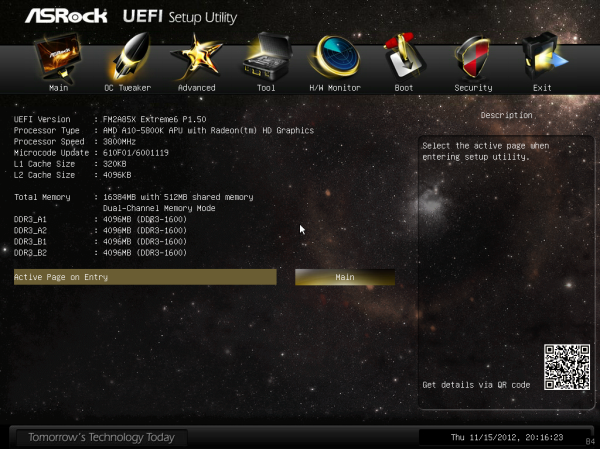 For speed enthusiasts, the OC Tweaker menu is the place to be. A little different to previous ASRock designs, instead of a wall of options for everything in the system, the options are split into sections governing important areas. We have a top option for an easy OC Mode which offers speeds from 4200 MHz to 4600 MHz in 100 MHz intervals – these are usually slightly looser OC settings than ideal in order to include the majority of processors and the variable overclocking characteristics possible. Also in this menu is a manual overclock mode dealing with multipliers, AMD's Turbo Core Technology, load line calibration and the iGPU clocks/voltages. The memory speed and timings are further down in their own section, as well as the secondary voltages in the system. In our testing, we were unable to get our G.Skill 2400 9-11-11 memory kit to work at XMP, but our G.Skill 2400 10-12-12 worked fine. As per our previous FM2 review, we ran the 2400 9-11-11 kit at XMP but reduced the multiplier for an effective 2133 9-11-11 setting.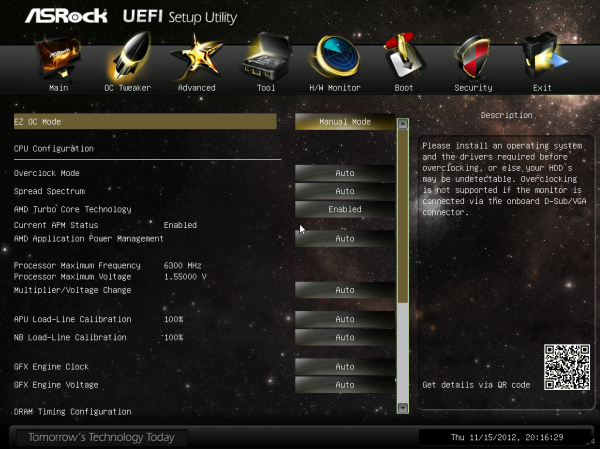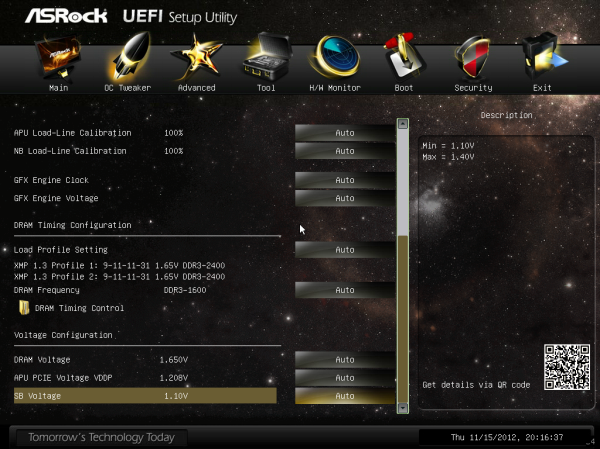 The Advanced menu from the top icons gives access to the other configurations on board – storage, North Bridge, South Bridge, controllers and USB et al. The newer options that ASRock put on their products get crowbarred into the Tools menu - the system browser is used to diagnose if a PCIe device or memory stick is not working. The OMG (Online Management Guard) is to disable usage of the LAN for specific hours of the day. The dehumidifier function is to spin up fans when the computer is turned off to equalize water vapor concentration as the outside temperature changes; and we also get options related to BIOS flashing. ASRock is still the only motherboard manufacturer that actively advertises a BIOS that will contact the manufacturer servers for the latest BIOS then download it and apply automatically. We also get the option to save the BIOS settings to one of three profiles here.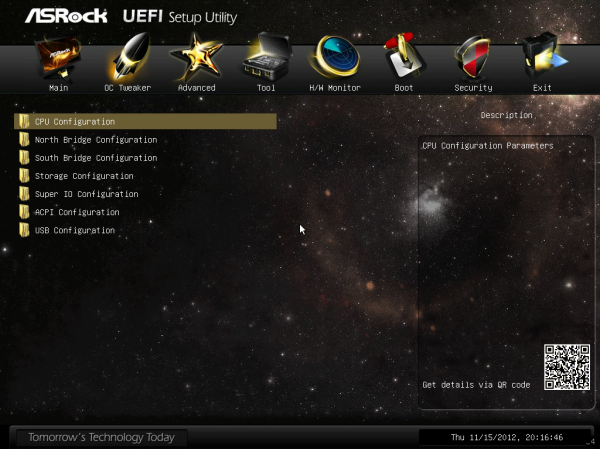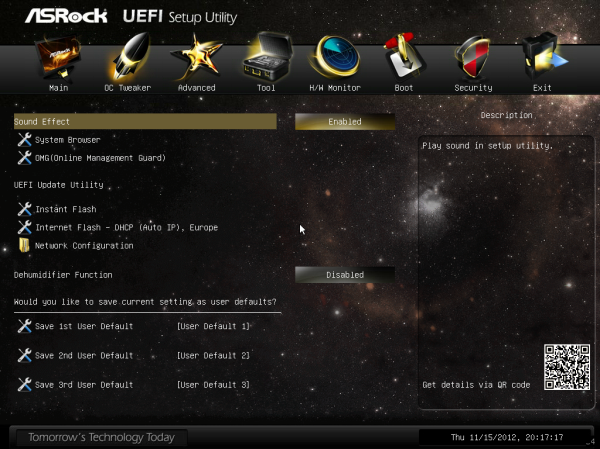 The fan options are in the H/W Monitor menu, and give us controls over the fans in four segments – the CPU fans as one, and three chassis fans get their own control. By default these fans are put at full speed no matter what the temperature. This is a power play on the part of ASRock to get better results in temperature readings at default, as some reviewers (as I did previously) include temperature readings without audible readings. However, these fan options can be changed to speed profiles or as a particular ramp from a Level 1 (shallow) ramp to a Level 10 (fast) ramp. Ideally we would see a fully selectable graph showing RPM vs. temperature with configurable controls, but no motherboard manufacturer has yet decided to put this on their systems, despite the ease with which it could be done in software.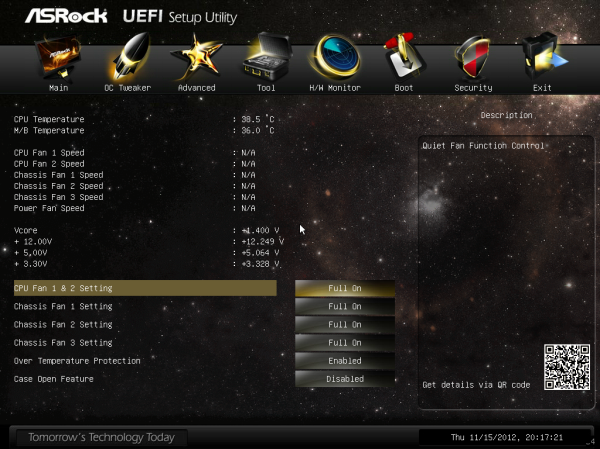 Other options in the BIOS relate to the boot order, boot failure from bad overclock settings, security, and exiting the BIOS.
ASRock FM2A85X Extreme6 Software
For a number of motherboards and motherboard packages, ASRock have stuck to their guns on the software package they include with the product. The main philosophy behind their software package is plastered over the motherboard box itself in the form of the 'XFast 555' methodology. This relates to the main three parts of the software – XFast USB, XFast LAN and XFast RAM, each of which we will go through. ASRock claims that each element of the software can increase performance by 5x (hence the 555 nomenclature), however the benchmarks are cherry picked to show a performance gain, and it is arguable if those benchmarks are relevant in a real world context.
The driver install disk is very good – we get a one button option to install the drivers or pick the drivers we want. Other specific software is included in this 'install all', like Google Chrome, Lucid Virtu, and an anti-virus (this anti-virus software is part of a bundling package with a particular virus scan company, which I disable for the purposes of testing). Other AMD related options like AMD Fusion, AMD Overdrive, Adobe, THX TruStudio and others are found in the Software Suite menu and can be installed individually.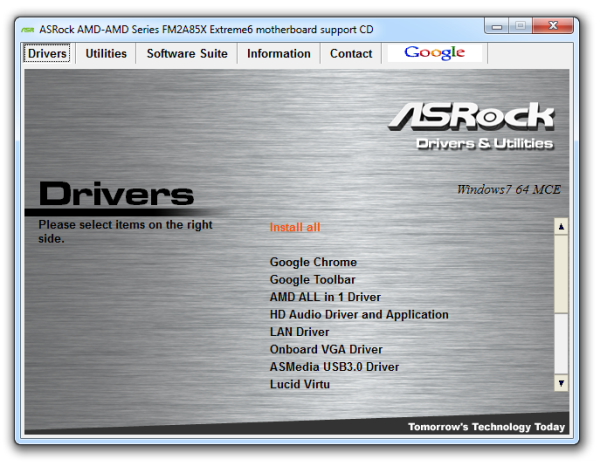 Both the XFast USB and XFast LAN utilities on the disk are actually licensed versions of other software but with an ASRock skin. For example, the XFast LAN software is a skinned version of cFosSpeed (http://www.cfos.de/en/cfosspeed/cfosspeed.htm), which normally costs 15.90 Euro. ASRock clearly get it on a bulk licensing deal in order to pass savings onto the user.
XFast USB
The waters of XFast USB have been muddied with the integration of Windows 8. Simply put, there are multiple ways to talk (protocols) to a USB device, depending on whether the one doing the talking and the USB device supports the protocols. For Windows 7 there are three main protocols to choose from – normal (from the Windows Drivers), BOT (Bulk Only Transfer, increases speed at the expense of latency) and UASP (USB Attached SCSI Protocol). In all usual situations, the normal protocol has priority as it works in any configuration with any device. The BOT protocol can be achieved by injecting a different driver into the system (this is what XFast USB does) which gives better peak transfer rates by reducing the overhead in talking to the device. UASP is used by ASUS to get better speeds for low transfer sizes – sometimes up to two orders of magnitude better than normal or BOT protocols.
When I say the waters have been muddied, it means that Windows 8 automatically implements UASP on any device that can support it on any USB 3.0 port. This makes software like XFast USB on ASRock and the ASUS UASP null except on Window 7 systems. If Windows 7 is here to stay until Windows 9, then elements like XFast USB will still be included in software packages.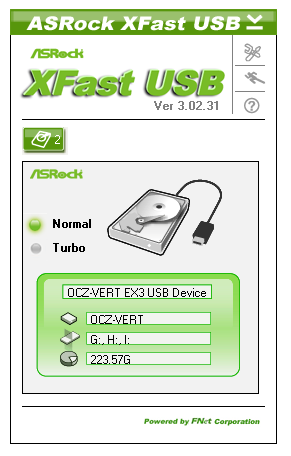 XFast LAN
In my home user experience, there has never been much of a need to monitor and adjust how a machine communicates with the internet. Living with a substantial broadband speed helps, but even as a student there was no software way of stopping someone abusing the internet of the house without setting up an ICS type system and implementing something like XFast LAN, assuming the ICS could interpret what each machine was doing. XFast LAN is the ASRock skinned version of cFosSpeed, and allows users to monitor as well as prioritize certain programs over others for network usage. Thus when gaming and downloading, the game can have priority, or using VOIP over gaming, the VOIP gets ahead of the stack for gaming.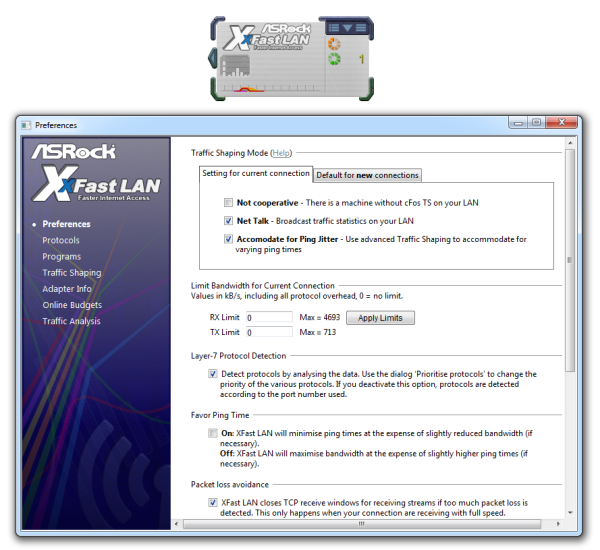 This software is designed to work with any outgoing network implementation – either Realtek, Intel, Atheros, or a WiFi connection. The downside of software usually consumes some CPU cycles rather than gunning for a NIC with routing options part of the specification, such as Intel server NICs.
ASRock eXtreme Tuning Utility (AXTU)
AXTU has been a part of the ASRock package since before I starting reviewing their motherboards, and not a lot has changed since the inception. Most manufacturers have an interface for overclock settings and fan controls, and for ASRock, this is AXTU. Over the months and chipset generations, a couple of new features have been added on to the default framework – Intelligent Energy Saver, XFast RAM, and now the Restart to UEFI option.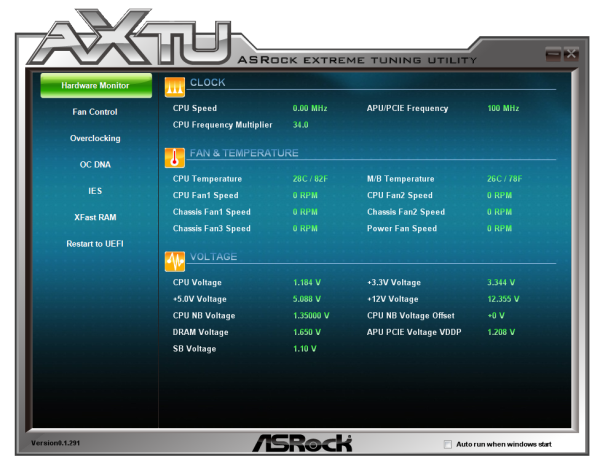 The Hardware Monitor for AXTU does a similar job to the HW Monitor in the BIOS – we get lists of speeds, temperatures and voltages. As you can see above, the version I tested had difficulty multiplying 34 and 100 to make 3.4 GHz for the total CPU Speed.
Fan control is also similar to the BIOS options, giving the CPU fans and the first chassis fan an option to set a target temperature then a target speed (from Level 1 to Level 10 which makes little sense). It would not be too hard to offer a multi-scale graphing system so users can accurately change the fan speed in relation to temperature, given that ASRock have control over what PWM value they set for each fan header.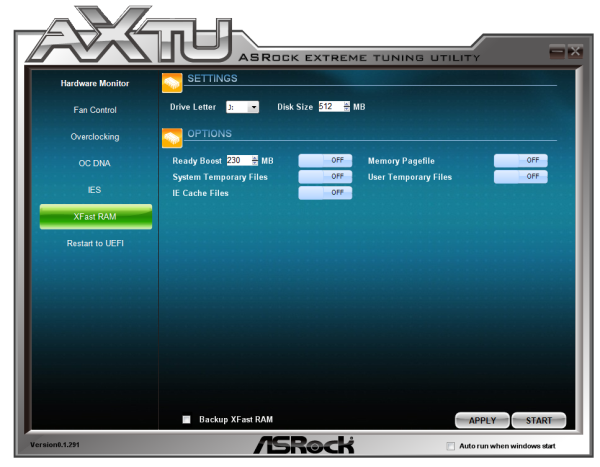 XFast RAM is part of the 555 software package, although it simply is a glorified RAM Disk generator with some simple options for adjusting temporary files to the RAM Disk. There are situations where this is useful – making 16 GB RAMdisk if you have 64 GB of memory could provide the perfect solution in the read/write speeds of your array are the limiting factor in production.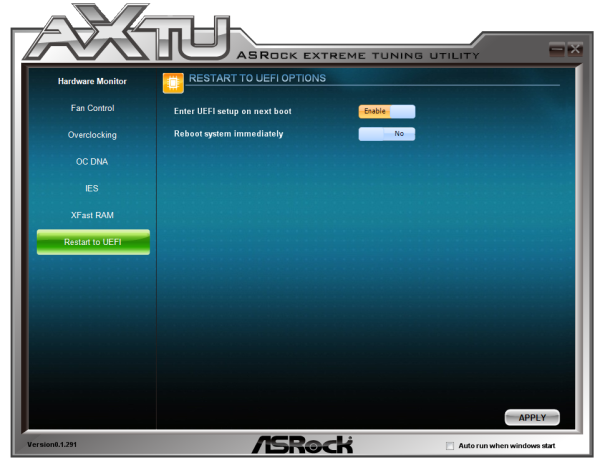 The new feature starting to crop up on motherboards is an option to go straight to the BIOS on the next boot. This is handy for overclockers or tweakers, and usually comes in the form of a button on the board itself (Intel DX79SI, MSI Z77 MPower). ASRock have decided to make this an option in AXTU, despite the fact that overclockers or tweakers may not want to install the AXTU software to reduce system bloat. It is a nice idea, but it should be offered as a simple .exe which can be double clicked from the desktop.
ASRock FM2A85X Extreme6 In The Box
When competing at the lower end of the market, it can be hard to distinguish a motherboard with the extras in the box. The ASRock FM2A85X Extreme6 currently e-tails at $100, meaning that if any significant additional inclusion was in the box, the ASRock board could be highly competitive in terms of bang-for-buck. Alas, no such luck:
Driver CD
Manuals
Rear IO Shield
Four SATA Cables, Locking
There is a small amount of differentiation – typically motherboards at this range have only two SATA cables, whereas we get four with the ASRock. Given the seven SATA ports on board, I would gladly take four rather than two.
ASRock FM2A85X Extreme6 Overclocking
Methodology:
Our standard overclocking methodology is as follows. We select the automatic overclock options and test for stability with PovRay and OCCT to simulate high-end workloads. These stability tests aim to catch any immediate causes for memory or CPU errors.
For manual overclocks, based on the information gathered from previous testing, starts off at a nominal voltage and CPU multiplier, and the multiplier is increased until the stability tests are failed. The CPU voltage is increased gradually until the stability tests are passed, and the process repeated until the motherboard reduces the multiplier automatically (due to safety protocol) or the CPU temperature reaches a stupidly high level (100ºC+). Our test bed is not in a case, which should push overclocks higher with fresher (cooler) air.
Automatic Overclock:
Using the X-Boost function at boot by pressing 'X', the system restarted and applied the top turbo clock of the processor for every level of load except idle. This meant the A10-5800K was adjusted to 4200 MHz under any load.
In the BIOS, we get the option for 4200 MHz to 4600 MHz in 100 MHz increments – each of these was tested:
At the 4200 MHz setting, the system applied 1.13875 volts on the CPU as well as a +0.060 volt offset. The NB was given a +0.120 volt offset, while the memory was set at DDR3-1333. This setting was stable in the OS.
At the 4300 MHz setting, the system applied the same settings as per the 4200 MHz situation but with a single increase in the CPU multiplier. This setting was also stable.
At the 4400 MHz setting, the system adjusted up the offset on the CPU to +0.120 volts while still keeping the fixed voltage selection the same as previous settings. This setting was stable in the OS.
At the 4500 MHz setting, the system upped the CPU voltage offset further to +0.180 volts. This was stable in the OS.
At the 4600 MHz setting, the system adjusted the CPU in terms of both fixed and offset values, placing 1.4000 volts on the CPU and a +0.200 volt offset. This setting failed stability during OCCT which produced an error on one of the CPU cores.
Manual Overclock:
For the first time in a long time, I am thoroughly stumped by manually overclocking a motherboard. Unlike the previous FM2 boards we have tested, the ASRock FM2A85X Extreme6 failed to enjoy many manual settings above 4.3 GHz. When using the automatic settings above, everything was simple – but if I used the exact settings in a manual mode, the system would happily agree to boot at those speeds but fail to ramp up to full speed under load. This was a very confusing scenario, meaning that while I could boot at 4.8 GHz, and CPU-Z briefly acknowledging the speed, when I loaded up PovRay or OCCT, the system would reduce to idle speeds and never come back up to full speed. I thought that this was perhaps related to the AMD CPU Overdrive functionality in the AMD Control Center, but no combination of settings worked.
Many thanks to...
We must thank the following companies for kindly donating hardware for our test bed:
OCZ for donating the Power Supply and USB testing SSD
Micron for donating our SATA testing SSD
G.Skill for donating our memory kits
ASUS for donating AMD GPUs and some IO Testing kit
ECS for donating NVIDIA GPUs
Test Setup
Power Consumption
Power consumption was tested on the system as a whole with a wall meter connected to the OCZ 1250W power supply, while in a dual 7970 GPU configuration. This power supply is Gold rated, and as I am in the UK on a 230-240 V supply, leads to ~75% efficiency > 50W, and 90%+ efficiency at 250W, which is suitable for both idle and multi-GPU loading. This method of power reading allows us to compare the power management of the UEFI and the board to supply components with power under load, and includes typical PSU losses due to efficiency. These are the real world values that consumers may expect from a typical system (minus the monitor) using this motherboard.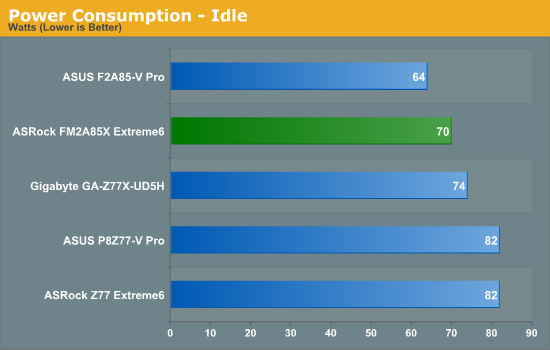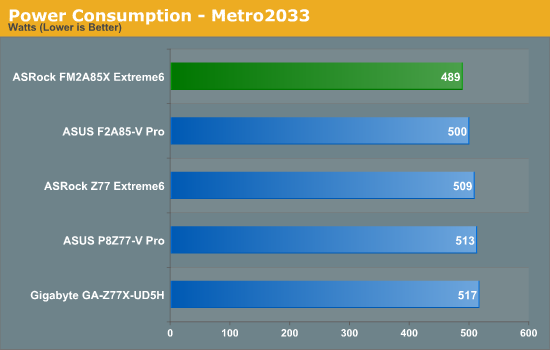 For comparison, we have adjusted the graphs to include three Z77 motherboards using the i7-3770K, a 77W processor. In terms of power consumption, we can see that Trinity has a lead during idle and during Metro 2033 using two GPUs, however due to the 100W nature of the A10-5800K, Trinity loses out on pure CPU workloads (both in power and performance, especially if the benchmark is primarily FP).
POST Time
Different motherboards have different POST sequences before an operating system is initialized. A lot of this is dependent on the board itself, and POST boot time is determined by the controllers on board (and the sequence of how those extras are organized). As part of our testing, we are now going to look at the POST Boot Time - this is the time from pressing the ON button on the computer to when Windows starts loading. (We discount Windows loading as it is highly variable given Windows specific features.) These results are subject to human error, so please allow +/- 1 second in these results.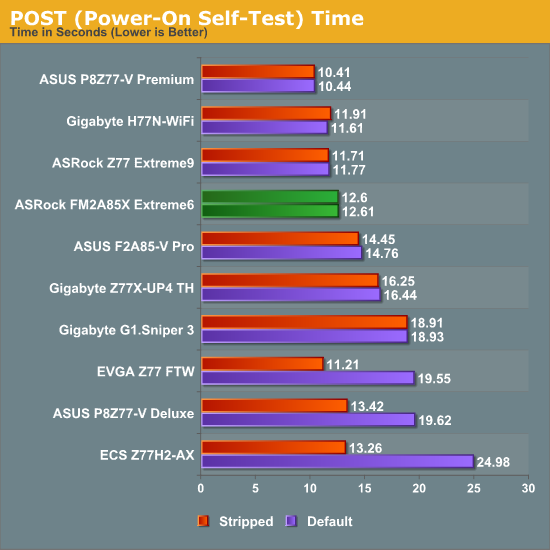 Any POST time under 13 seconds is a good result in my book, however the launch of adaptive BIOSes from ASUS and inklings from MSI are starting to put ASRock under pressure. 12.6 seconds to POST is by no means the slowest, but the competition are swarming.
USB Speed
For this benchmark, we run CrystalDiskMark to determine the ideal sequential read and write speeds for the USB port using our 240 GB OCZ Vertex3 SSD with a SATA 6 Gbps to USB 3.0 converter. Then we transfer a set size of files from the SSD to the USB drive using DiskBench, which monitors the time taken to transfer. The files transferred are a 1.52 GB set of 2867 files across 320 folders – 95% of these files are small typical website files, and the rest (90% of the size) are the videos used in the Sorenson Squeeze test.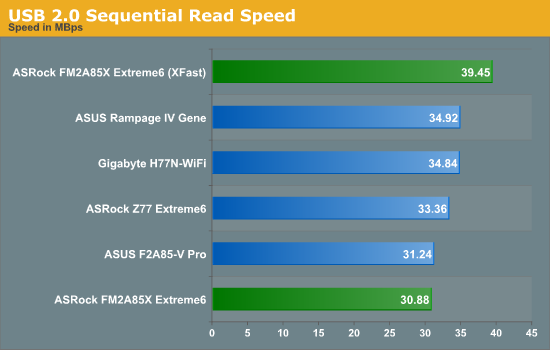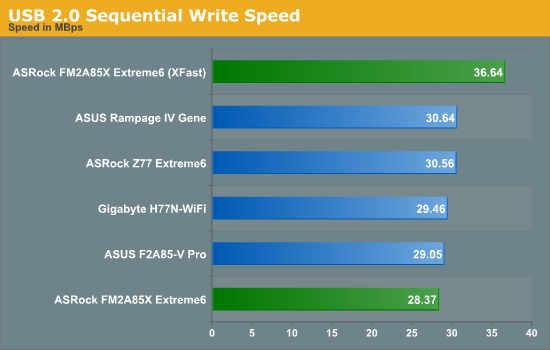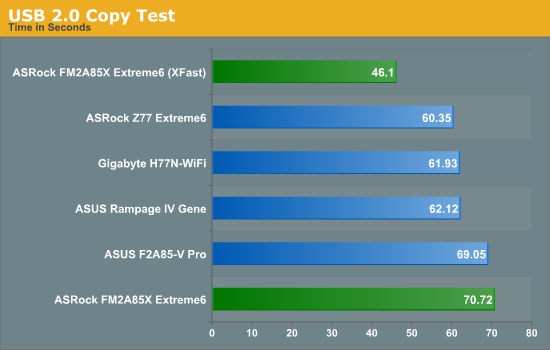 For USB 2.0, it alarmingly comes down to an Intel advantage over AMD. Compared to the ASUS FM2 board we have tested, the ASRock also lags behind slightly. With use of XFast USB however, the ASRock does claw back some time compared to all the other systems.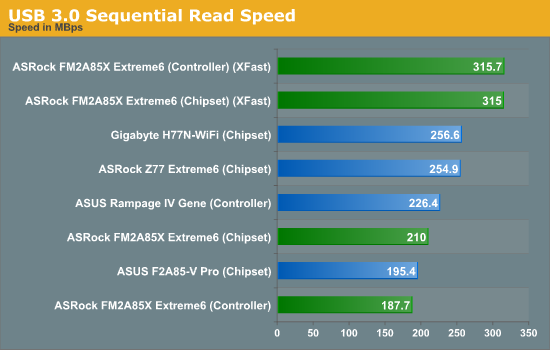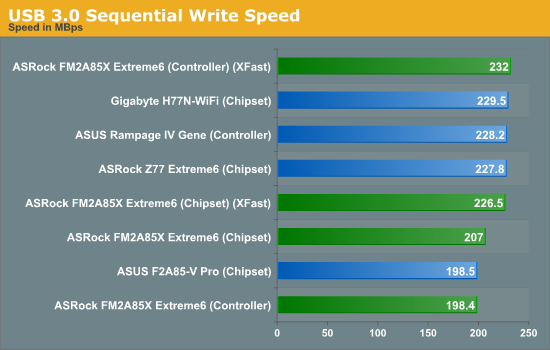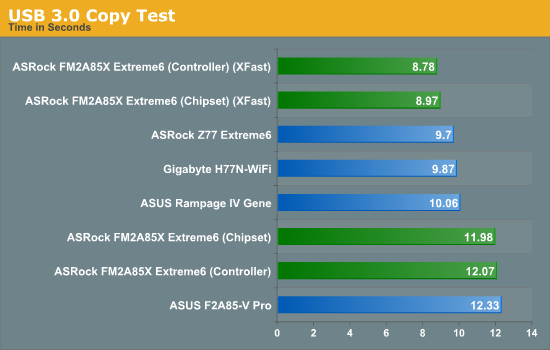 Similarly with USB 3.0, under Windows 7 and despite the AMD systems having native USB 3.0, there is a distinct dichotomy between Intel and AMD, even with controllers on Intel products (like the RIVG). The ASRock still remains competitive with XFast USB however.
DPC Latency
Deferred Procedure Call latency is a way in which Windows handles interrupt servicing. In order to wait for a processor to acknowledge the request, the system will queue all interrupt requests by priority. Critical interrupts will be handled as soon as possible, whereas lesser priority requests, such as audio, will be further down the line. So if the audio device requires data, it will have to wait until the request is processed before the buffer is filled. If the device drivers of higher priority components in a system are poorly implemented, this can cause delays in request scheduling and process time, resulting in an empty audio buffer – this leads to characteristic audible pauses, pops and clicks. Having a bigger buffer and correctly implemented system drivers obviously helps in this regard. The DPC latency checker measures how much time is processing DPCs from driver invocation – the lower the value will result in better audio transfer at smaller buffer sizes. Results are measured in microseconds and taken as the peak latency while cycling through a series of short HD videos - less than 500 microseconds usually gets the green light, but the lower the better.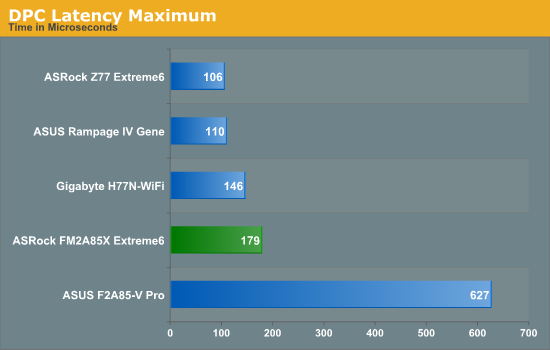 All ASRock products in the past 12 months have given a score below 200 microseconds, which is a great sight to see. Here is no different, and the FM2A85X Extreme6 gives a score of 179 microseconds.
Rightmark Audio Analyser
Rightmark Audio Analyser is a commonly used tool to confirm quality within an audio setup. It tests features such as noise levels, dynamic range, harmonic distortion, stereo crosstalk, and general performance. The nature of the software makes it hard to compare two different setups, unless they are equal (including volume control and effects). Rightmark:AA outputs the scores and gives them a rating from Very Poor to Excellent. We use the Dynamic Range and THD+N results for publication under 16-bit resolution for 48 kHz, 96 kHz and 192 kHz.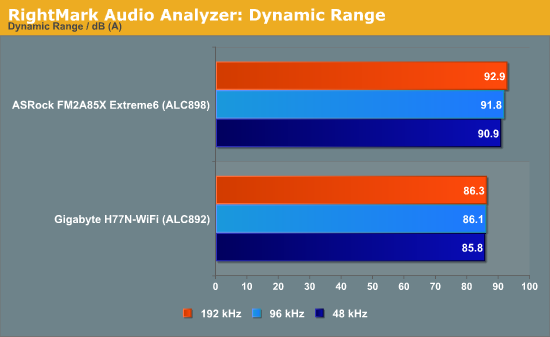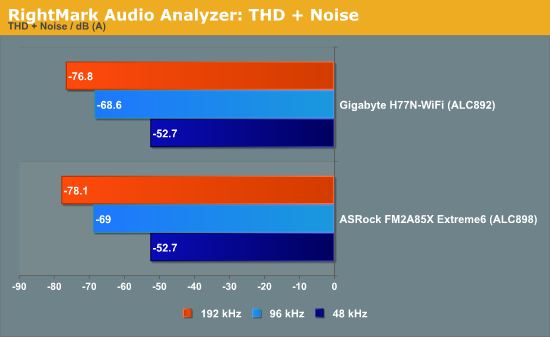 3D Movement Algorithm Test
The algorithms in 3DPM employ both uniform random number generation or normal distribution random number generation, and vary in various amounts of trigonometric operations, conditional statements, generation and rejection, fused operations, etc. The benchmark runs through six algorithms for a specified number of particles and steps, and calculates the speed of each algorithm, then sums them all for a final score. This is an example of a real world situation that a computational scientist may find themselves in, rather than a pure synthetic benchmark. The benchmark is also parallel between particles simulated, and we test the single thread performance as well as the multi-threaded performance.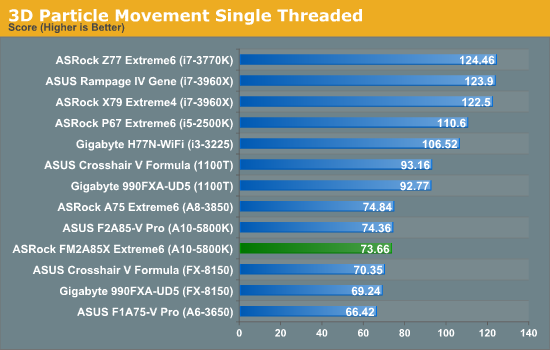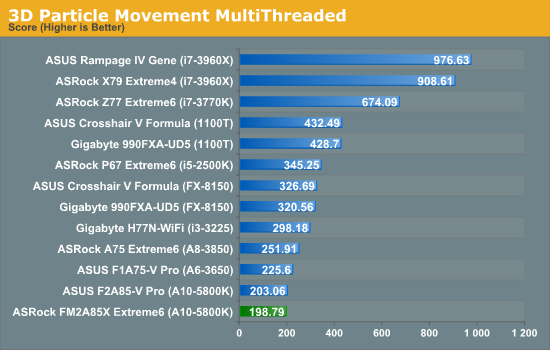 With the advent of the CPU manufacturers taking different directions (AMD prioritizing INT over FP ops), and motherboard manufacturers playing around with default speeds via MultiCore Enhancement/Acceleration, pure real-life performance benchmarks can offer a wide array of results. The main competitor to the A10-5800K is the i3-3225, to which they each take blows, but the Intel chip excels in single thread performance. In terms of the FM2A85X Extreme6, our only reference point is the F2A85-V Pro, which takes the lead in our 3DPM testing.
WinRAR x64 3.93 - link
With 64-bit WinRAR, we compress the set of files used in the USB speed tests. WinRAR x64 3.93 attempts to use multithreading when possible, and provides as a good test for when a system has variable threaded load. If a system has multiple speeds to invoke at different loading, the switching between those speeds will determine how well the system will do.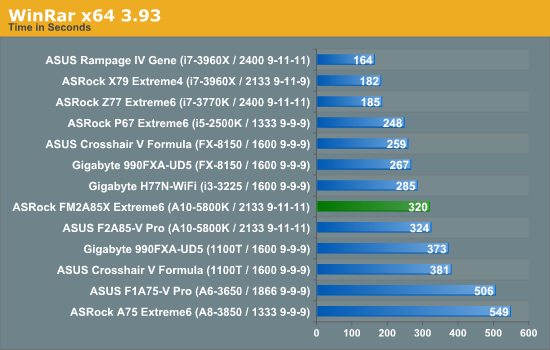 Given that WinRAR is quite variable to memory speed, and our memory speed testing has changed over the years depending on chipset and CPU capabilities, we have included our various results in this graph for comparison. The ASUS and ASRock FM2 boards are found between 320-324 seconds for this test, but do get trumped by the i3-3225 result despite the advantage in memory speed.
FastStone Image Viewer 4.2 - link
FastStone Image Viewer is a free piece of software I have been using for quite a few years now. It allows quick viewing of flat images, as well as resizing, changing color depth, adding simple text or simple filters. It also has a bulk image conversion tool, which we use here. The software currently operates only in single-thread mode, which should change in later versions of the software. For this test, we convert a series of 170 files, of various resolutions, dimensions and types (of a total size of 163MB), all to the .gif format of 640x480 dimensions.
The single-threaded nature of our FastStone benchmark means that the AMD boards were more than likely to trail behind. However comparing the ASRock to our other FM2 board tested shows a small difference between the two.
Xilisoft Video Converter
With XVC, users can convert any type of normal video to any compatible format for smartphones, tablets and other devices. By default, it uses all available threads on the system, and in the presence of appropriate graphics cards, can utilize CUDA for NVIDIA GPUs as well as AMD APP for AMD GPUs. For this test, we use a set of 32 HD videos, each lasting 30 seconds, and convert them from 1080p to an iPod H.264 video format using just the CPU. The time taken to convert these videos gives us our result.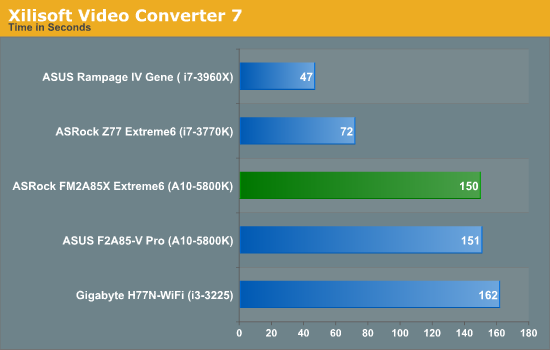 Modern video conversion is a highly optimized and highly parallel process. Anything that can take advantage of more cores, more cache and more threads is going to perform well. This means that Trinity takes over from the i3-3225 by a good margin, and the ASRock FM2 board is favorably competitive against the other FM2 boards.
x264 HD Benchmark
The x264 HD Benchmark uses a common HD encoding tool to process an HD MPEG2 source at 1280x720 at 3963 Kbps. This test represents a standardized result which can be compared across other reviews, and is dependant on both CPU power and memory speed. The benchmark performs a 2-pass encode, and the results shown are the average of each pass performed four times.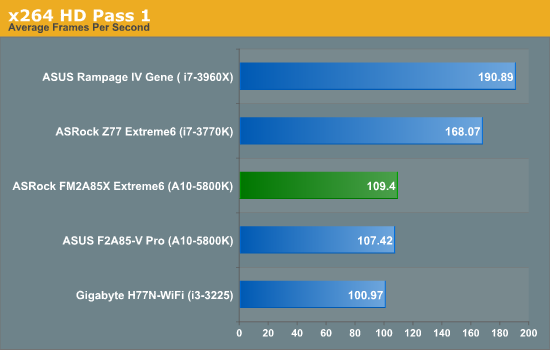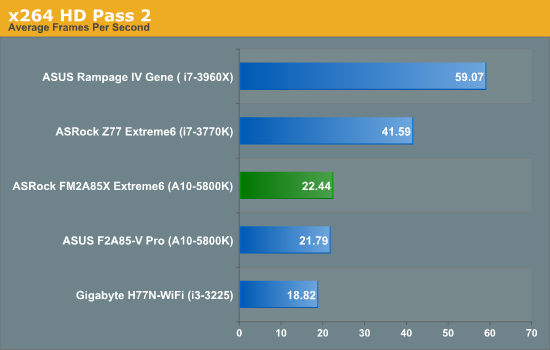 Similarly to our XVC test, video conversion seems to be the key to these Trinity processors. The ASRock FM2 performs above the ASUS FM2 in our test.
Metro2033
Metro2033 is a DX11 benchmark that challenges every system that tries to run it at any high-end settings. Developed by 4A Games and released in March 2010, we use the inbuilt DirectX 11 Frontline benchmark to test the hardware at 2560x1440 with full graphical settings. Results are given as the average frame rate from four runs.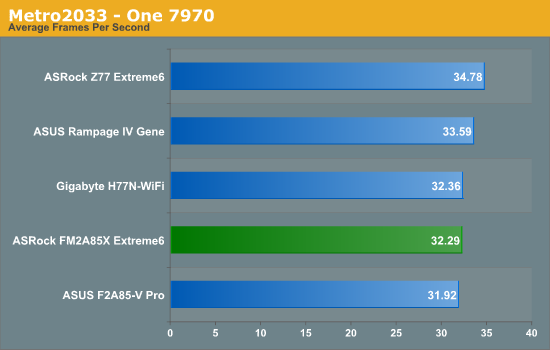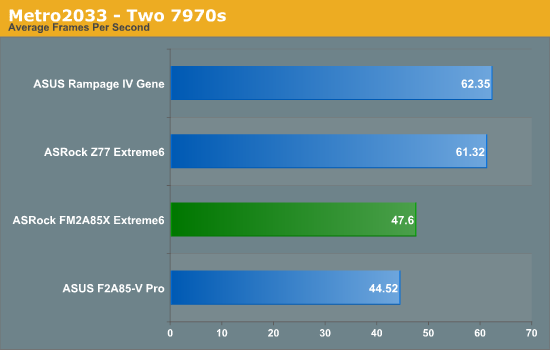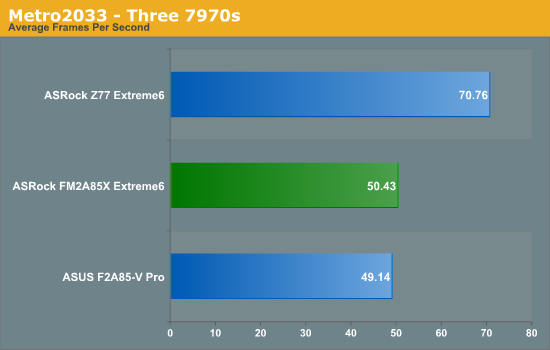 The AMD performance on Metro2033 seems competitive enough when dealing with a single GPU, but as we increase the GPU count, performance dips quite considerably. In 2-way CFX, the Z77+i3-3770K combo has a 14 fps lead over an FM2+A10-5800K, despite both systems using 8x/8x scenario with PCIe lanes. In our 3-way test, the Z77 board comes out ahead again, even with all the boards presented using the third GPU in an x4 PCIe 2.0 configuration via the chipset.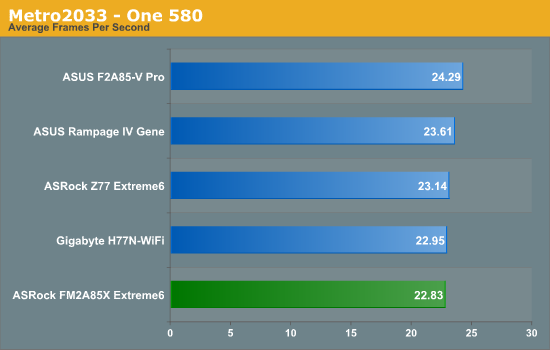 As usual in our testing, NVIDIA comparisons do not usually show much variation between motherboards. We can only test one-way on our motherboard, as it does not have SLI certification.
Dirt 3
Dirt 3 is a rallying video game and the third in the Dirt series of the Colin McRae Rally series, developed and published by Codemasters. Using the in game benchmark, Dirt 3 is run at 2560x1440 with full graphical settings. Results are reported as the average frame rate across four runs.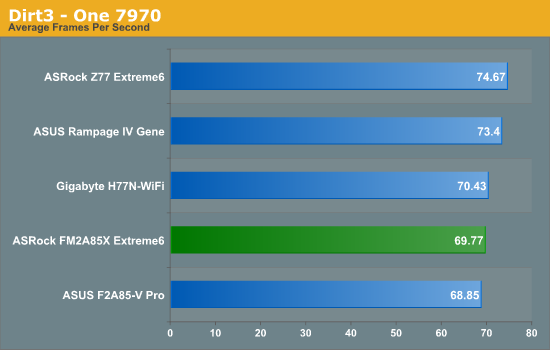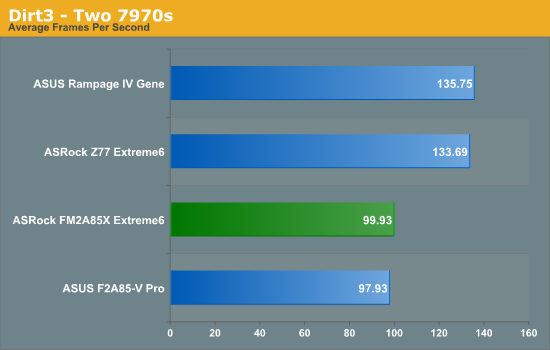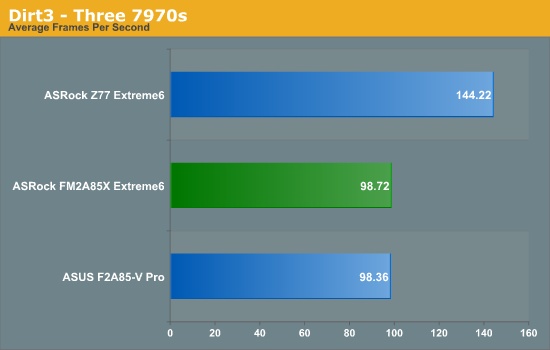 The results for Dirt3 only exacerbate the issues found in Metro. Dirt3 is a game known for loving everything you can throw at it – GPUs, memory speed, CPU cores, and CPU speed. Thus the FM2 boards flounder against the Z77 when more than one card is used, but is competitive in single card. Amazingly the inclusion of a third card causes an FPS dip on the ASRock board, and its performance over the ASUS board seems a lot better. This is an odd variation despite our rigorous testing methodology.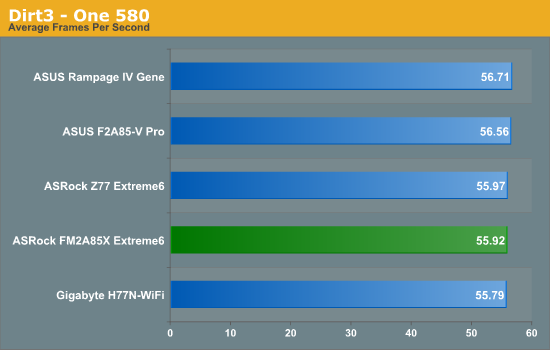 Again with our NVIDIA results, not much has changed.
Conclusions are difficult to draw when you only have two data points. My conclusions on the first FM2 motherboard I tested were primarily a comparison between a dual core Ivy Bridge processor and the A10-5800K Trinity processor used in the FM2 reviews. But with both the ASRock FM2A85X Extreme6 and the ASUS F2A85-V Pro tested, we can draw some conclusions about the FM2 motherboard market.
The ASRock board is aimed squarely at the middle of the pack for FM2-A85X motherboards, sitting near the cheaper side of middle in the $80 to $140 range at $100. This means the ASRock FM2A85X Extreme6 is $40 less than the ASUS F2A85-V Pro board, which actually takes up the role as the most expensive FM2 motherboard on Newegg at the time of writing. Despite this, the ASRock motherboard seems to trade blows with the ASUS motherboard in terms of performance quite well.
The ASRock motherboard seems to enjoy the gaming side of our testing suite more than the ASUS motherboard did, but in comparison the ASUS motherboard did outperform in all single-threaded tasks. The two motherboards at the high level read very similarly in terms of output hardware, both having four video outputs and the chipset requirements of SATA ports. The ASUS gives us another USB 3.0 controller, the ALC892 audio codec and the 8111F NIC - in turn, the ASRock board gives an ASMedia USB 3.0 controller, the better ALC898 audio codec but the 8111E NIC. Both products offered similar extras in the box.
The main disparity between the ASRock and the ASUS boards will be base design, with ASUS often taking a more pragmatic view to power delivery and fan controls. In terms of what the user will actually see and feel, the extra money spent on the ASUS gives the better software package, often a smidge more compatibility (though that is not directly testable without every bit of hardware ever), better fan controls and if forums would have you believe, perhaps a smoother RMA experience. Despite all this, as a plug and play board, the ASRock FM2A85X is much more cost effective, just don't expect much from manual overclocking on the BIOS at the time of testing (P1.50).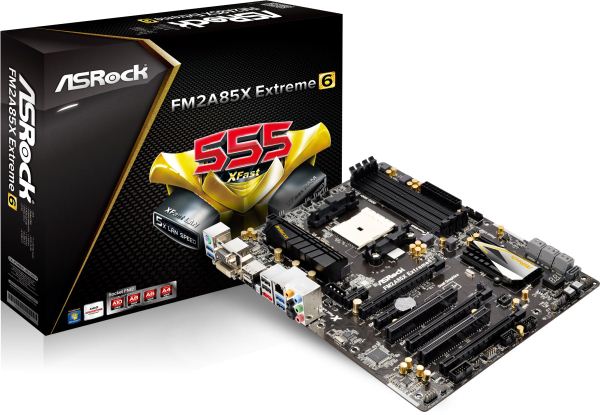 In order for ASRock to break into the top tier of motherboard manufacturers, they have to show that their products are more than just cheaper alternatives to the top end competition. While ASRock do try and offer innovation (nice BIOS, features like Internet BIOS Flash in the BIOS and system dehumidifier), there needs to be a ground up redesign of how they attack the markets which sell the most motherboards, and targeting both system integrators and end users with products they really need.
The ASRock FM2A85X Extreme6 fills a hole that is ASRock shaped in the FM2 market around $100, but there is nothing new and exciting to be seen. I have tested almost every motherboard company available at retail in almost all chipsets, and rather than aggressively targeting consumers, there is a general zeitgeist at this end of the market of having a price competitive board at every point, rather than something that can wow consumers in terms of feature set. If you need a Trinity board and have $100 to spend, this motherboard is a good consideration, but until I get a few more FM2 boards tested, I cannot say for sure if it beats the rest of its nearby competition. Stay tuned…