Original Link: http://www.anandtech.com/show/6476/acer-c7-chromebook-review


If today we were reviewing the Acer Aspire One A0756-2641 notebook, from which the Acer C7 Chromebook is derived, then it would be really brief. Compromised, and too expensive. Priced at around $329, the spec sheet is spared utter embarrassment by having a low-end Sandy Bridge processor, rather than something from the Atom line. Aside from that, it's hard to argue in favor of this notebook when a little more cash can net you a small caching SSD, more RAM, a better processor and a goodly performance boost. But this isn't the Acer Aspire One. This is the Acer C7 Chromebook, and it only costs $199. Does that make all the difference? Let's take a look.
In consumer electronics, every market segment goes through this moment when the technology becomes affordable enough that it becomes a race to the bottom. The netbook movement pulled the floor out from under notebook prices, and the results were, at first, severely compromised and almost unbearable. The long term result of the ensuing price pressure means a fantastic Windows laptop can be had for well under $1000. Much of this is owed Intel's fabs (and marketing) and we are in an era of high IPC, power efficient and cheap x86 processors powering notebooks of all shapes and sizes.
The full promise of the netbook was never truly acheived, though. There are no "good enough" Windows notebooks available for under that magic $200 barrier. Today's Atom lacks the oomph to make the user experience one we'd recommend. Move up to a more modern Intel CPU, though, and you get a better experience, but a higher price. So what happens if you take the aforementioned Acer Aspire One A0756-2641 (a Windows 8 notebook with an 11.6" screen and a Sandy Bridge-based Celeron processor with Intel HD Graphics and a 320GB HDD and 2GB of RAM) but stripped out that Windows license and charged $199 for it?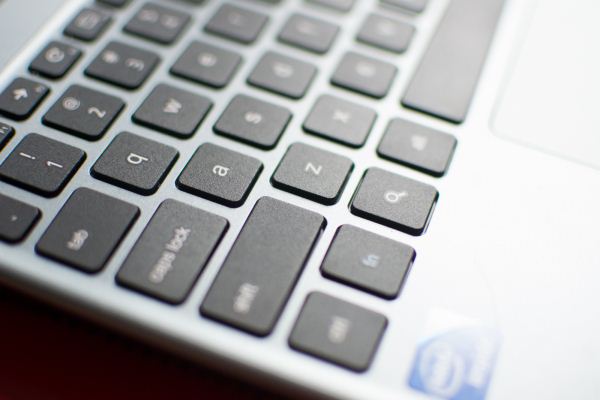 Let's talk turkey. Thin, flexible plastic does not inspire confidence, nor does it feel good against your finger tips. That's something we've known for a while, long before the materials experienced a resurgence as the netbook movement really grew its wings and become the benchmark for cheap notebooks. You can make the millimeter thin composites look good, and you can even give it an internal structure that is rigid, but it will always feel cheap.
The Acer C7's design isn't terrible. As a color-blind person, I really am much more comfortable around grey-tone products, I never have to worry that I'm secretly wearing purple pants. What kills me is a poor tactile experience. So I was surprised to discover that the cheap plastic forms a pretty solid feeling device. When you hold the chassis in one hand, opened, you can feel the plastic body flexing in your hand, but there's still enough rigidity that you might be convinced it could survive a short fall. The display's hinges are solid with no jiggle or dead space, and can be laid nearly flat.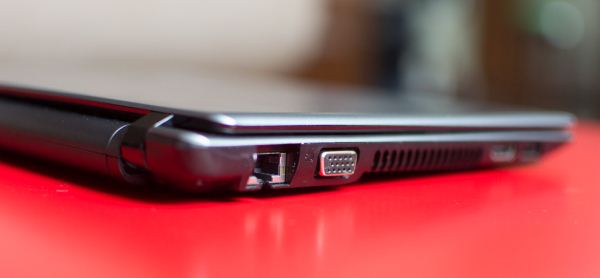 The keyboard is narrower than the best of them, but isn't so cramped that typing becomes a chore. Proper QWERTY alpha/numeric key placement is a must for me, and here the C7 acquits itself well. The keys themselves are well sprung, if a little shallow, and provide good feedback that they've been sufficiently depressed. The directional keys are a bit minuscule, and that can be frustrating, particularly given that you may use them more than the trackpad for making selections.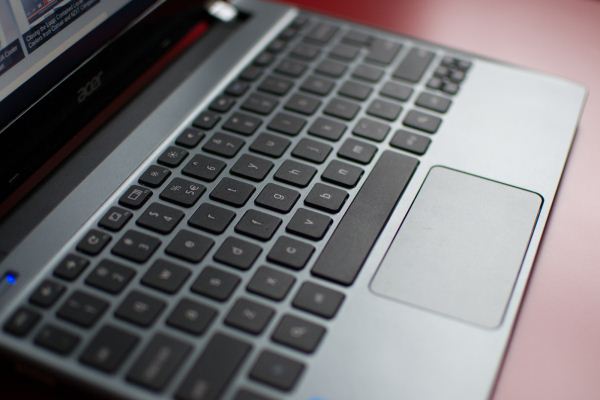 The touchpad is wider than I expected, and fills nearly the full distance from the keyboard to the edge of the device, but is sadly made of the same cheap plastic as the rest of the body. The result is that, though the body feels solid and the mechanical components are sufficient, there's just nothing particularly pleasing to touch. The touchpad's performance is also a bit lacking. Two finger scrolling works well enough, but pinch to zoom was hit or miss and not supporting additional gestures makes it almost impossible to accurately select text or drag a file. For accuracy's sake I prefer the directional keys, their size not withstanding.
While the base of the C7 tapers down towards the user, the display body is a uniform depth and a bit thicker than I might have hoped. Despite its thickness, with just a mild bit of force you can flex the display pretty radically; not a confidence inspiring trait. Bezels aren't too radical, and the camera is centered within the top bezels, with the Acer logo below the display.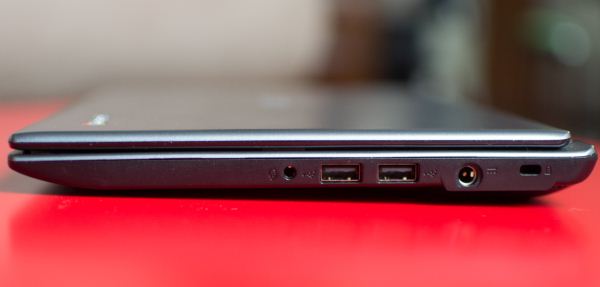 With the base tapering to a slim edge, the bulk of the laptops weight is in the battery towards the back of the device. Along the bottom of the C7 are myriad vents and labels, and a pair of speaker grills. A single screw beneath a warranty sticker restricts the removal of the bottom panel; and our review sample just happened to be missing that screw entirely. With no screw in the way it's quite easy to slide the panel off and have access to the hard drive, RAM and wireless module, along with a close look at the cooling mechanism. The left side houses the ethernet and VGA ports on one side of a rather large vent, and HDMI and USB 2.0 on the other. The right side sports the Kensington lock port, power, 2xUSB 2.0 and headset port. Along the front edge are power and charging indicator LEDs, and a sprung SD slot with a molded blank to fill it when the slot isn't being used.
The C7's two speakers sit on the beveled edge of the C7, below the wrist rest. Their output won't rattle your windows, and might not be enough to hear clearly from across the room, but they'll do from arm's length.
Display
The display is typically bargain bin stuff, though certainly a step behind the Samsung's panel. The resolution is a ho-hum 1366x768, and the viewing angles are abysmal. My colorblindedness makes it hard to discern the light blue hue that is all the rage in modern operating systems for selected text, but here it is utterly impossible if the vertical viewing angle is off by more than a few degrees. Distortion appears within a few degrees of viewing the display from any horizontal angle, but this isn't a big screen for showing off your favorite movie; so, we'll cut it a modicum of slack. It's a bad display. Unless all you're going to do is sit right in front of it and type.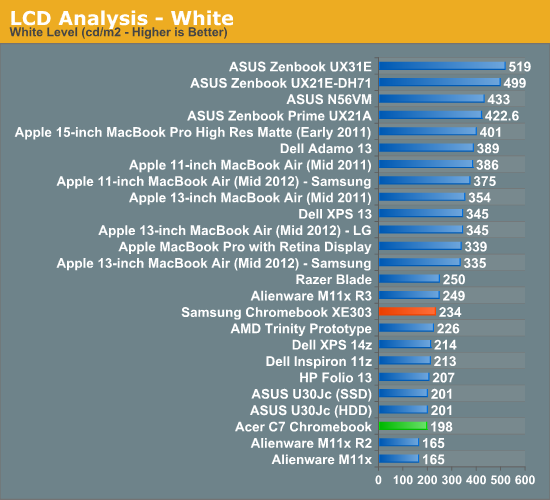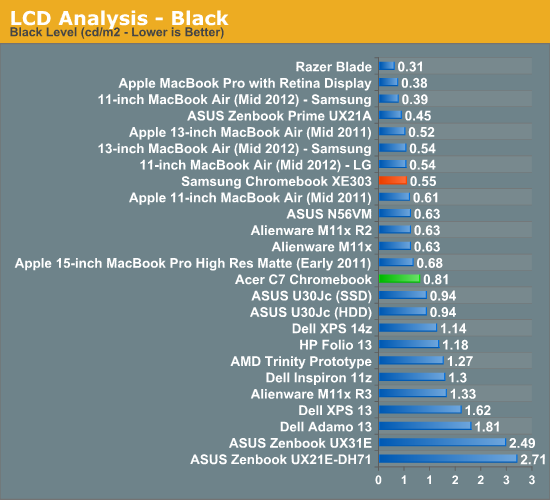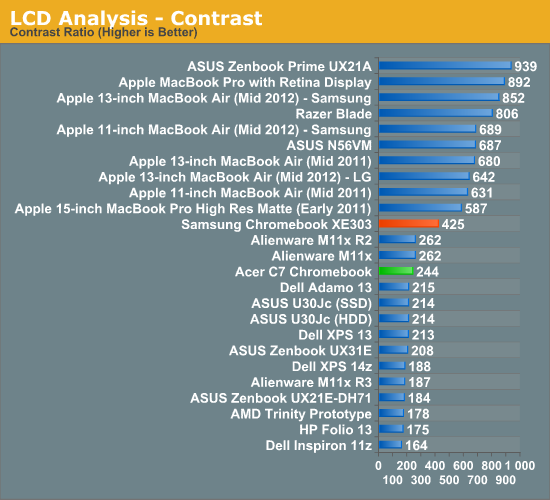 Usability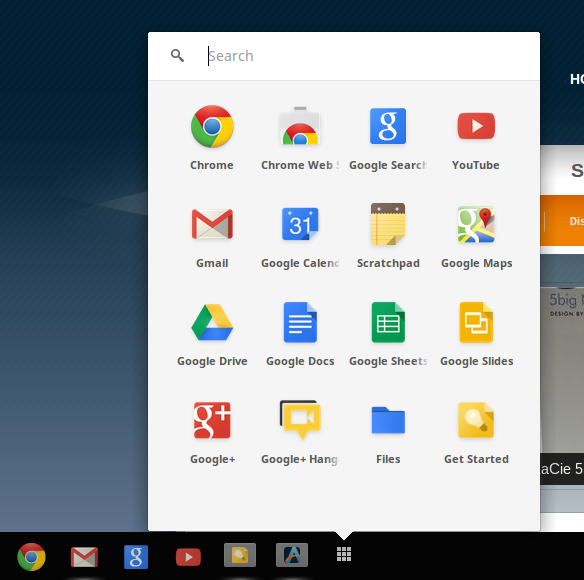 Anand covered the details of Chrome OS before, and I won't go into any great length here. The limitations of the OS are easy to overlook for anyone that spends most of their time in a browser. Any number of web services can fulfill the role of many standalone pieces of software, both for entertainment and productivity purposes. That includes image manipulation, a must for web publishing, though handling RAW files wasn't a pretty experience, even with the cloud to help me out. Not all music services have a web player, so there's some limits there, but there are enough options to choose from.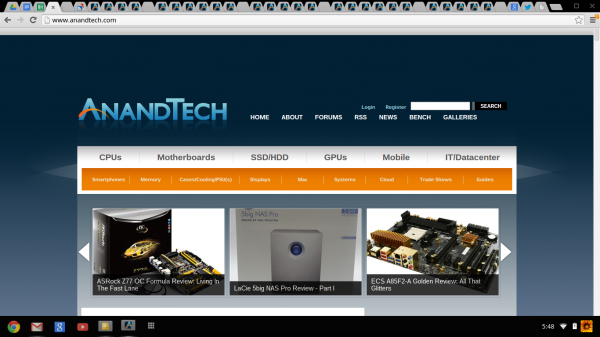 Chrome OS: Tabs on tabs on tabs
So, there are limits to what this OS can do for you. But are there ways to get around the limits of the browser? You bet. Chrome Remote Desktop is like any other screen sharing software, it allows you to view and manipulate another PC. The big difference here is that it all happens within the browser window.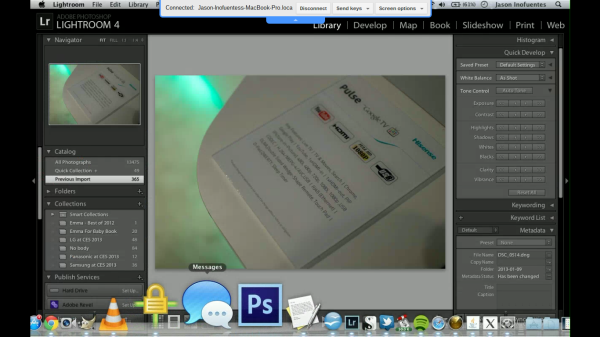 The quality of the network connection is the biggest factor in whether the screen sharing experience will be good or abysmal. Connecting the Acer C7 to my MacBook Pro on the same network was a good best case scenario and showed that inputs are received with minimal latency, and responses are snappy, so long as you're not doing anything too drastic. The stream from the host PC is only updated based on changes, so while typing the inputs are received and shown on the client screen almost instantaneously. But switching between full screen apps on the MBP showed some lag and a rather low frame rate.
Performance
For most of its brief life, Atom was the only core that beat at the heart of Chrome devices. Samsung actually brought us the first Core-based CPU with the Celeron 867 powered Series 5 550, and also the first ARM-based Chromebook with their very own Exynos 5 Dual. We didn't have a chance to compare the results of the slightly faster clocked Samsung 550, but we do have data for the Atom-based Chromebook. What we expect from this processor is nothing less than IPC dominance. The Intel Celeron 847's Sandy Bridge cores in the Acer C7 Chromebook are clocked at just 800 MHz, well below the 1.1 GHz possible. The low clock speed helps with battery life, of course, but still places the C7 in a position of dominance over the latest Samsung Chromebook. On the GPU front this is also the most power Chrome OS has seen, with the HD2000 being not our favorite but certainly not our least favorite integrated graphics.
How you harness all that processing and graphics power is . . . a bit limited. You won't be launching Steam for a pick-up match in TF2 (about all I'd consider playing with the power on hand), instead everything you do will be in the browser. With technologies like WebGL and HTML5 becoming more capable of leveraging local hardware resources we are much closer to experiencing desktop-like web applications. To that end, we have a fair number of tests that show off how well Chrome OS can handle those technologies and the JavaScript tests we're used to from our mobile tests.
Chromebook Performance Comparison
SunSpider 0.9.1
BrowserMark
RIABench Focus Tests
Kraken
Atom N570 1.66GHz
1034.3 ms
n/a
1968 ms
14229.5 ms
Exynos 5 Dual 1.7GHz
690.5 ms
3056.0
1192 ms

9733.2 ms

Celeron 847 (SNBx2) 800MHz
527.1 ms
3403.7
1194 ms
6817.2 ms
In Sunspider we see a distinct advantage for the Acer, which is no big surprise. The Exynos 5 certainly shows off an admirable advantage over the Atom-based Chromebook, but the C7 trumps that advantage soundly. The Browsermark benchmark has seen its first full update, and as always, that means we're left with the task of reevaluating all our old hardware with the new suite. In this case we only have a few samples to compare to, so no big burden. The advantage of the C7 is smaller compared to the Sunspider score, but still quite clear. RIABench stands out as the one equalizer between the C7 and the Samsung, indicating that the bottleneck may be within Chrome's code itself. In Kraken we see another decisive performance win for the Acer.
Chromebook Performance Comparison
IE10 Bubbles Test
IE10 Fishbowl
IE10 Maze Solver
Atom N570 1.66GHz
11 fps
5 fps
45 seconds
Exynos 5 Dual 1.7GHz
17 fps
8 fps
17 seconds
Celeron 847 (SNB) 800MHz
19 fps
17 fps
17 seconds
The Bubbles and Maze Solver tests do not involve the GPU in any considerable way, making them mostly tests of JavaScript rendering. The Fishbowl test uses HTML5 functions which can be GPU accelerated, resulting in a large performance advantage for the C7. It's hard to say whether there is any GPU acceleration happening in the Samsung, but if so then the GPU advantage for the Acer is enormous.
Chromebook GPU Performance Comparison
WebGL Solar System
WebGL Cubes (500)
WebGL Aquarium (50)
Atom N570 1.66GHz
2 fps
10 fps
2 fps
Exynos 5 Dual 1.7GHz
22 fps
28 fps
38 fps
Celeron 847 (SNB) 800MHz
31.7 fps
30 fps
43.3 fps
The WebGL tests hint at that GPU advantage, but not so clearly as we'd like. In the Samsung Chromebook review, Anand discussed how desperately Atom's GMA-3150 GPU needs to see a huge update to be competitive. Samsung's use of the Mali-604T in their Chromebook gives it a huge advantage over Atom. The HD2000-based graphics in the Acer C7 show how far mobile SoC GPUs still have to go to compete with PC derived GPUs. We're limited by an inability to disable Vsync, but if we could I think we would see a much larger advantage than what we see now. We want to explore these differences further soon, but for now all you need to know is that anything that can be processed by the GPU will do much better on the C7 than the Samsung.
As mentioned earlier, if this was a $329 Windows 8 notebook, it would be considered severely compromised, especially compared to notebooks priced closer to $500. When we heard about the presence of a mechanical disk, we wondered what sort of an impact this would have on performance. The embedded SSDs we're used to in Chromebooks don't exactly offer breakneck speeds, but we've shown time and again that there is often a performance difference of several orders of magnitude between the fastest mechanical drives and the slowest modern SSDs. Thankfully, we're never lacking in NAND-based storage, so we swapped in an idle 120GB OCZ Agility 3. Most of our suite of web tests can live comfortably in RAM, and with nothing but Chrome as our platform the user really shouldn't ever experience how slow the mechanical drive is really, except in boot times.
Acer C7 Chromebook HDD v. SSD
HDD
SSD
% Delta
Sunspider (in ms)
527.1
499.4
5.26
Browsermark 2.0
3403.7
3356.7
-1.38
RIABench Focus-tests (in ms)
1193.7
1185.7
0.67
Kraken (in ms)
6817.2
6758.7
0.86
Bubbles (fps)
19
19
0
Fishbowl (fps)
17
16
-5.88
Maze Solver (in s)
17
17
0
Solar System (fps)
31.67
31.0
-2.11
Cubes (fps)
30
30
0
Aquarium (fps)
43.3
60
38.46
The only difference of statistical significance is the WebGL Aquarium test. Like all operating system's, Chrome OS relies on a page file on local storage for those occasions where memory is insufficient for the active tasks. Typically you would see inactive bits shuttled into the page file and then recalled to memory when RAM is available and those particular bits are necessary. We run our test suites with no other programs or browser instances running, so anything that spills over to local storage is the result of that 2GB RAM limitation. The WebGL Aquarium test is bulky enough that it spills into the cache and the result is a huge increase in performance when an SSD is used. How does this difference manifest in the real world? Most likely users might perceive some speed increase when swapping between tabs, and better boot times. So if the HDD doesn't do much for performance, what about the RAM? The C7 comes with a scant 2GB of memory, on a single SO-DIMM; that's well below what we'd recommend for even the most budget notebook experience in Windows or OS X, but perhaps enough for the small footprint of Chrome OS. Let's find out if it's enough by swapping the single SO-DIMM for a pair totaling 4GB.
Acer C7 Chromebook 2GB v. 4GB
2GB
4GB
% Delta
Sunspider (in ms)
527.1
500.3
5.03
Browsermark 2.0
3403.7
3334.0
-2.05
RIABench Focus-tests (in ms)
1193.7
1218.7
-2.09
Kraken (in ms)
6817.2
6617.1
2.94
Bubbles (fps)
19
19
0
Fishbowl (fps)
17
17
0
Maze Solver (in s)
17
18
5.88
Solar System (fps)
31.67
32.33
2.11
Cubes (fps)
30
30
0
Aquarium (fps)
43.3
60
38.46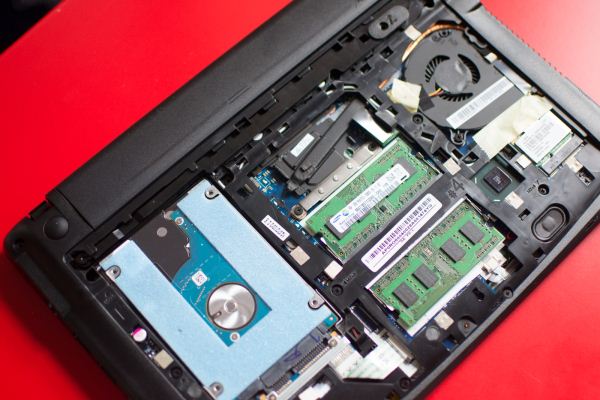 Acer C7 with back cover removed, 2x2GB SO-DIMM installed
The data is quite reminiscent of the deltas we saw after swapping in the SSD, and that validates the suspicion that even in our test environment, 2GB of RAM can be overwhelmed quickly and the device can end up hitting local storage more than we'd like. By raising memory to 4GB we still see negligible performance changes in the majority of tests, but a huge increase in the Aquarium test.
There's more to it than synthetics, though. We're used to having an excess of browser tabs and windows open at once here at AnandTech. My workflow generally involves at least three windows, and several tabs in each, and I may hop between many tabs in quick succession to look through research or move between GMail and Google Reader or Twitter. While working with the stock configuration it wasn't uncommon to have tabs I had just moved away from refresh when I moved back to them. At first I wondered if this was an expected response, an effort by Chrome to ensure that the most current content was presented to the user, but this strategy seemed foolish in too many instances to make it logical. Take for instance shopping; if you're working on a computer configuration, it would be a nuisance to have to repeat your selections whenever you switch tabs, triggering a refresh. What became clear once I'd switched to the 4GB configuration was that the behavior was really related to memory capacity. When a tab is moved from memory to the local disk, a flag is tripped telling Chrome to refresh the content when the user returns to it. With an appropriate amount of memory the only tabs that would end up in local storage would be ones that hadn't been accessed for quite a while. Here, though, the tabs end up getting refreshed every time they are accessed. From a user perspective it was night and day; one configuration could hardly handle a half dozen tabs, the other seemed unfazed by my regular workflow.
So, more memory and better storage are all it takes to juice up the C7, right? Not quite. The single biggest performance improvement required just a few clicks. Just as Google is constantly pushing updates to the Chrome browser, Chrome OS is frequently updated and several build channels are available. We did all of our testing on the Stable channel, which sees fewer updates than either the Beta or the Unstable (Dev) channels. Performance and stability tweaks will be the most common aims for updated dev builds, though occasionally features may be added to the Dev channel and slowly make their way to the Stable builds. So, how does the Dev build compare to Stable?
Acer C7 Chromebook Stable v. Dev Build
Stable
Dev
% Delta
Sunspider (in ms)
527.1
512.4
2.79
Browsermark 2.0
3403.7
3561.7
4.64
RIABench Focus-tests (in ms)
1193.7
1260.3
-5.59
Kraken (in ms)
6817.2
6411.8
5.95
Bubbles (fps)
19
14
-26.3
Fishbowl (fps)
17
39
129.4
Maze Solver (in s)
17
18.7
9.8
Solar System (fps)
31.67
28
-11.6
Cubes (fps)
30
30
0
Aquarium (fps)
43.3
60
38.46
Often, when software is tweaked for performance in one area, it's at the expense of performance in others. Here you see some marginal improvements in JavaScript performance, and some enormous improvements in tests that leverage the GPU. The increase in the HTML5 Fishbowl test is enormous and likely indicates that the Stable build doesn't feature GPU acceleration for the HTML5 techniques being used. A loss in performance in the Bubbles test could indicate that other changes to the JavaScript engine limited performance in some elements. When you look at the WebGL tests, the results show a clear improvement in GPU performance, despite the negligible drop in performance in the Solar System test.
In addition, the Dev channel features options for extending the OS's desktop onto a second display, though I'm not sure the utility, except for those that often need to see two browser windows side by side and are hampered by the limited screen space. So are their any deficits to using the Dev build? During testing the Dev build featured no major instability and had no lock-ups or other hinky behavior. So, ultimately, my only complaint with switching to the Dev channel is that returning to the stable channel requires a full recovery.
Battery Life
If the point of Chrome OS is for you to live in the browser, then the clear choice for testing battery life is our updated Web Browsing battery life test. Here we find that the advertised figure of 4 hours is almost spot on. While it's nice to see some accuracy in these battery life claims, that's no salve for the fact that this isn't a road warrior. This is the lowest common denominator for getting into a Chromebook, but if it can only be untethered for four hours, that doesn't make this the most mobile device.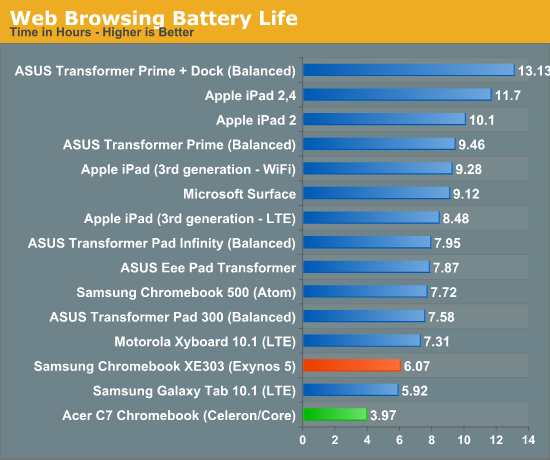 Conclusion
I wanted to really dislike this experience, and in many ways it was compromised. But much of that is just a matter of having to live in the browser. Right now, on my MBP I have three browser windows with around two dozen tabs open. I have VLC open for playing some videos while I work, OpenOffice for reading documents that don't get along with Google Docs or TextEdit, Lightroom, Twitter, Scrivener about a dozen TextEdit windows, and Spotify. Now, all of those things can be emulated in a browser window. But local file playback isn't nearly as fulfilling, with any of those solutions, and manipulating large files in the cloud can be a huge hassle. If you can fit your workload inside a browser window, Chrome OS can be great. If you're working with lots of images, lots of larger files, have a penchant for working on a dozen things at a time, then Chrome OS might not stand up to your needs.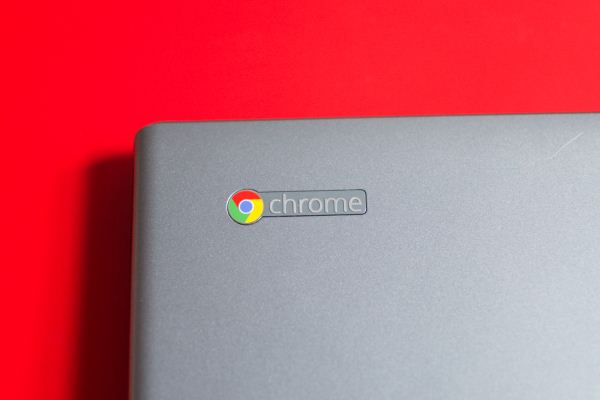 So that's the bad, here's the good. This thing really does cost just $199. Anand talked about how the $249 price for the ARM-based Samsung Chromebook gave it an almost disposable quality and allowed it to get away with many sins and still be likable for it's purpose. Here the added power and lower price just emphasize that point. If you need a focused writing device, you certainly couldn't get more for your money than this. And the hardware you're paying for isn't without its merits. The Sandy Bridge cores are good performers, even at 800 MHz, and though the limited RAM and mechanical storage aren't inspiring, they're also easily replaceable. As, indeed, is the OS. We're hoping to explore the possibilities further, but Ubuntu is a real possibility on Chromebooks, as are other Linux builds. So buyers interested in a more full-featured laptop can get their wish with just a few strokes of the keys.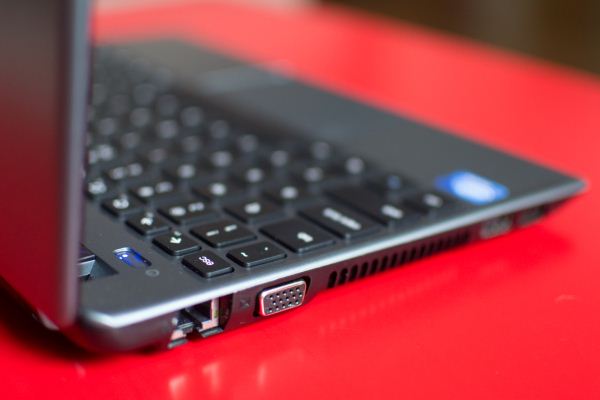 It's odd to sing a device's praises for what can be done with it, outside it's intended purpose. We don't judge a cellphone or tablet based on what wild software and hardware can be hacked upon it. We judge these things based on out of the box performance and features. But then, the PC space has always been for tinkerers. If you can't fiddle with its innards, something is taken away from the experience. And as the PC space moves further and further down the trail blazed by smartphones and tablets, as users have fewer and fewer opportunities to upgrade their devices, it's always nice to see a device move the other way.
The Acer C7 Chromebook is the fastest iteration of Chrome OS we've seen so far, and is priced so low as to make it the first real impulse buy in the laptop market. Low prices come with compromises, and there are real compromises to all of the Chromebooks. The Samsung Chromebook is nicer to on the eyes and fingers, but slower and pricier. The Acer C7 isn't the total package, but it's pretty good, and definitely worth a shot.