Original Link: http://www.anandtech.com/show/6470/fractal-design-node-304-mitx-case-review-paving-the-way-to-the-future


Introducing the Fractal Design Node 304
We've said it before but it bears repeating: desktop systems are getting smaller. ATX is becoming less and less necessary, and mini-ITX-based machines more and more offer the same performance and features that their bigger brothers do. That's just the direction of the technology industry as a whole, cramming everything we need into a space half as large. What's specific to cases is their own evolution running parallel with the technology we're putting into them.
Fractal Design's Node 304 is in many ways a surprising jump forward in case design. We've seen SilverStone, BitFenix, Lian Li, and Cooler Master all try their hands at mITX cases with varying degrees of success, but there's just no set design language when you get down this small. The conventions we take for granted in ATX case design don't really apply here, but Fractal Design has tried for something fairly different with the Node 304, even by mITX standards.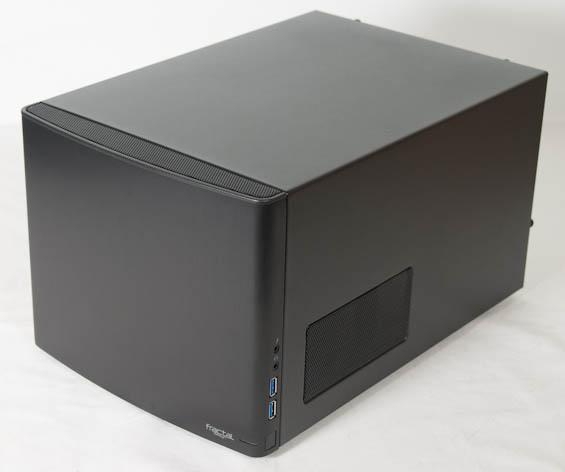 You can immediately see from the photo that some things are missing. Fractal Design has ditched the optical drive bay entirely and saved a lot of space in the process. You may not have noticed that there's also no reset button; HDD activity and power are both handled by the same single blue front LED. Ventilation is pretty minimal, too. Fractal Design took their usual aesthetic and a lot of chutzpah and produced something remarkably unique.
Fractal Design Node 304 Specifications
Motherboard Form Factor
Mini-ITX
Drive Bays
External
-
Internal
6x 2.5"/3.5" (removable in pairs)
Cooling
Front
2x 92mm intake fan (compatible with 2x 80mm)
Rear
1x 140mm exhaust fan (compatible with 120mm)
Top
-
Side
-
Bottom
-
Expansion Slots
2
I/O Port
2x USB 3.0, 1x Headphone, 1x Mic
Power Supply Size
ATX
Clearances
HSF
165mm
PSU
160mm
GPU
12.2" / 310mm
Dimensions
9.8" x 8.3" x 14.8"
250mm x 210mm x 374mm
Weight
10.8 lbs / 4.9 kg
Special Features
Removable fan filters
USB 3.0 via internal header (with integrated 2.0 header)
Three-speed, three-channel fan controller
Price
Fractal Design is essentially targeting the Node 304 to be used as a quiet file server, but when I tested it, that wasn't really what I was thinking about. The fact is, for most users, what's really missing on the spec sheet? There's ample space for internal storage, and the things we'd put in external bays can be just as easily connected over USB 3.0. About the only thing that couldn't easily be added is a fan controller, but Fractal Design already included one.
In and Around the Fractal Design Node 304
Part of the joy of going through this section with mITX cases is that, frankly, there often just isn't a whole lot to them. The Fractal Design Node 304 is particularly simple in its design, on par with the SilverStone SG05. That's not to say there isn't room for improvement, but the fact that the directions for assembly are less than a paragraph long and are pretty complete should be telling.
It doesn't make sense for a case designed essentially to be a mini-server to be particularly expensive, so Fractal Design opts for a simple plastic fascia with a brushed pattern. The front is wonderfully clean and spare, with only a small Fractal Design logo and the single activity LED breaking it up. On the right side of the removable front panel is the I/O cluster and power button, and the top has a simple grate that surprisingly doesn't negatively affect cooling that much, as you'll see later.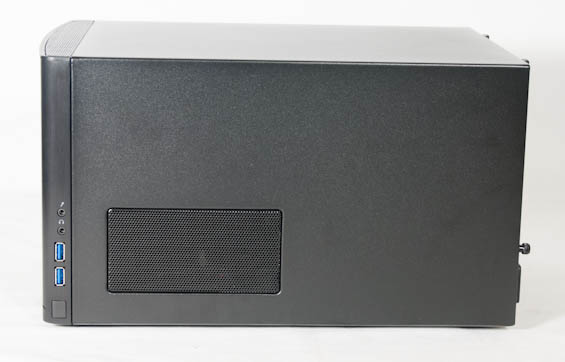 Ventilation is also kept remarkably minimal; there's a small vent on the right side for the power supply to exhaust and a case-long vent on the left side for the video card. The GPU vent also has a removable filter, but as a whole these two vents don't break up the design much at all. Finally, on the bottom of the case is an opening for the power supply's intake fan. Note that the Node 304 does sit fairly low to the ground, though. I'm not sure how negatively this will affect the PSU's longevity, but it bears mentioning.
Getting into the 304 is as easy as removing four thumbscrews and taking off the shroud. I'm still not big on the single unified shroud; getting the SG05's shroud back on was the stuff of nightmares and I can tell you right now that the 304's fares little better. When you open the 304 up, though, assembly becomes very simple to grok.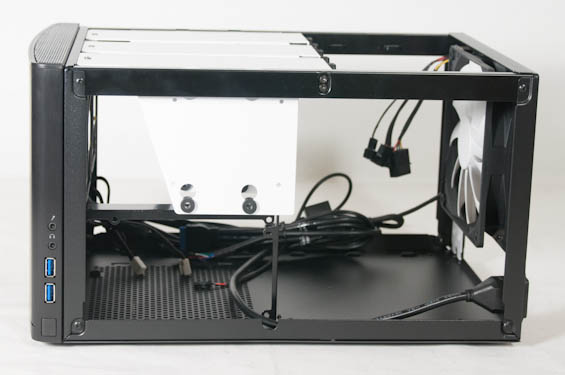 The mITX tray is obvious, as is the power supply mounting. Storage mounting is handled by a series of three removable brackets. I admire the simplicity of the Node 304; what we're going to struggle with here is essentially just space to put the cables. The rear of the case has a small bracket used to cover the area above the expansion slot covers, and there's a switch just above them that handles the fan controller.
Any day where I have to consult the manual just to make sure the case really is that simple to put together is a good one; the only thing the manual honestly needs to tell you is what order to install components in. This isn't going to be a clean assembly, but that's a luxury you seldom enjoy when you deal with enclosures this small.
Assembling the Fractal Design Node 304
Befitting the Fractal Design Node 304's simple aesthetic is an equally simple assembly, but there are definitely measures that could've been taken to make it easier still. In its own way this is par for the course with Fractal Design's cases; they're easy to build but they could've optimized things even further.
The biggest problem is actually installing the motherboard. Before installing anything you need to remove the three drive brackets, all of which are secured by two thumbscrews and a single small Phillips head screw. Getting the I/O shield in is easy enough, but Fractal Design makes you install the standoffs on your own despite the fact that mITX boards only ever have four and they're all in the same place. That's a minor nitpick, but note that clearance is going to be a bit difficult as the power supply region and bracket sits almost flush with the motherboard and they recommend you install the PSU first.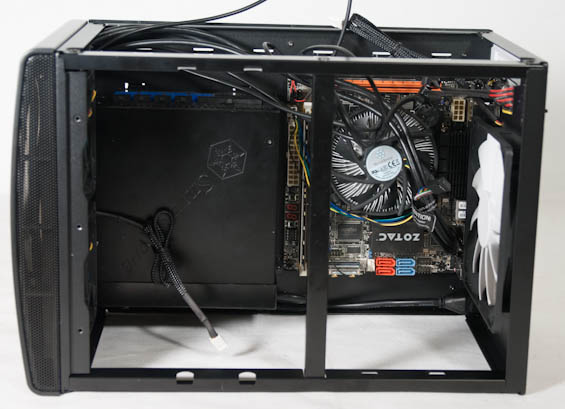 Getting the PSU in is also a bit of a tight squeeze; our test PSU is 180mm with modular connections, essentially longer than the Node 304's spec. As a result, the PCIe slot is rendered essentially unusable to cards longer than the motherboard itself. The problem is that a modular power supply is practically essential for a case like this as there simply isn't anywhere else for the cables to go. I don't think this is a dire situation, but it's one of the places where I feel like the SFX power supply standard really needs to proliferate and would be more ideal. You just don't need a full ATX PSU in a case this size, and space is at a premium.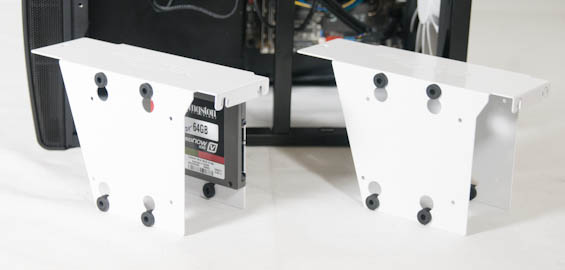 With no optical drive bay to speak of, we're left with the drive mounting brackets, and I think they're for the most part a solid design. There are three, but really you're going to want to use the bare minimum, which for the purposes of testing was just one. Drives bottom-mount to the sides of the brackets (which took our Corsair Link box out of the equation), and then the brackets go in. One potential problem is that a pair of 3.5" drives run the risk of blocking an intake, and I don't see people filling this case up with six drives as I'm just not sure there's space for them.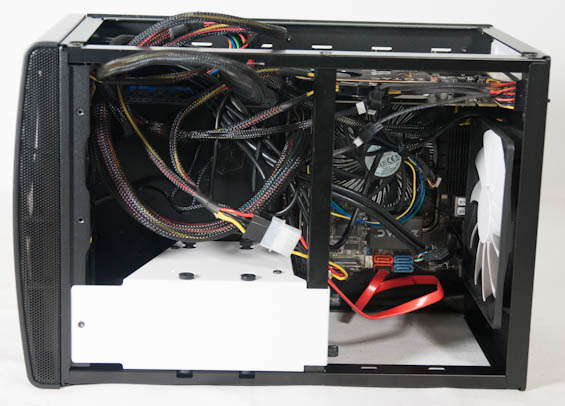 Because of the way the cables stuck out of the power supply and the length of the power supply itself, I was unable to fit our GeForce GTX 560 Ti inside the Node 304 for testing. The short, single-slot Zotac GeForce GTS 450 Eco, however, went in just fine and was surprisingly easy to install and remove. Cable spaghetti is a foregone conclusion in a case like this and unfortunately that made getting the shroud back on that much more difficult.
As far as small cases go, assembly in the Node 304 was tight but not impossible and if anything might've stood to be a little more involved. I'm not sure how I feel about the drive brackets, but since Fractal Design is targeting small home servers with this case I can understand the need to cram as much storage in as possible and the intakes probably serve more to keep the drives from overheating than actually circulating air through the chassis. I do think they could've gone with an SFX power supply instead, though, and even though it would've been more involved, splitting the shroud into two or even three panels might make assembly and service much easier.
Testing Methodology
For testing Mini-ITX cases, we use the following standardized testbed in stock and overclocked configurations to get a feel for how well the case handles heat and noise.
Each case is tested with just the Core i3's integrated graphics as well as with a discrete graphics card. The system is powered on and left idle for fifteen minutes, the thermal and acoustic results recorded, and then stressed by running four threads (three with a dedicated GPU) in Prime95 (in-place large FFTs) on the CPU, and OC Scanner (maximum load) is run when the dedicated GPU is installed. At the end of fiteen minutes, thermal and acoustic results are recorded. If the enclosure has a fan controller, these tests are repeated for each setting. Ambient temperature is also measured after the fifteen idle minutes but before the stress test and used to calculate the final reported results.
We try to maintain an ambient testing temperature of between 22C and 24C. Non-thermal test results aren't going to be directly comparable to the finest decimal point, but should be roughly comparable and give a broader idea of how the enclosure performs.
Thank You!
Before moving on, we'd like to thank the following vendors for providing us with the hardware used in our testbed.
Noise and Thermal Testing, IGP
Admittedly, clearing out two of the drive brackets probably helped testing a great deal, but interestingly I'm not sure our stock testbed is actually very ideal for the Fractal Design Node 304. The reason is the way the motherboard is essentially stuck in a bit of a valley between the intake fans and the exhaust, hiding behind the power supply. A tower cooler would probably work gangbusters in this enclosure, but you'll see that even with the suboptimal downdraft cooler we still had reasonable performance.
The Node 304 was tested at all three fan control settings, and with winter setting in, ambient temperatures hovered between 23C and 24C.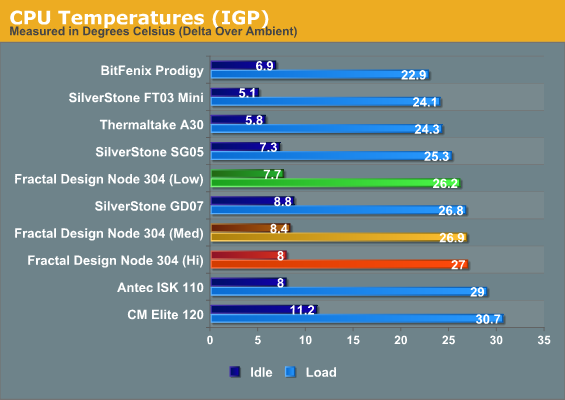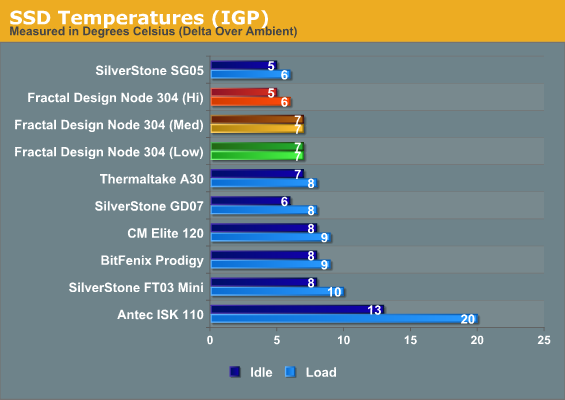 You can see thermals are essentially competitive without being mindblowing. I think a tower cooler would make a big difference in this case, but as it stands the Node 304 isn't bad. Note that the higher fan speeds don't really add anything to the performance.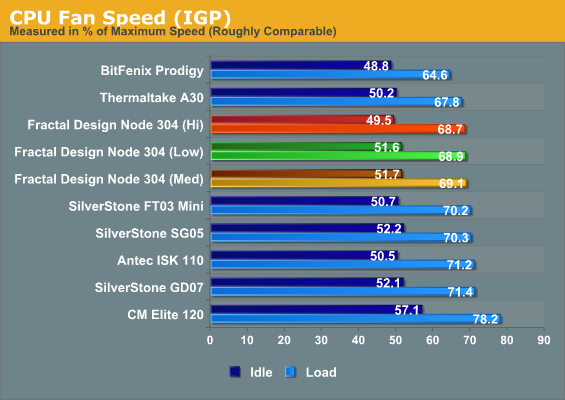 And, same as before, the different fan speeds don't produce any appreciable difference in performance. There's just no reason to run it at higher than the lowest fan setting.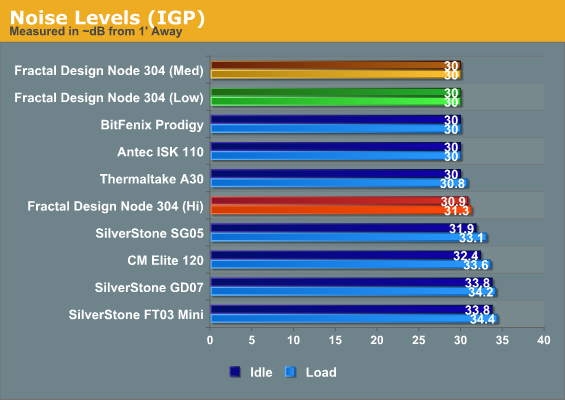 I think it's particularly important to point out that the Node 304 at its lowest fan setting is basically inaudible at idle. Our sound meter doesn't dip low enough to tease out the differences, but you can see now that there's really no reason to turn up the fans. Even under sustained load, the Node 304 is incredibly quiet, and that makes the middle-of-the-road thermals much more tolerable.
Noise and Thermal Testing, Dedicated GPU
It's unfortunate that we couldn't test the Fractal Design Node 304 with a GeForce GTX 560 Ti due to the lack of power supply clearance, but the Zotac GeForce GTS 450 Eco is the kind of card that's more apt to show up in a build in a case like this.
Again, the Node 304 was tested at all three fan settings and with an ambient temperature hovering between 23C and 24C.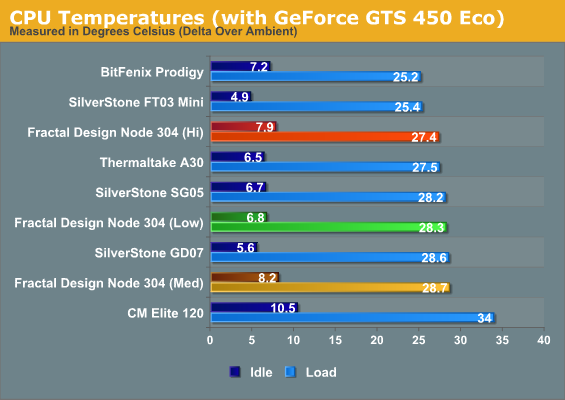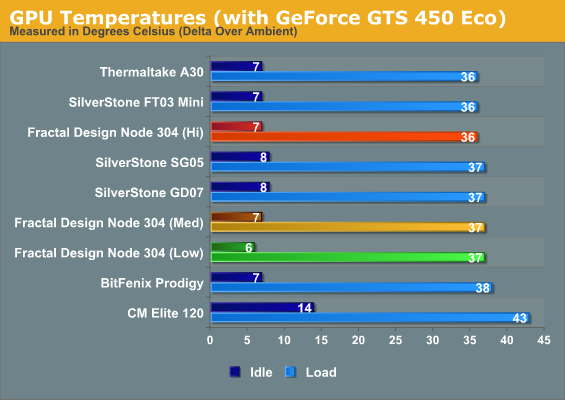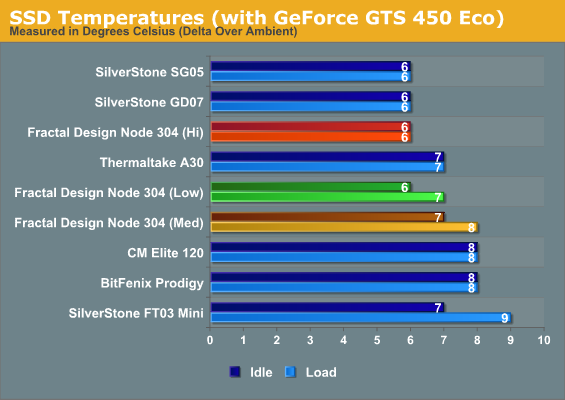 Thermal performance isn't mind-blowing but again, it's at least competitive.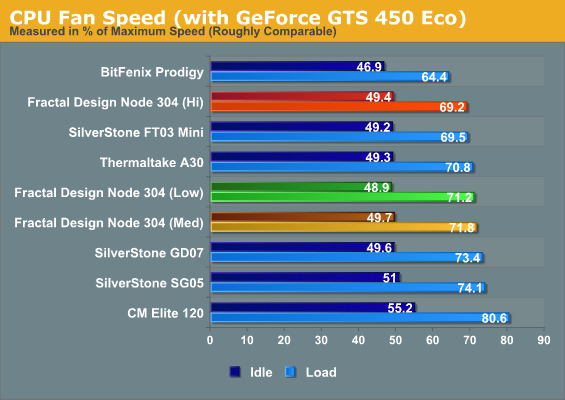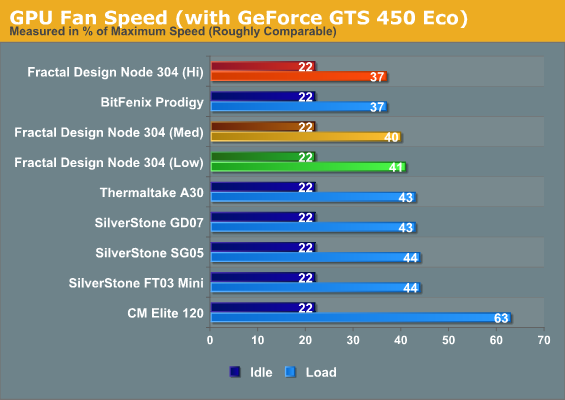 Fan speed readings corroborate that, and even vindicate the Node 304 a bit. The fans don't seem to have to work quite as hard in the 304, and this is the first time we've seen the high fan speed setting produce a notable difference. The medium and low fan speed settings are basically indistinguishable in terms of performance.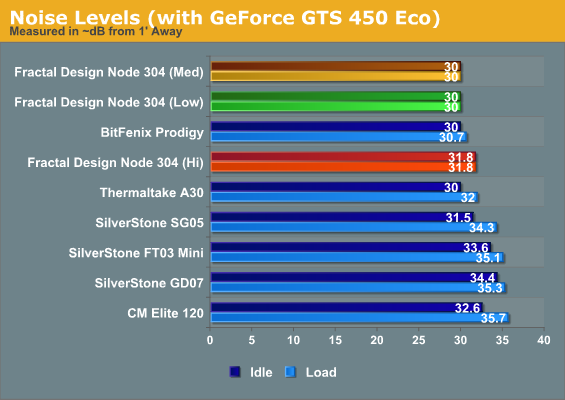 Where the Node 304 remains essentially bulletproof is its noise profile. At both idle and load, it's still actually difficult to hear at idle or load. This is how a quiet case design should work out; no acoustic padding needed, just three quiet, efficient fans and a simple interior design. The 140mm exhaust fan certainly doesn't hurt either.
Conclusion: There's Potential Here
Reviewing the Fractal Design Node 304 is actually a somewhat layered experience, which is interesting given the fundamental simplicity of the design. Probably the first angle to attack is its thermal and acoustic performance, and on those fronts I feel Fractal Design has a success here. The fan controller is essentially only slightly throttling a trio of silent-running fans and bringing their noise level down even lower, but that's still a plus. I think CPU thermals would be improved by using a tower cooler or, alternatively, a closed loop liquid cooler, and at that point the Node 304 would exceed being competitive and start to really shine. Thermals on the dedicated video card were also excellent.
Where Fractal Design loses some steam is in the fundamental design, but again, that's more complicated than it initially appears. What they've done is give you a few modular pieces (specifically the drive brackets) with which you can then adapt the 304 to suit your needs. The problem is that cable space really is at a premium, and I think they missed an opportunity by not placing grills behind the front intake fans. I didn't have problems with cables getting into them, but I can see situations where that could happen. There's no real reason for the motherboard standoffs not to come pre-installed, either, and I really wish the shroud were easier to replace.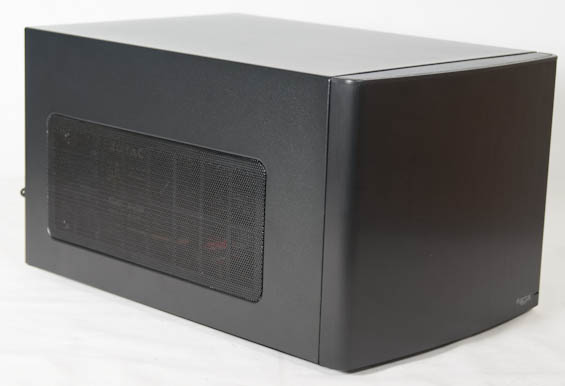 The most interesting thing about the Node 304 may not be any of the usual criteria cases are typically evaluated by, but by how it portends changes in case design in the near future. As I mentioned in the introduction, Fractal Design targets the Node 304 as either a file server or as a minimalist system, but I think it goes deeper than that. Optical drives are essentially falling by the wayside and aren't strictly needed as internal hardware, so why take up space including one? Reset buttons also have a tendency to go unused, so they just omitted it entirely. The plain flat front and minimal style belies the truth: we rarely need cases bigger than this anymore.
By their nature, mITX cases often challenge the imaginations of enthusiasts a bit more, and I can't help but wonder if I could cram my desktop into the Node 304. It's an attractive, small, quiet case, with reasonable thermal performance. The fact that there are no external drive bays means the exterior is particularly clean, and it's striking. While Fractal Design could probably stand to revise the Node 304 a bit more and should consider switching to an SFX power supply to free up some internal space, ultimately this is a very compelling starting point for a small form factor build. I hope to see the Node 304 employed by enthusiasts and boutiques alike.