Original Link: http://www.anandtech.com/show/6467/acer-aspire-v5171-notebook-review-the-death-and-rebirth-of-the-netbook


Introducing the Acer Aspire V5-171
With all of the coverage we've done of ultrabooks in recent months, it's easy to forget that the big vendors are still out there plugging away with more basic, fundamental designs. Intel has expanded the definition of "ultrabook" enough that most consumer-grade systems being made available still fall into those categories, but ultraportables still bear a pretty substantial premium. At the same time, tablets coupled with the persistently dire performance of Atom have turned netbooks into a virtual flash in the pan.
There's a gap in the market that vendors like Acer, HP, and ASUS are quietly serving, though. It's clear from the way netbooks took off that consumers are interested in a small, inexpensive, portable notebook with just enough performance, and that's something you're not getting with ultrabooks. As you're going to see today, there's a lot to be gained if you're willing to sacrifice a little bit of Z-height. We have the Acer Aspire V5-171 on hand today. Acer is asking just $550 for an 11.6" notebook featuring an Ivy Bridge i5 ULV chip and 6GB of RAM, so what's the catch?
As it turns out, there's a little more to today's review than the introduction let on. I was personally looking for a portable notebook to replace my aging Lenovo ThinkPad X100e, something that was still about three pounds but wasn't going to choke if I asked it to play something light like Quake Wars or Duels of the Planeswalkers 2013. Something that could play back the 1080p AVCHD from my video camera when I'm out doing videography, and in a perfect world, something that had Quick Sync.
Last generation, Acer had a promising little notebook with a similar shell to the Aspire V5-171 that featured a Sandy Bridge Pentium ULV processor for a little over $400, and that struck me as being a pretty incredible deal for a market that's been forced to deal with overpriced Brazos-based notebooks. Brazos may have a decent GPU on paper, but it's horribly limited by its CPU performance. As it turns out, Acer refreshed that line into the V5-171.
Acer Aspire V5-171 Notebook
Processor
Intel Core i5-3317U
(2x1.7GHz + HTT, 2.6GHz Turbo, 22nm, 3MB L3, 17W)
Chipset
Intel HM77
Memory
4GB Nanya DDR3-1333 + 2GB Nanya DDR3-1333
Graphics
Intel HD 4000 Graphics
(350-1050MHz, 16 EUs)
Display
11.6" LED Glossy 16:9 1366x768
AU Optronics B116XW03 V2
Hard Drive(s)
Seagate Momentus Thin 500GB 5400-RPM SATA 3Gbps HDD (7mm)
Optical Drive
-
Networking
Broadcom NetLink Gigabit Ethernet
Qualcomm Atheros AR5BWB222 802.11b/g/n
Bluetooth 4.0
Audio
Realtek ALC269 HD Audio
Stereo speakers
Combo mic/headphone jack
Battery
4-Cell, 37Wh
Front Side
SD/MS Flash reader
Right Side
Mic/headphone jack
2x USB 2.0
AC jack
Kensington lock
Left Side
Ethernet port
D-SUB
Exhaust vent
HDMI
USB 3.0
Back Side
Battery
Operating System
Windows 8 64-bit
Dimensions
11.22" x 7.95" x 0.82-1.09"
285mm x 202mm x 20.95-27.35mm
Weight
~3.05 lbs (1.38kg)
Extras
720p HD webcam
Flash reader (SD/Mini SD, MS/Duo/Pro/Pro Duo)
USB 3.0
Warranty
1-year standard warranty
Pricing
$549 MSRP (on Amazon for $499)
What jumped out at me with the Aspire V5-171 is that it's actually a pretty robust machine for the money, and would be considered so even if it were a larger notebook. There are three models in this line readily available in retail; the one we have on hand is the middle model and probably the best deal depending on your perspective. Ours comes with an Intel Core i5-3317U low voltage processor based on Intel's Ivy Bridge architecture, sporting a nominal 1.7GHz clock speed and able to turbo up to 2.6GHz on a single core. It also benefits from Intel's HD 4000 IGP and QuickSync, and I'll talk about just how useful that actually winds up being later on.
Attached to the i5-3317U's memory controller is a fairly generous 6GB of DDR3-1333 split into a 2GB DIMM and a 4GB DIMM, and handling storage duties is one of the first places you can really see costs get cut: a pokey 500GB, 5400-RPM mechanical hard disk. Acer opts for a 7mm model to keep the Z-height down, but this is still essentially the weak link. You could argue that the display is also poor, and you'd be correct, but again, this is a budget notebook and the low resolution is more forgivable on an 11.6" panel.
Pleasantly, though, Acer shores up connectivity options well. The V5-171 features 802.11b/g/n courtesy of Qualcomm Atheros, Bluetooth 4.0, a gigabit ethernet port, two USB 2.0 ports, a USB 3.0 port, HDMI, and VGA, all alongside an SD card reader.
As I mentioned before, there are two models flanking our V5-171-6422 in the market. You can get this notebook at about $100 cheaper if you bump down to a Sandy Bridge i3 and 4GB of RAM. For users that aren't going to need any CPU horsepower and aren't planning on using the IGP much, if at all, the i3 model is certainly a great deal. Losing 2GB of RAM isn't that bad, but I think the Ivy Bridge i5's turbo, increased IPC, and vastly superior IGP are worth the $100 difference.
The other flanking model is impossible to recommend, though. Fully $200 more expensive than our review unit, the V5-171-9661 only gets an upgrade to 8GB of DDR3 and an i7-3517U. $200 for 2GB of DDR3, an extra 200MHz on the CPU, and 100MHz on the IGP is a much harder sell than the generational jump you get from going from the Sandy Bridge i3 in the junior model to the Ivy Bridge i5 in our model.
In and Around the Acer Aspire V5-171
Being essentially either a glorified netbook or a budget ultrabook, the Acer Aspire V5-171 is par for the course with Acer's more affordable offerings. Anyone expecting a great upheaval in design is going to be disappointed; this is a $550 notebook and while I don't think it feels too cheap, there were definitely some concessions made in hitting that price point. That said, there are some nice surprises too.
Probably the nicest surprise is the lack of glossy plastic. The lid is plastic but with a silver brushed-aluminum print that actually looks reasonably classy. Acer does a kind of sandwiching two-tone with the V5, where the lid and the palm rest surface are silver, but the screen bezel is black (unfortunately a glossy bezel) and the keyboard itself is comprised of matte black plastic. Finally, the underside of the notebook is matte black plastic as well, but Acer did budget users a kindness with the design here.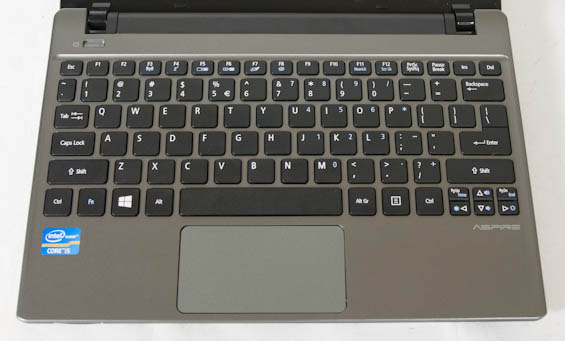 So how about that keyboard and trackpad? Acer dispensed with the floating island style keys some time ago, and the new chiclet-style keyboard is vastly superior. That said, the keys are still a bit on the mushy side and could use slightly more contour. You do benefit from the extra height of the V5, though, as the keys have more travel and depth than ultrabook keyboards tend to have. I've heard complaints about the diminutive size of the arrow keys and document navigation keys, but maybe it's my tiny, delicate hands...I haven't had a problem with them and I actually very much like the placement of the Page Up and Page Down keys. In a perfect world, though, Acer would put the Home and End keys at the top right of the keyboard, and then have Print Screen and Break as the Fn combinations for the Insert and Delete keys.
Acer keeps the clickpad on a separate piece of plastic, and given the dimensions of the notebook I'm much more apt to forgive them for using a clickpad instead of having dedicated mouse buttons. The height of the clickpad is already cramped enough, and side-mounted dedicated mouse buttons have never been a good idea. I've read a couple other reviews of the V5 and the clickpad has been a source of consternation, but I'm going to dissent. It's not great, but it's not the worst clickpad I've used and for the most part it's actually pretty usable. Sensitivity is less than ideal for the mouse gestures that run Windows 8, but at the same time, Windows 8 benefits tremendously from the clickpad.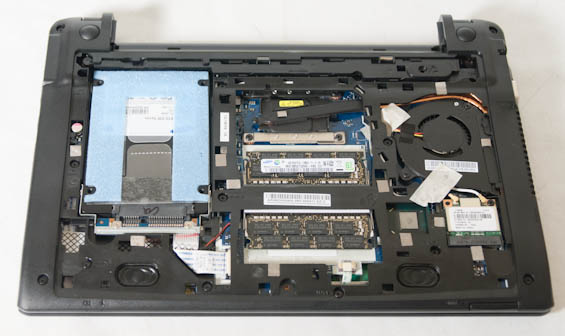 As I mentioned before, Acer does the end user a solid with the bottom of the notebook. Air is vented primarily through the side vent (meaning you can actually use the V5 on your lap), but the battery is user replaceable and the bottom panel is actually a single piece that snaps on and is held in place by a solitary screw. Remove it, and you have access to everything. You can upgrade the wireless card with another half-height PCIe card, replace the hard drive, and in a rare move for a notebook in this class, there are actually a pair of DIMM slots instead of some of the RAM simply being soldered to the motherboard.
Ultimately there's some flex to the chassis and the down-firing speakers sound pretty terrible, but the level of user serviceability, usable keyboard and touchpad, and smart thermal design (more on this later) go a long way towards bringing value to the V5 and making it feel more like an inexpensive notebook rather than just a cheap one.
Application and Futuremark Performance
When we talk about the performance of the Acer Aspire V5-171, it's the part that I think really matters the most. Vendors weren't really doing with Sandy Bridge (outside of the Sandy Bridge i3) what they're doing with Ivy Bridge now. This is essentially the top end of the netbook form factor; HP's dm1 was available with an i3 or Brazos (only Brazos currently), Lenovo's ThinkPad X100e line has the same thing going on. 11.6" notebooks mean either Brazos or an i3, and even there an i3 is generally going to be superior.
With the V5-171, though, we get an Ivy Bridge i5 that's able to turbo up substantially as well as beefier HD 4000 graphics. While on paper the E2-1800's IGP may be preferable, with superior driver support, the Ivy Bridge CPU cores will make up the deficit in a big way.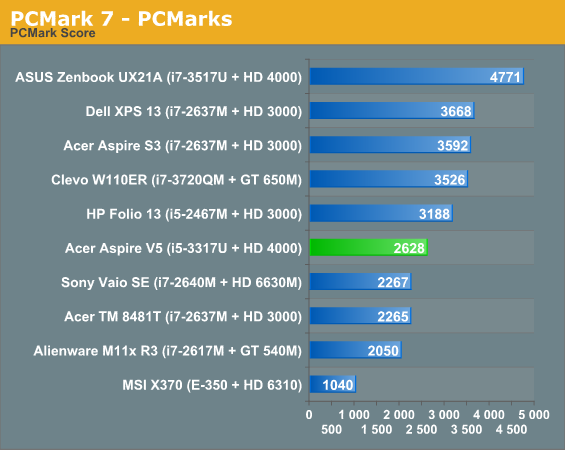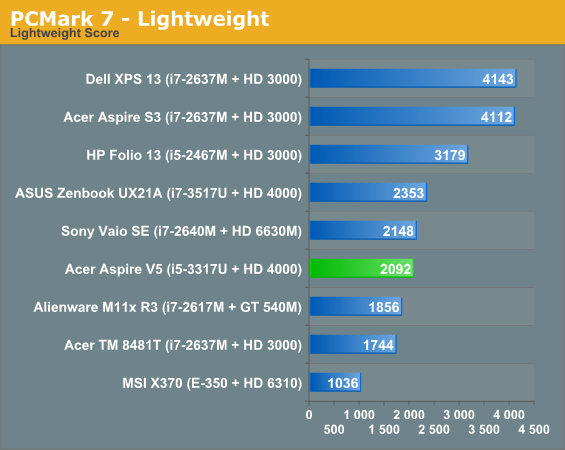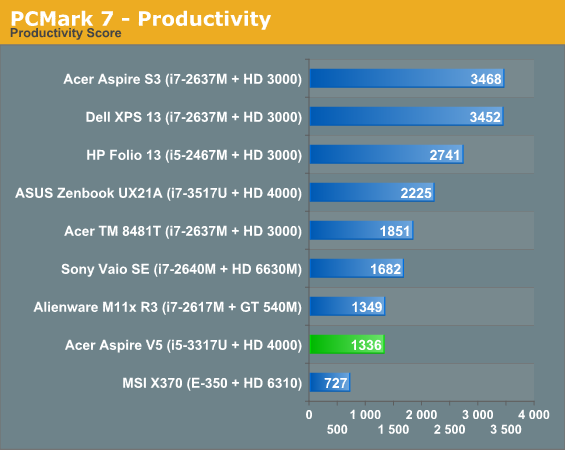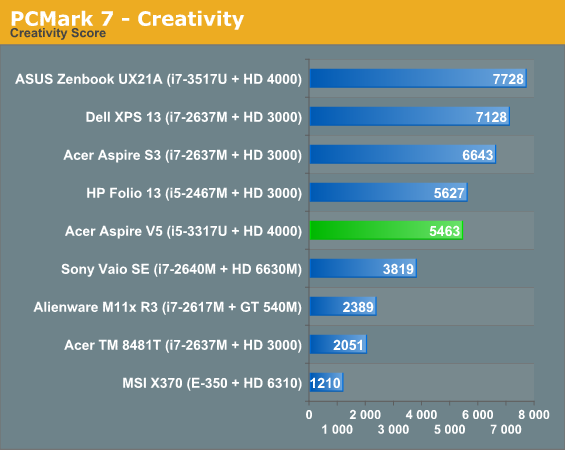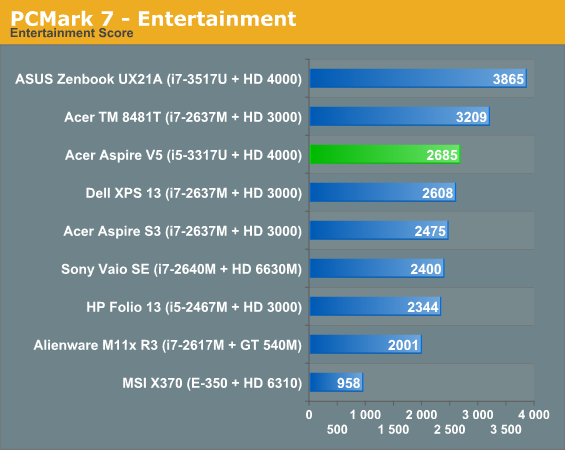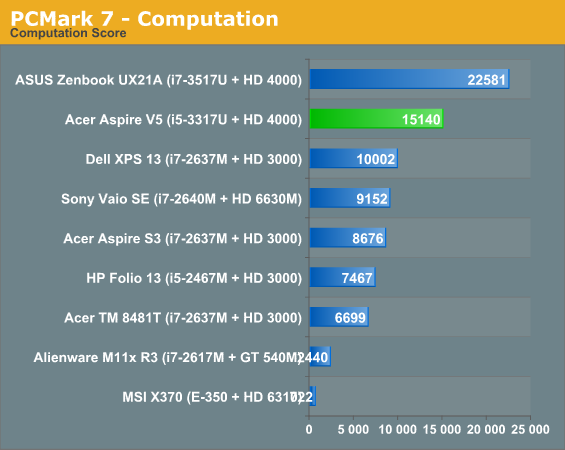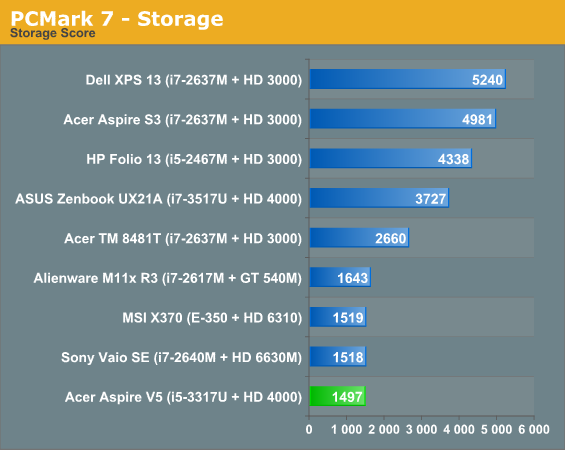 PCMark punishes the V5-171 for not including an SSD, but SSD prices have come down tremendously and you can always upgrade to one later (as I did). Last I checked, Amazon was selling Samsung's venerable 830 at a 128GB capacity for $80.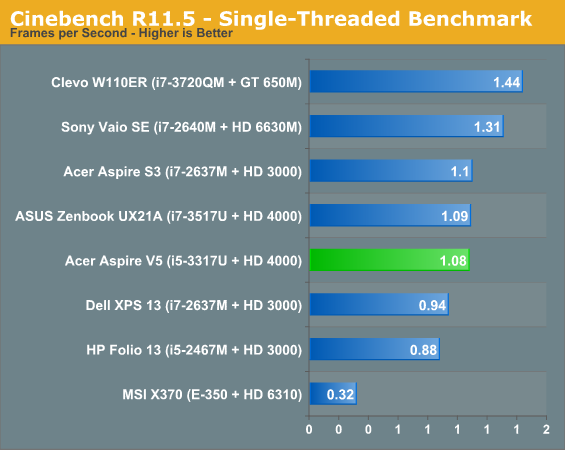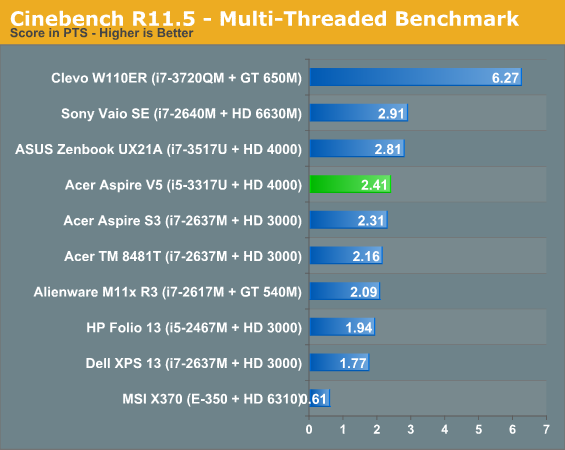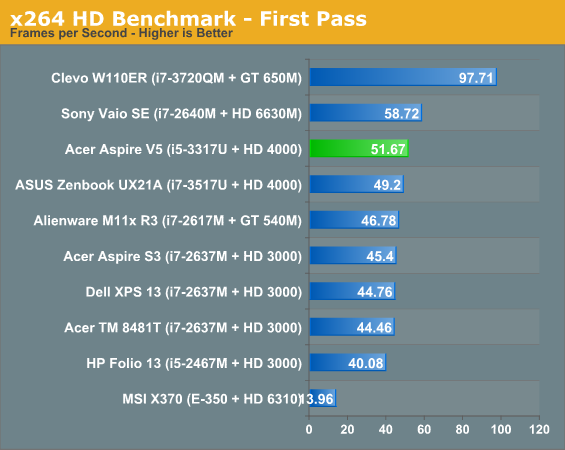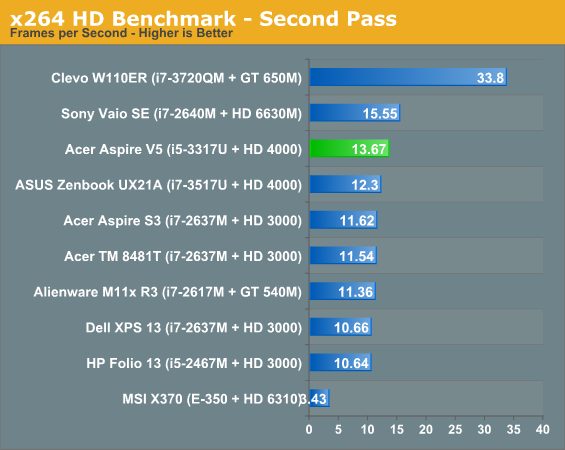 The CPU-specific benchmarks highlight both the performance gulf between Brazos notebooks and the tremendous amount of performance Intel was able to cram into a 17-watt power envelope. Note that the current generation E2-1800 is an incremental improvement on the E-350 we have listed, with a top CPU speed just 100MHz higher and no architectural changes. The i5-3317U isn't the fastest CPU, but it's remarkably powerful and mostly as fast as or faster than last generation's ULV i7s.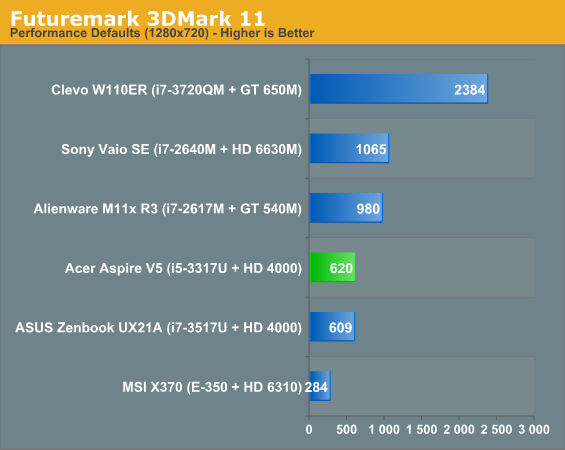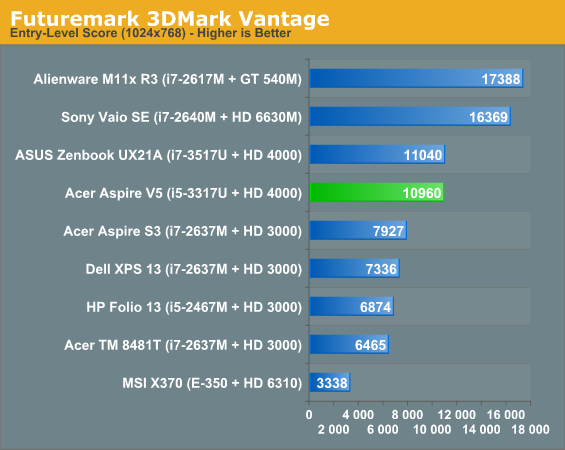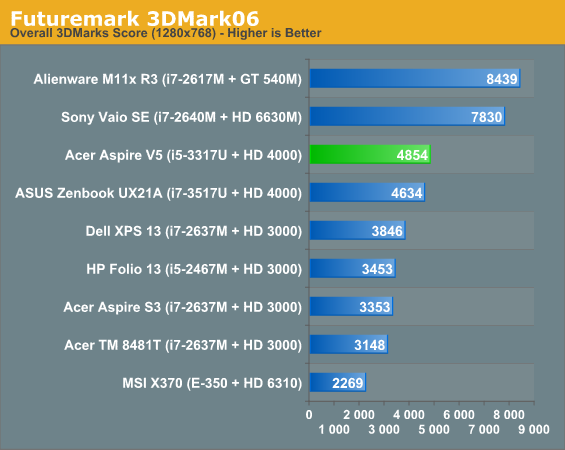 GPU performance isn't groundbreaking by a longshot, but it's a heady improvement on the HD 3000 and soundly ahead of Brazos. In anecdotal use, I found that the difference between the HD 3000 and 4000 in ULV chips was actually enough to make certain games (like Duels of the Planeswalkers 2013) much more playable. The HD 4000 in the V5 is also capable of running Guild Wars 2 at minimum settings and should have no trouble with World of Warcraft.
I remember when integrated graphics were, no matter how powerful the core was (AMD 780G, looking at you), pretty badly handicapped by memory bandwidth. Shared memory wasn't really the issue, it was the low speed of system memory preventing even 1280x800 or 1366x768 from being very playable. Fast DDR3 and efficient memory controllers have largely alleviated that bottleneck, though. I would never recommend the HD 4000 for a gamer, but I've found it's actually passable for casual use and is definitely enough to drive the V5's display.
Display Quality
You knew this was coming. Budget notebooks are still stuck in a world of dismal TN panels, and the Acer Aspire V5-171's is among the worst. I'm also not a fan of glossy finishes on displays, and the V5-171 suffers from a glossy bezel. With all that said, I do think a 1366x768 resolution is reasonable in an 11.6" form factor. Also keep the price in mind; an IPS panel isn't something you should be expecting this far south of a grand.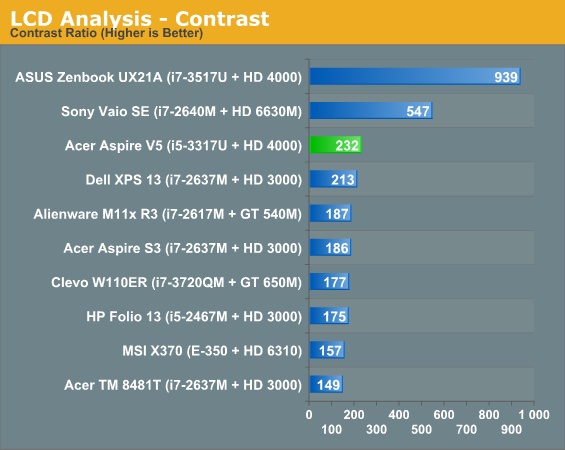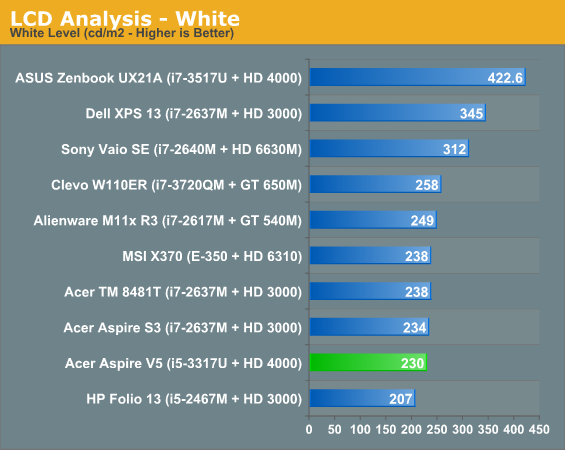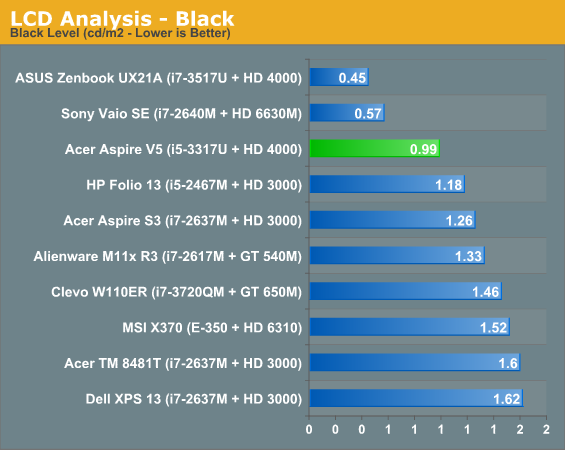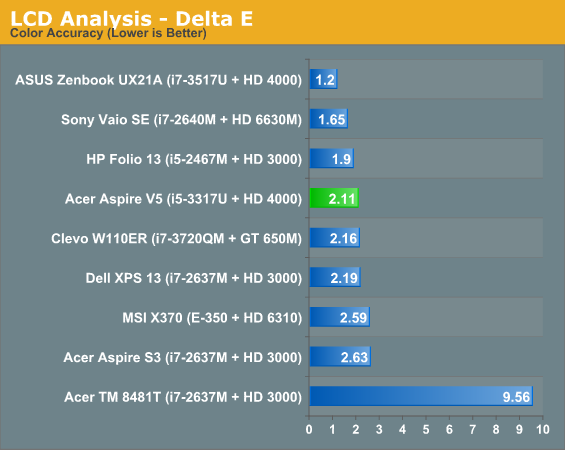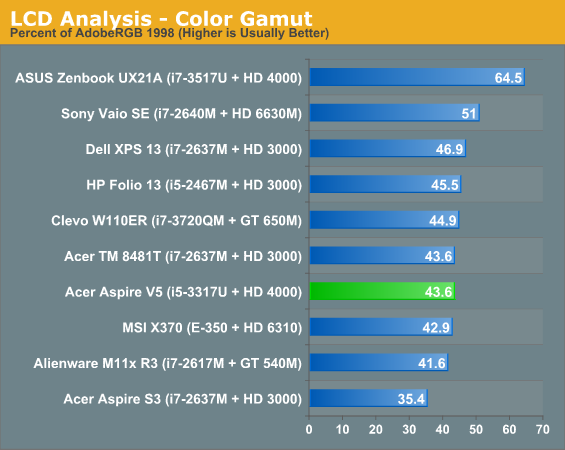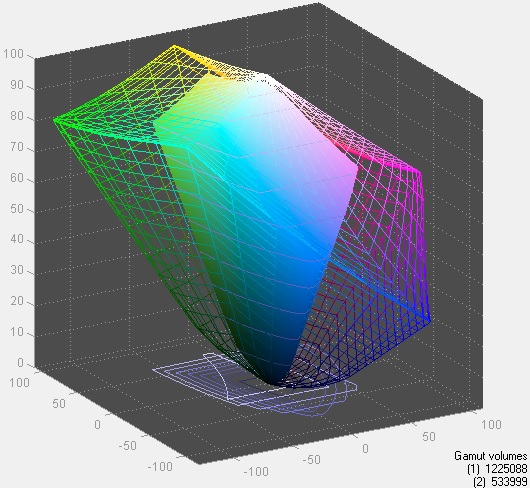 No surprises here, the V5-171's display is a decent one in a bad crop. I honestly feel like this speaks less to the quality of the V5-171 than to the lack thereof of notebook displays in general. Hopefully with the proliferation of tablets and higher resolution panels, this is something that will finally start to improve over time and trickle down into less expensive notebooks.
Battery Life
The bad news isn't really going to end here for the Acer Aspire V5-171. Keeping with the low price tag is a low battery capacity; a 4-cell battery with a paltry 37Wh. It allows the notebook to stay light, but you're not going to see dynamite battery life here. This is one place where Atom is always going to beat Ivy Bridge, unfortunately.
When I bought the V5-171, I also grabbed 8GB (2x4GB) of Samsung DDR3L-1600 along with a 128GB Samsung 830 SSD. I figured it would be worth seeing if the slightly reduced power consumption of these components could improve the questionable battery life of the notebook, and as it turns out, they do somewhat.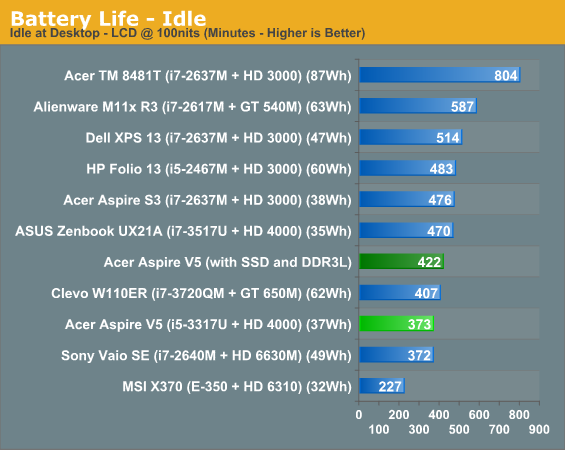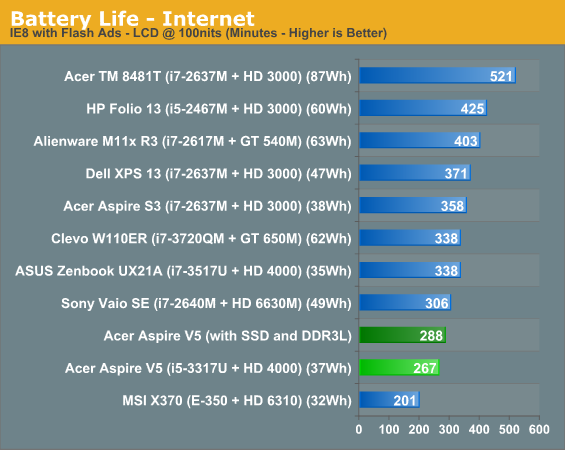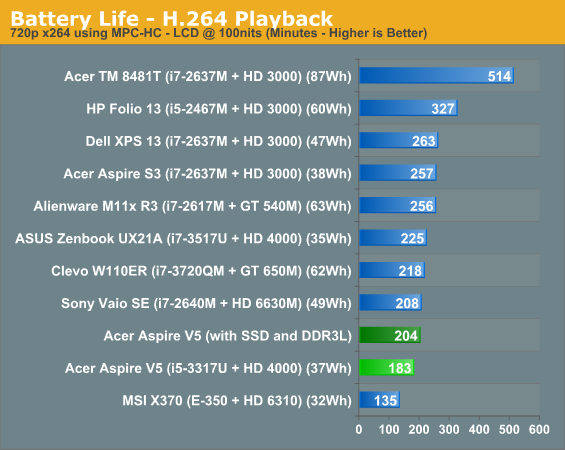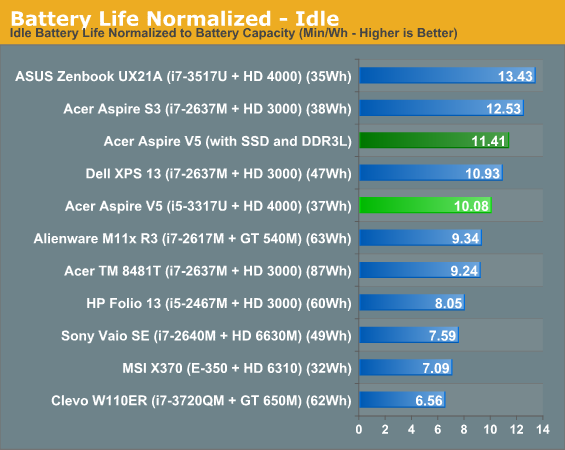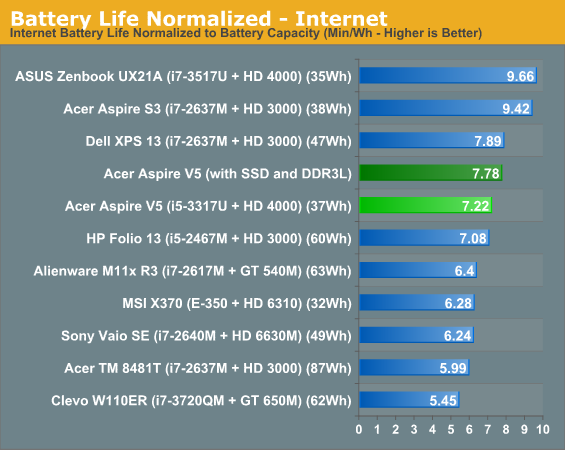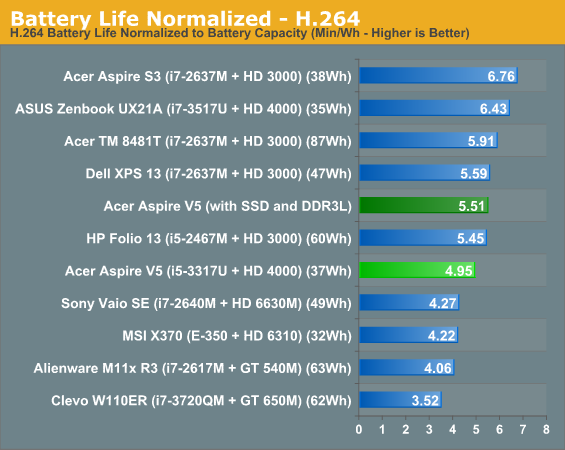 Relative battery life proves there was probably more Acer could've done to eke out better running time with the V5-171. You're looking at a three hour movie, and about four hours of useful life surfing the internet at 100 nits. Adding the SSD and DDR3L helps the notebook incrementally, but it's not a major swing. Really what the V5 needs is a bigger battery.
Heat and Noise
In reading other reviews of the Acer Aspire V5-171 (remember I was researching this bad boy for myself before relaying this information to you), I saw a lot of complaints about heat and noise, and some forum users even talked about reapplying the thermal grease to the CPU. Whatever they were complaining about hasn't materialized in the system I bought, though; Acer may have quietly fixed the thermal grease issue when they refreshed the line with Windows 8, or it may have been blown out of proportion. Either way, noise is a non-starter at idle or load. The fan is almost always running, but it's very low and quiet, and the V5 benefits spectacularly from having a substantial side vent.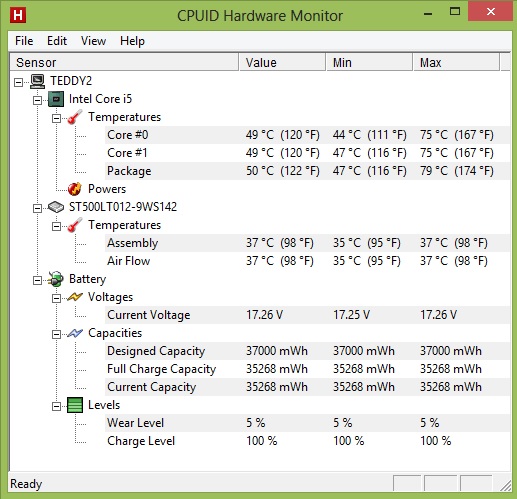 Those thermals pretty much speak for themselves: the V5-171 is able to run incredibly cool given its small chassis. Surface temperatures remain very comfortable, and I've found I've been able to use it while in bed without worrying about the venting getting smothered by the blankets.
Conclusion: A Killer Bargain
While I try to approach my reviews without much bias, or at the very least leave that bias checked at the door, I'll admit I haven't had the best impressions of Acer's products when I've reviewed them, and I certainly never imagined I'd ever buy one for myself. When I read about the Acer Aspire V5-171, I approached it with a heady mix of skepticism and optimism: I was pretty sure there would be some dealbreaking problem with it (I'm incredibly picky when it comes to the computers I personally use), but I was hoping that it would be a diamond in the rough.
The V5-171 is not without its faults, many of which undoubtedly stem from Acer's push to get it to market at the remarkably low price tag it's currently at. The chassis is plastic, and at the outermost corners it's not the firmest build in the world. While the chiclet keyboard is a huge improvement over the old floating island keyboards Acer used to employ, it's still a bit on the mushy side. Relative battery life is at least competitive, but absolute battery life is pretty poor. In an era where we can get five to six hours of running time out of most notebooks, just barely scraping four useful hours surfing the internet is brutal. Finally, I still remain absolutely perplexed by manufacturers who smartly eschew glossy plastic for the majority of the build...and then put it on the screen bezel, the number one place where fingerprints are going to be picked up.

With all that said, there's a hell of a lot you can forgive if the price is right. Just like I'd happily take home an AMD E2-1800-based netbook if they were priced appropriate to their performance (read $300-$350), I'm willing to put up with some of the V5's problems simply because of the stellar price-performance ratio. If you take the questionable battery life out of the equation and uninstall most of Acer's bloatware from the hard drive, you're left with a bargain notebook that really doesn't have any major usability issues. The keyboard, clickpad, and display aren't great, but they aren't awful either. The distance between the user and the metal isn't painful to cover.
The V5 hits almost the exact notes for my usage patterns. I do videography semi-professionally on the side, and the ability to take a three pound notebook with me to a show, shoot a performance, then convert the footage to a YouTube-ready format with QuickSync in under two minutes and copy it to the performer's flash drive that night makes me tremendously more efficient. Being able to comfortably indulge in my casual game of choice, Duels of the Planeswalkers 2013, while off the mains is wonderful, too. And finally, it's thin without being so thin that you start to make compromises when it comes to key depth, system noise, heat, and serviceability the way you do when you get to true ultrabooks.
I think either the i3-based version (currently only $399 on Amazon) or this i5-based model are potentially excellent companions for end users who need something portable and don't mind the truncated battery life. The savvy user will probably be able to eke out five hours of useful life just by knocking the brightness down a bit more, which makes it a little more palatable. The V5-171 isn't flawless, but it's a pretty powerful little system and a surprisingly worthy replacement for my venerable ThinkPad X100e.