Original Link: http://www.anandtech.com/show/6442/bitfenix-ghost-case-review-begging-for-the-premium-treatment


Introducing the BitFenix Ghost
In the short time that they've been around, BitFenix has consistently proven an interest and willingness to design cases that are at the feature curve while being price competitive and offering a distinctive aesthetic and features. It sounds like a PR line, but it's true: the Merc series are among the best budget cases on the market, the Shinobi is a solid case in its own right, and the Prodigy was actually selling out for months after its release. In many ways they remind me of Corsair and Fractal Design; in the enclosure business for a short time, but continually making strides and ensuring each release is worth some attention.
That's true again today with the launch of BitFenix's first case tuned for silence, the Ghost. It eschews some of the design language that's become de rigeur for BitFenix (specifically the soft-touch plastic surface), but has some smart new design choices and more importantly, it hits a price point silent cases very rarely hit (outside of NZXT's H2): $99. So does the Ghost live up to its potential, or does it just leave us begging for more?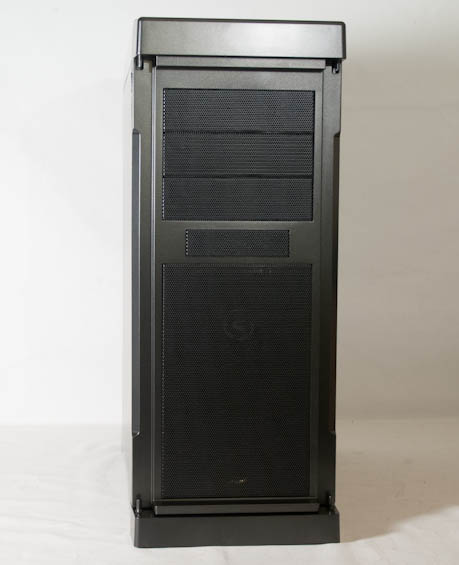 While I'm always on the lookout for a case to replace my venerable SilverStone FT02, very few promising candidates have ever come through that struck my tastes specifically. Yet the Ghost threatened to do exactly that, with its sleek, boxy design, ample watercooling support, and acoustic dampening materials. I'd been looking forward to reviewing the Ghost since I first saw it online. As you'll see the further we get into the review, this is a case I really wanted to succeed, not just for consumers everywhere but for myself as well.
BitFenix Ghost Specifications
Motherboard Form Factor
ATX, Micro-ATX, Mini-ITX
Drive Bays
External
3x 5.25", 1x 3.5"
Internal
4x 3.5"/2.5", 3x 2.5"
Cooling
Front
1x 120mm intake fan, 1x 120mm fan mount
Rear
1x 120mm exhaust fan
Top
1x 230mm/200mm fan mount or 2x 120mm/140mm fan mounts
Side
-
Bottom
1x 120mm/140mm fan mount
Expansion Slots
7
I/O Port
2x USB 3.0, 2x USB 2.0, 1x Headphone, 1x Mic, hotswap SATA bay
Power Supply Size
ATX
Clearances
HSF
170mm
PSU
180mm
GPU
12.5" / 318mm
Dimensions
8.3" x 20.6" x 20.1"
210mm x 522mm x 510mm
Special Features
Removable fan filters
Hotswap SATA bay
Noise dampening padding
Support for 240mm/280mm radiator in top of case
Price
$99
The Ghost also features a door that's hinged on both sides similar to the design Corsair employed on their fancier (and pricier) Obsidian 550D. While it's not the smallest case, it does feel a bit smaller than the norm while also making exceptionally smart use of its dimensions. The hotswap bay in the top of the enclosure fits perfectly with allowing for increased height for installing a radiator in the top fan mounts. Many cases that advertise being able to support a 240mm radiator will actually run into trouble if you try to install one due to limited clearance. It's all well and good to be able to get a radiator in, but you do need to actually install fans on it, too.
With all that said, I think Fractal Design hit the mark and BitFenix missed it by supporting a 140mm exhaust fan as well as dual 140mm intakes in the Define R4. 120mm may be the standard, but 140mm fans are becoming increasingly common and they're often more efficient for the noise than the smaller fans are. I personally would've loved to have seen a 140mm exhaust fan or at least support for one on the Ghost, even if it meant slightly widening the case.
In and Around the BitFenix Ghost
Honestly, the detailed examination of the build quality of the BitFenix Ghost is where the case actually seems to fall apart the most under scrutiny. You'll see later on that assembly wasn't an issue, but BitFenix doesn't seem to have done as good a job skirting the line between cheap and inexpensive with the Ghost as they typically have. I don't think it's a poor value, far from it, but when you're accustomed to seeing excellent values from a company it does come as a bit of a shock to see something that feels merely competitive.
BitFenix did away with their usual soft-touch plastic finish, the finish that went such a long way towards making the cases feel like quality, and instead are using a more basic plastic finish for the fascia, door, and top shell. The lines are clean and smooth while still having a touch of distinction, and I'm always fond of the black and gunmetal gray duo. The problem is that the building materials feel thin; sure the door swings open in either direction, but when you see how it's held together (plastic snapped around a plastic peg) you suddenly feel a little more skeptical. I harped on the mechanism Corsair used in the 550D, but even that feels a little more reliable than what BitFenix has going on here.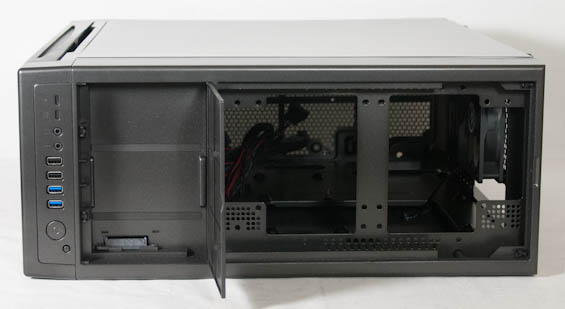 Where I think they did very right was in putting all of the I/O on top of the case so that the door was only really relevant for muffling noise from the dual front intake fans and the optical drive. This is pretty much an ideal setup, and the cubby for the hotswap SATA bay has a hinge that snaps open and shut, keeping those clean lines and surfaces. I don't live in a vacuum, though; some of my peers have commented on the top vent of the Ghost being counterproductive for containing noise, while others don't see it as a problem. I honestly can't say I go either way on it. I don't personally think it contributes substantially to the noise and I do feel it's a net gain, but your mileage may vary.
Opening and closing the Ghost, on the other hand, is kind of an ordeal and was something that really should've been rethought. While the side panels employ thumbscrews, the panels themselves are held on by locking into notches similar to how old, super-cheap cases have. This isn't an ideal way to handle this by any stretch of the imagination, as it does virtually nothing to curtail potential rattling but it does making closing up far more difficult than it has any right to be. A hinged design with some kind of sound-muffling material where the panels make contact with the chassis might have been a better call.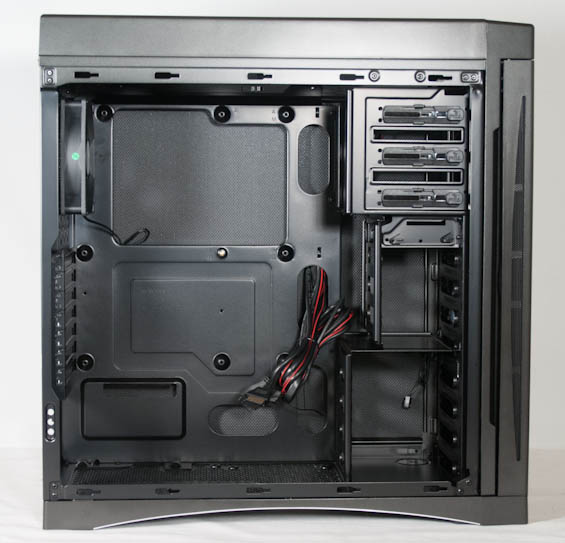 As for the interior of the Ghost, BitFenix got most of it right. In keeping costs down they include only two of their 120mm Spectre fans, one in the front as an intake and one in the back as an exhaust, and the overall number of fan mounts in the Ghost are more likely to result in a negative pressure airflow than a positive one.
Ignoring the minor annoyance of getting inside the case, though, the design is remarkably progressive. While neither drive cage is removable, I'm incredibly pleased to see a smaller 2.5" drive cage above the 3.5" drive cage, and BitFenix includes 2.5" trays. It's ridiculous how long it's taken for a vendor to produce a toolless 2.5" drive mounting design like this. There's also a peg in the center of the motherboard tray for lining up the board, and all of the board mounts are essentially extruded from the tray itself.
While I'm unimpressed with the quality of materials employed in building the Ghost, I also can't really deny that I like the aesthetic, and that I'm pleased with the conveniences that went into the design of the interior. BitFenix isn't breaking any bold new ground with their airflow design, but there's at least some refinement going on here towards making the case easier to build in. I'm also happy to see that they haven't dispensed with the 3.5" external bay, as those are still very useful for card readers.
Assembling the BitFenix Ghost
In the process of examining the BitFenix Ghost, I gradually became more relieved. Oftentimes assembly can actually be the biggest bugbear of case reviews, especially when dealing with smaller cases. The only company I've ever consistently counted on to make life easy for me has been Corsair, but BitFenix really came through here. The Ghost is incredibly, almost comically easy to build in.
As I mentioned in the previous section, BitFenix includes a peg in the motherboard tray that makes lining up the motherboard incredibly easy, and the built-in extrusions in the tray itself almost entirely remove the hassle of installing standoffs. Not only that, but you're virtually guaranteed never to have to need a pair of pliers to help you remove a standoff that came out with the motherboard. Small conveniences can really go a long way.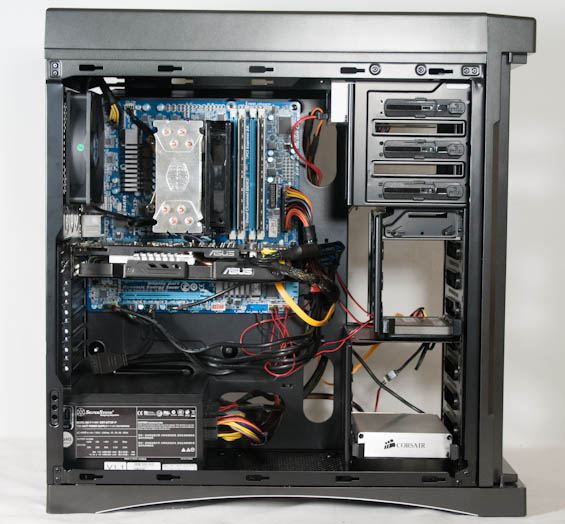 Those conveniences essentially permeate the design of the Ghost. Toolless drive trays exist for both 2.5" and 3.5" drives and their respective cages, and the toolless locking mechanism for the optical drive bays is fairly secure. Even the shields for the expansion card slots snap in and out of place; you'll only need screws if you're installing an expansion card. Installing the power supply is just as easy, with standoffs in the bottom of the case that lift it up, although you'll need to screw it in, same as always.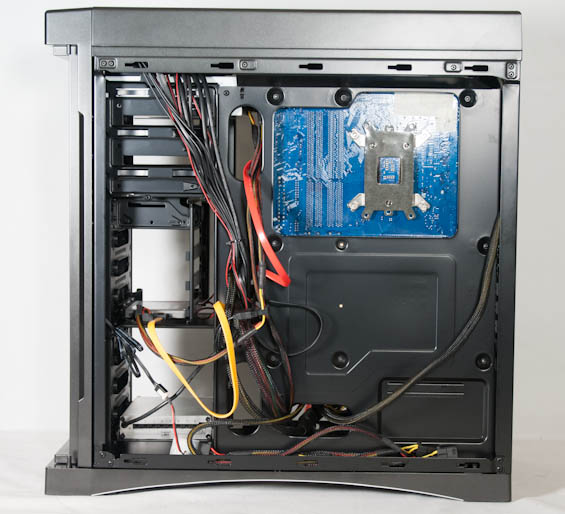 Cabling is mostly easy, with routing holes included in the motherboard tray and rubber grommets included separately in the package if you'd prefer to use them to line those holes. BitFenix provides ample space behind the motherboard tray for routing cables, though I was disappointed to see they didn't include a 3-pin to molex adapter for either of the fans. Our testbed motherboard only includes one system fan header, which meant I had to dig up an adapter to connect the other fan. Most users won't run into this, but it's something to be aware of.
The only difficult part of assembling the Ghost was in replacing the side panel behind the motherboard tray. Due to the archaic mounting design of the side panels, I was forced back into the classic practice of using your full body to line up and lock in the panel. It's inexplicable that they could've made a mistake like that one, especially in light of how painless and uneventful the rest of the assembly was. My favorite part honestly remains the 2.5" drive cage with corresponding sleds, a design choice so convenient and so obvious that it's perplexing as to why it remains as rare as it is.
Testing Methodology
For testing Micro-ATX and full ATX cases, we use the following standardized testbed in stock and overclocked configurations to get a feel for how well the case handles heat and noise.
Each case is tested in a stock configuration and an overclocked configuration that generates substantially more heat (and thus may produce more noise). The system is powered on and left idle for fifteen minutes, the thermal and acoustic results recorded, and then stressed by running seven threads in Prime95 (in-place large FFTs) on the CPU and OC Scanner (maximum load) on the GPU. At the end of fiteen minutes, thermal and acoustic results are recorded. This is done for the stock settings and for the overclock, and if the enclosure has a fan controller, these tests are repeated for each setting. Ambient temperature is also measured after the fifteen idle minutes but before the stress test and used to calculate the final reported results.
Thank You!
Before moving on, we'd like to thank the following vendors for providing us with the hardware used in our testbed.
Noise and Thermal Testing, Stock
Dealing with cases that are engineered specifically for silence as opposed to excelling in every metric (as larger, more expensive cases often are) means accepting potential trade-offs. The BitFenix Ghost, at $99, is geared more towards acoustic than thermal performance and unfortunately it shows. Yet there's at least potential in the Ghost for better performance, as most of the fan slots are vacant.
I don't like to make a habit of experimenting with cases because then I'll be expected to experiment with every single case that comes through here, and I just don't have time for that. However, the flexibility of the fan mounts in the Ghost make it a potentially ideal case for the roundup of closed-loop liquid coolers I'll be testing soon (particularly since NZXT has released a 140mm cooler and a 280mm cooler). More than that, I felt it was relevant to see if the closed door was suffocating the enclosure the way the one on the initial release of NZXT's H2 did.
Amusingly, the rep for be quiet! is actually my predecessor here for case reviews, and he was able to supply me with a healthy amount of fans for random testing. Their case fans are, I have to admit, really stellar. I'm using three of their 120mm fans in an FT03 for my media center, and for the Ghost I added their Silent Wings 2 140mm fan as an exhaust in the top of the case and a 120mm fan from the same line in the front as an intake.
California is becoming increasingly confused about the weather as we enter what Californians will call a freezing cold, rainy winter, and what people from states that have actual seasons will call "a bit nippy outside." The result is that there was a bit more variance in ambient temperatures when testing the Ghost, between 22C and 24C.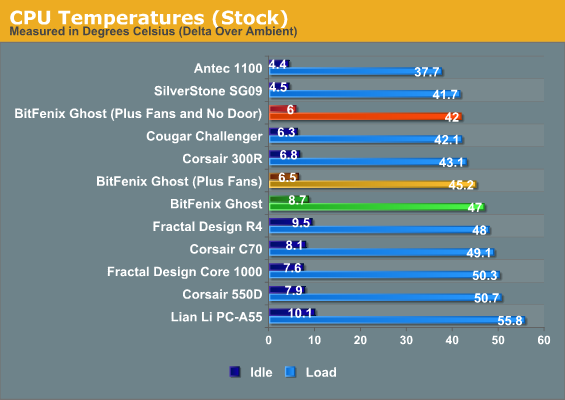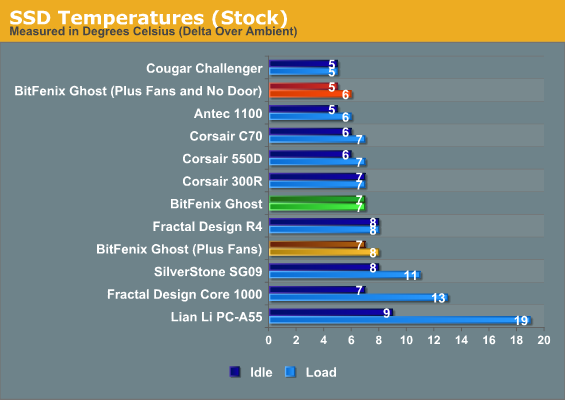 You can see stock performance is pretty underwhelming, but the pattern you see here is also one that will be consistent throughout testing: adding the fans takes a couple of degrees off the temperatures, and removing the front door takes another couple of degrees off. Unfortunately, only adding fans and removing the door is really enough to get it past the lower side of competitive in our stock configuration.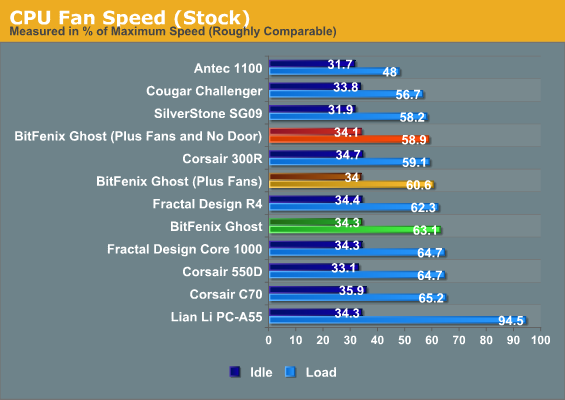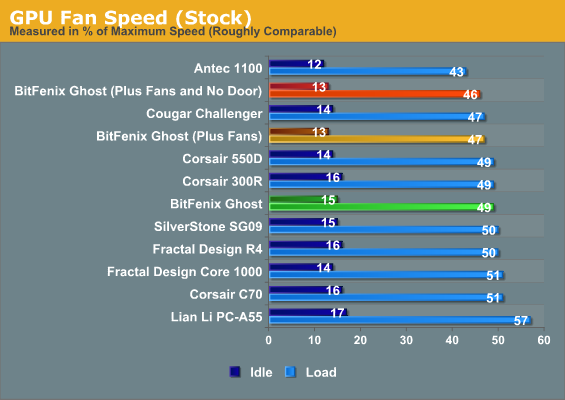 Again, fan speeds are on the lower side of competitive. It's not awful, but it's not very impressive either. I was a bit underwhelmed by Corsair's performance with their pricier 550D, and that feeling echoes in the BitFenix Ghost.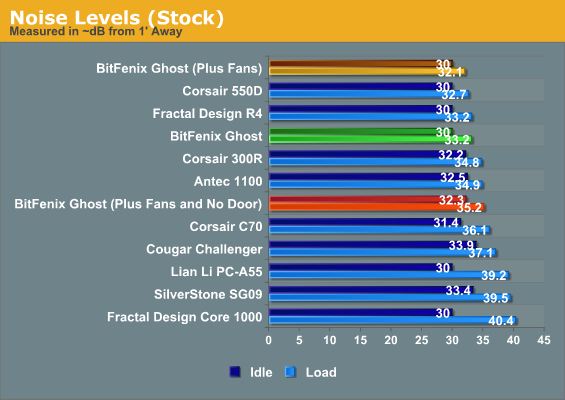 With all that said, the Ghost does achieve what it sets out to: it's one of the quietest cases we've tested, both at idle and under load. The addition of the be quiet! fans has the added bonus of reducing load noise and reducing temperatures. Chopping 1dB and 2-3C off of the system under load isn't necessarily a tremendous gain, but it does prove that there's room for improvement with the Ghost as well as being a ringing endorsement for the efficiency of be quiet!'s fans.
Noise and Thermal Testing, Overclocked
Having been fairly underwhelmed with performance at stock settings, I experienced some trepidation when it came time to test the BitFenix Ghost under much more stressful circumstances. The essential problem is this: making tradeoffs for silence over performance mostly works out under more moderate loads, but high performance and/or overclocked hardware can stress the case's cooling enough to actually negate the sound dampening aspects of the design.
At the same time, I was also optimistic that the fans from be quiet! might acquit themselves better still under the overclocked settings.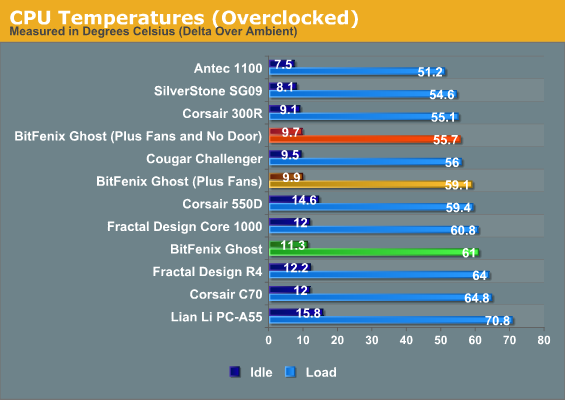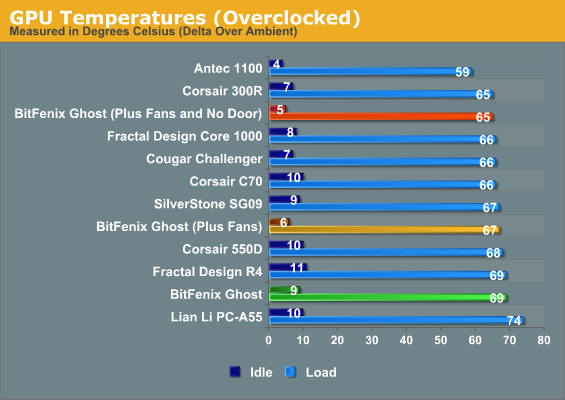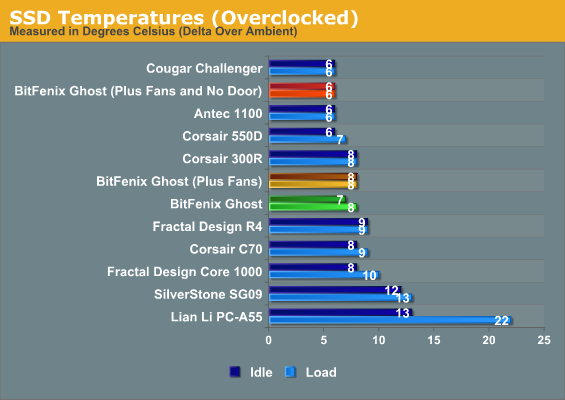 There's no nice way to say it: without modified cooling, the BitFenix Ghost's thermal performance under our overclocked testbed is pretty poor. The Ghost needs additional airflow to get truly competitive thermals; the system didn't overheat the way Lian Li's PC-A55 did, but I'd still hesitate to call the thermals any more than "barely adequate" under this much stress.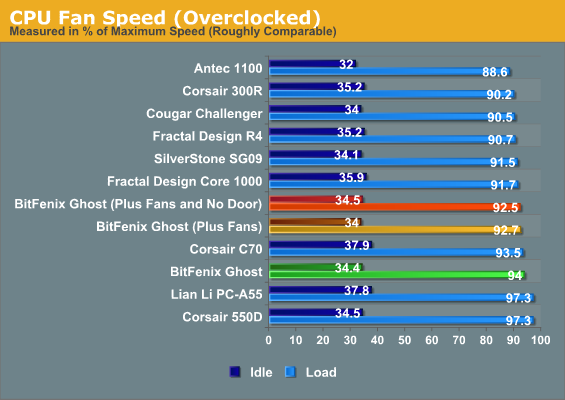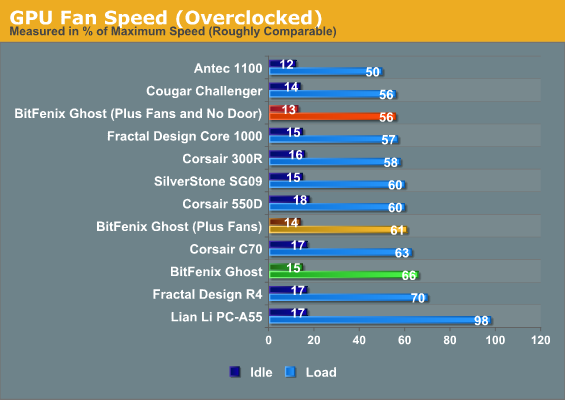 Fan speeds tell the same story.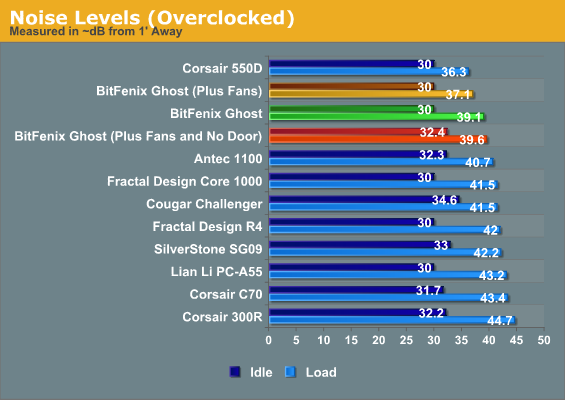 With all that in mind, the Ghost is at least successful in keeping noise levels down, but once again it's clear you really do need to add just the right amount of cooling to hit a sweet spot with this chassis design. Idle noise remains quite low, and adding some quiet fans can help bring load noise down substantially.
I'm of the opinion that while performance does improve noticeably with the door removed, the improvement isn't enough to make me suggest the case is being outright suffocated by keeping the door closed. It's a reduction in airflow to be sure, but not a catastrophic one. At the same time, it does negate the Ghost's primary reason for being: muffling noise.
Conclusion: Needs an Upgrade
Reviewing the BitFenix Ghost, I'm left with strangely mixed feelings. Every so often a case comes through that I very much want to see succeed, and the Ghost is one of those. If you've been keeping up with my reviews you've seen that I've championed BitFenix pretty hard in the past, and the Ghost was another design that I felt was encroaching on a kind of sweet spot between price, performance, aesthetic, features, and ease of use.
As far as assembly goes, the Ghost is all but bulletproof. The side panel alignment mechanisms need to be thrown out and replaced, but while the interior isn't the best or most progressive in the world for airflow, it is among the easiest to build in. BitFenix's engineers hit a lot of the right notes when it came to assembly: the Ghost is incredibly simple to build in, and would be an ideal case for a newer builder interested in a quiet system to try out.
The aesthetic I'm a little bit shakier on. While I really like the way everything is laid out and I'm a fan of the overall look, I feel like there's real room for improvement here in terms of the materials used. I can't help but feel like the Ghost's plastics are on the cheap side and I think they really do the overall design a disservice.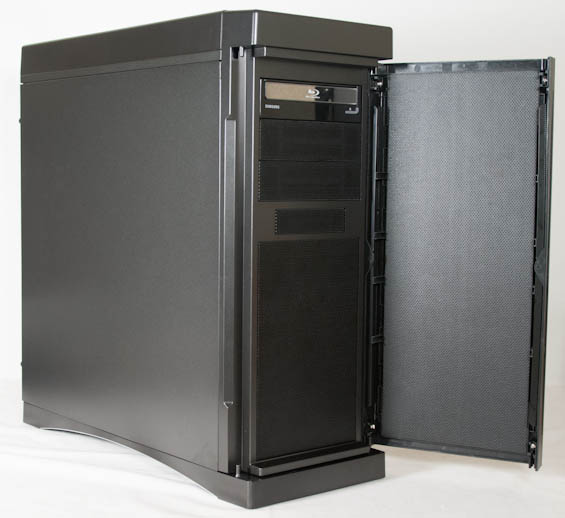 I'm in an unusual position where I feel like the Ghost is okay and certainly reasonable for the price, but I also feel like it practically begs to be even a slightly more premium product. In a weird way it's like a cheap knockoff of an amazing case that doesn't actually exist, if that makes any sense. Just in terms of looks and build quality, I'd like to see this chassis redone in a combination of aluminum, plastic, and steel similar to what Corsair did with the Obsidian 550D. I'd also like to see the front intake replaced with either two 140mm fan mounts and/or one huge 200mm/230mm fan. The curved venting design in the sides of the front door is cute, but could probably stand to be widened to increase airflow without substantially impacting noise.
With these suggestions in mind I have to wonder if the Ghost's lackluster thermal performance wouldn't also be improved somewhat. Adding fans made it at least competitive and even a little impressive since you'd have to spend another $50 to get a Corsair 550D that performs on par with, if not a little worse than, what the Ghost can achieve. But those fans do cost money.
Ultimately, do I recommend the Ghost? I think so. If you like the way it looks and you're either not looking to push the cooling or you're willing to play with it a little bit, I think you might walk away from the purchase satisfied. I have a harder time determining if it's superior to the NZXT H2, which hangs out in the same price range and has seen a minor revision that's improved its thermals, but I'd personally probably still go with the Ghost. This isn't the homerun I was hoping for, but it should be good enough for the closed-loop cooler testing.
Now if BitFenix can just go about putting together a slightly bigger, more premium model. That's the case I really want to see.