Original Link: http://www.anandtech.com/show/6422/samsung-chromebook-xe303-review-testing-arms-cortex-a15


Google announced the Chrome OS project two years ago, and with it came the first Chromebook: the CR-48. The Chrome OS concept seemed revolutionary at the time. In 2010 we were well into the latest round of questioning whether today's PCs were fast enough. The Ultrabook revolution hadn't yet begun, and the iPad was starting to gain momentum. Capitalizing on the market being flooded with poor quality, yet affordable PC notebooks that still struggled with the same virus/malware issues they'd been facing for years, Google took the opportunity to attempt to revolutionize the PC OS.
Chrome OS was that attempt at a revolution. As an OS built around a web browser, Chrome OS offered many of the advantages that the Chrome browser itself brought to the table: sandboxing, guest mode and constant/painless updates. All user data is encrypted on the drive by default. Security was and remains a major feature of Chrome OS.
Google's revolution extended to hardware as well. The Cr-48 notebook delivered a good keyboard, trackpad and solid state storage. Future Chromebooks would do the same. While the price points of these machines (<$500) kept ultra high resolution IPS displays out of the bill of materials, Google promised good build quality and solid state storage - two things you couldn't find in cheap notebooks of the time.
Since then, some of the traditional PC makers have woken up. Although confined to the $999+ price point, we're finally seeing attention paid to build quality, display quality and storage performance. Over the next couple of years there's going to be increased focus on bringing those premium features down to sub $700 price points.
For Chrome OS and Google's Chromebooks to remain relevant, they also had to move down the pricing stack. With its most recent announcement, Google has done just that. The new Chromebook (Samsung XE303C12) is priced at $249, while maintaining much of what made its predecessors interesting.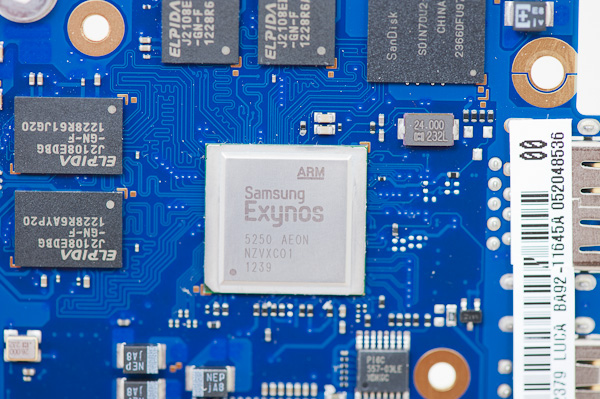 Even more interesting than its aggressive price point is the choice of SoC inside Google's new Chromebook: Samsung's Exynos 5 Dual, featuring two ARM Cortex A15 CPU cores. This move makes the new Chromebook the very first non-x86 machine to ship with Chrome OS. Given that I also happen to have a dual-core Atom based Chromebook from 2011, the new Exynos 5 based machine gave me a unique opportunity to get a preview of how ARM's next-generation CPU core would stack up against Atom.
The Chromebook
The new Chromebook, like its predecessors, is a completely plastic device. At $249 you're not going to get any tales of exotic materials or fancy new manufacturing processes. That being said, the Chromebook looks really good. For years, value notebooks have been equated with glossy, horribly styled pieces of junk. Samsung used a matte finish and styled the new Chromebook to look very similar to a lot of the current crop of Ultrabooks and Apple's MacBook Air. The result is a notebook that doesn't really look cheap, although I will add that in person the Chromebook doesn't look anywhere near as good as it does in Google's photos.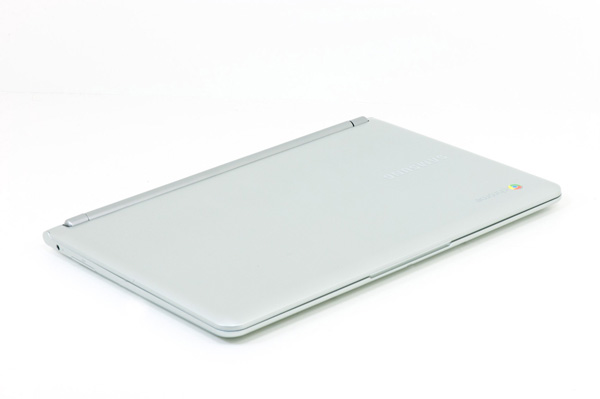 There's not much that can be done about the feel of the Chromebook however. It is made of and feels like plain old, hard plastic. I'm sure Vivek could go into tons of detail on the molecular composition of what Samsung used here, but the bottom line is it feels like what you'd expect a $249 notebook to feel like.
Despite material choice however, the device never gave me any indication that it would age particularly poorly. The typing surface is made of a single piece of plastic, with the bottom cover being the piece that's removable to gain access to the internals. I didn't encounter any creaks of squeaks while using the machine. The chassis felt fairly rigid. The display hinge is ok in my opinion, not overly confidence inspiring but not a clear issue.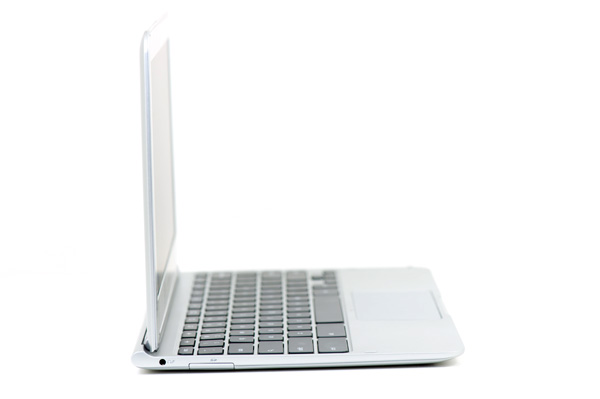 The new Chromebook is remarkably thin and light. With an 11.6-inch display the new Chromebook weighs 2.42 lbs and is 0.7-inches thin. To deal with the thinner profile, Samsung moved most of the IO ports to the rear of the machine. You'll find two USB ports (1 x USB 3.0, 1 x USB 2.0), HDMI out, DC input for power/charging, charge indicator (orange for charging, green for charged) and a little door hiding what looks to be a micro SIM card slot. The latter is unused on the $249 Chromebook, there's literally nothing behind the slot so if you manage to stick anything in there you'll have to open up the Chromebook to get it back.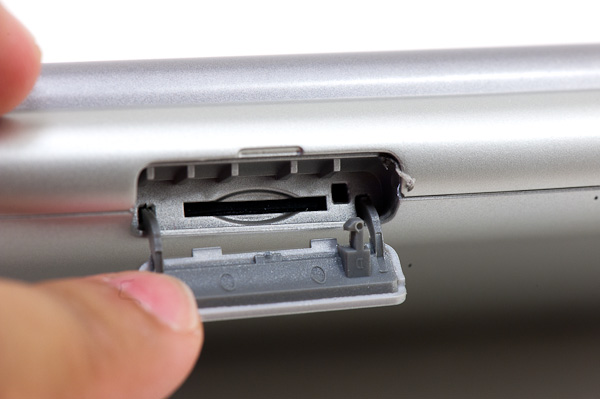 Around the left of the machine is a mic/headset combo port and an SD card reader. The SD card reader works quite well. Pop in an SD card and a window will appear with its contents. There's even a simple image browser.
There's no longer a physical switch to boot the Chromebook into recovery mode, instead you hold down the escape and refresh keys when powering on the machine. Then, once you hit the warning screen just hit ctrl + D to enter developer mode. Remember that the first boot into developer mode will wipe all user data stored on the internal NAND to avoid someone using this trick to get access to your files.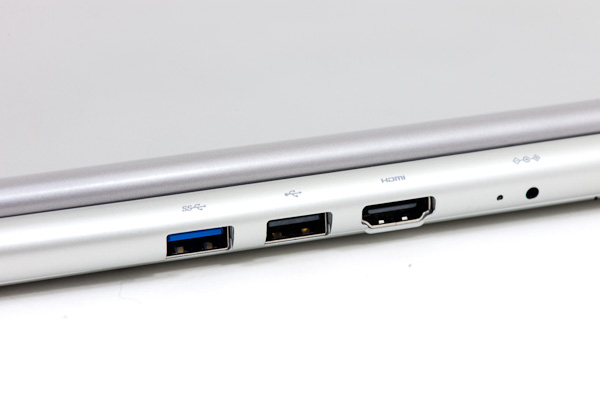 The USB 3.0 port is a bit useless on the new Chromebook. I dusted off my trusty Zalman SLC NAND USB 3.0 drive, capable of delivering more than 80MB/s and copied a 2.8GB file to the internal NAND. I timed the process and came away with an average transfer rate of around 12.7MB/s - well within the realm of USB 2.0 performance. Given the Exynos 5 Dual SoC features an integrated USB 3.0 controller, it's possible Samsung just wanted to take advantage of the feature and perhaps test its implementation. It's a nice checkbox feature but it does nothing for the end user as far as I can tell.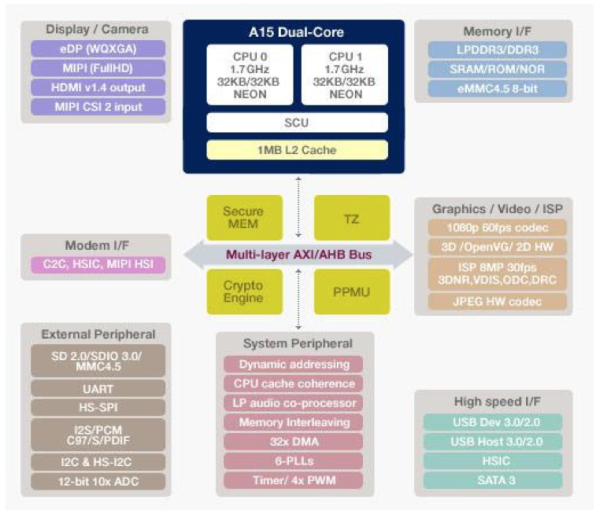 The HDMI output is also a bit hit or miss. Plugging the Chromebook into a relatively modern (~2 year old) Samsung LED backlit LCD HTDV caused the Chromebook to reboot itself. I had better luck by starting with the machine off then plugging in the HDMI cable, which at least gave me the Chrome logo on the TV but then quickly got into a mode where it kept alternating between sending 720p and 1080p signals to the TV, neither of which would go any further than a black screen. Moving my pointer around on the Chromebook itself just gave me a bunch of random visual artifacts (flashing black blocks in the lower quarter of the screen). I don't doubt that the HDMI output will work for some, but don't expect a whole lot of work to be put into compatibility testing there.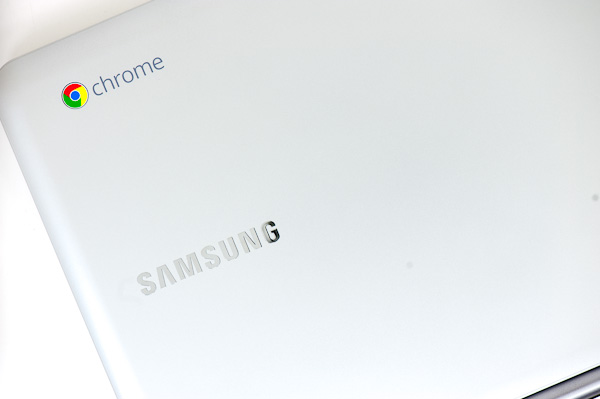 The speakers on the new Chromebook are surprisingly good for such a low cost notebook. WiFi is also not bad, with both 2.4GHz and 5GHz 802.11n support. The biggest take away here is that Google and Samsung deliver build quality and some of the chassis features of a value PC notebook for nearly half the price.
Inside the new Chromebook
Similar to its predecessors, getting access to the internals of the new Chromebook doesn't require anything more than a tiny Phillips head screwdriver. There are four exposed screws and four more under the feet beneath the chassis. Remove all eight screws and you can pry off the bottom cover. The cover snaps into place so be careful if/when you remove it.
Inside the new Chromebook is a far more simplified setup. It honestly looks more like a modern day tablet under the hood. I never got the Celeron based Chromebook 550, but I do have the 500 which featured a dual-core Atom N570 processor. Here's a shot of that model for comparison: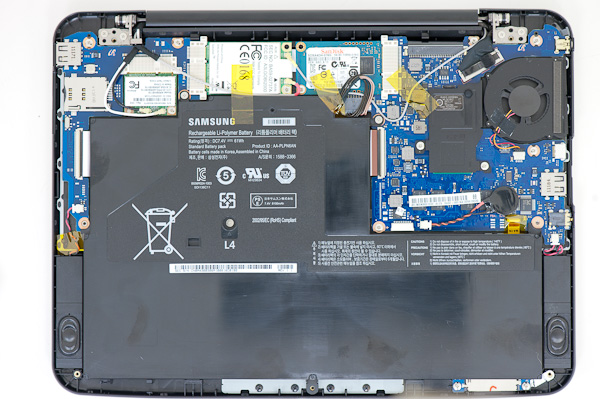 The old Atom N570 based Chromebook
Right off the bat you'll notice a significant reduction in battery capacity. That old N570 based Chromebook had a mammoth 61Wh battery compared to the more tablet-sized 30Wh battery in the new model.
The old motherboard was also far less integrated. Discrete cards were used to provide cellular and WiFi connectivity, whereas the new board integrates WiFi (Marvell?) directly onto the motherboard.
The cost reduction extends to the SoC side as well. Intel charges $86 for an Atom N570, while the going rate for high-end ARM based SoCs is in the $20 - $30 range (and this is why ARM is the new AMD when it comes to keeping Intel pricing in check). I also suspect that this first run of Samsung Exynos 5 Dual chips are a bit leakier and perhaps even lower yielding than what we'll eventually see down the road. Samsung could be motivated to move these parts at a better cost structure as they work out kinks in manufacturing.
Note that the previous Atom solution required two chips: the N570 and its NM10 Express PCH. The N570 had a 2.1W TDP and was used for all IO, while the N570 and its two Atom cores needed about 8.5W. The combination was fine for a notebook but when Haswell can deliver much better performance within the same TDP, it's clear the old 45nm CPU + chipset were getting long in the tooth.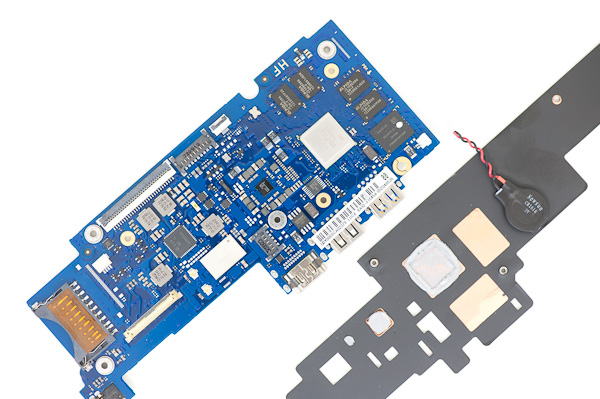 The far simplified, single-chip Samsung Exynos 5 Dual solution
Despite the absence of any significant heatsink, to remove 10.6W of heat you do need forced air convection hence the inclusion of a fan in the old Chromebook 500. The thermal requirements of the Exynos 5 Dual are significantly lower. The SoC benefits from Samsung's 32nm HK+MG LP process and is highly integrated, meaning there's only a single chip. Although there's a big heatspreader plate complete with heatpipe that runs over the Exynos 5, there's no fan needed. Removing the fan lowers build cost, reduces internal complexity, and helped Samsung shrink the chassis size.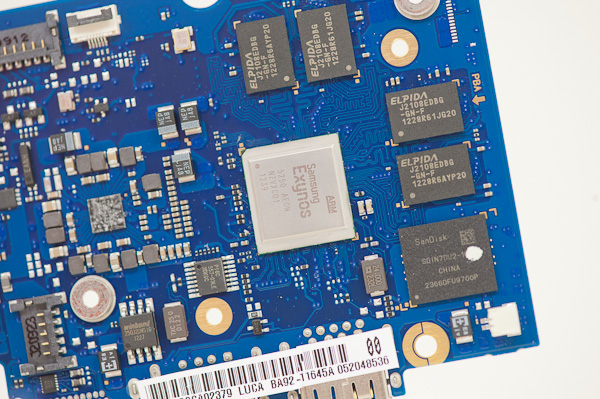 There are a total of 8 x 256MB DDR3L devices (2GB total) that surround the Exynos 5 Dual SoC (4 on each side of the PCB). Each device is 8-bits wide, all connecting up to the 64-bit wide DDR3L memory controller. The DRAM is clocked at a 1600MHz data rate, resulting in 12.8GB/s of memory bandwidth to the chip. The Exynos 5 Dual integrates two ARM Cortex A15 CPU cores as well as an ARM Mali-T604 GPU.
The other big change on the motherboard is the move from a SanDisk discrete controller + NAND device to an integrated iNAND solution for storage. Capacity remains unchanged at 16GB, but the integrated eMMC controller does offer board (and perhaps cost) savings.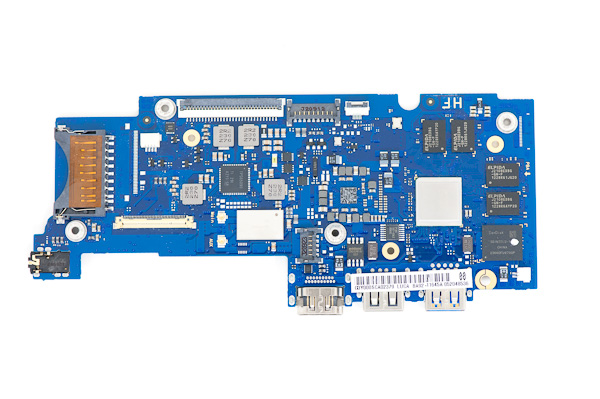 Moving to a lower power SoC not only gave Samsung some flexiblity in cooling, it also allowed it to run the platform with a much smaller battery. While the old Chromebook 500 used a massive 61Wh battery, the new model only needs a 30Wh unit. Battery life has gone down (Exynos 5 Dual isn't 2x more power efficient than the 45nm Atom N570) but so has weight as well. I believe the Chromebook 550 ditched the giant battery and moved to a ~40Wh unit, so the difference isn't as drastic there.
Display Quality
The new Chromebook's display is still a fairly mediocre TN panel, but for anyone used to the majority of low cost PC notebooks over the past few years it's really not any different. The 16:9 display measures 11.6 inches along the diagonal with a 1366 x 768 resolution.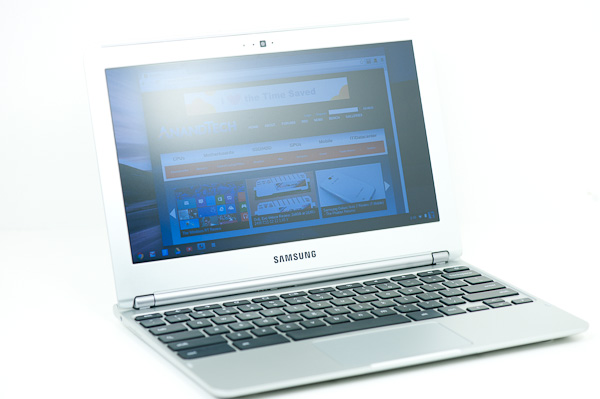 Viewing angles are pretty bad. Max brightness tops out at 233 nits, although contrast ratio is better than a lot of low cost notebooks. The low max brightness means that outdoor use will be an issue, generally speaking for really bright sunlight you'll need something closer to 500 nits to be usable.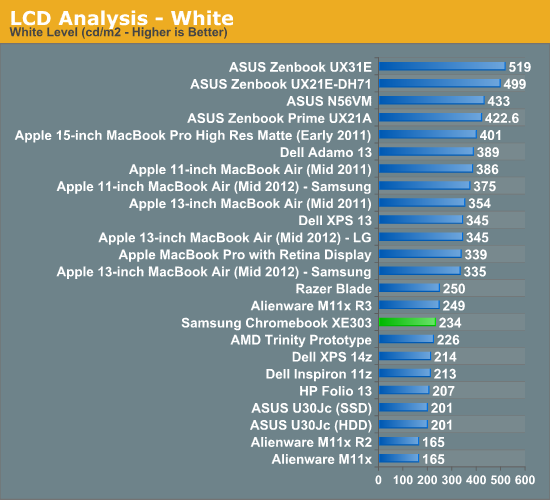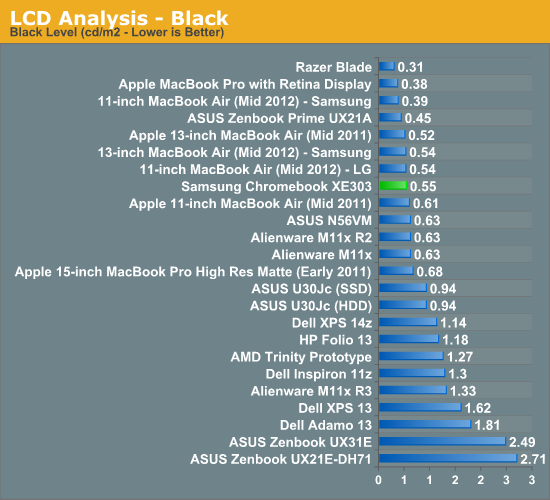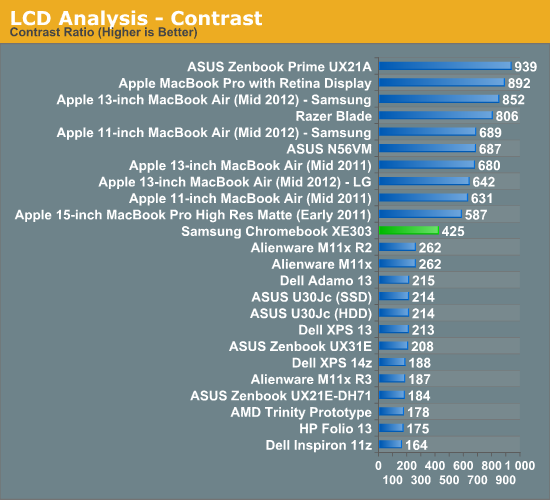 Given the price tag however, the Chromebook's display is passable. What's more bothersome is that PC makers were fine shipping this quality of a display in systems that were 2x the price of the new Chromebook.
Keyboard & Trackpad
The new Chromebook retains the chicklet keyboard that its predecessors introduced. Key feel is a little mushier than I would like but overall the keyboard is pretty good. There's obviously no backlight, which again is a concession Samsung had to make to hit the Chromebook's aggressive price point.
As this is a Chrome OS device there's no Windows/Apple key alternative, just oversized control/alt keys which I really do appreciate.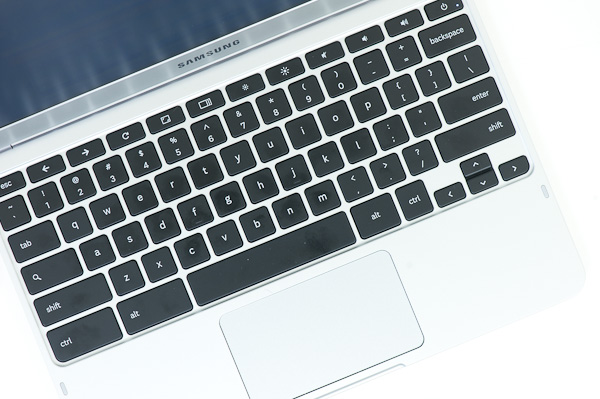 Chrome OS' keyboard shortcuts do mimic those of OS X. Ctrl + W will close a Chrome tab/window, and more universally ctrl + L will shift focus to the omnibar. There's a row of shortcut keys at the top of the keyboard. Shortcuts include brightness and volume controls, page forward/back and refresh keys, as well as dedicated keys for maximizing the current window and switching between windows (although alt+tab still works for that as well). There's no capslock key, but a dedicated search key in its place. Perhaps Google doesn't want Chromebook users to contribute to overly capitalized YouTube comments.
None of these aspects of the keyboard are new, they've been around since the first Chromebook. There are no dedicated page up/down, home or end keys unfortunately (although alt + up/down will work as a page up/down replacement).
The trackpad is the weaker of the two input devices on the new Chromebook, and even it isn't all that bad. Tracking accuracy is good, and I never had any unintentional taps. The trackpad is actually a clickpad with no discrete buttons. Two fingers on the clickpad will trigger a right click (a two finger tap and click both work). Two finger scrolling is also supported, although there aren't any other gestures. My biggest problem with the trackpad is its click + drag performance isn't all that good. Compared to some of the garbage that has shipped in much more expensive PC notebooks (and Ultrabooks for that matter), Samsung did a good job with the Chromebook.
User Experience & Usability
Similar to our performance analysis in the Surface review, there are really two sides to the performance of a Chromebook. There's the user experience as well as what the underlying hardware is capable of. I'll start with the user experience.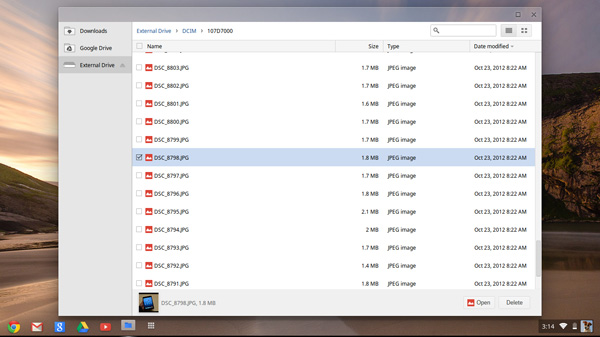 Chromebooks have never been all that robust when it comes to user experience. When Google first announced them they didn't even support mounting USB storage, although that has since been rectified. Although Google may have grand visions for where Chrome OS could go, today it serves one real purpose: to provide an affordable platform for a good web experience free of viruses and malware. To that end, the new Chromebook accomplishes its goal fairly well - as did the devices that came before it.
Chrome tends to be my favorite browser, and the experience maps fairly well the Chromebook platform. Web pages render properly and quickly (given the hardware that is). Compatibility isn't an issue. Everything just seems to work.
Obviously a major selling point of Chrome OS is that the web now allows for many content rich applications to be delivered directly in the browser rather than through a standalone executable. Google helps give access to these applications through the Chrome Web Store, although it's important to note that not all of them will run on the ARM based Chromebook (nor is there a good listing of those that will/won't run). The apps themselves vary in type from simple games to productivity tools. Many are quite functional, but the performance just isn't very good compared to a $500 tablet or even a $500 PC.
Technically the Chromebook can do a lot, but for anything other than browsing, YouTube and Google docs use I wouldn't get my hopes up. The heavier apps just don't run smoothly on the platform. Even web browsing isn't what I'd consider fast, but it's still acceptable. To put things in perspective, I got a performance warning trying to play Cut the Rope on the new Chromebook. Stability can also be a problem. Try to deviate too much from normal web browsing and you'll be greeted with long pauses and even system locks. For example, while testing WebGL performance on the new Chromebook I had to power cycle the machine after the browser became unresponsive. Normal web browsing is fine though.
There are other annoyances that aren't strictly performance related. For example, Netflix streaming won't work on the new Chromebook. Although image browsing support is native to the OS, there's no support for RAW camera files from a DSLR.
For the basic necessities however, the Chromebook does embody the fast enough computing concept. I researched, wrote and did almost all of my work while preparing this review on the Chromebook and generally found the experience acceptable. Other features like Pandora worked just fine (although I'd occasionally get hiccups in music playback if I loaded a particularly complex page). Whenever I'd switch back to my Ivy Bridge notebook I'd really appreciate the extra speed, but for writing and web browsing duties the Chromebook got the job done. Had Chrome OS been built around a lesser browser I don't think I would be as positive about the experience.
Performance: Atom vs. ARM's Cortex A15
In our iPhone 5 review I included this crude diagram comparing the high level micro-architecture layouts of the current crop of mobile CPU cores. While most of the cores looked fairly similar, the one to really stand out is ARM's Cortex A15. A three issue, OoO core, the Cortex A15 was designed to put ARM in a completely new performance category.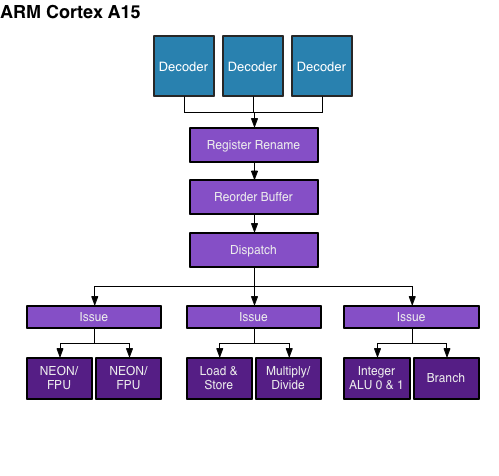 For 2013, the Cortex A15 is expected to be the ARM CPU core of choice for the next wave of smartphone and tablet SoCs. NVIDIA's Wayne should integrate multiple Cortex A15s as well as competing solutions from Samsung and TI. Samsung's Exynos 5 Dual, found in the new Chromebook, integrates two ARM Cortex A15 cores running at 1.7GHz. As our first experience with a Cortex A15, I wanted to get a good idea for how it would compare to Intel's Atom. And now me comparing to the older Chromebook 500 makes sense. The Atom N570 in the older Chromebook is the closest approximation we have to the currently shipping Atom based mobile SoCs. There are a number of enhancements to the newer chips (particularly when it comes to power consumption), but the base core is very similar. It's clear that the Sandy Bridge Celeron based Chromebook is faster than this new Cortex A15 design, but how about the old dual-core Atom model?

As Chrome OS is built around the Chrome browser, our tests had to be largely JavaScript based unfortunately. The good news is that even given the nature of the benchmarks, we're able to get a good feel for performance between the two SoC platforms. Both systems were running the latest version of Chrome OS at the time of publishing.
Samsung Chromebook Performance Comparison
SunSpider 0.9.1
BrowserMark
RIABench Focus Tests
Kraken
Atom N570 1.66GHz
1034.3 ms
152780
1968 ms
14229.5 ms
Exynos 5 Dual 1.7GHz
690.5 ms
217031
1192 ms
9733.2 ms
The Cortex A15 is fast. Across the board we're seeing a 40 - 65% increase in performance over a dual-core Atom. Although it's not clear how performance will be impacted as companies work to stick Cortex A15 based SoCs in smartphones with tighter power/thermal budgets, in notebooks (and perhaps even tablets) the Cortex A15 looks capable of delivering a good 1 - 2 generation boost over Intel's original Atom core.
The IE10 browser tests tend to agree with our JavaScript performance tests, although the CSS Maze Solver benchmark shows a huge advantage for ARM over Intel's Atom here.
Samsung Chromebook Performance Comparison
IE10 Bubbles Test
IE10 Fishbowl
IE10 Maze Solver
Atom N570 1.66GHz
11 fps
5 fps
45 seconds
Exynos 5 Dual 1.7GHz
17 fps
8 fps
17 seconds
GPU performance is an even bigger advantage for the Exynos 5 Dual over Intel's old Atom N570 (GMA-3150 GPU). I ran three different webGL tests, each of which showed just how bad the old Atom GPU core was.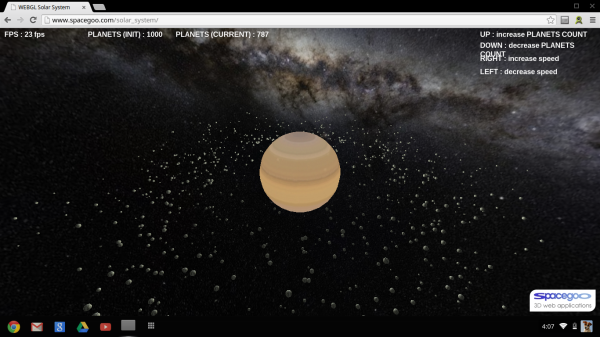 Samsung Chromebook GPU Performance Comparison
WebGL Solar System
WebGL Cubes (500)
WebGL Aquarium (50)
Atom N570 1.66GHz
2 fps
10 fps
2 fps
Exynos 5 Dual 1.7GHz
22 fps
28 fps
38 fps
This comparison isn't really all that fair as the newer Atom cores use Imagination GPUs, although even then they are using relatively underpowered solutions compared to what Samsung is shipping on the Exynos 5 Dual.
The more relevant conclusions here apply to the CPU comparison. Next year Intel is expected to introduce its first new Atom core since the platform's introduction five years ago. The new architecture will bring an Out of Order execution core as well as a tangible performance increase. The question is whether or not this will be enough to fend off advances from Cortex A15 based designs.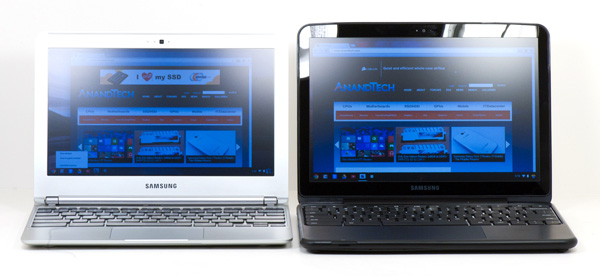 The new Chromebook (left) vs. the old Atom based Chromebook (right)
In our Surface review I looked at Clovertrail Windows 8 tablet performance and put it a good 40%+ faster than NVIDIA's Tegra 3. If ARM's Cortex A15 is able to outperform Clovertrail by a similar margin, it could make the next generation of Windows RT tablets even more attractive. Keep in mind that we're looking at an older Atom platform here and not Clovertrail, so the performance deltas could shrink a bit.
Battery Life & Power Analysis
The final unknown in all of this is power consumption. ARM's Cortex A15 isn't really supposed to be a sipper of power, and when placed in a notebook I don't know that there's a lot we can conclude about how it stacks up to Atom either. Some high level power consumption data would normally help but these two platforms are fairly different:
Samsung Chromebook Power Consumption Comparison
Display @ 200 nits
Idle
Kraken (Avg)
Kraken (Peak)
Samsung Chromebook 500 (Atom N570)
11.53W
14.4W
15.2W
Samsung Chromebook 303 (Exynos 5 Dual)
6.33W
10.5W
11.3W
The new Chromebook consumes considerably less power at idle than its predecessor. The smaller display, simplified motherboard and truly integrated SoC platform are likely all to thank for this. The significant reduction in power also helps explain the big reduction in battery capacity as well.
Under load, the two platforms do see differing levels of additional power consumption. The new Exynos 5 based Chromebook sees a dramatic increase in power consumption under load, hitting 10.5W (a 66% increase over idle) while running Mozilla's Kraken benchmark. The Atom N570 based Chromebook increases power consumption as well, but just not by as significant a degree: ~25%. This actually helps illustrate exactly why Atom wasn't phone worthy in its earlier incarnations. Contrary to popular belief, it wasn't actually peak power consumption that was the problem (a move to 32nm can easily eat into these numbers). The total platform power consumption, particularly at idle, was Atom's real problem in the early days. It also turns out that this is much of what keeps Intel's Core processors from moving into ultra mobile form factors, something that Haswell is supposed to address.
Given that we're dealing with somewhat different panels here, I wanted to see what power consumption looked like if we removed the panels from the equations. I re-ran all of the power data with the display turned off:
Samsung Chromebook Power Consumption Comparison
Display Off
Idle
Kraken (Avg)
Kraken (Peak)
Samsung Chromebook 500 (Atom N570)
8.82W
11.4W
12.4W
Samsung Chromebook 303 (Exynos 5 Dual)
4.07W
8.32W
9.27W
The old Atom based Chromebook uses more than twice the idle power of the new version - it's no wonder Google was able to get away with a battery half the size. Once again however we see a much larger increase in power consumption once the Cortex A15 is under heavy load. Active power consumption more than doubles on the new Chromebook, while we see around a 30% increase on the Atom based system. I do wonder what will have to be done to get the Exynos 5 Dual into a smartphone as an increase of ~4W under load just won't cut it in a phone. The Atom platform shows a 2.6W increase in power under load, which sounds about right for a high clocked 45nm part.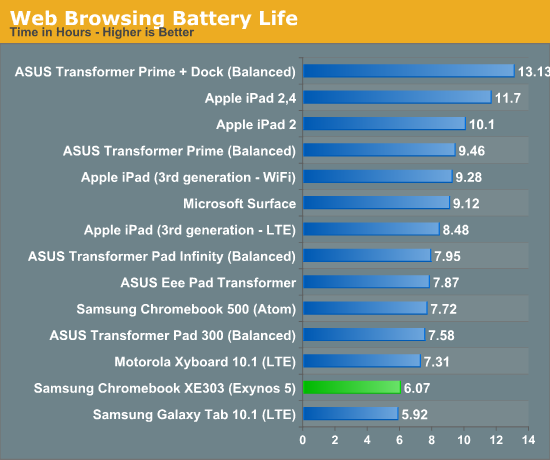 Despite the more power efficient platform, the reduction in battery capacity puts the new Chromebook well below the Atom model in battery life. Our wireless web browsing test put the new Chromebook at just over 6 hours of continuous use on a single charge. For a notebook that's not too bad, but compared to modern tablets it's not good.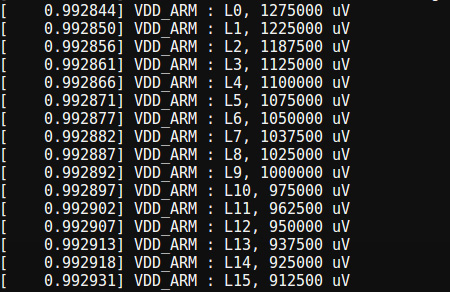 The performance gains over Atom (and by extension, the ARM Cortex A9) do give us some indication as to what could be done to get Exynos 5 into a smartphone. By dropping clocks much lower than 1.7GHz Samsung would be able to maintain a performance advantage in a very power constrained device and hopefully keep power in check. The photo above features a list of all of the voltage levels supported by Samsung's Exynos 5 Dual as implemented in the new Chromebook.
Final Words
The move to ARM doesn't fundamentally change the performance or usability of the Chromebook. It's still a slow (relative to more expensive notebooks), limited use notebook. That's not necessarily a bad thing, but you need to be aware of what you're getting into with this thing.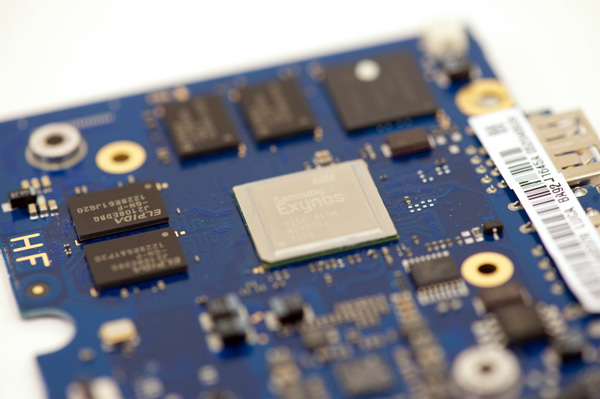 The display is functional but not very good. Build quality is decent but the new Chromebook is still a plastic notebook. Thankfully the keyboard and trackpad are both pretty decent.
For a basic web browsing and glorified typewriter platform, the Chromebook really does get the job done. It's a very focused, simple device that serves its purpose well. I don't know how big the Chromebook niche is, but Google has targeted it very well. At $249 if you need a physical keyboard and only need basic web browsing support, I don't know that there's a better solution. As an almost-disposable notebook for writing and browsing the web, I'm happy with the Chromebook. Good ultraportables are much more expensive, and even low cost PCs don't come with any sort of solid state storage. Admittedly the eMMC solution in the Chromebook isn't setting any records, but it does deliver consistent IO performance which is more than I can say for a cheap 5400 RPM 2.5" hard drive.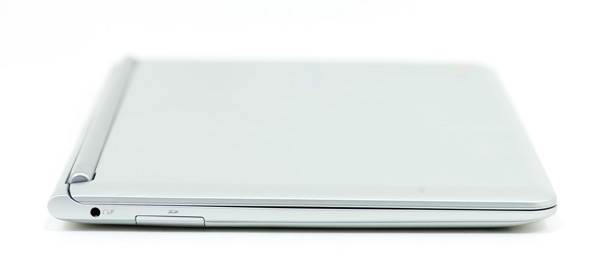 Ultimately the Chromebook puts pressure on the traditional PC notebook ecosystem from below. Tablets have been doing that for a while but they are a physically different form factor. For those who still want a traditional notebook form factor, there hasn't been much low-cost competition. The Chromebook applies a good amount of pressure there. Compared to a $1000 notebook, the Chromebook's display isn't great but move down into the $500 - $700 range and it doesn't look all that bad thanks to many PC makers failing to invest in good quality panels. If a $249 Chromebook delivers a competitive keyboard, trackpad, display resolution and quality experience to your $499 PC notebook, it's time for a change. With Apple pushing at the top and Google working the bottom, the hope is that the entire PC notebook stack gets better.
On the SoC side, our first look at ARM's Cortex A15 is quite positive from a performance standpoint. I'm still not convinced on its power consumption for smartphone use (big.LITTLE must exist for a reason) but from a performance standpoint, it's going to make current smartphone/tablet SoCs feel very slow. And that's something we can all look forward to in 2013.