Original Link: http://www.anandtech.com/show/6396/the-vishera-review-amd-fx8350-fx8320-fx6300-and-fx4300-tested


Last year's launch of AMD's FX processors was honestly disappointing. The Bulldozer CPU cores that were bundled into each Zambezi chip were hardly power efficient and in many areas couldn't significantly outperform AMD's previous generation platform. Look beyond the direct AMD comparison and the situation looked even worse. In our conclusion to last year's FX-8150 review I wrote the following:
"Single threaded performance is my biggest concern, and compared to Sandy Bridge there's a good 40-50% advantage the i5 2500K enjoys over the FX-8150. My hope is that future derivatives of the FX processor (perhaps based on Piledriver) will boast much more aggressive Turbo Core frequencies, which would do wonders at eating into that advantage."
The performance advantage that Intel enjoyed at the time was beyond what could be erased by a single generation. To make matters worse, before AMD could rev Bulldozer, Intel already began shipping Ivy Bridge - a part that not only increased performance but decreased power consumption as well. It's been a rough road for AMD over these past few years, but you have to give credit where it's due: we haven't seen AMD executing this consistently in quite a while. As promised we've now had multiple generations of each platform ship from AMD. Brazos had a mild update, Llano paved the way for Trinity which is now shipping, and around a year after Zambezi's launch we have Vishera: the Piledriver based AMD FX successor.


At a high level, Vishera swaps out the Bulldozer cores from Zambezi and replaces them with Piledriver. This is the same CPU core that is used in Trinity, but it's optimized for a very different purpose here in Vishera. While Trinity had to worry about working nicely in a laptop, Vishera is strictly a high-end desktop/workstation part. There's no on-die graphics for starters. Clock speeds and TDPs are also up compared to Trinity.
CPU Specification Comparison
CPU
Manufacturing Process
Cores
Transistor Count
Die Size
AMD Vishera 8C
32nm
8
1.2B
315mm2
AMD Zambezi 8C
32nm
8
1.2B
315mm2
Intel Ivy Bridge 4C
22nm
4
1.4B
160mm2
Intel Sandy Bridge E (6C)
32nm
6
2.27B
435mm2
Intel Sandy Bridge E (4C)
32nm
4
1.27B
294mm2
Intel Sandy Bridge 4C
32nm
4
1.16B
216mm2
Intel Lynnfield 4C
45nm
4
774M
296mm2
Intel Sandy Bridge 2C (GT1)
32nm
2
504M
131mm2
Intel Sandy Bridge 2C (GT2)
32nm
2
624M
149mm2
Vishera is still built on the same 32nm GlobalFoundries SOI process as Zambezi, which means there isn't much room for additional architectural complexity without ballooning die area, and not a whole lot of hope for significantly decreasing power consumption. As a fabless semiconductor manufacturer, AMD is now at GF's mercy when it comes to moving process technology forward. It simply has to make 32nm work for now. Piledriver is a light evolution over Bulldozer, so there's actually no substantial increase in die area compared to the previous generation. Cache sizes remain the same as well, which keeps everything roughly the same. These chips are obviously much larger than Intel's 22nm Ivy Bridge parts, but Intel has a full node advantage there which enables that.
Piledriver is a bit more power efficient than Bulldozer, which enables AMD to drive Vishera's frequency up while remaining in the same thermal envelope as Zambezi. The new lineup is in the table below:
CPU Specification Comparison
Processor
Codename
Cores
Clock Speed
Max Turbo
L2/L3 Cache
TDP
Price
AMD FX-8350
Vishera
8
4.0GHz
4.2GHz
8MB/8MB
125W
$199
AMD FX-8150
Zambezi
8
3.6GHz
4.2GHz
8MB/8MB
125W
$183
AMD FX-8320
Vishera
8
3.5GHz
4.0GHz
8MB/8MB
125W
$169
AMD FX-8120
Zambezi
8
3.1GHz
4.0GHz
8MB/8MB
125W
$153
AMD FX-6300
Vishera
6
3.5GHz
4.1GHz
6MB/8MB
95W
$132
AMD FX-6100
Zambezi
6
3.3GHz
3.9GHz
6MB/8MB
95W
$112
AMD FX-4300
Vishera
4
3.8GHz
4.0GHz
4MB/4MB
95W
$122
AMD FX-4100
Zambezi
4
3.6GHz
3.8GHz
4MB/4MB
95W
$101
The table above says it all. TDPs haven't changed, cache sizes haven't changed and neither have core counts. Across the board Vishera ships at higher base frequencies than the equivalent Zambezi part, but without increasing max turbo frequency (in the case of the 8-core parts). The 6 and 4 core versions get boosts to both sides, without increasing TDP. In our Trinity notebook review I called the new CPU core Bulldozed Tuned. The table above supports that characterization.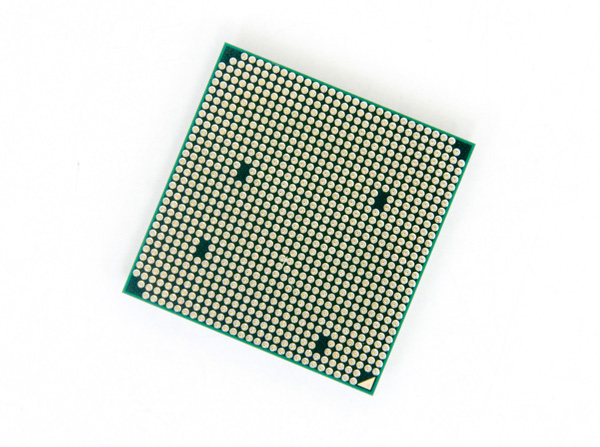 It's also important to note that AMD's pricing this time around is far more sensible. While the FX-8150 debuted at $245, the 8350 drops that price to $199 putting it around $40 less than the Core i5 3570K. The chart below shows where AMD expects all of these CPUs to do battle: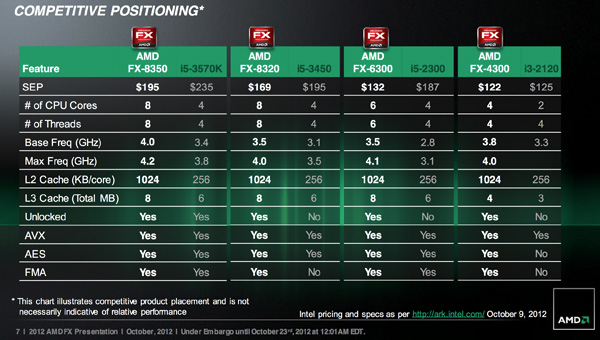 AMD's targets are similar to what they were last time: Intel's Core i5 and below. All of the FX processors remain unlocked and ship fully featured with hardware AES acceleration enabled. Most Socket-AM3+ motherboards on the market today should support the new parts with nothing more than a BIOS update. In fact, I used the same ASUS Crosshair V Formula motherboard I used last year (with a much newer BIOS) for today's review: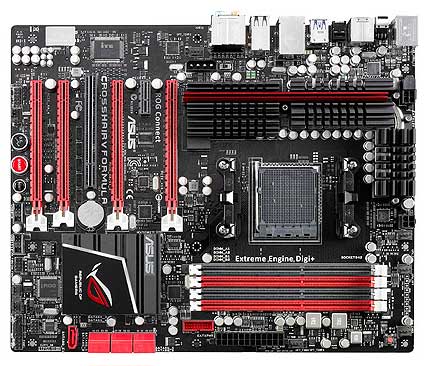 The Test
For more comparisons be sure to check out our performance database: Bench.
Motherboard:
ASUS Maximus V Gene (Intel Z77)
ASUS Crosshair V Formula (AMD 990FX)

Hard Disk:
Intel X25-M SSD (80GB)
Crucial RealSSD C300
OCZ Agility 3 (240GB)
Samsung SSD 830 (512GB)
Memory:
4 x 4GB G.Skill Ripjaws X DDR3-1600 9-9-9-20

Video Card:
ATI Radeon HD 5870 (Windows 7)
NVIDIA GeForce GTX 680 (Windows 8)

Desktop Resolution:
1920 x 1200
OS:
Windows 7 x64/Windows 8 Pro x64
General Use Performance
We'll start out our tests with the 7-zip benchmark, a CPU bound multithreaded integer workload that looks at 7-zip compression/decompression algorithms where the IO subsystem is removed from the equation:
7-zip is almost the perfect scenario for AMD's Vishera: a heavily threaded integer benchmark. Here the FX-8350 is able to outperform the Core i7 3770K. In fact, all of the Vishera parts are able to outperform their price competitive Ivy Bridge alternatives. The old Core i7 920 does pretty well here thanks to its 8-thread architecture.
Next up is Mozilla's Kraken JavaScript benchmark. This test includes some forward looking js code designed to showcase performance of future rich web applications on today's software and hardware. We run the test under IE10: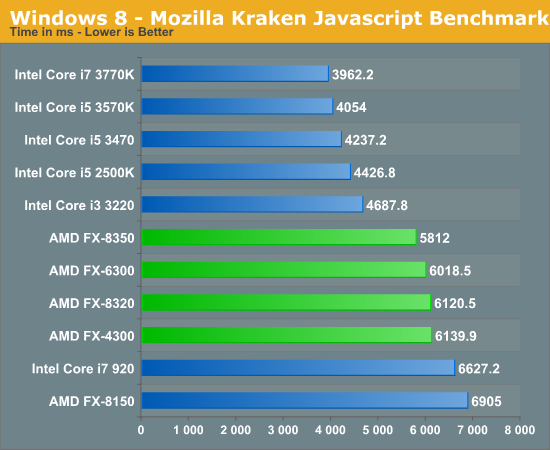 If the 7-zip benchmark is the best case scenario for AMD, Mozilla's Kraken test is among the worst. Largely dominated by single threaded performance, the FX-8350 is significantly slower than a Core i3 3220. Only Intel's old Core i7 920 is slower here, and that's a chip that debuted in 2008.
Although not the best indication of overall system performance, the SYSMark 2012 suite does give us a good idea of lighter workloads than we're used to testing.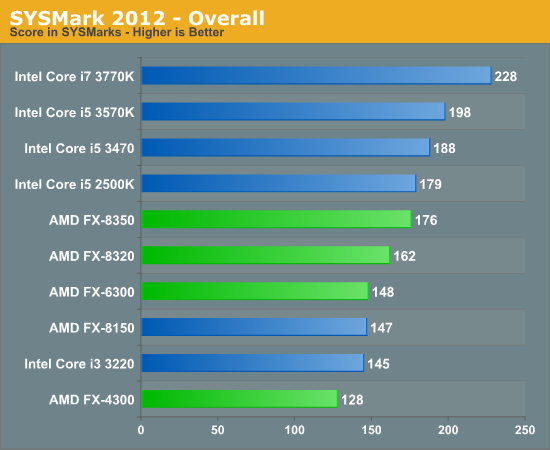 Overall performance according to SYSMark 2012 is within striking distance of Ivy Bridge, at least for the FX-8350. AMD seems to have equalled the performance of last year's 2500K, and is able to deliver almost 90% of the performance of the 3750K. It's not a win by any means, but AMD is inching closer.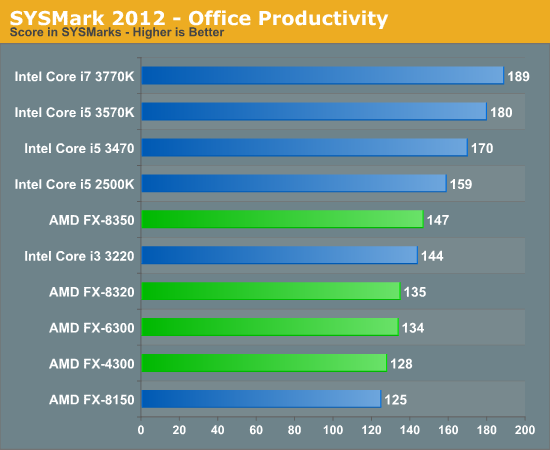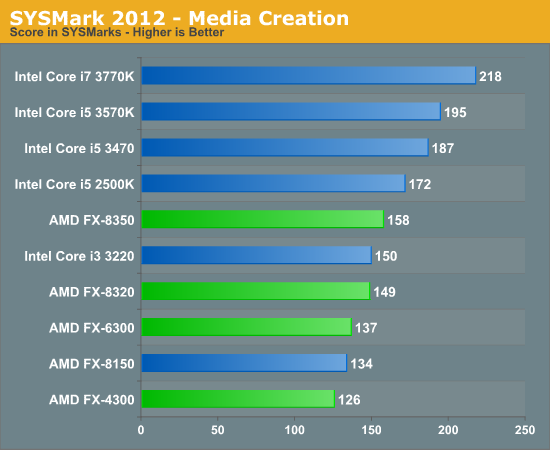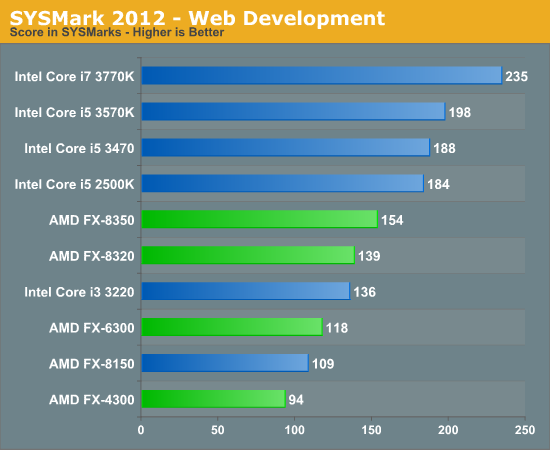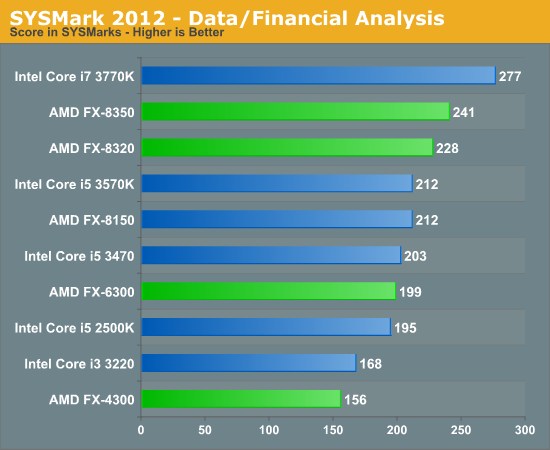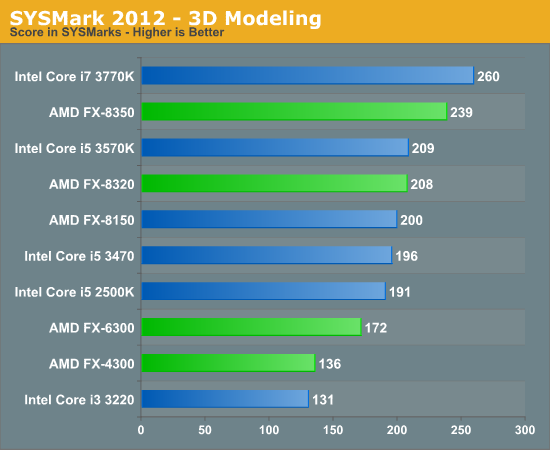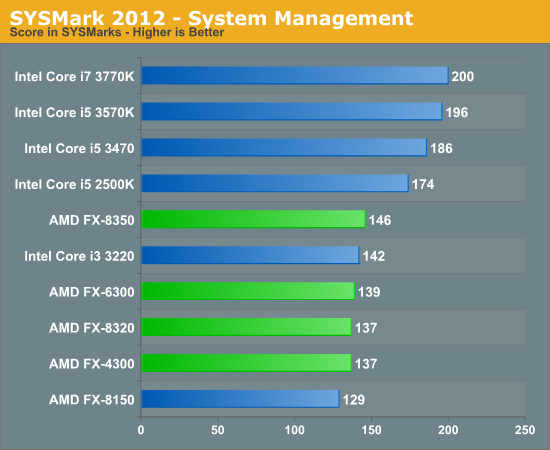 Par2 File Recovery Performance
Par2 is an application used for reconstructing downloaded archives. It can generate parity data from a given archive and later use it to recover the archive
Chuchusoft took the source code of par2cmdline 0.4 and parallelized it using Intel's Threading Building Blocks 2.1. The result is a version of par2cmdline that can spawn multiple threads to repair par2 archives. For this test we took a 708MB archive, corrupted nearly 60MB of it, and used the multithreaded par2cmdline to recover it. The scores reported are the repair and recover time in seconds.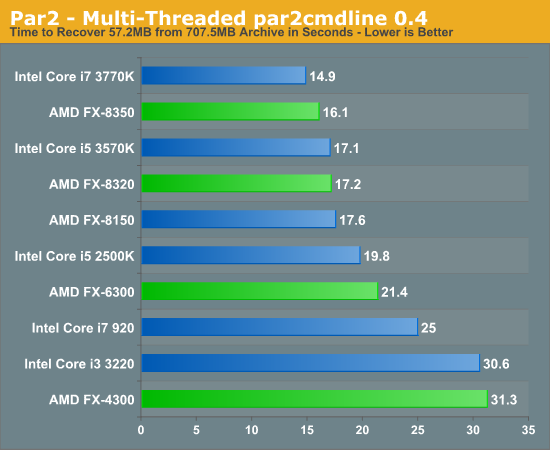 Crank up the threads and once again you see Vishera do quite well. The FX-8350 outpaces the Core i5 3570, and the FX-4300 falls only slightly behind the Core i3 3220.
Excel Math Performance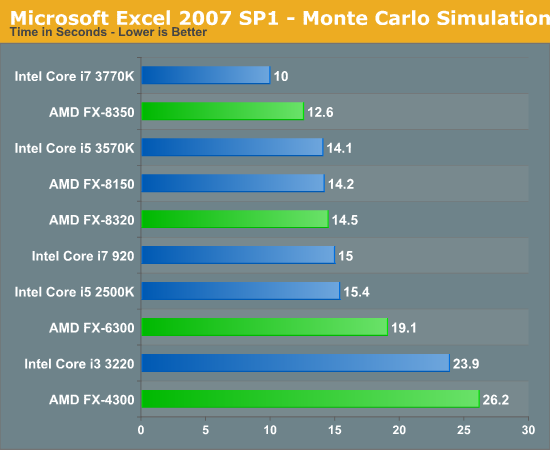 Video Transcoding Performance
x264 HD 5.0.1 Benchmark
We migrated to the latest verison of the x264 HD benchmark which features a much newer version of x264 and a much heavier workload. The focus here is on quality rather than speed, thus the benchmark uses a 2-pass encode and reports the average frame rate in each pass.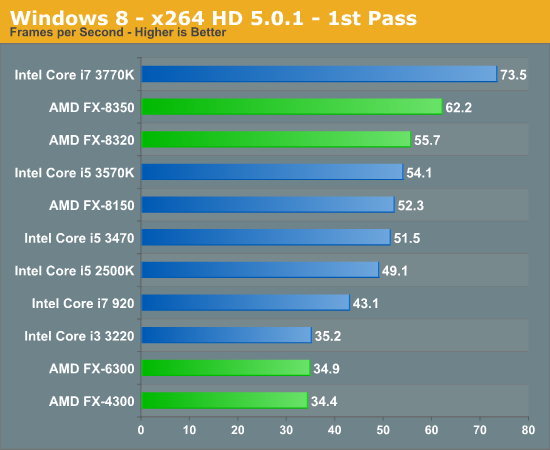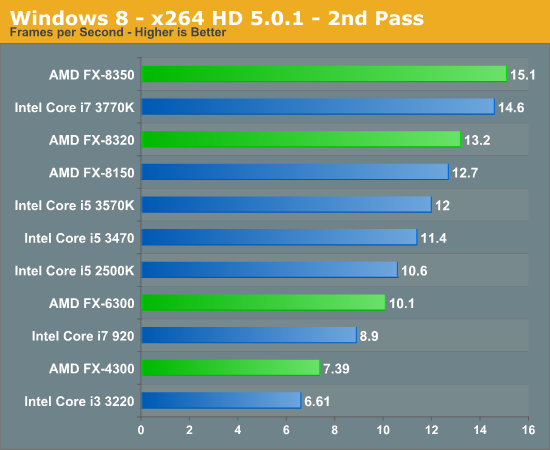 The latest version of the x264 HD test does extremely well on Vishera. With the exception of the FX-6300, AMD is able to come away with a win at all of its price points. The FX-8350 even outperforms the Core i7 3770K.
Visual Studio 2012 - Multithreaded Compile Performance
Our compile test is back and better than ever. With a much larger and faster SSD (Samsung SSD 830, 512GB), we're able to get more consistent compile times between runs. We're now using Visual Studio 2012 to compile Mozilla's Firefox project. The compile is multithreaded however there are periods of serial operation where performance is bound by the speed of a single core. The end result is a benchmark that stresses both single and multithreaded performance. Compile times are reported in minutes elapsed.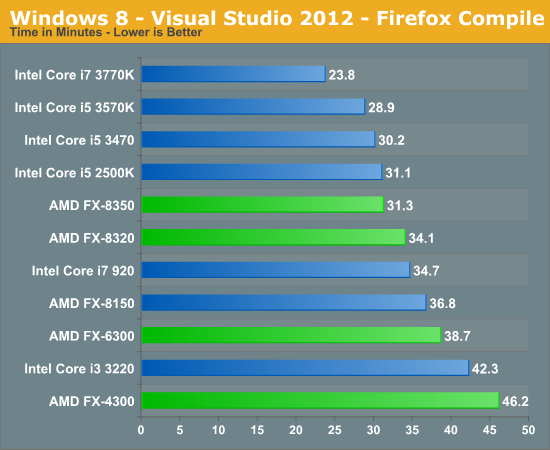 It's all or nothing with Vishera. Mixed workloads that stress both single and multithreaded performance don't turn out as well on AMD's platform. With the FX-8350 AMD is able to sneak up on Sandy Bridge, but the competitive Ivy Bridge parts simply pull ahead. If there ever was a reason to fix AMD's single threaded performance, you're looking at it.
Photoshop Performance
Adobe Photoshop CS4
To measure performance under Photoshop CS4 we turn to the Retouch Artists' Speed Test. The test does basic photo editing; there are a couple of color space conversions, many layer creations, color curve adjustment, image and canvas size adjustment, unsharp mask, and finally a gaussian blur performed on the entire image.
The whole process is timed and thanks to the use of Intel's X25-M SSD as our test bed hard drive, performance is far more predictable than back when we used to test on mechanical disks.
Time is reported in seconds and the lower numbers mean better performance. The test is multithreaded and can hit all four cores in a quad-core machine.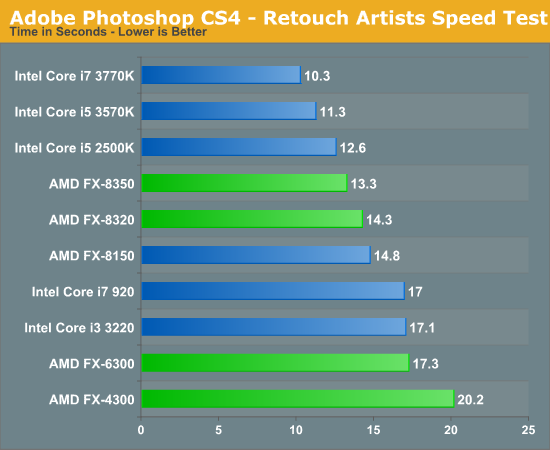 We see similar results in our Photoshop benchmark, Vishera falls behind a bit as this test isn't threaded enough to showcase the platform's advantages.
3D Rendering Performance
Our new POV-Ray benchmark uses the latest beta binary (3.7RC6) and runs through both single and multithreaded versions of the popular raytracing benchmark.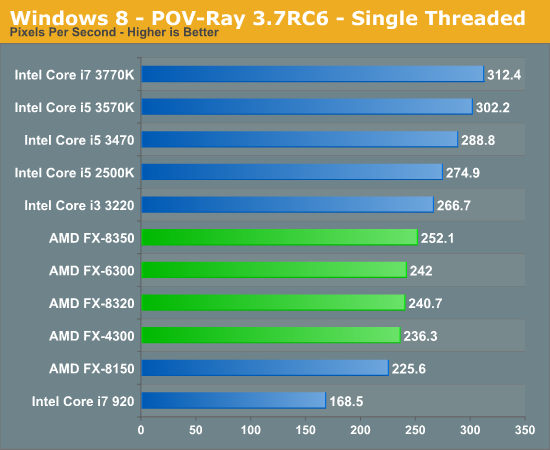 The latest POV-Ray test gives us a good look at single threaded performance. Here AMD was able to increase performance over the FX-8150 by 11%, however Intel's Core i5 3570K still manages to hold on to a 20% performance lead over the FX-8350.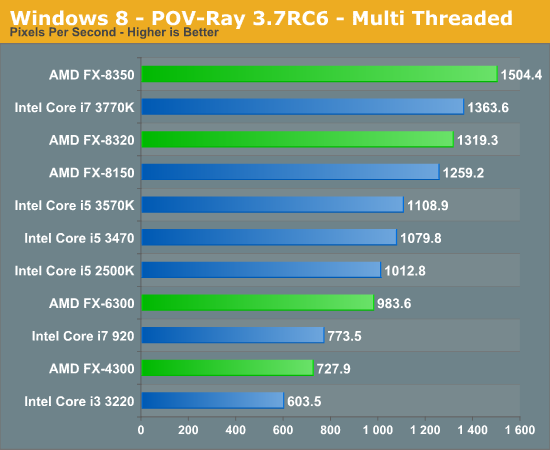 Running the same benchmark but multithreaded puts AMD at the top. With the exception of the FX-6300, all of the AMD parts beat out their Intel counterparts.
Cinebench 11.5
Created by the Cinema 4D folks we have Cinebench, a popular 3D rendering benchmark that gives us both single and multi-threaded 3D rendering results.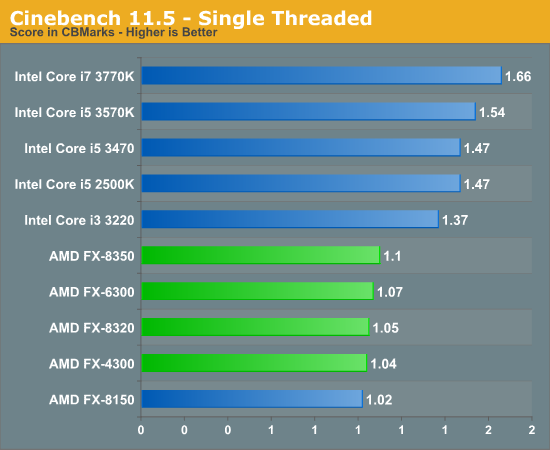 Cinebench 11.5 paints an even more dire picture for AMD's single threaded performance - Intel manages a 40% advantage over the FX-8350.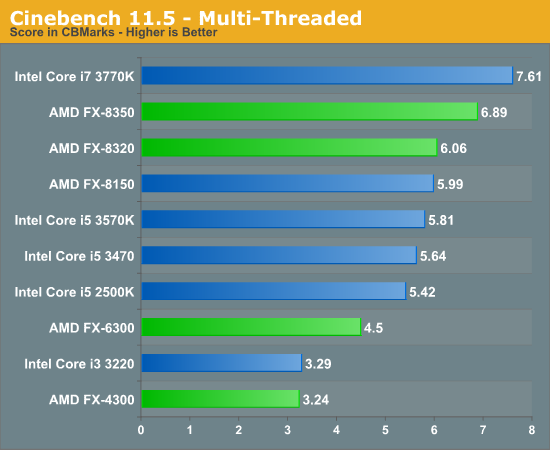 Multithreaded performance however continues to be great.
Gaming Performance
Our latest discrete GPU gaming tests use a GeForce GTX 680, while the older tests use the Radeon HD 5870. We're focused on looking at differences between CPUs here so most of the numbers you see are CPU bound rather than pushing the GPU to the limits. As most games are at best a mixture of single and lightly multithreaded workloads, AMD's FX platform doesn't do well here at all. If you're looking to build a high end gaming machine and want the best CPU for the job, Vishera isn't it.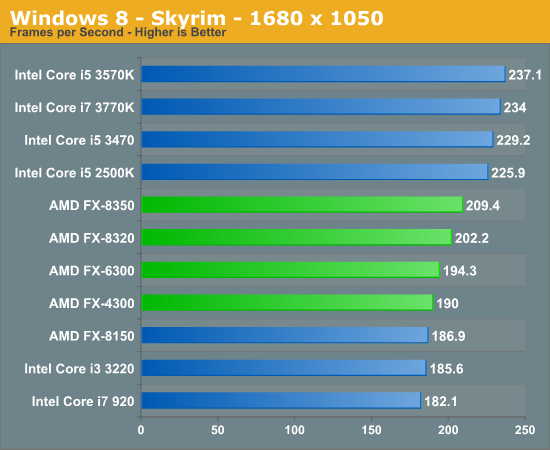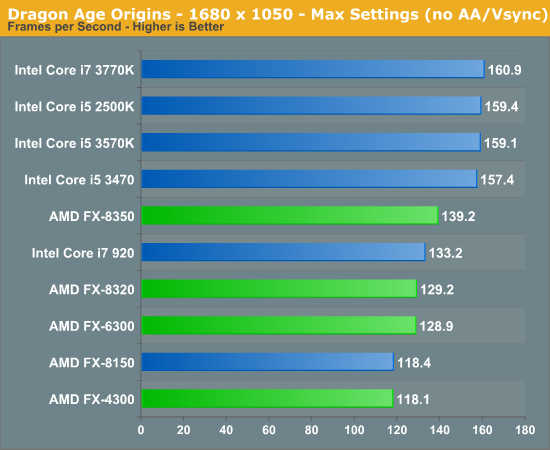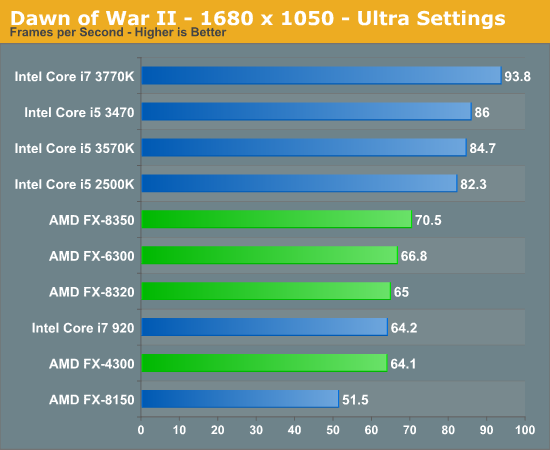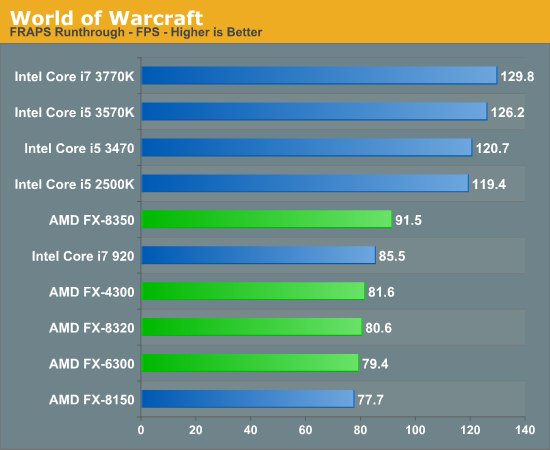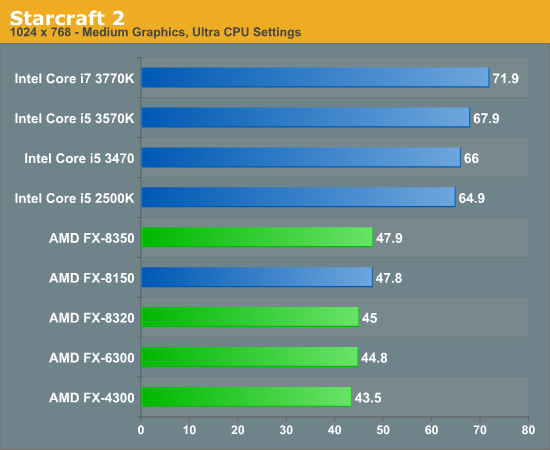 Power Consumption
With Vishera, AMD was in a difficult position: it had to drive performance up without blowing through its 125W TDP. As the Piledriver cores were designed to do just that, Vishera benefitted. Remember that Piledriver was predominantly built to take this new architecture into mobile. I went through the details of what makes Piledriver different from its predecessor (Bulldozer) but at as far as power consumption is concerned, AMD moved to a different type of flip-flop in Piledriver that increased complexity on the design/timing end but decreased active power considerably. Basically, it made more work for AMD but resulted in a more power efficient chip without moving to a dramatically different architecture or new process node.
In mobile, AMD used these power saving gains to put Piledriver in mobile APUs, a place where Bulldozer never went. We saw this with Trinity, and surprisingly enough it managed to outperform the previous Llano generation APUs while improving battery life. On desktops however, AMD used the power savings offered by Piledriver to drive clock speeds up, thus increasing performance, without increasing power consumption. Since peak power didn't go up, overall power efficiency actually improves with Vishera over Zambezi. The chart below illustrates total system power consumption while running both passes of the x264 HD (5.0.1) benchmark to illustrate my point:

In the first pass Vishera actually draws a little less power, but once we get to the heavier second encode pass the two curves are mostly indistinguishable (Vishera still drops below Zambezi regularly). Vishera uses its extra frequency and IPC tweaks to complete the task sooner, and drive down to idle power levels, thus saving energy overall. The picture doesn't look as good though if we toss Ivy Bridge into the mix. Intel's 77W Core i5 3570K is targeted by AMD as the FX-8350's natural competitor. The 8350 is priced lower and actually outperforms the 3570K in this test, but it draws significantly more power: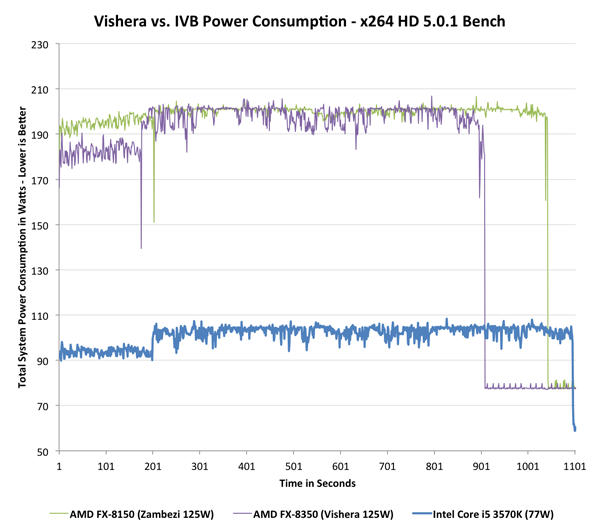 The platforms aren't entirely comparable, but Intel maintains a huge power advantage over AMD. With the move to 22nm, Intel dropped power consumption over an already more power efficient Sandy Bridge CPU at 32nm. While Intel drove power consumption lower, AMD kept it constant and drove performance higher. Even if we look at the FX-8320 and toss Sandy Bridge into the mix, the situation doesn't change dramatically: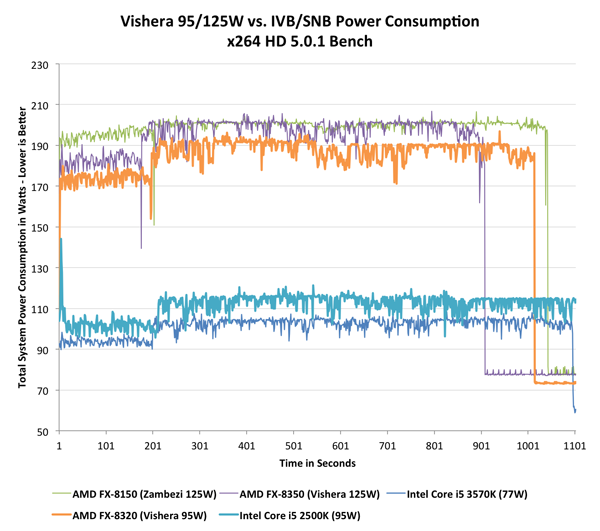 Sandy Bridge obviously consumes more than Ivy Bridge, but the gap between a Vishera and any of the two Intel platforms is significant. As I mentioned earlier however, this particular test runs quicker on Vishera however the test would have to be much longer in order to really give AMD the overall efficiency advantage.
If we look at average power over the course of the two x264 encode passes, the results back up what we've seen above: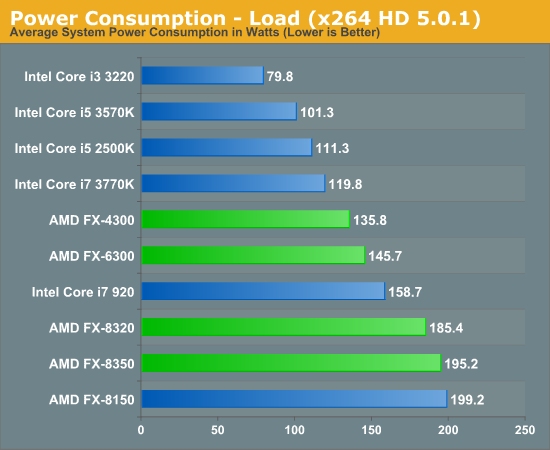 As more client PCs move towards smaller form factors, power consumption may become just as important as the single threaded performance gap. For those building in large cases this shouldn't be a problem, but for small form factor systems you'll want to go Ivy Bridge.
Note that idle power consumption can be competitive, but will obviously vary depending on the motherboard used (the Crosshair Formula V is hardly the lowest power AM3+ board available):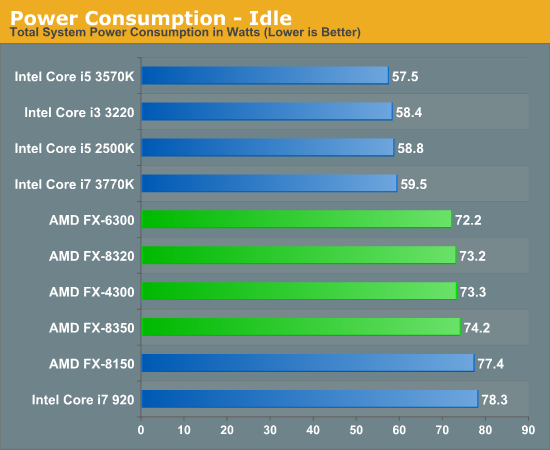 Projected Performance: Can AMD Catch up with Intel?
I keep going back to this slide because it's incredibly relevant. It's the only indication we have from AMD of what its future roadmap will look like in terms of performance increases: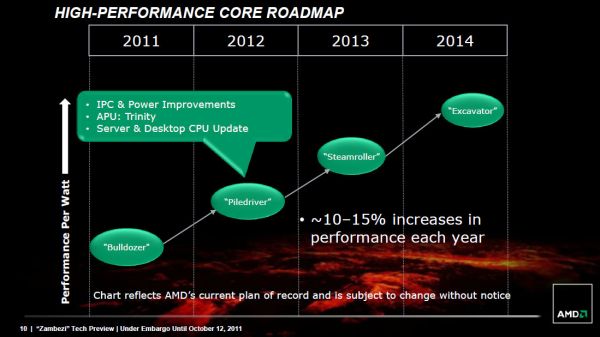 Each year AMD promised to increase performance of its high-end cores by roughly 10 - 15%. Astute observers will note that, at this rate, AMD will almost never catch up to Intel. AMD at the time was careful to point out that it's talking about 10 - 15% gains in core performance, and it could potentially see even larger increases in total chip performance by pulling other levers. Vishera is an example of AMD doing just that. The Piledriver cores by themselves don't increase performance tremendously, but they do give AMD a little more thermal headroom to work with thanks to some more efficient design decisions and better transistor choice. With Vishera, AMD took the additional power headroom and turned into a frequency advantage. The result is AMD's FX-8350 can operate in the same power envelope as the outgoing FX-8150, yet runs at an 11% higher base clock (turbo frequency remains the same). Through frequency and core level improvements, AMD was able to deliver a bit more than the 10 - 15% performance increased in promised.
If AMD is able to repeat these improvements again next year, I wondered whether or not it would get any closer to closing the gap with Intel - particularly when it came to single threaded performance. We already know from our Haswell investigations that Intel is expecting around a 5 - 15% increase in CPU performance from Haswell over Ivy Bridge. If we assume that Haswell delivers towards the 15% end of that spectrum, and if we assume that Steamroller delivers the same level of improvements that we saw from Piledriver/Vishera, we end up with some pretty interesting predictions for where things end up next year. I modeled the 2013 performance of high-end AMD and Intel platforms based on those two factors and plotted the curves in a few different benchmarks. For each generation I used the parts that AMD stacked up against one another (they are also fairly similarly priced). For 2011 I used the FX-8150 vs. Intel's Core i5 2500 and for 2012 I used the FX-8350 vs. Intel's Core i5 3570. The 2013 data is of course projected based on a 15% increase in performance from Haswell, and a repeat of the Vishera vs. Zambezi increase for AMD. This is mostly an interesting experiment so don't get too invested in the data.
We'll start with Cinebench, by far the most painful of the tests for AMD from a single-threaded performance perspective: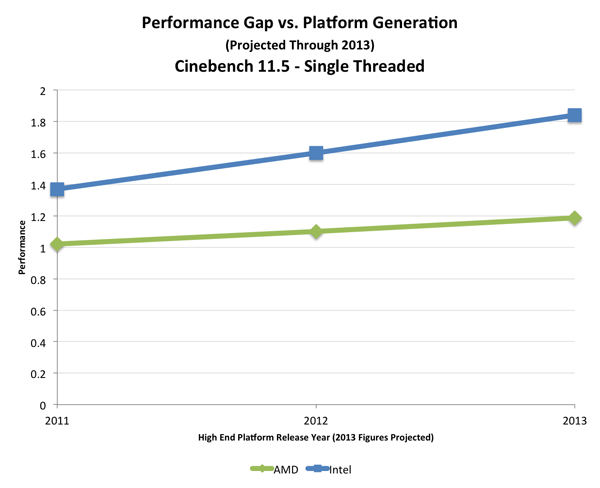 The Vishera gains here were decent but not enough to dramatically shrink the performance gap. Furthermore, Intel put a good amount of distance in place with Ivy Bridge and if it can continue that with Haswell I don't see much hope here.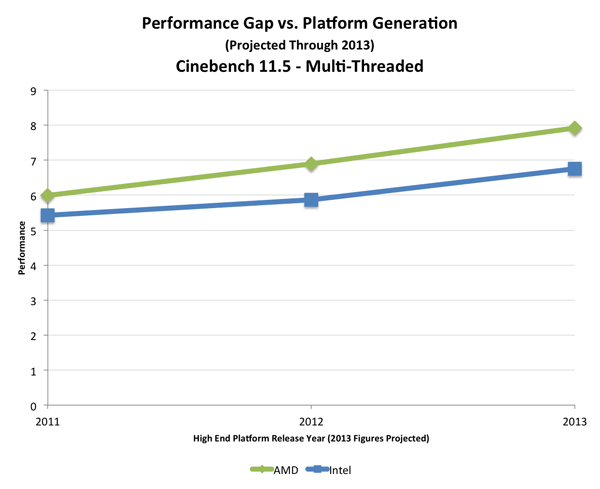 The multithreaded Cinebench results begin in AMD's favor and remain so even with our projected performance data.
Mozilla's Kraken benchmark is another example of single threaded performance gone awry for AMD.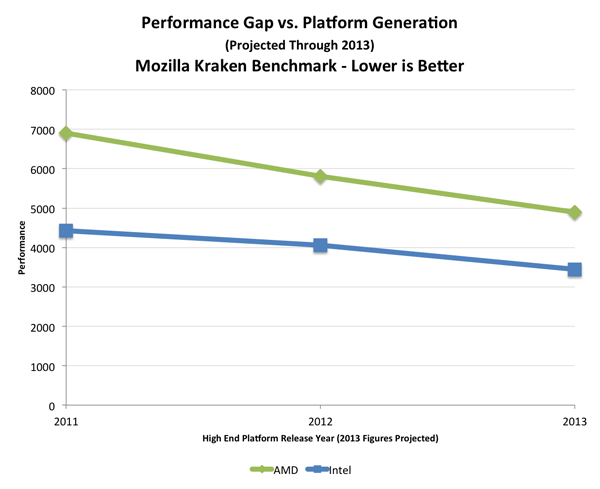 Thankfully, Vishera does close the gap by a decent amount and if AMD extends those gains it is on an intercept course with Intel. The bad news is, that intercept wouldn't be in 2013.
POV-Ray provides another point of view on single threaded performance, here the situation looks far less dire than under Cinebench: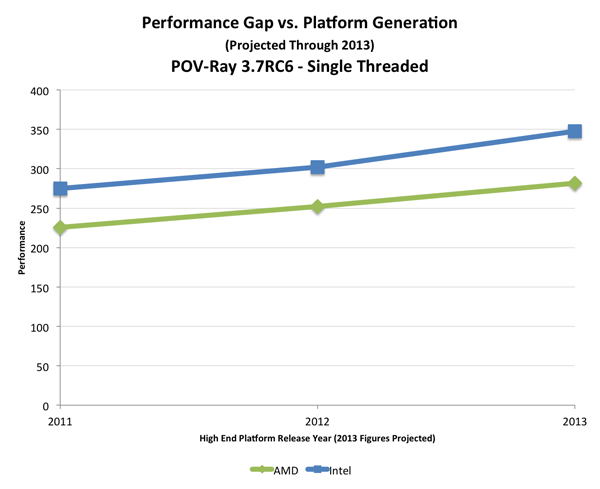 Unfortunately the curves remain fairly distinct.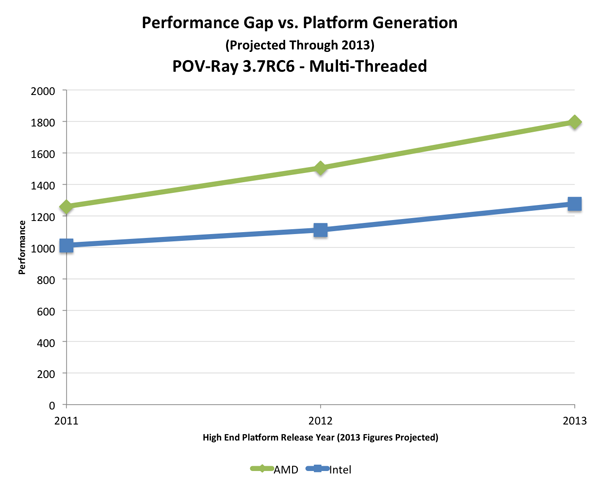 Once again, when we increase thread count we see AMD pull ahead.
SYSMark is a particularly telling benchmark as it is lightly threaded and does a good job of simulating all types of workloads: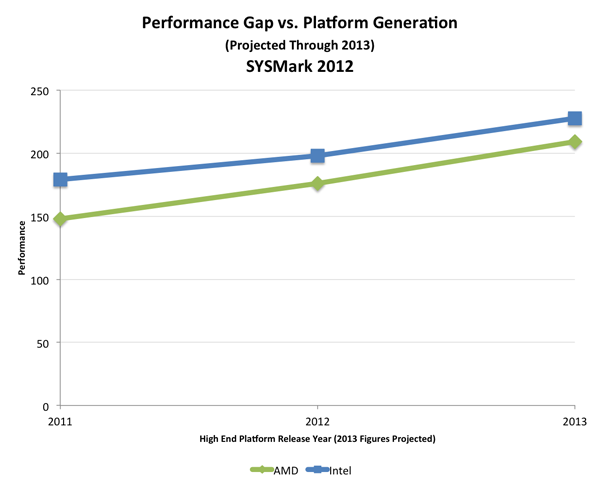 The result here is AMD closing in, albeit slowly, on Intel's performance advantage. I suspect this is quite possibly the best case scenario for AMD, it doesn't necessarily want to surpass Intel in performance but it wants to get close enough where pricing and other factors (e.g. GPU performance in its APU parts) can make a bigger difference.
Our Visual Studio 2012 test is a good combination of single threaded and multithreaded workloads in one: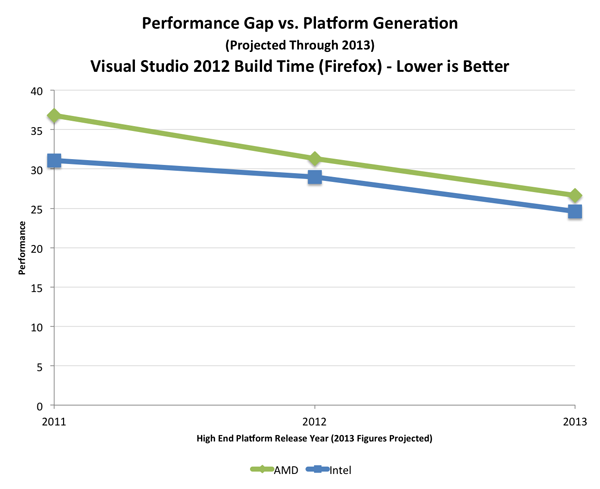 With Vishera, AMD did a lot to close the gap betwen itself and Intel. Another increase like this and we won't see AMD surpass Intel, but the two should remain fairly close.
These last two tests show us the other side of the coin. If both AMD and Intel continue on their present tracks, what will happen in a test where AMD already does well today?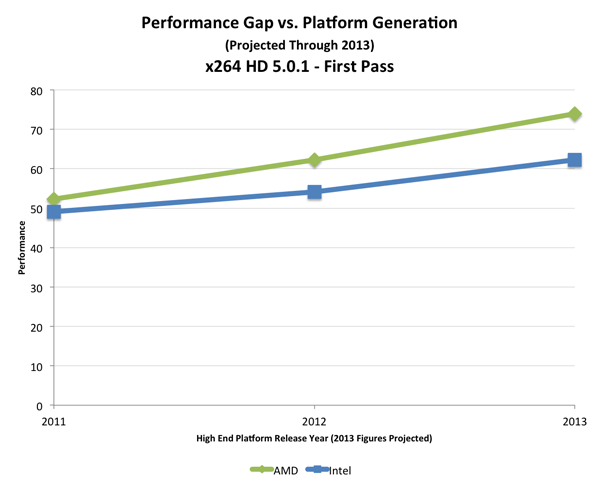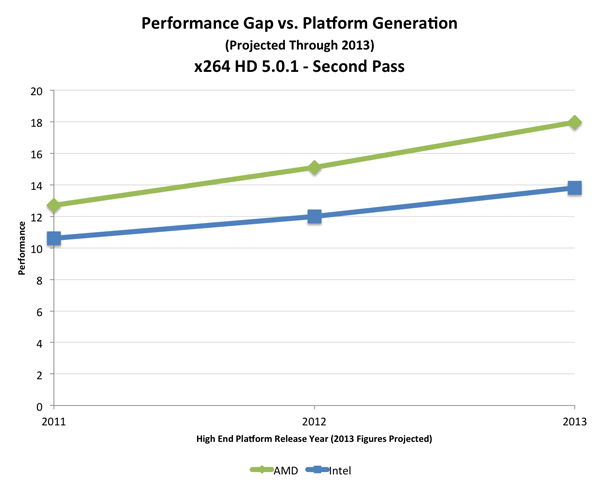 In areas where AMD holds a significant advantage, Haswell would need to deliver more than a 15% gain in performance at the same price point to catch up.
None of the results here are all that surprising. AMD remaining on its current course isn't enough to dramatically change its standings vs. Intel in another year. Vishera definitely cut into the performance delta, but the 2013 follow-up will have to do even more to really have an impact. Steamroller is far more focused on increasing IPC, however without a new process node it'll be difficult to demonstrate another gain in frequency like we see today with Vishera. I suspect the real chance for AMD to approach parity in many of these workloads will be with its 20nm architecture, perhaps based on Excavator in 2014.
Overclocking
AMD's FX architecture was designed for very high clock speeds. With Piledriver we're able to see some of that expressed in overclocking headroom. All of these chips should be good for close to 5GHz depending on your luck of the draw and cooling. For all of these overclocking tests I used AMD's branded closed loop liquid cooler which debuted back with the original FX launch. I didn't have enough time to go through every chip so I picked the FX-8350 and FX-4300 to show the range of overclocks that may be possible. In my case the FX-4300 hit 5GHz with minimal effort, while the FX-8350 topped out at 4.8GHz (I could hit 5GHz but it wasn't stable through all of our tests). Both of these overclocks were achieved with no more than 10% additional core voltage and by simple multiplier adjustments (hooray for unlocked everything). The increase in performance is substantial: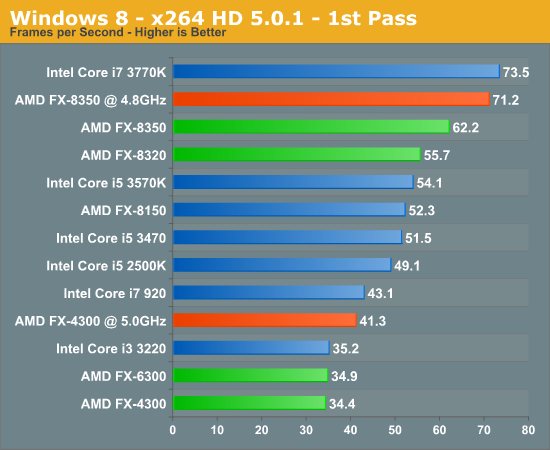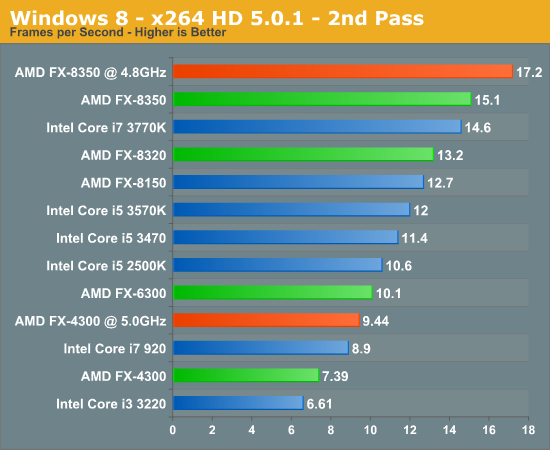 The increase in power consumption is pretty bad however, you do pay for these types of voltage driven overclocks: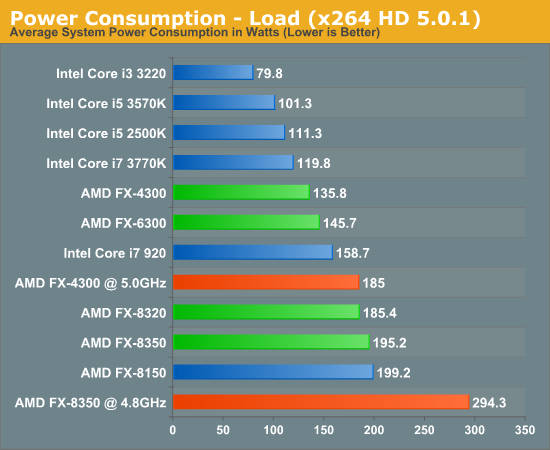 The 5GHz FX-4300 is pushed into FX-8300 territory, while the 4.8GHz 8350 is in a league of its own at just under 300W of total system power consumption.
Final Words
Vishera is a step in the right direction for AMD, it manages to deliver tangibly better performance than last year's disappointing FX processor without increasing power consumption. Thanks to architectural and frequency improvements, AMD delivers up to 20% better performance than last year's FX-8150 for a lower launch price, while remaining within the same thermal envelope.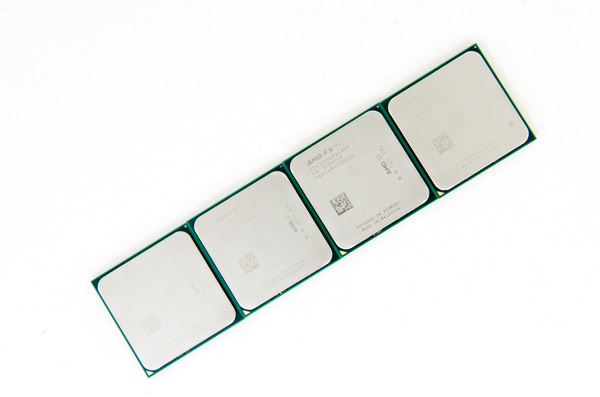 AMD does manage to pull away with some very specific wins when compared to similarly priced Intel parts. Performance in the latest x264 benchmark as well as heavily threaded POV-Ray and Cinebench tests show AMD with the clear multithreaded performance advantage. Other heavily threaded integer workloads also do quite well on Vishera. The only part that didn't readily beat its Intel alternative was AMD's six-core FX-6300, the rest did extremely well in our heavily threaded tests. Look beyond those specific applications however and Intel can pull away with a significant lead. Lightly threaded applications or those whose performance depends on a mixture of single and multithreaded workloads are typically wins for Intel. The story hasn't really changed in that regard. For AMD to become competitive across the board it needs significant changes to the underlying architecture, some of which I don't know that we'll see until the 2013 - 2014 timeframe. Even then, Intel's progress isn't showing any signs of slowing.
Power consumption is also a big negative for Vishera. The CPU draws considerably more power under load compared to Ivy Bridge, or even Sandy Bridge for that matter.
Ultimately Vishera is an easier AMD product to recommend than Zambezi before it. However the areas in which we'd recommend it are limited to those heavily threaded applications that show very little serialization. As our compiler benchmark shows, a good balance of single and multithreaded workloads within a single application can dramatically change the standings between AMD and Intel. You have to understand your workload very well to know whether or not Vishera is the right platform for it. Even if the fit is right, you have to be ok with the increased power consumption over Intel as well.