Original Link: http://www.anandtech.com/show/6390/silverstone-sugo-sg09-case-review-someone-at-silverstone-loves-tetris


Introducing the SilverStone Sugo SG09
You've seen it here: small cases are getting big. Mini-ITX boards are becoming both more common and less expensive, and there's been a bit of a renaissance for small case designs. This is a space SilverStone has served reasonably well for some time now with their Sugo line of enclosures, but a healthy amount of thunder was recently stolen by BitFenix's Prodigy case. It's true the Prodigy is an excellent design, but admittedly it's unusually large for a Mini-ITX enclosure and there are some things BitFenix could improve upon.
Meanwhile, SilverStone is content to let their Sugo line to continue serving the Mini-ITX market and serving it well, but today they have an option that's intended to appeal to users looking for a small form factor machine without compromising. The Sugo SG09 is aimed at cramming as much powerful hardware and a Micro-ATX motherboard (instead of Mini-ITX) into a space typically reserved for already cramped Mini-ITX hardware. Does it succeed? As it turns out, it does, and then some.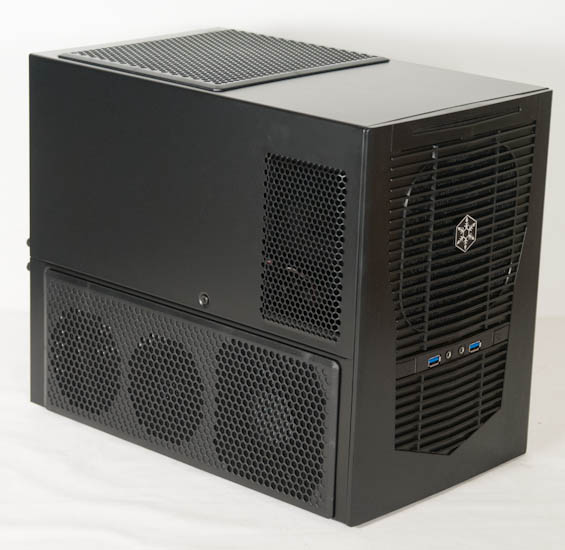 SilverStone includes in the reviewer's guide for the SG09 measurements of popular Mini-ITX cases by volume, and outside of a couple of Lian Li cases, the SG09 is actually smaller than the others. It's also noticeably smaller than the BitFenix Prodigy despite being able to hold a Micro-ATX motherboard instead. It's true they had to make quite a few sacrifices to get the SG09's size down to where it is, but you're going to see it's actually performance competitive with standard Micro-ATX and even full ATX cases.
SilverStone Sugo SG09 Specifications
Motherboard Form Factor
Micro-ATX, Mini-ITX
Drive Bays
External
1x slot-loading 12.7mm optical drive
Internal
4x 2.5", 2x 3.5"
Cooling
Front
-
Rear
1x 120mm exhaust fan
Top
1x 180mm intake fan
Side
1x 120mm intake fan, 2x 92/80mm fan mounts, 1x 80mm fan mount (opposite side)
Bottom
-
Expansion Slots
4
I/O Port
2x USB 3.0, 1x Headphone, 1x Mic
Power Supply Size
ATX
Clearances
HSF
165mm
PSU
180mm (160mm strongly recommended)
GPU
13.3" / 337mm
Dimensions
8.7" x 11.6" x 13.9"
220mm x 295mm x 354mm
Weight
11.7 lbs / 5.3 kg
Special Features
Removable fan filters in front of all fan grates
Price
$99
The main sacrifices SilverStone made with the Sugo SG09 are understandable ones barring one unusual decision. I understand their preference for slot-loading slimline optical drives from an aesthetic perspective, but it increases build cost for the end user and reduces options substantially. You pretty much have to go to eBay to find a blu-ray reader or writer that will fit in this drive bay without paying through the nose, and SilverStone only sells a slimline DVD writer on their site.
Speaking of selling accessories to go with their cases, SilverStone has done a fairly good job of cornering this particular market. It's true you can probably install power supplies from other vendors, but it's also clear that SilverStone designed the SG09 to go with their Strider modular power supplies, as they also sell a collection of short modular cables to use with their own power supplies that are supposed to make assembly cleaner and easier. That may not be such a bad idea, and either way, I strongly recommend against using a non-modular power supply for building with this case.
In and Around the SilverStone Sugo SG09
Pulling the SilverStone Sugo SG09 from the box and checking it out from all the angles, it almost feels like a little bit of a chimera. For sure, SilverStone has done a good job producing a fairly aesthetically pleasing design, but the odd bulges and vents along the sides are suggestive of the crafty internal layout required for getting a fairly fully-featured Micro-ATX enclosure down to this size. In fact, the SG09 doesn't even actually sit evenly on flat surfaces without the included adhesive feet being affixed to it due to the lip of one of the removable panels actually being on the underside of the case.
SilverStone has chosen to be fairly conservative in their material choices with the SG09, opting for plastic and steel instead of aluminum. The front fascia has an attractive, symmetrical design that's fairly typical of SilverStone, with a removable filtered vent beneath the slot-loading optical drive bay as well as additional ventilation below the power and reset buttons and port cluster. This front fascia is pretty much the only plastic you'll find on the SG09 outside of the removable vent covers for the top and side fans.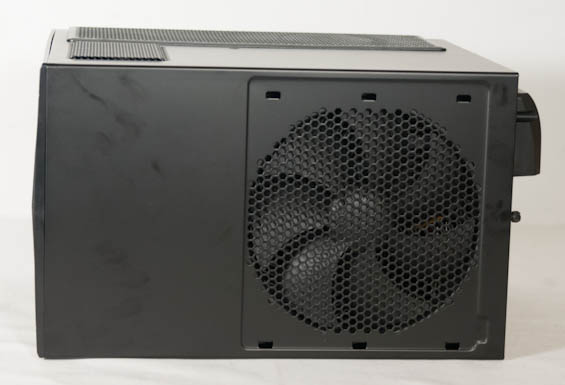 Speaking of the top and sides, the top of the case is where you'll find the biggest clue to how SilverStone plans for the SG09 to work its magic: a whopping 180mm Air Penetrator fan that's actually facing down as an intake instead of an exhaust. It's true SilverStone PR plays up natural convection as a selling point for their 90-degree rotated motherboard case designs, but the reality is that those cases are so effective because of the direct airflow on the motherboard, CPU, and components and not because of the direction of that airflow. Undoubtedly they know this, too, as this is the second case I've reviewed by them that has a top-mounted intake fan.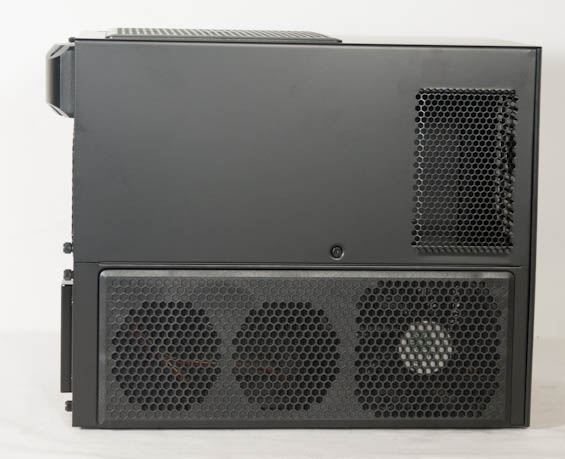 When you get to the sides, you'll see a slight bulge on the right side that gives the cabling from the power supply some additional room to breathe along with a small vent at the bottom for an optional 80mm fan. On the left side there's a big power supply sized vent along with a single 120mm intake fan and room for additional 80/92mm fans. You'll also see the left side is actually split between a top wraparound panel and a bottom "fan panel," with a screw in the side where you ordinarily never expect to see one.
Finally we get to the back, where we can see how the power cable is routed out; the bulk of the SG09 is pretty much just the space required to house a Micro-ATX board and tower cooler along with the 120mm exhaust and a healthy amount of space behind the motherboard tray. As you've probably sussed out, they moved the power supply to the front of the case and in a way it seems to do what good small form factor designs do in my experience: segregates cooling zones using the size of the components themselves.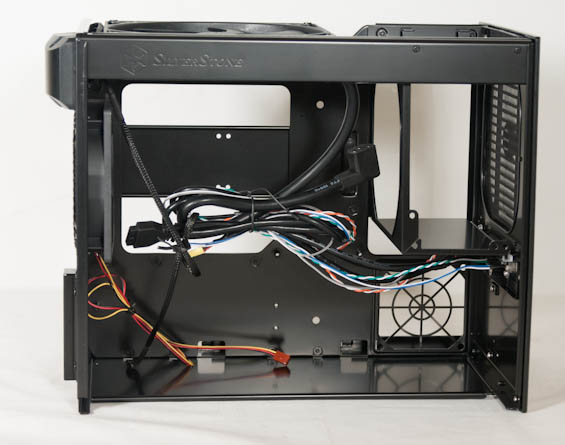 Opening the SG09 up requires removing five thumbscrews on the back along with one screw on the side and one on the bottom; that allows you to remove the large top wraparound panel and the lower fan panel. And when you get inside, how SilverStone managed to fit so much in one space begins to come together. Opting for a slimline optical drive saves a ton of space, and behind the motherboard tray there's room for four 2.5" drives and three 3.5" drives, but even SilverStone recommends eschewing 3.5" drives entirely. That's a sound plan, as again, 3.5" drives take up a lot of space as well. Ultimately they've been able to condense their case down to: motherboard, power supply, video card(s). Not too shabby.
While I'm impressed with the SG09's design, I'm also amused at just how aggressively SilverStone culls space. In some ways they went the complete opposite direction of BitFenix with the Prodigy; BitFenix tried to cram as much capacity into a Mini-ITX case as possible, while SilverStone's design requires a more specialized approach to really maximize it. They culled everywhere they could in an effort to shrink the design down, and that meant pushing for smaller form factor components as well. I admire the approach, but it may not be for everyone.
Assembling the SilverStone Sugo SG09
Part of the "joy" of reviewing small form factor cases is just how much of a royal pain in the neck they can be to put together. In trying to cram all of this hardware into such a small space, elbow room is generally the first thing to go. So while the SG09 supports tower coolers and full-length video cards, other spaces are decidedly much more cramped.
That said, SilverStone was still remarkably considerate when it comes to assembly. Motherboard standoffs are already built into the tray, but you do have to remove the sliding power supply bracket in order to fit a Micro-ATX board in. When you do, you'll also find that the AUX 12V line is going to be much harder to connect than usual, and two of the innermost mounting screws may be next to impossible to actually install. The problem is the close proximity of the 120mm and 180mm fans, a tradeoff made for what you'll see is pretty superior cooling performance.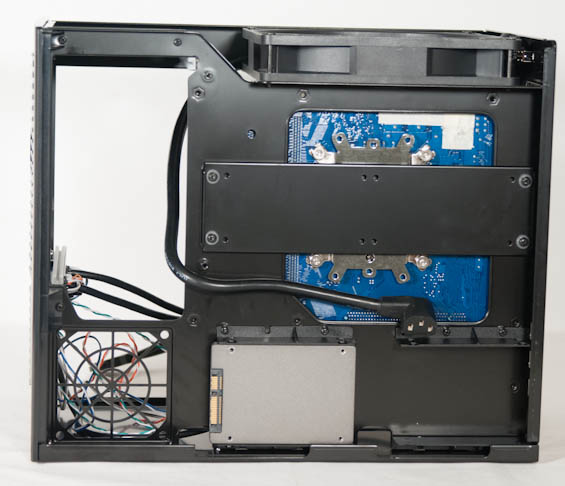 Drives are mounted into the SG09 using three removable trays behind the motherboard. The topmost one is for mounting two 3.5" drives side by side, and the top 180mm fan actually overhangs this side of the tray just enough to get some cool air flowing. Unfortunately the 3.5" drives are bottom mounted, taking our standard Corsair Link kit out of the running. Meanwhile, just beneath them are four plastic brackets for mounting four 2.5" drives, stacked on top of each other. Finally, slimline optical drives are installed by attaching a mounting bracket included with the case to the drive, then attaching that bracket to the case itself.
Getting the power supply into the case is actually a pretty easy affair. You attach it to the sliding, removable power supply cage, then slide it back in, screw in the cage, and connect the routing cable. For testing I opted to orient the power supply's intake to the front of the case instead of the interior, as this isolates the power supply from the rest of the components while still allowing it to receive fresh air. This also prevents it from competing with the tower cooler for intake air. Installing expansion cards is also simple; there's a covered bracket (I do hate these even though I understand why they exist) that has to be removed, then the ventilated expansion slot covers come out.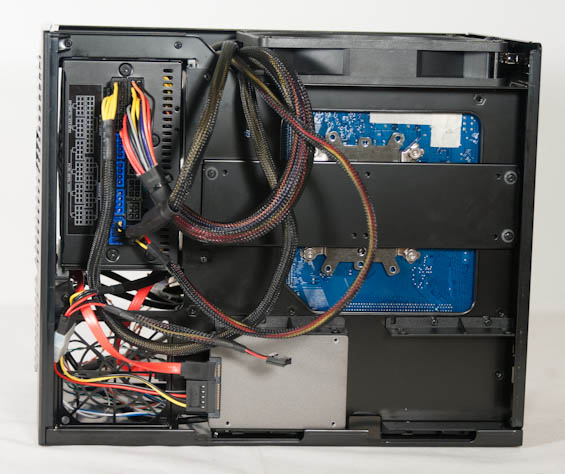 Where things generally go to hell with small case designs is cabling, but SilverStone has actually done a reasonably good job allowing for this. The nature of the layout basically forces you to route cables intelligently; there's simply nowhere else to put them. Again, a modular power supply is pretty much essential, especially if you're planning on utilizing 3.5" drives. I do think they could've tried to allow at least a little more space at the top for squeezing all those cables through, though.
Unfortunately, putting the panels back on the SG09 is an exercise in frustration of the very highest order. What SilverStone needed to do was split the wraparound panel to handle just the motherboard and fan side and then make a separate panel for the side behind the motherboard tray. Though SilverStone does allow for a decent amount of space for cabling, it still isn't quite enough, and I had to struggle a lot to get the panel to fit correctly.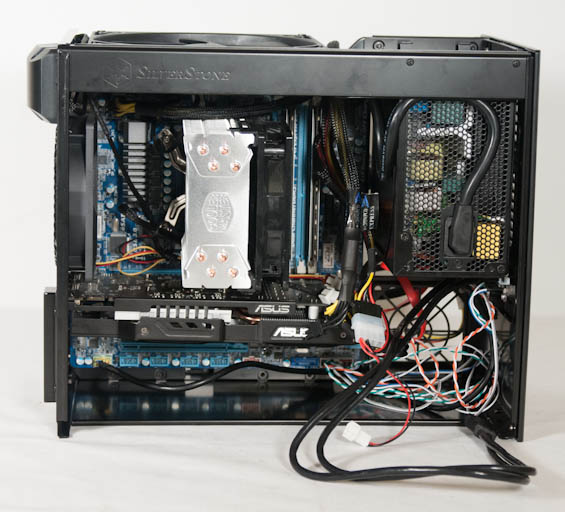 There are some design elements that I think are really strong, and then there are some that obviously need work. As I mentioned, the panels need to be split even if it increases complexity a bit, and the single 80mm fan mount seems superfluous and can probably be cut entirely, possibly in favor of using that real estate to mount one or two 3.5" drives laterally. The brackets for mounting the 2.5" drives also seem to be placed too low and you'll be struggling trying to get them installed again. An extra couple of millimeters would make all the difference, even if it meant shrinking the opening for the cooler backplate slightly.
With all that said, though, it's impressive how much you can actually cram into the SG09. I was able to fit our standard case testbed in without any real trouble. Better still, there's potential here for some really stellar performance.
Testing Methodology
For testing Micro-ATX and full ATX cases, we use the following standardized testbed in stock and overclocked configurations to get a feel for how well the case handles heat and noise.
Each case is tested in a stock configuration and an overclocked configuration that generates substantially more heat (and thus may produce more noise). The system is powered on and left idle for fifteen minutes, the thermal and acoustic results recorded, and then stressed by running seven threads in Prime95 (in-place large FFTs) on the CPU and OC Scanner (maximum load) on the GPU. At the end of fiteen minutes, thermal and acoustic results are recorded. This is done for the stock settings and for the overclock, and if the enclosure has a fan controller, these tests are repeated for each setting. Ambient temperature is also measured after the fifteen idle minutes but before the stress test and used to calculate the final reported results.
Thank You!
Before moving on, we'd like to thank the following vendors for providing us with the hardware used in our testbed.
Noise and Thermal Testing, Stock
Up until this point I've been casually suggesting that the SilverStone Sugo SG09's performance is, frankly, pretty stellar. As you'll see that's mostly true, as it's pretty hard to go too wrong when you have a 180mm fan blowing almost directly on to your processor. This is something SilverStone has traditionally understood pretty well: the best cooling is direct cooling. It's also why their designs oftentimes deviate a bit from the norm.
You'll note that I tested with our standard ATX/Micro-ATX testbed and not the Mini-ITX one. I elected to do this both for time concerns and to demonstrate what should be obvious when you're done looking at the charts: if the SG09 can handle an overclocked Micro-ATX build (spoiler alert: it can), then it should have no trouble with a powerful Mini-ITX rig. That said, I know it would've been ideal to see how the SG09 fared against something like the BitFenix Prodigy; to that end, all I can say is that these are two designs that look like they occupy similar space in the market, but they went very different directions.
Ambient temperatures were between 23C and 24C during testing. The top intake fan actually has a fan speed selector on the back, and so the SG09 was tested at both low and high settings.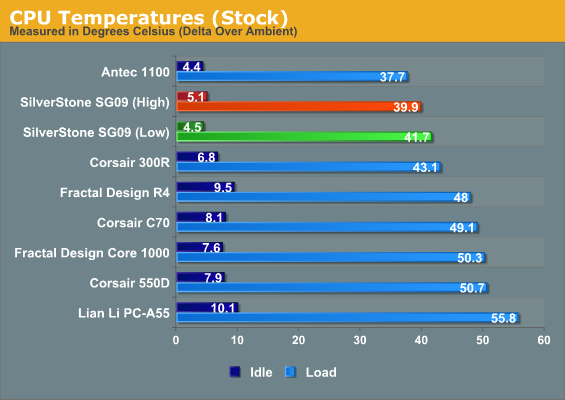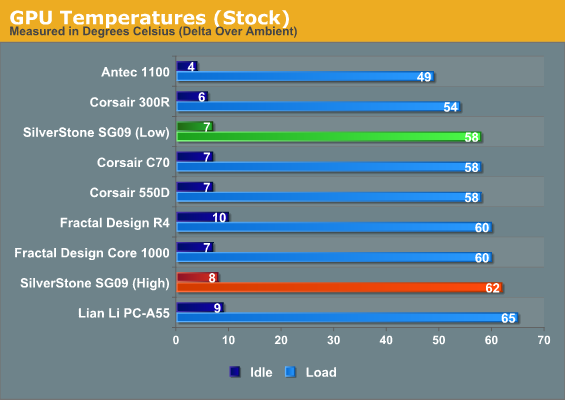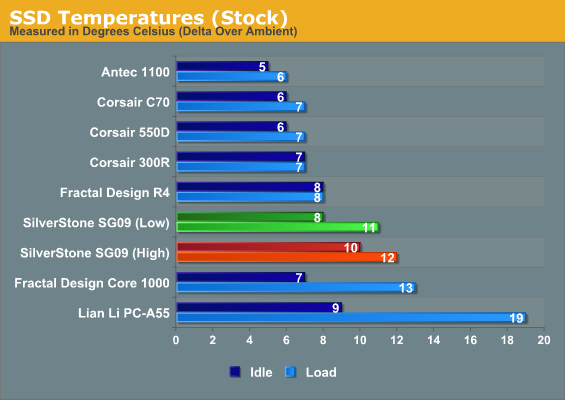 Storage thermals aren't great; that's not surprising, something had to give. Graphics thermals are okay, but the CPU thermals are fantastic. I have some theories about the video card but I'll save them for later; for now, it's worth noting that raising the fan speed of the top intake fan actually increases temperatures for certain components, sacrificing efficiency elsewhere for brute force in cooling the CPU.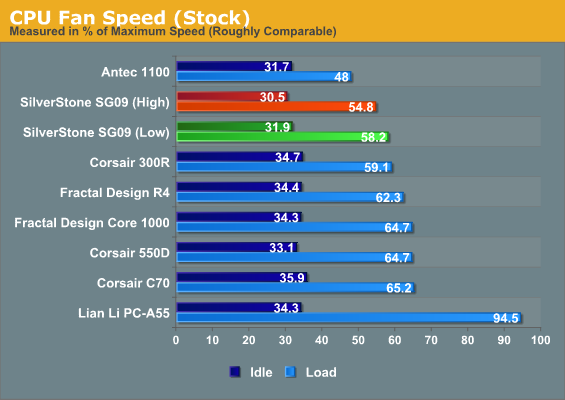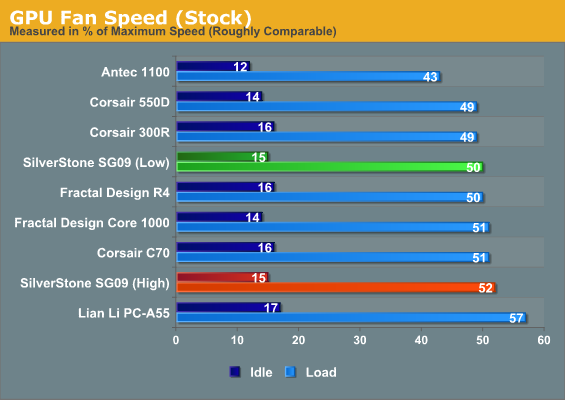 As you can see, you don't gain much headroom on the CPU running the top intake at a high speed, and in fact you actually lose some on the graphics card. I suspect this is due to the cooling design of our testbed video card, and I imagine the SG09 may be better suited for blower-style coolers given the position of the intake fan on the side of the case.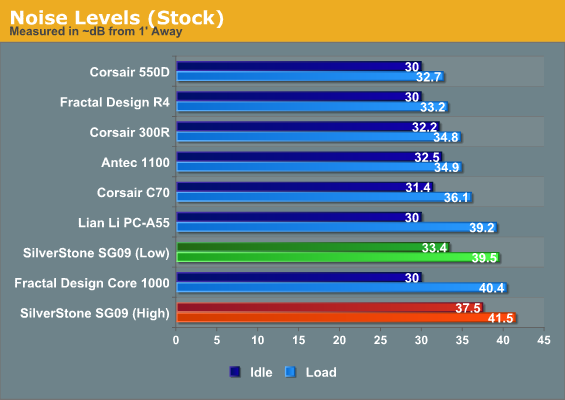 Unfortunately without any fan control for the exhaust fan or side intake, the SG09 is frankly on the loud side. SilverStone is using their Air Penetrator fans all over the case, and while these fans are fantastic at their job, they can produce a decent amount of noise without some kind of fan control. Given the thermal headroom available in the SG09 it may be prudent to install an expansion slot-based fan controller and dial down the fans.
Noise and Thermal Testing, Overclocked
SilverStone seems to have done an excellent job engineering the Sugo SG09 for CPU cooling, but graphics card cooling in our stock testing wasn't the revelation the processor side was. They've almost proved that you can still have a very small system with great thermals (admittedly sacrificing some thermal performance on the storage side), so how well did the SG09 handle our higher voltage overclocked testbed?
Just as well, as it turns out.
Testing was again done at an ambient temperature of ~23C with the top intake fan at both low and high speeds.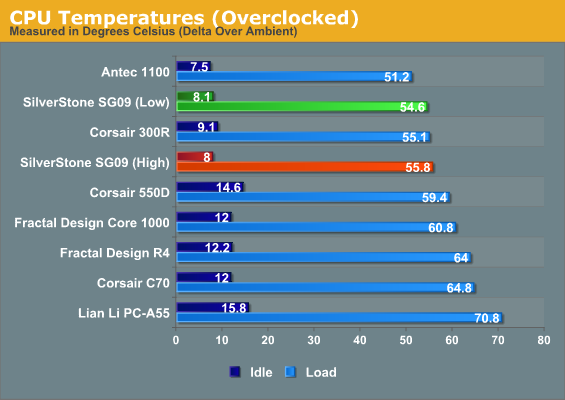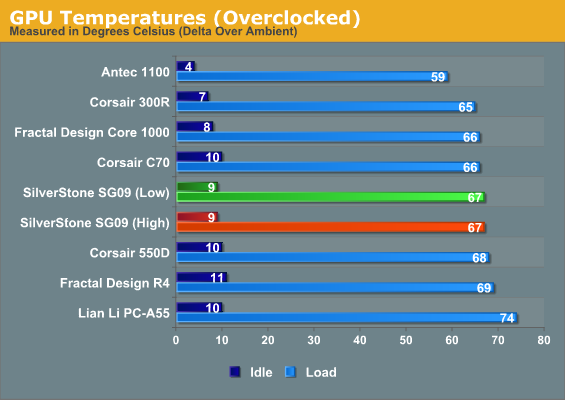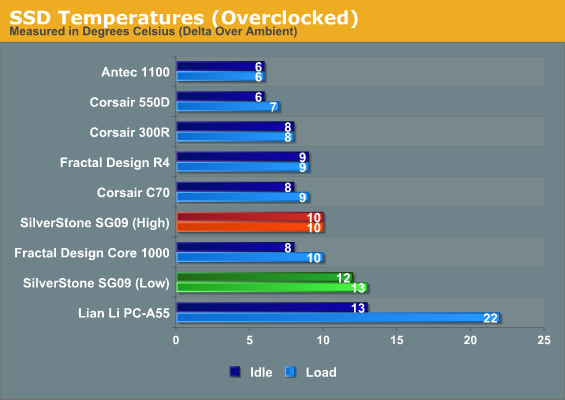 Graphics card temperatures are competitive, but they're not exceptional. Meanwhile the CPU temperatures continue to impress; the 180mm intake fan's low fan speed actually seems to be enough to basically saturate the cooling potential of the heatsink itself, as raising the fan speed offers virtually no improvement in performance.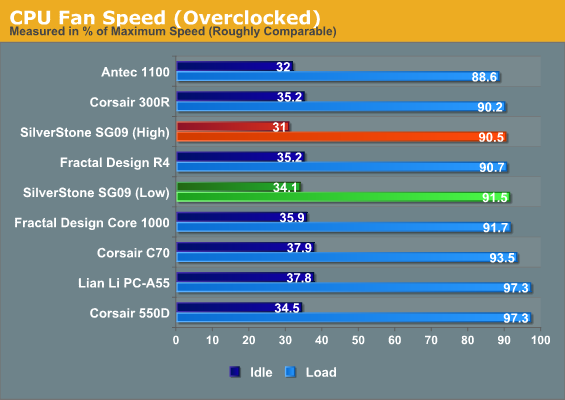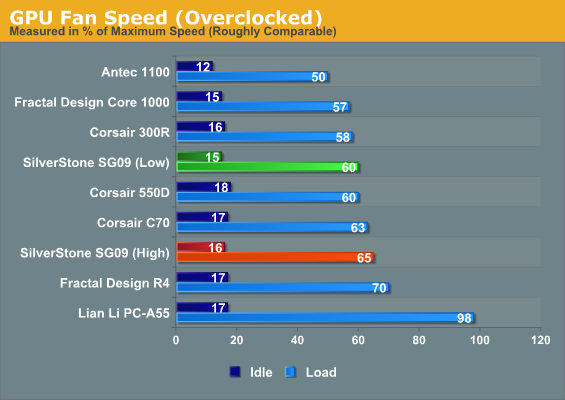 Again, fan speeds are competitive. The reviewer's guide promises the SG09 is equipped to handle high performance, high heat components and by and large that seems to be true.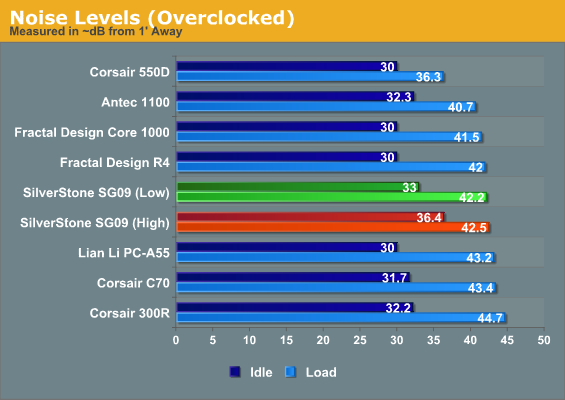 Unfortunately the case is still, frankly, kind of noisy. It does better here where overclocking pushes noise levels harder, but I continue to strongly suggest installing a fan controller. It's obvious the SG09 has a substantial amount of cooling power on tap, so the prudent thing would probably be to get system performance where you want it and then find a good balance between thermals and noise.
Conclusion: Great Potential, But Needs Care
I've typically been of the opinion that for builders, Corsair cases are generally novice level while more experienced users can try their luck with SilverStone's more specialized enclosures. That continues to be true with the Sugo SG09, where it's clear to me that while the case is fine for a fairly general build, it needs a little more care to really shine.
Let's hit the positives first. The Sugo SG09 is able to cram a substantial amount of power in a very compact space, and not only that, it can do so without producing serious heat issues. I have reservations about the use of substantial amounts of mechanical storage in the space behind the motherboard tray (as well as reservations about even using a 3.5" drive in general), but for a couple of smaller drives the temperatures should be perfectly reasonable and well below drive spec. At the same time, the top intake fan, even at low speed, does an incredible job of keeping the CPU cool. Overclockers looking for a great case to work with may be surprised to hear me recommend the SG09, but there you have it. Graphics cooling performance is competitive at best, but I suspect the SG09 may benefit more from a graphics card with a blower style cooler.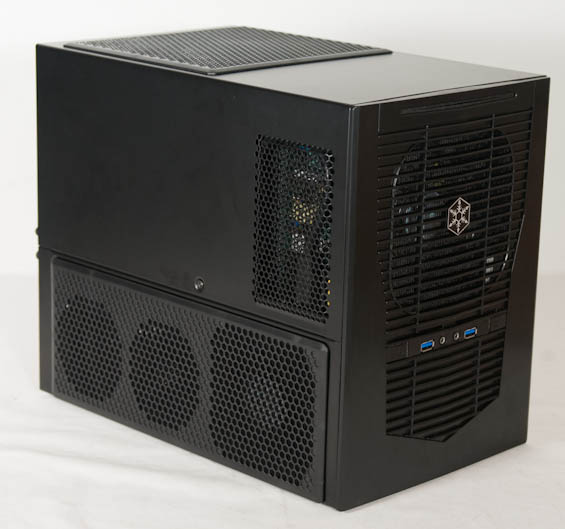 Of course, that gets into the SG09's essential "flaw." Building quibbles mentioned previously notwithstanding, the SG09 really needs you to cherry pick components to perform at its best. I think that makes it an excellent choice for boutiques looking to offer a distinctive build, but end users looking to build will have a slightly tougher time. Slot-loading slimline optical drives can be a pain to source for a reasonable price, and there's the added expense of having to use 2.5" drives as well. You'll also want to get a SilverStone modular PSU like the one I tested with here along with the shorter cable kit, and a fan controller is most definitely in order to get the most out of the SG09. As you can see, these things add up.
When all is said and done, though, I'm convinced you can put together a pretty awesome build with the SG09, and SilverStone has done a great job engineering this case for performance. I don't have the price tag on hand just yet (will update when I get it), but if it comes in at less than $100 it'll at least be competitive despite the allowances you should ideally make for it in your component selection. They seem to be pretty proud of the SG09 and it's easy to see why. Recommended.
Update: SilverStone let me know the SG09 is running $99, which is totally reasonable.