Original Link: http://www.anandtech.com/show/6386/samsung-galaxy-note-2-review-t-mobile-


So I have a confession to make. What seems like an eternity ago, I received a Galaxy Note review unit for AT&T, but never quite finished my review. While the reasons for that were no fault of the device and rather the result of some other personal failings, I spent a lot of time with the original Note really trying to size up the experience of using the world's first smartphone that crossed over into tablet territory — a so-called "phablet." If anything, the original Galaxy Note drove home for me just how dangerous it can be to make conclusions about a handset or mobile device before you've held it in your hands.
There's this constant tug of war in the tech space between making a quick conclusion based on what evidence and data is laid out before you, and waiting a week, a few weeks, or even a month and then writing in hindsight looking back how the whole experience turned out. In the smartphone space, the pace is even more rapid with week long review cycles or shorter, and thus we see many trying to draw conclusions based on form factor, display size, and lots of speculation. For me, the original Galaxy Note roughly defined an upper bound for mobile devices that are still ultimately pocketable, and I was surprised just how easy it was to grow accustomed to. The original S Pen showed up right around the height of the draw something app craze, and the result was a ton of attention to a device that many initially criticized for its size and inclusion of stylus.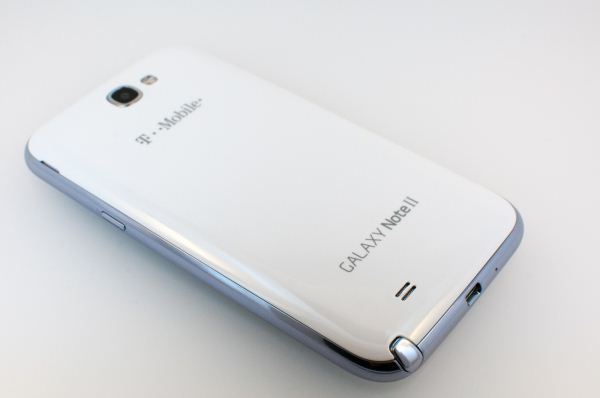 The story today however is about the Galaxy Note 2, which I've been using for one solid week now. Subtract out the time spent battery life testing, and it's really only a few days, but my experiences and thoughts about the Note 2 really mirror those that solidified with the original Note and the Note 2's smaller sibling, the Galaxy S 3. It's an upper bound for smartphone size, but ultimately the right one, if your pockets can handle it.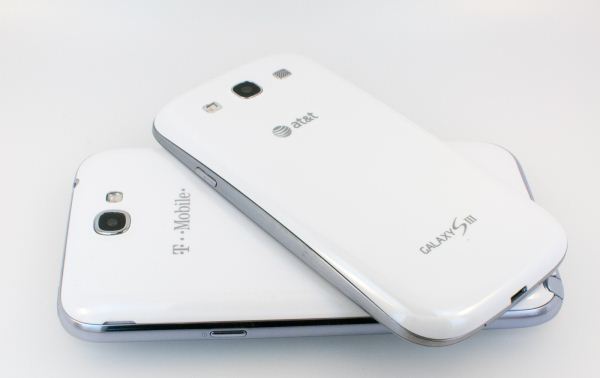 I like to start reviews with aesthetics since first impressions are critical, and here the Galaxy Note 2 unsurprisingly shares industrial design language very closely with the Samsung Galaxy S 3. Compared to the original Note, the Note 2 has even larger radii rounded edges, and the same water droplet slash polished river stone shape of the Galaxy S 3.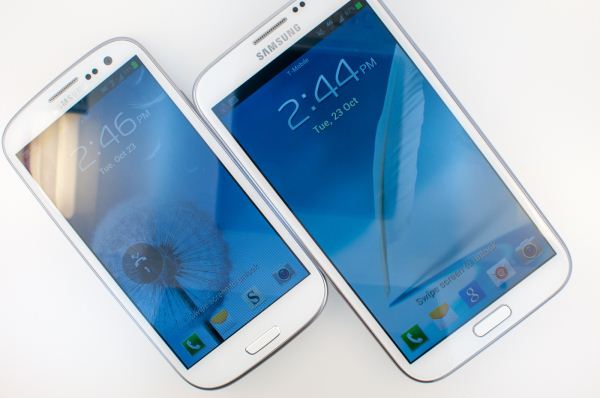 Like the Galaxy S 3, Samsung has managed to get the hardware home button and three-button layout in general on US devices. I was sampled a T-Mobile Galaxy Note 2, but this appears to be the case across the board for the Note 2. On the front it's easy to see the similarities between those two devices — they share the same front facing camera, ambient light sensor, and notification LED positions, and at the bottom the same three-button organization with a physical home button. Display size has also increased from 5.3-inches diagonal to 5.5 inches diagonal with the Note 2, and resolution is now 1280x720, more on that in a moment in the display section however.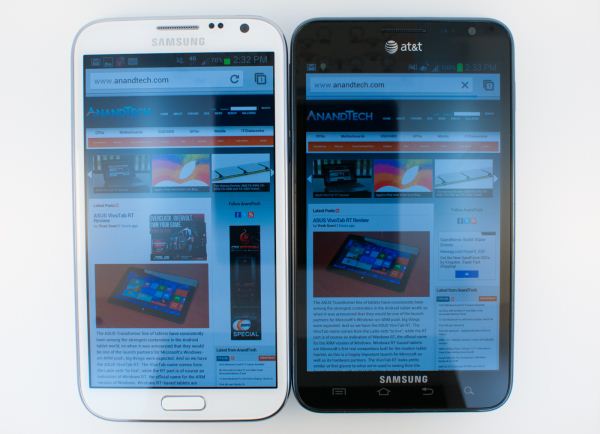 Galaxy Note 2 (left), Galaxy Note (right)
The outer lip of the Galaxy Note 2 is the only real departure from the industrial design set by the Galaxy S 3, as this isn't the somewhat faux-brushed looking plastic material with a varnish layer on top, but instead a scratchy chrome. I know there are big cultural differences associated with the appeal of this chrome ring, but I really wish the Note 2 had done away with it or at least made it less tacky like the Galaxy S 3 managed.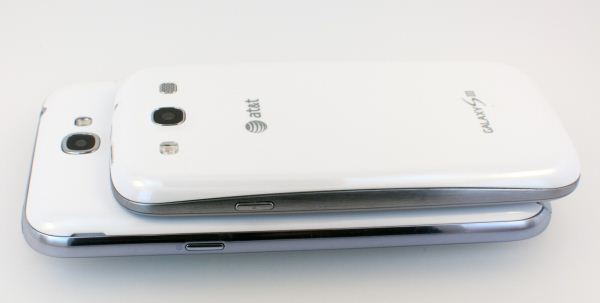 Samsung continues locating the microUSB port at the bottom, and to the right of that is the larger improved S-Pen which we'll talk about in a moment. The rest of the buttons I don't really even need to talk about, they're standard Samsung fare in both placement and feel, which is great.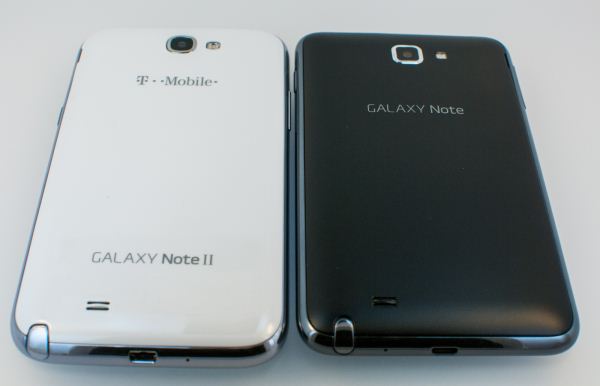 Side by side with the original Note not too much has changed at a high level, except the Note 2 is slightly taller, narrower, and thinner. The original Note felt very square to me, the Note 2 feels much more like a blown up Galaxy S 3.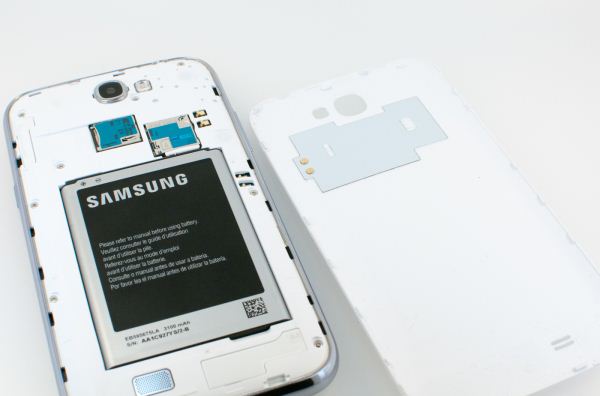 Samsung continues to be one of the last remaining OEMs stalwart about including a removable battery door which covers the battery, microSIM, and microSD card. The microSD support goes to SDXC standard, which means up to 64 GB cards are accepted in the Note 2. Battery also gets a significant boost, with both cell chemistry going from 3.7 to 3.8V, and overall capacity in mAh from 2500 to 3100 mAh. The result is an effective capacity boost from 9.25 watt-hours to 11.78 watt-hours, almost 30 percent larger.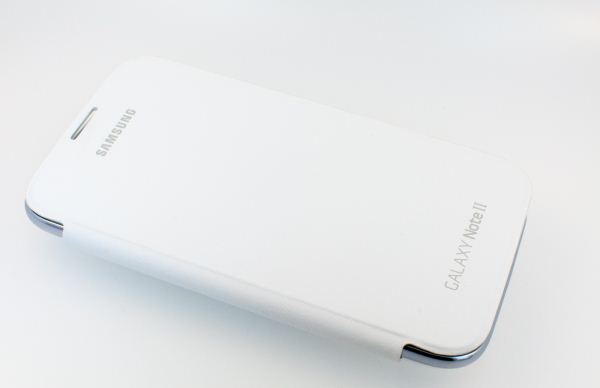 The Note 2 likewise comes with a lineup of flip covers that replace the battery door completely and have a soft lint-free felt material that cleans and protects the display, and a pleather top side. I grew accustomed to using Galaxy S 3 this way, and seeing it continue to the Note 2 is definitely welcome. Samsung gets the value of having a consolidated accessory lineup, and the Note 2 continues that by making the flip covers compatible with all the Note 2s the same way the flip covers were interchangeable between international and USA variants of the Galaxy S 3.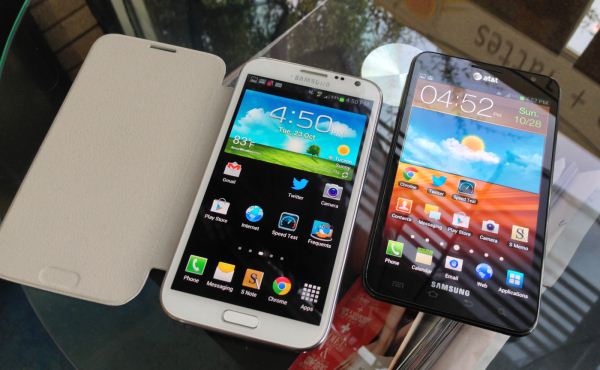 Galaxy Note 2 with flip cover open (left), Galaxy Note (right)
There are a total of seven flip cover colors to choose from this time around. In addition Samsung also has started making a first party protective cover with rubber around the edge that is designed to protect against impacts and drops. I wasn't sampled one but did get a chance to play with one, and it looked decently beefy.
The Galaxy Note 2 I was sampled was the Marble White variant, though there's also a Titanium Gray model. In addition Samsung is banking on users to buy flip covers to change the primary exterior color of their device if they so choose.
So we've talked about the high level appearance and industrial design of the Galaxy Note 2, but I think the question on everyone's minds is what it's really like to use such a large, nearly novelty-sized phone. As I noted in the introduction, I have no problem pocketing the Note 2, in fact, I have no problem getting the Note 2, a Note 1, and an iPhone 5 all in the same pocket in my jeans or favorite pair of shorts. Of course, whether this is something a given individual can pull off is a function of clothing and comfort.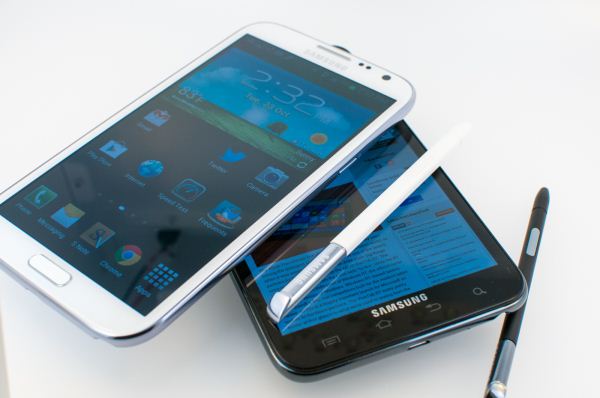 I did mention in the introduction however that I think the Note 2 is something of an upper bound for overall smartphone size. This is really because any larger and it could start to become unwieldy. At present I can palm the Note 2 and hold it securely in one hand, but it really is best used two-handed. The slight change in width and thickness between the Note and Note 2 make it slightly easier to handle, but not dramatically so. The biggest friction point between the Note 2 and other phones is honestly that going back to them warps your sense of reality — the Galaxy S 3 now feels small (never thought I'd write that in a sentence) and the iPhone 5 smaller still. I guess size is all relative and after a week of adaption to the Note 2, switching back to a smaller device and display for one of my other lines feels downright surreal.
The other reason I believe the Note 2 is an upper bound for size is something a bit more American. I usually place my smartphone in the main cupholder of my F–150 while driving, and I can't think of a more fitting unit of measure than the width of that cupholder. It sounds a bit odd, but the Note 2 is too large to fit inside, it kind of just flops around. If my cupholder can accommodate a 64 fl-oz (1.89 L) double gulp diet coke, but not the Note 2, I think that's saying something profound.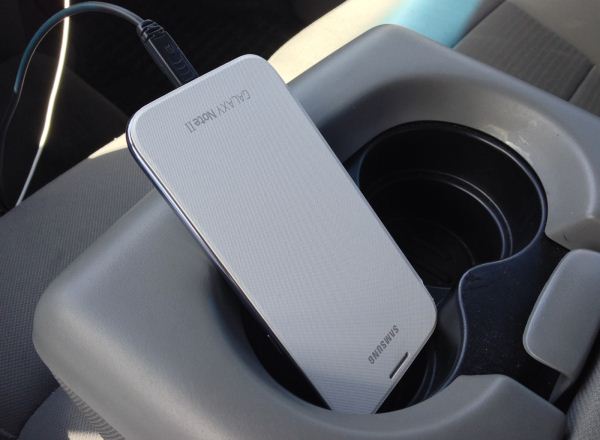 At the same time I've never felt like I was going to snap the Note 2 in half when bending over with it in my pocket. Like the Galaxy S 3, exterior material choice by Samsung would leave you thinking that there's cheap plastic which abounds, but the Note 2 (like Galaxy S 3) actually has minimal flex or play when stressed and torqued around. In addition the design emphasis on lowering mass again makes it even less likely to pop when dropped (less gravitational potential energy U=mgh, less energetic transfer into the case).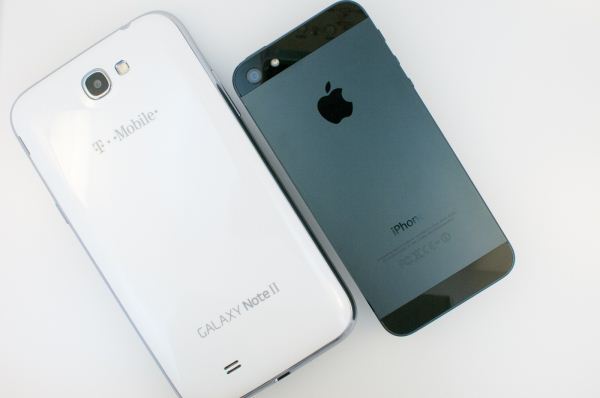 iPhone 5 looks miniscule next to Galaxy Note 2
Jokes about size aside, the Note 2 is indeed quite large, but not unmanageably so. The original Note proved that there's at least one middle point between a 7 inch tablet and 4 inch smartphone form factor that does resonate with people. I fully expect the Note 2 to gain a vocal following the same way the original Note did. There's something about this larger form factor that draws out both vocal approval and condemnation from everyone, but to me that's just an indication that there is still much space for innovation in the smartphone space, and things haven't totally settled down yet.
The original generation Galaxy Note I played with was an AT&T model, and as a result was based around the same platform (I call a platform the combination of SoC and baseband) as the Skyrocket, which was AT&T's SGS2 with LTE. That platform was Qualcomm's Fusion 2 chipset, the very popular combination of a APQ8060 SoC (45nm dual core Scorpion at 1.5 GHz with Adreno 220 graphics) and MDM9x00 for baseband (Qualcomm's 45nm first generation multimode LTE solution). The US-bound Galaxy S 3 variants were built around the successor of that platform, which was Qualcomm's MSM8960 SoC (28nm dual core Krait at 1.5 GHz with Adreno 225 graphics and an onboard 2nd gen LTE baseband). The result was quick time to market with the latest and greatest silicon, improvements to performance, onboard LTE without two modems, and lower power consumption.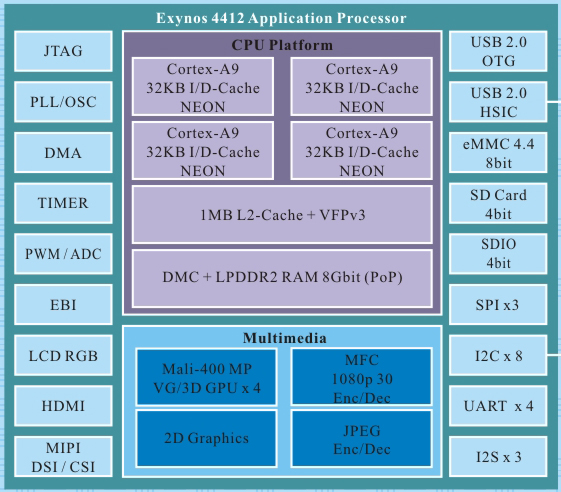 The Galaxy Note 2 does something different, and finally brings Samsung's Exynos line of SoCs into devices bound for the USA where air interfaces are a combination of LTE, WCDMA, and CDMA2000. It's clear that the Note 2 was on a different development cycle, and this time the standalone 28nm LTE baseband I've been talking about forever was available for use in the Galaxy Note 2, that part is MDM9x15, same as what's in the iPhone 5, Optimus G, One X+, and a bunch of other upcoming handsets. If you haven't read our other reviews where I've talked about this, the reason is that MDM9x15 is now natively voice enabled (MDM9x00 was not unless you ran with a Fusion platform), smaller, and lower power than its predecessor. The result is that there's finally a multimode FDD-LTE, TDD-LTE, WCDMA (up to DC-HSPA+), EVDO (up to EVDO Rev.B) and TD-SCDMA baseband out there which doesn't require going with a two chip solution. I could go on for pages about how this is primarily an engineering decision at this point, but the availability of MDM9x15 is why we see OEMs starting to finally ship handsets based around SoCs other than Qualcomm's and also include LTE at the same time.
Anyhow, for a lot of people this will be the first time experiencing Samsung's own current Exynos 4 flagship, Exynos 4412, which is of course quad core ARM Cortex A9s at a maximum of 1.6 GHz alongside ARM Mali–400MP4 built on Samsung's 32nm HK-MG process. To the best of my knowledge, the Note 2 continues to use a 2x32 bit LPDDR2 memory interface, same as the international Galaxy S 3, though PCDDR3 is also a choice for Exynos 4412.
I've put together a table with specifications of the Note 2 and some other recent devices for comparison.
Physical Comparison
Apple iPhone 5
Samsung Galaxy S 3 (USA)
Samsung Galaxy Note (USA)
Samsung Galaxy Note 2
Height
123.8 mm (4.87")
136.6 mm (5.38" )
146.8 mm
151.1 mm
Width
58.6 mm (2.31")
70.6 mm (2.78")
82.9 mm
80.5 mm
Depth
7.6 mm (0.30")
8.6 mm (0.34")
9.7 mm
9.4 mm
Weight
112 g (3.95 oz)
133g (4.7 oz)
178 g
180 g
CPU
1.3 GHz Apple A6 (Dual Core Apple Swift)
1.5 GHz MSM8960 (Dual Core Krait)
1.5 GHz APQ8060 (Dual Core Scorpion)
1.6 GHz Samsung Exynos 4412 (Quad Core Cortex A9)
GPU
PowerVR SGX 543MP3
Adreno 225
Adreno 220
Mali-400MP4
RAM
1 GB LPDDR2
2 GB LPDDR2
1 GB LPDDR2
2 GB LPDDR2
NAND
16, 32, or 64 GB integrated
16/32 GB NAND with up to 64 GB microSDXC
16 GB NAND with up to 32 GB microSD
16/32/64 GB NAND (?) with up to 64 GB microSDXC
Camera
8 MP with LED Flash + 1.2MP front facing
8 MP with LED Flash + 1.9 MP front facing
8 MP with LED Flash + 2 MP front facing
8 MP with LED Flash + 1.9 MP front facing
Screen
4" 1136 x 960 LED backlit LCD
4.8" 1280x720 HD SAMOLED
5.3" 1280 x 800 HD SAMOLED
5.5" 1280 x 720 HD SAMOLED
Battery
Internal 5.45 Whr
Removable 7.98 Whr
Removable 9.25 Whr
Removable 11.78 Whr
The Galaxy Note 2 also is one of the first handsets on the market other than Nexus devices to ship running Android 4.1. This puts it at a definite advantage in some tests as we'll show in a moment, both due to improvements from project butter and what appear to be even newer Mali–400 drivers. I pulled the Note 1 out of my drawer and updated it to Android 4.0.1 and ran all the same tests again.
First up are some of the usual JavaScript performance tests which are run in the stock browser. Anand added a few in, and personally I think we've got almost an abundance of JavaScript performance emphasis right now. Again this is strongly influenced by the V8 JIT (Just In Time Compilation) library bundled with the stock browser on Android. OEMs spend a lot of time here optimizing V8 to the nuances of their particular architecture which can make a substantial difference in scores.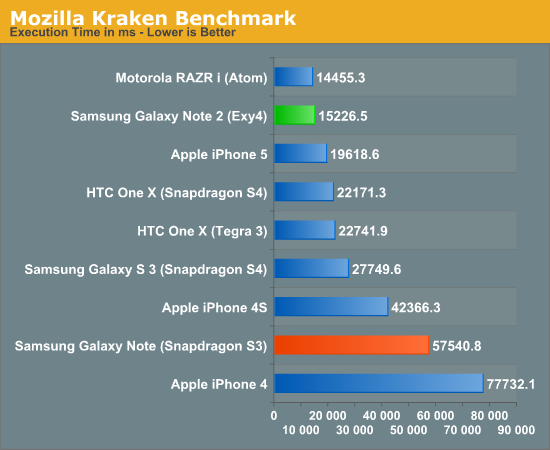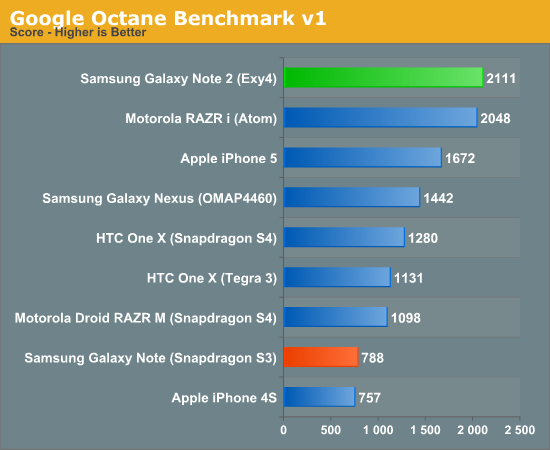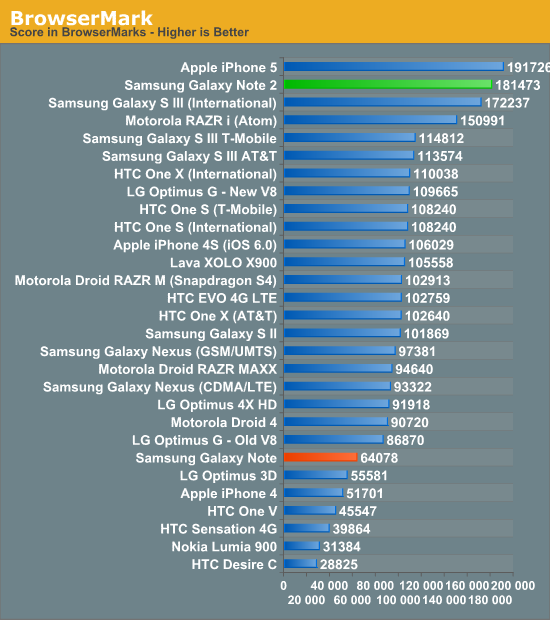 The usual disclosure here is that Android benchmarking is still a non-deterministic beast due to garbage collection, and I'm still not fully satisfied with everything that is available out there, but we have to make do with what we've got for the moment.
Next up is GLBenchmark 2.5.1 which now includes a beefier gameplay simulation test called Egypt HD alongside the previous Egypt test which is now named Egypt Classic. Offscreen resolution gets a bump to 1080p as well.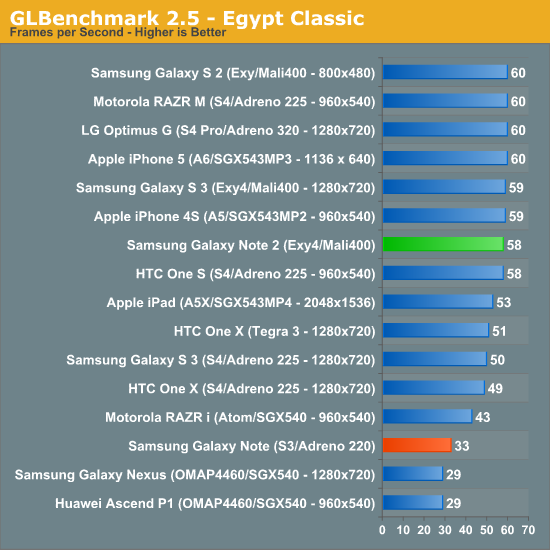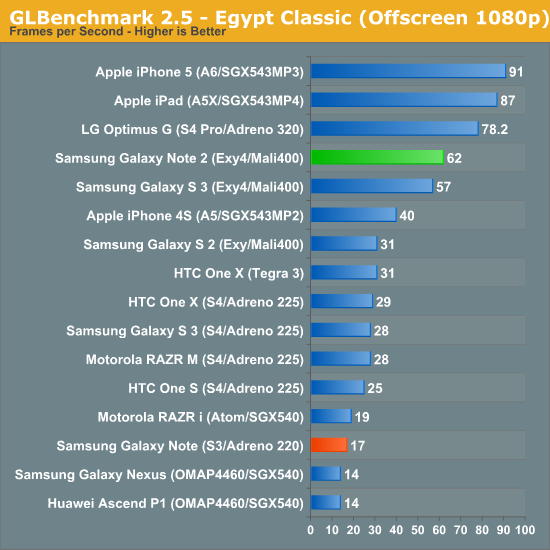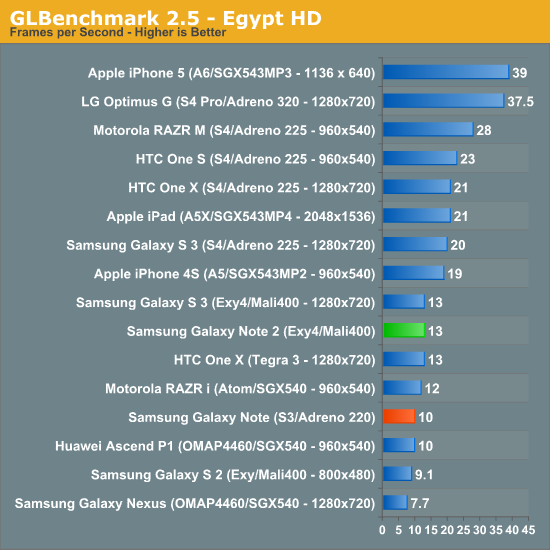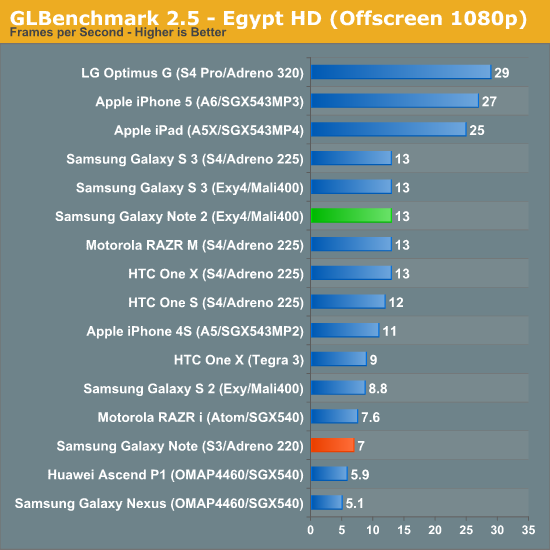 Here we see Mali–400 MP4 performing basically the same as I saw in the International Galaxy S 3 which is no surprise — it is after all the same SoC. Other than a slight bump in the Egypt Classic offscreen performance numbers, there aren't any surprises. We see Exynos 4412 putting up a good fight, but Adreno 320 in APQ8064 is still something to look out for on the horizon. I'd run Taiji as well but we'd basically just see vsync at this point.
Vellamo 2.0.1 is a new version of the previously well-received Vellamo test developed by Qualcomm initially for in-house performance regression testing and checkin, later adopted by OEMs for their own testing, and finally released onto the Google Play Store. This is the first time the 2.0 version of Vellamo has made an appearance here, and after vetting it and spending time on the phone with its makers I feel just the same way about 2.0 as I did 1.0. There's still the disclosure that this is Qualcomm's benchmark, and that stigma will only go away after the app is open sourced for myself and others to code review, but from what deconstruction of the APK I've done, and further inspection of the included jS, I'm confident there's no blatant cheating going on, it isn't worth it.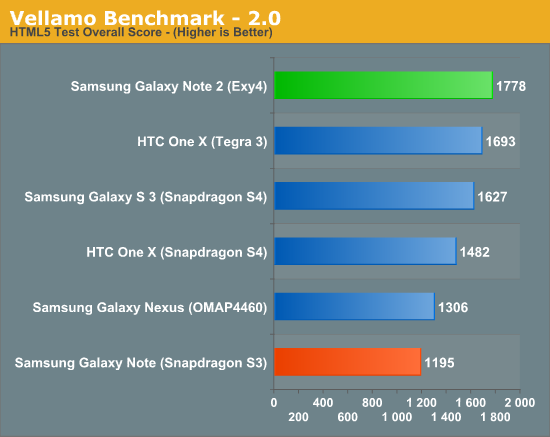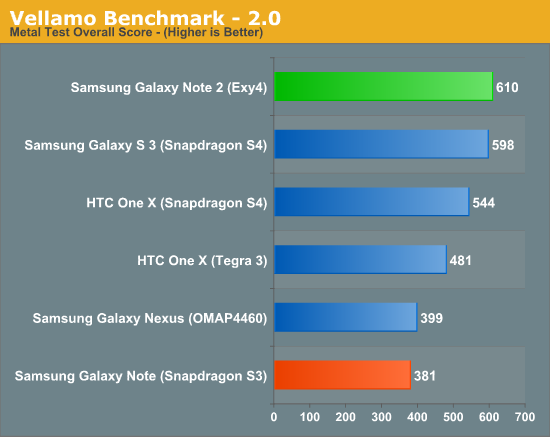 Vellamo 2's biggest new thing is the inclusion of a new 'metal' test which, as the name implies, includes some native tests. This is C code compiled with just the standard android compiler and -o2 optimization flag into both ARMv7 and x86 code. There's Dhrystone for integer benchmarking, Linpack (native), Branch-K, Stream 5.9, RamJam, and a storage subtest.
Exynos 4412 and Android 4.1 is definitely a potent combination, which puts it close to the top if not at the top in a ton of CPU bound tests. My go-to application with lots of threading is still Chrome for Android, which regularly lights up four core devices completely. Even though our testing is done in the stock browser (since this almost always has the faster, platform-specific V8 library) my subjective tests are in Chrome, and the Note 2 feels very quick.
Battery life testing is usually the single most time-consuming part of smartphone reviews at the moment. As noted in the iPhone 5 review, we've changed up our battery life test completely based on what we learned from both previous versions and to help get some aspects under control where OEMs were doing aggressive caching even when they weren't supposed to. The result is this new test which we feel is pretty balanced but still challenging enough to be relevant for a while.
The basic overview is the same as the previous test — we load webpages at a fixed interval until the handset dies, with display set at exactly 200 nits as always. The test is performed over both cellular data and WiFi. The new test has decreased pause time between web page loads and a number of JavaScript-heavy pages. I sat down with some UMTS RRC (Radio Resource Control) emulator tools and also made sure we had a good balance of all the RRC states (DCH, PCH if possible, FACH, IDLE) so we weren't heavily biased towards one mode or the other. There's a lot that went into this, but again the pretense is the same.
Since I have the T-Mobile version of the Galaxy Note 2 I couldn't test LTE battery life. However, T-Mobile runs DC-HSPA+ which is two 5 MHz wide WCDMA carriers aggregated together, so the result is a receive path that looks vaguely similar to 10 MHz FDD-LTE with the same wide LNAs lit up. Of course on the transmit side DC-HSPA+ is still just a single WCDMA carrier for uplink. At the same time as we've shown in previous testing the LTE battery life with this new generation of handsets is often better than the equivalent on 3G since the handset can get back into an idle radio resource state quicker for the same workload.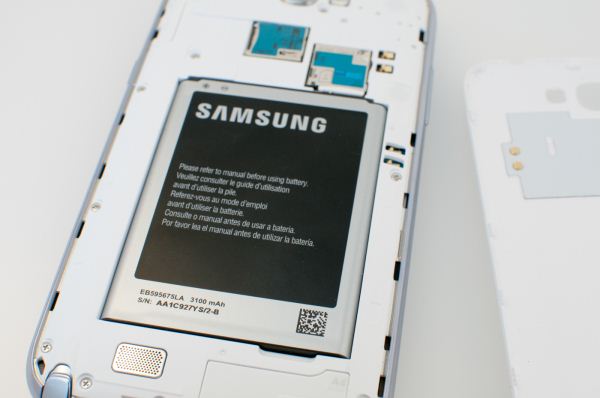 Galaxy Note 2 also has a positively gargantuan battery, at 11.8 watt-hours. This is the largest I've seen yet in a smartphone. For comparison the previous Galaxy Note shipped a 9.25 watt-hour battery, and Galaxy S 3 went with around an 8 watt-hour battery. Powering all that display definitely requires the biggest electron tank the design and form factor can possibly afford.
I should also mention that I'm running the previous generation Galaxy Note through the new test, but it isn't complete in time for the review. I'll add that data in at a later date as soon as it is complete. The same applies to the call test, which is starting to become an unwieldy test at around 12 hours for most new phones. Update: I've added in WiFi and 3G battery life testing results for the AT&T Galaxy Note.
Let's start with WiFi however, where we let the client decide on either 5 GHz or 2.4 GHz depending on its own priority.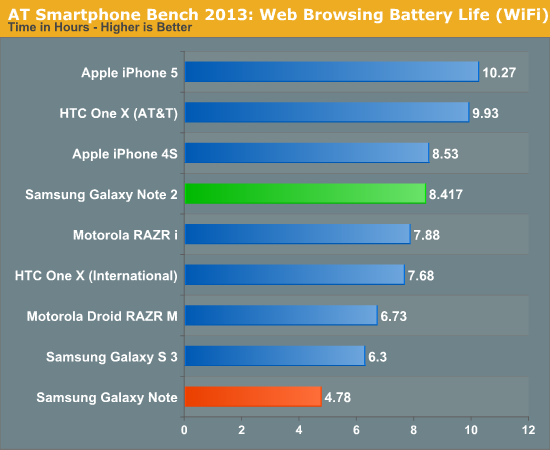 Galaxy Note 2 does pretty well here considering everything it has to deal with, huge battery and the combination of latest WiFi combo chip silicon (still BCM4334) helps the Note 2 last nearly 8.5 hours. This is longer than even the SGS3 in the same test.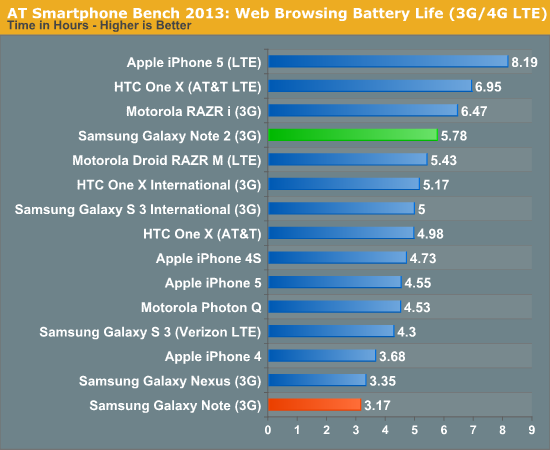 On T-Mobile DC-HSPA+ the Note 2 also does pretty well, it's in the upper third of our results, still above the SGS3, and among other phones I subjectively consider to have great battery life on cellular like the One X (8960). I suspect if I had been able able to get the Note 2 on AT&T LTE (more on that later) we'd see even better run time thanks again to the race to idle advantage that you get with the faster air interface.
My call test isn't done, but from the data I have already, I would extrapolate out a 15 hour call run time for the Note 2. Coincidentally this is exactly the specced call time. I'm not making a graph based on extrapolated data though, that'll have to wait for at least one fully completed run without interruption.
Overall the Note 2 has battery life which isn't compromised by the presence of fast air interfaces or huge AMOLED display, even at 200 nits which is usually a challenge. In my time with the Galaxy Note 2 out and about I wasn't want for a charger or top up once, even with Dropbox set to auto upload photos as I captured them which usually nukes devices even with the most impressive of stamina. Again I fully expect that the handset on other carriers with LTE will last even longer than the numbers I managed to get out of the Note 2 on T-Mobile DC-HSPA+.
Besides its sheer size, the other headlining Note 2 feature is – as the name implies – the ability of the Note 2 to serve as a notetaking device leveraging a real active digitizer by Wacom. The previous Note also used a Wacom digitizer, Note 2 improves on these features by including a better pen, better software stack with more features, and enabling functionality made possible through the hover detection implicit in Wacom's tech.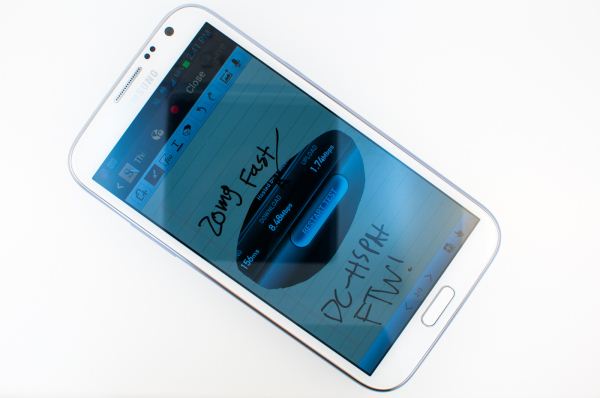 The original Note was initially criticized for bringing back the stylus. The reality is that an active digitizer is much, much more powerful than the styli of the past which primarily were designed to work with resistive touchscreens. I'm comfortable using a stylus since my mobile device addiction began that way, first with Palm OS, later Pocket PC and then Windows Mobile, all of which relied heavily on the use of a stylus. As a result, using the Galaxy Note 2 with a stylus is second nature, if a bit of a surreal trip back in time.
First off, the Note 2 changes up the S Pen a bit. The pen is now slightly girthier than its predecessor, and no longer cylindrical but rather a slightly asymmetric oval shape. The result is that it sits better in the hand than the predecessor, and can only slide into its storage port in one orientation. Getting the shape of the pen right is hugely important for precise writing, and the smaller styli tend to trend toward a flatter shape like this one, while those that emulate a larger pen go more cylindrical like those in a tablet PC. Like the original, there's a button on the pen for making crops and clips. I'm used to thinking of the button as a right click gesture, but I'm again strongly colored by tablet PC habits. Hold this down, and you can lasso a selection of what's on the screen on the Note 2 for annotation, saving to the gallery, and so forth without having to take a screenshot of the whole screen.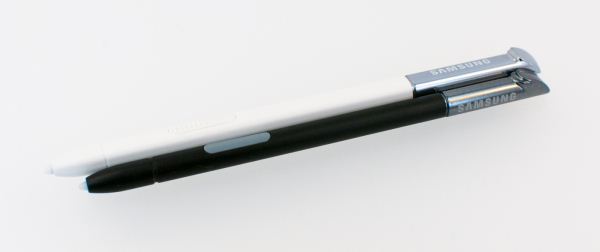 Galaxy Note 2 Stylus (white), OG Galaxy Note Stylus (black)
Like the past Note (and all Wacom based digitizers) users can of course bring their own digitizers as well. I used to do exactly that with the Tablet PCs I owned in the past, and although I'd imagine it would be a little weird carrying around one of those pens for a smartphone in theory you could do it. In fact, Samsung will sell you an S Pen with eraser for around 40 USD, as the supplied pen doesn't have an eraser functionality built in when flipped upside down.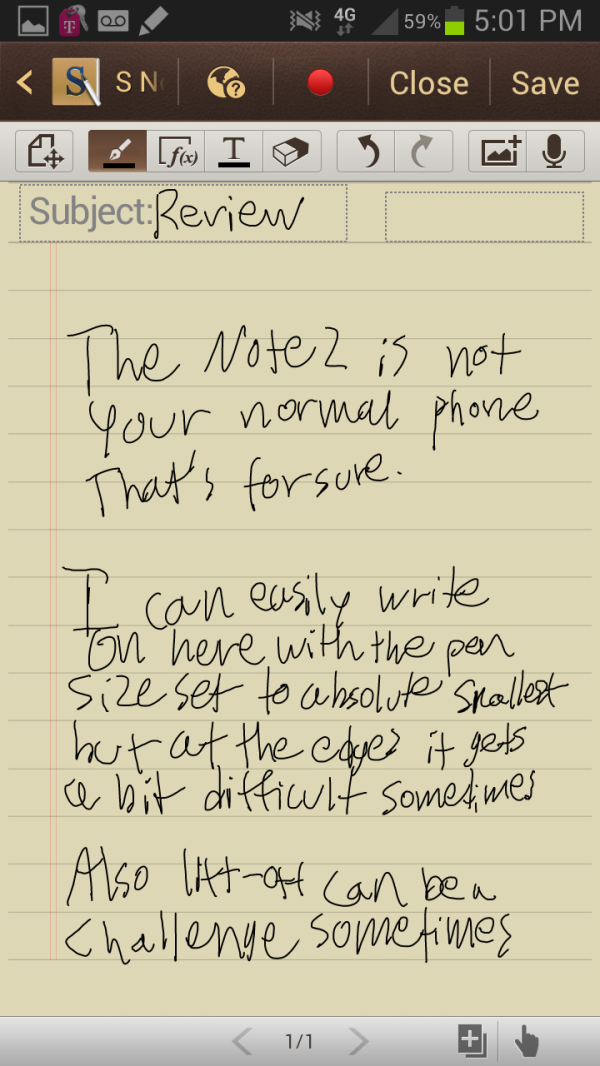 Air View is hard to demonstrate, but you get a circle above where the pen is currently. Forgive my atrocious handwriting as well.
The other big new feature is one Samsung calls Air View, but really this amounts to a hover visualization when the pen tip is held within about a centimeter of the display. I'm told that the original Note also had this (it's a Wacom feature) but was never visualized because the sensitivity range was just over a half centimeter. With the larger range on Note 2 it now made sense to add hover features wherever possible. The email app will show a preview if you hover over messages, the first party video player shows a thumbnail when scrubbed over, galleries expand to show a preview of the contents, and the stock browser also leverages and exposes hover actions to relevant pages.
I have to say that I'm very impressed with Samsung's Android implementation which leverages the active pen (of course, ICS and onward has had active digitizer API support) but nevertheless it's impressive to see how nicely this works. The combination of Android 4.1 and Exynos 4412 helps the stylus really stick with UI elements in a way that almost seems better than normal capacitive touch events at times.
S Note is Samsung's supplied note taking app which leverages every part of the S Pen, and it's surprisingly well done. I have to admit that the first S Note really felt like a rough outline of what a notetaking application needed to be. I took four years of undergrad notes in Microsoft OneNote, and truly learned to appreciate how much good software can make or break digital notetaking. Of course the other possible use for S Note is drawing, but I'm not very artistically inclined.
The S Note interface includes some of the basic organization elements I'd say are requisite for real note taking — Folders, notebooks, and pages. The app comes with a few preconfigured folders and notebooks, with content paginated in pages inside those notebooks. Tapping a the button at top left begins and stops inking, and tapping the button on the pen within hover range changes between inking and erase. The drawing mode includes 5 different pens, a size slider, and different colors. The handwriting tracking speed is absolutely fast enough to keep up with my writing, my only gripe is that lift-off tracking is a bit slow sometimes, but that's a problem I have had with a lot of different digitizers over time.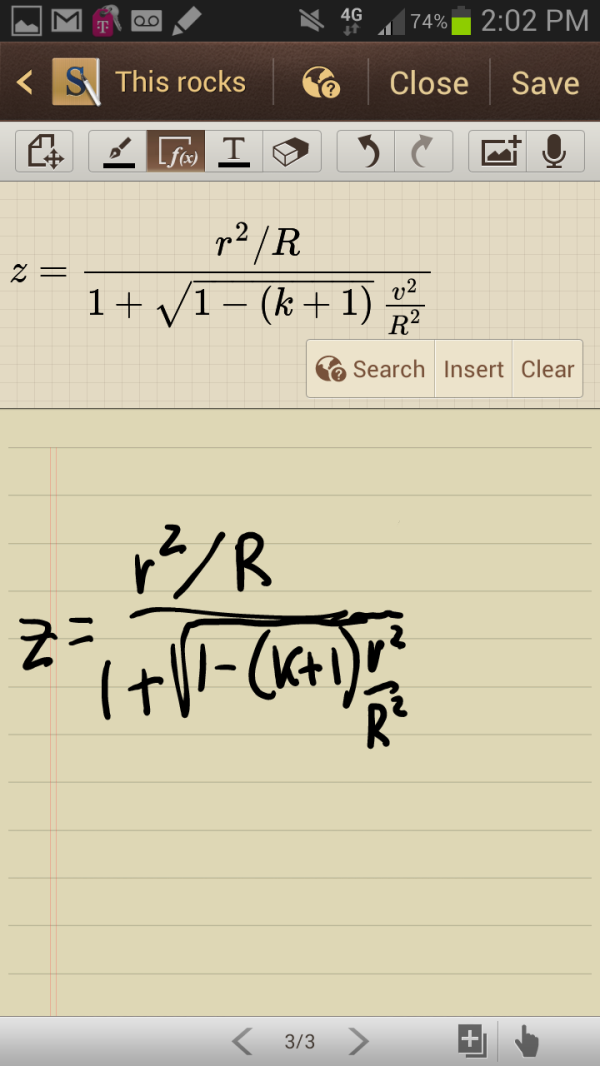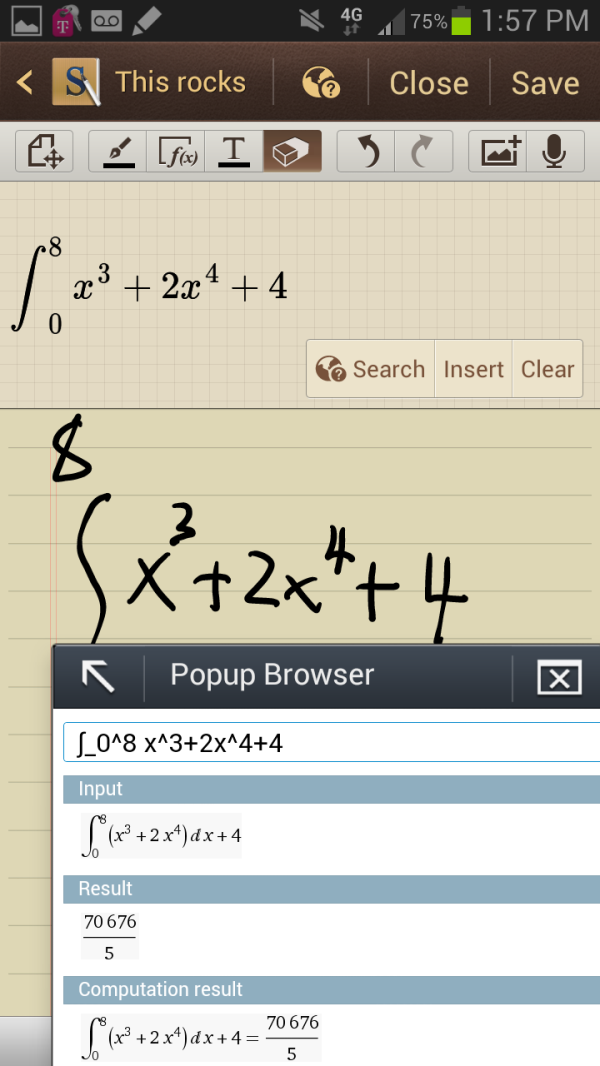 So close to being correct (left), Integral and popup browser with Wolfram Alpha (right)
What I'm very impressed by is the formula match productivity tool, which works surprisingly well. One of the big gripes I had in OneNote way back in the day used to be that it really just couldn't deal with equations at all. I eventually ended up using a mix of LaTeX and OneNote back in the day that worked but only passably so. Tap the formula recognition button, and your inking is parsed and printed out inline as text. I'm actually surprised at how well it's able to handle even what I consider very challenging stuff for a handwriting engine.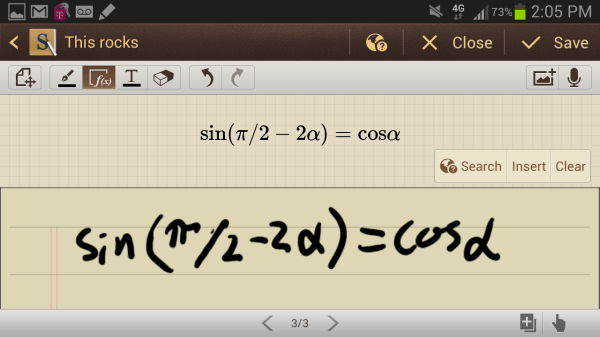 Functions then can be opened in the pop up browser on wolfram alpha, which of course can do things like solve the equation or parse your problem and spit out an answer. This is really a great example of the pop up browser which is a part of the Note 2 software being practical. I could see myself actually taking some engineering notes with this, my only wish is that there were infinite scrolling instead of forced pagination, and that there was an engineering paper grid background option.
The application also lets you record audio while taking notes, ink, of course add straight text using the on screen keyboard, and also do handwriting recognition. Thankfully there are also export to PDF functions for getting your notes out of the application and into an archival and sharing format that other devices talk.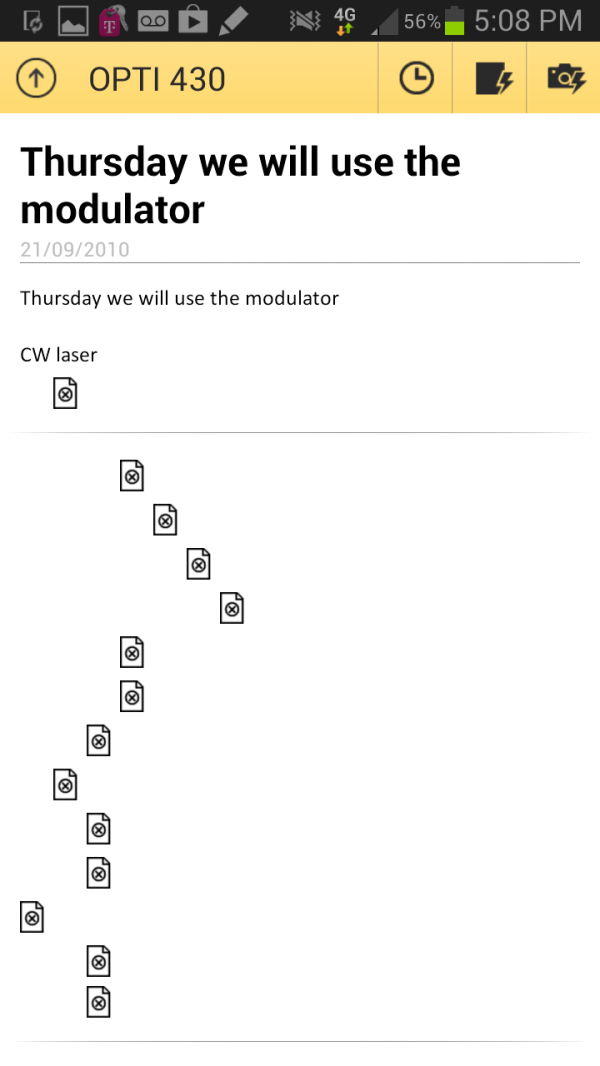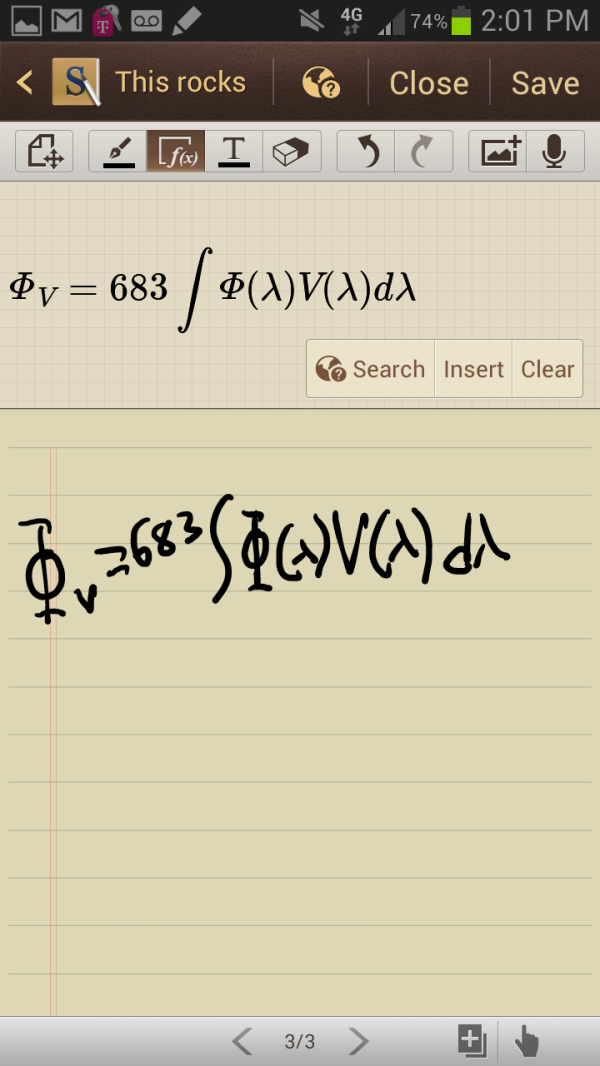 OneNote on Android fails to render any of my old notes at all (left), Impressive (right)
I really wish that OneNote for Android wasn't the steaming pile of poo that it is presently and worked with the active digitizer. I sincerely believe that the desktop OneNote application is one of the best hidden gems in the entire Microsoft portfolio. At present however S Note can get the job done passably well.
I mentioned the pop up browser, this is exposed as an Android intent for hyperlinks everywhere in the OS. It does exactly what it sounds like, pops up an overlay with the stock browser inside that can be moved around or closed. It cannot be resized, the original intention was to use this with the split screen viewing mode that exists on the international Note 2. That functionality isn't in the launch Note 2 firmware but will be coming eventually I'm told. It's a shame that carriers are still standing in the way of features like this for no apparent reason, but at the same time trying to sell their interaction as a value-add.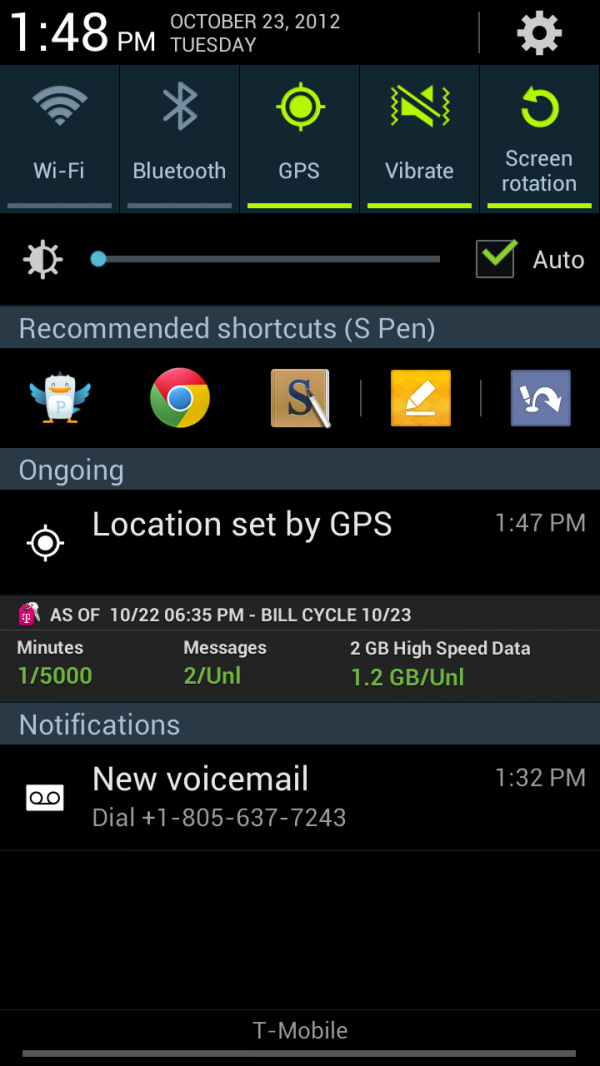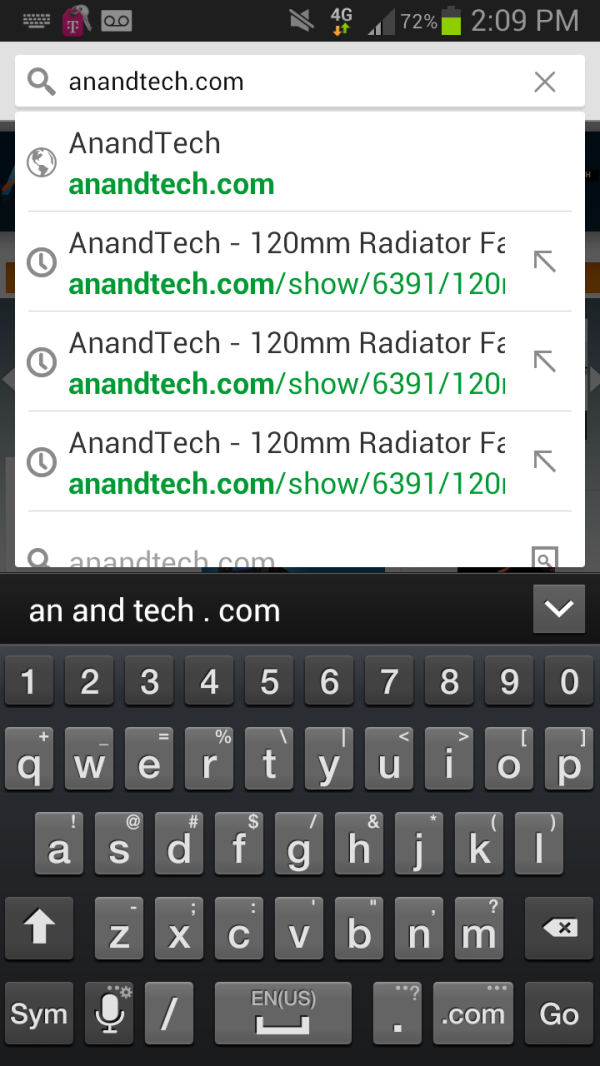 Notification Shade (left), Stock Keyboard with number row (right)
The version of TouchWiz on the Note 2 is largely what I'm used to seeing and is roughly analogous to that which shipped on the SGS3. It honestly isn't very distracting, but then again I'm used to it.
Under settings Samsung has added a few new things. There's a blocking mode toggle which basically is the Samsung equivalent of the do not disturb setting in iOS 6. Under display is another new feature which rotates between landscape and portrait based on the orientation of your eyes if smart stay is enabled. Page buddy is a new context-aware notification shade and homescreen tab feature. The idea is to give quick access to applications that are frequently associated with different states — when the pen is pulled out, when the earphones are plugged in, when the phone is docked, and so forth. It can also be disabled, but the concept is interesting and does make sense — if you have the pen out, you probably want to quickly get into something where you can write.
My last complaint is that like with the original Note, I find myself wishing that the normal capacitive Android buttons also worked with the S Pen. Switching back and forth between the stylus and fingers for using the basic Android interactions is annoying, and really the active region should extend down and include these. This would also mean no physical home button, or one with a detent.
The Galaxy Note 2 is very much an enlarged, slightly tweaked Galaxy S 3, and nowhere is this more evident than the camera system. In fact, after lots of digging I've determined that almost all of this is exactly the same as the Galaxy S 3, which isn't a surprise at all. Samsung has tweaked the camera UI and added features, and compared to the Note there's definitely a marked improvements, but for Galaxy S 3 users the experience is entirely the same.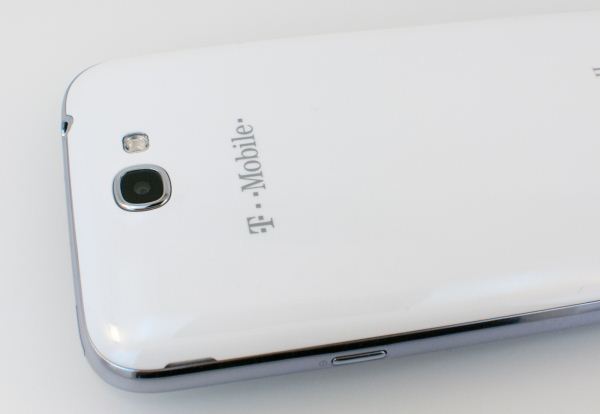 To start, the Galaxy Note 2 uses the same 8 MP S5C73M3 CMOS as Galaxy S 3 on the rear facing camera, which is a CMOS which on paper has specs up to par with the competition. There's no official disclosure about this part, but people still know about the specs. Optical format is 1/3.2" which is very common right now, 1.4µm square pixels, and of course the sensor is backside illuminated. From what I can tell the optical system on top of that is exactly the same as well, F/2.6 with a focal length of 3.7 mm. From what I've seen of the Galaxy Note 2 camera, performance is as expected basically the same as Galaxy S 3.
Likewise the front facing CMOS is a S5K6A3, also same as Galaxy S 3, which is 1/6" format with 1.75µm BSI pixels and a total size of 1412 x 1412 pixels. Captured images end up being 1280 x 960, F/2.8 with focal length of 2.5 mm.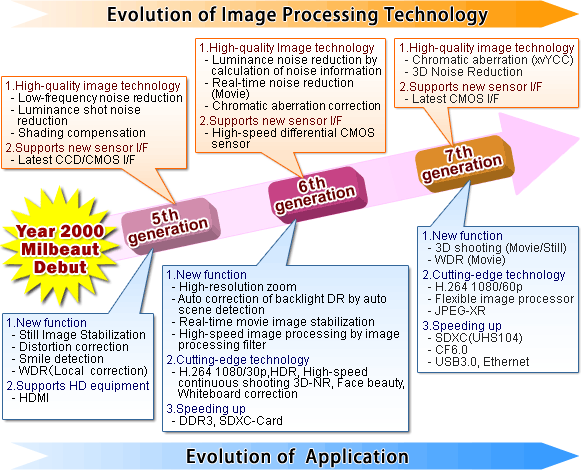 Milbeaut ISP Roadmap
In addition, Samsung continues to use a discrete Fujitsu Milbeaut 5th generation ISP (Image Signal Processor) for their cameras, you see references to this as M5MO throughout. This is the same setup as I saw on the Galaxy S 2, and though I didn't dig into the original Note I bet it's there too since that camera was analogous. There wasn't much of a jump in camera performance between the Galaxy S 2 and 3, it seems as though Samsung is largely content keeping things the way they are this generation, perhaps waiting for the next generation of the Milbeaut ISP or a dramatically different CMOS to come around from Samsung Semiconductor before they mix things up. Meanwhile F/2.6 isn't the most aggressive target for a fast optical system, considering other players are at F/2.0. I think Samsung expects those interested in a smartphone with emphasis on camera to go after the Galaxy Camera or something.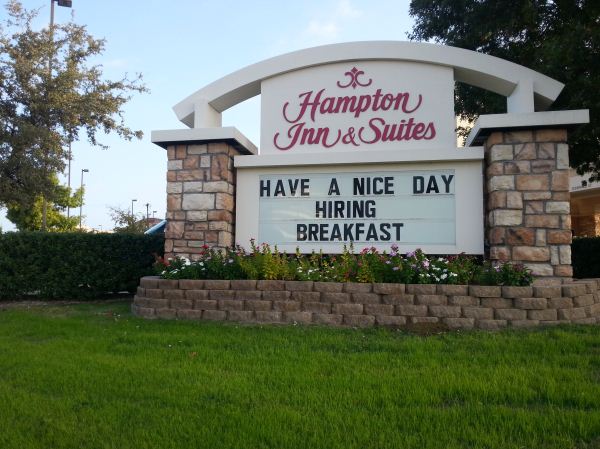 This sign just comes off sounding so sarcastic (sample Galaxy Note 2 Photo)
To evaluate still image quality we turned to our standard set of tests which seems to keep growing. That consists of a scene in a lightbox with constant controlled illumination of 1000 lux taken using the front and rear cameras with as close to the same field of view as possible, images of a distortion grid, GretagMacbeth ColorChecker card for white balance checking, and an ISO12233 test chart for gauging spatial resolution in an even more controlled manner. Because I've moved houses and lighting will never ever be exactly the same, I have decided to move the three test charts into my lightbox as opposed to putting them on a wall and illuminating them with studio lights. This warrants a completely new set of comparison images, hence the smartphone 2012 camera bench for the three charts and front facing camera.
There's a lot to go through here, but the test charts tell the most objective story. To me, flipping back an forth between Galaxy S 3 and the Samsung Galaxy Note 2 confirms what I already know, that performance is very similar between the two because they're basically the same system. Locations 3–7 remain in the bench photo locations, and unfortunately due to time constraints I could only get photos on the one day I was in town with some overcast skies and not the usual lighting I like.
Honestly probably the biggest improvement over the original Note is that the center purple colored spot is completely gone as you can see with the following toggle.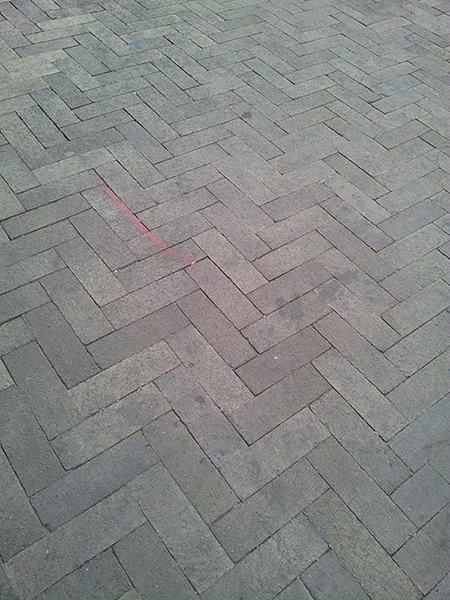 Samsung's camera UI continues to be very comprehensive and offer a wealth of options and shooting modes. I spent a lot of time playing around with HDR, which now has a Normal and Strong mode that adds even more dynamic range with exposures bracketed even further from the center. There are a couple of those in the MISC gallery of camera shots.
When it comes to video, surprise, the Galaxy Note 2 performs like a Galaxy S 3. Samsung has always had good video encode compared to the competition and the Note 2 is obviously no exception. I'm starting to suspect that M5MO is doing the video encode and thus how Samsung is able to keep 17 Mbps H.264 high profile looking so consistent across devices and different SoCs and time. This has been a feature they've touted for some time now and continues here on the Note 2.
Unfortunately I shot my video on the same day I took my bench photos and it was a bit overcast, which doesn't quite match the sunny to very sunny views we've had in previous videos at the test location. Nevertheless despite the lighting changes the rear facing video quality looks pretty sharp to me. Front facing seems soft or undersampled for some reason compared to the 720p video I'm seeing out of some of the other high end smartphones I've recently reviewed.
Users coming from the original Note will also find that they have a much wider field of view on the Note 2 while shooting 1080p video thanks to the fact that the different CMOS and possibly different ISP firmware reads out. It doesn't appear to be a center crop anymore like the original Note took, instead you get the wider but still not totally full field of view behavior of the Galaxy S 3 era camera.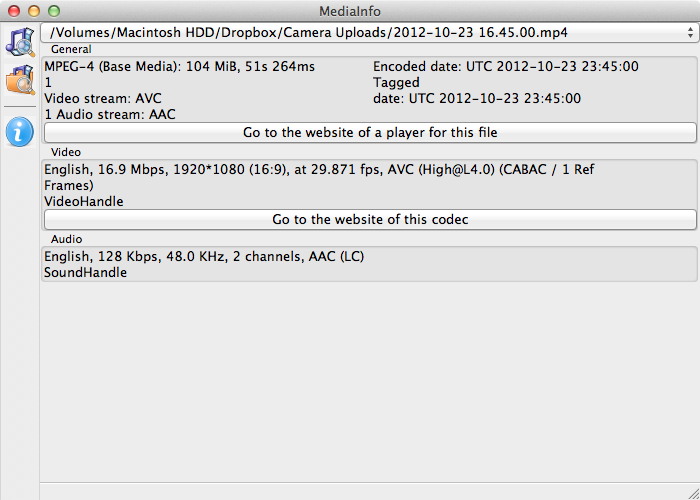 As usual I've uploaded the videos from the front and rear video to YouTube for easy viewing and also provided the original untouched output from the camera in a zip file (167 MB) for your enjoyment if you don't want to view samples through YouTube's x264 transcode blockiness.
So up until now I've felt like the Galaxy Note 2 is really just a larger Galaxy S 3 with an active digitizer. But the 1280x720 HD SAMOLED display at 5.5 inches diagonal is where the Note 2 begins to strongly diverge from that trend. First off, it's bigger than the Note's HD SAMOLED which was 5.3" and 1280x800.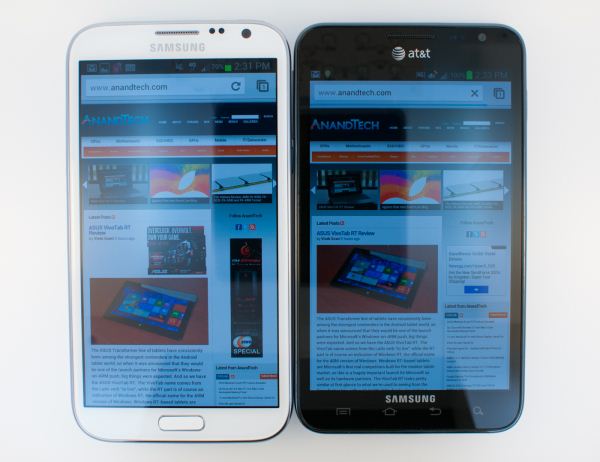 Galaxy Note 2 (left), Galaxy Note (right)
When I heard that Samsung was going to be doing a Note 2, I originally suspected that they would use the original Note's display in conjunction with the hardware platform I outlined earlier. Instead, Samsung has gone with an entirely new revision of HD SAMOLED yet again for the Note 2, one that represents an interesting middle ground between a traditional RGB stripe like you'd see on an LCD and the RG BG Nouvoyance PenTile tech that we've seen countless times and iterated through a few different geometries to date.
With Galaxy Note 2, Samsung has gone with an entirely new subpixel rendering matrix, which I've heard was going to be called S Stripe. Instead of the previous PenTile tech which used two subpixels per logical pixel (either RG or BG), this new subpixel geometry uses 3 subpixels per pixel (RGB) but with a green subpixel above the red subpixel and a long vertical blue subpixel.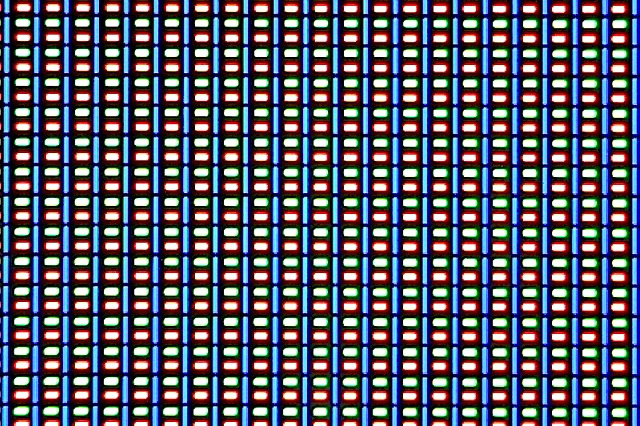 The reason for this change in geometry has always been an interesting one. The blue material has a lower luminous efficiency than the other colors, and thus requires either a larger area or higher drive power to match the equivalent green and red luminance. This is why you hear people saying the blue subpixel ages faster — sure, at the same size it ends up burning out faster due to this lower efficacy.
The mitigation is thus to craft a matrix that allows for a nonuniform geometry, and this one brilliantly does it without the tradeoff in longevity or loss of spatial resolution from going to two subpixels per pixel. The tradeoff that does get made is that subpixel smoothing only really gets two pixels to turn off - the blue, or the red and green unit. In the past the display driver could handle the RGBG unit cell and do font smoothing, from what I've seen the above is how the new one works as well.
I'm not complaining, this is a great tradeoff and makes sense for the resolution and size that Samsung has selected for the Note 2. Going with a PenTile RGBG layout at this size would not be desirable, instead the "S Stripe" layout runs with subpixels small enough that I can't see them. It's tempting to look at the 1280x800 of the Note and the 1280x720 of the Note 2 and assume it's lower resolution, when in fact the Note 2 has more subpixels (2.05 MP vs 2.76 MP) and in spite of the size increase stays around the magical 1 arcminute subtense (1.073 arcminutes on Note 2).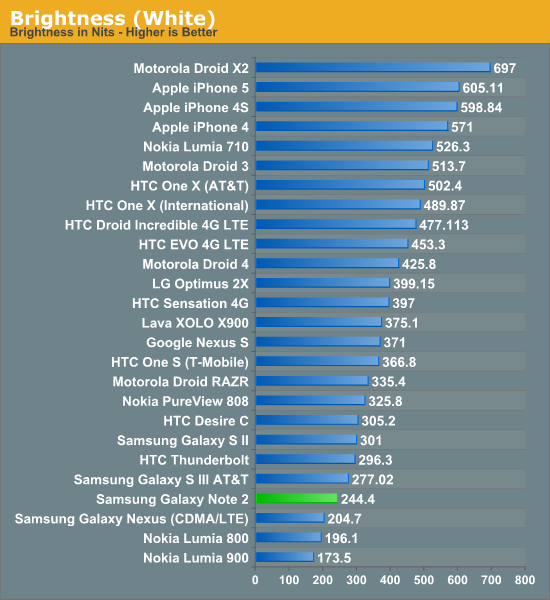 The Note 2's brightness unfortunately isn't that high, but like always Samsung makes up for it with huge contrast from the black subpixels being almost entirely dark. I have a feeling this is still being very conservative for the panel for battery life concerns and to minimize both aging effects and burn-in.
Next up is color accuracy and calibration, where Samsung AMOLED has traditionally been very oversaturated — which looks vibrant and draws customers in at stores — but results in inaccurate rendering. We're using Chris' new suite here which is in CalMAN 5, I touched on the details in the iPhone 5 review.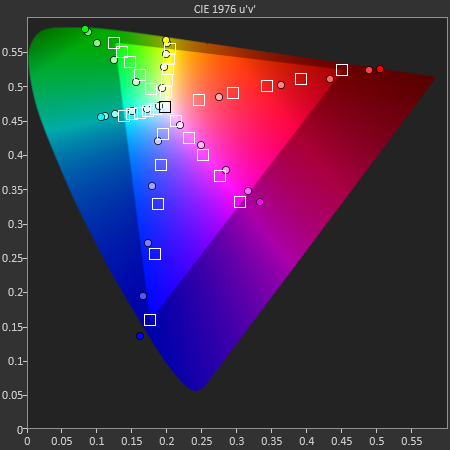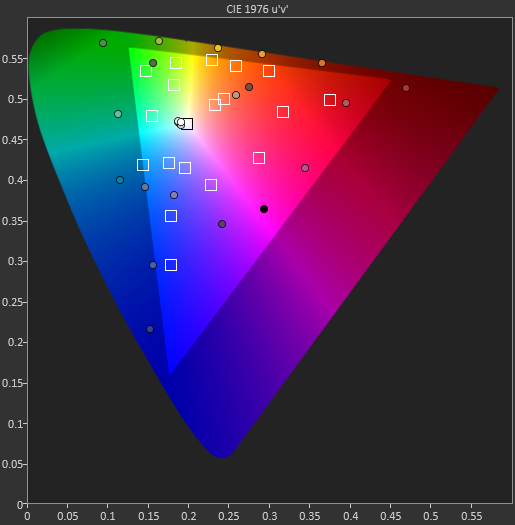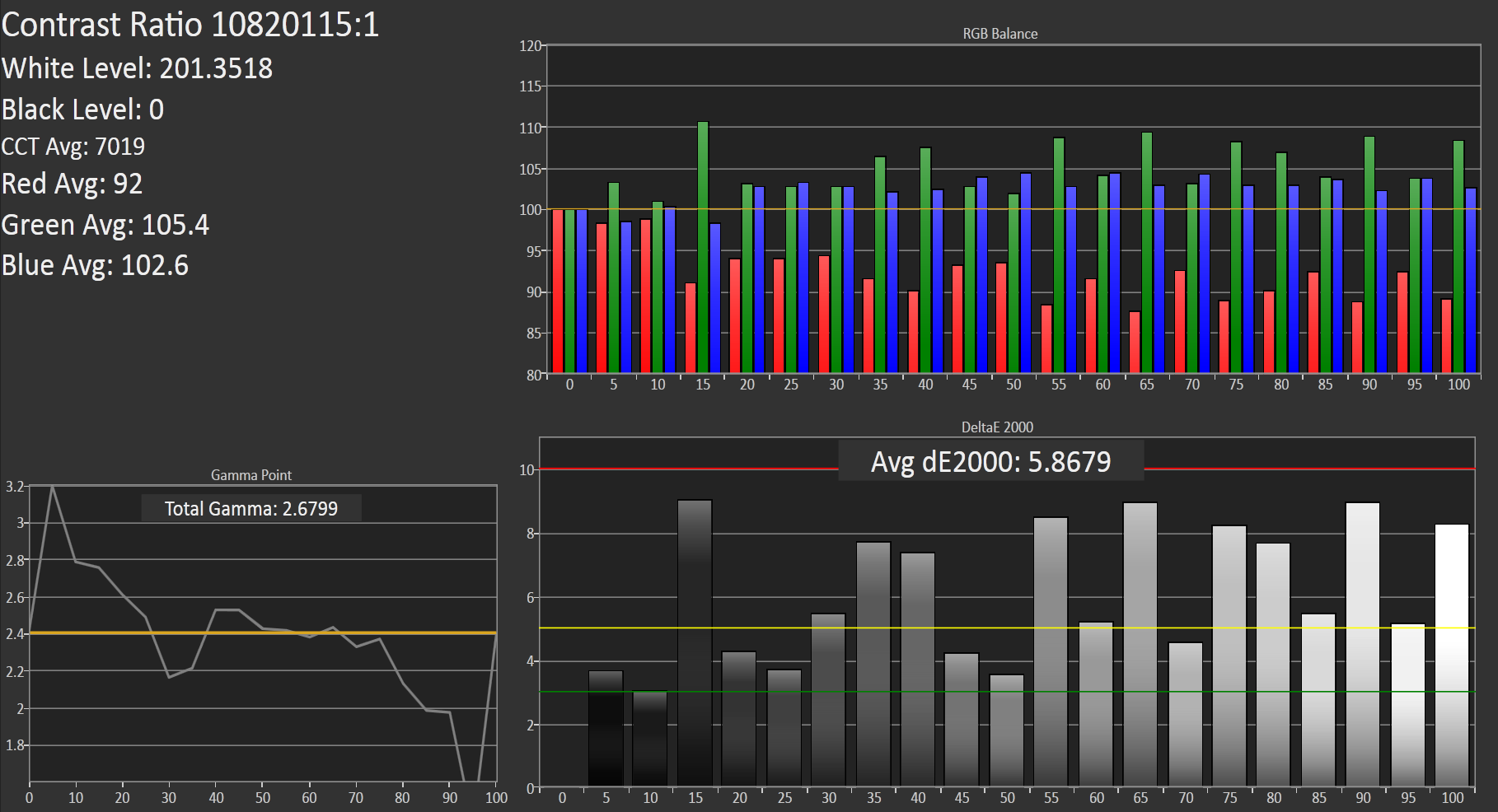 Our target is sRGB, as Android doesn't have a CMS, and the Galaxy Note 2 doesn't stop the trend of SAMOLED having a gamut much larger than sRGB. At the same time however things could be much worse. I also measured the Galaxy Note 2 display at maximum brightness with Francois who said much the same thing - it isn't alltogether bad among SAMOLED displays.
Color temperature at 200 nits is around 7000K but as the blue subpixel wears it will warm up and get closer and closer to 6500K. Overall the Galaxy Note 2 display makes some tradeoffs but ends up being quite appealing. There's still something to be said for how contrasty AMOLED is even if it still is oversaturated compared to sRGB.
CalMAN Display Comparison
Metric
iPhone 5
iPhone 4S
HTC One X
Samsung Galaxy S 3
Samsung Galaxy Note 2
Grayscale 200nits Avg dE2000
3.564
6.162
6.609
4.578
5.867
CCT Avg (K)
6925
7171
5944
6809
7109
Saturation Sweep Avg dE2000
3.591
8.787
5.066
5.460
7.986
GMB ColorChecker Avg dE2000
4.747
6.328
6.963
7.322
8.185
Cellular
I talked earlier about the Note 2 being the first Samsung handset I know of to include MDM9x15. In the case of the T-Mobile Note 2 I was sampled, the device includes MDM9215 which is capable of category 3 LTE FDD and TDD, Release 9 DC-HSPA+, GSM/EDGE, and TD-SCDMA along with onboard gpsOneGen 8A GNSS. I've confirmed that MDM9215 is present without having to disassemble or otherwise tamper with the T-Mobile Galaxy Note 2.
One of the most interesting things about the Galaxy Note 2 on T-Mobile is that it literally is the same hardware as the AT&T Note 2 with LTE. Sure, the model number is different, but the T-Mobile Note 2 includes support for LTE bands 17 (which AT&T uses) and 4 (AWS, which AT&T has specced devices out for and T-Mobile has confirmed it will deploy LTE on). This is to my knowledge the first T-Mobile handset with overt LTE support, and thus a solid future-proof purchase if you're determined to have a T-Mobile handset that will work with the carrier's upcoming LTE on AWS plans.
In addition, if you unlock the handset there's no reason it shouldn't work on AT&T's LTE network that I can see. I managed to unlock the T-Mobile Galaxy Note 2 but not before leaving the AT&T LTE market in Dallas. It does however work as expected on WCDMA 1900 in my own market on AT&T after unlocking.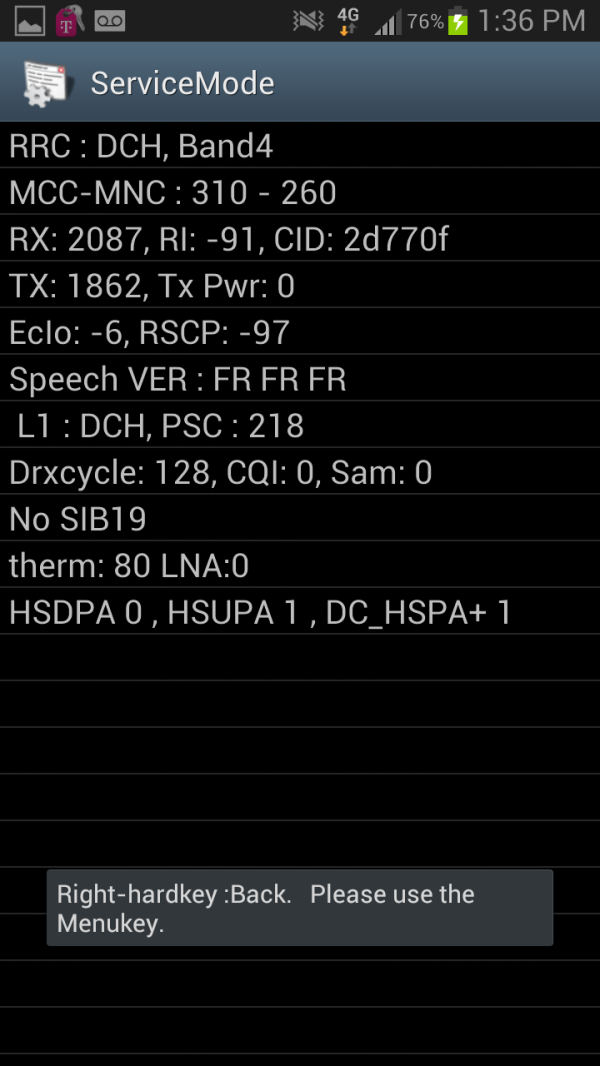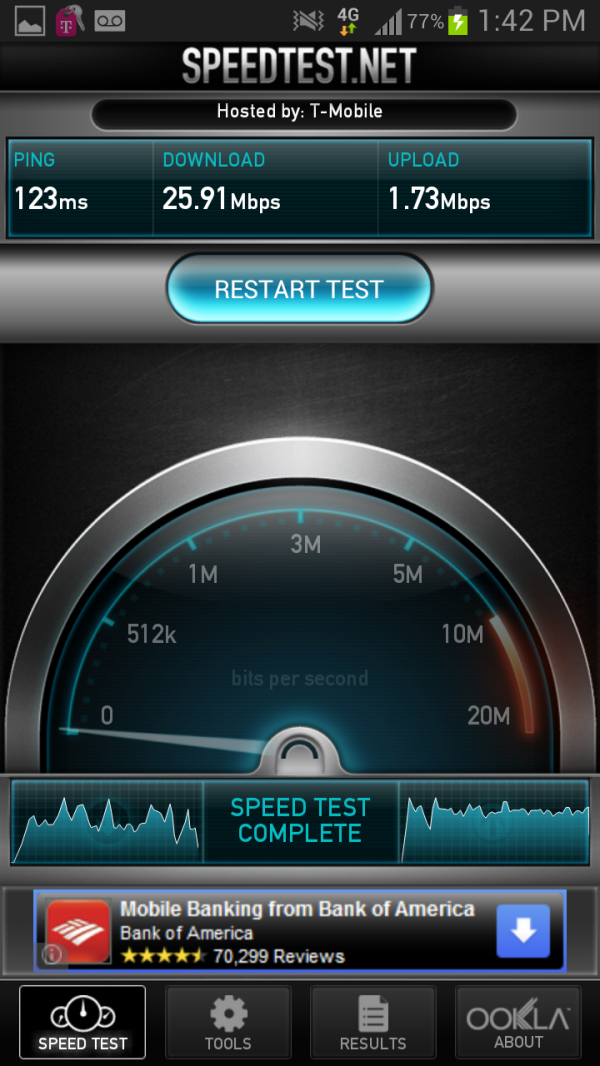 ServiceMode showing DC_HSPA+=1 (left), One of my fastest T-Mobile Tests (right)
As usual Samsung's awesome ServiceMode is on the device and confirms that T-Mobile DC-HSPA+ is working. If you haven't read discussion of DC-HSPA+ before, this is WCDMA carrier aggregation that combines two 5 MHz WCDMA downlink carriers, statistically multiplexes across them, and effectively doubles throughput on the downlink. That gets you from the theoretical maximum of 21.1 Mbps on 64QAM WCDMA up to 42 Mbps on dual carrier at the moment, which T-Mobile does run in its "4G" markets at present. I'm actually a huge fan of T-Mobile's commitment to continually rolling out the latest physical layer upgrades for WCDMA and DC-HSPA+ keeps things feeling very speedy when you're in good coverage and still helps at cell edge. Upstream is still limited to a single WCDMA uplink carrier, but most mobile traffic is so asymmetric to begin with it isn't a huge deal.
Galaxy Note 2 T-Mobile - Network Support
GSM/EDGE Support
850 / 900 / 1800 / 1900 MHz
UMTS/WCDMA Support
850 / 1700 / 1900 / 2100 MHz
HSDPA/HSUPA Speeds
42.2 Mbps (DC-HSPA+ Rel9) / 5.76 Mbps
LTE Support
Band 17 (700 Lower B+C), 4 (AWS), UE Cat 3 FDD-LTE (Up to 100 Mbps DL)
Baseband Hardware
Qualcomm MDM9215 (confirmed) + RTR8600 (?)
Interestingly enough ServiceMode has some hints about there being possibly even more bands, but these are probably for other Galaxy Note 2 variants based on MDM9215 that will pop up or have popped up for other locales.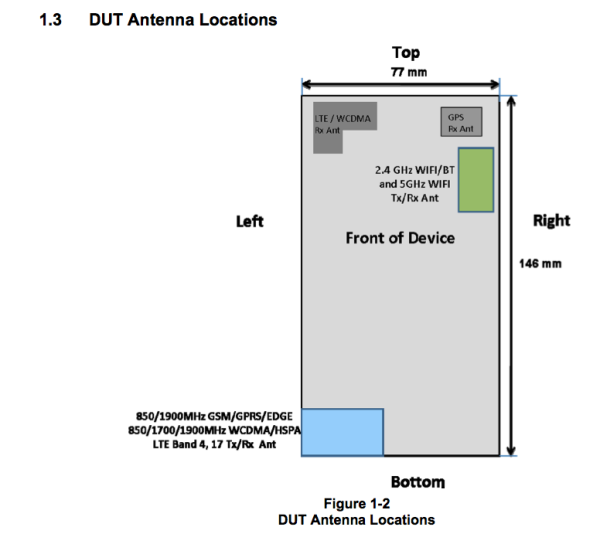 Running speedtests and outputting the results on the Galaxy Note 2 is more of just a sanity check than something very interesting since we've seen dual carrier HSPA+ before. I had to test partially in Dallas, Texas during the Big Android BBQ and partially at home. For whatever reason the conference venue definitely had some T-Mobile propagation issues or loading from all the attendees, but the averages are still decent. I've seen speeds around 25 Mbps down on T-Mobile dual carrier HSPA+ which is pretty impressive honestly.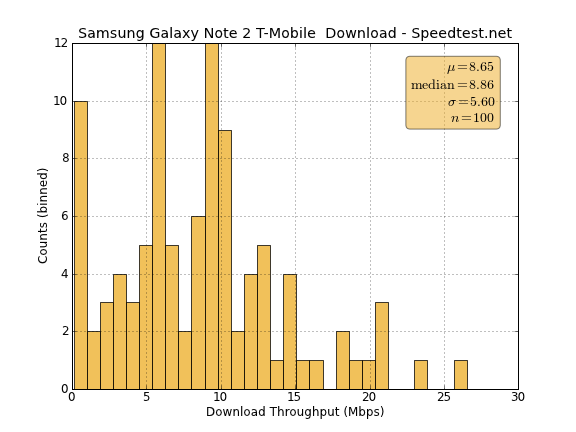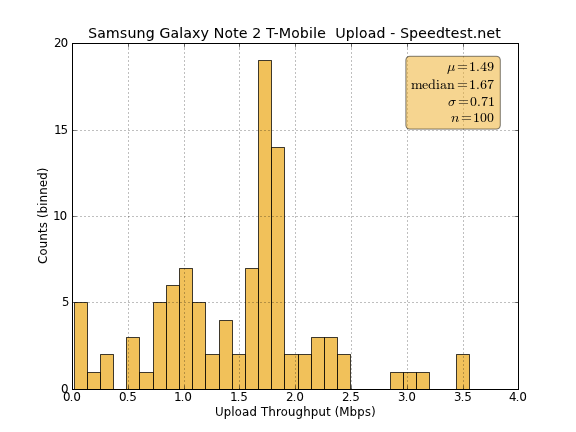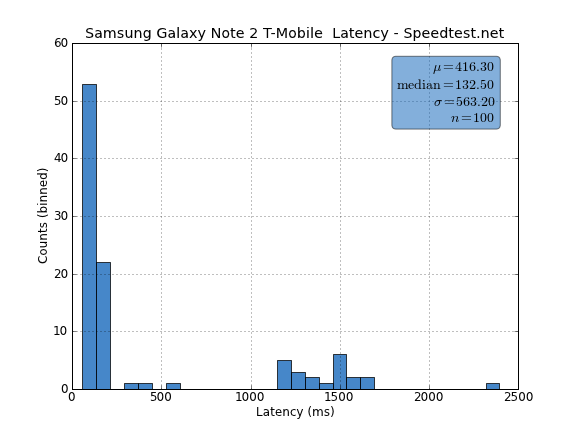 Stats Download Throughput (Mbps)

Avg: 8.65, Max: 26.53, Min: 0.10, StDev: 5.60

Stats Upload Throughput (Mbps)

Avg: 1.49, Max: 3.56, Min: 0.01, StDev: 0.71

Stats Latency (ms)

Avg: 416.30, Max: 2394.00, Min: 57.00, StDev: 563.20
We see a weird double distribution of latency as well since there's some additional setup and negotiation. I suspect getting out of PCH and into DCH results in some of this T-Mobile behavior when using speedtest.net, because tests without letting the radio go into IDLE have very low follow-up latency.
WiFi
The Note 2 uses BCM4334 for WiFi and is enabled for both 2.4 and 5 GHz. Just like the Galaxy S 3 that means 40 MHz channels on 5 GHz for a maximum physical layer speed of 150 Mbps. I did have some weird issues here, no matter what I did I couldn't get the Note 2 to go on the 5 GHz AP, or get up to 150 Mbps.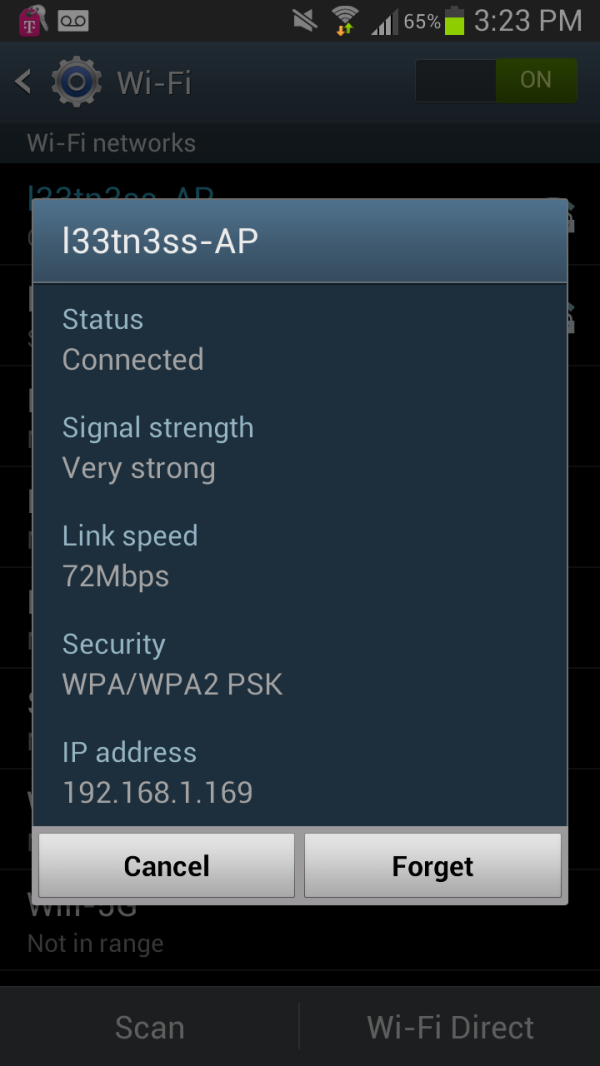 Curiously enough there isn't any 2.4 or 5 GHz priority toggle under the advanced tab in WiFi settings, yet the Galaxy S 3 models have this toggle and the same WiFi hardware stack. I suspect there's some software or configuration issue here.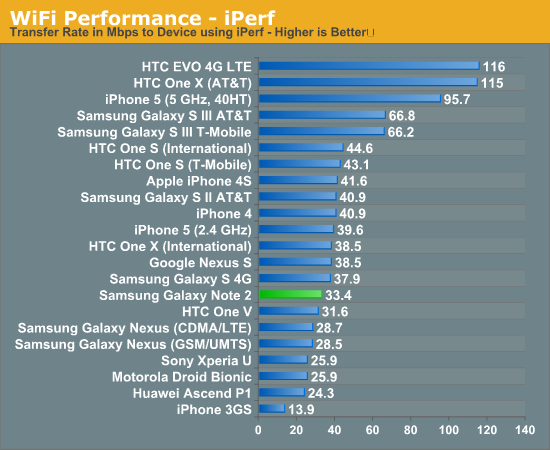 As a result we see iPerf performance out of the Galaxy Note 2 along the lines of what you'd expect for just 2.4 GHz operation. I'm puzzled as to why this is the case quite honestly.
GNSS
There's not really too much to say about GNSS on the Galaxy Note 2 other than that like other MDM9x15 based handsets, it leverages Qualcomm's on-baseband GpsOneGen 8A for both GPS and Russian GLONASS based positioning. Gen 8A includes better LTE coexistence and lower power consumption compared to 8. I tested GNSS and found that locks are speedy and accurate, as expected. I suspect that the days of Samsung phones shipping with flakey GPS are now well behind us.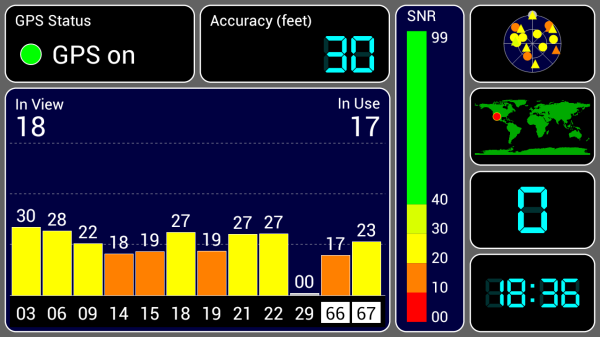 Speakerphone
The Note 2 puts its speakerphone in the same place as the original Galaxy Note, and thanks to the large size of the handset I bet there's plenty of space for a big driver. The Note 2 also includes a new boost mode I didn't see on Galaxy S 3 before that boosts speakerphone output volume considerably.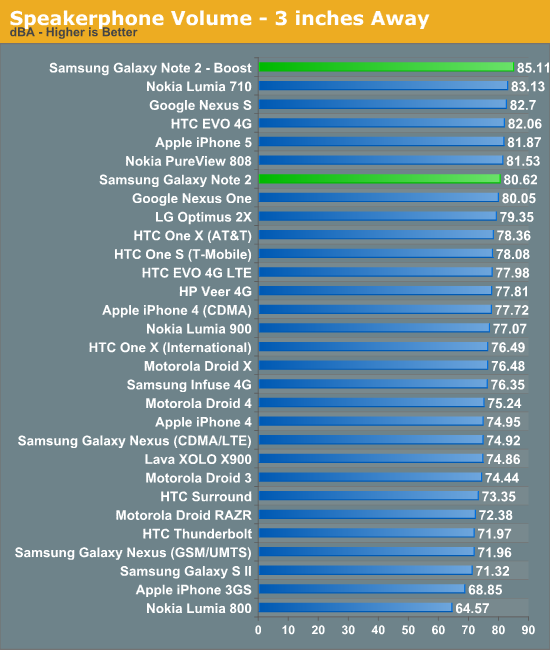 The tradeoff is that there is significantly more saturation and clipping with this mode toggled, but it is very, very loud.
Noise Suppression
Samsung has continually included Audience earSmart processors in its handsets for noise rejection and filtering, and the Note 2 is no exception. Both the original Note, and Note 2 include the Audience eS305 voice processor, though the Note 2 includes newer firmware thanks to its later release date. I'm told that both the Note and Note 2 were interesting challenges due to the extreme size of the handset and just how far apart the microphone pair is — there's one at the very top, one at the very bottom on both models. In addition the T-Mobile Note 2 also has wideband AMR enabled (AMR-WB), which I confirmed inside ServiceMode by poking around. I called between two T-Mobile devices (the Note 2 and my own HTC One S) but it appears as though T-Mobile is still using AMR-NB over UMTS at least as evidenced by the 4 kHz maximum in the below spectral view. Either that or my HTC One S is the limiting factor.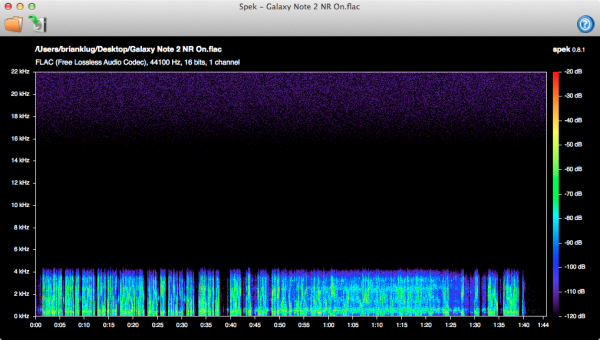 Samsung is unique in that it gives a nice easy way to enable and disable the noise rejection paths by tapping the menu button, so we can easily test with it on and off just to see how much difference it makes. I've been supplied an industry standard babble track that emulates a loud cafe or restaurant, complete with a din of voices, doors opening and closing, and background bustle. I've found that playing this on loop in my office when I want that cafe vibe mitigates the desire to go and pay exorbitant amounts of money for the luxury of distraction, but I digress.
Galaxy Note 2 - Noise Rejection Enabled by AnandTech

Galaxy Note 2 - Noise Reduction Off by AnandTech
Anyhow I went ahead and tested the Note 2 with the babble track at a very loud maximum loudness of 94 dBA which is likely above spec, but a worst case. You can hear a dramatic difference between the Note 2 with the noise rejection turned on and off. I've heard eS305 do even better at rejecting literally all noise on the Xolo X900, but this is our first time using the babble track as opposed to music so my mental comparison isn't quite fleshed out.
Using the Note 2 for a week has forever warped my sense of smartphone size. There's just something incredibly unnerving about picking up a Galaxy S 3 or One X and mentally thinking, 'wow, this feels really small all of a sudden,' but such is what the Note 2 has done to me. There's that ever-present adage about it not always being entirely about size, but in the smartphone space lately it seems as though that conventional wisdom just doesn't apply, as displays across every OEM's lineup are getting larger and larger. My friends (whose wits are more keenly sharpened than mine) have been kidding me about the size of the Note 2 since I started using it, making jokes that would probably get me in trouble if recounted here, and Anand usually lets us all get away with quite a bit. I earlier said that the Note 2 is almost like a novelty check of a phone, and just like I've always wondered whether people really can cash those novelty checks, I wondered how useable the Note 2 would be as a daily driver. Turns out the answer is that it's very usable. The TSA didn't even make me put the Note 2 in a separate bin through the X-Ray when passing through security.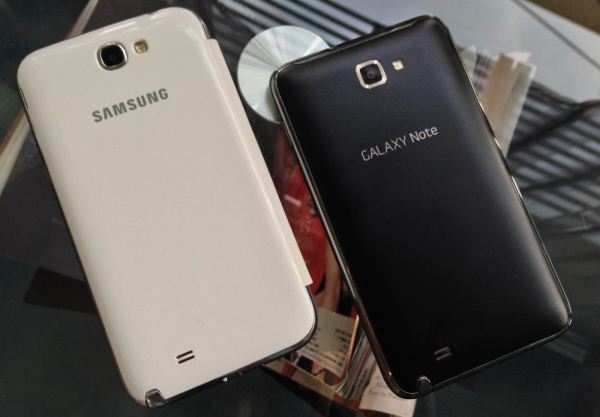 Galaxy Note 2 alongside its predecessor
All jesting aside, the Note 2 is, again, something of a realistic upper bound for device size. This is the extra large that needs to come after large, this is the super big gulp to the big gulp, the stretch limo to just limo. It seems as though wherever you look, large begets at least one more gradation above and beyond, and the Note 2 is that proverbial step in this space. Samsung innovated and took a risk with the original Galaxy Note, and the result was an overwhelming success and huge following. Nailing down the why and how is really something of a market study. One of the biggest factors young tech reviewers like myself forget is that visual acuity does diminish with age as the crystalline lens loses its ability to flex and accommodate, thus reducing how close one can focus. In that case, there's a subconscious (or perhaps very conscious) desire for a phone with the largest display possible simply for the legibility when held at a comfortable distance. That's my own personal speculation for the trend to larger and larger phones. The other is simply as a status symbol or fashion statement, and that needs no explanation.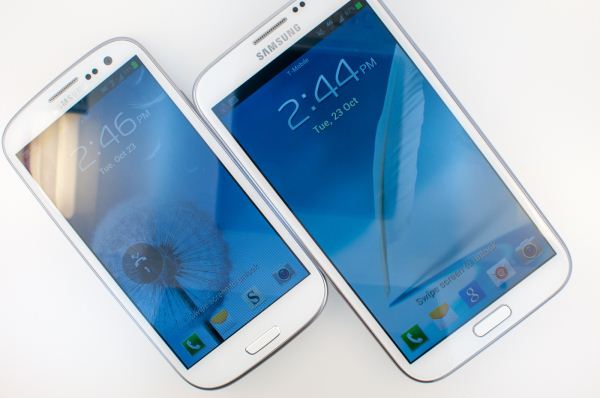 From another angle the Note 2 represents basically a mid-cycle refresh of the Galaxy S 3 for customers in the USA. Samsung's own Exynos 4412 quad core SoC is finally here, something that has been out of grasp unless you imported your own international Galaxy S 3 unlocked and went with HSPA+ 21.1 instead of LTE. That brings me to the second part — greater SoC choice as a result of Qualcomm's MDM9x15 now being available, as a result of it being natively voice enabled with support for basically every radio access technology deployed right now. Battery life also doesn't take as big of a hit with either of those big steps thanks to 32nm HKMG and 28nm process nodes respectively.
Finally, for T-Mobile this is a notable step. It isn't proudly proclaimed on the box or the spec page on T-Mobile's site but their Note 2 includes LTE support on AWS which makes it relatively future proof when that rolls around. T-Mobile's pricing for the Note 2 is really quite steep though, at $369 with a two year contract as of this writing, though T-Mobile also priced their Galaxy S 3 higher than other carriers initially, and other carriers are proposing $299 with two year contract for the Note 2. It is clear however that the Note 2 is going to be positioned in its own pricing tier.
When I was using the original Note, it was one of the few Android devices I've ever used which solicited many questions and discussions in public. With the Note 2, the form factor is still fresh and different, and as a result I strongly suspect it will likely get the same kind of curious attention that will help move units. S Pen also makes the Note 2 different from the rest, and the improvements Samsung has made to the active digitizer and input with S Note have elevated my impression of the Note platform from a notetaking perspective considerably.
I've enjoyed using the Note 2 considerably. Who knows, I very well might move my personal T-Mobile SIM from one of the smallest smartphones on the market right now, to the largest.