Original Link: http://www.anandtech.com/show/6369/avadirect-clevo-p170em-part-2-gtx-680m-grudge-match


Part II: AVADirect Clevo P170EM Gaming Notebook with GeForce GTX 680M
We took Clevo's P170EM for a spin last week, equipped with a Radeon HD 7970M and a variety of other high-end options. Today we have our follow up where we use the same core hardware but with NVIDIA's GTX 680M in place of AMD's top mobile GPU. Now that we have an apples-to-apples comparison between the two fastest mobile GPUs, who can claim the mobile gaming crown?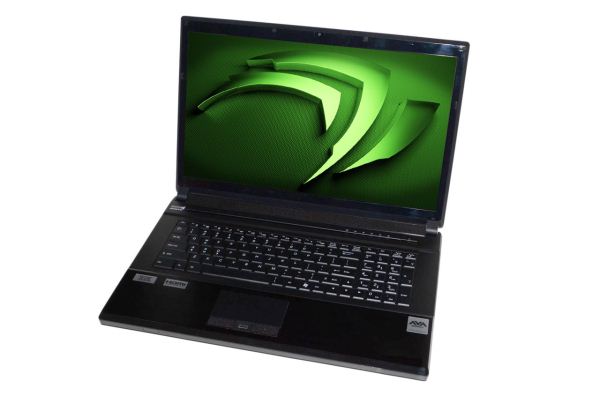 For this second installment, we've taken some time to run additional gaming tests, we've updated the BIOS and rerun battery life numbers, and we take a detour into discussing drivers and GPU utilization figures. Having spent more time using the P170EM, I'll also try to reevaluate the overall package in light of the above areas to see if I might have been a bit too harsh with my initial assessment. If you need a fast desktop replacement/gaming notebook, is Clevo the way to go?
Let's start with a quick recap of the laptop hardware—everything is the same, other than the change in GPU and a slight difference in RAM (the brand, not the speed).
AVADirect Clevo P170EM Gaming Notebook Specifications
Processor
Intel i7-3720QM
(Quad-core 2.60-3.60GHz, 6MB L3, 22nm, 45W)
Prolimatech PK-3 Thermal Compound
Chipset
HM77
Memory
Corsair Vengeance 8GB (2x4GB) DDR3-1600
(Running at 9-9-9-24-1T Timings)
Graphics
Intel HD 4000
(16 EUs, up to 1250MHz)

NVIDIA GeForce GTX 680M 2GB GDDR5 (Optimus)
(1344 cores at 720MHz, 256-bit GDDR5-3600)
Display
17.3" WLED Matte 16:9 1080p (1920x1080)
(Chi Mei N173HGE, 72% Gamut)
Note: LCD upgrade currently not available
Storage
256GB SATA 6Gbps SSD (Crucial M4-CT256M4SSD2)
Optical Drive
DVDRW (Slimtype DS8A8SH)
Networking
802.11n dual-band 450Mb WiFi (Intel Ultimate-N 6300)
Gigabit Ethernet (Realtek RTL8168/8111)
Audio
Realtek ALC269
Stereo Speakers
Headphone/Microphone jacks
Capable of 5.1 digital output (HDMI)
Battery/Power
8-cell, 14.8V, 5200mAh, ~77Wh
FSP Group 220W Max AC Adapter (19.0V, 11.57A)
Front Side
IR Port
Left Side
Memory Card Reader
1 x USB 3.0/eSATA Combo
2 x USB 3.0
Gigabit Ethernet
Mini-FireWire (1394A)
Right Side
DVDRW
Headphone
Microphone
Line-Out
Line-In
1 x USB 2.0
Back Side
2 x Exhaust Vents (CPU/Chipset and GPU)
DisplayPort
HDMI
Dual-Link DVI-D
AC Power Connection
Kensington Lock
Operating System
Windows 7 Home Premium 64-bit
Dimensions
16.22" x 10.87" x 1.65-1.79" (WxDxH)
(412mm x 276mm x 41.8-45.4mm)
Weight
8.58 lbs (3.9kg) (DVDRW + Single HDD)
Extras
HD Webcam
102-key Keyboard with Standard 10-key
Configurable backlighting for keyboard (7 colors)
Memory Card Reader (MMC/MS Pro/SD)
Warranty
Standard 1-year Warranty
$103 for 2-year Clevo Warranty
$211 for 3-year Clevo Warranty
Price
Starting at ~$1489 (Oct. 12, 2012)
As configured: $2249 (with 1-year Warranty)
We've covered all of this previously, so we won't dwell on things too much. Note that this laptop has a matte LCD, but when we first received our sample AVADirect listed a high gamut matte LCD option as a ~$150 upgrade. We're not sure what panel is used for the standard matte LCD, but it's a "free" upgrade from the glossy panel at AVADirect so it may not deliver results quite as good as this panel. In a direct price comparison, the difference between the HD 7970M and the GTX 680M is currently $274, so we're looking at $1975 vs. $2249 for the AMD vs. NVIDIA matchup; that's a price difference of just under 14%, so ideally you'd want the GTX 680M to be at least 14% faster to warranty the upgrade.
Second, we noted on the AMD unit that the Kingston HyperX RAM didn't have a working profile for DDR3-1600 operation on the P170EM, but the Corsair memory addresses that "shortcoming". In practice, outside of a few specific benchmarks (that are more theoretical than practical in nature), there's no performance difference between DDR3-1333 and DDR3-1600, but with pricing being the same there's also no reason I can see to opt for RAM that won't run at 1600MHz in this particular notebook. In other words, we recommend getting the Corsair Vengeance RAM (or some other RAM that you know will run at 1600MHz).
Subjective Evaluation: Mea Culpa?
Apparently my comments on the P170EM's build quality, keyboard, touchpad, etc. really rubbed some folks the wrong way. Just to clarify things this time around, many of those areas are completely subjective. I can certainly live with using the P170EM, though there are aspects that would really irritate me when doing certain kinds of work. I also think my overall displeasure with AMD's Radeon HD 7970M (driver issues, Enduro concerns, etc.) may have colored my overall tone. So let me take a second stab at providing a subjective evaluation of the P170EM before we hit the benchmarks.
First off, we have build quality. I prefer notebooks that feel more durable, but often that means adding weight and/or cost to an already expensive notebook. Clevo's use of a plastic chassis feels cheap in my book, but the problem is, short of spending a lot of extra money I don't see a good way to fix this aspect of the chassis. Injection molded plastic is inexpensive and generally works well enough, and moving up to a magnesium alloy frame/exterior could easily add several hundred dollars or more to the total price, all without improving performance. Alienware's M17x chassis uses a magnesium alloy frame, and for a similar configuration you're looking at $2644 compared to $2249—that's 17.5% more for a change in materials and aesthetics, and potentially worse cooling performance (i.e. the thinner Alienware chassis likely doesn't allow as much airflow as the P170EM).
I'm still a sucker for Alienware's soft touch finish, but there are other elements that I'd just as soon bypass, like the edge to edge glossy LCD. As a viable alternative, I'm also working on a review of Eurocom's Racer 2.0 (Clevo P150EM chassis), which comes with a similar soft touch coating. You lose the option for installing two 2.5" drives (three if you use the optical bay caddy), but a decent mSATA SSD for the OS/apps with a 750GB or 1TB hard drive for mass storage ends up being a great blend of storage and performance. I can't personally comment on how well the P150EM handles the heat from the GTX 680M/HD 7970M, but overall it appears to do about as well when running a last-gen GTX 675M (nee GTX 580M).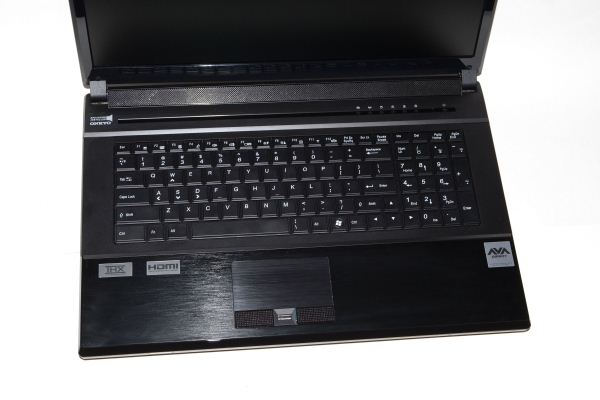 What about the keyboard and touchpad? This is a far more subjective element than most other areas, but I have to stand by what I've said regarding the keyboard. What's more, the touchpad is quite prone to errant activation while typing—I ended up disabling the touchpad via the Fn+F1 shortcut whenever I was typing, and I set the touchpad to turn off when using an external mouse. The touchpad edges just aren't clearly defined, and the overall action isn't as good as what I've seen with other notebooks. As for the typing itself, it's still very uncomfortable for me to use when hammering out 1000+ word articles. Most people probably don't do that sort of thing very often unless they're writers or college students, but you know your typical behavior better than I do.
My problem with the keyboard is that there's a distinct lack of key travel, and the result just ends up feeling "off" to me. I can type at roughly the same speed as on other full size laptop keyboards (don't get me started on the pains of a cramped 11.6" keyboard, please), but given just about any other option I'd be all too happy to take it. I've also tried the same keyboard on the P150EM and found the experience to be just as off putting, though at least there you don't feel like there's two inches of wasted space on the right and left sides of the keyboard. Thankfully, the number keypad is fully functional this time around and I don't need to look down to figure out where the plus/minus/divide/multiply keys are hiding. It's also interesting to note that one of the P170EM vendors, Mythlogic, offers a $100 upgrade to a chiclet keyboard on their Nyx 1712—that option has been there since before my review, and I think it speaks volumes about the potential for the current keyboard to disappoint, and if you're serious about buying the P170EM but want a better typing experience that might be the best solution.
The keyboard layout issues that I have are again rather subjective, particularly in regards to the placement of the Windows key and the lack of a Context key. Several readers commented that gamers in particular find those keys to be irritating, and I can at least understand that sentiment. The first time I used a keyboard with the new "Windows" keys (back around the time of Windows 95), I was really annoyed and had many instances of inadvertently switching out of a game to the Start Menu—and for the record, I also thought the mouse wheel was idiotic when I first saw it, but now I can't live without one. Back then, switching from games to the desktop would frequently cause the game to crash, making it a double-whammy. Of course, we've long since had utilities that allow users to disable those keys, and since the dawn of Windows XP most games have become far more capable of task switching—plus some titles even disable the Windows key(s) automatically to avoid problems. Today, I have acclimated to having a Windows key to the left of the spacebar, and I rarely if ever accidentally hit it while gaming. What's more, when I use a laptop outside of games, I have found the Windows key to be quite useful, especially with some of the latest shortcuts in Windows 7. I play plenty of games still, but I do far more typing and mundane work so that ends up taking priority. Moving the location to the right of the spacebar ends up being even more annoying to me than an occasional errant Start Menu activation; YMMV.
The other layout issues are less excusable. I use Print Screen regularly to capture images, but even then it's something I do maybe 20 times per week, so when I have to use an Fn-key combination it doesn't bother me too much. Scroll Lock, Pause/Break, and Insert on the other hand are keys that I almost never use. Even typing a short email, I'm likely to use the Home or End keys at least once or twice, and for longer missives I'll probably use them 10 times or more in a matter of minutes. Even browsing around web pages or in Windows Explorer, I routinely use Home/End. They're at least as important to me as any of the function keys, so moving them to Fn-key combinations (that overlap with the PgUp/PgDn keys) is silly. I did try remapping the Insert and Pause keys to Home/End, and that helped; I also remapped the second backslash key to the Context key. These remapping are something that will take a while to get used to since the key labels are incorrect, but unlike the keyboard feel there's at least something I can try to improve the situation.
Overall, for typing I just can't find a good way to recommend a keyboard like this over other options (e.g. the Samsung Series 7 has a much more comfortable keyboard in my opinion), but then this isn't really a notebook designed primarily for office work. For gaming the layout and feel of the keyboard is far less critical. Unless you're playing MMOs and have a habit of getting involved in lengthy text-based conversations, the keyboard is perfectly adequate during games. And again, keyboard feel is such a subjective area that I fully expect some people to prefer this keyboard to something like the Samsung 7 or a Lenovo ThinkPad. Really, you just need to ask yourself: do I care about what a keyboard feels like, or am I fine with just about anything? Most people fall into one of those camps, and if you're in the latter you can forget about my keyboard qualms and just look at the performance and other elements. For those in the former category, I'd suggest trying to find a P170EM that you can use in person just to see what you think; gaming notebook or otherwise, if I were getting ready to spend $1000 or more on a laptop, I'd want to be happy with the typing experience and I'd be willing to pay extra for that privilege.
Incidentally, this whole page was typed, yet again, on the Clevo keyboard—this time on the Eurocom Racer 2.0, as the two AVADirect notebooks are busy with battery life testing. I actually found the experience to be a bit less irritating than the first go, perhaps because I've adapted to the feel a bit more. Or maybe the smaller chassis just somehow works a bit better for me when it comes to typing? My wrists and fingers are definitely tired however, and hammering out several more pages of text on this keyboard isn't something I'm looking forward to, but it's all in the name of evaluating a notebook. Also, I can say for certain that the touchpad on the P150EM chassis works much better for me than on the P170EM; I haven't changed the default settings and yet I haven't had a single errant touchpad activation. I think it's because the P150EM has the touchpad slightly recessed into the palm rest, but whatever the case I definitely prefer the P150EM to the P170EM when it comes to typing and the touchpad.
Countering all of the above, however, performance on the P170EM is excellent, and it doesn't seem prone to overheating at all. In fact, during testing the fans typically never got above the penultimate speed, so there's still cooling headroom. We only managed to trigger the maximum fan speed by putting the notebook on a carpet floor and the covering both exhausts for about five minutes of stress testing—on most notebooks, it's usually under 30 seconds before the fan speeds max out under such testing.
Subjectively, then, the short summary is that I love the performance aspect of the Clevo notebooks. The build quality and aesthetics aren't great, but given the already high cost I'm not sure I'd be willing to spend more on such areas—and many Clevo customers are likely to agree. The keyboard is still a big miss for me personally, and I'm sure plenty of other people will dislike it, but it's not the end of the world and there's always the Mythlogic option (even if $100 for a keyboard swap feels a bit extreme). Also of note is that the touchpad isn't quite as bad on the P150EM; I actually have no real complaints with it on the smaller chassis—plus, I always use an external mouse if I'm actually playing games. The speakers are also good if not exceptional, and you get four audio jacks. Finally, the matte LCDs offered on most Clevo notebooks are definitely something I like and would be willing to pay extra to get. Thankfully, we're seeing other vendors start to shift away from glossy displays (e.g. the Samsung Series 7, MSI GT70, and many ASUS laptops are now matte), but if you want a high quality matte display, Clevo offers some very compelling options.
Is that enough for me to change my tune regarding the P170EM? Not really, but that's mostly because the above is what I had hoped to convey with the original review. Some readers apparently felt like I hated the P170EM with a passion, but it's more frustration that Clevo continues to miss the mark on something as simple (in my book) as a keyboard. Obviously people that are in the market for a MacBook Pro Retina are going to laugh at the idea of something as "uncouth" as the P170EM, but they're not the target market—not by a long shot!
The P170EM can readily fill the role of a mobile workstation, desktop replacement, and/or gaming notebook, and a less than stellar keyboard and build quality shouldn't matter too much for many users looking for that sort of hardware. Plug in an external mouse and keyboard, hook up a high-end desktop LCD, and the DTR aspect is great; then you can unplug and take it with you when needed. For gamers, the conversation pretty much begins and ends with the GPU, and Clevo has you covered there with both the HD 7970M and GTX 680M as options. Mobile workstation users might prefer something built to higher standards (e.g. HP EliteBook, Dell Precision, or Lenovo ThinkPad W Series), especially if they're spending the money on something like a K5000M—which, incidentally, isn't yet available for the P150EM/P170EM—so that's one usage model that I still seriously question (and I shudder at the prospect of doing something like coding with this keyboard), but it really depends on what sort of work you're doing and how you feel about the various items listed above. If all you want is gaming performance, then by all means get a P150EM/P170EM and you should be very happy, because short of SLI/CrossFire notebooks it just doesn't get any faster than this right now.
Clevo P170EM GTX 680M Gaming Performance
We don't have any major qualifications to go over before we hit the GTX 680M benchmarks, but we did end up running our gaming suite multiple times. The initial shipping driver was a 295 Series NVIDIA build, which is now getting somewhat old. We tested our core gaming suite with those drivers before updating to the 306.23 drivers, and then more recently the 306.97 drivers (there was almost no change in performance between the .23 and .96 drivers, if you're wondering). Unlike AMD's Hotfix driver, NVIDIA's 306.xx driver update is more of a mixed bag—a few games improve in performance, but several titles in our test suite actually drop a bit. Of course, the GTX 680M already had a commanding lead, so losing a few FPS isn't likely to hurt too much. Here's the list of notebooks we've lined up for the graphs this time (and note that all of the laptop names link to the specific reviews):
Notebook Configuration Overview
Laptop
CPU
Graphics
Storage
Battery
AlienwareM17x R4
Intel i7-3720QM
GTX680M/HD4000
Hybrid (Intel SRT)
90Wh
AlienwareM18x R2
Intel i7-3820QM
GTX680M-SLI/HD4000
SSD RAID
97Wh
ASUS G74SX-A2
Intel i7-2630QM
GTX560M/HD3000
SSD
90Wh
Clevo P170EM GTX 680M
Intel i7-3720QM
GTX680M/HD4000
SSD
77Wh
Clevo P170EM HD 7970M
Intel i7-3720QM
HD7970M/HD4000
SSD
77Wh
iBUYPOWERCZ-17(MSI GT70)
Intel i7-3610QM
GTX675M/HD4000
SSD
60Wh
Razer Blade 2012
Intel i7-3632QM
GTX660M/HD4000
Hybrid (Intel SRT)
60Wh
Samsung Series 7
Intel i7-3615QM
GT650M/HD4000
Hybrid (ExpressCache)
77Wh
This is a grudge match between AMD and NVIDIA, and now that we're sporting the same hardware the only thing separating us from the mobile gaming performance crown is a few pages of benchmarks. We're going to skip straight to the stuff that presumably everyone is here to see: gaming performance. If you want to see how the P170EM GTX 680M stacks up against the HD 7970M in general applications, we reran all of our general application tests and basically came up with a tie, so we're going to skip those this time around (though they're available in Mobile Bench).
Mainstream 1600x900 Gaming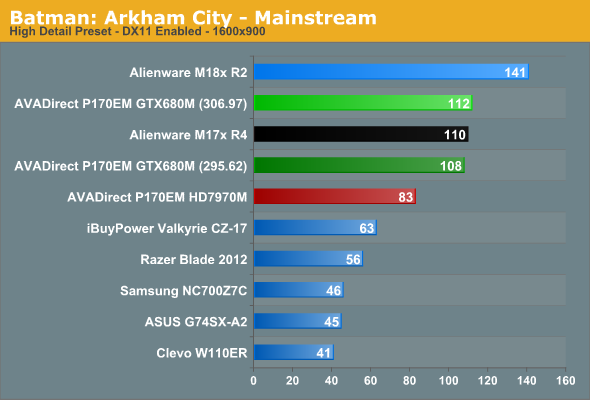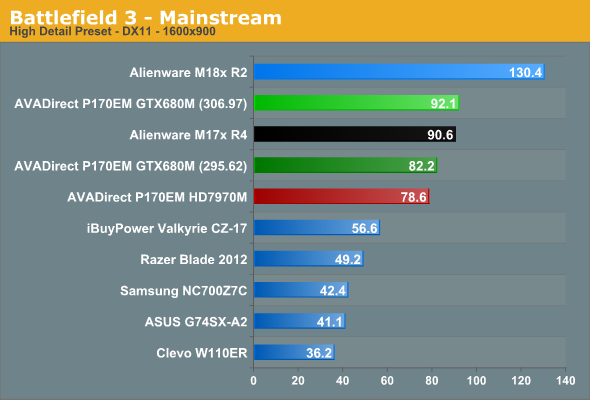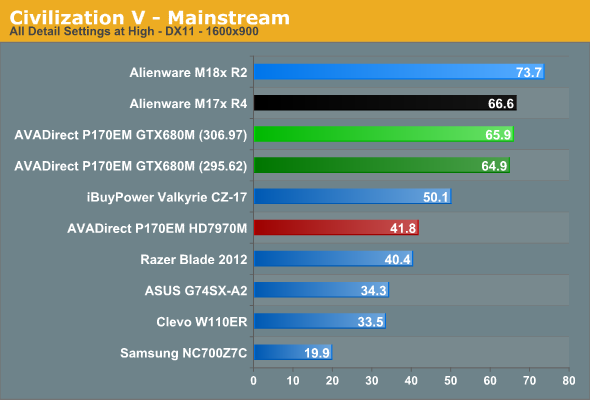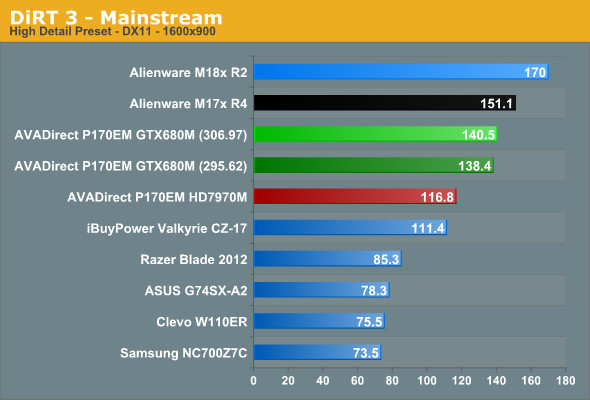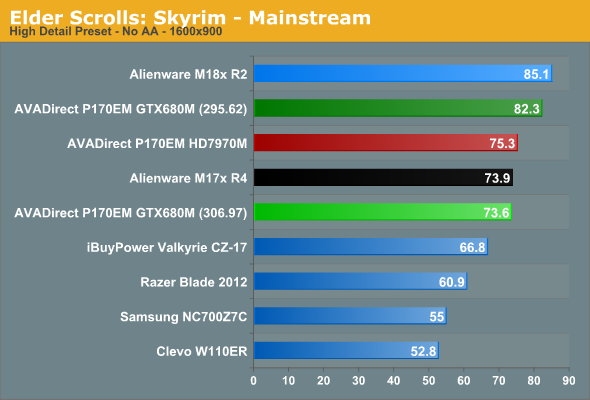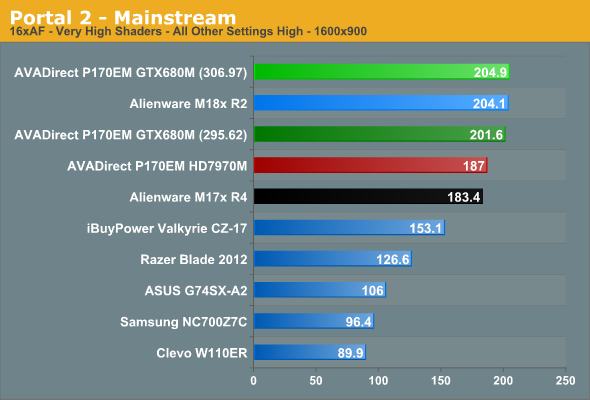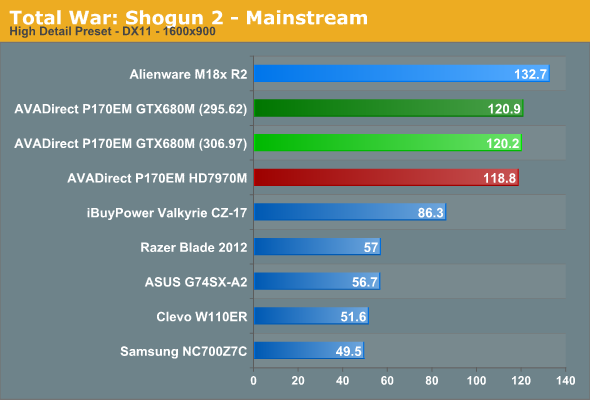 Right out of the gates, NVIDIA's GTX 680M takes a commanding lead in our Mainstream testing (1600x900 with ~High details). The margin of victory is as much as 58% (Civilization V), though we do have a couple of games that are basically tied (Skyrim goes to the HD 7970M by a couple percent while Shogun 2 favors GTX 680M by just over 1%). With our less demanding settings, NVIDIA leads by an average of 15%—right about what you would want from an 11-15% increase in overall notebook cost. But then, it's unlikely anyone would plunk down roughly two grand (give or take) just to run at moderately high settings and 1600x900; let's see what happens when we turn the settings dial to 11.
Enthusiast 1920x1080 Gaming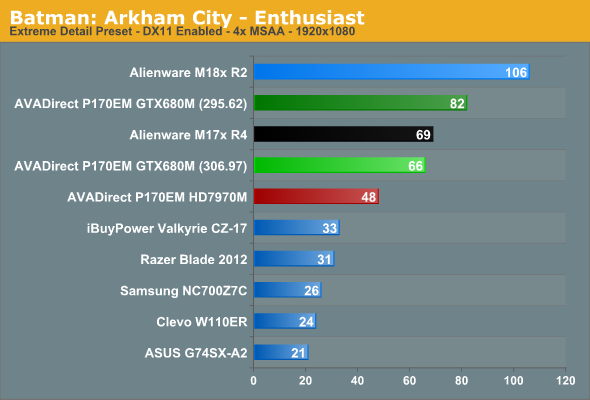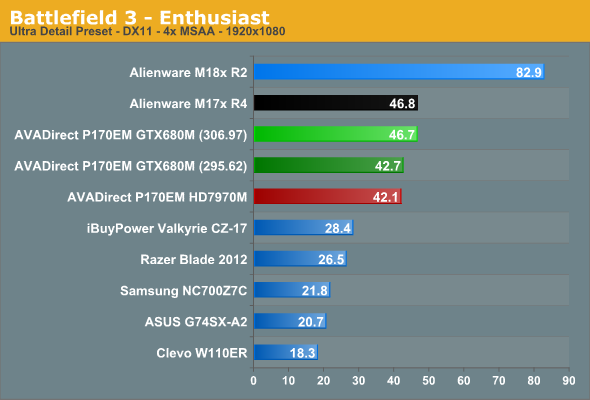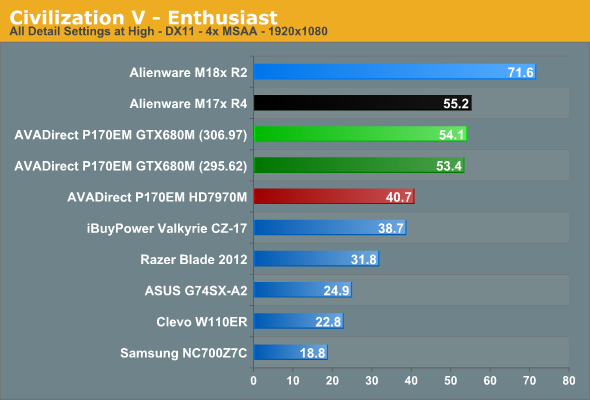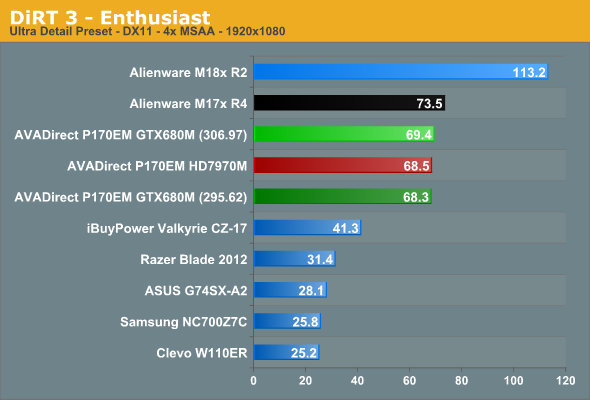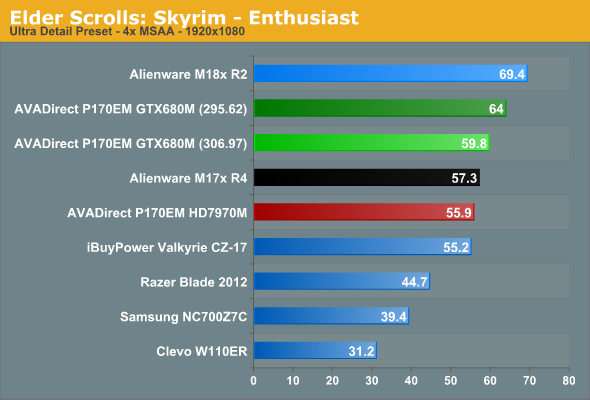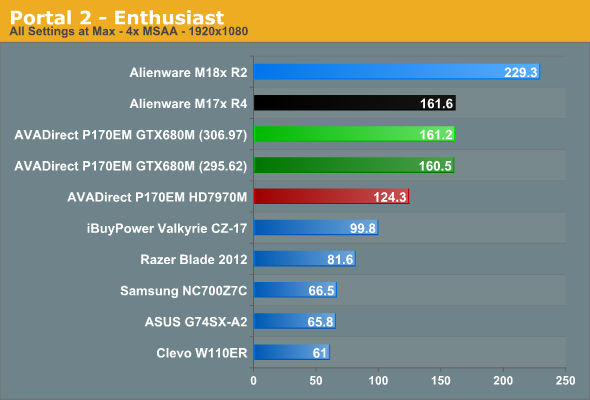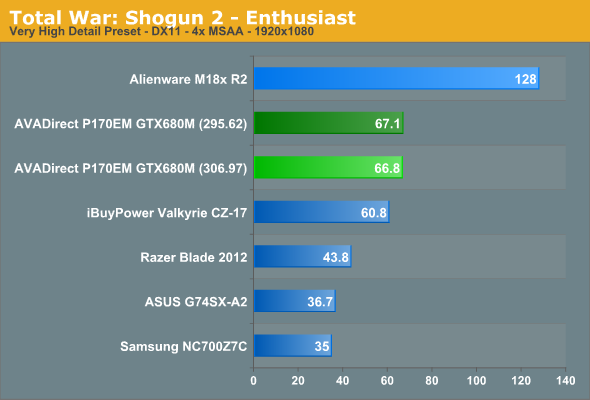 The gap at our Mainstream settings was moderately close, but at Enthusiast detail we end up with several serious blowouts, and unfortunately there's not a single bright spot for AMD. Batman is a 38% lead for NVIDIA, Civilization V is 33%, and Portal 2 is 30%; those are balanced by a tie in DiRT 3, a scant 7% lead in Skyrim, and an 11% lead in Battlefield 3. Incidentally, Alienware's M17x R4 shows generally similar performance, with some variations likely caused by differences in the drivers and other components.
As for Shogun 2, unfortunately there's a driver bug of sorts that prevents us from even testing out the "Very High" preset with AMD's 7970M—basically, the game looks at the capabilities of the Intel HD 4000 iGPU, which doesn't allow a few key selections, even though the game is actually supposed to be looking at the HD 7970M. We did run 1080p with identical "nearly max" settings on both GPUs, however, and at least at those settings we wind up with a blowout for NVIDIA: 46.2 FPS compared to 31.3 FPS.
NVIDIA basically takes a clean sweep of our regular gaming benchmarks, but we're not done with the gaming discussion just yet. We decided to look at some other more recent releases to try to better characterize gaming performance.
GTX 680M vs. HD 7970M – the Big Picture
Our 2012 gaming suite currently ranges in age from over two years old (Civ5) to as recent as 11 months old (Batman), with an average age of around 16 months. Hardware and games have both changed during that time, so we dug through our games folder and added a few other titles to the mix. Okay, truth be told, we actually have quite a few gaming codes from AMD and NVIDIA (as well as Guild Wars 2 from ArenaNet), and we figured a selection of games from both sides should be more or less "fair". To that end, we've benchmarked eight additional games: Borderlands 2 (NVIDIA), Diablo 3 ("agnostic"), DiRT Showdown (AMD), Guild Wars 2 ("agnostic"), Max Payne 3 (NVIDIA), Sleeping Dogs (AMD), Sniper Elite V2 (AMD), and The Witcher 2 (NVIDIA). That's three NVIDIA "TWIMTBP" (The Way It's Meant To Be Played) games and three AMD "Gaming Evolved" titles, so overall things should be relatively even. Here's how the two mobile GPUs stack up using the latest available drivers (NVIDIA 306.97 and an as-yet-unreleased 12.9 Hotfix from AMD), at all three of our target settings.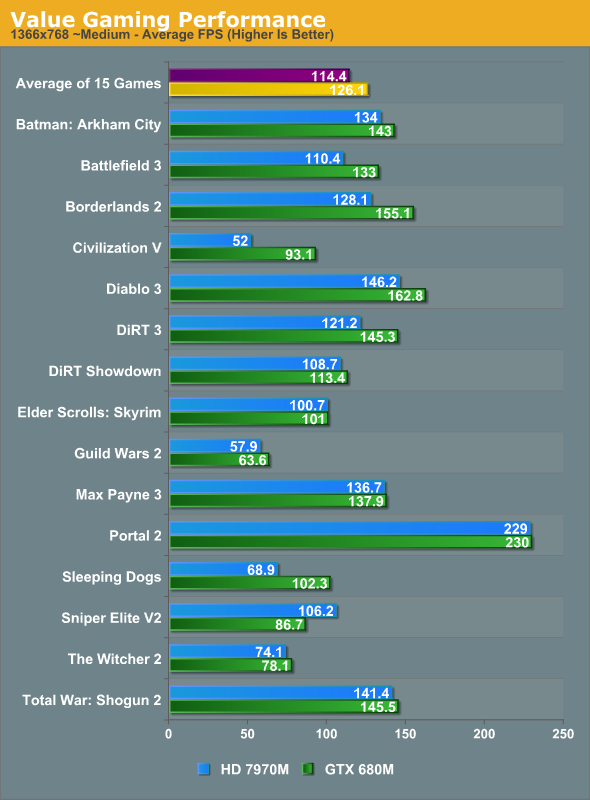 Not surprisingly, the two GPUs are closest in performance at our Value settings—the CPU becomes more of a bottleneck as we reduce the resolution and details. NVIDIA nearly sweeps the list of games, with Sniper Elite V2 being the sole game where AMD comes out ahead (by a relatively large 22% margin). By the numbers, NVIDIA has a 10% lead in Diablo 3 and Guild Wars 2; a 20% lead in Battlefield 3, Borderlands 2, and DiRT 3; a 50% lead in Sleeping Dogs; and an 80% lead in Civilization V. The remaining seven titles are around 5% or less margin of victory, so they're basically tied. Overall, NVIDIA ends up with a 10% average performance lead over AMD.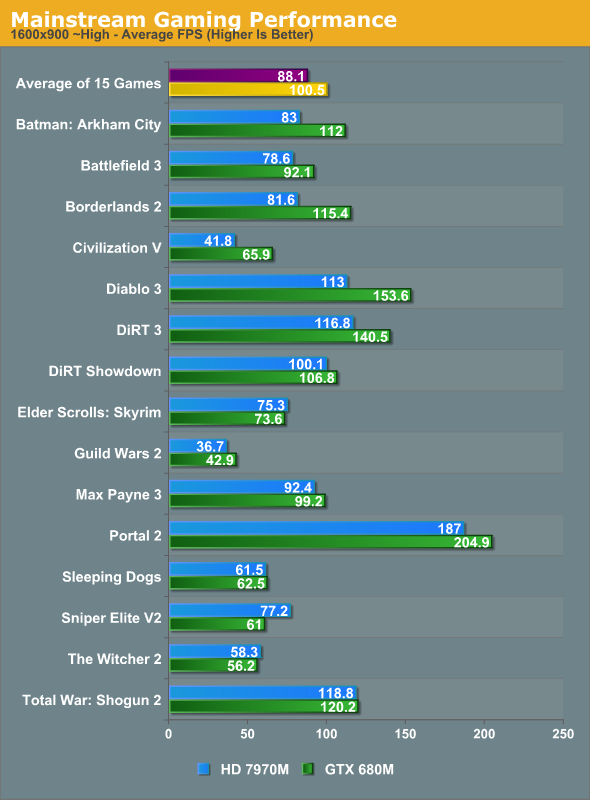 When we move up to our Mainstream settings, the above pattern basically continues. NVIDIA's overall advantage grows to 14%, with significant leads of 15% or more in Batman: Arkham City, Battlefield 3, Borderlands 2, Civilization V, Diablo 3, DiRT 3, and Guild Wars 2. AMD's sole major lead continues to be Sniper Elite V2, though they also take a very slight lead in Skyrim and The Witcher 2. If we set the margin to beat at 15%, NVIDIA has seven wins, AMD gets one, and the remaining seven titles are "tied" (within 10%).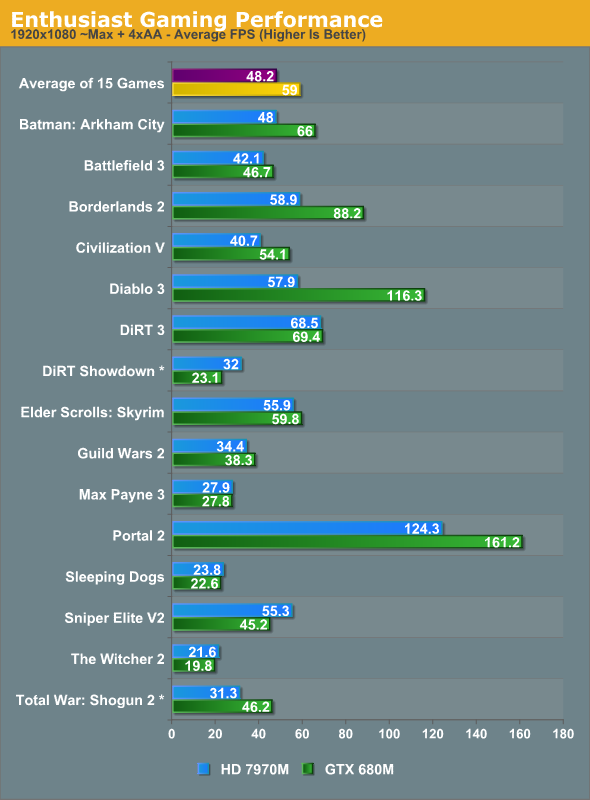 At our maximum detail settings, NVIDIA's average margin of victory increases yet again, this time to 22%. Considering these are the settings most likely to be used with high-end gaming notebooks, the win here is the most meaningful. In terms of ties, there are seven games that are under the 15% margin (Battlefield 3, DiRT 3, Skyrim, Guild Wars 2, Max Payne 3, Sleeping Dogs, and The Witcher 2). Somewhat interesting however is that AMD now manages to come away with four moderate to major wins: DiRT Showdown is a 39% lead and Sniper Elite V2 is a 22% lead for AMD while Sleeping Dogs is a small 5% lead and The Witcher 2 is a 9% lead. The bad news for AMD is that of the remaining titles, NVIDIA comes away with resounding victories in many of them: 38% in Batman, 50% in Borderlands 2 (with the option to enable PhysX still available), 33% in Civilization V, 30% in Portal 2, 48% in Shogun 2, and a resounding 100% lead in Diablo 3.
At the end of the day, however, it's not just about performance. In the desktop world of gaming PCs, we generally aim for 60FPS or higher as the level we want to reach in order for a game to run "smoothly". On notebooks, we can't be quite so demanding, so we have to settle for 30FPS in many cases. Out of our 15 games, at our Enthusiast settings we end up with several that don't make it into the "playable" range: DiRT Showdown tanks when Global Lighting is enabled, but more so on NVIDIA than on AMD—the 7970M squeaks by with 32FPS while the 680M falls to an unplayable 23FPS. That's the only title where we'd give one card a pass while the other falls short, but Max Payne 3, Sleeping Dogs, and The Witcher 2 are all too demanding to break 30FPS averages on either GPU. In most cases, dropping the detail settings down a notch (and/or disabling 4xAA—which basically cuts Max Payne 3 performance in half) will fix the problem, but if you were hoping a $2000 gaming notebook would simply take on all contenders without batting a shader core you're going to be disappointed.
There are also a couple of issues with drivers to report, which we've marked with asterisks in the Enthusiast chart. DiRT Showdown refuses to run at 1920x1080 on the 7970M (with the Hotfix drivers), but it works in windowed mode—we tested the 680M in windowed mode as well and found that performance was about 15% lower than in full screen mode, but since this is a driver failure on AMD's part what we used the higher result for the GTX 680M. (A quick test at 1680x1050 Ultra settings corroborates the margin of victory, regardless.) Second, Shogun 2 as noted earlier refuses to allow the Very High setting on the 7970M, so we tested both GPUs with identical "nearly maxed out" settings, where we used the "High" preset but then enabled all of the extras like Ambient Occlusion, Soft Shadows, etc. And a final note is that both DiRT Showdown and Sniper Elite V2 would crash to the desktop any time we tried to change the resolution within the game on the 7970M; we had to resort to modifying the configuration files directly to set the appropriate resolution.
Overall, NVIDIA clearly wins the performance crown, but we have to wonder how much of this is due to the hardware and how much might be coming from the drivers and developer relations. It's not too surprising that AMD's best results are in titles where they've apparently lent a hand (DiRT Showdown, Sniper Elite V2, and to a lesser degree Sleeping Dogs), and likewise NVIDIA gets some staggering leads in some of "their" titles. Also of note is that certain older games that were once AMD titles (e.g. Civilization V) now end up running better on NVIDIA GPUs. Is NVIDIA working with the developers after the fact, or optimizing their drivers, or perhaps a little of both? We can't say for certain, but I do know that I've played a lot more games with NVIDIA logos during the boot sequence than games with AMD logos. Developer relations really are key, and titles like Borderlands 2 and Batman are popular offerings that shipped with PhysX support—yet another card in NVIDIA's hand.
GPU Utilization Investigations
One of the issues we experienced with the initial drivers on the Radeon HD 7970M was lower than expected performance, and many users/owners of the 7970M Clevo notebooks have pointed towards GPU utilization as being the culprit. That seemed a bit odd when I first heard about the topic, as low GPU utilization should be a symptom of lower than expected performance rather than the cause—basically, if the GPU is capable of running at 150 FPS at certain settings but it's only running at 75 FPS, you'd expect the GPU use to be around 50%. With the initial P170EM review, I did some quick checking on GPU utilization and found that, yes, it seemed low. With the Hotfix driver (which still hasn't reached the public, though we're hearing "this week"—meaning, some time during October 15-19), we also noted that GPU utilization did improve. Nevertheless, GPU utilization isn't "always 90% or more", which is what some people have been asking for.
To investigate this issue more thoroughly, I tested GPU utilization across our three benchmark settings in six of the games. For these tests, I'm not using built-in benchmarks or even FRAPS runs; instead, I played the same segment of each game in a pattern that was as close to the same as possible, and I did this over a longer segment of the games: typically at least two minutes of gameplay, with a decent amount of "action" as appropriate.
After testing the P170EM with both HD 7970M and GTX 680M, I noticed that GPU use was relatively consistent but still occasionally low. At that point it seemed that Enduro and Optimus might be the cause of lower than expected GPU utilization. The other possibility of course is that the CPU and other areas were the bottleneck and that the GPU simply wasn't able to get enough data to work on quickly enough. To test whether Optimus/Enduro might be causing issues, I added my own gaming desktop system into the mix; it has an i7-965X clocked at 3.65GHz, 12GB (6x2GB) DDR3-1333 RAM, and a GeForce GTX 580 GPU. I ran the same gaming tests on all three systems, and here are the results: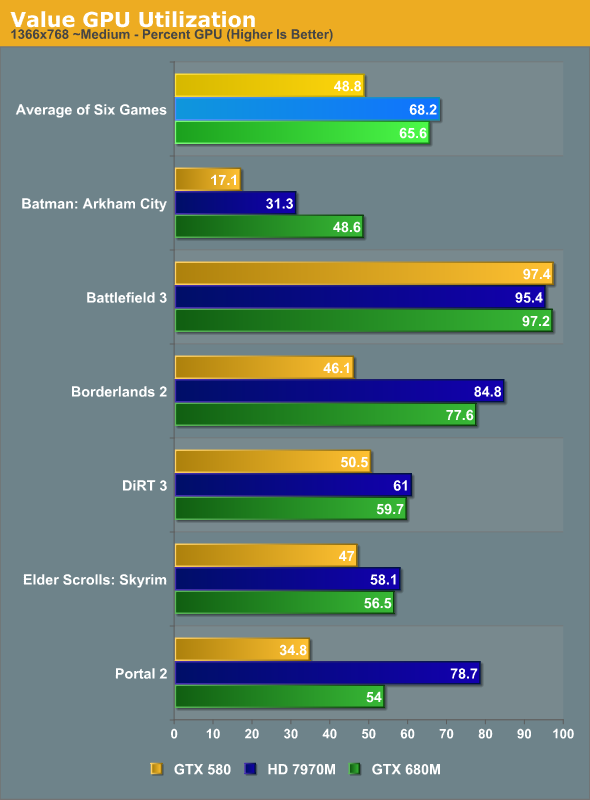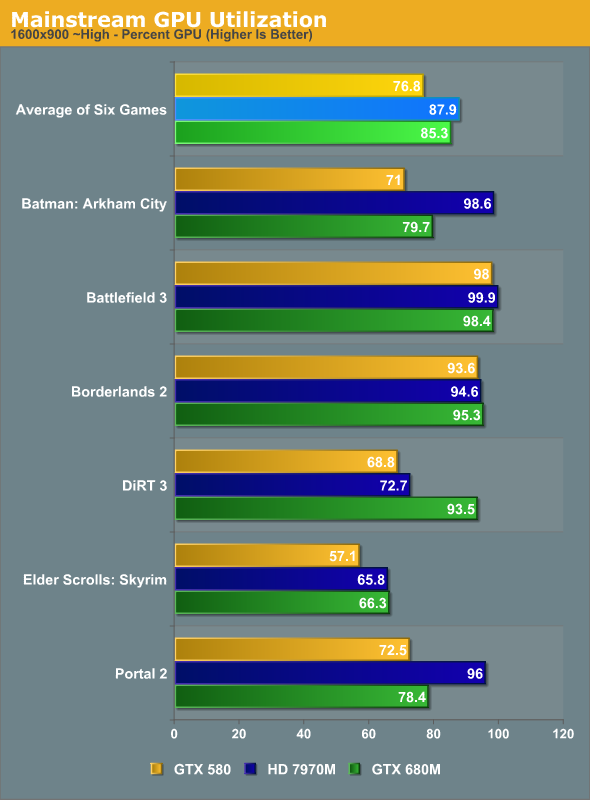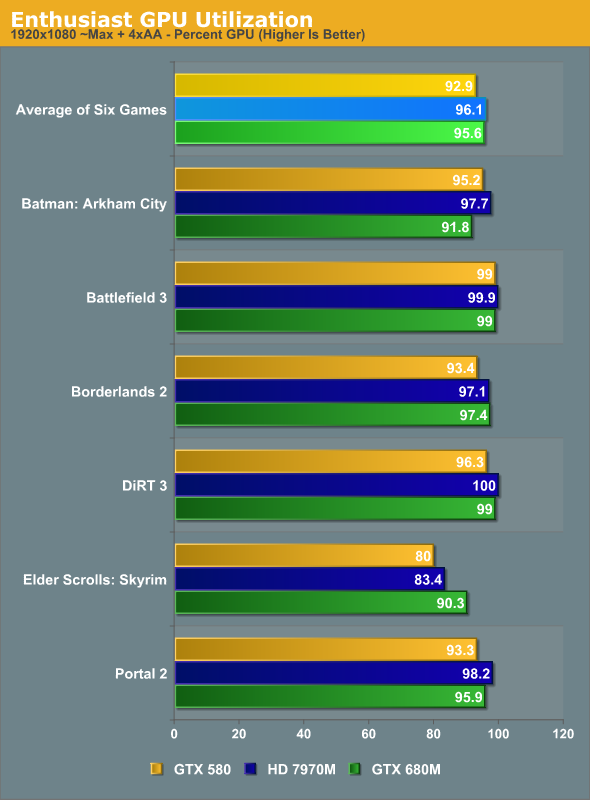 Not surprisingly, GPU use is lower by far at the Value settings—1366x768 and ~Medium detail isn't likely to tax the GPUs all that much, and the desktop system (with a faster GPU but potentially slower CPU) ends up with the lowest overall GPU utilization. The Mainstream testing pushes the GPUs quite a bit more, while at our Enthusiast settings most of the games are hitting 95% or higher GPU use. Looking at the games individually, we also notice that games that are typically more dependent on CPU performance (e.g. Skyrim), or at least not as demanding graphically (e.g. Portal 2), have lower GPU utilization.
I didn't run a full set of tests using the earlier AMD 7970M drivers, but I can tell you that the Value and Mainstream results would be much lower, and even the Enthusiast settings are probably in the low 90s or high 80s on average. With the Hotfix driver installed, however, AMD's 7970M ends up being the "best" overall at achieving high GPU utilization. I'm not sure that really matters all that much, as the real story is gaming performance. Whether low GPU utilization causes low frame rates or the low frame rates reduce GPU utilization, either way the fix is generally going to involve reworking the graphics drivers.
Clevo P170EM Battery Life Revisited
I noted in the first P170EM review that battery life was rather poor, even for a high-end notebook. I felt at the time that the BIOS/firmware was to blame, but without an official download location from Clevo I was hesitant to update either notebook. I still feel Clevo is really making a mistake by not providing official BIOS updates—they would rather you contact your notebook vendor and ask for a BIOS—but I decided to go ahead and snag the latest BIOS for the P170EM from the Notebook Review forums' Clevo BIOS thread. (That you're able to get better BIOS support via NBR forums than from Clevo is beyond ludicrous.)
Updating the EC/KBC firmware to version 1.00.09 and the BIOS to version 1.00.10 wasn't quite as simple and painless as I'd like. Specifically, the EC updates (I tried all of them before taking the next step) are for ROM ID P170EMx whereas the AVADirect notebooks both have ROM IDs of P170EM (no "x" suffix), so I had to use the "ignore ROM ID" option. I don't if that's something related to the notebook vendor or just par for the course, but by default I couldn't just run the flash utilities. The BIOS on the other hand updated without any issues. When all was said and done, I then retested battery life, and sure enough things have improved quite a bit—though oddly, where the GTX 680M and HD 7970M were quite close before, the GTX 680M now does quite a bit better. Both dGPUs should be off during our battery life testing, so I'm not sure what's going on here; perhaps the BIOS/firmware still isn't fully optimized for the AMD GPU.
We're including the before/after results for both the HD 7970M and GTX 680M after applying the BIOS/firmware updates. The original BIOS was 1.00.05 while the updated BIOS is 1.00.10.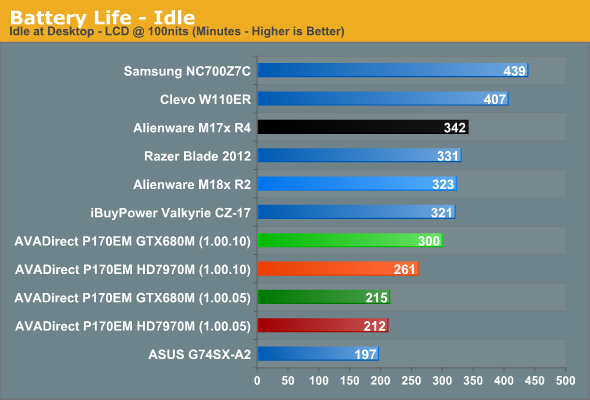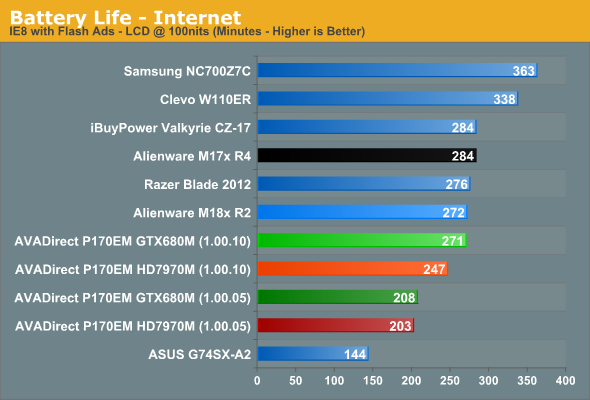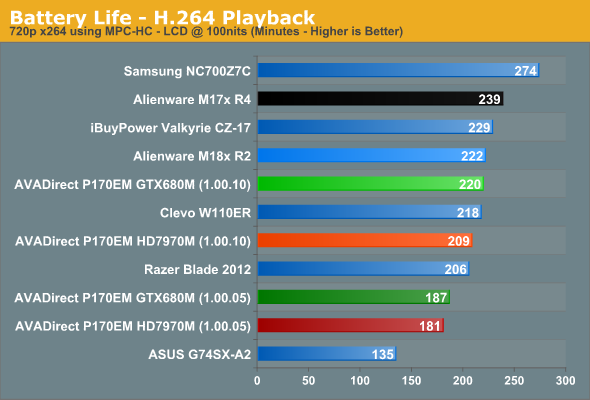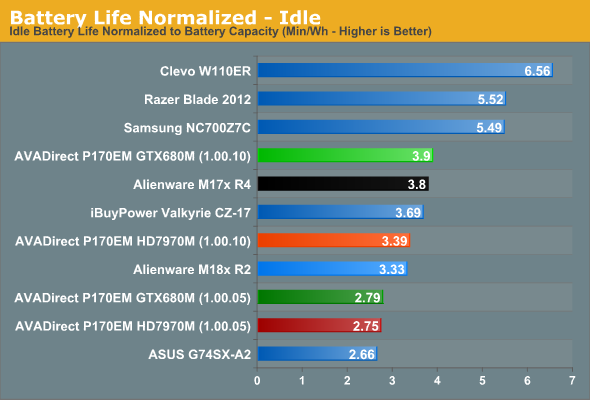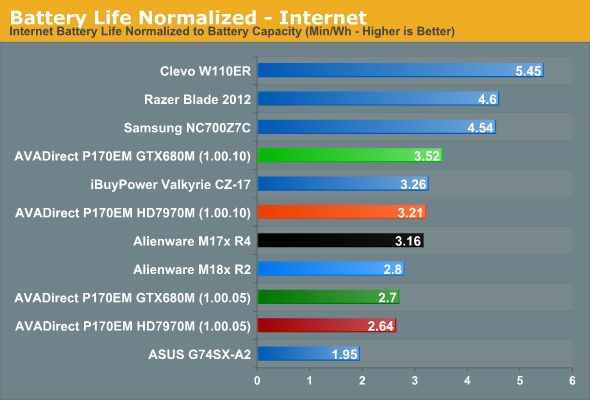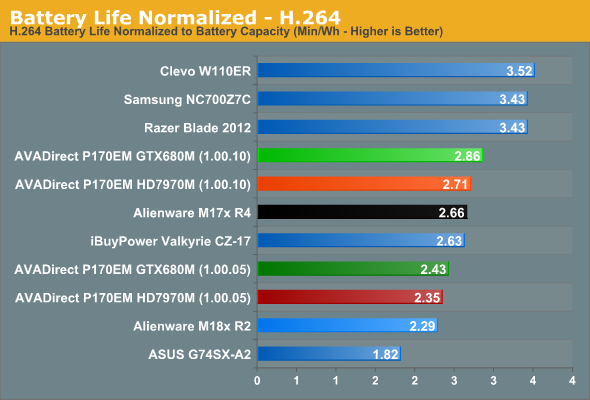 Oh what a difference a BIOS makes. We're still nowhere near matching the prowess of designs like the Samsung Series 7 or Razer Blade, but we're dealing with a substantially larger chassis that has the ability to support three spindles plus an mSATA drive—not to mention FireWire and several other seldom-seen features. I still feel like both the Alienware M17x and the P170EM could do better with further optimizations, but at least with the updated BIOS/firmware Clevo is able to surpass the normalized battery life of Alienware in most cases.
While the battery life improves on both laptops with the updated BIOS, it's perplexing that the HD 7970M version is using substantially more power—idle power draw is ~15.1W for the GTX 680M compared to ~17.3W for the HD 7970M. We're not using the same physical notebook of course (so there's a different LCD, motherboard, battery, etc.), but even so that particular result is more than a minor deviation. Power draw during our Internet test is ~16.7W for the 680M vs. ~18.3W for the 7970M, so it's a bit closer, and for H.264 playback the 7970M draws ~21.7W vs. ~20.6W for the 680M. Basically, the higher the loads on the system as a whole, the closer the two notebooks are in battery life and power use.
But despite the above concerns regarding AMD vs. NVIDIA, the fact is the P170EM is a large gaming notebook and battery life is only a secondary (or tertiary) concern. It's good to see close that we're able to hit around 4.5 hours of moderate use on battery power, and that should be enough for most people. Sure, if you fire up a game (or happen to come unplugged), your battery isn't going to last that long, but if you're trying to bulk up by carrying around a 10+ pound notebook + accessories at school you could conceivably get through four hour long classes before you need to plug in. I should also note that charging times are quite reasonable for the battery, taking under two hours to reach 100% even when you're putting a significant load on the system; that's where having a large enough power adapter is beneficial: under full load, the P170EM still doesn't come near the 220W rating of the power brick.
AVADirect's Clevo P170EM: GTX 680M FTW
You'll note that I skipped discussion of the various benchmark results for general performance, CPU speed, synthetic graphics testing, and even LCD testing. All of the results are available in Mobile Bench, but more importantly nothing has really changed in those areas compared to the P170EM with 7970M. Other than some variation in PCMark 7 scores (which is pretty common), the CPU performance is basically splitting hairs. Thus the focus for this second P170EM review is squarely on gaming performance, so let's quickly recap the situation.
If you want the fastest mobile gaming GPU your money can buy right now, NVIDIA's GTX 680M is where it's at. There are a few titles where AMD's Radeon 7970M comes out ahead, but there are far more instances where the GTX 680M has a substantial lead. More importantly, NVIDIA has a track record of releasing their Verde Notebook Drivers every time they put out a beta or WHQL desktop driver. They've been at it for more than two years now, and outside of the first month or so after a laptop first goes on sale (e.g. before the next official driver update), you should be able to update your NVIDIA GPU drivers—regardless of whether or not you use Optimus. AMD is working to get Enduro to that same point, and there are a few games that suggest with more driver enhancements AMD could even close the gap with NVIDIA, but I cannot recommend a product today based on promises of driver support tomorrow. Hopefully everything will be in place by the end of the year so that the next time we do a mobile GPU head-to-head we won't have to worry about discussions of driver support.
As for Clevo's P170EM, subjectively there are still some elements that I dislike, but I've beaten that horse enough. I don't think anyone is really concerned about how nice a laptop looks if they're considering a P170EM; they'll be going after raw gaming performance, and that's what the P170EM delivers. It also manages to keep the CPU and GPU relatively cool, even under sustained 100% loads for hours on end—the types of load a gaming notebook is likely to see when fulfilling its purpose. The question then is what sort of price/performance you're looking at. As I noted in the 7970M conclusion, the competition right now for a high-end gaming notebook basically consists of three options: MSI GT70 (iBUYPOWER Valkyrie CZ-17), Alienware M17x R4, or the Clevo P150EM/P170EM. There are slightly lower performance gaming notebooks as well (e.g. the Razer Blade, ASUS G-Series, Samsung Series 7), but the GTX 680M in particular is about maximum GPU performance, even if it costs a bit more. So if you want a GTX 680M, let's look at the various online prices (as of October 15, 2012).
AVADirect's Clevo P170EM Gaming Notebook is what we received for review, and they appear to have the most memory and storage options of any of the Clevo P170EM resellers. That can be overwhelming if you don't know much about computer components, but for enthusiasts we love having options. We'd like to see their configurator updated so that it changes pricing in real-time, and the ability to narrow down some of the search fields (e.g. only show 8GB RAM and 240/256GB SSD options) would be nice to have as well. Their support throughout our review period has been good, but then I haven't really had any horrible experiences with companies as a reviewer. For most people, the final decision is going to be made based on pricing or other features, so let's look at that aspect.
We configured a P170EM with a GTX 680M, i7-3740QM (i7-3720QM if the 3740QM wasn't available), 256GB Micron M4 (or 240GB/256GB alternatives if the M4 wasn't listed), 8GB DDR3-1600, Intel Ultimate-N 6300 WiFi, a DVDRW, and a matte LCD; for those components, the price comes to $2276. A semi-complete list of other P170EM resellers includes the Sager Notebooks NP9170 ($2299), XoticPC (Sager NP9170) ($2199 "Autumn Sale" and $2133 with cash discount), ProStar P170EM ($2299; $2230 cash discount), Origin EON17-S ($2489), Mythlogic Nyx 1712 ($2271 w/glossy LCD), Eurocom Neptune 2.0 ($2563), and Digital Storm x17 ($2395). Of those P170EM-based offerings, about the only really noteworthy difference is that Mythlogic actually has an option for a chiclet backlit keyboard (for $100 extra); the other differences mostly come down to component offerings, and I'm sure if you call any of the companies you could custom-spec a build with identical components.
Looking elsewhere, iBUYPOWER's Valkyrie CZ-17 is probably the least expensive option in terms of pricing, often beating the P170EM by nearly $200 for otherwise identical components (currently $1925 with i7-3720QM, ADATA 256GB SSD, and otherwise similar components to the above notebooks). In fact their Battalion 101 is a P170EM based notebook that costs about $250 more than their CZ-17 for otherwise identical components. As I've said in the past, I'm not sure that any of these companies are inherently better or worse than the others and their prices change frequently, so it can't hurt to shop around. As for Alienware's M17x R4, aesthetically I still think it's the most pleasing of the notebooks, but at roughly 20% more for a similar configuration to the above ($2644) that's a tough pill to swallow—plus it has an uber-glossy edge-to-edge glass cover in front of the LCD.
Given my gripes with the keyboard and touchpad, I'm not going to be handing out an Editors' Choice award, but if you can overlook those areas the Clevo P170EM certainly deserves props for being one of the fastest gaming notebooks this side of the dual-GPU behemoths (e.g. Alienware M18x and Clevo P370EM). I'd also say it has the best cooling of the current trio of GTX 680M options listed above, and that's definitely an area you should pay attention to when looking at high-end gaming notebooks. And that's really the star of the show here: NVIDIA's GTX 680M. Yes, it will set you back an extra $195 to $350 (depending on notebook vendor) compared to AMD's HD 7970M, but it's generally impractical to look at just purchasing a GPU upgrade for a notebook so we have to look at the total notebook cost. Looking at AVADirect, a reasonably configured gaming notebook (e.g. i7-3610QM, 8GB RAM, 256GB M4 SSD, Intel 6300 WiFi) runs $1822 with the HD 7970M compared to $2096 with the GTX 680M. That's a cost increase of 15% for a typical gaming performance increase of around 20% at high quality settings (e.g. 1080p 4xAA). Add to that the proven track record of NVIDIA's driver updates and for gaming purposes, that extra $200 is money well spent.