Original Link: http://www.anandtech.com/show/6367/nzxt-phantom-820-everything-everything


Introducing the NZXT Phantom 820
NZXT is an interesting manufacturer. Each company that designs and manufactures cases has their strengths and weaknesses, things they're good at and things that need work, but NZXT is unique in that they're very closely related to iBuyPower (one of the biggest system building boutiques and one that's starting to threaten established brands) and tend to vend some of the most cost effective enclosures to boutiques in general, for better or worse.
Our experiences with NZXT have been mixed. The H2 when it was released suffered from a serious design flaw that drove up internal thermals (an unmarked revision was silently released later that largely resolved those problems), and the Switch 810 was a good but not great enclosure that couldn't quite live up to its promise. But today NZXT is launching the Phantom 820, a case aimed squarely at the top end of the case market where stalwarts like the Thermaltake Level 10 GT, Corsair Obsidian 800D, and SilverStone FT02 reside. It has a lot to live up to, but most impressively of all...it might actually do it.
I'll get this out of the way: the Phantom 820 is not coming cheap. NZXT is listing an MSRP of $249, placing it squarely into competition with the highest end enthusiast cases, and it's a pretty bold move from a company that's usually been more about raw value than premium gear. I'm of two minds when it comes to this decision; I think it's a good choice for the company since price is often the best way to give a premium product that extra kick (just ask Apple), but it's ultimately bad for the end consumer who wants and should get great products at reasonable prices.
NZXT Phantom 820 Specifications
Motherboard Form Factor
Mini-ITX, Micro ATX, ATX, E-ATX
Drive Bays
External
4x 5.25"
Internal
6x 2.5"/3.5"
Cooling
Front
1x 200mm intake fan; 1x 120mm/140mm internal fan mount
Rear
1x 140mm exhaust fan
Top
1x 200mm exhaust fan, 1x 180mm fan mount or 3x 120mm fan mounts or 2x 140mm fan mounts
Side
1x 200mm intake fan
Bottom
2x 120mm/140mm fan mounts
Expansion Slots
9
I/O Port
2x USB 3.0, 4x USB 2.0, 1x Headphone, 1x Mic
Power Supply Size
Standard ATX
Clearances
HSF
180mm
PSU
220mm
GPU
13" / 330mm
Dimensions
?
Weight
?
Special Features
USB 3.0 connectivity via internal headers
Toolless 5.25" drive bays and 3.5" drive sleds
Support for 360mm/280mm radiator in top of enclosure, 240mm/280mm in bottom of enclosure, thickness up to 60mm
Integrated four channel (three leads per channel), five step 15W fan controller
Color configurable, toggleable LED lighting system
Toggleable rear I/O and expansion LED illumination
Integrated SD card reader
Price
$249
When I spoke to my rep at NZXT he was very bullish about the Phantom 820 and it's not hard to see why. While Taiwanese case designers have a tendency to try to throw in everything but the kitchen sink (see NZXT's own Switch 810) and call it a product, the Phantom 820 is a different beast. This is a feature rich case, but a lot of the features that have been incorporated are done intelligently. The integrated fan controller in particular is an incredibly slick design that's easily the equal of many entry-level fan controllers; the lack of analog adjustment is offset somewhat by having five different steps, ranging from off to full bore.
I'm also keen to point out that NZXT included an SD card reader; SD cards are pretty much the standard these days, yet for some reason they're seldom integrated in modern case designs. The convenience is appreciated tremendously.
Finally, the Alienware-style LED lighting system is a nice touch and can be disabled entirely if you so choose; otherwise you can turn a dial inside the front door to change the color to whatever you like, and you can toggle between enabling and disabling different lighting zones on the case.
In and Around the NZXT Phantom 820
Many of the NZXT cases I've tested have had aesthetics that floated in the neighborhood of chintzy or slightly gaudy—these are geared chiefly towards gamers after all—but the part of my reptile brain that appreciates the styling of Alienware's machines is attracted to the design employed in the Phantom 820. Gunmetal gray is an underappreciated color (see Antec's P182) that makes for an appealing change from the straight blacks and silvers we typically see in cases. The interesting thing about the Phantom 820 is that the more ostentatious aspects of the original Phantom 810's design seem to have been toned down, and the look as a whole seems to gel better. Maybe it's that gunmetal finish, but I don't immediately think of an Imperial Stormtrooper when I look at the 820.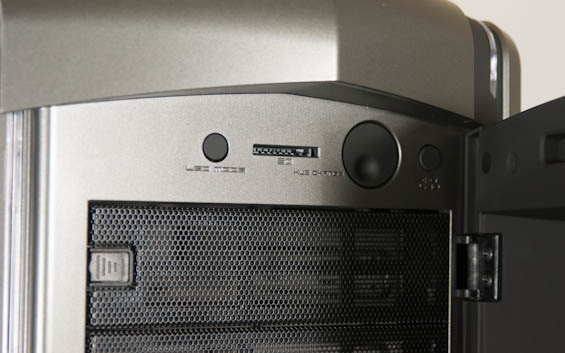 The front of the Phantom 820 maintains the triangular motif that's become a hallmark of many of NZXT's higher end cases (again, like the original Phantom 810 and the Switch 810), using black ventilation grills as an accent. The magnetically sealed door hides four 5.25" bays along with the SD card reader and LED controls and swings out to the right; it's framed by an LED accent line on the left. At the bottom is a removable fan filter that also includes a small tray if you opt to use the fan mounts in the floor of the case.
Moving to the top, there are an impressive six USB ports: two USB 3.0 and four USB 2.0. On the opposite side is the quad-channel fan controller along with the power and reset buttons and the audio jacks. Most of the top of the case is vented in some fashion, and you can see the substantial 200mm exhaust fan at the rear.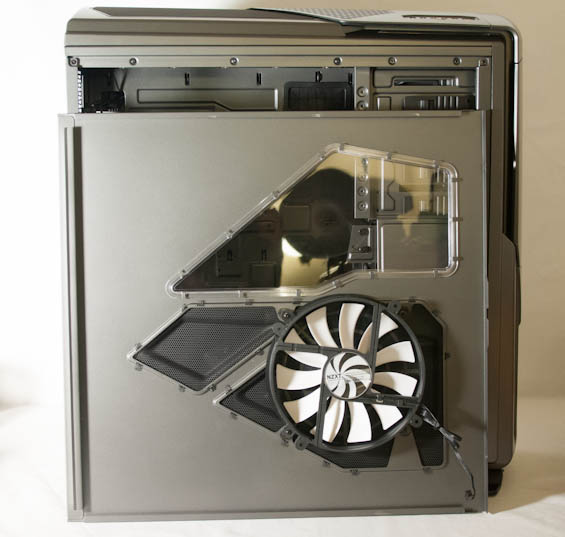 The 820's side panels are where I get a little bit antsier. I appreciate the way the panel on the right side, behind the motherboard tray, has an extrusion to increase space for routing cabling (and it worked beautifully), but I actually have reservations about the window and ventilation on the left side panel. I've generally been a proponent of side intake fans, but some of our readers have correctly pointed out that a side intake and the accompanying grill also gives sound another vector to escape. NZXT pretty much has to bank on the cooling performance of the 820 to keep noise in check. I also think the window and grill design is on the gaudier side and probably the least appealing aspect of the 820's look.
The exterior of the 820 is mostly bog standard. It's evident there's a healthy amount of space behind the motherboard tray, and I like that NZXT again included the adjustable exhaust fan mount to allow users to line up the exhaust with the CPU's tower cooler. There are also the traditional four rubber routing holes, along with a removable fan filter for the PSU bay.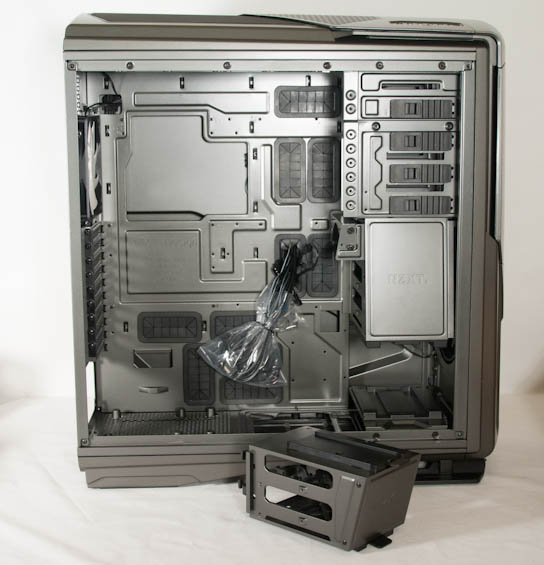 When you pop the side panels off (secured by three thumbscrews each), things are mostly the usual but NZXT has added a few wrinkles here and there. You'll notice a substantial number of cable routing holes in the motherboard tray, some much appreciated headroom above the motherboard mounts, a large bundle of cables, and oddly enough, two drive cages (the bottom one is removable) that actually require you to insert the drives behind the tray instead of on the open side. This is contrary to conventional wisdom, but a minor nuisance.
By and large I'm fond of how the NZXT Phantom 820 is built. This is a heavy case and the materials used all feel very sturdy. I think the aesthetic is just this side of being too ostentatious, but for an enthusiast-geared case I think it's light years ahead of the Thermaltake Level 10 GT in terms of looks.
Assembling the NZXT Phantom 820
Apart from just how heavy the NZXT Phantom 820 is, assembly actually goes fairly smoothly. In keeping with that premium feel they're going for, building inside it is mostly geared towards ease of use, and the out of the box experience is a pleasant one. Of particular note is the box of screws that NZXT includes, which already has them all neatly organized. Lian Li includes a screw keeper with many of their high end cases, but it's not organized and the one for the PC-A76X wasn't actually big enough to hold all the screws that came with the case.
It's not worth boring you with the details; suffice to say installing the motherboard and optical drive went off basically without a hitch, same with the expansion card (expansion slot shields are ventilated and held in place with thumbscrews) and the power supply. Having all of the screws conveniently in one place and organized made things go that much more swimmingly.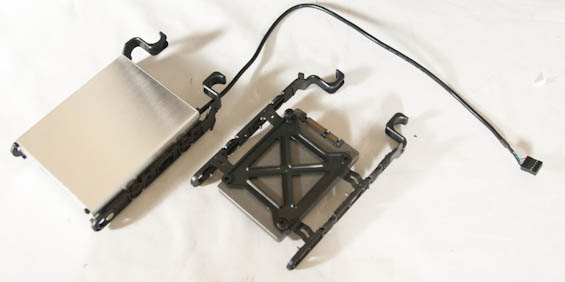 Where NZXT went off the rails a bit is, ironically, with the 2.5"/3.5" drive sleds. NZXT's promotional material talks about how these have been radically redesigned, but the funny thing is that they're just too flimsy. I found it was particularly difficult to keep the sled with the 2.5" drive screwed to the bottom in place, as it was easy to push too far into the drive cage. I also think it's unusual that they have to be installed on the side behind the motherboard tray instead of in front of it, and there doesn't seem to be any real reason as to why the case was designed this way.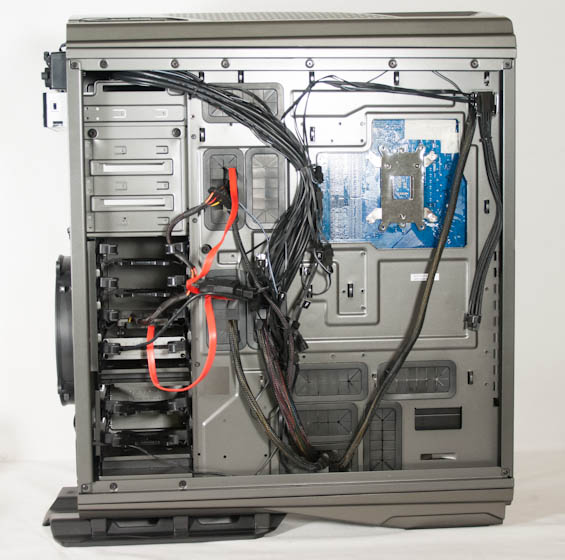 Routing power and data cables goes smoothly, and NZXT even includes an extension cable for the AUX 12V line, but what's amusing is how much of a mess all the cabling for the integrated peripherals of the Phantom 820 actually is. I don't think it can really be helped, but it's awfully hard to sort some of it out. NZXT does the best they can with a bad situation by at least labeling which channel each of the fan leads connects to and pre-connects the existing fans (outside of the side intake), but honestly it's just cable spaghetti and I'm not really sure how much more they could've done to mitigate it. Added features breed added complexity. It's worth noting that NZXT does give a healthy amount of lead for the side intake fan's power cable.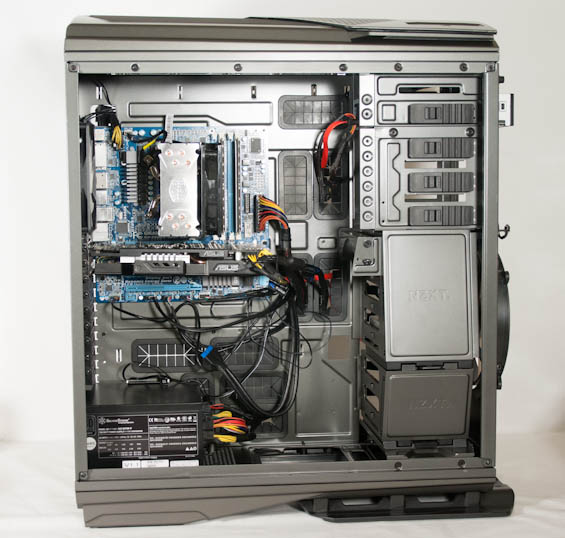 Ignoring the fact that I'm a tiny man and the Phantom 820 is a heavy case, assembling our testbed inside it was easy enough, a process made much easier by the sorted screw keeper. I do think the drive cages and trays need to be redesigned and brought a bit more in line with contemporary designs similar to what Antec and Corsair are doing; it seems like NZXT may have erred on the side of aesthetics when they should've gone for practicality. The aforementioned mess of cables can also be difficult to cope with but again, I don't really know if they could've done much more to mitigate it, and it's worth the added complexity for the robust fan controller.
Testing Methodology
For testing Micro-ATX and full ATX cases, we use the following standardized testbed in stock and overclocked configurations to get a feel for how well the case handles heat and noise.
Each case is tested in a stock configuration and an overclocked configuration that generates substantially more heat (and thus may produce more noise). The system is powered on and left idle for fifteen minutes, the thermal and acoustic results recorded, and then stressed by running seven threads in Prime95 (in-place large FFTs) on the CPU and OC Scanner (maximum load) on the GPU. At the end of fiteen minutes, thermal and acoustic results are recorded. This is done for the stock settings and for the overclock, and if the enclosure has a fan controller, these tests are repeated for each setting. Ambient temperature is also measured after the fifteen idle minutes but before the stress test and used to calculate the final reported results.
Thank You!
Before moving on, we'd like to thank the following vendors for providing us with the hardware used in our testbed.
Noise and Thermal Testing, Stock
While I was greatly enamored with the sheer number of features the NZXT Phantom 820 had and even somewhat impressed with the looks, I was substantially more ambivalent about cooling performance. The 820's thermal design is at least superficially very traditional, although the use of three 200mm fans calls to mind Rosewill's spectacular budget offering, the Thor v2.
It would've been onerous to test the Phantom 820 at all of its fan settings (the first fan setting is just "off"), especially keeping in mind that the individual channels (top, front, back, and side) are all individually configurable, so I tested it with the fans all at their highest setting and at their lowest setting above "off" with the intent of going back to retest at a median setting if it seemed appropriate. As you'll see, it did not.
All testing was done with an ambient temperature between 24C and 25C.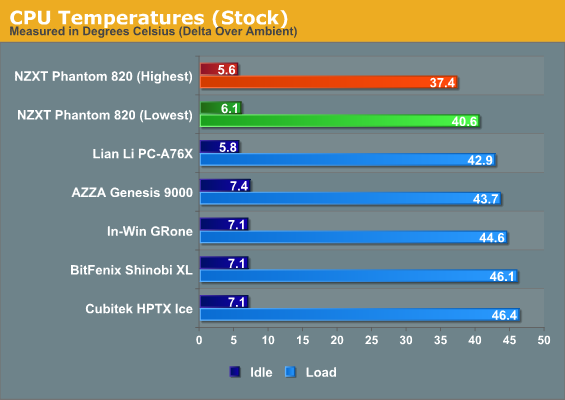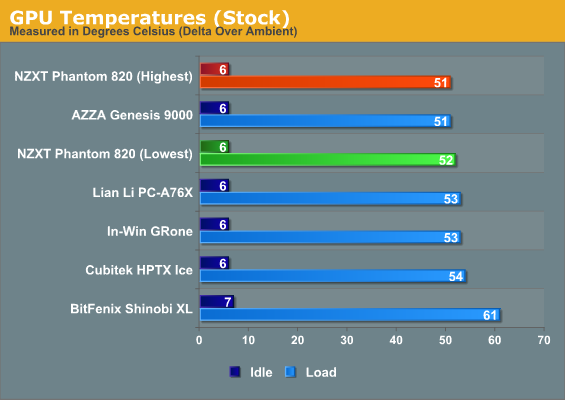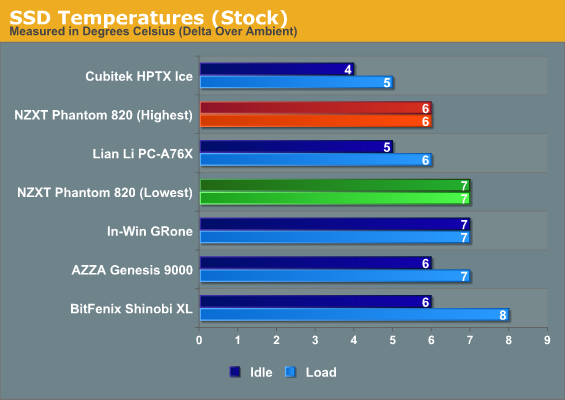 As you can see, out of the enthusiast cases we've tested so far, the NZXT Phantom 820 offers some of the best thermals in our stock configuration. Better, you can see that while the highest fan setting can improve thermal performance somewhat, it doesn't really need to.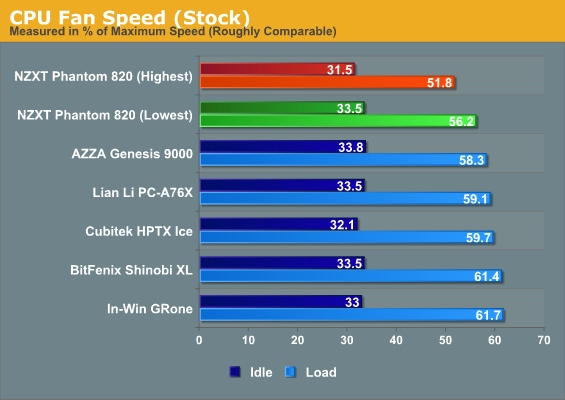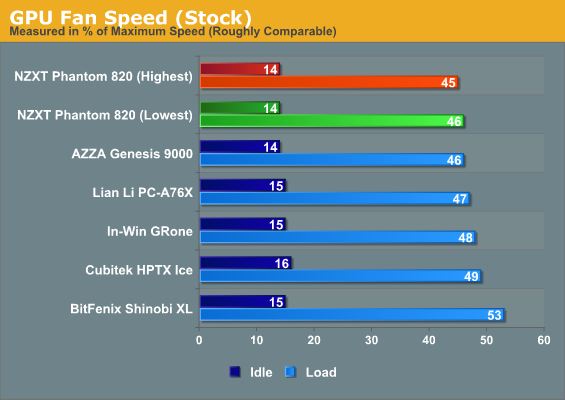 Running the Phantom 820's fans at full speed gives you a little more headroom on the CPU cooler, but it looks like the side intake doesn't really need to run any faster than the lowest speed to do the job on our GeForce GTX 560 Ti.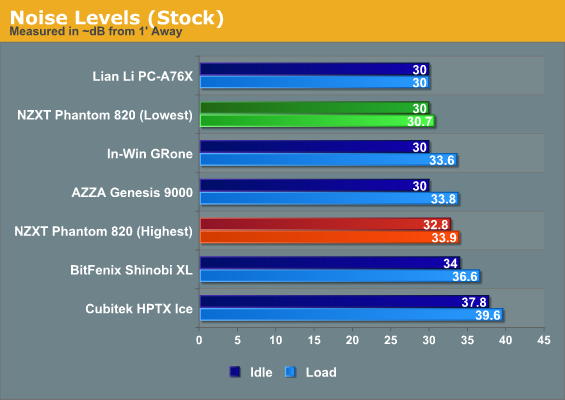 Noise levels are also generally exemplary, where even the highest fan setting is still pretty tolerable. The PC-A76X may run slightly quieter, but it's also slightly warmer. There's an even trade-off here.
I'll admit when I first started actually testing the Phantom 820 I was impressed with just how quiet the case was, and again when I checked the thermals. NZXT has been pretty hit and miss when it came to performance, but the 820 is definitely in a league of its own. I was eager to see how it would handle the substantially increased thermal load of our overclocked testbed.
Noise and Thermal Testing, Overclocked
Going into testing with the overclocked testbed, I was suddenly a lot more optimistic. NZXT's Phantom 820 at stock wasn't just the best performing enthusiast-class case I've tested with the new bed, it was actually better than our current reigning champion, the Antec Eleven Hundred. Naturally I was curious to see how well it would hold up under more stress, and as it turns out, NZXT's design worked out even better here.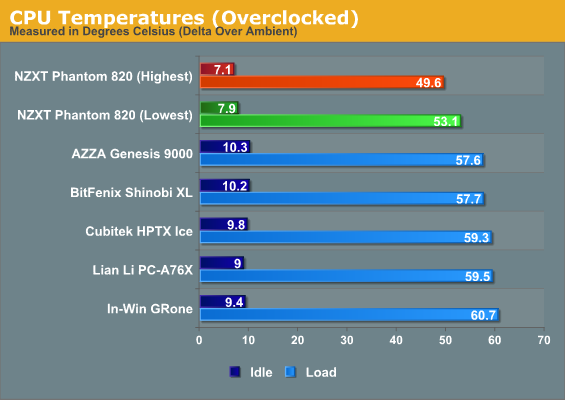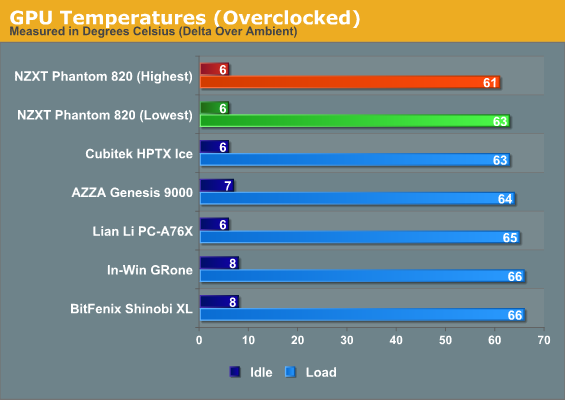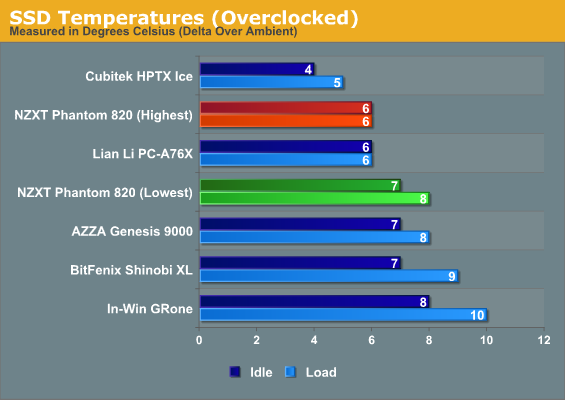 Even at the lowest fan setting, the Phantom 820 is basically bulletproof. The graphics card thermals are basically just competitive with very little to really recommend running the side intake at a higher speed, but the CPU thermals are downright stellar and a notable jump over the competition.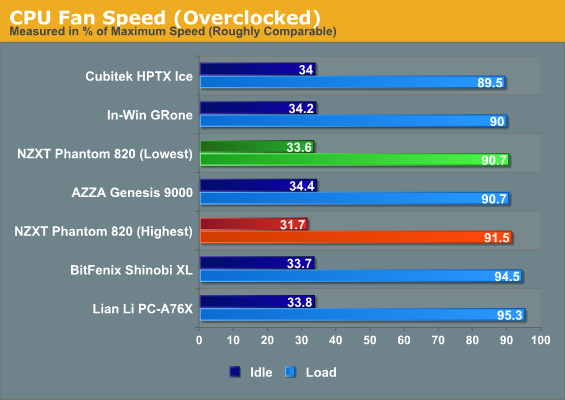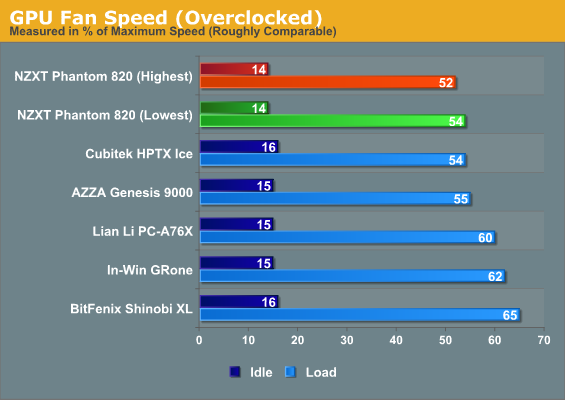 Fan speeds are again basically competitive, with the 820 doing particularly well at keeping the graphics card's fan speed down.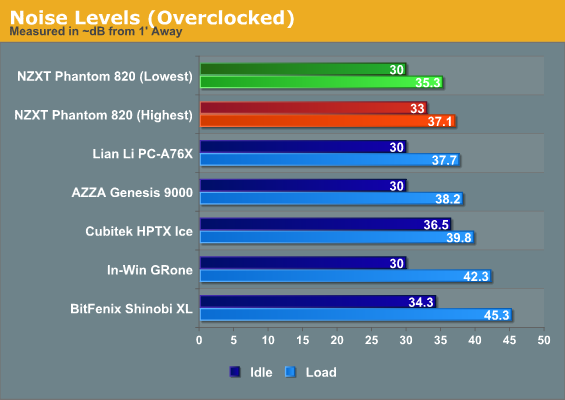 Can't argue with results. Under full load at even the highest fan setting, the Phantom 820 is at worst competitive with other cases. At the lowest setting it easily tops the charts. NZXT has scored with stellar thermal performance and excellent acoustics to match.
Conclusion: NZXT Wants to Give You Everything
I think before the NZXT Phantom 820 was sent to me, that if you had told me NZXT was going to send me a first class enthusiast case that easily ranked among the best in performance, I would've been skeptical. They've had some hits (the Phantom 410 was actually a surprisingly adept little box), but performance has consistently been more middle-of-the-road.
That's changed completely with the Phantom 820.
NZXT has finally been able to marry features with performance in a very compelling way. Their latest offering is expensive, so if you're just looking for something to hold your hardware and perform reasonably well, this isn't going to be it. This is for the people who buy the big bling cases, the ones that are meant to guarantee superior thermal and acoustic performance, and it needs to be measured on those terms.
While I quibble with the mess of cables and the drive trays, I'm not convinced the side intake was necessary, I also have a hard time denying that the case does provide the end user with almost everything they could possibly ask for. The fan controller, configurable LED lighting, and integrated SD card reader are all great features that many users might have been forced to add on their own in another case. The fact that the fan controller has four independently configurable channels each capable of supporting up to three fans makes it a very robust solution that should produce satisfactory results for all but the most particular users.
Meanwhile, custom watercooling users should have a fairly happy time with enough space for either a 360mm or 280mm radiator in the top of the case along with a second 240mm or 280mm radiator in the bottom, and enterprising users can even add additional 140mm radiators to the back exhaust and the internal fan slot. That's a cumulative 920mm of radiator capacity, and that's ignoring the fact that there's actually z-height space for the radiators in the enclosure.

At $249 the NZXT Phantom 820 might still be a bit too expensive for a case that does use plastic in parts of the shell, but it goes a long way towards justifying itself with the mountain of features. I personally feel a price tag that high is starting to get too onerous for a case, but the performance and bonuses really are there. It's a great case with room to grow and if the price comes down it's going to be very hard to compete with. If you're looking for a big, powerful case, the Phantom 820 is tough to beat. It's only the price and few iffy design decisions that keep it from earning a better award, but I think a Bronze Editor's Choice is definitely appropriate for what NZXT has accomplished here. Well done.