Original Link: http://www.anandtech.com/show/6354/home-automation-and-the-internet-of-things


Home automation (hereafter referred to as HA) refers to the mechanization and automatic control of various residential activities. It typically provides for centralized control of electrical appliances (such as air conditioners, lighting and security systems and even the home theater). In addition to the comfort and convenience factor, energy efficiency also receives a boost.
The integration of various electrical devices in the household has been a challenge because of the absence of a cheap, open and standardized communication protocol between them. Due to this reason, HA systems have typically come with a hefty price tag and the need for a professional CI (custom installer / integrator) to set up. Consumers on a strict budget are slowly getting access to cheap home automation controllers for self installation, but considerable investment is still needed in terms of time and resources.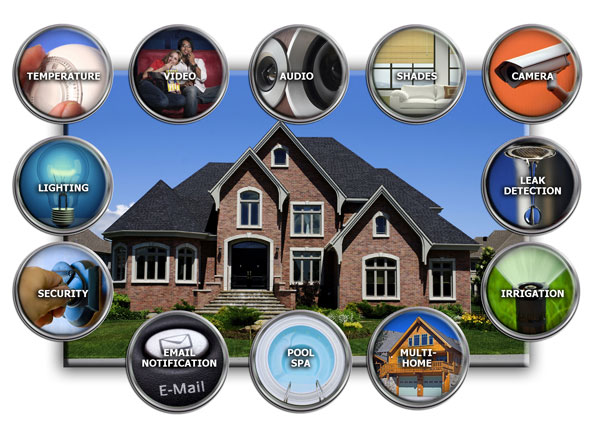 Image Credit: Home Automation Montreal
In this age of mobile computing, a wireless router exists in practically every home. Smartphones and tablets are natural devices to enable control of electrical devices. In such a situation, Wi-Fi becomes an easy avenue for self-installation of HA systems. We are in the midst of a sudden spurt in interest over home automation using Wi-Fi. Till recently, usage of Wi-Fi for HA purposes was considered to be akin to using a sledgehammer to drive a nail. While it could get the job done, it wasn't efficient in terms of power consumption or cost. However, as more and more electrical devices began to get connected to the local household IP network (Smart TVs are a prime example), control over the IP network (Ethernet / Wi-Fi) has garnered renewed interest.
The 'Internet of Things' has been a buzzword for an increasingly networked world where everything from the refrigerator to the lamp in the household would end up with an IP address. While this hasn't become a reality yet, we are slowly, but surely, moving towards this vision. In this piece, we will first briefly explore the history of home automation technologies, followed by why we believe Wi-Fi is placed well towards becoming the next HA standard. A couple of sections will deal with some of the interesting products in the Wi-Fi home automation space.
Electrical devices participating in home automation systems have to be integrated with some sort of communication protocol. These protocols may operate over powerline, RF or a combination of both. Some of these protocols are open standards, while others are proprietary (either belonging to a systems manufacturer or a silicon vendor). In this section, we will take a look at some of the major home automation options available to consumers.
Infrared Remote Control:
Infrared (IR) remote controls can be considered as the precursor of modern HA technologies. However, they are mainly used for point-to-point control flow. There is no bi-directional information exchange. Even though universal remotes have been around for a long time, their line of sight issues and non-interchangeability prevent them from being considered in the home automation space.
X-10:
True HA technologies require a HAN (home area network) where line of sight is not an issue and it is possible to have information flow in either direction. In the late 1970s, X-10 was developed as an international and open industry standard for home automation communication using power lines. A wireless radio based protocol transport is also part of the specification. More information about X-10 can be obtained here.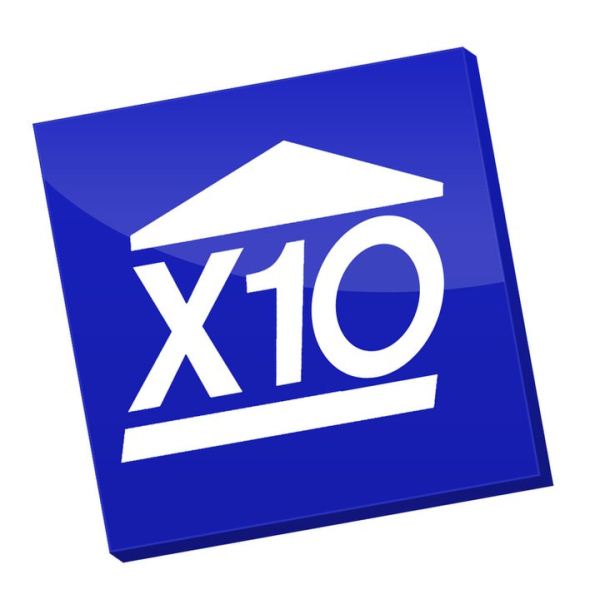 An X-10 network has transmitters, receivers and intermediate units which can receive and transmit X-10 commands. Transmitters are switches which send appropriate X-10 commands when activated, while receivers are devices which can shape the power delivered to the controlled devices (either as an on-off switch or by acting as a dimmer for a light fixture). Bidirectional devices can provide status and sensor information. A X-10 network can have up to 256 unique devices. Since the technology has been around for a long time, devices incorporating X-10 technology can be had for as low as $10.
Despite being simple and easy to configure, X-10 is slow (60 bps), has low reliability (particularly across circuit breakers and power line filters) and lacks encryption for security purposes.
UPB (Universal Powerline Bus):
PCS Powerline Systems (Northridge, CA) introduced the UPB protocol for home automation in 1998. It was based on the X-10 standard, but improved the transmission rate (480 bps) and provided higher reliability. UPB technology requires a router-like controller.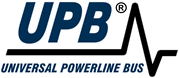 However, UPB doesn't seem to be an open standard. Despite winning a lot of people over from X-10 (because of its technical advantages), the technology continues to remain costly. The cheapest ones (such as wall switches) seem to retail for $75. UPB continues to enjoy support from CIs, but, it is doubtful whether users who want to install their own systems will opt for this technology.
ZigBee:
ZigBee, a pure wireless technology, is based upon the 802.15.4 IEEE standard for WPANs (Wireless Personal Area Networks). It is intended to be a low-cost, low-power wireless mesh network standard allowing for secure communication with a data rate of up to 250 kbps.
ZigBee was originally conceived as an alternative to Wi-Fi / Bluetooth around 1998 as a solution for self-organizing ad-hoc digital networks. ZigBee-based HA solutions operate in the 2.4 GHz range (though the standards allow for sub-GHz operation in the US and EU) and have a range of 70 meters indoors and up to 400 meters outdoors. The networks are self organizing, and any member can be the controlling node. There are plenty of ZigBee home automation solutions already available in the market.
Z-Wave:
Z-Wave, also a pure wireless technology, was developed by Zen-Sys, which was founded in 1999. In 2005, they initiated the Z-Wave Alliance, and the company itself was acquired in 2008 by Sigma Designs. The technology is similar at a macro-level to ZigBee in the sense that both are short-range wireless technologies which create a mesh network. However, while ZigBee operates mostly in the 2.4 GHz range, Z-Wave operates in the 900 MHz spectrum. Also, unlike ZigBee, Z-Wave is not an open standard.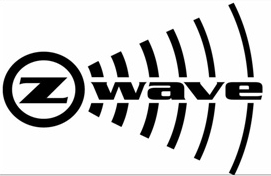 Data rates can vary between 9.6 kbps and 40 kbps. Device pricing is also similar to ZigBee, with prices starting around $30. Both ZigBee and Z-Wave require a gateway to act as a master controller despite having mesh networking capabilities. Both of them can have up to 256 devices per network. Some Z-Wave controllers such as the Vera allow for combination of multiple networks to support more than 256 devices.
Insteon:
Insteon is one of the more recent home automation technologies. Like UPB, they are not a open industry standard. However, the technical capabilities have ensured its popularity. It was first deployed in 2005. One of its main plus points is the integration of both RF and powerline technologies for networking. The devices in a Insteon network operate in true mesh fashion, and so, there is no need for a special gateway / master controller (even though one is needed for web access). Data rates can vary between 2880 bps and 38400 bps depending on whether powerline or RF is used.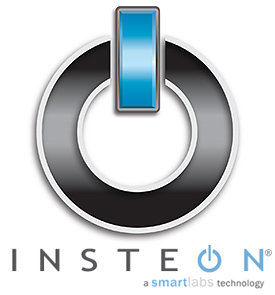 Like all other HA technologies described so far in this section, Insteon is used for small, low data rate transfers. Each network can have more than 16 million devices compared to the 256 possible in other technologies. One of the additional interesting aspects of Insteon is full compatibility with X10 devices. The pricing for devices incorporating Insteon technology starts at around $30.
Technologies such as ZigBee came up in part due to the unsuitability of Wi-Fi, Bluetooth and other such technologies to provide networking with low power consumption, low cost, simplicity and the ability to remain in a suspended state for extended periods of time. Most of the HA technologies were developed when Wi-Fi was unable to satisfy all of these criteria. However, over the last few years, Wi-Fi has slowly, but surely, gained a significant foothold in the home automation industry.
The rise of Wi-Fi's role in home automation has primarily come about due to two factors
Networked nature of today's electronics: Commonly used electronic devices such as televisions and AV receivers have started becoming part of the home IP network. Even though the networking aspects were added to bring in support for online streaming services or network playback, it became an easy value-add for the manufacturers to expose control of the device functionality over the network.
Rise of mobile computing devices: The increasing rate of adoption of smartphones and tablets was an added boon. These devices ensure that consumers have access to a portable 'controller' for the electronics connected to the network.
Before proceeding further, I will take a small detour to talk about my personal experience with home automation. Like any other long-time renter, I had no interest in investing money towards fancy home automation solutions. However, as a reviewer of HTPCs and media streamers, I had often used the streamers' Android remotes / XBMC web & Android remote for playback control using my smartphone. I had also installed Sony's remote for my KDL46EX720 TV on my Android smartphone, but rarely got the chance to use it. I realized the full benefit of the Android remote when I found that I could switch on / mute or reduce the volume on the TV without being in the same room.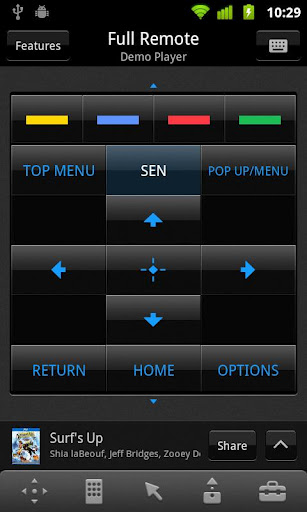 Sony's Android Remote: Whetting the Appetite for Home Automation
In scenarios such as those outlined above, consumers don't realize that they are actually using some form of HA. The Wi-Fi network already fulfills the basic requirements of a HA system without any extra expenditure on the part of the consumer. For any technology to succeed amongst consumers, price is key. Wi-Fi practically turns out to be free for HA purposes. Hence, it will not be a surprise if home automation with Wi-Fi finally manages to catch the attention of consumers in a way that current technologies haven't been able to.
Addressing Wi-Fi's Naysayers
We have been through multiple generations of Wi-Fi since the first 802.11-based consumer products appeared in 1999. With maturing technology, the cost of Wi-Fi radios has gone down. They have also become simpler to integrate into systems. At the beginning of this section, we had outlined the reasons as to why ZigBee was developed as an alternative to Wi-Fi for HA purposes. We see that some of these issues have already been addressed. Power consumption and reliable range, however, remain a problem. Towards this, the 802.11 group is working on a new standard, 802.11ah. Expected to be ratified around May 2015, its main purpose is the creation of a sub-1 GHz sensor network. Smart metering is one of the intended applications, but home automation should not be far behind. 802.11ah should help address any shortcomings of current generation Wi-Fi for HA purposes.
Silicon Vendors Target Fast-Growing Market

The primary requirements for the wireless communication modules in these HA devices are:
Low power MCU integrated in the module along with networking stack
802.11 b/g support (802.11n is not strictly necessary)
Small form factor and full industrial temperature range (-40C to 85C)
Small host footprint in terms of Flash and RAM requirements
We have a number of Wi-Fi radio makers targeting this embedded Wi-Fi market. TI has the CC3000, launched in January 2012, which is part of LSR's TiWi-SL self-contained Wi-Fi module. Marvell also launched the 88MC200 microcontroller in January 2012. It is tied along with the Marvell Avastar 88W878x Wi-Fi radio SoCs for smart energy platforms.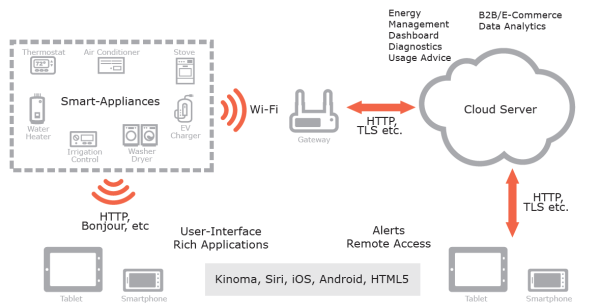 Marvell's Pitch to Customers Integrating Wi-Fi in Smart Appliances (The concept remains the same with Wi-Fi modules from other vendors too)
Qualcomm Atheros launched the AR4100P Wi-Fi System-in-Package for the home automation market in March 2012. The AR4100P is a 802.11n single stream Wi-Fi system-in-package with an integrated IPv4/IPv6 TCP/IP stack. Board vendors such as RTX deliver pre-built cards based on the AR4100P along with software support.
If WiFi has to replace specialized HA protocols in simple switch type devices, it has to offer a significant cost advantage at installation. Obviously, support for more than 256 nodes has to also be provided seamlessly in a user friendly manner. Current HA controllers already integrate a hybrid of technologies using different standards where it makes sense (W-iFi + Z-Wave, Insteon or Zigbee). This will be a continuing trend till 802.11ah gains consumer acceptance and everyone realizes that specialized protocols serve no purpose. However, this is quite some time off and it is a concern only for people who have already invested in a HA standard. People starting to explore home automation options simply can't go wrong by choosing a pure Wi-Fi based one.
In this section, we saw control of the media center as one of the HA examples using Wi-Fi. Conventional HA systems include control of power switching, lighting, HVACs and home security systems. In the next few sections, we will take a look at some of the interesting Wi-Fi based HA devices.
The Nest thermostat received quite a bit of attention from the press for its sleek industrial design and features. It was the first such product to receive widespread press coverage. In addition to being a thermostat which can be controlled over Wi-Fi, it also maintains energy history and is advertised as a 'learning' thermostat. These type of value-add features justified the original introductory price of $250. The first generation Nest became very popular amongst consumers and the second generation version with updated hardware and compatibility was launched recently.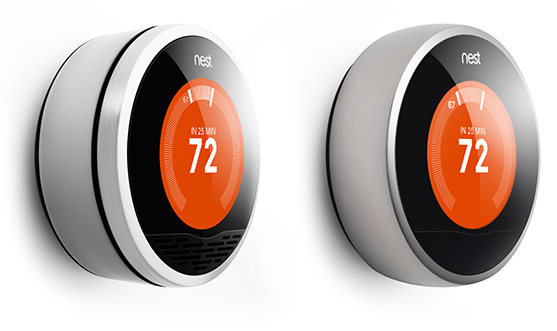 Nest, however, was far from the first device to enable thermostat control over Wi-Fi. As long as the 'smart learning' features are not needed, there are plenty of cheaper options available. Radio Thermostat's Wi-Fi enabled products (along with iPhone and Android apps) have been around since 2010. Radio Thermostat's offerings can be accessed through well-documented APIs. This means that tech-savvy users can roll up their own control mechanism without being at the mercy of the iOS or Android app. Home Depot's 3M Filtrete 50 and the Homewerks CT-30 are rebadged versions of Radio Thermostat's offerings.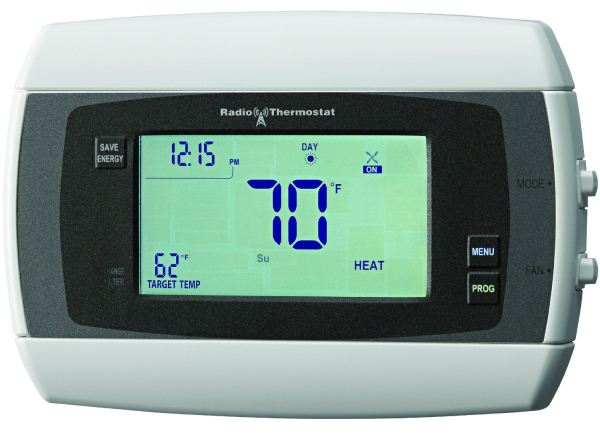 These units are cheaper than the Nest, though self-installation might be challenging for the average consumer. Other options for Wi-Fi / network enabled HVAC thermostats include the LockState Connect LS-60i WiFi Internet Programmable Thermostat. and the ecobee Smart Si / Smart Thermostat.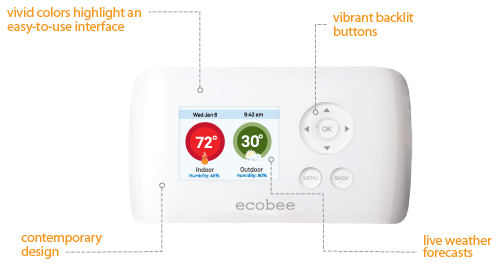 My colleague, Brian Klug, has been using the Nest thermostat for a number of months now, and he is a big fan of the device. GigaOM, while heaping praise on the device, does point out some issues with it in the context of a smart home. Being a standalone device, it can't be controlled over the same interface as other HA components. While the review does recommend the Nest to people who currently have no HA system installed, I fear that the device would lead consumers down the path of a walled garden similar to what Apple has created in the computing landscape. To elaborate on this, consider the fact that the APIs for Radio Thermostat's offerings are well documented. On the other hand, Nest refuses to provide similar details for their device. In fact, users have done some snooping to discover some of the bits and pieces. On the whole, the lack of official API documentation makes the whole scheme appear very complicated. In a larger sense, HA is about control as well as building a smarter and more efficient ecosystem. While Nest succeeds very well in the latter, we hope it will also integrate well with other HA devices.
Due to the closed nature of the Nest system, third-party developers may not find enough incentive to control it along with other Wi-Fi enabled HA components over a single interface. It is a pity that the lack of slick marketing and an attractive industrial design have relegated consumer-friendly devices such as Radio Thermostat's offerings to a niche when compared to closed systems such as the Nest. Hopefully, as tech-savvy readers, we consider the bigger picture before choosing any HA device.
Coming back to the thermostats, we find that Radio Thermostat offers models with ZigBee or Z-Wave modules instead of Wi-Fi also. The thermostat itself is protocol-agnostic because of its support for U-SNAP bridges. Nest, on the other hand, went the non-standard route by integrating both Wi-Fi and ZigBee radios within the device itself. A look at the pricing of various U-SNAP modules online indicates that the Wi-Fi module costs around $10 more than the ZigBee and Z-Wave modules. However, Wi-Fi modules have the volume factor going in their favour. A downward movement in the pricing can be expected as multiple silicon vendors compete against each other in the same space, as outlined in the previous section.
Power switching is a simple home automation application in which a device can be powered up or down at the socket level remotely. Simple Wi-Fi switches such as the NetRC1 have been around since early 2010. One of the first mainstream companies to enter into this space was Belkin. In this section, we will take a look at two interesting Wi-Fi based power switches, the Belkin WeMo kits and Visible Energy's offerings.
Belkin WeMo
Belkin's WeMo lineup consists of two offerings, the plain WeMo Wi-Fi controlled switch ($50) and the WeMo switch combined with a motion sensor ($100). Currently, only an iOS app is available for controlling the switch.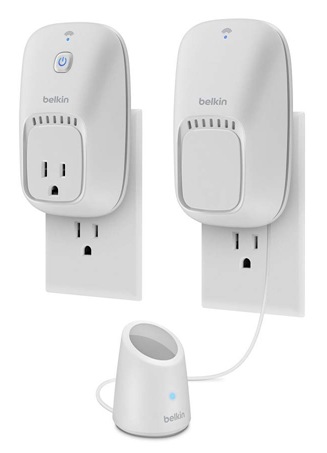 A web-service called 'If This Then That' works with these switches and allows bidirectional reaction to events. For example, a event triggering the motion sensor on a particular unit could be used to generate an email message. Similarly, an event happening on a website (say, a weather channel website indicating that the sun has set at a particular location) can trigger a particular switch on.
Currently, the device seems to be recommendable only to consumers in the Apple ecosystem because of the absence of an Android app. It is not clear whether the unit is accessible from a browser on the local network in the case that there is no access to the Internet and an iOS device is not available. Similar to the walled garden being created by Nest, Belkin also refuses to document the APIs officially. However, this has not prevented the communication methods from getting exposed. The concerns that I voiced in the earlier section regarding Nest warrant a repetition here too. Belkin does plan to add more Wi-Fi enabled home automation devices such as door locks and light bulbs to this lineup. That is a positive compared to having a dedicated app with a different UI for the thermostat alone. In any case, home automation system adopters should try to ensure that the components being put in have well-documented control interfaces.
Visible Energy
My search for an economical and open Wi-Fi power switch ended when I spotted Visible Energy's UFO Power Center and Monostrip. In addition to the ability to power the outlets up and down over Wi-Fi, they also provide real time power usage feedback. Like the WeMo, only an iOS app is available right now. However, web access is also provided using the Visible Energy Web Dashboard. The four-outlet UFO Power Center comes in at $130, while the two-socket Monostrip comes in at $49. Visible Energy also sells a version of the Monostrip with temperature and humidity sensors at $130.
The UFO power center has a strange industrial design, while the Monostrip is a little more conventional in nature. While we are looking at the two units from a Home Automation perspective, the company stresses the fact that the products are more about conserving electricity and creating a user friendly energy management system.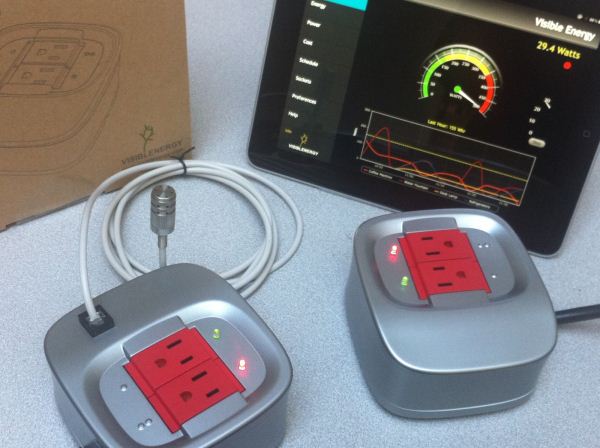 The energy management goals make it necessary for the product to have real time power monitoring. This is a very useful feature (actually, the primary feature) present in Visible Energy's products when compared to other Wi-Fi enabled power switches. Power consumption is calculated and refreshed every second. Energy usage is calculated 50 times a second and the data is recorded at 5 minute intervals.
The real clincher is the availability of extensive developer documentation for accessing the energy / power data and controlling the units. This makes it easy for third parties to create custom interfaces in a home automation setting.
Crowdfunded initiatives have seen a sudden spurt thanks to the popularity of services such as Kickstarter and IndieGoGo. Since Wi-Fi is familiar to almost everyone with an Internet connection, crowdfunded initiatives involving Wi-Fi and the 'Internet of Things' have consistently been able to meet and even comfortably exceed their goals. The ease with which funding has been raised indicates the pent-up market demand for easy to use HA devices using infrastructure already in the hands of the consumers. In this section, we will take a look at some of the miscellaneous Wi-Fi enabled home automation devices which are already in the market / slated to appear soon.
Door Locks
Lockitron is a keyless lock which can be unlocked using a smartphone's Wi-Fi, Bluetooth or NFC capabilities. It doesn't replace the conventional lock, but fits over the existing one on the inside of the door while retaining the smartphone communication.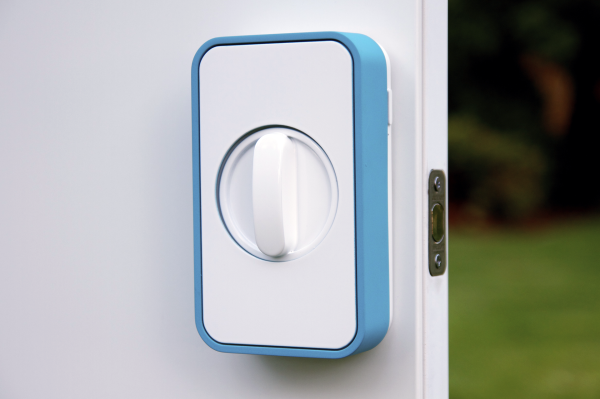 The product is expected to ship in March 2013. It is priced at $149 on pre-order. A mobile website / cloud backend ensures that any smartphone can control the unit, and it actually doesn't need to be connected to the local Wi-Fi network. The consumer doesn't really need to be tied down to an iOS or Android device. Even older phones can access the unit using text messages. Importantly, the unit is based on the Atmel ATMega microcontroller, which is compatible with Arduino. Simple API endpoints are available, and users can also decide to program the unit themselves.
The LockState Connect LS-DB500i Wi-Fi deadbolt lock is another device slated to appear in the market soon. The company has a video of the unit in operation. Even though the device uses Wi-Fi, it seems to require only 4 AA batteries to operate (like other ZigBee / Z-Wave based devices). Battery life comparison will be quite interesting.
Lighting Control
Simple control of lighting equipment can be achieved through Wi-Fi power switches. However, some applications require dimming / brightness adjustment capabilities. National Control Devices offers a Wi-Fi light dimmer which provides up to 255 different brightness levels controllable over a Wi-Fi connection. However, with a total cost of around $380, it is targeted more towards industrial users rather than home automation. The ZigBee version costs around $320. Wi-Fi may not appear to be cost effective right now, but this doesn't consider the external ZigBee router / controller needed for operation.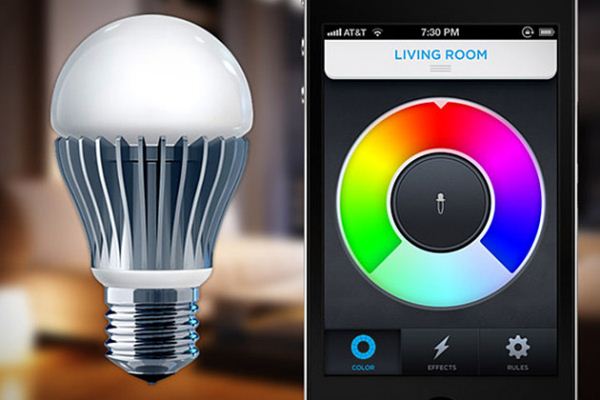 LIFX is one of the recent Kickstarter hits. The product is a Wi-Fi enabled LED light bulb. An interesting aspect to note is that only the master light bulb is Wi-Fi enabled to connect to the wireless network. The other bulbs communicate with each other and the master light bulb itself using a ZigBee 802.15.4 mesh network (which consumes much less power compared to Wi-Fi right now). However, the unit is quite costly, coming in at $69. As this market area garners more manufacturer interest, pricing will become better.
Alarms / Remote Monitoring with Wi-Fi : IP Cameras with Motion Detection
This is one of the classic use cases where Wi-Fi based home automation trumps any other low power alternative. Over the last few years, we have seen a number of Wi-Fi enabled IP cameras meant for surveillance purposes. At AnandTech, we have even reviewed some of them such as the Dropcam Echo, Compro IP70 and IP540. Technology advancements have reached a point where even 720p HD is available in IP cameras such as the Dropcam HD. Ease of use and control over Wi-Fi are some of the aspects that the manufacturers hope to get right in this market area. Almost all IP cameras can be configured to provide feedback based on motion detection (without an explicit motion sensor). Many of these devices can be controlled (Pan / Tilt / Zoom) using a computer or mobile app too.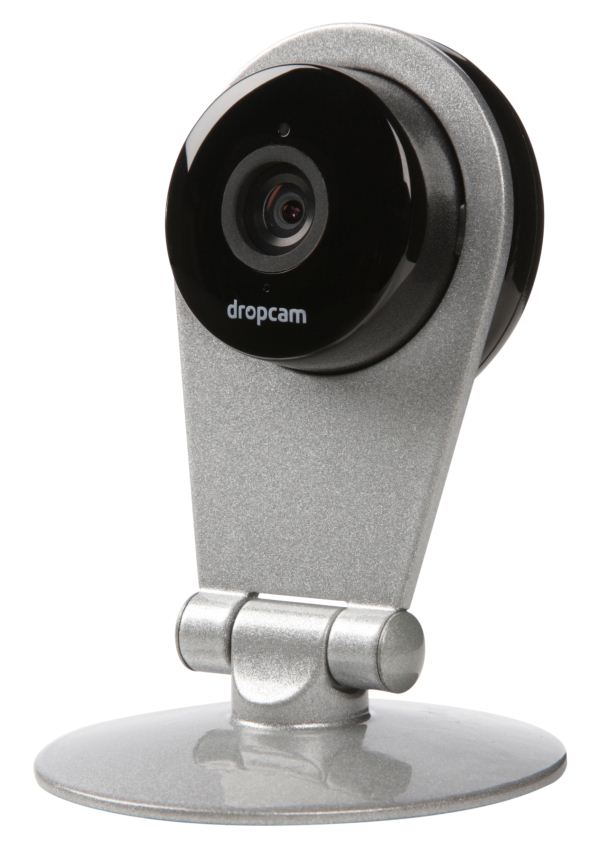 Low power mesh networking technologies such as ZigBee and Z-Wave are simply incapable of the bandwidth required for video streaming over IP. In this situation, Wi-Fi (or wired Ethernet) is an option. As the control signals can easily piggy-back on the Wi-Fi / Ethernet connection, it really makes no sense to add ZigBee or Z-Wave capabilities to IP cameras. The only reason could be integration with an already existing home automation server, but, as we have taken effort to point out, the whole HA industry is slowly shifting towards a Wi-Fi centric model.
Home Automation technologies have remained out of reach of the mainstream consumers for a long time. The high cost and custom installer requirements have restricted them to high end homes. The multitude of technologies in this space has also been detrimental to the adoption rate. However, the rise of smartphones and tablets has suddenly brought about a big shift in the landscape.
Wi-Fi networks have become ubiquitous in almost every home now. Smart device manufacturers have realized the advantages of integrating Wi-Fi instead of ZigBee or Z-Wave in their products. Some aspects such as power consumption, range and, to some extent, cost are still not optimal with Wi-Fi. However, with silicon vendors becoming active in this market segment and work progressing well on the 802.11ah front, these will be addressed soon.
In home automation terminology, 'scenes' refer to the linking of devices in intelligent ways based on events. Simple device-based control using a mobile app opens the door. But, one also needs a central device which can perform the orchestration. This makes it necessary for specialized HA protocols to have dedicated controllers. In a pure Wi-Fi based system, I can see this orchestration running as an app on the router. For example, Netgear allows third-party developers to write apps for their routers using Java and post them in the Genie marketplace. If the HA devices have open APIs and developer documentation, creation of scenes in a pure Wi-Fi based system will probably not require a dedicated controller.
What does all this mean for the average consumer? The most important takeaway is that home automation products, particularly Wi-Fi based ones, will see an uptick in adoption. This will, in turn, fuel the development of more innovative HA devices. This will be a boon for consumers who already have a HA system in place. What about users who are starting afresh? It is very important to not get tied down with a closed system. Products such as Nest and Belkin WeMo may boast of excellent industrial design and a great feature set. However, unless they open up the APIs and access for third parties to create a common custom home automation interface, they can't be recommended. Products such as those from Radio Thermostat and Visible Energy may not have great industrial design or the marketing budget that others have. However, we can recommend them without reservations for their feature set (including the well-documented APIs for developers).
A host of Wi-Fi enabled HA products and concepts have already started capturing the attention of the consumers. Coupled with the rapid rise in Wi-Fi based home automation, the talk of an 'Internet of Things' will soon become a mainstream reality.