Original Link: http://www.anandtech.com/show/6343/avadirect-clevo-p170em-amds-hd-7970m-got-game


Part I: AVADirect Clevo P170EM Gaming Notebook with Radeon HD 7970M
When AMD and NVIDIA updated their mobile graphics offerings earlier this year, we were quite eager to get our hands on the new hardware to see how it would perform. Our first encounter with NVIDIA's mobile Kepler came courtesy of Acer's M3 Ultrabook, but that was a bit of an odd pairing as the ULV CPU and DDR3 VRAM likely didn't let GK107 really stretch its legs. We then got a second taste of mobile Kepler with the Clevo W110ER in the form of Eurocom's Monster, and several more options have come and gone with the likes of the Acer V3, Dell XPS 15, and Samsung Chronos 7. So far, we have yet to test any of AMD's updated 7000M mobile GPUs—particularly the new GCN-based derivatives. That changes today, as we have initial performance results from both GPUs, courtesy of AVADirect.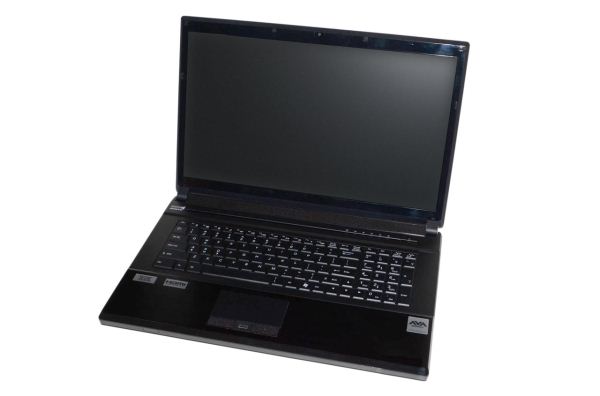 About six weeks ago, AVADirect shipped us two identically equipped notebooks using their Clevo P170EM chassis: one with an HD 7970M and the second with a GTX 680M. We encountered a few driver issues with the latter but had even greater concerns with the former—so much so that we spent a lot of time in discussions with AMD and eventually received a briefing on their updated Enduro 5.5 driver plans. Throw in some other unexpected events and we're a bit behind schedule, but over the course of the next week we hope to be able to provide full details on what you can expect from the Clevo P170EM, AMD's HD 7970M, and how things stack up in an apples-to-apples comparison with NVIDIA's GTX 680M. Let's start first with a focus on the core notebook housing the GPUs with the full specs of our test system from AVADirect.
AVADirect Clevo P170EM Gaming Notebook Specifications
Processor
Intel i7-3720QM
(Quad-core 2.60-3.60GHz, 6MB L3, 22nm, 45W)
Prolimatech PK-3 Thermal Compound
Chipset
HM77
Memory
Kingston 8GB (2x4GB) DDR3-1600 (9-9-9-24-1T Timings)
Note: RAM runs at DDR3-1333
Graphics
Intel HD 4000
(16 EUs, up to 1250MHz)

AMD Radeon HD 7970M 2GB GDDR5 (Enduro)
(1280 cores at 850MHz, 256-bit GDDR5-4800)
Display
17.3" WLED Glossy 16:9 1080p (1920x1080)
(AU Optronics B173HW01 v4, 90% Gamut)
Storage
256GB SATA 6Gbps SSD (Crucial M4-CT256M4SSD2)
Optical Drive
DVDRW (Slimtype DS8A8SH)
Networking
802.11n dual-band 450Mb WiFi (Intel Ultimate-N 6300)
Gigabit Ethernet (Realtek RTL8168/8111)
Audio
Realtek ALC269
Stereo Speakers
Headphone/Microphone jacks
Capable of 5.1 digital output (HDMI)
Battery/Power
8-cell, 14.8V, 5200mAh, ~77Wh
FSP Group 220W Max AC Adapter (19.0V, 11.57A)
Front Side
IR Port
Left Side
Memory Card Reader
1 x USB 3.0/eSATA Combo
2 x USB 3.0
Gigabit Ethernet
Mini-FireWire (1394A)
Right Side
DVDRW
Headphone
Microphone
Line-Out
Line-In
1 x USB 2.0
Back Side
2 x Exhaust Vents (CPU/Chipset and GPU)
DisplayPort
HDMI
Single-Link DVI-D
AC Power Connection
Kensington Lock
Operating System
Windows 7 Home Premium 64-bit
Dimensions
16.22" x 10.87" x 1.65-1.79" (WxDxH)
(412mm x 276mm x 41.8-45.4mm)
Weight
8.58 lbs (3.9kg) (DVDRW + Single HDD)
Extras
HD Webcam
102-key Keyboard with Standard 10-key
Configurable backlighting for keyboard (7 colors)
Memory Card Reader (MMC/MS Pro/SD)
Warranty
Standard 1-year Warranty
$103 for 2-year Clevo Warranty
$211 for 3-year Clevo Warranty
Price
Starting at ~$1485 (Oct. 2, 2012)
As configured: $2176 (with 1-year Warranty)
Our review unit isn't the least expensive way to get into a Clevo P170EM, but it's pretty close to the configuration I'd want if I were actually doing the shopping. We worked with Misha Troshin, CMO of AVADirect, to make sure we had a system that we wouldn't have to ding for including questionable component choices, and he delivered. The i7-3720QM is a pretty sizeable jump in price from the i7-3610QM, and we'd probably elect to save the ~$130 in most cases and stick with the 3610QM, but we wanted to make sure that neither the HD 7970M nor the GTX 680M were being held back by the CPU, so the extra 300MHz on the base and max turbo clocks seemed like a reasonable way to go.
We also wanted to get a decent amount of RAM for a modern notebook, with room to grow if we decide in the future that 8GB isn't enough, so a 2x4GB DDR3-1600 configuration is perfect—and unlike many of the large OEMs, AVADirect doesn't fleece you on RAM pricing; you can upgrade to 2x8GB DDR3-1600 for just ~$65 more than our base RAM choice, or go whole hog and equip your notebook with 32GB (4x8GB) of DDR3-1600 RAM for ~$175 extra. Newegg sells the same memory for $95 per 16GB kit, so there's still a small markup, but when you see Dell/Alienware charging $75 to upgrade from 6GB to 8GB RAM, $225 for 16GB, and $425 for 32GB, you're likely to feel a lot better about the markup from AVADirect. Also remember that if you want to utilize more than 16GB of RAM, you'll need to go with Windows 7 Professional or Ultimate as Home Premium limits you to "only" 16GB.
Unfortunately, there's a small snafu with the Kingston memory in our 7970M review unit: the BIOS runs it at DDR3-1333, even though it's rated for DDR3-1600 speeds. Our GTX 680M notebook came with Corsair DDR3-1600 memory, and it's running properly at DDR3-1600 9-9-9-24 timings, so keep that in mind when ordering. It shouldn't make much of a difference (I'd guess one or two percent at most), but given the memory is priced the same there's not much reason to opt for DDR3-1333 if you can run at DDR3-1600. Normally I'd just modify the appropriate BIOS setting, but in the stock Clevo BIOS there's no option to set specific RAM timings. (Note also that even on Clevo's own product page, there's currently no option to download the release BIOS, let alone an updated BIOS.)
Storage duties are handled by a dedicated SSD, and in this case we opted for the then-cheapest 240/256GB SSD, the Crucial M4. Since then, we've seen pricing plummet on many SSDs, and if you're willing to take a chance on a SandForce SF-2281 SSD (I haven't personally experienced any issues with the three drives I've been using for several months—knock on wood), you can get a Mushkin Chronos Deluxe 240GB for a bit less these days. Still, you're looking at 240GB for $195 compared to $205 for 256GB, so the price per GB is nearly the same (and the Crucial M4 is actually slightly ahead). Those who want some mass storage thrown in can add a large 1TB hard drive for an additional $102, but I'd just as soon grab a larger 480/512GB SSD for about $80/$100 more (i.e. Mushkin Chronos Deluxe/Crucial M4).
If you're really looking for interesting ways of equipping your Clevo P170EM, besides the two hard drive bays, AVADirect also offers mSATA SSDs up to 256GB in capacity, starting at $211 for the Crucial M4. All told, you can install an mSATA drive, two 2.5" drives, and if you so choose you can ditch the optical drive for a third 2.5" drive via a caddy. That means you can do an mSATA boot/OS/Apps SSD with two RAID 0 hard drives (or SSDS) and still keep your optical drive. Note that unlike some previous Clevo notebooks, the P170EM doesn't appear to support RAID 5 even if you replace the ODD with a third HDD/SSD.
Our remaining options are pretty run-of-the-mill. Some might like having a Blu-ray combo drive, but the additional $75 in this day of HD video streaming services may not be all that compelling. The wireless networking options also give you the choice of several Intel chipsets, or you can use the Killer Wireless-N 1103; we got an Intel Ultimate-N 6300 adapter, which is good enough for most use cases (and I continue to plug in Gigabit Ethernet whenever possible, as it still smokes even the fastest wireless chipsets). Everything else is pretty much self-explanatory, though the inclusion of three USB 3.0 ports with a single USB 2.0 port is a bit odd (perhaps the USB 2.0 port is provided for improved compatibility). Also worthy of note is that Clevo still includes a DVI-D port, which is quite nice for people like me that have older displays with no DisplayPort capability; sadly, it won't support dual-link DVI-D (unlike older Clevo notebooks).
One thing I'd really like to see change with the various Clevo branded notebooks is the default warranty; if the product is good enough to last a couple years (which it should be considering the pricing), a standard 3-year warranty should be par for the course. I can understand why a lot of consumer notebooks only come with a 1-year warranty, but one good way for smaller boutique vendors to stand out from the large OEM crowd is to provide better service and support. Personally, a big part of that is being willing to stand behind your product with a 3-year warranty. Seeing most places offer a "Clevo 3-year warranty" suggests that they are either unwilling or unable to provide internal support for that long, and that's a shame.
Let's move on to our subjective evaluation of the Clevo P170EM and find out how the P170EM fares as a daily use notebook.
Oh, Clevo, Why Do You Pain Me So?
When I first caught a glimpse of the upcoming Clevo notebooks earlier this year, I erroneously thought that they might have finally figured out how to do a proper chassis, keyboard, and touchpad. Sadly, while they did add brushed aluminum plates on the cover and palm rest along with zoned backlighting for the keyboard, in most areas Clevo continues to prove that they have no desire to build a premium quality chassis. If I could reach out through the Internet and slap someone, I would, because while Clevo has clearly made some changes since their Sandy Bridge models they're still not where they need to be. Let's start with the photos.
I'll forgive the plastic chassis somewhat, as anyone lugging around a 10+ pound notebook (including the nearly two-pound power brick) should be smart enough to handle it with some care. Even so, the brushed aluminum surfaces are like putting lipstick on a pig: you can dress up the cheap injection molded plastic all you want, but it's still an injection molded plastic chassis. Other high-end laptops are using magnesium alloy frames to provide a rigid body with the shell composed of other materials (the Lenovo T and W series laptops are a prime example of this), while the truly high-end/expensive laptops are going with machined aluminum (e.g. MacBook Pro, Dell's new XPS line, Razer's Blade). Clevo apparently doesn't want to invest in such designs, likely because they don't sell enough units to make it practical—we'd be looking at a starting price probably $500 higher were Clevo to make the jump to such a chassis—so instead Clevo goes for somewhat mediocre materials while providing higher performance hardware than the competition.
Ultimately, the P170EM is really a transportable notebook rather than something you'd want to take on business trips or the like, and it can also serve as a mobile workstation should you be so inclined. It won't blow you away with its looks, but the basic design works reasonably well. The cooling subsystem for instance is quite good at dealing with the heat the CPU and GPU can crank out under full load, with no throttling apparent even under sustained stress testing. Not surprisingly, the notebook does get moderately loud under such a load, as the large fans and chassis are good for airflow but not for quiet computing. For power users, however, that's better than the rampant throttling we experienced with the Dell XPS 15 and to a lesser extent the Samsung Chronos 7.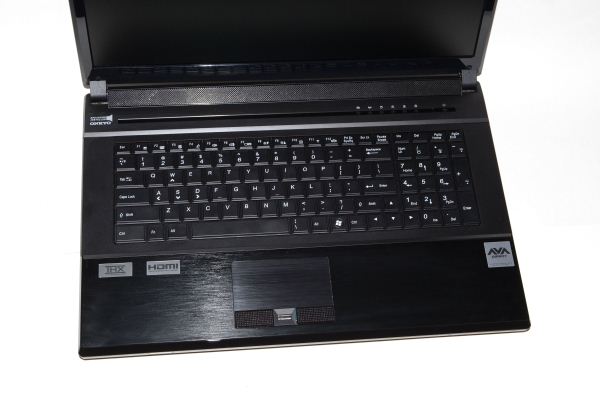 While the overall design isn't going to win any awards, my real complaints with the P170EM (and the P150EM, as it shares many of the same issues) continue to be with their keyboard and touchpad. These are very subjective elements, so take the following as my opinion if that helps. Certainly you can still use both, but I've handled many laptops over the years and I know what I like and what feels comfortable. If you're looking for a gaming notebook, you're probably more worried about the GPU (and you should be), but I still need to cover what it's like for me to use this notebook as a daily driver.
I'll start with the touchpad for a change of pace, as I've harped on Clevo's keyboards plenty of times in the past. Simply not, the touchpad is up to standards for 2012. It works, but the lack of a clearly defined edge is undesirable, as you'll often move your finger past the touchpad boundary without realizing it. Both the touchpad and the palm rest have a brushed aluminum finish, with slightly more texture on the touchpad but not enough to be easily noticed, and the z-height of the touchpad is the same as the palm rest as well. It becomes very easy to move your finger(s) past the gap (which looks like a great place for grime to collect, incidentally) and not notice other than the mouse cursor stops moving.
The touchpad uses Synaptics hardware, which is usually the best in my experience, but there are a variety of material, thickness, electrical interface, and functionality options available even within the Synaptics family. One thing I noticed for example is that there is no "coasting" when using a scrolling gesture; that's not necessarily bad, but it is different from most other touchpads I've used of late. The two-finger scroll also happens to be very fast by default, jumping over 1cm at a time on the display in Chrome even when set to the slowest scrolling. The net result is less than ideal, though in general I can use the touchpad without wanting to tear my hair out. The hardware incidentally is listed as v7.2, with 15.1.14 drivers; I'm not sure whether the hardware is current or not, but again I've had better touchpad experiences. It's not the end of the world for a gaming notebook, though, since everyone I know that plays games (on a notebook or desktop) still uses an external mouse.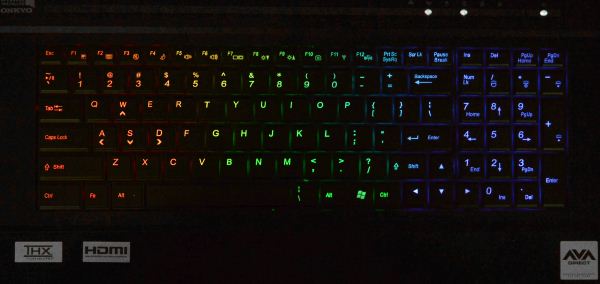 If the touchpad is less than stellar, the keyboard is a much worse contender. Let's start with the good: it has backlighting, and if you go for multi-colored backlighting it offers that as well. Alienware's AlienFX backlighting is still superior in my view as it has four zones with the 10-key as its own separate zone, where the Clevo backlighting consists of three zones (lights), but that's a minor point. The in-between areas fade between colors if you don't use the same color for adjacent zones, which can be a somewhat cool effect (same as AlienFX), and you get the ability to select from seven different colors (as well as off). You can also turn the keyboard backlight intensity up/down using Fn-key combos with the number keypad. Clevo has also updated the 10-key so that is has a proper layout (no more moving the plus, minus, etc. keys to a non-standard location). That's about all the good I have to say concerning the keyboard, unfortunately.
The problem is that while the layout is generally fixed on the number keypad (the zero key is still slightly smaller and overlaps the right cursor arrow key), other layout issues remain, including some new ones. For example, despite having ample space, there are no dedicated Home/End keys—they overlap as Fn-key combos with the PgUp/PgDn keys—and yet we have dedicated Pause, Scroll Lock, Insert, and Print Screen keys. Who still uses Pause or Scroll Lock? Clevo also doesn't provide a dedicated context key (Shift+F10 still works, naturally), but they provide you with two backslash keys; the extra backslash is just to the right of the space bar (where Alt should be). To the right of the second backslash is the Windows "flag" key; every other keyboard I've used in the past eight or so years has the Windows key in between the left Alt and the Fn key (or Ctrl key on some laptops), so relocating it to the right of the spacebar is definitely an irritation for me.
I've heard that they moved the Windows key is so gamers that use the left Control key don't accidentally hit it, but there are utilities to disable the Windows key. You can also remap some of the other keys (e.g. via a utility like SharpKeys), so you could make the bottom backslash into a context key. Unfortunately, that doesn't get around the labels, and there are still too few keys to the left of the spacebar to get Ctrl, Alt, Fn, and the Windows key (and as far as I can tell it's not possible to remap the Fn key).
I could overlook the above issues if the typing experience was good, but it's simply not. Typing on the new Clevo keyboards is not at all pleasant, with very shallow key travel (especially considering the size of the chassis) and keys that feel flat and unresponsive extremely loose and mushy. [Update: I guess loose and mushy isn't really correct; they just feel wrong to me when I type, but I think it's mostly the lack of key travel. The experience is similar to the first Ultrabooks and is very fatiguing to type on.] Anyone that reads my laptop reviews knows that I'm a bit of a keyboard snob—hey, I write for a living, okay?—but even so I have to call Clevo out on taking a clear step backwards in terms of keyboard feel. I'm sure some people somewhere will like it, but after typing just one page of this review on the P170EM I was forced to throw in the towel and move to something more comfortable/precise. Just about every other laptop has moved to chiclet keys, and while I wouldn't go so far as to say that's the best style of laptop keyboard right now, most are clearly better than Clevo's new design.
I actually didn't mind the tactile feel of the previous generation Clevo keyboards (e.g. P150/P151HM, P170/P171HM); it was the layout and in particular the 10-key that drew my ire. Instead of simply creating a backlit chiclet keyboard and fixing the layout to create something similar to what we've seen on so many other laptops, Clevo ended up making keys that have a small beveled area around the sides that look like a throwback to something I used to see four or five years ago (Dell's Studio XPS 16 and a few Gateway laptops had keys like this, for instance). Typing feels at least as bad as the old Acer floating island keys in my book; I'm not sure I could really say anything more damning than that. Overall, the keyboard is a big miss; it feels bad on a notebook that's anything but. That Clevo also continues to use the same keyboard on their 15.6" and 17.3" designs is also annoying, since it means they don't make full use of the expanded chassis size on the larger notebooks.
Outside of the keyboard and touchpad, things are better in most areas though still not perfect. The hinges look and feel less robust than I would like, as hinges are one of those areas that gets worn out even on laptops that are handled carefully if they're not made well. I can't really say if they'll hold up for years or not, but I do prefer 17" notebooks to have beefy hinges (something like the ThinkPad hinges would be great). Time will tell whether they're better than they look or not. Another (generally minor) complaint is with the port layouts; I understand the need to put some ports on the back, but I want HDMI on the side as it's the most likely to get used, and I know at least one person that managed to break their AC connection when the back of the laptop got pressed against something. Some people will undoubtedly disagree, so take this for what it's worth: my opinion.
Getting back to the materials, there's glossy plastic on the LCD bezel, with some other glossy plastic accents just to cheapen the overall look. That's a shame, because most whitebook vendors like AVADirect offer several different LCDs with the P170EM—we actually requested two different displays for testing, one glossy and one matte, both with 90% gamut ratings. (The matte 90% gamut is no longer showing up on the AVADirect configurator, and technically it didn't reach 90% gamut in testing; still, we hope it returns as it's a great display overall.) The colors on the high-gamut displays are about as good as you can get from a TN panel, and our only complaint is that the maximum brightness is somewhat weak at only 270-285 nits. Finally, the speakers are decent if not exceptional, with a small subwoofer in the bottom to help improve bass response and THX TruStudio Pro software to help tweak how the audio sounds. I've heard better laptop speakers, but I've also heard far worse and I could at least be content with the P170EM solution.
One thing that is convenient with Clevo's designs is that you can easily access and upgrade most components. There are three panels on the bottom of the P170EM chassis, two smaller ones for the 2.5" drive bays and optical drive bay, with a large panel providing access to the bottom SO-DIMM slots, CPU, and GPU. Clevo also tends to be one of the first to adopt new mobile GPUs, and if you're willing to pay the price you can potentially upgrade from a previous generation GPU to a new model (e.g. next year's HD 8970M and GTX 780M). Of course, you'd probably need a new BIOS to support such updates and that's not something Clevo generally supplies, and I wouldn't buy a notebook with a plan to upgrade to a new GPU unless the manufacturer specifically promises that capability, even though it should be possible (within the same TDP, naturally).
Wrapping up the subjective evaluation, let me clarify a few points. I've hammered on the keyboard simply because that's something that matters to me, and this particular keyboard really doesn't work for my typing style. It's not that I can't type reasonably fast on it, but rather that it becomes very uncomfortable after a relatively short amount of time. If all you want to do is play games on a notebook, it's far less of a concern, so keep your intended use in mind. The Clevo P170EM is a decent notebook, and it's arguably the fastest gaming notebook around (more or less tied with Alienware and MSI). If that's what you're after and you don't care for niceties like an improved design aesthetic, that's fine. What I struggle with is the fact that Clevo updated the design from their last generation but ended up providing things I could live without (multi-colored keyboard backlighting and aluminum palm rests) while failing to address other areas (the typing experience and the glossy LCD bezel). I want to be better, and so consider this subjective evaluation from that perspective as opposed to it being a complete dismissal of the P170EM.
When it comes to gaming notebooks, there really aren't that many viable options. Alienware, Clevo (and the various resellers), MSI, ASUS, and Samsung are about it, and ASUS and Samsung don't go for top-tier GPU performance. If you can live with a GTX 670M/675M, ASUS and Samsung are options, but if you want a GTX 680M (or HD 7970M) you only have Alienware, Clevo, and MSI. Of those three, I personally find Alienware to be the best blend of aesthetics and performance, and I would take their keyboard over the other two. MSI and Clevo are more of a toss up, with a better keyboard on MSI but more customization options on Clevo. I also know people that absolutely hate the look of the M17x (and others that hate Clevo and MSI just as much), so in the end you'll have to decide which is best for you.
Setting the Stage: Performance Expectations
Before we get to the actual performance, I need to go off on a tangent for a minute. First, I need to start by pointing back to our overview of AMD's Enduro technology. I've been wrangling with AMD for a while over Enduro and 7970M, and my delays have lasted long enough that the public Enduro 5.5 update is now available. As I noted in the beginning of the first Enduro article, my initial impressions weren't particularly good to say the least, and my first encounter with the P170EM didn't assuage my concerns. Thankfully, AMD has been working to improve/fix the technology, and the public Enduro 5.5 driver at least installs and updates the UI for Enduro, with the promise of future driver releases.
There were many comments on the Enduro article, and in general most of those comments weren't particularly favorable towards AMD or the HD 7970M, but my experience suggests that (nearly?) all of the problems can be fixed with driver updates. One complaint in particular is with GPU underutilization—that the 7970M in some games is only running at 50-70% utilization, and thus delivers lower than expected frame rates. The public 12.9 Beta drivers still have this problem in many games, but AMD knows this and is working to fix things. Let me first describe what's happening before getting to the fix.
When you max out the details in most games the 7970M will still get above 30FPS, which is good. Unfortunately, in some titles the GPU utilization will drop well below 90% and this results in a very perceptible drop in performance. So for example, a game like Battlefield 3 might go from a smooth 40+ FPS down to 20FPS for a second or two, then back to 40+ FPS—lather, rinse, and repeat. As you can imagine, that makes serious multiplayer gaming a real problem, and at lower detail settings (with higher frame rates), the GPU utilization is even worse (sometimes lower than 50%). Going through our current gaming test suite, in some of our test titles we only get slightly improved frame rates despite dramatically lower complexity. Owners of 7970M notebooks have expressed a great deal of frustration with AMD over the situation, and the lack of driver updates has only heightened the irritation.
Thankfully, AMD is set to address the driver updates issue with their new Enduro Catalyst program. What's more, AMD is aware of the GPU underutilization problem and they're working to address that as well. The initial 12.9 Beta driver still has underutilization problems, but AMD plans to release a hotfix in the next week or so that should hopefully clear things up. It appears that the problem is related to the copying of frames over the PCIe bus (among other things), as the problem becomes more pronounced in games that hit higher frame rates. AMD states that they can improve the situation with driver tweaks, and to prove this they gave us advanced access to the hotfix drivers (hence the additional delays). We'll be looking at performance with three sets of drivers to show how things have/haven't changed since the 7970M launch. The short summary is that the performance potential is certainly there, and AMD appears to understand how critical mobile driver updates are for gaming notebooks, but we'll have to revisit the topic again in another couple of months to find out how well AMD is able to follow through with promised improvements and regular driver updates.
Taking a look at the bigger picture, we're now roughly at the performance level of the desktop HD 5850 from three years back, but using about half as much power and with some architectural enhancements that can further improve performance in some titles. Looking at today's desktop PCs, the HD 7970M uses the Wimbledon XT core (basically mobile Pitcairn) and it's clocked at nearly identical speeds to the desktop HD 7850 (10MHz lower on the core clock). The 2GB cards go for $200 these days, which means you're paying roughly twice as much for a GPU binned to draw 50W less power and work in a notebook. As a desktop card, the 7850 was reasonably attractive at launch, with good power characteristics and the ability to handle nearly all titles at maximum detail and 1920x1200 (close enough to 1080p) while staying comfortably above 30FPS. The mobile 7970M should be able to match that performance…assuming Enduro technology doesn't get in the way.
CPU performance and general laptop usability on the other hand are mostly free from concerns. We noted that the Kingston RAM is only running at DDR3-1333 speeds, but the additional bandwidth of DDR3-1600 should only improve things by a couple percent at best. The i7-3720QM is as fast here as it has been in other notebooks, and the SSD storage makes everything you do very responsive. Just how responsive is the P170EM? It takes longer for the notebook to POST (around 12 seconds) than it does for it to load Windows or resume from hibernation. Of course, there's a problem with that statement; 12 seconds to POST is absurdly long and it points to one of Clevo's shortcomings: firmware.
Besides the lengthy POST process (as a point of comparison, the Samsung Series 7 Chronos POSTs in under six seconds), there are other firmware/BIOS issues. The biggest is with battery life, which is nowhere near what we would expect from a 77Wh battery and switchable graphics (i.e. the dGPU is off when not in use). This applies to both the AMD Enduro and NVIDIA Optimus variants of the notebook, incidentally, with results that are nearly the same on the two notebooks; it looks like Clevo simply hasn't done a very good job in optimizing for battery life. Best-case, I was able to hit just 3.5 hours of battery life with a P170EM, running an idle workload; our Internet battery testing usually drops battery life by 20-25%, but with the P170EM we only see a 3% drop, and the drop for the H.264 playback result is likewise small at just 10% less than the Internet result.
Put another way, we've seen quad-core Ivy Bridge laptops that draw 7-10W at idle (e.g. the Acer V3-571G draws around 7.3W at idle while the Samsung Series 7 draws 10.3W); the P170EM by comparison draws around 21W at idle, over twice as much as the Samsung Series 7—and both are using 17.3" LCDs, so the comparison is quite reasonable. For Internet battery life, the Samsung draws around 12.5W compared to 21.8W for the P170EM; the closest it gets is for H.264 where the Samsung draws 16.5W and the P170EM draws 24.2W. Presumably the battery life could be improved with a firmware/BIOS update, but in the past Clevo hasn't been all that great at addressing such issues—the W110ER is another example of this, where Vivek's initial testing of Eurocom's Monster 1.0 yielded excellent battery life results but subsequent testing of a different W110ER showed significantly lower battery life (and again, Clevo's site doesn't list any BIOS revisions). Basically, don't expect great battery life from the P170EM; most of you probably aren't that concerned anyway, as a 17.3" 10-pound notebook isn't exactly designed for mobile warriors in the first place, but we've seen better elsewhere (e.g. Alienware's M17x R4).
Benchmarked Hardware
Now that you know what to expect when we get to the benchmarks, let's see how the P170EM fares. Here's the lineup of notebooks we'll be including in our graphs, though you can always turn to Mobile Bench to make your own comparisons. (Note that the laptop names link to our full reviews.)
Notebook Configuration Overview
Laptop
CPU
Graphics
Storage
Battery
AlienwareM17x R4
Intel i7-3720QM
GTX680M/HD4000
Hybrid (Intel SRT)
90Wh
AlienwareM18x R2
Intel i7-3820QM
GTX680M-SLI/HD4000
SSD RAID
97Wh
ASUS G74SX-A2
Intel i7-2630QM
GTX560M/HD3000
SSD
90Wh
AVADirect Clevo P170EM
Intel i7-3720QM
HD7970M/HD4000
SSD
77Wh
Clevo W110ER
Intel i7-3720QM
GT650M/HD4000
Hybrid (Seagate)
62Wh
iBUYPOWERCZ-17(MSI GT70)
Intel i7-3610QM
GTX675M/HD4000
SSD
60Wh
Razer Blade
Intel i7-2640M
GT555M/HD3000
SSD
60Wh
Samsung Series 7
Intel i7-3615QM
GT650M/HD4000
Hybrid (ExpressCache)
77Wh
We'll highlight the Alienware M17x R4 and Samsung Series 7 as two alternative notebooks, with the M17x offering similar hardware but with a GTX 680M and the Samsung going for a mainstream audience with a far more attractive design and keyboard and a much lower price tag. We also suggest you keep an eye on the last-generation GTX 675M in the iBUYPOWER CZ-17, as you can get the same GTX 675M in the P170EM for $100 less than the 7970M. At the top we also have the SLI enabled M18x R2, priced at roughly twice the cost of the P170EM configuration with performance to match, and just for fun we have the Clevo W110ER (Eurocom Monster 1.0) and the original Razer Blade thrown into the mix.
Clevo P170EM 7970M General Performance
We're covering well-trodden ground here, so we won't have too much to add. AVADirect equipped our test notebook with a 256GB SSD and 8GB RAM, along with the i7-3720QM CPU and HD 7970M, so we should see excellent general performance. And we do.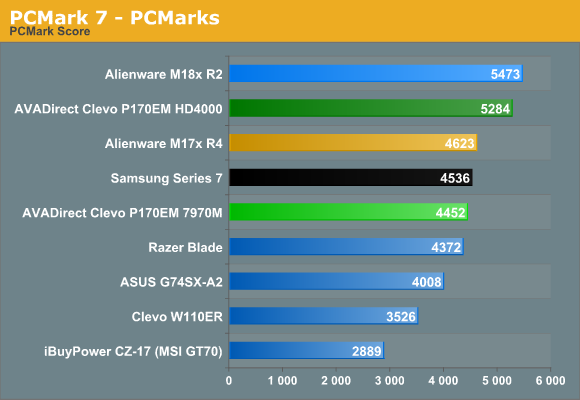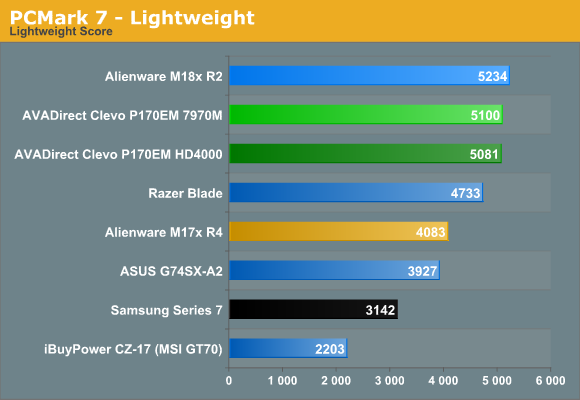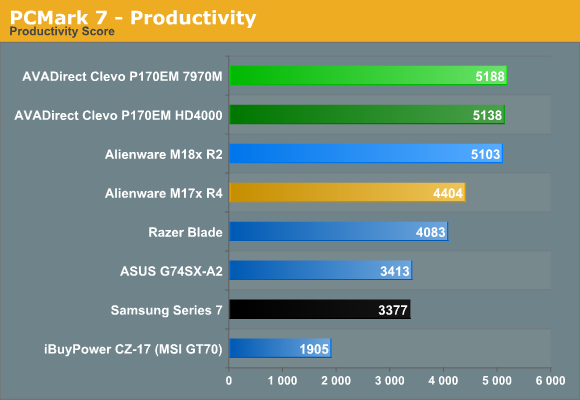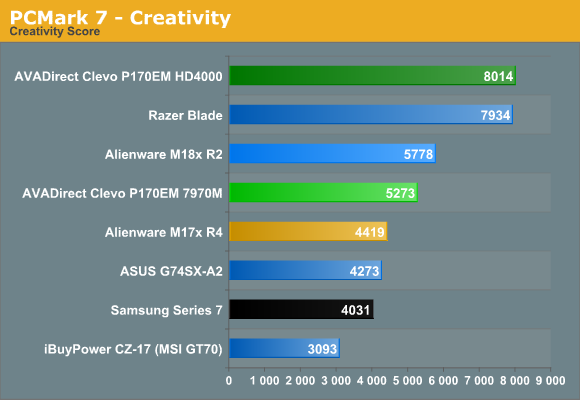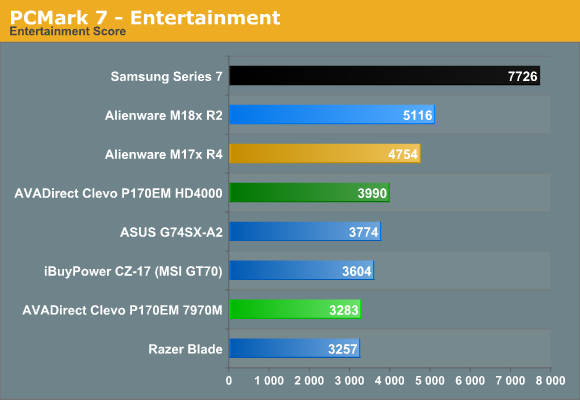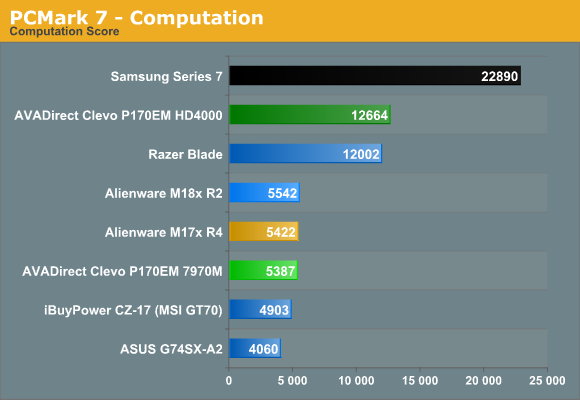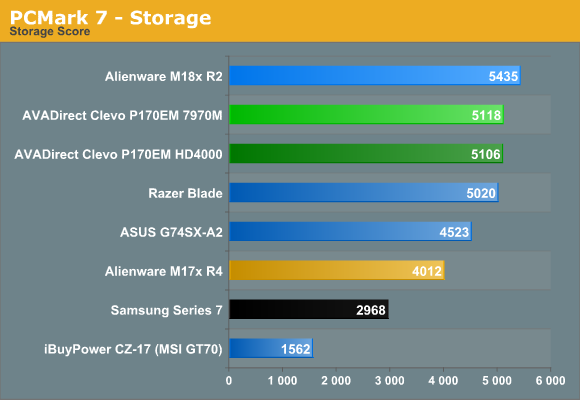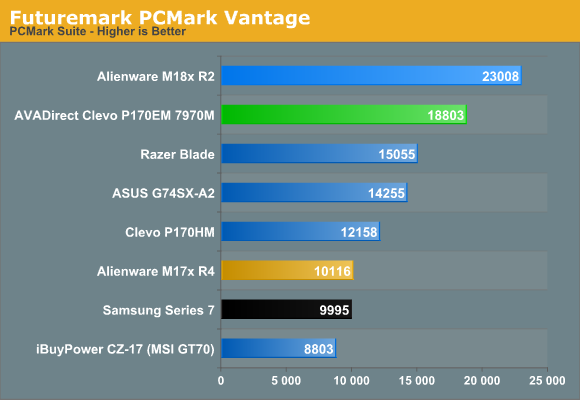 There's a difference of opinion on what to do with PCMark 7 results on laptops with switchable graphics; as one of the few benchmarks/applications that can benefit from Intel's Quick Sync technology, it's nice to see what that can do in things like the Computation and Creativity suites. On the other hand, it also skews scores pretty badly—though not quite as much as the presence of an SSD will change the results. Take the overall score as an example: with HD 4000 running in place of the 7970M, the P170EM result improves by 19%. On the other hand, adding an SSD to a notebook like the iBUYPOWER (MSI GT70) would improve the overall score by over 50%. In general, any modern notebook is plenty fast for regular applications, but we do continue to recommend SSDs for midrange to high-end notebooks as they make a noticeable impact in day-to-day use.
Something else to notice is that while PCMark 7 does quite well with hybrid storage devices like ExpressCache, Intel's SRT, and the Seagate Momentus XT, PCMark Vantage isn't nearly so forgiving. I'd actually suggest PCMark Vantage may be closer to the truth here, unless you happen to run a very light workload that allows the hybrid storage to cache nearly everything. Personally, I'd much rather have a 256GB SSD and forego conventional storage completely—and if you need more capacity, external devices with HDDs can hold your other data. With a quality SSD like the Samsung P830 256GB now going for under $200, and value offerings like the Kingston V200 256GB at $160 and Mushkin Enhanced Chronos 240GB at $165, the days of $1000+ laptops cheaping out by going with hard drives for storage are hopefully coming to a close.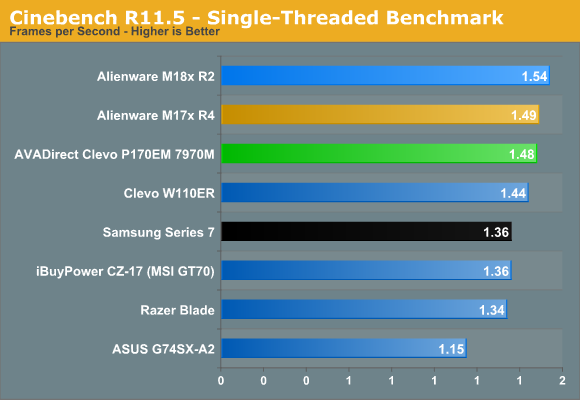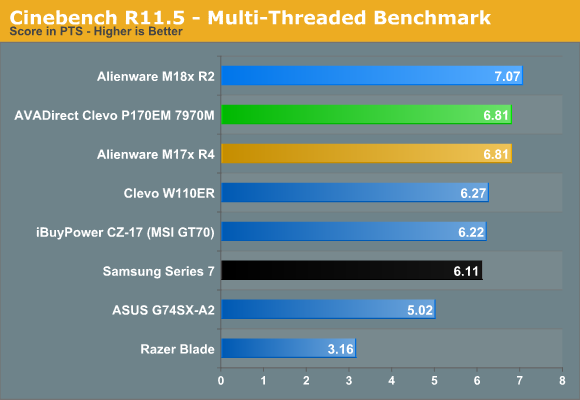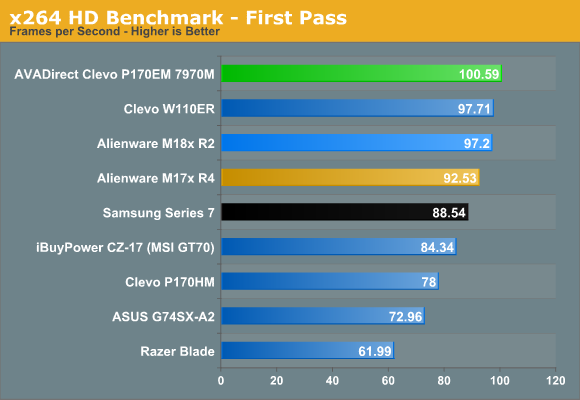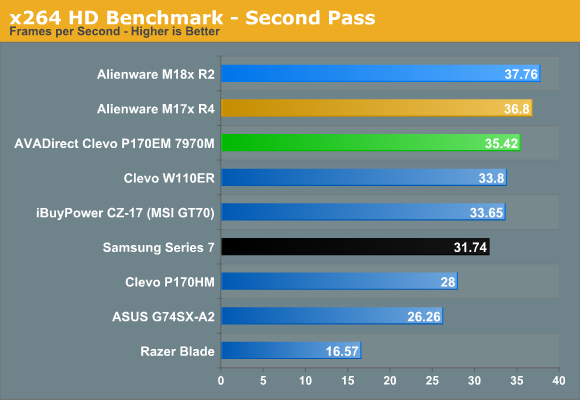 Turning to our CPU-centric benchmarks, the P170EM is right with the other i7-3720QM equipped offerings. It wins in the x264 first pass compared to the M17x R4, most likely because of the SSD storage, while it ties or falls slightly behind in the other tests.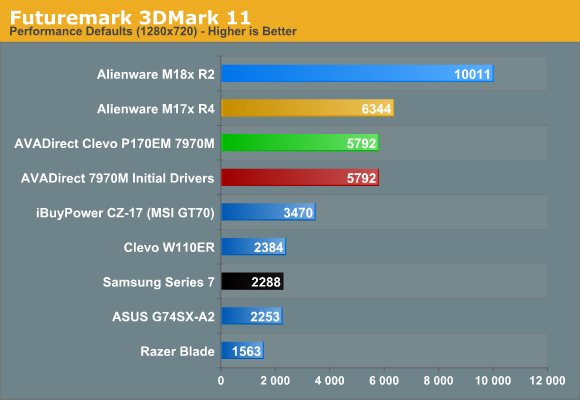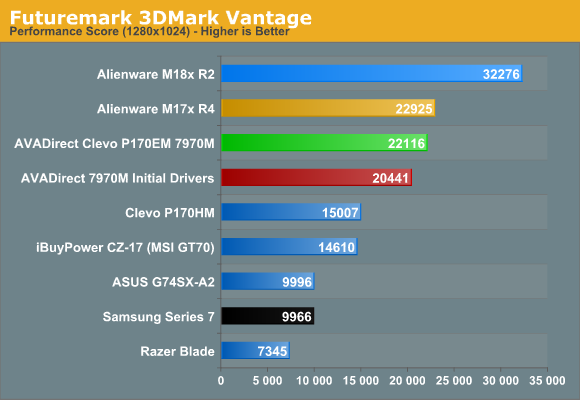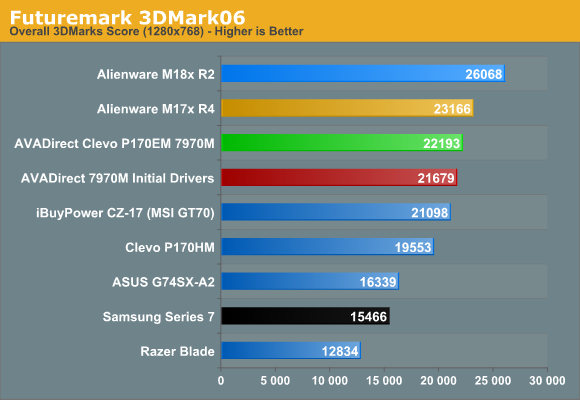 We'll get to the games in a moment, but we did find it interesting that the initial HD 7970M drivers on the P170EM are quite good at the 3DMark suites. Perhaps they just use the hardware in such a way that the GPU underutilization issue doesn't crop up, or maybe they rate higher on the optimization list due to their ubiquity as a benchmark. In 3DMark Vantage we see an 8% performance increase with the hotfix and a 2% increase in 3DMark06, further reducing the gap; on the other hand, the hotfix drivers failed to complete the 3DMark11 test suite so at least the latest driver build doesn't appear to be too focused on 3DMark scores. Moving to the inevitable NVIDIA comparison, the GTX 680M in the M17x R4 is ahead of the HD 7970M, but the gap is only 7-12%. If AMD could stay that close to the GTX 680M while being priced around $300 less, they'd have an extremely compelling offering. In practice, that doesn't always happen, so let's see how AMD does in real-world gaming tests.
Clevo P170EM 7970M Gaming Performance
We're looking at over $2000 worth of gaming notebook here, so there's not much point in bothering with the Value gaming charts—though you can find them in Mobile Bench if you're interested. As we noted earlier, we have several driver versions that we've tested. First, there's the initial driver dating back to May 2012 in red; we had a couple crashes to desktop with this driver (specifically in Batman and DiRT 3), and overall performance at lower settings is less than stellar with GPU underutilization issues clearly present. Next we have the recently released Catalyst 12.9 Beta in dark green, but that driver is mostly focused on separating the AMD driver updates from Intel driver updates and GPU underutilization is still a concern. Finally, we have a hotfix driver building off the 12.9 Beta that AMD hopes to have available for the public in the next week.
We're seeing clear improvements with the Hotfix for many titles, with some games showing improvements of 50% or more at lower detail settings. I'm still not certain AMD has completely fixed the GPU underutilization issues, and there are at least a couple titles where performance at certain settings has decreased slightly relative to the initial drivers, but the improvements seen in the 12.9 hotfix preview driver give us hope that they'll get things sorted out. At present, the hotfix driver is undergoing testing and packaging preparation (e.g. our test driver came with a bunch of extra files and required booting into safe mode to replace a couple of DX9 DLLs before it was fully functional). Once AMD is done with their testing and packaging, though, the driver installation process should be the same as a normal AMD Radeon driver.
We'll start with our "Mainstream" settings, which are more likely to see GPU underutilization since they're not as demanding, and then we'll look at Enthusiast performance. After that we'll have a closer inspection of the various drivers and how performance has changed. We have Alienware's M17x R4 with a GTX 680M in our charts, but we'll have a more detailed look at GTX 680M vs. HD 7970M performance when we get to part 2 of the P170EM review, as we're throwing a bunch of other recent releases at the two notebooks to see how they fare on a wider selection of benchmarks.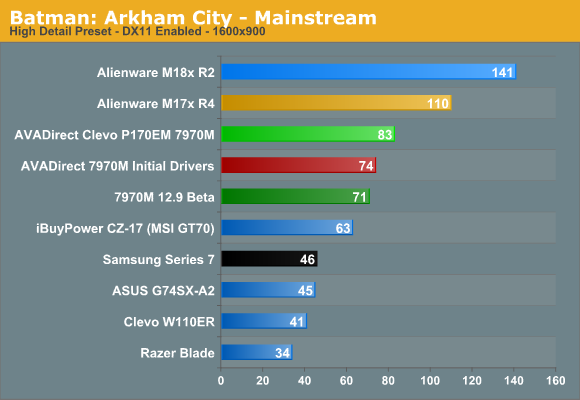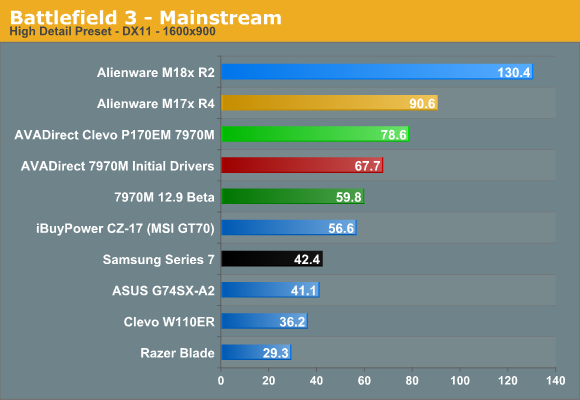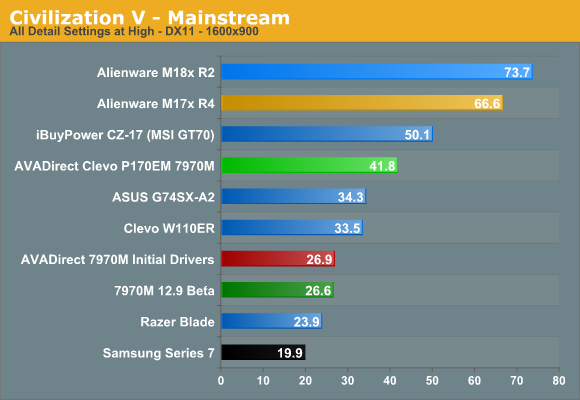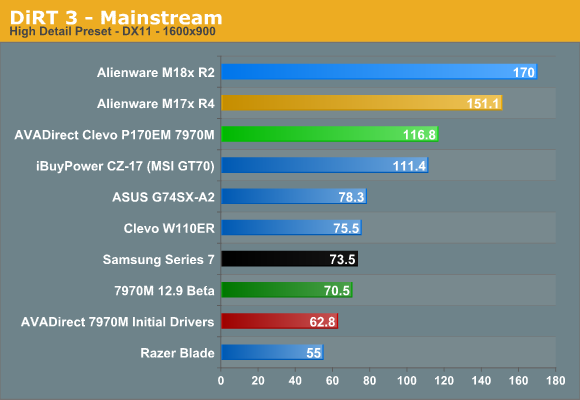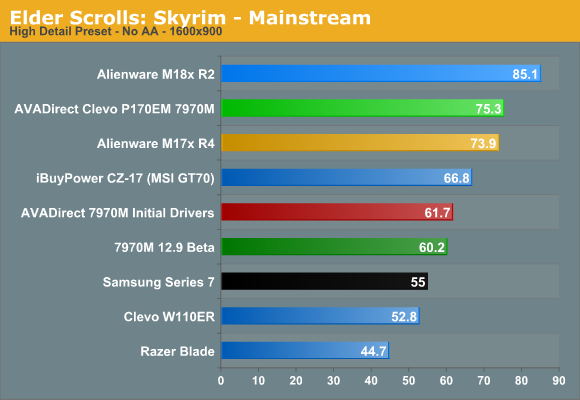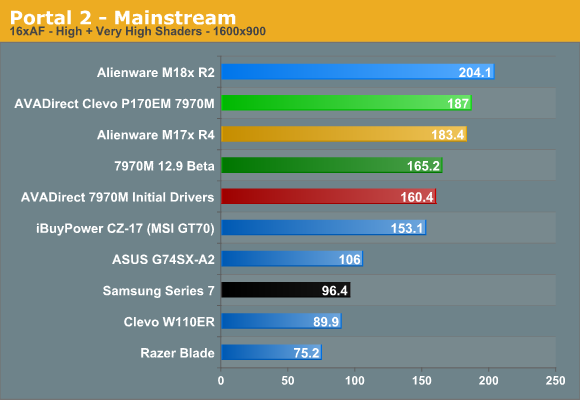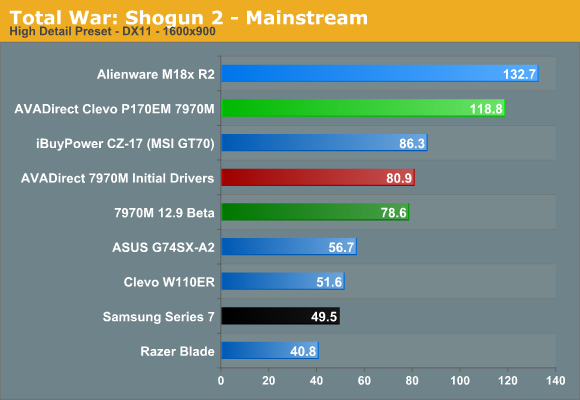 At our Mainstream settings (which are actually quite demanding), the 7970M acquits itself quite well—at least with the Hotfix driver. AMD consistently places third in our charts, behind the GTX 680M and 680M SLI—and the latter isn't really a fair comparison. There are even a couple titles (Portal 2 and Skyrim) where AMD takes a slight lead over NVIDIA, though we're looking at two different laptops. In terms of percentages, just to spoil Part 2 where we'll look at the P170EM with GTX 680M, NVIDIA does sweep the Mainstream settings on P170EM. The lead ranges from as little as 2% in Shogun 2 to 55% in Civilization V, with an average performance lead of 14%.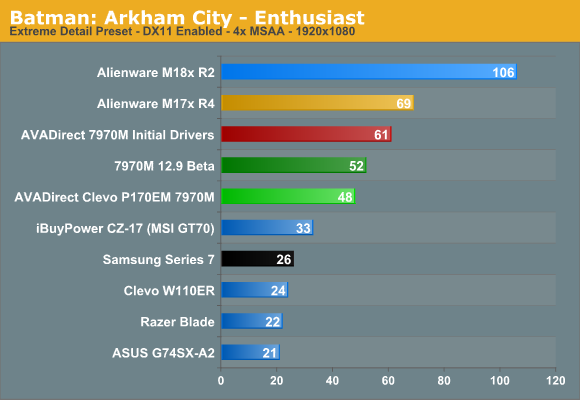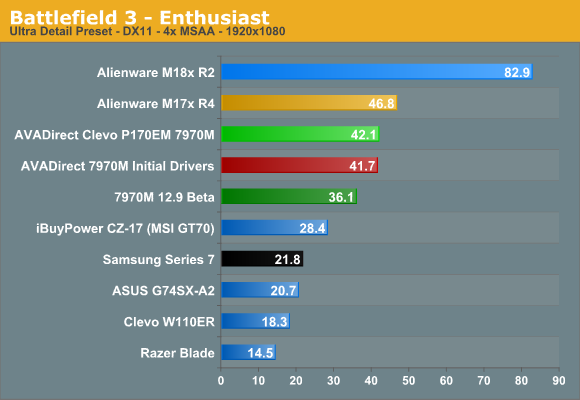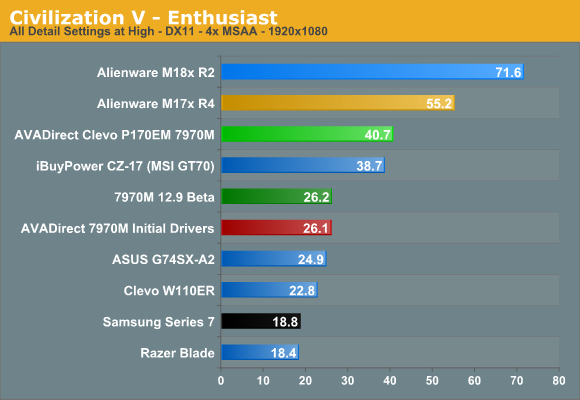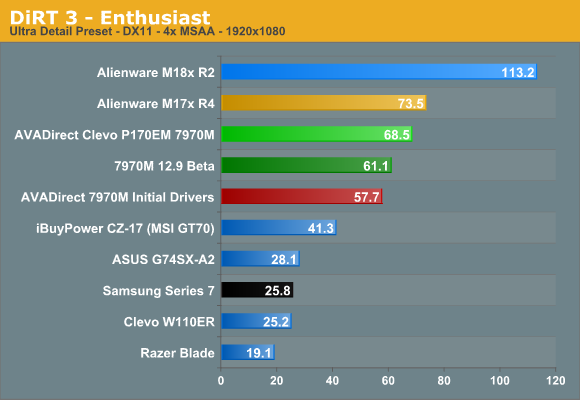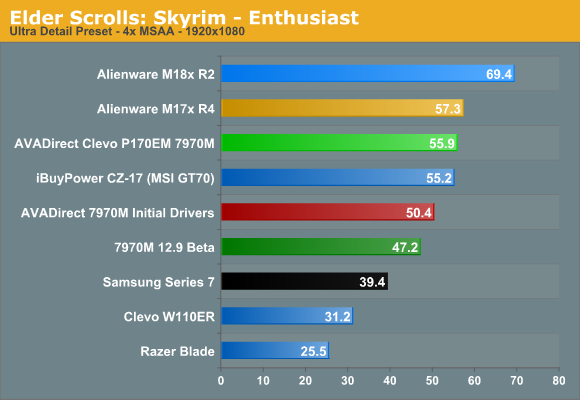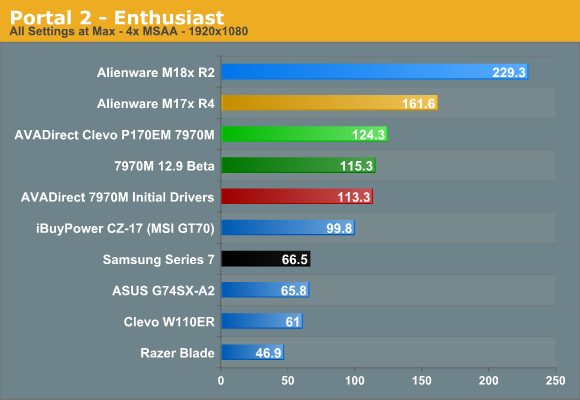 Our Enthusiast settings are what most people considering the P170EM are going to focus on, since it comes with a 1080p display and costs a pretty penny. Things are a bit different this time, as the Hotfix actually offers the worst performance out of the three drivers tested in Batman. Other than that one title, however, the Hotfix continues to be the fastest Enduro 7970M driver we've tested. All of the games we tested are still very playable at >40 FPS, though Shogun 2 won't let us use the "Very High" settings. Looking at the NVIDIA comparison (and again using my non-yet-published results), the 7970M is actually tied with the 680M in DiRT 3 and Battlefield 3, while NVIDIA maintains a healthy 30-35% performance lead in Batman, Civilization V, and Portal 2. Overall, NVIDIA nets a 20% average performance advantage over the six titles we tested at our maximum settings; we'll revisit this topic again with additional games next week.
AMD Mobility Catalyst Driver Analysis
We have all of the information on driver performance in the gaming charts on the previous page, but we wanted to highlight the performance improvements with the Hotfix driver. The Catalyst 12.9 Beta actually tends to be the lowest performing driver out of the three we tested in most games, but most of the time it's relatively close to the original driver. The hotfix on the other hand only shows one drop in performance, which we've already noted: Batman at Enthusiast settings is down from the Beta, which in turn is down quite a bit from the original driver. Everywhere else, the Hotfix is at least equal to the better of the previous two drivers, and in some cases it's significantly faster. Here's a table breaking things down:

Overall, unless you're only playing Batman at the Extreme preset (or some other game and/or setting where performance has dropped), the Hotfix drivers deliver a relatively significant improvement. It's especially potent at lower quality/resolution settings, where we see an average increase of around 30% at our Value and Mainstream settings. At maximum quality for our six titles (since Shogun 2 won't allow the Very High preset), the average increase is only 7%, but if we eliminate Batman it's a 13% increase. That still doesn't really tell the whole story, however, as performance was actually good in many titles but needed help in a few others.
If we take a closer look, Battlefield 3, Civilization V, DiRT 3, and Shogun 2 all show >40% improvements at our Value preset, and the same set minus BF3 sees big gains at our Mainstream preset. At our Enthusiast settings, however, only Civilization V sees a major increase in performance. This goes back at least in part to the GPU underutilization issues seen with earlier drivers, where higher quality settings/resolutions are more likely to stress the GPU. We did check GPU utilization with the Hotfix on all of the tested titles, and there are still games where we see sub-80% GPU use (particularly at lower details/resolutions), but I'm not sure that's particularly important when we've got competitive frame rates.
Note that as far as I'm aware, the GPU underutilization issue is confined mostly or perhaps even solely to the HD 7970M/7950M—the lesser GPUs like 7870M should not experience this as much, largely because they're not as fast and it will be easier to reach GPU bottlenecks as opposed to CPU limits.
We're not done with the AMD Enduro drivers story, however. With this release, AMD is starting on the road to delivering reference drivers that will in theory work with all Enduro (PowerXpress 4.0 or later) laptops. In practice, there are still some teething problems. I've read comments from some of our readers that tried the 12.9 Beta saying that the "Switchable Graphics Global Settings" page in Catalyst Control Center isn't working properly, and I've experienced this issue on a Sony VAIO C: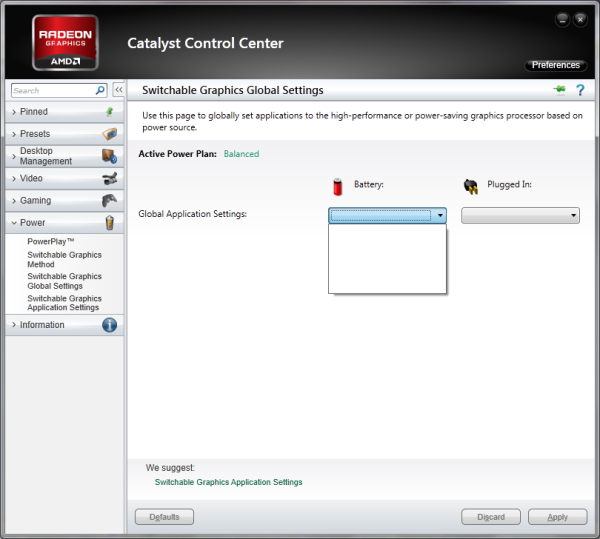 The "Switchable Graphics Applications Settings" so far works properly, and that's arguably more important as a first step, but long-term AMD needs to get all the kinks straightened out. They're aware of the issues with other Enduro laptops and the 12.9 Beta drivers (they're beta for a reason, right?), and hopefully the next major release after the Hotfix will take care of the laptop compatibility aspect. I've stated before that AMD's Enduro feels like it's where NVIDIA was with Optimus about two years (2.5 years) back, and that continues to be the case. The first public Enduro beta driver is a good place to start, and now AMD just needs to repeat and refine the process a few more times. Hopefully by the end of the year we'll see a couple more driver updates and compatibility will improve.
Clevo P170EM 7970M LCD Quality
The one thing Clevo generally gets right with the P170EM is the display, with four different panels available (depending on the reseller). AVADirect shipped us two "90% gamut" offerings, one glossy and one matte. Since receiving the two notebooks, the matte 90% gamut LCD has been removed from the online configurator (possibly because it's not actually able to hit 90% of AdobeRGB, as we'll see in a moment). In an ideal world, we'd like to see options for high quality IPS displays added to the mix, but other than the MacBook Pro Retina, some enterprise class notebooks, and a few consumer models (e.g. Sony VAIO SE and HP Envy 15) there are not many IPS panels to choose from. I keep hoping that with the IPS panels used in tablets we'll see more laptops go that route as well, but so far that hasn't happened. Here are the results for the two panels; the glossy panel is an AU Optronics B173HW01 v4 while the matte panel appears to be a Chi Mei N173HGE-L11 or N173HGE-L21 (it's identified as a Chi Mei HC9GK-173HGE).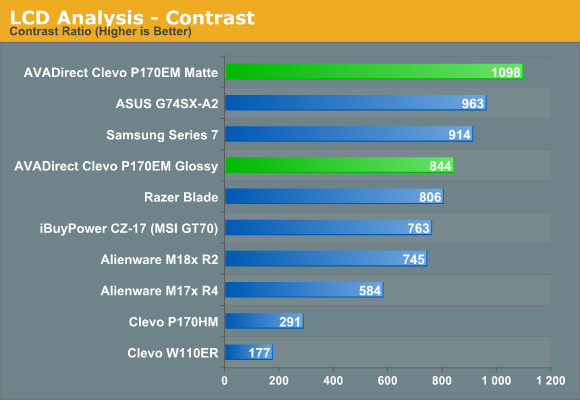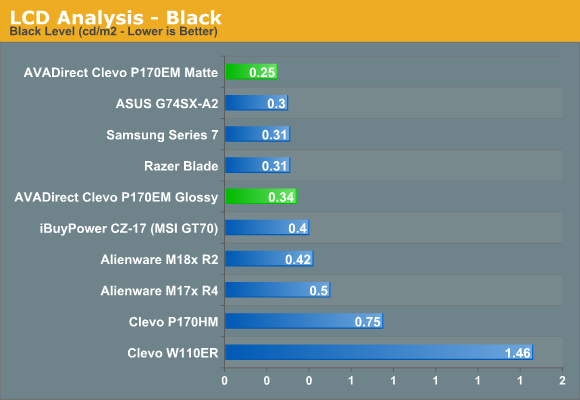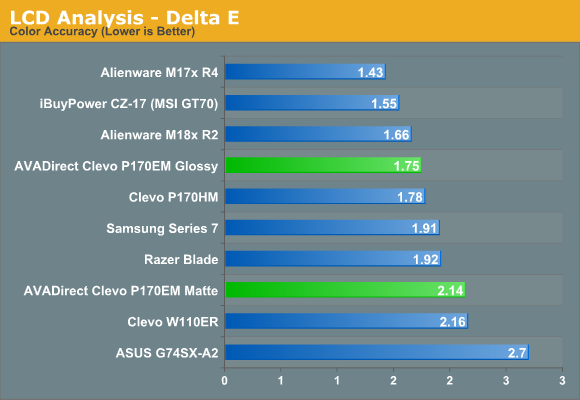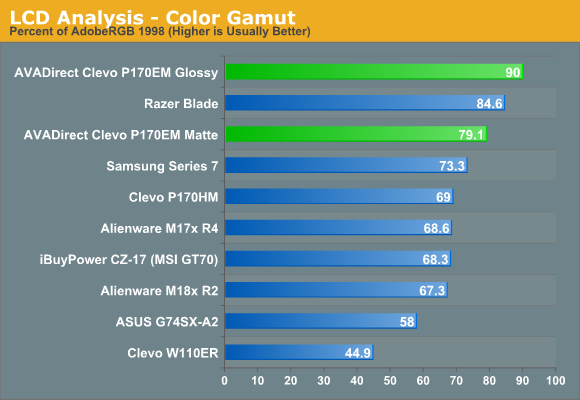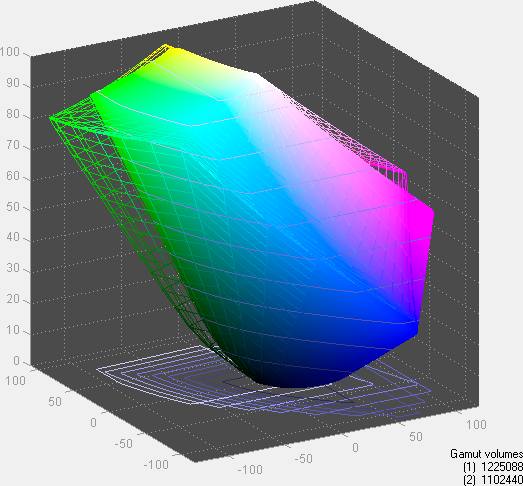 AU Optronics B173HW01 v4 Glossy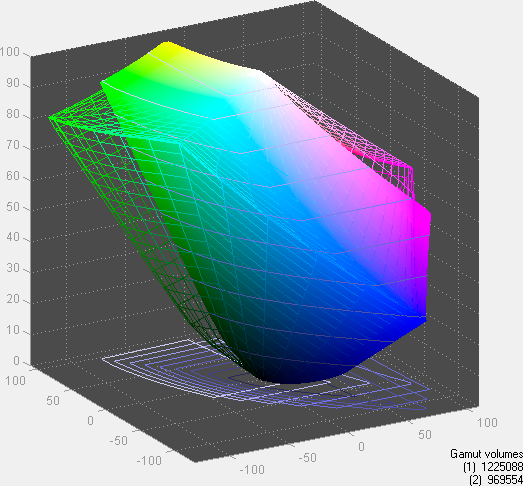 Chi Mei N153HGE Matte
The results of our LCD testing are somewhat split. On the one hand, the AUO panel clearly has better colors; on the other side of the equation, the matte Chi Mei panel has better contrast and it doesn't pull double duty as a mirror. The Samsung Series 7 also identifies its panel as a Chi Mei 173HGE, so either the P170EM panel is the L21 and the Samsung is the L11, or perhaps we're just seeing minor variance between panels. Overall, I don't need perfect colors on a notebook—and you'll only get them if you have calibrate the display—but I do appreciate the matte surface so that would end up being my choice. Viewing angles on both panels are also similar, though the glossy surface tends to make things a bit more difficult unless you're in a dark environment.
Battery Life and Power Draw
If we discount the overall design and build quality, so far we've seen very good performance from the P170EM with some nice LCD options as well. As noted earlier, however, battery life is not one of the strong points of Clevo in general, and the P170EM falls far short of the competition. We're dealing with an Enduro equipped notebook, so when the dGPU isn't being used it's totally powered off—and the same goes for the Optimus version. If we take the Samsung Series 7 and Alienware M17x R4 as our baselines for what to expect from a 17.3" notebook and factor in battery capacities, the P170EM and its 77Wh battery ought to be able to deliver somewhere between 293 to 439 minutes of idle battery life. The Alienware M17x actually isn't all that optimized for power use, while the Samsung Series 7 is clearly tuned for power savings when set to the "Power Saver" profile. We set the P170EM for ~100nits (28% brightness in this case, which actually results in around 130nits—the next step down at 14% brightness gives 70nits, so we opted for a slightly brighter display) and ran our standard battery life tests…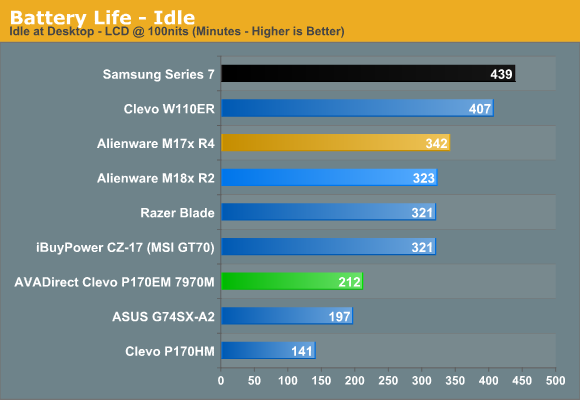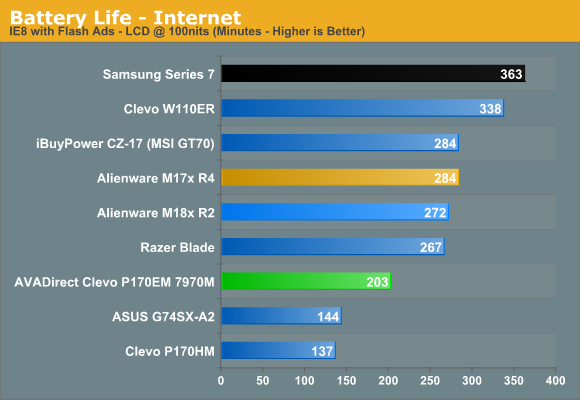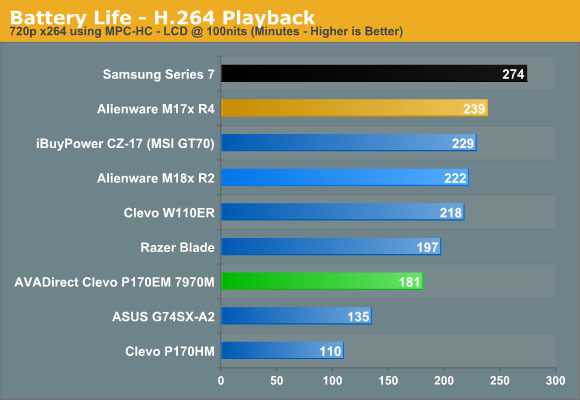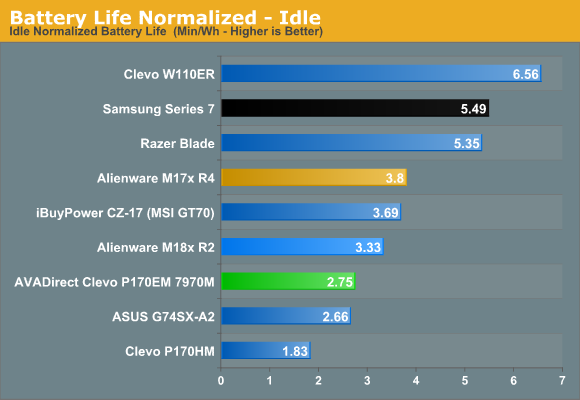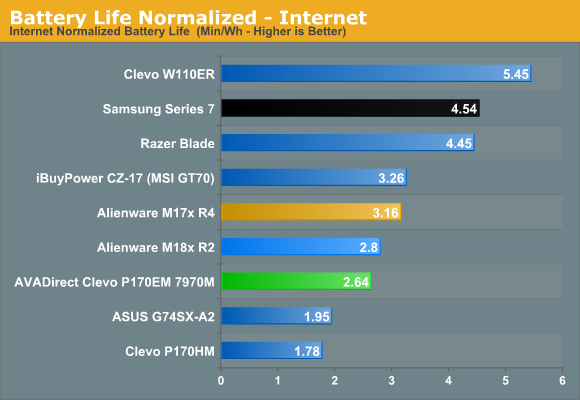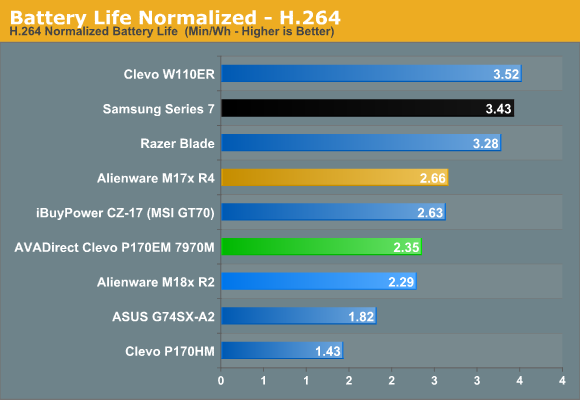 …And that's what you get when a company doesn't pay much attention to tuning a design for lower power use. What's shocking is that the difference between our best-case Idle test and our worst-case H.264 test is only 31 minutes (17%); on the Alienware the difference between those same test results is 43% while on the Samsung it's a whopping 60% difference. I'm not sure exactly what Clevo is or isn't doing here; I'd assume some of this is just firmware/BIOS code, but it could be the motherboard capacitors, fans, routing of signals, etc. is simply not done efficiently. More to the point, it almost looks as though the dGPU isn't powering down properly when it's not being used. I have no way to really confirm that, but I would estimate the dGPU would use at least 10W of power at idle and that's basically the difference between the P170EM and the Samsung.
If you really want to punish the battery, you could even try to run a game while unplugged. We set the system to the "Balanced" profile but set AMD's PowerPlay to "Maximize Performance", which basically means don't limit the GPU clocks even if you're on battery power. You basically get full gaming performance with these settings, but the battery only manages ~40 minutes before going dead. Not that we expect any better—we're talking about a 45W TDP CPU and somewhere around 100W TDP for the HD 7970M, plus all the various other devices. All told, the estimated power draw for such a load is around 160W, and our real-world testing gives us a power draw of around 115W.
Thermals and Noise
Battery life is a pretty serious disappointment, even for Clevo, but there are still some good elements to discuss. As big and bulky as the P170EM chassis is, you'd expect some good thermals—and it delivers. We ran the same stress test that we used on the Dell XPS 15 and Samsung Series 7—looping the x264 2nd Pass encode on six of the CPU cores while playing Batman: Arkham City at max details on the remaining two cores—and recorded CPU and GPU clocks. Unlike the Dell and Samsung offerings, we saw no evidence of CPU or GPU throttling with the P170EM. Here are the charts of the CPU/GPU clocks and the CPU/GPU temperatures during our two hour stress test, plus a screenshot from HWMonitor: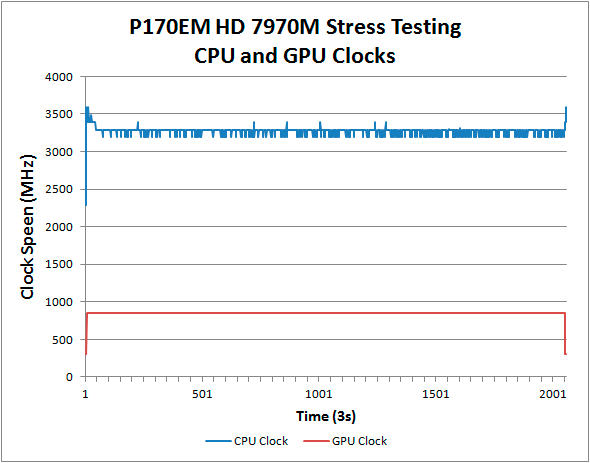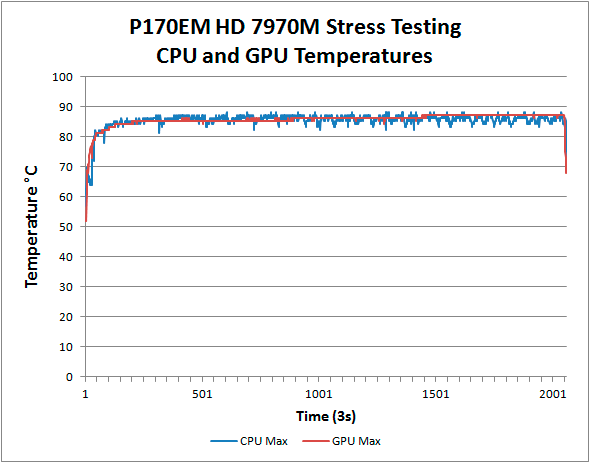 The maximum CPU temperature during our torture testing reaches 88C, which is quite good for a notebook running a high-end CPU like the i7-2720QM. Likewise, the maximum temperature on the HD 7970M is 87C. Those temperatures might not seem all that great until you consider that we're running at 100% load for two hours with no throttling below the expected maximum turbo clocks (e.g. 3.2GHz on the CPU with all cores active). Clearly the large heatsinks, fans, and exhaust ports are doing their job, though they're not particularly quiet.
At idle the acoustic noise measures 33.6dB from ~18 inches in front of the P170EM, under 100% CPU load the noise output reaches 38.7dB, gaming pushes the second HSF into action and we get 40.2dB, and during our full stress test we measure 42.4dB. While the idle and load noise levels are noticeable, the character of the noise isn't all that bad, with a lower whooshing sound thanks to the size of the blower fans. Perhaps more importantly, there's still another level of fan speed that we didn't reach during our normal testing; when we set the laptop on our moderately shaggy carpet and covered the exhausts with our hands, after a few minutes of stress testing we were able to hit temperatures on both the CPU and GPU above 90C. The two fans operate independently, and when the CPU hit 90C the noise level jumps to 42.8dB; get the GPU to 90C as well and we get a worst-case noise result of around 46dB. Sure it's loud at that point, but when the exhausts aren't blocked the fans move a lot of air—it only took about five seconds after uncovering the exhausts for the temperatures to drop back down to the 85C range.
Conclusion Part 1 – HD 7970M: It's Getting Better
There are two items to discuss with this review, and I'll start with AMD's HD 7970M dGPU, with Enduro Technology. If I had just run with the initial impressions of the P170EM and HD 7970M without contacting AMD, my overall impression of the notebook would have been substantially worse. Buying a gaming notebook—which is the only reason I can see to purchase a notebook with an HD 7970M—and not being able to get regular graphics driver updates from the GPU manufacturer is a complete waste of time and money. I know quite a few people actually made that mistake, and for them all I can do is say that I can feel their pain—and I wrote about this last year and tried to warn people away from a then-broken Enduro/Dynamic Switchable Graphics/PowerXpress.
I understand the desire to support the underdogs of computer technology, and right now AMD's mobile GPUs are definitely underdogs to NVIDIA's Optimus enabled GPUs—not because they perform poorly, but without drivers you can pretty much guarantee there will be compatibility issues with future games. NVIDIA has been shipping Optimus GPUs for over 2.5 years now, and since May 2010 they've been delivering simultaneous driver updates for their entire product stack (except for their pre-Optimus switchable graphics solutions). AMD hasn't had public reference drivers for their switchable graphics solutions or Enduro, and they're only just now starting to address that problem. Even worse, the HD 7970M with Enduro enabled clearly has some performance issues—it's really bad when NVIDIA's previous generation GTX 580M/675M is often able to outperform the HD 7970M Enduro!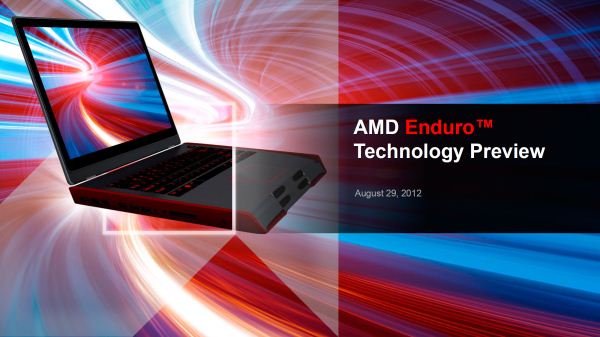 The good news is that AMD is actively working to address the driver and performance problems, and if they get all their ducks in a row we hopefully won't see future problems with Enduro equipped notebooks. I would have liked to see this happen last year, but better late than never I suppose. As you can see from our testing, the upcoming Hotfix driver takes the HD 7970M from being way behind NVIDIA's GTX 680M to only being 10-20% slower on average, and in some cases AMD is able to take a small lead. NVIDIA maintains the overall performance crown, but only with a substantially higher priced card (though I get the feeling they could easily drop prices if they felt more pressure from AMD). If you're looking for a better value (which seems a dubious proposition on a $2000+ notebook, but I digress…), the HD 7970M will generally shave $300-$400 off the price of the P170EM compared to the GTX 680M, all while delivering around 85% of the performance. So you basically save 12% and lose about the same amount of performance.
There's more to it than performance of course, and if I were in the market for a top-tier gaming notebook right now I wouldn't hesitate to purchase a GTX 680M—either in the P170EM or in Alienware's M17x R4—over the HD 7970M. As we said, AMD is working to address the problems with regular GPU driver updates as well as graphics performance, but they're not finished yet. Besides, when you're spending this much money, wouldn't you want the fastest GPU? Within reason of course—I'm not at all a fan of SLI or CrossFire in notebooks, mostly because drivers, heat, and other wonkiness just get that much worse when you're running two GPUs. Plus NVIDIA still has their PhysX card to play, and with Batman: Arkham City and Borderlands 2 both utilizing the technology to good effect, I like having that option available.
We'll have more to say on the GPU side of things when we finish with part two where we look at the P170EM with a GTX 680M, but for now we'll just say that AMD needs more time to prove that their Enduro drivers are ready and available for public consumption before we'll recommend taking the plunge. Hopefully they'll continue to improve things and by the end of the year, we may no longer need to worry about driver updates and can simply look at the performance and features offered by the various mobile GPUs.
Conclusion Part 2 – AVADirect's Clevo P170EM: Win Some, Lose Some
The second part of our review is the Clevo P170EM notebook, specifically AVADirect's Clevo P170EM Gaming Notebook, and there are lots of elements to discuss. As noted earlier, the primary competition at the high end right now is the Alienware M17x R4, or if you don't care about the HD 7970M you can also look at MSI's GT70 aka the iBUYPOWER Valkyrie CZ-17. Beyond those, there are a few other notebooks like Samsung's Series 7 and the ASUS G75 that are worth a look as they can still offer "fast enough" performance for most gamers at much lower prices. Let's take those notebooks in turns.
Dustin railed on Dell/Alienware a bit in the M17x R4 review for not updating the design and resting on their laurels; that's a legitimate concern, but I have to say that even without any noteworthy external updates, I prefer the look and overall feel of the M17x. I won't go so far as to say Alienware's M17x keyboard is perfect, but the layout is definitely more to my liking than the P170EM/GT70 layouts, and the zoned backlighting is simply more elegant. I also prefer the Alienware design and aesthetic, though I wish they offered a non-glossy display. Another plus is that Alienware offers the option to disable the switchable graphics within their BIOS (via software controlled muxes), so if you don't want to bother with AMD's Enduro or NVIDIA's Optimus you have that choice—all of my griping about drivers for the HD 7970M basically goes away if you're running the M17x R4 in discrete-only GPU mode. The one major problem with the M17x R4 is pricing, as similar components will generally cost around 20% more than on the P170EM (and Alienware generally charges a lot more for upgrades to RAM and storage), but if you've got enough money to buy a Clevo P170EM it shouldn't be too hard to make up the difference.
MSI's GT70 is a different story, as the overall design is in many ways similar to Clevo's P170EM—which is a nice way of saying that both notebooks use a lot of plastic and can look a bit chintzy. The keyboard action is better on the GT70, and I definitely prefer their chiclet keys to whatever you want to call Clevo's new key style, but the layout has the same issues as the P170EM (no dedicated Home/End keys, missing context key, misplaced Windows key, and two backslash keys). Pricing from iBUYPOWER is good; you can get a 240GB SSD, 16GB RAM, Ultimate-N 6300 WiFi, a 1080p matte LCD (similar to the matte panel we tested with the P170EM, if not identical), and an i7-3720QM all for about $100 less than the AVADirect configuration. About the only item you clearly lose is the DVI port.
As for less expensive but slower gaming notebooks, the lower end Samsung Series 7 looks great and has the best keyboard of the bunch (by far in my opinion), but the storage configuration from Samsung is lacking and the GT 650M GPU is about half as fast as the HD 7970M. There are also issues with CPU/GPU throttling under sustained heavy workloads. That Series 7 can be had for around $1400 and it looks nice, and if you don't really need a GTX 680M or HD 7970M it's certainly worth considering; however, it's not really fit for 1080p gaming at max details. Samsung also offers a higher spec Series 7 that's completely different from the above; it goes for a wedge-shaped chassis similar to the ASUS G75 and includes two 750GB HDDs, 16GB RAM, and a GTX 675M, now for a reasonably low price of $1680.
And last we have the ASUS G75VW, which you can get with a GTX 670M, 12GB RAM, and a 500GB HDD (then add your own 256GB SSD for under $200—and the Samsung 830 is likely to drop further with the introduction of the Samsung 840 SSDs). Like Samsung, ASUS is sporting a last-gen Fermi GPU that can still handle 1080p gaming fairly well, and it's definitely faster than the GT 650M or GTX 660M GPUs in other "almost gaming" notebooks, but it also draws more power than Kepler based parts that offer similar performance.
What I'd like to see is ASUS and Samsung update the GPU to the GTX 670MX/675MX (GK106), as that's probably the best bang for the buck you're likely to see from a gaming notebook (though we haven't been able to test that GPU yet, so we can only give a partial recommendation). And yes, you can get the new GK106 GPUs in the Clevo P170EM now; they're priced similarly to the HD 7970M.
So where does that leave AVADirect with their Clevo P170EM? First, I have to reiterate that I found the typing experience on the new Clevo keyboard to be particularly bad—it's one of the worst keyboards I've used in a while. It's a very subjective statement I know, so take it for what it's worth, but typing on the P170EM is worse in my book than the previous generation P170HM (even with the messed up 10-key); in fact, it's nearly as bad as Acer's "floating island" keys. For people that type even a moderate amount on their notebook, I can't imagine most will be pleased with the P170EM keyboard. If all you're looking for is a gaming notebook however, you should be fine, but this shouldn't be that hard to get right.
For all my complaints about the keyboard, touchpad, battery life, and overall aesthetic, the Clevo P170EM excels when it comes to performance and configuration options. Our stress testing is brutal, and to have the P170EM complete over two hours of 100% load testing with no throttling evident is a nice change of pace after what I've experienced with lesser offerings. If you need a notebook/mobile workstation that can handle running computationally intensive workloads for long periods of time, the P170EM is ready for you. The display options from Clevo are also quite nice; AVADirect currently lists three different 1080p displays (glossy, matte, and high gamut glossy), and all three options perform reasonably well; I'd personally go for the matte surface, but some people prefer glossy and that's fine. The connectivity options are good as well (three USB 3.0, eSATA, FireWire, DisplayPort, HDMI, and DVI), though I'm not a big fan of all the ports on the rear as they can be difficult to reach.
Customization options are really one of the highlights of Clevo builds in general, as most vendors let you decide exactly what you want to put in them. Do you want a 256GB mSATA OS/Apps drive with a 1TB HDD for mass storage? Done. Or keep the mSATA drive but go with RAID 0 hard drives, or even RAID 0 SSDs. Or perhaps you'd like to start with just the mSATA SSD and then add additional storage when you need it—and in another six months, SSDs like Samsung's new 840 series with TLC NAND could very well push into the $0.50/GB range. I can say the same for RAM, GPUs, LCDs, and even WiFi adapters and optical drives. You get to build exactly what you want, rather than letter some huge corporation decide what's best.
Ultimately, the Clevo P170EM is a good gaming notebook but it has some a few flaws and quirks that may or may not bother you. I can say the same for the Alienware, MSI, Samsung, and ASUS notebooks mentioned above—they all involve some form of compromise. If speed is your primary concern, Clevo certainly has that, and with the right components it can be a great choice; just don't expect perfection and if you can, try one out in person before pulling the trigger. If you decide a Clevo P170EM is the right notebook for you, there are quite a few vendors willing to sell you one.
AVADirect has their no-naming-nonsense Clevo P170EM Gaming Notebook, and they offer a ton of other configuration options (perhaps too many, some might say—I wish there were an easy way to restrict certain component choices, e.g. only show 8GB RAM options, or only show 240-256GB SSDs). If you know exactly what type of hardware you want to put in your new notebook, there's a good chance they can accommodate you. What's nice with boutique vendors like AVADirect is that there's none of the "component of the day" specials that routinely appear with larger OEMs, where you can find several different panels, HDDs/SSDs, RAM, etc. and what you get basically comes down to whatever is cheapest around the time you place your order. You can get roughly the same build as our review unit with a matte LCD and an update to the new i7-3740QM CPU for $2033 (and that includes $13 for the upgraded thermal compound, which isn't an option at some of the other resellers).
Looking elsewhere, Sager Notebooks offer the NP9170 with the same components as the AVADirect for $2089, so $56 more, but they're currently running a $100 discount that makes them a slightly less expensive option. Sager doesn't overwhelm you with options on most of their parts either, which can be good or bad depending on what you're after. iBUYPOWER has the Valkyrie P170EM with i7-3720QM (likely to be updated soon to the i7-3740QM) and an ADATA 256GB SSD for $1943, so you can save a bit of money if you're willing to give up the matte LCD and some of the SSD/RAM choices. XoticPC offers the Sager NP9170 as well, at the same price (AFAICT) but with a cash discount option. They're also the only place where I can still find a matte 72% gamut LCD option (though it's a hefty $149 upgrade from the standard matte LCD—note that this is apparently the matte panel we tested, though it was initially supposed to be 90% gamut). Finally—and I know I skipped some other vendors—ProStar sells the P170EM with the same basic configuration for $2119 (with the option for a cash discount) and Origin has their EON17-S going for $2241 (with the option for a custom top panel that other vendors lack)
Most of the vendors (including AVADirect) offer similar configurations, and I'm not sure that any of these companies are clearly better or worse than the others. WIth prices and component options changing on a regular basis, if you have your heart set on a Clevo P170EM notebook it can't hurt to shop around.