Original Link: http://www.anandtech.com/show/6336/alienware-m18x-r2-notebook-review-nvidias-geforce-gtx-680m-in-sli


Introducing the Alienware M18x R2
Around the launch of the Alienware M17x R3, Alienware essentially bifurcated its high end notebook offerings into single-GPU (the M17x R3) and dual-GPU (the M18x). The M17x R3 was slimmed down from its beefy predecessor and the M17x actually remains one of the sleeker desktop replacement notebooks available. The M18x had to take its place at the top of Alienware's stack, then, as their contender for the most powerful gaming notebook on the market.
That contention continues with the M18x R2, which like the M17x R4 we recently reviewed is more of an incremental update than a fully-fledged new design. The R2, like the R4, brings with it an Ivy Bridge CPU and a pair of Kepler-based NVIDIA GeForce GTX 680M GPUs in SLI. As we saw, NVIDIA made fantastic gains with the 680M over the 580M; if that didn't impress you enough, you may want to hold on to your hat because two 680Ms in SLI are liable to blow your mind.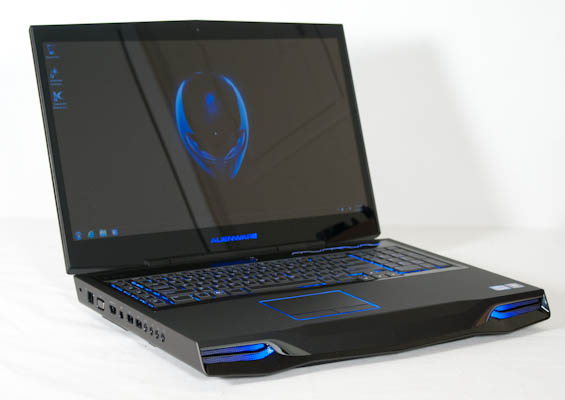 If you're having trouble getting psyched about this monster, I don't really blame you. We reviewed a pair of Alienware M18x's last year and came away with mixed feelings. Performance was as fast as you could ask for, bar none, but the M18x really pushes the limits of just how big a gaming notebook can get. It's heavy enough that it can be uncomfortable on your lap or even to cart around from place to place, and I've even personally recommended to people shopping for gaming notebooks to go with the smaller M17x. The M17x is easier to move around, can benefit from Optimus instead of having to stick to switchable graphics (that demand rebooting), and I actually prefer not having the gaming macro keys.
Of course, those macro keys and the potential for SLI may swing some users. If you're one of those users, the M18x R2 may be for you, so let's dig in.
Alienware M18x R2 Gaming Notebook
Processor
Intel Core i7-3820QM
(4x2.7GHz + HTT, 3.7GHz Turbo, 22nm, 8MB L3, 45W)
Chipset
Intel HM77
Memory
4x4GB Hynix DDR3-1600 (Max 4x8GB)
Graphics
2x NVIDIA GeForce GTX 680M 2GB GDDR5 in SLI
(1344 CUDA cores, 719MHz/3.6GHz core/memory clocks, 256-bit memory bus)
Display
18.4" LED Glossy 16:9 1080p (1920x1080)
Samsung 184HT (SEC5448)
Hard Drive(s)
2x Samsung PM830 256GB SATA 6Gbps SSD in RAID 0

(includes open mSATA slot and third 2.5" drive bay)
Optical Drive
Slot-loading Blu-ray/DVDRW Combo (HL-DT-ST CA30N)
Networking
Atheros AR8151 PCIe Gigabit Ethernet
Killer Wireless-N 1103 Network Adapter
Bluetooth 4.0
Audio
SoundBlaster Recon3Di (CA0132) HD Audio
Stereo speakers with subwoofer
S/PDIF, mic, and two headphone jacks
Battery
12-Cell, 11.1V, 97Wh
Front Side
N/A (Speaker grilles)
Right Side
ExpressCard/54
Slot-loading optical drive
MMC/SD/MS Flash reader
2x USB 3.0
eSATA/USB 2.0 combo port
HDMI input
Left Side
Kensington lock
Ethernet port
VGA
HDMI
Mini-DisplayPort
2x USB 3.0
S/PDIF, mic, and two headphone jacks
Back Side
AC jack
2x exhaust vents
Operating System
Windows 7 Home Premium 64-bit
Dimensions
17.17" x 12.7" x 2.09-2.15"
436mm x 322.5mm x 53-54.7mm
Weight
~11.93 lbs (5.41kg)
Extras
2.1MP Webcam
Backlit keyboard with 10-key and programmable macro keys
Flash reader (MMC, SD/Mini SD, MS/Duo/Pro/Pro Duo)
USB 3.0
SoundBlaster Recon3Di with THX TruStudio Pro
Configurable lighting
Warranty
1-year standard warranty
2-year, 3-year, and 4-year extended warranties available
Pricing
Starting at $1,999
Price as configured: $4,304
One thing's for certain, the Alienware M18x R2 as we have it in for review does not come cheap. Its starting price of $1,999 for just an i7-3610QM and a single GTX 660M is pretty high to begin with, and the upgrades are all pricy. This is another one of the reasons why I tend to recommend the M17x over its bigger brother, but if you absolutely must have the most performance you can cram in a notebook, pricetag be damned, obviously this is the way to go.
It's rare to see an Ivy Bridge CPU like the Intel Core i7-3820QM floating around in the wild. While top-end CPUs like the i7-3770K easily find their way into desktops, most notebook vendors are content with entry level chips like the perfectly adequate i7-3610QM. The i7-3820QM is a respectable piece of kit, though, boasting a nominal 2.7GHz core clock and able to turbo up to 3.5GHz on all four cores or even an impressive 3.7GHz on a single core. That means that despite the low 45W TDP, the i7-3820QM is actually able to ramp up clocks to the point where it's competitive with last generation's desktop quad cores and nip at the heels of chips like the i7-3770 non-K.
What we're really here for are the pair of NVIDIA GeForce GTX 680M GPUs in SLI. As I mentioned in the M17x R4 review, the silicon is basically a die-harvested GK104 identical to a desktop GeForce GTX 670 but with reduced clocks. Interestingly, it seems Alienware is getting different 680Ms than boutiques, as the pair of 680Ms in the M18x R2, like the M17x R4, only have 2GB of GDDR5 instead of 4GB. I don't consider this a drawback at all; even the desktop GTX 680 has a very difficult time utilizing more than 2GB of GDDR5, so the extra 2GB just winds up being mostly a waste. I'd rather have just the 2GB of GDDR5 than gain maybe a frame or two at the cost of additional power and heat.
The pair of 256GB Samsung PM830 SSDs in RAID 0 is impressive and mightily fast, though I continue to be skeptical about the value of putting SSDs in a striped RAID. Alienware leaves the M18x expandable, though; there's an mSATA slot and a third drive bay if you need it.
Ultimately though, the M18x R2 is as much an incremental update over its predecessor as the M17x R4 was, so the pro's and con's from that shell still essentially carry over here. The addition of mSATA is appreciated, as is the Killer Networks wireless-n, but the Creative sound chip is more of a "well, that's nice" inclusion, and nothing about the shell itself has really changed. Even the display panel is the same. If you own a first-generation M18x, you may not be missing that much here.
Application and Futuremark Performance
Given that the Alienware M18x R2 we have in house features the fastest mobile CPU we've tested, the fastest mobile GPU configuration we've tested, and two SSDs in a striped RAID, it's reasonable to assume Futuremark's benchmarks are going to be pretty kind to it. With that in mind, I've added another wrinkle for both my edification and yours: I've included test results where available for AVADirect's second Quiet Gaming PC and iBuyPower's Ivy Bridge and Kepler-powered Erebus GT. Both of these are powerful current-generation gaming desktops that are available for roughly two thirds the price of the M18x R2.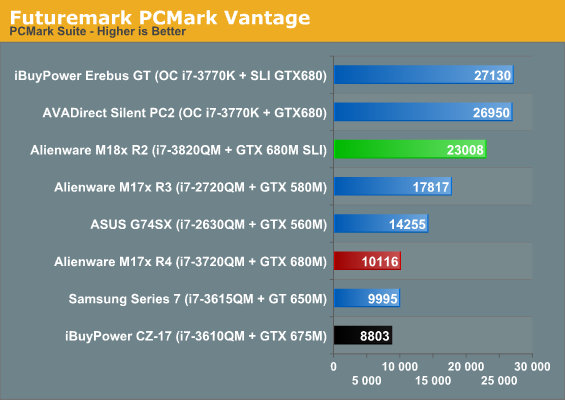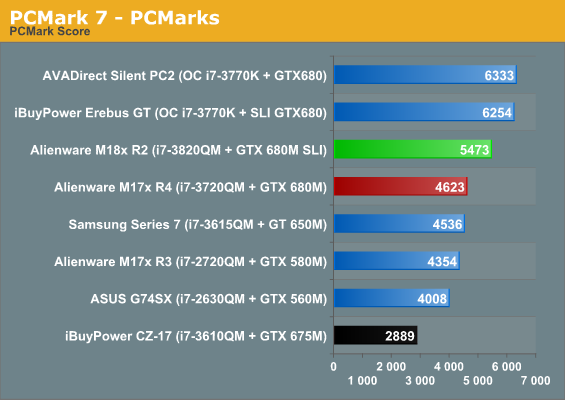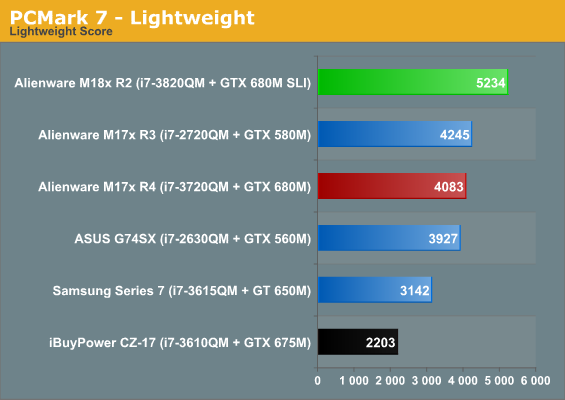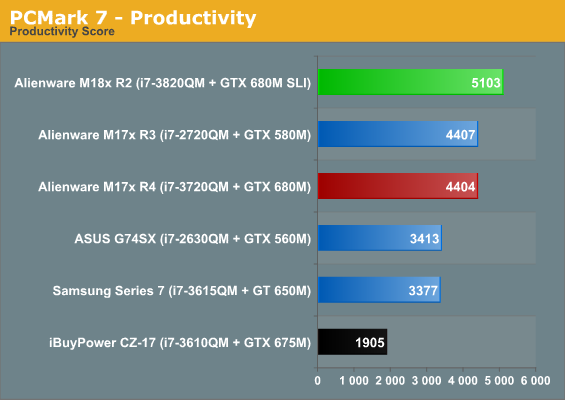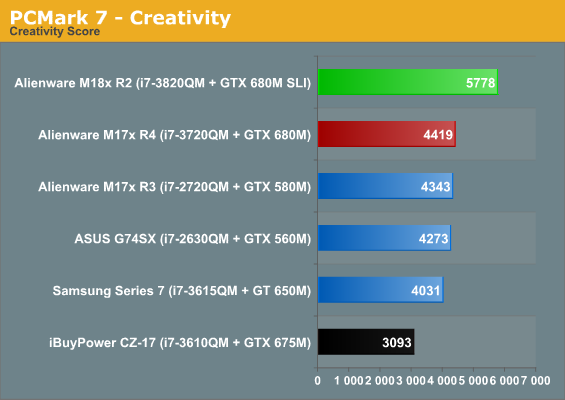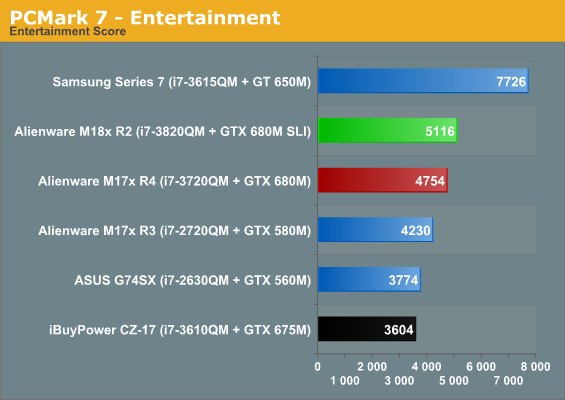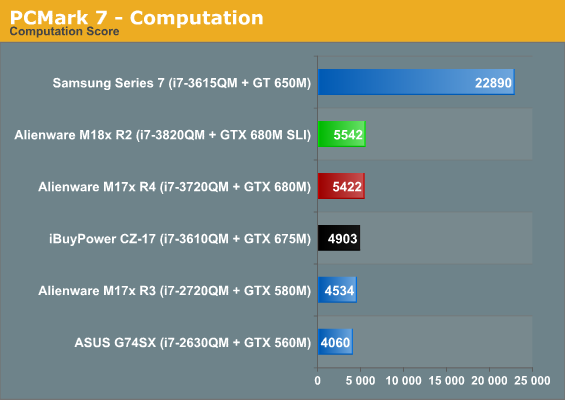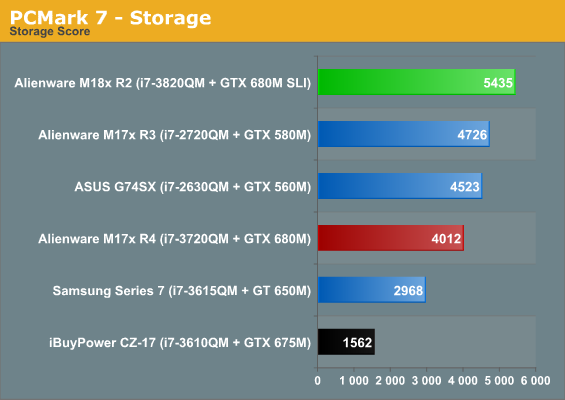 It's pretty crazy to think about just how fast a notebook like the M18x R2 can be, though you do pay very dearly for the privilege. Note that even its SSDs in RAID and SLI graphics hardware can't quite get it in contention with the two desktops and their overclocked CPUs. This is something that you're going to see a lot of.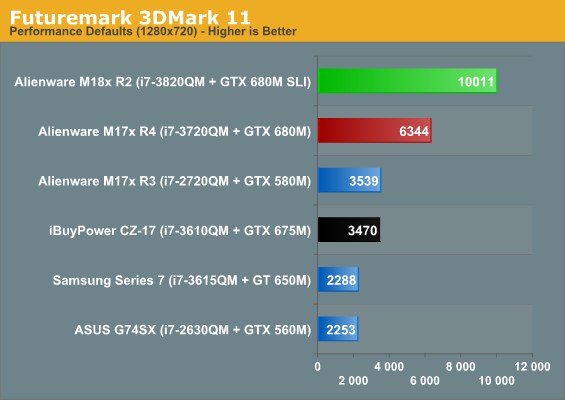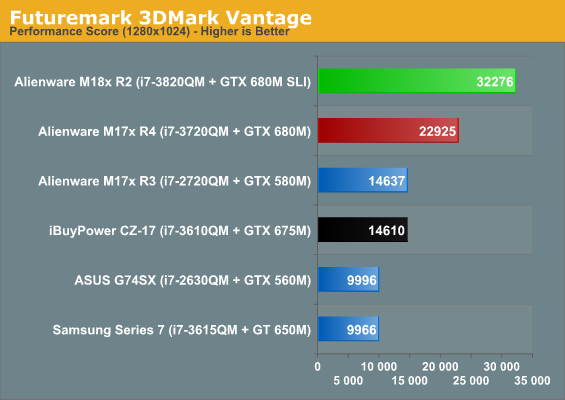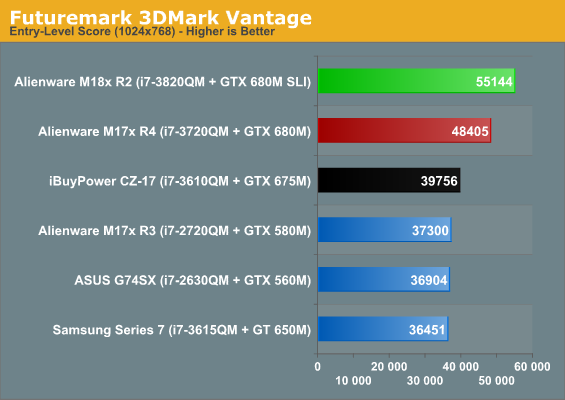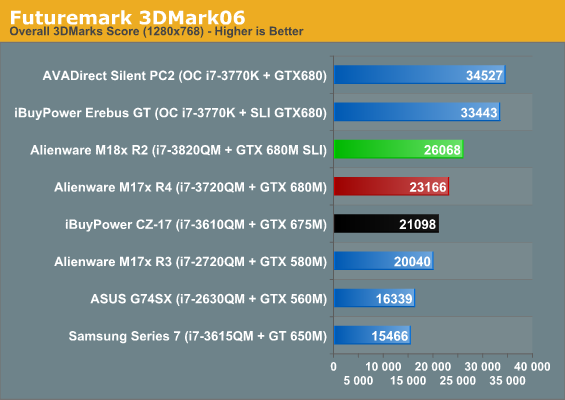 3DMarks 11 and Vantage show a substantial performance increase between the single and dual GPU Alienwares, but what's interesting is that despite the Ivy Bridge processor's substantial performance, it looks like it still may not be fast enough for this graphics subsystem.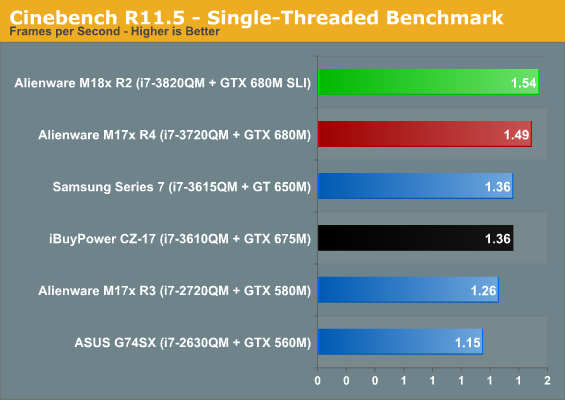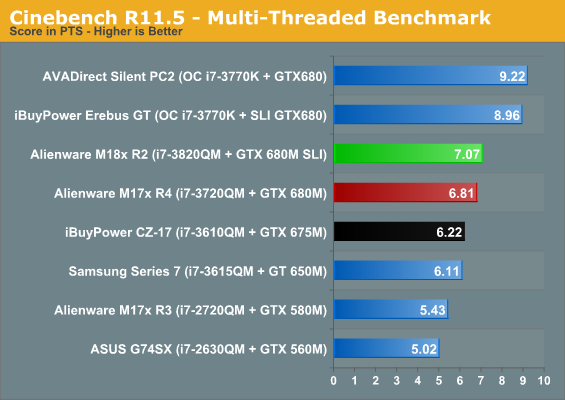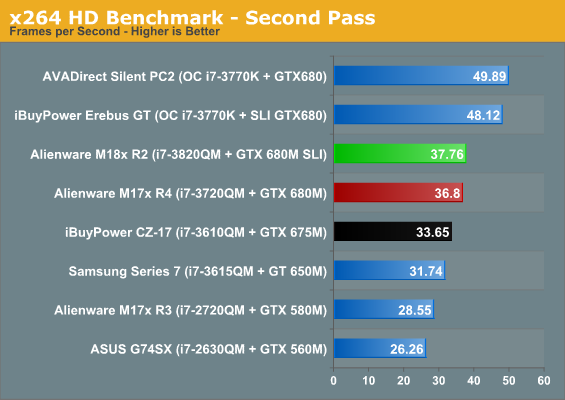 Our CPU-specific benchmarks continue to demonstrate the potential upshot of going with a custom desktop system and saving some bread, but if you need a mobile gaming system the i7-3820QM in the M18x R2 is no slouch. It very nearly breaks the 100fps barrier on the first pass of our x264 benchmark.
Gaming Performance
In our synthetic tests we started to get the first inkling that the graphics subsystem in the Alienware M18x R2 may actually be CPU-limited. This isn't entirely surprising; the GeForce GTX 680M is a tremendous leap in performance over the 580M and roughly on par with a desktop GTX 570. That card was itself already essentially CPU-limited at 1080p in most cases.
We start with our mainstream benchmark suite, which the pair of 680Ms should have no trouble at all tearing through.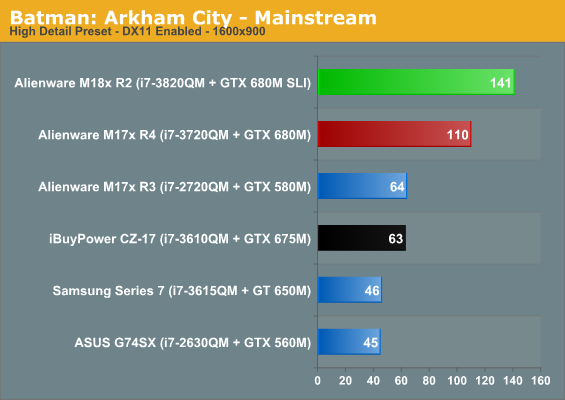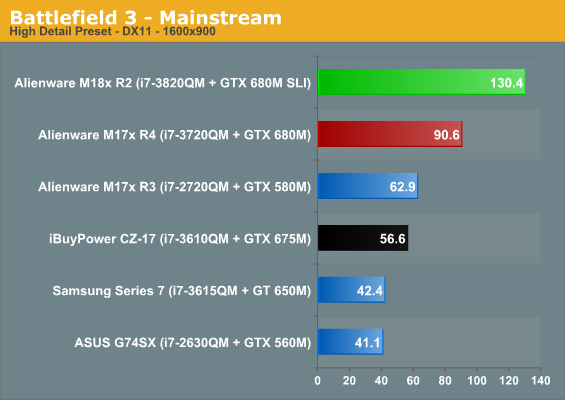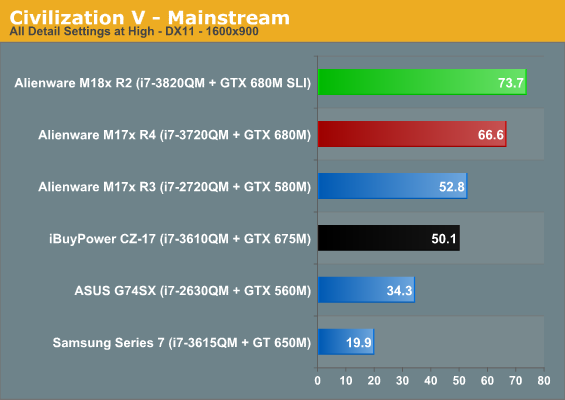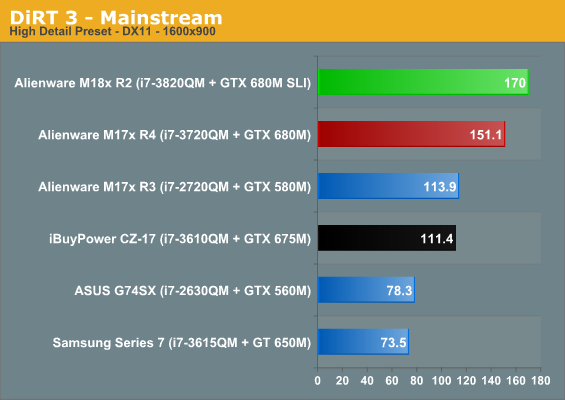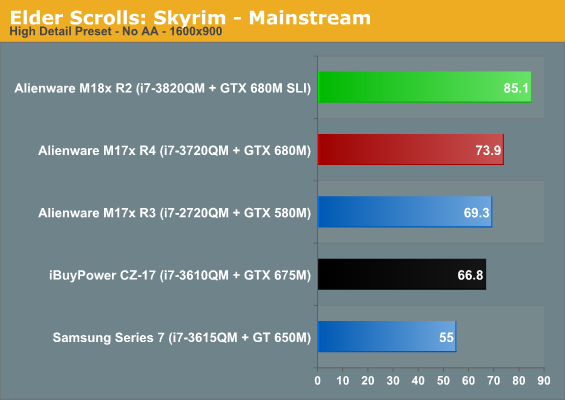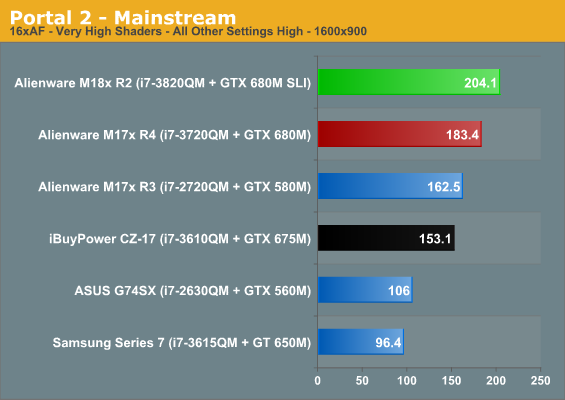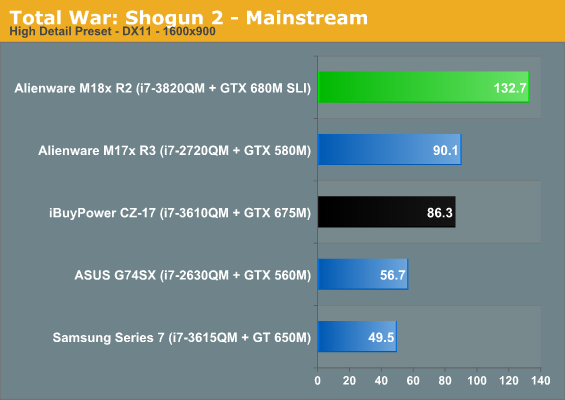 Unfortunately while we still can't get Total War: Shogun 2 to benchmark properly on the M17x R4, it's pretty clear that mainstream settings are an absolute waste of the two GTX 680Ms in SLI, and many of our games seem CPU bound. So let's see what happens when we crank things up.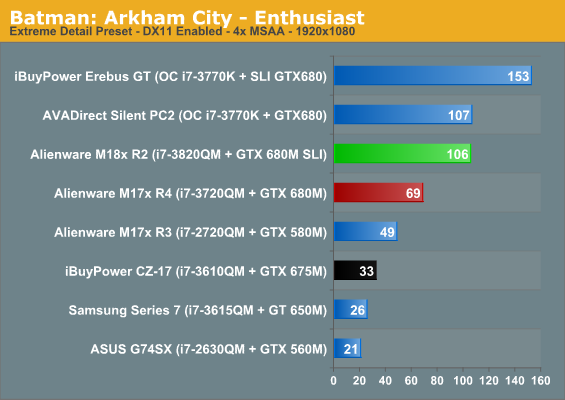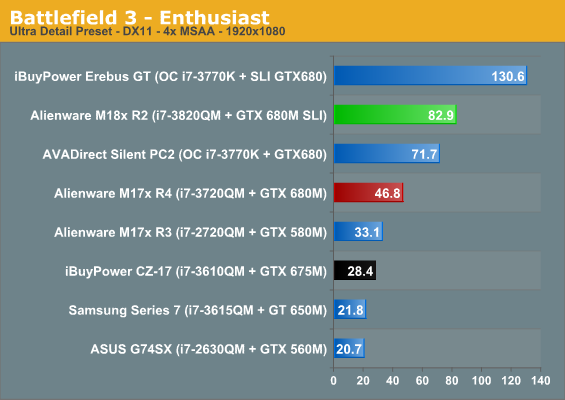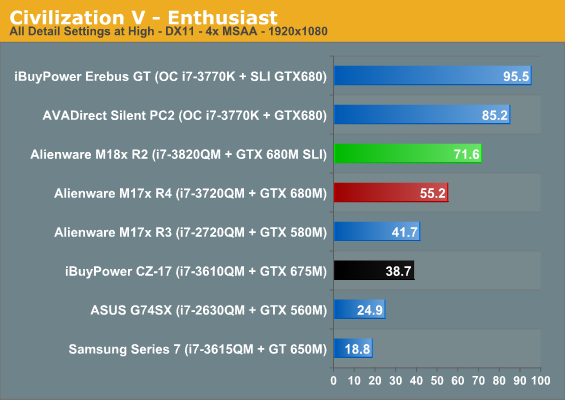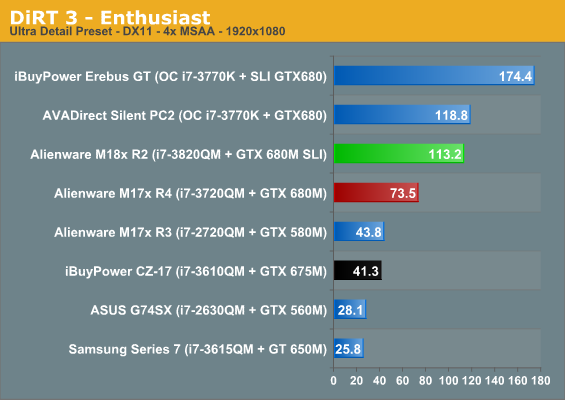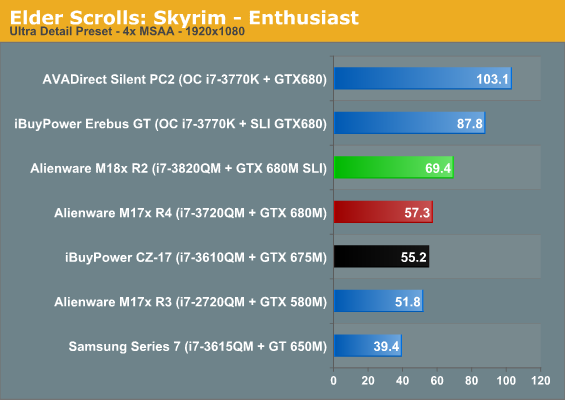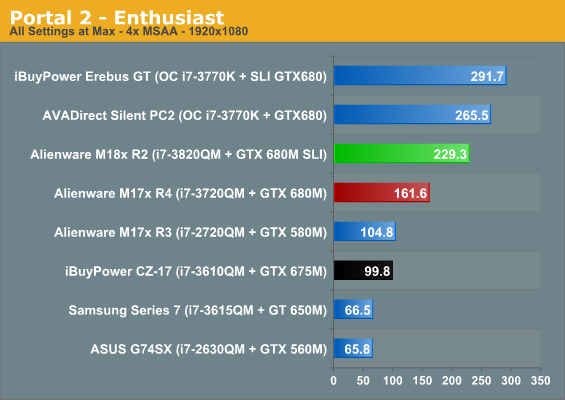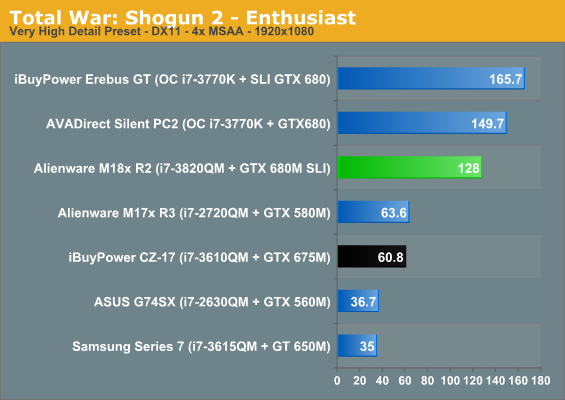 Well, there it is, and that's pretty much what I was getting at. While in some cases (Batman: Arkham City and Battlefield 3) the pair of GTX 680Ms appear to be GPU-limited and thus offer a fairly strong linear increase in performance, in most situations it seems clear the CPU is holding back the graphics hardware. Battlefield 3 demonstrates what should've been a foregone conclusion—two GTX 680Ms have more horsepower than a single desktop GTX 680—but the other games are more telling. We already knew a single GTX 680M was more than enough for a mobile gamer (heck the 580M/675M was basically on the cusp), but impressively we now have a graphics subsystem that is actually outright excessive for a notebook.
Display and Build Quality
Given that the Alienware M18x R2 uses an identical display panel and shell to the original M18x, it doesn't make too much sense to revisit those stats in any great detail; all of my conclusions regarding the M18x's shell are again applicable here. I'm not a fan of notebooks this oversized, and the macro keys on the side actually make the keyboard more difficult to touch type on. As for the display itself, a visit to bench reveals that not much has changed. The M18x R2 is using a slightly brighter backlight which hits the contrast just a little bit, but basically there's no news to report here.
Battery Life
When comparing the M18x R2 to its predecessor it's important to note that there are a couple of things bound to affect the battery life results. It's not just that Ivy Bridge is a more efficient chip than Sandy Bridge was, but the i7-3820QM in the R2 is also rated at 10W lower than the preceding i7-2920XM. On top of that, we've switched over to two SSDs in a RAID 0 instead of two mechanical disks, which again should prove to be more power efficient.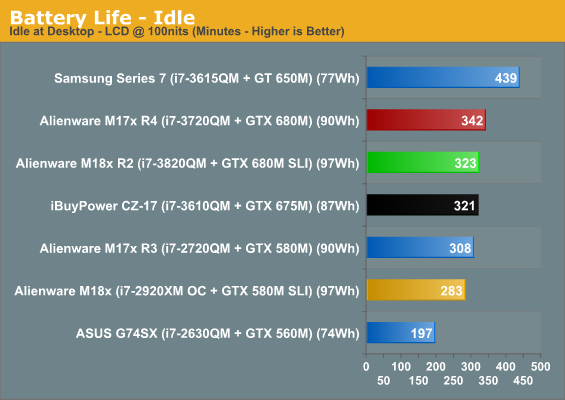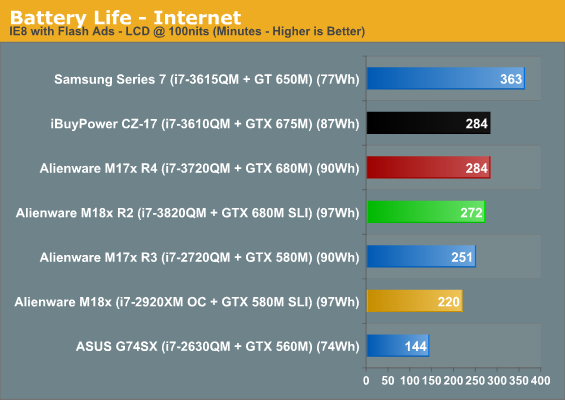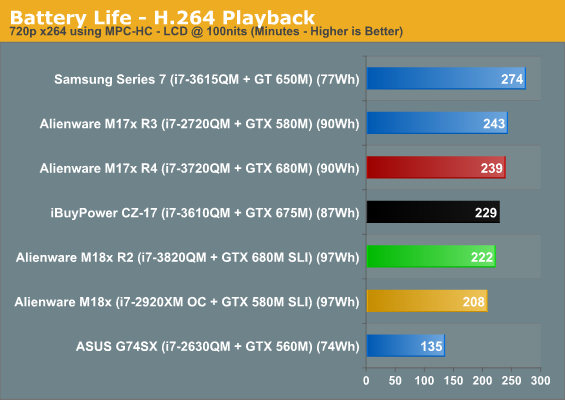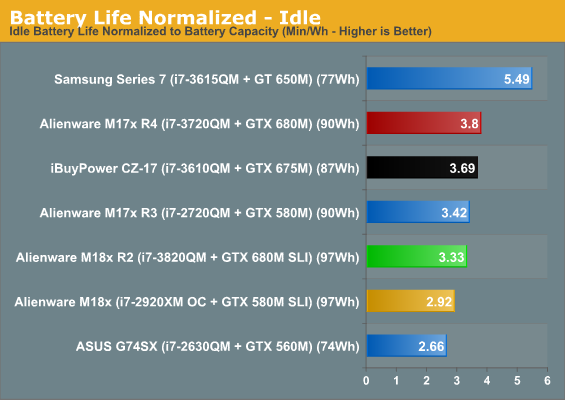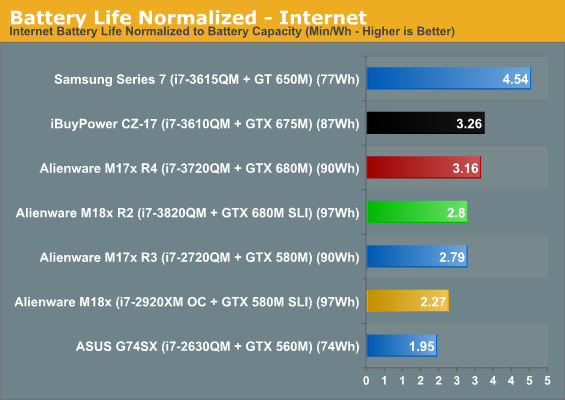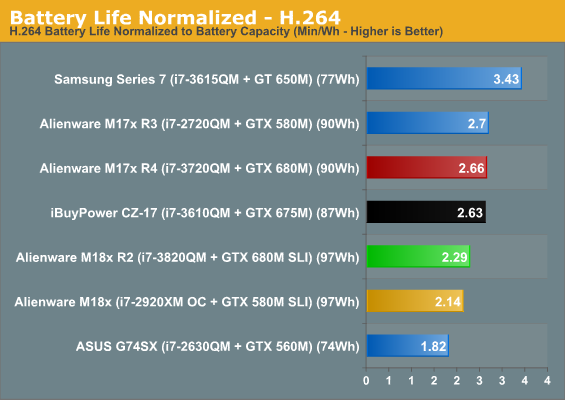 Interestingly the newer M18x R2 enjoys roughly the same level of gains in efficiency as the M17x R4 did over its predecessor despite having theoretically greater advantages. That's not a bad thing, necessarily; it may just be that the 18.4" display is sucking up the lion's share of the power on its own. Since the notebooks were switched to integrated graphics for our battery testing, the two 680Ms in SLI don't really affect the power consumption at all.
Ultimately the M18x R2 can pull roughly four hours of useful running time on the battery, which is none too shabby for an enormous gaming notebook.
Heat and Noise
Where the Alienware M18x R2's girth really excels is in being able to transfer what's essentially a cumulative 245W of heat out of the chassis. It's actually remarkably efficient that way, too. Under sustained load the M18x R2 is definitely audible, registering roughly 40dB of noise to the user. Extreme duress punches it up to around 47dB, but that's not going to be as common. When you consider what the notebook is actually cooling these results are pretty reasonable.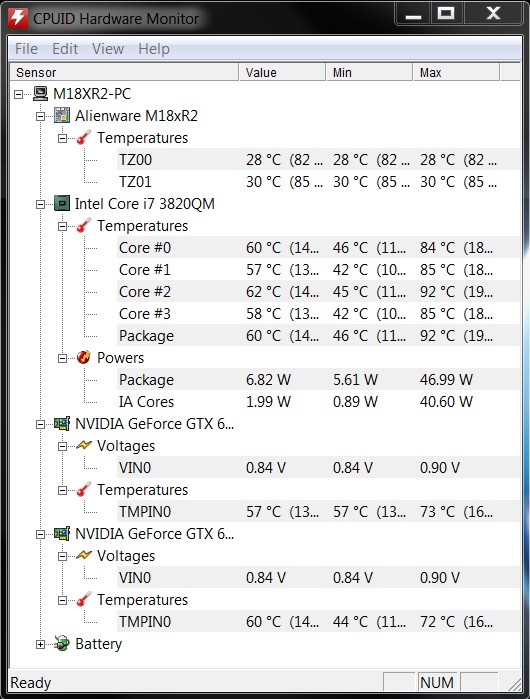 You can see thermals are actually pretty good. The system seems to be configured more for silence than thermal performance, with the i7-3820QM breaking the 90C mark, but the two 680Ms run comparatively frosty. They actually run cooler than my desktop 680 does despite being together in a more enclosed space.
Conclusion: Go Big or Go Home
As I mentioned in the conclusion of my review of the Alienware M17x R4, there are no points awarded for repetition. The original M18x was good but not perfect, and simply repeating the design instead of at least iterating it isn't going to somehow result in a better review. I think for the most part the shell does work; the aluminum is attractive and however you feel about Alienware's aesthetics, it's at least distinctive and feels sturdier than competing notebooks from Clevo. Bonus points also to the cooling system, which does a solid job of keeping the internals from roasting.
If we take the repeated chassis design out of the equation, we're faced with an amusingly unique problem that I haven't really seen in a notebook before: too much graphics power. The GK104-based GTX 680M is so good at its job that for notebook users who are going to be limited to a 1080p resolution, there's very little reason or need to add a second one. In fact, only Battlefield 3 seems to really benefit from the second GPU; everything else was already butter smooth on just one. It's a silly thing to complain about until you realize the Alienware M18x R2 costs an arm and a leg.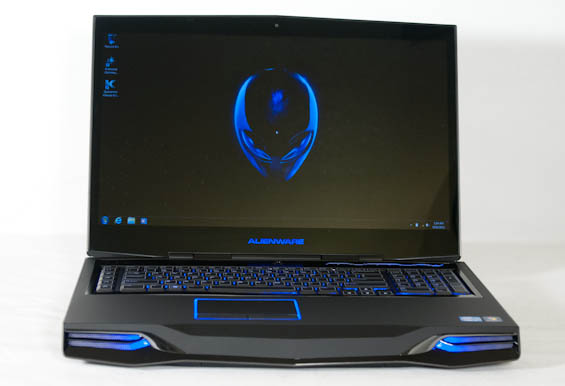 But wait, it gets better. Because the pair of GTX 680Ms are limited by both the resolution and by the CPU, even a relatively pricey upgrade like the i7-3820QM actually becomes borderline inadequate. Consider what that means when an i7-3610QM was perfectly fine support for a GTX 675M or 680M, when historically upgrading past the entry level quad core in a notebook has been a fairly questionable value proposition. If you simply must have the fastest gaming notebook you can find, the M18x R2 is going to be it, but the upgrades are all ridiculously expensive and amusingly, if you want the most out of your purchase you're not going to be able to cut corners. You can save $250 by not having Alienware overclock the CPU for you and do it yourself, but you're still going to want to spend the $900 upgrade cost to get the i7-3920XM just to keep your disgustingly powerful graphics subsystem from being curtailed by the CPU.
I'll level with you: the Alienware M18x R2 is a notebook for people with more money than sense. Bleeding edge hardware has always cost a pretty penny, but while I could produce a corner case need for the original M18x, the M18x R2 just isn't necessary for even the most die hard mobile gamer. A single GTX 680M is screamingly fast on its own and well paired with an Ivy Bridge CPU, making the M17x R4 a better choice in almost every way. If you really, really want the absolute fastest notebook money can buy then by all means, and you just absolutely hate having money, shell out for the M18x R2. But if you want a premium gaming notebook and aren't interested in setting your money on fire to get it, a single-GPU solution like the M17x R4 or iBuyPower's Valkyrie CZ-17 is going to suit you far better.