Original Link: http://www.anandtech.com/show/6321/netgear-updates-entertainment-lineup-with-push2tv-3000-and-neotv-300-series



Netgear has been at the forefront in supporting Intel's WiDi initiative on the receiver side. In fact, they had an exclusive on the first WiDi receiver (Push2TV 1000) for close to a year back in 2010. In June, we covered the launch of Netgear's NeoTV Pro NTV200S WiDi / Media Streamer combo. Using Broadcom's BCM7615, it had all the features of the NTV 200 media streamer and also added support for WiDi 2.1 (1080p / HDCP2 / DVD & Blu-ray / 5.1 channel audio etc.)
Today, Netgear is pushing out a number of products targeting the same market at various price points. These include the Push2TV 3000 WiDi receiver and three members of the NeoTV 300 series, the NTV300, NTV300S and the NTV300SL.
Push2TV 3000
Anand recently covered the launch of WiDi 3.5, and briefly mentioned that a new Push2TV receiver from Netgear would be made available at a $59.99 price point. The credit card-sized Push2TV 3000 supports both Intel WiDi 3.5 and Wi-Fi Alliance's Miracast (pre-standard compliance). These technologies allow the user to wirelessly mirror a laptop, smartphone or tablet screen onto another HDMI-equipped display.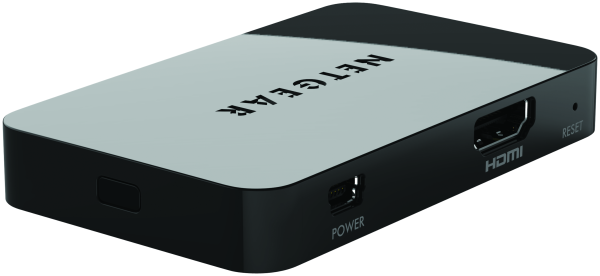 The PTV3000 is one-third the size of the PTV2000, and supports all the WiDi 3.5 features. It can be powered over USB and Netgear expects consumers to get that from one of the USB ports on the display. However, a power adapter is also available (in the case that the consumer's display doesn't have a USB port). Miracast certification will take place towards the end of 2012 (after the finalization of the specifications). The PTV3000 is priced at $59.99 and available for purchase starting today.
NeoTV 300 Series
The NeoTV 300 series differs from the NeoTV 200 series in two aspects. The first visible aspect is the departure from Adobe Stagecraft 1.2 to a HTML 5 based UI. The second aspect is the replacement of the Broadcom BCM7615 SoC with chips from MediaTek. While the base model (NTV300) has the MTK8633, the two others (NTV300S and NTV300SL) have the Mediatek MTK8653 SoC. Mediatek seems to be a highly secretive company and doesn't seem to have published any of its datasheets online. All the units can connect to the network through wired Ethernet or Wi-Fi. Remote control apps are available for Android and iOS.
The NTV300 is similar to the NTV200 in terms of support for online streaming services, full 1080p HD and 5.1 channel Dolby Digital audio. The NeoTV PRO (NTV300S) has all the features of the NTV300 and also brings the PTV3000's Wi-Di 3.5 supoort feature. The NTV300S also has legacy A/V port (component?) support (for use with TVs which don't have HDMI ports). The NeoTV MAX (NTV300SL) has all the features of the NTV300 and NTV300S. It adds support for local media playback (over USB). It is also a DLNA DMR (Digital Media Renderer). The remote is similar to that of the Boxee Box's, with simple navigation buttons on one side and a QWERTY keyboard on the other. It also supports Vudu's 3D videos when connected to a 3D TV.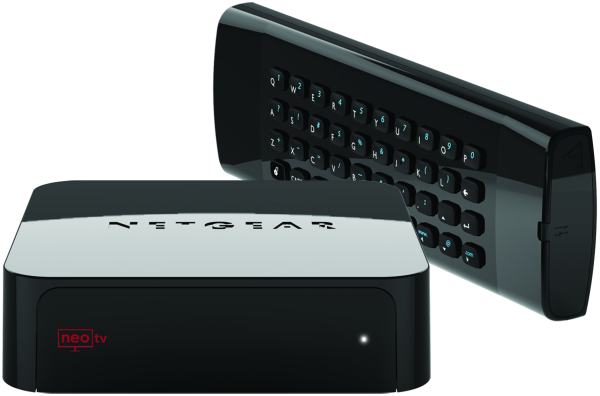 All the three models are available for purchase today. The NTV300 is priced at $49.99, the NTV300S at $59.99 and the NTV300SL at $69.99.