Original Link: http://www.anandtech.com/show/6311/alienware-m17x-r4-notebook-review-ivy-bridge-and-the-geforce-gtx-680m


Introducing the Alienware M17x R4
Alienware recently updated their Bronze Editor's Choice award-winning M17x R4 gaming notebook to include Intel's Ivy Bridge processors and optional AMD Radeon HD 7900M series graphics or NVIDIA's new top end GK104-based GeForce GTX 680M GPU. With the move we also get mSATA support inside the chassis. The big draw with our review unit is the NVIDIA GeForce GTX 680M, which promises a substantial performance improvement over last generation's top end GTX 580M/675M, the kind of generational jump we haven't seen on the mobile side in some time.
At the same time, Alienware's M17x R4 remains largely unchanged while Clevo, MSI, and ASUS have all continued to incrementally update their gaming notebook designs. I've also had the privilege of owning my own M17x R3 over the past year and have new insights to offer on what it's like to live with this chassis design after an extended period of time. Is Alienware smart not to mess with what looks like a winning formula, or is the world passing them by?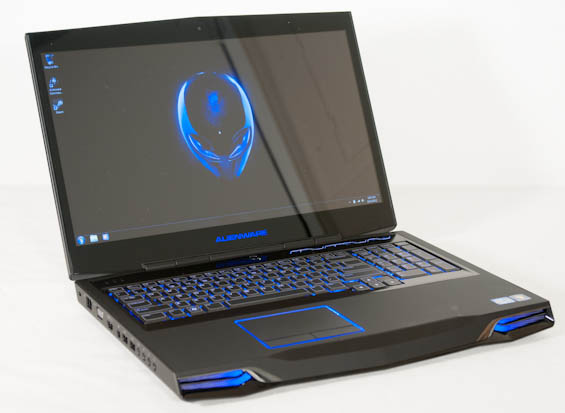 With the M17x R4 I'm going to be a little lazy and refer you back to my review of the M17x R3. Why? Simply put, I can't find any changes between the two chassis designs...at all. Internally Alienware has definitely updated the M17x, but externally this is the exact same notebook and while I was in love with this design before, time hasn't been as kind to it as I'd like.
Alienware M17x R4 Gaming Notebook
Processor
Intel Core i7-3720QM
(4x2.6GHz + HTT, 3.6GHz Turbo, 22nm, 6MB L3, 45W)
Chipset
Intel HM77
Memory
2x4GB Samsung DDR3-1600 (Max 4x8GB)
Graphics
NVIDIA GeForce GTX 680M 2GB GDDR5
(1344 CUDA cores, 719MHz/3.6GHz core/memory clocks, 256-bit memory bus)
Display
17.3" LED Glossy 16:9 1080p (1920x1080)
LG Philips LGD 02DA
Hard Drive(s)
Hitachi Travelstar 7K750 500GB 7200RPM SATA 3Gbps HDD

Samsung PM830 32GB mSATA 6Gbps SSD (Intel SRT)
Optical Drive
Slot-loading Blu-ray/DVDRW Combo (HL-DT-ST CA30N)
Networking
Atheros AR8151 PCIe Gigabit Ethernet
Intel Centrino Wireless-N 2230 b/g/n
Bluetooth 4.0
Audio
SoundBlaster Recon3Di (CA0132) HD Audio
Stereo speakers
S/PDIF, mic, and two headphone jacks
Battery
9-Cell, 11.1V, 90Wh
Front Side
N/A (Speaker grilles)
Right Side
MMC/SD/MS Flash reader
Slot-loading optical drive
2x USB 3.0
eSATA/USB 2.0 combo port
HDMI in
Left Side
Kensington lock
VGA
HDMI
Mini-DisplayPort
2x USB 3.0
S/PDIF, mic, and two headphone jacks
Back Side
AC jack
2x exhaust vents
Operating System
Windows 7 Home Premium 64-bit
Dimensions
16.14" x 11.96" x 1.75-1.77"
410mm x 304.3mm x 44.5mm
Weight
~9.39 lbs (4.26kg)
Extras
3MP Webcam
Backlit keyboard with 10-key
Flash reader (MMC, SD/Mini SD, MS/Duo/Pro/Pro Duo)
USB 3.0
mSATA SSD cache
SoundBlaster Recon3Di with THX TruStudio Pro
Configurable lighting
Warranty
1-year standard warranty
2-year, 3-year, and 4-year extended warranties available
Pricing
Starting at $1,499
Price as configured: $2,599
Typically we get Ivy Bridge systems with the entry-level Intel Core i7-3610QM, but our Alienware systems tend to be a bit better equipped and that's true here. The i7-3720QM is a healthy step up from last generation's i7-2720QM, able to turbo up to an impressive 3.4GHz on all four cores or 3.8GHz on a single core. It also brings with it Intel's HD 4000 integrated graphics, and NVIDIA leverages them with their Optimus technology.
Speaking of NVIDIA technology, the big draw with the M17x R4 is the GeForce GTX 680M. Unlike last generation's GF1x4 derivative GPU, the GTX 680M is based on NVIDIA's current top end silicon. The GK104 in the GTX 680M is the same chip that powers the GTX 680, although here the 1536 CUDA cores have been cut down to 1344. That's about the only cut made, meaning this is basically the same silicon in the very impressive GTX 670, just run at substantially reduced clocks. The core clock now runs at only 719MHz with a boost clock of 758MHz, but the most painful cut is the GDDR5 clock. Where NVIDIA was able to hit a staggering 6GHz on the desktop (and their memory controller allows you to pretty much push the GDDR5 chips to their limits; my GTX 680 is at 6.7GHz on the memory), the GDDR5 on the GTX 680M is running at a paltry 3.6GHz. That means that while generationally shader and texturing power have increased tremendously, the memory bandwidth increase has been much more modest, and that's on a chip that's already throttled largely by memory bandwidth. Interestingly, the GTX 680M in the M17x R4 sports 2GB of GDDR5 while the GTX 680Ms offered by other vendors have 4GB, but this shouldn't be counted against it as even desktop GTX 680s with 4GB of GDDR5 haven't proven to need the extra video memory.
Of course, Alienware offers alternatives to the GTX 680M, which is a hefty $550 upgrade. The default GTX 660M is a glorified desktop GTX 650, built on the Kepler architecture and sporting 384 CUDA cores, a healthy 835MHz core clock, and 4GHz on the GDDR5. That chip really is a fine starting point for gamers, but leave it to AMD to offer what's probably going to wind up being the best price/performance option (just as they tended to last year), the Radeon HD 7970M. That's $200 for an upgrade to a fully enabled Pitcairn GPU that offers a notable improvement in performance over the $250 GTX 675M upgrade, which is just a rebranded GeForce GTX 580M. We have a review of the 7970M in the works right now, but there's really no reason to shell out an extra $50 for worse performance with the GTX 675M unless you absolutely have to stay in NVIDIA's ecosystem and don't want to spend up on the GTX 680M.
Outside of these components, the other gains are largely incremental. Most of the parts are actually identical to the M17x R3 (including the display), while memory speed has gotten a bump to DDR3-1600 and an mSATA port has been added along with Intel's SRT (Smart Response Technology) caching. We get a boost to Bluetooth 4.0 and the audio software/hardware has been bumped to SoundBlaster's Recon3Di. Nothing too exciting here.
Application and Futuremark Performance
I find myself often saying "at this point, Ivy Bridge is pretty much a known quantity," but that really does remain true. What we want to pay attention to with the M17x R4 is the performance difference between the i7-3610QM and the i7-3720QM, since the 3610QM is the baseline CPU for the M17x R4 while the 3720QM is a $150 upgrade.
Unfortunately, our testing of the M17x R4 was not without hiccups. Total War: Shogun 2 crashes during benchmarking, a problem that's been reproduced in NVIDIA's labs. The current BIOS update coupled with most recent drivers are supposed to ameliorate that problem, but that hasn't been the case. When that problem is resolved we'll endeavor to update Bench with those benchmark results.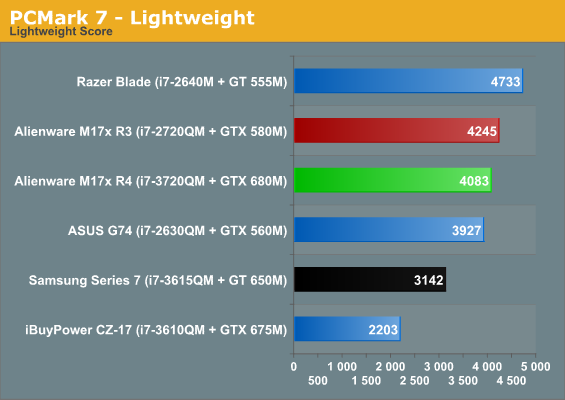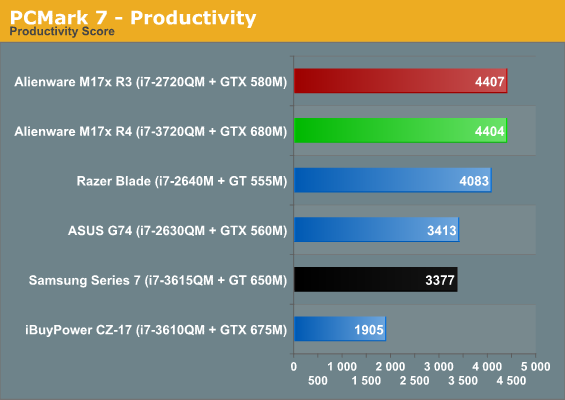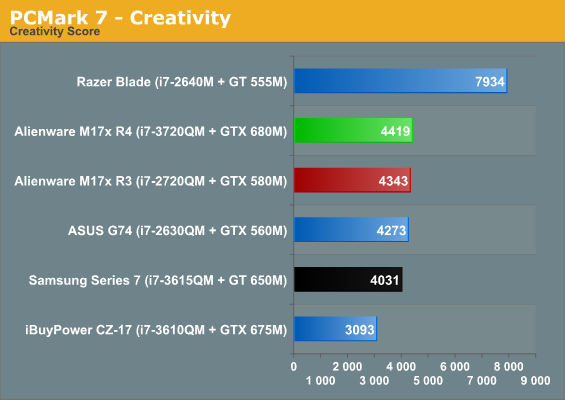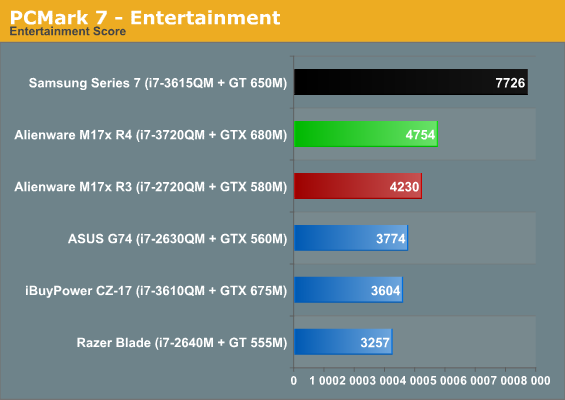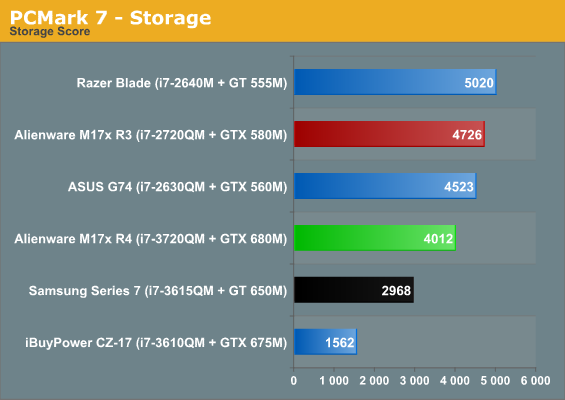 The essential problem in PCMark 7 is that the M17x R4 is relying on SSD caching instead of an actual SSD as our M17x R3 system does. That puts it well behind some of the competing systems we've tested, except for the CZ-17, which doesn't even have the benefit of SSD caching.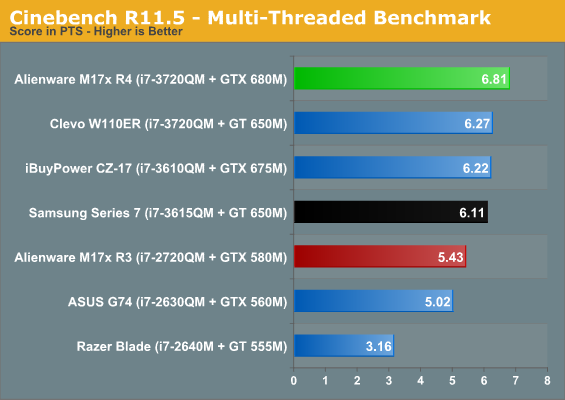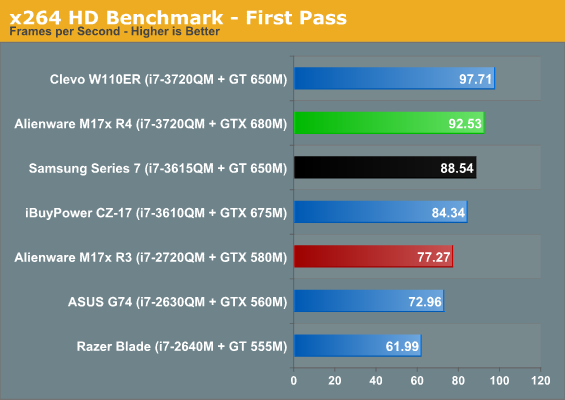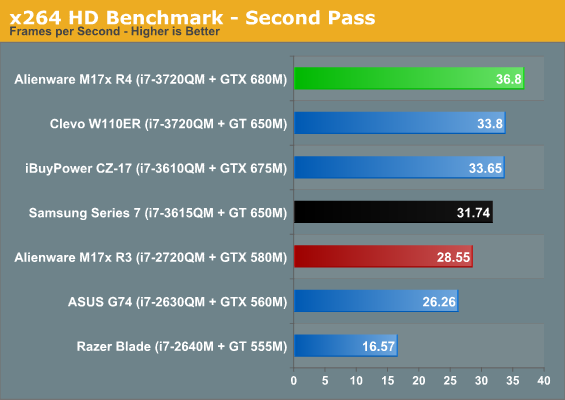 You could reasonably argue that in most cases, the M17x R4's substantial heft compared to the slight Clevo W110ER allows for a more powerful cooling system, in turn allowing the i7-3720QM at the heart of the M17x R4 to run faster longer. The jump from the i7-3610QM and i7-3615QM to the i7-3720QM is incremental at best, though, and doesn't really justify the extra $150. Note that the only differences between the i7-3610QM and i7-3615QM are the socket type and a slight bump in top IGP turbo speed on the 3615QM; these chips are otherwise specced identically.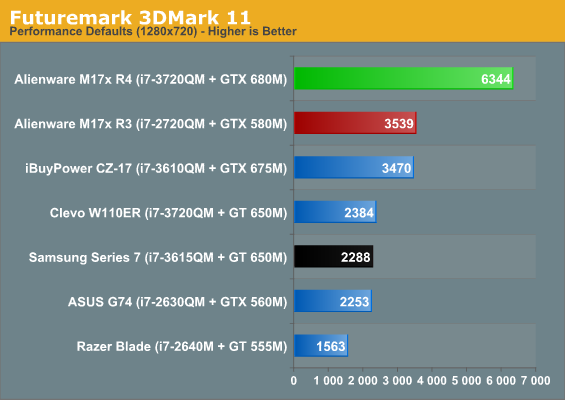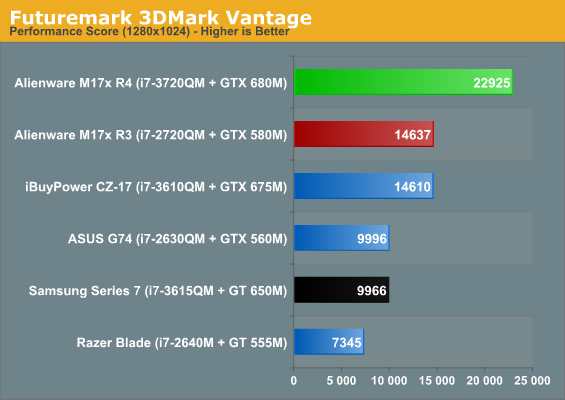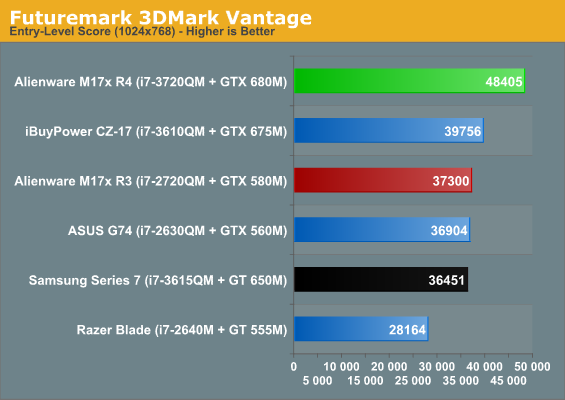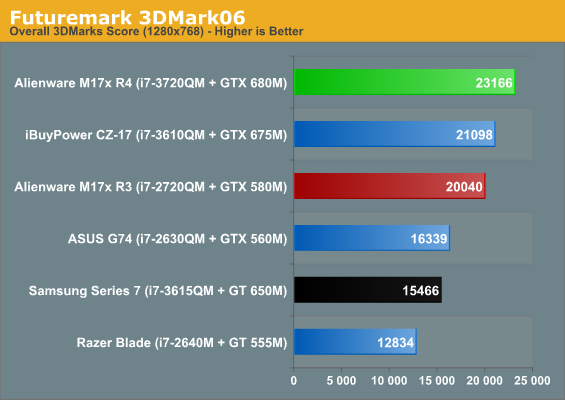 And here's where things start getting real. If you weren't excited to see how the GTX 680M performs in games you should be now, because this is one of the largest jumps in performance we've seen from a top-end mobile GPU in quite some time. Note that the GT 650M is essentially a GTX 660M at slightly lower clocks; with that knowledge in mind, the Samsung Series 7 serves as a suitable proxy for an entry level M17x R4.
Gaming Performance
NVIDIA is quick to tout the performance jump from the GeForce GTX 580M/675M to the 680M in marketing materials, and it looks like they may be quite right to do so. On paper the GTX 680M's GK104 GPU has actually gone relatively unscathed in the transition from the desktop to the notebook, though the sacrifice in memory clocks is a painful one and enterprising users may even consider trying to trade off on core clocks for memory and see where that gets them.
That said, it stands to reason the M17x R4 is going to be the most powerful gaming notebook we've yet tested (at least until the M18x R2 review with two GTX 680Ms in SLI goes live). We'll start things off light with our Mainstream testing suite.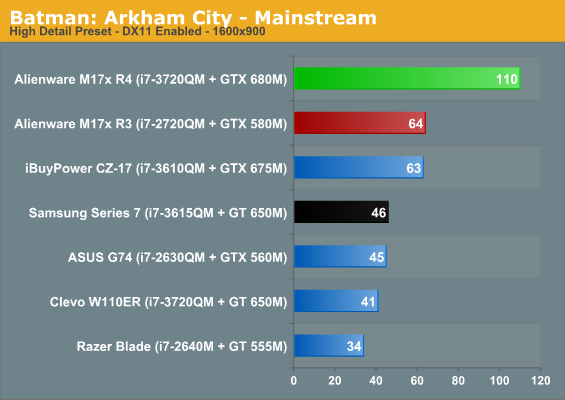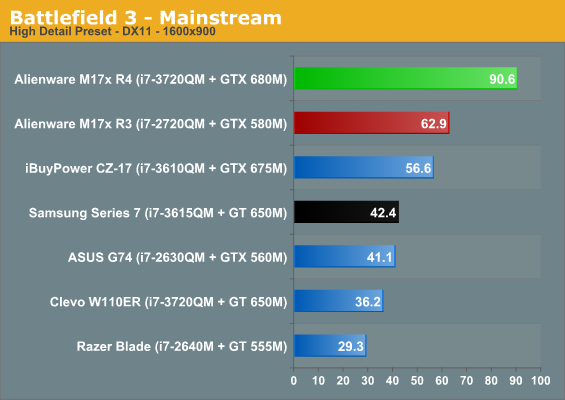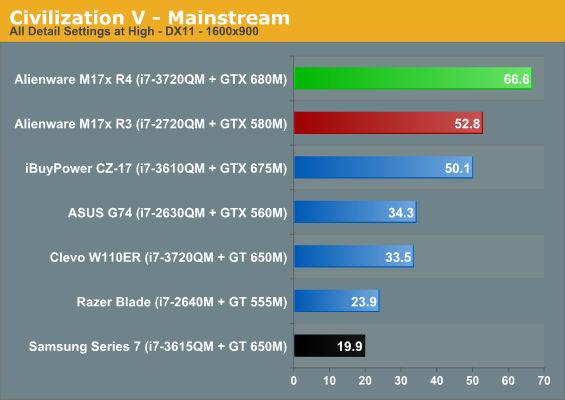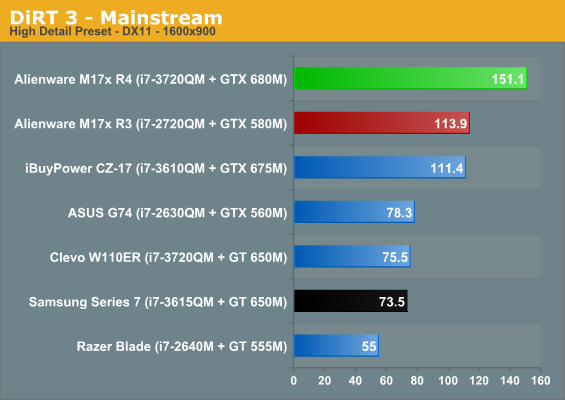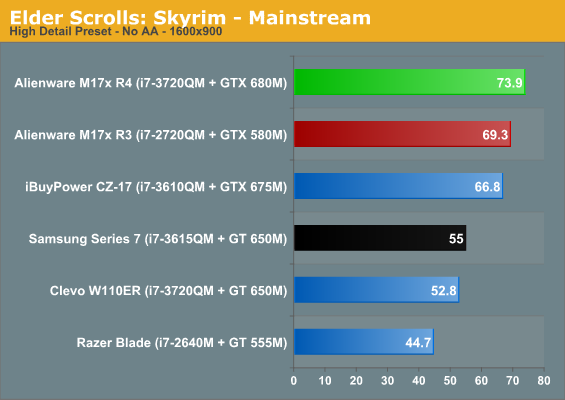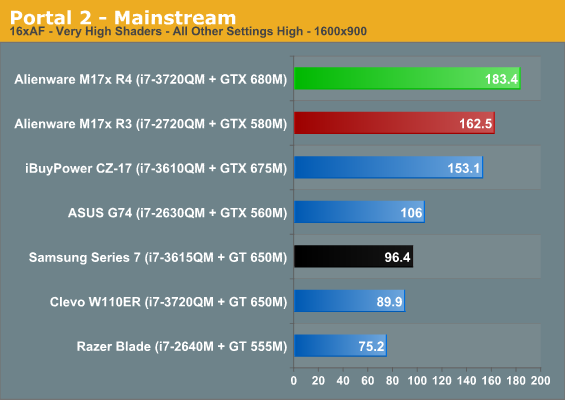 If you're not impressed and anxious to see how far the GTX 680M can go with higher settings, you should be. When the bottleneck is shifted to the GPU, performance over last generation's top end can be as much as 50% higher. That's a staggering leap. The 485M was a substantial leap over the horribly cut down and disappointing 480M, but this is an even larger one.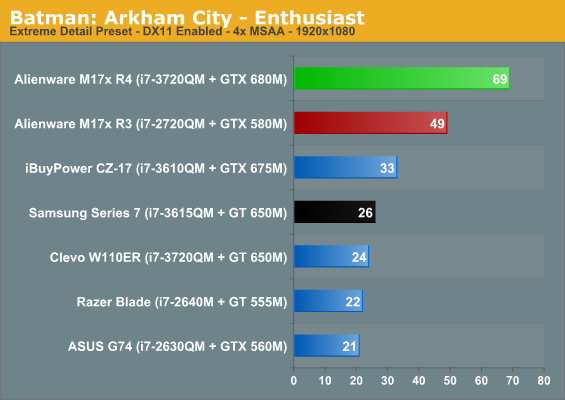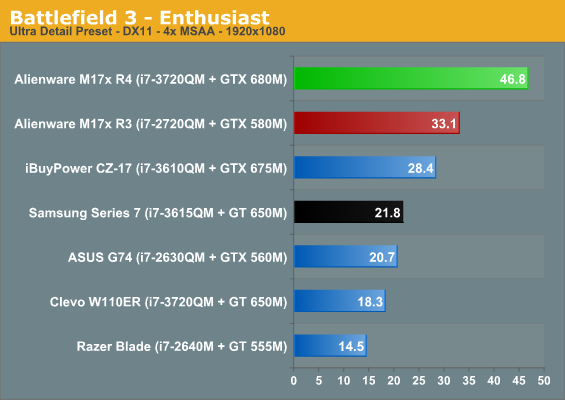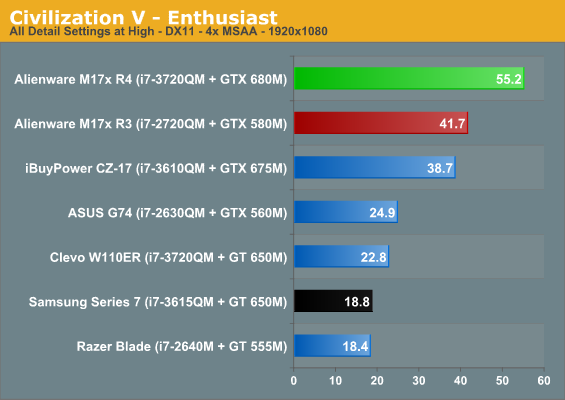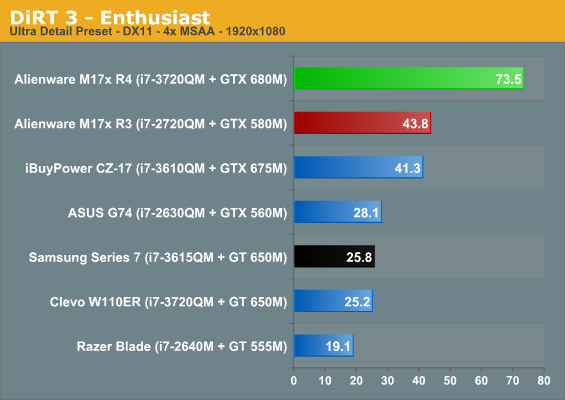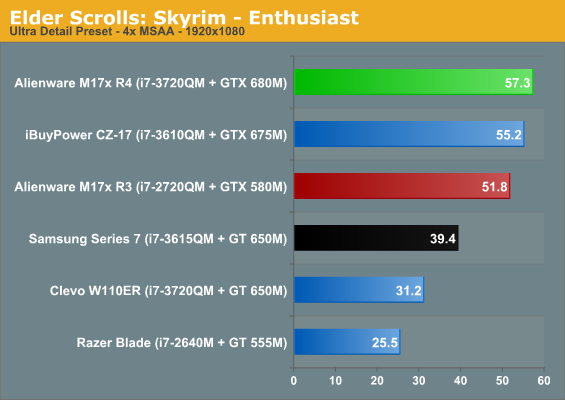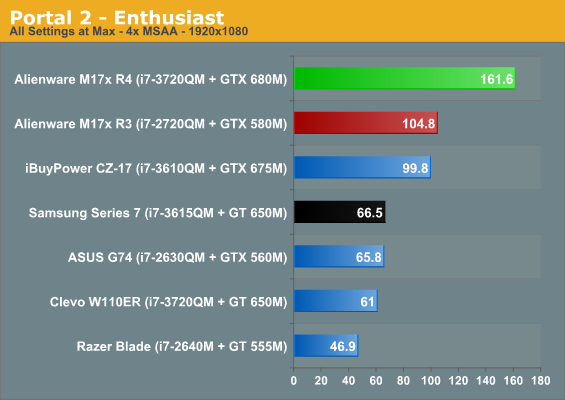 It continues. At any point where the GPU is the bottleneck, the GTX 680M runs screaming away from the 580M/675M. You'll pay handsomely for the jump in performance, but the 680M is capable of running nearly three times faster than the GT 650M (knowing that the M17x R4's entry level GPU is just a slightly faster version of that chip); die hard desktop enthusiasts are used to paying $550 for top end graphics hardware, and in that light the GTX 680M doesn't look like such a raw deal. We'll have to wait and see how it compares to the HD 7970M before we can determine whether or not it's worth the extra $300 over that chip, though there's also the Optimus vs. Enduro debate along with driver considerations (which will hopefully all be ironed out in the next month or two).
Display Quality
Given that the Alienware M17x R4 review unit we have on hand sports the exact same panel as last year's model, there shouldn't be any surprises here. The M17x R4's display is a pretty good one, and we definitely recommend spending the $150 for the upgrade to this 1080p panel (the default is a 1600x900 panel--too low-resolution for a 17.3" display in our book).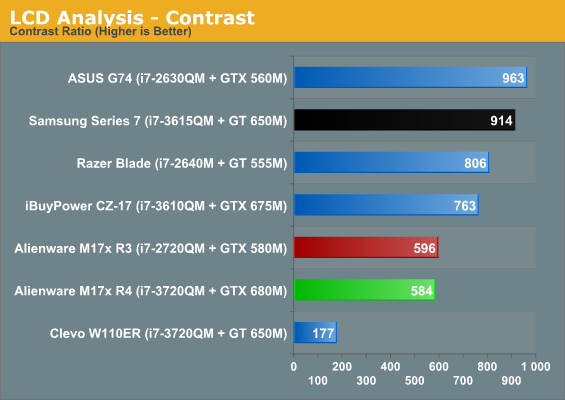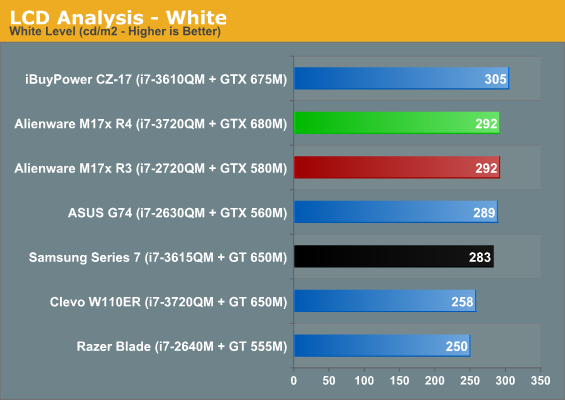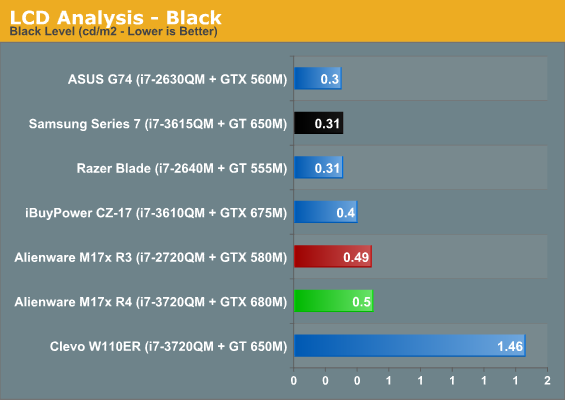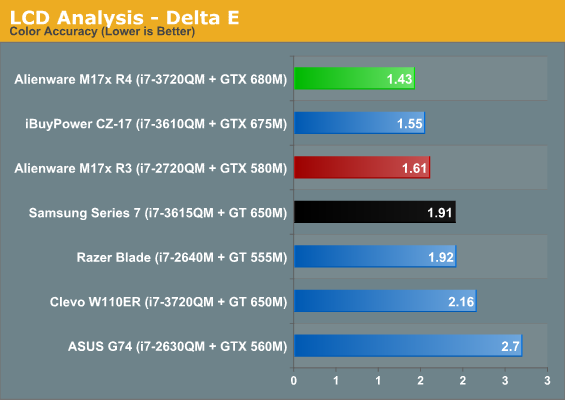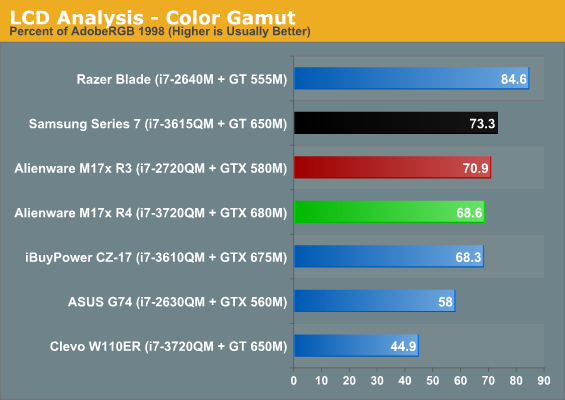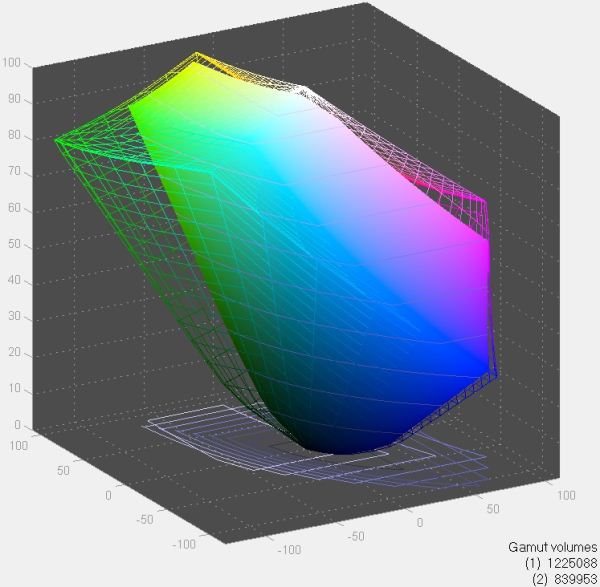 As it turns out, virtually nothing has changed. If you were happy with the M17x R3's display, you'll continue to be happy with the M17x R4's. If you want a high gamut panel, IPS, or a matter surface, however, you're out of luck.
Build Quality
So unfortunately, here's where things kind of take a turn with the Alienware M17x R4. When I reviewed the M17x R3, I was in the market for a new 17" desktop replacement notebook and virtually nothing I'd seen had really excited me. Clevo's notebooks still had their candy shells and dire keyboards, and even ASUS' notebooks featured somewhat underpowered graphics hardware at the time. Yet the M17x R3 had an attractive screen, a fairly comfortable keyboard and touchpad, and performance to spare.
The problem is that in the intervening year, times have changed, and companies should be willing to iterate on their products and continue to develop them. The M17x R4 gains a couple USB 3.0 ports and an mSATA port, and that's about it outside of the expected generational internal hardware improvements. In the meantime, Clevo fixed their keyboards [ed: well, at least they tried to--we'll have more to say on this very soon], ASUS has faster graphics hardware in their gaming notebooks (and enjoys Optimus), and even MSI and iBuyPower's Valkyrie CZ-17 scored a surprise win by including one of the most comfortable keyboards I've yet tested on a notebook.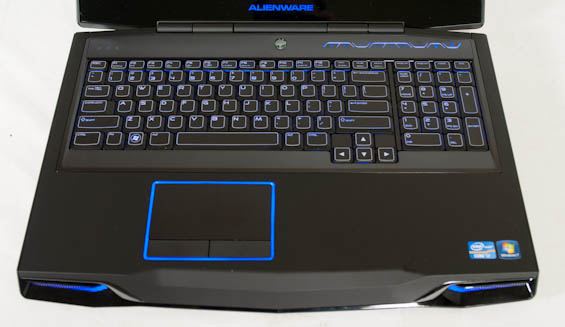 Unfortunately, familiarity with the M17x R3/R4's design has lead to some notable issues. The edge-to-edge glossy display photographs well and captures that initial "ooh shiny" reaction, but in practical use becomes frustrating in short order. The gloss is too reflective, and on dark images it can be incredibly distracting. It also picks up dirt and fingerprints with tremendous ease.
Meanwhile, though the keyboard's feedback is generally good and the touchpad's texture is quite comfortable, the sharp angles of the front edge of the notebook can very easily dig into your wrists over an extended period of use. On a notebook and keyboard this size, an inclined typing surface would do wonders (part of what makes competing designs more comfortable to use). The M17x's flat surface and hard angles actually make it uncomfortable to use.
I do like the bling of the Alienware notebook line, however; there really is something very enjoyable and satisfying about being able to customize the backlighting, and I'm the only person I know that has a notebook that glows fuschia. The keyboard layout itself also remains unimpeachable. But this design needs to be improved, a notion that I'll reiterate when I get to noise and heat.
Battery Life
The Alienware M17x R4 enjoys NVIDIA's GeForce GTX 680M's Optimus technology just as the R3 enjoyed Optimus in the 580M, meaning any battery life difference between the two systems is going to be decided chiefly by the CPU. It's nice to see gaming notebooks get to the point where the battery is no longer a glorified UPS system but an actual means of using the notebook off the mains for an extended period of time, provided you're not gaming on it.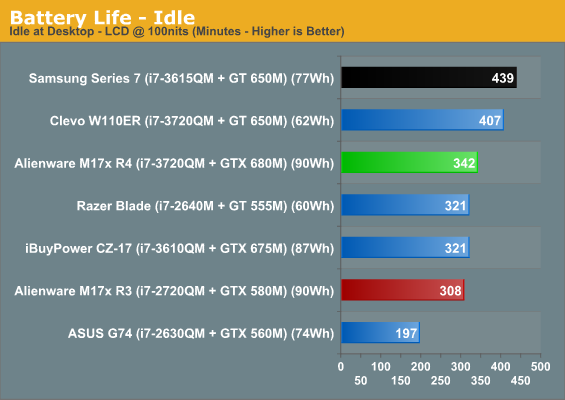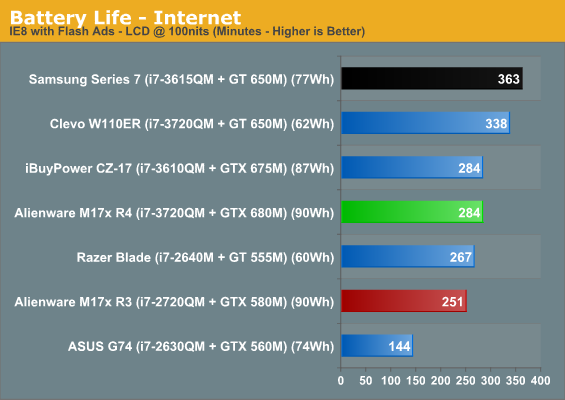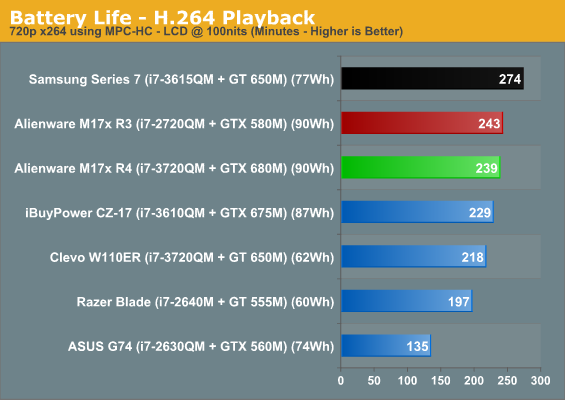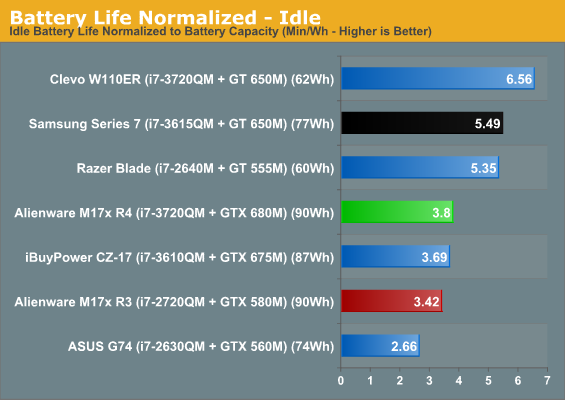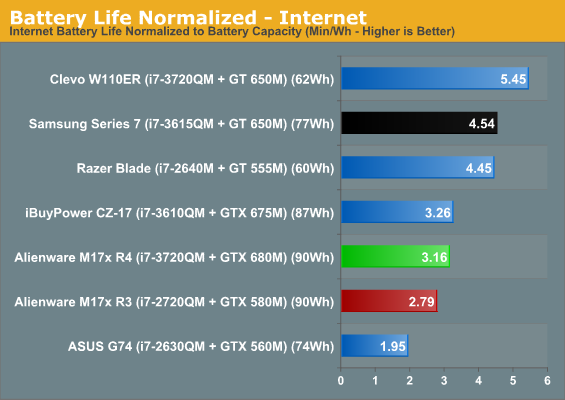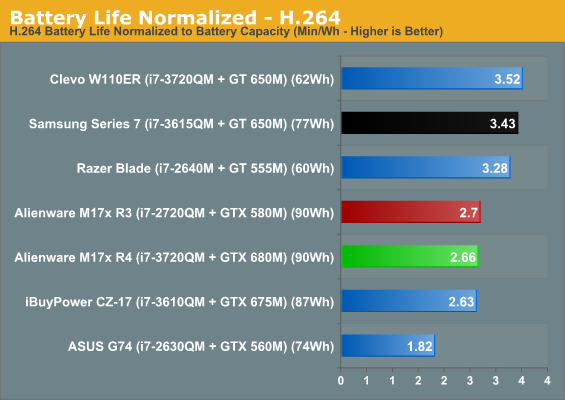 It's all pretty much as we expected. The lower power consumption of the Ivy Bridge CPU allows the M17x R4 to last just a little bit longer in most tasks than the R3 did, but differences between the notebooks really are negligible. Four or five hours of useful battery life from a nine pound land monster isn't too shabby.
Heat and Noise
Unfortunately, this is where things start to fall apart for the R4. Compared to the cooling system used in ASUS' gaming notebooks, the Alienware M17x R4's age really starts to show. The slightly thicker iBuyPower Valkyrie CZ-17 was able to do an admirable job of cooling the GF114-based GTX 675M while producing a lower pitched noise profile, but the R4 gets obnoxious in a hurry when gaming and in fact even seems to be a bit louder than the R3. The GTX 680M is rated for the same 100W TDP as the outgoing 580M/675M, but TDP ratings can often be deceiving, as the difference between the identically rated i7-2720QM and i7-3720QM can attest.
CPU-only loads don't seem to push the cooling system particularly hard, but that's no surprise. GPU-heavy loads cause the fan to spin up pretty substantially, though, and that can become obnoxious in a hurry. The reality is that other gaming notebooks are handling this aspect of design better these days.
Conclusions
What we're looking at with this review of the Alienware M17x R4 are really two things: the performance of the shiny new NVIDIA GeForce GTX 680M, and the Alienware M17x R4 notebook itself. Amusingly if unfortunately, the conclusions drawn are pretty disparate.
NVIDIA's GeForce GTX 680M is a qualified win. They knew it, and now we know it. Whether or not it's worth the substantial price premium from vendors is up for debate, especially since we don't know just exactly how fast AMD's competing Pitcairn-based Radeon HD 7970M performs in comparison (yet). If AMD can get between 80-90% of the performance of the GTX 680M out of the 7970M, that will probably be enough. The 680M is an impressive beast, though, able to produce performance roughly as good as last generation's GeForce GTX 570 in a notebook form factor. You'll remember the 570 was no slouch, so gamers looking for a mobile fix would do well to shortlist the 680M.

As for the M17x itself, unfortunately it's not the homerun it used to be. While I still personally like the bling and submit you can't really appreciate it until you've played with it first hand, the chassis needs to be updated. The current generation of Alienware notebooks are just rehashes of the successful last generation, but there needs to be iteration and improvement. Those were good notebooks, but they weren't bulletproof. The cooling system needs to be reworked, and more attention really needs to be paid to ergonomics and overall ease of use. The typing experience (layout notwithstanding) is one place where the iBuyPower Valkyrie CZ-17, fugly and unwieldy as it is, offers a better experience.
It gets worse. Given that the CZ-17 is more comfortable to use, it would be a reasonable alternative to the M17x R4 at the same price. But iBuyPower is willing to give you at least identical performance, if not better (by offering a full SSD instead of a small mSATA caching SSD), for $500 less. You lose the option of going for AMD graphics hardware, but the baseline GPU is the very capable GeForce GTX 675M, while the 680M is a slightly more reasonable $350 extra.
Let me be clear. The Alienware M17x R4 is by no means a bad notebook, and if it's what you're interested in I certainly wouldn't stop you from going for it. iBuyPower's offering isn't the greatest thing in the world to look at and its wonky keyboard layout, however responsive the keys themselves are, may be enough to put off a lot of users. The problem is that I'm not sure the M17x R4 is worth the premium over competing notebooks, especially when Alienware elected to just coast on last year's chassis design instead of going back and fixing it. I can't reward a company that chooses to stand still with their hardware, and unfortunately the industry seems to agree. The R4 is a good gaming notebook, but the minor blemishes seen on the R3 have now become more unsightly.