Original Link: http://www.anandtech.com/show/6250/toshiba-satellite-u845-ultrabooking-on-a-budget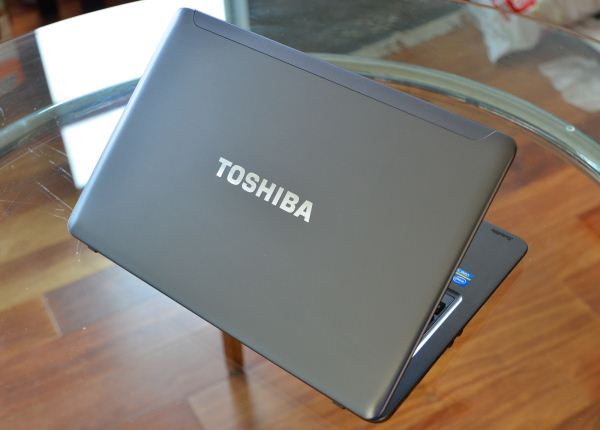 At CES, Toshiba showed us its forthcoming 14" Ultrabook, a system that they said would debut alongside Ivy Bridge in Q3. At the time, it was overshadowed by their new tablets (which hit the market as the Excite series), but true to their word, Toshiba dropped off their new 14" Satellite U845 Ultrabook in our labs and gave us a chance to take a look at it. It's one of the new "budget" Ultrabooks, which hit the low end of Intel's Ultrabook spec for around $800, with designs that are still very thin and light but typically not as premium as class headliners like the Samsung Series 9 and ASUS Zenbook Prime. It's a breed that includes the Samsung Series 5 Ultra, HP's new Envy 4t and 6t Ultrabooks, the Sony VAIO T13, and Lenovo's U310/410.
Toshiba Satellite U845-S406 Specifications
Processor
Intel Core i5-3317U
(2x1.7GHz + HTT, Turbo to 2.6GHz, 22nm, 3MB L3, 17W)
Chipset
Intel HM77
Memory
6GB (4GB + 2GB) DDR3-1600 (Maximum 8GB)
Graphics
Intel HD 4000 Graphics
(16 EUs, up to 1.05GHz)
Display
14.0" LED Glossy 16:9 768p
LG Display LGD033F
Hard Drive(s)
500GB 5400RPM HDD (Hitachi HTS54505)
32GB mSATA caching drive (Intel Smart Response Technology)
Optical Drive
-
Networking
Intel Centrino Wireless-N 2230 2.4GHz 802.11b/g/n
Bluetooth 4.0+HS
Atheros AR8152 10/100 Ethernet
Audio
Realtek ALC269 HD audio
Stereo speakers
Headphone/mic combo jack
Battery
6-Cell, 54Wh
Front Side
-
Right Side
SD/MMC card reader
2 x USB 2.0
Ethernet 10/100
Left Side
Kensington Lock
Power/AC Adaptor
HDMI
USB 3.0
Line-in/microphone jack
3.5mm headphone jack
Back Side
-
Operating System
Windows 7 Home Premium 64-bit SP1
Dimensions
13.4" x 9.1" x 0.79"
340.4mm x 231.1mm x 20.1mm
Weight
3.90 lbs
1.77 kg
Extras
VGA webcam
Warranty
1-year limited international
Pricing
$879 MSRP, Online starting at $600
The U845 follows the usual pattern here, with Ivy Bridge ULV processors, a mechanical hard drive paired with an SSD cache, Intel's onboard graphics, a ho-hum 14" 1366x768 display, and a 3.9lb/0.8" thick form factor. With an MSRP starting price of $749 (our evaluation unit goes for $879), it's a pretty good representative of the budget Ultrabook market, essentially matching the price and specsheets of the competing Series 5 Ultra and Envy 4t. Of course, that's assuming you have to pay MSRP, and right now the U845 is going for much less than $879: $600 (plus tax) for the i5-3317U equipped version. How's that for a discount?
You get a so-so collection of ports, with HDMI, a single USB 3.0 port, two USB 2.0 ports, and a 10/100 Ethernet jack. At nearly $900 the lack of Gigabit LAN is rather sad; I'd have liked to see Toshiba go with GigE and a second USB3 port. I suppose that it's not all that common for Ultrabooks to have Ethernet connections anymore, so maybe we should just be thankful for what we were given. As noted above, however, $600 is far more pallatable for such hardware and we're willing to forgive the omissions.

There are three SKUs for the U845, and all of them look pretty similar. The base model U845-S402 comes with an SNB i3-2377M, 4GB memory, and 16GB SSD cache in addition to the 500GB spindle, with an MSRP of $749. Office Depot lists it at $449 with a current $300 discount, however that doesn't show up as being available for purchase right now; B&H has it going for $625. The lack of Turbo on the i3 line plus the use a a previous generation SNB CPU (and HD 3000 graphics) makes the 2377M's 1.5GHz clock speed look painfully low, so I'd recommend avoiding it. The mid-level U845-S404 model adds $100 to the MSRP and bumps it to the i5-3317M (1.7GHz, with a max Turbo of 2.6GHz), but it's currently the most expensive of the three models at $700 online, so there's no reason to even look at it. Our top shelf U845-S406 model has the same CPU but with a 32GB SSD cache and 6GB RAM, with online pricing starting at $600 at Office Depot, or $680 at B&H.
Before we even get to the performance, it's worth a short tangent to note the drastic price cuts seen on Toshiba's entire U845 line—and such cuts aren't limited to Toshiba Ultrabooks. A quick search on Newegg turns up nine Core i5 Ivy Bridge Ultrabooks priced under $800, with the cheapest Lenovo U310 going for $600. Intel had big plans for Ultrabooks when they first hit the scene last year, but they're not selling all that well with pricing closer to $1000. It's not clear if Intel is helping to reduce the pricing by dropping CPU costs or with other incentives, or if the manufacturers are just trying to move inventory, but $600 is a far more realistic starting point. The U845 we have now hits that same mark, so let's see how it performs along with a subjective evaluation.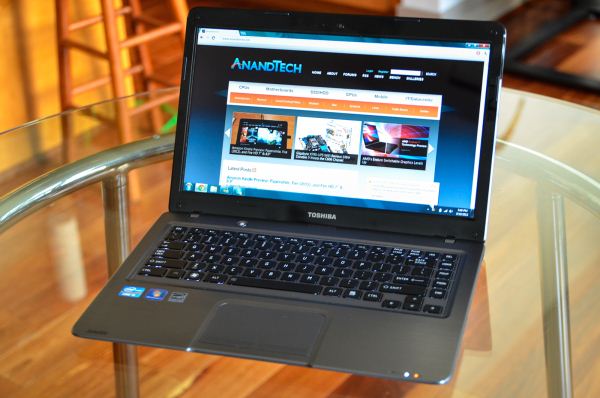 From a design standpoint, the U845 is pretty decent, and much better than I'm used to seeing from Toshiba. The chassis is made of exactly two pieces, just a top half and a bottom half, similar to the unibody style of notebook design. Unlike the traditional unibody, which has a wraparound top half and a bottom piece that mounts up to it (think of the panel on MacBook Pros that covers the entirety of the underside), the U845 has a panel on top that drops onto the wraparound bottom half. The bottom half is plastic, while the top panel is brushed aluminum, a treatment similar to what HP has done for their Envy Sleekbook/Ultrabook chassis (which also has the bottom unibody and top panel construction).
I suspect that it's simply cheaper to have a plastic bottom unibody with a metal panel on top, because you still get the metal look and feel on the palmrests without having to actually carve the majority of the chassis out of a single block of metal. Having a simple aluminum plate means less material and less machining, which means way less cost. Once you start having to mill out openings for ports, I can completely understand how you would make a financially motivated decision to go with an injection molded plastic part, where creating the tooling is the major expense and things like material cost and machining are comparatively very minor.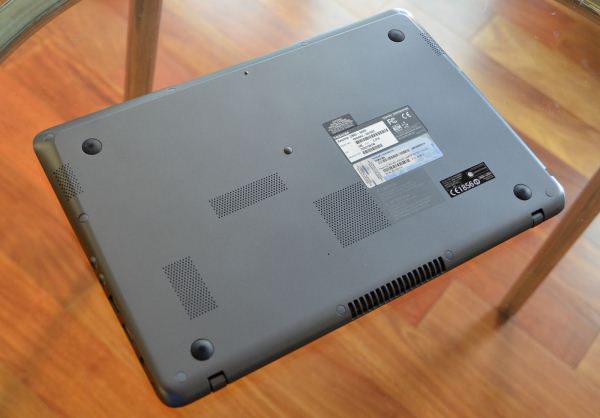 The bottom is completely free of easy upgrade access ports, so I suspect that attempting to upgrade this system will be a pain—making the initial upgrade to 6GB memory probably worth it in the long run (though it would be nice to see an 8GB option as well). That's actually the big downside in unibody designs, particularly ones with wraparound bottoms: you have to take two-thirds of the chassis off just to get access to basic memory and storage components. I thought the way Apple handled this with their unibody MacBook Pros was great, at least until they started making everything non-upgradable.
My chief complaint with the industrial design? The LCD bezel. It's ridiculous; why companies feel the need to put a glossy black bezel around an already glossy display is something I continually find myself asking. It's distracting, and it goes a long way towards cheapening the look.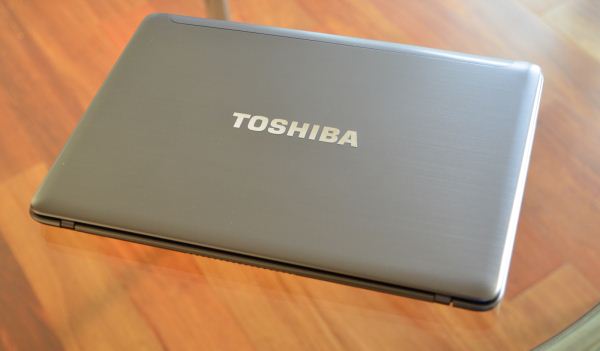 The U845 aesthetic is mostly clean and inoffensive (notable exception: LCD bezel), but it doesn't have the same premium look as many of the 13" Ultrabooks out there. Which is basically what I expected, but what really surprised me about this design was the build quality. It feels solid and well put together, which is unexpected because, let's face it, this is a midrange Toshiba. No offense, but over the last half decade or so, the Satellite line hasn't done a whole lot to inspire respect or confidence. The higher end Portege models have been decent, but the Satellites are a different story—they're generally mediocre systems that tend to be designed and built to standards lower than expected. The U845 is different, and that's a very good thing.
The unibody construction has done wonders here, helping the entire notebook feel sturdier by having less parts to deal with, and the aluminum upper casing has done the job by keeping the palmrest and interior stable and flex-free. Overall, the system feels reassuringly weighty, and to be honest, I think it's built better than the Samsung Series 5 Ultra. That's an important step forward for Toshiba, being able to tout build quality in their midrange notebook products. I'm a fan.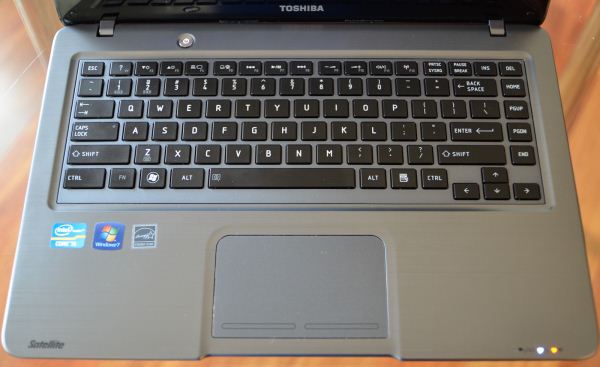 The input device combination is a bit of a mixed bag, with a multitouch trackpad with Synaptics drivers and their standard suite of gesture support. The click is a bit firm for my tastes, but the pad itself is responsive and has good sensitivity. The keyboard is somewhat unfortunate—it looks and feels just like the keyboard from the R700, none of which is good. It's stable enough in normal use, but it exhibits flex under pressure. The biggest issue is that the typing feel is pretty mushy. You get used to the absence of adequate feedback, but the lack of positive keypresses is still an issue for Toshiba, and the lack of improvement in that area over the last three years is rather disappointing. But other than the keyboard and LCD bezel, the hardware is surprisingly robust, a definite positive for Toshiba.
Performance is right where you would expect, solidly in the middle of the Ultrabook class. Ultrabooks are approaching CULV levels of dull performance metrics—all of them perform roughly the same, because there are only a handful of CPU parts (only three of which are commonly seen in review units) and they've all got roughly the same baseline performance specs otherwise (the differences between 4GB and 6GB RAM are rarely statistically significant in our benchmark suite). Obviously, some Ultrabooks come with optional dedicated graphics cards, like the ASUS Zenbook UX32Vd and Acer TimelineU M5, but other than that, the spec sheet a lot of times boils down to SSD vs cached HDD. Here's our current list of candidates:
The U845 falls at the midlevel of the class, with the i5-3317U, a 1.7GHz dual core 17W Ivy Bridge part with a max turbo clock of 2.6GHz and a GPU clock of 1.05GHz. This is the standard CPU in sub-$1000 Ultrabooks, and typically the only step lower would be the SNB i3 or i5 that's used in the base U845 and other entry level systems. Performance is adequate if uninspiring, with the lack of a dedicated SSD definitely being noticeable during regular use.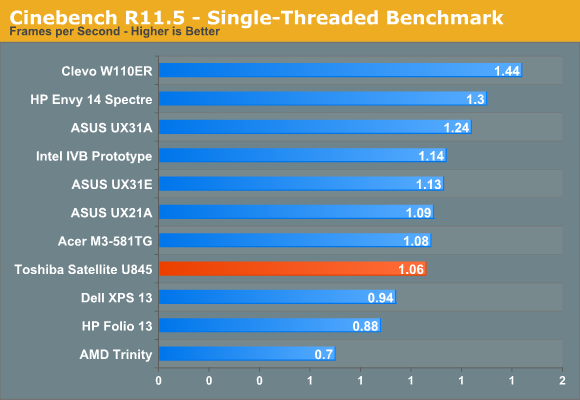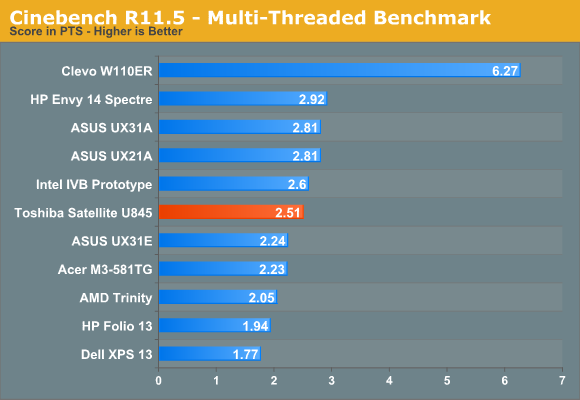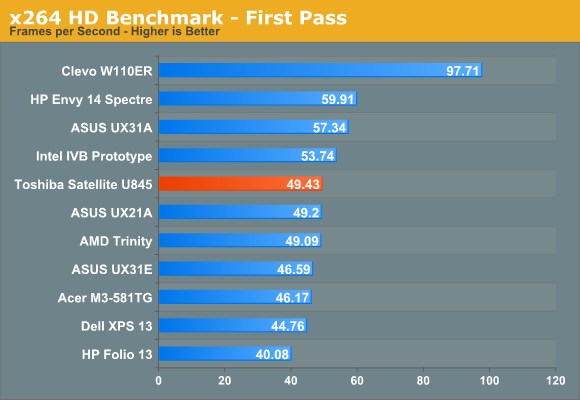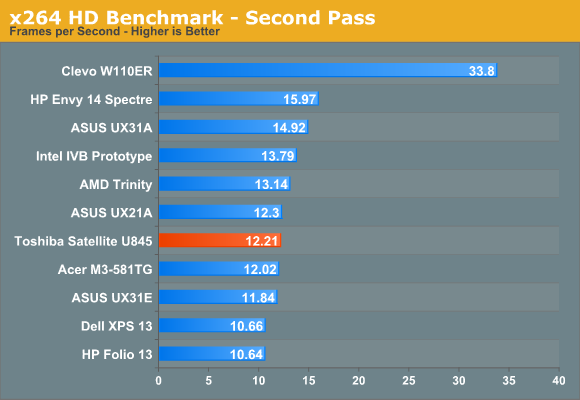 Toshiba has always been pretty bad at bloatware, so much so that I once wrote them a letter about it halfway through my review of the Portege R700. Unfortunately, things have not gotten too much better since then, with Toshiba loading the U845 with a Norton Internet Security trial, NetZero, and about 30 different Toshiba utilities that are for the most part pointless. (Okay so I went back and counted—the actual number is 29, but close enough right?) Of those 29, I'd say they could dump about 18-20 of them. This is 2012, bloatware should not be acceptable as standard operating procedure when selling a computer. Microsoft's Signature optimization on PC hardware sold at the Microsoft Store proves that. There is simply no excuse.
Battery life is decent but by no means stellar given the rest of the Ultrabook class. The battery is a 54Wh 6-cell Li-ion (not lithium polymer, it should be noted) pack of the sealed-in, non-removable variety. Our battery life testing showed a hair over six hours in the internet benchmark and an idle life of close to eight hours. You can reliably expect at least 5.5-6 hours of runtime in light usage scenarios, about average for 14" Ultrabooks but well behind class leading 13"ers like the old Zenbook UX31E.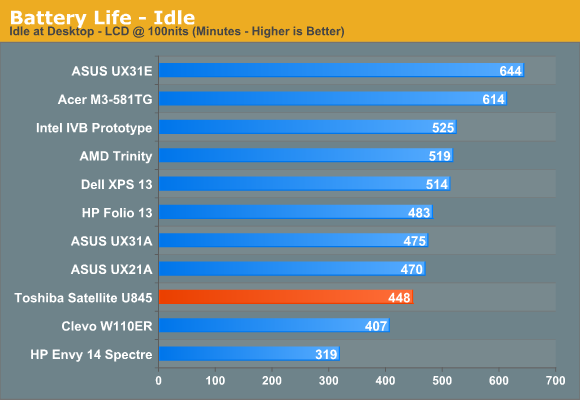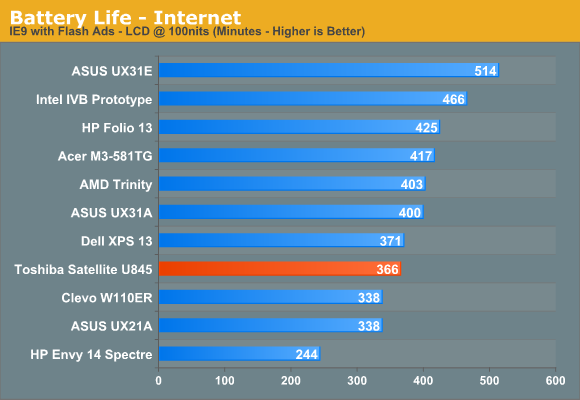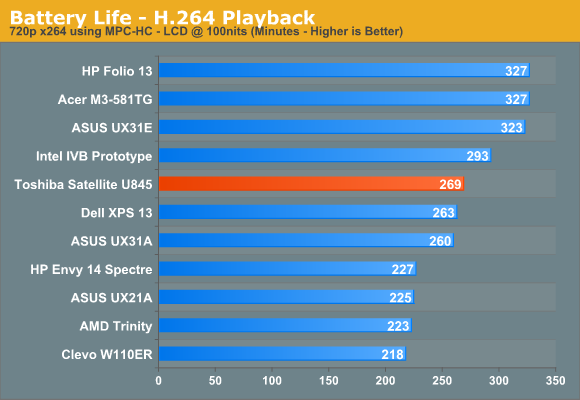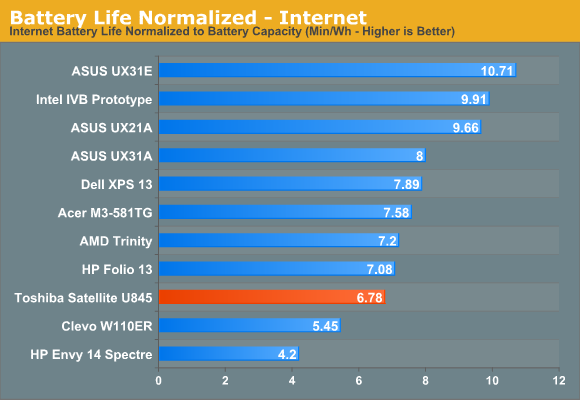 As I go through more Ultrabooks, I'm finding that the larger 14" and 15" models are not nearly as power efficient as the 13" Ultrabooks, so you find many more data points in the 4.5-6 hour range than in the 7-9 hour range that most of the 13"ers fall in. It makes sense, given the larger and more power-hungry display panels (which easily account for 30-40% of power consumption in our web-browsing test), but unfortunately, manufacturers aren't putting in larger batteries to compensate. The U845's battery is a meager 4Wh larger than the 13" Zenbook and Zenbook Prime. Also not helping here? The list of Toshiba services that drain even more power should you not disable or uninstall them first (I uninstalled Norton and ran the battery test with all unnecessary and easily killable processes disabled).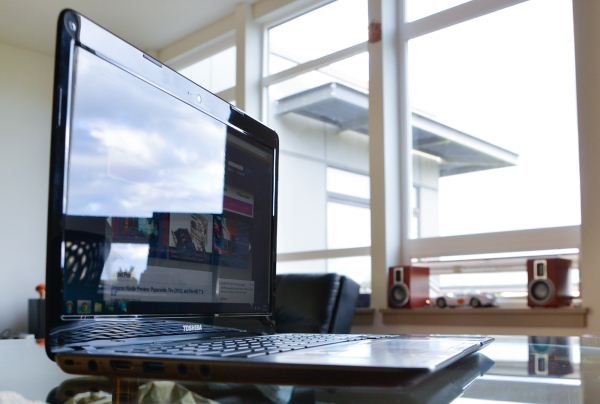 Woe is me. Seriously. I dare someone to ship a worse display. Actually, wait, Samsung already did that with the Series 5, never mind (black levels of 2.501; please shoot me now). And because I'm fed up with writing this over and over again, I'm going to copy the next paragraph from Dustin's review of the XPS 13.
Stop me if you've heard this one before. AnandTech receives a notebook for review from a vendor not named Sony or Apple (or sometimes ASUS now), and that notebook features a cut rate 1366x768 TN panel with poor viewing angles, poor color, poor contrast, and just poor quality all around.
The U845 specifially has a relatively woeful contrast ratio, somewhat low brightness (not that you ever really need more than 250nits unless you spend a lot of time outdoors), midpack color accuracy, and a very narrow color gamut. I've actually never tested a notebook with a display that covers less than 40% of Adobe's RGB1998 test gamut (in my memory at least— if somebody wants to prove me wrong, I'm all ears). And to make matters worse, the display panel itself is basically chromed out. Toshiba likes to ship super glossy displays for some reason, as you can see in the photo above. I really can't understand why.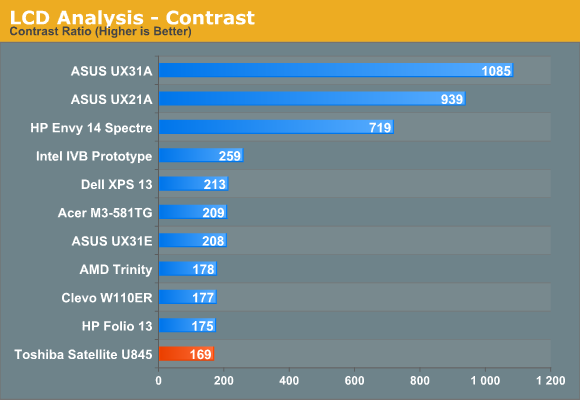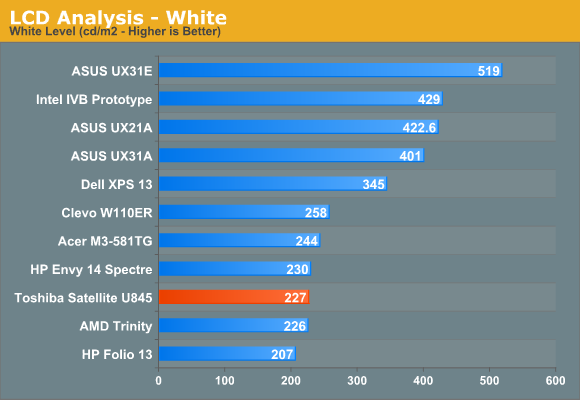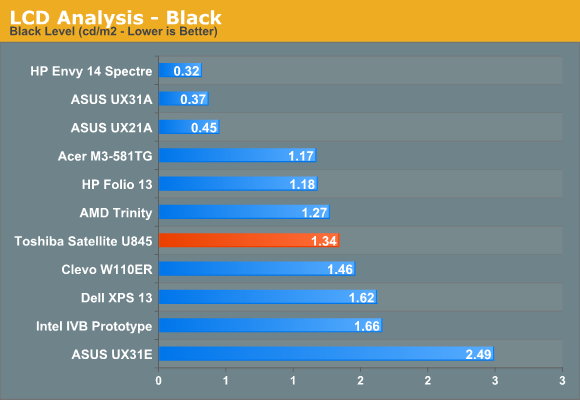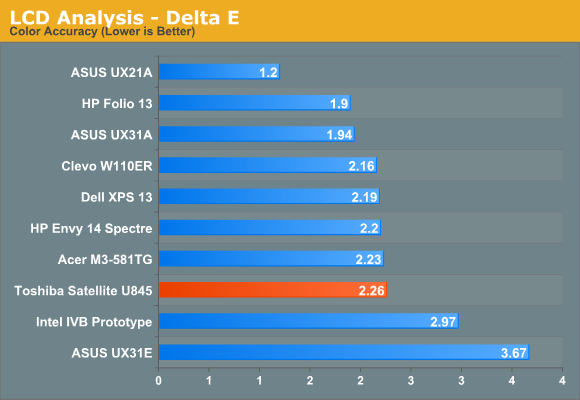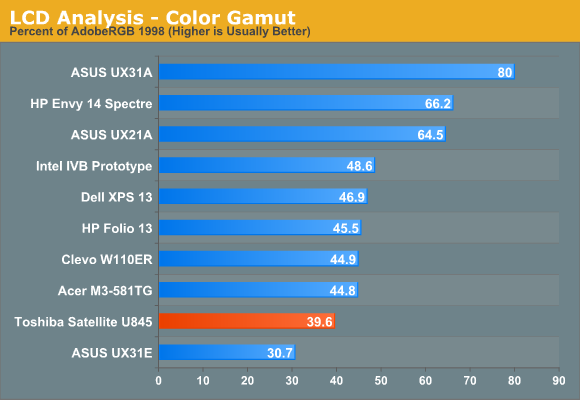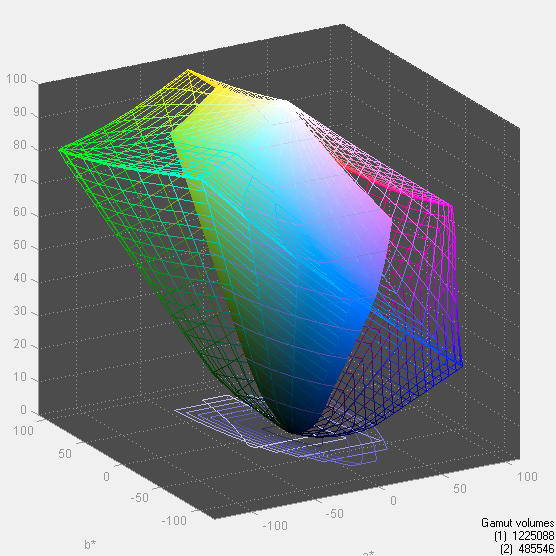 Seriously, these are *Ultrabooks*. Even budget Ultrabooks, based on premium name and reputation alone, should have higher quality display panels. The minimum entry price for an Ultrabook with a good display should not be $1000. Off the top of my head, I can think of a few very high quality Ultrabook displays—the Samsung Series 9 Ultras (starting at $1300), the Zenbook Primes (starting at $1050), the Vizio CT15 (starting at $1000), and I guess the HP Envy Spectre 14 ($1399) display is good enough to count here too.
If ASUS can ship an IPS panel with an 850:1 contrast ratio in a $199 tablet, laptop vendors can find it within themselves to put decent panels into their midrange $800 Ultrabooks. And for a company like Toshiba who already has a lot of experience shipping high quality display panels in low cost devices through three generations of tablet devices, it's quite disappointing to see the lack of emphasis on notebook display quality. Let's hope Windows 8 changes that.
Toshiba's Satellite U845 is a bit of a mixed bag. They ended up with a pretty solid notebook from a design point of view, which is an encouraging step in the right direction for Toshiba. I'm very hopeful that the level of design and build quality found in their tablets and Ultrabooks will trickle down to the rest of Toshiba's lineup, and having a well designed Satellite is the first sign of that happening.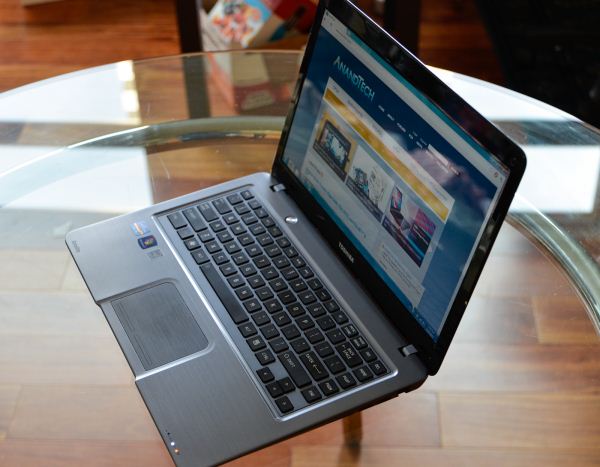 But I do have some significant concerns here, though a lot of them aren't isolated to the U845. The display panel quality is utterly mediocre, the bloatware is blatant nonsense in this day and age, and for a supposedly budget system, $749 is not that inexpensive (especially for the configuration that amount buys you). It's not a bad system, but it doesn't do enough to justify the price. I'd rather have something along the lines of Sony's VAIO T13, a system that's thinner, lighter, and better designed, with better battery life and a not quite as bad display.
I want to see this type of notebook, or something along the lines of this spec (say, the Samsung Series 5 NP530-U3C/U4C, the HP ENVY 4-1030us), end up around $600, instead of $800. And as fate would have it, that's exactly what we're seeing with the current price rebates. If those hold up, $600 for the U845-S406 is at least reasonable, and it goes a long way towards excusing the kind of display and other cost-related compromises found in the U845. It makes this a budget laptop that's actually priced like a budget system.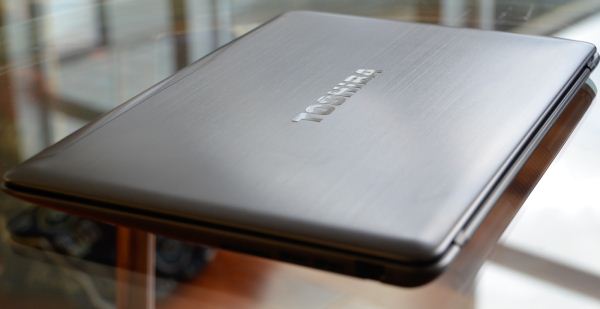 Initially, the U845 left me a bit disappointed. I wish that more companies would pay attention to the overall end user experience, the same way that manufacturers approach serious smartphone and tablet products, and the way ASUS is doing with their Zenbook systems. I'm not saying that every system needs to be super thin or supremely powerful; obviously, at certain price points it just isn't possible to create a mind-blowing system. But even at low to midrange price points, it's worth paying attention to the minor details that can affect the overall experience. Toshiba clearly knows this, as shown by their Excite line of tablets, which makes it all the more plexing why they can't do it with their portable PC products. It's about time something legitimately shook up the notebook industry.
In the meantime, street pricing of the U845 is about $280 less than the MSRP, and that makes the product viable. If you're in the market for an Ultrabook but don't want to spend a lot, this is the sort of compromise you end up with. It won't win any awards, but after uninstalling all the bloatware you end up with a reasonable thin and light laptop.