Original Link: http://www.anandtech.com/show/6197/diamond-multimedia-ships-gc1000-1080p-pvr-with-video-passthrough-for-game-consoles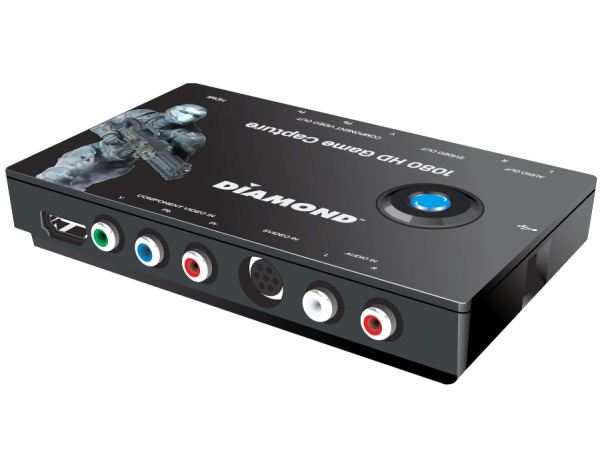 Diamond MM is in the process of launching multimedia products in rapid succession. Last week, we had the launch of the Android Media Player AMP1000, and this time around, we have the GC1000 (Game Capture 1000) for capturing and editing game play sessions from popular consoles. The GC1000 acts as a High Definition Personal Video Recorder (HD-PVR) which captures video output from game consoles (or any other source), compresses it using H.264 and streams it out over USB. The original video has a zero-delay passthrough.
HD-PVRs: A Brief History
Video capture cards have been quite popular for some time, but users have definitely felt the need to move away from PCI-E capture cards. Products such as AverMedia's Game Broadcaster HD and the Hauppauge Colossus were introduced recently. We even reviewed the Hauppauge Colossus from a HTPC perspective here. The pioneer in the high definition personal video recorder (HD-PVR) market was the Hauppauge HD-PVR. It initially gained market acceptance as a PVR for set top box outputs (in a HTPC setting). However, consumers soon found that it was very effective at recording game console outputs also. This led Hauppauge to market the same hardware with some additional cables as the HD-PVR gaming edition.
Seeing the success of the Hauppauge HD-PVR gaming edition, other vendors jumped into the fray with similar products. There are a number of alternatives for SD (standard definition) capture, but we are dealing with units capable of HD video recording here. The AverMedia Game Capture HD could capture HD video to internal storage, enabling PC-free recording, while the AverTV USB HD DVR was more similar to the Hauppauge HD-PVR in terms of functionality. Elgato has a dimunitive offering in the form of the Game Capture HD. After almost four years of not having any major updates for their HD-PVR, Hauppauge also introduced the HD-PVR 2 Gaming Edition with zero-delay HDMI passthrough. Today, Diamond Multimedia is throwing their hat in the ring with the GC1000.
GC1000 Specifications
The GC1000 functionality is similar to the Hauppauge HD-PVR 2. Video input for recording may come from game consoles, DVD or VHS players, camcorders or STBs as long as they are through S-Video, component video or HDMI without HDCP. There is a zero delay passthrough to the corresponding output port, and the recorded video is streamed out through the USB 2.0 port to a PC.
Recording of video upto 1080p30 is supported. The included Diamond Video Capture (DVC) enables recording as well as upload to YouTube functionality. The internals of the GC1000 include the ADV7611 HDMI receiver and the ADV7181C HD analog video decoder from Analog Devices and the Fujitsu MB86H58 H.264 video compression chip [PDF specifications].
The GC1000 retails for $139.99 and offers a lite version, the GC500, for $69.99. At this price, it definitely comes in cheaper than the Hauppauge HD-PVR 2 Gaming Edition. It remains to be seen as to whether the lower price comes with any quality / miscellaneous software functionality tradeoffs. The unit will be sold at major retailers such as Microcenter and Fry's, as well as e-tailers including Amazon, Newegg and Tigerdirect.