Original Link: http://www.anandtech.com/show/6194/asus-ux31a-putting-the-ultra-in-ultrabooks


ASUS UX31A: Meet Today's Best Ultrabook
After having reviewed and handled nearly a dozen Ultrabooks during the past year, the flaws with the platform have become glaringly obvious. The requirements for Ultrabooks are that they need to be very thin, they need to use an Intel ULV CPU, they must deliver decent battery life (5+ hours, though the load isn't specified), and they have to use some form of solid state storage. There are some other elements of Ultrabooks as well, but Intel doesn't seem to enforce those all that much—pricing details for example are nebulous; at one point they were supposed to start at under $1000, but now it looks like that means each manufacturer only needs one model that starts somewhere under $1000. For the intended market (on-the-go users), most of the requirements look fine, but the solid state requirement needs a bit more elaboration.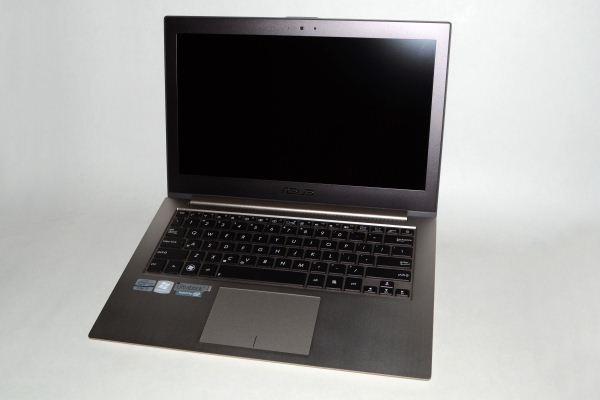 If you've had the chance to use a modern laptop with an SSD as the primary storage, you know how much of a difference it can make. Boot times are faster, but more importantly all of the post-boot utility and application initialization that can really get in the way of using a laptop. Long-term the differences become even more noticeable, as hard drive performance can become severely degraded with fragmentation; with a good SSD fragmentation shouldn't be a problem. Throw in an active anti-virus scanner along with other software and utilities and it becomes very painful to go back to conventional storage. All of that is what makes an SSD great for storage, but there's a problem with Ultrabooks: SSDs aren't strictly required.
What Ultrabooks are required to have is some form of solid state storage, but that ranges from a dedicated SSD to smaller caching SSDs to laptops that only appear to use the SSD for the hibernation file. SSD caching certainly helps performance, but the problem is that with a default Windows 7 installation sucking up roughly 30GB of space, toss in a few common applications like Office and your web browser and you can easily exhaust the size of the SSD cache. These days, there's not even really that much of an advantage in terms of pricing if you go with a 32GB SSD cache—hard drive prices are still quite high after the Thailand flooding, so the cost of a typical 500GB HDD with 32GB mSATA SSD is going to be pretty comparable to that of a 128GB dedicated SSD. Sure you get a lot more storage with a hard drive, but for Ultrabooks I have a difficult time believing most users are going to need a ton of storage, and I'd happily give up raw capacity for the overall responsiveness of an SSD.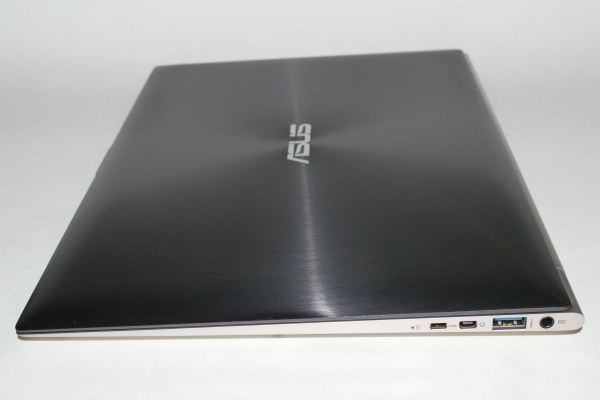 With that sidebar out of the way, ASUS delivers the UX31A in a variety of configurations. If you're trying to save a buck and get under that mystical $1000 barrier, it's difficult to include a 1080p IPS display with an i7 CPU, a dedicated SSD, and plenty of RAM; not surprisingly it's precisely those areas where ASUS makes some compromises. The least expensive UX31A models come with a 1600x900 TN panel (likely the same panel that ASUS used in the previous generation UX31E), an i5-3517U CPU, and a 128GB SSD; thankfully, ASUS doesn't ditch dedicated SSDs on the lower cost models, but they do standardize on 4GB DDR3-1600 for all UX31A models and that might be too little for some people. Right now you can find the base model UX31A-R5102H going for $950 online with the 1600x900 TN panel. For our review unit, ASUS shipped us their highest-spec UX31A-DB71, which has all the currently available upgrades.
ASUS UX31A-DB71 Specifications
Processor
Intel i7-3517U
(Dual-core 1.90-3.00GHz, 4MB L3, 22nm, 17W)
Chipset
HM76
Memory
4GB (2x2GB) DDR3-1600 Elpida
Note: RAM is soldered onto motherboard
Graphics
Intel HD 4000
(16 EUs, up to 1150MHz)
Display
13.3" WLED Matte 16:9 1080p (1920x1080)
(Chi Mei Innolux N133HSE-EA1)
Storage
256GB ADATA XM11 SSD
Note: Proprietary ASUS connector
Optical Drive
N/A
Networking
802.11n WiFi (Intel Advanced-N 6235)
Bluetooth 4.0 (Intel)
Audio
Realtek ALC269
Stereo Speakers
Headphone jack
Battery/Power
6-cell, 7.4V, ~6840mAh, ~50Wh
45W Max AC Adapter
Front Side
N/A
Left Side
Memory Card Reader
Headphone jack
1 x USB 3.0
Right Side
Mini-HDMI
Mini-VGA
1 x USB 3.0 (with Charging)
AC Power Connection
Back Side
Exhaust vent (under hinge)
Operating System
Windows 7 Home Premium 64-bit
Dimensions
12.8" x 8.78" x 0.11-0.71" (WxDxH)
(325mm x 223mm x 3-18mm)
Weight
2.86 lbs (1.3kg)
Extras
HD Webcam
82-Key Backlit Keyboard
Flash reader (MMC /SD)
USB 2.0 Fast Ethernet adapter
Mini-VGA to VGA adapter
Warranty
2-year limited international warranty (varies by country)
Price
Starting at $1434 online (8/27/2012)
The core design for the various UX31A models is identical, but the DB71 model comes with a 256GB SSD (an ADATA model with SF-2281 hardware), Core i7-3517U CPU, and a 1080p IPS display. There are a few other in-between models that offer some combination of the i7 CPU, the 256GB SSD, and the 1080p IPS display, but if you want all three you'll end up paying quite a large premium. The MSRP for the DB71 appears to be $1499 and the cheapest we could find it at the time of writing is $1434, putting it squarely into the realm of high-end Ultrabooks. I've already stated that this is the best Ultrabook that I've laid hands on, and that's a great starting point, but I have to be honest: even $1400 is more than I think most people are willing to pay, especially with only 4GB of non-upgradeable RAM. Unfortunately, the SSD is also basically non-upgradeable, as ASUS uses a proprietary form factor, so you're pretty much stuck with what you order (or the possibility of upgrading to the 256GB SSD if you can find this one). That being the case, if you're set on purchasing a current generation Ivy Bridge Ultrabook, ASUS' UX31A-DB71 is the one I'd recommend.
Most of the remaining elements are common among Ultrabooks—the Core i5 and i7 CPUs are the primary choices, with the latter offering slightly better performance for another healthy price premium. You get two USB 3.0 ports, and ASUS goes with the slightly cheaper HM76 chipset (rather than the more power efficient—in theory—UM77). Other than the general design and aesthetic, the standout item is the 1080p IPS display. I'll let you know right now that it's not perfect, but it's so much better than any other Ultrabook display that it might as well be. 1080p in a 13.3" display is already incredibly difficult to find (Sony's VAIO Z is about the only other 13" 1080p laptop that springs to mind), but to get IPS as well puts it in a category all on its own. The DPI is actually on the too-small side for Windows 7, so you pretty much have to use Windows' DPI scaling (125% Medium is the default)—unless you happen to have eagle eyes I suppose.
A Closer Look at the ASUS UX31A
Besides the hardware, let's quickly cover the build quality and keyboard/touchpad aspects before moving into the benchmarks. If you're not a fan of the Ultrabook aesthetic, ASUS isn't likely to change your mind with the UX31A. It's really thin and sleek, and ASUS includes a sleeve roughly the size of a manila envelope that you can use to carry the UX31A around, but there are a lot of other thin and sleek laptops. The chassis and casing on the UX31A are predominantly brushed aluminum, lending the laptop a distinctly premium feel that's sometimes lacking in competitors. The chassis is also fairly rigid—if you put enough force into it, I'm sure you could bend and/or warp the chassis, but you'd have to really make an effort (or accidentally drive over or drop the laptop) before that's likely to happen. The LCD bezel is a matte black plastic and so are the keys of the keyboard, but just about everything else is brushed aluminum.
Speaking of the keyboard, one of the serious concerns I've had with most Ultrabooks is the key travel. I can live with it in a pinch, but on many of the Ultrabooks typing feels extremely fatiguing. I had the same concern with the previous generation UX31E, but I'm happy to report that while the UX31A looks very similar, there are slight changes to the keyboard that make it feel substantially better. As I always try to do with reviews, I'm typing this up on the UX31A and finding it to be fine as far as 13.3" laptop keyboard go. You also get keyboard backlighting now (a must for any modern laptop costing over $800 in my book, really) and a reasonable layout—reasonable but not ideal. It's the same as the layout used on many other laptops, with document navigation keys relegated to Fn+Cursor combinations. That's the first layout complaint I have, and there appears to be plenty of room for ASUS to have used their older layout where Home/End/PgUp/PgDn are in a column on the right of the keyboard, but at this point I've encountered this same layout so many times that I'm starting to get used to it.
The other layout "innovation" that I don't like is the continued use of a power button key where the Delete key belongs. Thankfully the key has to be held in for a couple seconds before it activates, and even then the default behavior is to pop up a menu asking if you want to Sleep, Hibernate, Shut Down, or Do Nothing (see above). That means you won't accidentally tell the laptop to shut down when you're reaching for the Delete key, but I still don't know why this is any better than a power button separate from the keyboard. Certainly I don't find either aspect of the keyboard to be a big enough deal that I can't live quite happily with the UX31A, and perhaps some users even prefer this style of layout; YMMV.
Audio quality on the UX31A is decent considering the size of the laptop. The speakers don't get incredibly loud, and they don't offer much in the way of bass response, but the listening experience is reasonable. My experience is that most people are going to use headphones on a laptop if they want decent audio quality—and it's not like you're going to watch a movie on an airplane without headphones regardless—so overall the speakers are fine. ASUS did provide an updated Realtek driver that seemed to improve the audio quality slightly as well; you're not going to get something equal to a larger laptop with a dedicated subwoofer, and even some other Ultrabooks probably offer slightly better speakers, but unless you're a serious stickler for laptop speaker quality there's not much to worry about.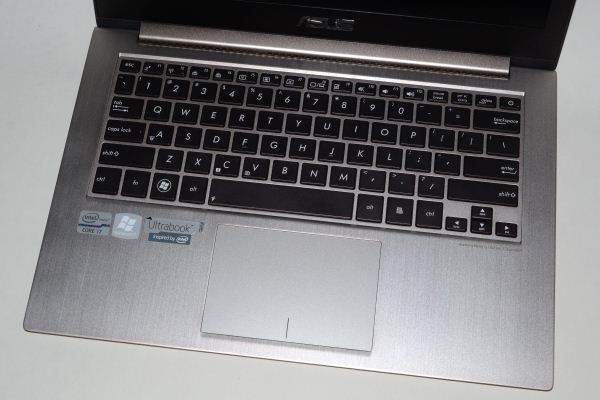 I've saved the touchpad for last, and unfortunately it's the weakest link in an otherwise remarkably potent ­­­chain. ASUS uses Elantech hardware with their own custom drivers, and throughout the course of this review I've gone from despising the touchpad to finding it okay if unexceptional. It's not going to win an award for being the best clickable touchpad around, but where earlier drivers/BIOS versions caused the touchpad to have an extremely laggy and imprecise feel, with the later 1.0.27 drivers and 206 BIOS things are generally fine. I have still had inadvertent mouse activations just in the process of typing the first couple pages of this review, though, and the ASUS SmartGesture drivers don't have any settings for palm checking. If you really have issues with the touchpad activating while typing, there's a simple solution: turn off the touchpad (temporarily) using the Fn+F9 shortcut; I've done that for the past few paragraphs and find that I'm quite happy skipping the touchpad for long periods of time.
That's not to say that the touchpad is something that can't be fixed, though; just in the past month ASUS has released six (possibly more) touchpad driver updates. Up until around two weeks ago, the drivers were pretty bad, and the "latest" 1.0.26 are still problematic. To get the latest drivers, you'll likely need to search the ASUS download site for "touchpad" rather than going through the UX31A page—you can find 1.0.29 at the time of writing, and ASUS recently gave us a preview version of 1.0.32 for testing; I just installed those so perhaps they'll fix the issues I've had up until now. Whether or not the latest drivers fix the problem, provided ASUS keeps updating the drivers they ought to be able to get things right eventually. While I've also heard that installing the "stock Elantech" drivers can help, Elantech doesn't actually make reference drivers that you can easily download, and all of the links I've found online are for older versions from, you guessed it: ASUS. For now I recommend sticking with the latest available drivers and updating when/if a new version is released. Make sure you update the BIOS as well, as apparently that also has an impact on the touchpad.
Update: One of our readers was kind enough to provide the link to where you can find ASUS' own stock Elantech touchpad drivers. I went ahead and downloaded the obscenely large driver package (maybe it supports every variant of Elantech touchpads ever made?) and I'm typing this using the "stock" drivers. There's now a setting to help the touchpad reject input while typing, although I'm not sure it actually works all that well as I can still see the mouse cursor moving around as I type this. I've also noticed that a few other aspects of the touchpad, like coasting after scrolling with a two-finger swipe, don't seem to be as smooth as with the ASUS SmartTouch drivers. I'm not sure which drivers are actually best overall, but I still feel like Synaptics' touchpads and drivers are better than Elantech. If you're not happy with the SmartTouch drivers, though, give the other drivers a shot.
Addendum: Just a quick final update on that topic before we hit the benchmarks: with the 1.0.29 drivers as well as the 1.0.32 pre-release drivers, I have still had periodic inadvertent activations of the touchpad while typing. So far, most of the 1.0.27 and later drivers feel about the same to me. At some point we might get drivers that get the touchpad to the point where I'd have no complaints, but while it's my biggest gripe with the UX31A, it's also a relatively minor complaint in the grand scheme of things. Earlier reviews done with the initial drivers should probably be ignored at this point, as the driver updates have dramatically changed the overall feel of the touchpad during the past month. As for typing, turning off the touchpad via the shortcut is quick and easy, and even with it on I only get about one inadvertent activation for every 500 or so words typed. I can live with it, and that's from someone that routinely types out 5000+ word documents. This whole review is being written on the UX31A just to prove to myself that it's not a major concern. YMMV, naturally, but at worst the touchpad is still generally better than everything other than the latest Synaptics touchpads.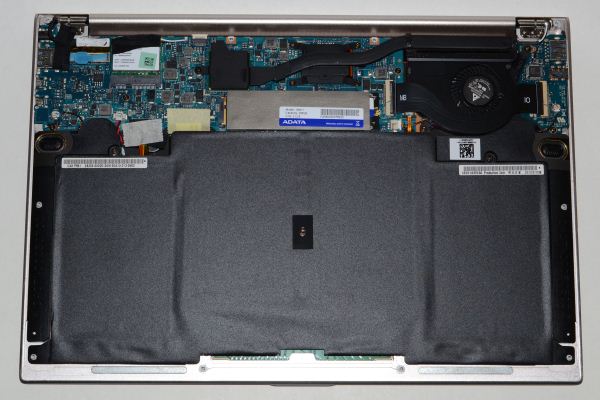 One thing that's nice is that for users wanting to access the internals on the UX31A, it's relatively simple to open up the chassis. All you need is a T-5 Torx screwdriver and the patience to remove ten screws. It's extremely easy compared to some other Ultrabooks. The only problem: there's really not much to do inside the laptop. The only components you might conceivably replace are the SSD and the WiFi card. I've heard complaints about range on the WiFi card, but again ASUS informed me that they worked to improve that with a BIOS update; I didn't find range to be any worse than other laptops (though likewise it's no better). As for the SSD, you can see the ADATA XM11 unit in the above photo, and it has the same proprietary connector that the previous generation UX21E/UX31E Zenbooks used. I haven't found anyone selling such a drive online yet, but perhaps they'll start to show up in the future.
Besides the hardware, it's also worth discussing the software side of the equation. Let me get this out there: I hate all the McAfee, AVG, Norton, etc. "Internet Security Suite" packages that get installed on laptops. I know exactly why they're there: if ASUS gets paid just $1 for such a package, their actual profits for a laptop are probably in the low double digits (with the retailers making much higher profits), so the difference between $15 profit and $16 profit is certainly significant. It's annoying to the end user, and frankly it's the first thing to go when I get ready to test a new laptop. The UX31A has several software packages you'll want to remove if you're like me, but 20 or 30 minutes (at most) should leave you with a lean running machine. Once the extraneous software was removed, boot times on the UX31A are a very reasonable 18 seconds, with 4-5 seconds spent in the POST (Power On Self Test) sequence. I've seen a few laptops boot faster, but most of the difference is in the POST time and I'm not going to complain too much about sub-20 second boot times. Heck, it takes roughly the same amount of time to resume from hibernate based on my testing, though recovering from sleep mode is nearly instantaneous.
So that's the introduction to the ASUS UX31A: it's got a great Ultrabook design, with one of the best LCDs you'll find outside of professional mobile workstations. The keyboard is also the best I've laid hands on in the Ultrabook realm. The only fly in the ointment is a touchpad that so far has been a bit less than perfect. That's unfortunate, because other than the price and the Ultrabook feature set, that would be the only thing holding the UX31A back.
Benchmark Setup
We've covered our current selection of benchmarks previously, but in order to keep the graphs a bit more manageable so we can just say "ASUS UX31A" in the charts instead of "ASUS UX31A-DB71 (i7-3517U, HD 4000, 4GB DDR3-1600, 256GB SSD, 50Wh, 13.3-inch 1080p IPS LCD", we've put together this handy reference table of the laptops we'll be using in this review in the following table. Since this is an Ultrabook review, we're focusing on Ultrabooks along with a couple of smaller laptops. If you'd like to make your own comparisons, our full selection of laptops is available in Mobile Bench. Note also that all of the laptop names in the following table link to the appropriate review.
First, you'll notice that every system tested in the above charts uses an SSD for storage, with the exception of the Clevo W110ER. That particular laptop used a Seagate Momentus XT 750GB hybrid drive, mostly because we wanted to get a feel for how it compared to pure SSD storage. The short answer: it doesn't. While best-case workloads might not look bad, in practice there's a big difference between SSDs and hybrid solutions. 64GB of SSD caching might be enough to eliminate most of the difference, but at that point you could just run with a 64GB OS+Apps drive.
In the other areas, we have eight Ultrabooks—four Sandy Bridge models and four Ivy Bridge models—plus our reference AMD Trinity laptop and the aforementioned W110ER. While Trinity is a 35W TDP processor, the improved gaming potential is certainly worth a look, and in practice battery life isn't all that different from ULV Ultrabooks—though the size is generally quite a bit thicker unless you opt for a low voltage A10-4655M (which we still haven't been able to test). Looking at the sizes of the laptops, the UX21A and W110ER both sport 11.6" LCDs, although the W110ER chassis is substantially larger than the 13.3" Ultrabooks. The AMD Trinity and HP Envy 14 Spectre are 14"-screen laptops, the Acer M3 is our sole 15.6" representative, and the remaining five Ultrabooks sport 13.3" LCDs.
We'll draw two major comparisons throughout this review by highlighting the numbers in the graphs. Besides the UX31A, we'll look at how much ASUS has improved since the UX31E, and we'll also see how the UX31A stacks up to the prototype IVB Ultrabook from Intel. We'll also highlight the Trinity results in AMD red, just so they're easy to spot, but it's not a major focus of the review. And with that out of the way, let's get to the benchmarks.
ASUS UX31A: First Screens First
Normally we save our look at the LCD characteristics for last, but in this case the LCD happens to be one of the highlights of the product. No one else is doing 1080p IPS screens in a 13.3" laptop that I know of (though obviously with the screens available for ASUS we may see some uptake from other manufacturers in the near future), so the UX31A is in a class by itself. We've commented on the overall good build quality and keyboard, but it's the display that really sells the UX31A. Here's how it stacks up to other Ultrabooks.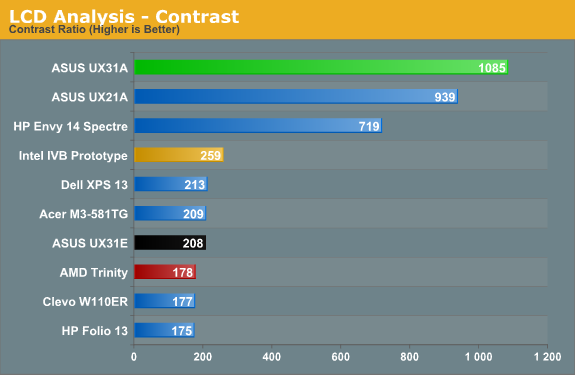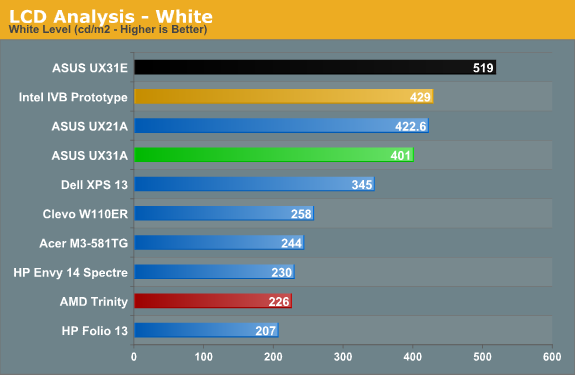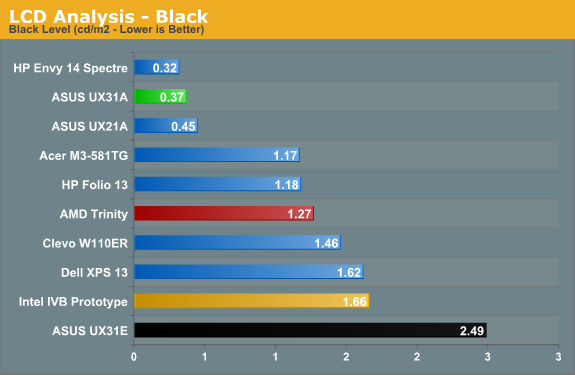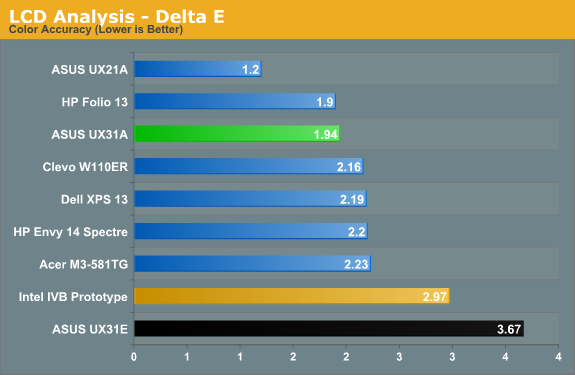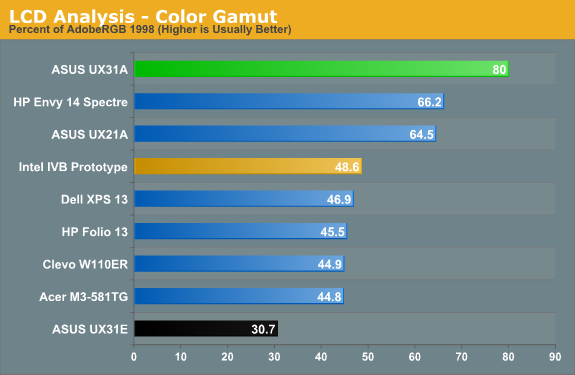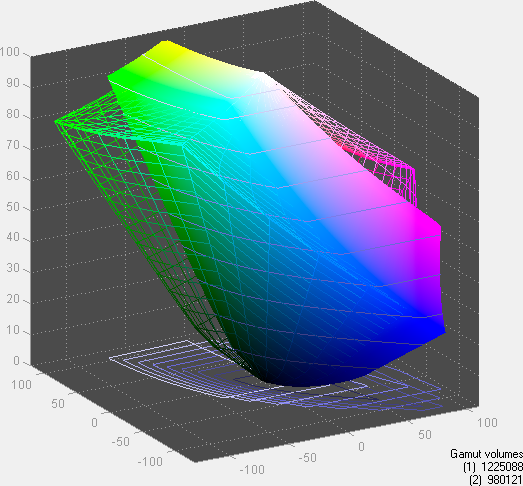 Desktop LCDs might still be better for the most part, but contrast ratios above 1000:1 in laptops—with matte displays—are practically unheard of. ASUS tops our contrast ratio chart, but it doesn't end there. At 400 nits maximum brightness, it's also one of the brightest LCDs you can find (though not with perfect colors, and post-calibration you're looking at 300-350 nits, depending on how you calibrate). Obviously battery life will suffer if you run at 100% brightness, but there are occasions (e.g. outside in the sunlight) where it will be necessary and it's great to have that option. In practice, I was able to use the UX31A—thanks to the matte surface—in a car without trouble with the LCD set to around 200 nits, and I was extremely pleased to not have to look at my reflection for a change (not that I'm ugly, mind, but vanity can only take you so far…).
As for color quality and accuracy, ASUS gives up a bit of ground there compared to some other higher quality LCDs, but dE of less than 2.0 after calibration is good in the laptop world and the color gamut is a respectable 80%. That gamut actually isn't quite right, though—the gamut is wider than AdobeRGB in some areas but less in others, so if you're working within the AdobeRGB color space it's more like 67%. If you're serious enough about color accuracy that you have the necessary hardware and software for calibrating your laptop, you may not be completely satisfied with the UX31A's display, but you'll really have to spend a lot of money to find a better laptop LCD (e.g. the $500+ LCD upgrades found on high-end mobile workstations).
Viewing angles is obviously where IPS can really shine, and while there's a loss in brightness and contrast at acute angles, there's no color shifting to worry about. Use it at a desk, on your lap, in an airplane, or wherever else you might find yourself and the UX31A display will still be completely usable. In 2012, this is what we'd like to see from all laptops, but in particular there's no excuse for $1000+ laptops and notebooks to continue peddling sub-standard TN panels. ASUS gets a well-deserved gold star for their choice of display.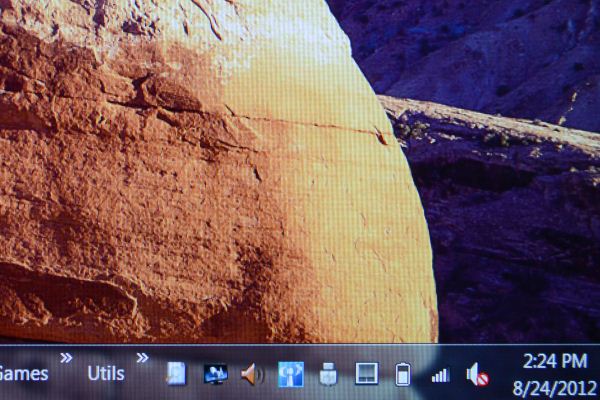 With all the good we have to say about the LCD, we do need to offer one minor word of caution. Windows 7 still doesn't handle DPI scaling perfectly, and 1080p in 13.3" makes this one of the highest density LCDs around. Windows 8 may improve on the situation, but for those who stick with Windows 7 you'll still encounter the occasional quirk. ASUS ships with the DPI scaling set to 125% as mentioned earlier, and it's really necessary if you want most text to be legible. Even with the minor issues with some applications, though, I'd take this sort of display ten times out of ten if given the option.
ASUS UX31A: General Performance
Next up is our overview of general performance, and honestly outside of the laptop overview and LCD characteristics this is probably the most pertinent aspect of how the UX31A behaves in everyday use. You typically don't buy an Ultrabook because you want the fastest laptop on the planet or for serious gaming. Those duties are for larger laptops that can house discrete GPUs and quad-core processors. Ultrabooks are about portability and everyday tasks like running Office, surfing the Internet, checking email, etc.—only they're hopefully more responsive than regular laptops thanks to their SSDs. Here's how the UX31A compares to other recently reviewed Ultrabooks, including the prototype Ivy Bridge Ultrabook from Intel.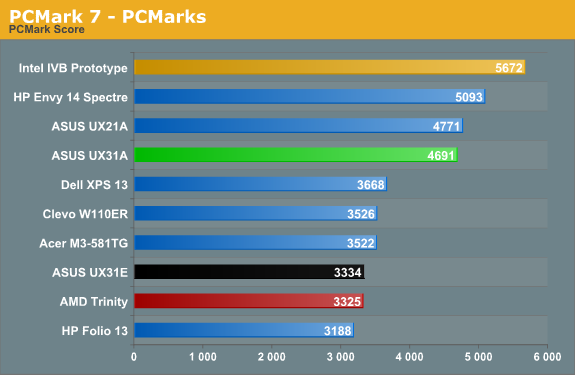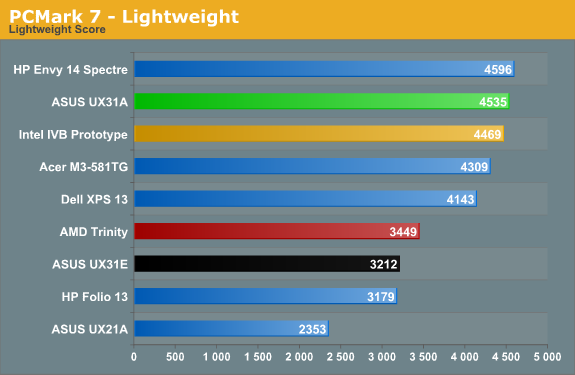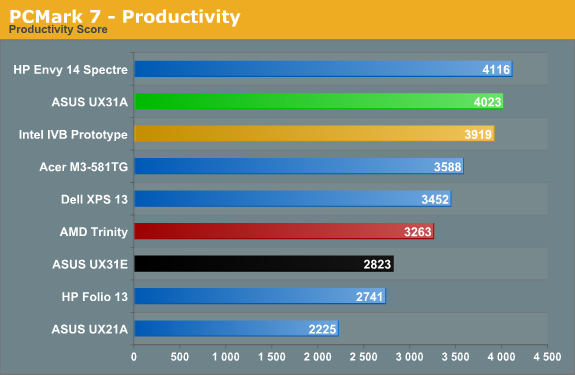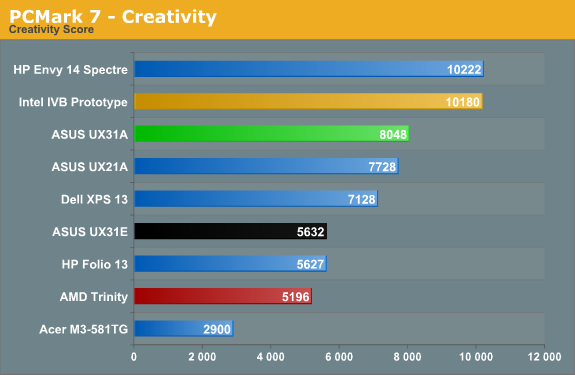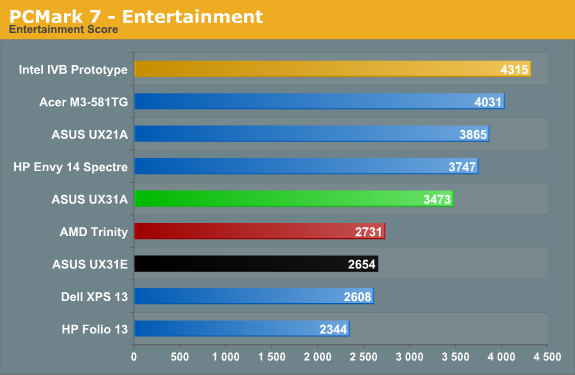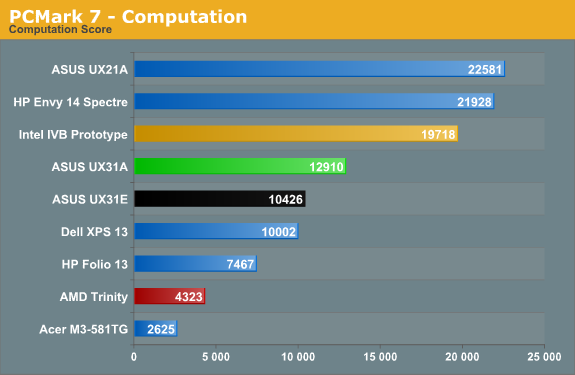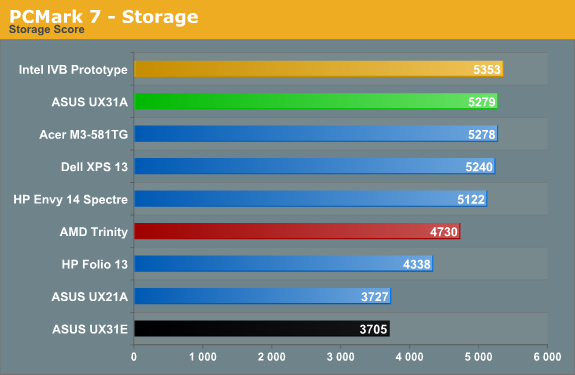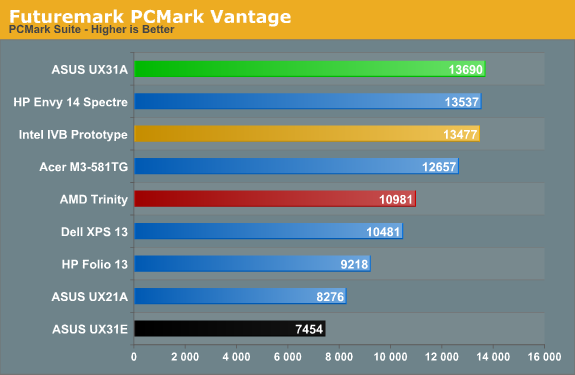 We're looking at a faster i7-3517U processor compared to the i5-3427U in the last IVB Ultrabook, so naturally some of the scores are higher. PCMark 7 is extremely sensitive to storage performance for most of the tests, and the SF-2281 based SSDs are among the fastest out there (SandForce firmware issues notwithstanding, though I haven't personally experienced any issues). But if the UX31A sports the fastest ULV processor we've tested so far and one of the fastest SSDs, why doesn't it dominate all of the charts? The problem appears to be with the Intel GPU drivers; other IVB Ultrabooks and laptops have scored in the 20,000+ range in the Computation suite, thanks to Quick Sync, but the UX31A only manages just under 13K. ASUS shipped the UX31A with Intel's latest 2761 driver set, and while I've seen good scores with those drivers I've also seen sub-par scores; this appears to be a case of the latter, and it brings down the Computation, Creativity, and Entertainment scores, which in turn affects the overall score as well. Don't let those minor differences concern you, though: this is right up there with the fastest Ultrabooks.
PCMark Vantage doesn't utilize Quick Sync, leveling the playing field quite a bit, and you can see that the UX31A tops that chart. Obviously, the difference isn't all that great, but we wouldn't expect it to be. The i7-3517U comes with a base clock just 100MHz higher and a max Turbo clock that's 200MHz higher than the i5-3427U, and as a system benchmark we don't expect to see that much of a spread in PCMark. Now let's see what happens with the other benchmarks.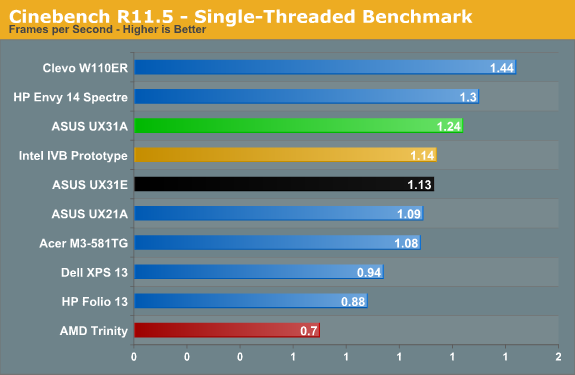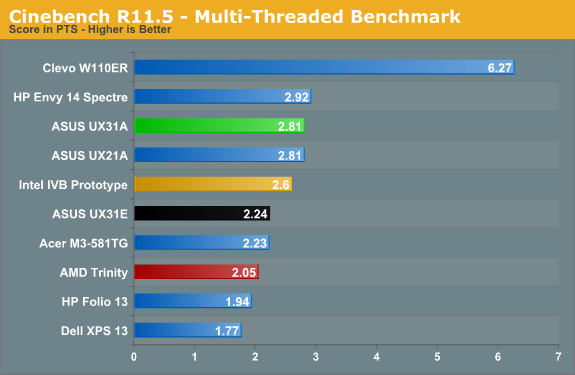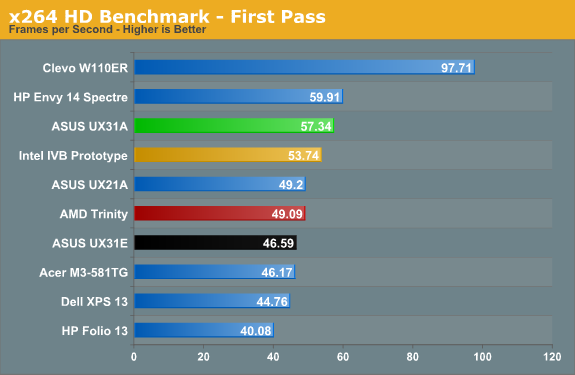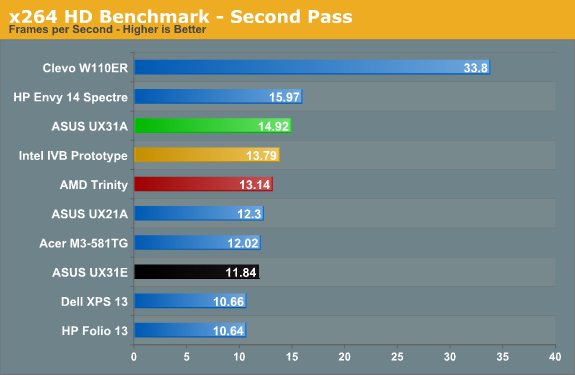 Moving on to the CPU testing side of things, the i7-3517U performs right where you'd expect. A dual-core ULV processor will never match the likes of 45W quad-core Ivy Bridge CPU for raw computational power, but if you're only doing typical office and Internet related tasks, along with consumption of multimedia, it's not really a problem. There are definitely applications that will benefit from more CPU performance, but things like 3D rendering (Cinebench) and video editing are only used by a relatively small percentage of users; if you have a desktop in addition to a laptop, that's likely where you're going to be doing such tasks. The i7-3517U ends up just slightly faster than the i5-3427U, and there's really not much of a benefit to the upgrade. Either you can live with ULV performance and the i5 chips, or you'll need more than the i7 ULV parts can provide.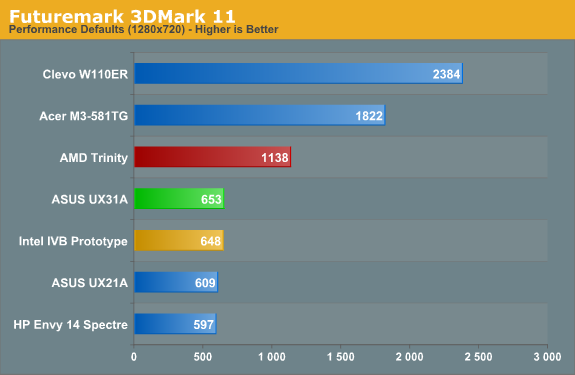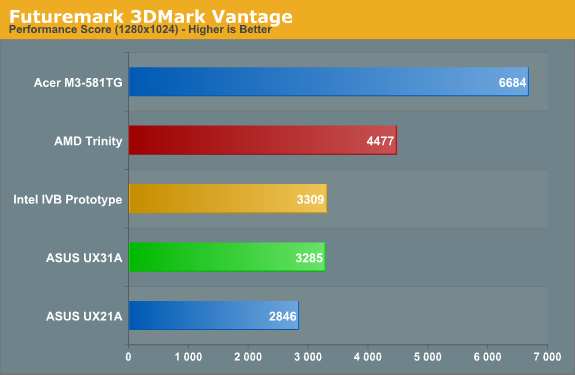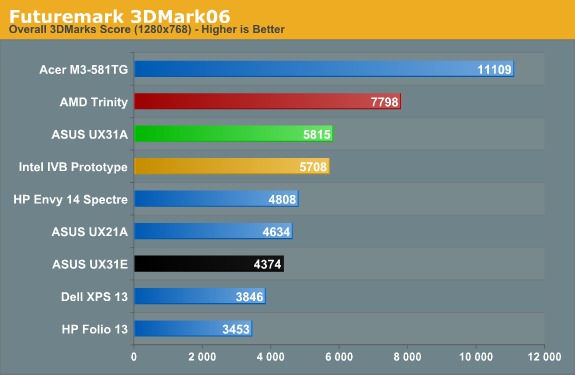 Wrapping up with a quick look at graphics performance, while HD 4000 is certainly a big step up from HD 3000—which in turn was an even bigger step up from Arrandale's HD Graphics—it's still nowhere near matching even midrange GPUs like the GT 640M. Ultrabooks are okay for most casual games, but demanding titles will prove too much for the HD 4000, especially when it has to operate within a 17W TDP. If you want an Ultrabook that has a bit more gaming potential, we'd suggest looking at ASUS' UX32VD (it includes a switchable GT 620M dGPU) or Acer's updated M5 Ultrabook (with a faster GT 640M LE dGPU). But let's not base that off of just 3DMark results….
ASUS UX31A: Gaming Performance
First, let's get this out of the way: this page is only for those who are interested/curious about gaming potential. If you've seen any of our previous looks at Intel's HD 4000 GPU performance, you should already know what to expect. Intel can now run DX11 titles, but in practice you'll need to use a lower resolution (e.g. the ever-so-popular 1366x768, or even 1280x720) with low to medium detail settings. Even then, some titles are simply too demanding for HD 4000. If you can wait another year, Haswell is supposed to double down on HD 4000 performance, but the waiting game isn't very fun to play. We're only going to show gaming results at our Value (~Medium 1366x768) settings, but if you want to see what happens at higher quality settings we've included Mainstream (~High 1600x900) results in Mobile Bench.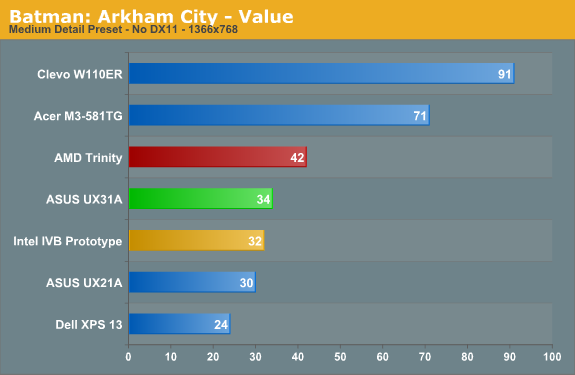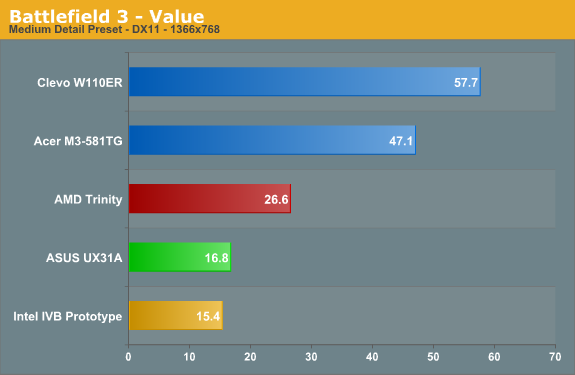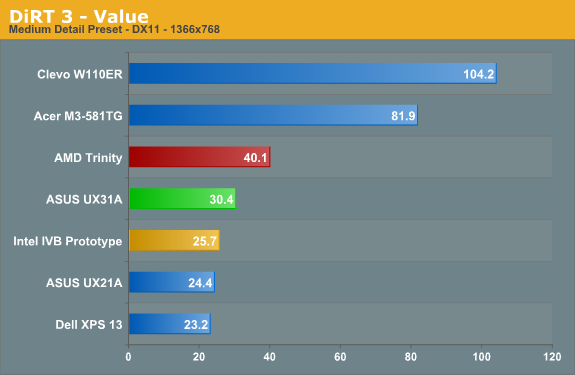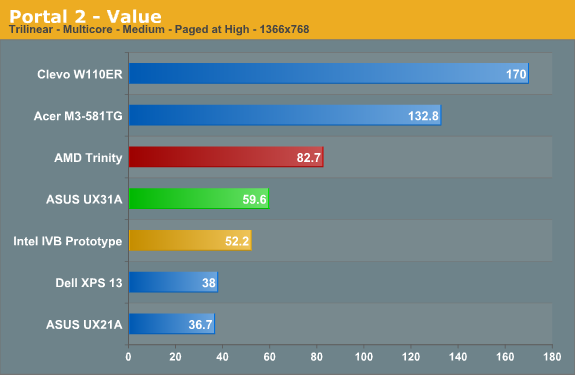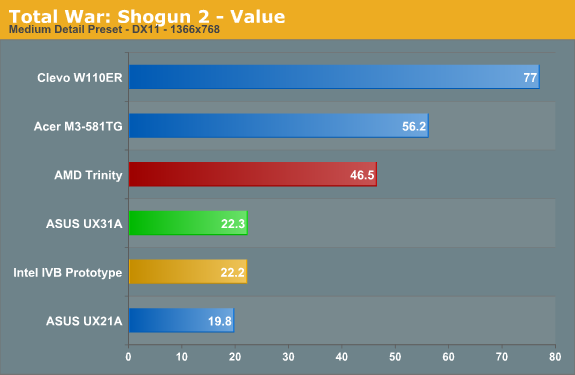 Much like the prototype IVB Ultrabook, the UX31A proves to be somewhat less capable than the standard voltage IVB parts when it comes to gaming. We still manage to pull playable frame rates in Batman, DiRT 3, Portal 2, and Skyrim, but even with average frame rates above 30FPS you'll still see occasional dips into the low 20s or even the teens. At the native 1080p resolution, only Portal 2 is able to stay above 30FPS average, but I don't think anyone really expected 1080p gaming to be a priority. In short, it's possible to play some games on an Ultrabook without a dedicated GPU, but the experience won't be all that great in many recent titles. AMD's Trinity on the other hand puts in a very respectible showing, with the understanding that the Acer M3 (and the newer M5) pretty much beat the A10 on all fronts.
At this point, we probably won't bother returning to look at Ultrabook gaming performance until something changes on the IGP (other than for discrete GPU models). We've exhaustively tested IVB ULV twice now, and the results are largely the same, other than a few minor differences that we can chalk up to drivers. If you want to know how Core i5/i7 ULV Ivy Bridge perform, the results above should tell you everything you need to know.
ASUS UX31A: Battery Life
Battery life is one of the more important aspects of an Ultrabook, given their focus on mobility. The UX31A doesn't do quite as well as other Ultrabooks in this aspect, but that appears to be the price of entry for the 1080p display. Even so, battery life isn't a huge issue, as we're still in the range of being able to run all day without the need to plug in.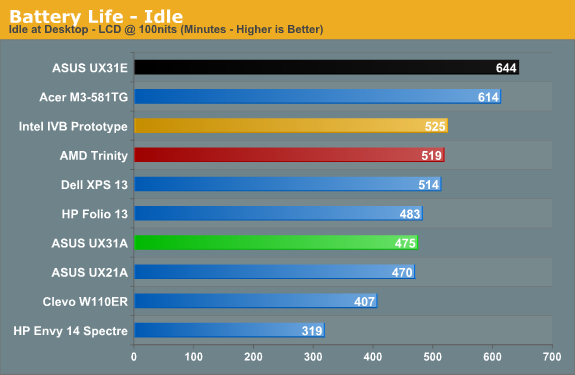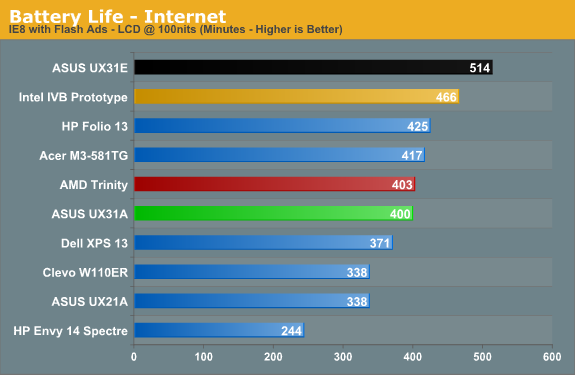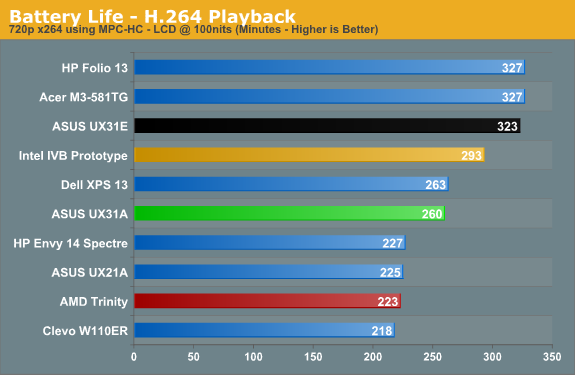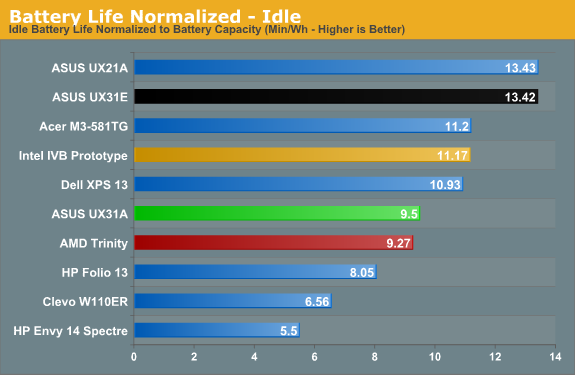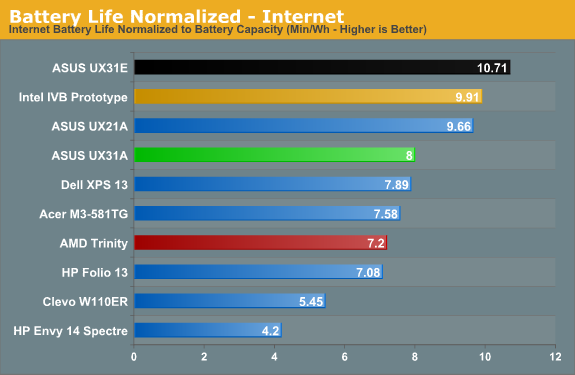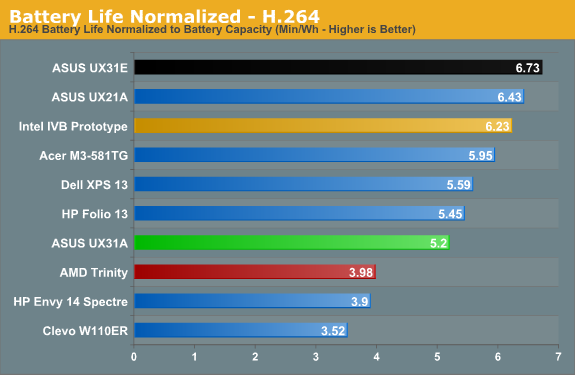 We've seen several 13.3" Sandy Bridge Ultrabooks deliver better battery life, while the Ivy Bridge offerings so far appear to cluster together. The prototype Ultrabook did better in all three of our battery tests, but at the same time the UX31A surpasses both the Acer S3 and its little brother the UX21A. In the case of those last two, of course, we're looking at a 50Wh battery capacity compared to 35Wh, which means when we look at normalized battery life, things aren't quite so good. Unless you want more than six or so hours of useable battery life, though, the UX31A should be sufficient.
Just make sure to plug the UX31A in at night, as like most laptops it will still require several hours to recharge. Actually, that's not entirely correct: ASUS has implemented a quick-charge feature where the battery can reach 80% of its maximum in under two hours (110 minutes)—and that's with the laptop powered up and the LCD at 100% brightness. The final 20% charge will require another 80 minutes or so, which means you'll need about 3.5 hours of charging to go from a fully drained battery to a 100% charge.
And speaking of running the LCD at 100% brightness, I did a quick test to see how much that would impact battery life in our idle test. This is actually a perfectly valid use case for someone working outside or in a car, and the result is a drop from 475 minutes to 295 minutes. Going with the 50Wh rated capacity of the battery, that means the LCD uses an extra ~3.9W when set to 100% brightness instead 28% (100 nits). That might not seem like much, but keep in mind that at 100 nits the entire laptop consumes around 6.2W, so the LCD can easily account for over a third of the total power draw in light workloads.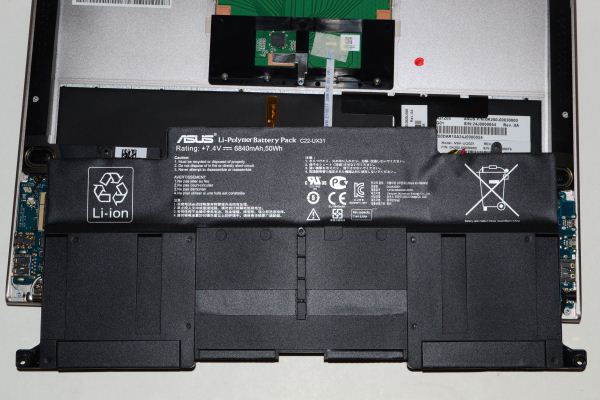 Overall, battery life is good if not exceptional. Depending on how bright you want to run the LCD, you can get anywhere from five to eight hours of light use out of the UX31A. We've certainly seen better batter life elsewhere, but the loss in raw battery life is a small price to pay for what is, in our experience, the best 13.3" LCD you can currently find in any laptop—Ultrabook or otherwise.
ASUS UX31A: Stress Testing
For everyday use, most laptops will be fine, and the UX31A is no exception. However, it's also important to see how a laptop behaves under more strenuous loads—keeping in mind that a brand new laptop has no dust to contend with and is basically performing optimally. Over the life of a laptop, cooling performance will generally deteriorate slightly, and if a laptop already struggles with heat under load (e.g. Dell's XPS 15), that's only going to get worse. To see how the UX31A fares, we did some extensive testing for throttling under several sustained loads. First, we stress just the CPU cores by looping the second pass of an x264 encode, all while recording CPU clock speeds and temperatures with HWiNFO64. Then we run a gaming test—in this case Batman: Arkham City—while doing the same, and finally we combine the two and set x264 to use all but one CPU core (so in this case it's on virtual cores 2 and 3) with Batman running on that core (virtual cores 0 and 1). Here are the clock speed and temperature results for the UX31A.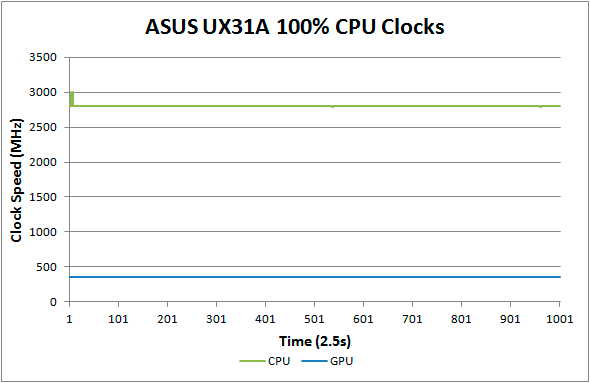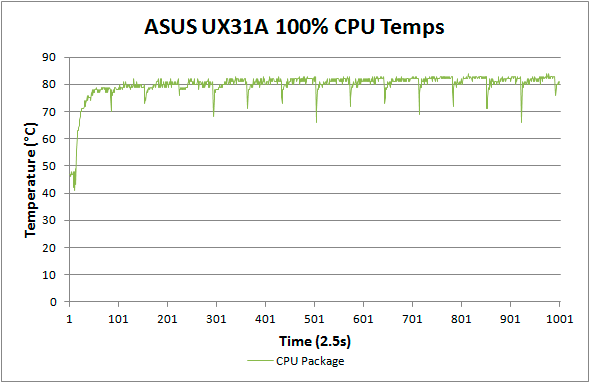 Loading up just the CPU cores, the UX31A performs admirably. CPU clocks touch 3.0GHz a few times early on, but that's before we start the x264 encoding loop. For the most part they're pegged at 2.8GHz and stay there for the duration of our test. There's a cyclical nature to the temperatures, as every couple of minutes the encoding pass restarts and the brief delay between one loop and the next apparently allows the CPU to recover slightly. While it's not shown in the charts, at the end of the test run temperatures quickly drop back into the "reasonable" range—in under 10 seconds we go from CPU temperatures of over 80C to less than 60C, with another 50 seconds or so (at lower fan speeds) bringing the temperatures down to around 50C, which is where the laptop tends to idle.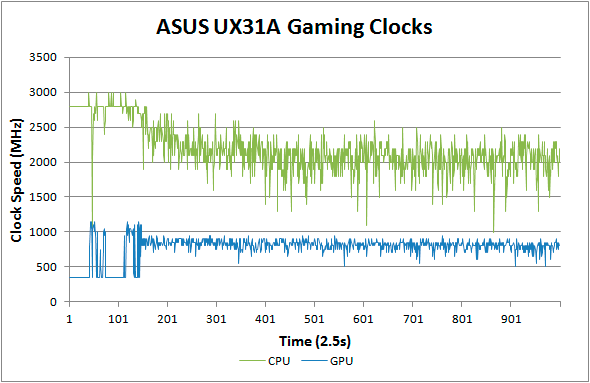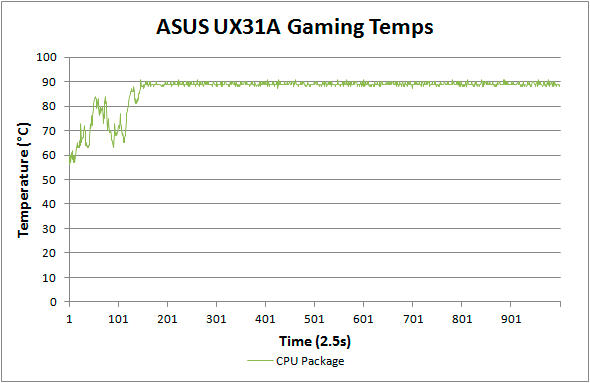 Run any 3D game where the GT cores have to work and the story changes dramatically. The CPU cores at 100% load and 2.8GHz consume around 15W of the allowed 17W TDP, but the GT cores under load appear to be capable of drawing 10-11W. Try to use them both at the same time and what follows is a balancing act (i.e. throttling) in order to stay within the allowed power and thermal envelope. The CPU package does manage to exceed the 17W TDP for a time, but after seven or eight minutes it drops to 17W before eventually stabilizing around 15W (±5%). The GPU clocks are also all over the map initially, as in this case Batman is busy loading and we're watching the intro videos and navigating the menus. After about five minutes we're in the actual game and we can see the CPU and GPU clocks (mostly) stabilize. Even after more than an hour, however, we still see GPU clocks as low as 500 MHz and as high as 900 MHz, with CPU clocks ranging from 1.0GHz to 2.5GHz—all while we're sitting still and watching over Arkham City from a high perch. Not surprisingly, the result in terms of actual frame rates is that they can vary upwards of 50%, which makes for a generally less than desirable experience even if average frame rates are 30+ FPS in some titles.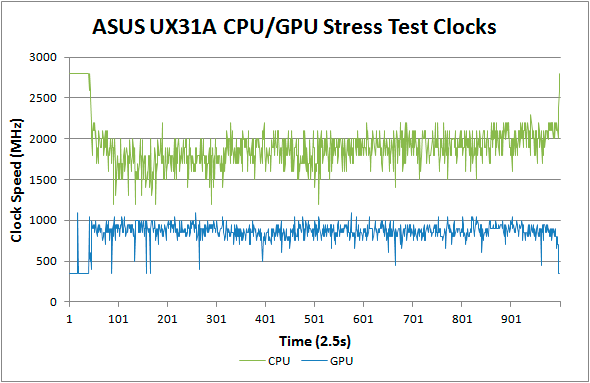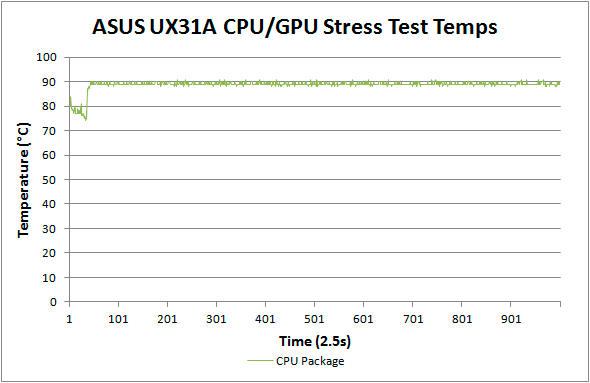 Our final stress test performs x264 encoding while running Batman, with each task set to use one of the two available cores along with the appropriate Hyper-Threaded core. The result isn't actually all that different from just running Batman alone, with the GPU and CPU cores dropping to lower clocks in order to maintain a package TDP of <17W. Somewhat interesting to note however is that this time the package TDP stays much closer to 17W (instead of 15W), with CPU and GPU clocks tending to be a bit more stable and higher as well. We see the GPU dip as low as 450MHz on occasion, but we also see clocks of 1050MHz on a regular basis; likewise, the CPU drops as low as 1GHz on one core and 1.2GHz on the other core, but much of the time the cores are in the 1.5GHz to 2.1GHz range.
The net takeaway here is that the ULV Ivy Bridge processors can't actually hit max clocks on both the GPU and CPU cores without exceeding their 17W TDP. There's potential for configurable TDP to allow plugged-in Ultrabooks to run ULV chips at a higher power envelope to improve performance. In fact, you can set the UX31A to 25W TDP, but it appears the cooling solution isn't actually able to deal with the higher TDP for longer periods of time and thus the CPU ends up dropping back to 17W after a few minutes of heavy lifting. That's hardly surprising, considering how thin the UX31A is—there's just not much space for air to flow through.
More to the point, other Ultrabooks often omit the ability to change the TDP levels, so even with better cooling it wouldn't be possible to run the CPU and GPU at full tilt; for that, you'd need a 25W TDP in practice—around 10W for the HD 4000 and another 15W for the CPU cores. Dustin tested the HP Envy 14 Spectre, which tended to run quite a bit cooler than the UX31A (and it's also quite a bit larger). While we didn't perform a full throttling analysis of the Spectre, we can already see from the above results what would happen. If you're hoping to run an Ultrabook (i.e. a ULV CPU) at max Turbo Boost speeds all the time while loading up both the CPU and GPU, that just doesn't look possible. Unless Intel can do something unexpected, I don't think Haswell will even fix the problem. The simple fact is that loading up all areas of an approximately 1 billion transistor processor die at high clock speeds uses too much power to fit within the ULV TDP, and clock speeds are the way to address the issue.
What about Noise?
With all the stress testing so far, we've focused on CPU/GPU clock speeds and temperatures. System noise is another important factor that we need to look at. There's not as much to discuss, as the fan speed and system noise are very nearly maxed out in all of the above tests (though running just the CPU at 100% may not get the UX31A quite as loud). At idle, the UX31A sits roughly at the limits of our equipment: 30dB. Once we start to put a load on the CPU, fan speed escalates with temperatures until it maxes out at around 80C. At that point, the system fan generates 39.5dB of noise from a distance of one foot. Given we're dealing with a single relatively small fan, it's not too surprising that the character of the noise is slightly less comfortable than other laptops, with a relatively high pitch. I actually found the fan noise to be more annoying when it was in the 35-37dB range, with the pitch seeming to decrease slightly at the maximum 39dB. That said, I doubt most people will be pegging the CPU or GPU that hard with an Ultrabook, which makes the noise less of a concern; for typical Internet and office tasks, the UX31A is usually under 34dB.
ASUS UX31A: A Great Ultrabook, but Still an Ultrabook
There are two primary viewpoints on the UX31A, and both are valid. On the one hand you'll find people saying, "$1400 for that!? That's way too expensive when I could buy a substantially faster system for less money!" This is more or less the refrain we've heard in regards to most ultraportables since their inception—just ask Anand about his college experiments with various $2000+ ultraportables. If you're after a do-everything laptop, Ultrabooks are the ultraportables of 2011/2012, and they come with some of the same caveats as earlier incarnations—you simply can't get the performance of a 100W+ desktop crammed into the volume of a <25W laptop. However, that's oversimplifying things as there are many other elements of Ultrabooks that can make them much more desirable than the ultraportables of yesteryear.
We are now at the point where pure CPU performance is becoming an increasingly niche market, particularly in the laptop world. There will always be a subset of users that want and even need more processor and/or graphics performance, but for a large majority of home, office, and even school users we're now at the point where just about every laptop is "fast enough". Atom is still too slow and lacks too many features for me to go that route, and even low-end Brazos chips from AMD lack the performance and responsiveness that I want, but once we hit the Athlon X2/Core 2 Duo level of performance (and Brazos E-350/E-450 in a pinch) we're at the point where most people will be okay—at least if they have enough RAM. You can run all the latest office and Internet tasks quite well on such a laptop, and it's only if you try branching out into games or video transcoding where you start to hit limitations (with Quick Sync helping immensely in the case of transcoding videos).
So if most laptops are now fast enough, what do you get extra from an Ultrabook that warrants the higher prices? The most noticeable element is obviously the thin and light profile (though there are some Ultrabooks that aren't all that light). As someone who travels on occasion, the UX31A would now top my list for a laptop that I'd love to have along for trade shows, business trips, or something to carry around campus. Going from a four pound laptop to a three pound Ultrabook may not seem like that big a deal, and for some it's probably not, but that's still a 25% reduction in weight and it's far more convenient to put an Ultrabook in a backpack than many other laptops. Along with the thin form factor, you also get good battery life and a laptop that's generally very responsive. And that's where I wish Intel would go all in and ditch mechanical storage altogether, as the use of pure SSD storage for Ultrabooks really does ensure a certain level of responsiveness that you won't get from a hard drive (with or without SSD caching).
Are those benefits worth the price of entry? For some people, the answer will clearly be no, but just as clearly there are going to be users that love the concept. If you're after gaming in a reasonably light laptop, AMD's Trinity offerings are much better than any of the Ultrabooks that lack a discrete GPU. Acer's TimelineU M3 and their new M5-481TG (review forthcoming!) on the other hand negate that advantage while remaining price competitive. You'll have to decide for yourself just how much you're willing to spend, as well as what features you want and/or are willing to sacrifice.
What about the UX31A is particular? Here's where things get a lot easier, because this is simply the best Ultrabook currently on the market in my opinion. The keyboard is comfortable for typing, the build quality is solid, and the aesthetics are great as well (hooray for a complete lack of shiny surfaces!). Perhaps more important than all of those areas however is the display; getting a high quality IPS 1080p panel into an Ultrabook certainly required extra effort on the part of ASUS, and the result is stunning compared to any other Ultrabook (and pretty much any laptop other than the MacBook Pro Retina). The blacks are a deep black, the whites are bright, and the dot pitch is so fine that I have difficulty making out the individual pixels with my eyes even from close up. ASUS tells me that they think the experience will be even better with Windows 8, and while I may not be convinced by Metro I'm sure others will be happy to take the plunge.
With all the good aspects, though, you still need to understand that there are limitations. Perhaps the biggest limitation is going to be the RAM; the 1080p display makes the UX31A perfectly capable of handling photo editing duties, but running something like Photoshop with 4GB can quickly run into RAM bottlenecks. For a premium Ultrabook, I wish ASUS had been a bit more forward looking and equipped the UX31A with 8GB. This is particularly painful since there's absolutely no way to upgrade the memory. The storage is another concern, as ASUS uses a proprietary SSD gum stick form factor. It's possible to find replacement SSDs, but they're what ASUS is already shipping (and stay away from the SanDisk U100 if you want decent SSD performance). Personally, I can't see any point in buying a UX31A only to replace (i.e. toss out) the original SSD and put in a new, larger SSD, and I can't see much of a market developing for the 64GB or 128GB used SSDs (since most people would likely be looking to upgrade to the 256GB model). Finally, there's the touchpad issue; it's not terrible, but it's not perfect either. I typed the conclusion with the touchpad disabled just for convenience, and it takes care of the unintentional click/activation problem, but if you're frequently switching between using the mouse and typing that might not be acceptable. It's also just not quite as precise feeling as some touchpads, though that's more of a gut instinct than something I can really quantify.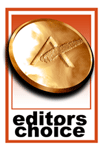 While the UX31A doesn't get every aspect right, however, it hits enough of the important areas that it ends up being an easy recommendation for people looking for a good Ultrabook. In my opinion, it's built at least as well as the MacBook Air, it has a better LCD (at least on the 1080p models), and it's designed from the ground up to run Windows 7 (and Windows 8 in the very near future). If you want to run OS X, go grab a MacBook Air and you're set, but if you're a Windows user and would like something even better than the MBA, ASUS has you covered. As the best Ultrabook that we've tested to date, the UX31A earns our Bronze Editor's Choice award—the 4GB RAM issue and touchpad being the major reasons it doesn't get a Silver or Gold. The only decisions you need to make are which model to get, and whether you're ready to spend this much money for a device that will be superseded next year with the inevitable Haswell update. I can't help too much with the latter, but if you're stuck on the model question I can provide some input.
The least expensive UX31A that we can recommend is the $1030 UX31A-DB51; you get the 1080p LCD but with a Core i5 CPU and a 128GB SSD. The Core i5 will end up being around 5-10% slower in practice, but if you're able to live with an Ultrabook in the first place that isn't likely to be a problem. The storage is a bit more difficult; I can easily use up all the capacity of a 128GB SSD, and even 256GB can start to feel inadequate—particularly when you lose 14GiB to the Windows recovery and fast-resume partitions. Since there's no 512GB model available, your best bet in my book is to go with one of the 256GB models (or get the DB51 and try to buy a compatible 256GB SSD aftermarket). Right now you can find the UX31A-XB52 starting at $1395, which gives you the i5-3317U CPU with a 256GB SSD, or you can spend $39 more to get the UX31A-DB71 for $1434, which is what we've reviewed here. A few places might even be the same price for the DB71 (i.e. if you pay with cash at XoticPC). Considering we're already well into premium price territory, I suggest just going whole hog and buying the DB71. It's not cheap, but if you're going to buy an Ultrabook I can't think of any other option I'd rather have today.
Update: Unfortunately, it appears that ASUS continues to source SSDs from ADATA as well as SanDisk for use in the UX21A and UX31A. We tested the ADATA equipped model in this review, and we've previously seen poor performance from the SanDisk U100 SSDs. If you're after the fastest possible Ultrabook experience, you'll have to trust your luck to fate should you order the UX31A—you could get either ADATA or SanDisk and there's no way to tell without powering up the system (or opening the bottom cover). On the other hand, if you're mostly interested in a well-built Ultrabook with a good keyboard and an awesome display, the UX31A is still the one to get; I'd be willing to live with the slower SSD just to get the 1080p IPS panel. It's definitely frustrating for end users that ASUS is sourcing two different parts where performance varies so much, but it's not all that different from Apple's MacBook Air (i.e. faster Samsung SSDs in some units and significantly slower Toshiba SSDs in others). Caveat emptor.