Original Link: http://www.anandtech.com/show/6173/ibuypower-valkyrie-cz17-notebook-review-msi-and-ibuypower-tangle-with-alienware


Introducing the iBuyPower Valkyrie CZ-17
The overarching recommendations we've had for big gaming notebooks these days have been pretty simple: ASUS G7x series if you're on a budget, Alienware M17x if you're not. Clevo and MSI are alternatives, but really gamers have been best served by one of these two lines, and it's been that way for some time now. I originally brought in iBuyPower's Valkyrie CZ-17 because it's an ODM notebook that's been rebranded by a boutique that's gradually growing almost too big to be considered a boutique anymore, and worth at least a little attention.
As it turns out, the CZ-17 is worth more than a little attention. Sourcing a notebook from MSI instead of Clevo is actually a good start to differentiating your brand from other boutiques, but the real surprise is just how strong of a competitor this gaming notebook is. For the first time in some time, the old Alienware design is starting to really lose its lustre.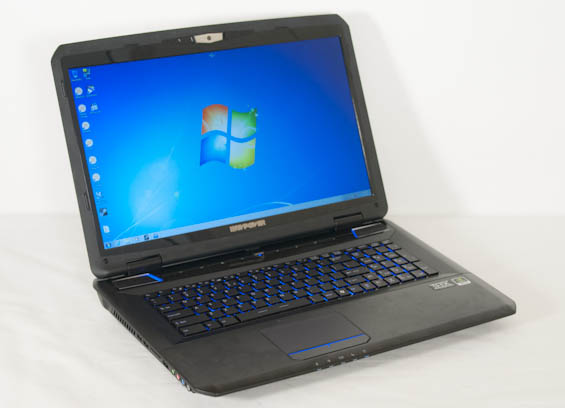 While it's not much to look at, the CZ-17 has a little more verve and style than Clevo's notebooks. The NVIDIA GeForce GTX 675M feels warmed over (it's just a rebranded GTX 580M) but still a powerful GPU, while even an entry level Ivy Bridge quad core is going to feel plenty fast. Yet the underlying hardware isn't the whole story with notebooks, and the CZ-17 has to be tested to truly be appreciated. There are some surprises here.
iBuyPower Valkyrie CZ-17 Specifications
Processor
Intel Core i7-3610QM
(4x2.3GHz + HTT, Turbo to 3.3GHz, 22nm, 6MB L3, 45W)
Chipset
Intel HM77
Memory
2x4GB G.Skill DDR3-1333 (Maximum 32GB)
Graphics
NVIDIA GeForce GTX 675M 4GB GDDR5
(384 CUDA cores, 632MHz/1265MHz/3GHz core/shaders/memory clocks, 256-bit memory bus)

Intel HD 4000 Graphics
(16 EUs, up to 1.1GHz)
Display
17.3" LED Matte 16:9 1080p
Chi Mei N173HGE-L11
Hard Drive(s)
Seagate Momentus 7200.5 750GB 7200-RPM SATA 3Gbps HDD
(one open 2.5" bay)
Optical Drive
BD-ROM/DVD+-RW Combo Drive
Networking
Killer Networks e2200 PCIe Gigabit Ethernet
Intel Centrino 2230 802.11b/g/n
Bluetooth 4.0
Audio
Realtek ALC892 HD audio
Four speakers
Mic, headphone, line-in, and line-out jacks
Battery
9-cell, 87Wh
Front Side
Speaker grills
Right Side
2x USB 2.0
Optical drive
Left Side
Vent
3x USB 3.0
SD card reader
Mic, headphone, line-in, and line-out jacks
Back Side
Kensington lock
AC adapter
Ethernet
D-SUB
eSATA
HDMI
Vent
Operating System
Windows 7 Home Premium 64-bit SP1
Dimensions
16.9" x 11.3" x 2.2"
429.3mm x 287mm x 55.9mm
Weight
6.9 lbs
3.1kg
Extras
Webcam
USB 3.0
Card reader
THX TruStudio PRO audio
Backlit keyboard
Warranty
1-year limited and lifetime phone support
Pricing
$1,459
Just about everything but the GPU is fairly entry level for a gaming notebook, but that's not necessarily a bad thing since this is about the lowest price I've ever seen a GTX 580M/675M at. The Intel Core i7-3610QM is Intel's bottom rung quad core processor, but still able to turbo up to an impressive 3.1GHz on all four cores, 3.2GHz on two cores, and 3.3GHz on a single core. This is more than enough processing power for most tasks.
Even if the NVIDIA GeForce GTX 675M existed essentially as a stopgap for NVIDIA to release the GTX 680M (review impending), it's still a very formidable GPU. The 675M is a rebranded GTX 580M, but ours is running at very slightly higher clocks than spec; 632MHz instead of 620MHz on the core clock, resulting in a corresponding 1265MHz on the CUDA cores instead of 1240MHz. It's not really a noticeable difference, but remember the 580M was basically last generation's top of the line mobile GPU and it still has a lot of fight left in it.
As I mentioned, though, the rest of the system is less exciting. The lack of any SSD is going to cripple the base CZ-17 in our PCMark tests and certainly doesn't help it feel more responsive, while the 8GB of DDR3-1333 is standard if unexceptional. Users looking to upgrade RAM will have to remove the keyboard to do so or replace the existing DIMMs with 8GB sticks. At least iBuyPower includes a blu-ray combo drive standard, and the Killer Networks e2200 gigabit ethernet (complete with connection management software) is a nice touch.
In and Around the iBuyPower Valkyrie CZ-17
Say what you will about the iBuyPower Valkyrie CZ-17, but say this: it's not exactly a looker. Utilizing a slightly modified MSI GT70 chassis, it's unfortunately still a poster child for why many Taiwanese firms (outside of ASUS) still can't quite seem to catch fire on western shores. The aesthetic is gaudy in places, chintzy in others, and unfortunately just don't gel. Alienware notebooks may not be everyone's cup of tea, but they have a consistent, clear aesthetic and they don't look cheap.
That lack of attention to aesthetics is evident on MSI's own GT70 page, which overflows with features but only remarks on the keyboard's backlighting. iBuyPower has done what they can to mitigate it; the plastic lid features two glowing stripes and a glowing iBuyPower logo, while the rest of the chassis is largely matte black plastic. Thankfully, glossy plastic is kept to a minimum, confined to the inner bezel of the display, the keyboard bezel, and the touch-based control strip above the keyboard.
The control strip is one of the other aspects that's different on iBuyPower's build; the MSI version has a stripe, logo, and an oversized power button, but the iBuyPower version is much cleaner. The touchpad buttons are the other place where a change has been made, but this time it may not be for the better; two dedicated buttons and a backlit accent have been replaced by a larger backlit accent and essentially a single rocker for the left and right click. It's cleaner looking, but less functional.
These complaints are all before you get into the staggering 2.2" thickness of the notebook, but I would argue that thickness plus its wedge shape help it to run both cooler and quieter than the competing Alienware M17x R4, so I take it as a wash. The bottom line as far as aesthetics is that the CZ-17 is by and large not for show. Thankfully it has a great personality.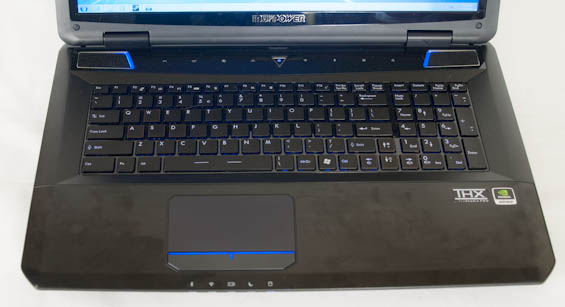 The two places where the CZ-17 excels are two of the aspects that matter most: the keyboard and the display. The keyboard appears to still be using MSI's licensed SteelSeries design, and it has a depth and feel to it that's miles ahead of the other gaming notebooks I've used. Mechanical keyboards just aren't going to happen in notebooks, but I was pleasantly surprised at the tactile response of the CZ-17's. The backlighting is also configurable similar to Alienware's. Where it takes a hit is the layout, which gives Insert, Pause/Break, and Scroll Lock dedicated keys while forcing Page Up and Page Down to share with Home and End as Fn combos. There are other quirks to the keyboard's layout, but essentially it appears to just be an international skeleton that's barely customized to a North American layout; there's a backslash key both above the Enter key and next to the spacebar, where the key next to the spacebar would be an alphabet toggle on East Asian keyboards. Despite my misgivings with the layout, though, the keyboard remains very comfortable to use.
The CZ-17's other victory is the display. MSI's CZ-17 appears to use the same panel as the Samsung Series 7 that we looked at last week, and it was one of the highlights of that laptop. While the measurements are solid if not exceptional, and we're still on a TN panel, it's nice to see a matte display on a gaming notebook after coping with the glossy display on my M17x R3 for so long. The M17x R3's glossy edge-to-edge surface photographs great and seems cool initially, but its reflective nature and penchant for picking up fingerprints and dirt makes it problematic over time.
Ultimately I continue to be disappointed by the relatively cheap plastic used for the majority of the shell. It still feels much more solid than older Clevo units did, which were powerful hardware in a candy shell, but the CZ-17 just isn't that much fun to look at. Like I said, though, the display and keyboard are excellent and I find the notebook to be very comfortable to use in practice.
Application and Futuremark Performance
It goes without saying that without an SSD in our review unit, the iBuyPower Valkyrie CZ-17 just isn't going to put in a strong performance against the other notebooks in PCMark. PCMark continues to bias extremely heavily towards SSDs, and while it's true an SSD can appreciably improve the computing experience, PCMark's reflection of this is a matter of some debate around here. That said, upgrades to SSDs from iBuyPower are far, far less expensive than from a major vendor like Alienware, so if you're custom building it may not hurt to stretch your budget a bit.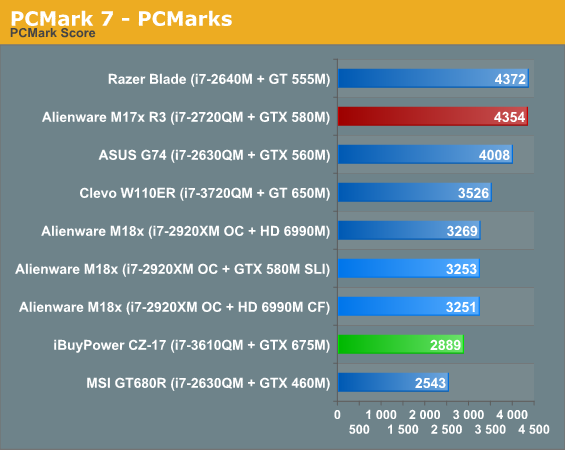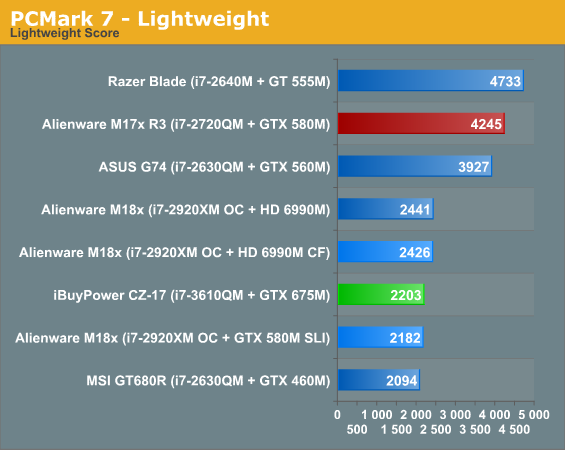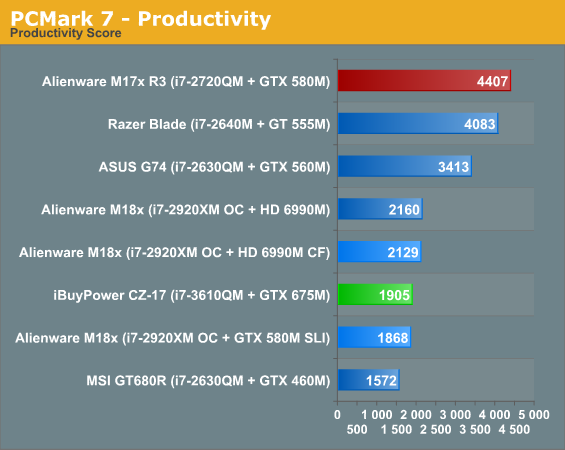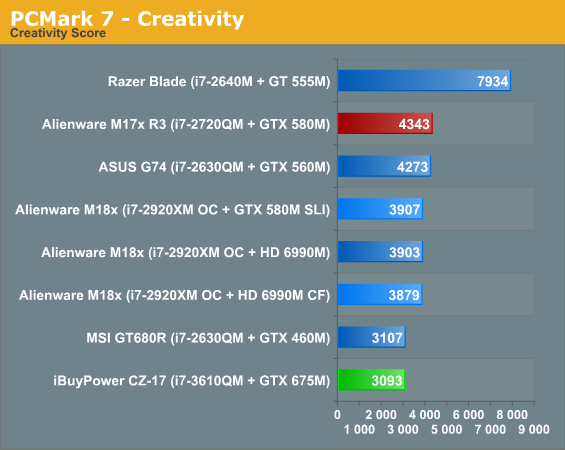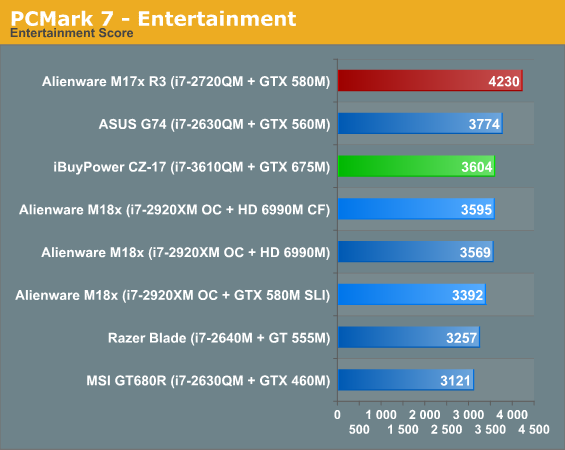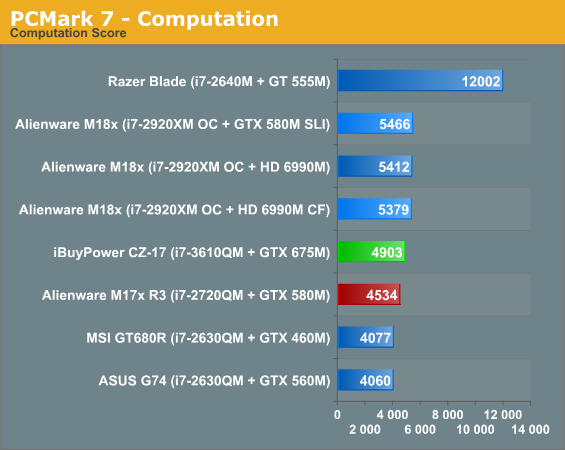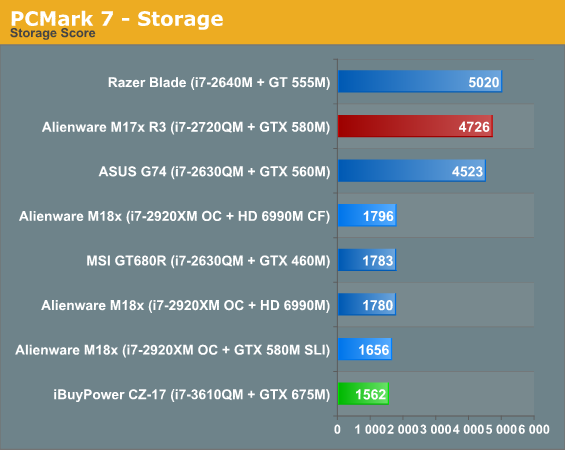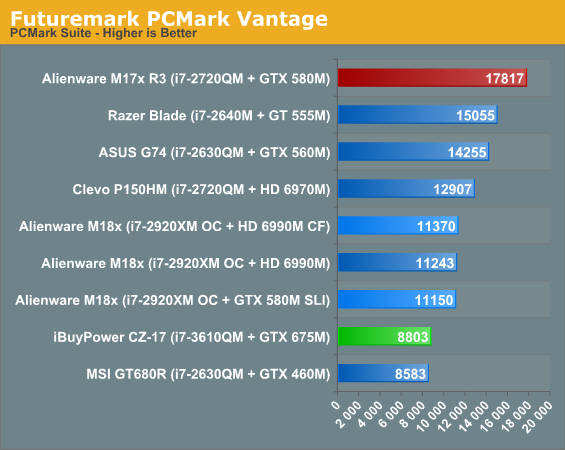 As expected, the PCMark scores range from being alright to a bloodbath. Virtually every other system tested enjoyed a faster storage subsystem than the CZ-17 did. So let's see what happens when we shift the load back to the CPU.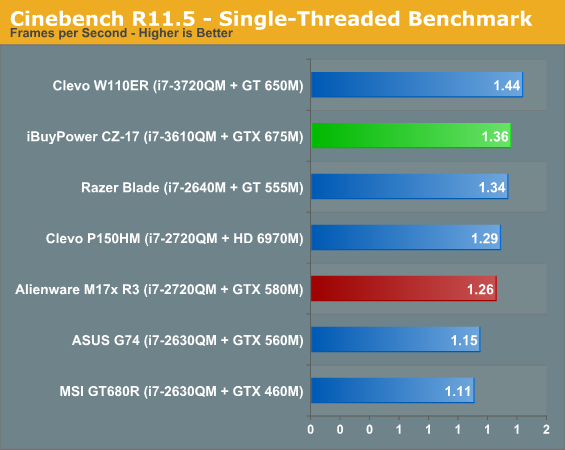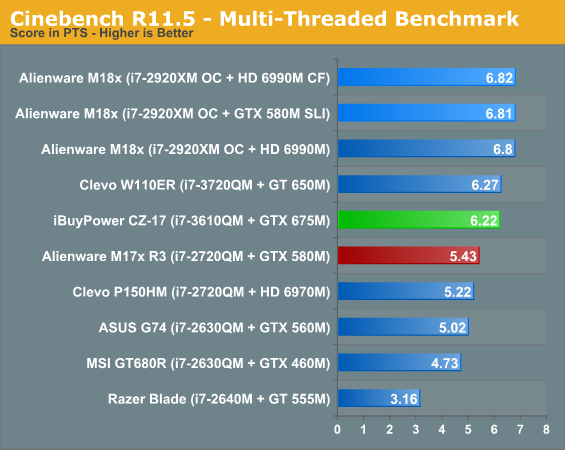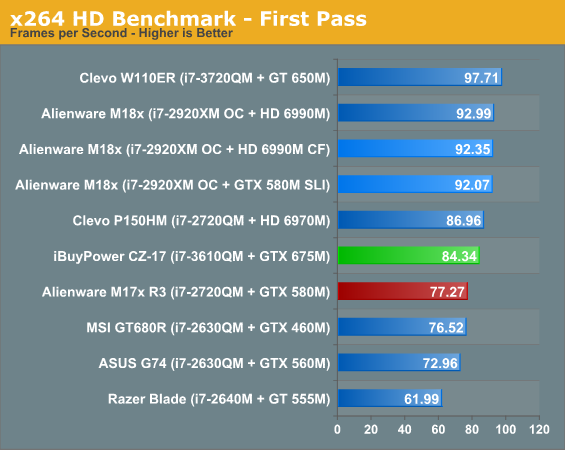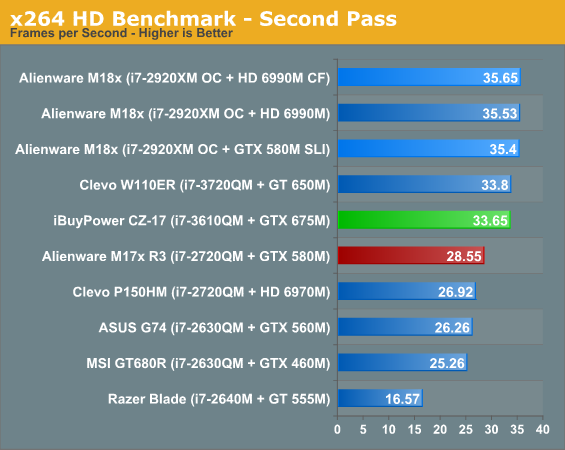 The improvements in Ivy Bridge's efficiency coupled with the higher clocks allow even the entry level i7-3610QM to put in a strong showing.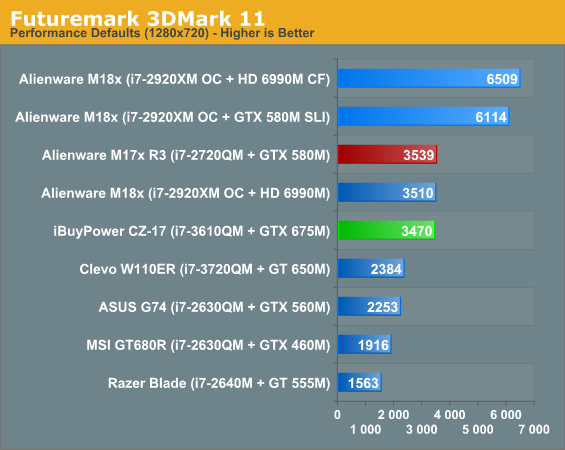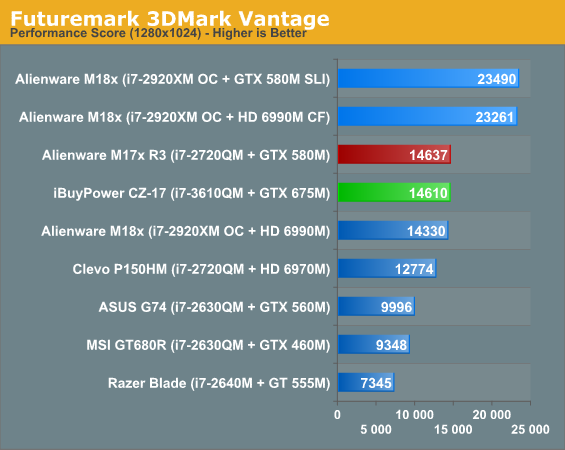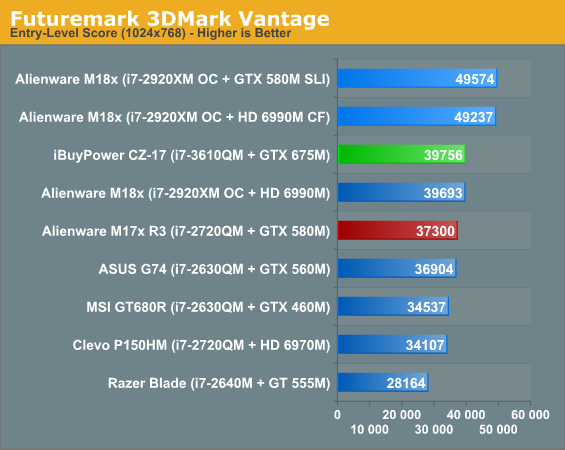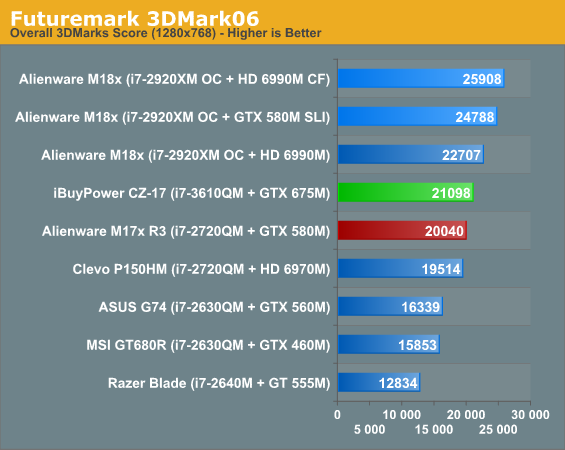 The 3DMark scores, on the other hand, paint a rosier picture. The GTX 675M trades blows with the 580M, essentially boiling down to slight differences in CPU performance and driver optimizations. There's a reason this chip was the top of the heap for a while, but also keep in mind that the CZ-17 is among the least expensive, if not the least expensive, notebooks on this chart. There's an awful lot of value here.
Gaming Performance
Given the generally known performance of the GeForce GTX 675M powering the iBuyPower Valkyrie CZ-17, it should come as no surprise that it continues to be a stellar option for gamers who want to turn all the settings up. It's only in our "Enthusiast" benchmark suite where we'll see the 675M even start to choke.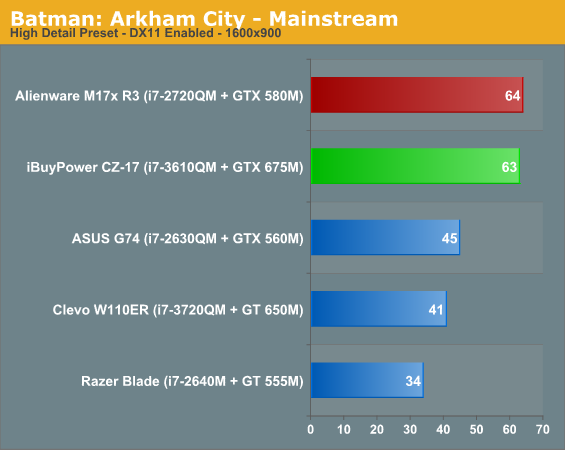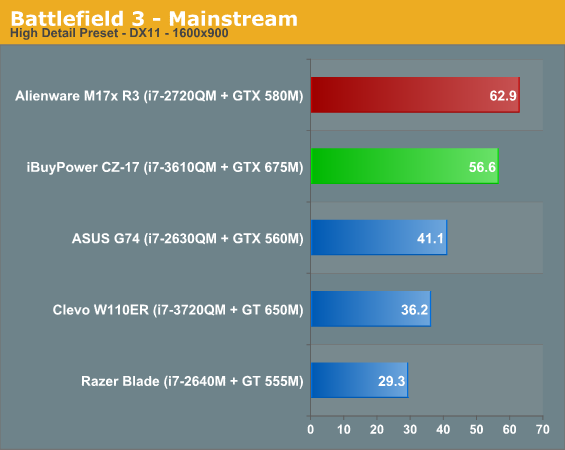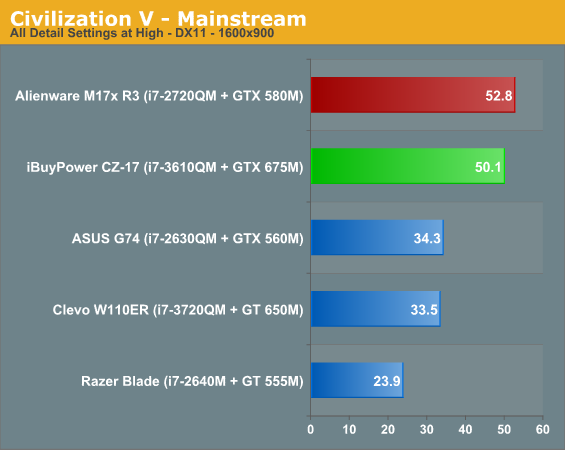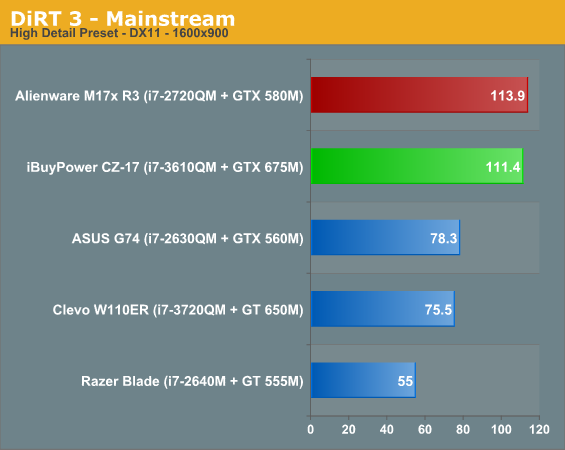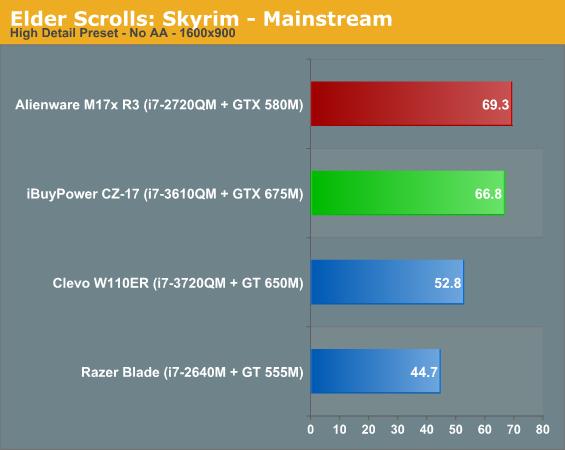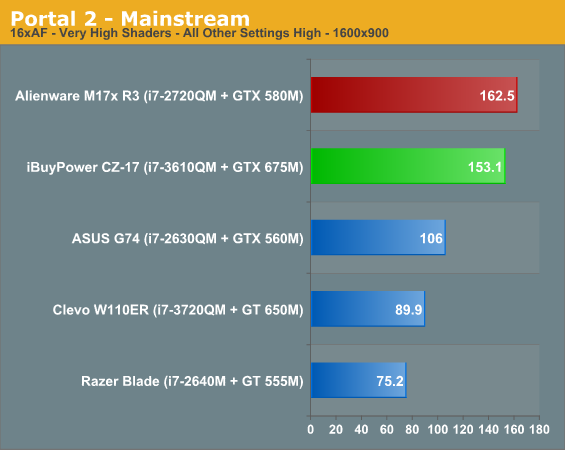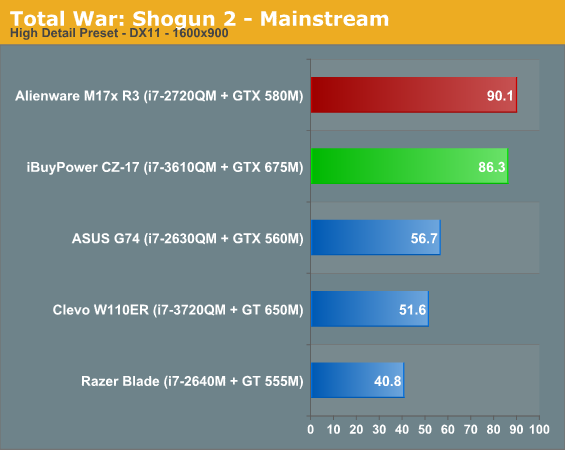 While the Alienware M17x R3 seems to consistently perform ever so slightly better, the CZ-17 still puts in a killer showing above and beyond the competition. Every game is exceptionally playable at 900p and typically with room to turn settings up a bit more.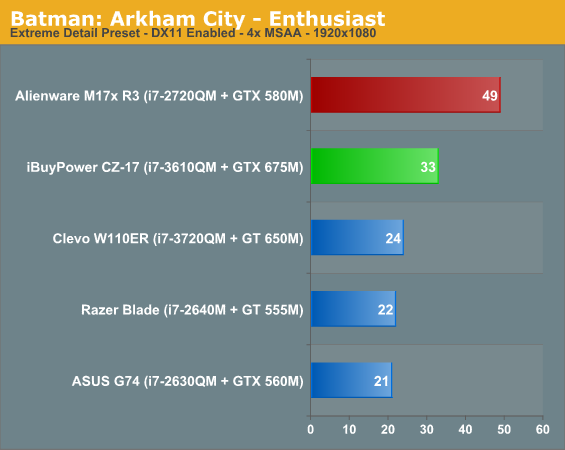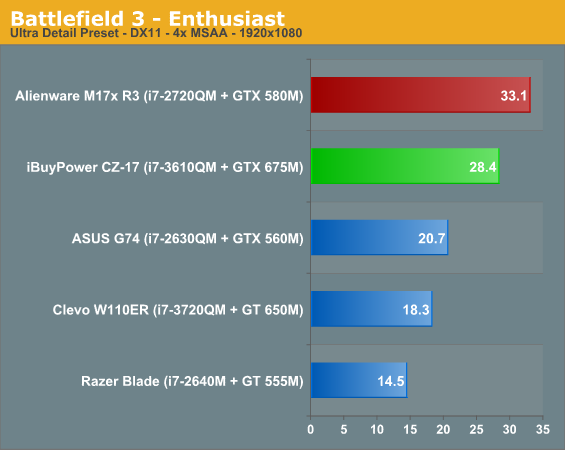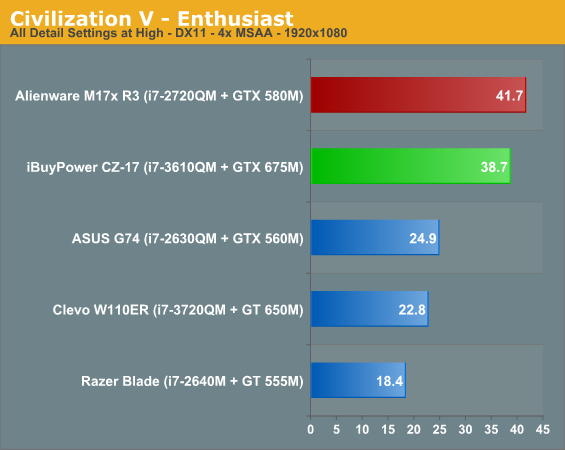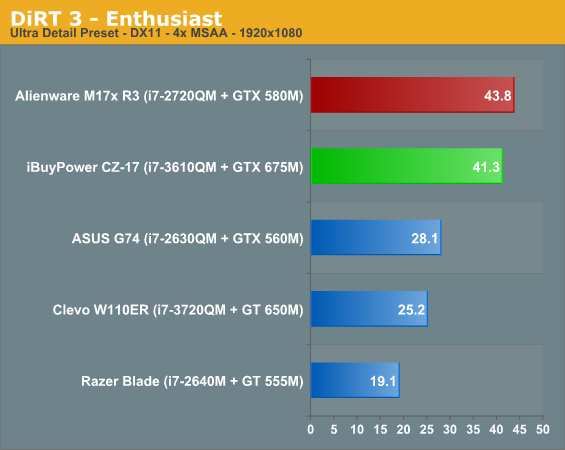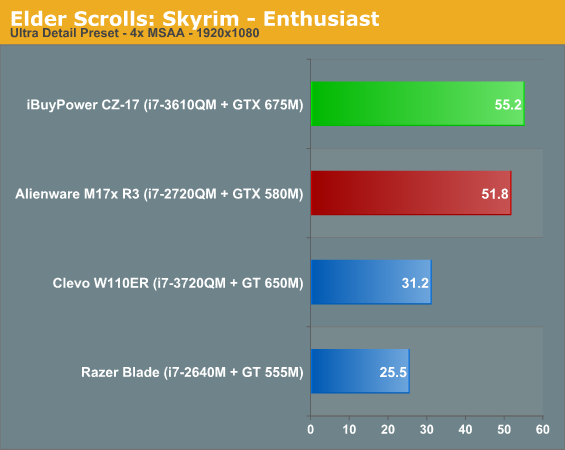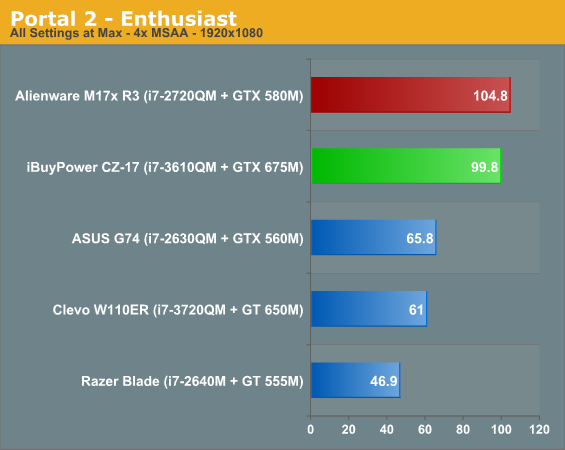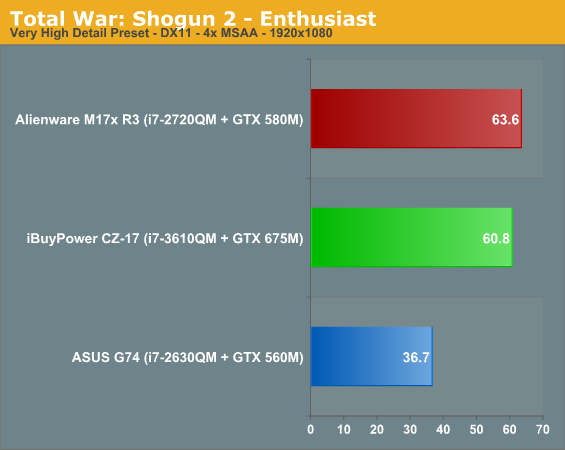 Interestingly, the slight dip in performance from the M17x R3's GTX 580M continues with the CZ-17's GTX 675M virtually across the board. Arkham City in particular is still playable, but it takes a massive hit. We retested over and over again to make sure, but those results continued to be a bit on the low side. It's tough to gauge exactly why, but my guess is that Arkham City is having driver issues. Everything else is fine, but it looks like to really go hog wild we'll still need to go for something beefier like the GTX 680M.
Battery Life
NVIDIA's Optimus technology has done some pretty crazy things to the gaming notebook market. Batteries in gaming notebooks used to be glorified UPS systems, but now you can actually get halfway decent running time out of a hulking gaming notebook. iBuyPower's Valkyrie CZ-17 isn't going to compete with an ultrabook or even an 11" monster like the Clevo W110ER, but it puts in a strong showing nonetheless.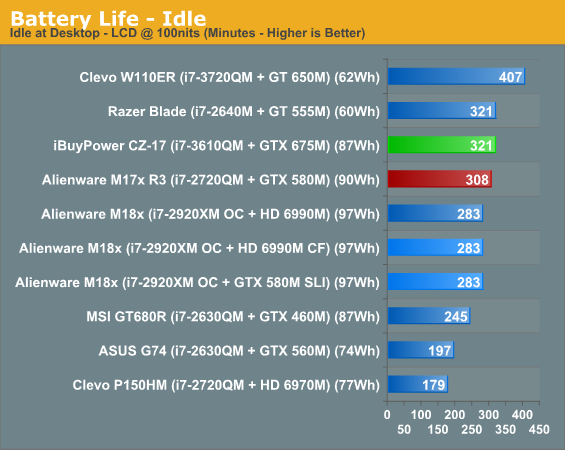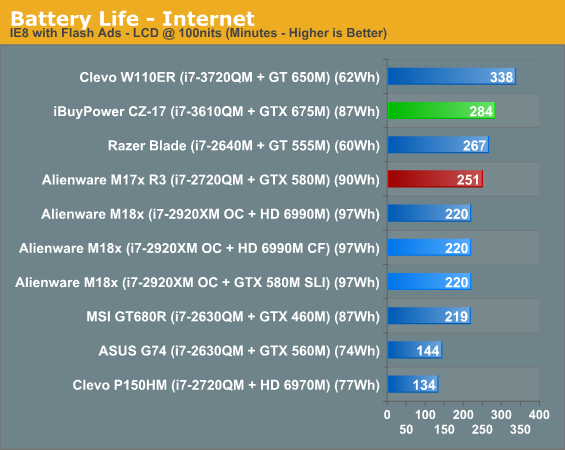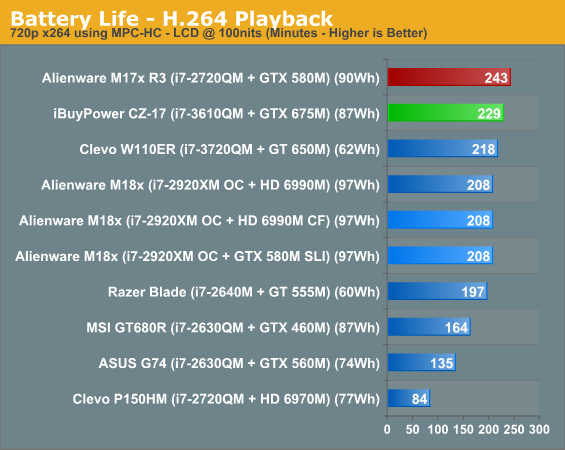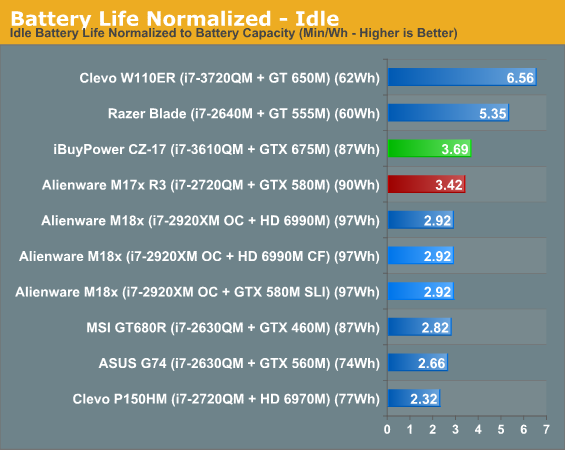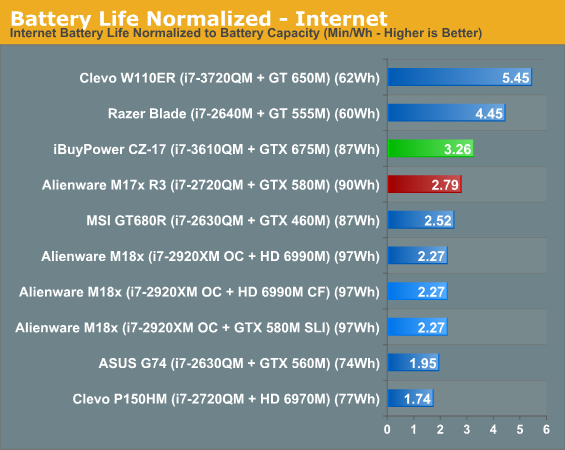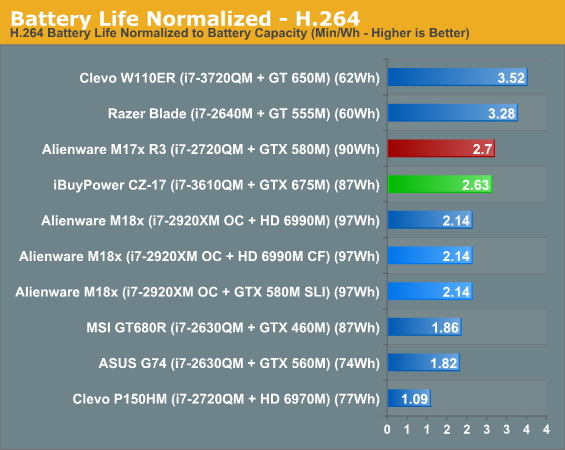 Probably owing to the increased efficiency of Ivy Bridge, the CZ-17 is competitive with the Alienware M17x R3, which is really the test we wanted to see. More importantly, we have a hulking desktop replacement notebook that's still able to run off the mains for more than four hours (gaming notwithstanding). Progress is good, and it's doubly nice to see an ODM notebook that's able to hang with a bigger vendor as battery life optimization is often one of the first things to go in systems like these.
Noise and Heat
iBuyPower's Valkyrie CZ-17 comes built on MSI's extra thick GT70 chassis, but the GT70 bulk doesn't go to waste. The cooling system is remarkably efficient and because of the increased thickness of the fan, the actual pitch of the system noise is lower as well. Despite hitting 47dB over an extremely heavy load (100% load on both CPU and GPU), the low whooshing noise is much more tolerable than the high-pitched whine smaller fans like the ones in the Razer Blade produce.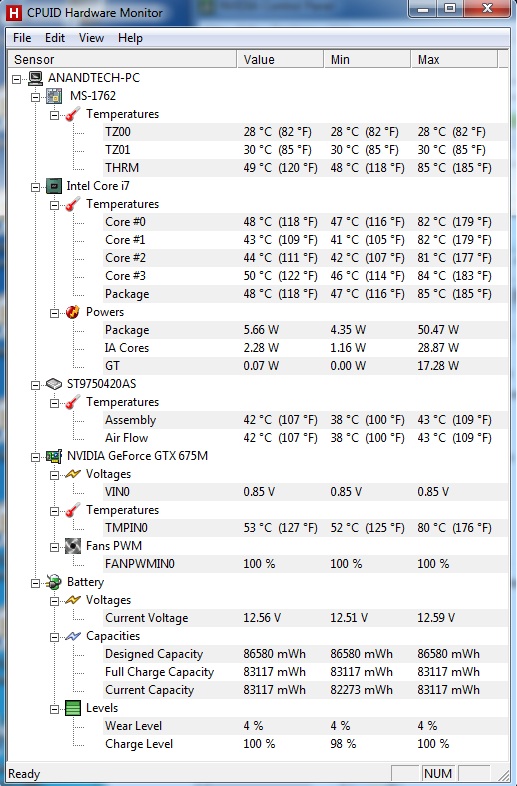 Thermals are actually pretty strong, too. The CPU is still running in the low 80s instead of at spec as most vendors like to push them these days, and the GTX 675M, despite being a 100W TDP part in a seven pound notebook, still peaks at just 80C.
Display Quality
The display employed in the iBuyPower Valkyrie CZ-17 is manufactured by Chi Mei, and while some of its measurements aren't excellent and it's still a TN panel, I found it to be a tangible improvement over the display on my M17x R3 in practice owing chiefly to the matte finish. Viewing angles are also quite good, but some users may take issue with the slightly grainy matte finish used.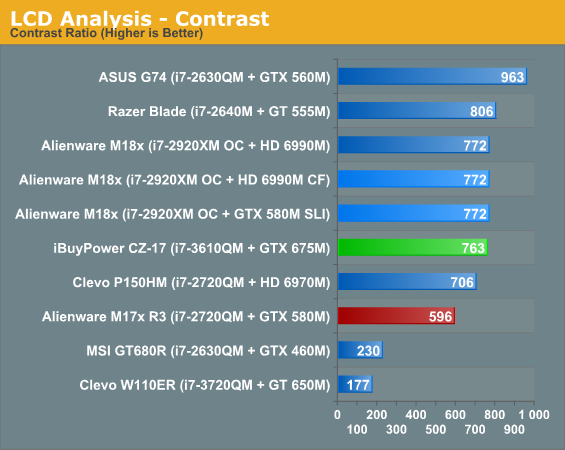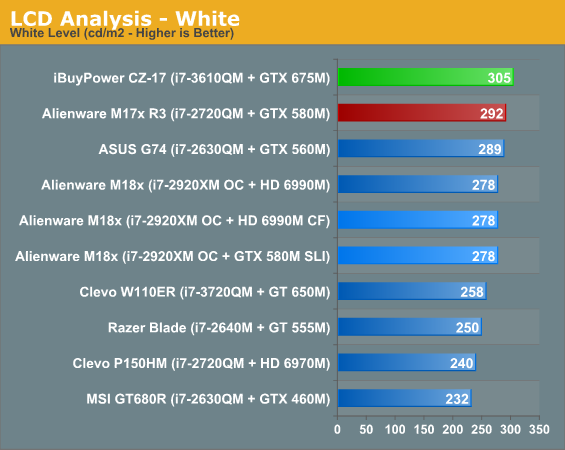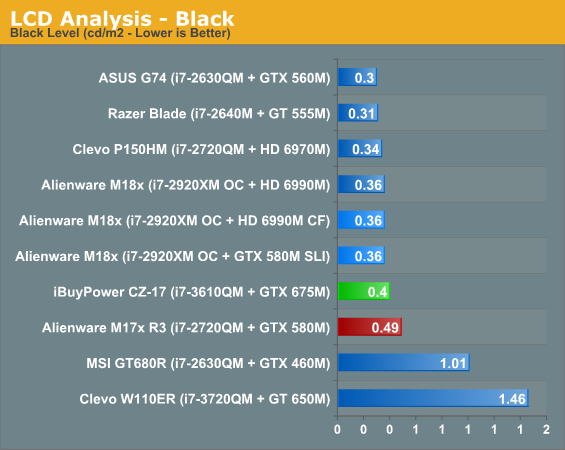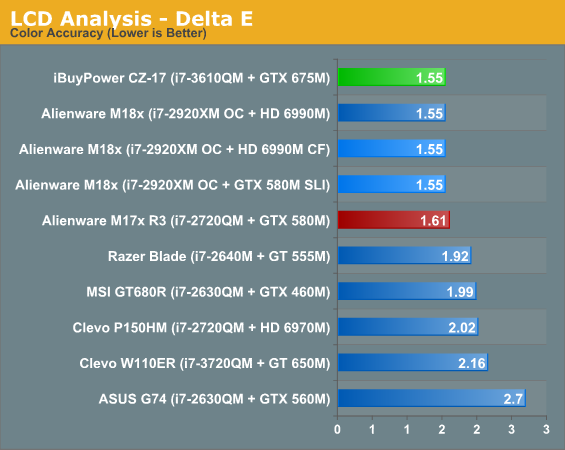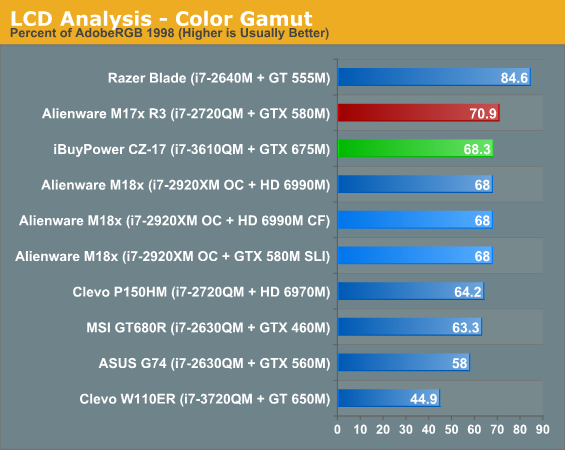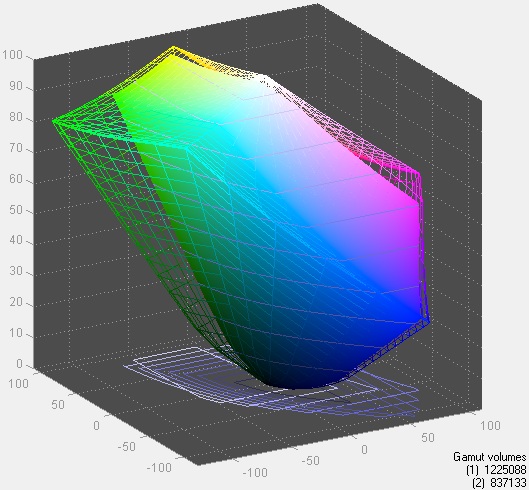 As you can see it's among our best and brightest, producing good to excellent results in all of our tests. While it's not on the level of an IPS display, the Chi Mei panel in the CZ-17 will be more than adequate for most users and is in a completely different class than the panels typically used in consumer notebooks.
Conclusion: Not Pretty, But a Great Personality
iBuyPower is a company that you need to be paying attention to. They're slowly but steadily growing from being a boutique player into a mainstream player, and the Valkyrie CZ-17 is proof enough of that. It's true that at its core, the CZ-17 is a slightly modified MSI chassis, but keep in mind that way back when the Mobile Athlon 64 was launched, eMachines/Gateway was doing roughly the same thing by taking notebooks built by Arima and rebranding them. This is how it starts.
As for the CZ-17 itself, it continues to suffer from the same aesthetic issues that plague boutique notebooks. An overreliance on plastic and a lack of real regard for polish make these notebooks much less attractive to use, something companies like ASUS and Alienware can capitalize on by deploying similarly-equipped systems with much better-looking chassis designs. That said, though, the performance is there.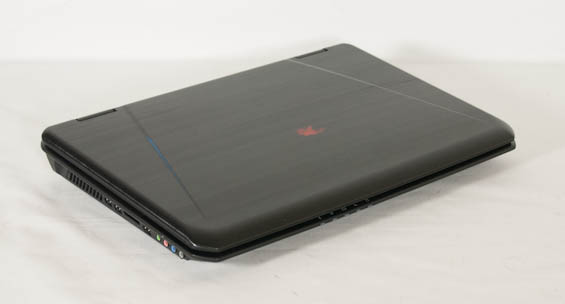 Where I think the CZ-17 excels and even exceeds the Alienware M17x is, frankly, in how comfortable it is to use. Alienware's time-honored design features a fairly comfortable keyboard, but the front lip of the notebook is full of hard edges that can dig into your wrists if you're not paying attention and I've found that it can be uncomfortable to use over time. That's a problem the CZ-17 simply doesn't have, nor does it have any of the issues associated with a glossy finish on the display. There's also the excellent tactile response of the keyboard in the CZ-17.
The ace in the hole for iBuyPower is the price tag. Our review configuration was $1,459, which is frankly exceptional for the graphics hardware alone, but the starting configuration is just $1,259 for a notebook featuring what's essentially last generation's fastest mobile GPU. That's a bulletproof deal that you just can't beat; comparable systems from NewEgg start at least $400 higher. Graphics hardware is the hardest thing in the world to maximize in a notebook and you have to get it right the first time; with the CZ-17, you're able to do so incredibly cheaply and leave yourself room later on to upgrade the storage subsystem if you're so inclined.
Ultimately however you feel about the way it looks, the CZ-17 is comfortable to use and a wicked deal for the performance you get. This is one of those notebooks you read hardware review sites to learn about; if you want a monster laptop for a low price, you're not going to be able to beat the iBuyPower Valkyrie CZ-17.