Original Link: http://www.anandtech.com/show/6168/rosewill-fortress-platinum-450w


Rosewill Fortress Platinum 450W
We've recently had a ~40$ PSU roundup, so we felt it might be time for another "expensive" PSU review. The Rosewill Fortress Platinum 450W is an 80 Plus Platinum certified power supply with fixed cables. On the following pages we will see if Rosewill ranks among the best.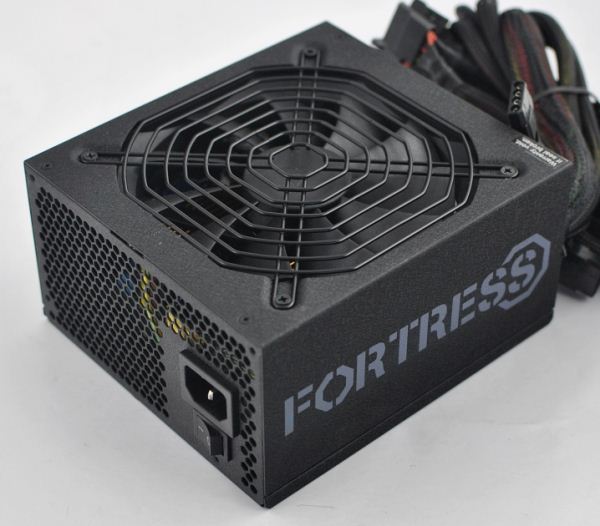 Those looking for maximum efficiency can now set their sights on 80 Plus Platinum PSUs, though they are very expensive. Especially the MOSFETs inside create high costs as a low drain-source resistance is difficult to realize. It's still questionable if there is a large market for these products, taking into account the many affordable 80 Plus Bronze/Silver/Gold solutions.
Going from 80 Plus Bronze (82-85% efficiency) to Silver (85-88%) to Gold (87-90%) to Platinum (89-92%) is a case of seriously diminishing returns when you look at pricing. You can find 80 Plus Bronze units for under $50 for 450W (give or take), but the jump to Silver kicks the starting prices north of $80 at Newegg while giving users 700W or more power—certainly not something most users need. Gold brings back some lower power ratings, but Rosewill and Seasonic are the two least expensive offerings at $60, with 450W and 360W respectively. Rounding out the options, Platinum power supplies like the Fortress series currently start at $90 for 450W.
In short, Bronze gets you 95% of the efficiency of Gold for about 2/3 the cost, and 92% of the efficiency of Platinum for about half the price. A typical system that draws around 75W at idle would save 8W going from Bronze to Platinum. At that rate and paying $0.10 per kWh, you save $7 per year when running the PC 24/7. For servers and other PCs that are on 24/7 already and consume a lot more power, efficiency can make a lot of sense (e.g. power savings of around $40 per year for a 500W server using the same $0.10 per kWh), but for home users there needs to be something more than just pure efficiency to make the increased cost worthwhile. Does the Fortress have that something extra, or is it simply a higher cost PSU with an incremental increase in efficiency? Let's find out.
Delivery Contents and Specifications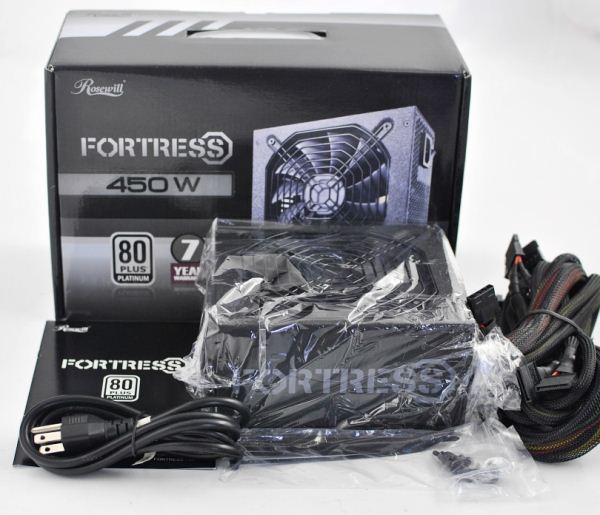 The power supply comes in a dark box with various product specifications listed across all the sides. The package prominently displays the 80 Plus Platinum certification, which can certainly help attract potential buyers. 90%/92%/89% efficiency at 20%/50%/100% load are the requirements and these values are difficult to reach. In addition Rosewill offers a 7-year warranty. Features include the special black coating and the single 12V output. All the necessary extras for installation are present, including the usual stuff like a power cord, screws, manual, and several cables ties.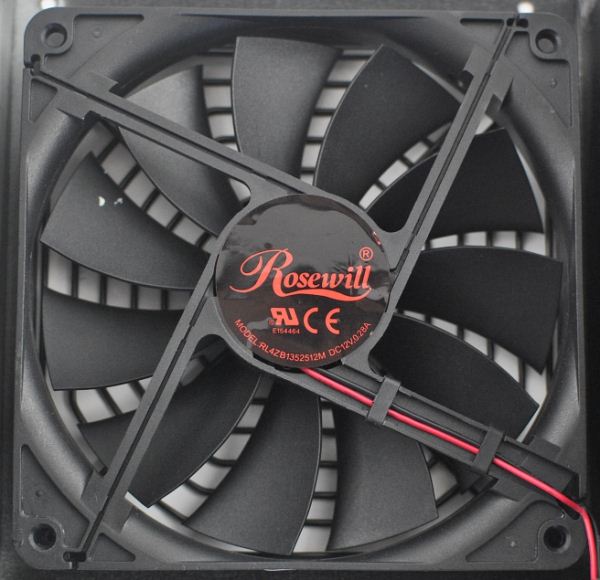 At first we were not able to identify the manufacturer of this fan as Rosewill is the only name we saw on the label. However, the model number RL4ZB1352512M indicates that GlobeFan is the company behind this product. This is a ball bearing type which takes 0.28A. At best GlobeFan is slightly better than Yate Loon, but it could have been worse since many brands still use sleeve bearings—even in expensive PSUs.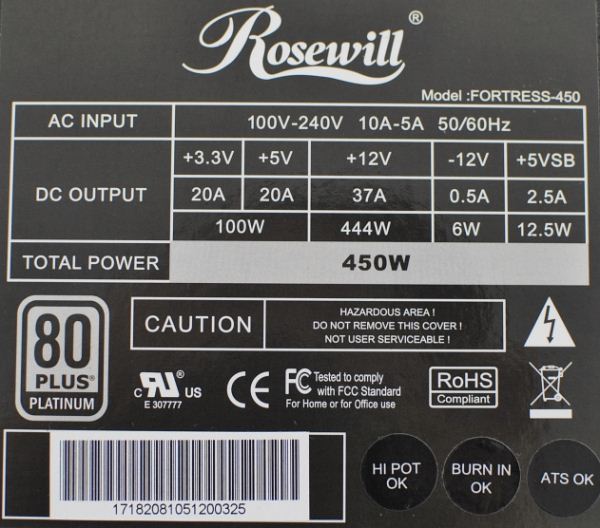 The Fortress has one 12V output, which can be loaded with 37A according to the manufacturer. Almost the full power is provided here because of the DC-to-DC VRM. The 5V and 3.3V combined output power is just 100W, but even such ratings are enough to power a modern PC. +5VSB can handle 2.5A (or 12.50W).
External Impressions and Cables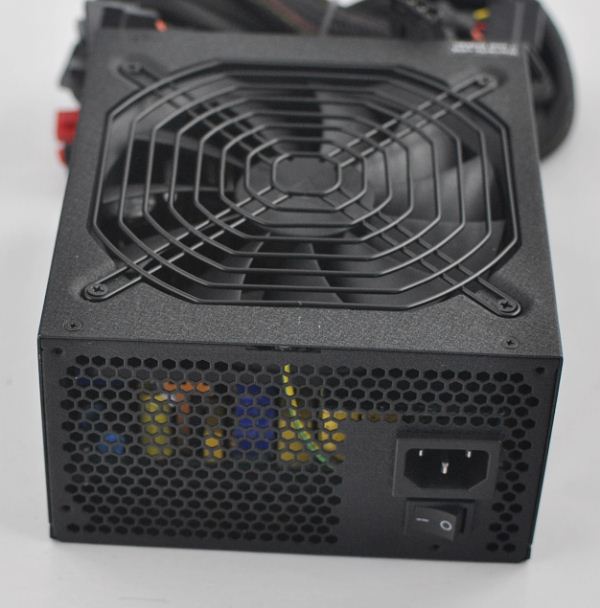 The appearance has not changed much from Rosewill's 80 Plus Gold Capstone series; the Fortress comes with a rough sandblasted texture that reminds us of some Enermax PSUs. The angular fan grille is black and the silk-screened Fortress logo can be found on both sides. As usual, the entire back is perforated to provide maximum airflow. A power switch can be found directly below the power input. The unit is quite long for a 450W model at 163mm, so it is probably not the perfect solution for HTPCs.
Cables and Connectors

Connector type (length)

Main
1x 24-pin (55cm) fixed
ATX12V/EPS12V
1x 4+4-pin (65cm) fixed
PCIe
2x 6/8-pin (50, 65cm) fixed
Peripheral
3x SATA (ca. 50, 65, 80 cm) fixed
3x SATA (ca. 50, 65, 80 cm) fixed
3x Molex (ca. 50, 65, 80cm) fixed
2x Molex, 1x FDD (ca. 50, 65, 80cm) fixed
There are five Molex and six SATA connectors attached—quite a lot for the power rating. Moreover there is a very long 4/8-pin cable for the motherboard and two plugs for a graphics card; the long ATX12V/EPS12V cable is particularly important for cases with bottom-mounted PSUs. You won't be able to run an SLI or CrossFire setup with the highest performance GPUs, but two 8-pin PEG connectors are exactly what we would expect from a 450W power supply. In addition all peripheral cables are long which is helpful when using a Full Tower, and all the cables have the same black cable sleeving. If you're planning on building a smaller mATX system, the fixed cables and their lengths might be too much, but for ATX cases that shouldn't be a problem.
Internal Design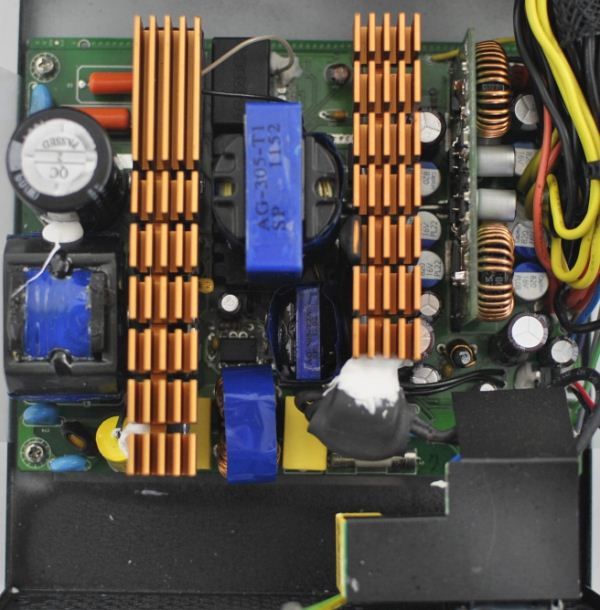 ATNG makes the electronics this time, but 80 Plus Platinum power supplies are almost always the same. In fact the PCB looks like a modified Golden Green (Super Flower). The core is an LLC resonant converter with synchronous rectifying on the secondary side, and there's a DC-to-DC converter at the far right as well to improve voltage regulation. Another advantage is the high 12V power rating. The filtering stage is located on a small sister PCB near the bottom of the picture and includes all the important components.
An IC offers most safety functions for all outputs and the primary circuit has some protections too; nevertheless, overcurrent protection is missing. There are two large heatsinks instead of the usual three, but all the current MOSFETs have a low power dissipation. Soldering quality is satisfying, and we couldn't find any dry soldered joints, though a few parts did get a bit too much solder. On one pin we found a bad wetting angle caused by the excessive use of solder.
Voltage Regulation
+3.3V Regulation/Ripple and Noise
Load
Voltage
5%

3.34V (9mV)

10%

3.33V (14mV)

20%

3.31V (17mV)

50%

3,31V (22mV)

80%

3.29V (24mV)

100%

3.27V (27mV)

110%

3.27V (30mV)

Crossload +12V max.

-0.30%

Crossload +3.3V/+5V max.

+1.52%
+5V Regulation/Ripple and Noise
Load
Voltage
5%

5.10V (7mV)

10%

5.10V (11mV)

20%

5.10V (16mV)

50%

5.08V (19mV)

80%

5.02V (23mV)

100%

4.99V (27mV)

110%

4.97V (29mV)

Crossload +12V max.

+1.00%

Crossload +3.3V/+5V max.

-0.80%
+12V Regulation (Worst Ouput)/Ripple and Noise (Worst Output)
Load
Voltage
5%

12.14V (20mV)

10%

12.10V (24mV)

20%

12.10V (29mV)

50%

12.08V (33mV)

80%

12.06V (37mV)

100%

12.00V (42mV)

110%

11.99V (44mV)

Crossload +12V max.

-0.16%

Crossload +3.3V/+5V max.

-0.42%
Noise Levels
Sound Pressure Level (Ambient: 16dBA, 1m distance) and Temperatures (

Δϑ

to 23.4 °C ambient temperature)
Load
Opinion
5%
18 dBA (0.9°C)
10%
18 dBA (

2.0 °C)

20%
18 dBA (

5.1 °C)

50%
22 dBA (

6.2 °C)

80%
27 dBA (

8.6 °C)

100%
27 dBA (

9.5 °C)

110%
27 dBA (

11.2 °C)
Efficiency and PFC
Efficiency and Power Factor 115 VAC
Load
Efficiency
PFC
5%

71.25%

0.812

10%

84.97%

0.842

20%

91.03%

0.939

50%

91.64%

0.945

80%

91.22%

0.972

100%

90.79%

0.989

110%

90.38%

0.990
Efficiency and Power Factor 230 VAC
Load
Efficiency
PFC
5%

73.29%

0.735

10%

86.85%

0.829

20%

91.84%

0.877

50%

92.42%

0.925

80%

91.85%

0.956

100%

91.08%

0.972

110%

90.72%

0.983
Looking at the tables, all rails are within specification and acceptable for an expensive power supply. In fact, 12V didn't even drop below 12.00V at full load. However, ripple is much more important. Here the Fortress 450W can keep up with most other brands, even if Seasonic is still the best. Even at 10% load Rosewill delivers 85% to 87% efficiency. 115VAC reaches up to 91.64% efficiency, while 230VAC delivers slightly better results. From 0% to 50% load the Fortress remains silent, but once the load goes beyond this level the fan RPMs increase rapidly. The good news is that the bearing is absolutely inaudible and we didn't hear the chokes singing.
Conclusion
In summary, Rosewill's new Fortress line of power supplies is well made and features good specs and performance. The ultra-high efficiency likely won't matter all that much to end users, as Silver or Gold certified units reach nearly the same levels as Platinum products, but Rosewill includes a lot of current technologies and the results are very good. The technology starts with the resonant converter that reduces power dissipation. Another nice feature is the DC-to-DC circuit that improves voltage regulation (during crossload). There are other brands with such solutions, but Rosewill included well chosen components as well.
ATNG is the ODM behind the Fortress line and there are many similarities to the Golden Green series from Super Flower, but there are some differences as well. ATNG (under the direction of Rosewill) implemented the important safety functions as well (except OCP). The 7-year warranty from Rosewill is another welcome feature, though manufactureres often offer 7-year warranties for such high-priced products. In terms of pricing, Newegg currently lists the 450W model at $90, with the 550W model going for $100, the 650W is at $110, and the 750W unit costs $130. It's nice to see reasonable steps up in output without a huge jump in price, though the 450W model should be enough for all but the most demanding users (e.g. dual or multiple GPUs with heavy overclocking).
The six SATA connectors via two cables and five Molex plugs on the Fortress 450W are good for the target market. There are more than enough connectors to build a PC with several HDDs/SSDs and other peripheral devices. There's also the standard 24-pin and a 4/8-pin connectors for the mainboard. Graphics cards can be powered by the two 8-pin connectors, both of which can be converted to 6-pin connectors. In addition the cable lengths are generally good and longer than many other lower wattage PSUs, which makes the Fortress a better fit for systems where the PSU is bottom-mounted. Finally you get the usual set of accessories (power cord, screws).
All the modern Rosewill PSUs we've tested have had no problems with ripple and noise, and that trend continues here. +12V is always below 50mV (120mV is the ATX limit) while the other rails are even lower. The voltage regulation is great too. In addition, the power factor is very high, even on 230VAC. Another advantage is the high efficiency even at 10% load. While the Fortress is audible at high loads, the fan isn't loud relative to other components. In a typical PC with a closed case, this PSU will be quieter than most CPU, GPU, and chipset fans. If you're after absolute silence, the Seasonic's X-400FL will be the better choice, but most users will be quite happy with this solution. Only the bearing type is a real point of criticism since we detected some side noises; we prefer FDB (Fluid Dynamic Bearing) fans.
The power supply certainly doesn't come cheap (at around $90 right now), but the Rosewill Fortress 450W is currently one of the most advanced consumer power supply available. It offers exceptional efficiency, voltage regulation, temperatures, and has a very good build quality. It doesn't necessarily surpass the competition in every area (ripple/noise is "just" average), but it's always at the top of the charts. We definitely look forward to seeing more Rosewill products like this in the future, as this PSU is perfect for gamers with moderate GPUs.
The Seasonic X-460FL is a viable alternative if you want a completely silent PSU, but $140 is a heavy price to pay. As usual, you'll have to decide which features are the most important. Antec is another strong competitor since they offer a Platinum PSU for roughly the same price (currently $10 more, though prices can easily fluctuate that much and more). Nevertheless they use fans made by Yate Loon and we don't welcome this decision. Overall we rate Rosewill's Fortress line slightly better than Antec's EarthWatts Platinum PSUs.
Despite all the good elements, in our view Rosewill's affordable Capstone Gold models still look like the best option. In some cases they even surpass the new Fortress series with lower ripple results, and prices are $20 to $30 less than the Fortress equivalents, with the option to get modular cables if you prefer. The extra 2% in efficiency just doesn't seem worth the price.