Original Link: http://www.anandtech.com/show/6158/the-archos-101-xs-review


When Apple and Samsung were just in the planning stages of their respective tablets, Archos was already knee deep in it. Android was still just an idea Andy Rubin hadn't quite fully fleshed out, when Archos introduced the Archos 5, a 3G equipped Portable Media Player with a browser and the kind of codec support that many of today's popular tablets can't match. Tablets seemed like a logical next step for Android, and rumors of an iOS tablet had been brewing since before the iPhone, but it was Archos that made some of the earliest moves into this space. All this to say, minimal market penetration not withstanding, Archos deserves attention because of their longevity and persistence.
We looked at the Archos G9 Turbo devices just a few months ago, and came away . . . impressed. Lofty promises of being "the world's fastest tablets" haunted Archos to some extent, because the claims were made about a SKU that would take a nearly 8 months to finally see the light of day. In the interim, NVIDIA released its Tegra 3 SoC, in the ASUS Transformer Prime, and brought quad-core tablets into the conversation. We couldn't quibble too much with Archos claims, though. Through some impressive refinement of the software, their two 1.5 GHz A9 cores were able to outperform almost every other Android tablet on the market, and even the aging SGX540 accompanying those cores found it still had legs (once it was properly clocked). While Archos had gotten the hardware and software right, they'd not done so well in design. The G9s were pedestrian at best. Dark grey, large bezels, plump and plain, these weren't going to ever be described as pretty. Two out of three ain't bad, and with pricing that undercut much of the competition, at the expense of refinement, it wasn't hard to recommend to the media hungry tablet buyer.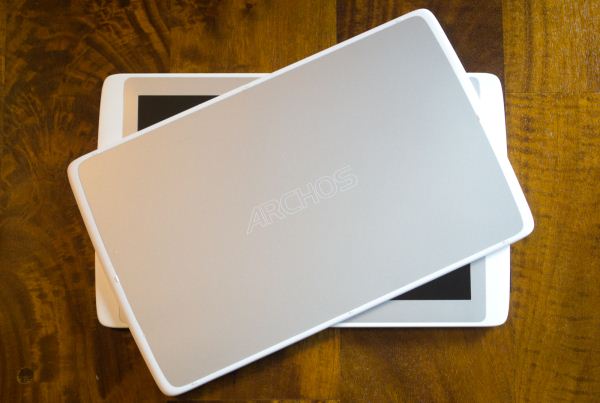 Solid internals, and software gets you most of the way there, but what do you do for the follow up? In Archos case they made it prettier. Say hello, to the Archos 101 XS. The entire product line will be referred to as the Gen10 XS, reminding us that this is the 10th generation of Archos tablets. I almost prefer 'Gen10' as a brand than the XS moniker. That said, those two letters do an effective job of describing the new tablets in a few different ways. We'll start with the most obvious one. Where the G9 was drab and chunky, the XS (think Extra Small) is svelte and much more stylish. The silver on white body is attractive and though not unibody or made from some exotic 'polycarbonate' the fact that it's a matte plastic feels much better to the touch than glossy plastics. The silver trim feels a bit cheaper than the white body, and scratched a bit before I could even get glamour shots done (from what I'm not sure). The design is a great advance over the G9s, and a satisfying departure from the staid designs that generally make it to market. Now, if something could have been done about those bezels.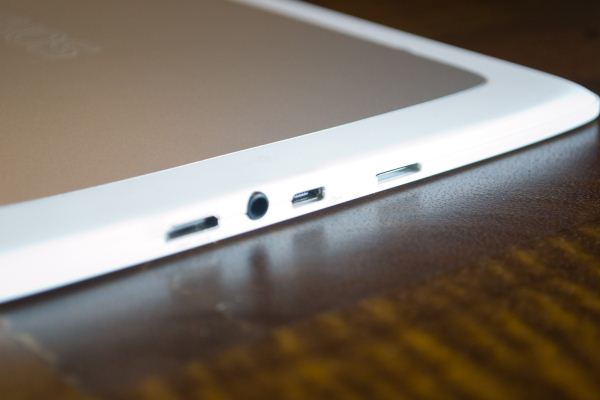 The assortment of ports on the device is mostly unchanged, the left featuring the bulk of it with microUSB (for data and power), audio, miniHDMI and microSD card access. That microSD slot is a bit tricky; a large enough gap exists around the slot itself so that a careless user could actually slip the SD card between the frame and the body of the reader (yeah, that happened). The power button and activity LED now join the volume button on the right side of the device, and both buttons are quite a bit thinner than their forbears, and a bit squishy for that. The top of the device remains bare, and the back is featureless, which means both the USB slot for the optional 3G stick is gone, as is the kickstand. The bottom now has a set of pogo pins and a couple of magnets, more on those later. The front facing and lone camera remains to the left of the screen along with the mic, while to the right is the single speaker.
ASUS Tablet Specification Comparison
Archos 101 XS
ASUS Transformer Pad 300 Series
Samsung Galaxy Tab 2 10.1
ASUS Nexus 7
Dimensions

273 x 170 x 7.9mm

263 x 180.8 x 9.9mm
256.6 x 175.3 x 9.7mm
198.5 x 120 x 10.45mm
Chassis
Plastic
Plastic
Plastic
Plastic + Rubber back
Display
10.1-inch 1280 x 800 MVA
10.1-inch 1280 x 800 IPS
10.1-inch 1280 x 800 PLS
7" 1280 x 800 IPS
Weight
600g
635g
580.6g
340g
Processor

1.5GHz TI OMAP 4470 (2 x Cortex A9)

NVIDIA Tegra 3 (T30L - 4 x Cortex A9)

1.0GHz TI OMAP 4430 (2 x Cortex A9)
1.3 GHz NVIDIA Tegra 3 (T30L - 4 x Cortex A9)
Memory
1GB
1GB
1GB
1 GB
Storage
16GB + microSD slot
16GB/32GB + microSD slot
16GB + microSD slot
8 GB / 16 GB
Battery
25Whr
22Whr
26Whr
16 Whr
Pricing
$399
$379/$399
$399
$199/$249
When it hits retail, in mid-September, the XS will come in at $399, including a keyboard case we'll talk about later. This is a pretty decent amount of kit for a pretty reasonable amount of money. At that price it's competing with the still available iPad 2, Samsung's Galaxy Tab 2 10.1" and the ASUS Transformer Pad TF300. We haven't run the Tab 2 through the ringer, but it shares internals with the inexplicably expensive Motorola Xyboard, so we'll consider it in the Tab 2's stead. So, that's how it looks and how it fits in the market, let's see how it performs.
Display
We'll start with that most vital of tablet components, the display. We had a chance to chat with Archos ahead of this review to nail down some details about the new line. Seems that they still had several of that same 10.1" 1280x800 MVA panel, so we're actually seeing the same display as in the G9s. We weren't entirely dissatisfied with the G9 displays, though we did experience some poor contrast and odd viewing angles in the 101 G9 Turbo. The backlight seemed to be at fault in the contrast issue, but MVA panels should have good viewing angles so the imperfect ones we were seeing were surprising. In the XS both issues seem to have been resolved, and I suspect that has something to do with a different touch layer and backlight.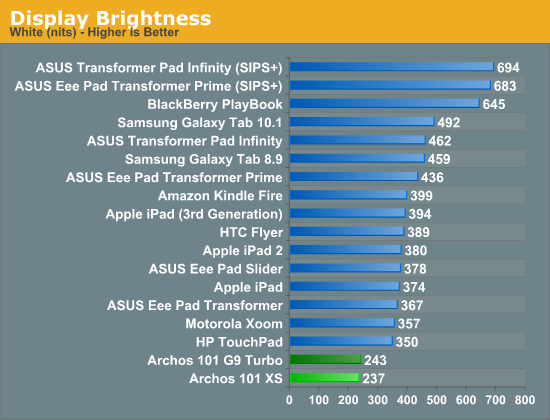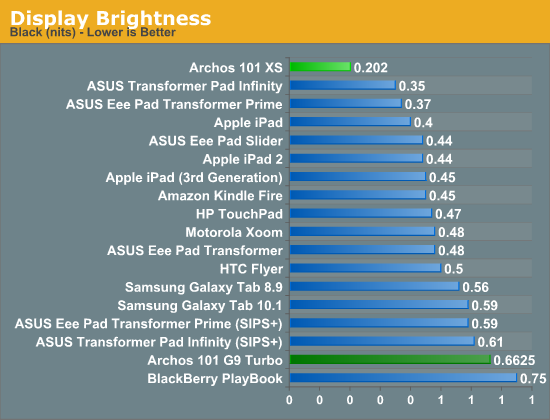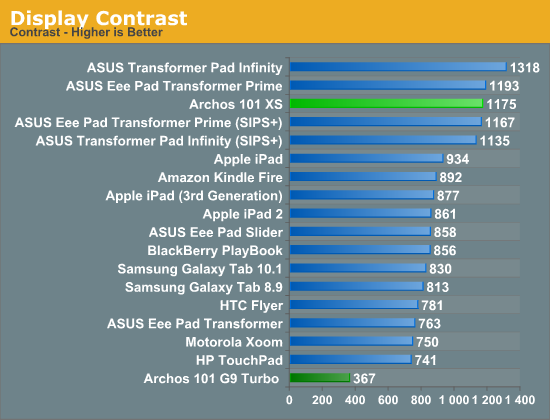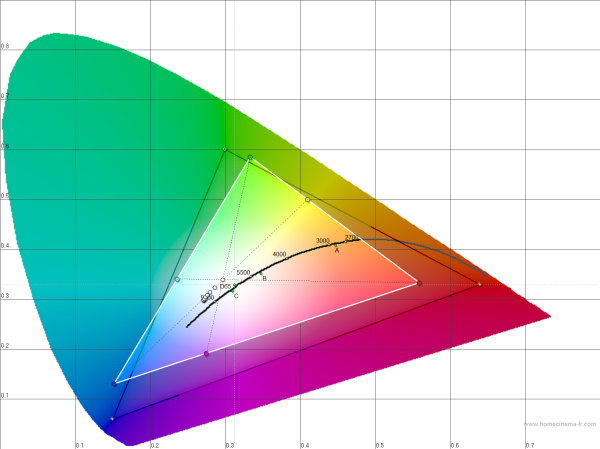 The rest of the results aren't far off from the prior generations displays. MVA panels sacrifice brightness for good black levels and contrast. Color reproduction takes a pretty significant hit, though it's unclear if that can't be chocked up to software. Like the G9s then, this will suffice for watching a movie or playing a game inside, but take it outside and things could get pretty rough.
Keyboard and Accessories
The G9 Turbos hadn't yet launched when we started hearing about Archos impossibly thin next-generation tablets, which would be a Transformer competitor with an ultra-thin keyboard dock. This, it turns out was a pretty solid rumor. I question though the validity that this is a true Transformer competitor. The Transformer's dock creates a clamshell style device, effectively a netbook, and benefits from additional connectivity and an additional battery inside the dock. The Archos 101 XS draws from countless "keyboard cases" for the iPad and other tablets; a thin, flat keyboard with concealed magnets that match with magnets within the XS to cover the front of the device, and a mechanism for docking the XS when in use. The keyboard weighs almost nothing so there's no weight penalty for carrying it around, but at the expense of an auxiliary battery.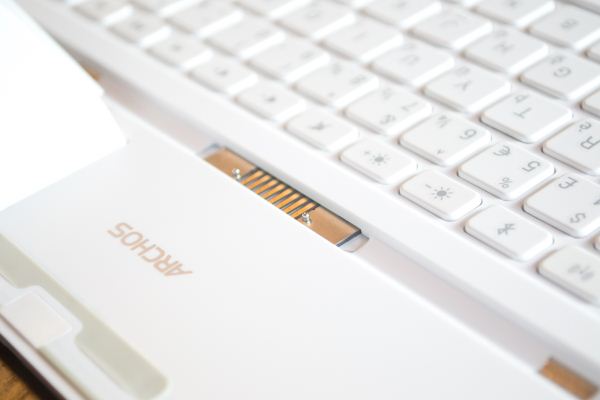 I've got thick fingers and have never been content with anything but a standard full-sized keyboard, so I'm honestly just a poor judge of how comfortable it is to type with the XS keyboard. The keys are slightly smaller than your standard chiclet keyboard, and though the travel distance is sufficient, they feel a bit soft; it's hard to tell when you've actuated the key. An assortment of Android specific keys line the top and bottom rows, and the bottom right of the device suffers some crowding in order to fit in the directional keys. The abbreviated right shift key was particularly irksome, as I consistently moved the cursor up mid sentence. After a few hours of use, I was able to get a fair amount of writing done on the keyboard, but given the option, I'd just as soon use my laptop.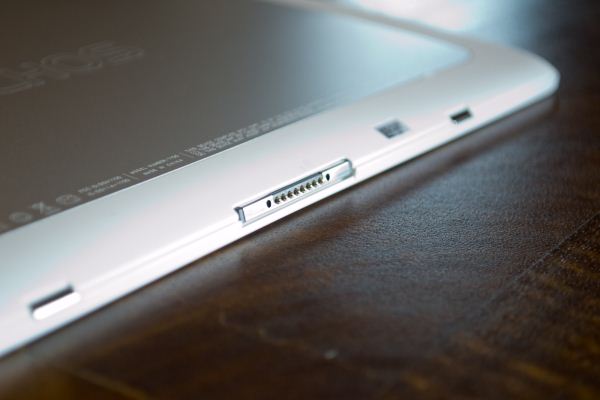 The pogo pins on the XS and the exposed magnets line-up with a similar set on the keyboard dock, but the rather flat dock uses a dual-hinged flap, equipped with its own magnet, to keep the XS upright. Moving the point of contact of the flap up and down along the back of the XS gives you some control of the angle of the device, but not much. Set the XS too far back, and the pogo pins lose contact and you have to reseat the device. Weight becomes an issue, too. Though the XS is quite light, it is still much heavier than the dock, so the combination is top heavy and sits precariously on a lap.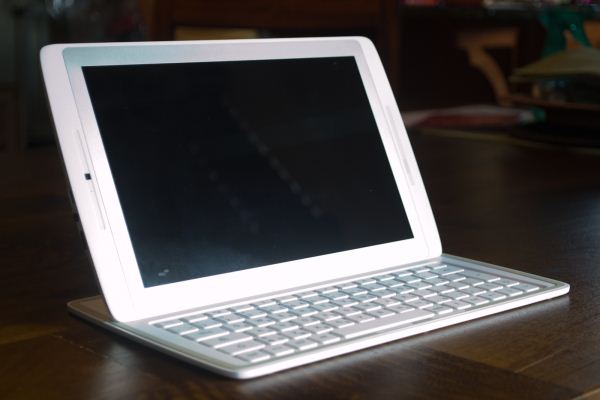 Fans of Archos are no doubt saddened at the loss of their beloved kickstand, but fear not. There are two other accessories planned for release not long after the XS debuts. Both will utilize the pogo pins on the bottom of the device, and take the form of media stands. The first is a complete solution with speakers while the other will be similar but with an audio out so users can connect their own speakers. I expected that Archos wouldn't sacrifice the kickstand without offering something in return; and as someone that's been known to watch streaming content on a tablet as I move from room to room in my house, the concept of having a few well placed docks scattered around the house seems perfectly plausible.
Peformance
Archos has backed off the "World's Fastest" claims of the marketing for the G9 Turbos for this campaign. If they'd made the claim again there'd be some evidence to suggest it wouldn't be too far afield. We may not have had high hopes for the OMAP 4470 as a performance part, seeing it more as a place holder for Windows RT until an OMAP 5 part was ready, but it turns out it can be a bit of a scorcher.
At this point, we've covered OMAP 4 for what seems like an absurdly long time. Indeed, it's been over a year since Brian published this, an architectural overview of the OMAP 4470 we're looking at today. TI has long been a proponent of the idea of nestling a low-power core alongside a more powerful core, and we've actually seen this throughout the OMAP 4 series. Alongside each ARM Cortex-A9 core is a Cortex-M3 core, which provides a site for certain low level code to be processed without loading the A9s. TI sees this as a power savings opportunity. In OMAP 4470 they took this same idea and applied it to their GPU. Included alongside the SGX544 (a significant upgrade over the SGX540 that preceded it) is what they've dubbed their Composition GPU (CGPU). As the name implies, this lower power hardware is devoted to 2D composition, allowing the GPU to remain mostly idle when, say, you're flipping through home screens. Here TI's not just claiming a power savings, but also touting the ability of the CGPU to perform certain 2D operations faster than the GPU, netting a performance gain.
Archos has worked to tweak their Android build to perform as well as they could, and have leveraged all that TI's silicon has to offer. Has all that hard work paid off?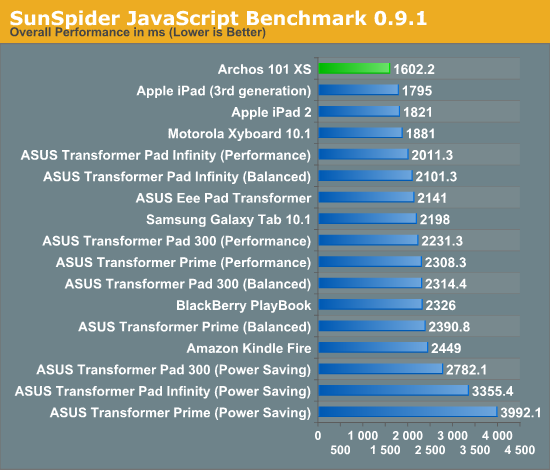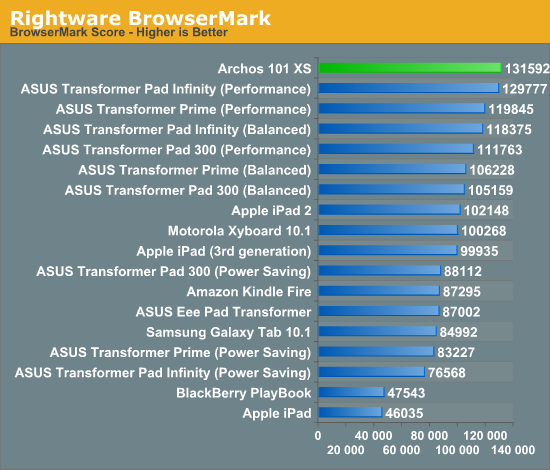 Browser performance is chart topping, beating both the new iPad and the lot of Tegra 3-equipped Transformers. I've always been a bit frustrated with browser performance test, their results on similar hardware have such a tendency to vary as to make me believe the results are contrived by the OEM. But that's typically when a device bests the rest in a single benchmark, while it languishes in the other. That doesn't seem to be the case here.
But what about that GPU? Let's take a look at a chart so old, I can hardly bear it.
Mobile SoC GPU Comparison
Adreno 225
PowerVR SGX 540
PowerVR SGX 544
PowerVR SGX 543MP2
Mali-400 MP4
GeForce ULP
Kal-El GeForce
SIMD Name
-
USSE
USSE2
USSE2
Core
Core
Core
# of SIMDs
8
4
4
8
4 + 1
8
12
MADs per SIMD
4
2
4
4
4 / 2
1
1
Total MADs
32
8
16
32
18
8
12
GFLOPS @ 200MHz
12.8 GFLOPS
3.2 GFLOPS
6.4 GFLOPS
12.8 GFLOPS
7.2 GFLOPS
3.2 GFLOPS
4.8 GFLOPS
GFLOPS @ 300MHz
19.2 GFLOPS
4.8 GFLOPS
9.6 GFLOPS
19.2 GFLOPS
10.8 GFLOPS
4.8 GFLOPS
7.2 GFLOPS
The SGX544 is effectively half of the GPU we saw in the iPad 2, the only difference between the SGX543 and 544 being Direct X designations. GPU clocks in the iPad 2 were far more conservative, though, than the 384 MHz we see in OMAP 4470. When Brian looked over TI's claims he found some rationale for their claim that their SGX544 performance would be 2.5x the SGX540 it replaces. As it turns out, that's almost exactly the case in some of our tests.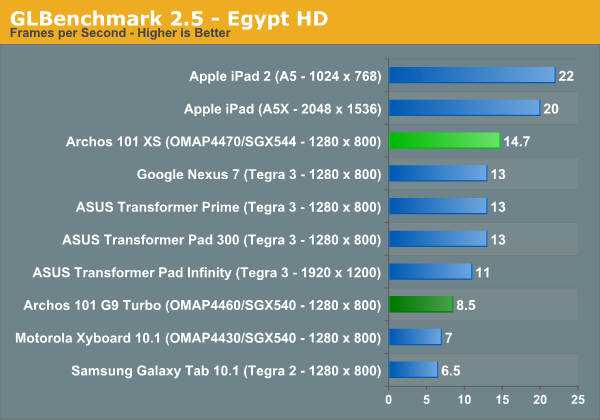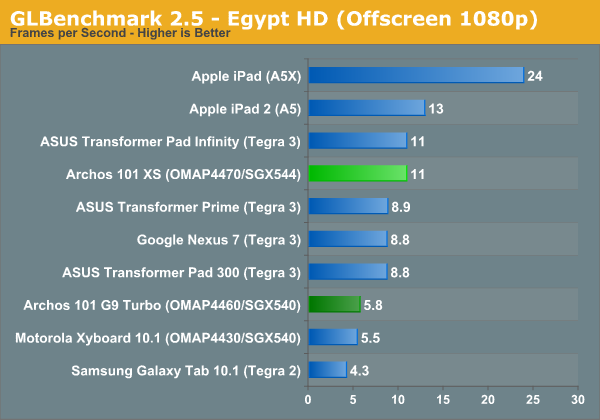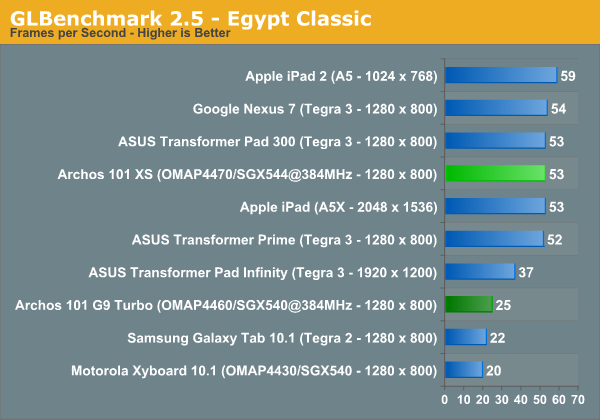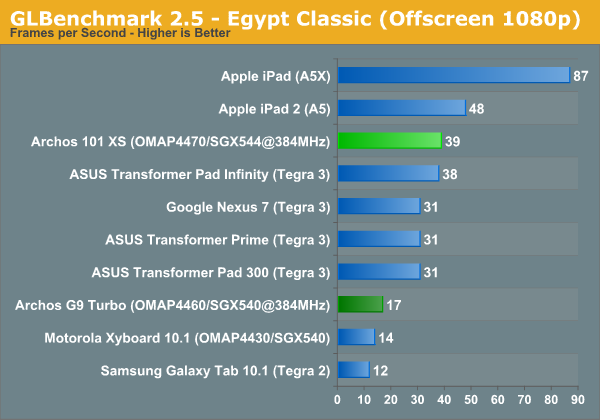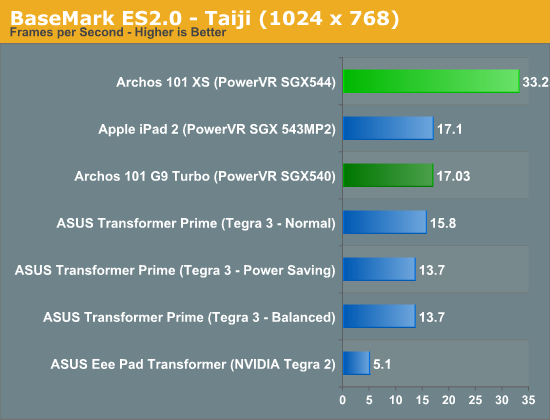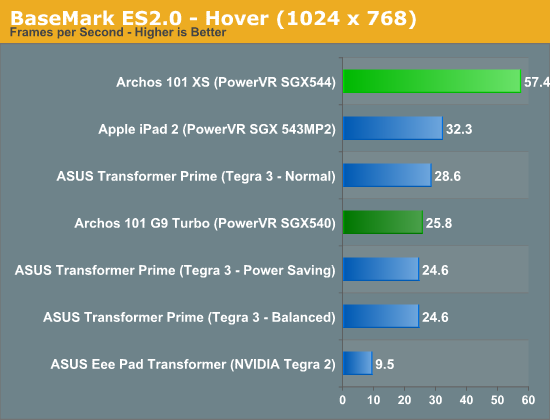 Where the G9s weren't able to rise above the pack in some of our tougher GPU tests, the XS stays firmly planted at or near the top of all of our GPU tests. And despite being a single core to the iPad 2's dual core GPU the ~12.3 GFLOPS bestowed on this SGX544 keeps it competitive with the iPad 2, particularly in the off-screen tests.
When Apple debuted the A5 they set the mold for future mobile SoCs, where a big GPU, complimented by hardware accelerated UI composition, would be integral to a great user experience. Samsung seemed to have picked up on this idea, packing the impressive Mali-400 MP4 into its Exynos 4xxx offerings. Qualcomm and TI have been a little later to this game, ramping up clockspeeds and doing some minor architectural tweaks to eke out as much performance as they could out of their last gen GPU architectures, Adreno 2xx and SGX54x, respectively. The good news is that each has been able to get quite a lot out of these older parts; the bad news is that a lot more power is right around the corner. So while the XS GPU performance is chart topping, that status is likely to be short-lived. But does it really matter?
Within the PC space the Atom and Core 2 era of processors defined a 'good enough' standard that persists somewhat to this day. While there are certainly performance and feature gains in a modern Core i5 to justify upgrading from a Core 2 era CPU, for the vast majority of users, a decent Core 2 will be enough; and some may even do fine with an Atom based system. We seem to be reaching this inflection point in the tablet space. The real world difference between two given Android devices has more to do with the software than the actual hardware inside. If you don't believe me, go find an International SGS III variant, with Samsung's cutting edge and stonking Exnos 4 Quad inside, and compare it alongside a Galaxy Nexus running Jelly Bean. The latest edition of Android pushes the relatively modestly powered Nexus well past the quad-core SGS III where it matters most, smooth UI performance. And while the beefier GPU and extra cores may help the Exynos 4 Quad when resolutions climb past 720p, it's memory bandwidth that's the real bottle neck there today, so the advantage won't be fully realized until Android sees a SoC that focuses on that issue, a la Apple's A5X.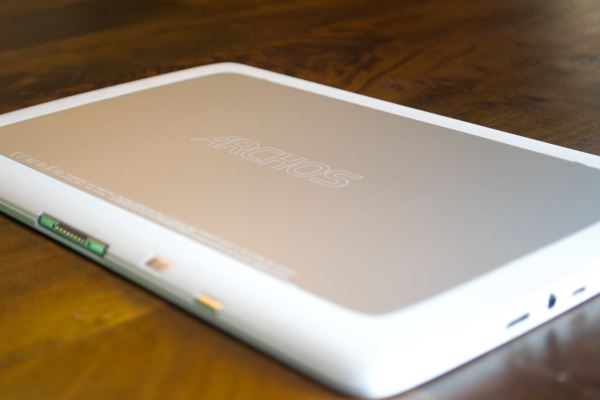 What Archos has done is, I believe, set the bar past 'good enough,' and planted it firmly in the performance realm. Truth be told, we weren't expecting much from the OMAP 4470; it just felt antiquated by technology standards. But solid hardware and a focused approach in software to draw out as much performance as the silicon would allow has very nearly won the 101 XS the title of World's Fastest. It's certainly far in excess of our expectations.
Software
Archos has taken an approach to software development that has favored performance by leveraging every hardware advantage possible, and ignoring the urge to muddy the UI with their own skins and widgets. This we knew from their G9s and that persists in the XS. During our interviews with the Archos team leading up to our G9 reviews we also learned that they were committed to maintaining software parity with the G9s even well after successor devices had been released. The release of Jelly Bean has put that promise in a bit of jeopardy but, what we do know is that Archos will still aim for software feature parity across the two lines. That's not to say they aren't going to try to get Jelly Bean onto the G9s, simply that their first priority must be to get Jelly Bean optimized for the XS, and then they'll set their resources onto the G9 build.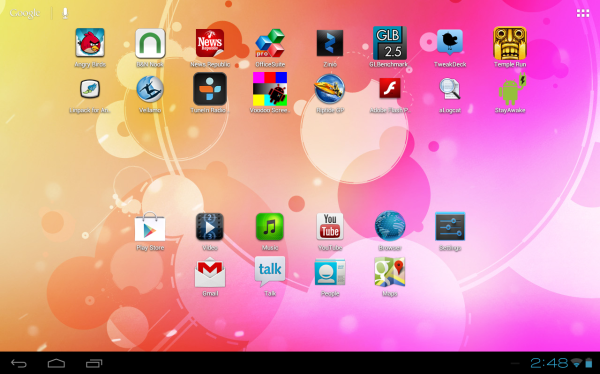 I'm hopeful, though. The decision to remain on OMAP 4 has the benefit of being able to use unified source code from which the G9 and XS firmwares are derived. So, once the XS Jelly Bean build is completed, the delta from that to a G9 optimized version of Jelly Bean is much smaller than if the two devices were running entirely different architectures. But even if Jelly Bean doesn't make an appearance on the G9, Archos remains committed to bringing any optimizations from their Jelly Bean source that could benefit the G9 over to their ICS builds.
As to when that Jelly Bean build for the XS is going to happen . . . Well, it's not clear, but Archos is hopeful that it could be sometime this fall, which is pretty aggressive considering how late in the summer the XS is being released. As soon as we have an update from Archos on that we'll pass it on.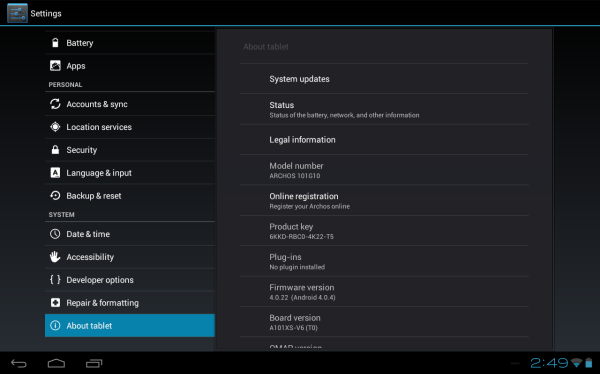 As far as this ICS build, well, it is actually a pre-release build and in some ways that shows. Archos has been dinged in the past for some issues with touch performance, and that seems to persist. There's a significant component of that issue which is due to the hardware, but with the hardware finalized the only way to see any improvement in it is through software updates. Otherwise the UI and software is just like the current firmware for the G9s, with a stock UI and a custom media suite. The massive codec support that impressed us in the G9 remains intact, though that support does not extend to the stock player, only Archos 's own player. This does lead to some curious issues where a particular file won't play on the Archos player, but plays just fine under the stock player. We're not sure why the disparity, but so far we haven't run into a common codec combination that wouldn't play in either player, so most of your ripped content should playback just fine.
Battery Life
The bulk of the volume and weight of a given tablet is usually the battery. This is certainly true for the Archos 101 XS, whose slim frame is filled with a 25 Whr battery, matching the Transformer Prime, and nearly 10 Whr bigger than the Nexus 7. Like performance, though, battery life owes as much to the software, as it does to the hardware.
Our first test is typically the web browsing test, which cycles through 20 common webpages and tries to foil any caching strategies too ensure that the appropriate radios are activating. Unfortunately, with this pre-release software we encountered some browser instability during testing. We didn't have any issues with the browser during day to day use, and we'll update the review once we have a software build that resolves this issue. So, we'll move on.
The 3D Gaming test is a new one, but one that should give an accurate estimation of the amount of time you can expect to spend playing an graphics intensive game on a given tablet. And things don't look great for the 101 XS. The OMAP 4470 remains a 45 nm part, so there's no rewards netted over the prior generation Archos tablets from a process switch. The SGX544 not only retains the higher clock speeds of the SGX540 in the OMAP 4460 (384 Mhz) but it also adds components, so the resulting increase in performance comes at the cost of playtime. It's not necessarily a bad trade off, as performance is significantly better.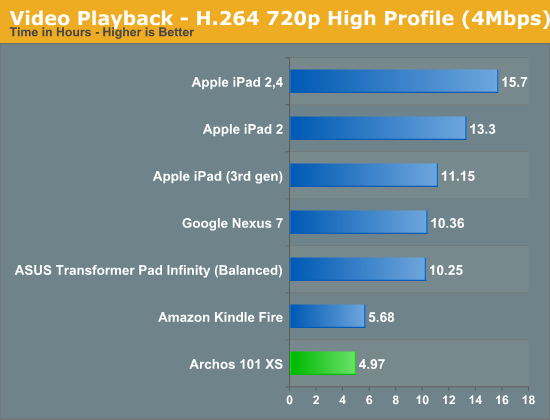 Our video rundown test has been updated, and involves the simple act of looping a movie with the brightness set to 200 nits. In talking to Archos, their testing put this test in the vicinity of 6+ hours; the difference being that they test at 150 nits of brightness to our 200 nits. The bright side of their result is that there are power savings to be gained in lowering the brightness if you can stand it. Otherwise, keep a charger handy.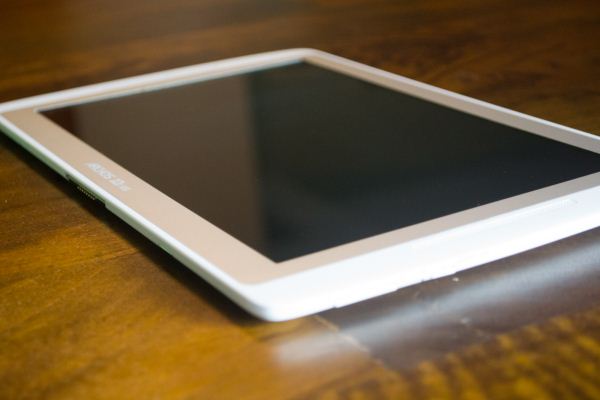 It's notable that several of the tablets in these charts have 10.1" displays backed by ~25 Whr batteries, so this isn't an issue of battery size. Archos has squeezed a lot of battery into a thin frame. The component power cost is just too high. The display may be inefficient, or the SoC not so quick to spool down, but the video test may point to a bigger issue. Like most modern SoCs TI's OMAP 4 architecture includes explicit video decode IP so that no AP or GPU cycles are used for video playback. The AP and GPU may remain active to handle background tasks or draw UI components for the video player, but even some of that should be handled by the low-power Cortex-M3 cores and the Composition GPU. It's likely that the aggressive governor set by Archos to ensure performance goals is keeping things spooled up a little more than necessary. ASUS' approach has been to offer user controllable governors, and it's an approach that could pay off for Archos, as well.
Conclusion
The Archos G9 Turbos weren't the easiest things to recommend. What made it somewhat easier were three factors: the software, the kickstand and the price. With the 101 G9 Turbo starting at just $329 MSRP, a stock and frequently updated Android build that provided more codec support than anything else we'd seen, and a kickstand to make that viewing ever easier, it was a no brainer for the video junkies. The new entrant, the Archos 101 XS, reaches a little further, at the expense of a few of its predecessors pluses. Gone is the optional HDD (making media storage effortless), and gone is the kickstand. The return on investment is vastly superior performance, and a much more stylish form factor. So, is the new contender worth it?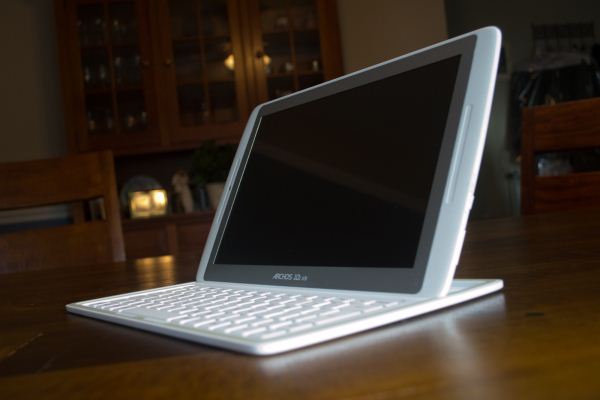 In a vacuum, the Archos 101 XS would be an easy recommendation over the last generation. Software support remains intact, and the loss of the HDD becomes less of an issue as more and more content is streamed, and the price of high capacity microSD cards continues to drop. Unfortunately for Archos, the tablet market is anything but a vacuum. Priced at $399, the 101 XS will top Archos' new Gen10 XS tablet line, and faces stiff competition from similarly priced tablets like the ASUS TF300, Samsung Galaxy Tab 2 and even the Snapdragon S4-based Lenovo IdeaPad S2110. Raw performance might favor the 101 XS in a lot of these tests, but the sacrifices to battery life may be too much for some.
Archos has been in the tablet market longer than Apple's been in the phone market. But in the consumer electronics space, first to market advantages can disappear in an instant. With performance that belies its last-gen SoC, the Archos 101 XS is a belting and attractive tablet. Easy to hold, slim, powerful and a perfect office or around the house companion. What it's not is a road warrior. Battery life isn't the whole competition, but its big enough that this contestant won't win the all around. If you are a media junkie that wants a clean Android build and codec support to beat the band, and you're not planning any long trips, the Archos 101 XS is a perfect fit. If longevity is a concern for you, then you'll be better served looking elsewhere.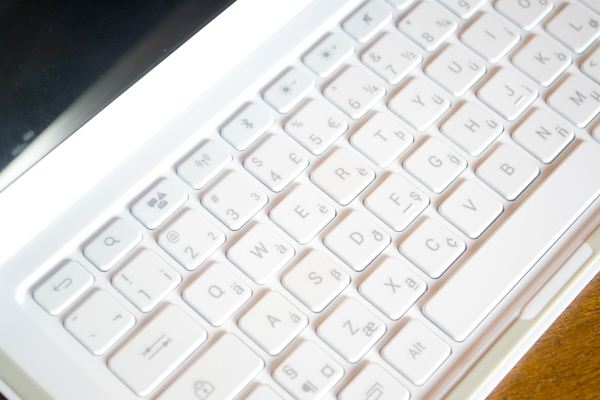 All hope's not lost for Archos and their fans though. The path they've begun to blaze with the G9s and now the XS is moving in exactly the right direction. I'm confident the 11th generation of Archos tablets will move them ever further along in battery life, display and build quality. Indeed, the fate of the 101 XS isn't so bad either; the Archos team will continue to churn out software updates and improve on what is already a great tablet.