Original Link: http://www.anandtech.com/show/6152/amd-announces-new-radeon-hd-7950-with-boost


August is not typically a busy time of the year for the GPU industry. But this is quickly turning out to be anything but a normal August. Between professional and consumer graphics cards we have a busy week ahead.
Kicking things off on the consumer side today, AMD is announcing that they will be releasing a new Radeon HD 7950 with higher clockspeeds. The new 7950, to be called the Radeon HD 7950, is a revised version of the existing 7950 that is receiving the same performance enhancements that the 7970 received back in June, which were the basis of the Radeon HD 7970 GHz Edition.
AMD GPU Specification Comparison
AMD Radeon HD 7970 GHz Edition
AMD Radeon HD 7970
AMD Radeon HD 7950 (w/Boost)
AMD Radeon HD 7950
Stream Processors
2048
2048
1792
1792
Texture Units
128
128
112
112
ROPs
32
32
32
32
Core Clock
1000MHz
925MHz
850MHz
800MHz
Boost Clock
1050MHz
N/A
925MHz
N/A
Memory Clock
6GHz GDDR5
5.5GHz GDDR5
5GHz GDDR5
5GHz GDDR5
Memory Bus Width
384-bit
384-bit
384-bit
384-bit
VRAM
3GB
3GB
3GB
3GB
FP64
1/4
1/4
1/4
1/4
Transistor Count
4.31B
4.31B
4.31B
4.31B
PowerTune Limit
250W+
250W
225W
200W
Manufacturing Process
TSMC 28nm
TSMC 28nm
TSMC 28nm
TSMC 28nm
Architecture
GCN
GCN
GCN
GCN
Launch Date
06/22/2012
01/09/2012
08/17/2012
01/31/2012
Launch Price
$499
$549
$329
$449
Diving right into things, the new 7950 – which we're going to call the 7950B for lack of a distinct official name – is a performance enhanced part based on the same process that AMD used to create the Radeon HD 7970 GHz Edition. Like the 7970GE, AMD is doing two things here for the 7950B: they're increasing the base clockspeed, and they're also introducing their GPU turbo boost functionality to potentially push clockspeeds higher.
With these enhancements the clockspeeds for the 7950B will be 850MHz for the base clock, 925MHz for the boost clock, and the memory clock is kept at 5GHz. As a result the GPU clockspeed difference is anywhere between 50MHz (6%) at its base and 125MHz (16%) at the highest boost clock. Because only the core clock is changing, the performance difference between the 7950 and 7950B will be heavily dependent on whether the game/application at hand is GPU limited; heavily GPU limited tasks (that can stay within the power limits) will benefit the most, while memory bandwidth limited or CPU limited tasks may not benefit at all.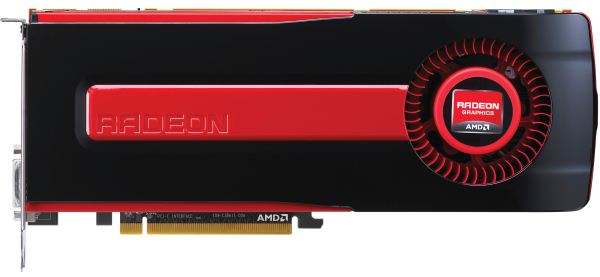 So how is AMD pulling this off? We've already covered AMD's PowerTune Technology With Boost (PT Boost) in depth with the 7970GE review, but in case you missed it, here's a quick refresher. At its most basic level, PT is a combination of BIOS and Catalyst driver changes that allow AMD to overdrive the GPU when conditions permit. In practice PT Boost is very similar to NVIDIA's GPU Boost. Both technologies are based around the concept of a base clock (or engine clock in AMD's terminology) with a set voltage, and then one or more boost bins with an associated voltage that the GPU can move to as power/thermal conditions permit. In essence PT Boost allows suitably equipped cards to overvolt and overclock themselves to a limited degree.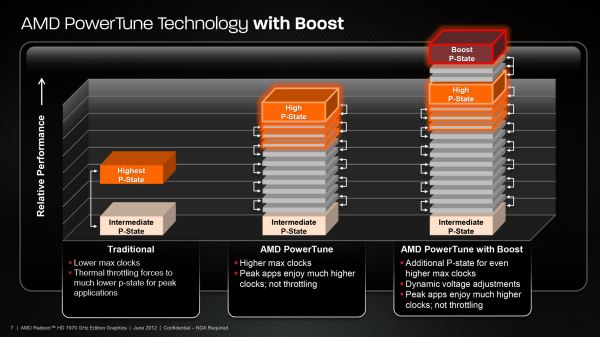 Under the hood, the current incarnation of PT Boost is primarily designed to take advantage of AMD's previously conservative specifications for the Radeon HD 7950. In implementing their PowerTune technology, AMD opted to base their power consumption calculations around the worst case scenario for leakage, thereby ensuring no card ever exceeded its designated PowerTune limit at an opportunity cost of having not maximized performance. PT Boost effectively inverses this methodology, implementing a Digital Temperate Estimation (DTE) algorithm to determine the real leakage at any given time. By accurately estimating a GPU's leakage AMD can push the GPU closer to its limits, thereby maximizing its performance. The tradeoff of course is that real power consumption will increase, as AMD's cards are now eating into what was previously a large power buffer.
Moving on, since PT Boost was designed against AMD's existing hardware, AMD and their partners have been taking advantage of this design choice by deploying it on existing 7900 series hardware. Just as how the 7970GE was built on existing 7970 board designs, the 7950B specs are intended to be deployed as an upgrade for existing 7950 designs. As with the 7970GE, the real change here is that AMD is qualifying their GPUs to operate at higher voltage/clockspeed combinations. For our converted reference card the new base voltage is 1.125v for 850MHz, up from 1.093v for 800MHz on the original 7950. Meanwhile the boost voltage goes much higher, with AMD using a rather high 1.25v for the 925MHz boost clock. In fact this ends up being the highest voltage a reference Tahiti card operates at, as even the reference 7970GE only used 1.218v.
Radeon HD 7950 Series Voltages
Ref 7970B Base Voltage
Ref 7950B Boost Voltage
Ref 7950 Base Voltage
1.125v
1.25v
1.093v
These numbers paint an interesting picture, albeit not one that is particularly rosy. For the 7970 AMD was already working with top bin Tahiti GPUs, so to make a 7970GE they just needed to apply a bit more voltage and call it a day. The 7950 on the other hand is largely composed of salvaged GPUs that failed to meet 7970 specifications. GPUs that failed due to damaged units aren't such a big problem here, but GPUs that failed to meet clockspeed targets are another matter. As a result of the fact that AMD is working with salvaged GPUs, AMD has to apply a lot more voltage to a 7950 to guarantee that those poorly clocking GPUs will correctly hit the 925MHz boost clock.
With that in mind however, all of this appears to be a calculated risk on AMD's part. The reality of AMD's situation is that Tahiti can't compete with GK104's power efficiency. Tahiti is a clearly superior GPU for compute purposes, but when it comes to gaming AMD and NVIDIA's best products are virtually tied in performance, a matchup that leaves NVIDIA holding the smaller, lower power GPU. So what is AMD to do in such a situation? If the 7970GE didn't make it obvious, the 7950B does: forgo all pretense of power efficiency and focus on performance-per-dollar.
With both the 7970GE and 7950B AMD has notably increased their power consumption. We'll take a look at the numbers in-depth in a bit, but the important change is that based on our data the 7950B is now drawing more power than the GTX 680. This isn't necessarily a bad tradeoff – after all everyone likes more performance – but like all tradeoffs it does come with consequences. For the 7950B in particular, this means that the TDP has gone up from 200W for the 7950 to 225W for the 7950B.
Launch Details
This brings us to the deployment of the 7950B. As we mentioned before, these new specs are meant to be a drop-in upgrade for existing 7950 designs. Going forward, AMD is qualifying all 7950-class Tahiti GPUs for the new clockspeed/voltage combinations, and they have also qualified their reference PCB. So for partners building reference or semi-custom cards, they simply need to drop in the new BIOS, qualify their cooling solution for the slightly higher heat dissipation, and call it a day. Partners with fully-custom cards however will need to fully qualify their designs – the significance being that while any current 7950 design should be able to handle the higher clocks and power consumption, it's not in any way guaranteed. If any partners did go with a custom design that only met the bare minimum standards for a 7950, then that design might have trouble with the higher specs of the 7950B.
In any case, all of this will end up being quite important to AMD's partners and ultimately consumers because this isn't just a new product; it's a complete replacement for the 7950. Unlike the 7970GE, AMD won't be introducing this supercharged 7950 as a product separate from the existing 7950, but rather the 7950B will become the new 7950. With the drop-in nature of the upgrade, once they've qualified their designs partners will simply continue producing their existing cards with the 7950B BIOS while the old 7950 will fades away. These upgraded cards in turn will be sold as the Radeon HD 7950, and with the exception of any clockspeeds listed on the box will otherwise be identical to their predecessors.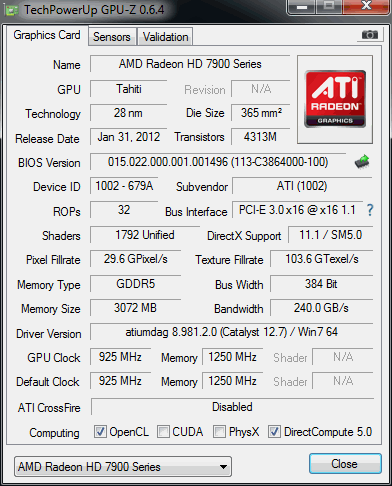 As for existing 7950 owners, because the 7950B hardware is identical to the original 7950 it's technically possible to backport this upgrade to existing cards in a manner similar to how some users have loaded the 7970GE BIOS on 7970s. However at this time it doesn't look like any of AMD's partners will be releasing the new BIOS as an officially supported upgrade. This is not wholly surprising given the fact that existing 7950 cards haven't been qualified for the new clockspeeds, so there's no real guarantee that they'll be able to handle it.
With no official support coming from partners, any upgrades will have to be done in an unofficial capacity. AMD is actually rather confident that most 7950s will be able to run at 7950B specs, so much so that rather than sampling new cards to the press they're just giving us the 7950B BIOS to convert our 7950 samples into 7950B samples. Furthermore they're also allowing us to post the 7950B BIOS, so that anyone else with a reference 7950 who wants to convert their card can go ahead and do so. It goes without saying that doing this will almost certainly void your warranty – and really most owners are going to be better off overclocking their 7950s the traditional way anyhow – but AMD is unofficially throwing this option out there for the owners that want to pursue it.
Thankfully 7950 reference cards come with a BIOS selection switch (the first time that has been of any real use on the 7900 series), so 7950 owners can always fall back to the locked BIOS if the BIOS flash fails or if they aren't happy with the results. Users with custom cards on the other hand are effectively stuck for the moment; not only is the new reference BIOS unlikely to work on custom cards, but most custom cards do not include BIOS switch, so the entire process is far more risky.
With all of that out of the way, we have now reached the customary point of our review where we have to once again chastise AMD for their increasingly poor product naming. Admittedly we're idealists here and we make no attempt to hide that, but this is unquestionably AMD's most intentionally confusing product launch yet. If they want to replace the 7950 with a faster card we're all for that… as long as they don't call it the 7950.
As we've already stated, thanks to the choice of product name there's going to be no easy way to tell apart old and new 7950 cards without looking at the specifications. And what of the fact that there is already 6 months' worth of 7950 cards in the wild with different specifications than the new 7950B? As always our worst fear here is that someone will buy a 7950 based on a 7950B review, meaning they won't get the card they think they're purchasing. More to the point, since when has it been a good idea or even reasonable to release two cards with the same product name?
Anyhow, to wrap things up let's discuss pricing. Since the 7950B will be quietly replacing the existing 7950, it will be doing so at the same prices as the existing 7950. This means 7950B cards should hit the market at between $300 and $350, depending on the partner and whether it's factory overclocked or not. As we'll see the performance gains aren't particularly great, so this is the best route for AMD to take regardless, but of course we're always fans of more performance for free.
As for availability, AMD is telling us that cards will be available for sale by this Friday, coinciding with the importance of this week. Specifically, PowerColor, HIS, and Sapphire are all expected to have cards available.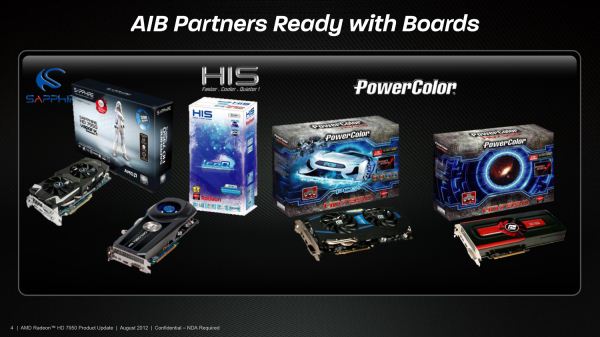 With that said however, because of AMD's past product launches we're left in an unfortunate position where we have to seriously question AMD's credibility when it comes to product availability. To be blunt, in the last couple of months AMD has had major execution problems. Specifically, despite being announced back in June, the 7750 900MHz still has not seen a proper launch, and to this day AMD is unable to give us a good explaination for why. Meanwhile the 7970GE was supposed to be available in late June only to miss that by over a month, with cards only becoming available in the last two weeks. Because of AMD's poor handling of those previous launches AMD's credibility is on the line here – if they're to maintain their credibility they can't afford to mess up a third product launch. We're definitely hoping for the best here, but right now all we can do is to wait and see what happens.
Based on these recent product launches and specifically how AMD is handling the 7950B, AMD is clearly flying by the seat of their pants here. And while that can work for a time there's always a great risk of what happens if those pants rip.
Update 08/17: It looks like the 7950B launch will come with a happy ending. As of today there are cards for sale on Newegg, just as AMD promissed. However of the 4 cards AMD initially told us would be shipping, only the basic PowerColor model is available - and unfortunately it's priced like a factory overclocked card ($349). Of all the possible outcomes where cards went up for sale on time, this is basically the bare minimum AMD could have done. But nevertheless it counts, so we're happy to see that AMD's credibility is upheld.
Performance, Power, Temperature, & Noise
Because the 7950B is not strictly a new SKU, and because the performance of the 7950B isn't very far ahead of the 7950, we're going to keep our look at the 7950B's performance relatively short. As always, if you want a complete breakdown of performance please see Bench, which has our complete results for the 7950B and over two dozen other cards.
Kicking things off, we wanted to start with a quick look at clockspeeds. Unfortunately AMD still hasn't come through on their promise to expose the precise clockspeeds of their Southern Islands cards, which means we're stuck looking at clockspeeds in a halfway blind manner. We cannot tell when PowerTune throttling has kicked in to push clockspeeds below 850MHz, and at the other end of the spectrum we cannot tell what PT Boost is doing when it's boosting. As a result we can only see two card states, the base state of 850MHz when the 7950B is operating at or below 850MHz, and the PT Boost state of 925MHz when the 7950B is operating at between 851MHz and 925MHz. Still, this is just enough information to piece something together.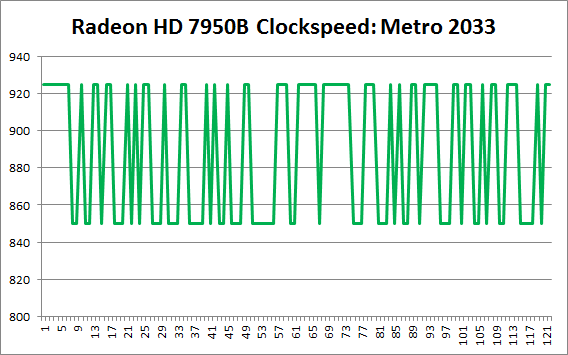 The above is a graph of clockspeeds when running Metro 2033 at 1920x1200, and it's virtually identical to what we see with other games. The 7950B fluctuates wildly between its base state and its boost state. This is not the kind of behavior we see from the 7970GE or for that matter NVIDIA's GTX 600 cards. This fluctuating behavior is unique to the 7950B.
So what's going on? As near as we can tell, the power requirements for boosting are so high that the 7950B simply cannot maintain that boost for any significant period of time. Almost as soon as the 7950B boosts needs to go back to its base state in order to keep power consumption in check. The culprit here appears to be the 7950B's very high boost voltage of 1.25v, which at 0.125v over the card's base voltage makes the boost state very expensive from a power standpoint. If our theory is correct then this means that the 7950B never gets very far past its base clockspeed, and compared to the 7970GE, PT Boost is almost entirely wasted here.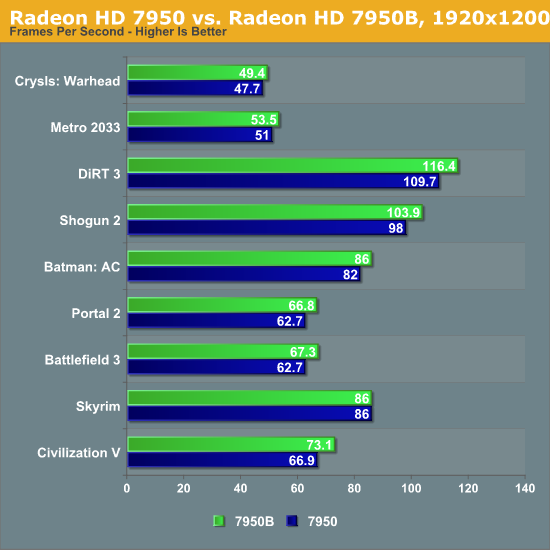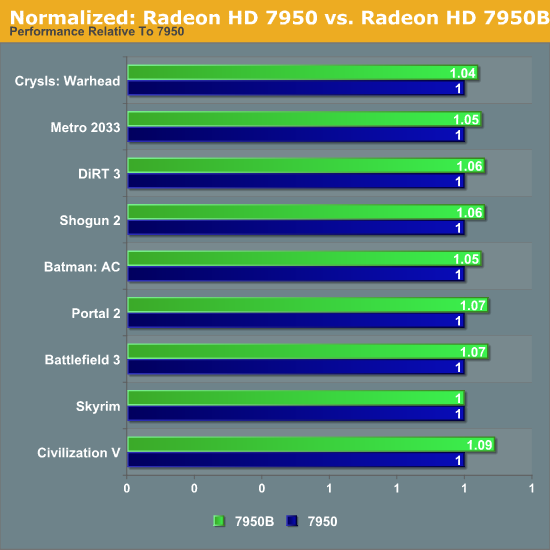 Looking at our performance charts, what we're seeing would seem to confirm our theory. Keeping in mind that the base clockspeed of the 7950B is 6.25% higher than the 7950, the only time we see a significant jump in performance beyond that is with Civilization 5, where performance increases by 9%. Otherwise performance increases by merely 4% in Crysis, up to 7% in Battlefield 3. Not counting Skyrim (which is CPU limited), we're looking at an average performance gain of just over 6%, which is very close to the increase in the base clockspeed relative to the 7950.
As we've stated before this is free performance and we're happy to take it, but at the end of the day 6% is not nearly enough to matter with the current competition. Until such a time where the competitive landscape changes, the 7950 will continue to be well behind its next-closest competitor, GTX 670.
Power, Temperature, & Noise
Bringing things to a close, we quickly wanted to break out power, temperature, and noise. As we've stated earlier, AMD is making a clear set of tradeoffs with the 7970GE and 7950B, forgoing power efficiency in the name of performance. We've seen the 6% performance boost the 7950B offers, but what exactly has the cost been?
Radeon HD 7950 Series Voltages
Ref 7970B Base Voltage
Ref 7950B Boost Voltage
Ref 7950 Base Voltage
1.125v
1.25v
1.093v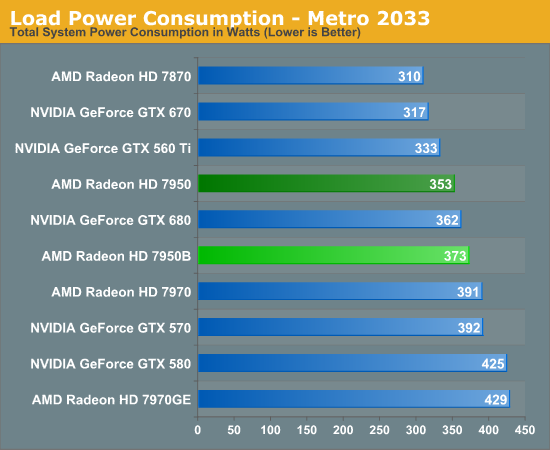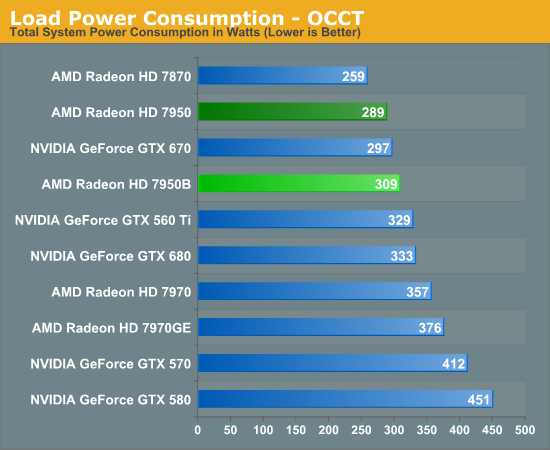 Starting as always with load power, we see that relative to the 7950, the 7950B's power consumption at the wall is 20W higher in both tests. This fits well with AMD's official specs, which have the TDP of the 7950B at 225W, versus 200W for the 7950. As a result of this power increase the 7950B draws more power than even the GTX 680 when it comes to Metro, though thanks to AMD's more rigorous throttling their power consumption still comes in below the GTX 680 under OCCT.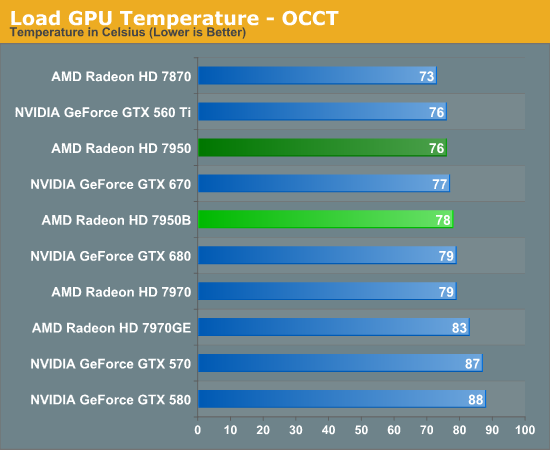 Moving on to load temperatures, it comes as no great surprise that with an increase in power consumption comes an increase in load temperatures. The 7950B still fares well here, staying below 80C in both tests, but the 4C jump in Metro is a bit more than we would have expected for only a 20W increase in power consumption.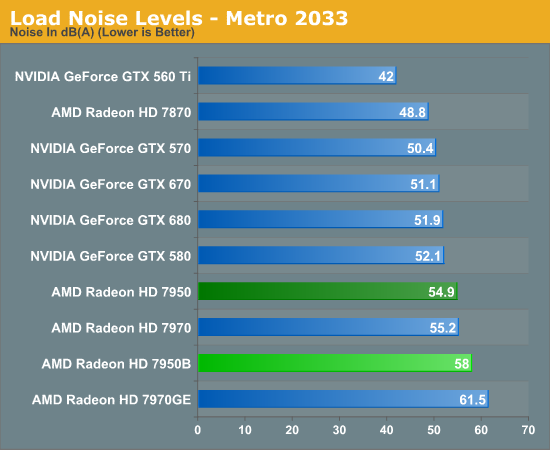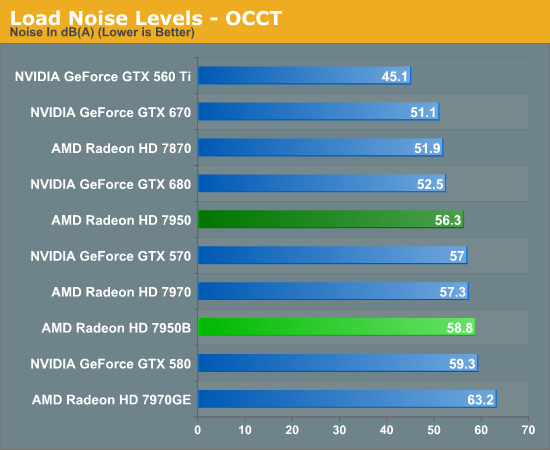 Last but not least we have our look at noise under load. Unfortunately the 7950B looks especially bad here, thanks to the more aggressive fan curve we typically see on 7950 cards. With both Metro and OCCT the 7950B is pushing 58dbA+, which is louder than even the better performing 7970. In fact all things considered this is quite a ridiculous amount of noise, the same problem the 7970GE had.
The good news is that the reference 7950 is rarely sold these days, but we have every reason to believe that aftermarket cards will see a similar jump in noise. There's no getting around the fact that 225W is a lot of heat to dissipate, especially for designs that weren't necessarily optimized around that level.
Wrapping things up, it's difficult to hold a favorable opinion of the 7950B given what we've seen so far. AMD may be putting all of their focus into performance-per-dollar, but that doesn't mean that performance-per-watt has suddenly stopped mattering. The 7950B's performance boost is free from a price perspective, but the tradeoff that comes with it is anything but. A 6% jump performance for a 10% increase in power consumption and notable rise in load noise will certainly be acceptable to some users, but it's difficult to argue that this is a good tradeoff overall.