Original Link: http://www.anandtech.com/show/6118/motorola-atrix-hd-review-fast-sharp-bargain


The Verizon Droid Incredible 4G LTE raised the question, is there room for a mid-range phone? As it turns out, there is, but the latest Incredible is not it. Too many compromises made some solid components into a less than capable whole. So, what happens when you stir the pot again and draw out a different brew? We've laid hands on the Atrix, and the Atrix 2 that followed, and come off impressed by the handsets, if underwhelmed by the WebTop UI that accompanied the standard Android install. The Motorola Atrix HD, though, takes a very different tack than its predecessors. From software, to design, to internals, there's very little legacy left in the Atrix HD; but with the Droid Incredible 4G LTE's design so hampered by its past, could the Atrix's break from tradition be a good move?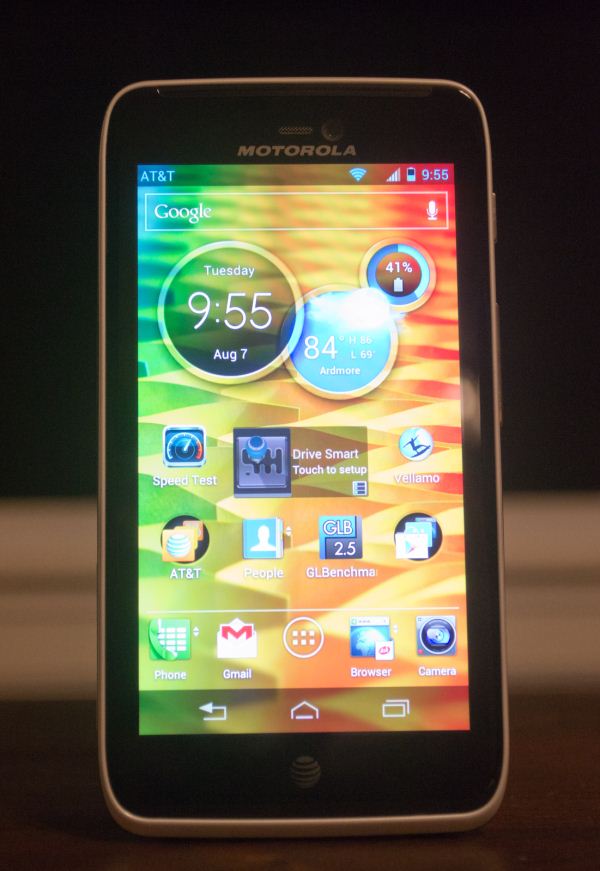 We'll start by taking a look at the handset and its design. AT&T's Atrixi of the past were somewhat somber affairs. They had delicate curves that formed simple shapes and seemed to somehow ape the curve of the Palm Pre, while remaining taciturn with the all-black motif. It was a fitting contrast to the look of the Droid devices Motorola was releasing for Verizon, with their sharp edges and hard angles. One look at the Atrix HD, though, and its ancestor is immediately apparent; the Droid X. A broad thin expanse of smartphone, with a substantial hump to house the camera has pretty much come to define the new look of Motorola. The design was honed with the Droid RAZR and RAZR MAXX, and now it finds itself applied outside of Verizon's branding for the first time in the US.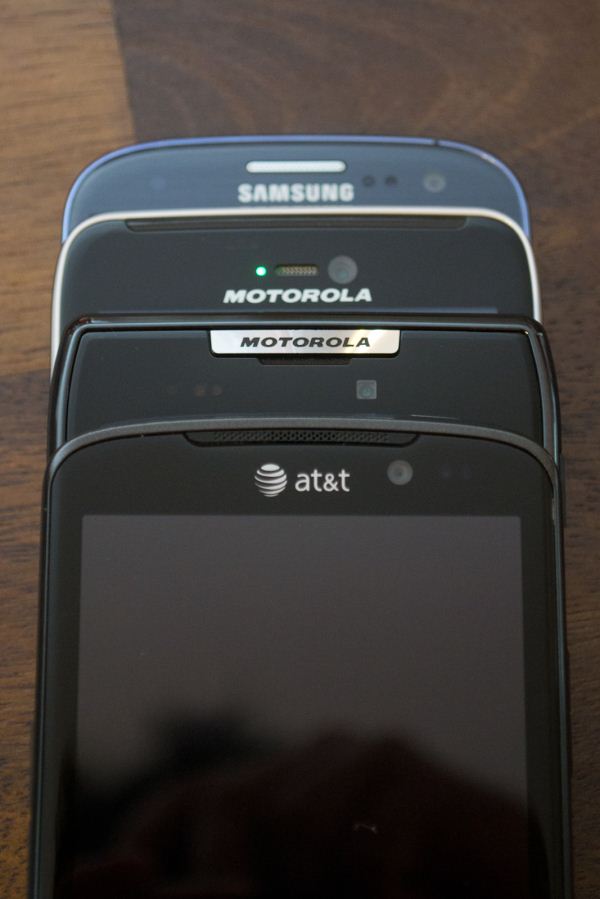 Similar width devices, with varying screensizes: (top to bottom) Samsung Galaxy S III 4.8", Motorola Atrix HD 4.5", Motorola Droid RAZR 4.3", LG Nitro HD 4.5"
As with almost all phones these days, the 4.5" display dominates the front of the device. Much has been made of the large bezels around the screen, and truth be told there's something to it. It's almost exactly as wide as the Galaxy S III, and just a hair shorter. I'm not nearly so bothered by the bezels, as I am by the materials, but we'll get to that in a moment. The front-facing camera is just right-of-center, and the proximity and light sensors are terribly well-concealed just to the left. There's a strip along the bottom, just below the AT&T logo, that hides the voice mic, and a matching strip at the top. There's little to differentiate this phone from the RAZR brood, as even the tapered corners make an apperance, though here not nearly so angular. The edge of the device has a dark black plastic rim, wonderfully clicky power and volume buttons grace the right edge of the device, with the power button grooved to stand out from the smooth volume button. The rim widens at the top to contain the microHDMI and microUSB ports, in the now standard Motorola fashion. The headphone port is also along the topside of the device, though thrown off to the right. The bottom edge is featureless, while the left edge has a door that conceals the microSIM and microSD slots. I often worry that a design with a moving part will wear after repeated use; here though, that little door is sturdy to the point of frustration. The amount of force required to loosen it is far higher than should be applied on a delicate consumer electronics device. Further, the door edges into that black rim a bit, and never looks entirely seated.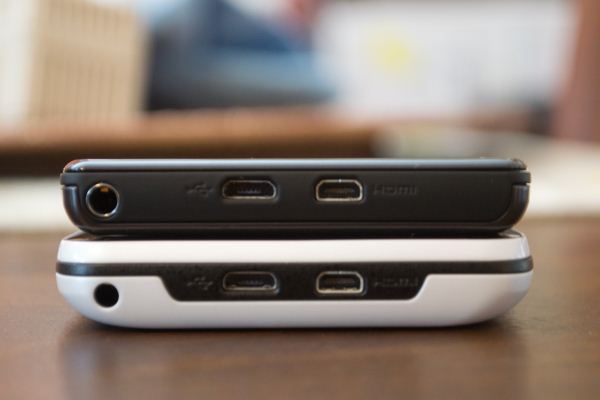 And that brings us to the back. The plastic on the back is a white pearlescent matte, a contrast from the glossy plastic of the front. In our preview I mentioned that I found the Atrix HD pretty, and I do; but the different plastics just strikes me as such an odd choice as to be a niggle that plagues me whenever I look at it. At a distance, you'd hardly notice it, I don't even know I'd be able to express it in photographs. But up close, the effect is noticeable, and begs the question: why? I'll likely never know. The back is of course dominated by that layer of Kevlar, which stands out a bit poorly in what is an otherwise softer looking device. Perhaps if the Kevlar came in a variety of hues it wouldn't seem so out of place, but the matte pearl plastic looks awkward next to the weave. The classic camera hump is gracefully reached on the Atrix HD, and houses the 8MP/1080p shooter, with LED flash and a pretty substantial speaker grille. Also tucked away, at the top and bottom, are additional microphones, that can be used for noise cancellation and stereo audio recording in videos.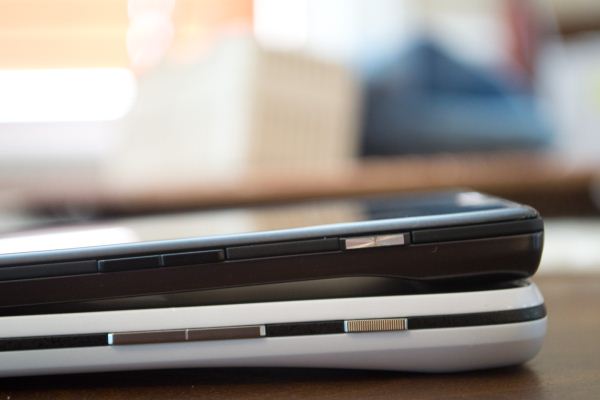 I still think the Atrix HD is a pretty phone, and might feel better about it in its Titanium livery; but the little design choices that take away from the phone are enough that I can't quite endorse the look. Instead, I'll say this, if you liked the RAZR's looks, and you wanted something a touch softer, this is exactly that.
Physical Comparison
Motorola Atrix HD
HTC One X (AT&T)
Samsung Galaxy S III (USA)
Motorola Droid RAZR MAXX
Height
133.5 mm (5.26")
134.8 mm (5.31")
136.6 mm (5.38")
130.7 mm (5.15")
Width
69.9 mm (2.75")
69.9 mm (2.75)
70.6 mm (2.78")
68.9 mm (2.71")
Depth
8.4 mm ( 0.33")
8.9 mm (0.35")
8.6 mm (0.34")
8.99 mm (0.35")
Weight
140 g (4.9 oz)
129 g (4.6 oz)
133 g (4.7 oz)
145 g (5.1 oz)
CPU
1.5 GHz Dual Core Qualcomm Snapdragon MSM8960
1.5 GHz Dual Core Qualcomm Snapdragon MSM8960
1.5 GHz Dual Core Qualcomm Snapdragon MSM8960
1.2 GHz Dual Core Cortex-A9 OMAP 4430
GPU
Adreno 225
Adreno 225
Adreno 225
PowerVR SGX 540
RAM
1 GB LPDDR2
1 GB LPDDR2
2 GB LPDDR2
1 GB LPDDR2
NAND
8 GB NAND, with up to 32 GB microSD
16 GB NAND
16/32 GB NAND, with up to 64 GB microSDXC
16 GB NAND, 16 GB microSD class 4 preinstalled
Camera
8 MP with AF/LED Flash, 1.3 MP Front Facing
8 MP with AF/LED Flash, 1.3 MP front facing
8 MP with AF/LED Flash, 1.9 MP front facing
8 MP with AF/LED Flash, 1080p30 video recording, 1.3 MP front facing
Screen
4.5" 1280 x 720 LCD-TFT HD ColorBoost
4.7" 1280 x 720 LCD-TFT
4.8" 1280 x 720 HD SAMOLED
4.3" 960 x 540 SAMOLED Adv.
Battery
Internal 6.76 Whr
Internal 6.66 Whr
Removable 7.98 Whr
Internal 12.54 Whr
A good smartphone these days needs a great screen. To that end, marketing lingo offers nothing. Motorola has dubbed this 4.5" TFT-LCD display, its ColorBoost display. I'm not sure what that means, but I do know that the 1280x720 panel has a lot of potential. We take displays seriously, and so, like every other aspect of our reviews, we try to gather as much objective data as we can. There's something to be said for subjective analysis though, and so we'll start with that. I want to like this display, but something bugged me from the moment I lit it up. I think this is what people feel when they say they hate a PenTile AMOLED display's color balance. PenTile never bothered me much, but the Atrix HD display does. I couldn't come close to seeing individual pixels from a normal viewing distance and there were excellent viewing angles, but that's something we've come to expect from any tolerable handset. There was something else . . .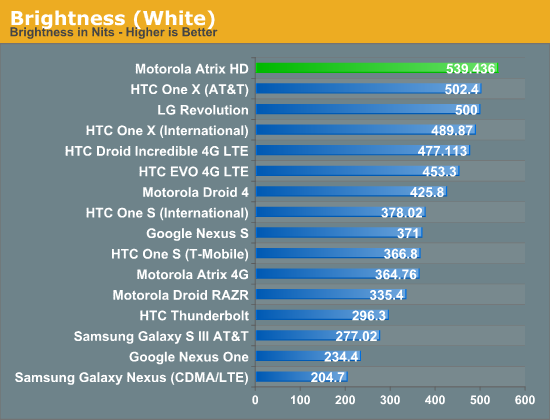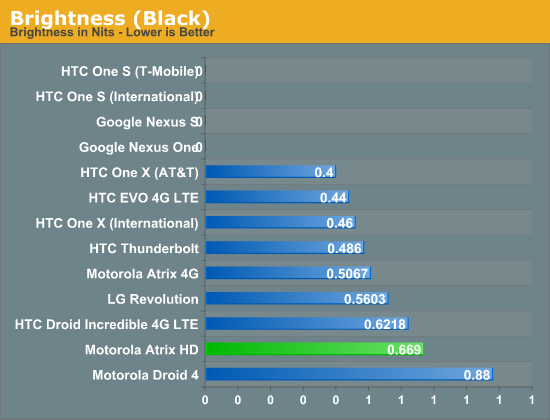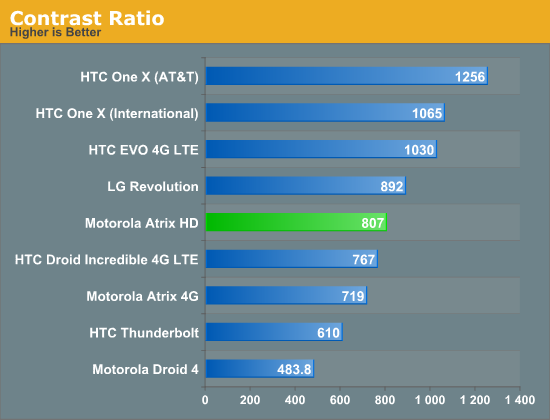 Chart topping brigthness makes me recall Motorola's use of PenTile RGBW in many of last years models to boost brightness. There's no such trickery at work here, just a powerful backlight. Such a strong backlight has its deficits though, and in this case it's the black level that falters a bit. We've seen worse, and the contrast remains respectable. So if all of this looks good, what is it that bugs me about this phone's display?
We use ColorHCFR and Voodoo Screen Test Pattern to characterize our displays, and one of the most delightful features is that it builds these great charts. Two charts I'll highlight here spell out my issues pretty clearly. The simplest is the color temperature chart (right, and a bit difficult to make out), which breaks down the color temperature at the various intensities. What we see is a distinct and drastic blue push, so much so it's off the charts at a few measurements. The CIE chart, gives us a clearer look at what's happening. The plane is one defined color space, and the black triangle represents the sRGB color space, the standard for CE displays. The white triangle is the Atrix HD's display's color space, and you can see a distinct shift towards the blue in this triangle. That shift makes for vibrant blues, but it also makes other colors fall off their mark. I've always been a pixel density enthusiast (I'd never considered owning a TV larger than 27" until 1080i was in play), but as the mobile industry continues to scratch that itch, I find myself disgruntled with shifts in color accuracy. What does this mean for everyone else? Honestly, go play with it. I can tell you that it's bright and dense with good contrast, but that I don't like the colors. You might love them, and that's fine. That's the thing about subjective analysis, it depends on the subject.
Our previews often give out a lot more information than you'd expect for a Day 0/Day 1 post, and have been confused for whole reviews in the past. So what do the reviews get you? Other than the battery life testing, the big piece is the analysis of the whole picture. When we first looked at the performance of the device we were curious about the SunSpider score. So, what was so odd about that score? Let's look again.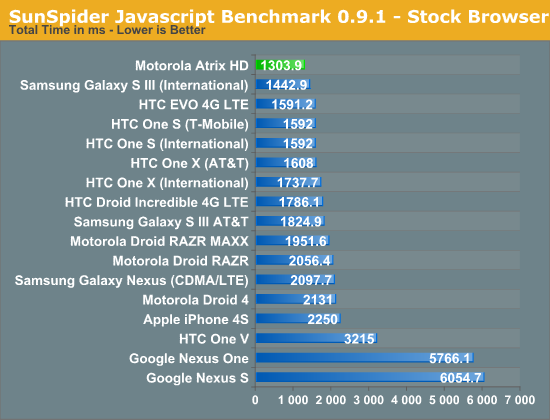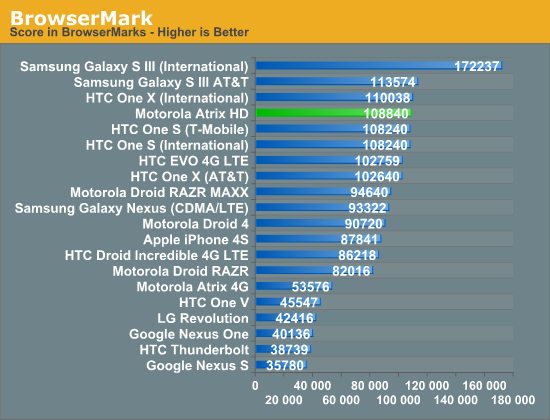 Our JavaScript tests give us a good feel for compute performance, but as much as stressing silicon, these tests gauge software performance, too. All Android builds aren't created equal, and with the hardware parity of so many of these devices (the S4 driven ones) these results bear that out. So, that Sunspider result, which stands nearly 20% better than the pack of S4 devices behind it, owes much of its success from the Motorola browser. But synthetic benchmarks are exactly that, synthetic; and they can be optimized for in order to drive up scores without necesarily providing a real world performance boost. There's nothing necessarily wrong with that, and that's not necessarily what's going on here. But, when you look at the BrowserMark score, you see a 5% deficit behind another S4 device, not the 20% lead we saw in SunSpider. So, what's a more real world result?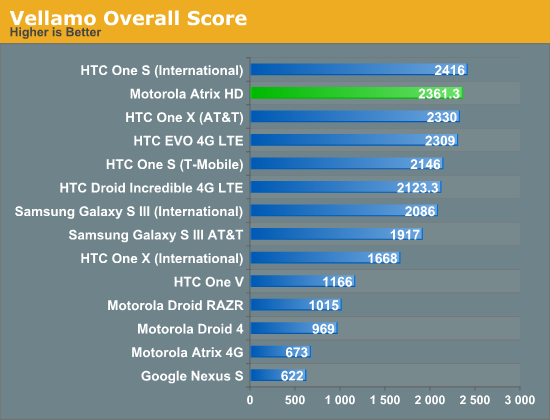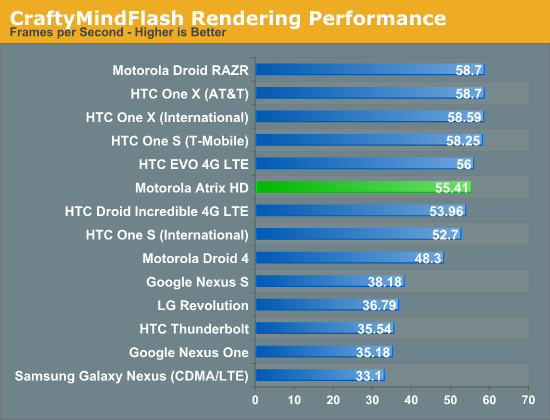 Vellamo is, notably, a Qualcomm developed benchmark that stresses networking, rendering, Javascript and user experience (namely scrolling behaviors). The results hint at a Qualcomm bias, with MSM8960 holding spots 2-6 in our chart; but that disregards the reality that no other dual-core SoC will be competitive against the S4 for several more months. Vellamo does provide a great way to stratify performance amongst S4-based devices. The Atrix HD bests the other S4 phones, but not in a devastating fashion. One component of Vellamo is that same SunSpider test we run separately, so the lead in Vellamo could owe itself entirely to that. Taking a look at Flash performance we see the Atrix HD falling within the pack, again.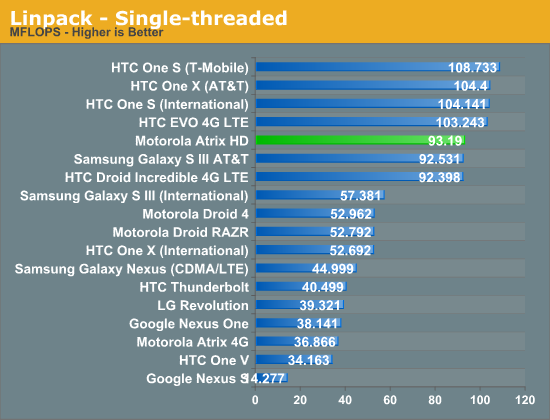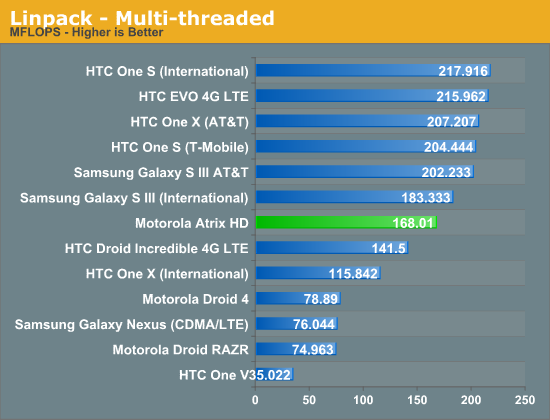 Things seem to fall apart a bit here, with results falling dangerously close to the 20% lower clocked Incredible 4G. This is a purely compute synthetic test, and it seems curious that any software changes would have a serious affect on compute performance, but stranger things have happened. Now onto GPU tests.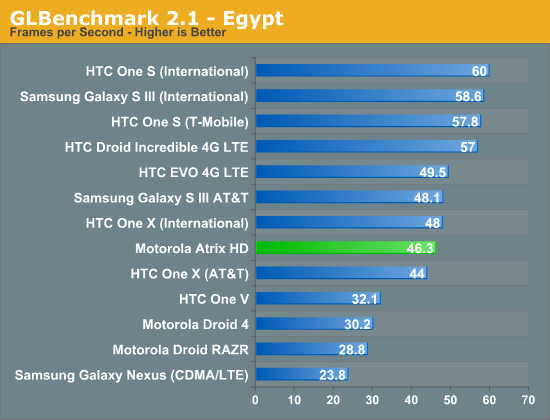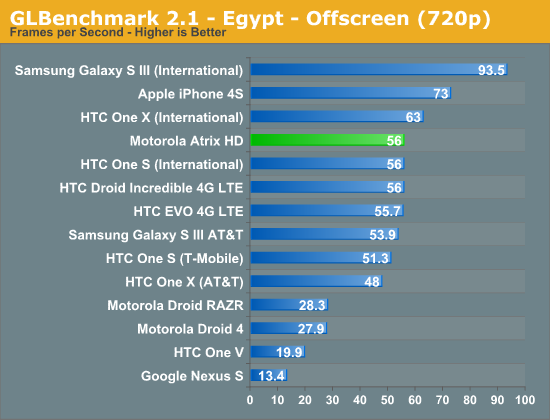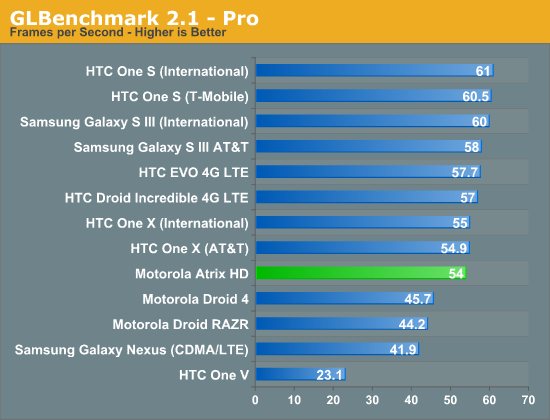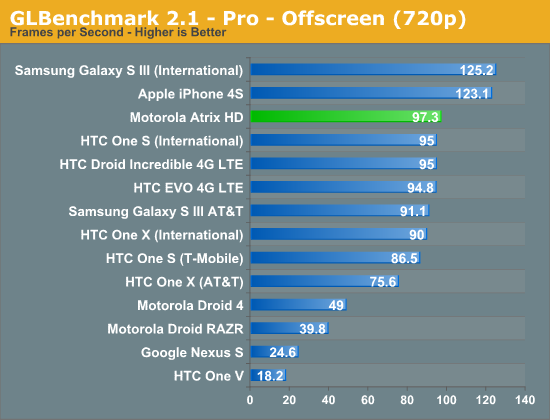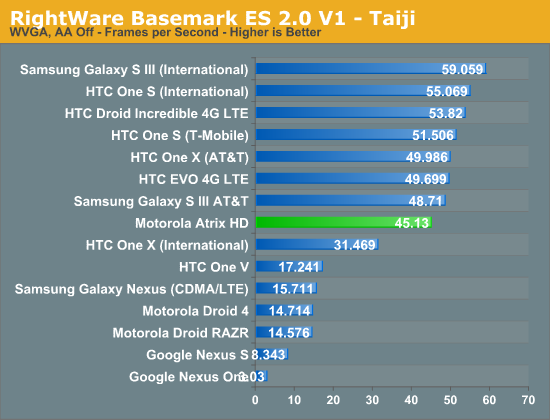 Several of our current suite of GPU tests have been pegging vsync for a while now. Offscreen tests bypass vsync so the results are more useful when performance clears 60 fps. Something interesting happens with the Atrix HD, though; onscreen tests fall below 60 fps by no small margin. Since onscreen and offscreen resolutions are the same, you'd expect performance to be equivalent in both tests. Instead you see a massive improvement in the offscreen tests. What's going on? There could be lots of things, from differences in rendering difficulty for onscreen and offscreen tests (triggered at the driver level), to thermal issues that arise because of the heat generated by the screen. Real gameplay doens't seem to suffer as much as you'd think, playing Mass Effect: Infiltrator and Shadowgun yielded smooth performance and no issues with image quality. But wait, there's more . . .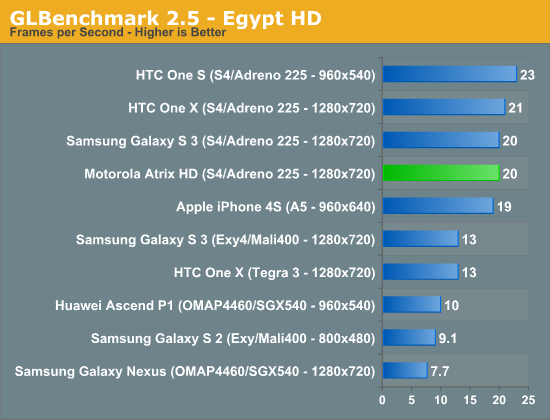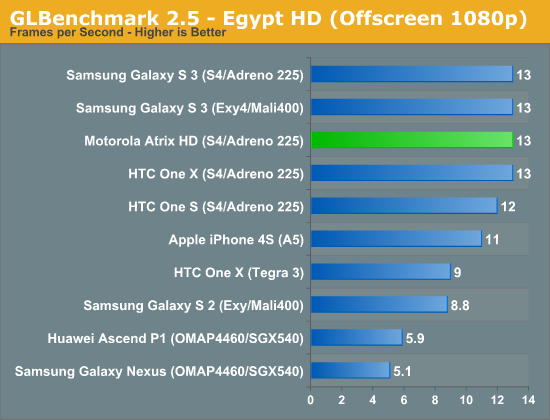 With GLBenchmark 2.5 the bar is raised and scores drop. The pack bunches up pretty tightly, particularly in the 1080p offscreen test. Here we see that performance falls right in line with the other S4 devices. Pair that with a performance hit in the other tests that's not likely to be noticeable and the takeaway is that Motorola's software tweaks don't hurt real world performance today, or tomorrow. So, no harm, no foul, no more.
Software
If you've been following our Motorola coverage for a few years, you'll recall that Motorola's first skinning initiative, Blur, wasn't well loved. In an effort to put some distance between itself and its progeny, Motorola stripped its skin of any naming convention whatsoever. Initially, there wasn't much difference between Blur and not-Blur. We've come a long way, though. Today's Motorola skin still has its decorative flourishes including replacing all of the stock icons with more colorful ones, even in Settings. The stock wallpapers are brightly colored, with plenty of blues and yellows, which pop thanks to the inaccurate color representation. But much of the aesthetics of stock Android remain intact, from the Notification Shade to the People app. There's even on-screen Home/Back/App Switcher buttons. So, it's stock plus.
And what's the plus? Let's start with the lock screen. The action area is centered instead of left justified, and on contact a ring with four icons is revealed: Phone, Unlock, Text and Camera (clockwise from the top). The apps aren't user configurable but are an inoffensive selection. One user configurable spot could have really sealed it for me, since I'm far more likely to only want to go Twitter quickly than Messaging.
You'll recall from the preview that home screens aren't populated in the usual Android fashion. Usually the primary home screen is in the middle of a pack of five or seven. Here, the primary home screen is at the far left, and while up to seven can be used, there's only one populated initially. A swipe to the left from the last available page brings up a menu to add a Blank Page or one from a template. The templates mirror the usual assortment you find, one with a social networking widget, one with a favorite contacts widget, one with all the carrier branded apps, and so on. Having them be optional is a surprising breath of fresh air; imagine, not having to start off by removing dozens of widgets and icons that are half-baked and will hardly get used.
There's more, though. A key part of the half-baked widgets I mentioned is that they took up valuable real estate. A contacts widget that featured my four most frequently used contacts is great and all, but that 4x1 widget takes the place of four apps I could have on my home screen. Motorola solved that issue by hiding the widget in the app's icon, and I couldn't be happier with this. Some of our readers have already trumpeted their favorite app that implements this functionality in the comments of our preview. We don't deprecate the contributions of the developer community to Android UI and functionality, but for an OEM to adopt something useful is always a treat we like to highlight. Highlighting these efforts are our way of reminding them that good software really, really hits our sweet spot.
Smart Actions makes its return after it premiered in the Droid RAZR. The updates have included new scenarios to trigger, including the Drive Smart app, a simplified driver focused UI. A 2x1 widget on the home screen allows you to configure triggers for Drive Smart based on being inserted into a car mount or connected to a particular Bluetooth device. We liked Smart Actions before, and the simplification of scripting events is still quite nice now. As geolocation becomes less and less costly to battery life, we can expect to see geofencing be a more ubiquitous tool for controlling our phones. To get the most out of a feature like this, though, you have to take the time to configure it. Motorola tries to make this easier by offering suggested Smart Actions, periodically; this seems to be a scripted event in and of itself, with generic suggestions popping up every few days.
And then there's the ubiquitous clock/weather widget. I'm not a fan of widgets, but I do like a good weather widget. Even when I run a stock ROM I generally add the News & Weather widget to my home screen, simplistic though it may be. Motorola's Circles widget is a bit more than that. Three semi-transparent circles stretch across a 4x2 widget, the largest is a clock, the middle one shows the weather and the smallest shows either battery information or data usage, along with a settings menu. Flicking up on a circle (the same motion that brings up the widgets corresponding to stock apps) changes its state: analogue/digital for the clock, data/battery for the information circle and amongst the list of added cities for the weather app. This little guy is a fantastic use of space, while also adding just the right amount of flourish without being showy.
I don't like being glowing, but unlike so many other skins, I can't find anyway in which Motorola's skin offends. It's stock plus. And I like it.
But . . . something's missing. The Atrix 4G introduced a paradigm that excited us all, leveraging the computing power of a cell phone in a netbook chassis. The Linux instance that drove the WebTop UI was limited in scope, and in satisfaction, not in small part by the performance of the Tegra 2 chipset that drove it. In the Atrix 2, the TI OMAP 4 performed admirably relative to the Tegra 2, but it still wasn't enough to make me wnat to use it. So, WebTop is gone in the Atrix HD. The placement of the microUSB and microHDMI ports matches several recent devices, so it could physically be compatible with the LapDock variations. But inserting it would just yield display mirroring, with no other benefit aside from being able to use the keyboard and trackpad. Then again, the Asus Transformer has shown that Ice Cream Sandwich can be used comfortably in a netbook chassis, so perhaps Motorola felt that was enough. Either way, RIP WebTop.
Camera
When it comes to camera, Motorola hasn't been the king of the hill. Samsung and Apple pushed things pretty far, and HTC made their play with the ImageSense branding that tied an impressive ISP, optics and sensor package together. And then there's Nokia's PureView 808, which is more a camera than a modern smartphone. Motorola hasn't planted their flag in the same way the others have, but they also haven't slacked off. The interface is a lot like other aspects of the phone's software, close enough to stock that you might not notice a difference. Unfortunately, part way through the review the rear-facing camera gave up the ghost. I'm not sure what caused the loss, and a full reset wasn't enough to fix the problem. This played into the delay in this review, and I received a fully functioning sample today and put it through its paces.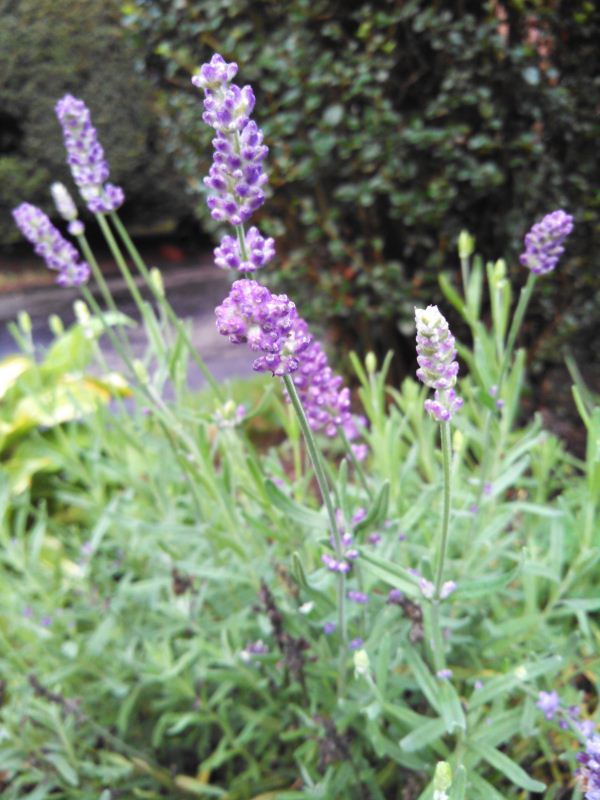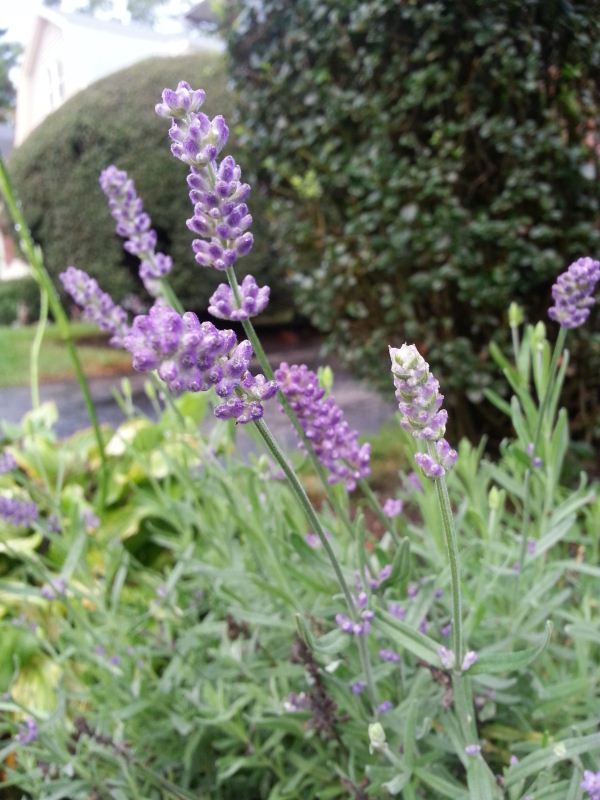 Atrix HD Camera (left) and Galaxy S3 (right)
Quality is good, the Atrix HD is most likely leveraging the Qualcomm ISP, but using the RAZR's optics (4P F/2.4) and sensor (possibly the OV8820), though now configured with a focal length of 4.36 mm. Well lit images are quite good, though colors can be a bit oversaturated at times. Turn down the lights though, and things go from good to bad, quick. Noise pervades any dark areas in a shot, and pictures taken in darkness come out relatively bright, but very noisy. Comparison shots with the Samsung Galaxy S 3 (here wearing VZW branding, but running CyanogenMod 10) show how much less aggressive the SGS3 is with its ISO. So, while the shots aren't terribly noisy, they are darker than the Motorola equivalents. In partially lit scenes, though, the SGS3 does a much better job.
Video quality is good, with files recorded at 1920x1080 with a bit rate around 16 Mbps. The interface includes several audio options that leverage the multiple microphones for better scenario based sound recording. In Stereo mode, the amount of separation is impressive, and the noise canceling does a reasonable job; the other modes seem to be variations on this with emphasis on specific types of noise canceling. It was harder to discern how well these worked, relative to other modes or solutions, but it's always nice to see OEMs make an effort.
Cellular Performance
Previous Motorola LTE devices used Qualcomm basebands for 3G data and telephony, while using Motorola's own Wrigley LTE baseband. Here, though, with Qualcomm's own baseband tucked alongside the AP, the Atrix HD is Motorola's first UE Category 3 device, so speeds should be better than the predecessors we saw on Verizon. And that performance was every bit as good as we've seen in other Category 3 devices. AT&T's network has a lot of potential, but speeds have as much to do with signal quality as network congestion. With AT&T's growing LTE network there's still a paucity of devices in the wild, so it's still easy to find a completely unloaded tower and spam several 55+ Mbps Speedtest.net runs. Muck with signal quality or surround the tower with lots of active devices and you'll see speeds drop, but so far that's not as likely to happen as with Verizon's network.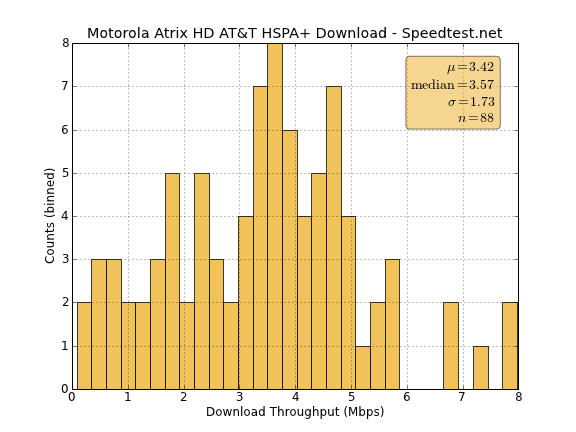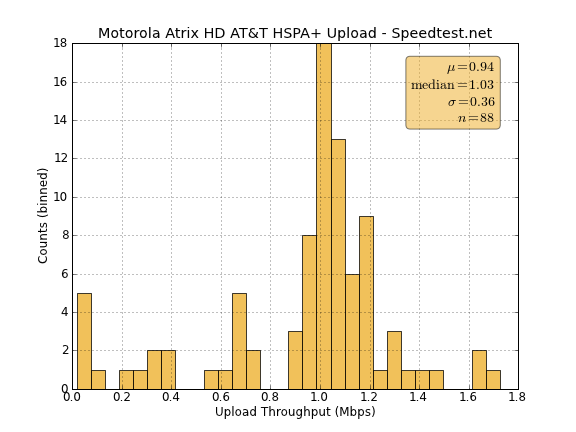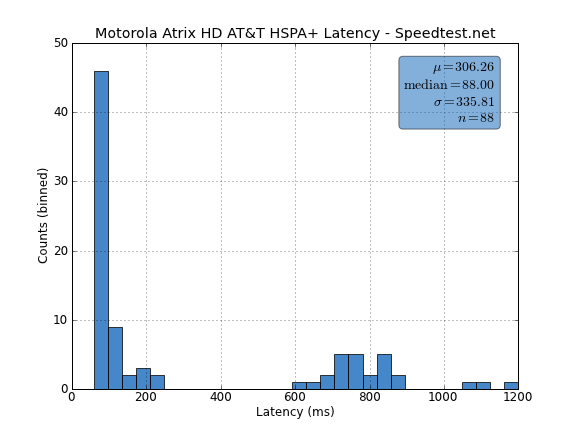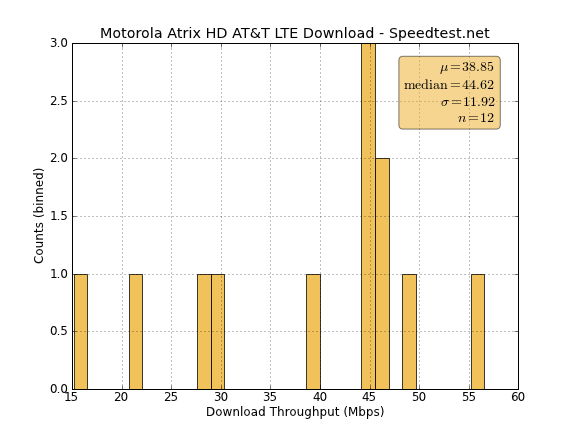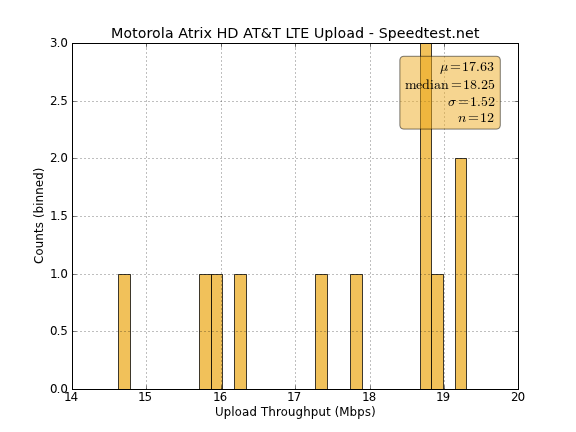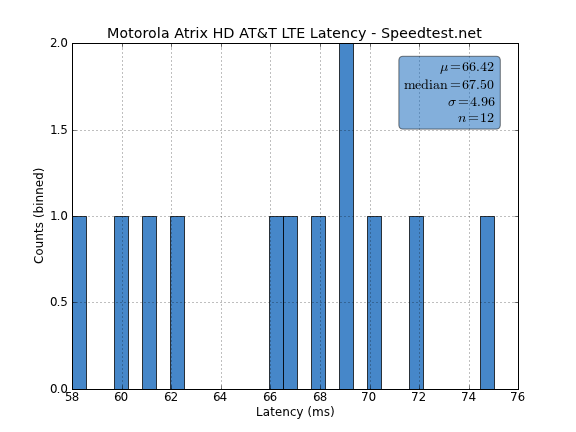 Unfortunately, I neglected to record the data I collected in an AT&T LTE area prior to resetting the phone to try and resolve the suddenly absent rear-facing camera. As a result, the LTE data is skewed to the little exposure I had while traveling through an area with an utterly unloaded AT&T LTE tower. As expected, speeds in such a scenario can be massive, and seeing the test fly by is quite satisfying. More realistically, I saw speeds that fit the profile we've seen before; consistently faster than AT&T HSPA+. Speaking of HSPA+, performance was on par with what we've seen down, but up was a different story. HSUPA performance hovered around 1 Mbps, and in some instances I saw performance that would make 1xRTT look speedy. AT&T's coverage of HSUPA+ is good, but one can never take for granted the possibility that you'll find yourself with either poor coverage or saturated cells.
Call Quality
Call voice quality is one of the more subjective aspects of a phone, and the best I can offer is that it was as good as I've heard. The speaker was perceptibly louder than many other phones in house, including the HTC Droid Incredible 4G LTE and the Samsung Galaxy S III (Verizon). I still don't have the equipment to quantify that figure, but I'm abusive with phone speakers; I listen to music and podcasts all day long and the difference between a quiet phone and a loud phone is the difference between a phone I'd never own and a phone I would own. Motorola's typically a reliable performer and they do just fine here.
GNSS
There's no evidence that they used anything other than the MSM8960's GPS silicon, which leaves us beating the same dead horse here. Signal locks are quick inside and out, and it's never once said I was standing in a lake when I was not.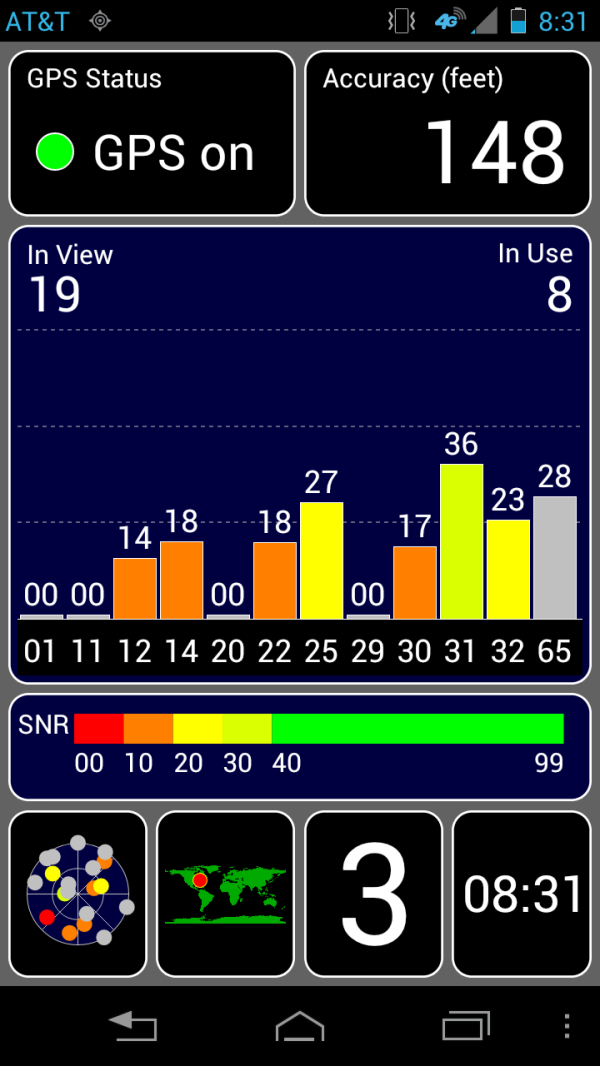 With the RAZR, Motorola proved that a decent capacity battery can be squeezed into an awfully thin phone. The Atrix HD is just a few hairs thicker and that nets it a slightly larger battery. It's not RAZR MAXX territory, nor Galaxy S III for that matter, but it's still got more battery capacity than the One X (AT&T), by a fraction.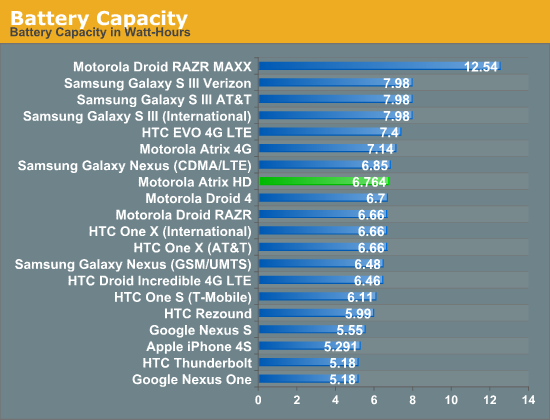 We start with talk time, which has been a strong suit for Motorola for quite a long time.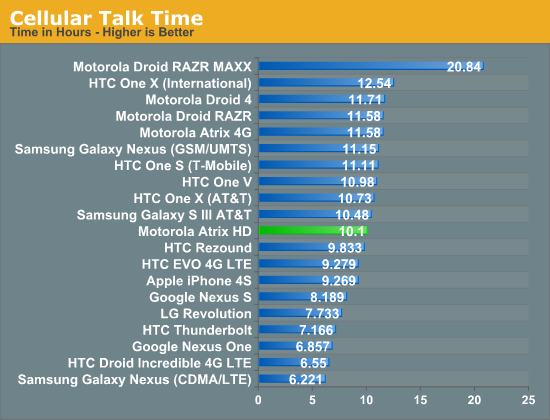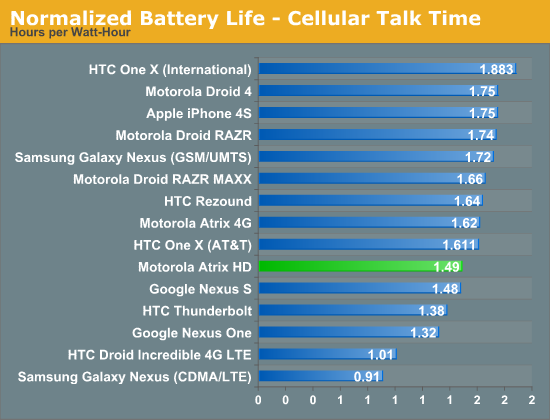 The king of this test remains the RAZR MAXX with its mind boggling 20+ hours, and the other OMAP 4 devices also do extremely well. The ATrix HD falls in line with other S4 devices, but clearly Motorola's special talent at this test owed something to TI's SoC's. But at 10 hours of talk time that's plenty for any talker.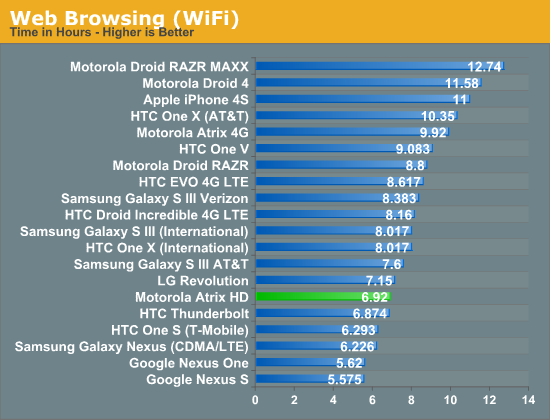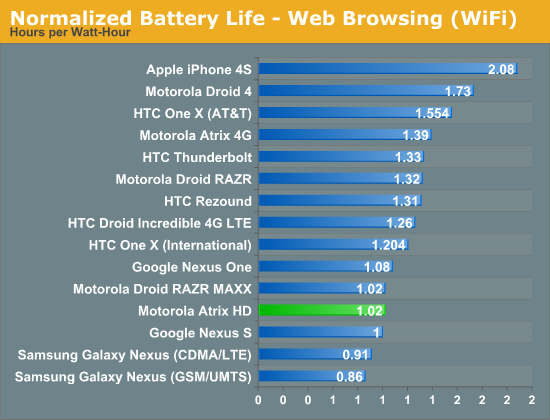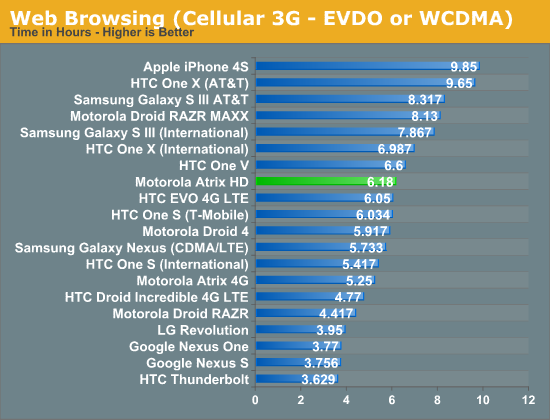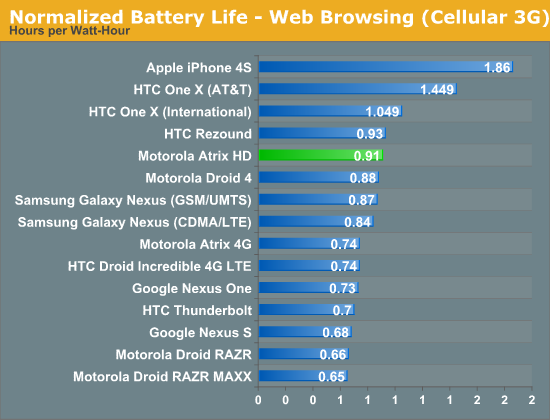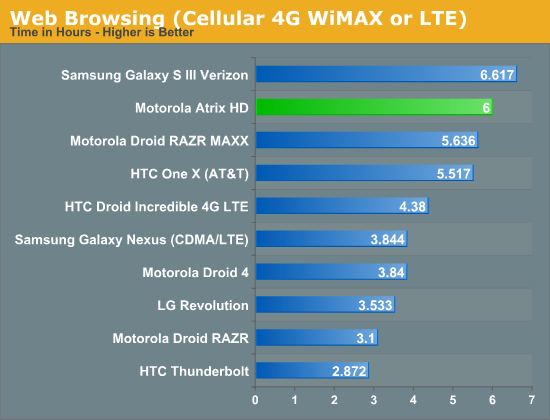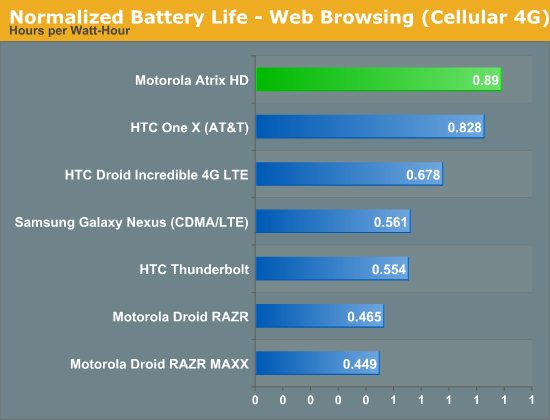 Our web browsing test cycles through several sites and have been treated to a variety of surprises over the last few years. Here, the Atrix HD falls behind when tested on WiFi, well behind the One X (AT&T) that shares its internals, even when normalized. Under 3G that situation continues, with a huge deficit between the Atrix HD and the One X (AT&T). It's under LTE that we get a little surprise. At exactly 6 hours, the Atrix HD bests the One X (AT&T) by a half hour, but more startling is that we have a phone that seems to exhibit battery life under WiFi that's within an hour of LTE performance. I'd have preferred to see WiFi battery life go up alongside LTE, but more LTE battery life is always better.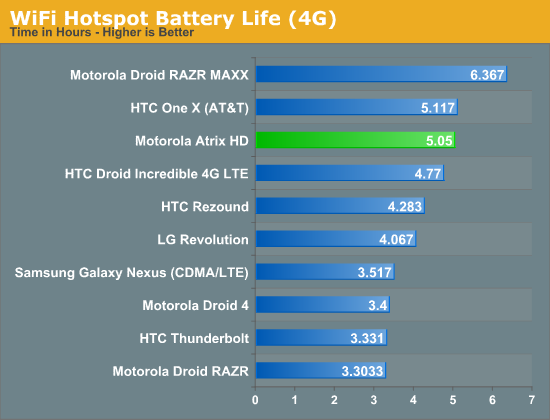 And here, another surprise. I mentioned in the HTC Droid Incredible 4G LTE review that my new place has some signal issues. I've resolved the VZW issues through the use of a Network Extender, and AT&T performance has actually been pretty good, so I don't know if this is a fluke. The Atrix HD isn't the only device whose LTE Hotspot performance actually bests its 3G Hotspot performance, it shares that distinction with the RAZR MAXX. And at just over 5 hours under LTE, this is right near the top and right alongside the One X (AT&T). All around, battery life is good, and very nearly great under LTE.
Around last Fall I was thinking about biting on an upgrade. My contract was nearly up, and I wanted to feel good about extending it. I'd had an OG Droid and a few other phones in between; I'd even drifted to WebOS and BlackBerry. I looked over the options, and felt good about none of them. What did feel good was the possibility of getting a Krait-based phone in the Spring. My big worry was that even by Summer I'd be looking at paying upwards of $250 to get one, even on-contract. Turns out, I was wrong.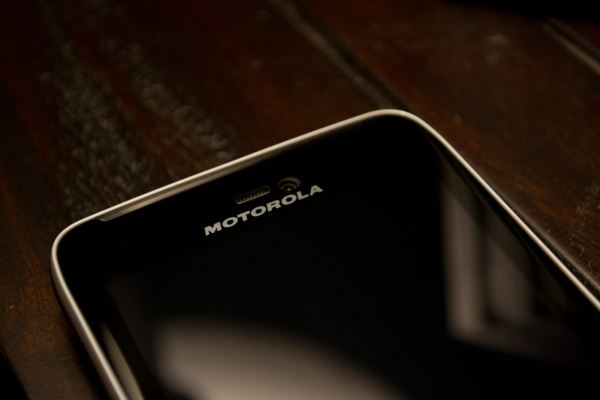 The earliest Krait devices came out at $199 on-contract, and the number of devices that have come out since then has been impressive, and the pricing keeps getting better. With the Incredible 4G LTE we saw pricing for a Krait device hit $149; but the device didn't have the right combination of factors to merit its price. Motorola's swing puts their first Krait device at $99, and there's nothing that competes with it in the US for twice that price. The form factor isn't perfect, but it's certainly thin enough and light enough. The software isn't just inoffensive, it's a pleasure to use, which is something we're saying more and more of when discussing skinned Android builds. And the battery life reflects one of Qualcomm's Snapdragon S4's biggest advantage.
It has its faults, and it could certainly be shined up to a gloss that would make it competitive with the Galaxy S III and HTC One X. Lacking a few features (NFC, notably) helps bring cost down, but that's not what keeps it from competing with the top tier phones. Holding the One X in your hand, you feel the level of effort that went into designing its unique unibody frame. When you see the Galaxy S II in Pebble Blue, and the light coming through the window hits it just right, it almost seems like the whole front of the device is a single blue surface. There's nothing about the Atrix HD that inspires that kind of fascination.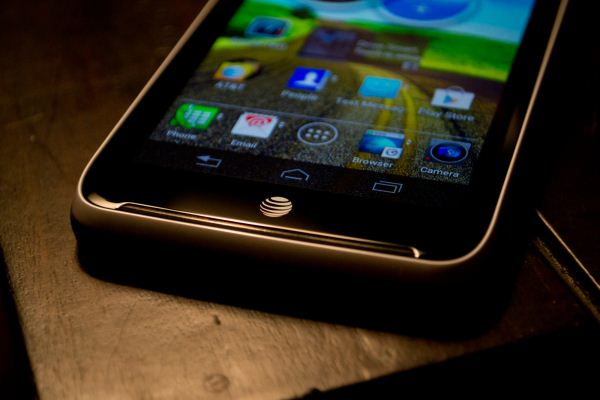 So, what does it take to be a great mid-range phone? We can excuse the body, we can excuse an imperfect camera, and we can even excuse missing features. You nail the mid-range phone by making sure the rest of the package is solid, and that's what AT&T has with the Atrix HD.